Who is Bobrisky? Explaining everything you wanna know
Who is Bobrisky? She is a Nigerian internet personality who is known as a transgender woman in Nigeria. The social media star boasts about her sex life, sells bleaching products, and is unashamedly documenting her transition. She is one of Nigeria's very few openly transgender citizens.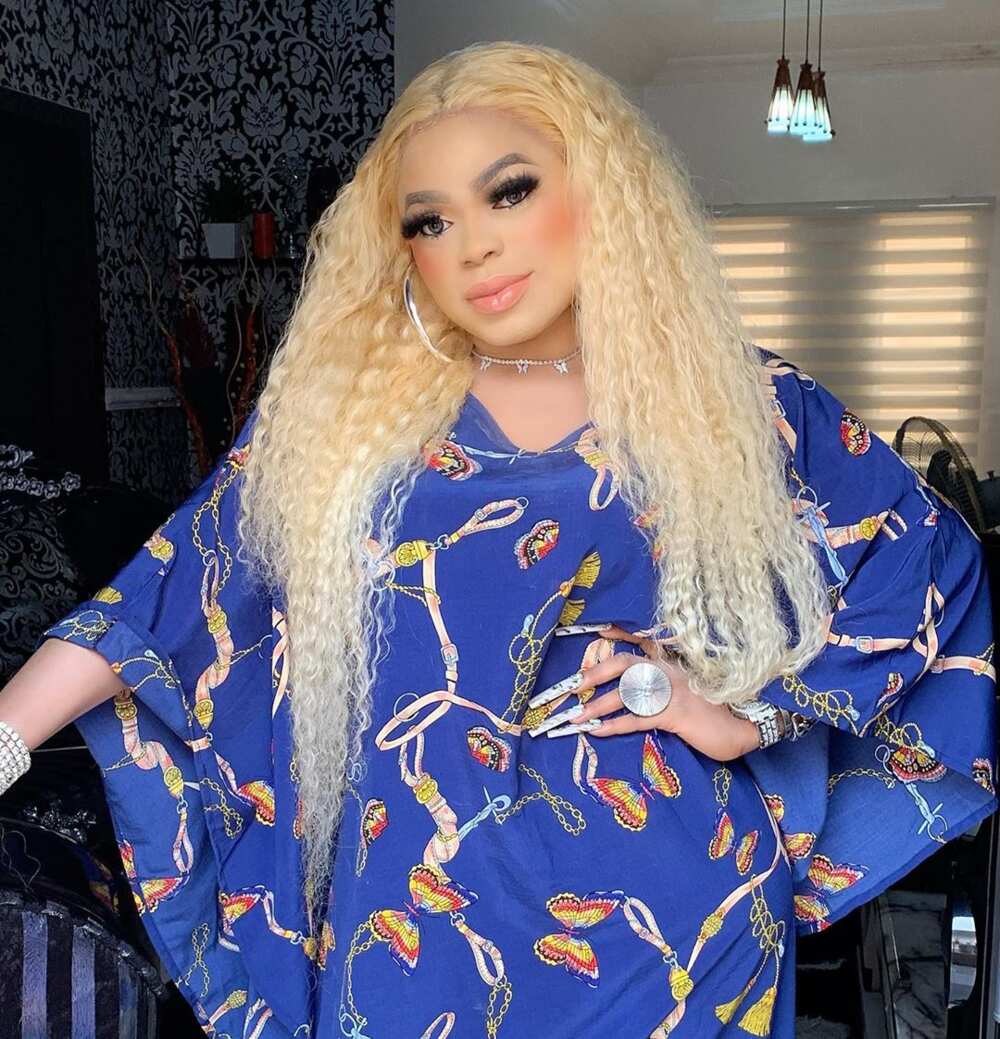 Here is all you need to know about Bobrisky.
Profile summary
Birthname: Okuneye Idris Olanrewaju
Date of birth: 1992
Birthplace: Ebute Matta, Lagos
Nickname: Nigerian Barbie, Bobo
Alma mater: King's College, University of Lagos
Occupation: Entrepreneur, beauty therapist
Bobrisky biography
The entrepreneur was born in 1992 as Idris Okuneye Olanrewaju in Ebute Matta, Lagos. Although there are not many known details regarding Bobrisky parents, the social media star once shared a picture of her mother (now late). His father, on the other hand, had three wives.
Bobrisky real name is Okuneye Idris Olanrewaju.
How old is Bobrisky?
She is currently 28 years old.
Education
The celebrity attended secondary school at King's College in Lagos State and graduated from University of Lagos with a Bachelor's degree in Accounting.
Growing up
As a child, she always enjoyed stereotypically feminine activities like cooking and cleaning. Cross-dressing was also a keen component of her repertoire.
Bobrisky gender
In May 2019, Bobrisky confirmed that her pronouns are "she" and "her" after receiving several misgendered comments on her Instagram profile.
In a video posted by the entrepreneur, she said:
Hello guys, good evening to you. This video is for some idiots on my page. I'm going to post a picture and you tell me, you look good bro. Who is your bro? Please, tani bro e? Your bro is in Yaba, collecting treatment. I am a beautiful girl. So if I post a picture, and you want to comment, you comment and say, You look beautiful baby girl, pretty woman. Don't come to my post and tell me bro. Eyawere ni? Let us learn how to respect ourselves for this Instagram. Or else, we will open our yansh. So, be careful.'
Recently, she also disclosed that men don't care about her gender anymore. She wrote on her Instagram:
"Y do u think dis men spend their last card on me… They don't even care about my gender anymore. All they care about now is my beauty. Forget I fine die. Haters will hate. See ur hate won't stop me from collecting big money from all ur boss "
Career
Bobrisky is an entrepreneur. Before her current, most prolific business venture selling skin-lightening cream, she had retailed everything from watches to make-up. She even made money as a dance choreographer during her university days.
While studying accounting at the University of Lagos, it was this glaring passion for acquiring wealth that thrust her on the passage to self-discovery.
She joined Snapchat in the early months of 2016, using the platform as a promotional tool for her skin bleaching products. Between the months of October and November that year, she had already emerged as the most searched individual in Nigeria.
In 2017, she made her Nollywood debut in Ojuloge and then toured the United States of America, where she was paid for her presence at a plethora of events, ranging from club appearances to private one-on-one meet-ups.
Bobrisky before and after
There are many Bobrisky photos that show the difference between her now and back before transitioning.
Here is a collage of Bobrisky pictures that shows what she looked like before: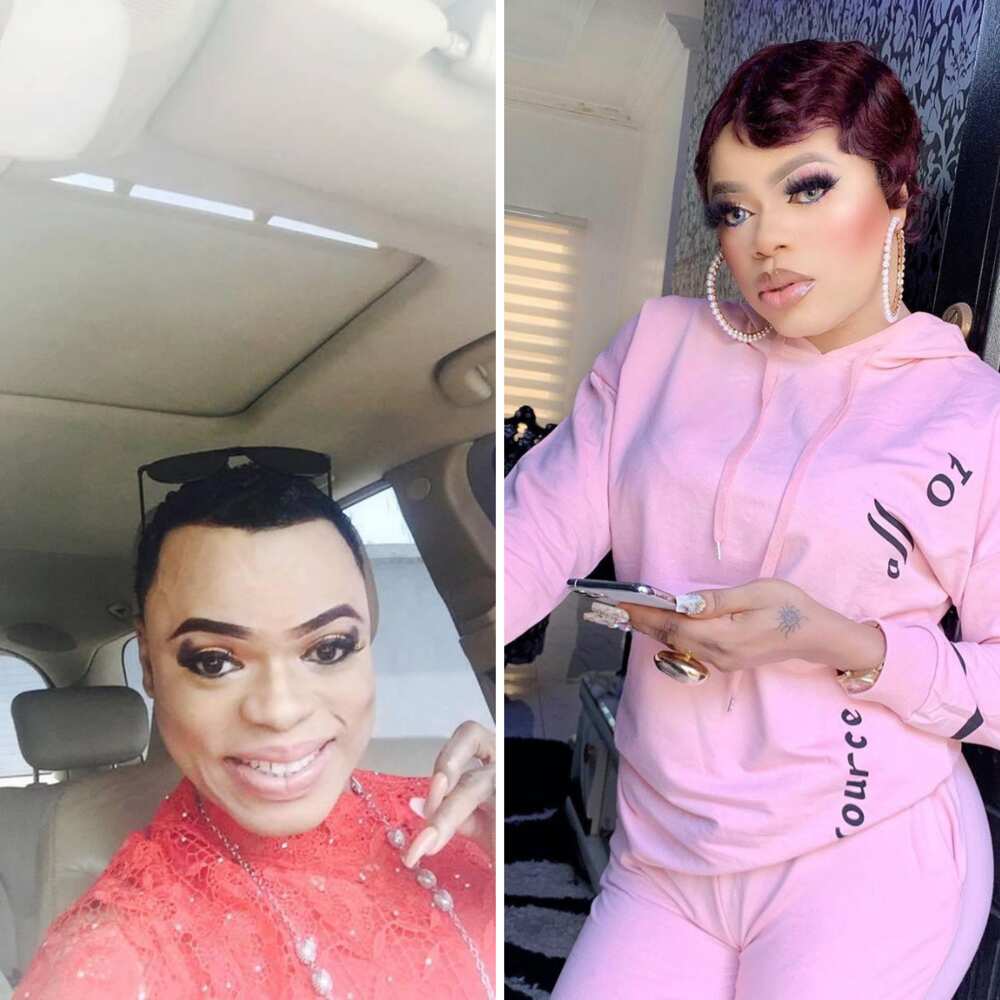 The Bobrisky old picture is the one on the left, while the one on the right is one of the latest pictures of Bobrisky.
How much is Bobrisky worth?
According to the360report.com, Bobrisky net worth in 2020 is estimated to be $3.125 million.
The raid on Bobrisky birthday
In August last year, Olusegun Runsewe, Director-General of the National Council of Arts and Culture, while talking about the beauty therapist, professed:
"If he is caught on the streets of this country, he will be dealt with ruthlessly,"
Although Bobrisky's witty retort to Olusegun alluded to the fact that she was untouchable ("I roll with his bosses in government"), the politician meant business.
On 31 August, Olusegun's threats culminated in a raid on the public figure's much-anticipated 28th birthday party, which she had been boasting about for weeks, sharing details of the exhausting party-planning prep with her sizable following on Instagram and Snapchat.
Deploying around 50 policemen, the Lagos State Police Force arrested 5 of Bobrisky's guests on charges of breach of public peace and indecency. The host herself, fashionably late to her much-anticipated do, was fortunate enough to evade arrest as she had not yet arrived by the time it began.
Bob Risky later lamented that a sum of N19million went down the drain for the planning of the botched birthday party:
"Over 19million just went like that lol. Thanks God for life,"
Bobrisky wedding
In February, Bobrisky asked for actress Tonto Dikeh's hand in marriage in an attempt to make history together. The controversial celebrity said she wants to marry the actress so they can be the first lesbians to have a wedding ceremony in Nigeria.
Nollywood actress Tonto Dikeh and her best friend Bobrisky are two friends who have come a long way together and are still holding on.
What happened to Bobrisky? Bobrisky arrested
In 2017, shortly after her first public announcement that she was gay (this was Bobrisky before transformation) Bobrisky was arrested by the Lagos State Police.
Rumoured to have been released thanks to the influence of one of her many friends in office – she actually thanked her bae for facilitating her bail – a liberated Bobrisky quickly refuted claims that the recent announcement had anything to do with the arrest.
Who is Bobrisky husband?
The beauty therapist is not yet married. In June 2020, she revealed that her grandmother asked her when she would bring her husband home to come and see her.
She posted on Instagram:
"My grandma was joking with me this evening, she said Bob, when are you bringing your husband home. I replied to her by saying granny I need a billionaire not just an Instagram broke guy. I'm f**king rich yes, but I need a f**king rich man too. I know some billionaires are following me with fake accounts, one day, one will do me one day"
Social media
If you would like to see a picture of Bobrisky, then follow her on Instagram. She has over 2.8 million followers on the platform.
You might not find any Bobrisky old pictures here, though.
Bobrisky is a famous Nigerian celebrity and a proud transgender person. She is popular for her extravagant lifestyle and for unashamedly documenting her transition.
READ ALSO: Tonto Dikeh warns Bobrisky against excessive spending, threatens to fight him
Legit.ng reported that Nollywood actress Tonto Dikeh revealed plans to fight her bestie Bobrisky over excessive spending.
The actress lamented that the crossdresser wanted to spend N350, 000 on one look for a photoshoot and advised her to look for another designer. Reacting to her friend's post, Bobrisky laughed and said that Tonto always helps her bargain very well and that the actress is her best friend that became her mother.
Source: Legit.ng