45 Tinker Bell characters: get to know your favourite fairies
Tinker Bell characters are popular magical creatures that have continued to gain popularity among children worldwide. The fairy tale characters have captured the imaginations of many, and the majority were created by the Scottish playwright and novelist J.M. Barrie. Learn more about your unique favourite fairies that appeal to children and adults.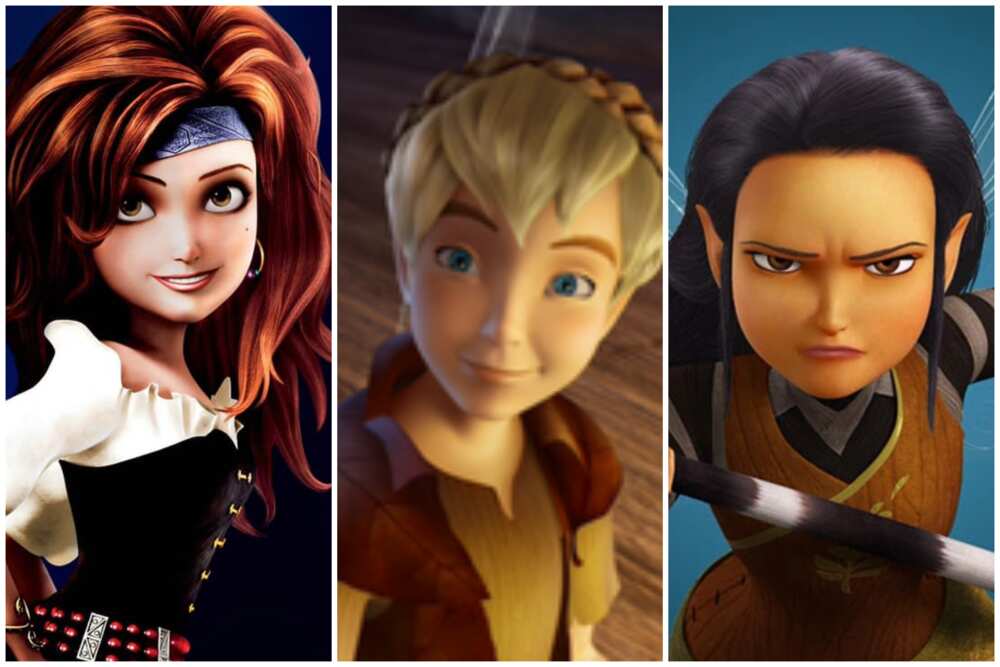 Tinker Bell movie characters have grown in popularity, thanks to Walt Disney, which popularised and expanded it globally. Most characters have wings and magical abilities and are associated with nature. Below is a list of all the fairies from fantasy adventure film with their unique traits.
Tinker Bell characters
All the Tinker Bell fairies face challenges and rely on one another to achieve their goals. Check out the most famous animated creatures in the Disney canon.
1. Tinker Bell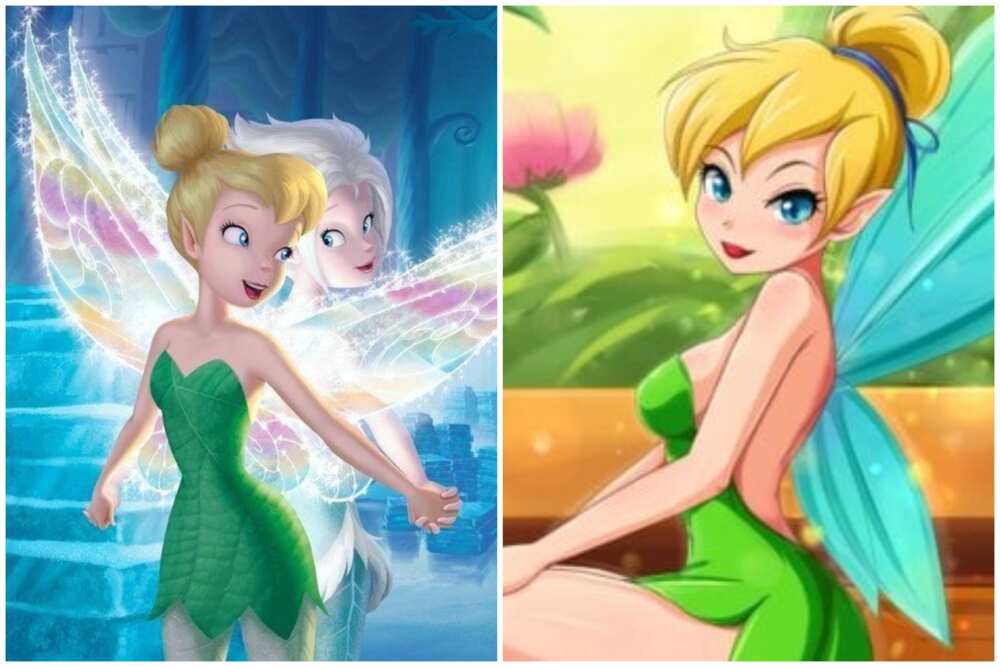 Tinker Bell is a famous fairy from the animated series Tinker Bell. She is known for her boundless curiosity and determination, which can sometimes make her stubborn. The Tinker Bell fairy is commonly depicted wearing a short, strapless dress in various shades of green and has delicate, translucent wings.
2. Bobble
Bobble is a lovable and quirky tinker fairy in Pixie Hollow, known for his friendly and cheerful personality. He is portrayed as a small, round-bodied fairy with short spiky hair. The Tinker Bell character provides comic relief in the stories by always bringing a sense of humour to the group.
3. Zarina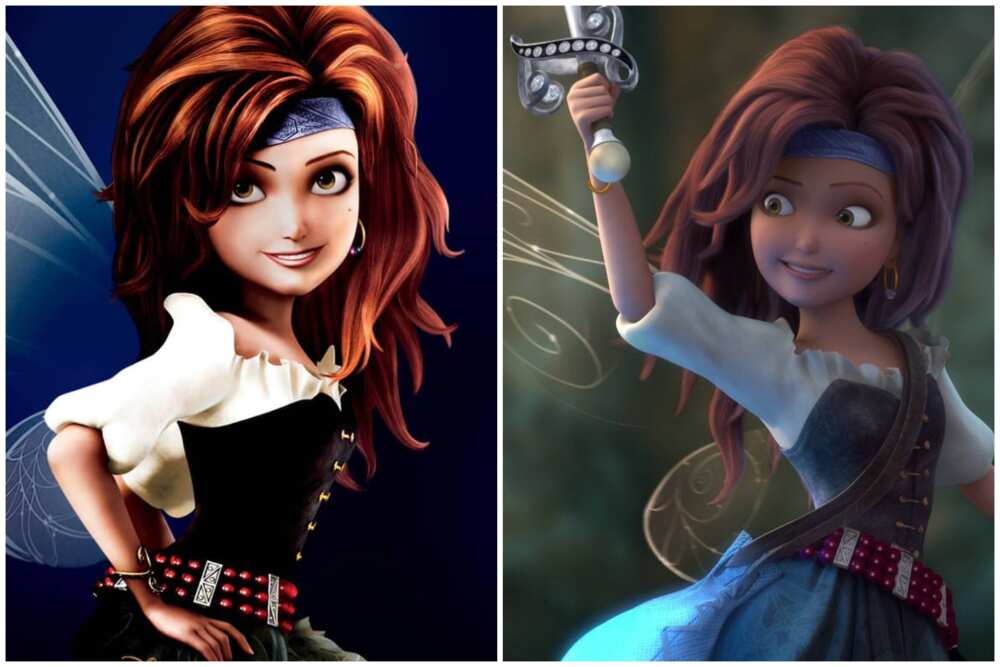 Zarina is a talented and curious dust-keeper fairy who becomes a central figure in The Pirate Fairy. She is portrayed as intelligent, resourceful, and determined, as she uses her skills to embark on a journey that leads her to cross paths with a group of pirates.
4. Fawn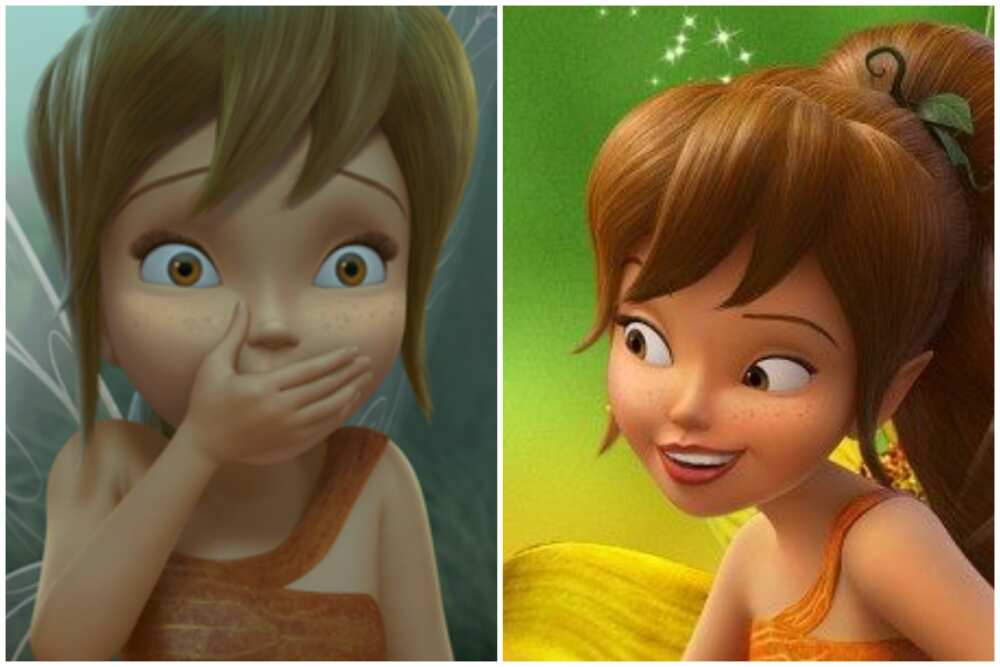 Fawn is an animated and mischievous animal fairy. The Tinker Bell character is depicted as a fairy with long, wavy brown hair and wears a leaf-inspired outfit that reflects her connection to the forest and wildlife.
5. Periwinkle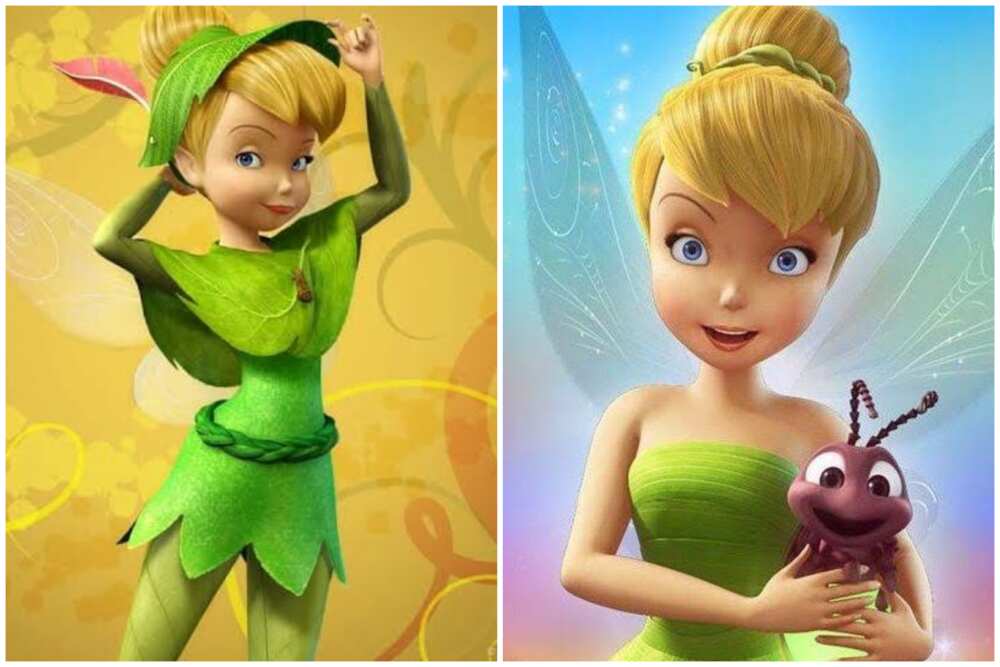 Periwinkle is a frost fairy introduced as Tinker Bell's long-lost sister in Secret of the Wings. She is a loyal friend who loves abandoned, broken, and lost items as she collects them everywhere she goes.
6. Vidia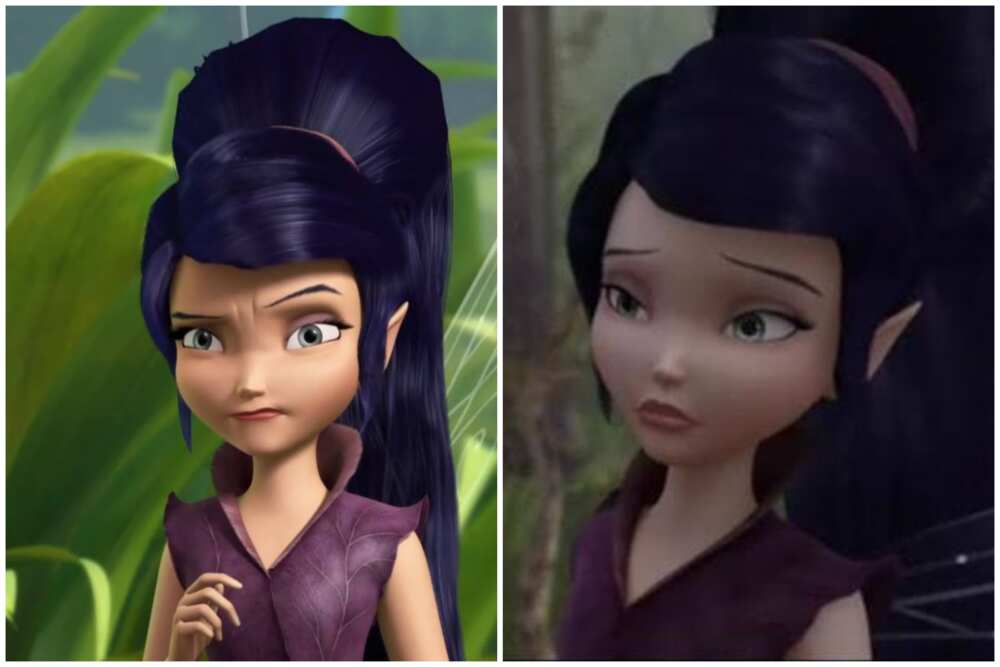 Vidia is a fast-flying fairy who has dark purple hair. She is one of Tinker Bell's fairy friends known for her fast-flying speeds and agility. The fairy is not afraid to voice her opinions and can sometimes be blunt and sarcastic.
7. Rosetta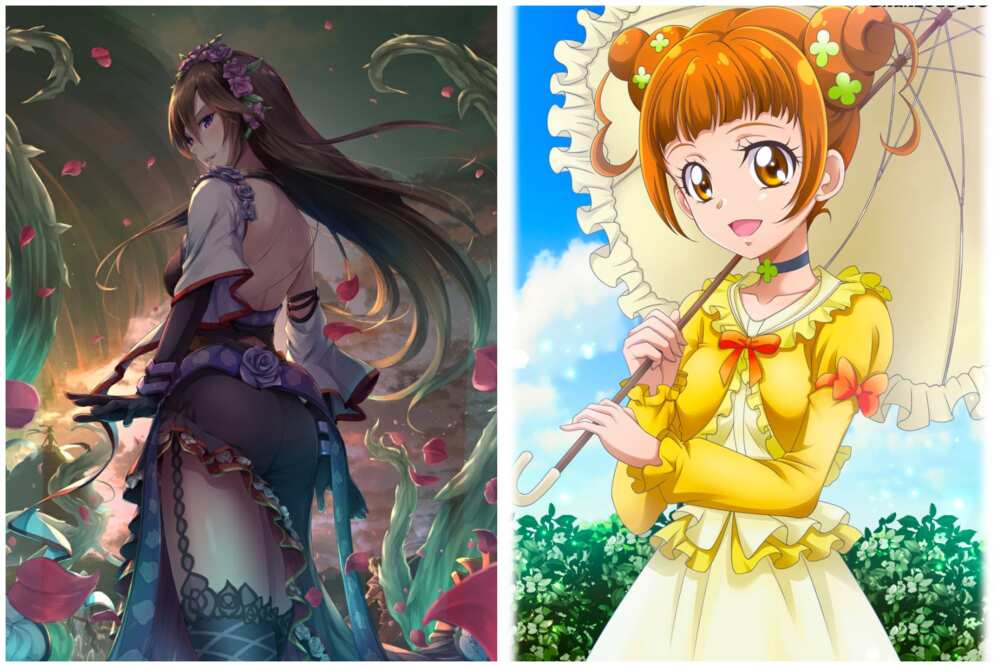 Rosetta is depicted as a little fairy with brown hair and a rosy complexion. She is a garden fairy known for her love of all beautiful things and her expertise in gardening. Rosetta is kindhearted and treats plants and flowers like her own children.
8. Silvermist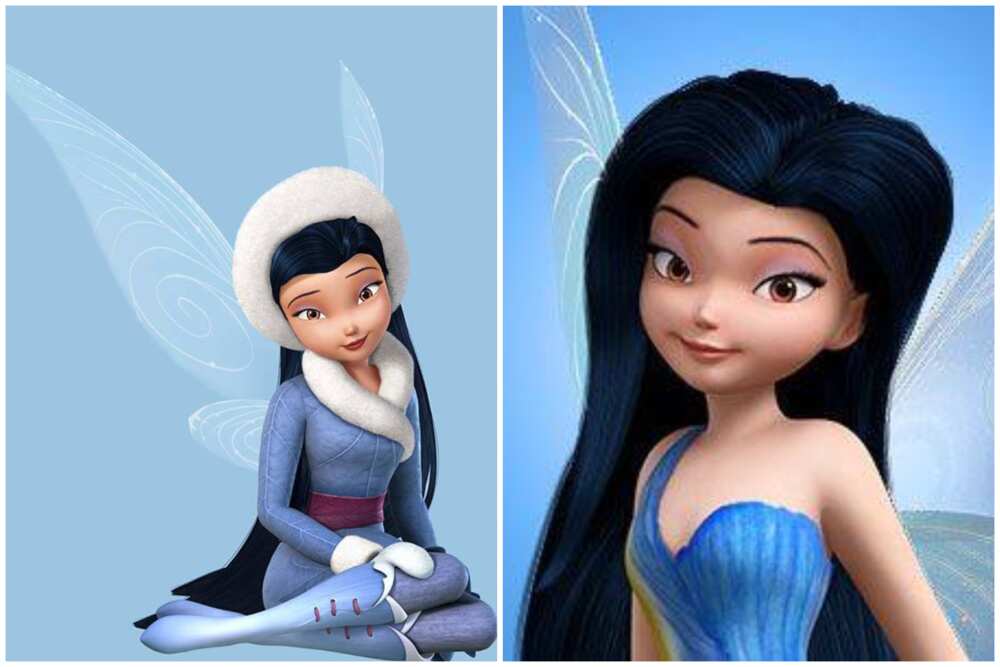 Silvermist is a water-talent fairy known for her calming and tranquil nature. She has the power of controlling water and loves staying near streams. She wears an outfit inspired by water, featuring shades of blue fabrics.
9. Iridessa
Iridessa is a little fairy with honey-brown skin and dark brown eyes. She is a light-talent fairy known for her ability to manipulate and control light. The Tinker Bell character wears an outfit adorned with shades of yellow and gold.
10. Cheese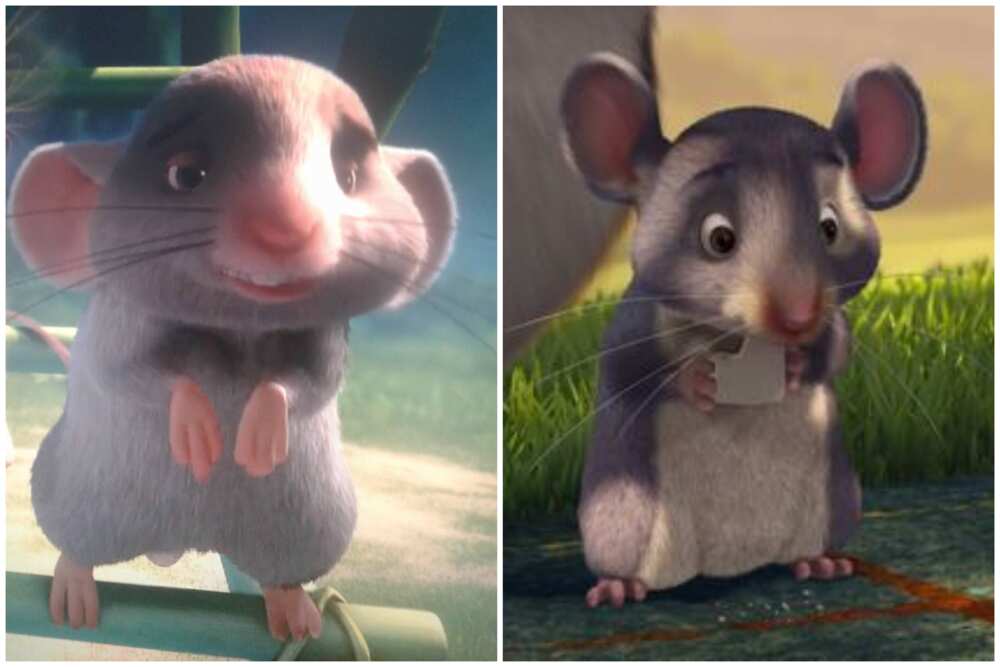 A mouse named Cheese frequently lends a hand around Tinker's Nook. The Tinker Bell character pulls mouse carts to assist the Tinker-talent fairies in moving things.
11. Grimsley
Grimsley is a funny and clumsy garden gnome who resides in the human world. At first, he mistakes the other fairy friends for birds and tries to capture them. He is depicted as a round and stubby gnome with a large beard.
12. Peter Pan
Peter Pan is depicted as a young boy with tousled brown hair. He makes appearances in Tinker Bell and the Great Fairy Rescue. The Tinker Bell character appears when Tinker Bell asks for her help after being captured by Lizzy.
13. Glimmer
Glimmer is a storm-talent fairy in the Disney Fairies film Pixie Hollow Games. She uses her storm-talent abilities throughout the competition to overcome obstacles and contribute to her team's performance.
14. Terence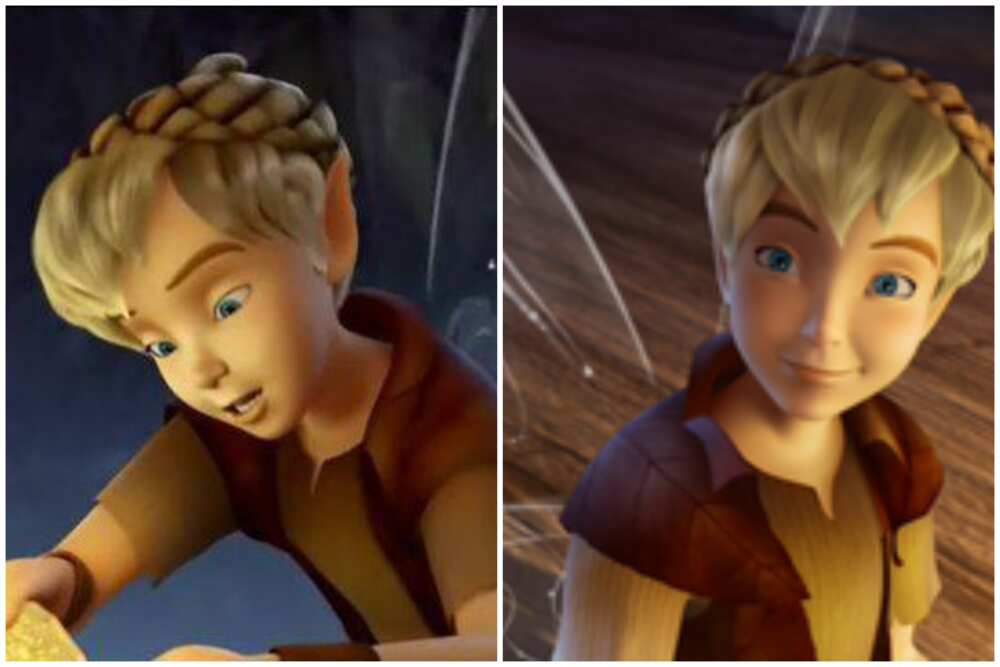 Terence is a dust-keeper fairy known for his close friendship with Tinker Bell. He wakes up before everyone else and distributes a cup of pixie dust to every fairy in Pixie Hollow.
15. Blaze
Balze is depicted as a mischievous and energetic character known for his ability to emit a warm and vibrant glow. He is one of the most courageous fairies in Pixie Hollow and displays strong behaviour when faced with obstacles.
16. Lord Milori
Lord Milori is Winter Woods's leader, often depicted as a noble and wise fairy. The character is responsible for overseeing the winter season and its magical elements. His fairies highly respect him, and no one dares to speak back or argue with him.
17. Minister of Spring
Minister of Spring is one of the Tinker Bell character names loved by children and adults because of his perfectionism. He is responsible for the spring season, representing a fun, carefree attitude, recklessness, and new beginnings.
18. Queen Clarion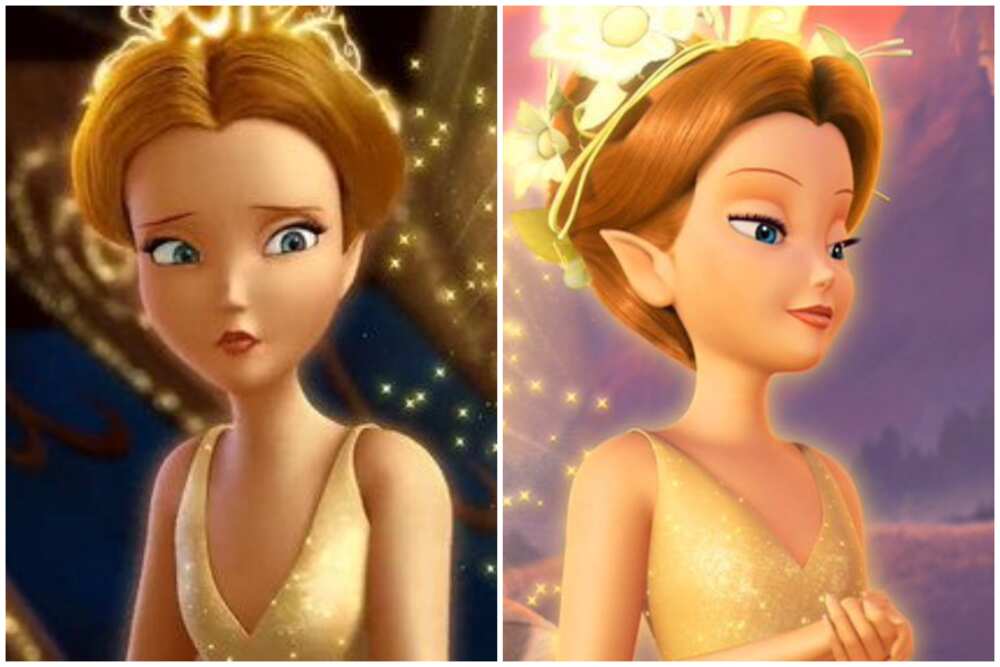 Queen Clarion is the majestic and wise ruler of Pixie Hollow. She deeply understands the fairies' talents and helps guide them in embracing their abilities. The Tinker Bell character also possesses the ability to manifest as golden pixie dust and travel.
19. Fairy Mary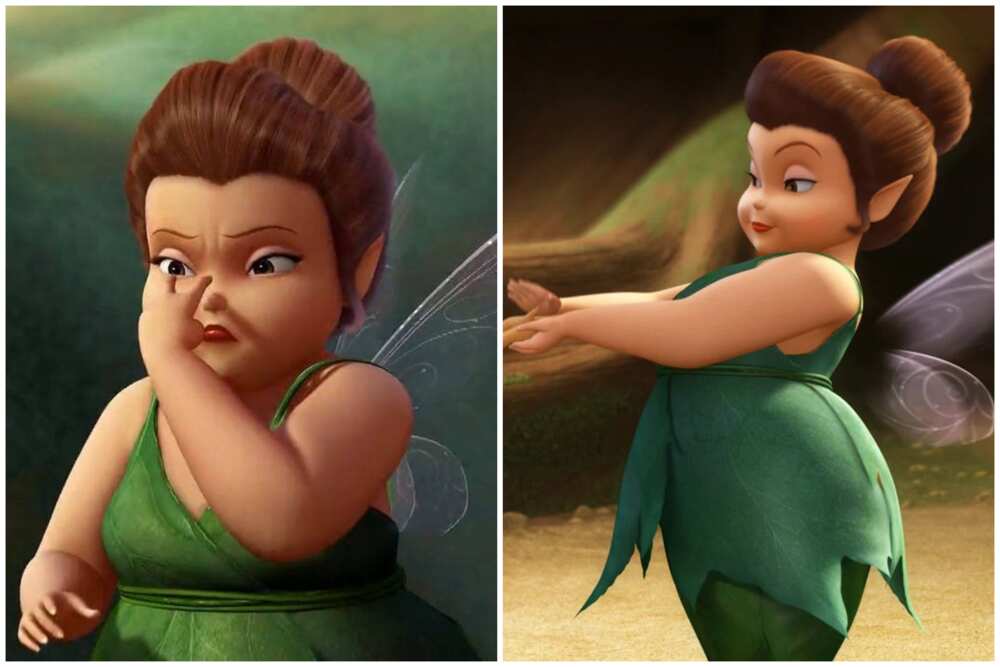 Fairy Mary serves as the supervisor of all the tinker fairies in Pixie Hollow. She is portrayed as a disciplined fairy who guides and instructs Tinker Bell and the other tinker fairies. She is also good friends with the Minister of Summer and fellow tinker fairies, Bobble, Clank, and Bell.
20. Beck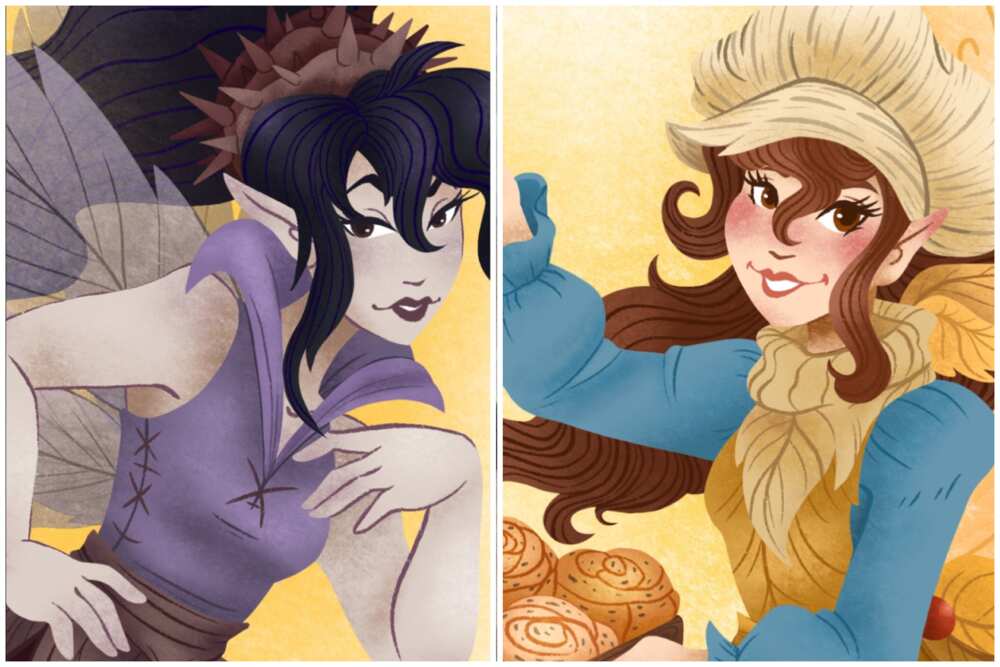 Beck is amongst Tinker Bell friend names that are widely recognized in Pixie Hollow. The fairy is known for her deep connection with animals and her ability to communicate with them.
21. Martin Griffiths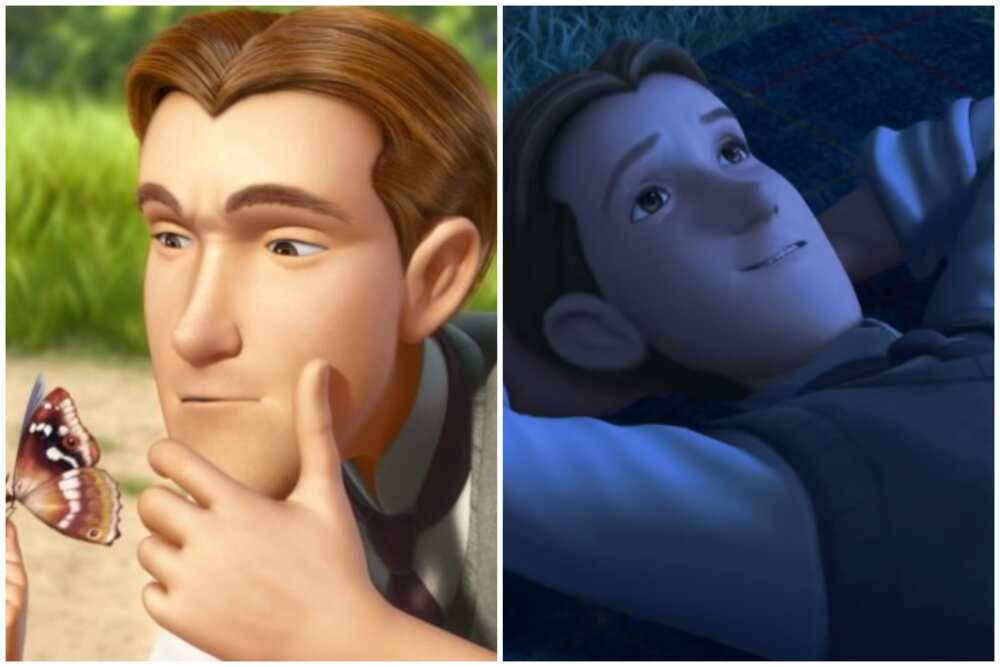 Martin Griffiths is a fairy known from Tinker Bell and the Great Fairy Rescue. He is the father of Lizzy Griffiths. He appears to be a scientist whose main area of expertise is the study of butterflies and moths.
22. Spike
Spike is a frost-talent fairy in Tinker Bell and the Secret of the Wings. The fairy is known for his mischievous and playful personality. He has a close friendship with Tinker Bell's long-lost sister, Periwinkle.
23. Clank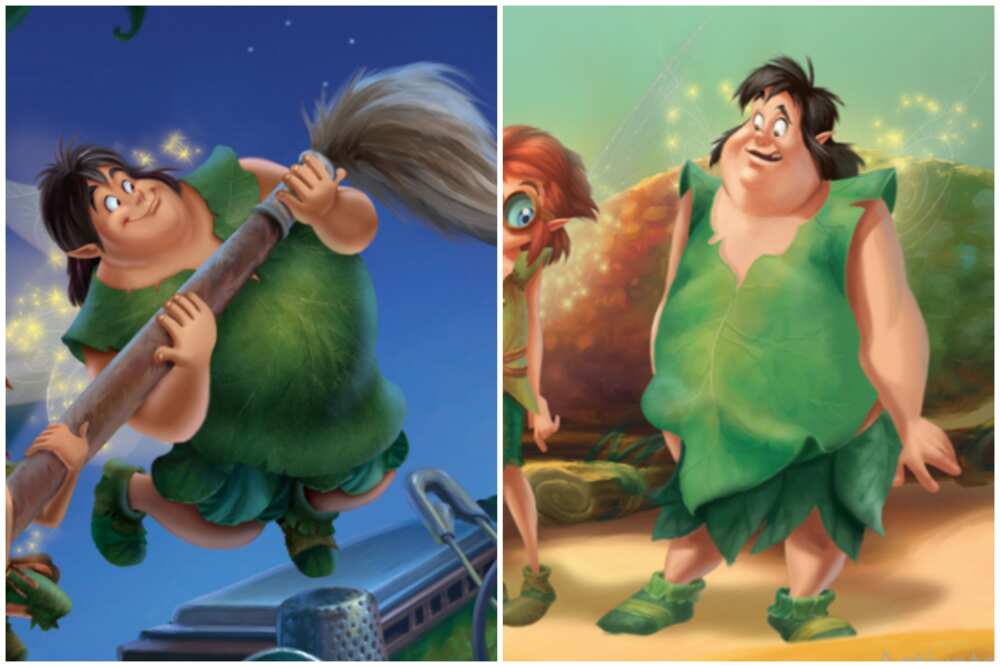 Clank is Tinker Bell's closest friend in Pixie Hollow. He is a dependable and hardworking fairy known for his ability to build and fix objects. He participates in all of Bobble's inventions and supports him all along.
24. Minister of Autumn
Minister of Autumn features in Tinker Bell and the Legend of the NeverBeast. He is known for being a calm, collected, and kind fairy who coordinates activities and avoids mishaps in Autumn.
25. Minister of Summer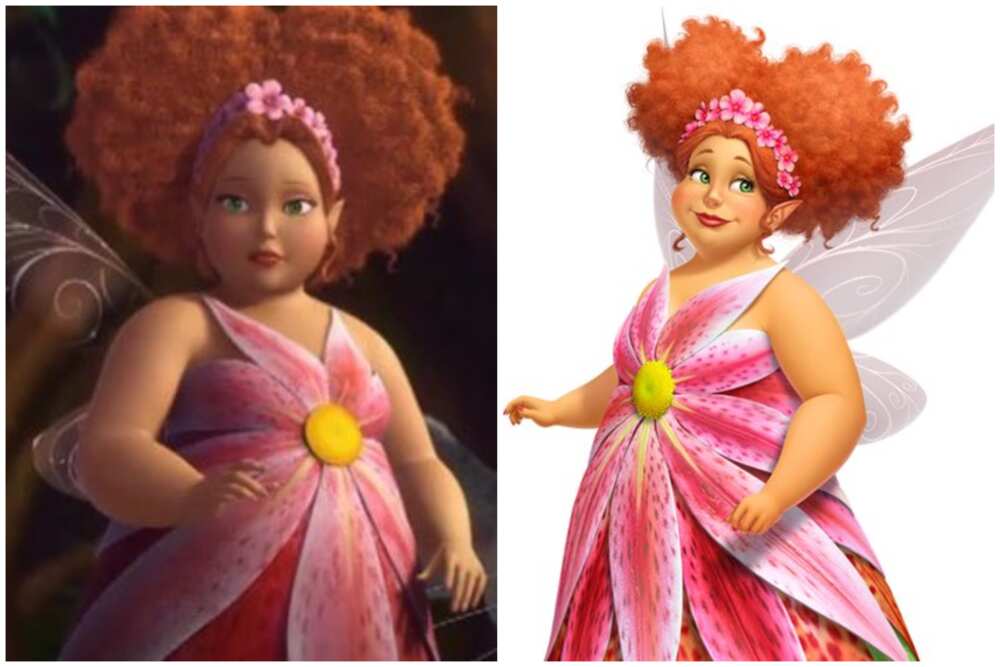 Minister of Summer appears in Tinker Bell and the Lost Treasure film. She is a bubbly, energetic, and enthusiastic fairy in charge of all preparations for summer.
26. Lumina
Lumina participated in the Pixie Hollow Games alongside Iridessa as a light-talent fairy. The light-talent fairy competes in the Pixie Hollow Games by bringing radiant energy to the competition.
27. Maleficent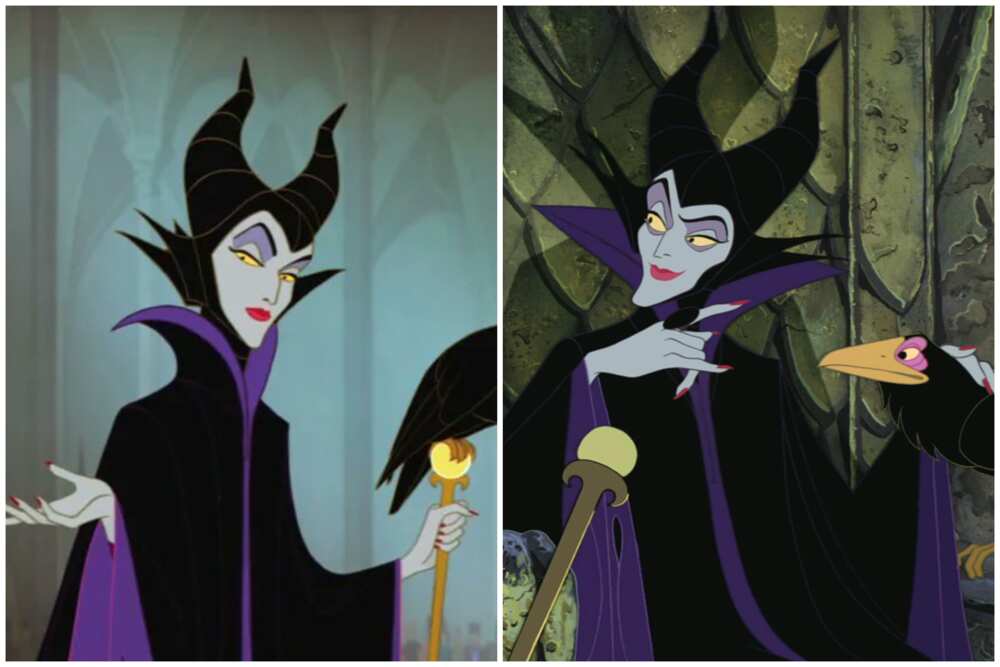 Maleficent is a fairy from Disney's animated film Sleeping Beauty. She is known for her iconic black-and-purple robes, horned headdresses, and staff. She is the main antagonist who uses her powers to curse a newborn baby.
28. Necia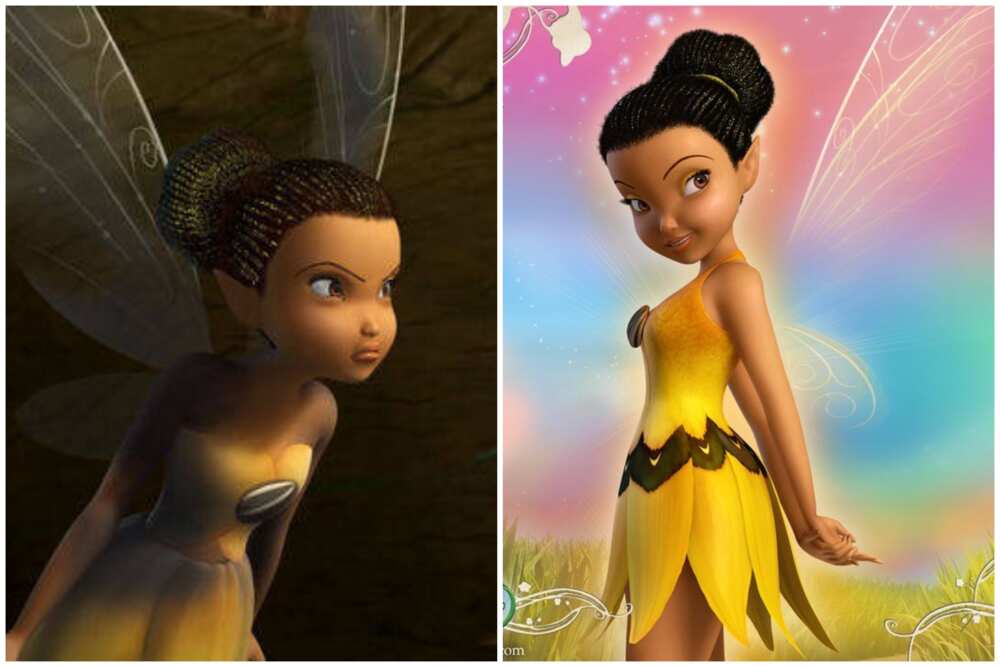 Necia is the first original main character who is a fairy in the Never Girls series. She single-handedly defeats a strong dragon. Her powers are initially frightening to the other fairies. She is considered the strongest fairy in Tinker Bell.
29. Lyria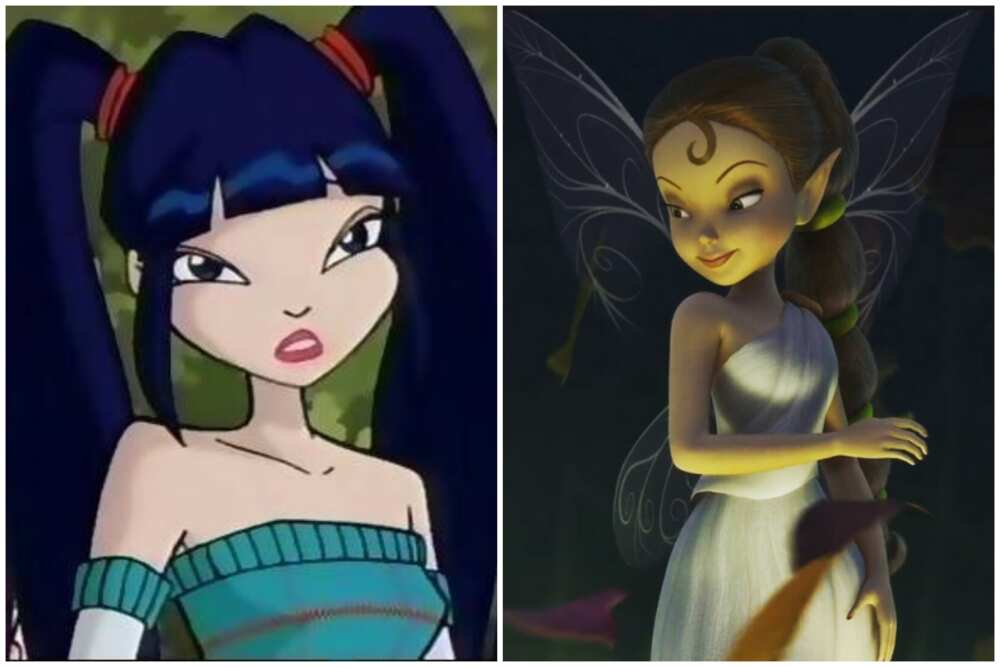 Lyria is a fairy featured in Tinker Bell and the Legend of the NeverBeast film as a storytelling fairy. She performs beautiful tales at Fairy Tale Theater, bringing them to magical worlds through her words and pixie dust pictures.
30. Fira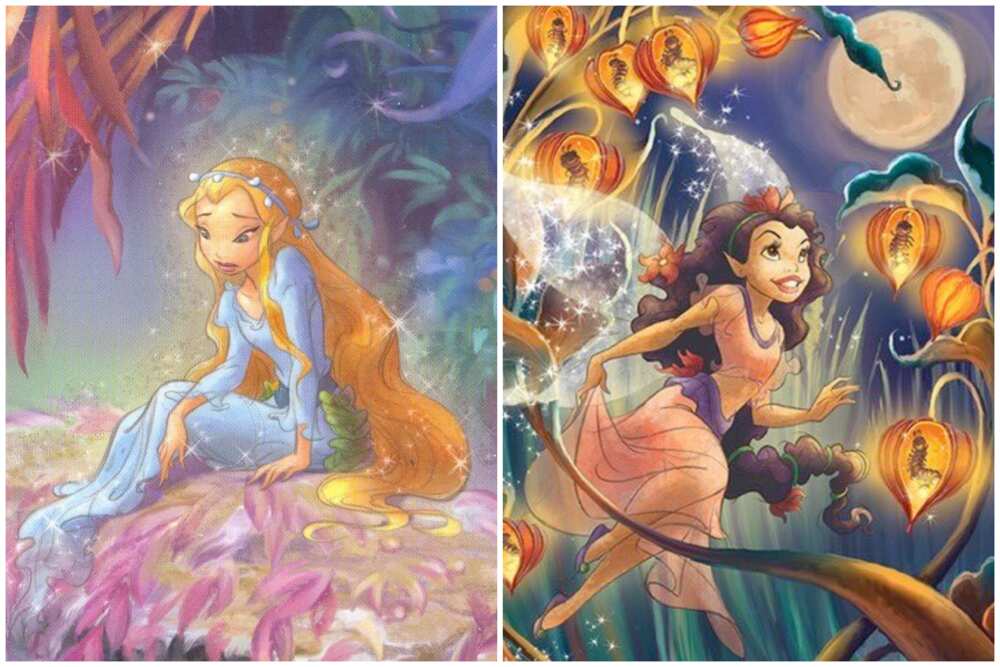 Fira is a light-talent fairy who often brings light and joy to those around her. She is responsible for ensuring that Pixie Hollow is well-lit at night so that parties can be celebrated.
31. Chloe
Chloe, a garden-talent fairy, is the main deuteragonist in the Pixie Hollow Games. She is a caring and nurturing fairy who has a deep connection with plants and the natural world.
32. Prilla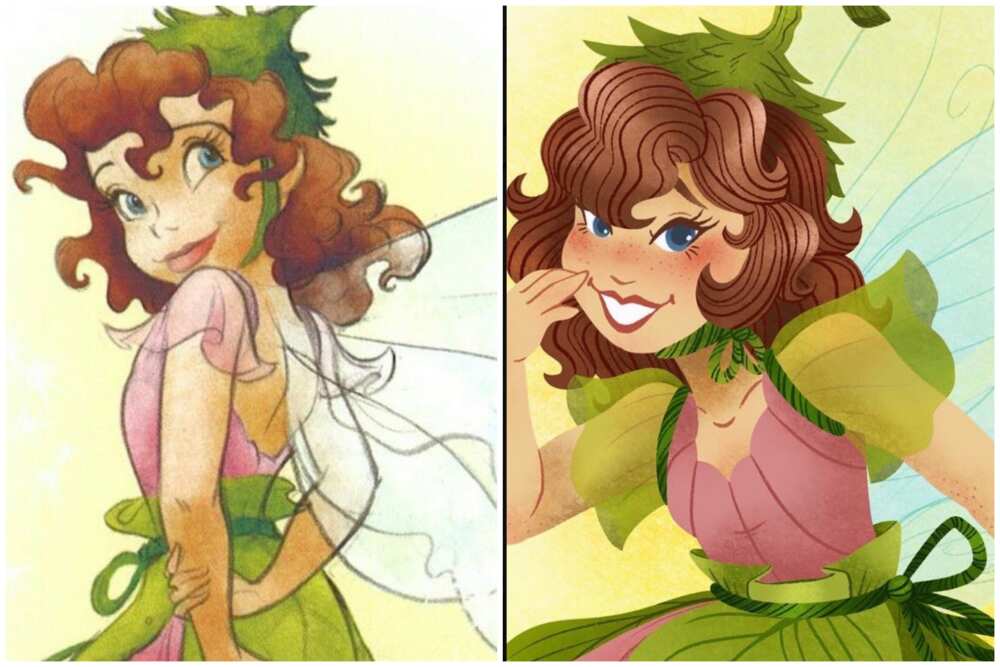 Prilla is a fairy born out of the laughter of Sara Quirtle. She is depicted as a curious and adventurous fairy eager to learn and explore.
33. Rani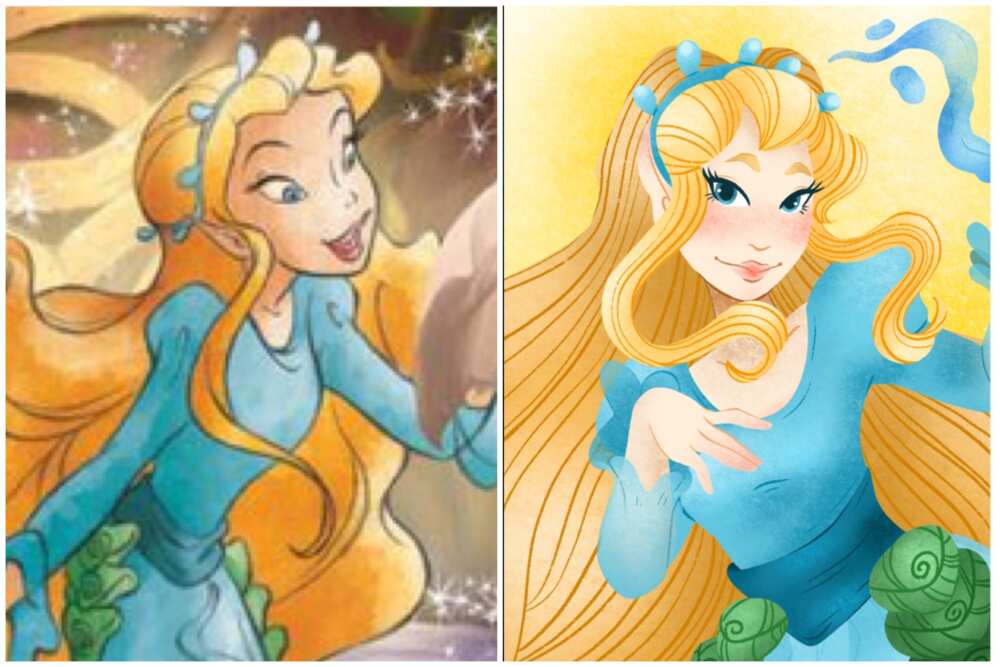 Rani is among the Tinker Bell movie characters known for her ability to manipulate water. She can perform magical things with water, such as bouncing it around like a ball, moulding it into a fish, or even creating sound or music.
34. Glissandra
She is a light fairy who wears a lot of makeup. She features in the Welcome to Pixie Hollow book and the Disney Fairies games. The fairy appears in the game as blonde, happy, and fond of wearing makeup.
35. Captain Hook
Captain Hook is depicted as a fearsome and cunning pirate captain who seeks revenge against Peter Pan. The anime fairy tricks Zarina into working for the pirates but finally imprisons her in a lamp and dumps her in the ocean.
36. Mr. Smee
Mr. Smee is a portly and bumbling pirate who accompanies Captain Hook in his quest to capture Peter Pan and the Lost Boys. He is a soft-spoken and genial old man who loves piracy and dreams of spending his life plundering the seven seas.
37. Sled
Sled is a sparrow man with winter talent. He is a gentleman and romantic at heart who charms Rosetta with his smooth-talking ways. He supplies ice blocks to Tink for her snow-making machine and is always helpful to the warm fairies wherever he can.
38. Wendy Darling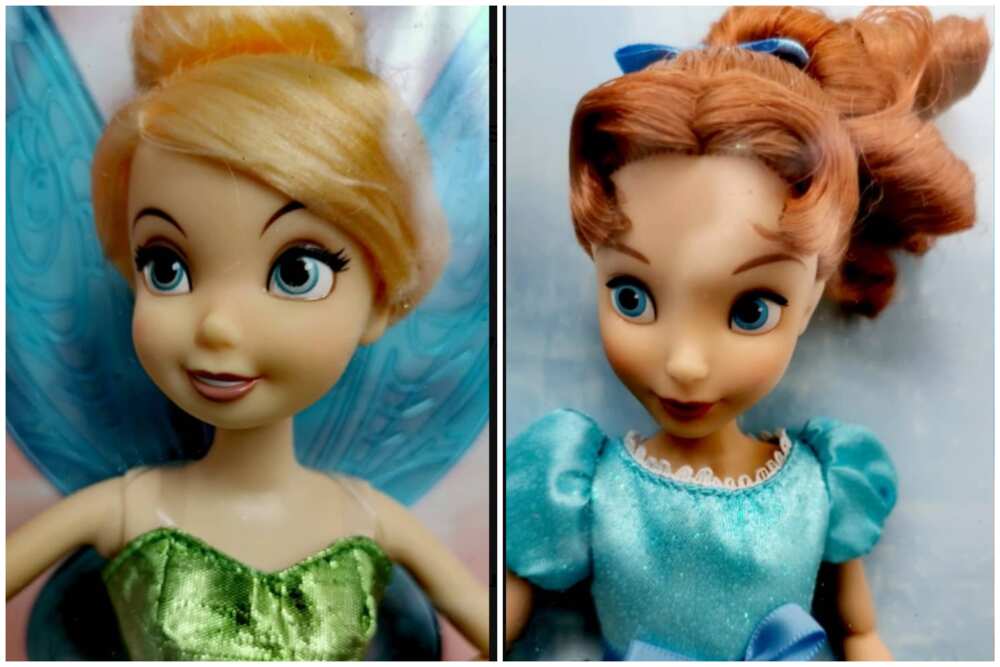 Wendy Darling is a young girl from the MainLand. She is depicted as an imaginative, nurturing, and responsible fairy. Wendy Darling has long brown hair and wears a blue nightdress and a bow in her hair.
39. Leech
Leech is a minor antagonist in Tinker Bell and the Lost Treasure. He appears on the "Troll Bridge", where Tinker Bell comes to get the magic mirror. He works hand in hand with his brother Grimsley to guard a bridge on a lost island.
40. Luminaria
Luminaria is a light fairy found in games and books. The light fairy is frequently seen playing with fireflies. She enjoys playing tag and distributing light to the small creatures since she has a warm place for them.
41. Lizzy Griffiths
Lizzy Griffiths is the human child from Tinker Bell and The Great Fairy Rescue. She is depicted as a kind-hearted and imaginative girl who forms a strong bond with Tinker Bell.
42. Nilsa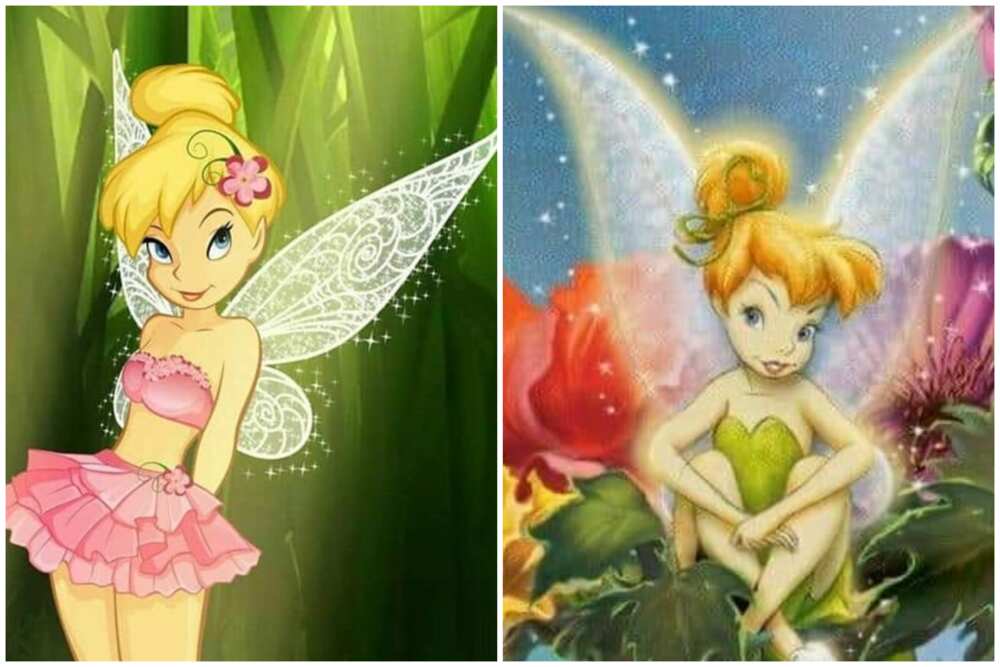 Nilsa is a fairy with scouting abilities who perishes through a lack of belief. She dies of disbelief in Fairy Dust and the Quest for the Egg. The fairy dies with Mother Dove when Tinker Bell goes off to get food for herself.
43. Tizzywing
Tizzywing is a fast-flying-talent fairy who appears in Welcome to Pixie Hollow book. The animated fairy is known for her swift flight and has a reputation for being able to complete tasks quickly.
44. Nyx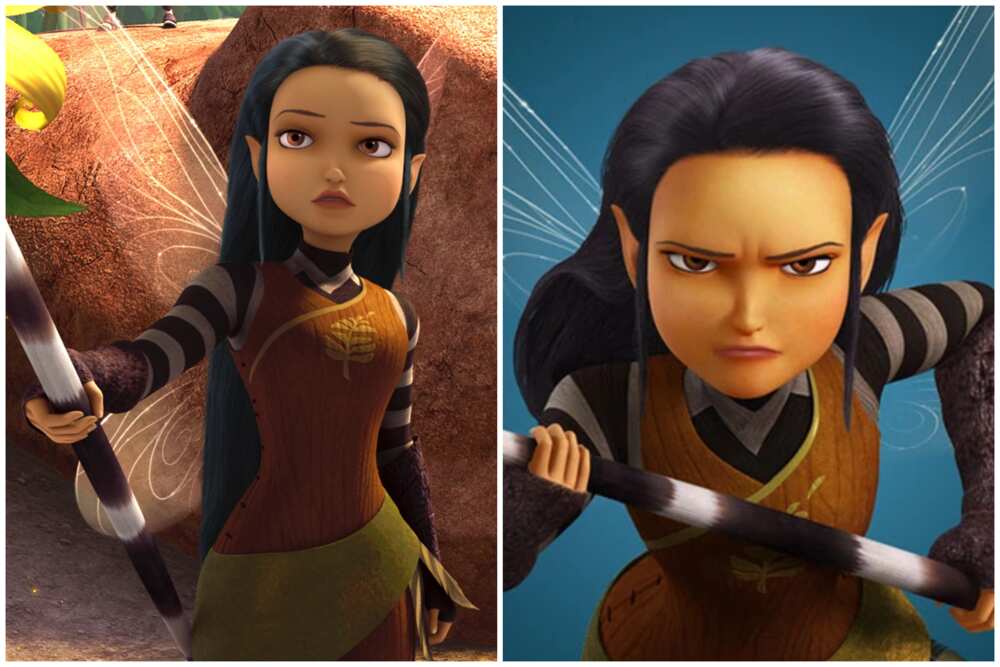 Nyx is a scouting-talent fairy, the main antagonist in Tinker Bell and the Legend of the Neverbeast. She is the leader of the scout fairies and is responsible for protecting Pixie Hollow from potential threats.
45. Dewey
Dewey is a fairy from The Secret of the Wings and The Pirate Fairy film. He is a frost-talent sparrow man residing in the Winter Woods portion of Pixie Hollow. Dewey is a widely known fairy and the keeper of all fairy knowledge, giving him his famous nickname, The Keeper.
These are the famous Tinker Bell characters from the Disney Fairies film. These fairies are incredibly magical and will capture your imagination in the most indescribable way.
Legit.ng recently published an interesting piece about the best anime for kids to watch together with your children. Anime's numerous themes range from fantasy and sci-fi to drama and action, providing a wide range of narratives and styles to appeal to a wide range of audiences.
Anime is popular with all audiences globally and continues to evolve with different genres. Check out this post if you want the best anime to watch with your family.
Source: Legit.ng