20 most popular Ice Age characters that made the franchise so iconic
The Ice Age franchise has achieved immense popularity due to a combination of characters that have captivated audiences worldwide. These characters have a unique blend of charm, humour, and relatability. Ice Age characters resonate with audiences worldwide, appealing to children and adults alike.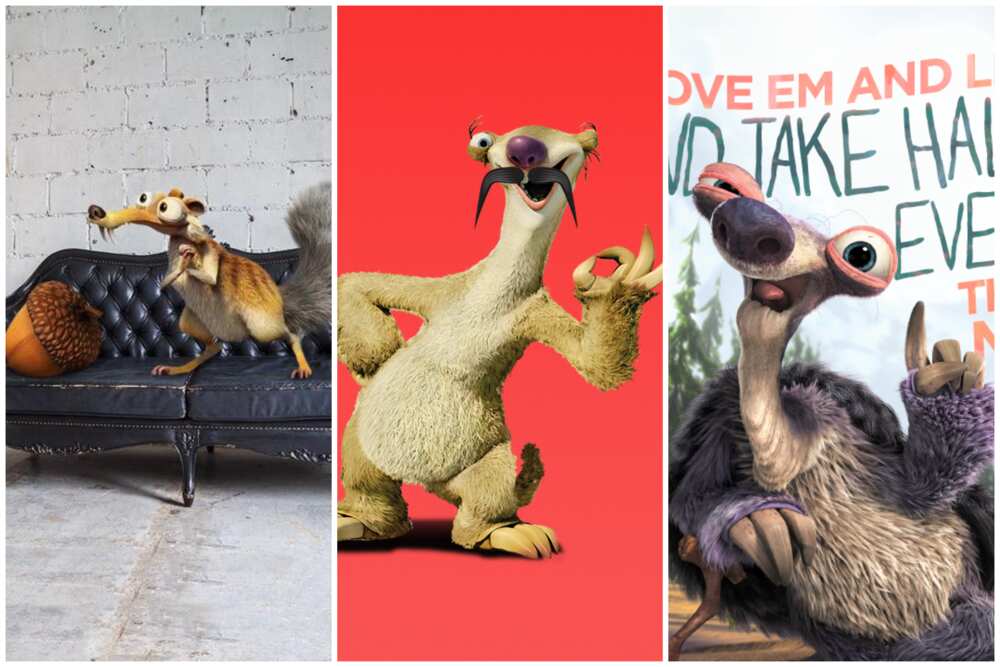 Since the release of the first Ice Age movie on 15 March 2002, this franchise has been loved and treasured by many. The films strike a balance between humour and heart-warming moments. Ice Age characters like Manny, Diego, and Scrat bring their unique personalities and comedic moments, attracting more fans to the franchise.
Popular Ice Age characters
Many Ice Age characters immensely built the plot of this movie series. From Manny, the stoic and protective leader, to Sid, these characters showcase the power of animated storytelling, entertaining audiences globally. Here are the popular Ice Age characters' names from the franchise.
1. Manny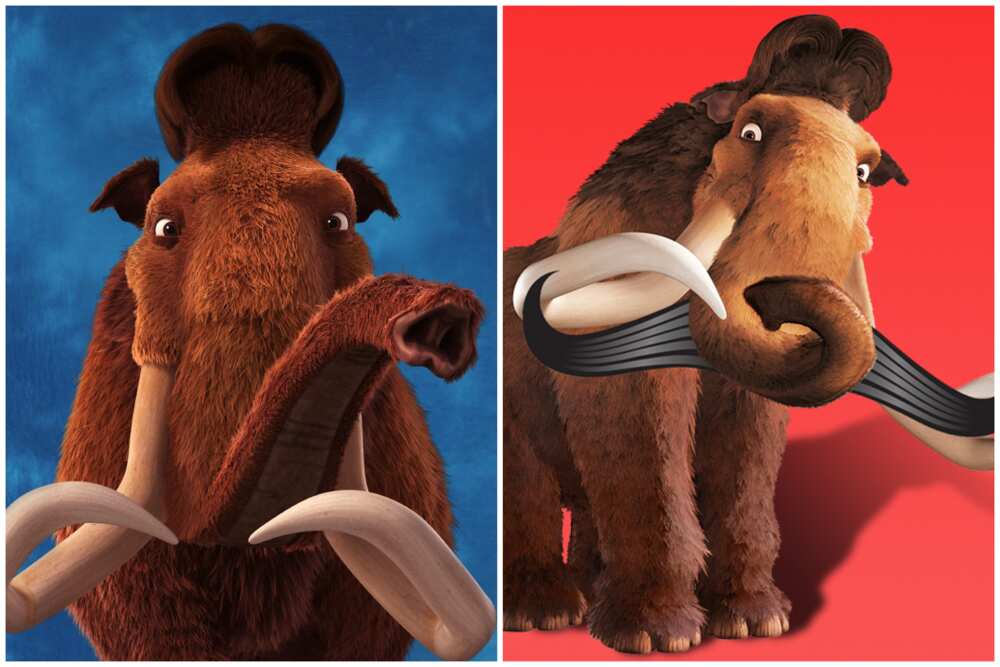 You must have met Manny the Mammoth if you have watched the Ice Age franchise. He serves as a protagonist throughout the series and is well-known for his stoic personality. Manny is a caring and protective character, often acting as the leader of his group.
2. Sid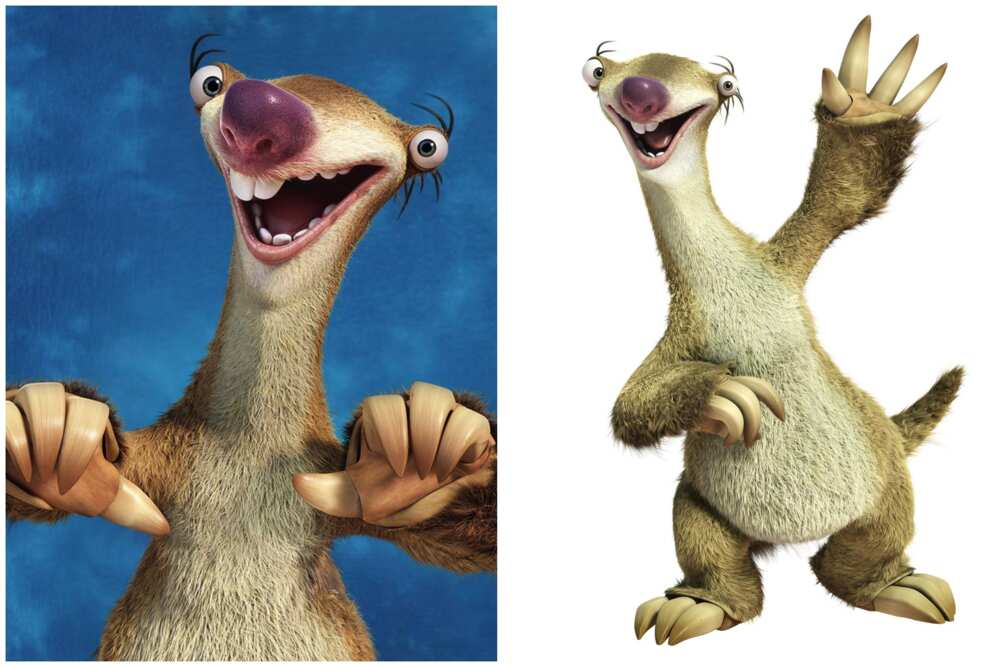 Sid provides comic relief throughout the series with his humorous antics, distinctive voice, and funny remarks. He is one of the Ice Age characters known for his distinctive features, including his lazy eye and large front teeth. He creates an admirable bond between himself, Mommy, and Diego.
3. Scrat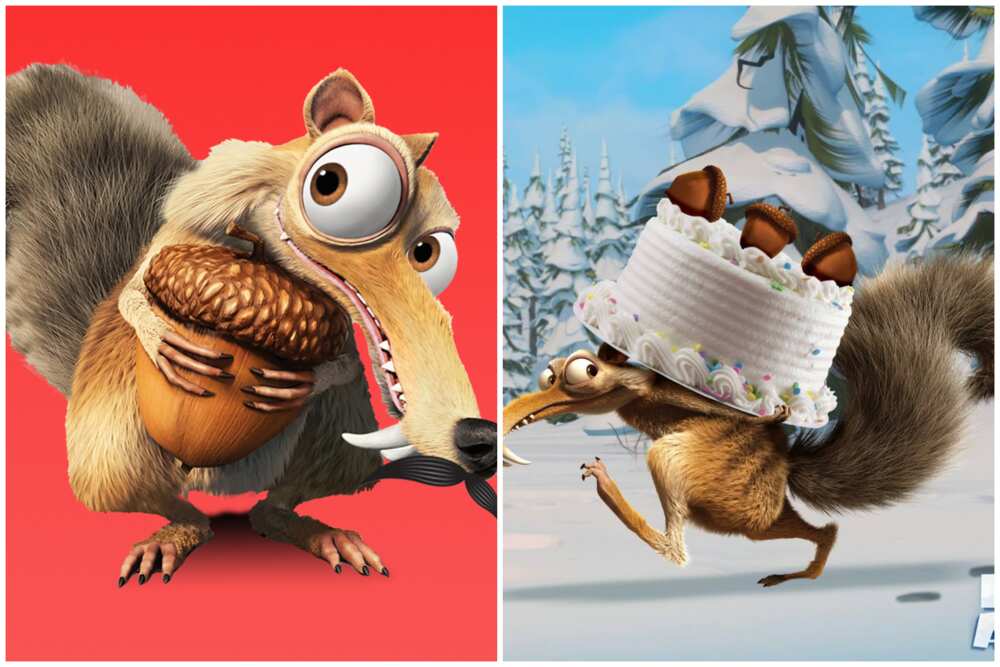 Scrat has a way of giving people belly laughs and, at some point, leaving the fans in stitches. He is hilarious and often finds himself in comical and perilous situations as he chases after or tries to store his acorn. He is constantly found triggering events that lead to disastrous consequences.
4. Buck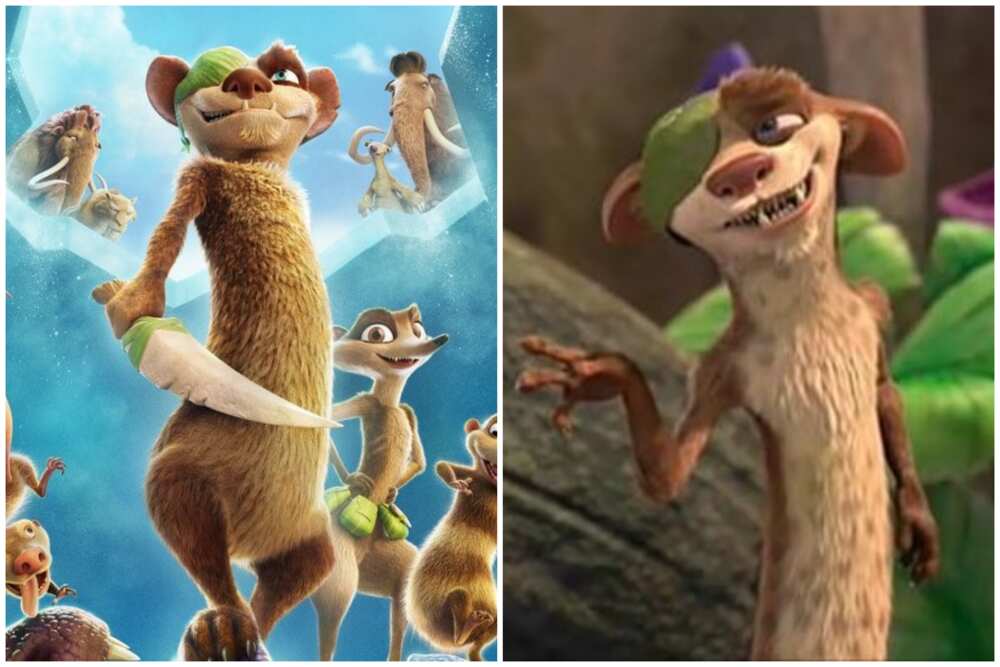 Buck character is one of the notorious characters in the Ice Age film. Even though he comes late in the movie, Buck is portrayed as a fearless and eccentric adventurer with a strong survival instinct. Buck works closely with the main character to guide them through the treacherous landscape.
5. Diego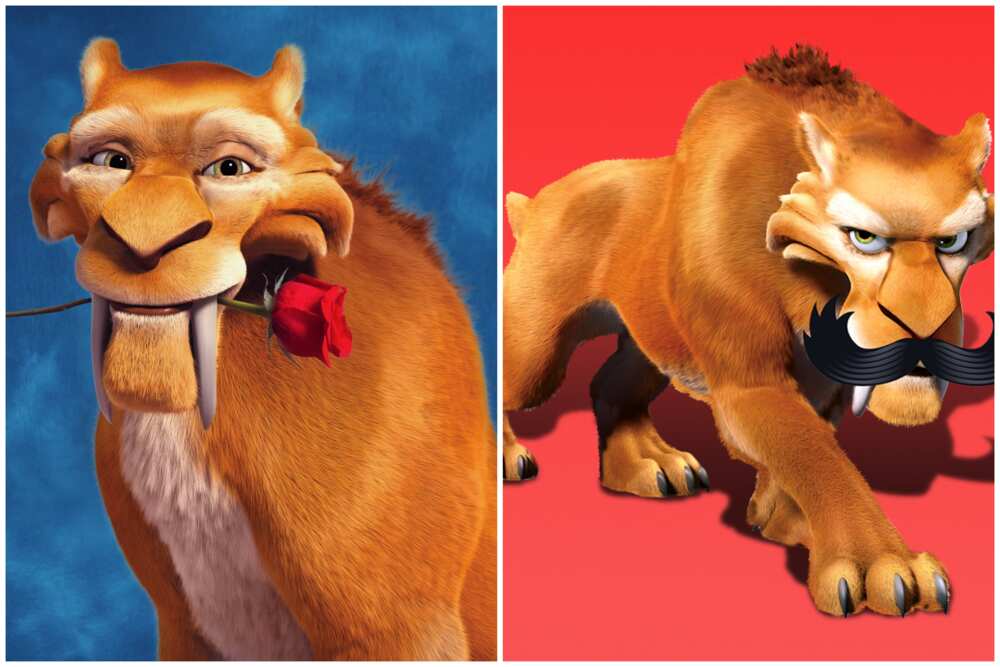 Diego is a sabre-toothed tiger and one of the main characters in the Ice Age series. This is an Ice Age movie character known for his sharp wit, agility, and hunting skills. Even though he starts as a villainous character, Diego manages to make friends as the famous movie progresses.
6. Ellie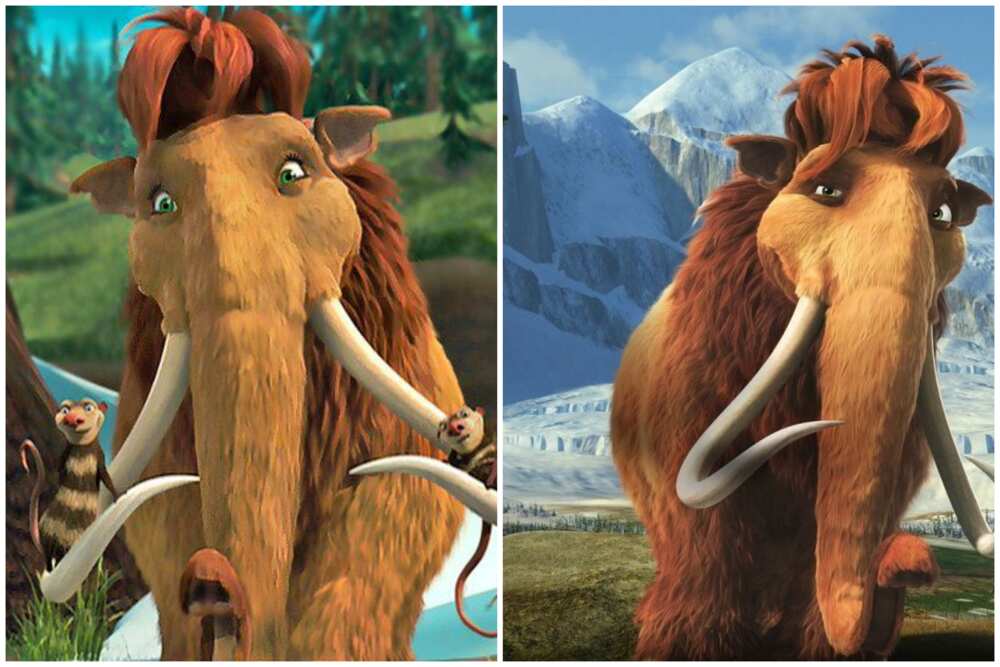 Ellie, the mammoth, is a female woolly mammoth who becomes Manny's lover in the series. She is funny as she believes she is a possum since a family of possums raised her. However, as the story progresses, Ellie discovers her true identity as a mammoth and joins Manny, Sid, and Diego on their adventures.
7. Crash and Eddie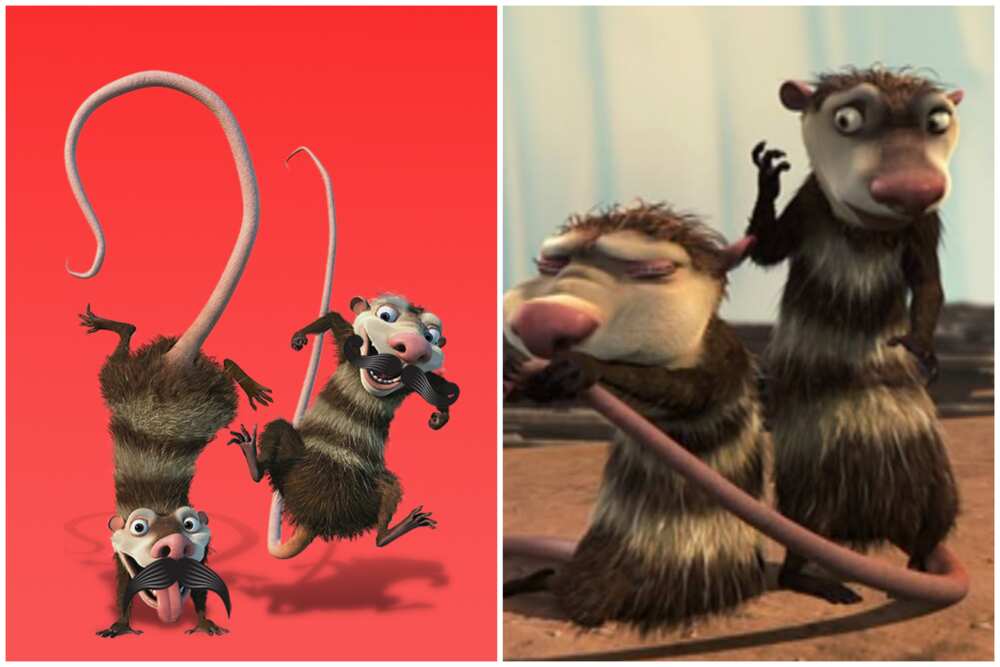 These two make up most of the comic episodes in the series. They appear in the Ice Age: The Meltdown (2006), where they join the main group of Manny, Sid, and Diego on their journey to escape the melting ice and reach safety. Crash and Eddie are known for their quick wit and unwavering loyalty to their friends.
8. Peaches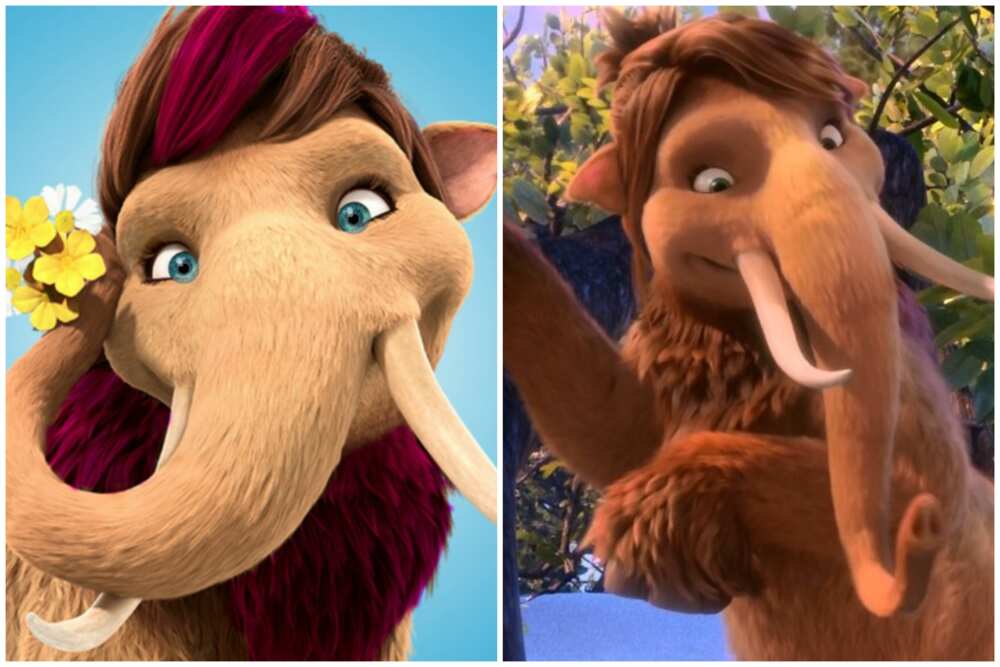 This is the baby born to Manny and Ellie. Peaches grow to be lovable characters from the Ice Age developing unique personalities and storylines. Her storyline unfolds from a baby to a teenage daughter in love.
9. Granny
Granny is another interesting cartoon character from the Ice Age series. As her name may suggest, Granny is an old and senile ground sloth. Despite her old age, she surprises the other characters with her resourcefulness and unexpected abilities. She is humorous, wise and gives the show heart-warming moments.
10. Momma Dino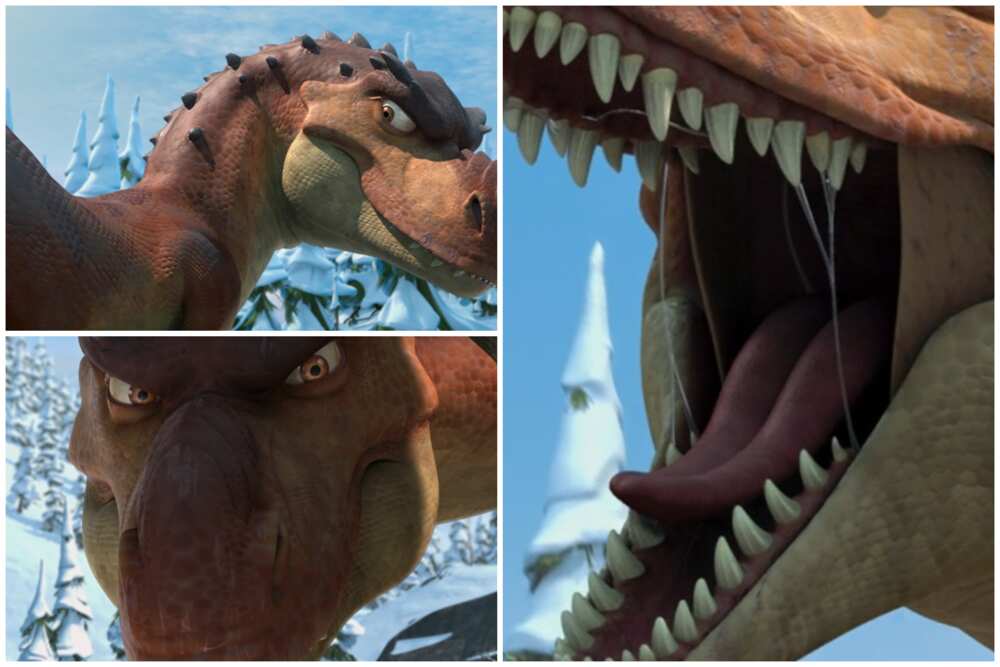 Momma Dino, also known as Momma T-Rex, is a female Ice Age character. She is fierce and protective, yet she falls in love with Sid. She is portrayed as a formidable predator with sharp teeth and powerful jaws. She constantly fights and protects her young one throughout the series in the dangerous Ice Age world.
11. Louis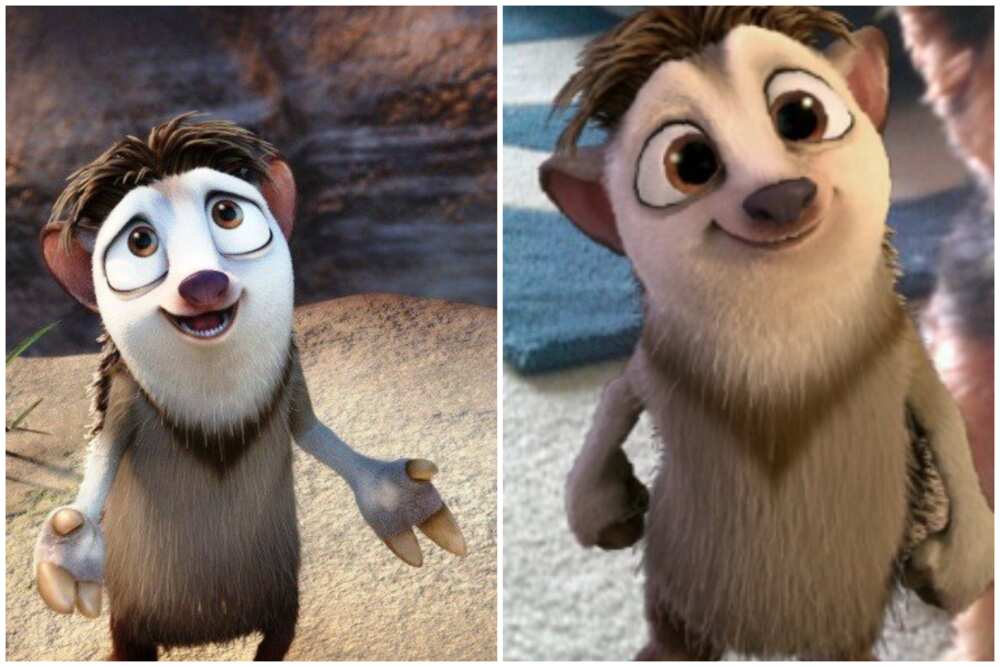 Louis is a soft-spoken character in the Ice Age and is a close friend of Peaches. He is depicted as a character who easily gets anxious and agitated even when there is a slight disturbance around him.
12. Rudy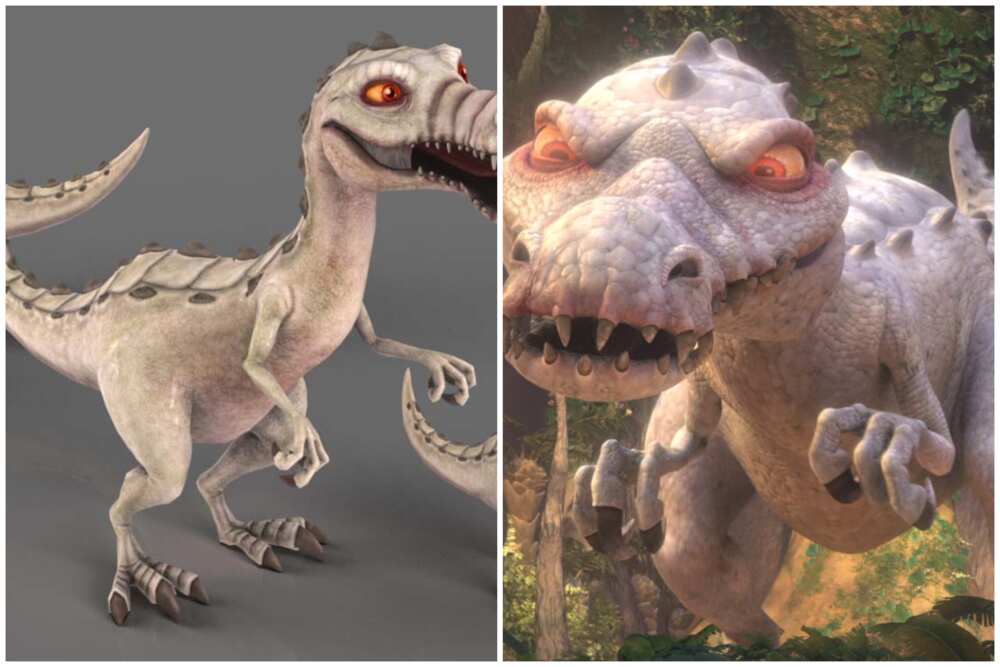 Rudy is a fictional albino Baryonyx, a dinosaur species with a distinctive appearance in the series. He is known for his pale white scales and sharp teeth that pose a threat to everyone he encounters. Manny and his friends have an encounter with Rudy while in search of Sid, who goes missing.
13 Brooke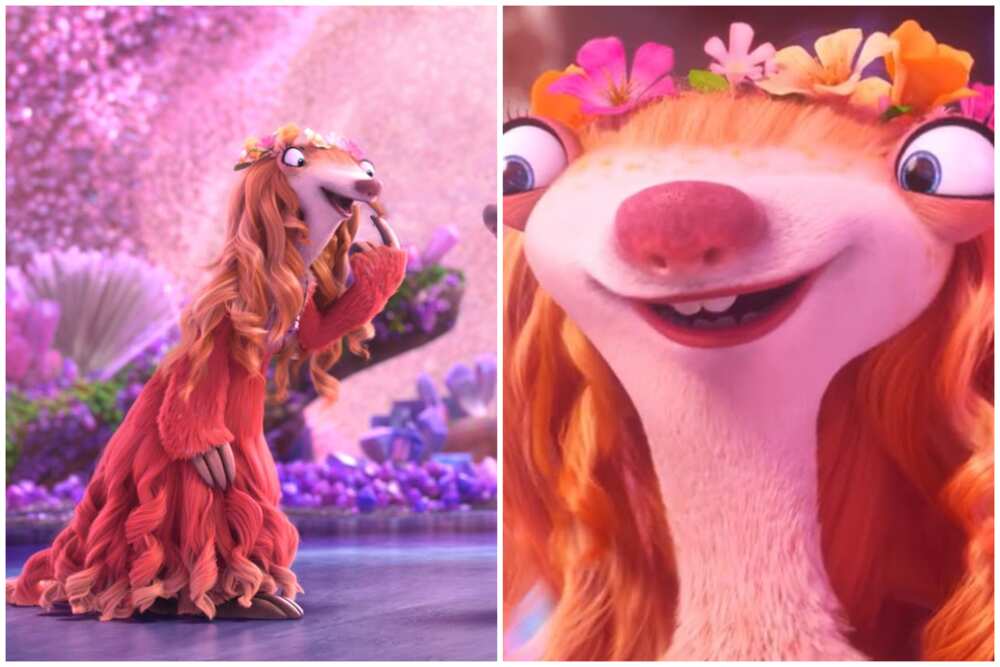 Brooke is among the female characters in Ice Age: Collison Course. She was a resident of Geotopia before she met and fell in love with Sid. The character is known for her hatred of greed and selfishness.
14. Julian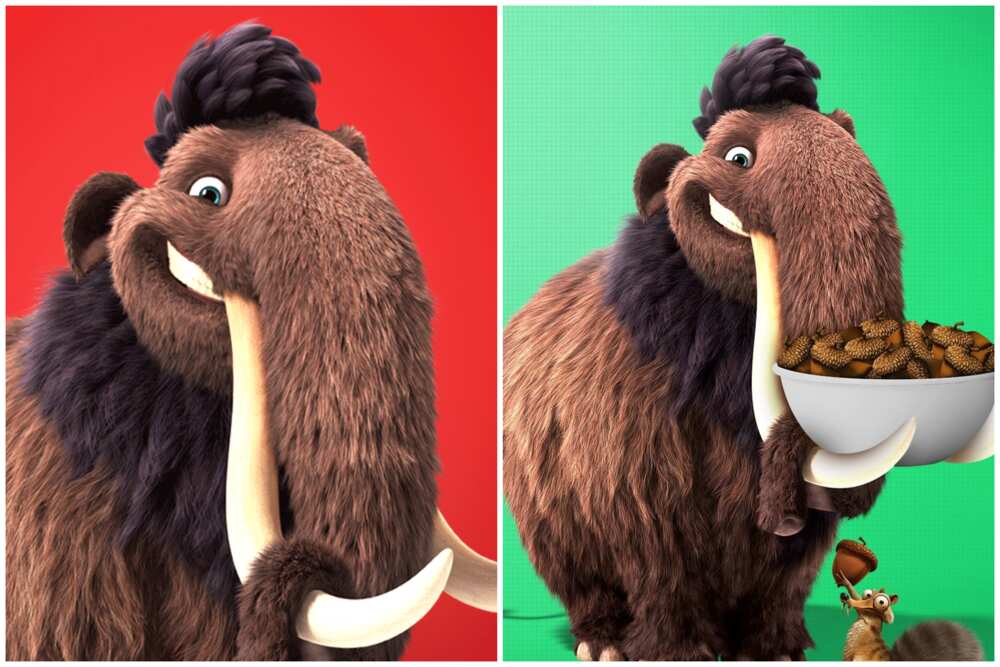 Julian is a charming and enthusiastic mammoth with a positive and laid-back personality. He is introduced in the series as Peaches' husband. As a husband, Julian often tries to impress Peaches and make her happy. His character adds a romantic subplot to the Ice Age series.
15. Shangri Llama
You cannot talk about Ice Age movie characters without mentioning the spiritual leader of Geotopia, Shangri Llama. Unlike other llamas, the character has two horns on the sides of his head. Additionally, he is often covered in thick wool dyed in several different colours.
16. Dodos
Dodos are a flightless bird species that are very comical and clumsy. Manny, Sid, and Diego come across a group of Dodos led by their leader, simply referred to as Dodo. These beautiful birds lack intelligence and desperately try to protect their last remaining food in vain.
17. Ariscratle
This is a squirrel that is full of wisdom. Ariscratle the squirrel was named after the ancient Greek philosopher Aristotle, a famous student of Plato. He is one of the wisest characters who helped guide the other members to the right path.
18. Soto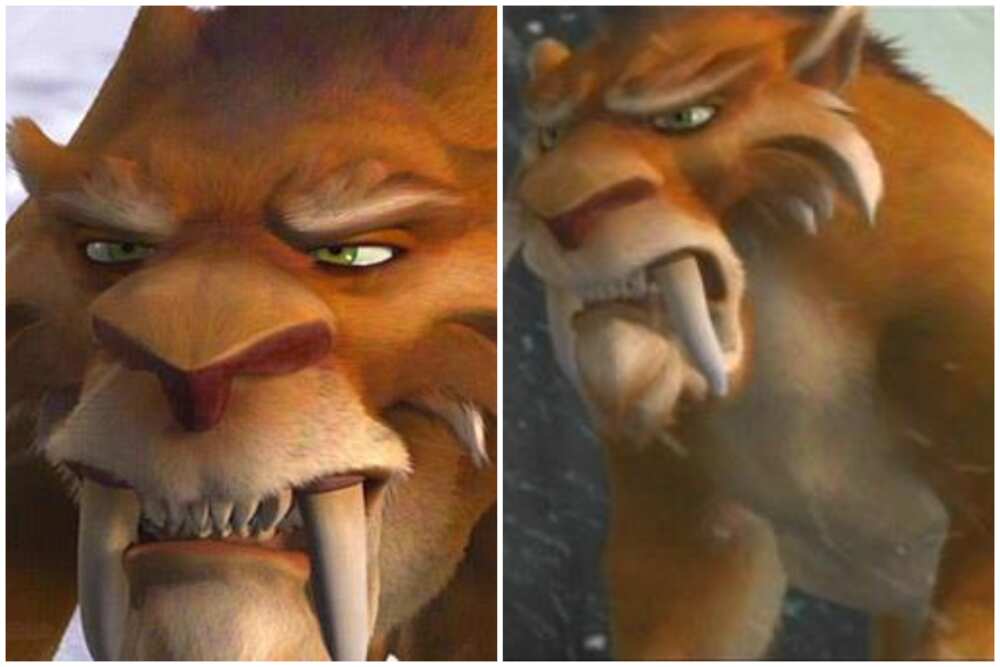 Soto rings a bell when Ice Age characters' names are mentioned. He is a ferocious and ruthless Smilodon who leads a pack of sabre-toothed tigers on a mission to hunt down and kill a human infant named Roshan. Soto is vengeful, and he seeks to revenge against humans who have caused harm to his pack in the past.
19. Shira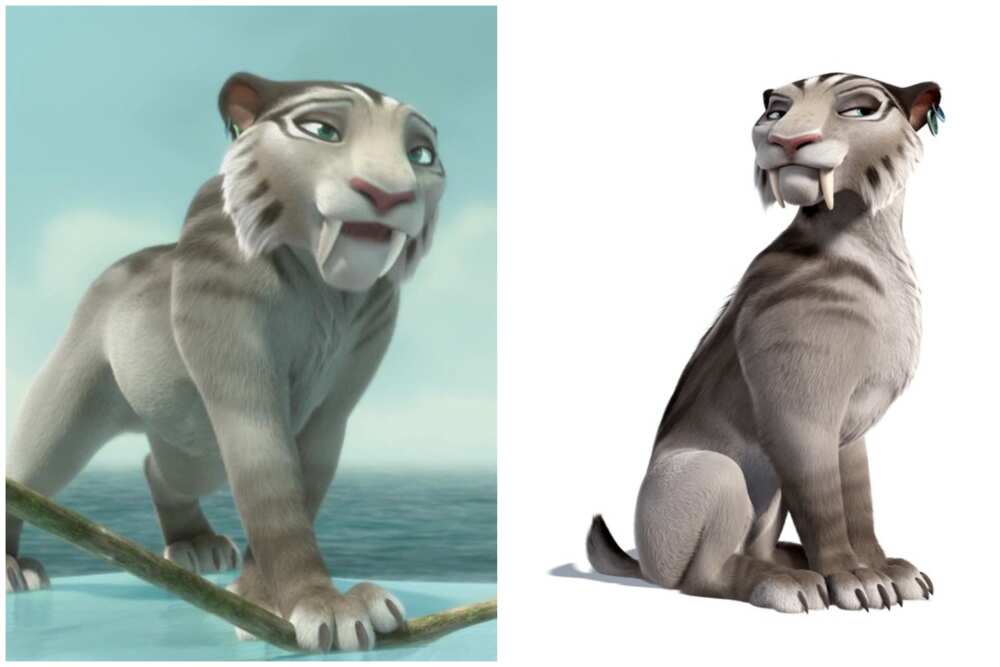 Shira is one of the most beautiful Ice Age movie characters. She is the agile, strong, and feminine sabre-toothed tiger who also becomes Diego's lover. Initially, she serves as a member of Captain Gutt's pirate crew, working as a villain in the movie. But later, she changes her heart and becomes the main character's best friend.
20. Roshan
Roshan is one human infant who plays a significant role in the first Ice Age movie. He is saved from tigers by Manny and Sid after he is separated from his tribe.
Throughout the movie, Manny, Sid, and Diego take on the responsibility of returning Roshan to his tribe. He represents the hope for unity and cooperation between different species in the face of adversity.
The beloved Ice Age characters have captured the hearts of audiences globally with their endearing personalities and unforgettable adventures. These characters will forever hold a special place in the hearts of fans as they continue to thaw our hearts and warm our spirits with their timeless charm.
Legit.ng recently published an interesting article about 25 female anime characters every anime fan knows and loves. Female anime characters are attractive and intelligent. They have specific personalities that make them loved by fans.
They have become popular because of their humour, beauty, and powers. They bring you excitement and joy anytime you watch them participate in battles. Anime girls like Miko Lino, Sakura Haruno, and Hikaru Minamoto are some of the female anime characters that are loved.
Source: Legit.ng