25 iconic Disney couples that are definitely relationship goals
Disney Network is the most popular network when it comes to entertainment for kids, teens, and young adults. The network provides a variety of animated series, films, and cartoon shows. One of the popular stories among its audience is the romantic story involving Disney couples. Discover some of the iconic Disney couples that are relationship goals.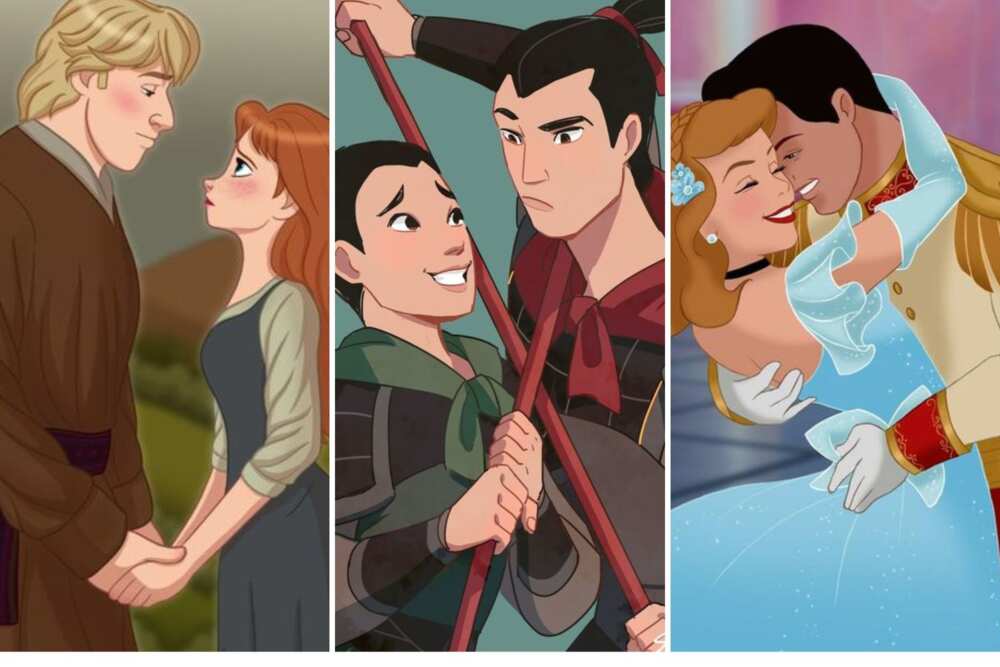 Disney has a massive collection of characters adored by fans, including couples. Disney couples give viewers the romantic fantasy everyone desires in their lives. The story of the prince and princess finding love is always a good ending. These couples bring joy, love, and hope in the imperfect world.
Iconic Disney couples
Disney has produced some of the best and most memorable love stories presented through movies and TV shows. Below is a compilation of the best Disney couples of all time.
1. Meg and Hercules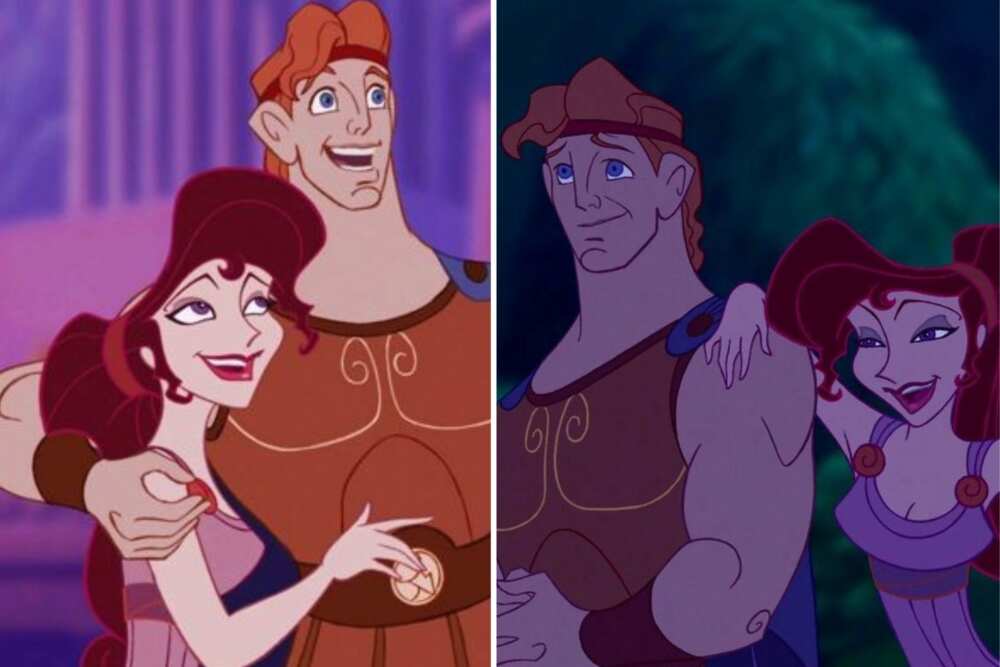 Meg and Hercules are among the iconic couples of the 90s. Hercules is a demi-god and a child of Zeus, one of the popular deities. He grows to be a powerful, strong and pure-hearted guy. Meg, also known as Megara, is sent to trap him but falls in love with him instead. Hercules performs 12 seemingly impossible tasks to save Meg, and he succeeds.
2. Aladdin and Jasmine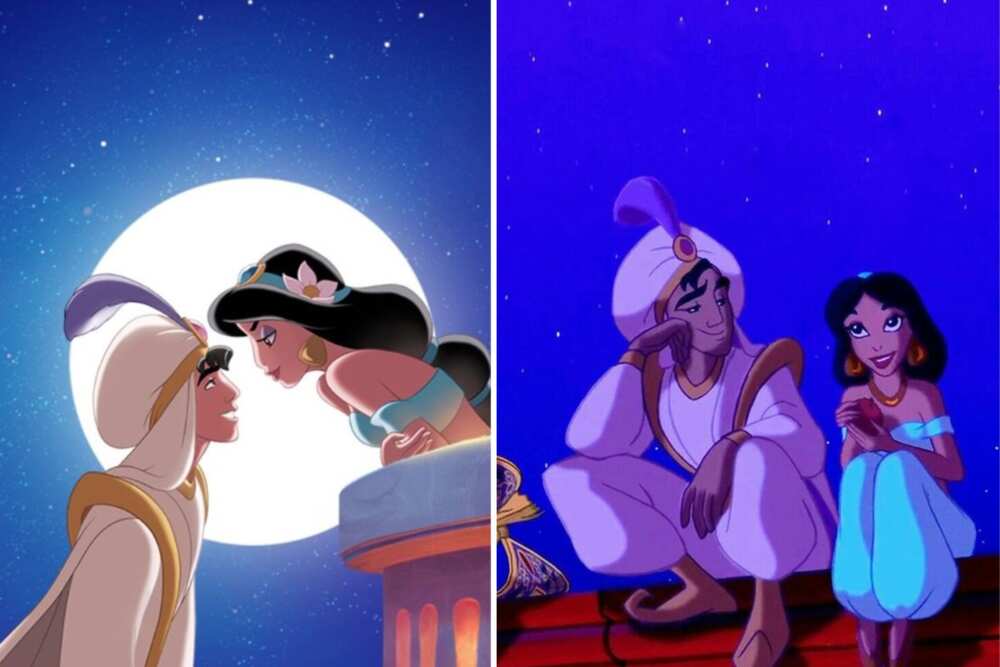 Aladdin and Jasmine are the main protagonists in the Aladdin series. Aladdin is a street rat in Agrabah, while Jasmine is a princess. The two bump into each other as they wander in the streets. She is being discriminated against as people think she is a commoner. When Aladdin discovers she is a princess, he turns himself into a prince. He eventually saves her from the evil Jafar, and they live happily ever after.
3. Snow White and the Prince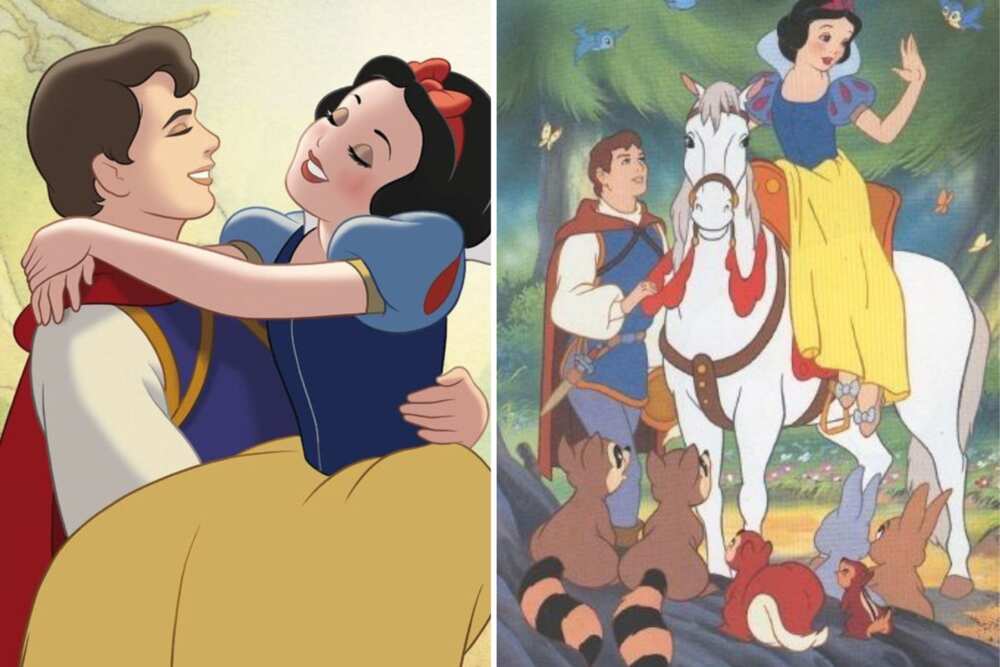 Snow White is the most beautiful princess in all the kingdoms, which enrages her stepmother. The stepmother is a sorceress who plans to put the princess to sleep forever. Snow White has fallen in love with her prince, who intends to take her with him. The sleep spell is cast on her, but the prince awakens her with the help of the seven dwarves.
4. Princess Aurora and Prince Philip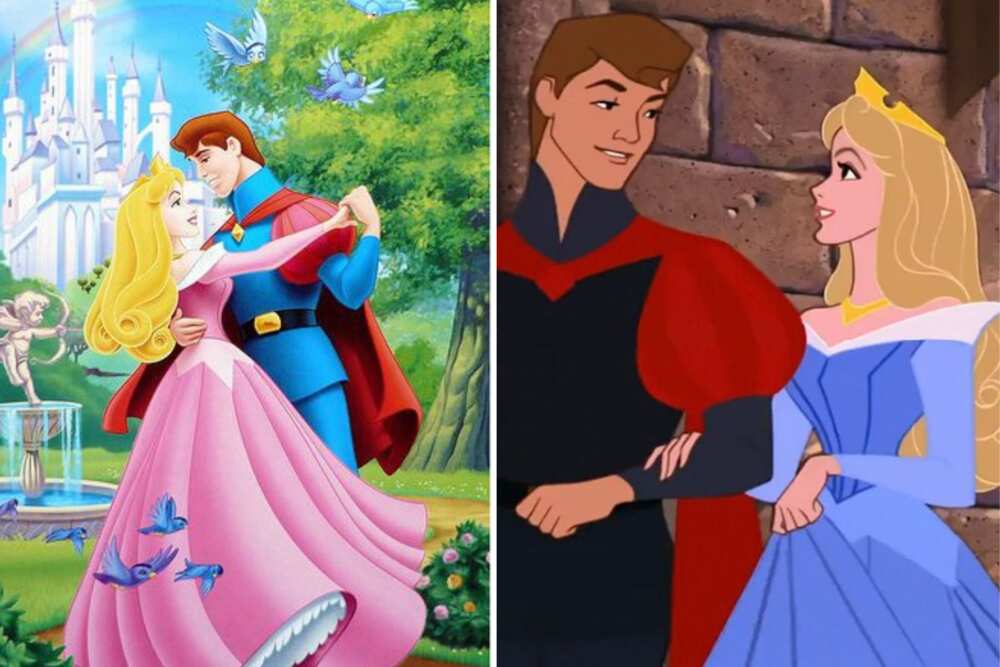 Princess Aurora's marriage to Prince Philip has been planned to strengthen ties between their two countries since birth. She is concealed by a witch Maleficent making the king hide her in the forests. She lives like an ordinary person until she meets the prince who kisses her from her long sleep.
5. Anna and Kristoff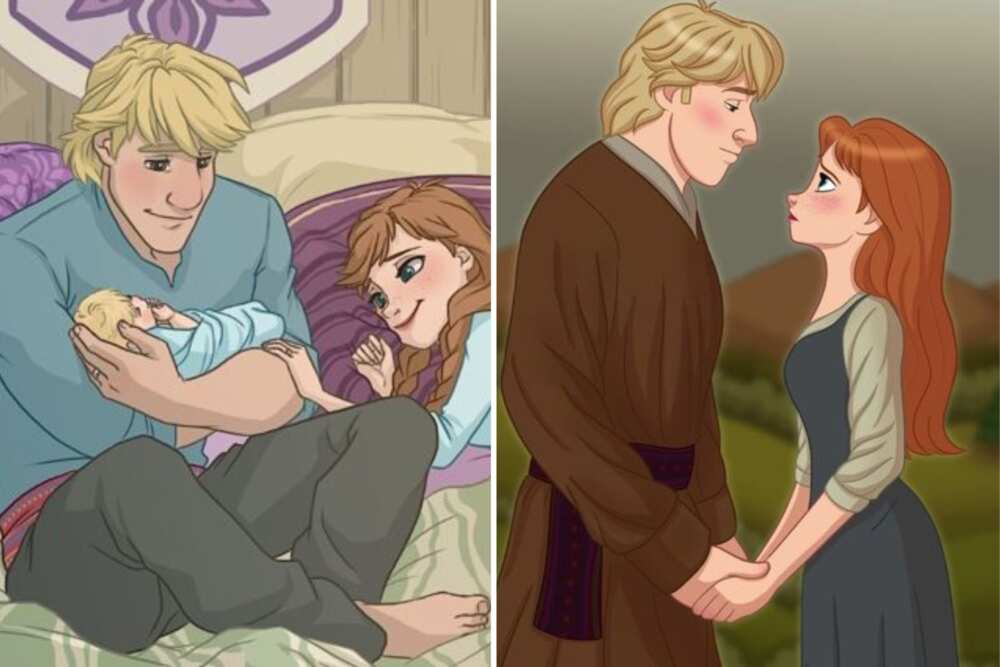 Fans love Frozen because it focuses on the bond between the two sisters. Initially, Anna and Kristoff don't get along because their personalities clash. They later get along and save Queen Elsa, and their love inspires her to rediscover her humanity. The couple doesn't tie the knot immediately, but they do so in the sequel Frozen 2.
6. Ariel and Prince Eric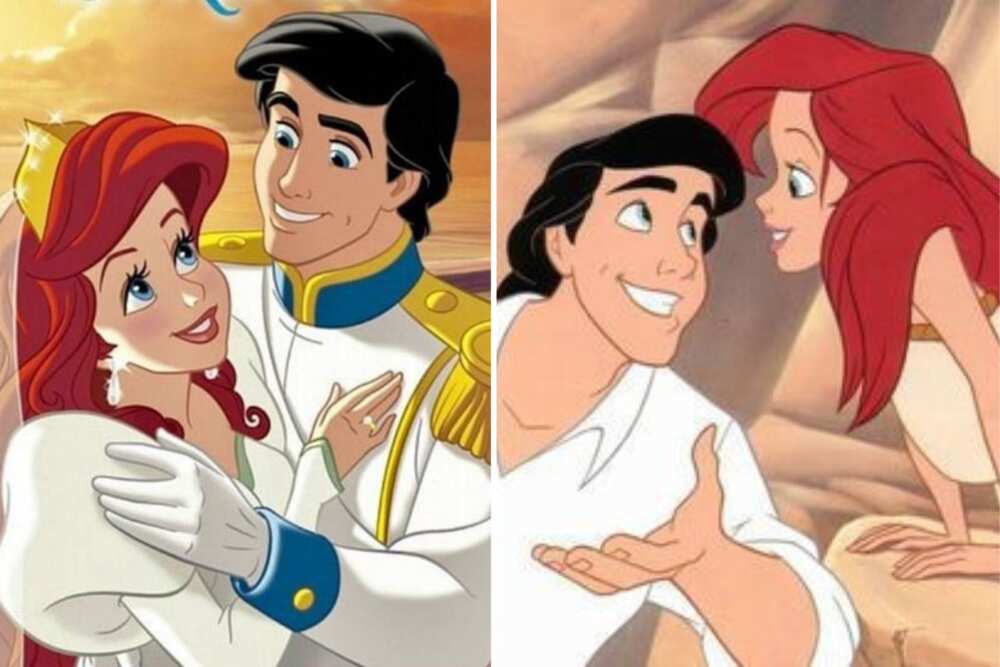 This is another famous Disney couple whose love was forbidden. Ariel is a mermaid princess, and Eric is a human prince. The duo meets and falls in love against all odds. Their story is different from others as Ariel is the one who saves Eric from drowning. She is also the one who pursues Eric. They finally marry and live happily ever after.
7. Wall-E and Eva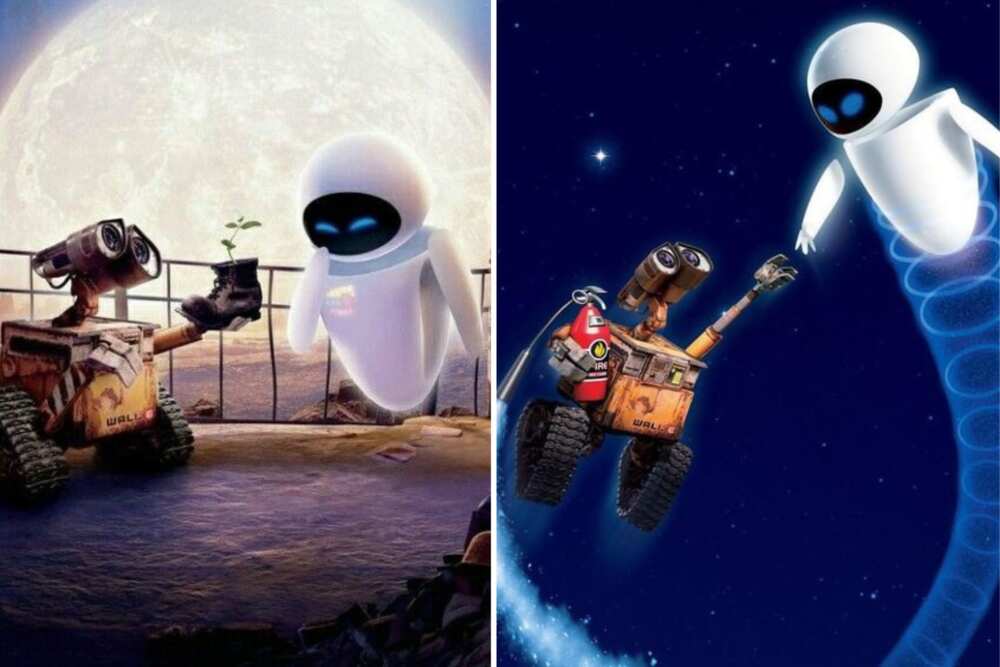 Wall-E is a movie set in a post-apocalyptic future where the Earth has been neglected. Humans abandon the Earth for space, leaving robots to retain it. Wall-E is one of the robots, and he meets Eva and falls in love. They work together to regain the plants, and humans return to a healthy environment.
8. Cinderella and Prince Charming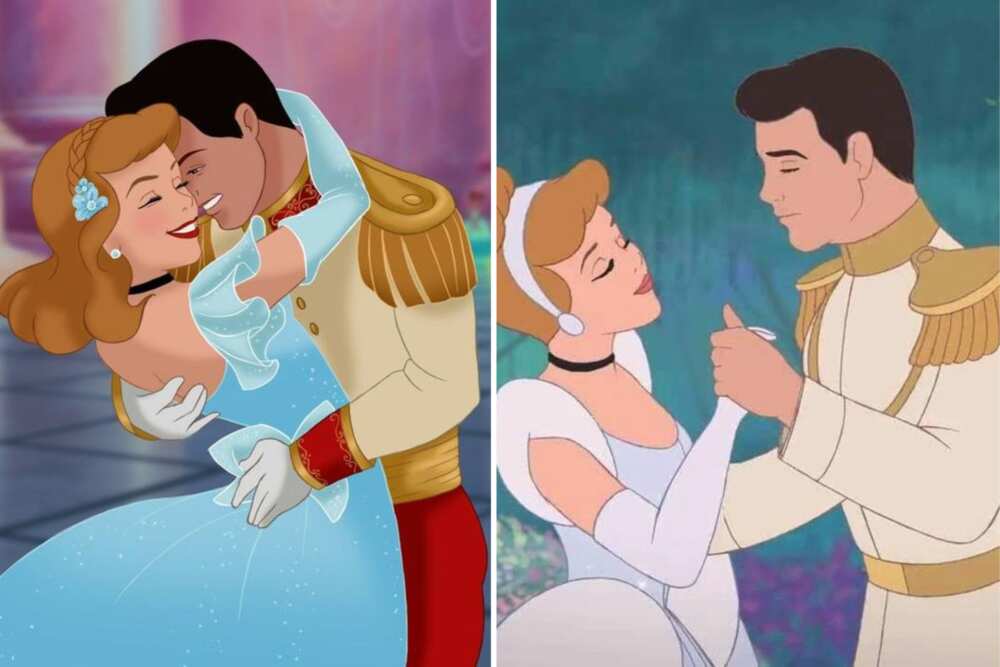 Most people have grown up knowing the story of Cinderella and Prince Charming. Cinderella lives with an abusive family who harasses her daily. When Prince Charming invites people to a ball in the palace, Cinderella attends and meets him. They fall in love, although the prince doesn't know her true identity. The price looks for her in the kingdom, and they marry.
9. Mickey and Minnie Mouse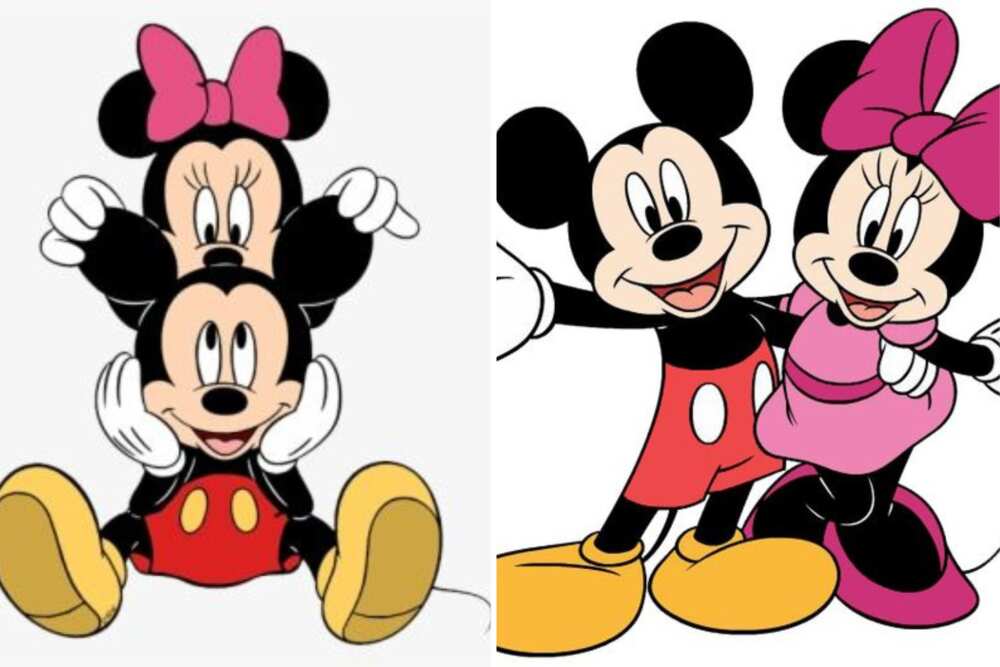 Minnie Mouse and Mickey Mouse have been engaging since the beginning of the show. She is dependable and always supports Mickey despite his mischief and forgetfulness. She hopes for romance from him, but he doesn't recognize this.
10. Tarzan and Jane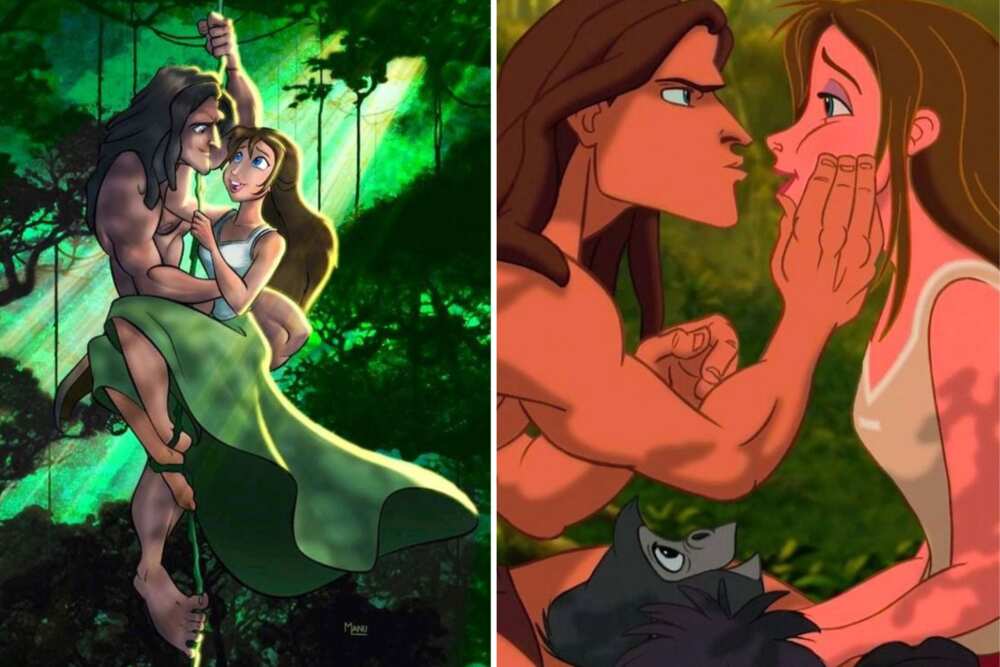 Jane and Tarzan meet in the wilderness as she explores animals. Tarzan, the most powerful man in the jungle, falls in love with her. She is the first woman he has ever seen. He decides to pursue her, although he must return to his gorilla family in the jungle. Jane chooses to return with him after seeing his dedication and devotion to his family.
11. Mulan and Shang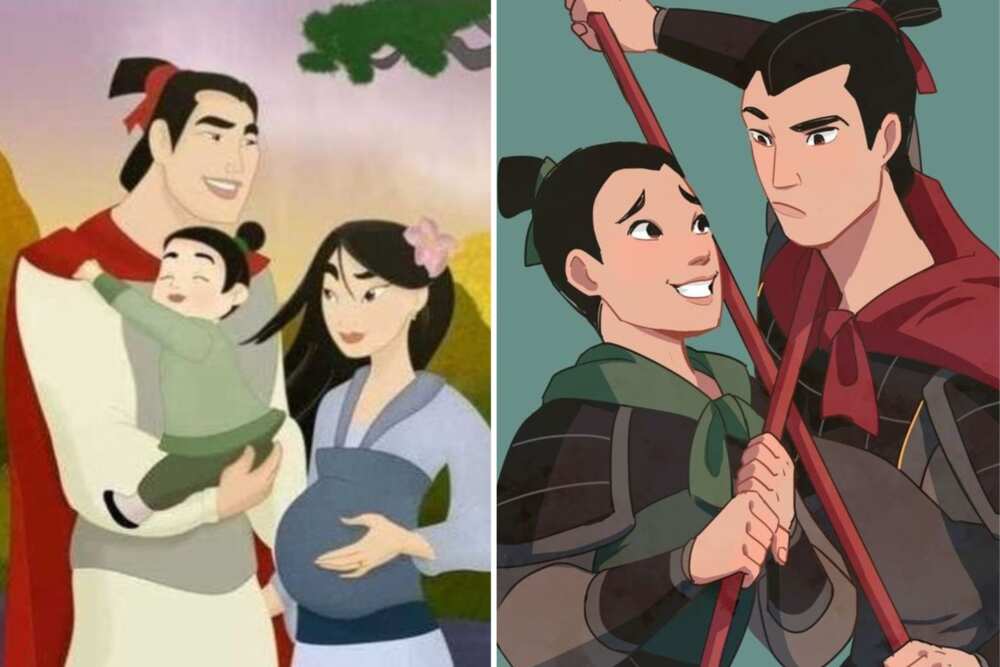 Mulan is an illegitimate daughter of a Chinese man with no sons. A battle is called, and the king commands his sons to fight for the empire. Mulan disguises herself as a boy and joins the army to protect her father and the kingdom.
Her bravery astonishes the general, and she helps them win the war. The general is, however, disappointed when he discovers she is not a boy but a girl. The general develops feelings for her, and they end up together.
12. Nala and Simba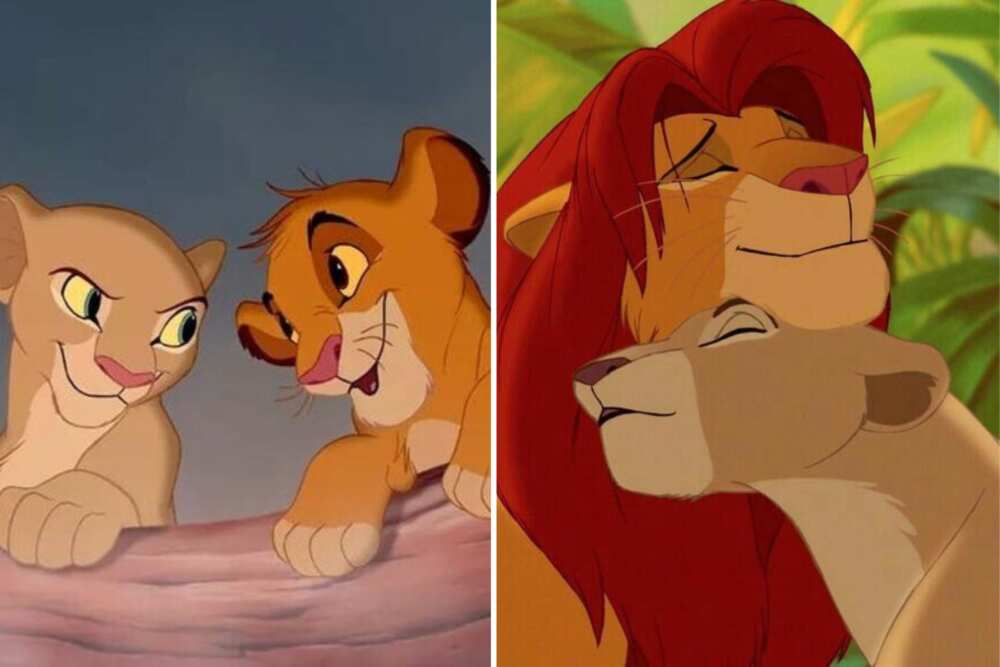 The Lion King is one of the best Disney animated films making Nala and Simba one of the most famous Disney couples. Their love story develops in the Serengeti kingdom after Simba's father, King Mufasa, is killed. Nala assisted Simba in defending the kingdom from the evil Scar. They fall in love despite her being his biggest critic and cheerleader at the same time.
13. Princess Tiana and Prince Naveen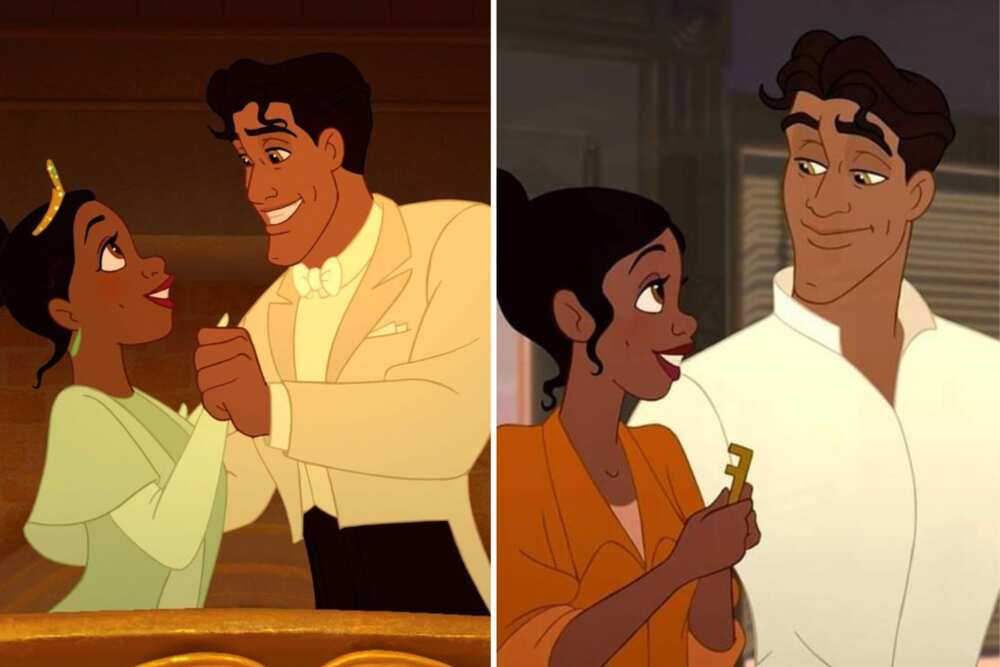 Tiana and Naveen's story differs from other Disney tales of princes and princesses. Tiana is a waitress who hopes to own her restaurant. Naveen, on the other hand, is a prince of Macedonia. A witch turns him into a frog, and later meets Tiana, whom he thinks is a princess. When they kiss, she also turns into a frog, and they must find the witch doctor to reverse the spell. They fall in love and marry, and she gets her restaurant.
14. Pocahontas and John Smith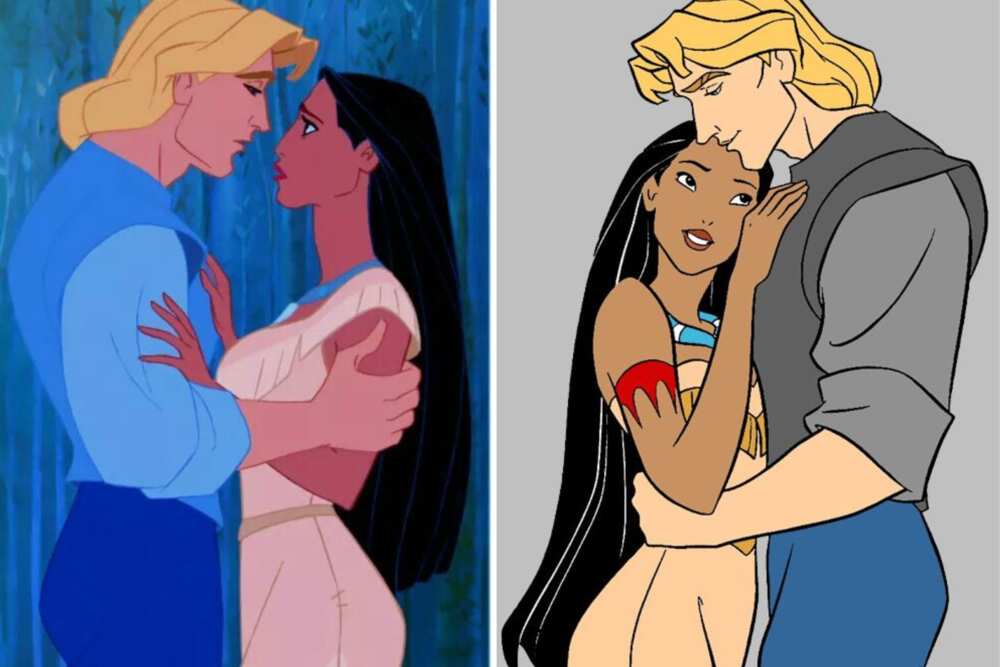 Pocahontas is the child of an indigenous American chief, Powhatan. She is a free spirit who loves adventure. She is pure at heart and genuine in all she does. On the other hand, John is a British who arrives on their island. He is different from other British colonialists as he is kind and generous to the natives. The two meet, she teaches him the native language and a relationship begins.
15. Belle and Beast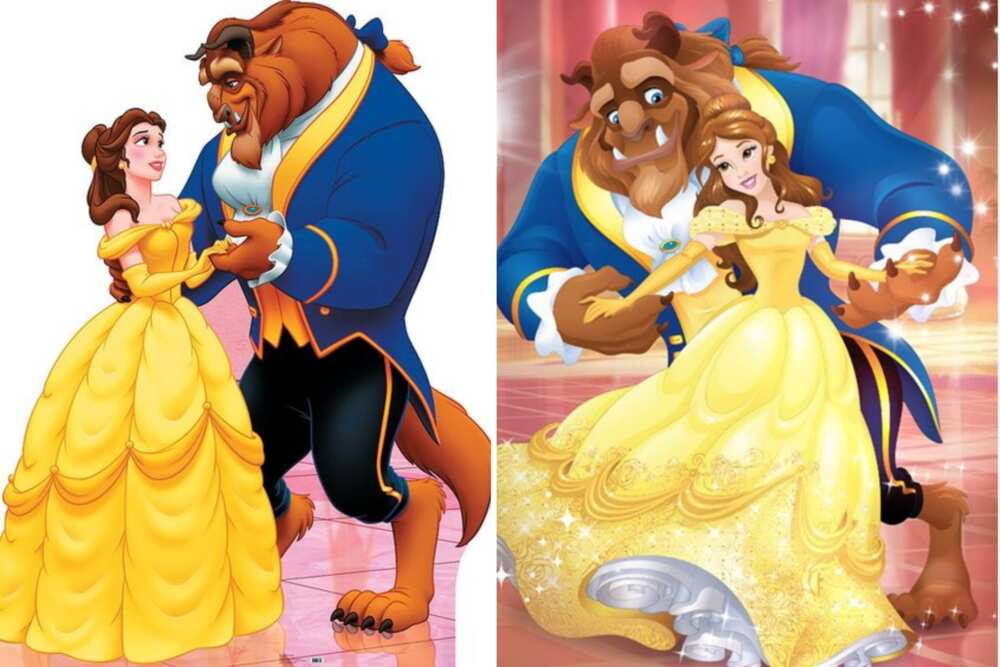 Belle is a beautiful character who grew up with her caring father. She is free-spirited and perfect. Belle hates dictators, and people who misuse authority, characteristics exhibited by the Beast. He incarcerates her dad, and she can get to his heart with her caring nature. They fall in love, cure each other's wounds, and live happily ever after.
16. Milo and Kida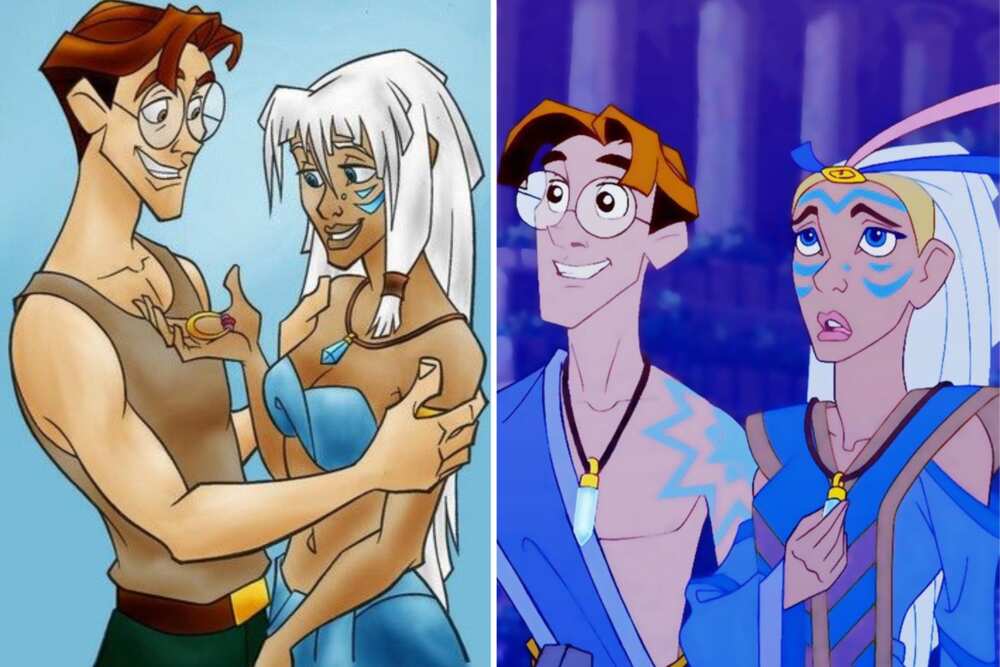 Although Milo and Kida are not as famous as other Disney couples, their story is just as good. The duo has a special bond after they meet under the ocean. Milo is on an expedition to find the lost city of Atlantis, and Kida is a princess of the underwater city. They connect over their love for Atlantis and stay together under the water.
17. Mr. Incredible and Elastigirl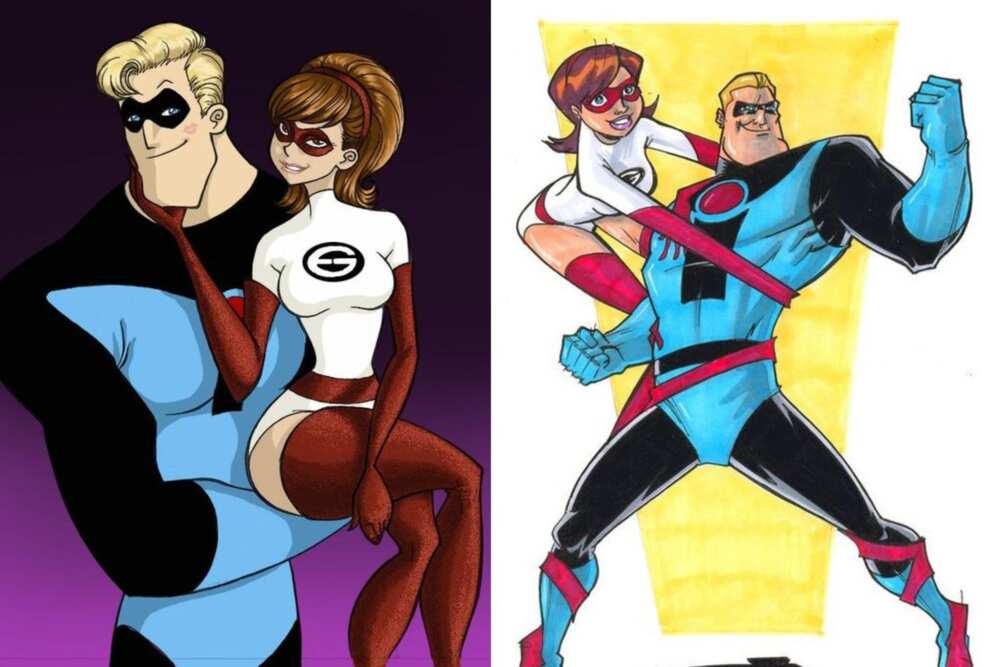 Mr Incredible and Elastigirl have what can be described as an office romance. The two superheroes meet during their work which involves fighting crime. The couple gets married and starts a family. Their family eventually goes into hiding, but they continue working together and raising their son and daughter.
18. Rapunzel and Flynn Rider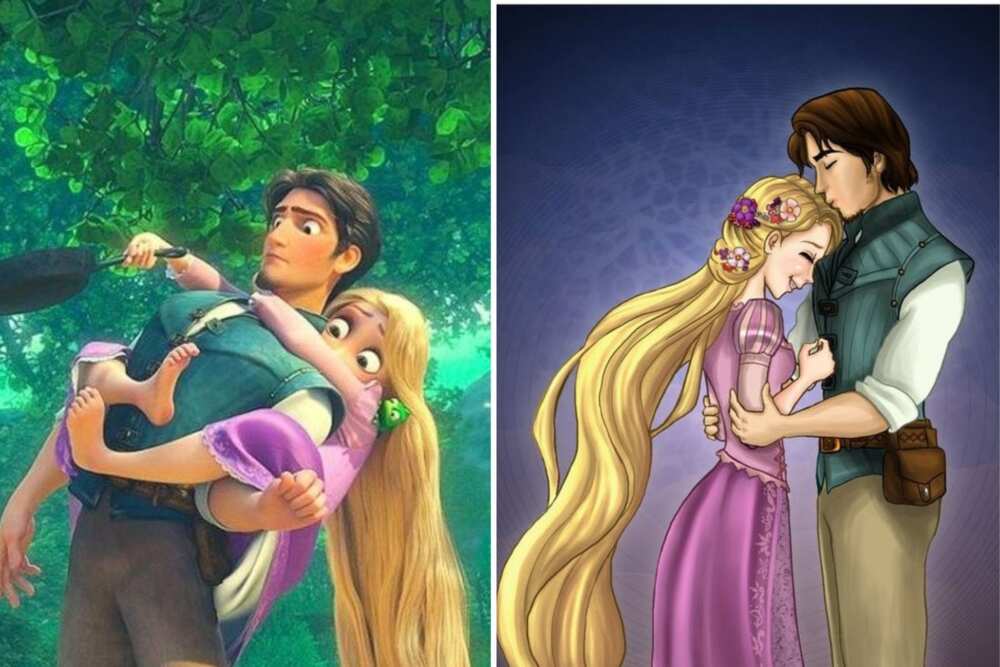 Most Disney couples fall in love at first sight. Rapunzel and Flynn are unlike many Disney couples who fall in love at first sight. They first meet when Rapunzel apprehends Flynn Rider for trespassing into her tower. They later fall in love and go together to see the sky lanterns.
19. Carl and Ellie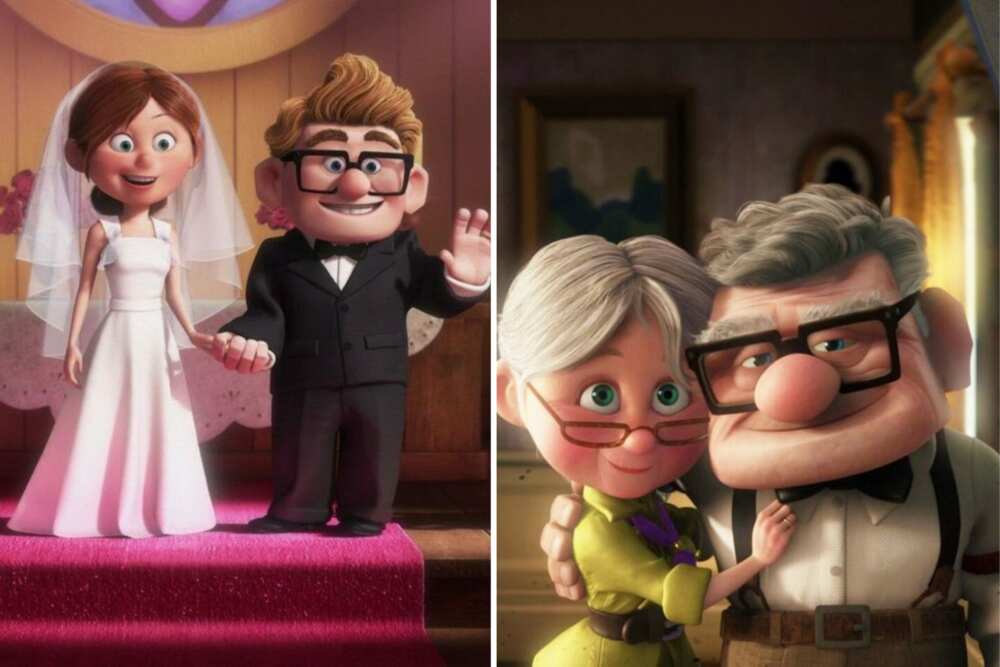 Carl and Ellie are one of the most realistic couples compared to other Disney couples. They are childhood sweethearts who get married and live in the same treehouse they fell in love with. Their personalities complement each other, and although Ellie dies, Carl cannot forget her.
20. Tramp and Lady
Lady and The Tramp is a cartoon film made in 1955 and remade in 2019. It is the story of Lady and Tramp. Tramp is a homeless mutt, and Lady is an American Cocker Spaniel. The duo overcomes their differences and falls in love.
21. Jessica and Roger Rabbit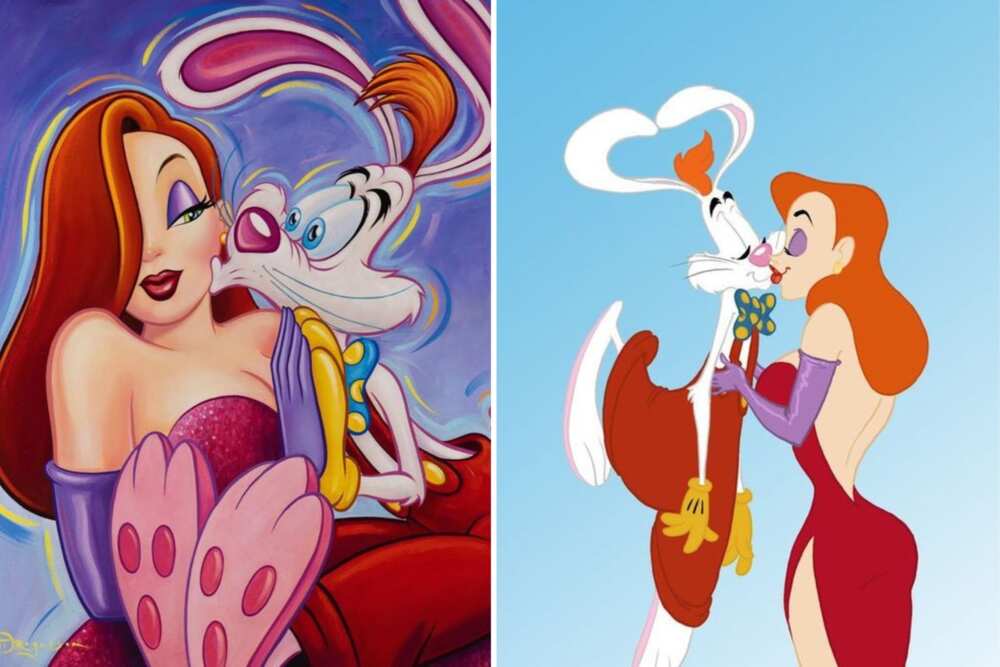 Jessica and Roger are a couple from Who Framed Roger Rabbit. Rodger is a fun and friendly guy, while Jessica is a selfless and cool wife. He calls Jessica 'the light of his life' and 'the apple of his eye'. On the other hand, Jessica calls him her 'honey bunny'. She risks her life to save her man no matter what.
22. Thomas O'Malley and Duchess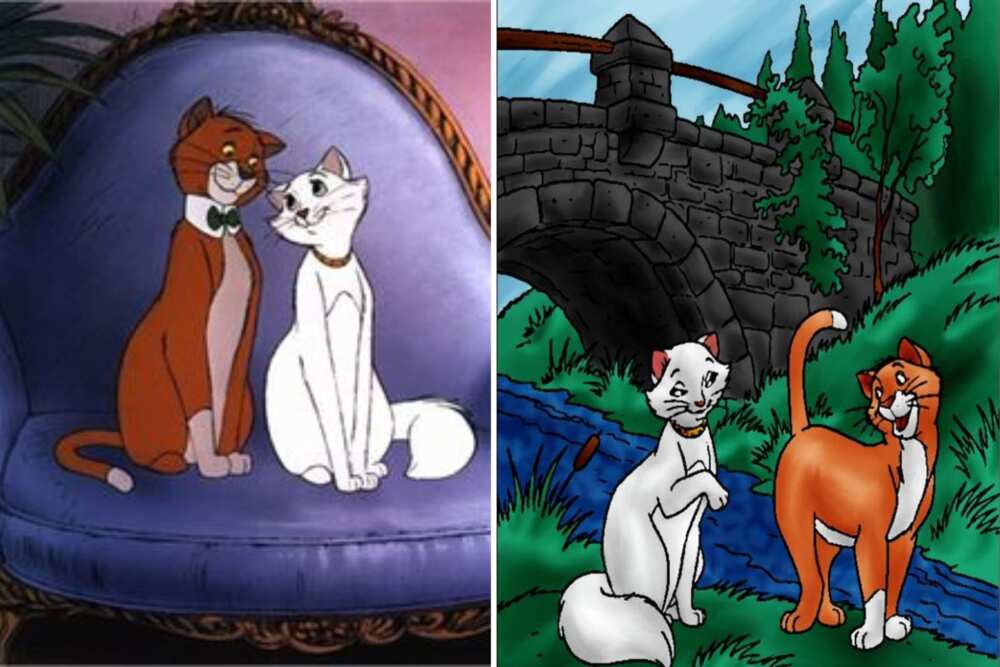 Thomas O'Malley and Duchess meet as he wanders the street. He convinces her with his smooth tongue and wits. Duchess is a classy, sophisticated, and gentle cat. They fall in love, and he changes his way for her.
23. Chicha and Pacha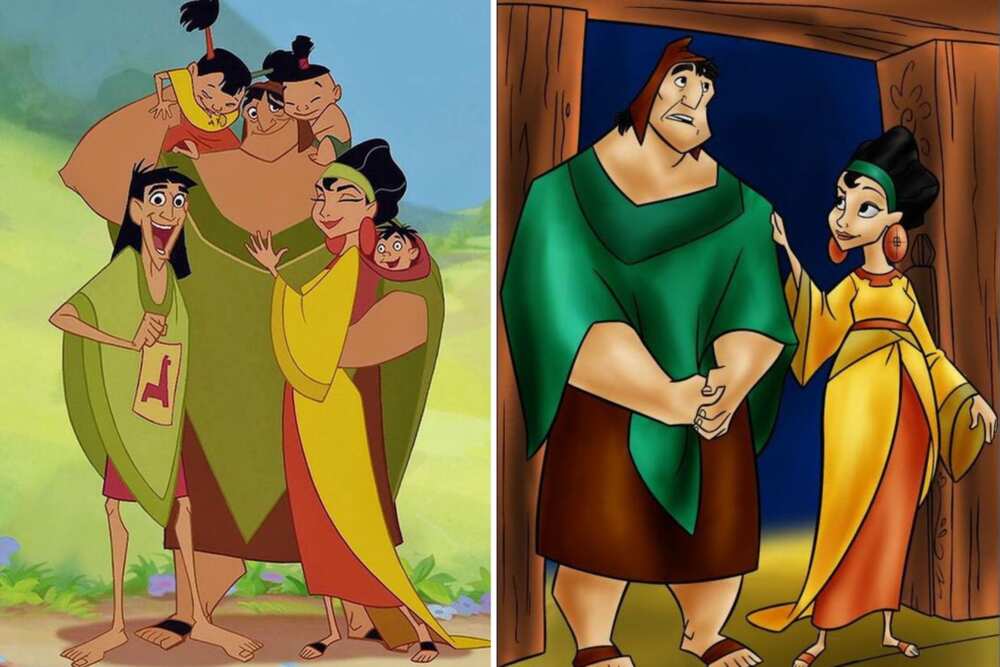 Chicha and Pacha are a couple with a healthy and functional relationship. They have a great life and a wonderful family. The couple have a lot of respect for each other, and most people look up to them.
24. Buzz Lightyear and Jessie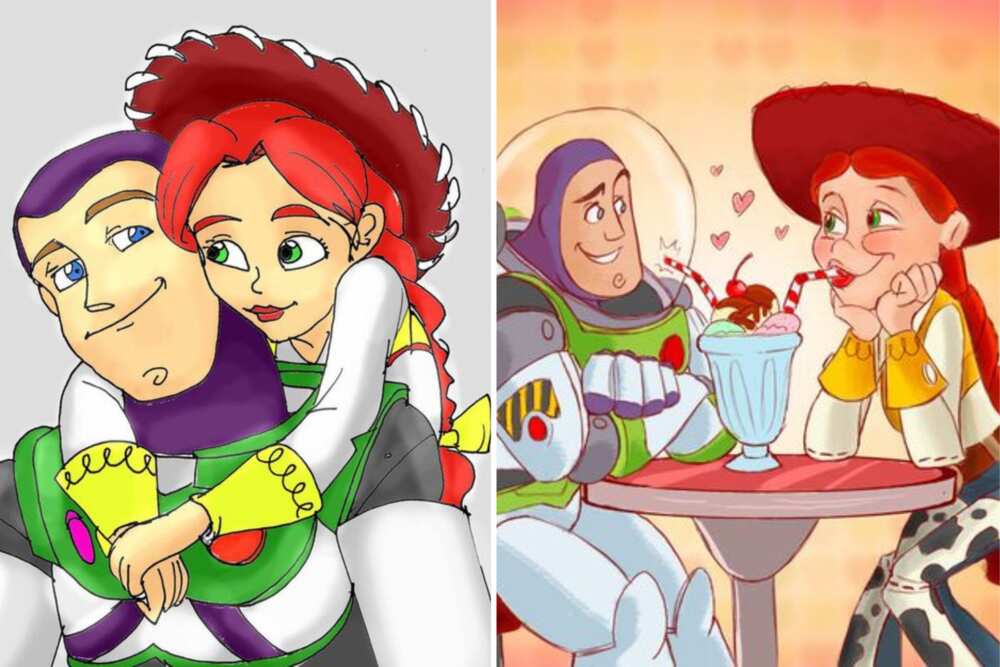 Buzz Lightyear and Jessie are space toys who meet and fall in love. They exchange pleasantries during their meeting, but the relationship doesn't move forward at the onset. Jessie has a fun spirit, while Buzz is a lone ranger. They are at first shy to express their feelings, but at the end of Toy Story 3, they fall in love.
25. Woody and Bo Peep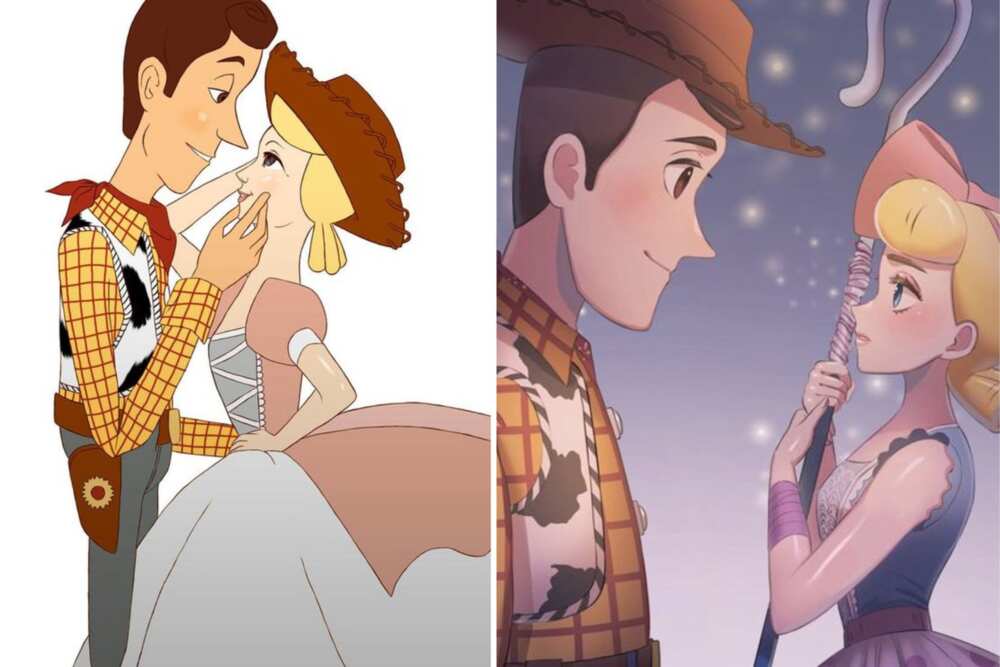 Woody and Bo Peep are a lovely couple from the Toy Story Franchise. Woody secretly admires Bo Peep, and she also has feelings for him. She admires his confidence and leadership skills. Despite being abandoned by everyone, she stands by him and encourages him.
Above are some of the most iconic Disney couples reserving relationship goals. Disney shows have a creative way of telling romantic stories and conveying love. The tales are sometimes relatable to the real world. They go through adversities before finding their happy ending.
Legit.ng published an article about Barbie movies. The Barbie movies have remained steadfast in the animation world. Fans love these films for their exciting storyline, twists and songs.
The first Barbie movie was released in 2001, and the franchise's popularity has increased. The franchise has a fan base from all over the world. The films represent the brand's values, such as fun and fashion. Here is a list of Barbie movies and the timelines.
Source: Legit.ng