50 ugly cartoon characters memorable thanks to their design
Whenever you hear of cartoons, you think of beautiful Disney princes and princesses. However, a few cartoon characters are purposely drawn with imperfections and flaws. This list focuses on some of the ugly cartoon characters in animation.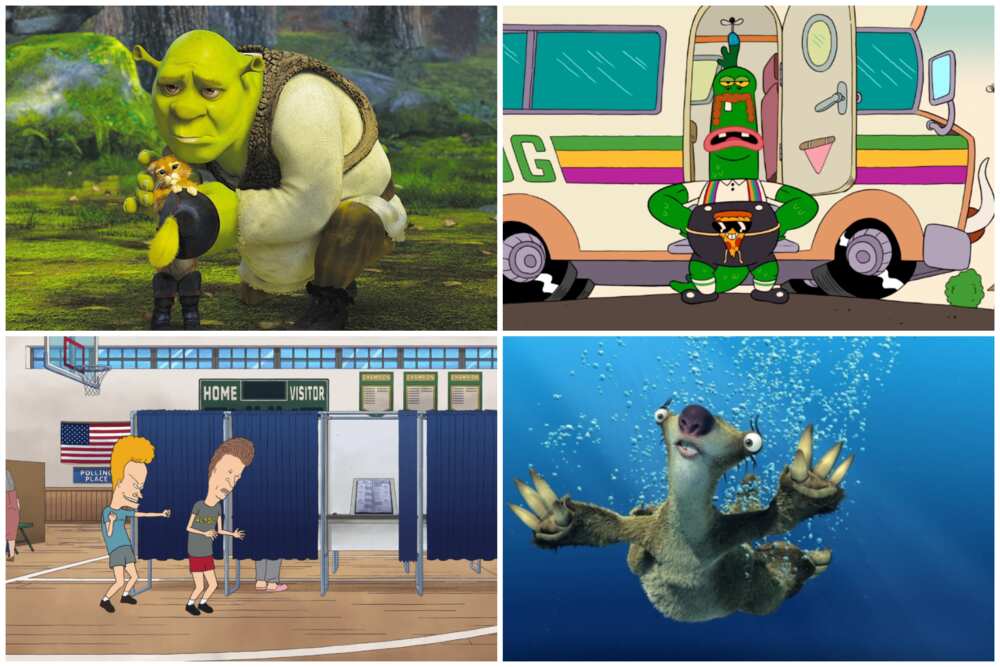 Many kids love ugly cartoon characters as they inspire viewers to take a second look at their flaws. Ugly cartoons always embody characteristics that are not necessarily attractive in real life. Some are meant to teach people morals through film, but others are ugly for the sake of being ugly.
50 ugly cartoon characters
Some cartoons may look ugly, but their endearing qualities will make you glued to your screen. Below are some of the ugly animated characters you will probably recognise.
1. Oogie Boogie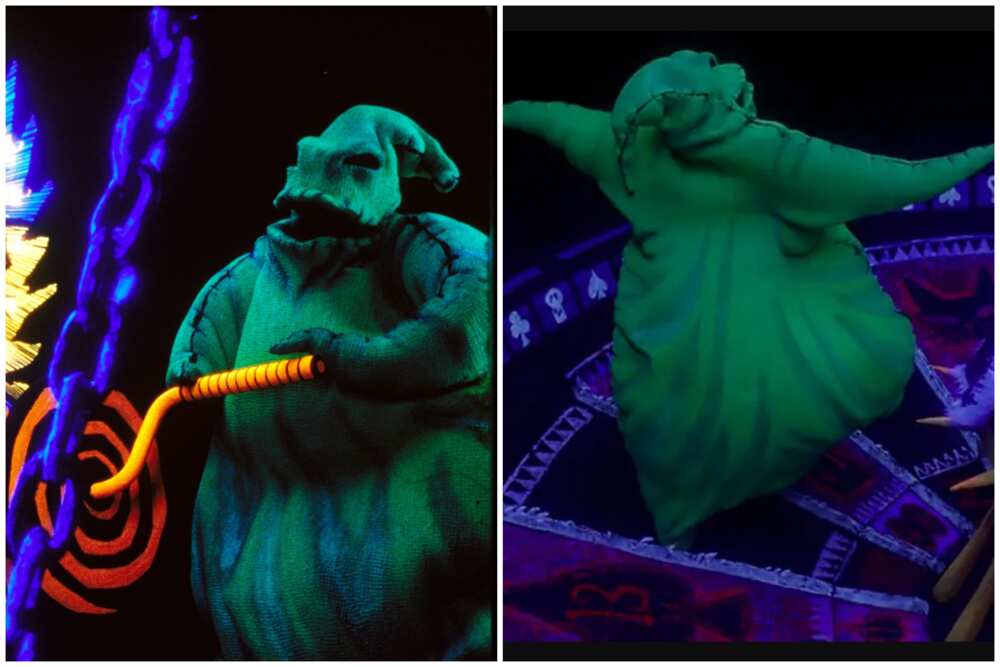 Oogie Boogie is a fictional character considered to be the scariest of all bogeymen. He was first featured as the villain in The Nightmare Before Christmas. In the movie, he is depicted as a gambler who loves taking risks as long as they favour him.
2. Henry J. Waternoose III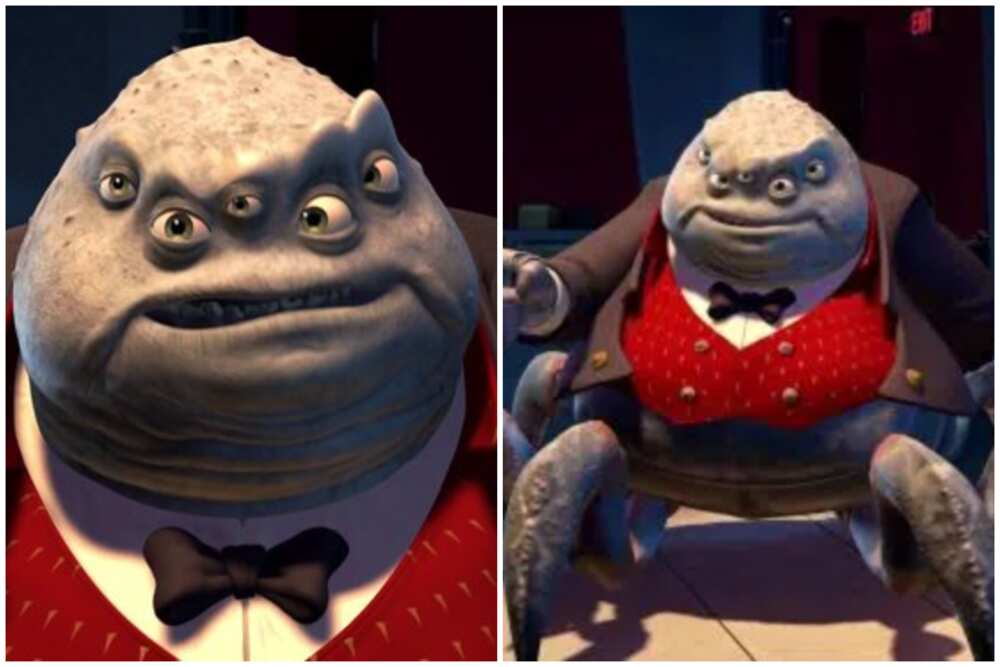 Henry J. Waternoose III is one of the two main antagonists of Monsters, Inc. He is also the former CEO of Monsters Inc, a company he inherited from his father. He devoted his life to ensuring the growth and stability of the company.
3. Shrek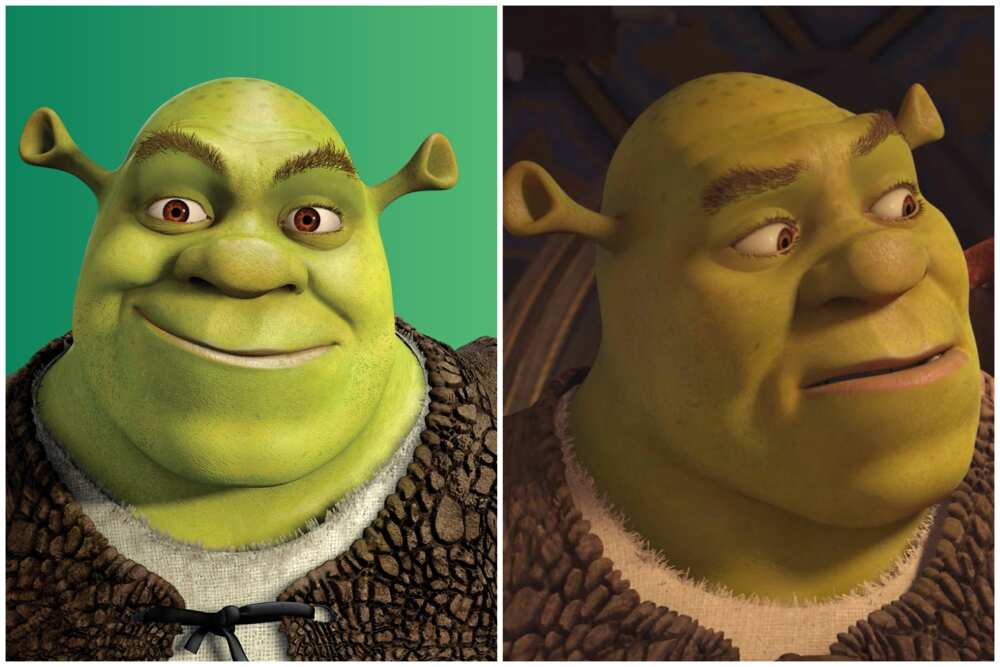 Shrek is the main character in the eponymous animation film franchise. The green cartoon character resides in his swamp and loves eating stinky food.
4. Madame Medusa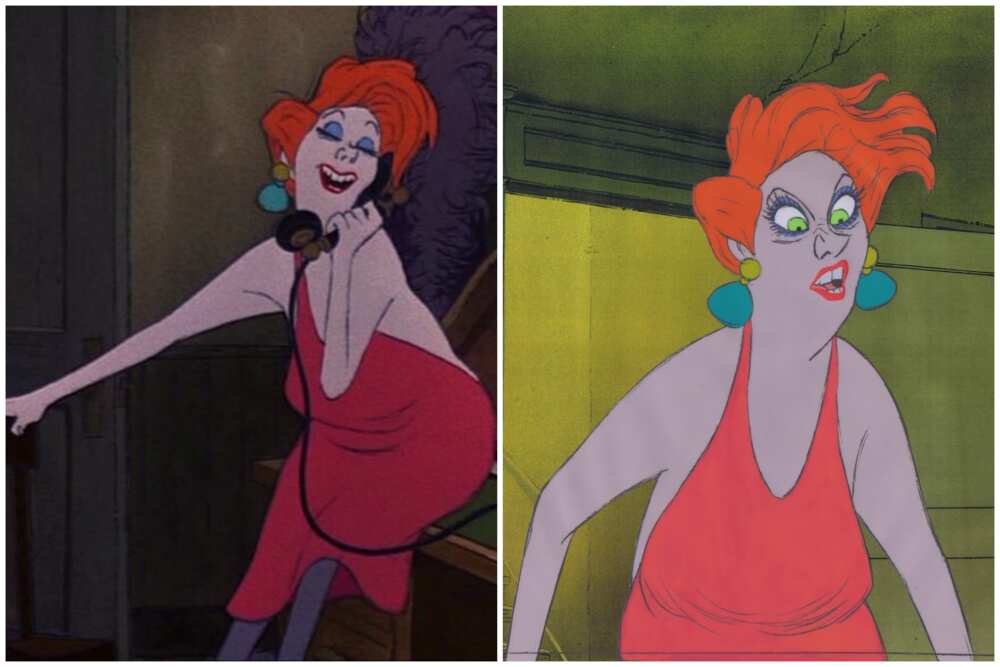 Madame Medusa is an evil, greedy and heartless woman. She is the main antagonist of Disney's animated feature film The Rescuers. She is known for her unkempt red hair.
5. Ursula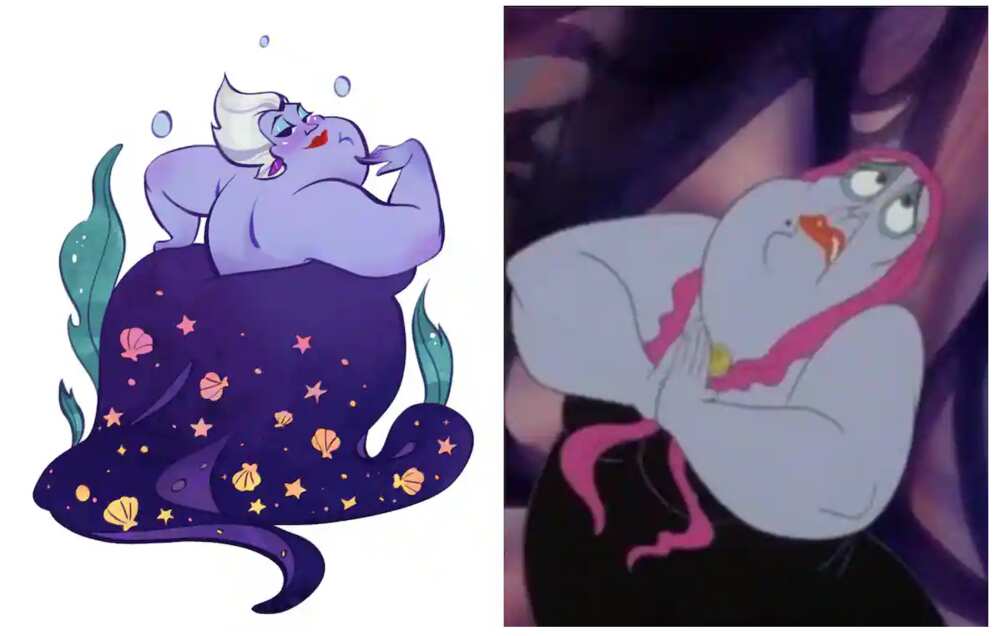 Ursula is one of the ugliest cartoon characters from The Little Mermaid. She has white hair, grey eyes, and red lips. Ursula was formerly a resident of King Triton's palace before she was exiled by order of the king.
6. Kermit the Frog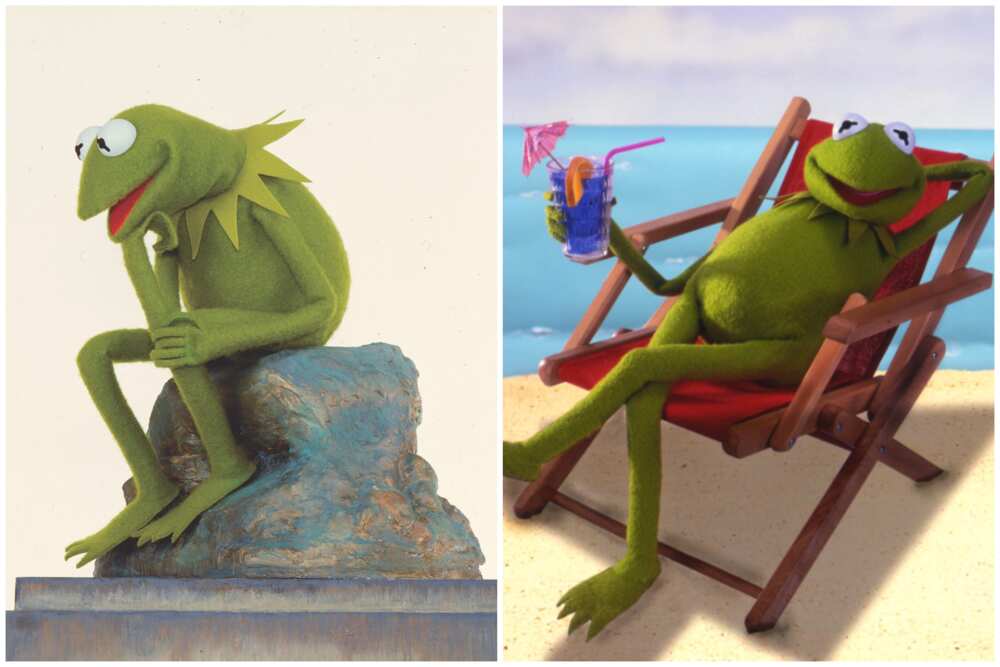 Kermit the Frog is a fictional character created by Jim Henson. The character is best known for his appearance in Sesame Street. He was also the host of The Muppet Show. He has bulging white eyes that point more inward.
7. Cruella De Vil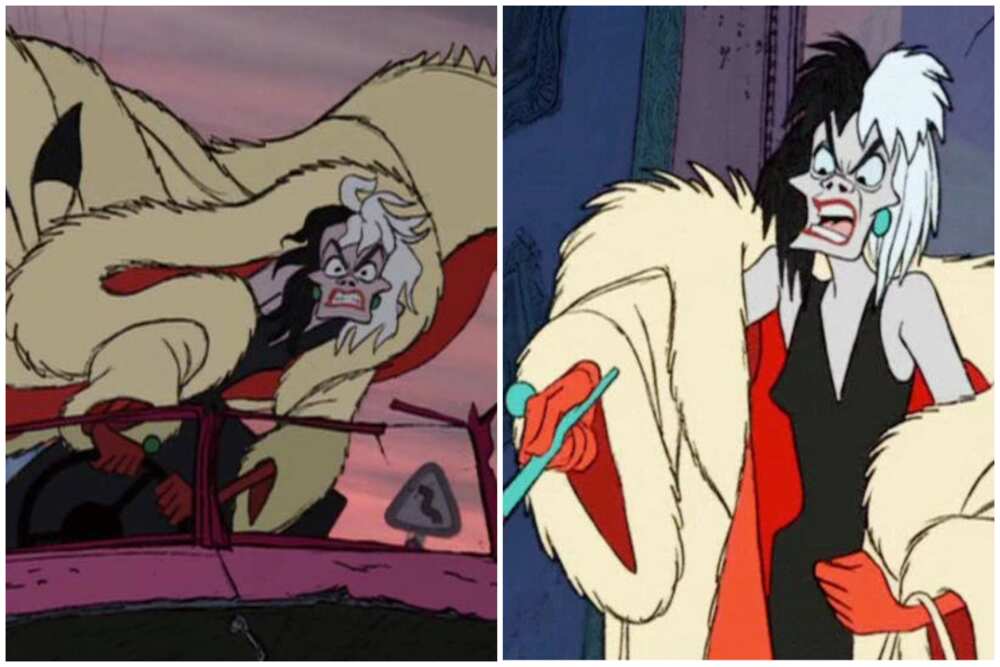 Cruella De Vil is one of the female characters in 101 Dalmatians. She is cruel to puppies and has a persistent smoking habit.
8. Mr Mackey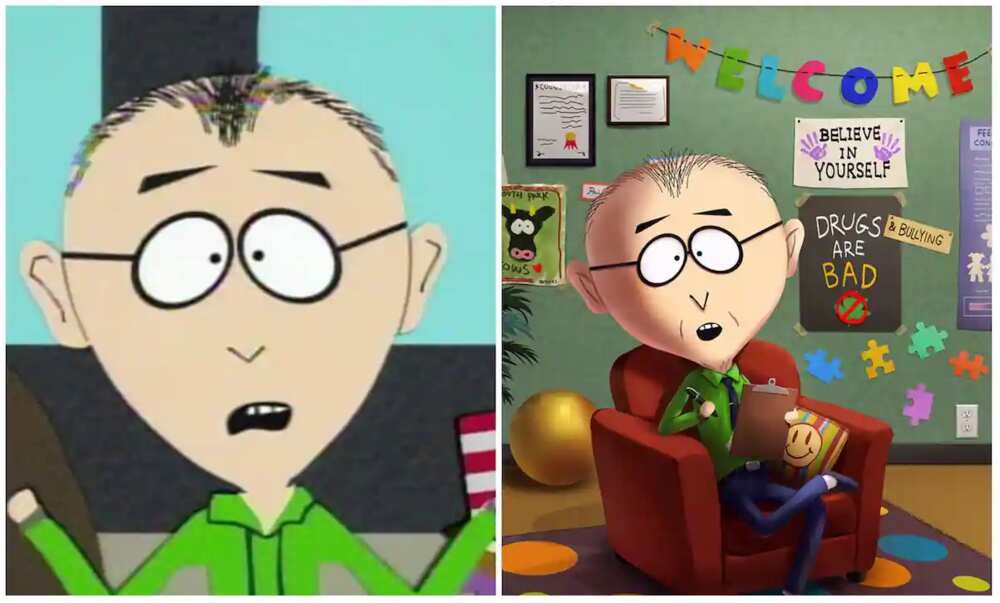 Mr Mackey serves as a guidance counsellor at South Park Elementary School. Aside from that, he is the head of the public health department at the City Council. The famous cartoon character is known for wearing large oval spectacles and a blue tie.
9. Beavis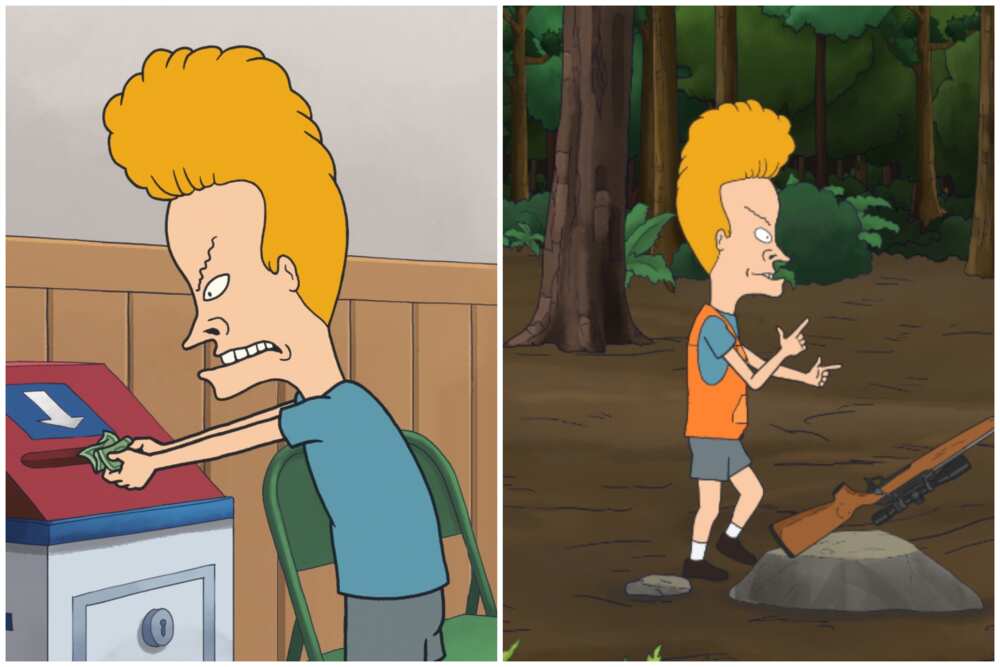 Beavis is the main character in Beavis & Butthead and is known for speaking hoarsely. The fictional character has blond hair, which he wears in an oversized pompadour style.
10. Mr Magoo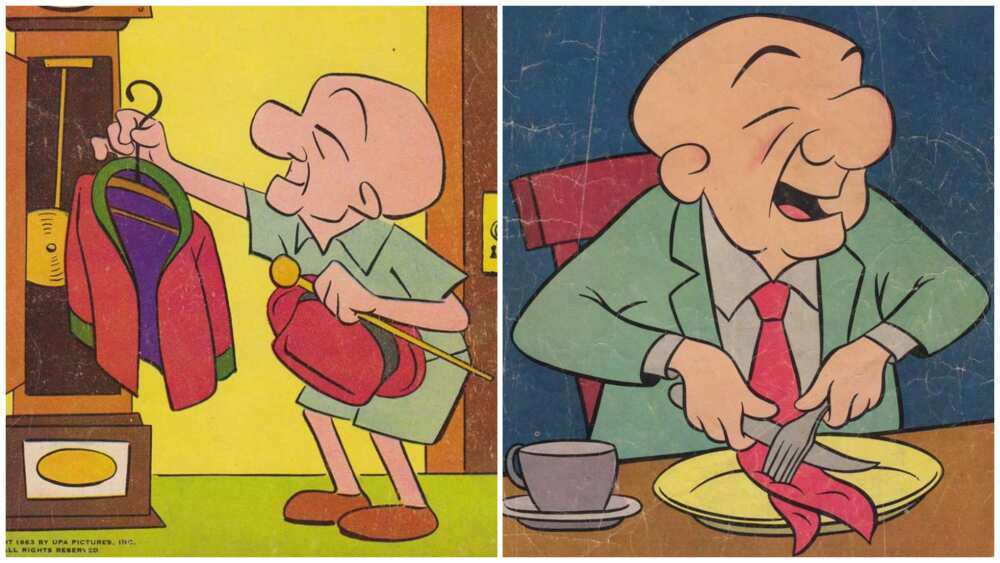 Mr Magoo is an elderly, wealthy retiree who can't see properly. He was first featured in the theatrical short cartoon The Ragtime Bear.
11. Rasputin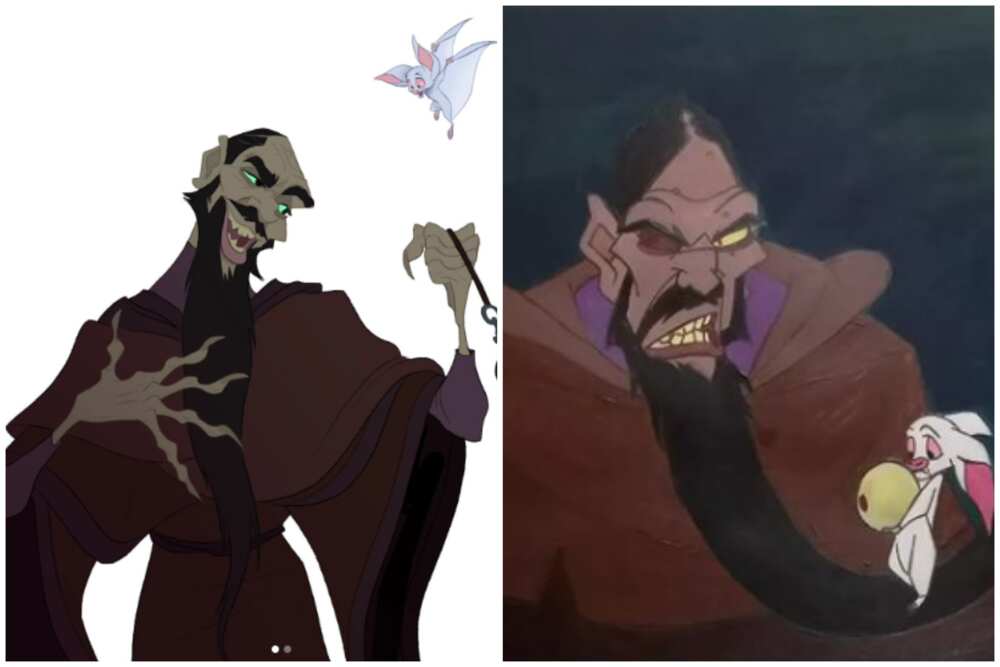 Rasputin is a Russian monk who dabbled in dark magic. He appears in the animated film Anastasia as the main antagonist. In the film, he is presented as an evil cossack soldier with green skin, black hair, and a beard.
12. Denzel Quincy Crocker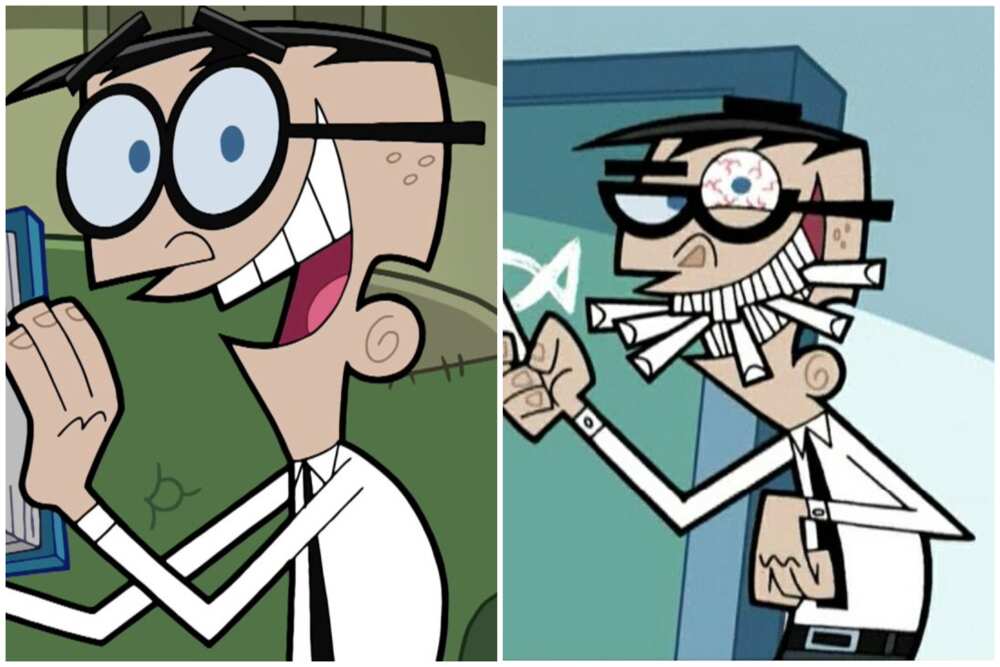 He is the main antagonist of The Fairly Oddparents. The character is an elementary school teacher who loves to give his students Fs when annoyed. Denzel Quincy Crocker has crooked teeth; more interestingly, his ears are on his neck.
13. Eustace Bagge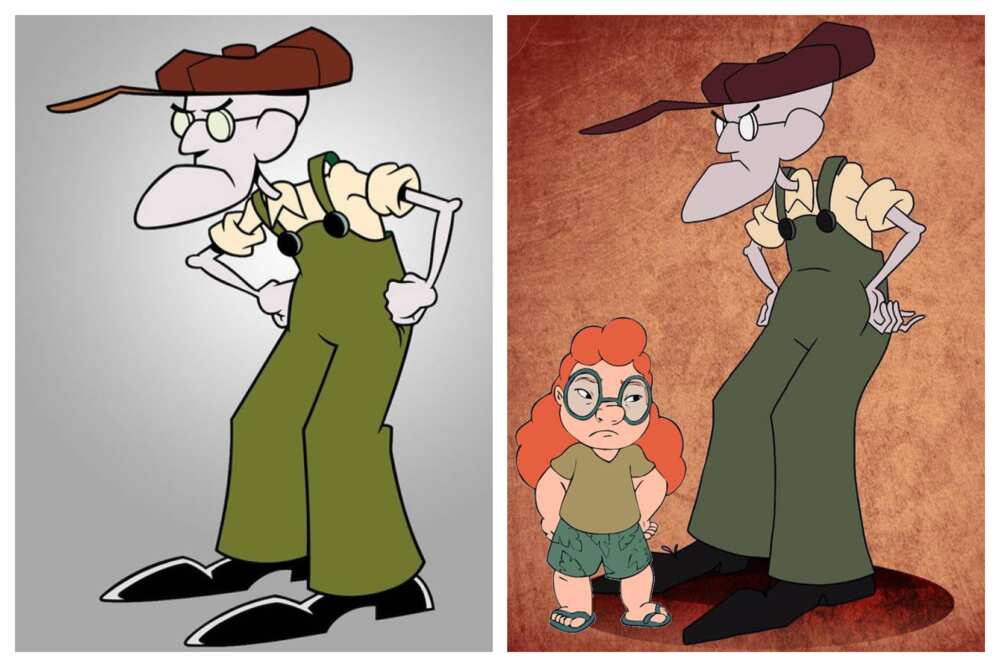 Eustace Bagge is a character from Courage The Cowardly Dog. He is a farmer in the middle of Nowhere, Kansas, where he lives with his wife, Muriel Bagge. He is an old guy with a bald head and no teeth.
14. Randall Boggs
Randall is one of the famous scarers at Monsters, Inc. He has a purple body with cross-eyed bulging eyes. He is the main antagonist in the animated film and hates Sully and Mike wholeheartedly. He is known for his ability to camouflage, making him invisible.
15. Yzma
Yzma is an evil character from The Emperor's New Groove. The former royal advisor of Emperor Kuzco considers herself the most beautiful woman.
16. Quasimodo
Quasimodo is the main protagonist of The Hunchback of Notre Dame. He was born with a hunchback, a deformity that gives him an ugly appearance. Due to his deformity, he loves hiding during daylight hours to avoid being seen by his townspeople.
17. Morgana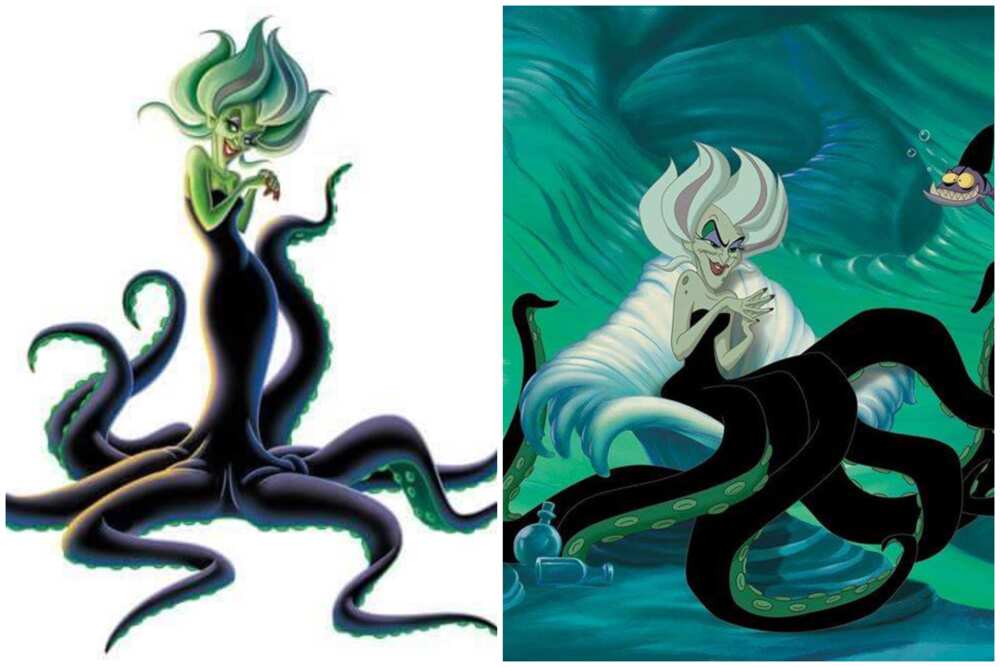 Morgana is a character from The Little Mermaid II: Return To The Sea. The ugly cartoon character is a sea witch, and she is best known for being the younger sister of Ursula. Morgana and Ursula are evil characters whose main focus is to control all the sea creatures.
18. Rocko Rama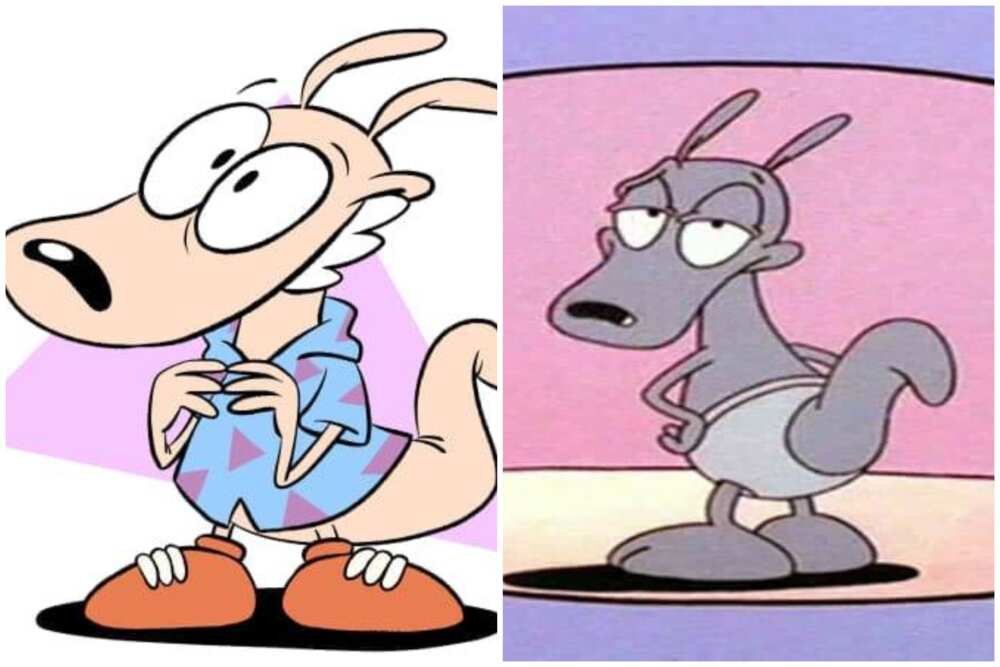 Rocko, also known as Rocko Wallaby Rama, is the protagonist of Rocko's Modern Life. He has white eyes with black pupils and a black nose.
19. Uncle Ugo
Uncle Ugo is a sea monster with a large mouth and scary sharp teeth. He is one of the characters in the animated film Luca.
20. Ren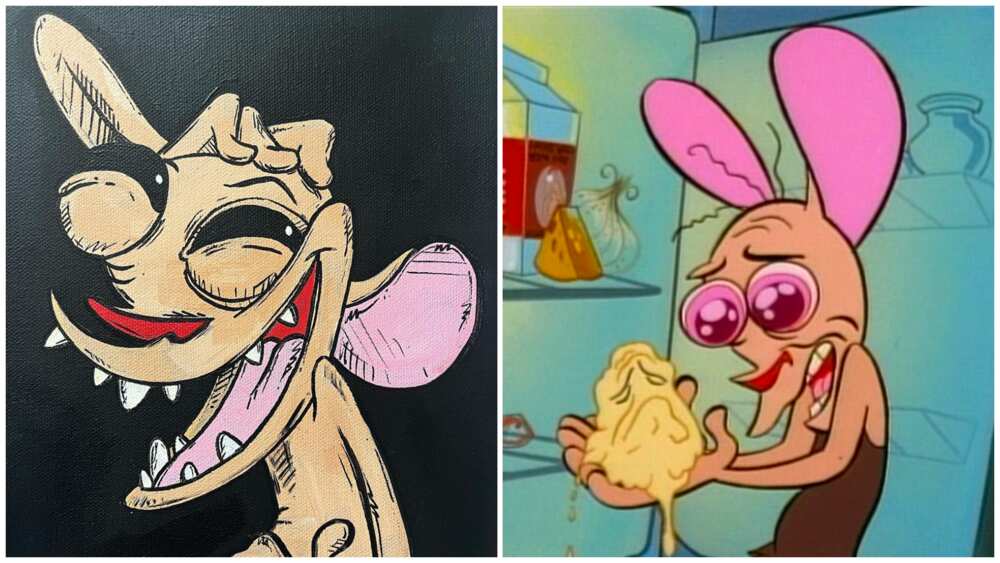 If you are a millennial, chances are, you have been traumatised by the cartoon show called The Ren & Stimpy Show. One of its main characters, Ren, is a chihuahua, and his design is bizarre, in some cases bordering on grotesque. Nevertheless, the show is a cult classic for many.
21. Squidward J. Q. Tentacles
Squidward is a cartoon character in Spongebob SquarePants. The ugly boy cartoon character works at the cash register at Krusty Krab alongside Spongebob and Patrick. He has a greenish-blue body with six limbs.
22. Mr Gus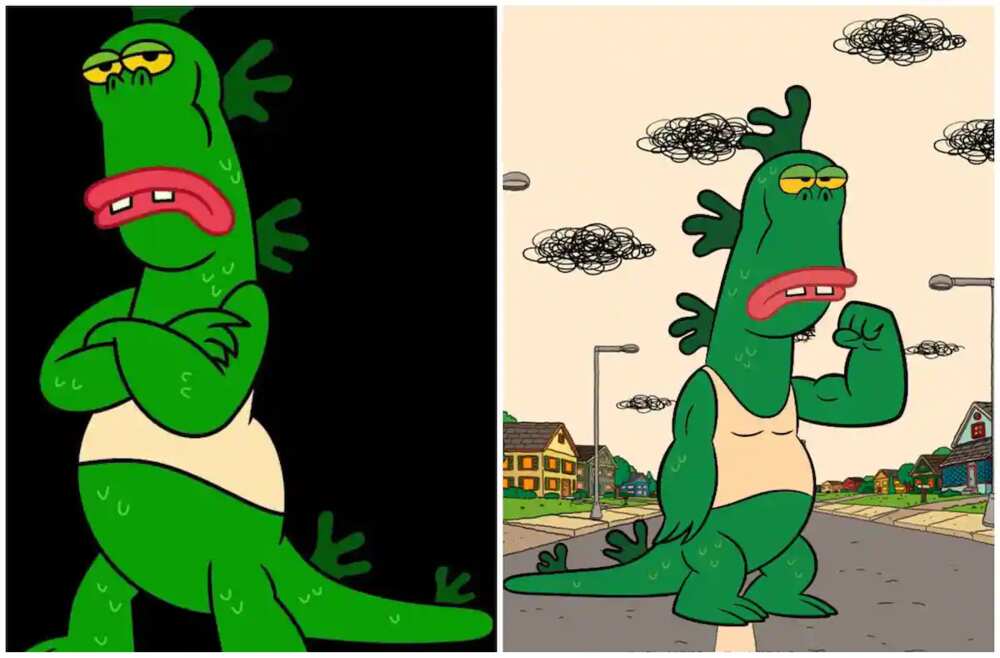 Mr Gus is a famous character from the animated series Uncle Grandpa. He has a tall green body with a big nose. Mr Gus is living with Uncle Grandpa.
23. Wile E. Coyote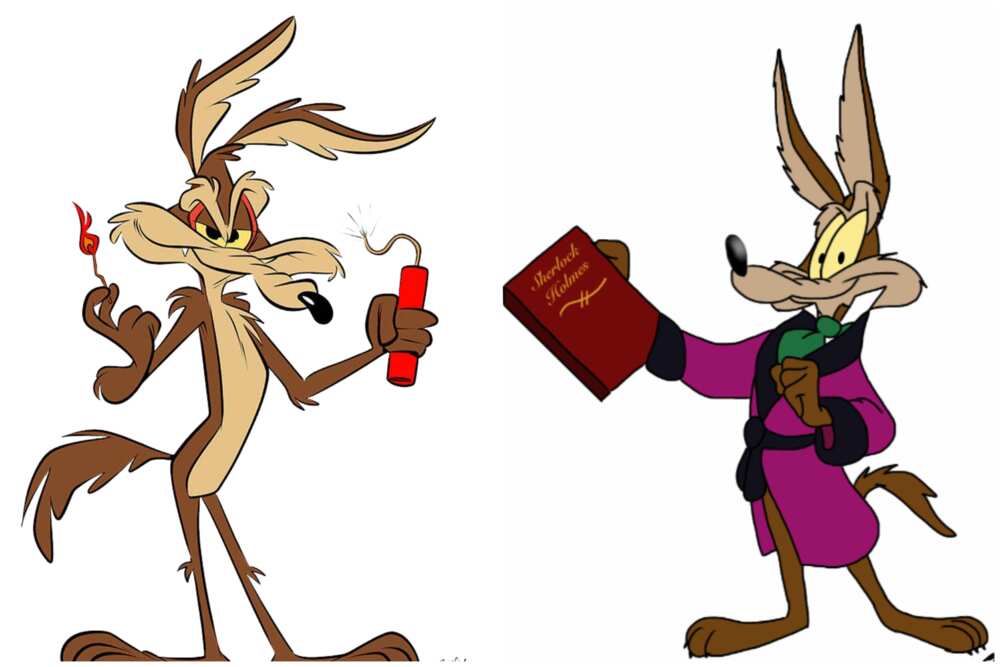 Wile E. Coyote is a popular cartoon character in the animated animated Looney Tunes. Wile E. Coyote is depicted as a gaunt and skinny beast in the show.
24. Edna Mode
Edna Mode is a significant character in The Incredibles. She is a brilliant designer of the superhero suits for the family of Incredibles. She is a short woman who loves to wear huge round eyeglasses.
25. Sid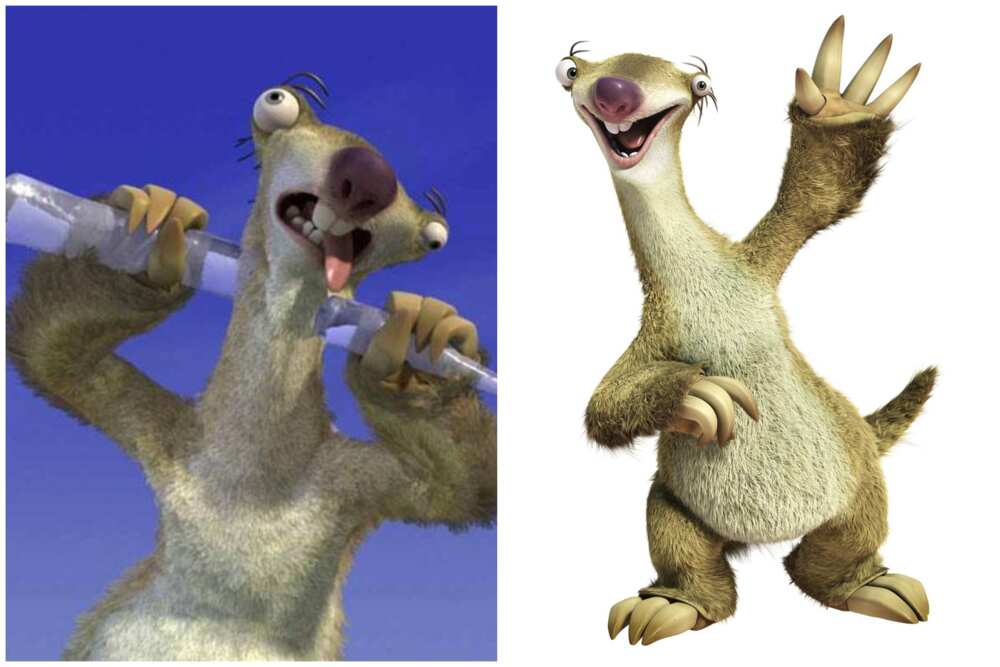 Sid, whose full name is Sydney, is a ground sloth from the Ice Age series. He is a lazy character with no life ambition. His physical appearance includes short hair, a bushy tail, and a long neck. Additionally, he has long claws on his hands and feet.
26. Jafar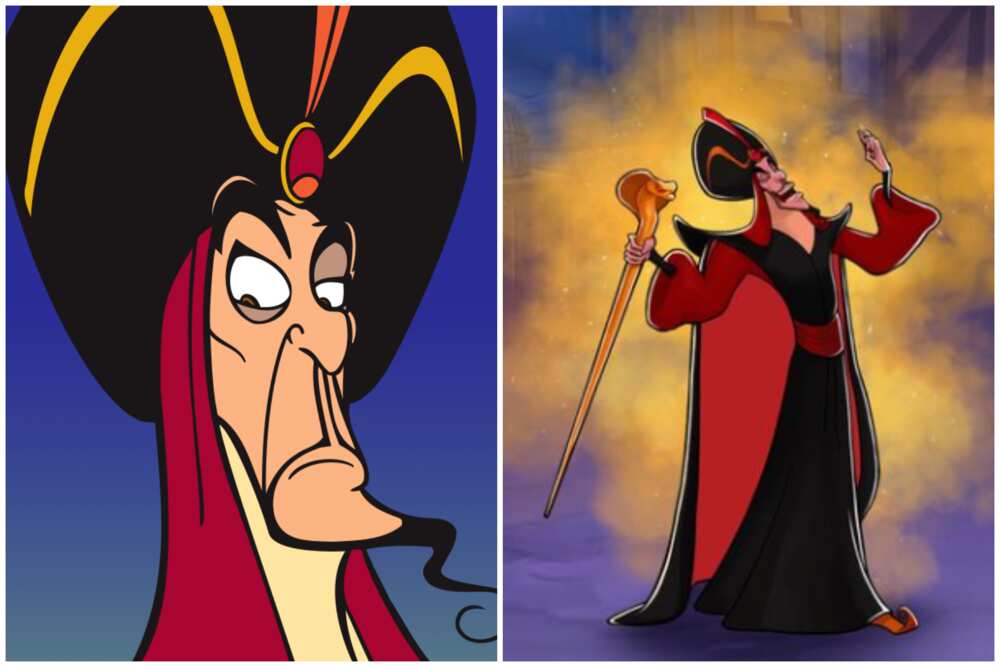 Jafar is the antagonist of Disney's Aladdin. He is known for serving the Sultan as the Grand Vizier. He uses his magic to manipulate the Sultan into trusting him to marry the princess and take over his reign as the new Sultan.
27. Scar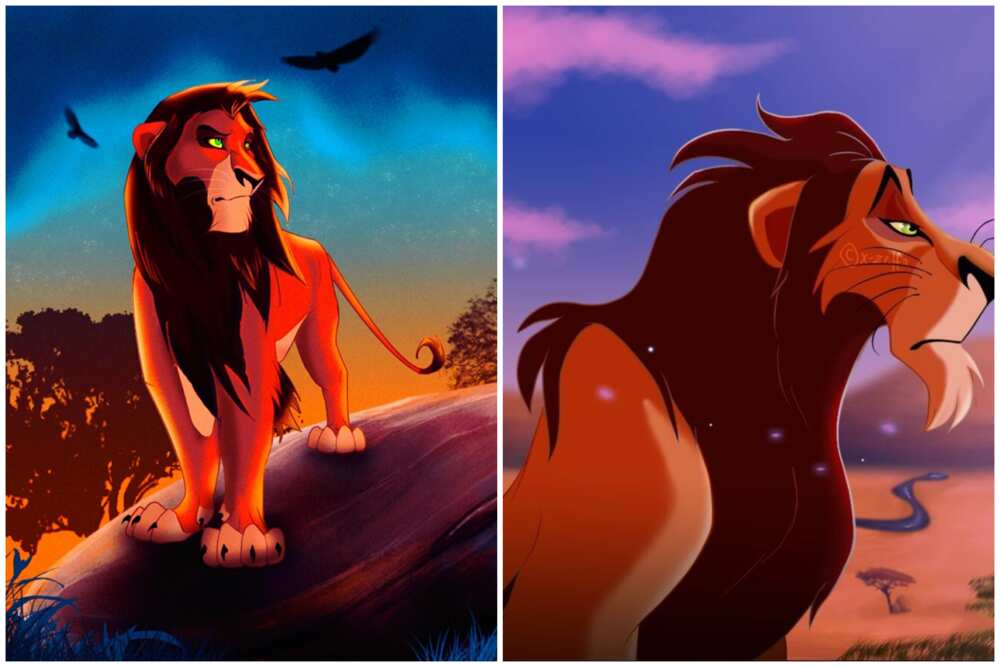 The Scar is the main antagonist in The Lion King franchise. He is the brother of Mufasa, ruler of the Pride Lands. He is a ruthless and jealous personality who only wants political power, not responsibility.
28. Hades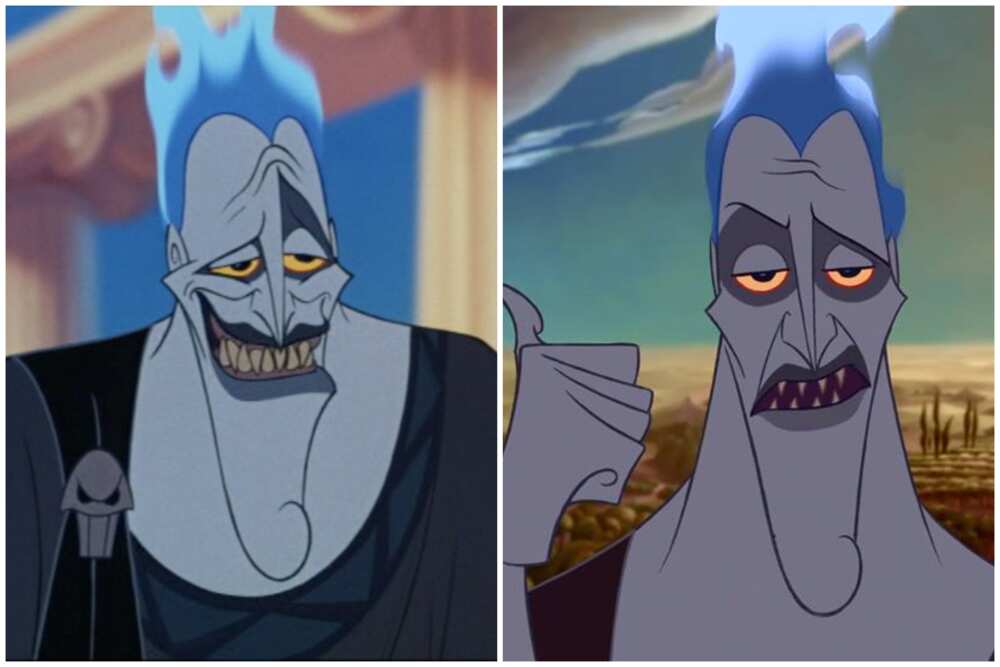 Hades is the main antagonist of Hercules. The famous character is known for his yellow eyes sunken deep into their sockets, and sharp teeth.
29. Drizella Tremaine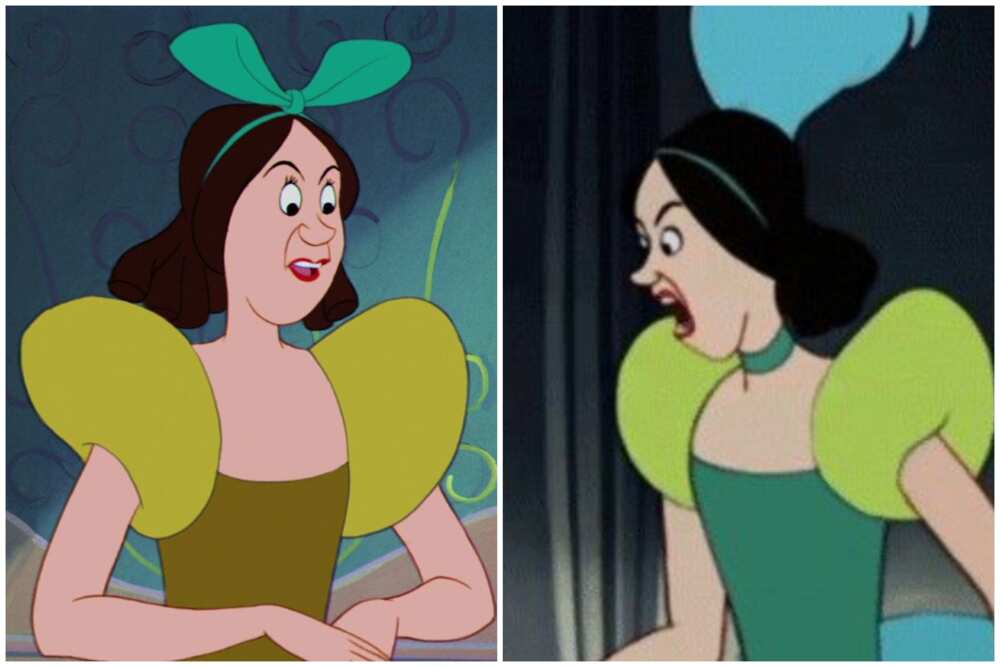 Drizella Tremaine is a wicked character in Cinderella. She has a slender figure, black eyes, and shoulder-length black hair, which don't soften her rough visage.
30. Pumbaa
Pumbaa is a famous character in The Lion King. He is greedy and mainly gets his food from the forest and the grasslands.
31. Rawhide Clyde
Rawhide Clyde is a character in The Kwicky Koala Show. The show had four segments, and Rawhide appeared as the antagonist in the Crazy Claws segment. He had the habit of killing beautiful furry animals and selling their skins.
32. LeFou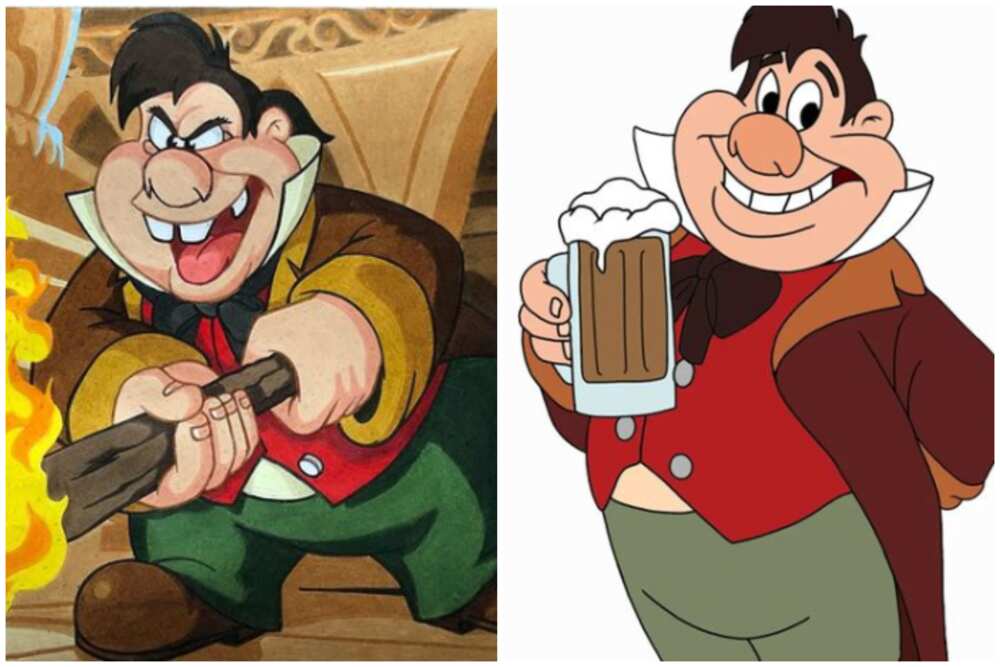 LeFou is a bumbling character who appears as the sidekick of Gaston in Beauty and The Beast. He is a short man with crooked teeth.
33. Gargamel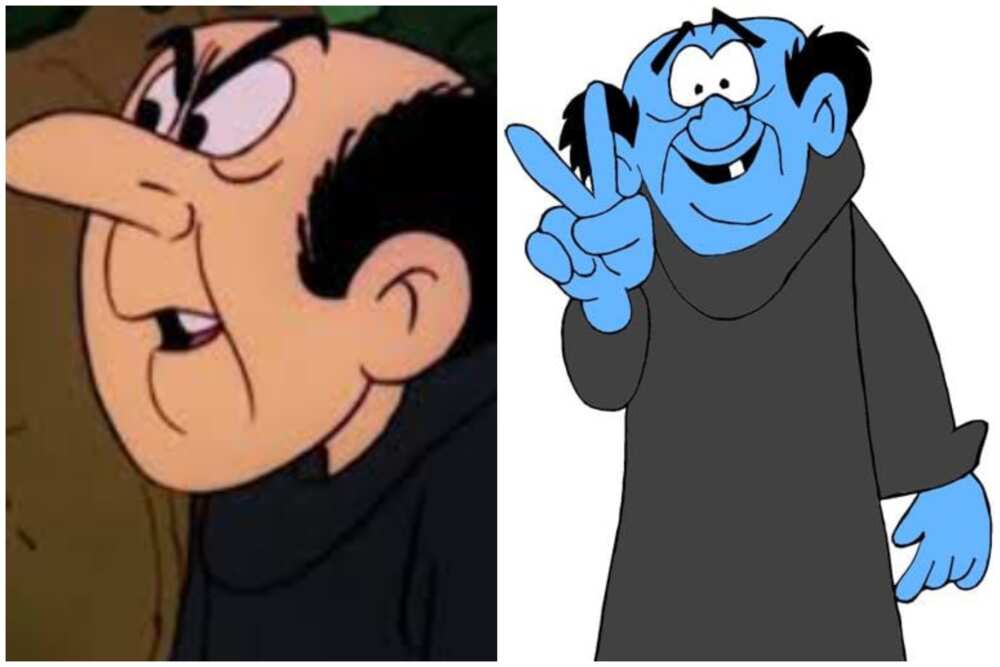 Gargamel is a character from The Smurfs. He is the main antagonist in the series and is depicted as an evil and sadistic individual.
34. Herbert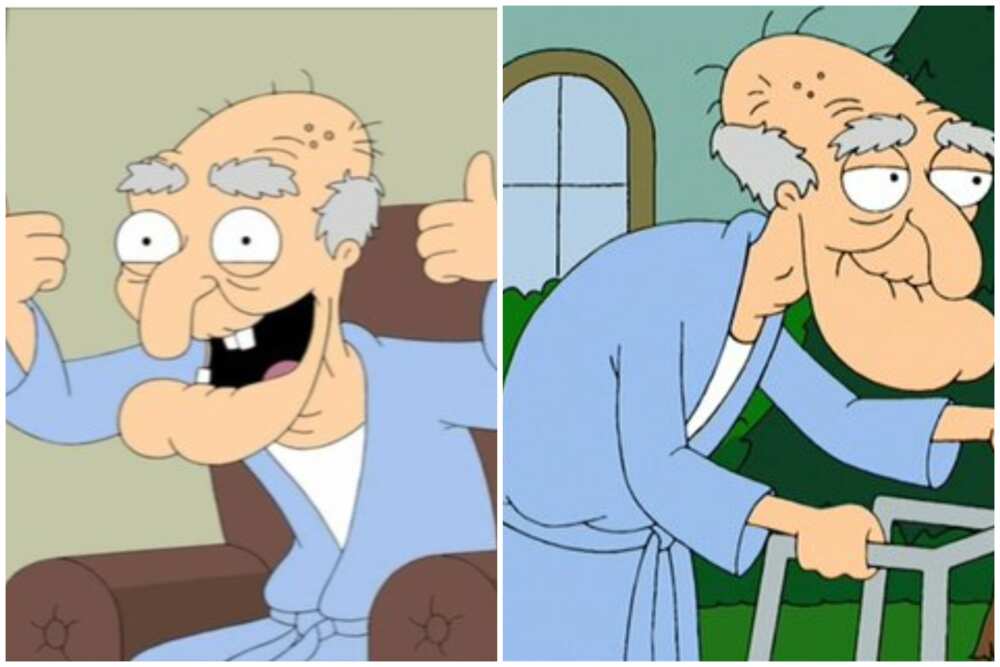 He is a fictional character in the animated series The Family Guy. The character is an old army veteran known for his unhealthy obsession with teenage boys.
35. Sideshow Bob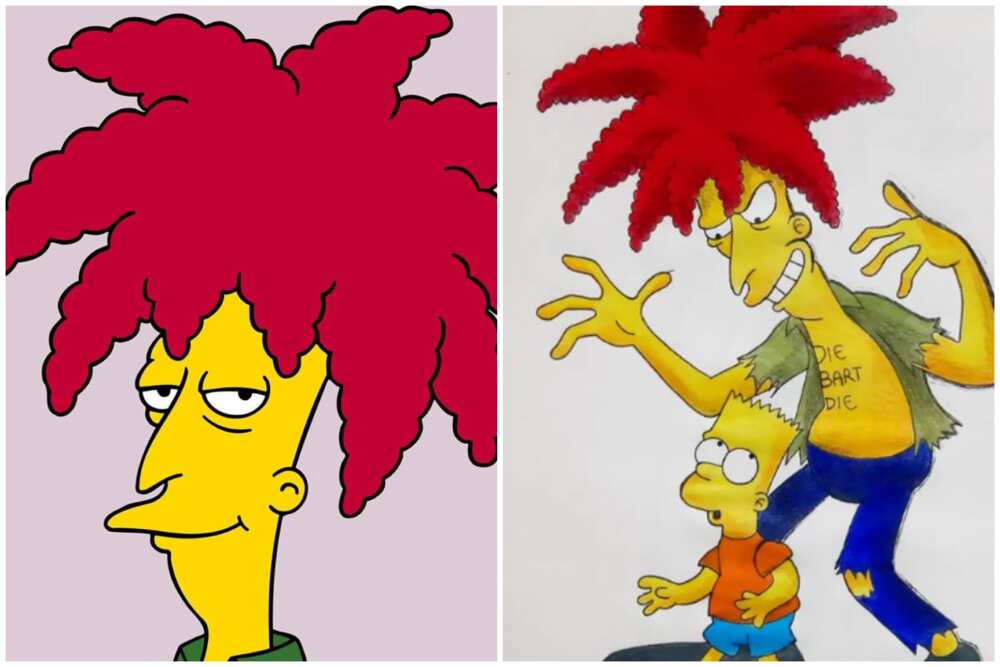 Sideshow Bob is a recurring character in The Simpsons. He is best known for his dark red unkempt hair resembling a fern plant.
36. Professor Farnsworth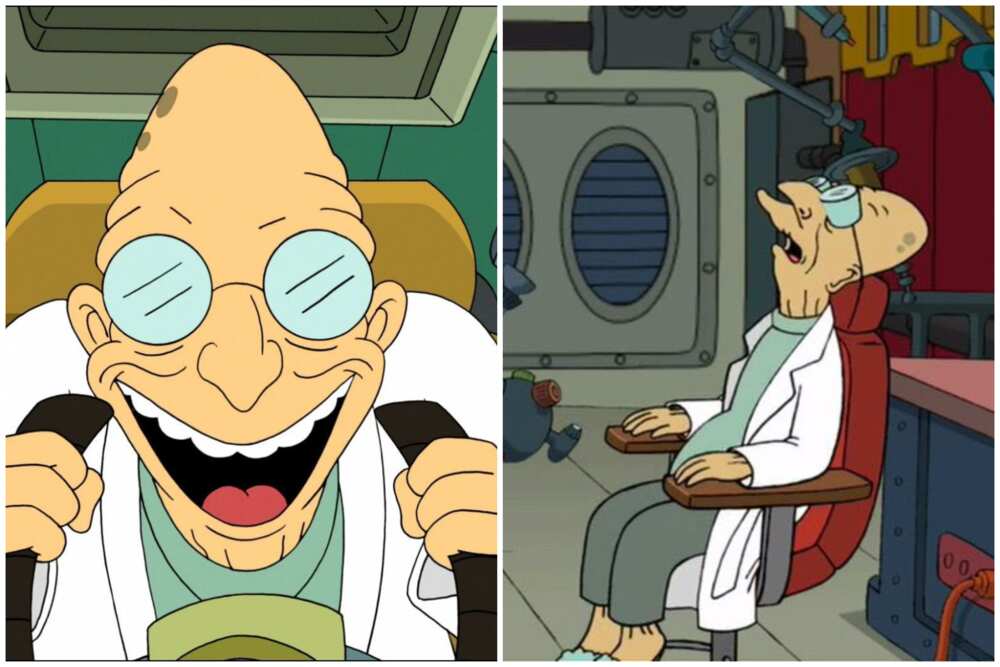 Professor Farnsworth is from Futurama. He is the chief executive officer of Planet Express. The well-known fictional character is bald and loves wearing thick eyeglasses and a lab coat.
37. Hulk
Hulk is an ugly male cartoon character known for his incredible strength and ability to transform into a giant monster when annoyed.
38. Philoctetes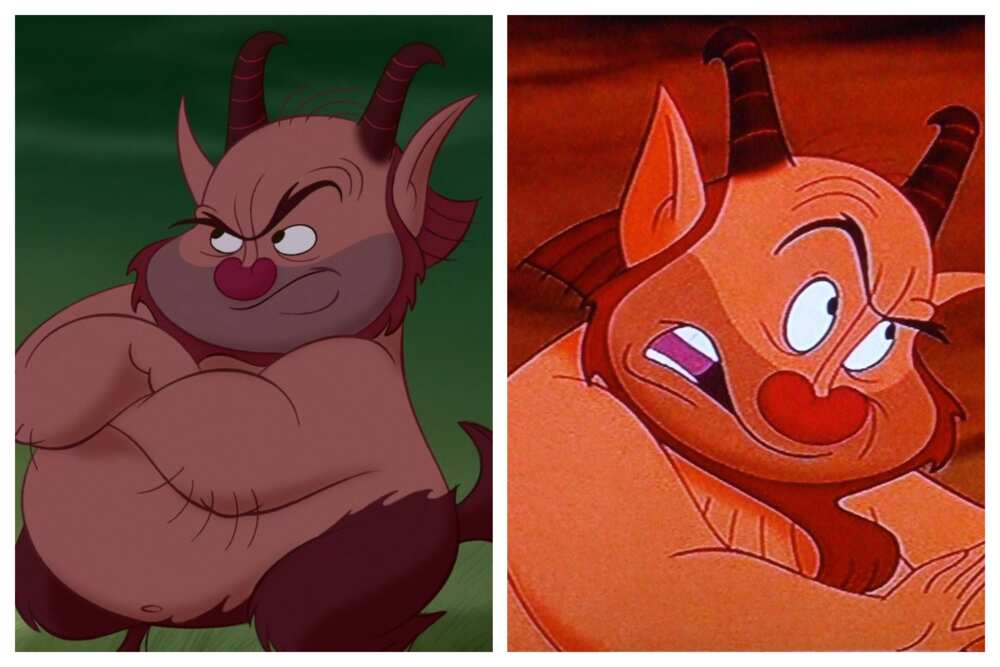 Philoctetes from Hercules is a character that is half-man and half-goat. He is a short individual with a round red nose. Philoctetes is also a hero trainer widely recognised for his tough training and outstanding pupils, including Achilles.
39. Granny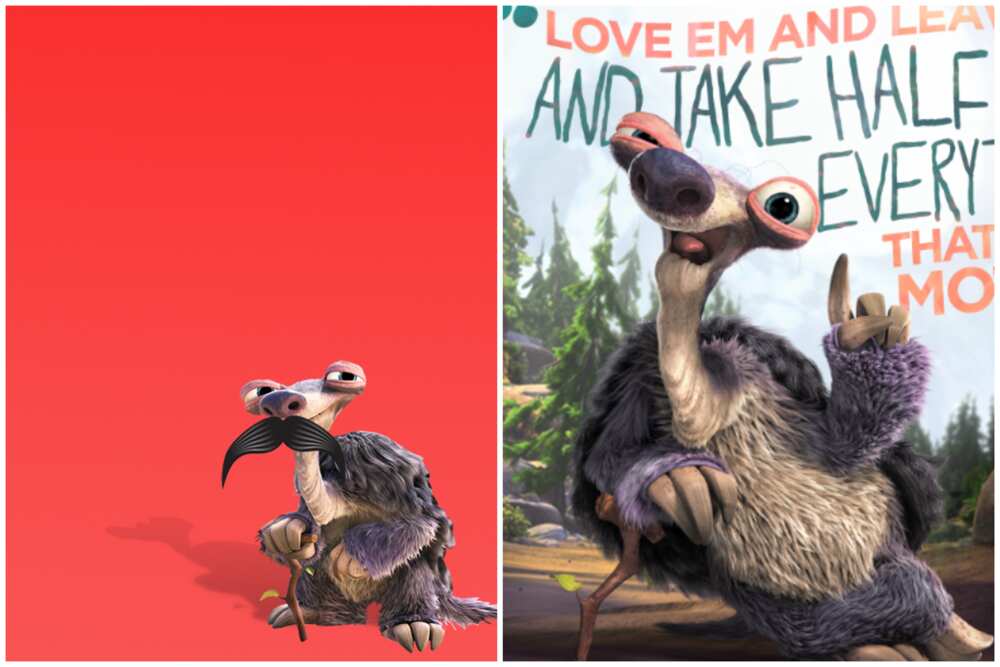 Granny is among the two tritagonists in Ice Age: Continental Drift. She is best known for her big building eyes and has one eye squinted.
40. Olive Oyl
Olive Oyl is a fictional character created by the American cartoonist Elzie Crisler Segar for his comic strip Thimble Theatre. Olive Oyl is a selfish and insensitive character.
41. Forky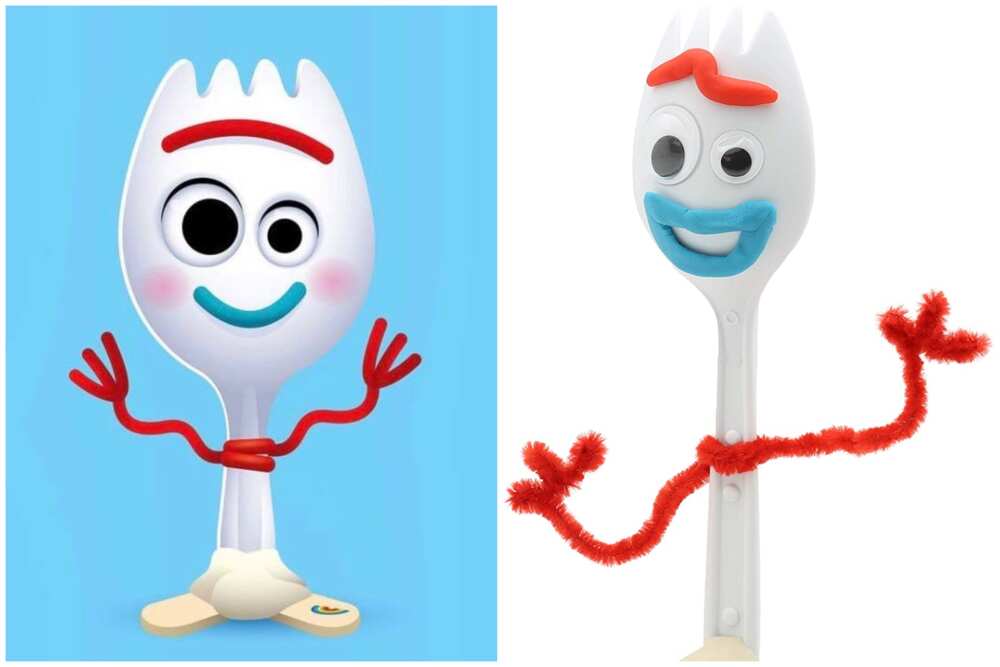 Forky is a character in Toy Story 4 who considers himself trash. Bonnie created him by sticking two googly eyes and a red pipe cleaner onto a spork. Forky's mouth is made out of blue plasticine.
42. Old Hag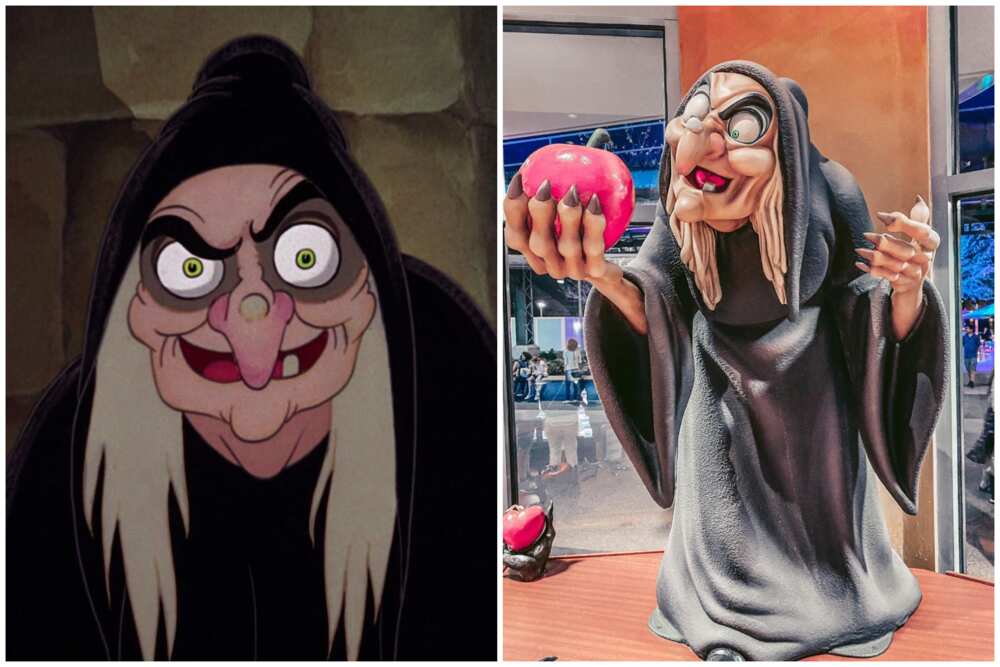 Old Hag is a fictional character in Snow White And The Seven Dwarfs. She is depicted as an evil queen obsessed with beauty. She plans to end Snow White's reign as the most beautiful character by disguising herself as an old hag.
43. Roz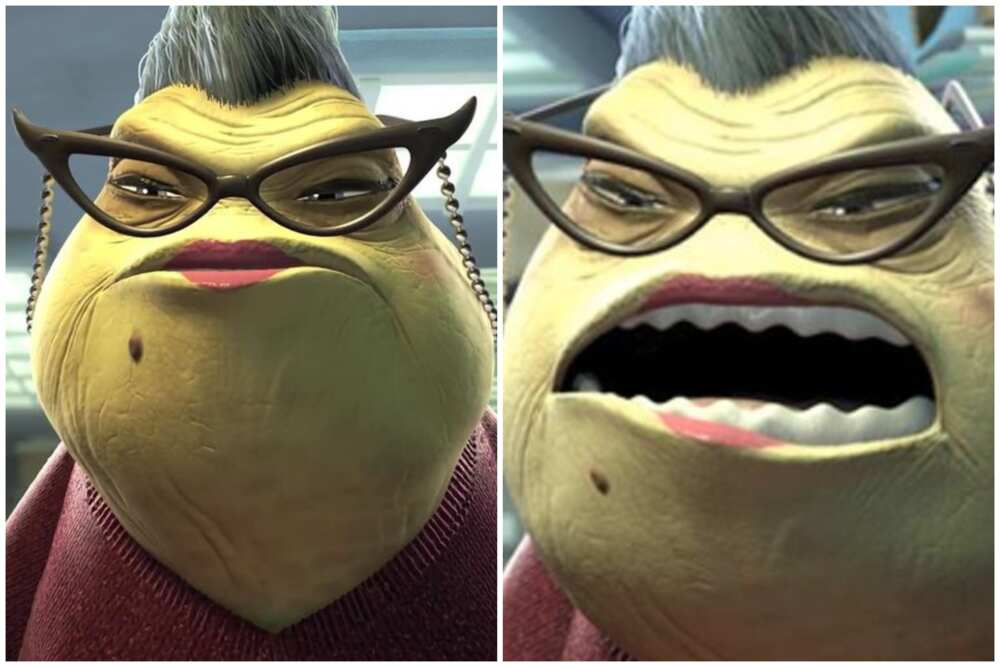 Roz is a supporting character in Monsters, Inc. She is fond of wearing cat-eye glasses and has dark grey hair.
44. Shenzi
Shenzi is one of the ugly female cartoon characters in The Lion King. She lived in the Elephant Graveyard following her clan's exile from the Pride Lands.
45. Tasmanian Devil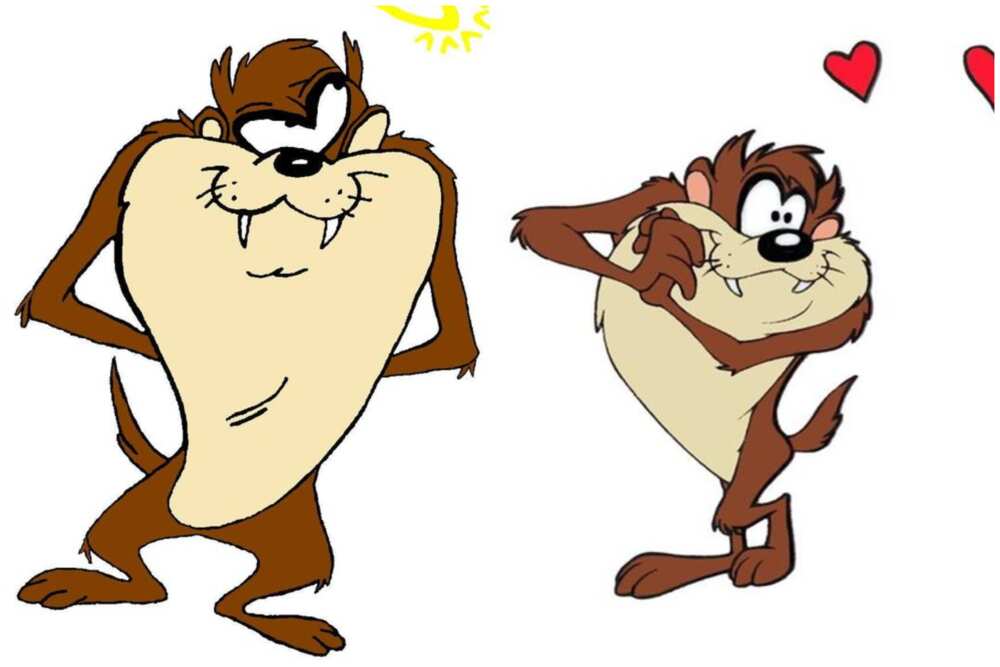 Tasmanian Devil, also known as Taz, is one of the ugly cartoon characters in Looney Tunes. He is portrayed as a ferocious and short-tempered character.
46. Mike Wazowski
Mike Wazowski is a fictional character in Monsters, Inc. He has also been featured in Disney video games like Kingdom Hearts III and Disney Infinity. He is a short, green spherical character with one big eye.
47. Mother Gothel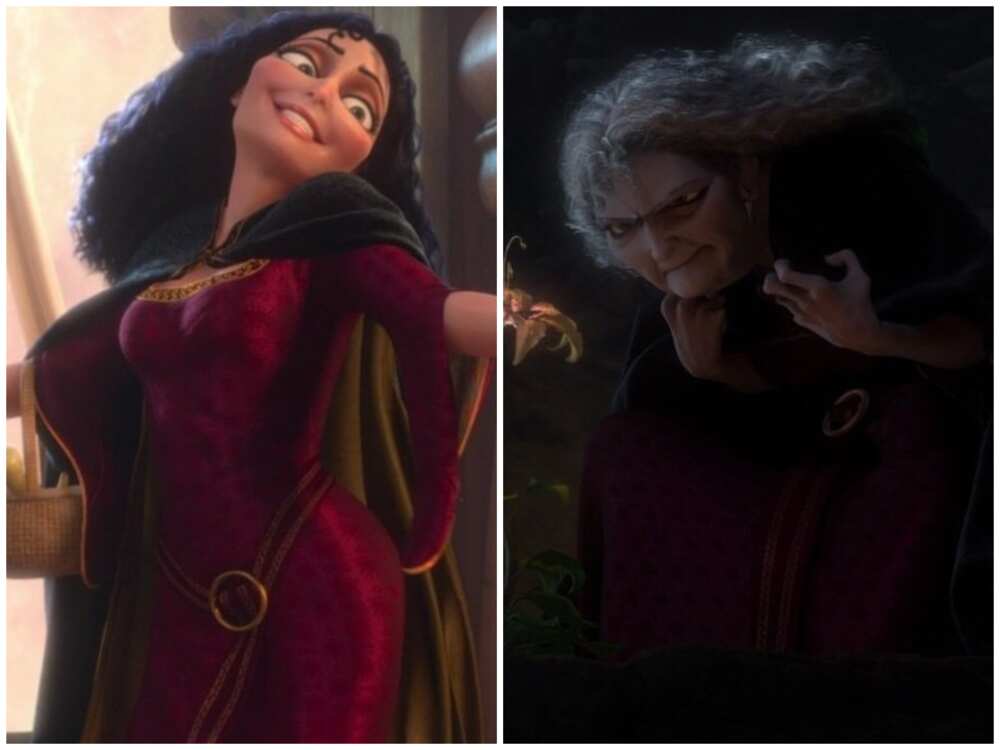 Mother Gothel is portrayed as a beautiful lady who turned into a wicked old woman in Tangled. She has dry grey hair and saggy skin with several wrinkles and spots.
48. Jumba Jookiba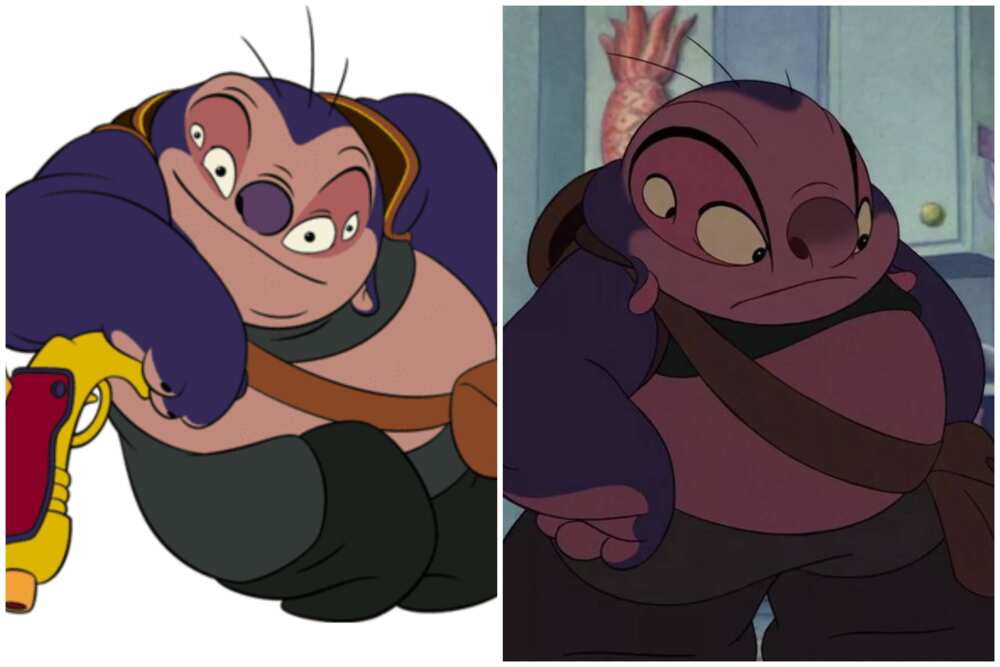 Jumba is a character from Lilo And Stitch. He has pink and purple skin. He is evil and likes performing illegal genetic experiments to make experimental beings like Stitch.
49. Grinch
The Grinch is a fictional character in the eponymous animated film. The cartoon has a pear-shaped body covered with green fur. He also has a pear-shaped face that resembles a cat.
50. Queen of Hearts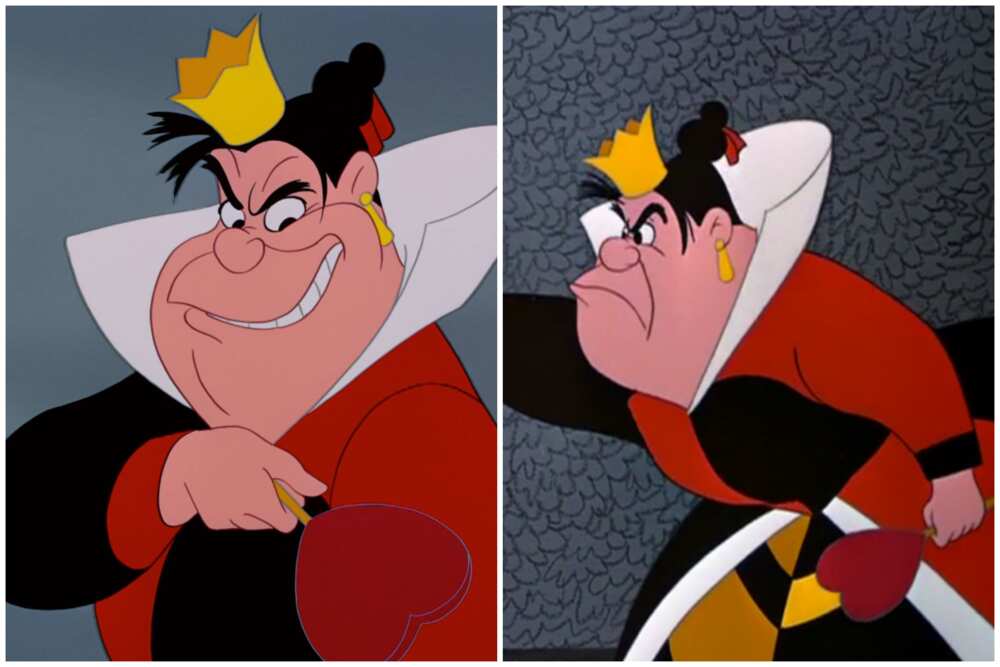 Queen of Hearts is one of the ugly animated characters in the film Alice in Wonderland. She is a leader and rules over Wonderland with an iron fist. The fantasy character orders the execution of her subjects at the slightest opportunity.
Cartoons have entertained children and adults for many years and have held a special place in audience's hearts. The above are some ugly cartoon characters with interesting looks and personalities.
Legit.ng recently published a list of the 30 best black anime characters. The black characters in anime are often written as villains, but there have been some memorable heroes too. You may be unable to recall all of them, but that does not mean they are less important.
From Afro Samurai to Rally Vincent, these anime characters are well-rounded and interesting to watch. Their strong moral compass and sense of justice make them great heroes.
Source: Legit.ng