20+ apology letters to girlfriend for when you really messed up
Want to write an apology letter to a girlfriend? Making mistakes can weaken a relationship and sometimes lead to a breakup. However, how the mistakes are handled can strengthen the ties and make the relationship successful. If you wronged your girlfriend, be humble, acknowledge the mistake, and apologise.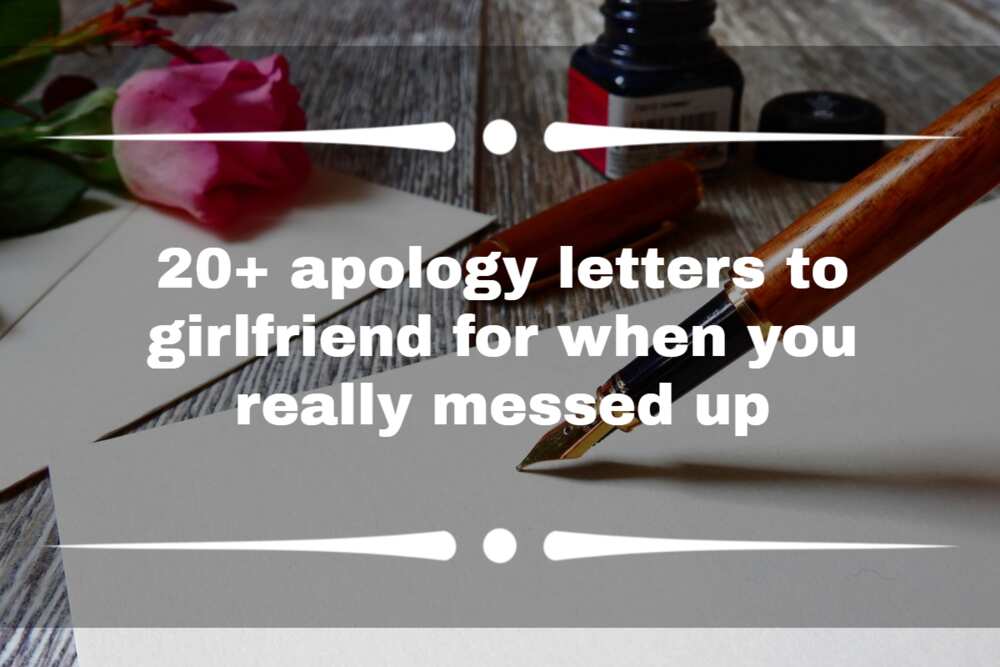 A lot of ladies are emotional, and you can easily hurt their feelings by simply uttering a wrong word. Whether you hurt her by words or actions, asking for forgiveness by apologising as soon as possible is essential. How do you write an apology letter to a girlfriend?
Apology letter for hurting someone you love
Some men think apologising to a lady is a sign of weakness, but it is not. It shows your strength in knowing you were wrong and willing to make things right. You can say sorry in many ways, but an apology letter to a girlfriend is likely the best. Here are sample letters of how to say sorry.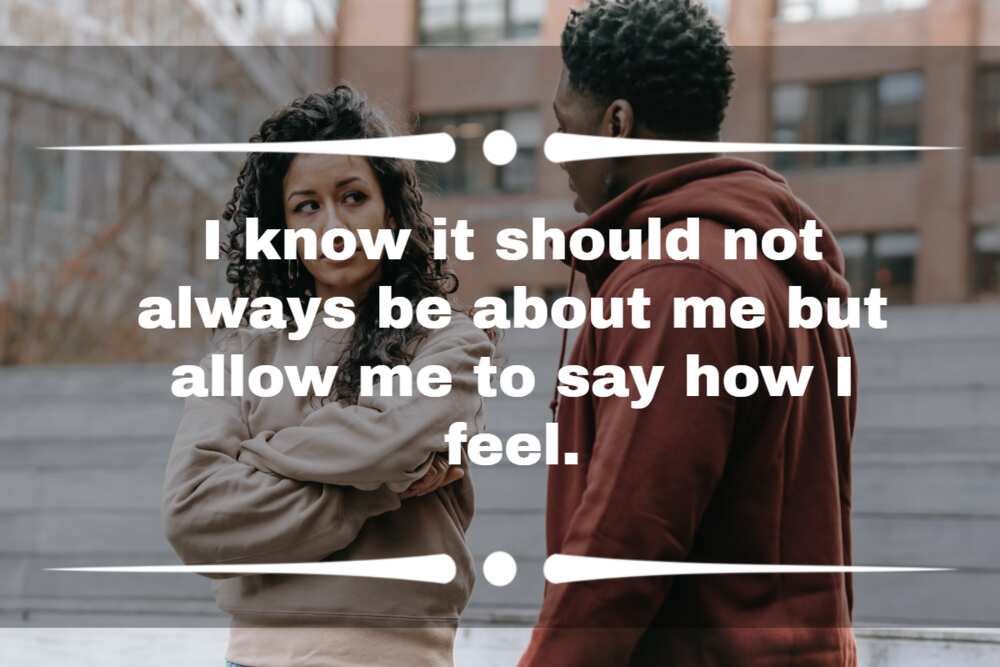 1. I'm nothing without you
Honey, listen.
I know you are mad at me and would not want to talk now. I would be in the same position if I were you. I know it should not always be about me but allow me to say how I feel.
You are right about this, and I was inconsiderate of your feelings. I need to improve on that. For now, I do not feel okay without you, and I request you to come home, sweetie. We can work through this.
Reach out whenever you're ready.
Sadly,
[Your Name]
2. You're incredible
Dearest [Name],
I am among the luckiest guys in the world to have a goddess like you. Unfortunately, I do not know how I ended up messing this up. Seemingly, I may have just messed up with the most incredible person in my life.
I admit my mistake, and I'm willing to do anything to win your heart back. Now that you have been away, I have realised how much I love you and will cherish you if you return to my world.
Please accept me back,
[Your Name]
3. I'm not great at apologies
Hi sweetie,
You have known me long, and you know I may not have the best words to say sorry even though I mean it. Therefore, forgive me if I do not do it the best way, but please know that I am very sorry for what happened between us.
I would be willing to give anything to get the right words to express my regret. I love you immensely and would not like to live without your presence.
With remorse,
[Your Name]
4. I'm sorry I hurt your feelings
My dear,
I'm sorry for hurting your feelings. I genuinely apologise for what I said. How thoughtless could I get? I suppose I wasn't thinking in any way, shape, or form.
Whatever I said was not respectful to you, but I want you to know that I value you, and you are the most impressive and wonderful person I have ever known. I promise to be mindful of what I say, and I hope you choose to give me a second chance, and I will change for the better.
Can you forgive me?
[Name]
5. I work way too much
Dear [Nickname],
I am sorry I haven't dedicated time to you due to my busy work schedule. Despite promising to be available for you always, I have let work take all of my time, hurting our relationship.
Now that I have realised how detrimental it is, I need to find a therapist and get my priorities right. I do not want to lose you; that might happen if I do not change for the better. I will balance my work time and relationship to earn a decent income while nourishing what we have.
Kindly understand my situation, and let's continue loving each other.
[Nickname]
Touching sorry letters to girlfriend when you wrong her
No matter how badly you wronged her, sometimes all it takes is a simple apology letter that will touch her to forgive you. Below are examples of sorry letters to a girlfriend.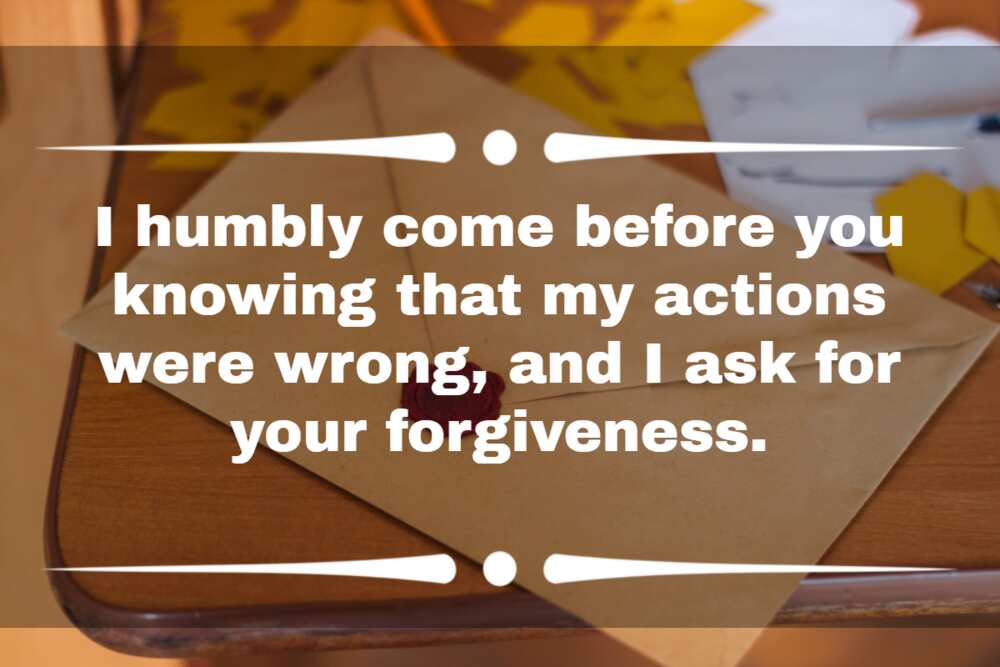 6. Life is hard without you
Wonderful [Name],
Since we separated, my life has not been smooth and has deteriorated immensely. Days drag, and life is like a series of half-connections. Sincerely, life has been hard without you.
My life was meaningful, joyful, and engaging when everything was right between us. We complemented each other, and you brought out the best in me. Now, I feel like an empty shell.
Please, can we talk? I am sorry for everything I did wrong.
I love you still,
[Your Name]
7. I pray you forgive me
Dearest love,
We both share a deep love for our faith, which is one thing I like about our relationship. At this moment of challenge in our relationship, we can lean on our faith for strength. I humbly come before you knowing that my actions were wrong, and I ask for your forgiveness.
I am ashamed, and I pray for your pardon and I will work on myself to be a better man. Ease your heart, and let forgiveness save our blessed relationship.
With sincere apologies,
[Your Name]
8. I really messed up
Sweetheart,
I messed up and don't deserve to call you my love. It disturbs me now for taking you for granted all this time. Many times, I put my superficial leisure needs before essential things. For sure, I need to grow and be a more responsible person.
How can I make things right? I am ready to put you first and improve to be a better person for the sake of this relationship.
Please accept my sincerest apologies.
Love you,
[Your Name]
9. I promise I will be better next time
To the best person I know,
You might not be moved by whatever I am about to say because I know you are deeply hurt. I apologise for my mistakes and promise to improve next time. It might be difficult to believe me, and it might take time to trust me.
I regret my actions and words, and I will change my ways. We occasionally make mistakes, but this was way above board, and I request you pardon me.
I love you,
[Your Name]
10. We have a promising future
Hi honey,
I went out of the way, and for a moment, I forgot about the person I loved. I prioritised other things of less value in life and neglected my source of happiness. I am very sorry for the pain I have caused while I was away, and I ask you to accept my apologies.
Remember that soon we will be a family, and I do not want to be an absent father and husband. I will change my ways and will be around for my family as much as possible. We have a bright future as a family, and I ask you to save this relationship.
Your changed man,
[Name]
Heartfelt apologetic love letters to win her trust back
Apologising also presents an opportunity to show how much you love her. Therefore, as you say sorry, do not forget to mention how much you love her. Here are examples of apologetic love letters.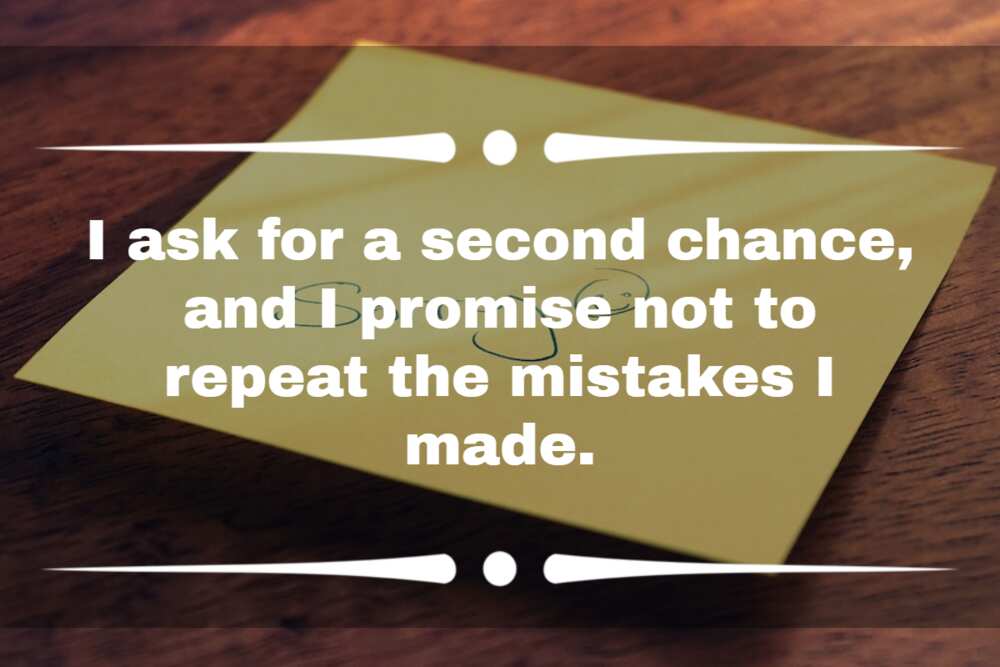 11. I know it will take time
Dearest [Name],
I messed and even though I would like to have you back now, I know it will take time to heal. My behaviour was irresponsible, disrespectful, and shaming of our relationship. I understand if you do not want to talk to me, and I will be patient for you to get back to normal.
Even as you heal, know that I love you and would not want to lose you. I will not behave like that again, and I plan to make you feel appreciated and greatly loved.
Love,
[Nickname]
12. All I ask is forgiveness
Dear [Name],
I have no excuses, and no matter how you look at the situation, I am the one who wronged you. It is understandable to be furious because what I did was unacceptable by any standards. It was a stupid and immature way of handling the situation.
I sincerely apologise, and all I ask is forgiveness because I am willing to make things right in the future. Can we meet up to talk?
Sincerely,
[Your Name]
13. How about we share calendars?
Hey you,
I know we had plans, but I forgot and scheduled other things. It might appear as though I do not value our plans and take other things more seriously. However, I want you to know that nobody is as important as you in my life.
I am sorry things didn't work out as we thought, but I have a solution for the future. Why don't we share calendars to plan everything together, giving me no chance of forgetting the important dates? Can we have another date so that I could make things right?
Hope to hear from you soon,
[Name]
14. Do you still love me?
Hi sweet [Name],
It has been quite a long time since we spoke because I wanted to give you some space to heal. I am sorry for breaking your heart, and I know I do not deserve your time. I regret all that happened and feel haunted by your absence in my life.
I ask for a second chance, and I promise not to repeat the mistakes I made. Do you still love me? Hear my plea and come back to my life again.
Sincerely,
[Name]
15. I need help
Dear [Name],
This is taking a toll on me because I seem to get worse each day and now I need help. My overindulgence has caused a lot of trouble in our relationship, and despite you asking me to quit, I did not listen.
I have decided to quit today but not without your help. I ask for your support throughout this journey, and forgive me for all the wrongs I have done. Allow me back to your life as I correct the mess I have caused.
I value you,
[Name]
16. I didn't mean to hurt you
Hello,
Everything happened so fast, and I deeply regret going that far. Listen, even though there was a mistake, my harsh actions were not justified. I should have reacted better to the situation, and I ask for your forgiveness.
Sorry for the pain and disappointment.
[Name]
17. Pardon me for being so inconsiderate
Dear love,
I have penned this letter to apologise for our altercation yesterday. After a profound reflection on the situation, I returned to my senses and put all the blame on myself. I was self-centred and inconsiderate, and I promise to give you the best version of myself in the future.
Yours truly,
[Name]
18. Let's give love a chance
Hi sweetie,
We have come a long way, and destroying the beautiful thing between us would not make sense. Let not your anger blind you and make you not see that we are about to end our happiness. Let's sort out our differences and give love a chance so that we go back to our old ways.
Your love,
[Name]
19. I'm to blame
Hi honey,
I have hurt you and am drowning in the pit of remorse. I have wronged you multiple times and mistreated you. I feel guilty. Everything has been rosy and beautiful since we started this relationship, and I do not wish to end it so soon.
Could you find it in your heart to forgive me?
Deeply sorry,
[Name]
20. This will not happen again
Sweetheart,
I lack the right words and couldn't dare to face you, so I am writing this letter hoping you pity and forgive me. Whatever happened yesterday was uncalled for and wrong, and I am remorseful for it. I should have faced the problem instead of taking it out on you.
I have learnt and will never repeat this mistake.
Please forgive,
[Name]
Apology paragraph for her
Saying sorry can be as simple as a word or a phrase, but if you want to express yourself better, a paragraph will do. Here is a compilation of apology paragraphs.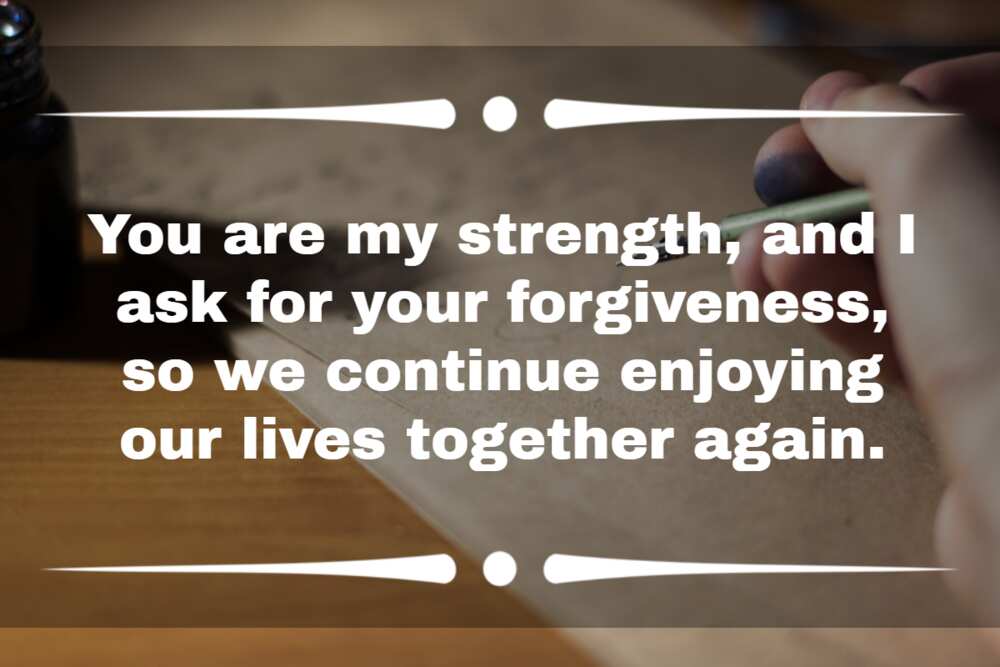 There is nothing I can say to gain your trust because I have betrayed you severely. Our fallout has made me know how lucky I am to have you in my life. It would be difficult to trust me again, but I request you be patient with me as I try to make things right.
I have been wrong all along and did not realise it. I maintained my hard position, not knowing that I was hurting your feelings. You do not deserve to have a guy like me, but since I am willing to make things right, I ask you to take me back.
My actions hurt you, but I hope you accept my apology. I have repeatedly said sorry but felt it wasn't enough without penning this letter because I am ready to do anything to get you back. I sincerely apologise and request you to come back to my life. I know better now, and I will treat you with dignity.
I want you to understand that I am only human, and despite trying my best to be perfect, I sometimes fall for temptations. I admit my mistakes and take this chance to apologise, hoping that you will accept me back. You are my strength, and I ask for your forgiveness, so we can continue enjoying our lives together again.
I ask you to hear my plea. I wronged you, but I didn't do it intentionally. Therefore, I hope you change your mind and return to me because you are all I value in this world.
No one is perfect, and when you wrong your girlfriend, do not feel ashamed to say sorry. An apology letter to a girlfriend can calm her and make her see the need to give you a second chance. Moreover, a letter makes your apology appear more serious than a text message or a phone call.
READ ALSO: 100+ classy beautiful women quotes to inspire and motivate you
Legit.ng recently published classy beautiful women quotes. Classy women have numerous likeable attributes that make them respectable in society. Classy woman quotes can inspire and motivate you in many ways.
Besides their elegant looks, they have characters that make them grab everyone's attention. They are successful on many fronts; if you want such a life, it is good to learn something about them. Here are classy women quotes to motivate you.
Source: Legit.ng