75 thank you for friendship quotes to help you express your emotions
Finding a true friend is not easy, and when you find one, do not take them for granted. It can be difficult to maintain close relationships because sometimes, you may have other things that need your attention. However, it is good that you appreciate friendship because sometimes, when you feel like the world is against you, they provide a shoulder to lean on. Therefore, make your ally feel special by sending them "thank you for friendship" quotes.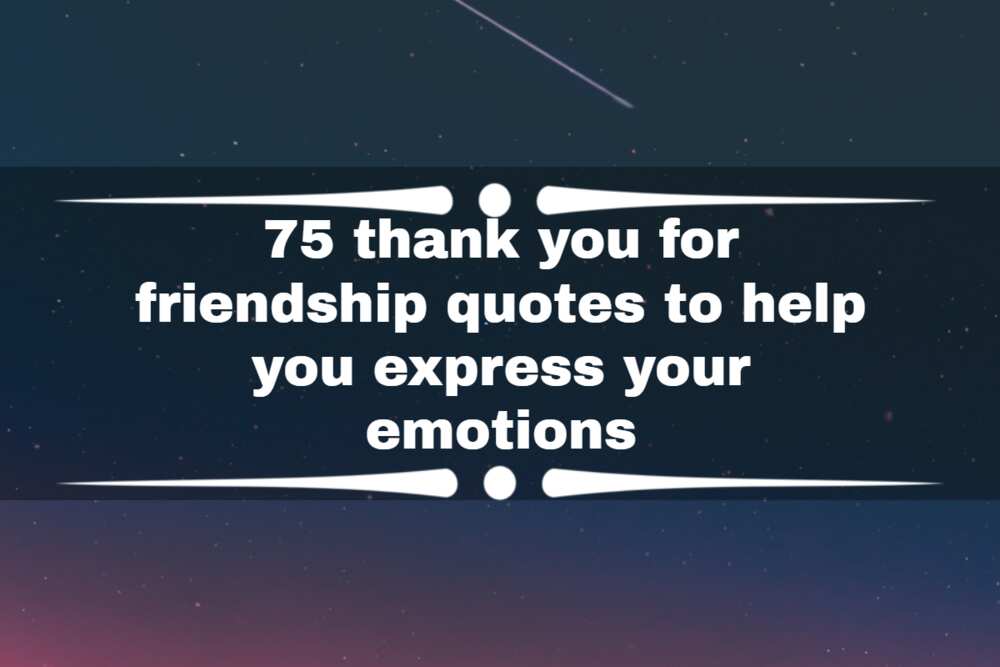 A friend is someone who chooses to accept you as you are despite your faults. Friends make you happy in many ways, especially when you are feeling low. Sending your friend "thank you for friendship" quotes will make them feel you appreciate their presence in your life.
Best thank you for friendship quotes
"Thank you for your friendship" quotes can make your friends feel loved, cared for and treasured. If you have a friend who has always been by your side despite your faults, they are worth sending words of appreciation to.
A sincere thank you to my friend for always staying true.
Friendship isn't about who you've known the longest; it's about who came and never left your side. – Yolanda Hadid
Whenever life gets hard, and I don't know where to turn, I am thankful that I always have your shoulder to lean on. I couldn't ask for a better friendship than yours. Thanks for all that you do!
Allies are people with keys to your heart. Thank you for holding the key and keeping it safe!
Friendship is the inexpressible comfort of feeling safe with a person, having neither to weigh thoughts nor measure words.
You are not just my best friend but my eternal platonic soulmate. Thank you, my best friend, for coming into my life.
There is nothing I would not do for those who are my friends. I have no notion of loving people by halves, which is not my nature.
True friendship comes when the silence between two people is comfortable.
I've got an ally in you, and our friendship will stand the test of time.
My definition of a friend is somebody who adores you even though they know what you're most ashamed of.
You've done uncountable things for me, and I appreciate you more than you ever imagined.
Amazing thankful for friends quotes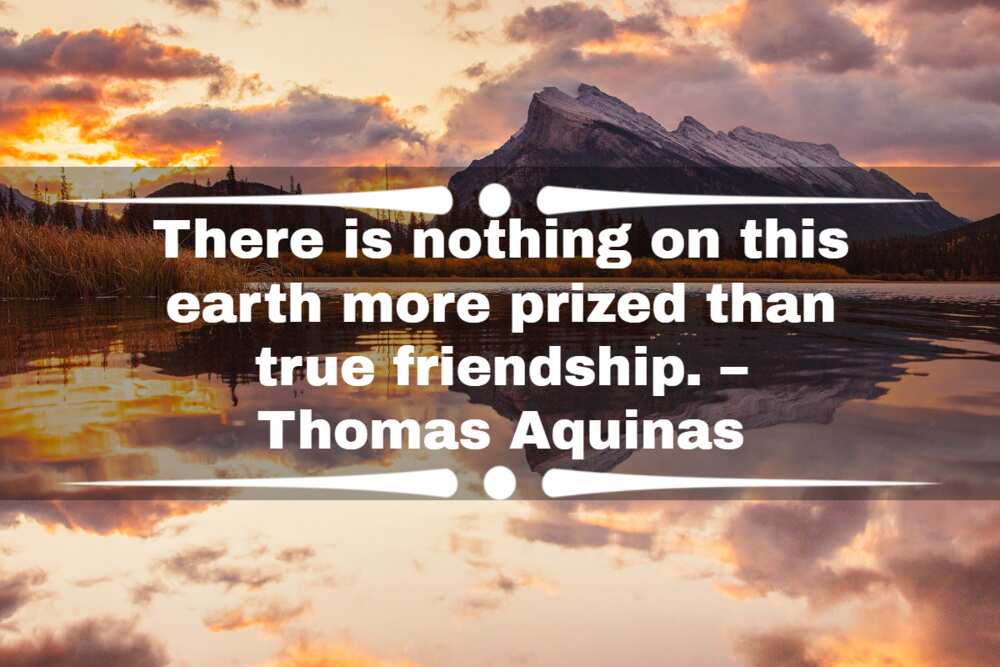 If you are wondering what to say to express how thankful you are for friendship, don't worry because there are many ways to do so other than saying "thank you for being my best friend." Check out the following quotes.
I'm so thankful I have a forever ally—you are fantastic!
Walking with an ally in the dark is better than walking alone in the light.
Wishing to be allies is quick work, but friendship is a slow-ripening fruit.
Having a companion like you is the greatest blessing I have ever received. I'm beyond thankful for your support and understanding; you are the best.
A true ally is someone who sees the pain in your eyes while everyone else believes in the smile on your face; you are an amazing buddy.
True friendship is one kind of rare gem. And I found it, all thanks to you.
There is nothing on this earth more prized than true friendship. – Thomas Aquinas
A life without a companion is like a flower without petals. Thanks for making my life colourful, dear friend!
A real friend walks in when the rest of the world walks out.
A true ally overlooks your failures and tolerates your success!
Deep thank you messages for friends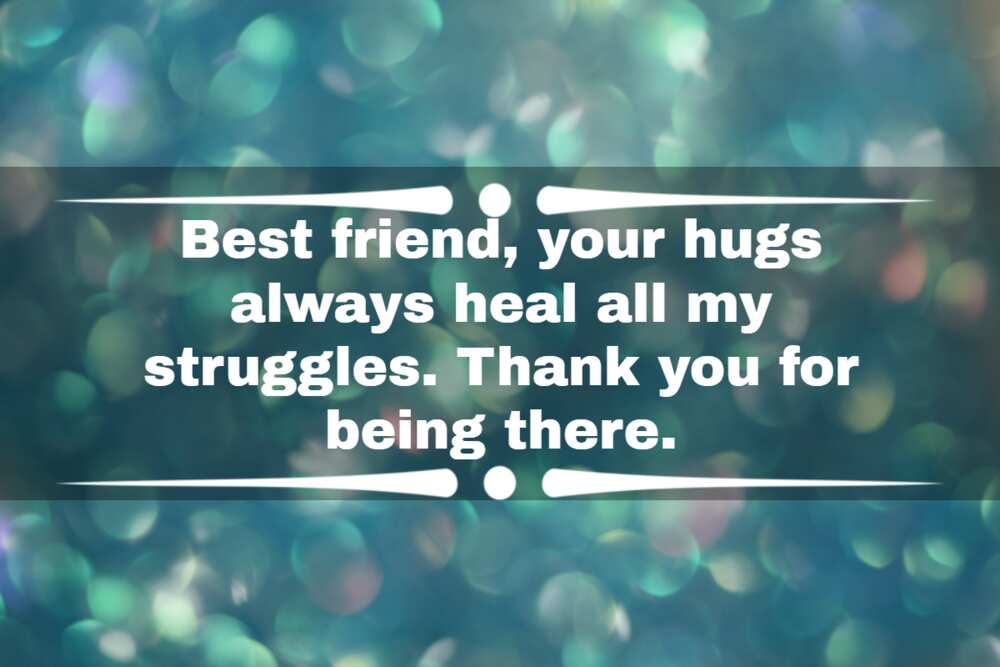 The word thank you might seem simple, but it can go a long way. It can strengthen friendships and show how positive and respectful you are to other people. Here are thank you for being in my life messages to send your friends.
You've always believed in me and made our friendship joyous. Thank you!
Everything you have done for me has made a difference in my life. Thank you so much, my buddy!
You're a friendly lunatic. I love our madness in friendship. Thanks for making life fun-filled!
You never fail to make me smile. Thanks so much for being there for me.
You have been a great ally to me, and I appreciate you more than anything. I know it's hard to communicate instead of holding things in, but I'm thankful you're always willing to tell me the truth. Forever grateful for your friendship!
You deserve a million thanks and all the hugs I can give.
It is hard to say thank you to someone like you who deserves more than that. You are an amazing companion, and I thank you for being there for me.
People come and go, but you will always be by my side. That's what I appreciate the most about you, friend. I've never met someone as loyal, kind and generous as you. Thank you for choosing me to be your friend.
You are a wonderful friend, and I appreciate your love, kindness, support, and generosity. Thank you for always being there for me when I need you!
Thank you for being my biggest fan.
I know it is a big challenge for you to be on my side, but you never mention it. I'm so thankful!
Whenever I think about you, my companion, I find joy in my heart. Our friendship is magic!
You make every day so special just by being a part of my everyday routines. Thank you for being my friend through all this time.
With a friend like you by my side, there is truly nothing that we can't accomplish. Thank you for making me feel that way.
Thank you for doing your job as my therapist!
Having someone who makes you laugh and cheers you up when you're down is a great blessing. Thanks, my ally, for being that someone in my life.
You are one of the few people in my life who have helped make me into what I am today. Thank you for that.
Sometimes I feel that you are my guardian angel. If you are, you are doing one hell of a job. Thanks, mate!
Best friend, your hugs always heal all my struggles. Thank you for being there.
You are a gift from God, and sometimes I feel like I don't deserve such an amazing friend like you. Thank you for being my ally.
I am incredibly fortunate to have someone like you in my life. I couldn't have done this without you. Thank you.
Your jokes are annoying, and you're totally crazy and too clingy, but I like you the way you're. Thanks, buddy, for being so weird.
My heartbreaking moments are not completely devastating because I have a friend like you. I appreciate you being my companion.
I can't believe I found someone as kind and generous as you. Thank you for being my ally.
My days get brighter each time I'm with you. What more could I ask for if I had you in my life? Thank you, buddy, for accepting me the way I am.
Please accept my warmest thanks for your thoughtfulness and words of comfort. I appreciate you more than words can say.
Thankful quotes for friends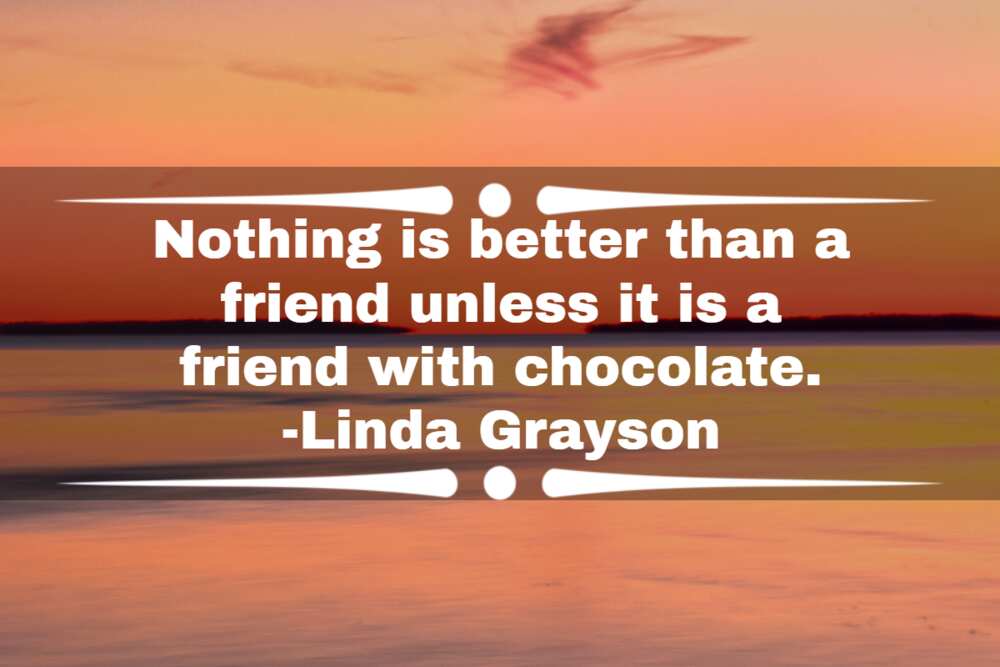 Some allies are amazing and always do things to put a smile on your face during tough times in life. Such friends deserve to be appreciated because it is rare to find such souls. Express your emotions to them by sending them thankful quotes.
Sometimes, I wonder how empty life would be without you, my buddy.
Things are never quite as scary when you've got a best friend.
My dear ally, thanks for being the shoulder I can always lean on.
A quarrel between allies, when made up, adds a new tie to friendship.
There are many things which I am thankful for in my life, and you are at the top of the list.
You are the best person I know, and I call you my best companion. Thank you for our friendship.
Best ally, you always make me feel seen and heard. I am genuinely thankful to you.
You are the brightest star that fades away from all the darkness around me. Thanks for everything you do!
Friendship is born when one person says to another: 'What! You too? I thought I was the only one.'
The friendship of one good ally is more powerful than the acquaintance of thousand others.
A friendship with someone like you brings true meaning to this life. I am thankful for your friendship.
Nothing is better than a friend unless it is an ally with chocolate.
You're the best friend I could ever have. Thanks for sticking by me.
The great thing about new friends is that they bring new energy to your soul.
It gets better each day with you, my true ally! Thanks for maintaining the values of friendship.
Grateful for friends quotes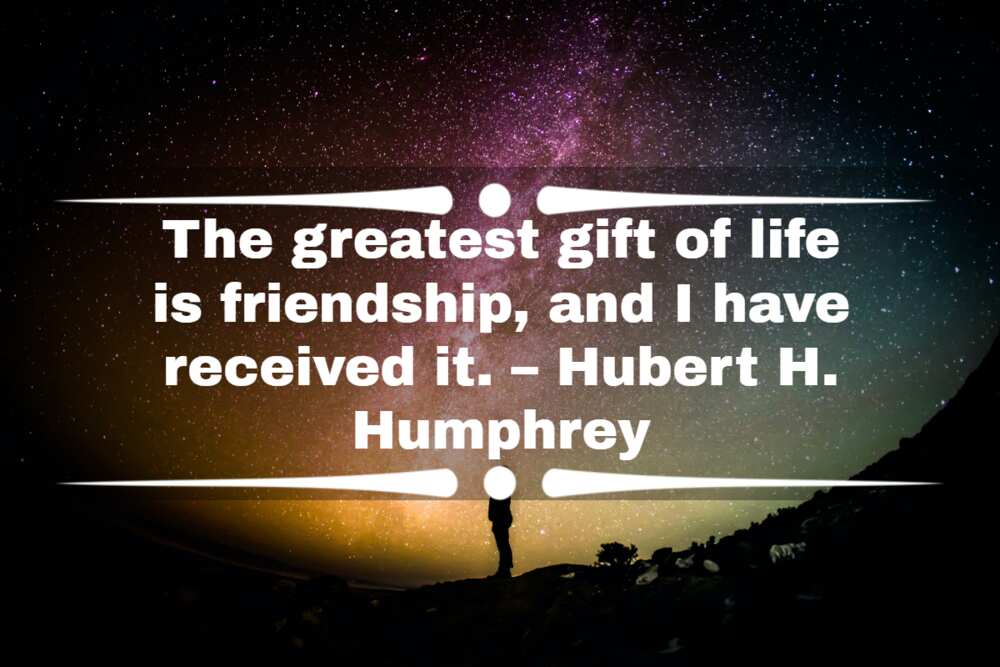 Sometimes surprise your ally by telling them "thank you for being a friend." And when you send sweet messages to your friend, they will feel loved and appreciated.
I could never achieve success without your support, my ally.
I awoke this morning with devout thanksgiving for my companions, the old and the new. – Ralph Waldo Emerson
Are you ready to hear something crazy? I love you, pal. You make this world a better place; I appreciate it very much. I want you to know that I'm grateful.
Words cannot express how grateful I am for your help. You were there for me when I needed it the most. Thank you for everything that you've done for me
The greatest gift of life is friendship, and I have received it.
Many people will walk in and out of your life, but only true allies will leave footprints in your heart. -Eleanor Roosevelt
You have embodied the true meaning of friendship. I am so grateful to know and have you in my life.
You are cute and chubby! You have always been available for me, and I'm grateful for that. I can't thank you enough for being such an amazing ally.
I feel so lucky to have you as my best buddy. I have never met anyone this loving and supportive. I know I don't say this often, but I'm grateful for everything you do for me.
Let us be grateful to the people who make us happy. They are the charming gardeners who make our souls blossom. -Marcel Proust
Don't expect anything from your allies. Friendship itself is the greatest gift you will ever receive in life.
You are such a light! Thank you for brightening my view when all I could see was darkness. You are such a special person; I am fortunate to call you my companion.
Allies like you are what make life worthwhile. I can't wait to see what the years ahead of us bring.
Friends are amazing and need to be appreciated because they make us happy even when we are going through difficult times. Having a true ally is rare, and if you have one, make them feel loved by sending them 'thank you for friendship quotes' to help you express your emotions.
READ ALSO: Inspirational growing-up quotes to help you express your emotions
Sometimes surprise your ally by telling them "thank you for being a friend. And when you send sweet emotions. People grow so fast, and it is surprising how you just find yourself all grown without even knowing. In no time, you just find yourself as a parent with responsibilities.
Growing up quotes helps you appreciate the old days when you were young, preparing you for the future ahead of you. These quotes are also amazing because they remind you of your beautiful younger days, making you appreciate the person you have become.
Source: Legit.ng