50+ emotional deep best friend paragraphs to show your appreciation
Emotional support is a critical component in any healthy and fulfilling friendship. Friends provide emotional support by listening and providing comfort during times of difficulty. Sometimes, you must encourage your friend with profound emotional deep best friend paragraphs as appreciation. The purpose of these paragraphs is to show your friends how much they mean to you and that you value their input in your friendship.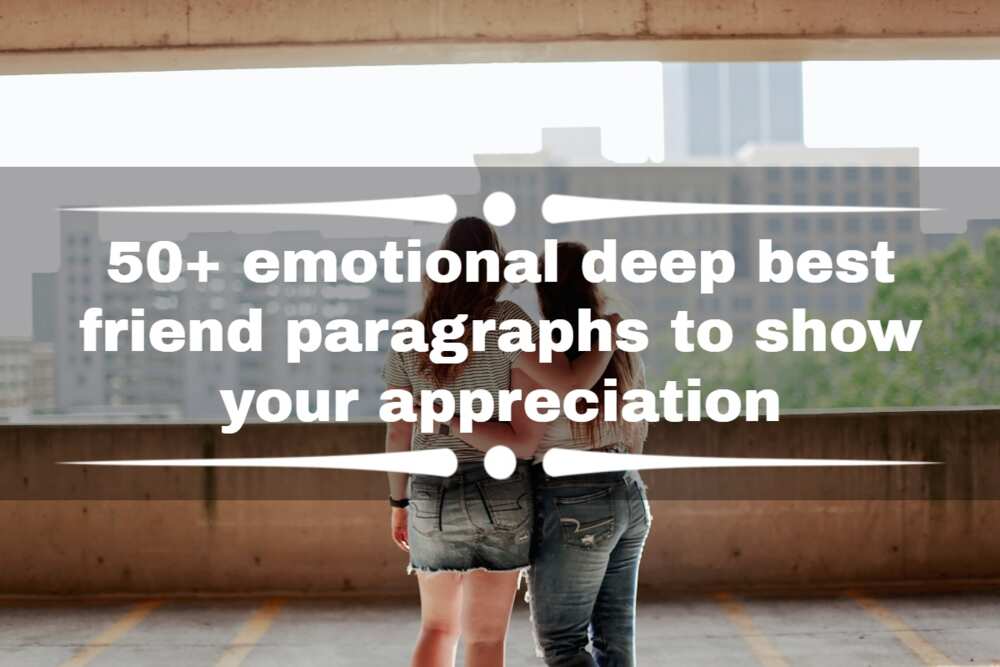 Emotional deep best friend paragraphs are essential in many faces of life. The situations that may call for these messages include when you want to express your appreciation and gratitude towards your friends. These situations could consist of times of difficulty, on special occasions, after a long period apart, to apologize, or to express your love and appreciation.
Emotional deep best friend paragraphs
It is important to let your friend know that you are thinking of them by sending touching emotional messages. These amazing paragraphs will surely make your friend feel loved.
Not many people can boast of having a great friend like you, but I can. I wonder how my life would have turned out had I not met you. I love you so much, dear friend.
Let me see the flow of your beating heart when love echoes our friendship. When I met you as a friend, I didn't think we would write such stories of friendships.
No one has always stuck with me as you have done. You have never left my side ever since we were little kids. I love you and will always do.
You are a lovely and sweet friend, and I greatly cherish you. Don't ever feel discouraged today, for God's mercy will answer all your issues.
Your friendship to me is life. You make my life so unique and beautiful. I have come to love you so much, just as I know you love me. You are that friend who sits closer than family.
Thank you for being the light in my life. I love you and am grateful for your friendship every day. I love you so much that words can never express the actual depth of my feelings.
You mean so much to me, and the amount of love I feel for you is immeasurable. I will always be here for you, no matter what.
You are so incredible that you can transform an ordinary day into something extraordinary. It's never boring around you. You are my dearest friend in the entire world.
I know that you always have my back because that is the kind of person you are. I know you are always looking out for me and have my best interests at heart.
Long paragraphs to send to your best friend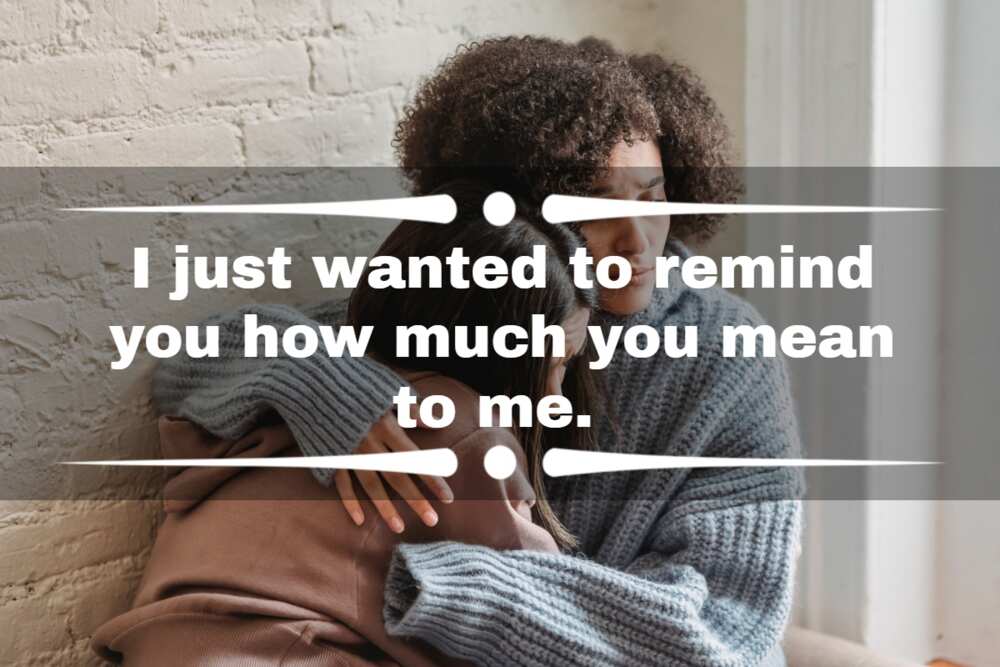 Long messages for best friends demonstrate your strong feelings of love and appreciation for your friend. It is important to note that when sharing these messages, ensure you use our friend's love language to avoid misunderstanding.
I've been thinking a lot about our future lately. It's crazy to think we've known each other for so long and have been through so much together. I can't wait to see what the future holds for us. We've talked about going on a trip together someday, and I'm still holding onto that dream. Maybe we could plan something soon?
You have a way of seeing the best in people and bringing out the best in them. Thank you for being a positive influence in my life and the lives of those around you. Our friendship has stood the test of time, distance, and life's challenges. I'm so grateful for every moment that we've shared.
I just wanted to remind you how much you mean to me. You've been my rock through so many ups and downs, and I hope I've been able to do the same for you. You always know how to make me laugh, even when I'm feeling down, and your support means the world to me.
I hope you're taking care of yourself, too. Remember to take breaks when needed and prioritize your mental health. I know you have much on your plate, but I believe in you. You're capable of amazing things, and I can't wait to see all you accomplish.
Today we celebrate you. You are a best friend like no other. You are more than my best friend; you are a sister. You understand me better than anyone else. You know me better than I know myself. I know that you will live a life filled with success and happiness.
Deep meaningful things to say to your best friend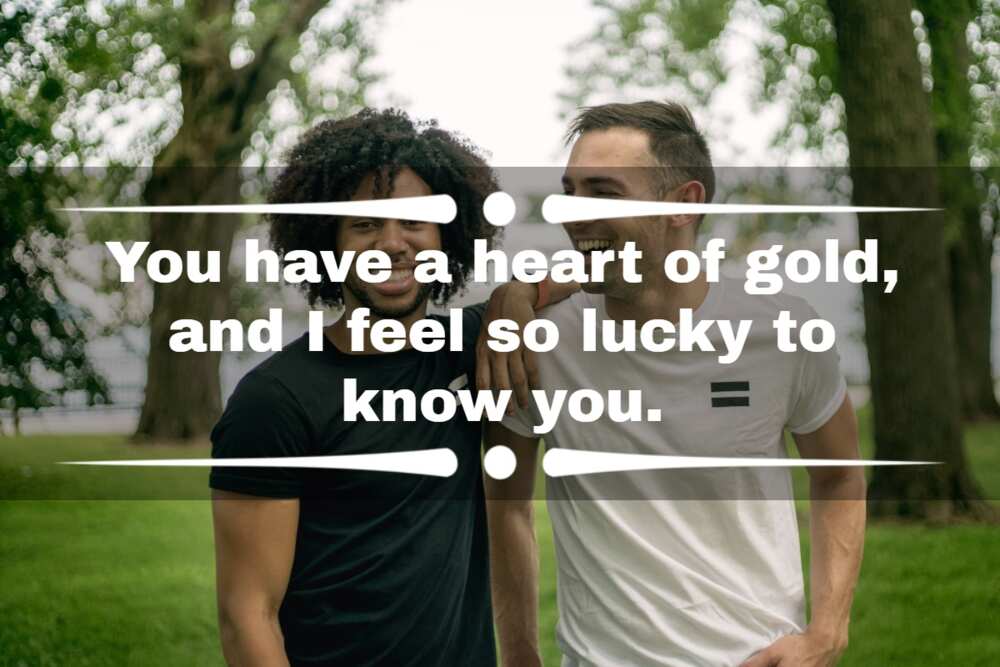 Deep things to say to your best friend include expressing gratitude for their presence in your life, admiration for their qualities and values, and appreciation for their honesty and support. And there are several best friend appreciation paragraphs that you can share to recognize their positive impact in your life.
I admire the person you are and the values you stand for. You inspire me to be a better person. You will be my best friend and the only one who will do anything to make me happy.
Thank you for always being honest with me, even when it's hard. Your advice and guidance mean the world to me. No matter where life takes us, I will always be there for you.
You make my life brighter and more joyful just by being in it. I can't imagine going through life without you. You plus me equals an unbeatable and unstoppable team.
Certain people make the world a better place just by being in it. You are one of those people. I love you, my friend.
Your friendship has helped me through some of the most challenging times in my life. I will always be here for you in the same way.
There is nothing I would not do for those who are my friends. I have no notion of loving people by halves; it is not my nature.
We have created many memories together, and I wish to create many more with you. May our friendship grow stronger with time.
You have a heart of gold, and I feel so lucky to know you. Your kindness and generosity make the world a better place. Even if time keeps us apart, my heart will never forget a friend who has done so much for me.
You have been my rock through thick and thin, and I am so grateful to have you in my life. Have a great day!
I appreciate your support and encouragement more than words can say. You give me the confidence to pursue my dreams.
You are a fantastic person, and I feel honoured to call you my best friend. I will always cherish our friendship.
Forget the past, count your new days, and begin from scratch. In addition, be happy as you are alive and breathing!
Short paragraphs for a best friend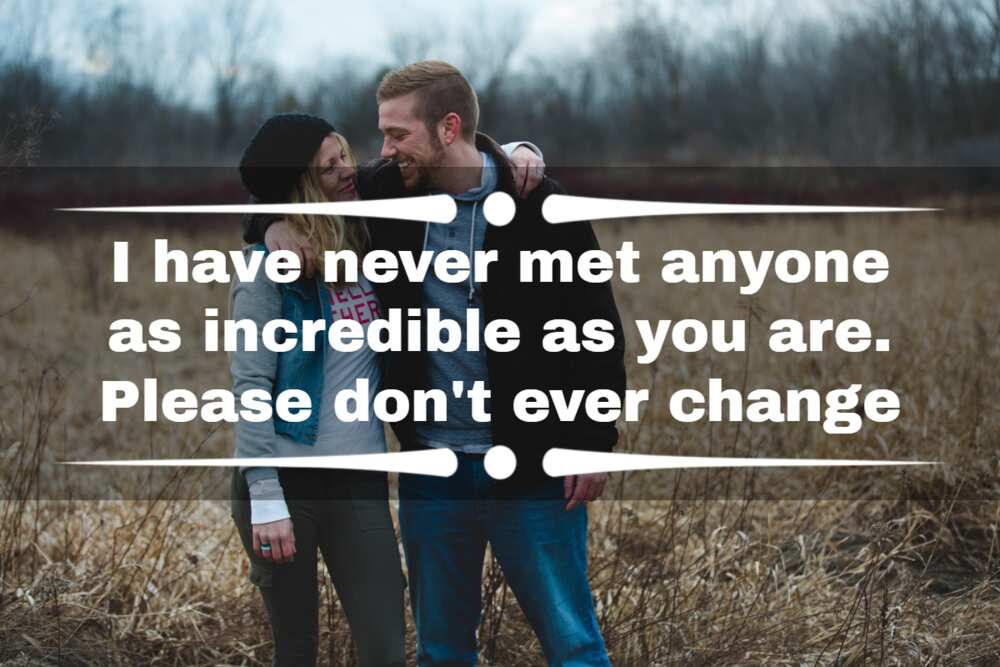 The paragraph for a friend to make her smile is meant for bosom friends and not any friend. If you have female friends, you can send them some best friend paragraphs to make them cry, especially when they feel alone and abandoned.
I never have to pretend to be someone I'm not around you. You accept me for who I am, quirks and all; that kind of acceptance is priceless.
I appreciate you so much and value our friendship. You're a very rare friend to have, girlie. Your day shall be sweetened and filled with joy. Have a lovely one ahead!
You can make even the most mundane moments feel unique and memorable. Thank you for always infusing my life with joy and excitement."
I so cherish you, and I respect you a lot, girlie. May you be rejuvenated more as you wake up this morning. Enjoy your day!
Here's to many more years of friendship and making memories together. You know I love you. I am blessed to have a friend like you who cares and loves me so much.
Dear best friend, no matter how many new people I meet in life, you're always at the top of the list. I love you, dear friend.
I have never met anyone as incredible as you are. Please don't ever change. Don't ever let bad people get to you. Keep being the bundle of awesomeness that you are."
I hope your day is coming along alright, as is mine. You are my sweetest friend, and I want you to know that I'm blessed to have a great friend like you.
We've been through some tough times together, but our friendship has grown more potent. Thank you for weathering the storms with me and being my constant support."
I've never met anyone with as much passion and enthusiasm for life as you do. Your zest for living is infectious, inspiring me to live fully."
True friends are always together in spirit. You're indeed the best among the rest, and I'm blessed to call you mine forever.
There is a saying that goes: you don't get to pick who you are related to. But I know that you do get to choose who your family is, and you are my family.
You are always so helpful. You are my biggest cheerleader and supporter, and I enjoy spending every moment of my time with you.
You have a heart that's as big as the ocean, and you're always willing to go above and beyond to help those in need. Thank you for being such a compassionate and caring friend."
You're not just my best friend; you're my soulmate. I can't imagine navigating this crazy world without you by my side.
Everywhere you go today, you will possess. May the spirit of excellence distinguish you and set you apart for the favour.
Hello, my sweetest friend; I want you to know that I'm blessed to have a great friend like you. I am so grateful for the gift of your friendship.
I want to assure you that I will always be loyal to you as a friend in times of joy and sadness. I will stay by your side and pray for you every day.
The world goes round because of friends like you. Your heart is beautiful, your soul is rare, and I truly love you.
We may not communicate in the same language, but sharing love and understanding in friendship transcends all barriers.
Write your own story! Fill the empty pages with beautiful memories. You are competent, caring, and skilled. You will succeed with your virtue!
Don't ever get discouraged at any point today, for the Lord is with you. Just remember that you are wonderfully made.
I want you to know how I so much value our friendship relationship. I boast of you among my other friends. Keep this in mind, dearie.
Regardless of the odds and obstacles today, girl, your path shall be smooth and successful. Remember, I, your friend, love you, but God loves you more.
We're best friends because we can go for long stretches of time without talking, and it won't damage the relationship. I am blessed to have a friend like you in my life.
Emotional deep best friend paragraphs will help you to express gratitude for your friend's presence in your life, admiration for their qualities and character, and a deep commitment to the friendship. These messages will also act as a reminder of the power of friendship and the value of expressing appreciation for those you love.
Legit.ng recently published an informative article about the best, deep love messages you can send your man to make him feel special. Generally, men are associated with being macho and not as emotional as women.
Still, the man in your life will appreciate the occasional love message to let him know you are thinking of him. If you are not a person who has an easy way with words, coming up with the perfect love message for your man might be an uphill task.
Source: Legit.ng