75+ heart-touching I love you mom quotes from appreciative children
The mother-child relationship is considered one of the most extraordinary and unique relationships in human life. This is because mothers play an essential role in a child's life, whether by providing support, love, or guidance. This article highlights some of the best heart-touching "I love you mom" quotes from a child to acknowledge her and show her that you care.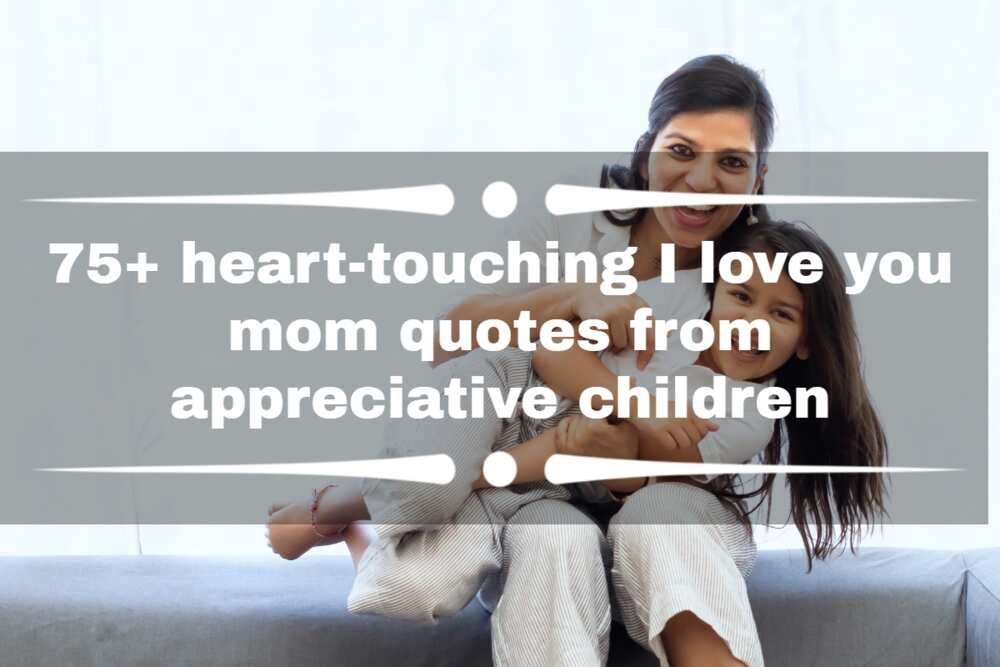 Expressing love and care to your mother can take different forms. For instance, you can write a heartfelt letter, spend quality time together or buy her a gift. Send any of these "I love you mom" quotes and watch her heart melt with love and happiness.
Heart-touching "I love you mom" quotes
Are you looking for special words for your mother? Send her any of these messages to boost her mood and make her feel appreciated.
The least I could do is offer a shoulder to cry on and a box of doughnuts… because that's what moms do! Love you, Mom!
I cannot describe in words what you mean to me. Thanks for always being there for me.
Mom, you are my best friend and my mentor. I'm so proud to call you my mom!
I love you, Mom. You are the brightest light in my life and always make me feel like everything will be alright. No matter what life throws my way, I know I can always count on you to be there. I am so grateful to have you in my life.
When looking at your mother, you are looking at the purest love you will ever know.
Life might be full of challenges; no matter the challenges, you always stand beside us.
Mothers are like glue. Even when you can't see them, they hold the family together.
A mother's tears can bring the world to its knees, and her joy can cause celebration across the globe.
Love you, mom! You're my best friend, and I can't thank you enough for everything.
A mother's heart is a patchwork of love.
It's a funny thing about mothers. Even when their child is the most disgusting little blister you could ever imagine, they still think that they are wonderful. – Roald Dahl
I love you mom, and I am glad God blessed me with such a caring mother. You went above and beyond the call of duty many times.
Life began with waking up and loving my mother's face.
I will not tire until I see my mom is pleased with me. She is irreplaceable, and nothing will stop me from giving her the best of my love. I am the luckiest child on earth to have found a good mother like you.
I give a tribute to a wonderful woman who works very hard to raise her children and give them a good future. She is a superwoman and yes… SHE IS MY MOM. You are a great woman.
Mom, you must have been hand-picked to be the right mom for me. I wouldn't be the person I am today if it wasn't for you.
"I love you mom" quotes from daughter
Mothers and daughters often share a deep emotional connection that can be difficult to replicate in other relationships. Feel free to send your mom these sweet messages to express gratitude.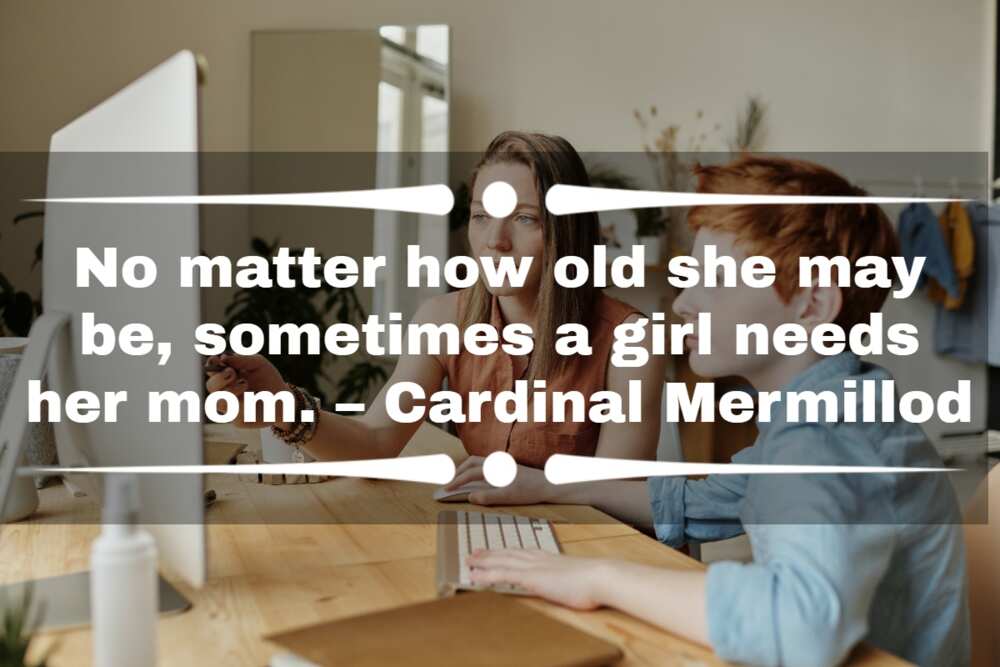 You are everything to me, and I wish to be a fantastic woman like you. Thank you mom, for guiding me to the right path with your wisdom and love.
My mother, she is beautiful, softened at the edges and tempered with a spine of steel. I want to grow old and be like her.
No matter how old she may be, sometimes a girl needs her mom.
My mom is the greatest in the whole wide world. She's done everything for me to make my dreams come true.
The bond between mother and daughter can't be replaced with anything. Being your daughter is the best thing. You are the person who completes my life. I love you, mommy.
First my mother, forever my friend.
I'm an adult now. But I still feel like a little girl when I'm with you. I love you mama. You are the queen of my heart.
Mom, the bond between both of us is more than just marvellous. As a mother, you are fantastic; the warmth of your love is just magic. I love you.
I love my mother as the trees love water and sunshine. She helps me prosper and reach great heights.
My life is for you because I realized that showing you love and respect is obligatory. Now, it is my opportunity to respond to the entire good that you have done in my life. I will not stop loving you till the end of my life.
I feel lucky to have witnessed the most beautiful relationship in this world— a mother-daughter bonding. You are my strength, my confidant and my pride. Take my love.
Every day I become a little bit more like my mother… and I couldn't be prouder.
Mom, you are the best mom in the whole world. I love you so much.
Mom you are one of a kind, and I am glad I get to have you as my mom. I have learned much and felt loved by you.
If my life had to fit in a single selfie, it would be incomplete without my mommy. I love you.
I may not be able to be like you, but you will always be my inspiration. You are the best woman in this world for me.
Without a mom, a girl can't be raised properly. A daughter's greatest treasure is her mother. You are my greatest asset, mom.
"I love you mom" quotes from son
From the moment they are born, mothers establish a powerful bond with their sons. Here are some quotes to express love to your mother.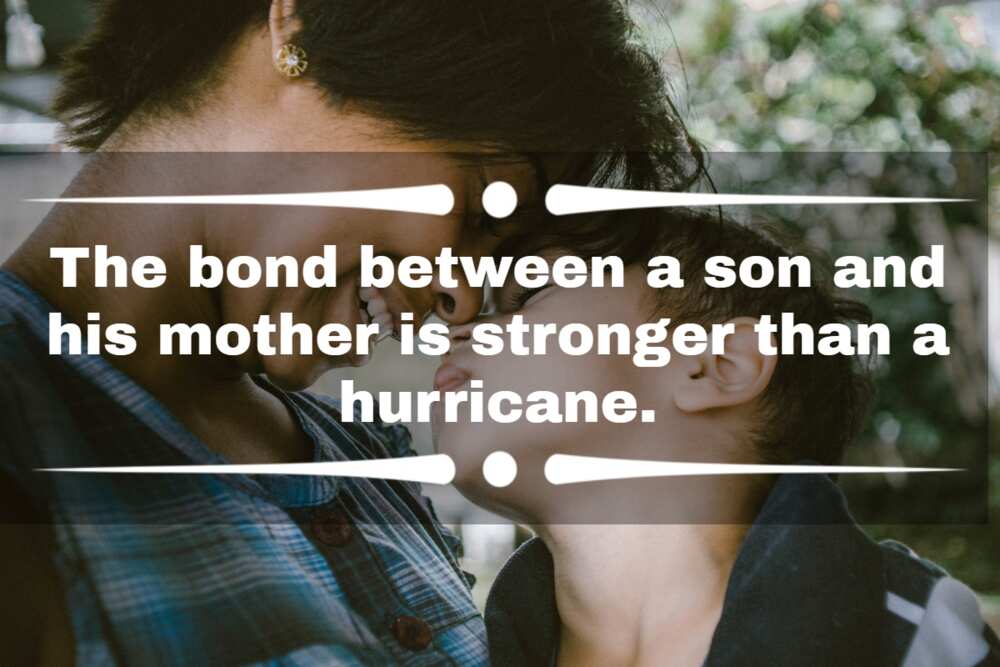 One day, you will realize that your mom was the best friend you never knew you had. For me, that day has come.
My mother was the most beautiful woman I ever saw. All I am, I owe to my mother. I attribute all my success in life to the moral, intellectual, and physical education I received from her.
The bond between a son and his mother is stronger than a hurricane.
Mom, I cannot thank you enough for what you have done for me. You were always there when I needed you the most.
I'm the luckiest son alive on this earth. Because I've got the best mom ever. You're my happiness and everything in between life and death.
A son's love for his mother is eternal.
No matter what we go through. No matter how much we argue. Ultimately, you are always there for me, and I love you for that.
The guidance you gave me in life has only made me the man I am today.
There will be so many times you feel like you've failed. But in your child's eyes, heart, and mind, you are a super mom.
You've helped me up when I fell; you've helped me learn when I struggled. You loved me more than a son deserves. I love you more than you realize!
I am not afraid of dying because I have already been to heaven – the warm place where I rest my head on my mother's shoulder.
Mother's love is peace. It need not be acquired; it need not be deserved.
There has never been, nor will there ever be, anything quite so special as the love between a mother and a son.
I'm very glad and blessed to have a mother like you. I love you the most. You are the apple of my eye. Please always smile like this and be a happy lady all the time.
A mother knows her son will leave her house, but he will never leave her heart's home.
Cute mom love quotes
Here are some heart-warming messages you can send to your mother to strengthen your bond even more.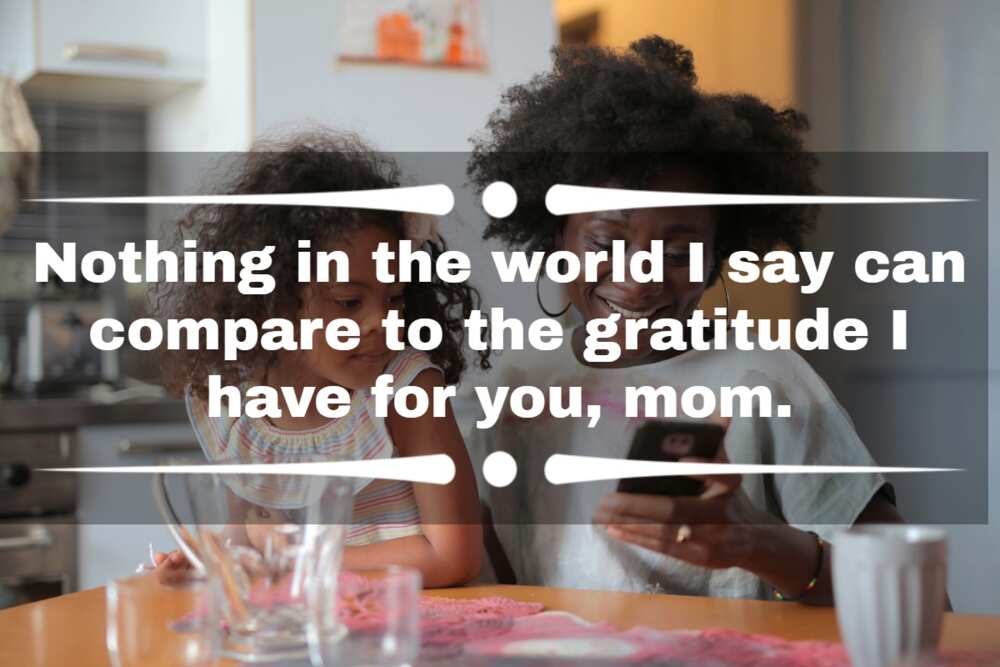 The best medicine in the world is a mother's kiss.
I love you the most in the world, mom. You are the most important person to me.
All that I am or hope to be, I owe to my angel mother.
Nothing in the world I say can compare to the gratitude I have for you, mom.
I can imagine no heroism greater than motherhood.
A mother's love is patient and forgiving; when all others are forsaking, it never fails or falters, even though the heart is breaking.
A mother's love is the fuel that enables a normal human being to do the impossible.
I consider myself very fortunate to have you as my mother.
Don't poets know it better than others? God can't always be everywhere, and so invented Mothers.
Thank you for raising me to be a good human like you, mom.
To the queen of this home, the queen of my daddy's heart and the Queen of my life .
You are valuable because you are a one-of-a-kind, stupendous, amazing mom.
I hope your day is perfect; I ask God to watch over you and keep you well and safe from harm in everything you do.
My mother, my dear friend, you've always been near me throughout my life. A tender smile to guide my way; you're the sunshine to light my day.
Mom, I love you so much. You've made me a strong woman from the inside and built my confidence. Love and thanks!
Short special words for a mother
Sending a short message to show love to your mother can be a great way to brighten her day and let her know that you are thinking of her. Check the quotes highlighted below for inspiration.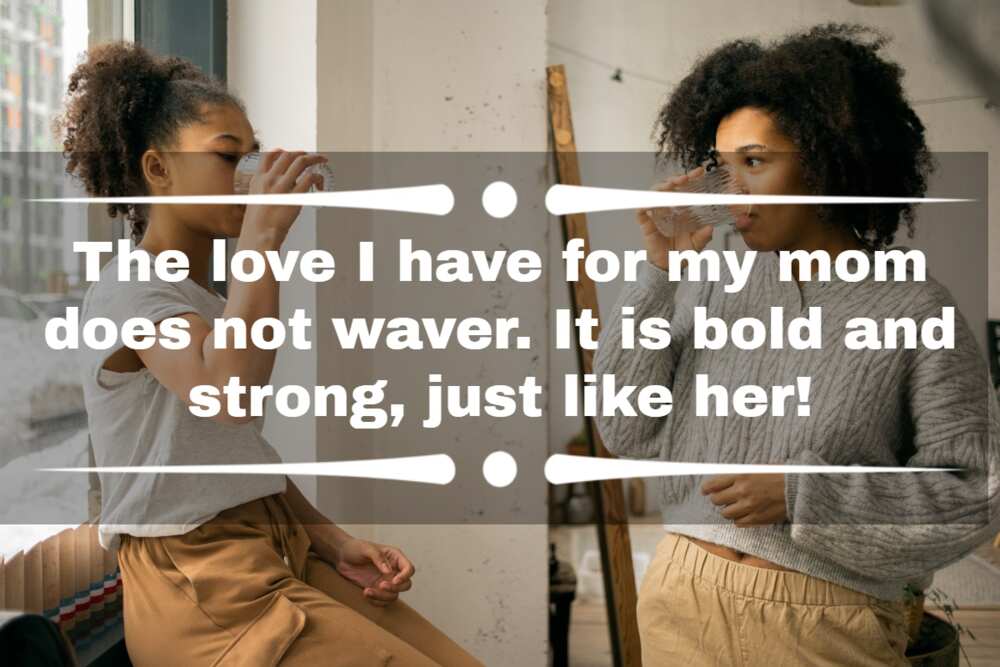 If you're a mom, you're a superhero. Period.
Sweet mother, I have decided never to forget you until eternity—truly, this is not even possible; I will remember you forever.
Youth fades, love droops, and the leaves of friendship fail. But a mother's secret love outlives them all.
The love I have for my mom does not waver. It is bold and strong, just like her!
One is a mother in order to love without a beginning or end. – Mariama Bâ
A caring mother like you is rare, but the most important thing is to see you smiling and in good health.
I love the fact that my mom is precious to me; she puts an endless smile on my cheeks. You are the sweetest mom.
Not always eye to eye, but always heart to heart. Mother, I love you.
There's only one pretty child in the world, and every mother has it.
What a special mother full of love for her kids; I miss every moment we shared. I love you so much.
No one can take away the joy I feel, knowing that you're my mother.
Most mothers are instinctive philosophers.
The biggest love story is the one you have with your mom. Pure, selfless, and infinitely forgiving.
I couldn't have picked a better mom than you. I love you more than anything!
You are a fantastic woman; I love you, mom.
You are the source of my happiness; knowing you are satisfied and happy is my dream. I love you mother.
Use these heart-touching "I love you mom" quotes to show your mom how much you love and appreciate her. Remember, the most important thing is to show your love and appreciation in a genuine and heartfelt way.
Legit.ng recently published an exciting piece about writing apology letters to a girlfriend after messing up. A sincere apology shows your girlfriend that you acknowledge your mistake and take responsibility for your actions.
You can say sorry in many ways, but an apology letter to a girlfriend is likely the best. Doing so is essential in showing your girlfriend that you are genuinely sorry and willing to try to repair the relationship.
Source: Legit.ng