100+ classy beautiful woman quotes to inspire and motivate you
They say you can't buy class; you either have it or don't. A classy woman is confident, intelligent, independent, elegant, respectable, and strong. She is kind-hearted and does not look down on other people. Her dress style and mannerisms are to be admired, and she is the total package in a lady. Generally, classy beautiful woman quotes will inspire and motivate you to stay classy at any moment.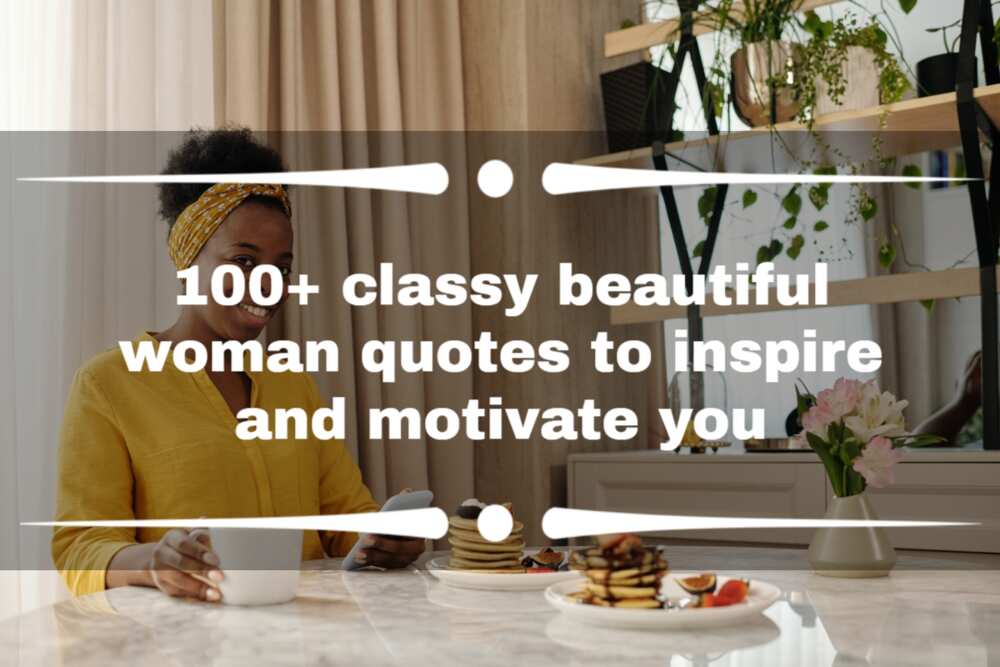 Classy and beautiful women catch the attention of both men and women. They know what they want in life and are they are themselves all the time. Quotes are a great way to describe these women when you can't put words to them. These are the best classy beautiful women quotes to inspire and motivate you and other women around.
Classy beautiful woman quotes
Every lady should be like a butterfly which is pretty to see but hard to catch. Classy beautiful girl quotes will help motivate every lady to be like her. Below are inspiring quotes about a classy beautiful woman for motivation.
A woman who feels sensual will always be the best version of herself. — Lebo Grand
Elegance in a lady is when the inside is as beautiful as the outside. — Coco Chanel
The whisper of a pretty girl can be heard further than the roar of a lion. — African proverb
When you are a classy lady, you would know just how to act like one; it is second nature.
Feeling attractive is not a conscious choice; it's a natural state of being. — Brigitte Bardot
A classy lady is like gold among charcoals, a rare find, someone you do not see around.
There are few women whose charm survives their beauty. — Francois de la Rochefoucauld
Women have to harness their power-it's true. It's just learning not to take the first no. And if you can't go straight ahead, you go around the corner. — Cher
Just so you know, you can be a boss type of lady, confident, classy, and compassionate towards others simultaneously. — Germany Kent
A girl should be two things: classy and fabulous. — Coco Chanel
Classy is when you have much to say, but you remain silent in front of fools.
Everyone notices her as soon as she walks into the room; that is how her aura is.
A classy lady knows how to handle herself even in a room full of people; she does not flutter.
Elegance is a state of mind. It is how you perceive yourself, and therefore it's how the rest of the world sees you. — Jenny Warden
Feminism is the radical notion that women are human beings. — Cheris Kramarae
No matter what a woman looks like, if she's confident, she's s*xy. — Paris Hilton
A man's face is his autobiography. A woman's face is her work of fiction. — Oscar Wilde
It all begins by embracing and developing the inner self because true elegance starts from within. — Eunice Long
You are magic, don't ever apologize for the fire in you.
Classy is when a lady has everything to flaunt but chooses not to show it.
True class can never receive the highest grade, for its grade is endless. — Denise Newsome
A woman is a full circle. Within her is the power to create, nurture and transform. — Diane Mariechild
You create beauty with your attitude; you make an impression with your behaviour, make statements with your elegance and scream out with your actions. — Sophia Elemara
If you are a lady, you must act like one and always preserve your dignity.
She uses her power, and you can feel it; you can feel it going into the deepest portions of the skin.
Classy independent woman quotes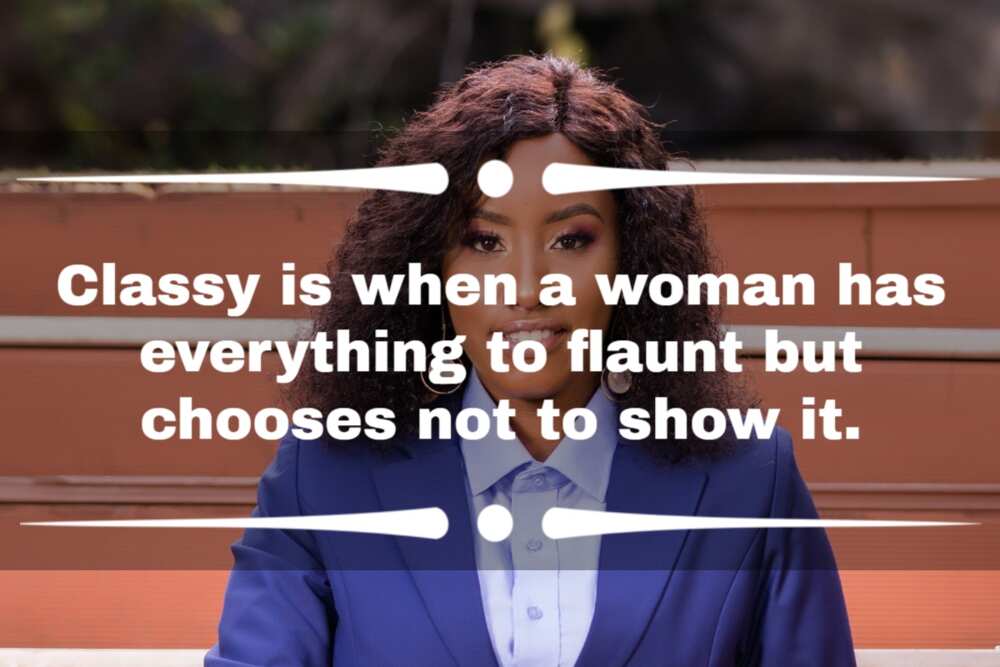 Independent women are admired in society for their strength and character. Below are the best quotes for a classy independent woman.
Be strong enough to stand alone, smart enough to know when you need help, and brave enough to ask for it. — Ziad K. Abdelnour
Never ask for forgiveness for being a powerful woman.
A woman with a voice is, by definition, a strong woman. But the search to find that voice can be remarkably difficult. — Melinda Gates
The woman who doesn't require validation from anyone is the most feared individual on the planet.
She was powerful not because she wasn't scared but because she went on so strongly, despite the fear. — Atticus
Success is its reward, but failure is a great teacher too, and not to be feared. — Sonia Sotomayor
The best protection any woman can have is courage.
Being positive and thinking in your self-regard is essential to attaining your potential.
Being confident and believing in your self-worth is necessary to achieving your potential. — Sheryl Sandberg
A real lady has a voice. She will not let it be quieted down; she will never let it crumble.
Avoiding risk is not much safer in the long run than outright exposure. The fearful are captured as frequently as the vibrant. A woman is a full circle. Within her is the power to create, nurture and transform.
Your ability to adapt to failure and navigate your way out of it absolutely 100 per cent makes you who you are. — Viola Davis
You can have it all. Just not all at once. — Oprah Winfrey
The most pathetic person in the world is someone who has sight but no vision. — Helen Keller
The purpose of life is to live it, to taste experience to the utmost, and to reach out eagerly and without fear for a newer and richer experience.
There's power in allowing yourself to be known and heard, in owning your unique story, and in using your authentic voice. — Michelle Obama
Classy women never lose their dignity.
Well-behaved women seldom make history. — Laurel Thatcher Ulrich
And in a gist, a classy lady knows how to behave in every possible environment.
A woman with a well-stocked toy drawer isn't dependent on anyone and is unlikely to hurl herself at a lowlife just for nooky. — Arianne Cohen
A truly elegant taste is generally accompanied by the excellency of heart. — Henry Fielding
The only authentic elegance is in mind; If you've got that, the rest really comes from it. — Diana Vreeland
And even though she may walk alone, she walks a path that makes her a great person.
In every true woman's heart, there is a spark of heavenly fire, which lies dormant in broad daylight of prosperity but kindles up and beams and blazes in the dark hour of adversity. — Washington Irving
Female classy attitude quotes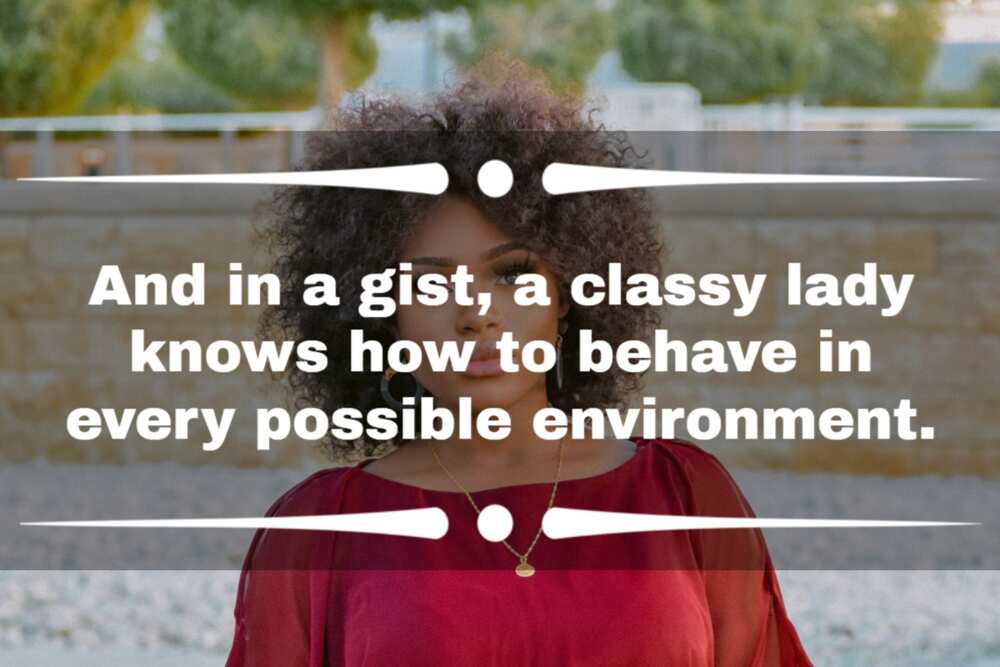 Your attitude can take you places; in most cases, it shows who you are as a person. Classy attitude strong woman quotes will inspire you to always be positive in life. Check these amazing quotes below.
When life gives you lemons, squeeze them in their eyes.
Magic is believing in yourself. If you can do that, you can make anything happen.
Stop telling people more than they need to know.
The only disability in life is a bad attitude.
There is no market for your emotions, so never advertise your feelings; display your attitude.
Everyone is unique in their own little ways.
Reacting in anger or annoyance will not advance one's ability to persuade.
Impossible is just an opinion
Prove yourself to yourself, not others.
Sometimes, you gotta be a beauty and the beast.
It's not your responsibility to correct somebody's else misunderstanding about you.
Walk like a queen or walk like you don't care who the queen is.
Beauty is just skin deep, but attitude comes from the bone.
Have goals so big you get uncomfortable telling small-minded people.
Your attitude is like a price tag; it shows your value.
The ultimate expression of attitude is self-control.
Your direction is more important than your speed.
If speaking kindly to plants grows them, imagine what speaking kindly to humans can do.
Sometimes your heart needs time to accept what your mind already is.
Keep your heels, head, and standards high.
Short classy woman quotes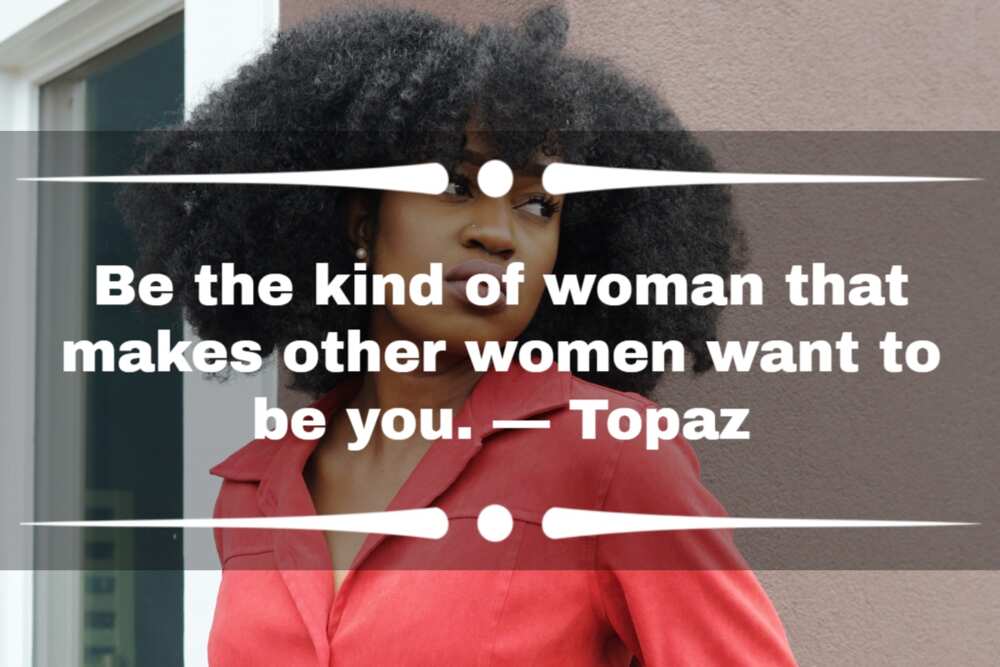 Women are generally gorgeous humans. A classy woman is on another level when it comes to beauty. Here are some short and precise quotes that convey the characteristics of a classy woman.
There is a wolf in every girl.
There's nothing wrong with a woman being comfortable and confident. — Selena Gomez
A kind of woman who is strong, beautiful, and amazing is hard to come by.
A champion is someone who gets up when they can't.
It is better to be looked over than overlooked. — Mae West
Women have to make the world safe for men since men have made it so darned unsafe for women. — Nancy Astor
A woman is like a tea bag; you never know how strong it is until it's in hot water. — Eleanor Roosevelt.
Brains make a girl classy.
Women are the epitome of elegance and taste. Their hearts are full of intelligence and compassion.
Dignity will only happen when you realize that having someone in your life doesn't validate your worth. — Shannon L. Alder
Be the kind of woman that makes other women want to be you. — Topaz
Women who do not enjoy their sensuality seldom have much capacity for enjoyment. — Lebo Grand
Develop enough courage so that you can stand up for yourself and then stand up for somebody else. — Maya Angelou
Blessed be she who is both furious and magnificent. — Taylor Rhodes
A lady with class is timeless.
A sensible woman can never be happy with a fool. — George Washington
Simplicity is the ultimate form of sophistication. — Leonardo da Vinci
A girl who can handle herself well in an elegant manner is what you, a lady, really should be.
Strong women don't have attitudes; they have standards.
Dressing well is a form of good manners. — Tom Ford
Do it big, do it right, and do it with style. — Fred Astaire
Storm makes trees take deeper roots.
Some women fear the fire; some women simply become it.
Graceful woman quotes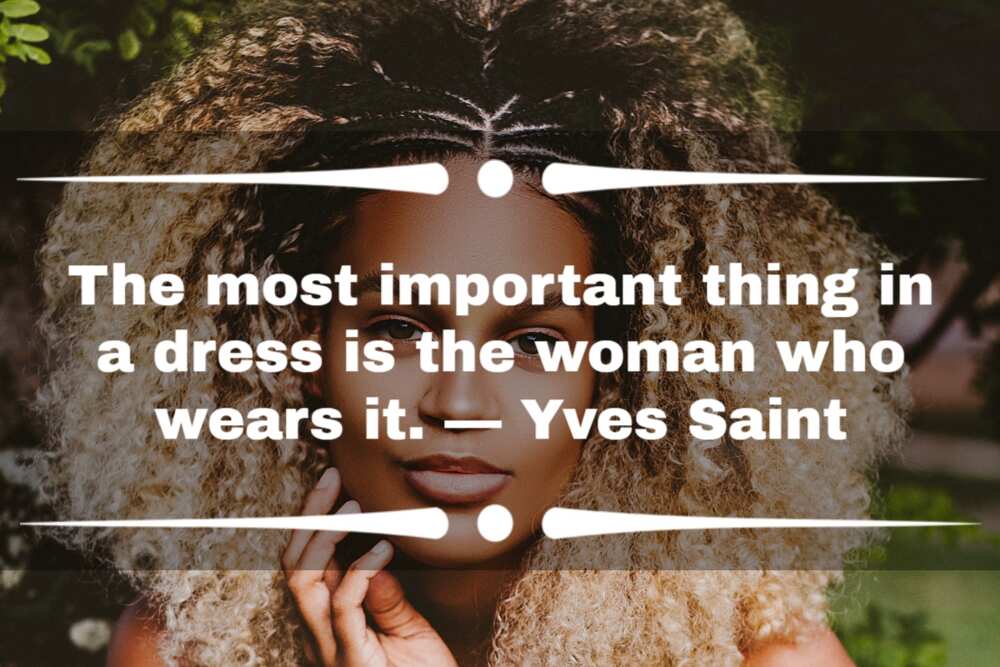 Grace is one of the most incredible virtual every woman should have. A graceful woman is not only admired by others but is also respected. Here are good quotes you can use to describe a graceful woman for every lady for motivation.
Grace is neither gentleness nor fragility. Grace is treating yourself, others, and even inanimate objects with respect. — Kamand Kojouri
Elegance is the only beauty that never fades. — Audrey Hepburn
There is within the human heart a quality of intelligence which has been known to surpass that attributed to the human mind. — Aberjhani
Don't be a woman that needs a man, be a woman that a man needs!
Elegance is not being noticed; it's about being remembered.
Great ladies are like the best sauce; it is better not to know how they are made. — Octave Mirbeau
It is better to be hated for what you are than loved for what you're not.
The most important thing in a dress is the woman who wears it. — Yves Saint Laurent
Do not follow where the path may lead. Go instead where there is no path and leave a trail. — Harold R. McAlindon
Beautiful young people are accidents of nature, but beautiful old people are works of art. — Eleanor Roosevelt
A classy woman is elegant and admirable to all who come across her. She is graceful, kind and humble to other people. Both men and women look up to her for her confidence and inner beauty. Classy women have open minds and tend to excel in whatever they do. The above classy beautiful woman quotes will inspire and motivate you and other women to stay classy.
READ ALSO: 50+ quotes for sister-in-law to show your love for your found family
Legit.ng recently published an article about quotes for sister-in-law. Having a family is one of the greatest blessings in life. Your family can be blood relatives or even in-laws. Having a sister-in-law can be a good addition to your family; it is important to welcome her and show some love. These quotes for your sister-in-law will help you share your feelings and welcome her into your family.
Starting a relationship with your sister-in-law can be challenging at first. It, however, gets easier with time as you get comfortable with one another. Building a loving relationship with your sister-in-law is crucial for harmony in the family. You can use sister-in-law quotes to impress her and create a bond with her.
Source: Legit.ng