77 crazy funny family quotes that are just too relatable
Families are amazing, and fun to be with. They can also be annoying sometimes, but there is no place you can feel more comfortable and safe than home with your family. When you are with your loved ones, you can make silly jokes, and do all crazy things without being judged. Do you know that you can make your family gatherings lively by sharing funny family quotes?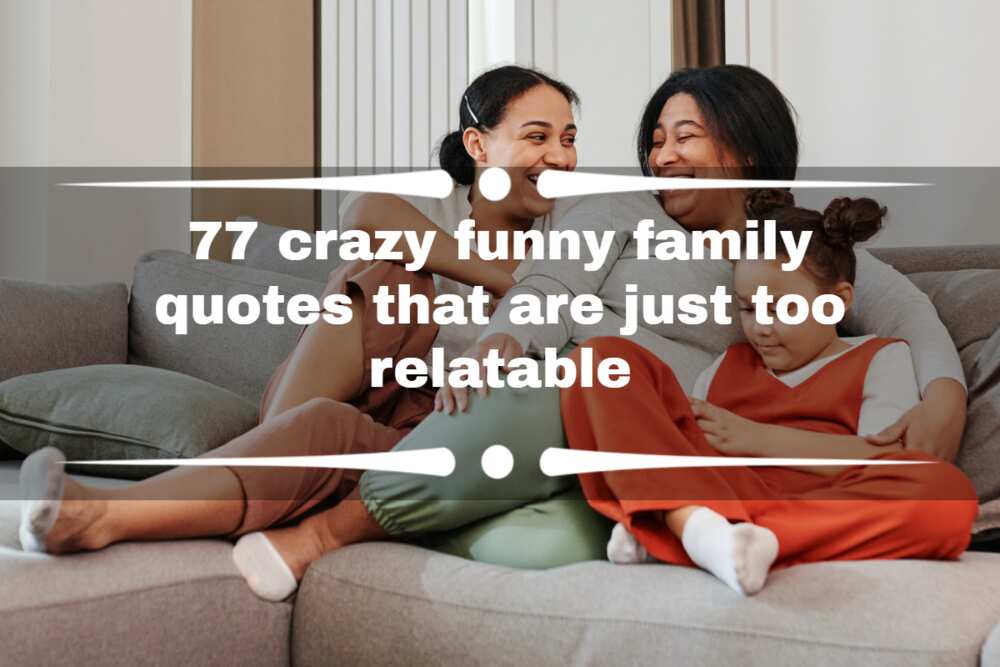 At times, it is impossible to be with your family all the time because of various unavoidable reasons. However, you should not let distance make you forget the good times and ties you share with your loved ones. Make them remember those crazy moments by sending them funny family quotes.
Crazy funny family quotes
Being part of a family is the sweetest feeling because it has hilarious moments. Sending your loved ones funny family quotes will keep them smiling all day.
Children brighten up a household. They never turn the lights off. – Ralph Bus
Good News is that holidays are about family. Bad News is it has to be your own family.
In some families, "please" is described as the magic word. In our house, however, it was "sorry." – Margaret Laurence
Parents are not interested in justice; they're interested in peace and quiet. – Bill Cosby
My family is my life, and everything else comes second as far as what's important to me. – Michael Imperioli
A family reunion is an effective form of birth control. – Robert A. Heinlein
The other night, I ate at a nice family restaurant. Every table had an argument going. – George Carlin
I have found the best way to advise your children is to find out what they want and then advise them to do it. – Harry S. Truman
If minutes were kept of a family gathering, they would show that "Members, not Present" and "Subjects Discussed" were the same. – Robert Brault
Families are messy. Immortal families are eternally messy. Sometimes the best we can do is to remind each other that we're related for better or worse. – Rick Riordan
When our relatives are at home, we must think of all their good points, or it would be impossible to endure them. – George Bernard Shaw
As a child, my family's menu consisted of two choices: take it or leave it. – Buddy Hackett
Watching your daughter being collected by her date feels like handing over a million-dollar Stradivarius to a gorilla.– Jim Bishop
Always be nice to your children because they are the ones who will choose your rest home. – Phyllis Diller
Never raise your hand to your children. It leaves your midsection unprotected. – Robert Orben
I think a dysfunctional family is any family with more than one person. – Mary Karr
Funny quotes about family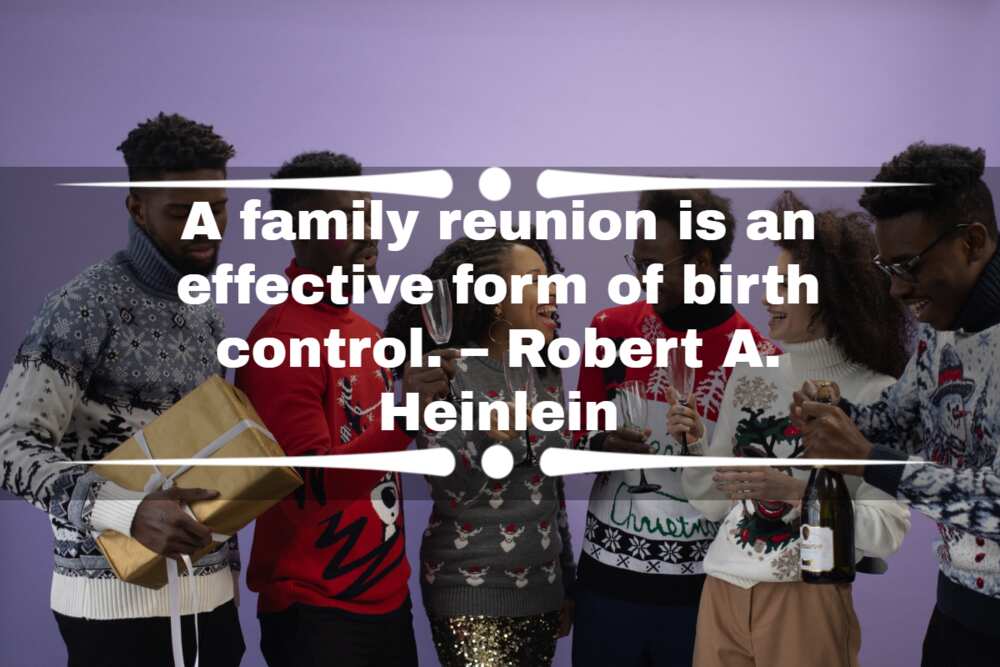 Families are fun, and you feel happy and peaceful whenever you spend time with them. What are some good quotes about family? Check below
There's nothing that makes you more insane than family. Or happier. Or more exasperated. Or more secure. – Jim Butcher
The families of one's friends are always a disappointment. – Norman Douglas
Home is where, when you have to go there, they have to take you in. – Robert Frost
Families are like fudge, mostly sweet, with a few nuts. – Les Dawson
In our family, we don't hide crazy. We put it on the front porch and give it a cocktail.
Humans are not proud of their ancestors and rarely invite them to dinner. – Douglas Adams
A family is a social unit where the father is concerned with parking space, the children with outer space, and the mother with closet space. – Evan Esar
Home, nowadays, is where part of the family waits until the rest of the family brings the car back. – Earl Wilson
I think the family is the place where the most ridiculous and least respectable things in the world go on. – Ugo Betti
That's what people who love you do. They put their arms around you and love you when you're not so lovable. – Deb Caletti
Family life is too int*mate to be preserved by the spirit of justice. It can be sustained by a spirit of love which goes beyond justice. – Reinhold Niebuhr
Humorous family quotes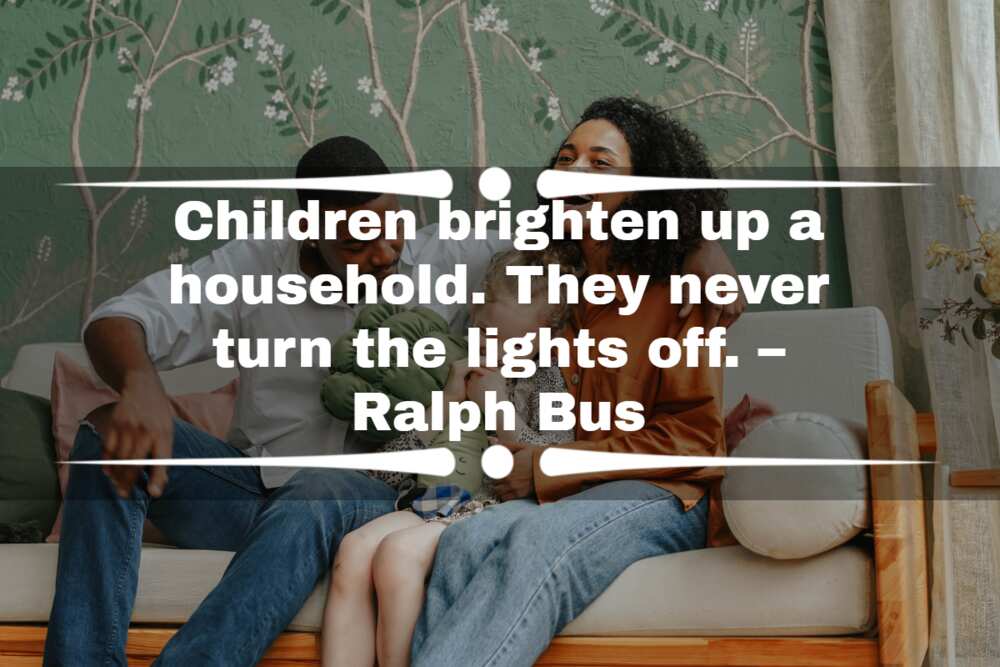 Are you looking for hilarious messages to share with your loved ones? Below are some funny quotes that will leave your loved ones bursting out with laughter.
Family is just an accident. They don't mean to get on your nerves. They don't even mean to be your family; they just are. – Marsha Norman
Happiness is having a large, loving, caring, close-knit family in another city. – George Burns
I come from a family where gravy is considered a beverage. – Erma Bombeck
Every family has that one crazy person in it. If you're missing one, I seem to have a few extras. – Unknown
Smartness runs in my family. When I went to school, I was so smart my teacher was in my class for five years. – Grace Allen
The greatest thing in family life is to take a hint when a hint is intended and not to take a hint when a hint isn't intended. – Robert Frost
Family love is messy, clinging, and of an annoying and repetitive pattern like bad wallpaper. – Friedrich Nietzsche
If you cannot get rid of the family skeleton, you may as well make it dance. – George Bernard Shaw
I grew up with six brothers. That's how I learned to dance -waiting for the bathroom. – Bob Hope
Never let an angry sister comb your hair. – Patricia McCann
The advantage of having only one child is that you will always know who did it. – Erma Bombeck
Never underestimate a child's ability to get into more trouble. – Martin Mull
I realized my family was funny because nobody ever wanted to leave our house. – Anthony Anderson
Being part of a family means smiling for photos. – Harry Morgan
Short funny family quotes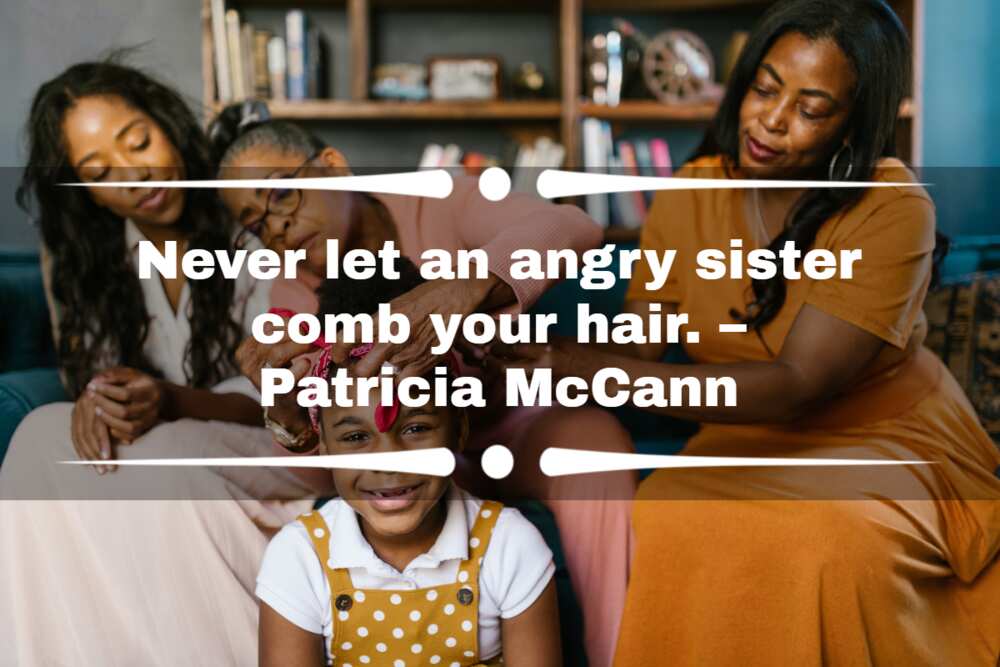 Sometimes all you need is something funny to make you laugh and forget your problems. And these short funny family quotes are all you need.
If you think I'm crazy, wait till you meet my family.
Family is like that annoying itch you can't scratch.
Since the kid was born, I've slept like a baby, not at all!
In my family, crazy doesn't skip a generation.
Siblings are your first frenemies.
Having a family is like having a bowling alley installed in your brain.
I smile because you're my family, and I laugh because there's nothing you can do about it.
Fatherhood is great because you can ruin someone from scratch.
We are more than family. We are like a really small gang.
I'm sane compared to my sister.
The bigger your family, the bigger your problems.
My family is temperamental. Half temper, half mental.
Some call it chaos; we call it family.
You must love my dad to put up with a stepchild like me!
There is only one pretty child, and every mother has one.
You can't choose your family, but you can ignore their phone calls.
I looked up my family tree and found out I was the sap.
Pets are like family, except you get to choose them.
Sarcastic family quotes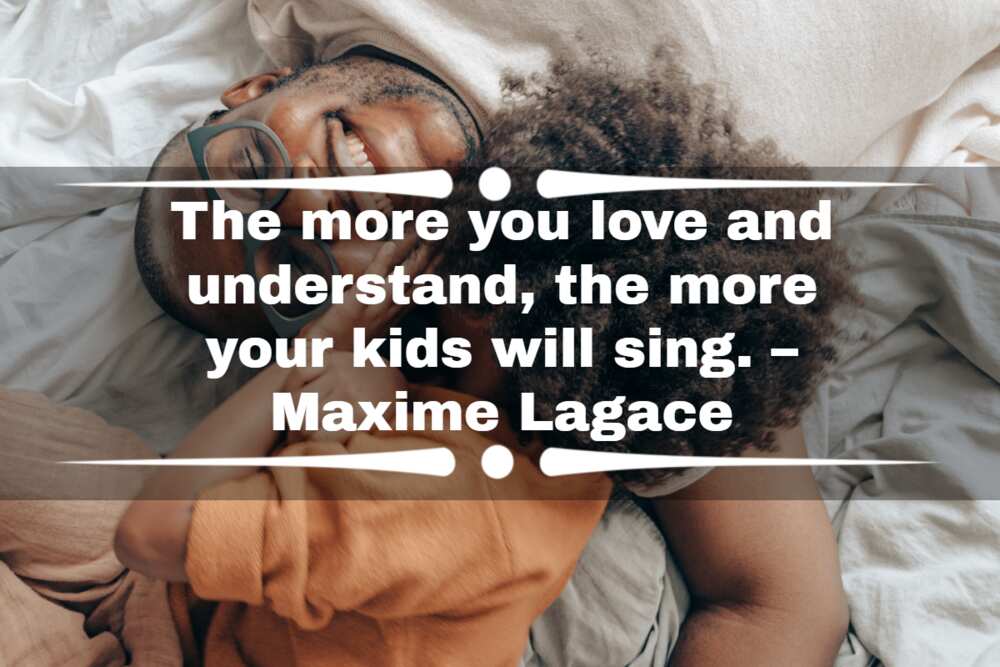 Something is sarcastic when it is marked by irony. Consider the following if you are looking for sarcastic quotes that your loved ones can relate to.
My friends and family always thought I was pretty funny, but I don't know if they thought I was get–my–own–show funny. – Nick Kroll
Insanity is hereditary; you get it from your children. – Sam Levenson
The more you love and understand, the more your kids will sing. – Maxime Lagace
Family is a blessing. Just keep saying that when you are irritated by something a family member says. – Marcelina Hardy
Remember how you wanted that new wedding engagement ring? Well, I got a horse. – Peter Griffin, Family Guy
I know family comes first, but shouldn't that mean after breakfast? – Jeff Lindsay
If your family tree does not fork, you might be a redneck. – Jeff Foxworthy
Siblings: Children of the same parents, each of whom is perfectly normal until they get together. – Sam Levenson
Family life is a bit like a runny peach pie, not perfect, but who's complaining? – Robert Brault
Funny family sayings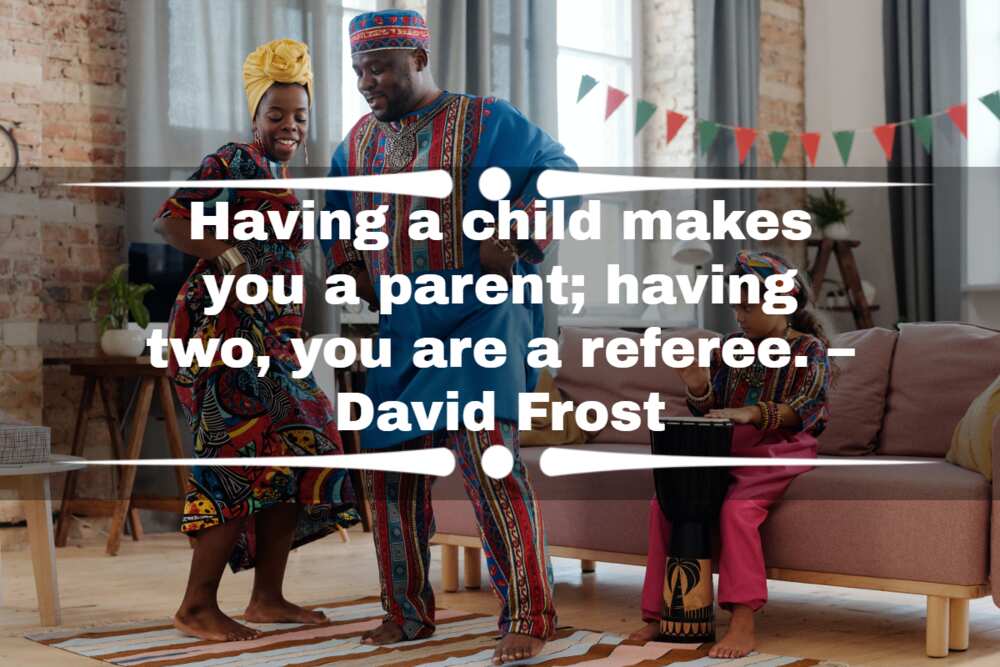 Being a family means you are part of something wonderful because you will always love and be loved for the rest of your life. Here are good short words with wisdom you can send to your loved ones to keep them smiling due to their hilariousness.
Some family trees bear an enormous crop of nuts. – Wayne H.
Posterity is the patriotic name for grandchildren. – Art Linkletter
Every family tree has some sap! – Unknown
There is no worse parent than an unhappy parent! – Rossana Condoleo
No one likes change but babies in diapers. – Barbara Johnson
Family: Where life begins and love never ends.
Bleeding ulcers are in families. We give them to each other. – Lois McMaster Bujold
I love my family, but sometimes they drive me crazy.
Having a child makes you a parent; having two, you are a referee. – David Frost
Funny family quotes enable you to embrace all the fun moments you share with your loved ones. Sharing them with your loved ones will make them remember the funny memories you make when you spend time together.
READ ALSO: 75 liar quotes that perfectly describe dealing with dishonest people
Legit.ng recently published an article about 75 liar quotes that perfectly describe dealing with dishonest people. Dealing with dishonest people can be frustrating, especially if they are your loved ones. This is because you have to find ways to deal with them without hurting their feelings.
Lying has a negative effect because it can break trust and damage relationships. Nobody loves dishonest people, and if you have been lied to, you know how it feels and will never want to have dishonest people around you. Liar quotes will help you deal with people with bad habits of lying.
Source: Legit.ng