Beautiful lace styles for Nigerian ladies are trendy nowadays. At every wedding or any event, and even in everyday life, you can see women in elegant lace dresses. Have you always wanted to choose your own lace styles, but do not know where to start? See all the latest lace styles for ladies below, and get inspired!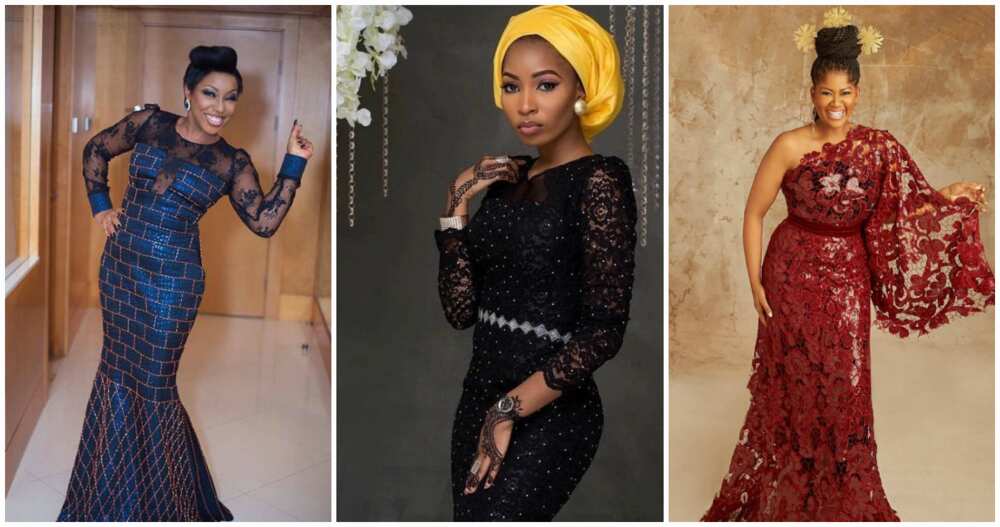 Latest lace styles 2018: find your new favourites
Basically, any woman would look amazing and elegant if she decides to wear lace style clothes, no matter if it is a dress or a top with a skirt. Nigerian women are absolutely mesmerized with the beauty of lace dress styles because it makes them look like royalty.
So, this is the article which will showcase the latest lace styles in Nigeria and demonstrate all the fashionable combinations of the latest lace styles in vogue. Check out all these colorful and truly Nigerian lace styles for young ladies and older women. They should be an essential part of your wardrobe in the next season!
Latest lace styles for slim ladies
In our article, we have gathered the most effective and beautiful styles both for ladies with slim body and those who are plus-sized. So, whatever your body type is, you will find something you'll love. We will start with the styles for slim ladies and those who have an average type of figure.
1. The light blue cord lace dress
Usually, the color blue is considered to be very refreshing and symbolizes something related to nature, like air or water. The blue lace is a very popular trend among the ladies who are obsessed with the lace fashion. It can be mixed with white, and very often, when women go to the official events, they also wear nice gele on.
The blue lace dresses can be worn as matching ones if you have a group of friends and are organizing the traditional wedding with them as bridesmaids. Usually, people tend to add cute minimalist gold or silver accessories and wear clutch bags of neutral colors. This kind of dress would fit every personality.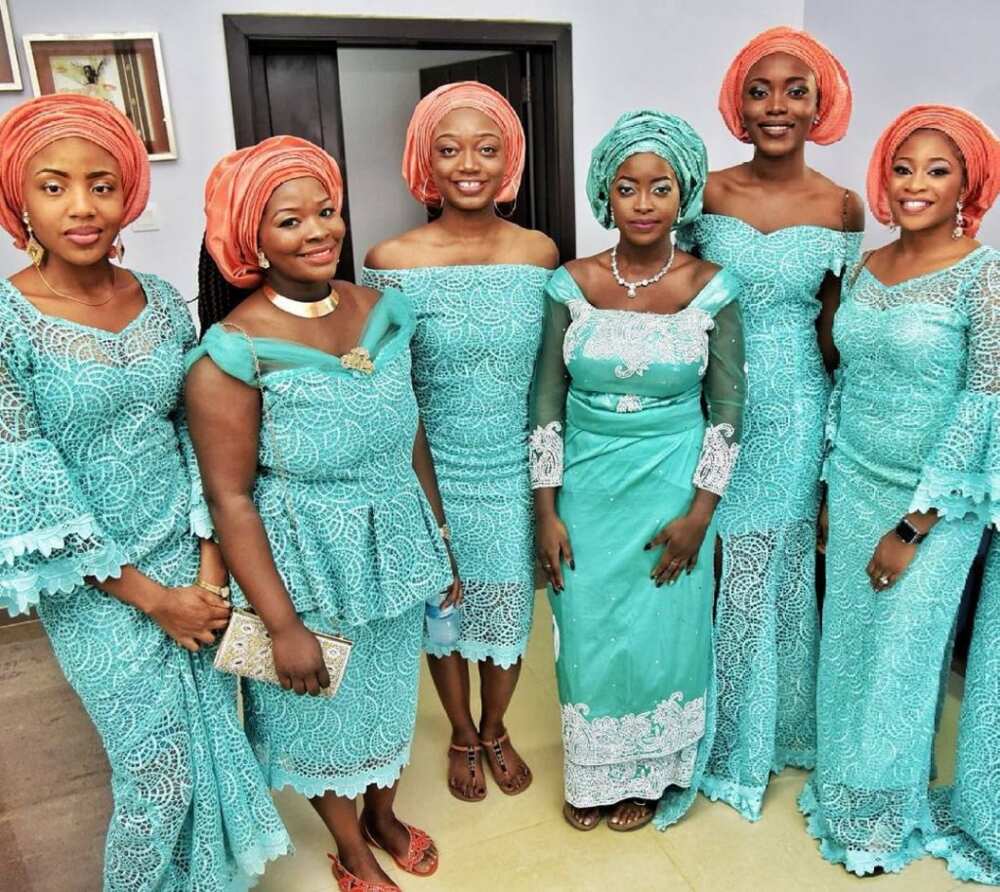 2. Extravagant silver lace dress
Silver color matches dark skin, so a lot of ladies nowadays start following this trend and wearing silver dresses made from lace. It is elegant, extravagant, and shiny, and it will make you the queen of the night.
3. Rihanna-inspired green lace dress
The famous music diva Rihanna is always one step ahead of the current fashion, and this is why she is such a trendsetter for the young women and girls. This style of hers is quite bold and provocative, but it definitely can get you inspired for something similar.
Rihanna wears it as a transparent robe, but it can also be combined with some lace styles of other colors, or worn above the lovely dress of light or dark coloring. The choice is fully yours. What is obvious, though, is that Rihanna looks gorgeous in this fresh green dress, and we have never seen something quite like this before. All in all, it is a great base for creating your own lace style.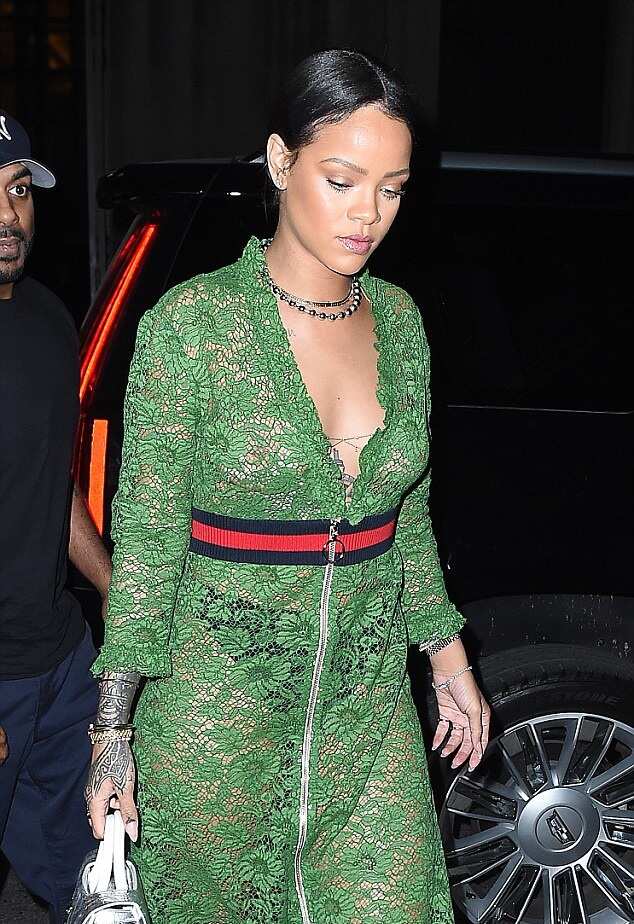 4. Elegant pastel rosy dress
This timeless classic pleases our eye every time we look at it. First of all, it is very gentle, feminine and makes you look like a magical fairy that can walk on air. This kind of dress brings out associations with the princesses and amazing world of our childhood when we believed in wonders.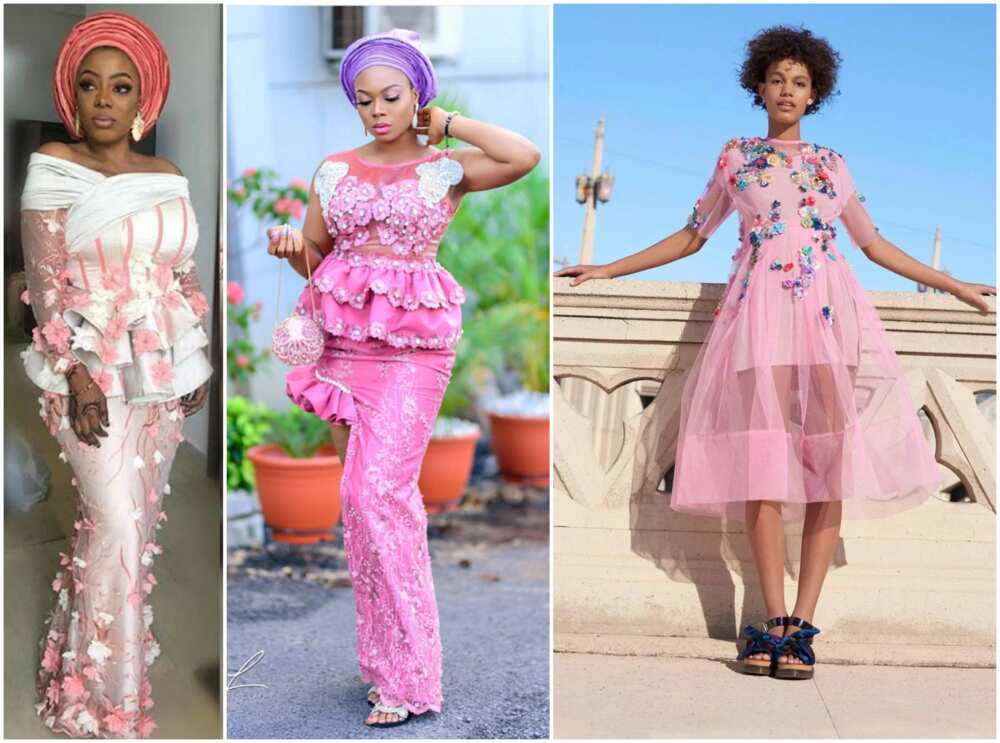 5. Red and white classics
These are also the colors that are reminiscent of fairy tales, notably the one about Snow White. The white lacy dress and red additions can make your look very elegant and sophisticated, without any excessive things. This could do very nicely if you are a big fan of white dresses and want to wear one to some important event, but do not want to look like a bride at the wedding. White lace, like any kind of light lace, embraces and emphasizes femininity, and the red color adds some fierceness. It is a very nice suggestion to wear a pretty white lacy dress with the red gele, belt, clutch, and some lovely accessories.
READ ALSO: Short African dresses - best designs for real fashionistas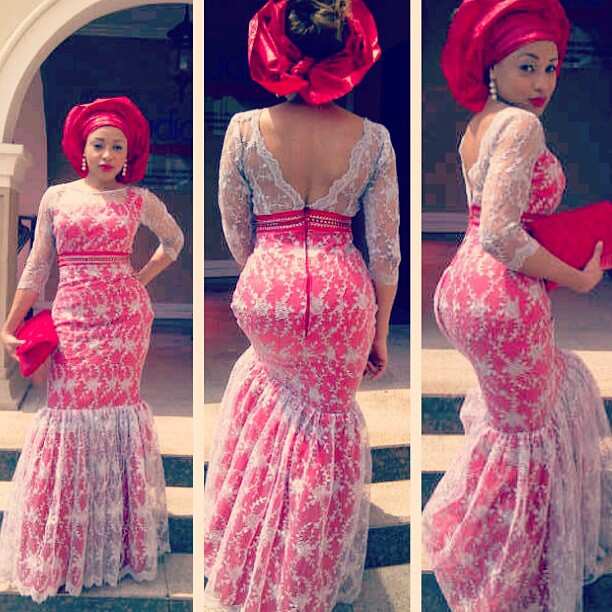 6. Short white dress
Here is another idea for the lovers of white. You can see how amazing it looks with the chocolate brown skin. This is a very minimalistic dress, but it is also incredibly stylish, fashionable and strong.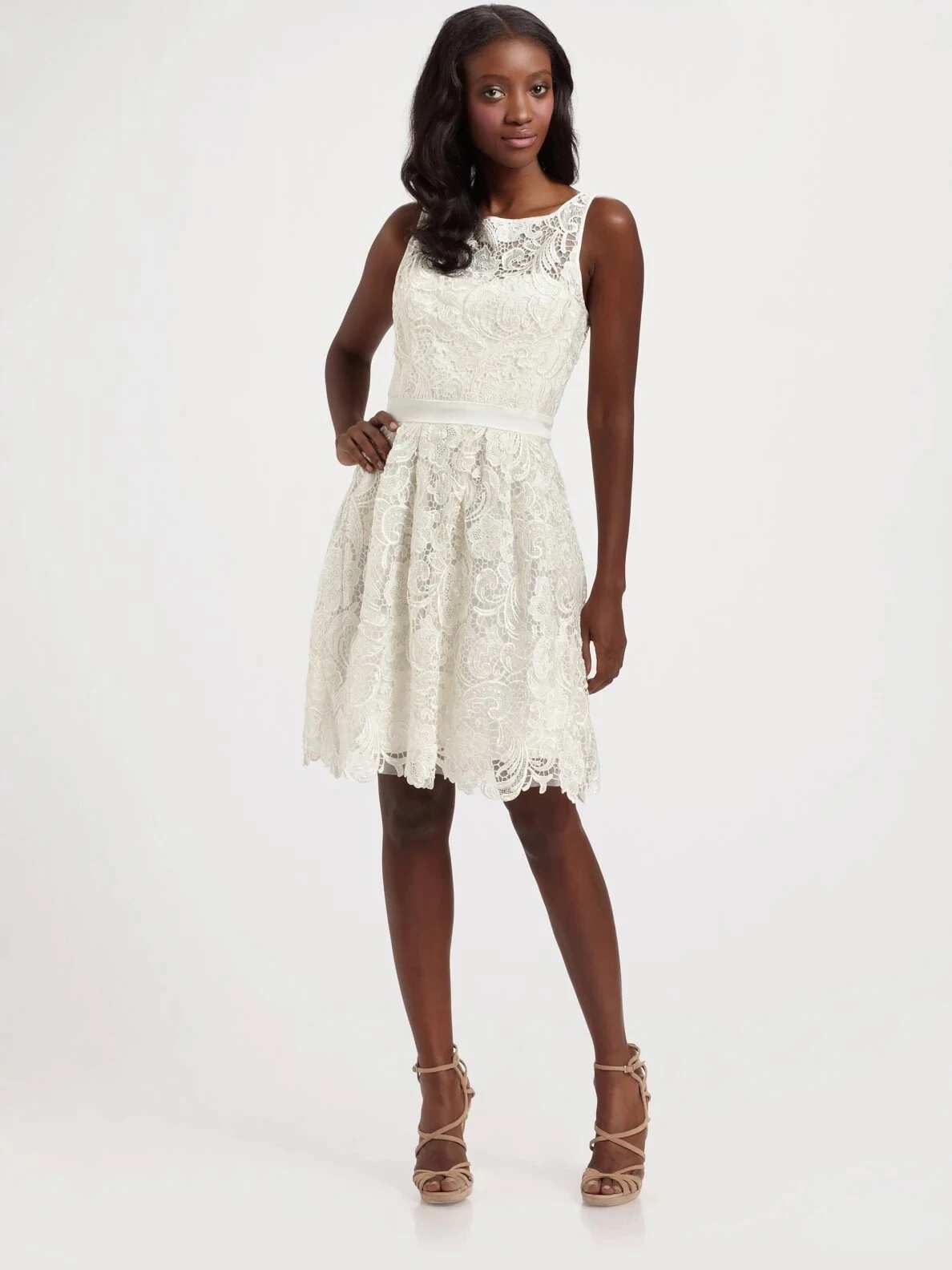 7. Long and graceful wine red dress
This is one of the colors which you will not encounter often, which is your great advantage because if you choose it, you have a chance to stand out among all the other ladies and be the person of your own at this style game. Combined with the lipstick of a similar color, you will truly look like James Bond's girlfriend. Wine red is just the right color for a fierce woman who means her business and is charming, but will always remain strong. You can combine it with the clutch of peach color for a change, and do the nails in wine-red and white colors. The nice watch will also show that you come from the higher society. This is an extremely winning outfit, and you are guaranteed to impress everyone if you wear it to the social event.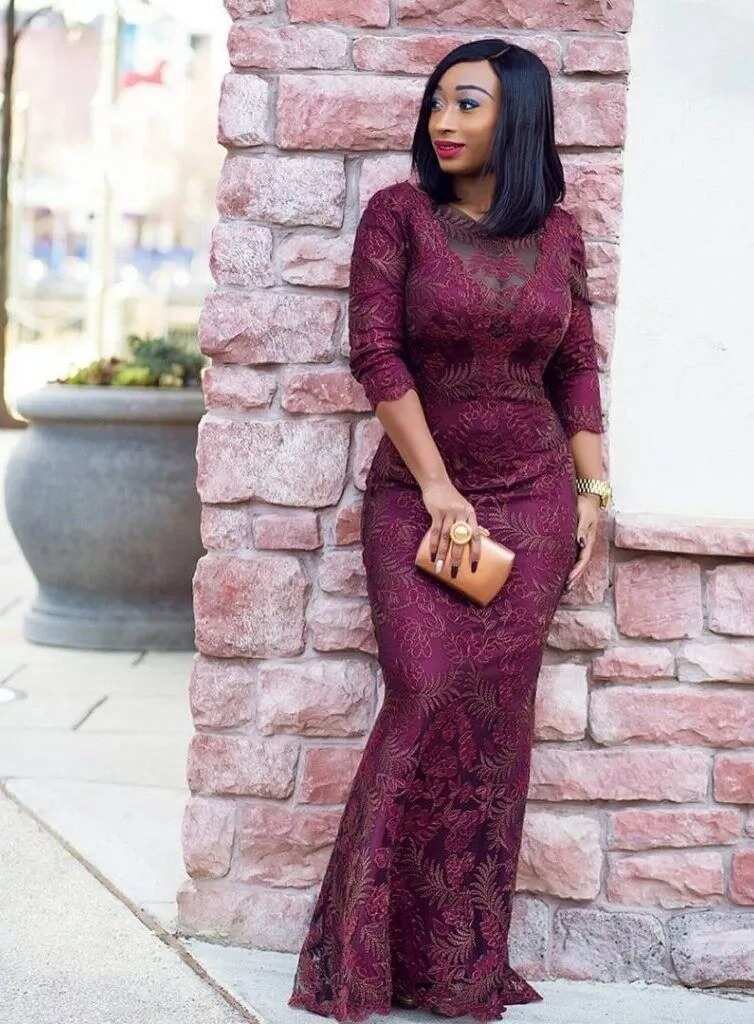 8. Aquamarine lacy blouse with the narrow white skirt
This style is also very fitting for slim women because with it you will literally look like a model straight from the runway. We have not mentioned the unforgettable combination of aquamarine blue and plain white yet, but it looks very tasteful and will surely win you the affections of the public wherever you go. Simplicity is the key to everything, and with such a stylish choice, you will gain nothing but victory for yourself.
READ ALSO: Court wedding dresses in Nigeria to choose this year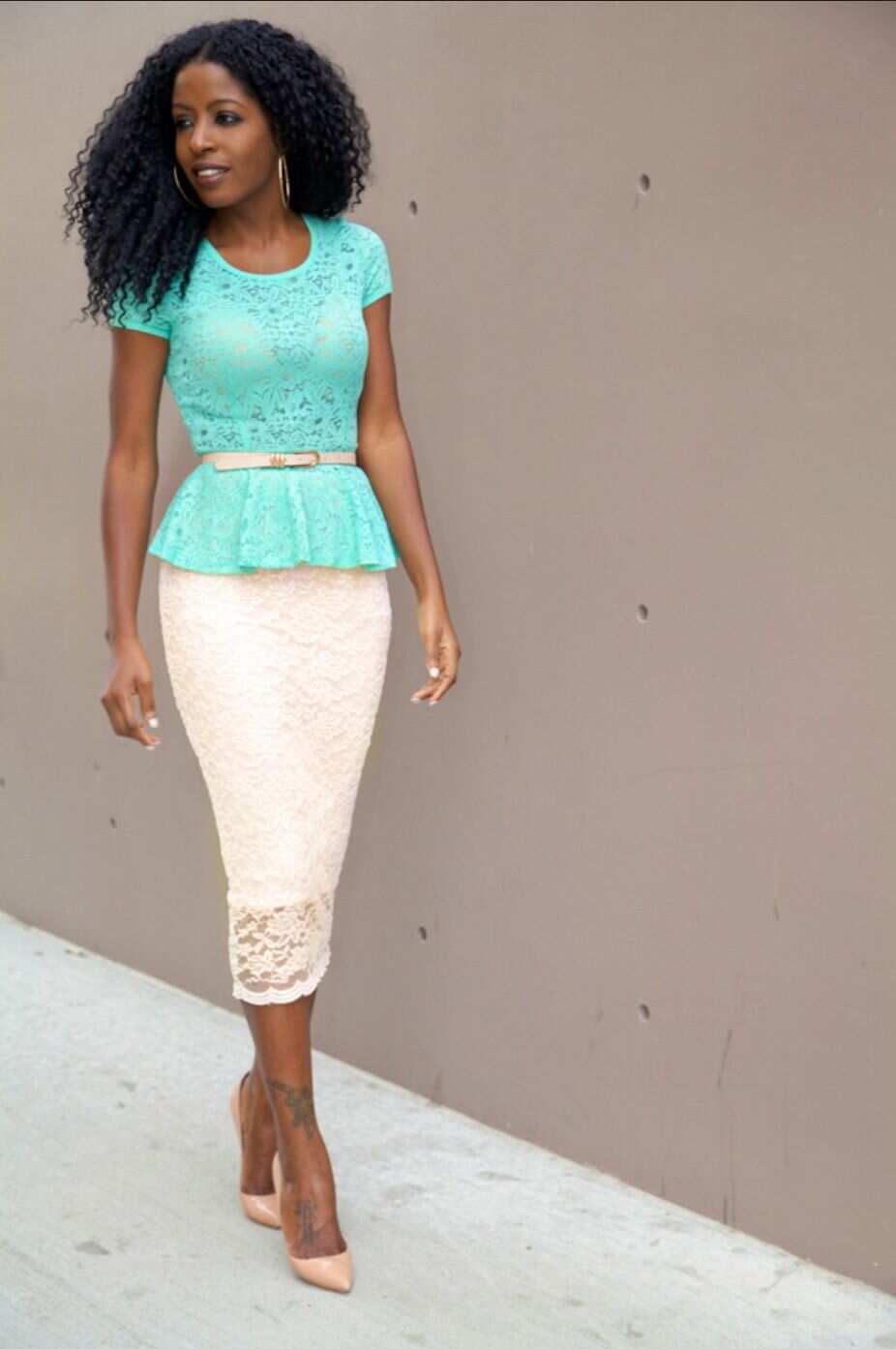 Latest lace styles for plus size
The ladies who have a plus-sized body type can also find some amazing lace styles that will make them look exceptional and emphasize all the benefits of their figure while hiding flaws. If you are a beautiful curvy woman, you should be proud of it and wear lovely lace dresses with confidence. Here are some examples of lace styles for plus-sized women.
1. Deep blue dress with pearl accessories
When women wear the deep blue color, it is reminiscent of a beautiful mermaid from the boundless ocean. It is very fitting to add some accessories with white pearls to your general look, like the necklace, earrings, and bracelet. Now, the peplum blouse is a very tricky clothing item.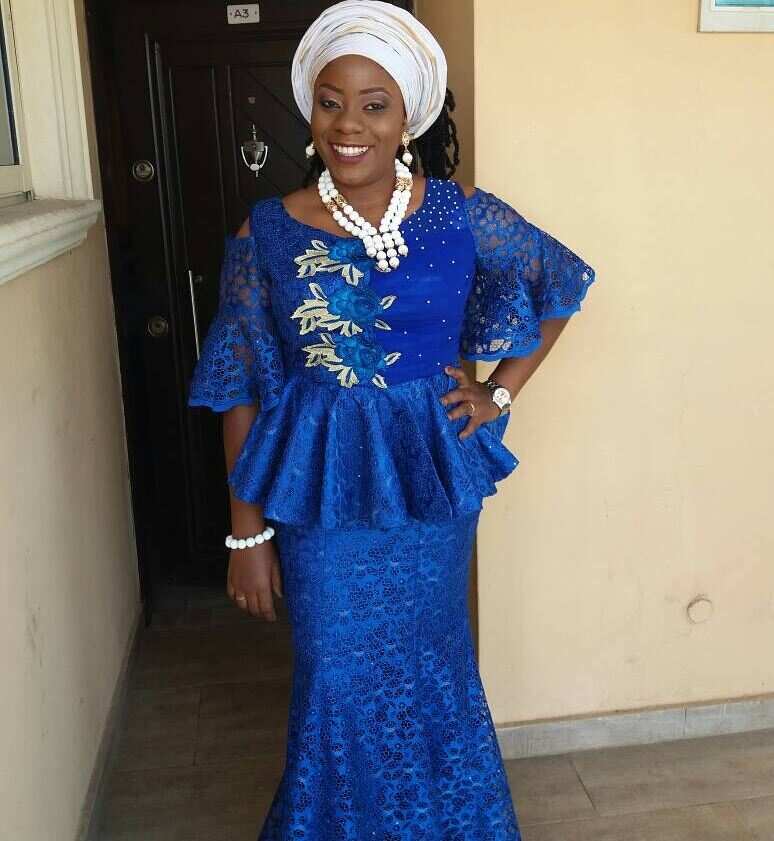 2. Flamingo pink colored gown
Another attractive and appealing color is flamingo pink, which, just like silver, blue and white, goes exceptionally well together with the dark skin tone of black women. In the picture, you can see a transparent dress, but you can always wear something black or white below it.
It would be an interesting idea to combine this dress with a gele of a similar coloring and add some silver accessories. And if you have a look at the shoes, they are absolutely gorgeous. This is the right style for a bright and bubbly girl who loves to chat, interact, and be the heart of every party. All that you will need if you wear a dress like this is a big smile on your face, and you are totally ready to conquer hearts.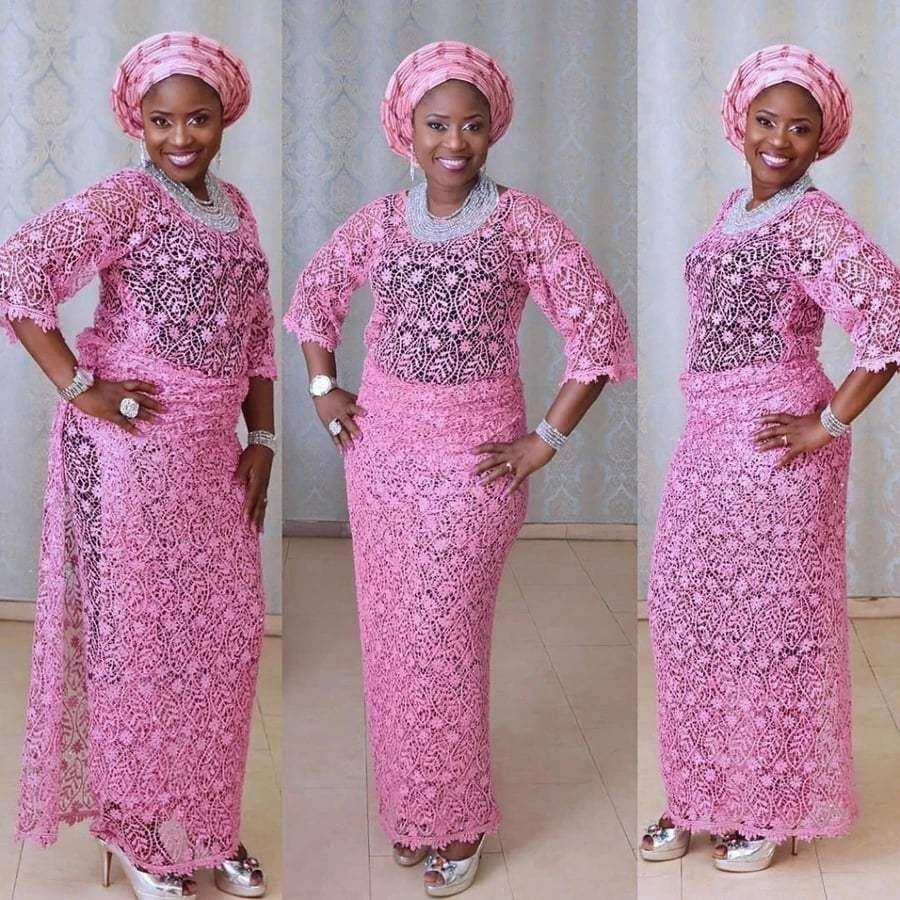 3. Long and black dress
So many curvy women choose black dresses which make them look very refined and make a special emphasis on the features of their body. This choice is quite simple and does not require a lot of accessories or decorations, except for the small clutch where you put everything necessary, a cute necklace and a bracelet.
As the lacy material always brings out the best in women, the thing that is required from you is a good mood and festive spirits. In this dress, you will look naturally hot and attract all the eyes on you.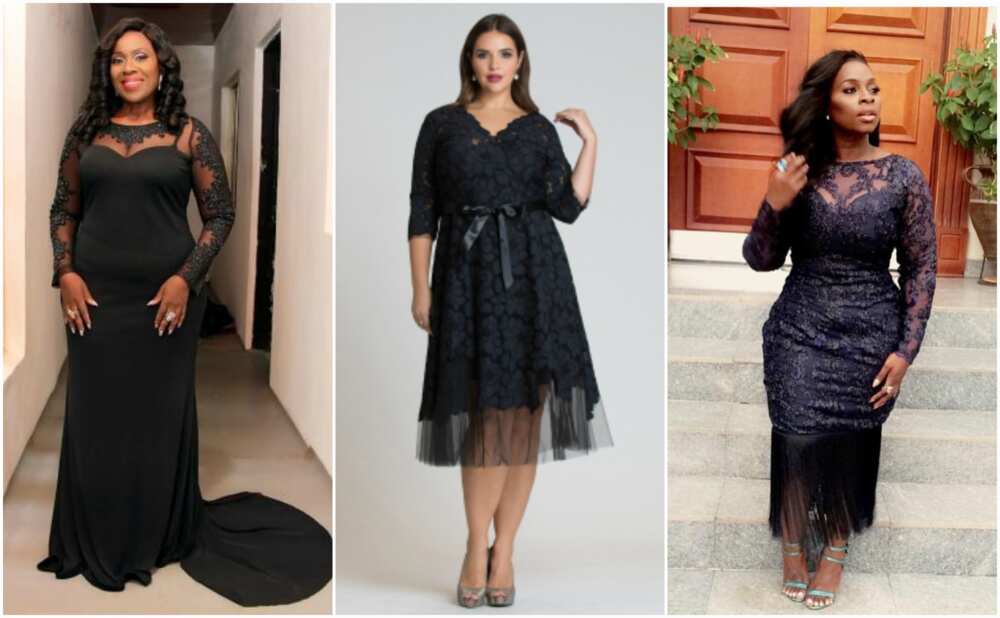 4. Bright purple peplum costume
If you would like to choose something more fitting for the cheery and fun event and would love to focus on the bright colors, then maybe you will like the saturated purple. First of all, it is still one of those colors which will ideally fit your figure and make you look like a queen. Secondly, you can use the gele of any color you want, not necessarily purple – for instance, the woman in the picture is shown wearing a red gel. And of course, do not forget about the accessories – usually, the fashionable Nigerian ladies would pick pearls or corals. A little clutch, bright lipstick, and some flirty mood – and boom, you are the whole package!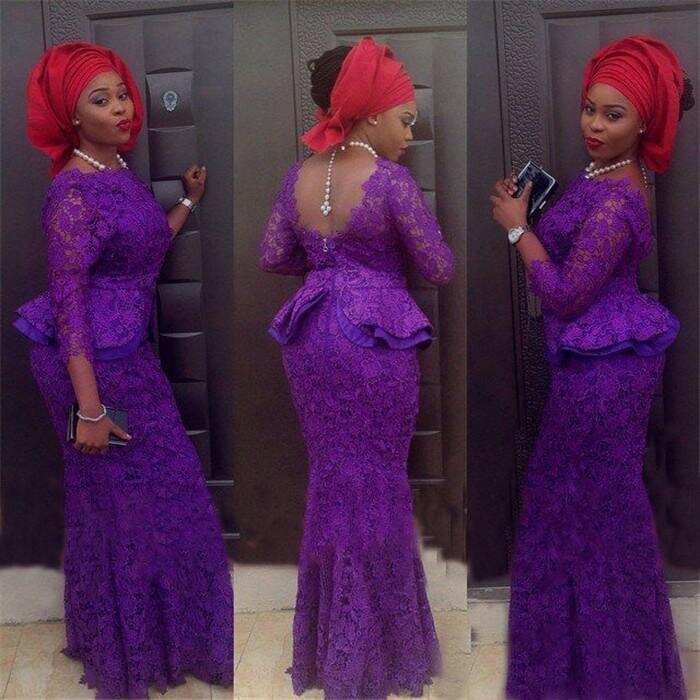 5. Asymmetrical off-shoulder cord lace dress of the burgundy color
For plus-sized women, burgundy red is also a very winning color. Besides, you can add a little playfulness by leaving one of the shoulders uncovered, and wearing a dress with an intricate lacy sleeve. If you want to make emphasis on your waist being slimmer than the rest of the body, you should use the red belt that will match with the dress. Finally, do your hair in braids, twists or whatever you would like, get a good night's sleep, and you are ready to go to the biggest events.
READ ALSO: Top party gowns in Nigeria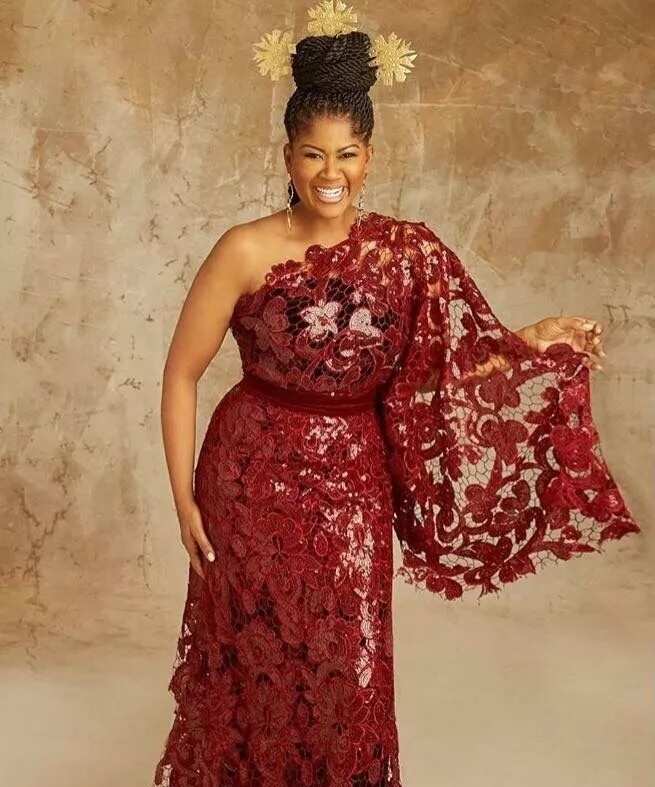 6. Hot pink trendy dress with peplum
As we have mentioned, many ladies, especially the ones with curvy body types, love peplum because it puts the possible waist flaws under cover and brings out only the better features of your figure. In case you would like to become the most noticeable person at the entire event that you are attending, the hot pink dress definitely will be the choice that you would not regret.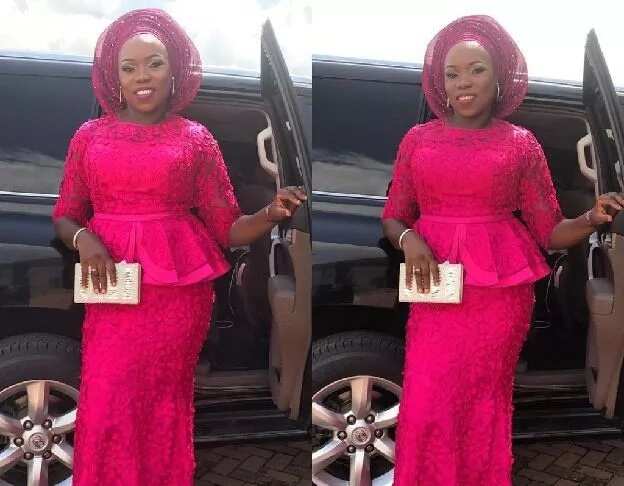 7. Blue lace dress with yellow accents
There are combinations that work together perfectly, and yellow-blue is one of those things. They are truly timeless and will never go out of fashion, so you can combine the sunny yellow and the bright blue however you want. This one will go very well with any body type.
You can add up to your image a gele, brooch, and a little shiny clutch. You will be the sunshine of every holiday if you dress like this, and all the other wannabe fashion lovers will look up to you.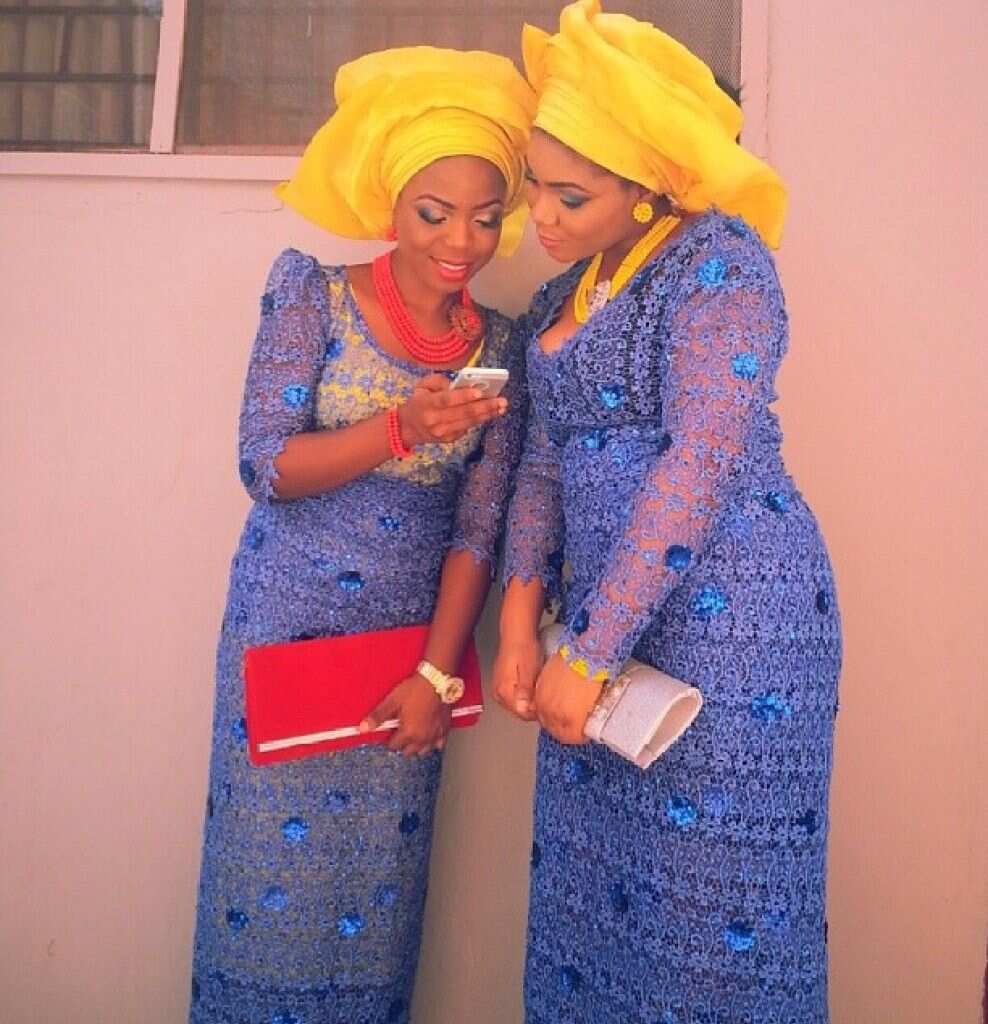 This are the some of the latest trendy lace styles that we have carefully chosen for you! Make sure that you wear them when the 2019 season comes, and it will be time to impress everyone with your dresses.
READ ALSO: Bella Naija fashion dresses you will love