30 Ankara short flare gowns to add a splash of colour to your closet
Ankara is one of the most popular fabrics in Africa. It has been around for ages, worn by all genders casually and for business. It is popular because you can get creative with the fabric to fit any style. One way to style an Ankara fabric is by making a flared dress. These are some of the Ankara short-flare gowns you can add to your wardrobe to make it pop.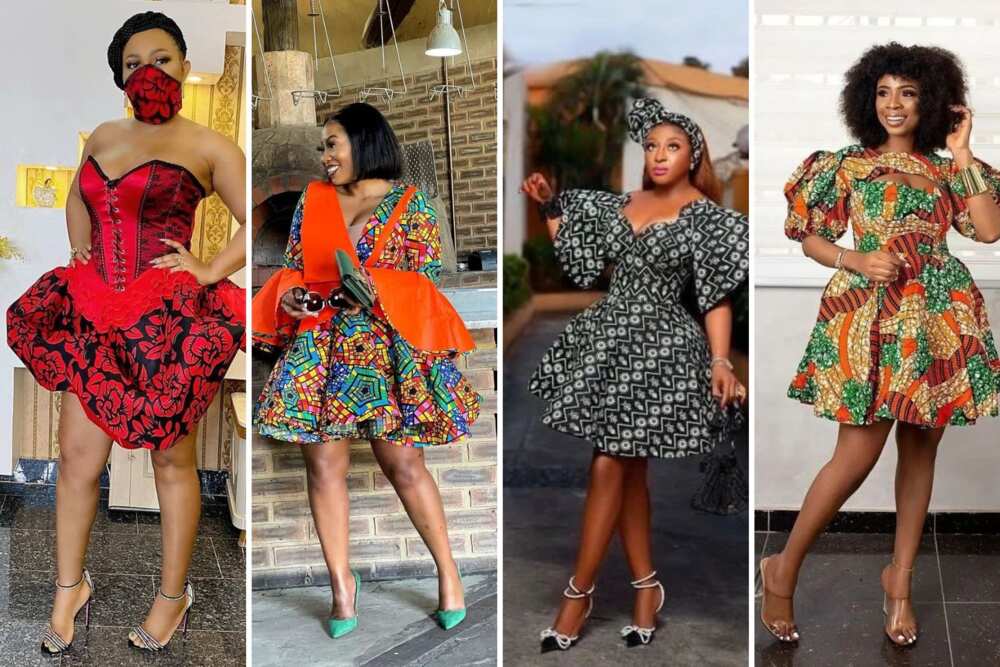 Ankara flare gowns have become among the most popular African print designs. They are usually comfortable, and you only need a belt to make them more smart and fitting. If you are big on saving fabric, flare outfits require less material than full-length ones, making them more affordable. Here is a list of 30 Ankara short flare gowns reigning now to add a splash of colour to your closet.
30 Ankara short flare gowns you should have in your closet
Ankara flare gown styles are always trendy and can be worn on different occasions, whether business or casual. Here are the 30 best short flare gowns to choose from that are trendy in 2023.
1. Pleated gown style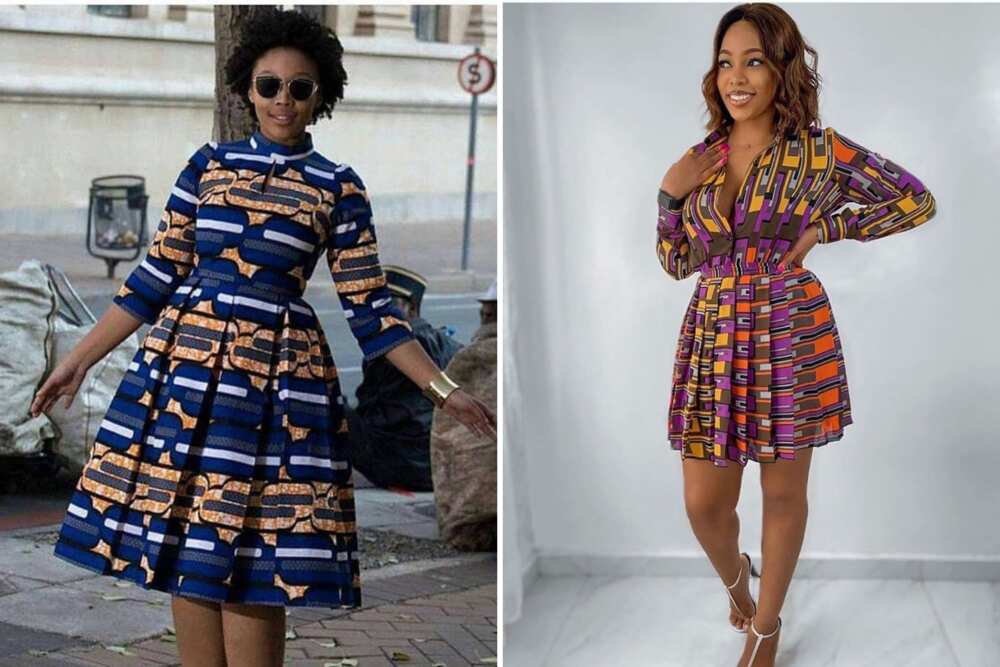 One of the many ways of showing off your cute short Ankara designs is with pleats. These pleats look best when carefully made at the waistline down to the knee or just above the knee.
2. Layered Ankara short gown style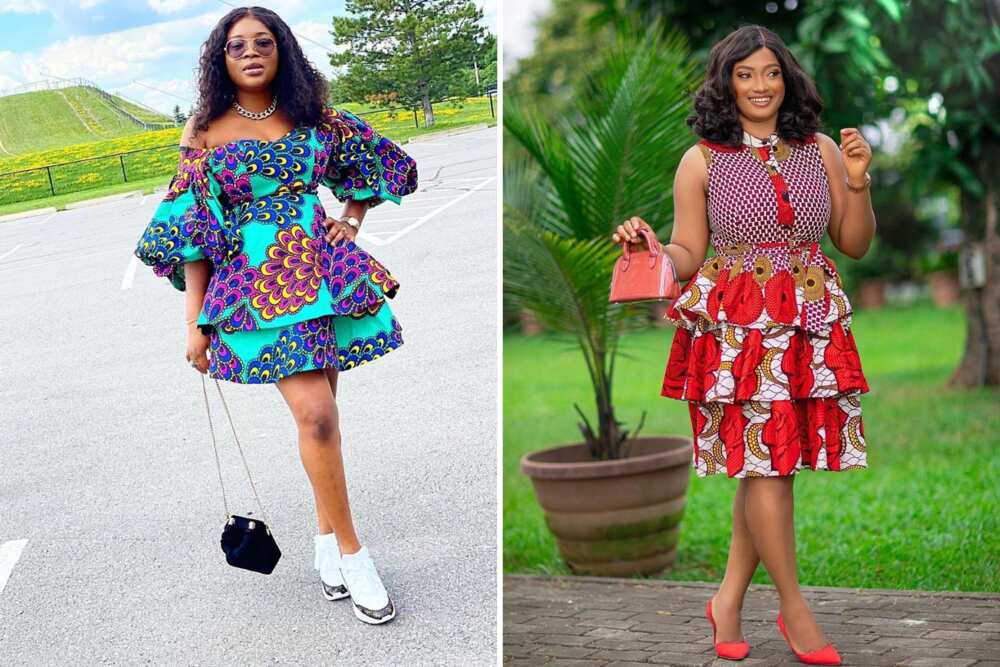 Layered Ankara dress is one of the most popular Ankara styles for ladies. It features layered ruffles, flare, or pleats which give off Cinderella vibes. It is cute and chic, especially with classy accessories and heels.
3. High-low flare gown style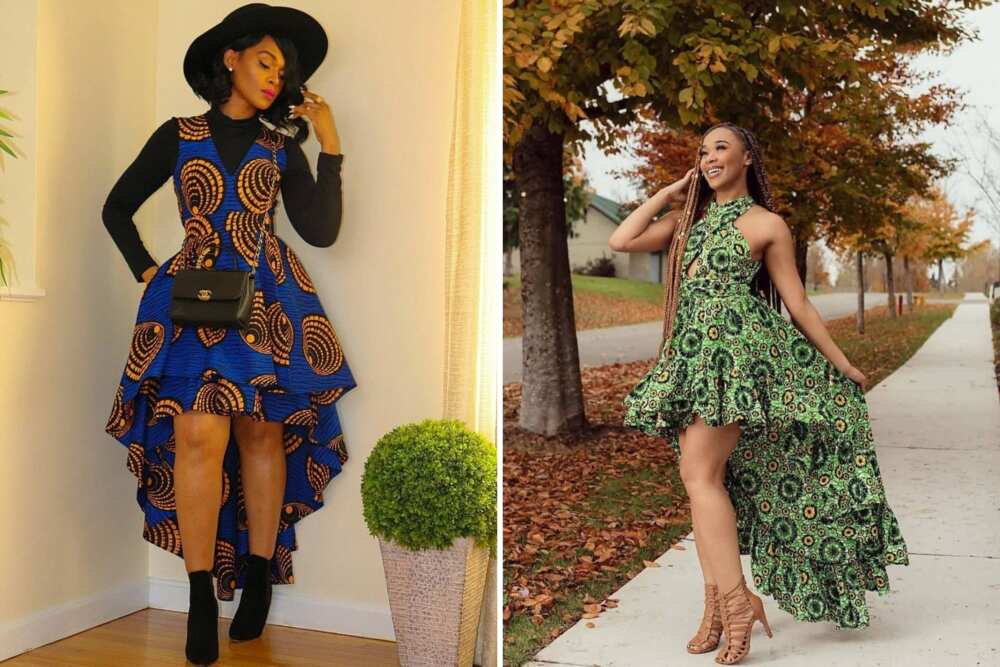 As the name suggests, a high-low hem is shorter at the front and longer at the back. This dress will add a touch of elegance and will draw attention to your legs and waistline. It is great for a wedding or any other party.
4. Strapless Ankara short dress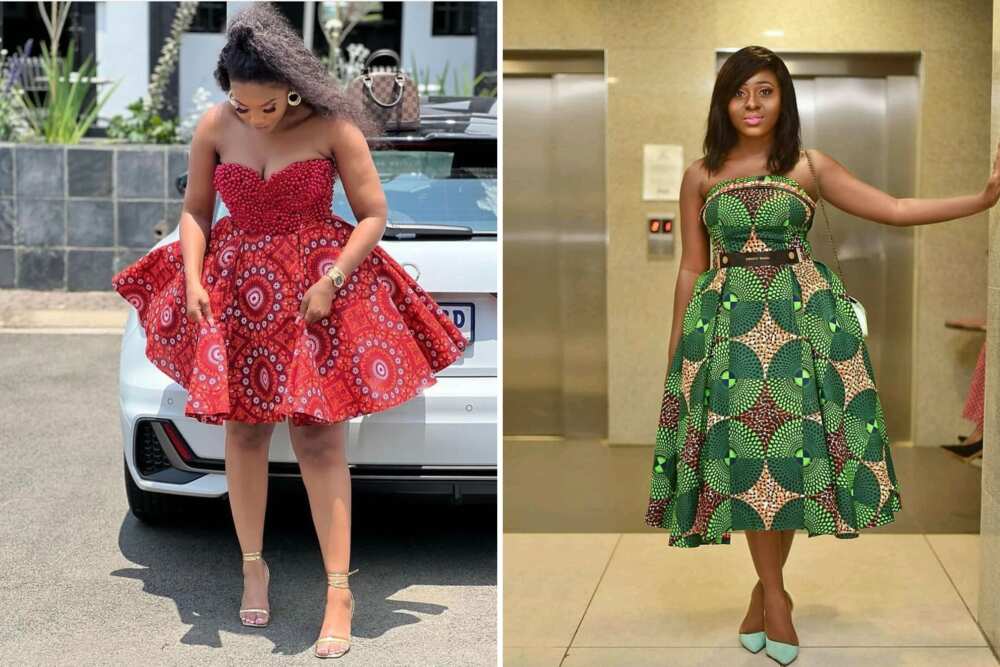 This style will show off your neckline and collarbones and accentuates your torso, making your shoulder-to-hip figure proportion. It also gives you room to explore neck jewellery and earrings.
5. Spaghetti strap Ankara short gown style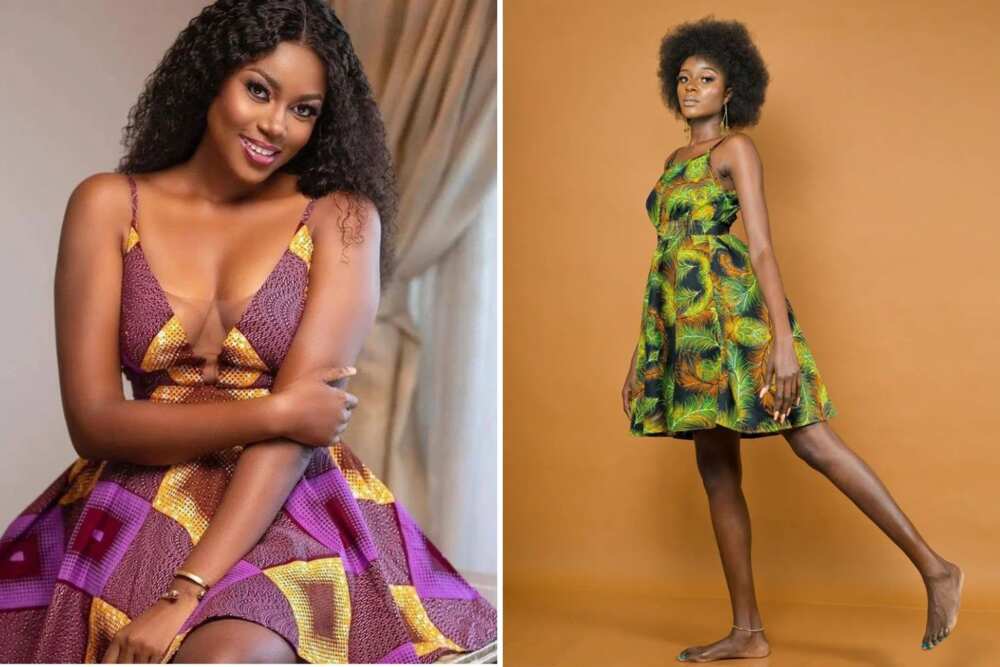 One of the latest Ankara short gown styles for 2023 is a spaghetti strap Ankara short dress. This style is simple and stylish and can be worn to the club or the beach. For corporate events, you can throw in a blazer.
6. Ankara high neck short gown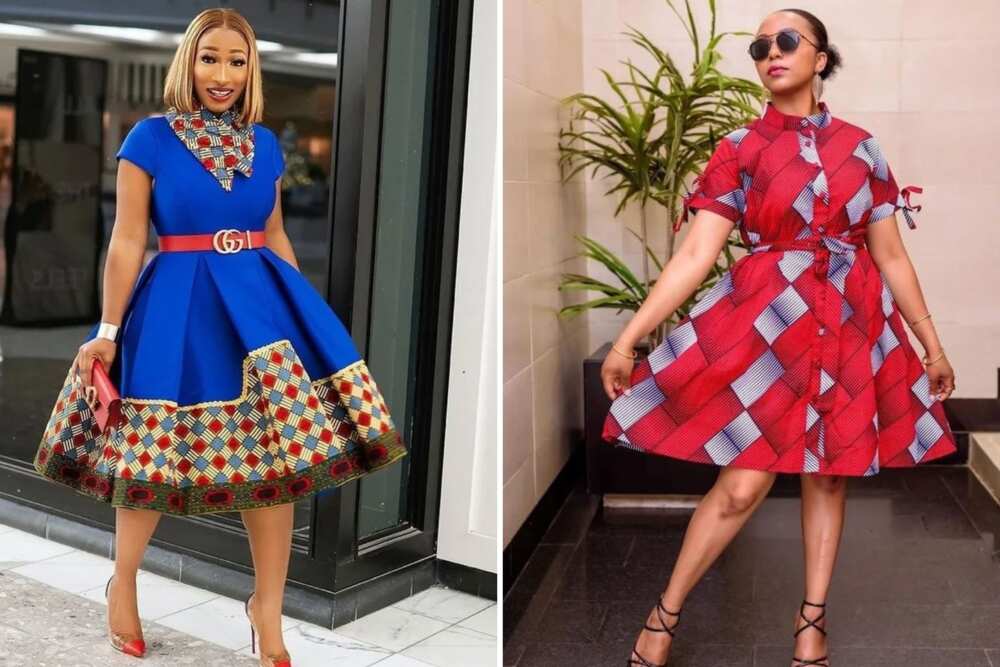 This high neck dress can paired with a belt to define the waist. It is a good fit for all body types and can be worn at corporate events as well as casual events.
7. Ankara butterfly sleeve short gown style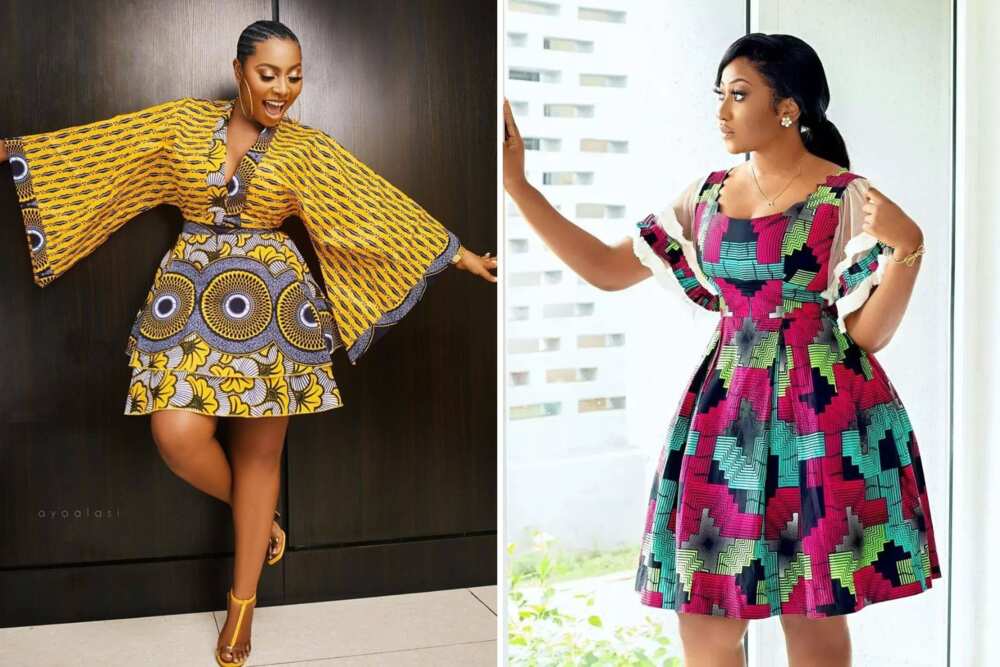 These Ankara dresses with butterfly sleeves are trendy in 2023. You can spice it up with a plunging or boat neckline. You can add classy jewellery and a pair of flats or heels to give off a chic after-party look.
8. Crisscross back Ankara short dress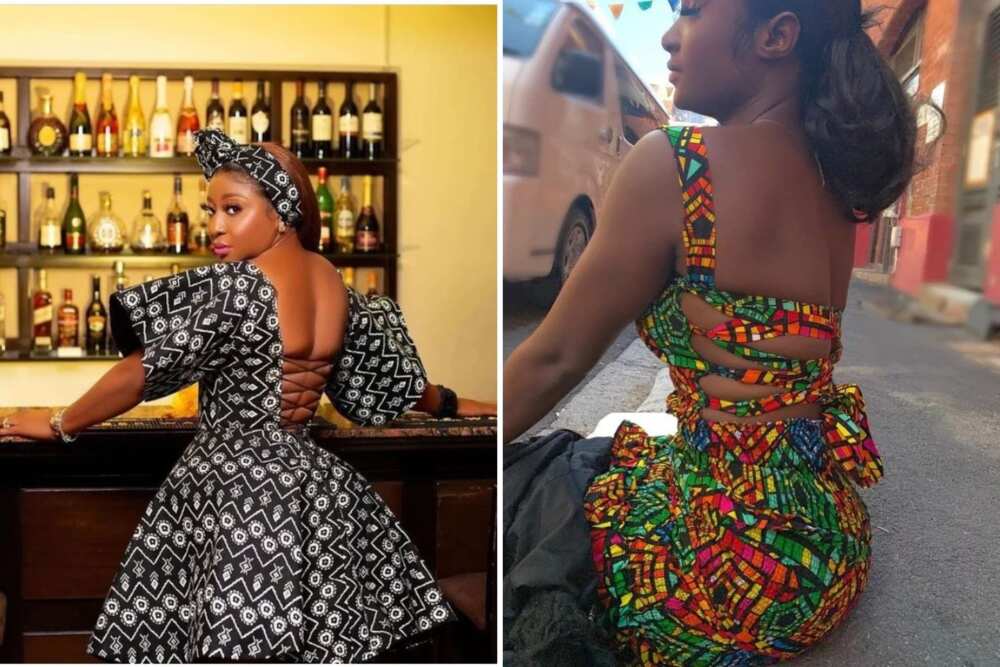 One of the best flare gown styles to unleash your inner party vibes is with this crisscross style. It's the perfect outfit for clubbing, vacation or dinner.
9. Puffy-sleeved Ankara short gown style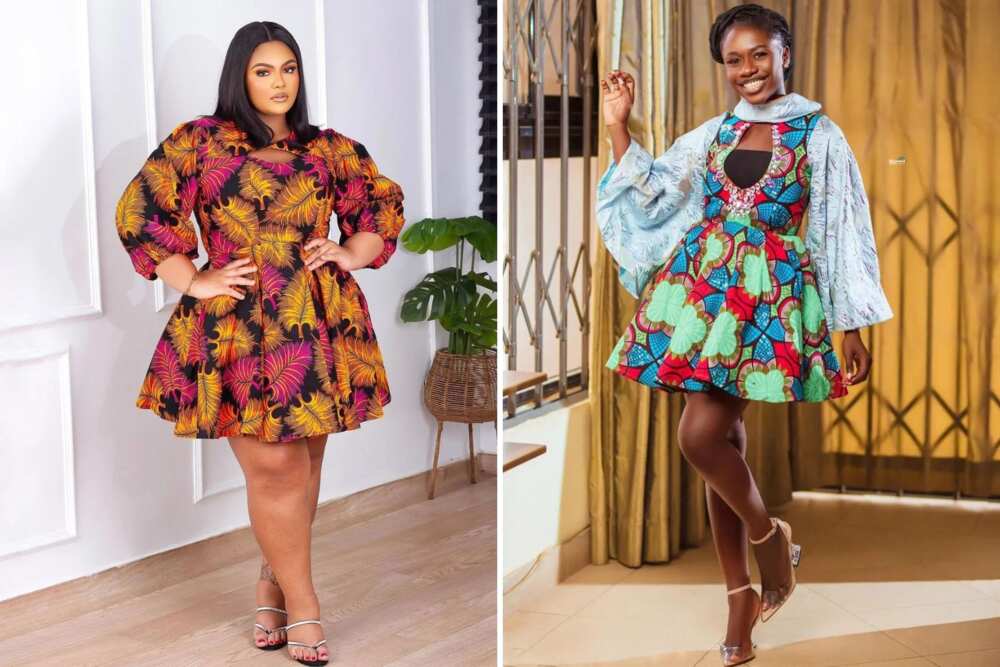 One of the oldest short flare gown styles is the puffy-sleeved dress. This style makes you look extra , and it channels your inner Queen Elizabeth.
10. Shirt flare gown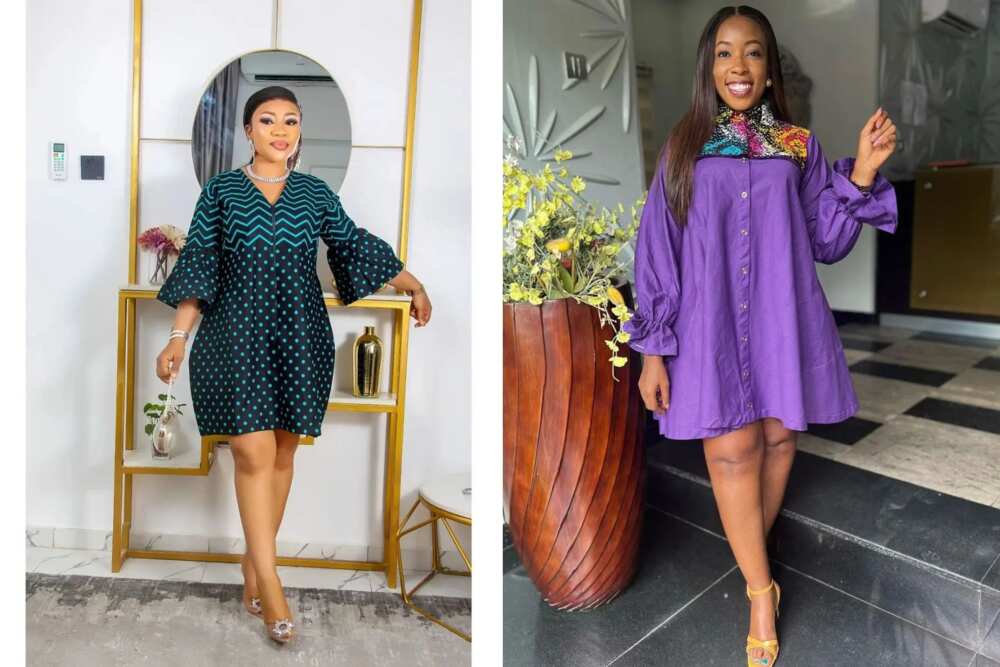 This design is designed to imitate the famous shirt dress, but this has a flare and is loose. It can be long or short-sleeved and buttons on the front. Adding a belt will help accessorize the dress.
11. One-sleeved flare gown style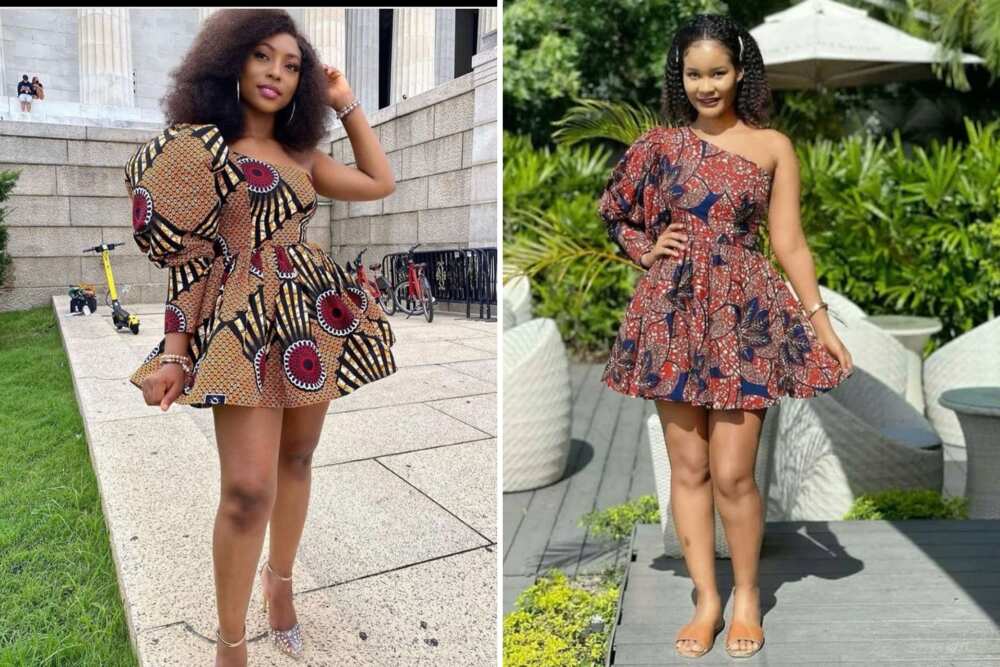 This is one of the sleek Ankara flare gowns that will leave you looking like a cute damsel. It accentuates your legs, and adding sandal strap-on heels will give you a model-like look.
12. Flare short gowns with halter neckline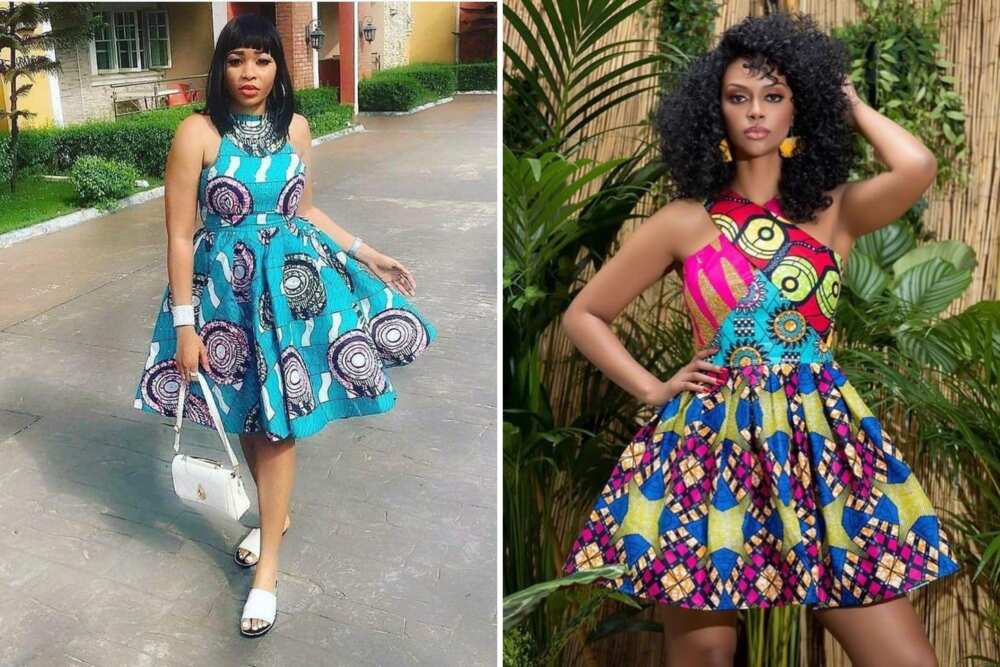 Halter neckline is one of the trendiest short Ankara styles of 2023. The neckline makes the dress look perfect for a date or a wedding. Throw in a belt and/or bag to complete the look.
13. Cap sleeves flare gown style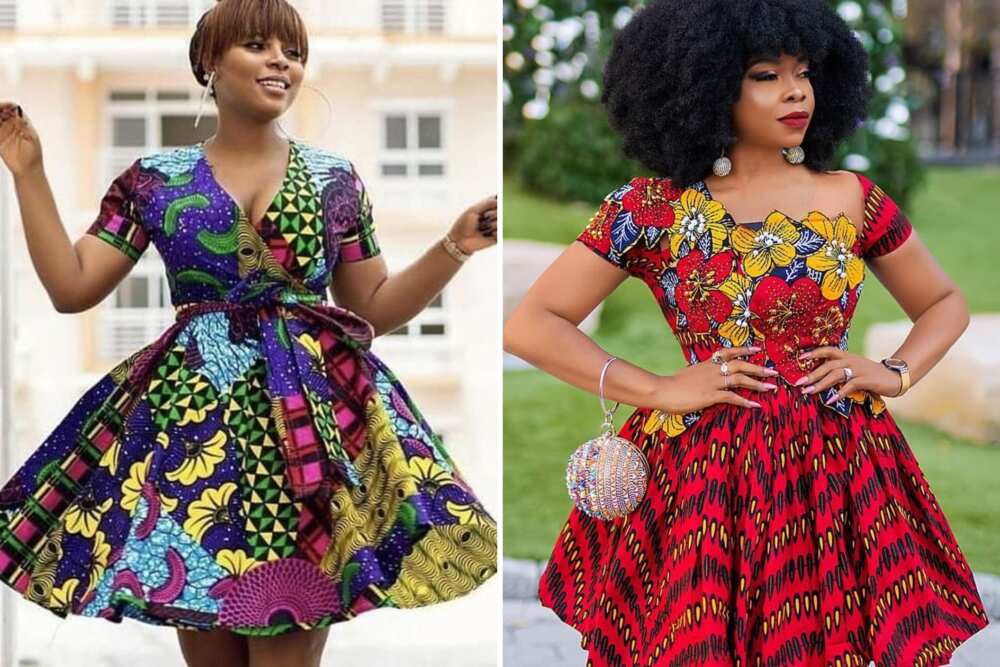 The cap-sleeve dress is an easy and cute outfit for all body types. This chic style is comfortable to wear and stylish.
14. Cold shoulder or off-shoulder Ankara short gown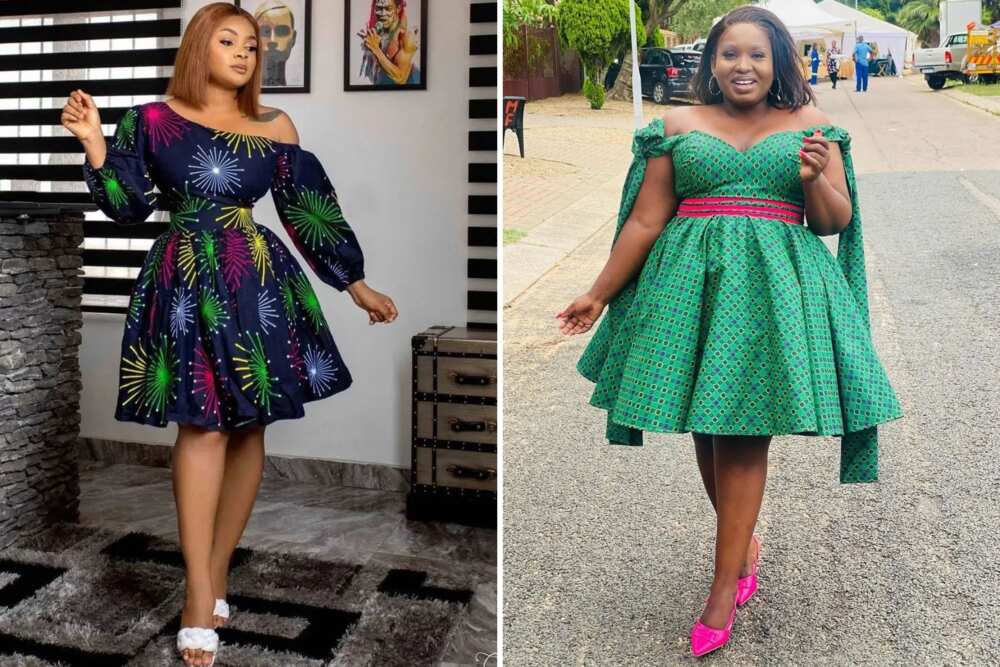 This is one of the cute Ankara short flare gowns in 2023 since it is effortlessly stylish. This style accentuates your neckline, making you look gorgeous and enchanting to everyone that comes your way.
15. Round neck flare gown style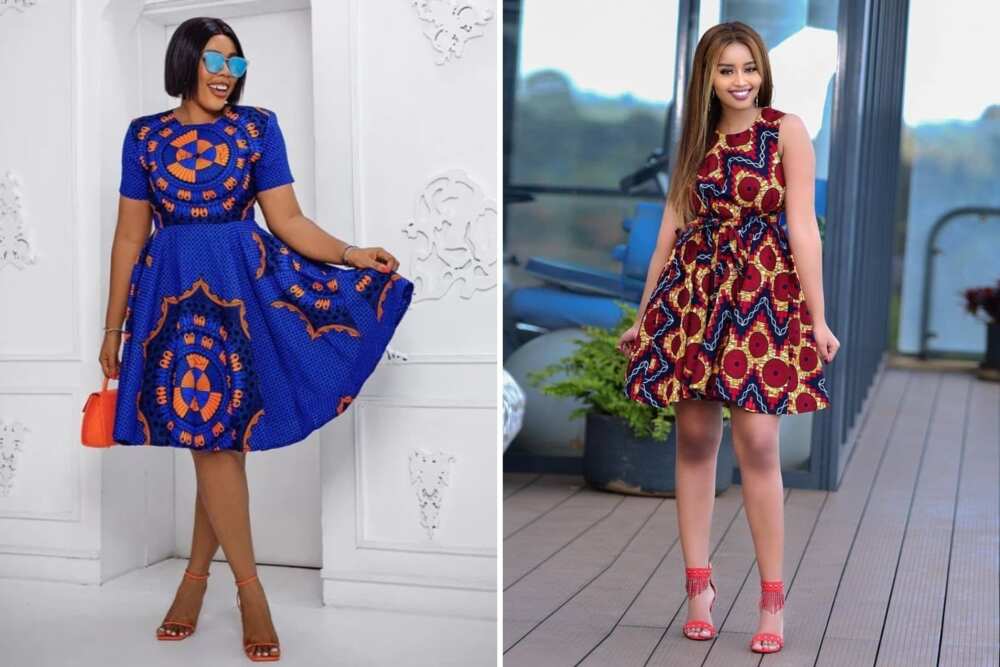 The round-neck design is one of the most common looks for Ankara dresses. It is a super easy-to-wear fashion outfit and suits almost all body types regardless of height or complexion.
16. Office flare gown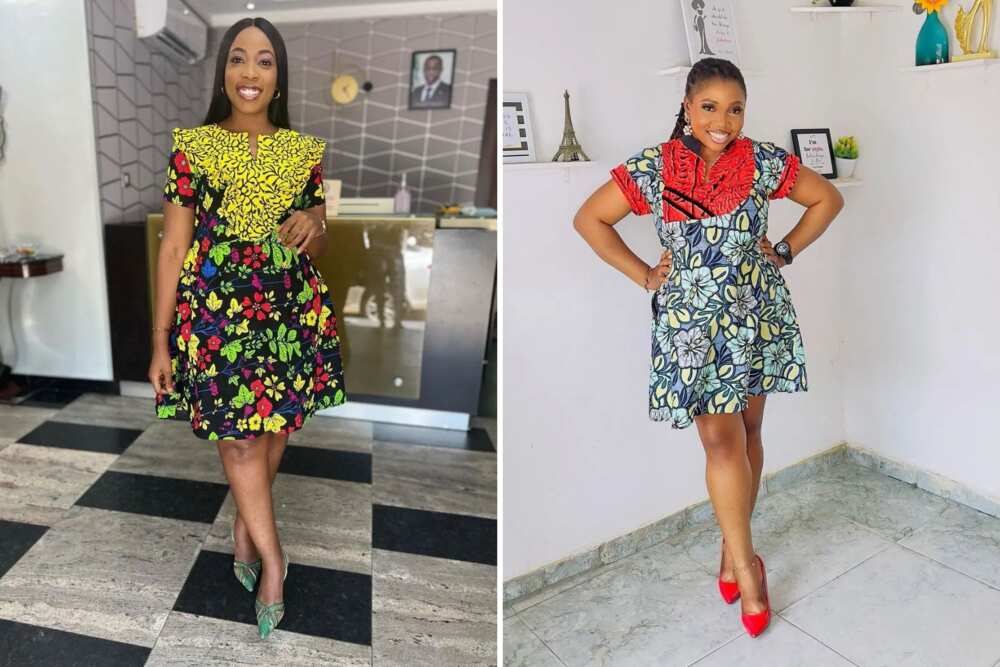 If you are an office person, try this ready-to-wear office Ankara design. It is simple and comfortable for all body types. A pair of kitten heels and a purse will complete this look.
17. Halter strap Ankara short dress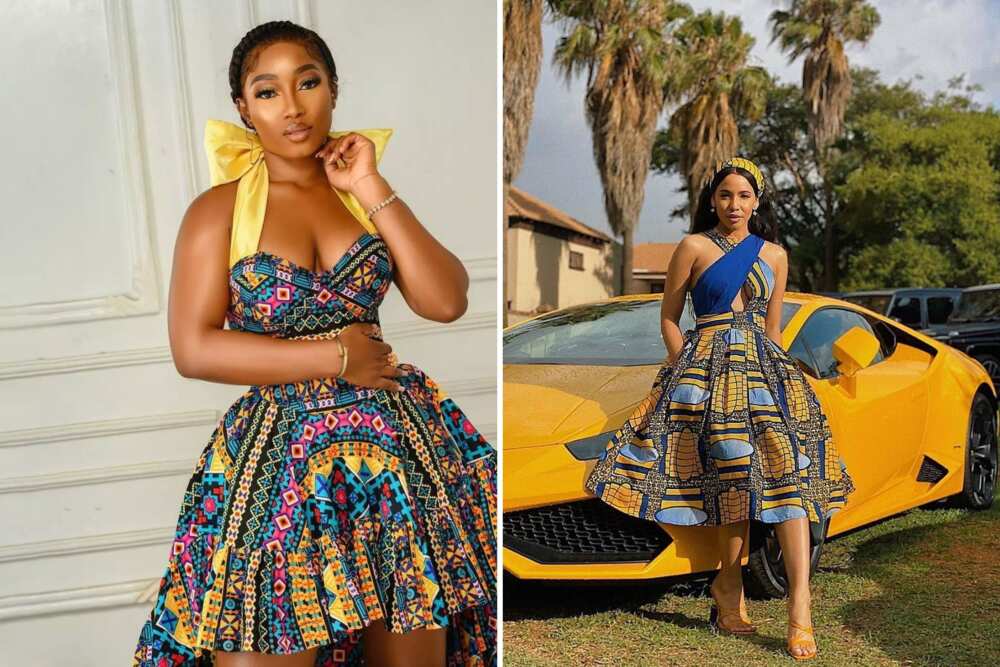 Turn on your fun vibes with this sleek Ankara halter strap short dress. The dress's strap runs from the front of the dress to the back of the neck, and the upper back is left bare. It's great for dinner or a family reunion party.
18. One-shoulder Ankara short sleeve gown style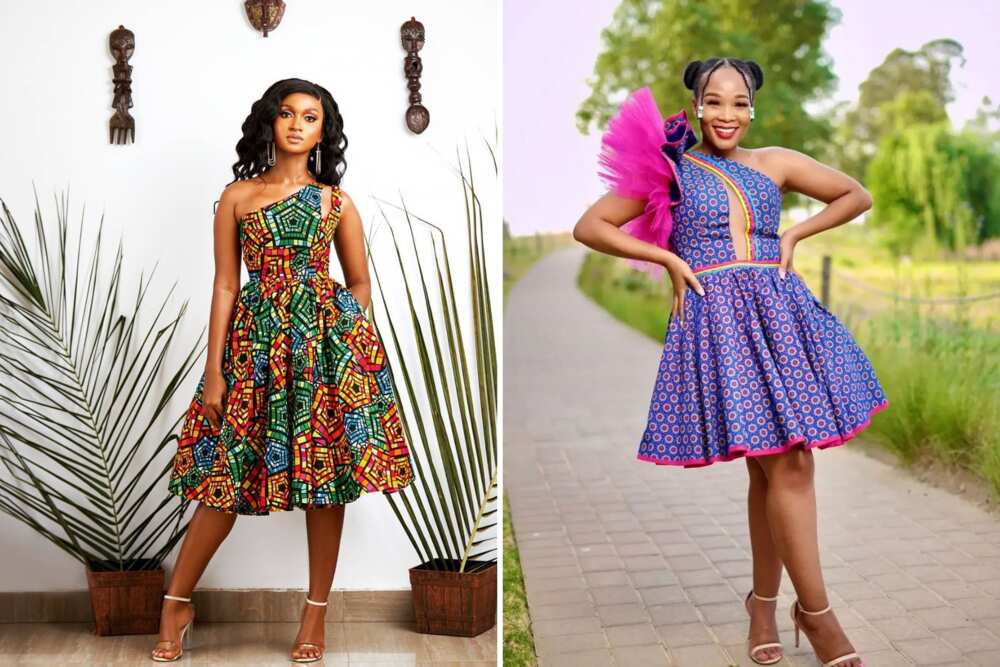 Take up breathing room with this stylish fashionista's short Ankara dress today. Complete the look with stilettos and a purse.
19. Knee-length flare short gown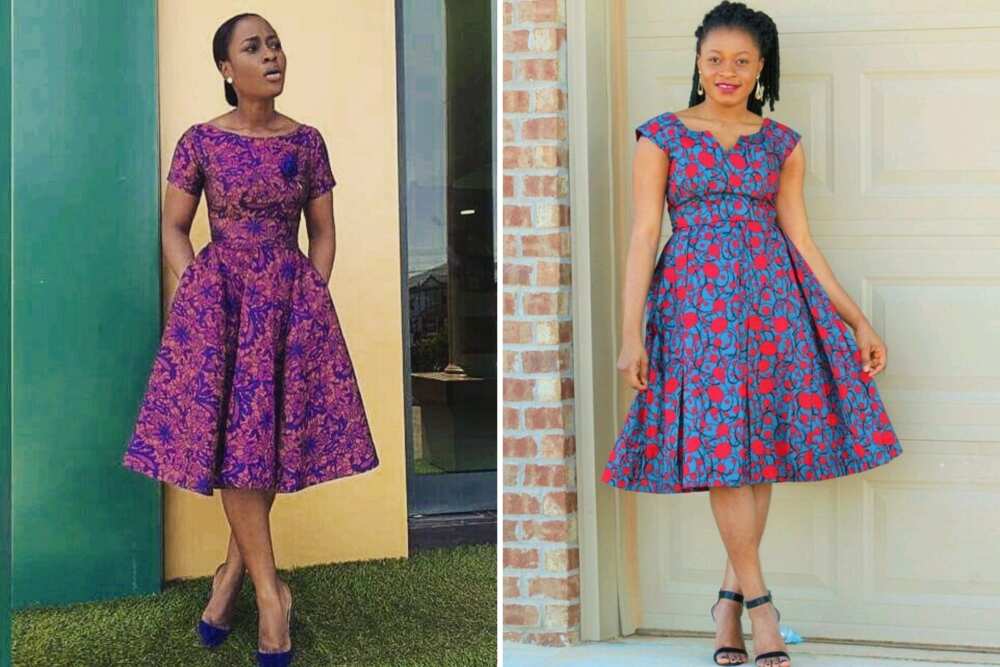 Knee-length dresses are styles that are stopped at the knee. They are often simple outfits mostly worn on casual occasions. This dress, paired with heels, is perfect for that classy look.
20. Low-neck traditional African print with step ruffles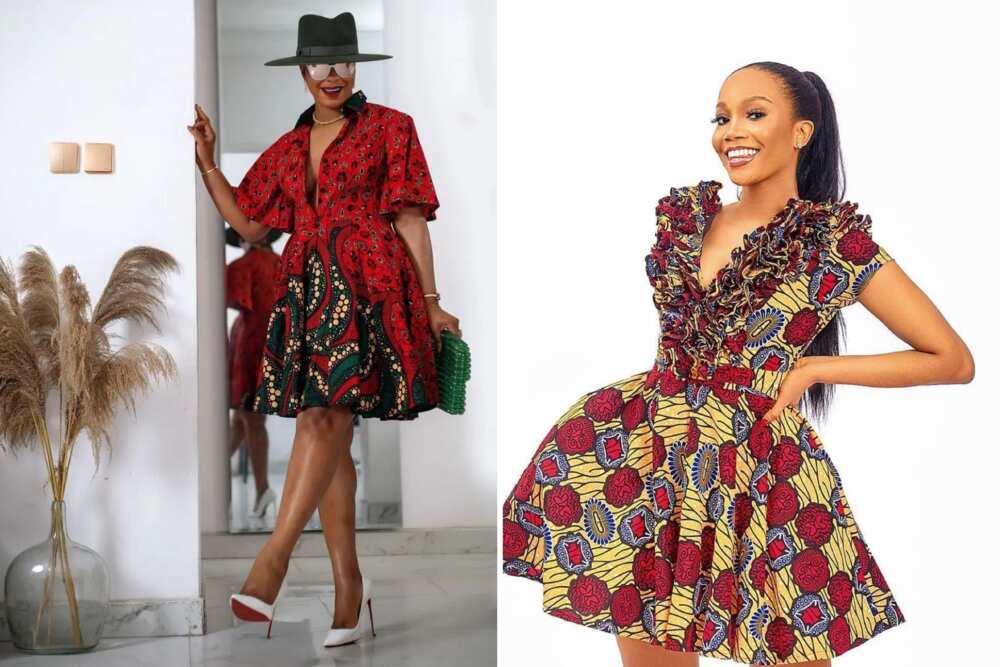 This is one fantastic dress that is great for the windy weather. It is excellent for casual occasions like weddings, brunch or office parties. Pair it with some heels or strapped sandals to finish off the look.
21. Bell sleeves flare gown style with pockets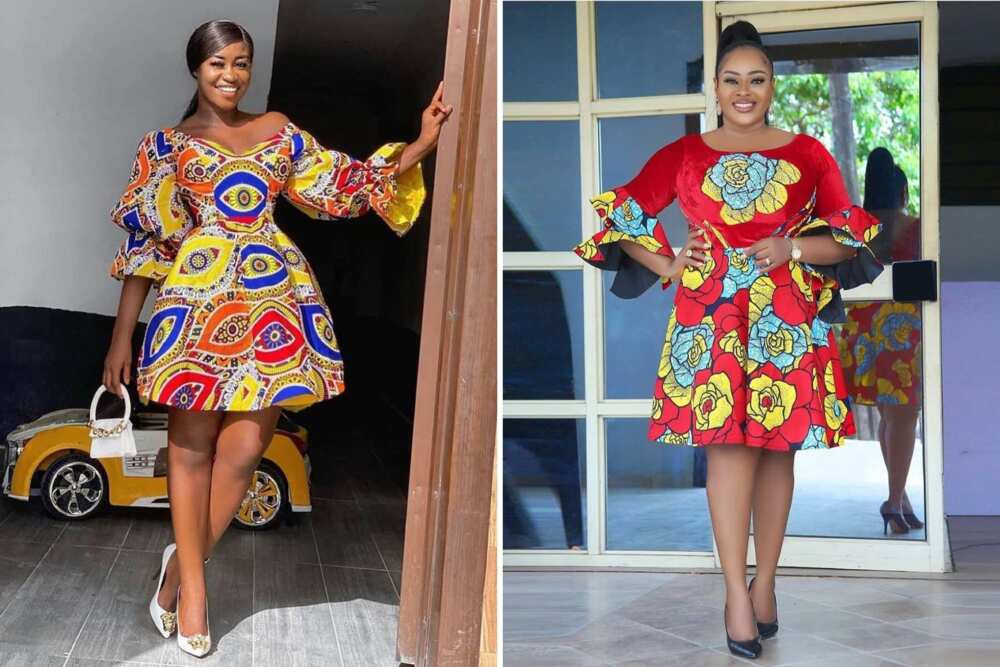 This style will ensure you bring your A-game to any occasion. The pockets give off a boss-like and casual vibe. You can nail this look by adding a cute sun hat to this ensemble and wearing it to the beach or a brunch party.
22. Short puff sleeves flare gown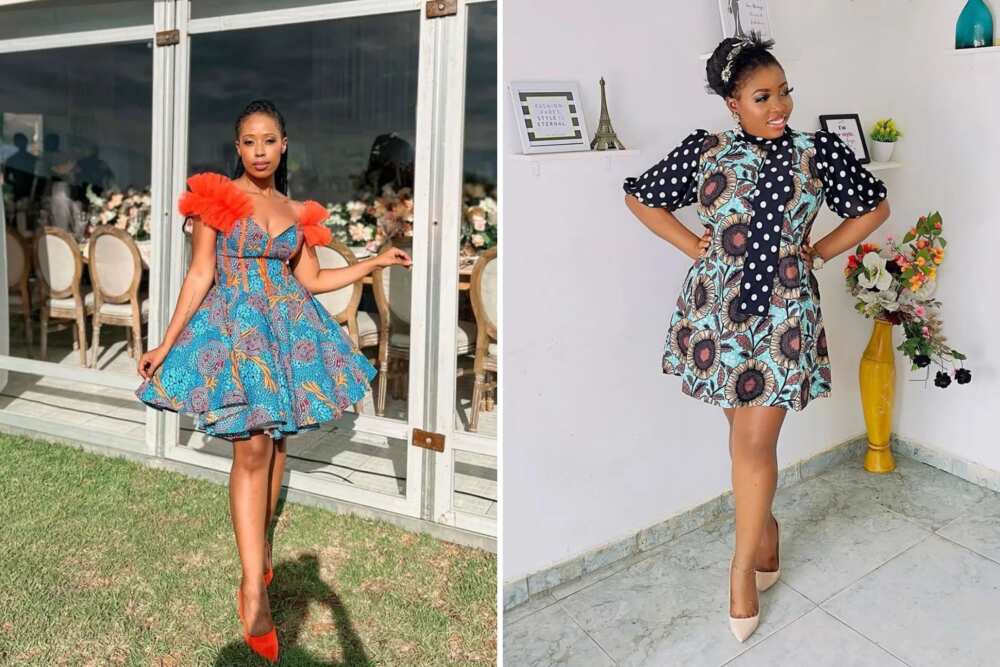 The short puff sleeves flare outfit is a must-have in your closet. It has a contemporary modern feel, and the puff gives a chic style.
23. T-neck flare gown style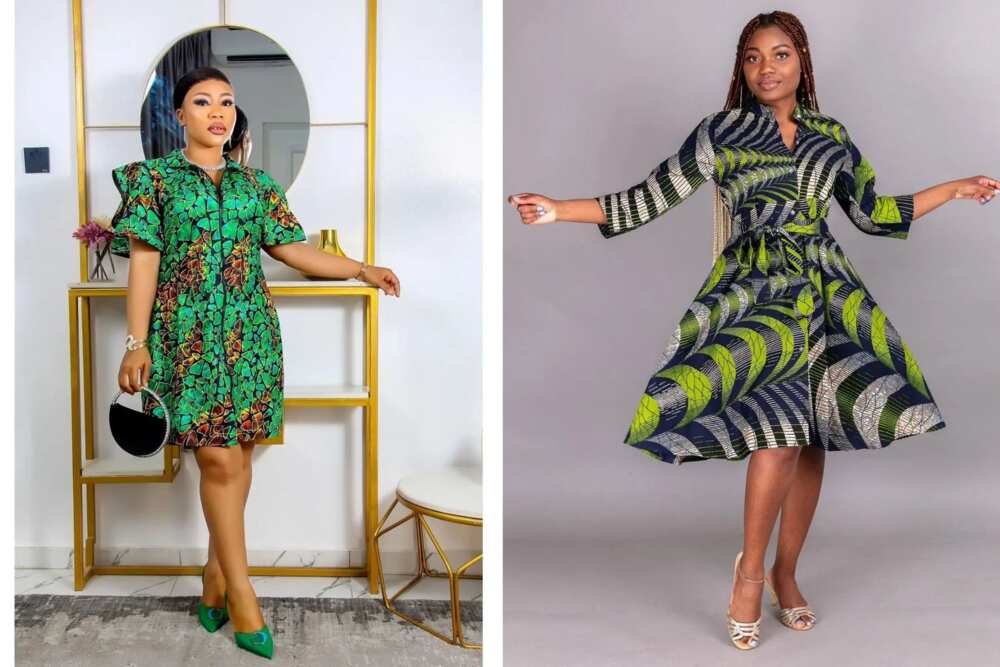 The T-neck flare dress is a combination of fashion and creativity and this style has a 50's style silhouette. It is a simple style which exudes confidence. This is the best style to stand out in a room as it defines your mood.
24. Mixed fabric flare gown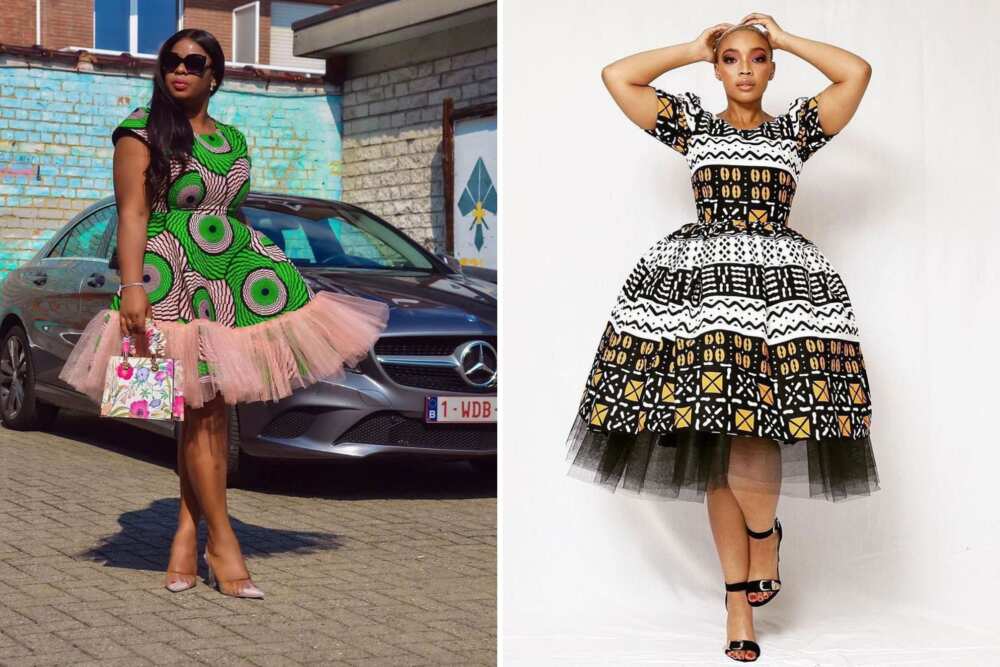 Mixing Ankara fabric with a different fabrics helps enhance the diversity of any attire. The two materials can have different textures such as Ankara and lace fabric or tulle, or even different colours. Try this look when you are feeling risky and adventurous.
25. Mini flare gown style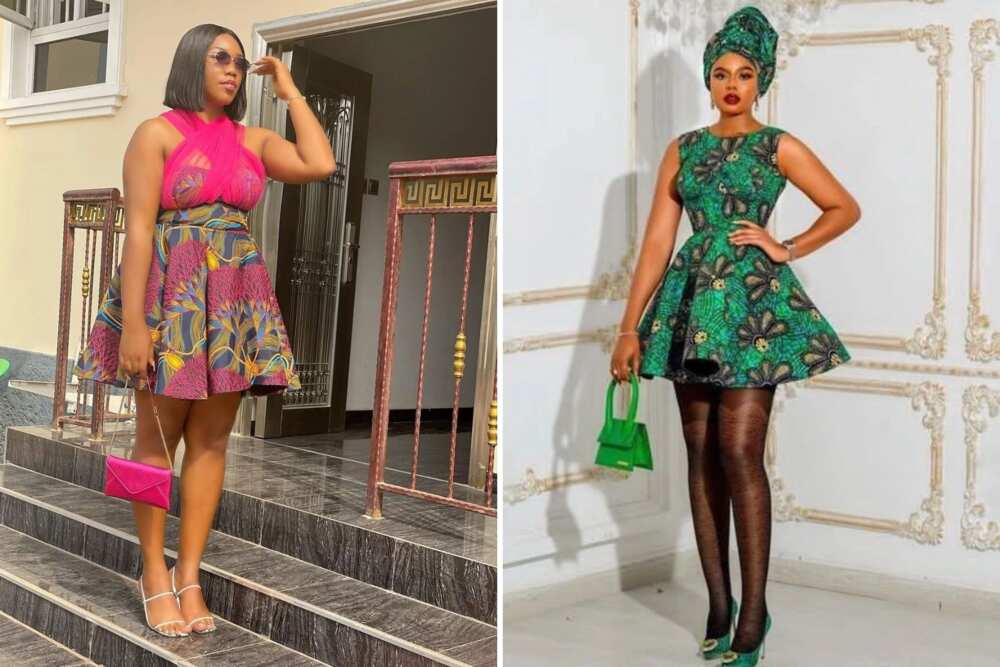 The mini flare dress is a great fashion style that is simple and cute. It's a beautiful simple outfit for lunch dates and casual hangouts. Throw in a pair of heels to complete the look.
26. Puffy long sleeves flare gown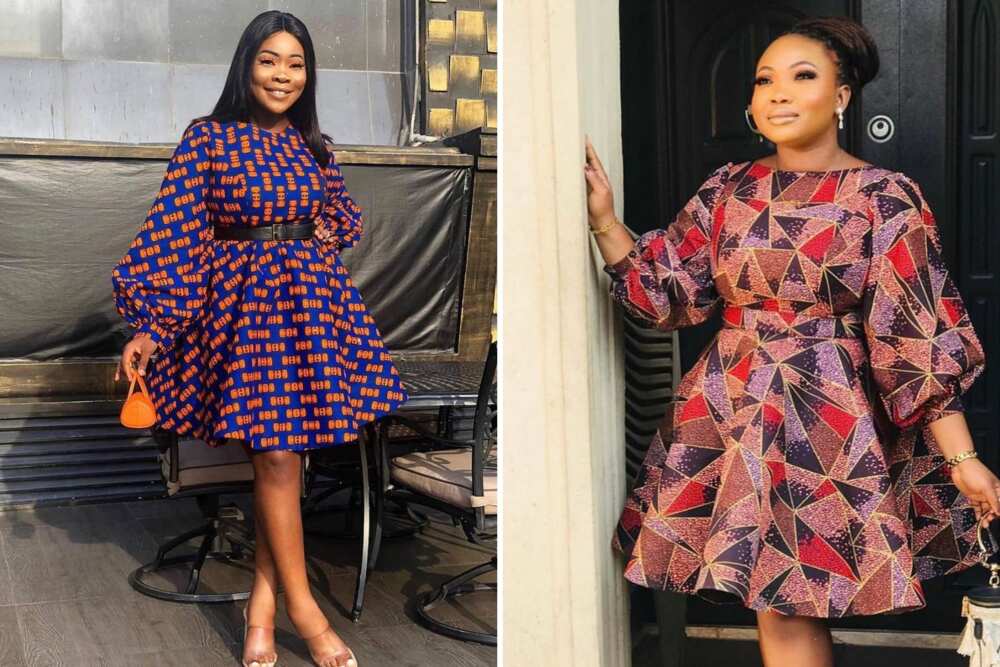 The puffy sleeves style is a statement sleeve trend that has been gaining popularity in recent years. The style can be balloon sleeves or extra puffy styles. This style will turn heads and be the conversation starter at any social function.
27. Ankara flare short gowns with long sleeves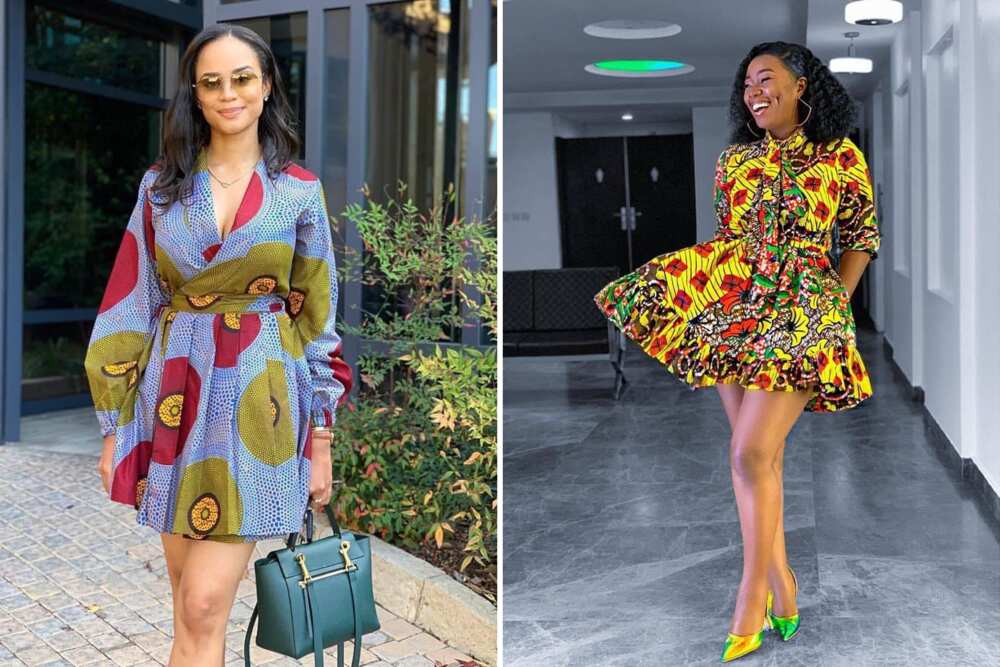 Ankara flare short gowns with sleeves are elegant and comfortable. The style is a good fit for both warm and cool weather. The dress can be open or buttoned-up collar style.
28. Layered arms flare gown style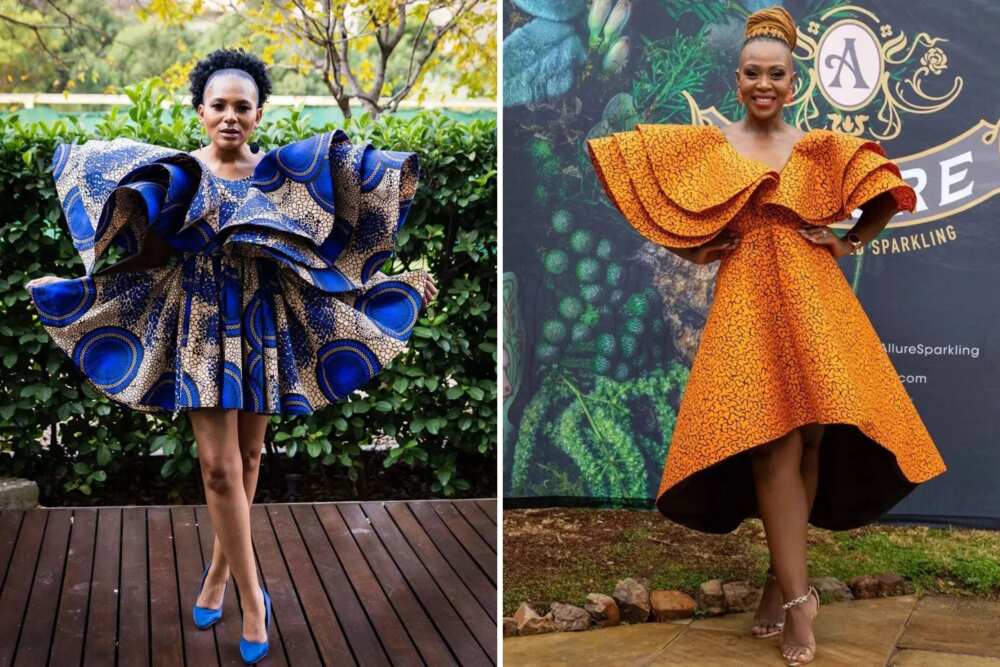 A layered arm short-flare dress is excellent for weddings and outdoor event. The dress creates drama so if you love the attention this is your kind of dress.
29. Princess cold shoulder cape flare gown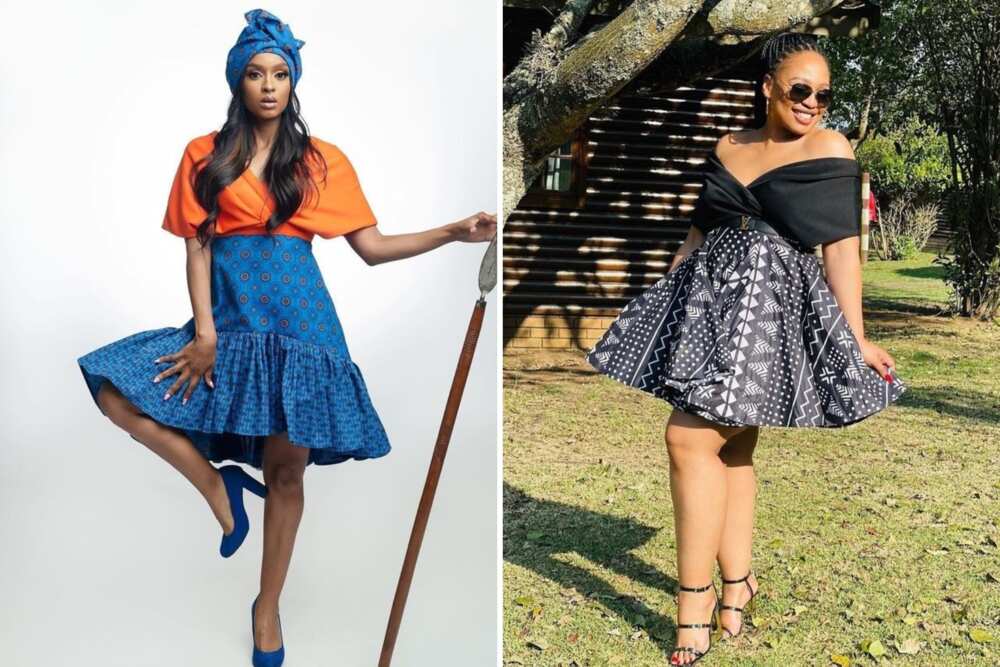 This style is chic when you have an exquisite date. The beautiful neck cut makes your collarbones and neck stand out. You can pair this look with high heels to complete the look.
30. Ankara short bubble dress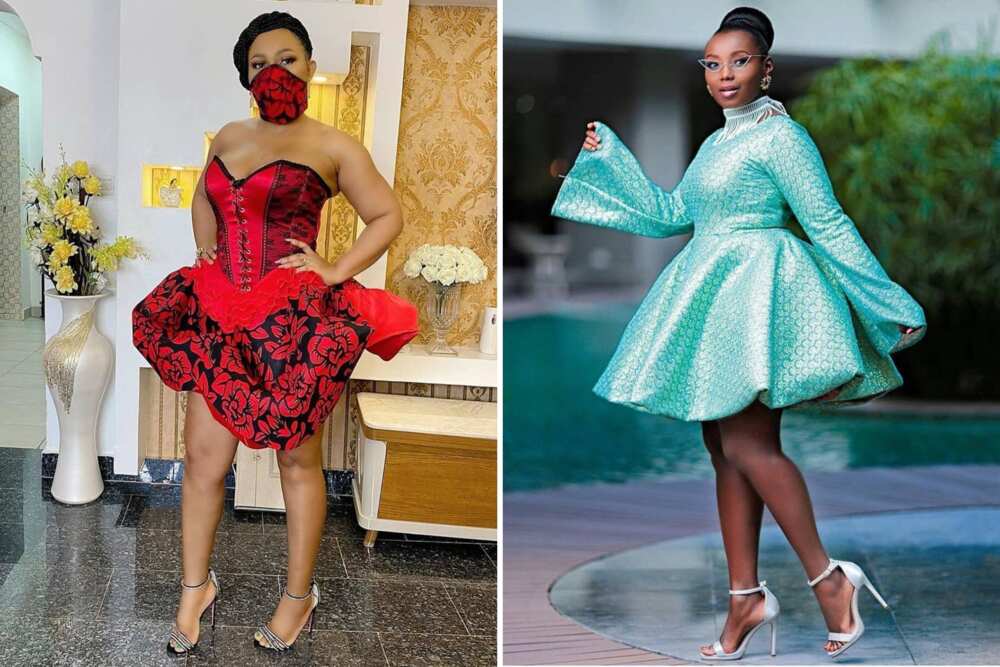 This chic, versatile style is easy and comfortable to wear. It is not tight or loose and is perfect for all body shapes. Pair it with stiletto heels to add finesse.
Staying on top of the fashion trend is essential for any woman. One way to ensure you stay on top of your game is to have Ankara pieces in your closet. It can be styled in many ways, making the pieces timeless. You can choose from the list of Ankara short flare gowns above to add to your wardrobe.
READ ALSO: Latest Aso Ebi lace styles for a traditional wedding 2023
Legit recently published an article about Aso Ebi lace styles. This is a Nigerian style worn during the traditional wedding. It has become trendy since it is not affected by culture or religion. These are the latest Aso Abi lace styles you can choose from if you are looking for the perfect traditional gown.
Are you looking for an elegant Aso Ebi lace style to make a fashion statement at your traditional wedding? Look no further, as the style has endless designs to fit any body type and mood. Aso Ebi is stunning and makes you look decent at a traditional wedding function.
Source: Legit.ng