Latest abaya styles for ladies in Nigeria: find the design for you
Abaya is a popular Muslim outfit, and women of various religions have recently started wearing the pattern as a fashion trend. Abaya styles for ladies usually include voluminous hijabs that add a little height.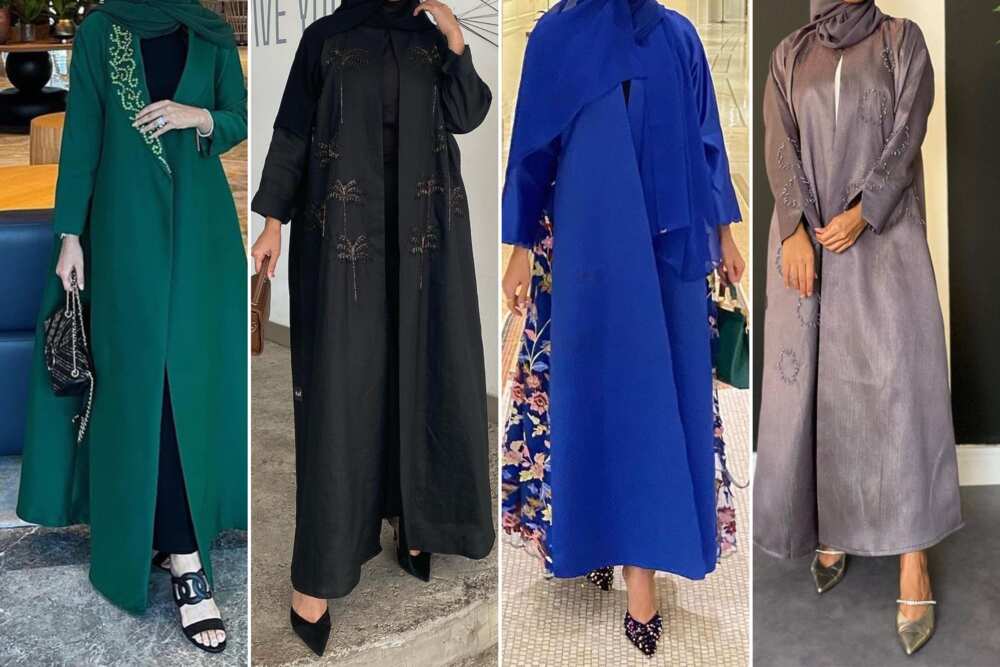 Across the world, women can be seen wearing this style of dress. Its purpose is to conceal the body's curves by being fluid and flowing. It can be worn with other clothing, like a scarf, to cover the hair.
Latest abaya styles in Nigeria
Abaya styles are growing more common and fashionable, not just among Muslim women but also among other women all over the world. This look is appropriate for various events, including weddings, family get-togethers, and professional meetings. Below are some of the most stylish simple abaya designs you can opt for in 2023.
1. Simple single-colour design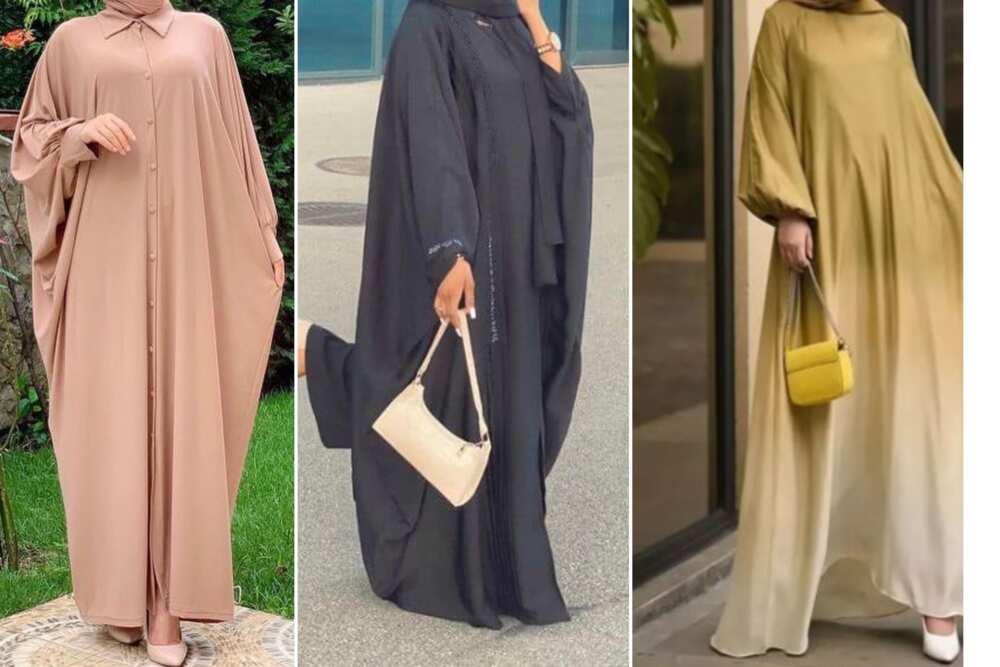 The modern trendy abaya designs for women look incredibly gorgeous, unlike anything you have seen. Single-coloured outfits can boost your confidence and empower you. You can opt for this simple look of any day and match it with your favourite clutch, flat shoes, or high heels.
2. Abaya with lace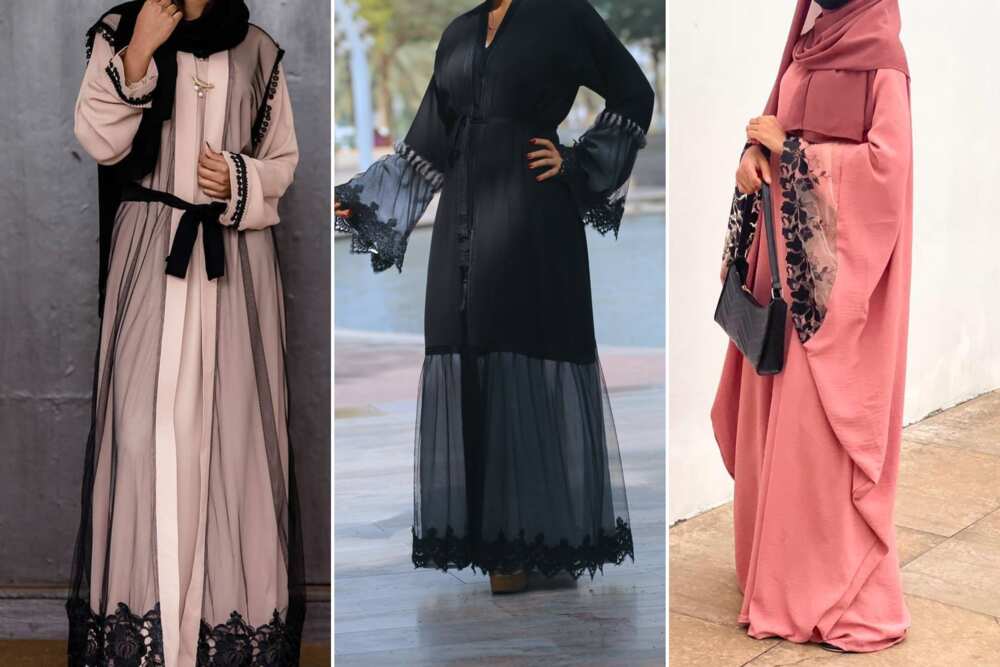 Lace styles for ladies are popular because they make a woman look delicate, beautiful, and fashionable. The lace details should be kept minimal for a great casual look.
A belt is a great addition that keeps the robe-like dress together and acts as the perfect accessory. The highlight of the entire look is the addition of a scarf with a lace border that perfectly complements the whole look.
3. Floral design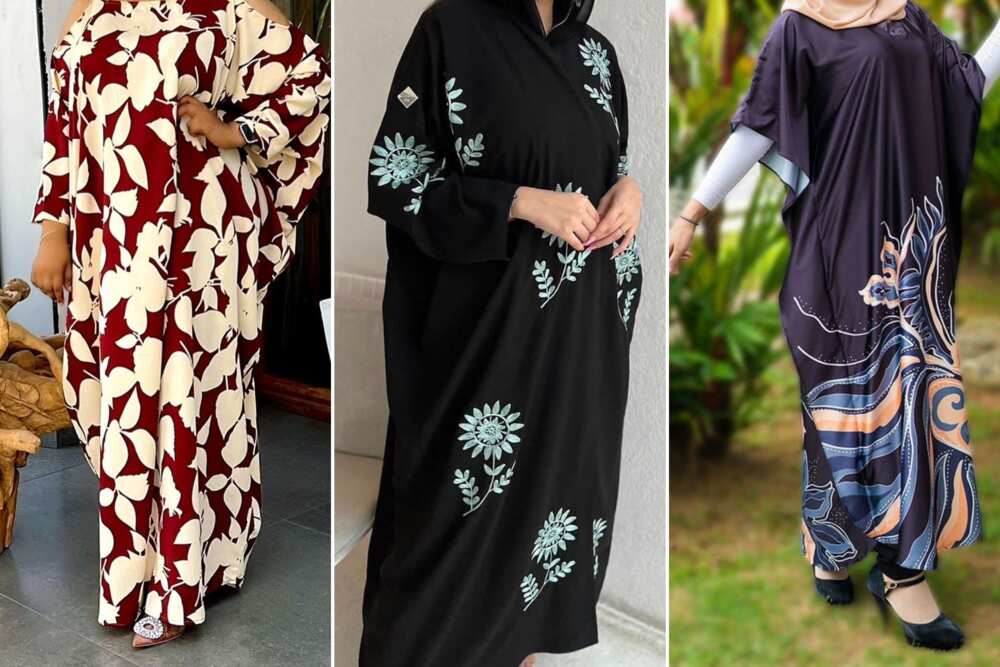 This is a basic style you must have in your closet for everyday wear. This outfit in a flowery pattern can be worn alone as a regular abaya or teamed with cardigans, shrugs, or capes for a new style.
You need one of these chic, straightforward patterns to upgrade your everyday look. The correct accessories may be worn to a formal party or a day out with friends for a fancier appearance.
4. Fancy embroidery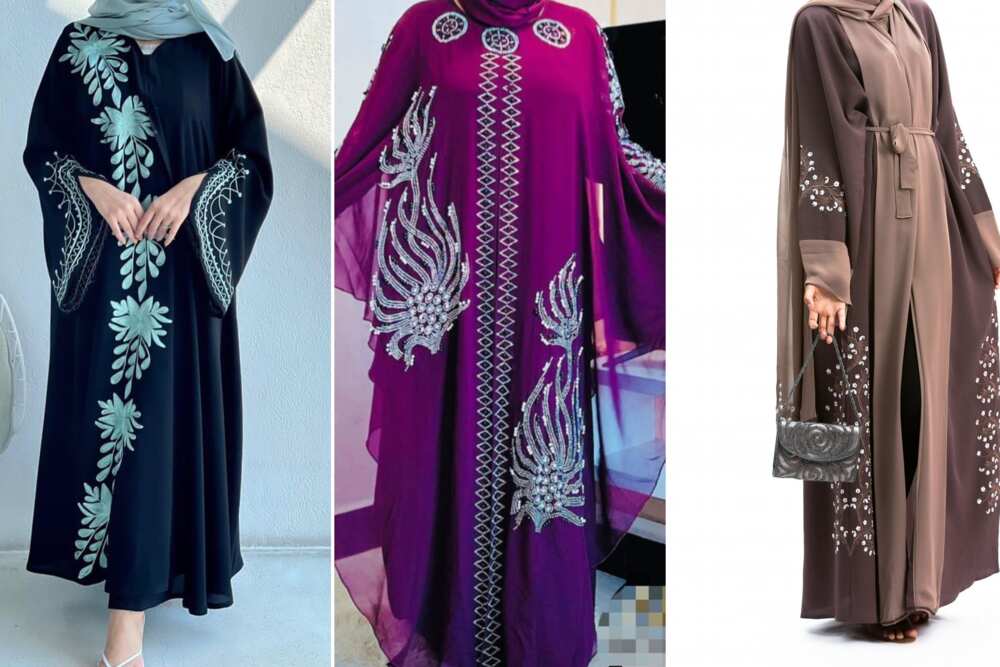 Abayas with embroidery are always stylish and feminine. Over the years, needlework has evolved well beyond delicate doilies thanks to sophisticated flair. The outfits are now elegantly enhanced with geometric and floral embroidery for a pleasant and modern look.
They are stylish attire for formal occasions thanks to the stunning floral embroidery and striking sleeves. You can also choose the elegant, brightly coloured, and richly textured minimalist embroidered abayas.
5. Statement sleeves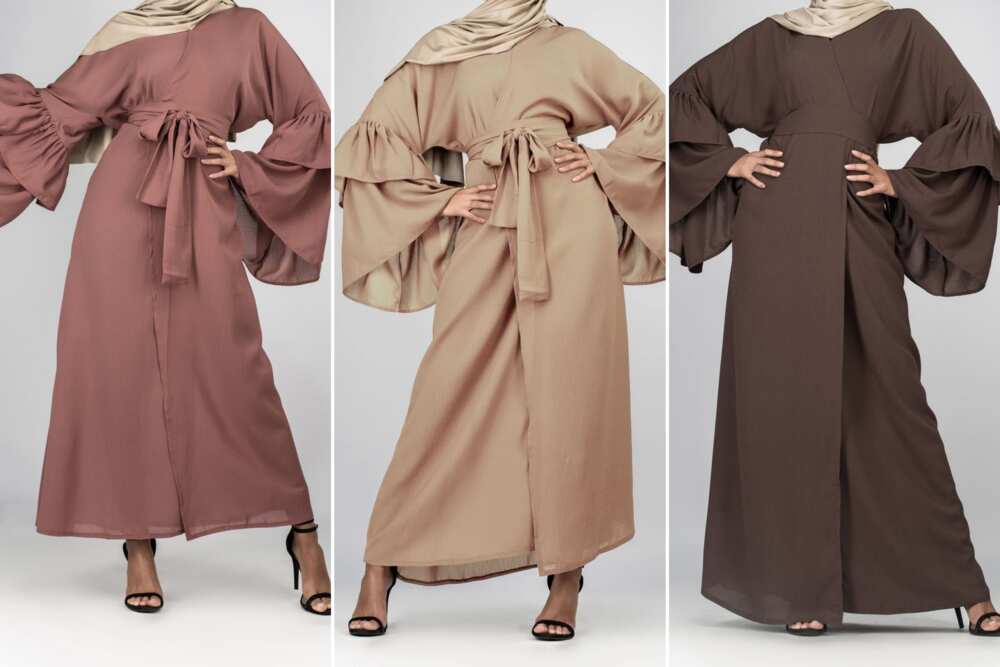 A modern abaya dress needs to keep up with the trends. Sleeves are the ideal addition to your attire for accomplishing this. Whether you choose short or long sleeves, the dress will keep you appearing chic and fashionable.
To ensure that your clothing shows your curves in the best possible ways, a belt that matches your outfit can also help to flatter your body.
Abayas with sleeves are stunning, delicate clothing garments, and the sleeves receive great attention to detail. You can passionately rock in such an outfit because it makes you appear stylish and majestic.
6. Bold patterns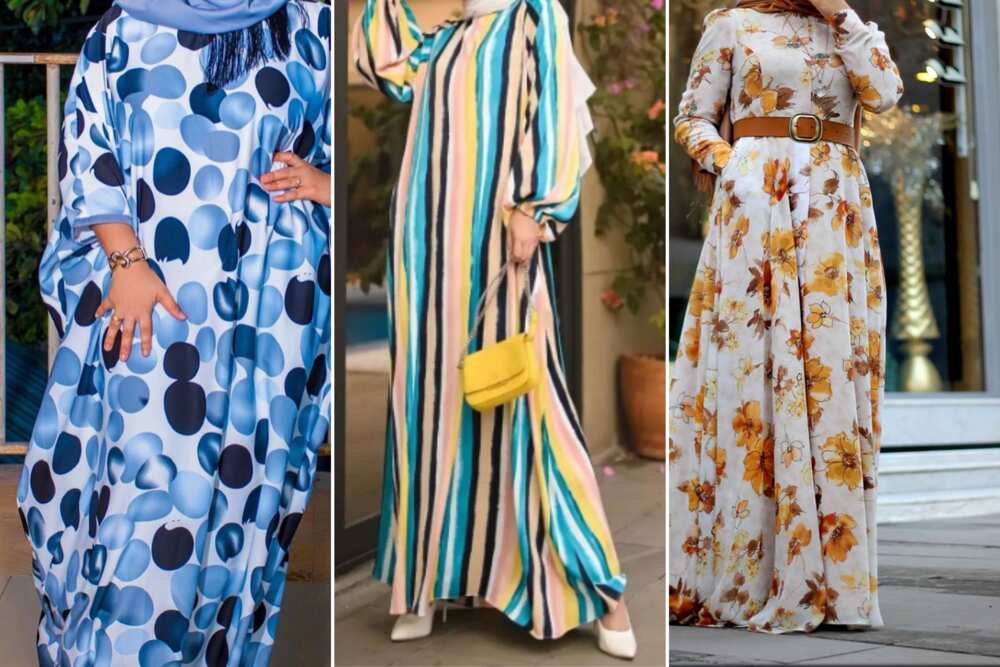 The latest abaya trends don't have to be fancy, formal, or flashy. Sometimes wearing an entire pattern is the greatest way to display contemporary abaya designs.
These small patterns, which range from neutral colours to straightforward details that might not be immediately evident to the untrained eye, may appear insignificant. Still, they contribute to the brilliance of the most recent abaya designs.
Thanks to the simple pattern design and soft blush colour, it is an easy and comfy option for a straightforward look. This elegant look will make navigating any situation easier, regardless of the weather, and it will also maintain your new looks on point.
7. Traditional designs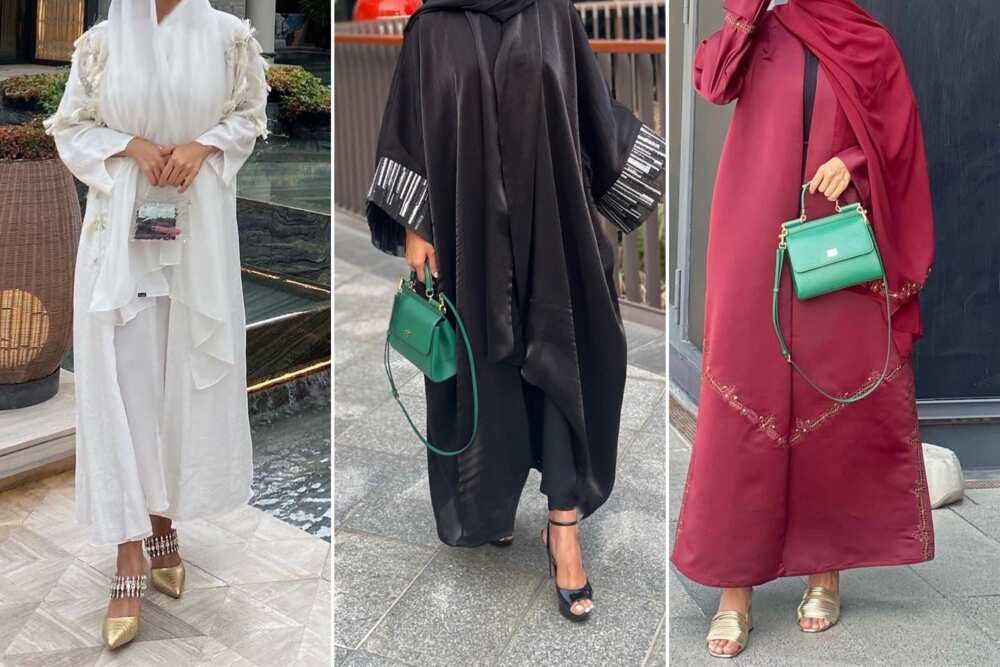 Traditional abaya designs frequently have matching hijabs and dark solid colours. The designs are loose-fitting and cover the entire body, from the neck to the toes, including the arms. A lady wearing this design can only show her hands and feet.
Modern simple abaya designs
The mainstream fashion industry now recognizes abaya fashion as a popular trend. Some are ideal for making an elegant first impression, while others can make you look like a fashion statement. A wide range of fashionable abaya patterns and materials have been created to provide the consumer with nothing less than elegance and style. Check out some of the modern abaya gowns in Nigeria.
1. Simple maxi dresses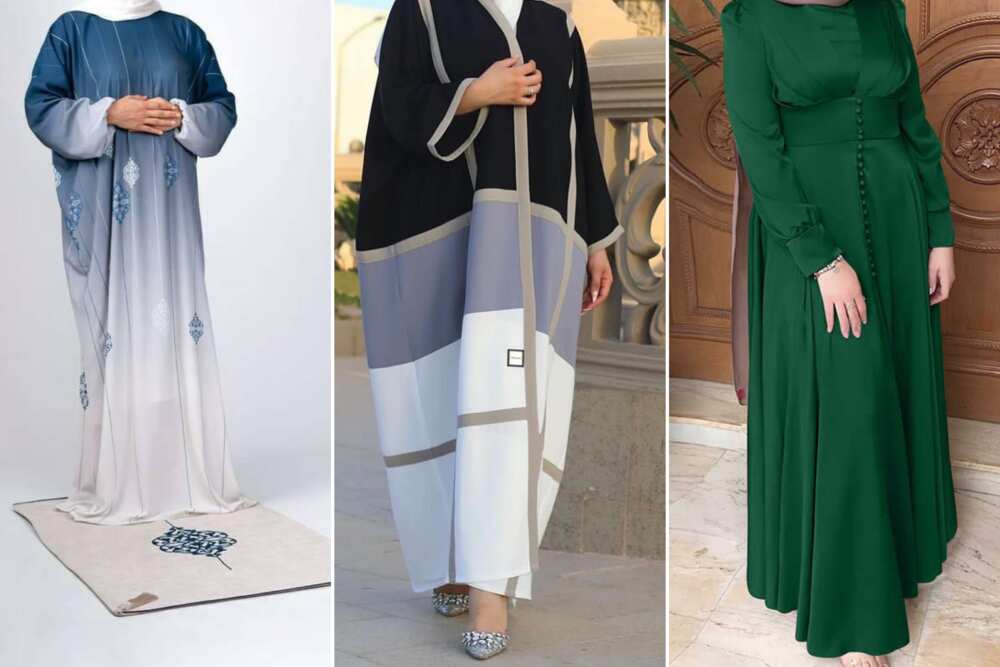 The modern and couture abaya styles are incredibly diverse. Some fashionistas prefer those with embroidered patterns.
While still emphasizing modesty, contemporary abaya designs are more varied because they frequently incorporate vibrant colours and prints. Modern styles also come in patterns, sashes, and jewel-encrusted embellishments, distinguishing them from more conventional styles.
While the majority still cover almost the entire body, modern abaya fashion designs frequently feature a variety of sleeve options and styles.
2. Summertime outfits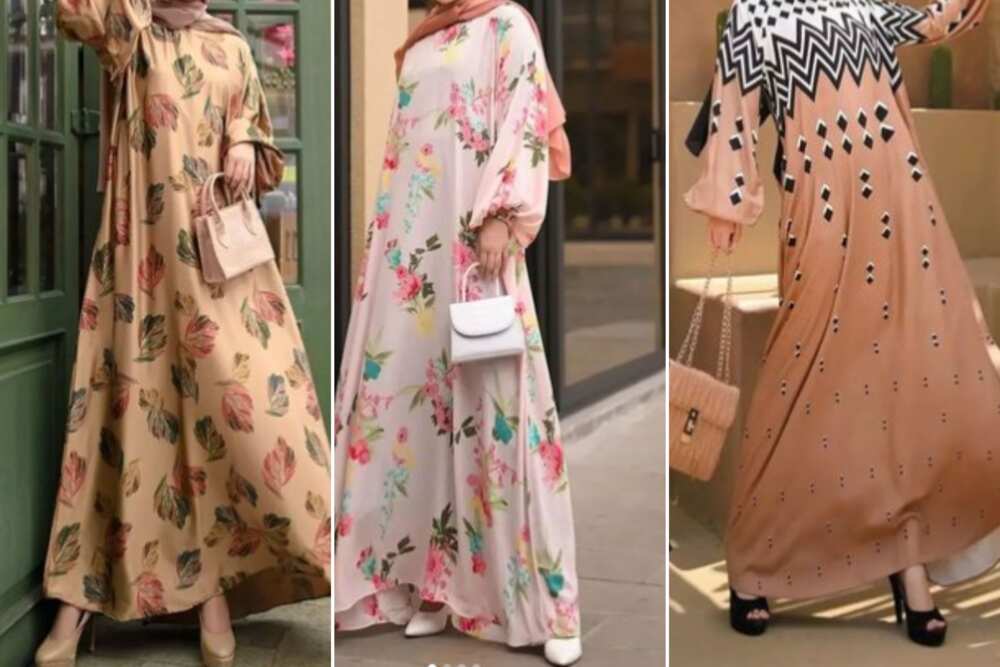 Simple dress abayas, which are light, are ideal for the summer months. Slim and smart designs give you a good body shape, and a nice scarf enhances your appearance.
If you are going to a party, wear a glamorous shiny floral dress like the one pictured above. You can accessorize with a matching gleaming scarf and silver sandals.
3. Classic accessories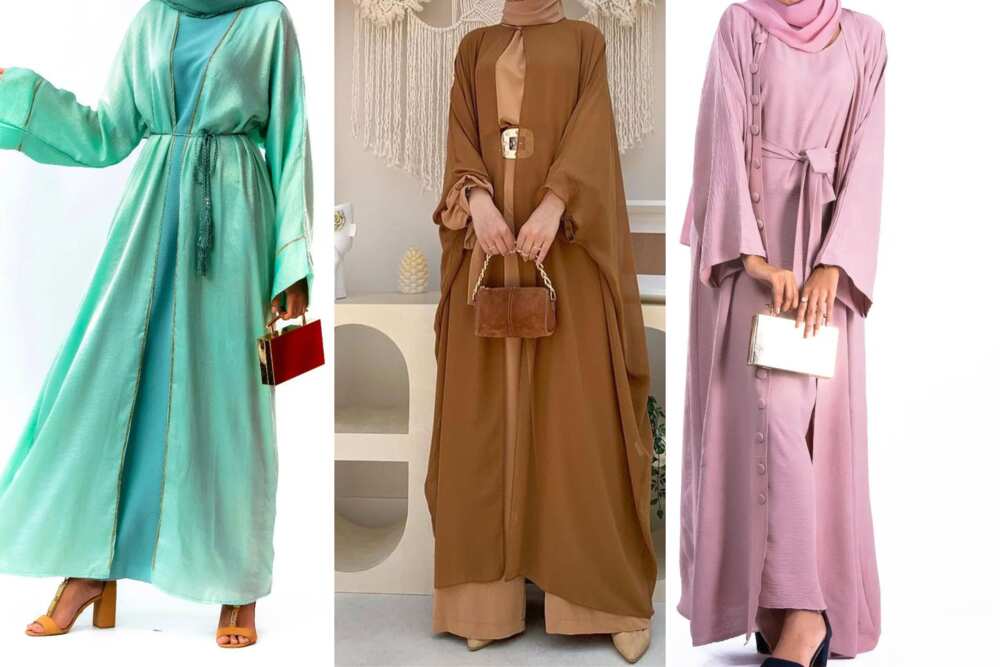 In every outfit, accessories are key, and most ladies have mastered the art of accessorizing this style of dress. With your shoes and bags, you can go for contrast, bright colours or a shade that will pop against your outfits.
It can be as simple as wearing beautiful heels and a stunning bag or adding more to the look with unique jewellery and sunglasses.
4. Trench style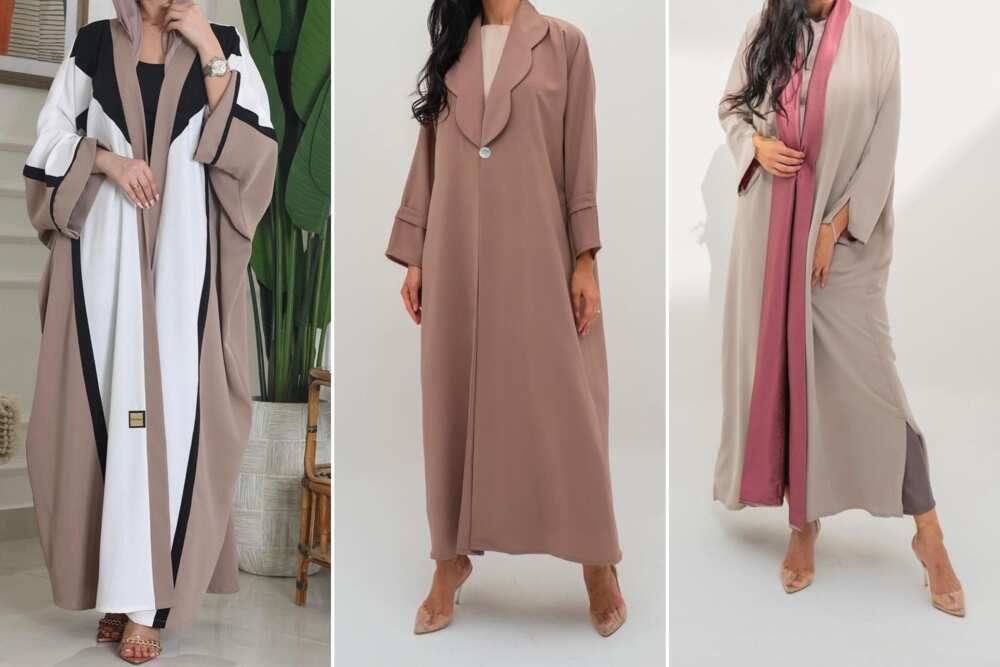 Trench style dresses are among the trendiest abaya styles for ladies in 2023. There are many trench styles, some with buttons and others with lovely belts to cinch the waist. They allow you to style your oufit however you like and are a great modern way to wear one.
5. Silk design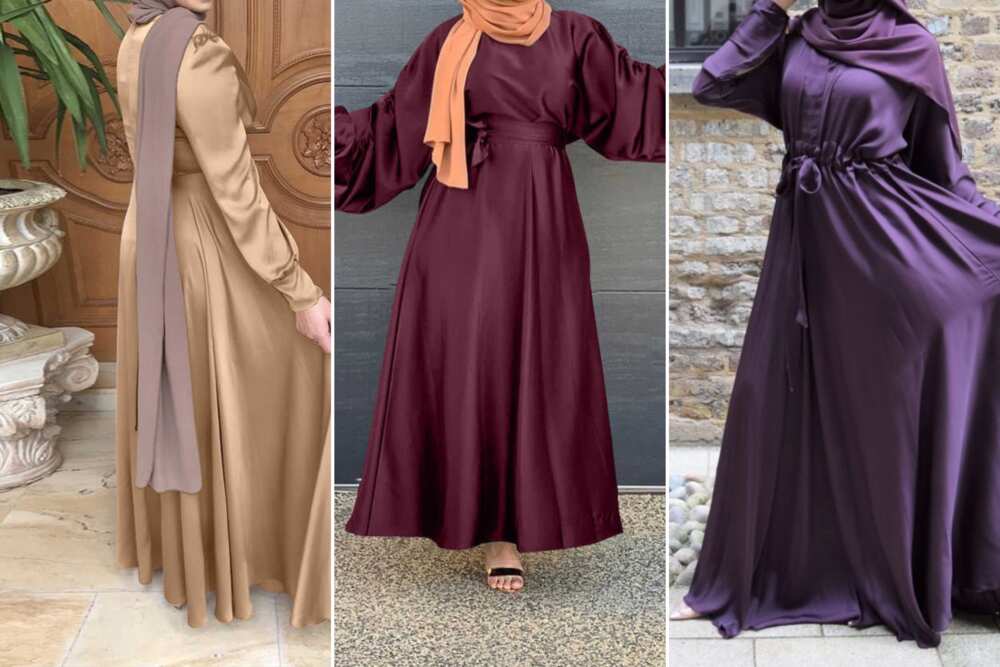 Silk designs are extremely fashionable. Match your entire outfit with the same colour shades, such as pastels, and perhaps get creative with your shoes and jewellery, adding pops of silver and gold.
The versatility of the dress allows it to be fashioned into a variety of designs and paired with a variety of materials. While this type of outfit is typically associated with plain clothing, it can also be worn in various colours, ideal for those who enjoy bright and vibrant looks.
6. Belt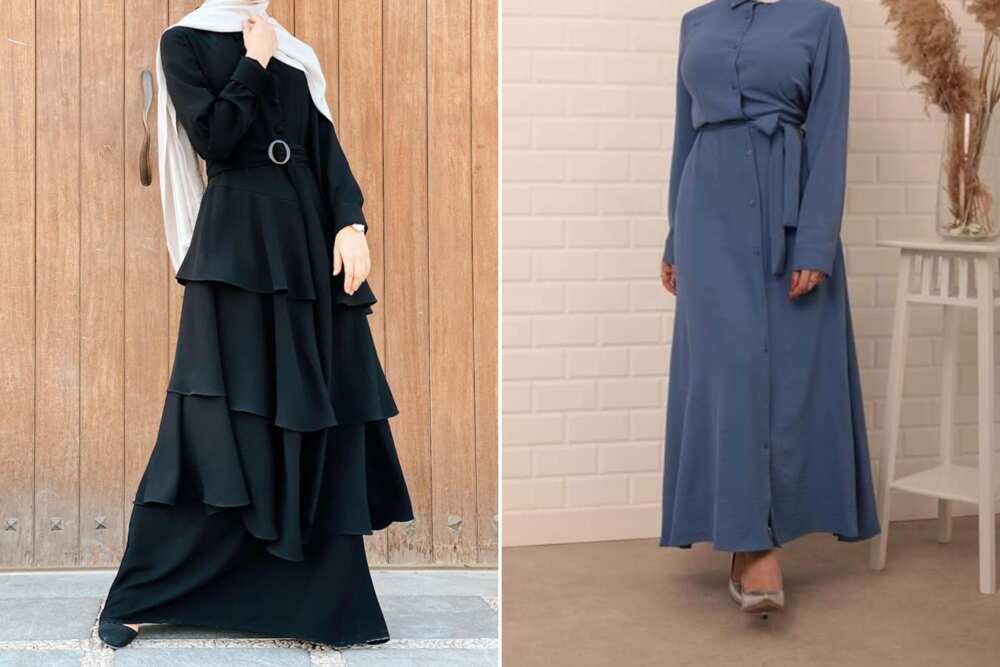 Dresses with belts are stunning, combining the comfort and chic style with the sophistication and freedom of a dress. They are ideal for evening events, and you can pair them with your favourite heels and a lovely evening bag.
The latest abaya styles for ladies in Nigeria are becoming increasingly popular, and everyone is attempting to look great in their unique way. Some of the new designs shown above will make your entire closet viral.
READ ALSO: 40+ Native styles for men for 2022: All the latest designs to rock this year
Legit.ng recently published an article with 40+ native styles for men to rock in. Fashion for men in Nigeria has been changing gradually. Today, men's outfits have blended traditional elements with modernity. African clothes are quite popular in the country, especially at parties and social functions.
Nigeria has talented fashion designers who have gained international recognition. There are numerous native styles for men in Nigeria that you can tailor for your body. These outfits are fashionable and elegant, making you stand out in any crowd. They are usually based on the traditional outfits of various communities.
Source: Legit.ng