Plus size wedding dresses for stylish brides
Are you preparing for one of the main events of your life, and instead of joy you feel tired? Do you feel confused about what wedding dress to choose to look incomparable during one of the most important days of your life? It is normal because the most difficult choice for every bride is picking the prefect wedding dress. In this article, legit.ng will help you to select among the best plus size wedding dresses that stand out today.
A wedding dress can be not only in traditional colours. White seems the most logical and right choice. But where did the white colour come from, and has it been considered the only possible option for a long time? In European culture, for example, the white bridal outfit made Queen Victoria popular in the 19th century. Before that, the blue colour, which was associated with Saint Mary, was considered more traditional. In other cultures, including Nigerian one, girls often wear red, green or yellow outfits that symbolise good luck and prosperity.
Plus size wedding dresses in lace
Lace outfit on the bride looks like a gentle web. A luxurious lace dress subtly emphasises the figure, plus size dresses underline juicy forms of a woman. Moreover, it charms with its unusual patterns.
Lace wedding dresses are fashionable already for a long time. They have become classics of wedding fashion in Europe, in America and African beauties often choose lace dresses too, so it is undoubtedly worth it that you pay attention to them when choosing a wedding dress.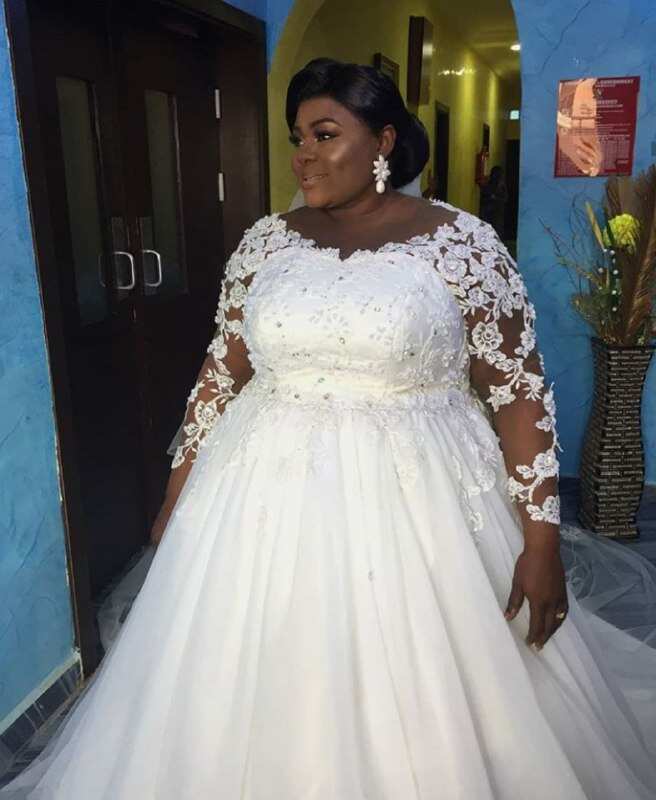 And one more advantage of lace is that this tissue is very enticing. In a white lace wedding gown, the bride will never look vulgar! With the help of lace, you can emphasise your most advantageous parts of the body: bust, waist curve, and hips. The bridal gowns from tight lace, unlike stretch, will definitely hide all defects and create smooth and very feminine curves. You can also add a cape made of lace to create a gentle and delicate look.
READ ALSO: Best lace styles for ladies to wear this season
Plus size wedding dresses with long sleeves
The plus size dress always looks better with the sleeves! If your dress is decorated with sleeves made of sheer guipure, you will look elegant and mysterious, tender and feminine at the same time. We can assure you, if you decide to buy a wedding dress with long sleeves — you will remain in the trend of 2019.
The form of the sleeve can be different. Kimono, bishop, cape, and angel types of sleeves will look good with oversize dresses while they hide all unnecessary defects of the figure and create imagery of a bright and light womanish stature. However, if you have chosen a bouffant skirt, it is better to resort to long tight sleeves.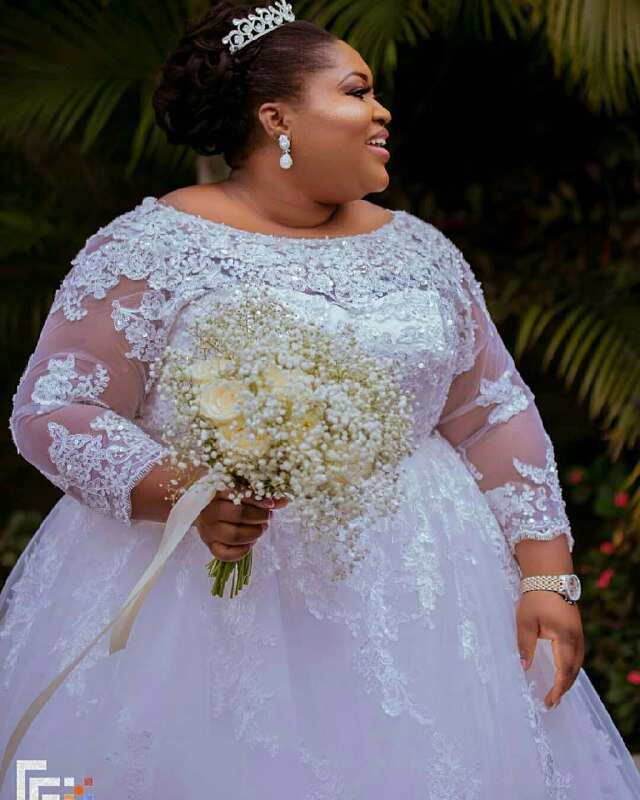 Sleeves should better be laced or transparent. If you chose a dress without sleeves and then regretted it, then complement your look with a boa, a cape, or buy a very long veil that will cover your hands.
V-neck plus size wedding dresses
The women who wear plus size clothing are lucky because they look outstanding in wedding gowns with V-neck! This tricky kind of neckline is well suited for a large bust, but not for small one. V-neck underlines and emphasises juicy forms, but makes skinny and small bust only smaller. However, do not choose too deep neckline to prevent over-focusing on your forms, it can look vulgar.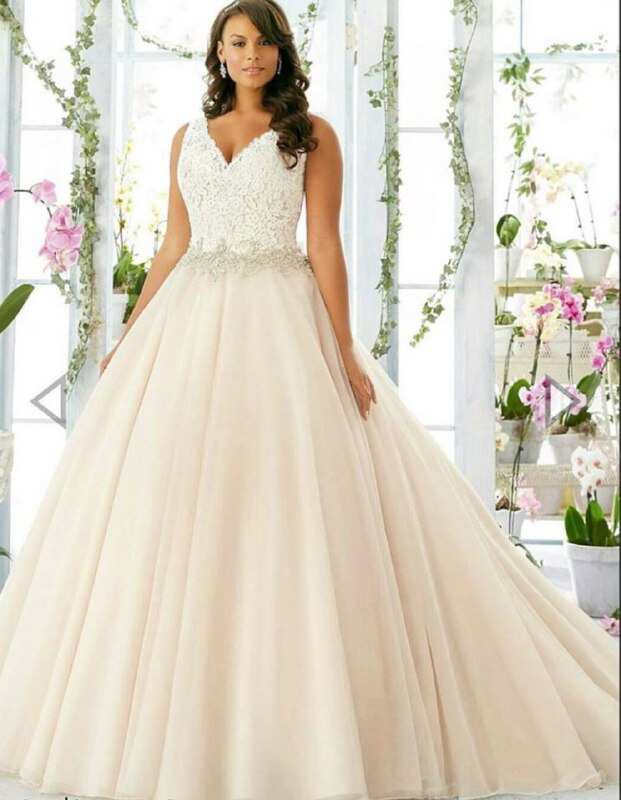 Do not overload your V-neck dress with details, and if you want to decorate the neckline with an accessory, you should also coordinate it visually with the bust size, chose the minimalistic decoration for an impressive breast. Moreover, in combination with noble fabrics and rich textures of velvet, lace, and silk, V-neck looks exceptionally elegant. Such models often combine several types of materials, which creates the effect of a textured game - noble velvet and flying chiffon, exquisite guipure and satin, mesh and shimmering sequin fabric, thick dress fabrics, and leather.
READ ALSO: Bella Naija fashion dresses you will love
Mermaid wedding dress
Among the most popular bridal styles is a mermaid wedding dress. A bride in such a dress looks extremely impressive since the dress favourably emphasises all the advantages of the figure.
Why do women who wear big sizes are likely to choose the mermaid style? It is obvious! The way the V-neck dress emphasises beautiful breast, mermaid dress underlines jaw-dropping hips of African beauties! From above, the dress fits tightly to the middle of the hips or the knees and then expands to form something like a fishtail.
With an elegant silhouette, mermaid style wedding dresses are the most feminine and beautiful models. They favourably emphasise the enticing curves of the female figure. Imagine a sophisticated mermaid wedding dress with lace (as we spoke about it above in the article). It will be a marvellous combination!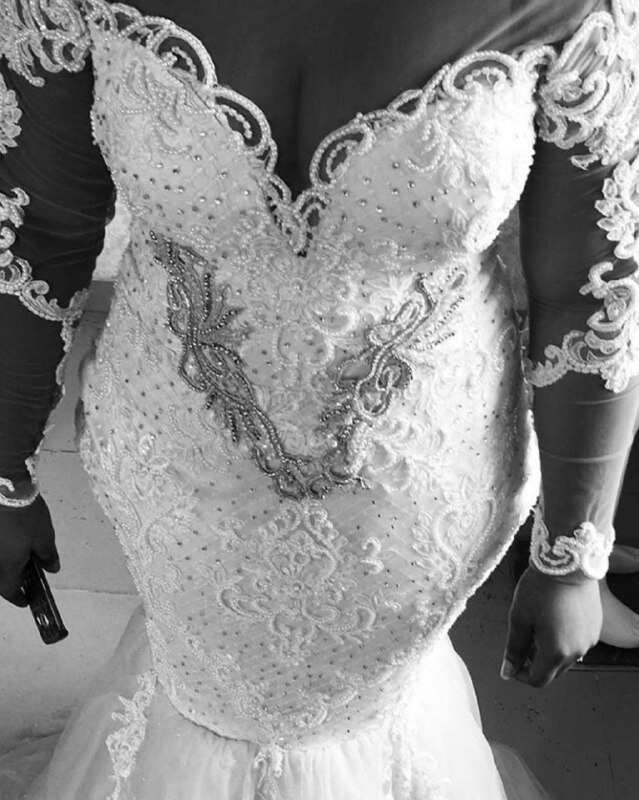 Beautiful wedding gowns
There are many variations of beautiful oversized wedding dresses. Their choice depends on the type of figure of every lady. Here are some variations of beautiful dresses for those who wear plus size clothing.
If you are the owner of noticeable belly and at the same time narrow hips, a dress in the Greek style will suit you. This long dress with a high waist successfully hides the stomach, underlines your breast and impressively sides down to the floor. As a rule, such dresses are made of lightweight fabrics that flow through the body, so it is essential to wear corrective underwear so that nothing extra can be seen.
Another way to hide drawbacks of the body is a corset. The waist and abdomen will be perfectly stretched, and full hips will be hidden under a wide skirt. If you have a big bust, emphasise it with the help of this style, choose a model called bustier.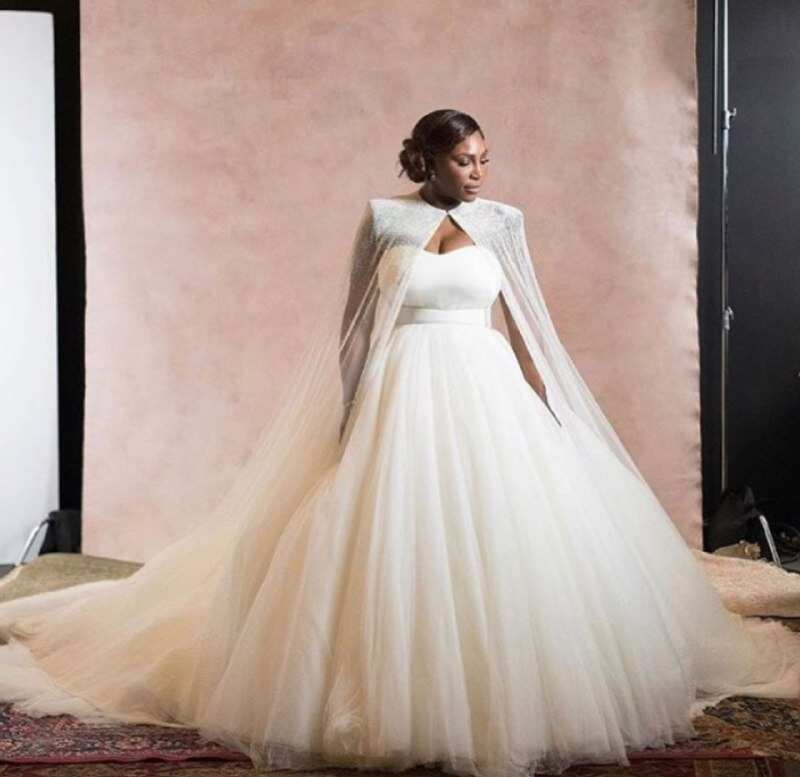 Short, oversized wedding dress. Why not? Of course, it will not suit everybody. Remember that a dress of this length should not be too open or vulgar. The length should be slightly below the knee, and the presence of sleeves is preferable. There is a good rule: if you open your legs, hide your breast.
There are neither too big nor too small women; it is the clothing that suits them or does not. So do not hurry to buy the first dress you find in your size, look through more variations. Remember that every woman has a unique and individual stature, and every woman enjoys distinct advantages of her figure.
READ ALSO: Latest cord lace styles in Nigeria 2018
Source: Legit.ng