Latest George styles: blouses and gowns for traditional marriage
George fabric has become popular in Africa, with its vibrant colours that stand out among other fabrics. The largest percentage of the material is sourced from India. Different people have also embraced the fashion and now include the latest George styles in their cultural and corporate wear.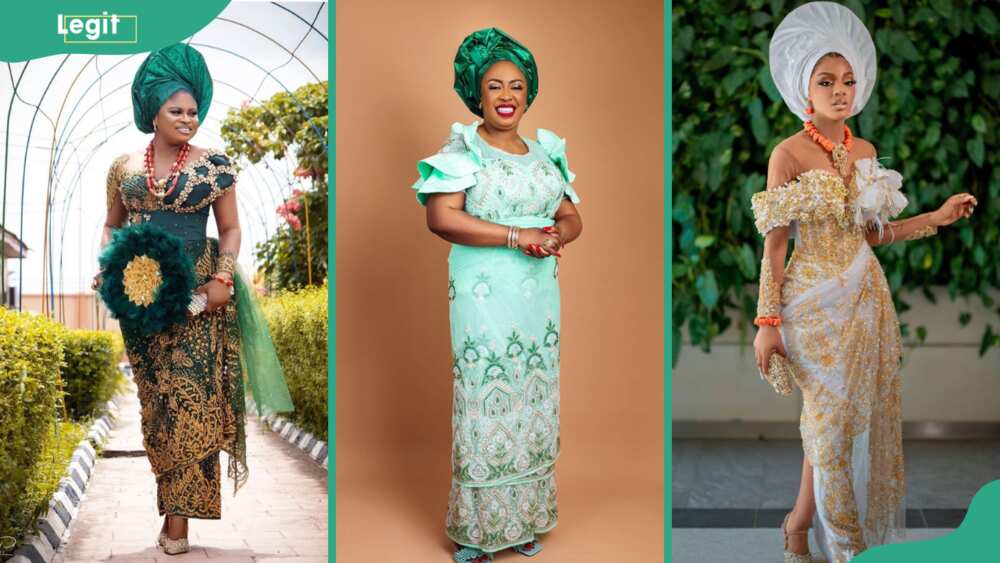 Initially, George garments were meant for the rich or people with social significance. However, as fashion continues to experience a shift, they have become accessible to people of different social classes. The George fabric is used to design different clothes for traditional weddings, birth ceremonies, and other social events.
Latest George styles in Nigeria
George fabric comes from viscose or a semi-synthetic fibre created by dissolving wood pulp before refining it into a filament. The final material feels like cotton, though it comes with a deeper softness to the skin.
Various George materials are available, including raw silk, lace, and taffeta. They also come in different colours and embroidery patterns, making them suitable for stylish women and brides.
If you are looking for a perfect outfit for your wedding, here are the trendy George material styles for traditional marriage.
Indian George blouse styles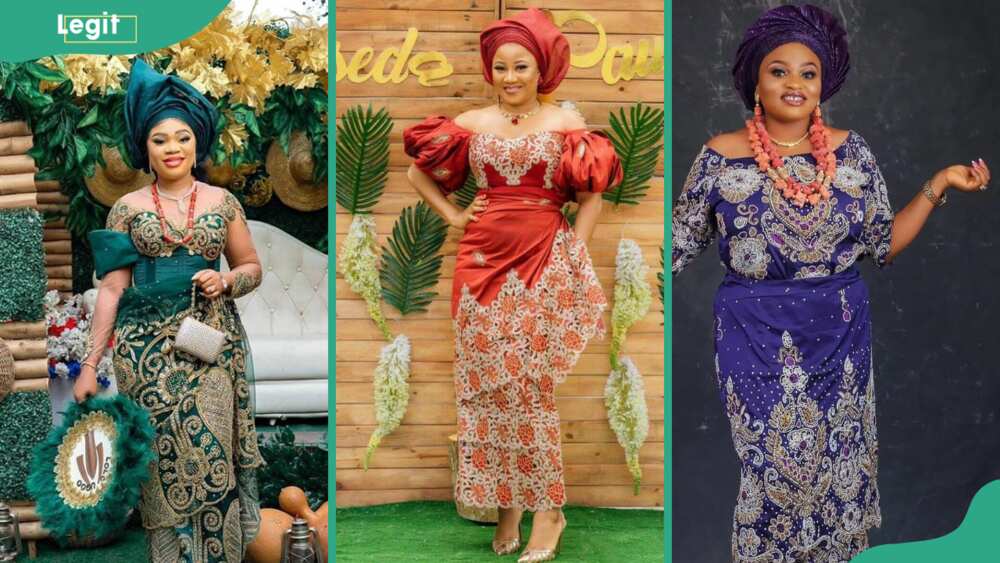 India is known for its keen eye for traditional attire, and George styles are among its unique choices. Indian women are mostly recognised for their love for long, colourful dresses with neck, wrist, and waist jewellery.
While there is a vast collection of Indian clothes, the trendy varieties include the Indian George blouse styles. This style comes in luxury fabrics embellished with faux pearls, beads, and sequins.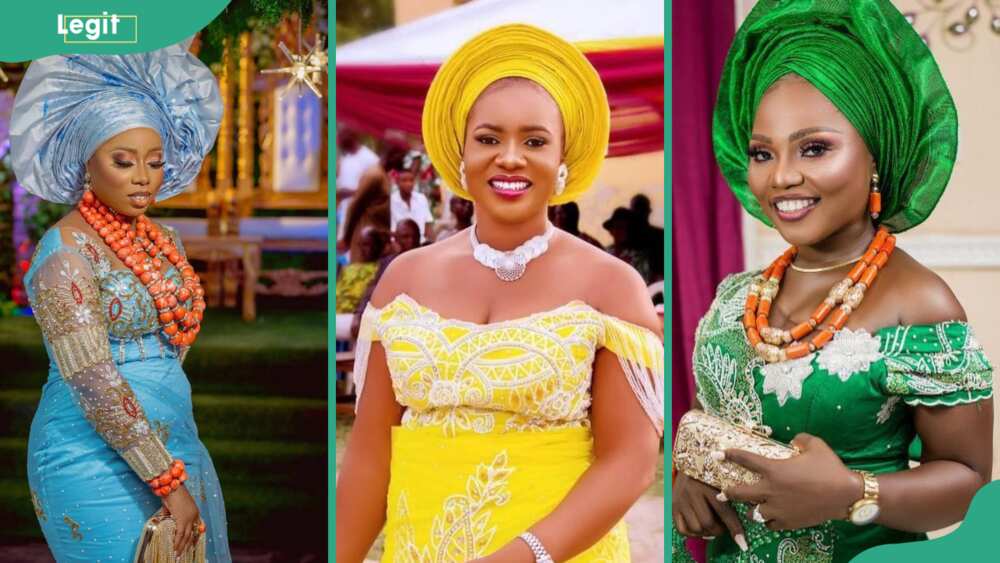 They also feature exotic floral patterns that grace the fabrics, making them great for women who want to look wealthy and bright. Other latest George blouse styles also have beautiful outlines on the necklines, shoulders, and wrists.
You can wear these blouses with matching wrappers or headdresses. You can choose between short-sleeved, long-sleeved, or sleeveless blouses.
White George styles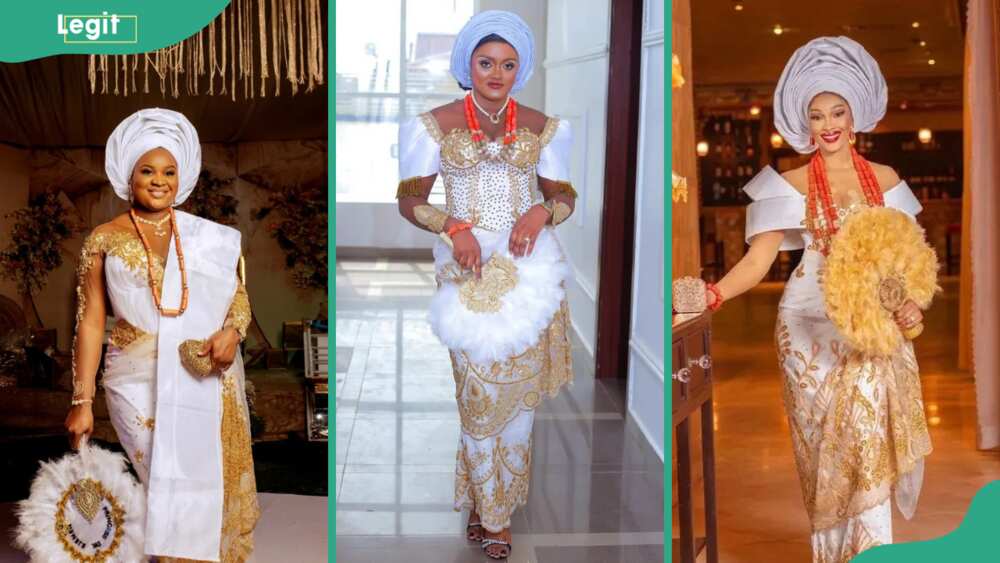 White has never gone wrong in any event. If you want to look stylish and clean at your wedding, choosing white is the way to go. These gowns, blouses, or wrappers offer effortless dressing and allow you to match them with any accessory of your choice.
They also come in different materials, though the common materials among the traditional marriage ceremonies are lace and Ankara. Popular white George styles include off-shoulder, one-shoulder, V-neck, round-neck, and sleeveless styles.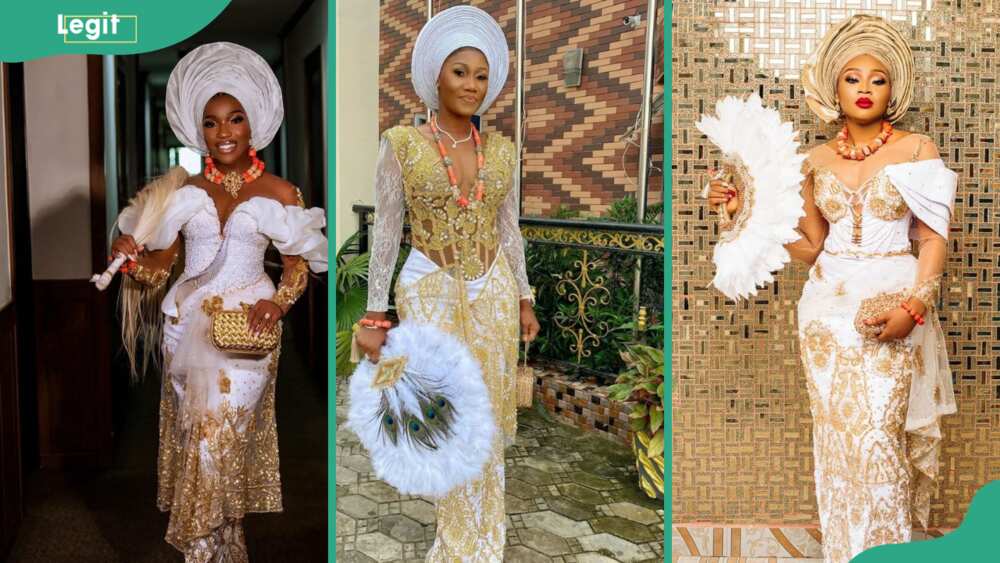 You can also get those with matching wrappers, head ties, or waistbands to complete your traditional looks. Since white styles simplify your dressing, you can match them with a white or silver-grey clutch purse, beaded necklace, and earrings complimenting the entire outfit.
Types of George materials for young and old women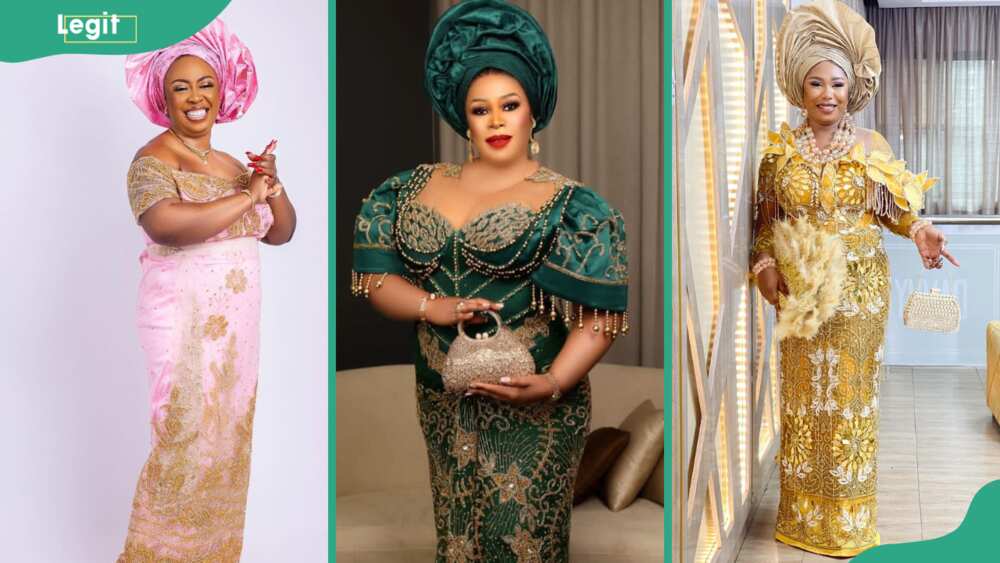 One unique thing about George attire is the gold designs that appear at the edge of the fabric. While they are easy to design, they need a professional designer to produce the perfect look to match the wearer's taste.
The latest styles for George materials include gowns, corsets, and Aso Ebi styles. These are common among Nigerian women who want to display their artistic fashion during traditional marriage ceremonies.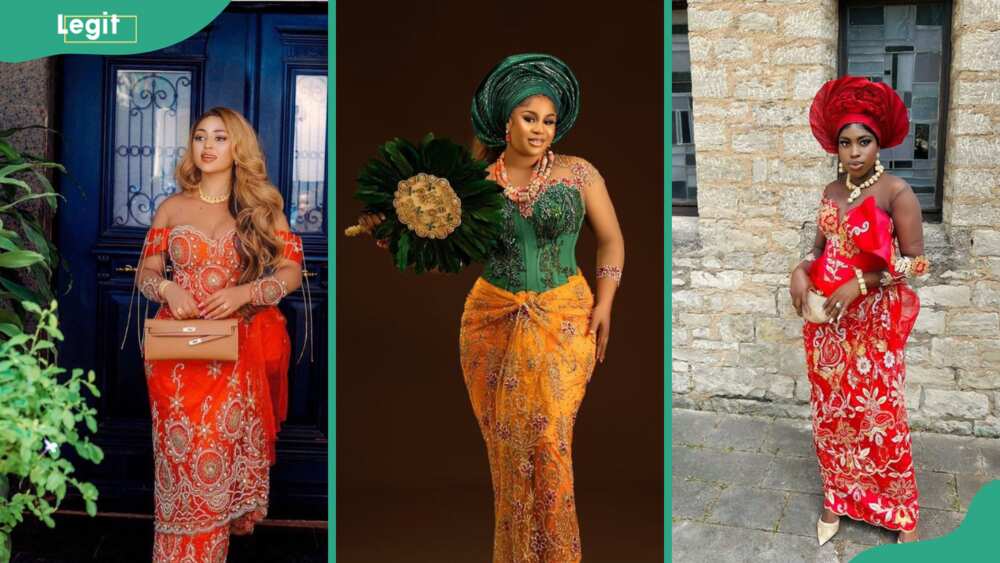 They are made from high-quality George materials and come in different sizes and designs like mermaid, butterfly, and those with puffy sleeves.
The gown designs are comfortable for a long time since they are mostly free-flowing and breathable. Common styles include fitted gowns highlighting the body shape and short gowns making the wearer sexier.
The corset designs are another way to accentuate the wearer's beauty. Although they are almost similar to fitted gowns, they are common among women who want to look slimmer at the waist with noticeable curves.
Unique and stylish George styles for ladies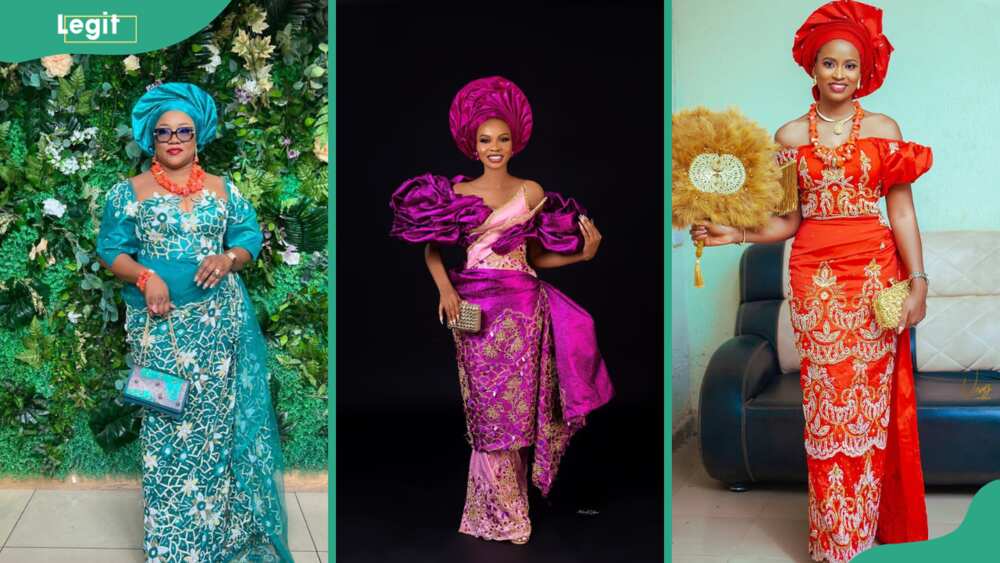 Although George styles for mothers were common in the southern part of Nigeria, other regions have also implemented this trendy fashion. Seeing more fashionistas incorporating these designs in their wardrobes is no longer surprising.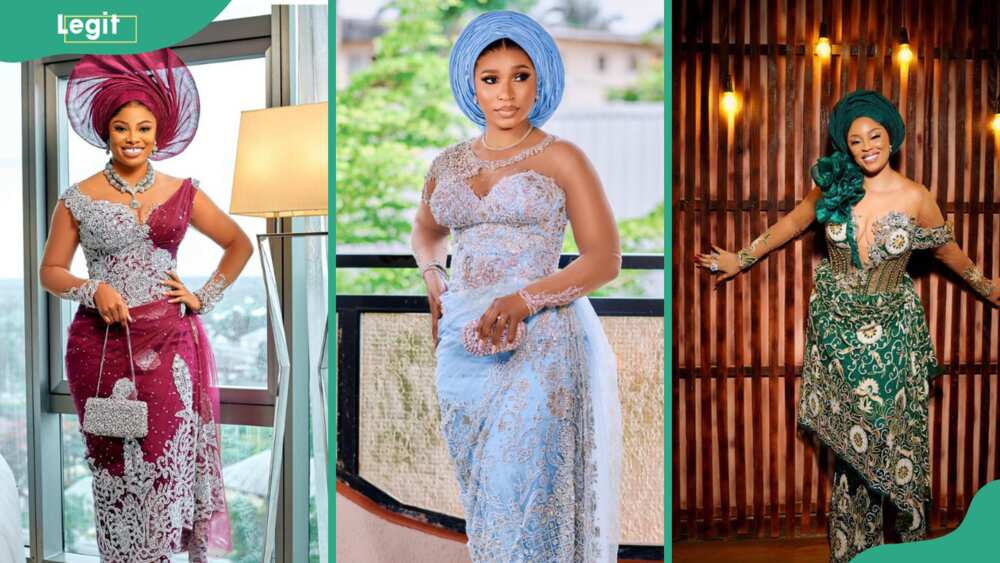 Those looking for something that can fit any occasion can choose simple yet stylish outfits, such as long-sleeved or short gowns. You can also find stoned, beaded, or jewelled designs with matching accessories such as gele, necklaces, earrings, and wrist beads.
The latest George styles for traditional marriage ceremonies have their ways of making the wearer look expensive and comfortable. Although common among Nigerian women, they have also gotten their way to other countries due to their ease of styling.
Legit.ng published an article featuring different kaftan styles for men to wear. A kaftan is a long, loose-fitting garment with long sleeves that reach the knees or ankles. Some kaftans resemble shirts, with sleeves that fall three-quarters below the elbows.
This simple, comfy, and elegant clothing was initially made for Hausa people and is popular throughout West Africa. However, it is steadily making its way to other parts of the world, and current Hausa male kaftan patterns are already prevalent.
Source: Legit.ng