Classy corporate gown styles: go to the office with style
Corporate gowns refer to clothing worn to formal occasions, meetings, interviews, and offices. They can be styled in a body con manner, straight-cut or flared, long, three-quarter or short, and many more ways to make one look bold and elegant. Corporate gowns offer versatility and an uncomplicated way to get dressed rather than mixing and matching separates. This post consists of cute and captivating corporate gown styles you can wear to the office anytime.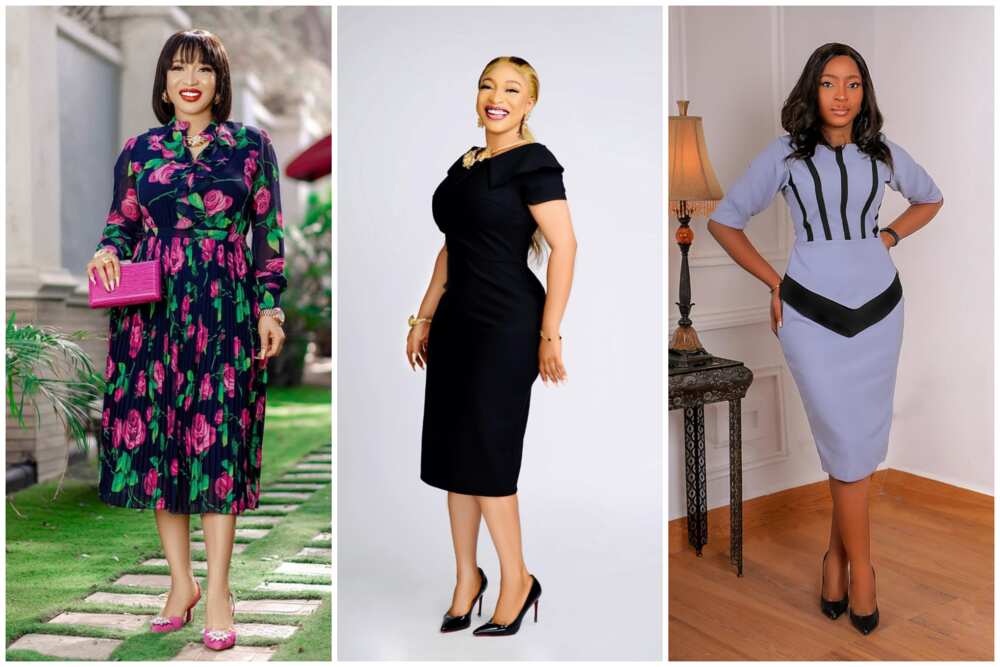 Corporate gown styles are an excellent alternative to classic suits in a modern-day office. They can be made with different materials to create amazing gown styles that are perfect for work. The gowns can also be worn for various other suitable occasions such as church, weddings, and parties. Below is a list of corporate gown styles you can comfortably slay in at work.
Classy corporate gown styles
Office wears are not necessarily skirts and shirts. You can always spice things up with classy and elegant corporate gowns. They can be straight cut or flare, long, three-quarter, or short. Clothes that look baggy on the body, too revealing, and exposing are not recognized as corporate wear.
Black and white polka dot office gown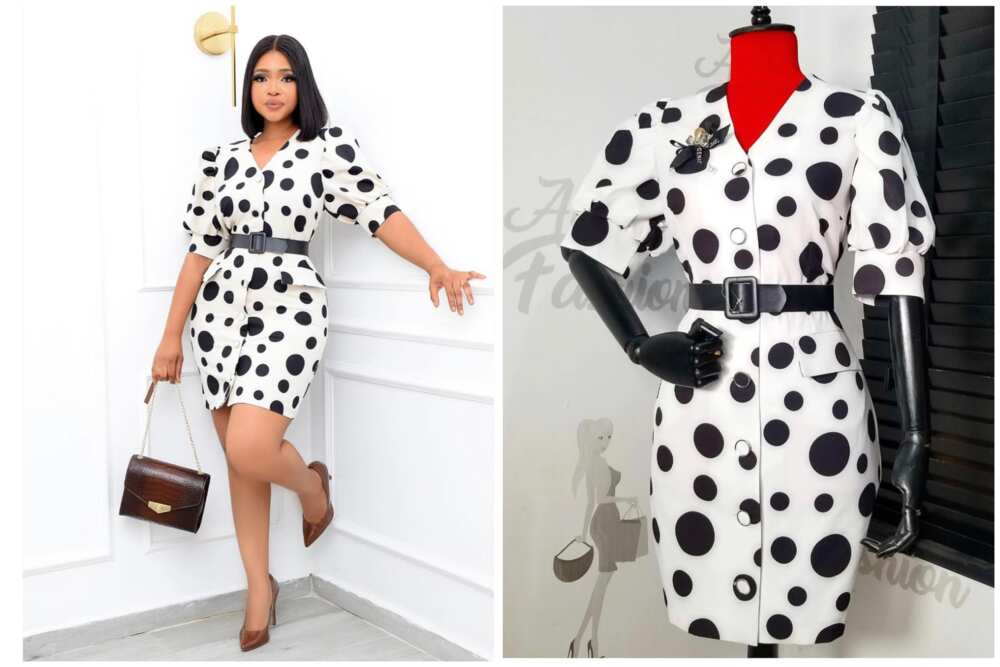 Black and white polka dots are one of those trends that continue to find their way into the world's stylish wardrobes season after season. A dress with this pattern is simple and will go great with a lot of different accessories. Those who prefer polka dots have also been identified as diligent and multi-taskers. Adding polka dots to your everyday formals can enhance your personality.
Black office dress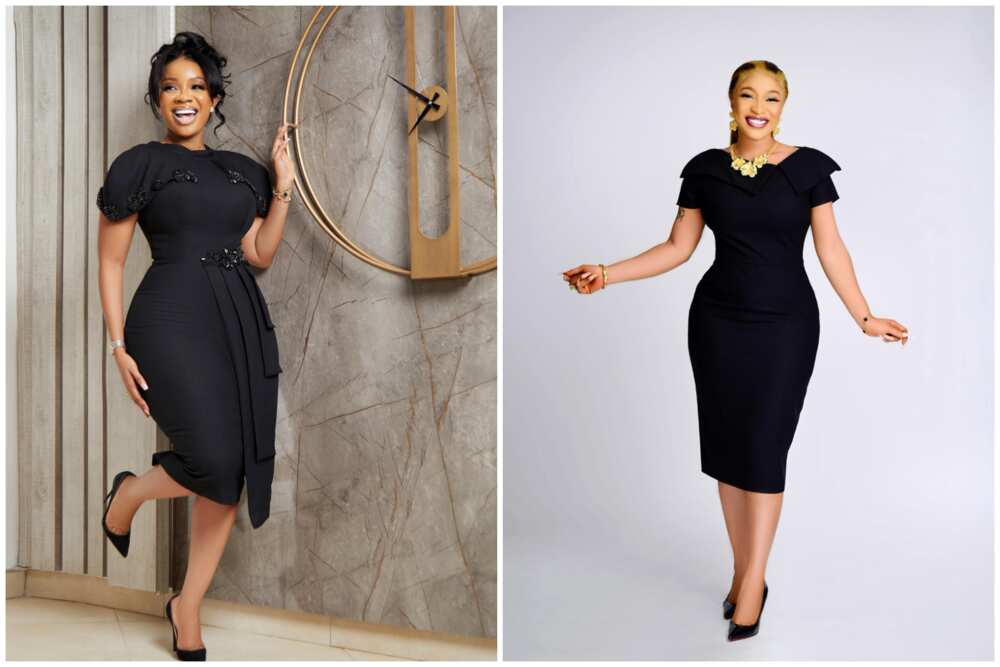 A black gown has never been a bad idea for an office dress. Usually, black colour is associated with formality and elegance. It is also considered the colour of leadership and can be combined with accessories of any colour of your choice, including red, blue, and yellow.
Shirt office dress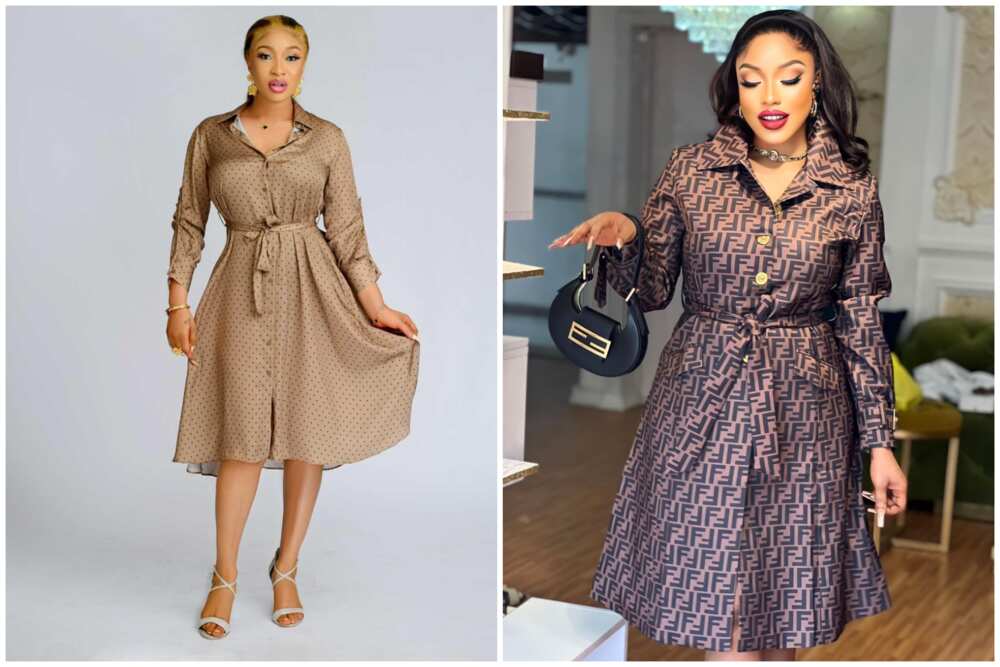 A shirt dress seems perfect and timeless to wear to the office as long as it is styled correctly. Make your shirt dress office-appropriate with the right accessories. Go for smarter shoes, like classic heels or elegant loafers. A belt or a sash will be an excellent idea to highlight your waist.
Floral office gown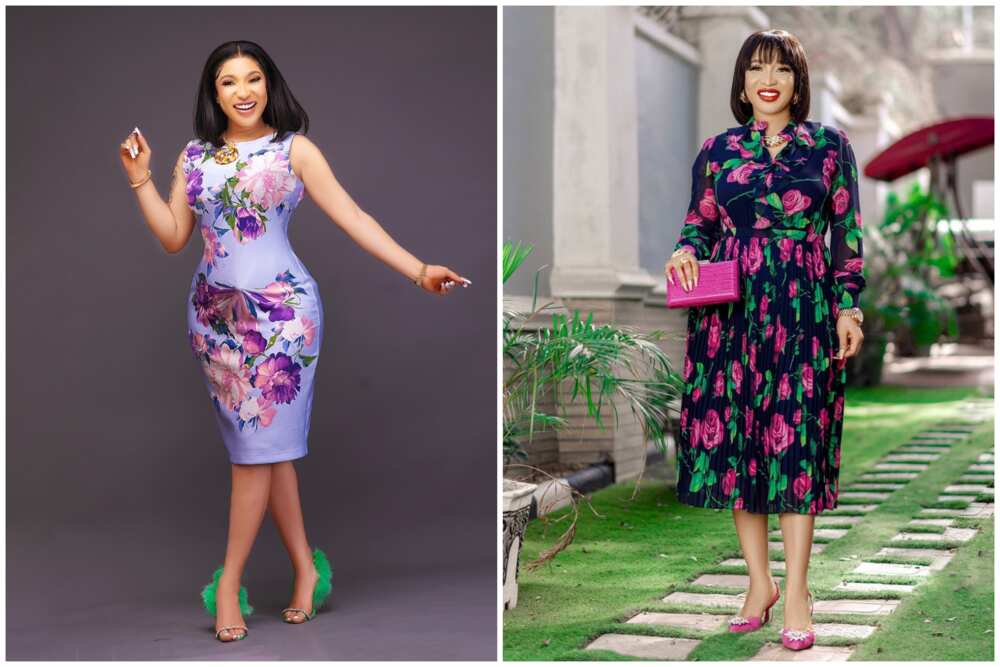 Floral prints are stylish and office appropriate, providing a fresh alternative to corporate ensembles. Medium-size abstract flower prints are best for the office. Matching shoes and purse pair well with work attire when you ground the print.
Black and white gown
Black and white is one of the most iconic colour combinations in interior design history for its timelessness and versatility. The combination has been a favourite of every fashion enthusiast and will never go out of style.
Sheath dress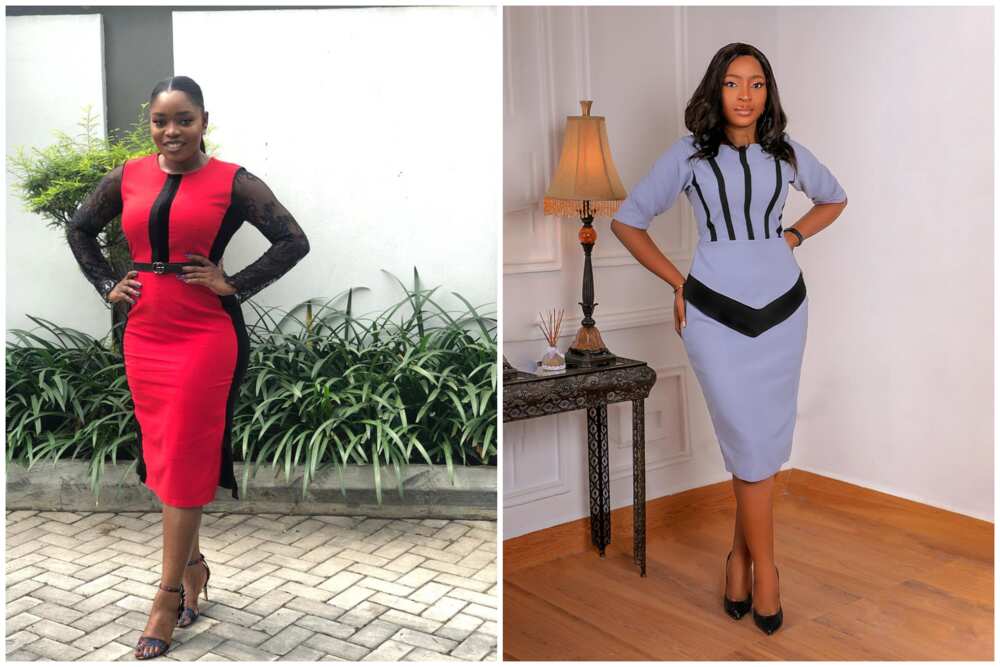 Sheath dresses are a staple in any work wardrobe. They are form-fitting at every point, from your bodice to your hips and to your hem. The pencil-shaped skirt hits just below the knee and features a flattering high neckline. Since the silhouette is so tight-fitting, sheath dresses will often feature slits to allow you to move freely.
Ankara office gown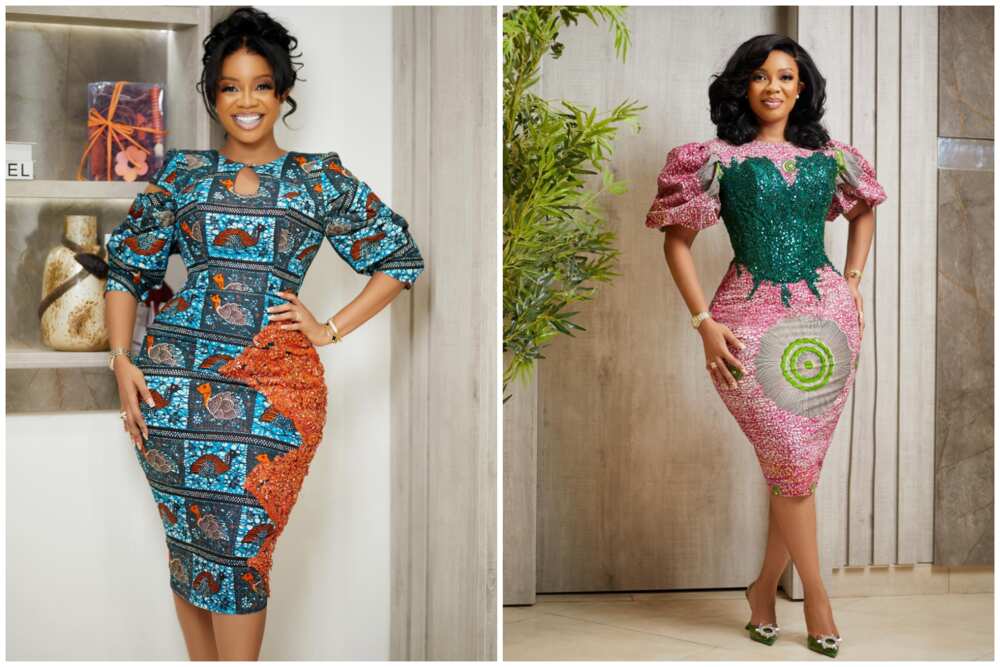 Ankara corporate gowns are also an excellent choice for gorgeous ladies to rock to the office. A well-fitting Ankara dress is the perfect style for the office. This design will definitely give off a formal look. Not only is it creative, but it is also stylish and very acceptable in workplaces. Give it a beautiful styling and enjoy the look.
Black and white striped office gown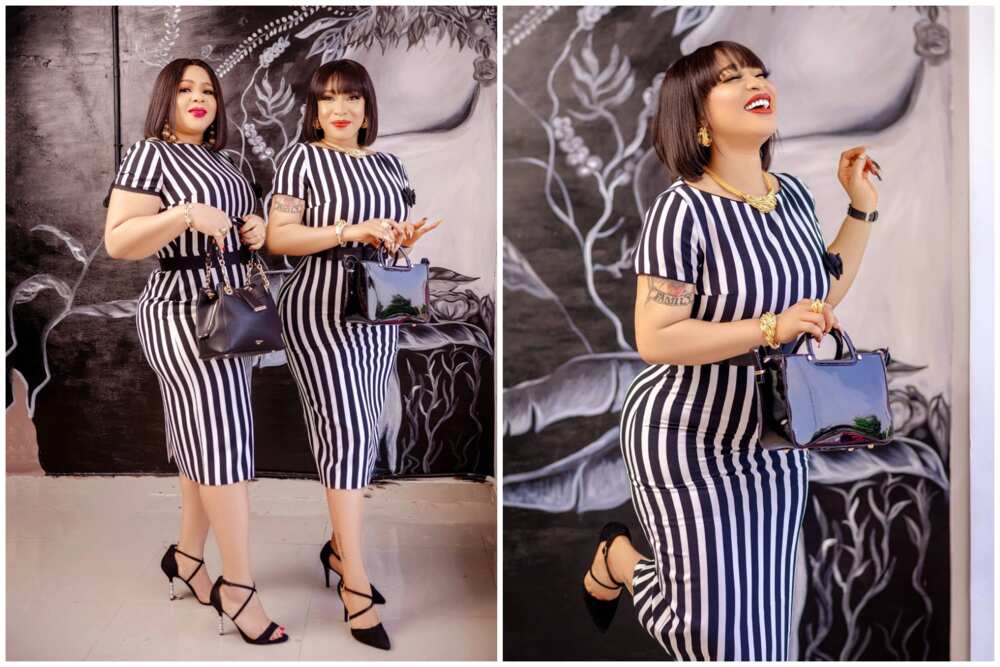 A striped dress is a simple yet feminine closet piece that you can easily spruce up with other stylish gems from your wardrobe. They can also be worn by themselves and brought to life by fashionable shoes and accessories. A striped dress creates the foundation for your day's look, where the outfit leads solely to your creativity and the occasion.
Purely white office gown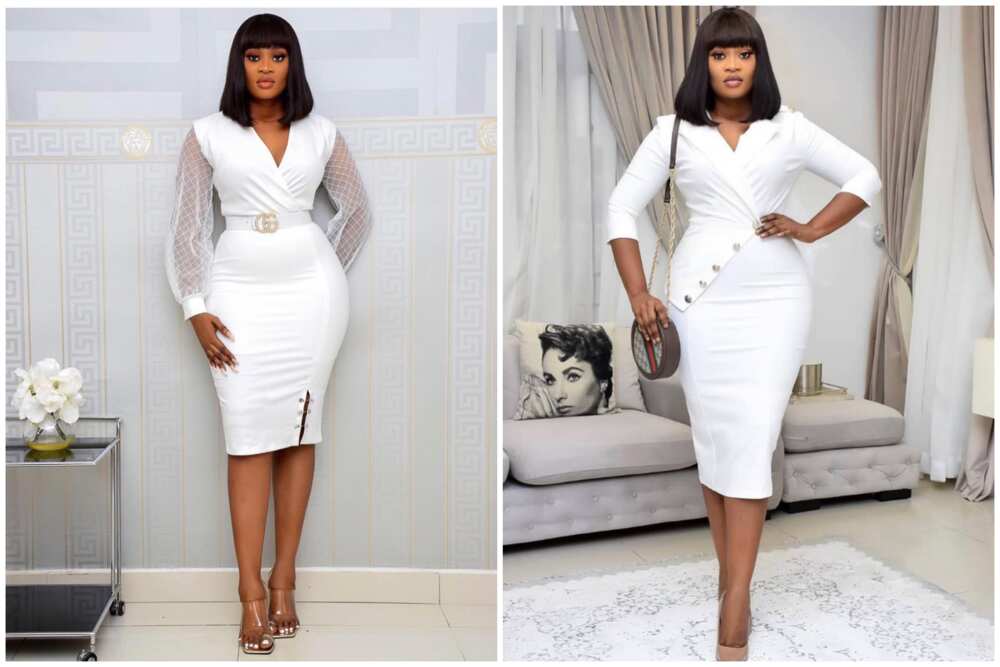 Like black, you can hardly go wrong with white. The white dress looks stylish and classy and can lend sophistication and elegance to a formal work event. Rock your white dress with the right accessories that allow you to have fun with self-expression, such as pearl earrings, a gold necklace, and heels.
Peplum gowns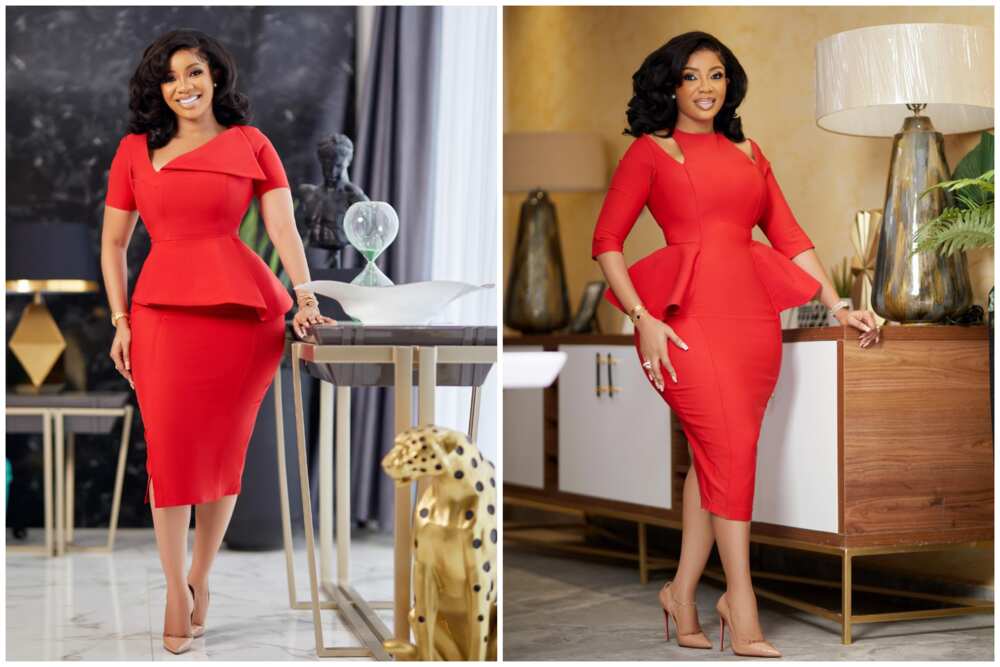 A peplum dress is a short gathered or pleated strip of fabric joined at the waist of a woman's gown to form a hanging flounce. Peplum dresses have been the rising trend for quite a number of years. They are popular due to the waist flounce that it creates, giving anyone who wears it an aura of vintage charm while making them look unique and classy. These gowns are surprisingly versatile as they can be worn for various occasions.
Kimono gown styles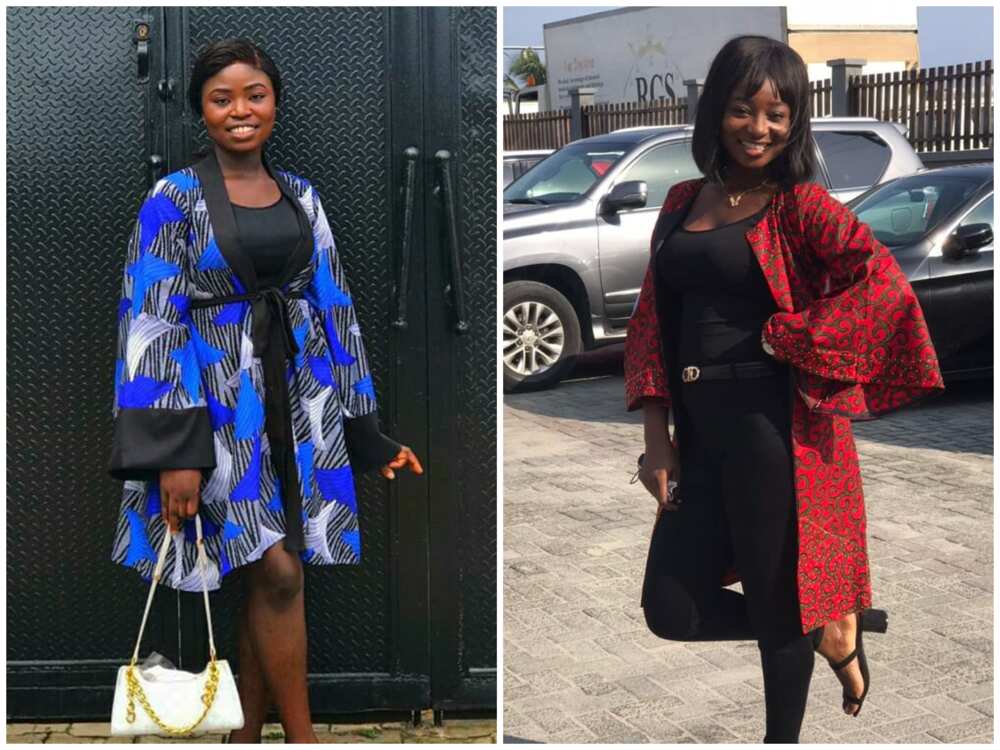 The kimono gown is one of the many styles of apparel that most Nigerian women want to wear for various occasions, including to the office. This outfit will give a bold and confident look. It is also very cosy, and you can wear it over a simple outfit to spice it up.
Patched gown
Adding unique design elements like the Ankara pattern gives it a relaxed African vibe. The Ankara patches make the gown pop and add a unique identity to your style. Patched gown designs are really trending. The colour combination is cool. Step out with this gown style and command the respect you desire.
Wrapped gown style
Wrap dresses remain a favourite for many, especially for work. They are most helpful when you need to look extra polished at a big meeting or interview. Wrap dresses are also ideal for pregnant women. Wear one over knee-high boots or with pumps, and you don't have to do much else to look your best.
Blue corporate gown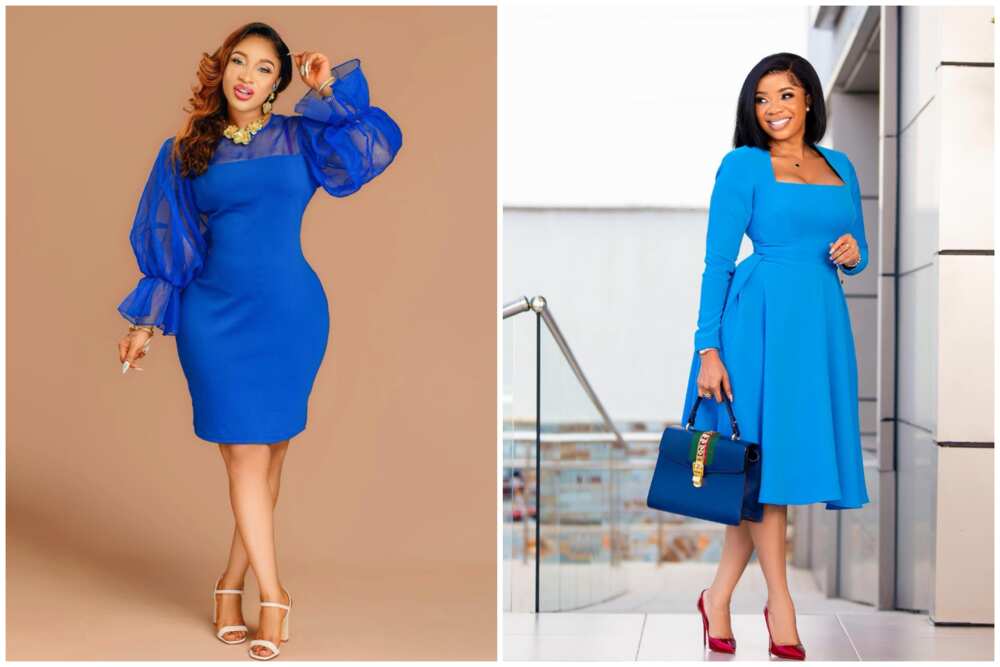 Blue is the colour of truth and wisdom and the most popular colour in fashion. It also has a calming effect and is linked to intellect.
Office halter dress
A halter dress is a beautiful outfit that is mainly sleeveless, and around the neck, there are straps and bands which tie at the back. If you are into sassy style, go for this halter dress, and remember to complete it with a monochrome blazer.
Office grey dress
Grey is a great neutral colour to wear to office or job interviews. It can portray you as a logical and analytical pro at what you do. A fitting grey dress with long sleeves looks pretty sweet completed with brown-heeled pumps. This outfit is the perfect choice during cold days.
Office blazer dress
A blazer dress is perfect for the office, business meetings, post-work holiday parties, or festive nights out with the girls. You can also wear it over a cheekier outfit if you plan to go out on the town after work.
Long-sleeved office dress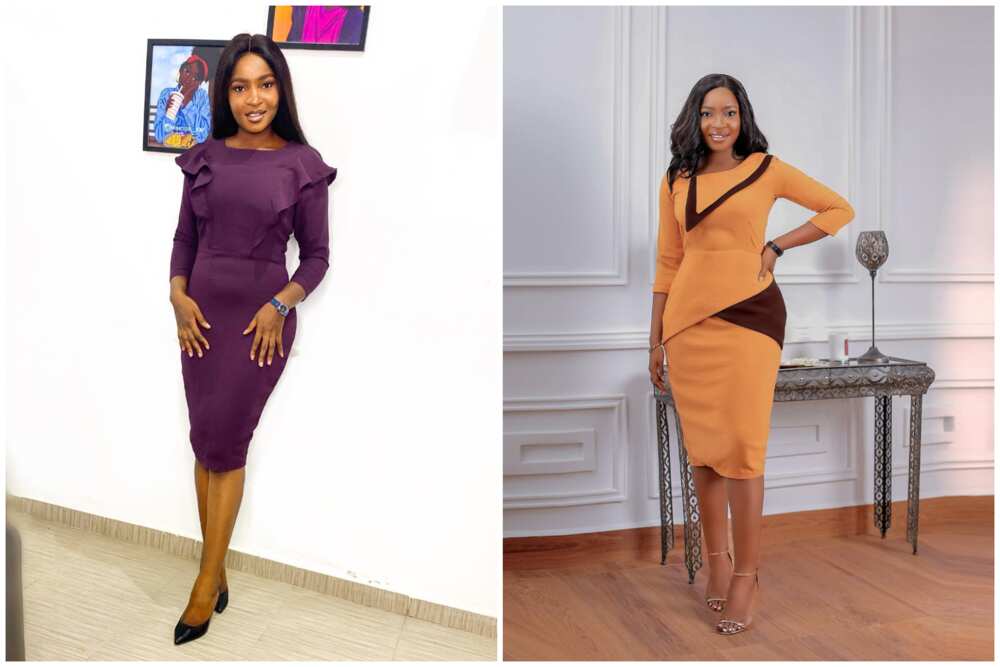 Long-sleeved office dresses are simple and work-appropriate and require zero styling. A midi dress with long sleeves will be an ideal choice for fall season working hours. Complete the look by adding black heels and a matching purse bag.
Office ruffled dress
Ruffles are definitely in style this season, and when worn in small doses, they can add a fashionable edge to an otherwise simple professional outfit.
Corporate gown styles for ladies are special wears that make them stand out, classy and unique. Dresses are considered a way to show your personality in the workplace, whether in a corporate office, creative field, or a more relaxed environment.
READ ALSO: Trendy palazzo jumpsuit styles to diversify your wardrobe
Legit.ng recently published trendy palazzo jumpsuit styles. Palazzo jumpsuits are long trousers or pants that are very loose at the ends, with wide legs that flair or flow out from the waist. They are simple to wear and incredibly comfortable, giving you an exceptional and dazzling look.
Palazzo jumpsuits are a trend that is in high demand among young girls today. They are perfect for summer wear because you can tailor them from light fabrics such as chiffon, cotton, and Ankara. Find out some trendy palazzo jumpsuit styles to diversify your wardrobe.
Source: Legit.ng