Names of Efik traditional attire
When you see an Efik native wedding attire, you can definitely tell it from any other Nigerian wedding attire. It's simply fantastic with all those vibrant colours, elaborate styles and plenty of eye-catching details. Just dive into the bright world of Efik dresses and enjoy the things you will see!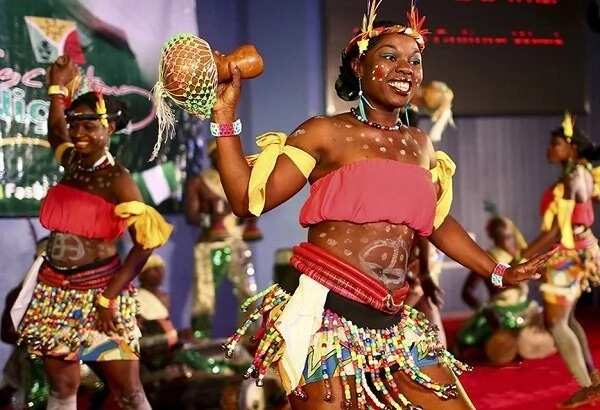 Who are the Efik people?
Efik people are among the most ancient inhabitants of southern Nigeria. They originate from the Ibibio who crossed the river Cross to the east and called themselves "Efik" that means "to oppress". Controlling the Cross River, they developed perfect trading.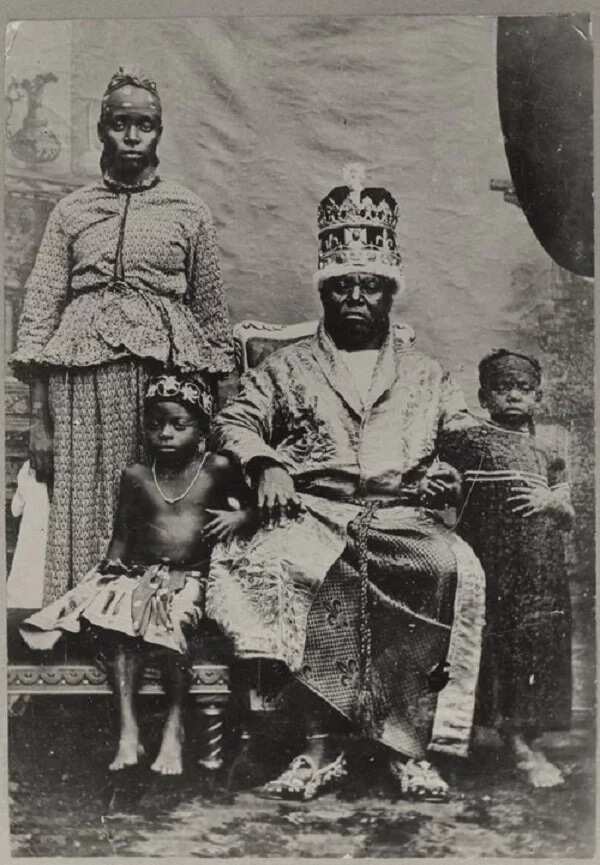 READ ALSO: Traditional Yoruba engagement ceremony
When Europeans appeared in Africa for the very first times, Efik people were the first to bring European goods to their homeland: watches and clocks, umbrellas, firearms, and alcohol. In return, Efik people gave them palm tree oil, nuts, and expensive sorts of wood.
In spite of such close relations with foreigners, Efik people have managed to preserve their culture and customs perfectly well.
Names of Efik traditional attire for special occasions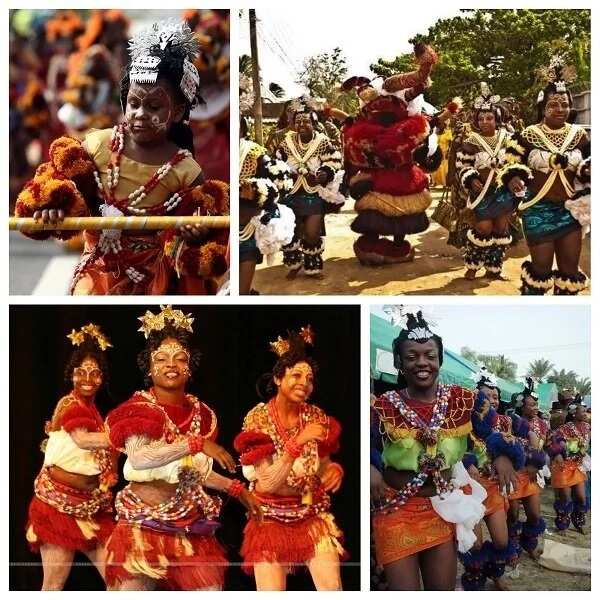 There are different types of Efik traditional attire. Some garments are used for events like Ekpe masquerade or to perform ancient dances. Each detail in such an attire is carefully thought over and has its special meaning. For instance, those who perform a traditional Abang Dance, the dance of beauty and femininity, wear special headpieces called Ibuot Abang. They are mostly decorated with bird feathers that are fastened to flexible cane stems. This is called Basinko.
Such dancers usually have multiple strings of beads around their necks. They are colorful and bright and meant for additional decoration. They are called Nkwaesit Itong. Other strings of beads that are worn across their shoulders are called Anana Ubok, and all those colorful raffias that are worn on dancers' hands are known as Ekpaku Ubok. The raffias that are worn on legs together with bells have the name of Mkpat Etim.
In addition to all this, the dancers wear a kind of skirts made out of cane and called Akasi. Such details are meant to attract additional attention to the waistline of the dancer. In accordance with the traditional Efik visions of female beauty, a healthy attractive woman should have a full waistline.
Members of the Ekpe society cult usually wear ukara cloth. It's a certain sort of blue and white fabric that has the so-called nsibidi signs on it. As a rule, the ukara cloth is used to create a sort of wrapper or is allowed to hang down freely as a mantle. Such cloth is not for everyday use, it's not even for everybody. Yet, it has a very serious meaning.
Traditional wedding attire for Efik people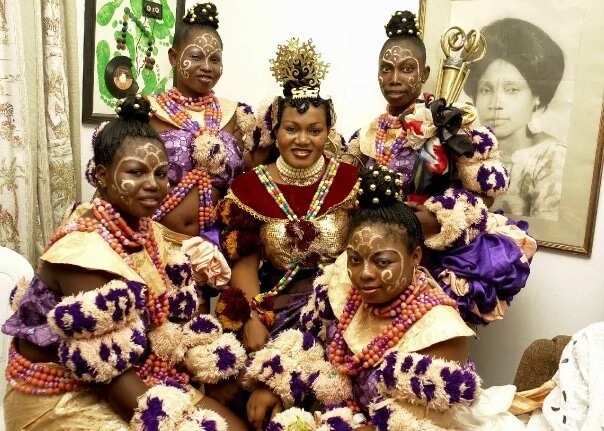 An Efik bride looks like a paradise bird wearing bright shining feathers. Well, the garment that a young woman, especially a bride, wears is meant to show what a desirable wife she is. It's necessary to remember the Efik beauty standards and their love for full-bodied ladies. All this determines the way a wedding attire will look.
There are two main types of Efik native wedding attire.
Ofod Ukod Anwang is one of them. It consists of two pieces, roughly speaking. The bigger one is a kind of skirt that falls down from the waist and covers the bride's legs to the knees. The smaller one is a top that barely covers the bust. All this is meant to show how full the bride's waist is and how healthy, feminine, and desirable she is for any man. Of course, all this is accompanied by plenty of accessories like strings of beads, elaborate head decorations, and so on.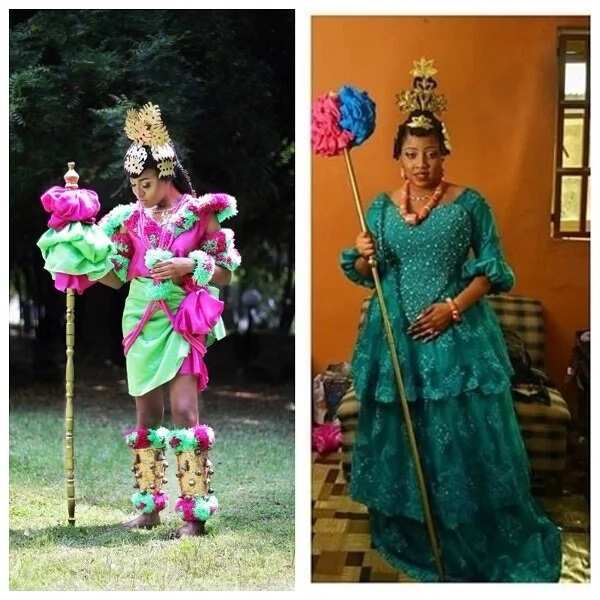 Onyonyo is the second type of the Efik native wear used for weddings. It's a long, flowing dress that looks like a gown and makes its wearer look like a true queen. In most cases, this gown is decorated with coral beads. Heavy strings of other coral beads will surely be placed around the bride's neck.
These attires are accompanied by beaded shoes, lovely accessories, and specific hairstyles that look like real crowns on those women's heads. Of course, Efik women needn't necessarily be as plump as their ancestors would love to see them. Still, the tradition of wearing the Ofod Ukod Anwang is still alive. It allows modern brides to show how graceful their bodies are in any size.
Grooms also look great at their traditional weddings and they, too wear pieces of clothing with authentic Efik attire names. They have white shorts and a piece of colorful cloth wrapped around their waists. They also have beaded shoes and special caps. Around their necks, they wear a piece of cloth called Okpomkpom.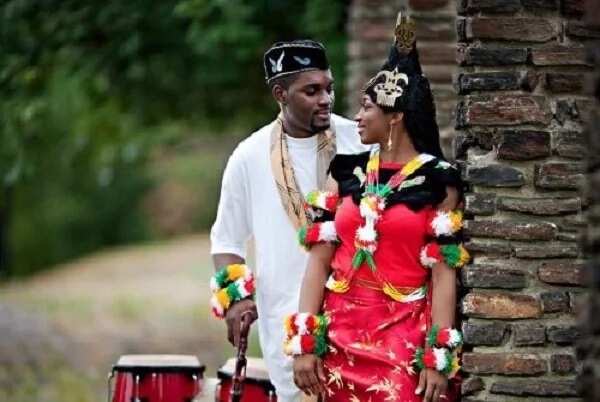 Watching Efik people wearing their traditional attire is a real delight, no matter what the occasion is. It's great that they have preserved their culture letting it shine in the today's world.
READ ALSO: Australian man dazzles at his traditional marriage to Nigerian bride
Source: Legit.ng