75+ small women's unique hand tattoos to enhance your look
Women do a lot of things to emphasise their compelling beauty and individuality. Some choose stylish clothes, while others go for original and unusual inking. There are many places where you can get your ink, the hand being one of them. Being one of the most visible parts of the body, it makes the women's unique hand tattoos the best way to show character, boldness and style.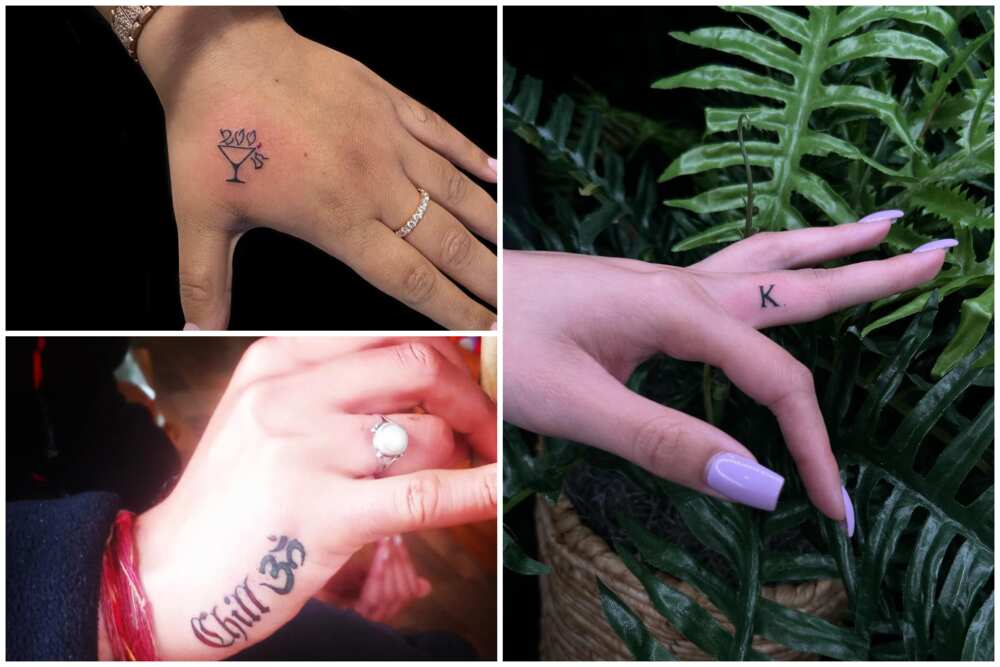 Hand tattoos can be an excellent option for those who want some pictures on their body but want to avoid attracting too much attention. Such decorations are also much cheaper than big designs because, in most cases, they require less working time and ink. Here are some female hand tattoo ideas to pay homage to your favourite things in life.
Small women's unique hand tattoos
Tattoos on hands for women are indisputably beautiful; find inspiration for your own ink, a stylish and exciting trend in modern body art.
Female simple hand tattoos
A hand is a great location to ink something small, simple and remarkable. Have a look at some of the fantastic designs.
Leaves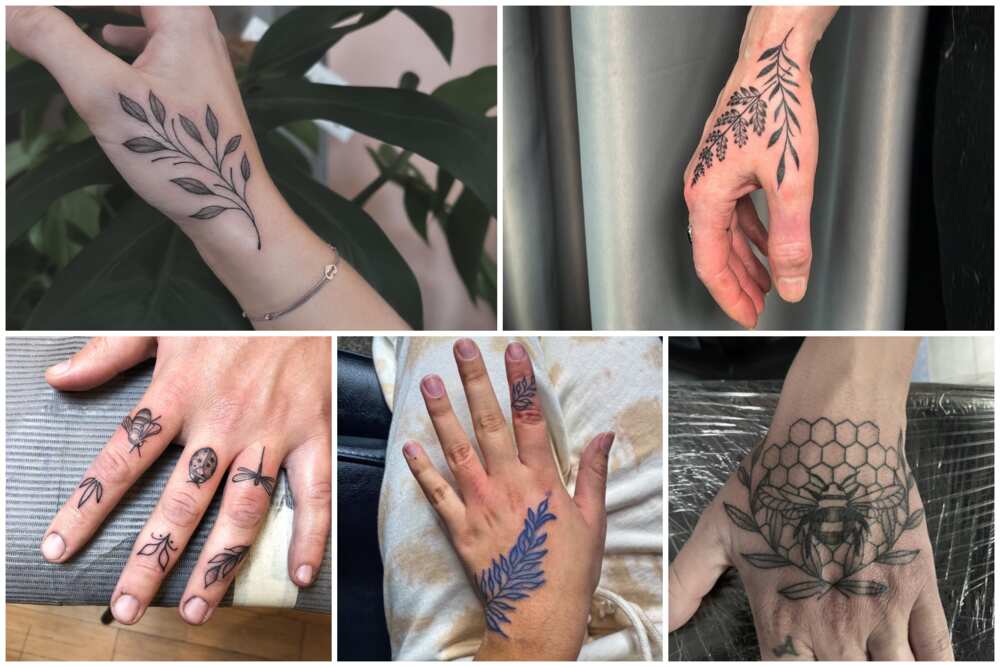 The leaf commonly represents the cycle of life because although the leaf dies, life goes on. This can mean the different life stages you encounter. These small hand tattoos will be an elegant addition to your look.
Flowers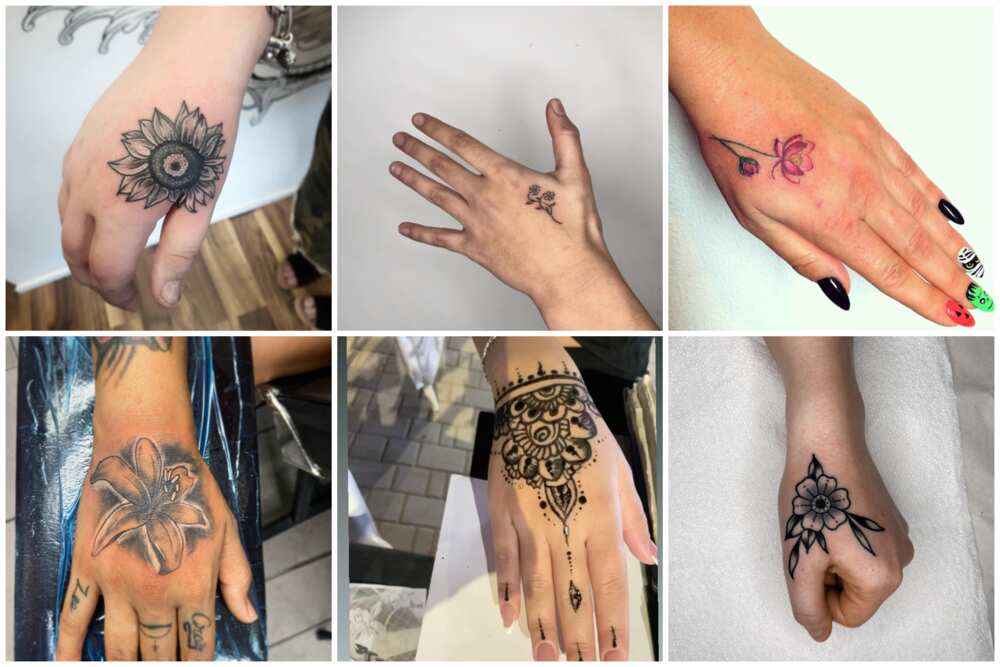 Floral body art is often associated with beauty, feminity and nature. Someone with this ink shows that she is independent and goes against all odds to achieve whatever she desires. It can be simple or intricate, and the choice of flower can hold different meanings. You can go for a sunflower, lotus, lily, clover or tulip.
Rings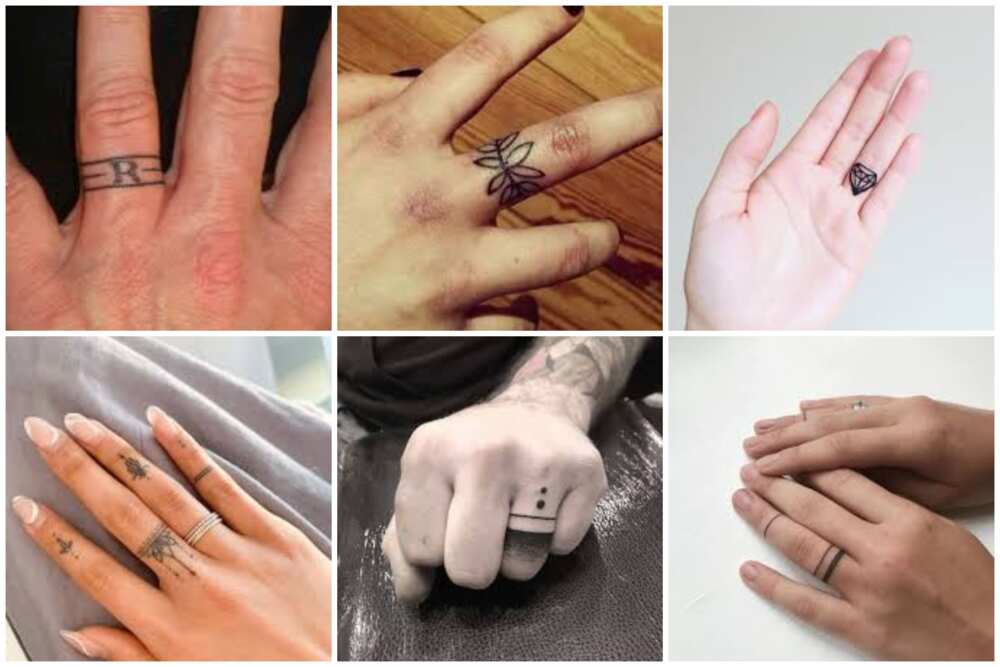 This is another classy artwork for your hand. The design goes where a ring would be, making it bold and elegant. You can enhance the outline by adding a flash of other symbols to show your style.
Crosses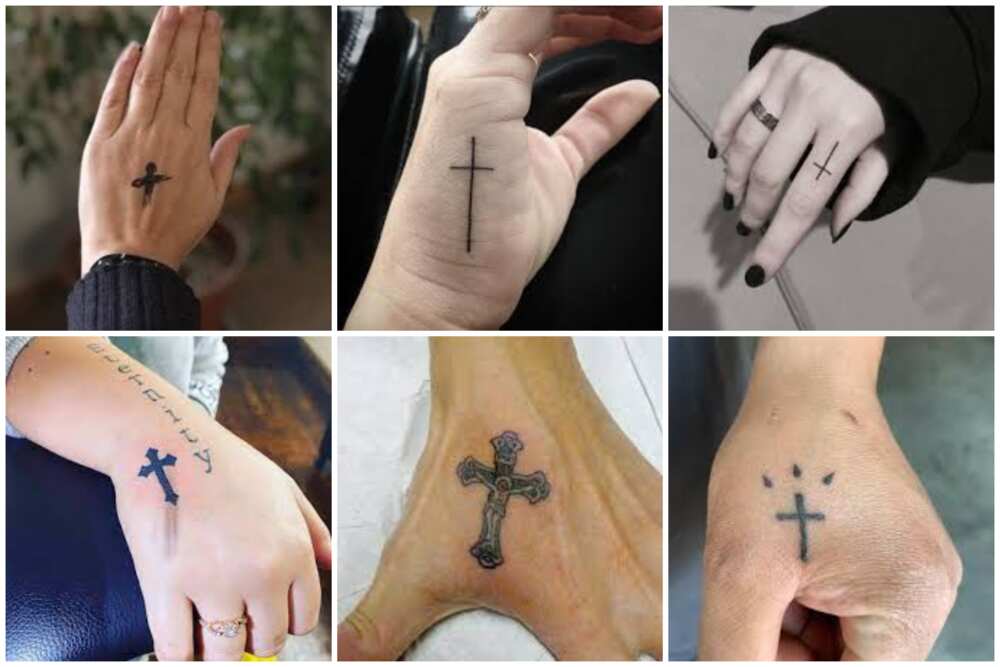 Cross is one of the most prevalent religious designs. It constantly reminds you that you need to stay close to God. However, having a cross ink is not reserved for Christians only. As much as the cross is dominantly associated with Christianity, other cultures have their own styles and meanings behind it.
Butterflies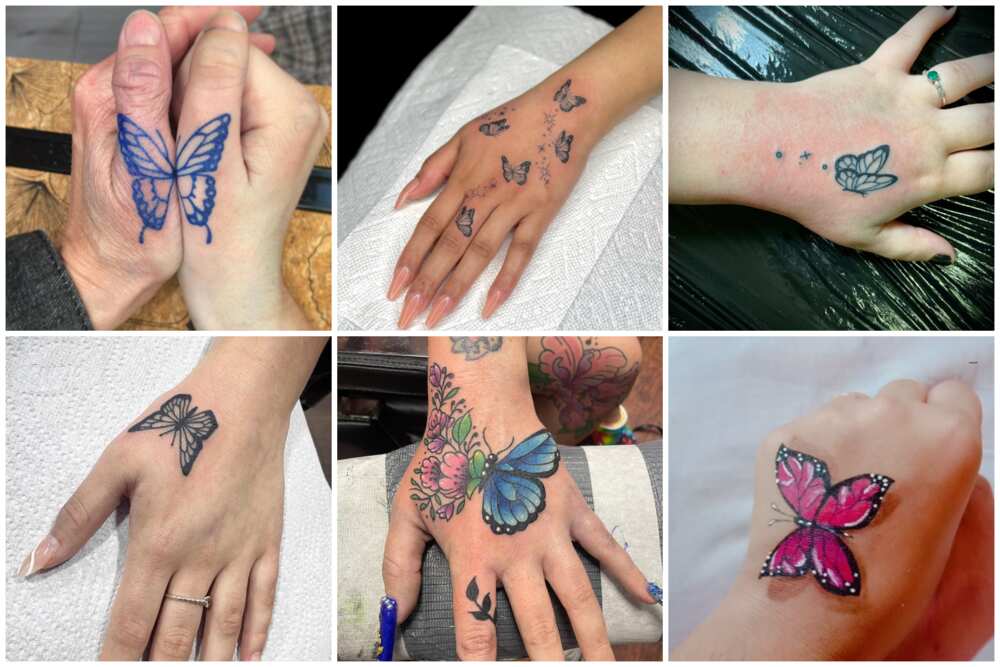 The butterfly is a symbol of freedom and transformation. Many people consider butterfly designs feminine as they represent love and gentle emotions. You can go for a simple outline or silhouette, as well as choose a full-colour ink.
Stars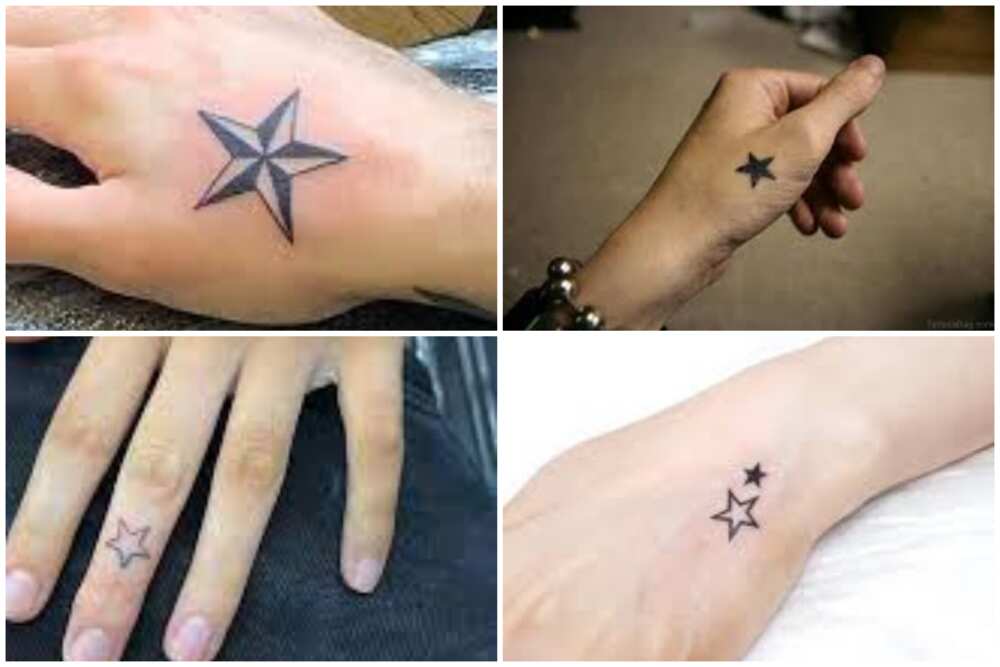 Stars symbolise hope, guidance, protection and achievement and can be designed in various ways to suit the individual's tastes. It is a great option if this is your first time getting inked. Isn't this worth trying out if you are looking for something minimal and simple?
Female cute hand tattoos
These female hand tattoo ideas offer artwork with minimal shading, excellent line work and some colour or just black ink.
Compass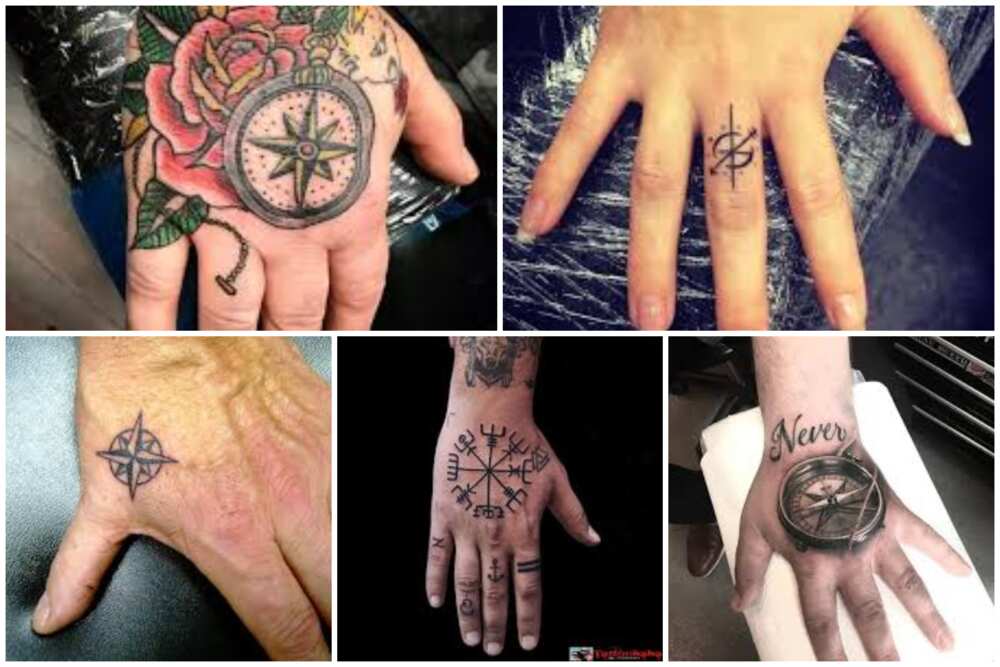 The compass is a universal symbol of life's direction and the symbolic decisions you make. It is an excellent tattoo idea for women who enjoy adventure and travel. It is an indication of focus and direction in life.
Eye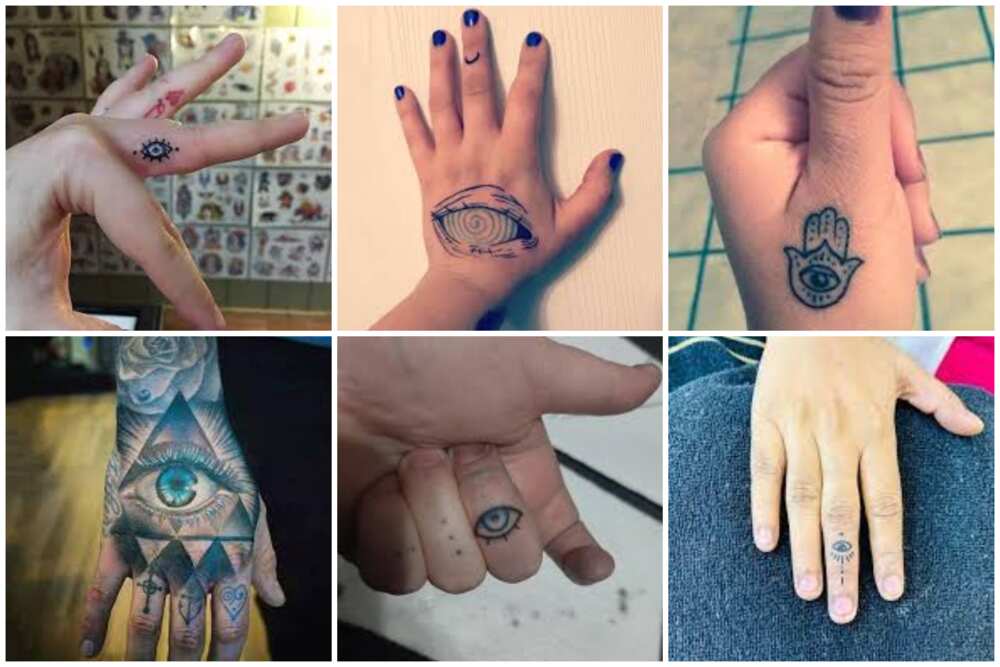 The eye symbol has been used to ward off evil for centuries. Depending on the culture, it could also mean divine power watching over you, or a window into your soul. It is a great design to get on the hand, as it can be quite minimalist, or, if you're into it, you can get a full-colour ink.
Steaming mug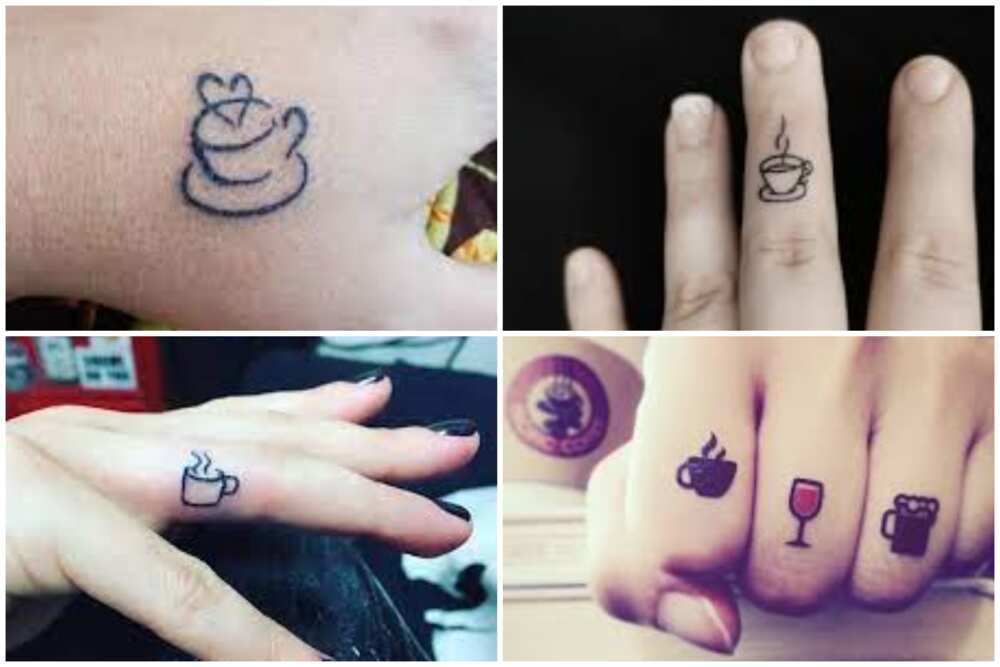 Why not express your love a hot beverage with an ink? You can commemorate your obsession with tea or coffee with a small design of a steaming mug.
Music symbols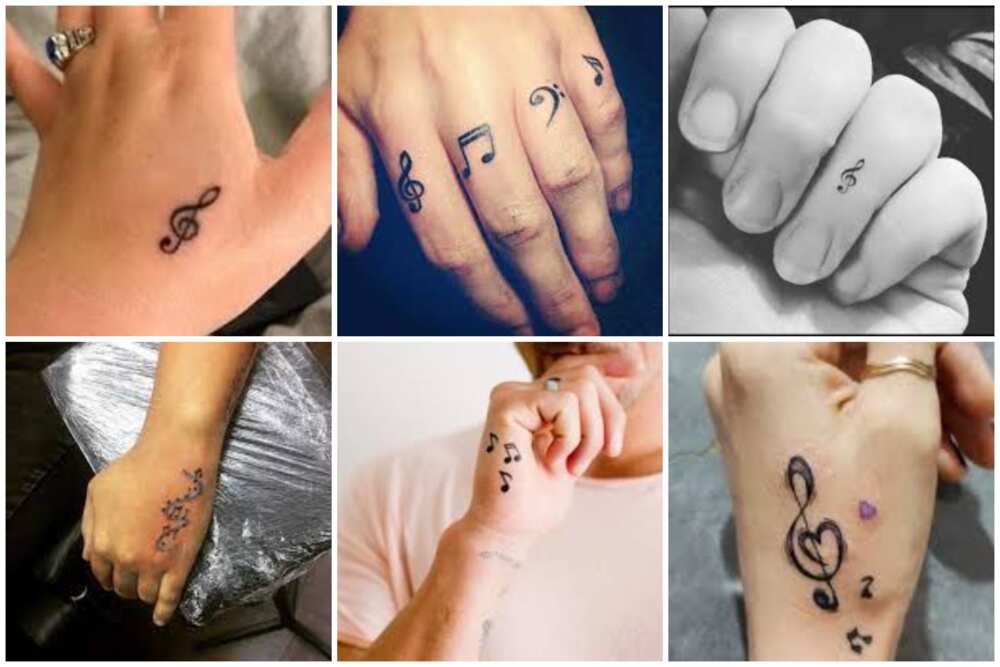 It is one of the most popular tattoo designs for all music lovers, as music is a universal language. Music notes indicate the love of music, artistic expression and sound power. Various music symbols can be suitable for ink depending on your taste.
Dove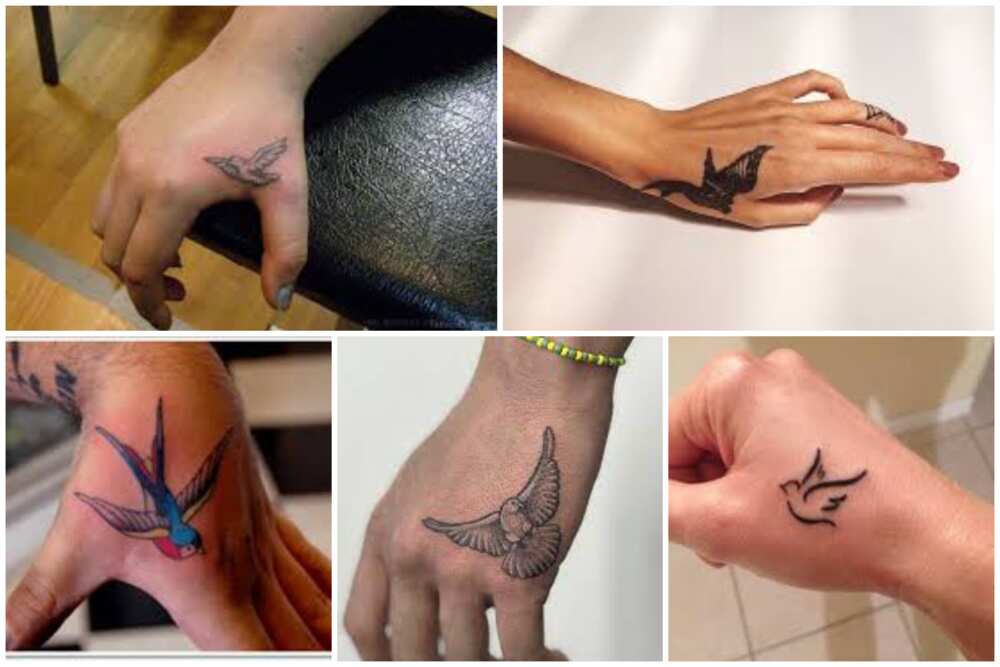 Doves are graceful and peaceful animals. This beautiful and meaningful ink represents peace, love and new beginnings. Most people also associate it with heaven. The doves can be of various species and be rendered in different styles, depending on the individual's preferences.
Girly pretty hand tattoos
As a woman who loves having undemanding body art, all you need is to highlight the beauty of your hand. Have a look at some of the pretty hand tattoos below.
Feathers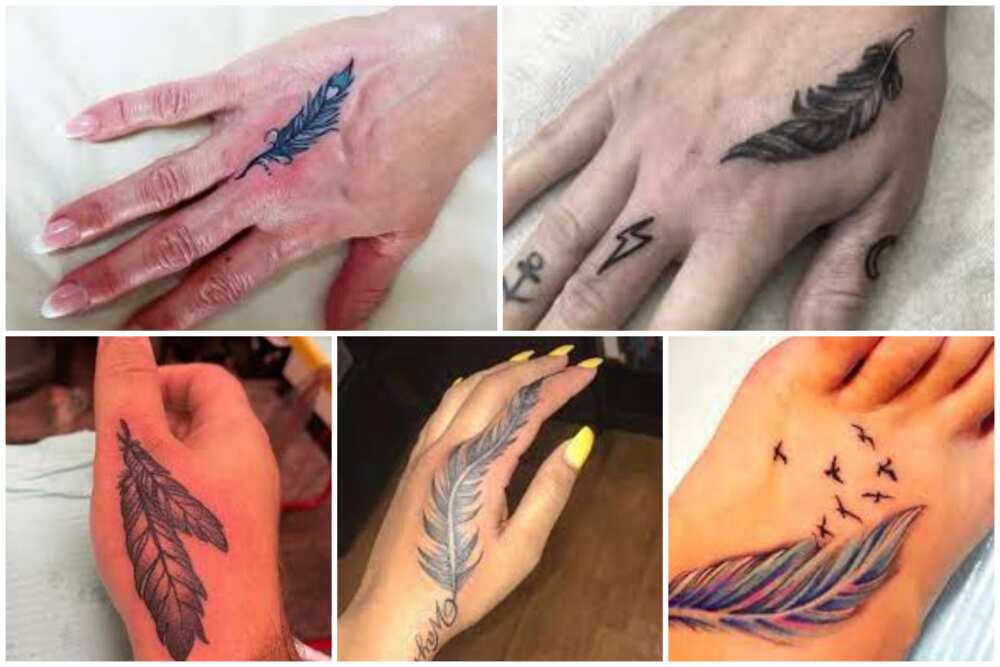 Feathers can symbolize various things, such as freedom, spirituality and growth. It is a beautiful, delicate design perfect for the sensitive soul. This is one of the simple standard inks that still looks outstanding.
Words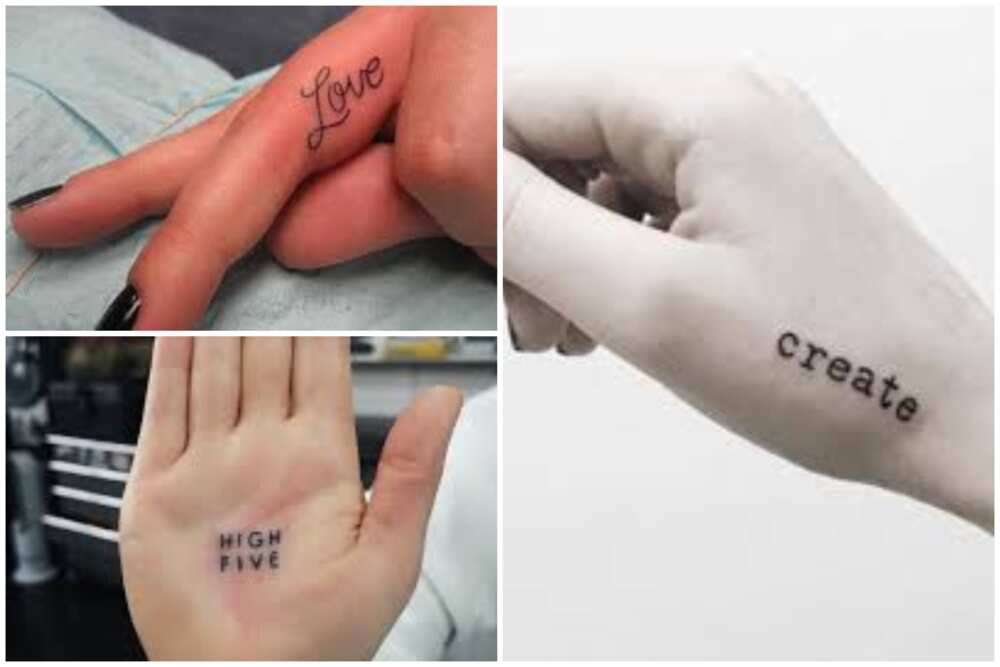 Words allow for personal expression and can hold deep significance. You can ink your name or any other short word that you find impactful. This design is unique to you, and it will be a constant reminder whenever you check on your hand.
Animals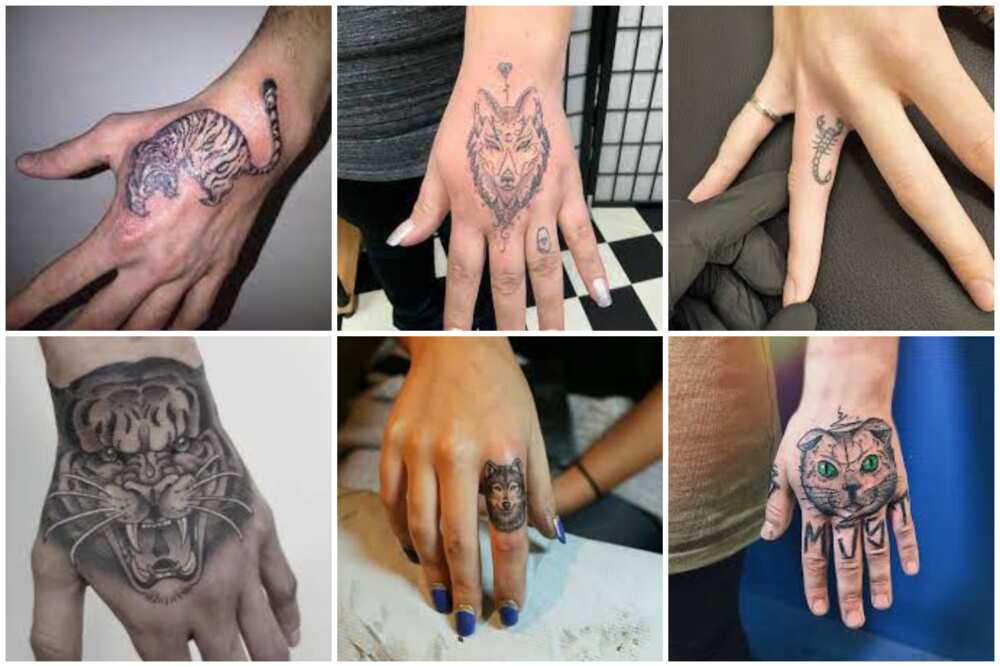 There are numerous animals to choose from for your ink, each with its own meaning. For instance, a lion is associated with strength, courage and royalty. The lion design can show your ferocious side.
A tiger design can highlight your fierce and courageous nature. Tigers often represent strength, courage and beauty. A wolf can be a powerful symbol of strength, loyalty and independence. Wolves are associated with the wild and untamed and many people choose this design as a reminder of their own inner strength and resilience.
Hearts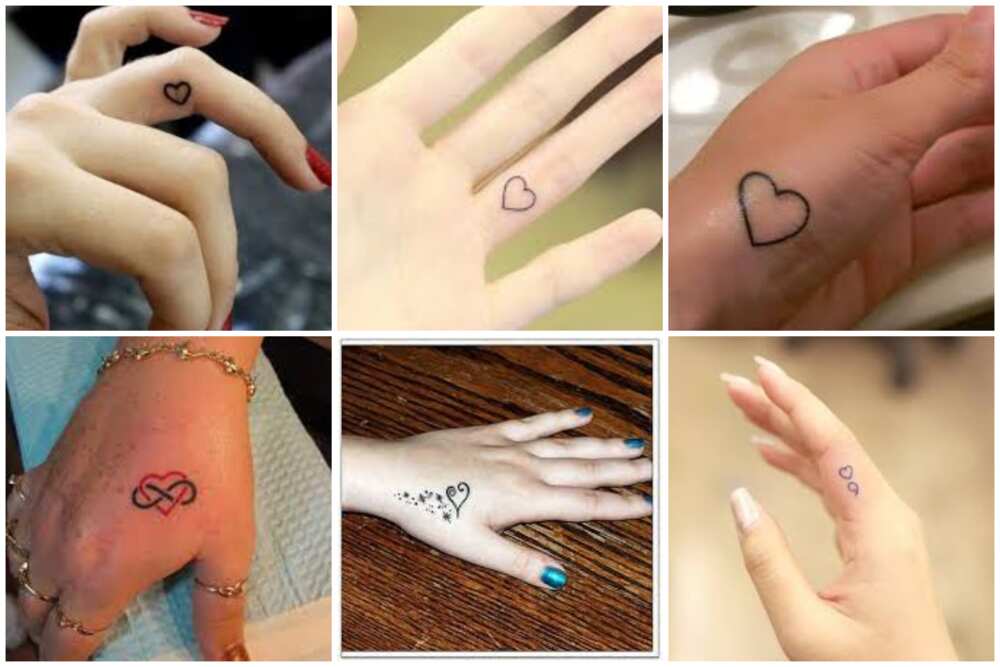 Heart ink can mean that you are anchored in love or deep in love. It can also represent courage or be a memorial to remember the departed loved ones. It is a small, simple and cute design that would suit everyone.
Hand ink is often small and pleasant to the eye. It is strategically placed to attract attention and remind a wearer why they got something engraved. With the small women's unique hand tattoos outlined above, take your time and identify which one would suit you best.
Legit.ng recently published 50 meaningful forearm tattoos. Forearm body art is not restricted to a specific age group or gender. This part of the body is one of the most popular locations for ink, and for good reason. The art can be proudly displayed, or covered up if necessary.
In the past few years, forearm ink has become common worldwide. Some people commemorate a loved one or an important date, others to show their love for something, and others wear them to express themselves.
Source: Legit.ng