25 cool pink hair characters from movies and cartoons
Characters with pink hair have captured the hearts of many due to their captivating and unique charm. They are known for their distinct personalities. With their gorgeous hair colour, they are portrayed as less aggressive, passionate, and caring. From movies to cartoons, pink-haired characters have left a lasting impression on audiences.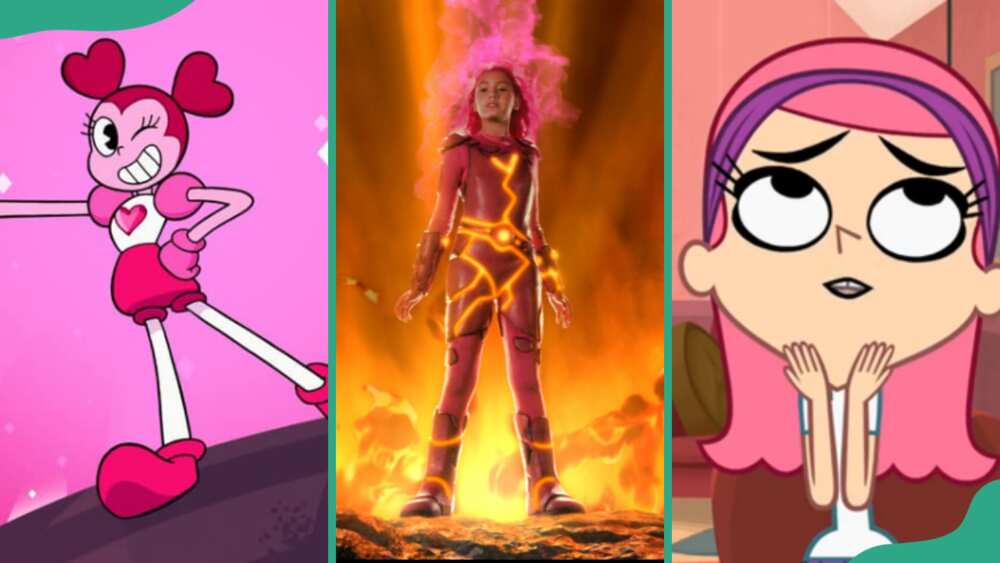 Pink hair is associated with gentleness, sweetness, and compassion. Characters with pink hair have become fan favourites due to their distinct traits, personalities and styles, which make them unforgettable and adored.
25 pink hair characters
Movie and cartoon characters come in many hair colours, but the pink-haired ones stand out. The colour is eye-catching and draws the attention of fans due to its striking appearance.
Pink hair cartoon characters
The pink colour symbolizes femininity. Most of the pink-haired characters from movies and cartoons are female. These characters possess a variety of personalities, which makes them remembered by fans. Their impressive abilities and unique looks have captured the hearts of fans, young and old. Below are pink-haired characters from cartoons.
Strawberry Shortcake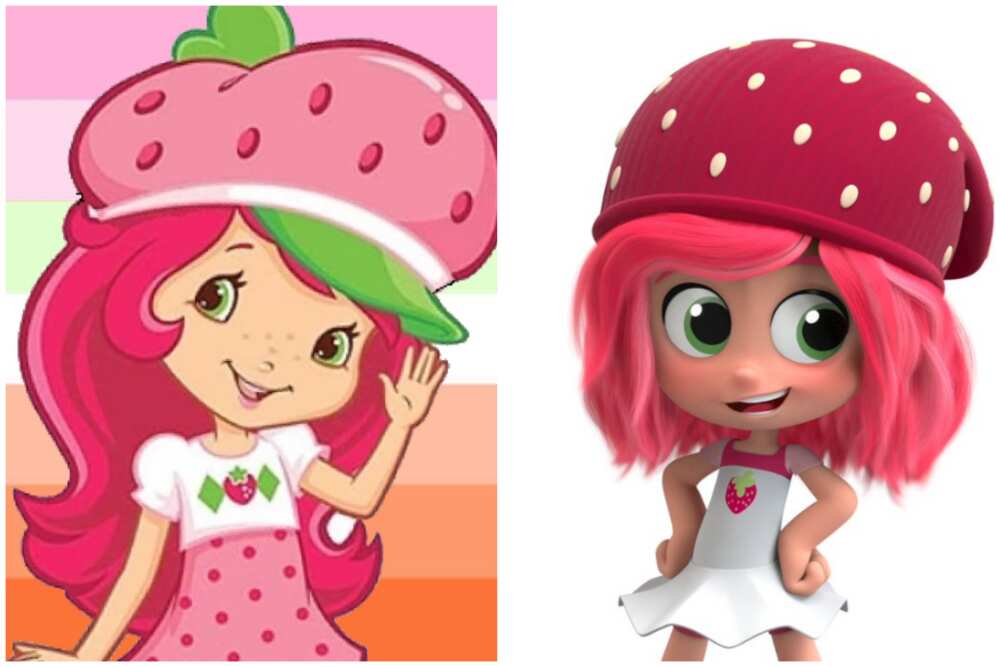 She is the main protagonist of Strawberry Shortcake. She is cheerful and ready to help her friends. Strawberry Shortcake owns a Berry Café and the Berry Bitty Market. She is always positive and does not let anything bring her down or upset her. She has green eyes and strawberry pink hair and wears a red knitted hat.
Princess Bubblegum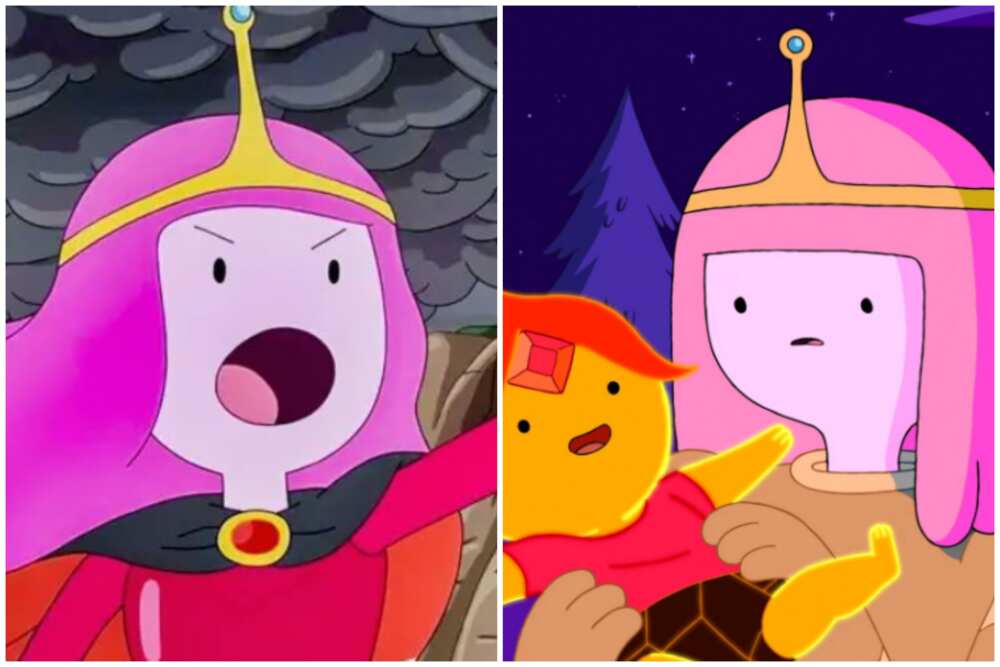 Princess Bubblegum is one of the most adored fictional characters from Adventure Time. She is compassionate and has a strong sense of justice but can show her dark side when provoked. Her magenta-pink hair colour made of actual bubblegum makes her stand out, making her a beloved figure amongst cartoon enthusiasts.
Pinkie Pie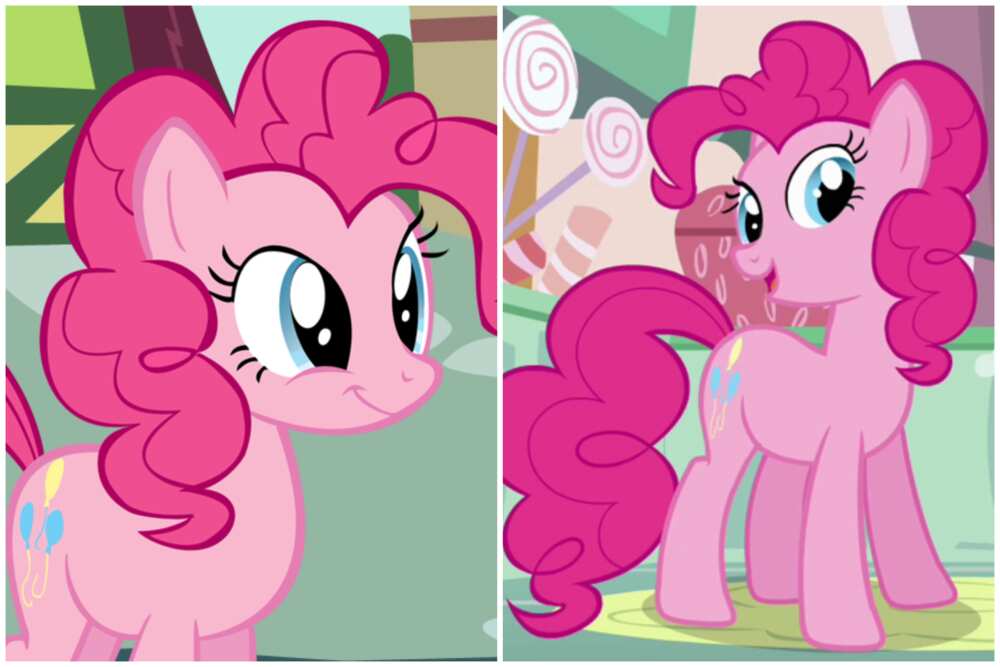 Pinkie Pie from My Little Pony is a female earth pony with blue eyes and a hot pink mane and tail. She is adorable, hyperactive, excitable and outgoing. She spreads hope and joy and has the desire to entertain her friends. She has a lot of skills and powers and uses them to put a smile on ponies' faces.
Wanda
Wanda is one of the cartoon characters with pink hair. She is Cosmo's wife in the animated series The Fairly OddParents. She is intelligent and caring. Wanda is the best fairy godmother to Timmy, and she prevents him from wishing for disastrous things. Her pink eyes and hair have garnered her a huge fanbase.
Scarlet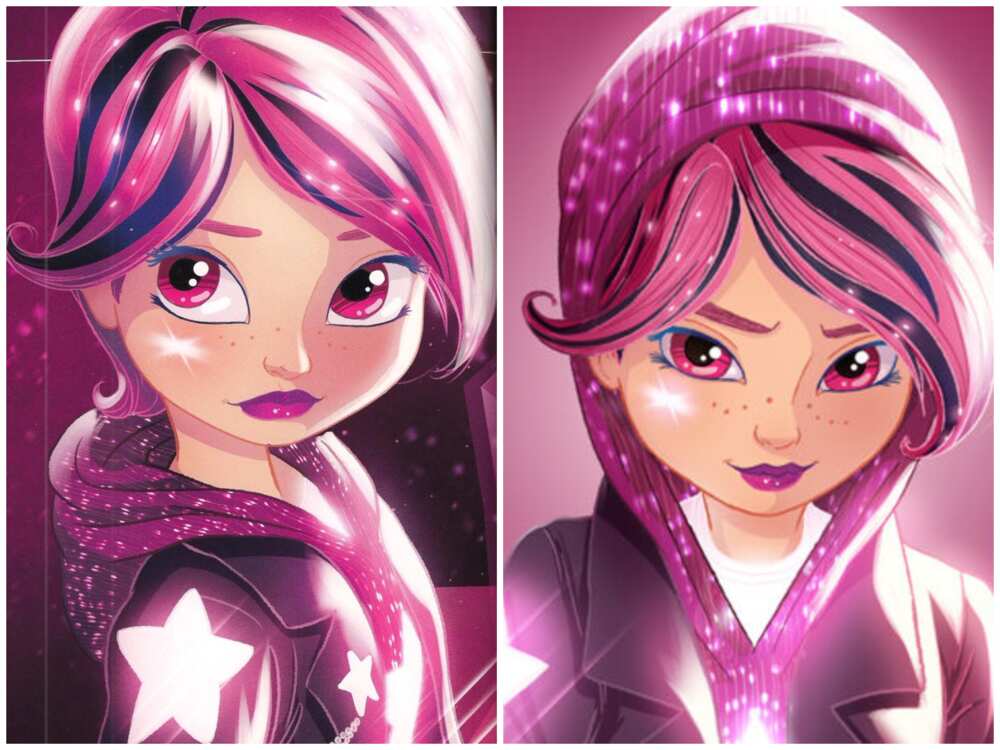 Scarlet is the main character from Star Darlings. She is one of the Disney characters with pink hair. She has pink hair with streaks of black. She is confident, strong and independent. Scarlet has a passion for music. Her confidence, independence, dedication and determination to achieve her goals make her a popular figure among her peers.
Poppy
Poppy is the protagonist of the popular Trolls franchise. She is the queen of the Trolls and is loved due to her positive attitude and determination. She has a unique hairstyle with a grosgrain ribbon-wrapped headband. She is enthusiastic and ready to help those around her. Her hair moves in different directions when she sings and talks.
Tecna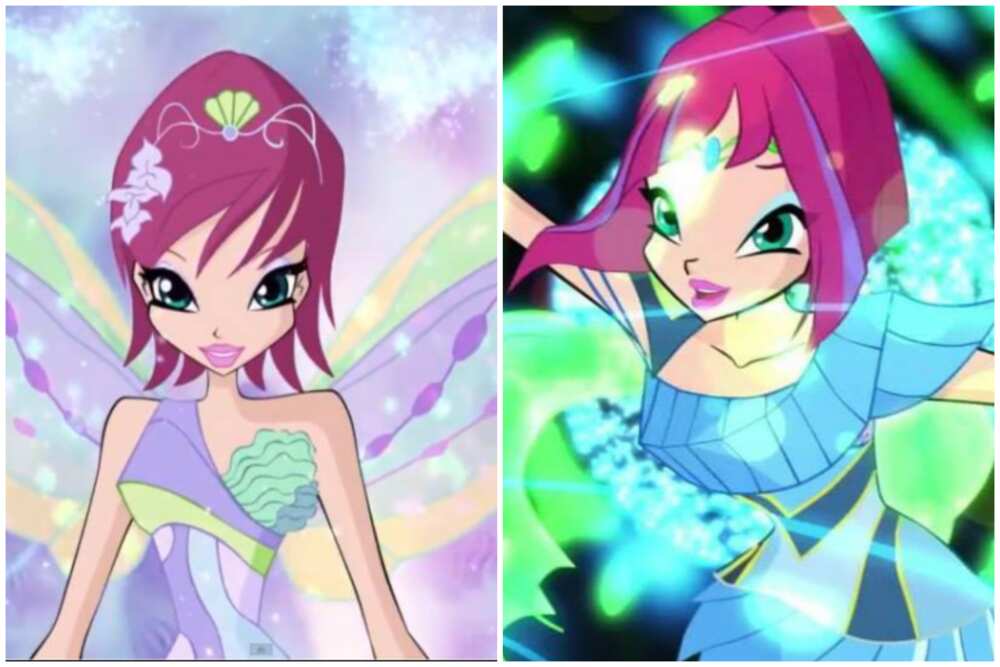 Tecna has the power of technology and is known for her intelligence and love for gadgets. She helps the Winx Club by finding technological solutions. She is a loyal friend and willing to help her companions. Tecna makes her decisions based on logic.
Rose Quartz
Rose Quartz from Steven Universe is one of the characters with long pink hair. She is loving and caring and is affected when her loved ones are hurt. She sees beauty in everything and treats everyone equally. She is the founder of Crystal Gems. Rose is a perfect leader who wants to see everyone happy.
Raspberry Torte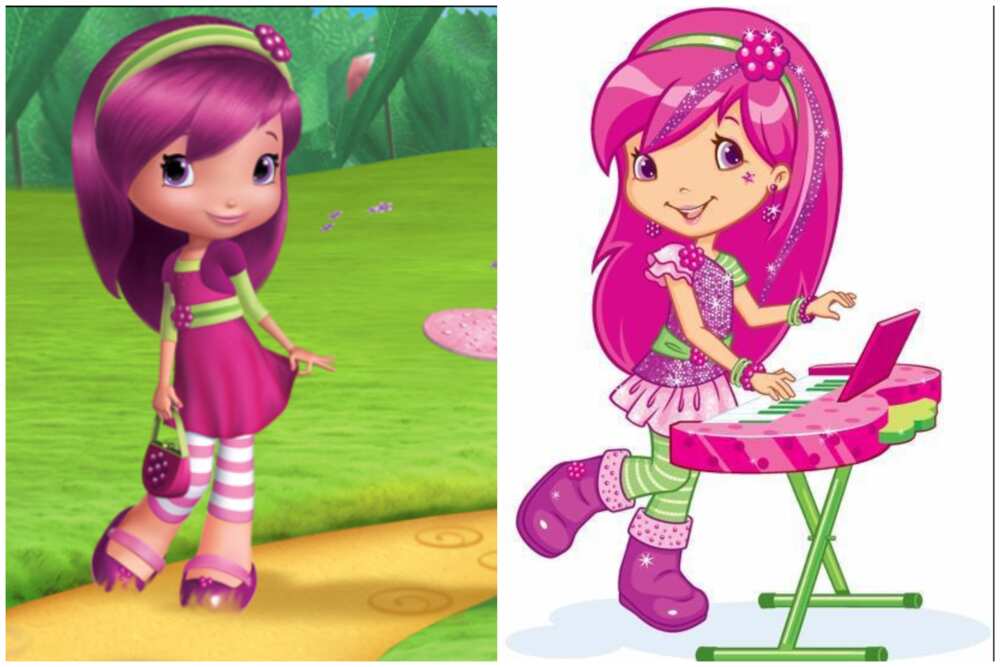 Raspberry Torte is a girl cartoon character from Strawberry Shortcake. She is a sports enthusiast and excels in a variety of sports activities. She is determined and a great coach with confidence and team spirit. Raspberry Torte can be naughty and cheeky sometimes. She has fair skin and pale green eyes, which match her pink hair.
Trina Riffin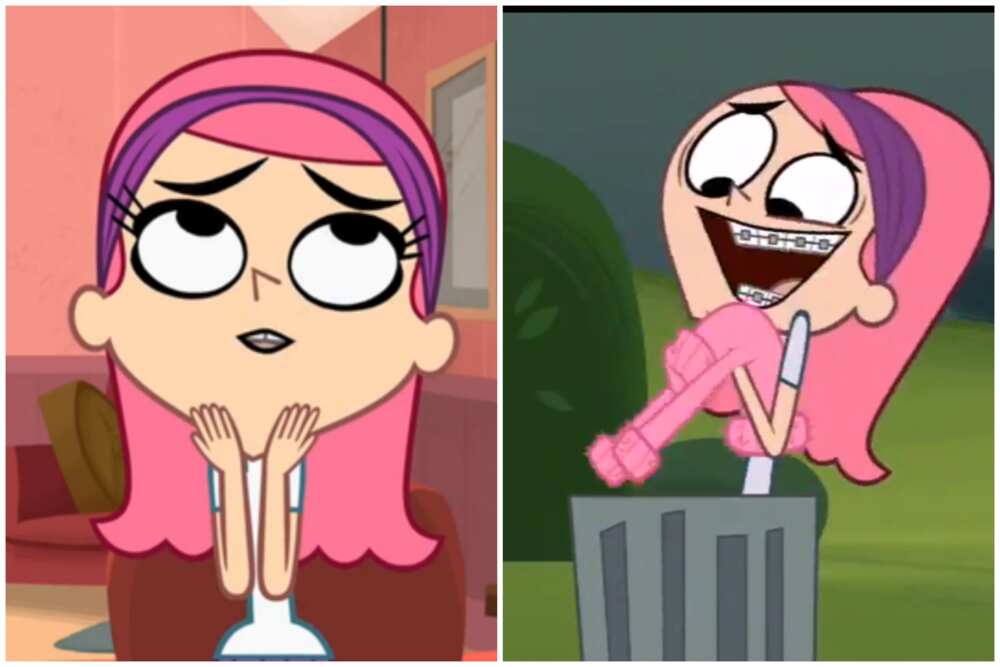 Trina Riffin is an antagonist from the popular Canadian cartoon Grojband. She is cruel, self-centred, and determined to make Corey's life miserable. Her cruelty makes her ruin Grojband gigs. She hates her brother, Corey, and his friends, and as a result, she looks for ways to destroy them. Trina Riffin has pink hair and wears a purple bandana.
Amy Rose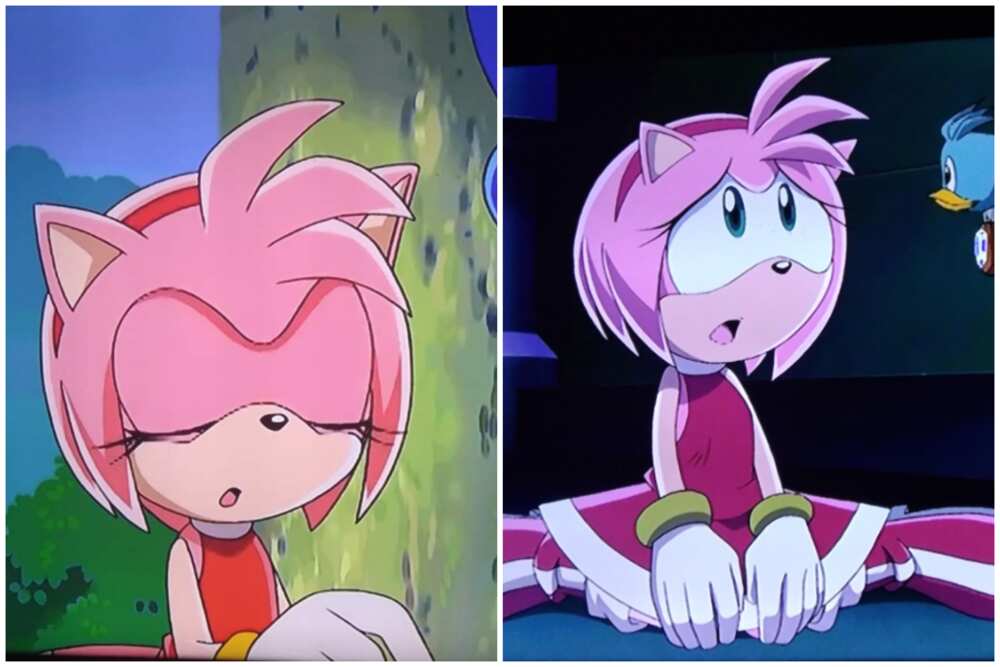 Amy Rose is a beloved character from the Sonic X television series. She is Sonic's self-proclaimed girlfriend whose aim is to make Sonic notice, love, and respect her. She loves Sonic despite him ignoring her. Amy Rose is cheerful and strong and can be bossy and stubborn sometimes.
Starfire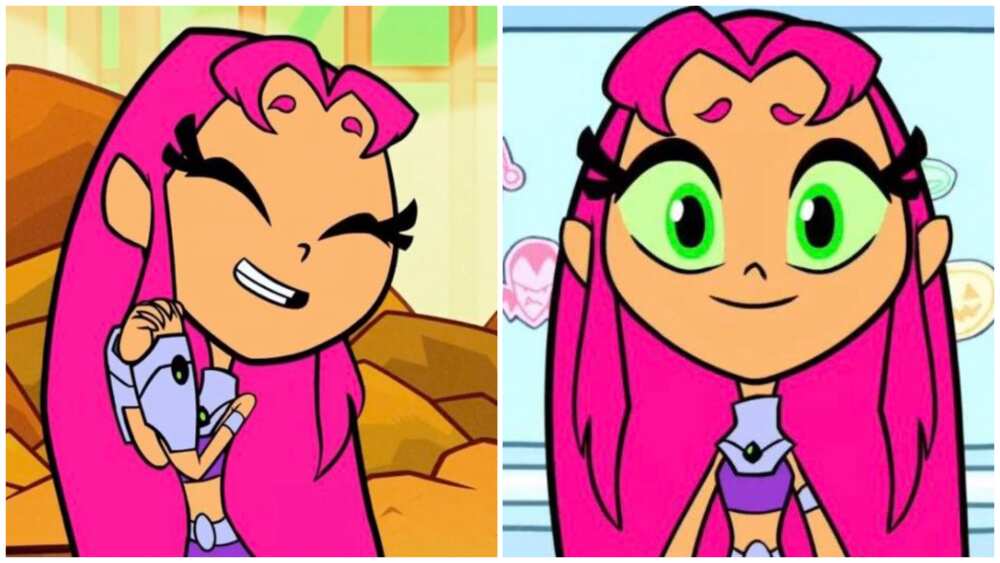 Starfire from Teen Titans and Teen Titans Go! is an alien princess. She is the love interest of Robin, another member of Teen Titans, and the two become an item by the end of their story. She is sweet and a bit naïve, and takes friendships very seriously.
Bree Bunny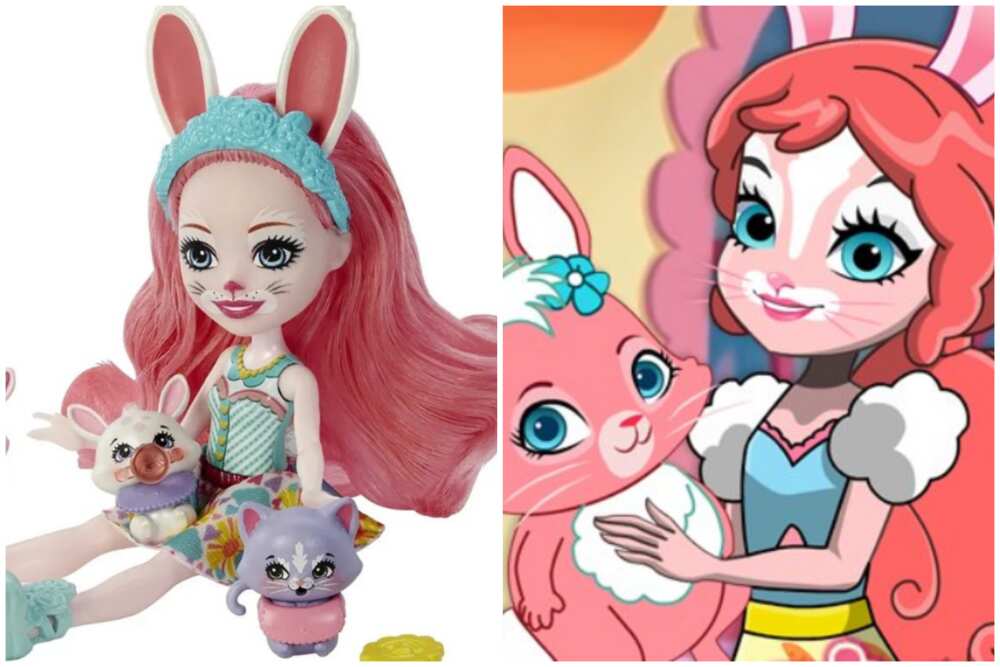 Bree Bunny is a character introduced in 2017 in Meet the Enchantimals. She is creative, energetic, and loves exploring. She is eager to try out new things. She has bunny ears and long pink hair worn in a low-curled tail. She has a younger sister, Bedilia Bunny, who she encourages to pursue her interests.
Pearl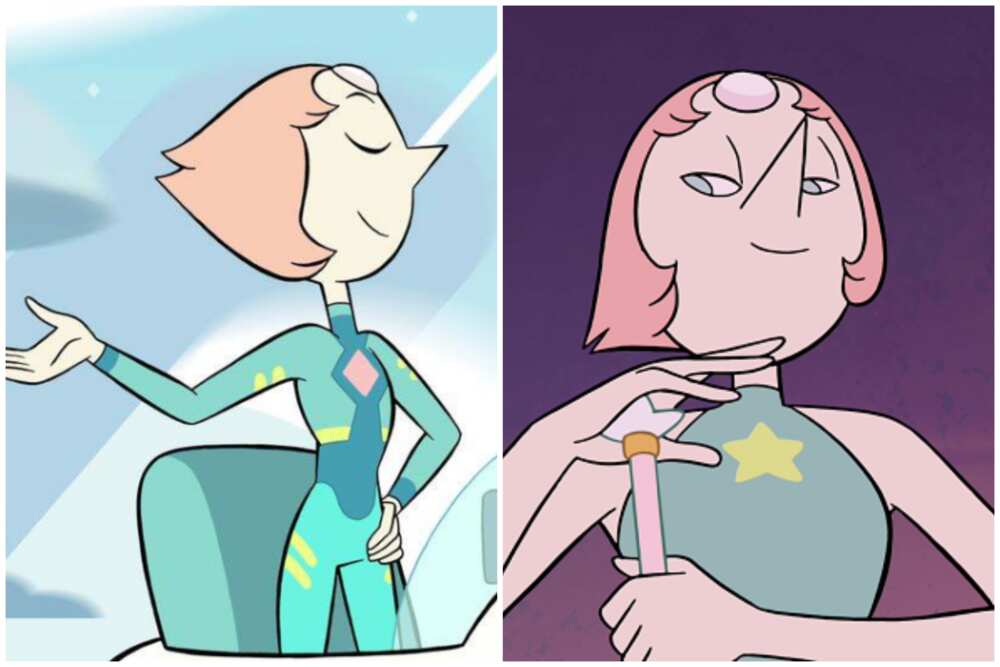 Pearl is a fictional character from the animated television series Steven Universe. She is a loving, gentle, and delicate mother of Steven. Pearl is overprotective and has a low self-esteem. She cares deeply for Steven and can do anything to make sure that he is protected at all times.
Spinel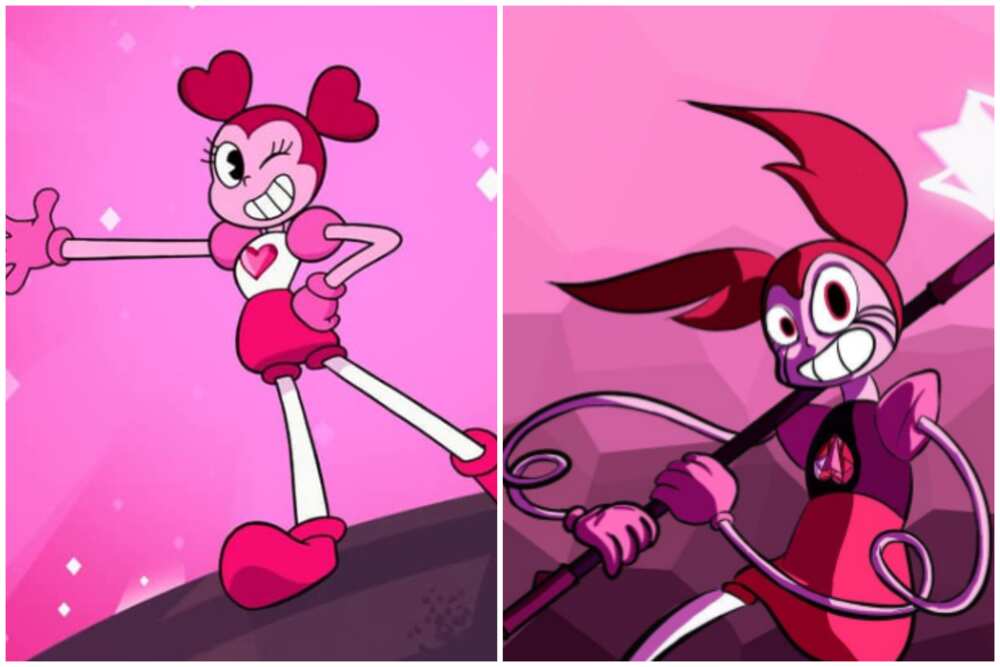 Spinel is the main antagonist in The Steven Universe Movie. She is a pink Gem with long and rubbery limbs. She holds a grudge against Steven and looks for ways to destroy him and all organic life on Earth with a giant injector. She is cunning and intelligent.
Movie characters with pink hair
Many characters from movies with pink hair are iconic and loved by fans because of their personalities and sense of style. Here are some pink-haired characters from your favourite movie.
Lavagirl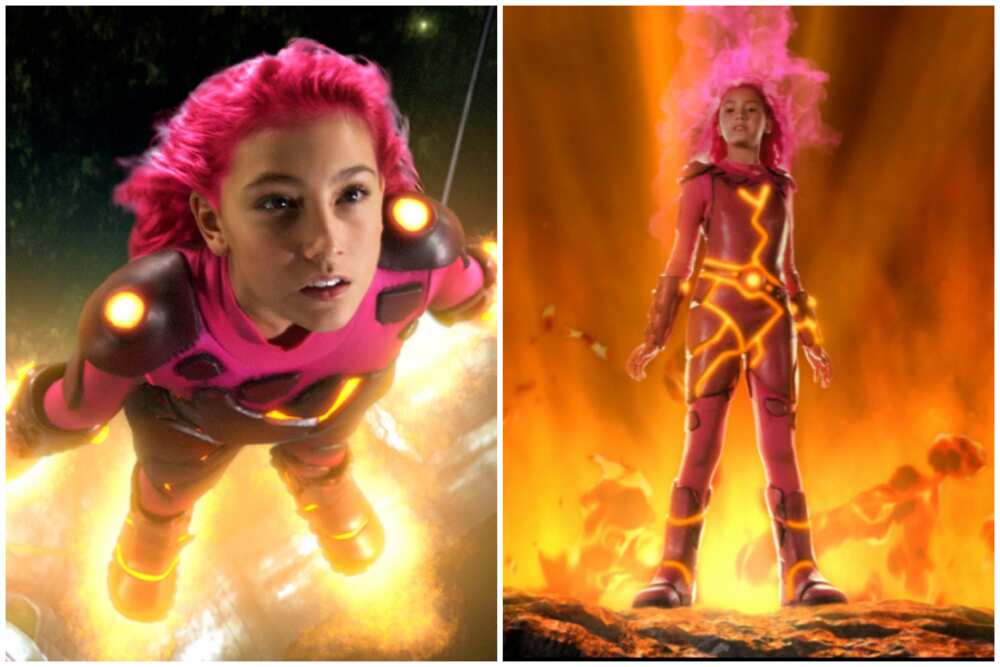 Lavagirl is the main character in The Adventures of Sharkboy and Lavagirl. Her bright pink curls make her a memorable character to those who have watched the movie. She is caring, compassionate, selfless. She has an explosive temper but knows how to control her anger. She is an inspiring superhero and is always ready to rescue those in danger.
Kei Kikuno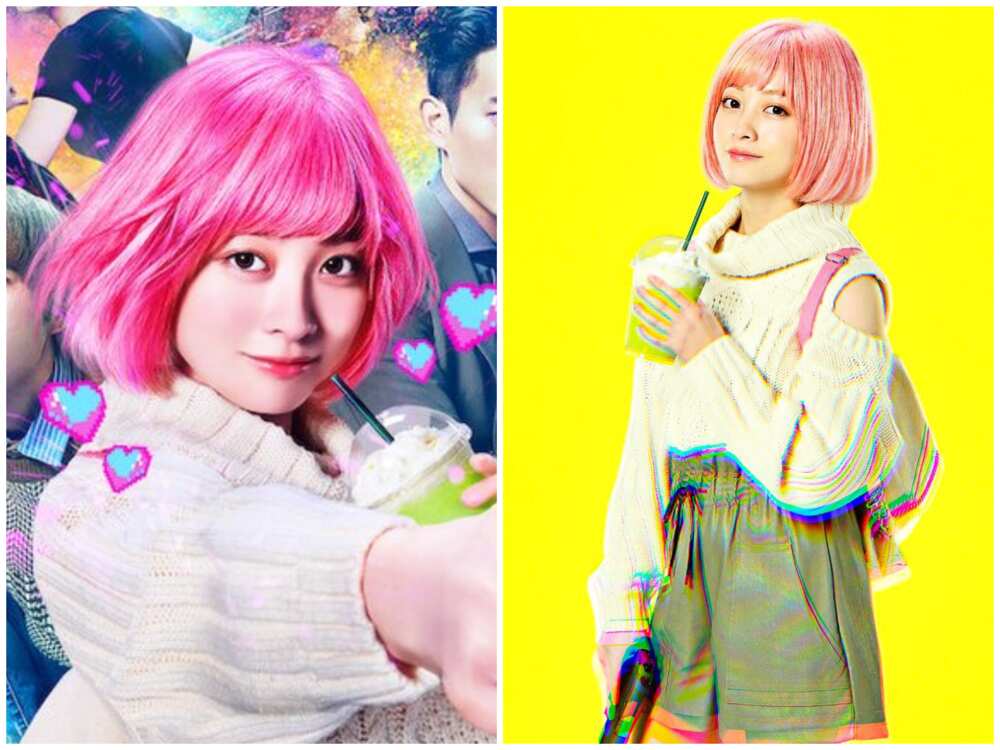 Kei Kikuno is one of the characters with short pink hair. She is the main character in The Violence Action manga series and subsequent film. She is a college student who is also an assassin. She works for a group that operates out of a noodle restaurant. She handles her jobs with her gun expertise and physical prowess.
Stephanie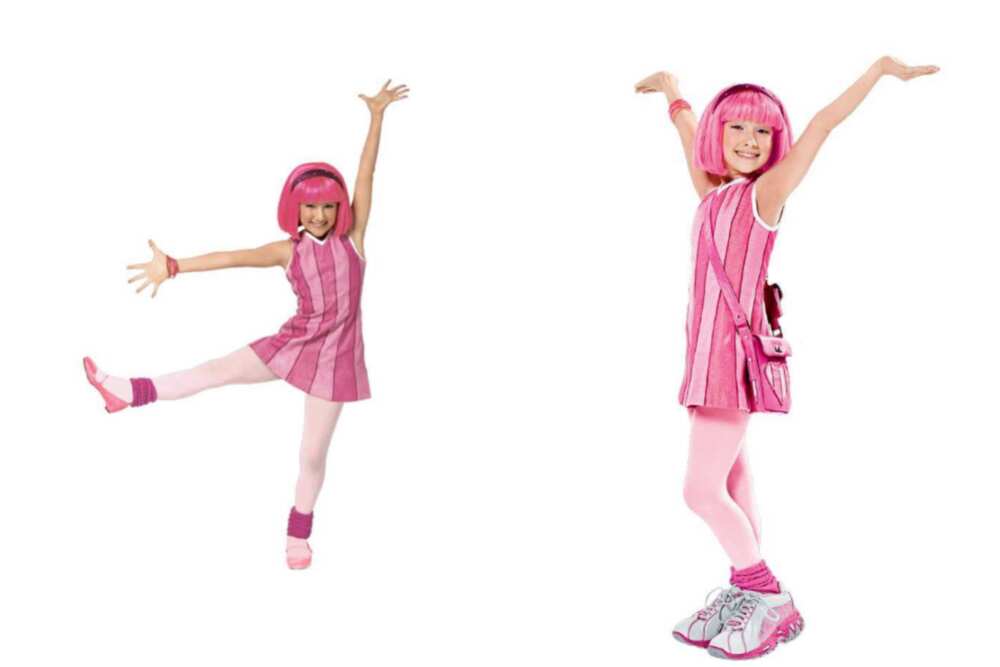 Stephanie from LazyTown has fabulous short pink hair. She is one of the main characters of the LazyTown franchise. Stephanie is friendly, optimistic and has lots of energy. Her amiable nature makes her fans a favourite. She aspires to be a dancer and cheerleader and inspires others to stay active.
Isabelle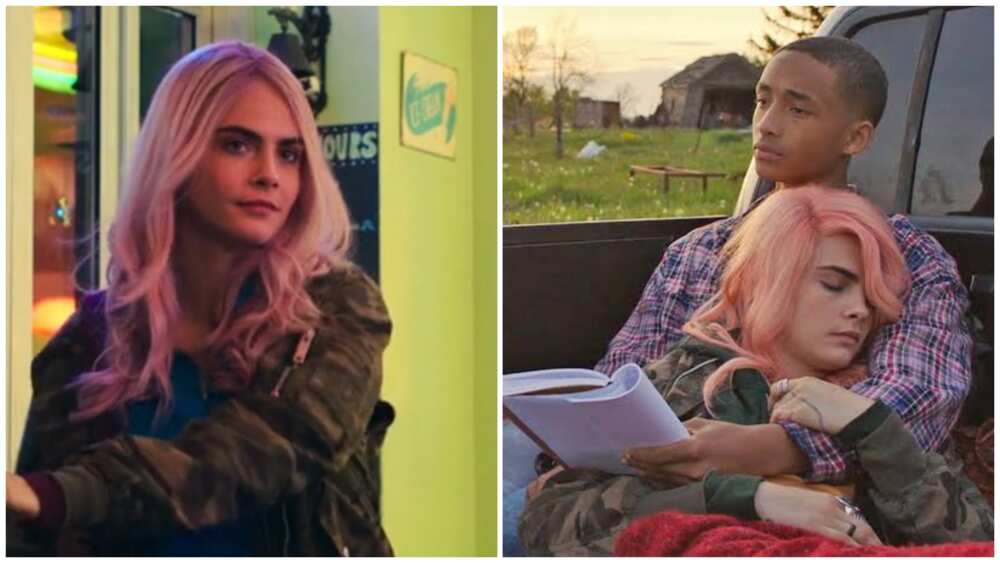 Isabelle is one of the main characters in the 2020 film Life in a Year. She is a young girl who meets Daryn at a concert, and they fall in love. She takes initiative and is not afraid of being uncomfortable or making others uncomfortable. She finds out that she has cancer and passes away a short time after her wedding with Daryn.
Alice
Alice is a movie character in Closer who is deeply devoted to her lover, Dan. She continues to love him despite her knowing that he is unfaithful. She has a short pink hair and brown eyes. She is fascinating and mysterious. Her devotion to Dan despite his unfaithfulness makes her an interesting character.
Ramona Flowers
Ramona Flowers from Scott Pilgrim vs. the World is one of the movie characters with pink hair. She is sarcastic and independent and refuses to let anyone control her life. She is the love interest of Scott, who has to defeat her seven exes who challenge him for Ramona's affection. She is guarded about her past and reveals little about herself.
Cotty
Cotty is a protagonist villain in the 2012 film Spring Breakers. She is one of the four girls who go on spring break and end up being corrupted by drug lord Alien. She is flirtatious and promiscuous and with a wild heart. She loves adventure and partying with her friends.
Yukio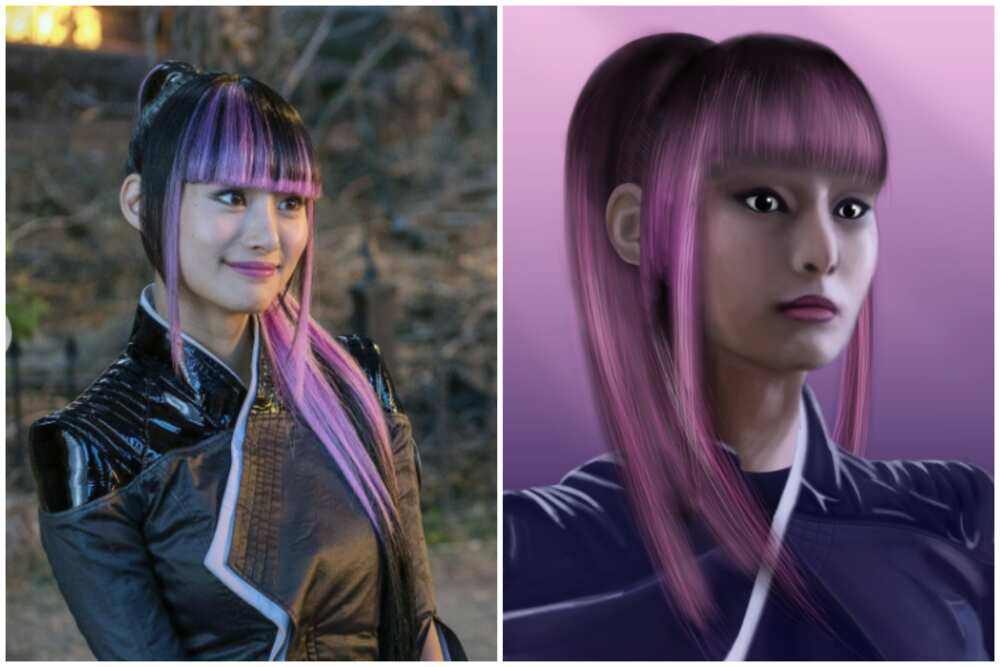 Yukio is one of the famous characters with pink hair. She appears in the Deadpool and Wolverine movies. She is a female ninja of Japanese origin and a supporting character of the X-Men. She can see the death of living creatures in the Original Timeline.
Noelle
Noelle from M.F.A. is a graduate student. She is invited to a party by a handsome classmate she has a crush on. After being assaulted, she turns into a vengeful woman ready to take revenge on all those who destroyed the lives of innocent women.
Effie Trinket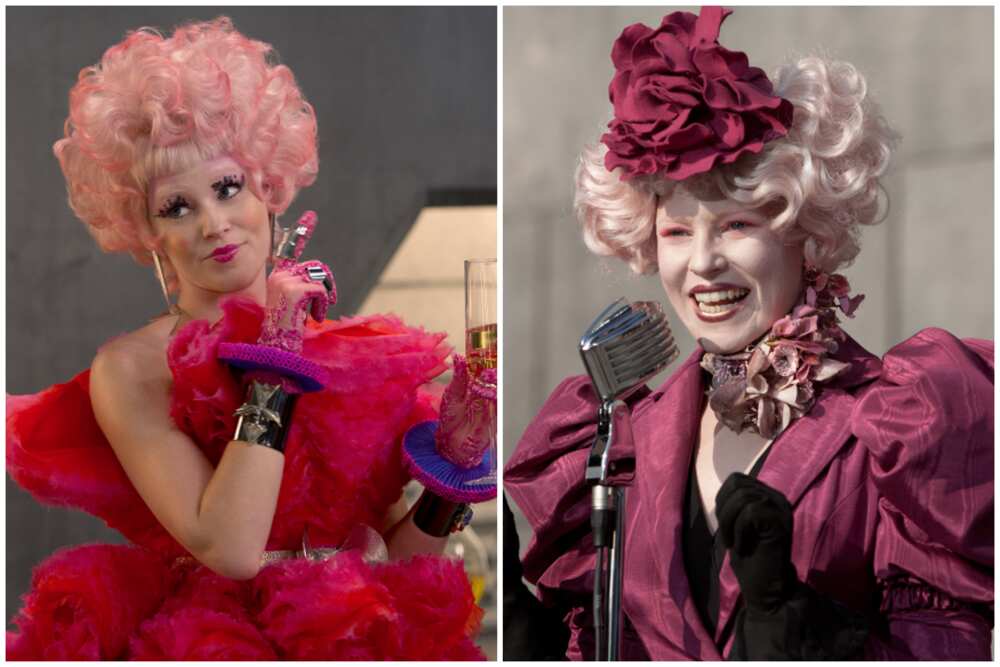 Effie Trinket is one of the famous characters from the Hunger Games franchise. She has curly pink hair that matches her strong sense of fashion. She is Flighty, sometimes overly cheerful. She constantly adjusts her attire anytime she gives speeches. She has an eccentric personality, but deep down, she is a kind and loyal person.
Pink-haired characters captivate audiences with their vibrant hair and unique personalities. Their hair colour makes them stand out, and fans have something to remember about them. Some of the characters include Lavagirl, Pinkie Pie, and Princess Bubblegum.
Legit.ng recently published an article about 33 famous blond actors making waves in Hollywood and beyond. The entertainment industry has united actors from different ethnic backgrounds, each with a unique style and appearance.
Famous blond actors worldwide have gained fame for their talent and unique looks. Their dedication and ability to connect with audiences have made their fans a favourite. Some of them include Jude Law and Cole Sprouse.
Source: Legit.ng