Types of teaching methods, their advantages and disadvantages
One of the most important things that an educator should decide is the type of teaching method that they will apply in their classroom. This is because the modus operandi employed by educators has a huge impact on the students' learning process. But what are different types of teaching methods?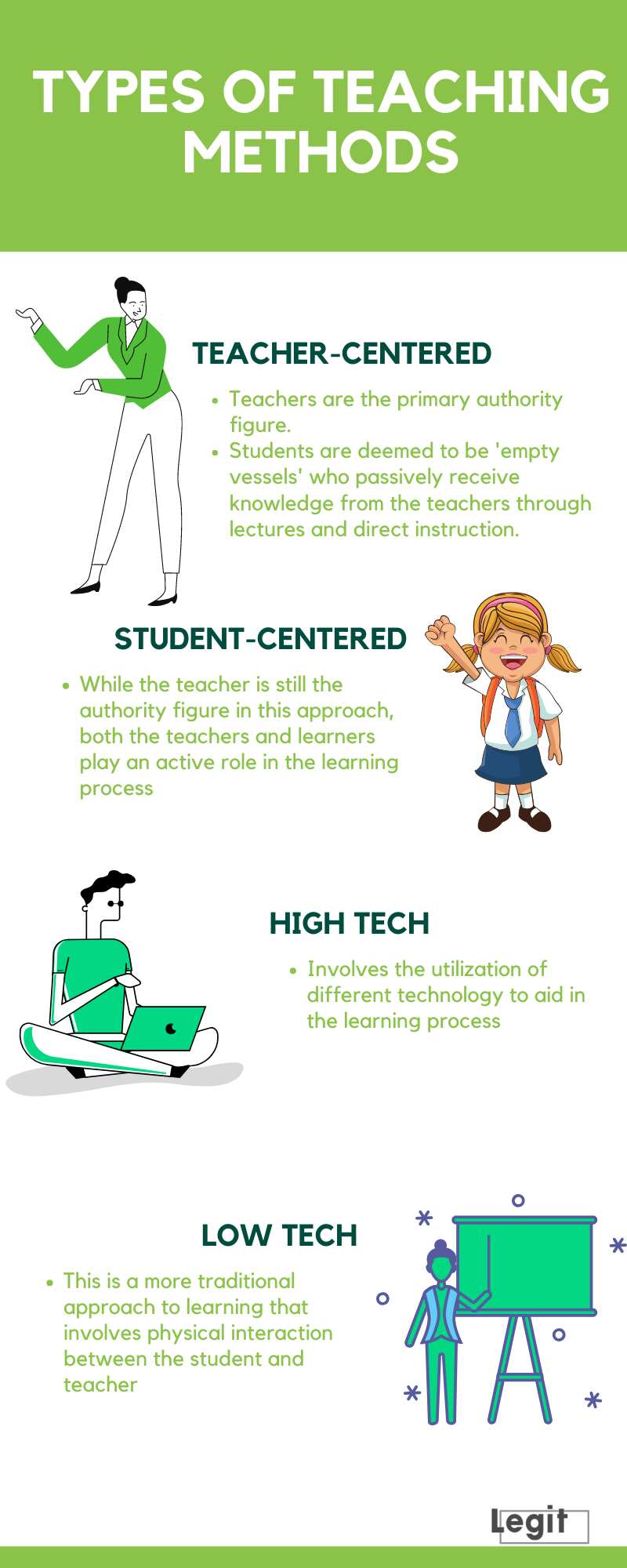 Students get easily bored if their teacher cannot combine teaching methods in order to make each lesson unique and intriguing. Any information can be passed over to pupils in numerous ways. Some of them are easy to understand and remember and others are difficult. The combination of different methods of teaching is something each professional teacher should not only know but also implement in their classroom.
Teaching methods are the general principles, pedagogy and management strategies used for classroom instruction.
What determines the methods of teaching used by an educator? This choice is influenced by several factors, such as:
The educator's educational or teaching philosophy
Classroom demographic
Subject area
School mission statement
Types of teaching methods
Once a teacher understands the needs of their students, then they can choose the most effective teaching methods to use.
Here are the types of teaching methods and their advantages and disadvantages
1. Teacher-centered
Also referred to as 'sage on the stage'. In the teacher-centered method, the teachers are the primary authority figure. Students are deemed to be 'empty vessels' who passively receive knowledge from the instructors through lectures and direct instruction.
The end goal for this method of teaching is the attainment of positive results through testing and assessment.
Advantages
Logical arrangement of educational content.
Development of cooperation.
Focus on the subject.
Disadvantages
Limited content.
Full dependency of students on teachers.
Summative assessment.
2. Student-centered
While the teacher is still the authority figure in this approach, both the teachers and learners play an active role in the learning process.
The teacher's main role is coaching and facilitating student learning and overall comprehension of material. The educator is also responsible for the measurement of student learning through both informal and formal forms of assessment.
In a student-centered approach, the teacher acts as the facilitator or' guide on the side'. The learners learn from and are continually assessed through group projects, student portfolios, and class participation.
Advantages
Formative evaluation.
Active engagement of pupils in the learning process.
Emphasis on the meaningfulness of the knowledge being passed.
Disadvantages
Special teacher skills required.
Can be difficult for some students.
Focuses on students' personal demands.
3. High tech
Involves the utilization of different technology to aid in the learning process.
Advantages
Better knowledge retention.
Active participation of students.
Practice of collaboration skills.
Disadvantages
Distraction from studies.
Could reduce student-to-student study groups.
Labor-intensive lesson planning.
High cost.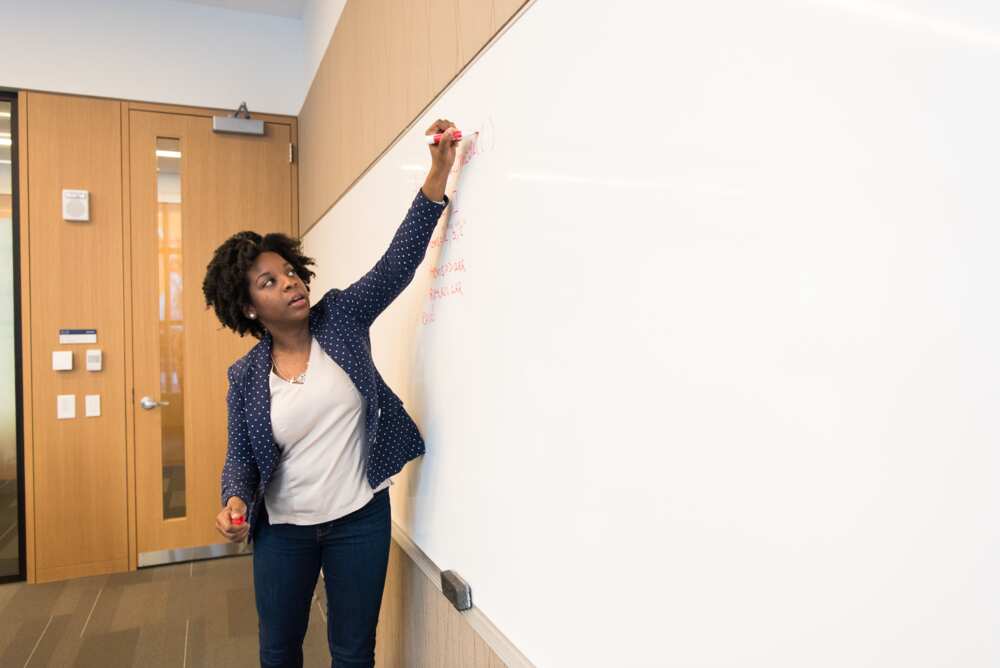 4. Low tech
This is a more traditional approach to learning that involves physical interaction between the student and teacher. In this approach, the educator can tailor the learning experience to different types of learners.
Advantages
Better development of writing and spelling skills
Better focus on the topic of the study
Cheap
Disadvantages
All these teaching methods and strategies have their own pros and cons. To decide which one would suit their learners, teachers need to factor in the students' abilities and the end goal of the learning process.
Methods of instruction
Within the different teaching methods are specific methods of instruction.
1. Teacher-centered
For the teacher-centered approach, these methods of instructions are used
a. Direct instruction (low tech)
This is the traditional teaching strategy that relies on explicit teaching through lectures, scripted lesson plans, and teacher-led demonstrations.
This method does not factor in student preferences or opportunities for other types of learning.
b. Flipped classrooms (high tech)
This approach involves students watching pre-recorded lessons at home and then completing in-class assignments.
c. Kinesthetic learning
This approach is also known as tactile or hands-on learning. It relies on the idea of multiple intelligences, requiring students to do, make, and create.
It can be more student-centered than teacher-centered when the students are given the choice of how to use movement to learn new information.
2. Student-centered
In student-centered learning, these methods of instruction can be used.
a. Differentiated instruction (low tech)
Involves first developing an understanding of how each student learns best then tailoring instruction to meet students' individual needs.
b. Inquiry-based learning (high tech)
Teachers offer support and guidance as students work on projects that depend on them taking a more active and participatory role in their learning.
c. Expeditionary learning (low tech)
Its primary focus is on getting out into the community for real-world learning experiences.
d. Personalized learning (high tech)
Teachers encourage students to follow personalized, self-directed learning plans that are inspired by their specific interests and skills.
Assessment is tailored to the individual learner, and students can advance at their own pace.
Teachers continually review student progress and meet with students to make any changes to the learning plans.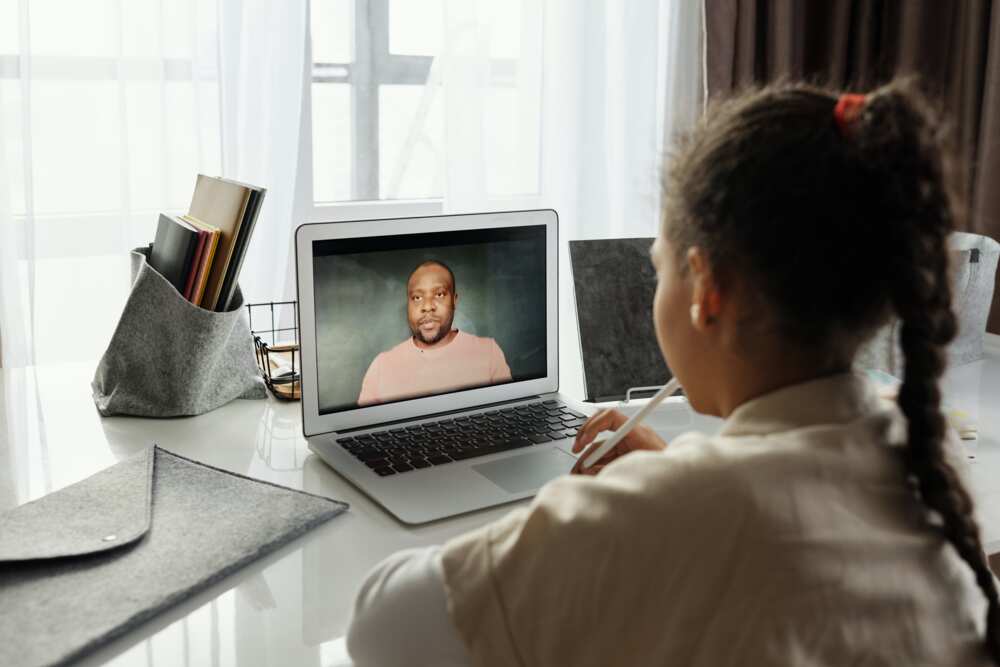 What are the new methods of teaching?
They include personalized learning, project-based learning (PBL), place-based education, formative assessment, and real-world learning.
What are the best teaching methods?
All the different approaches have their pros and cons, so none is superior to the other. The best teaching method is the one that students respond to.
As a teacher, the most crucial thing to decide is the types of teaching methods that you will use in your classroom. To do this, you first have to understand your students' needs and find out which methods will be most suited to them.
Source: Legit.ng