33 cartoon characters with glasses that are absolutely iconic
Cartoons have entertained many for years. Viewers of different ages adore the various characters. Each character stands out with their personalities, talents and looks. Characters with glasses are known to be intelligent, awkward and sometimes introverted. These are cartoon characters with glasses that are iconic.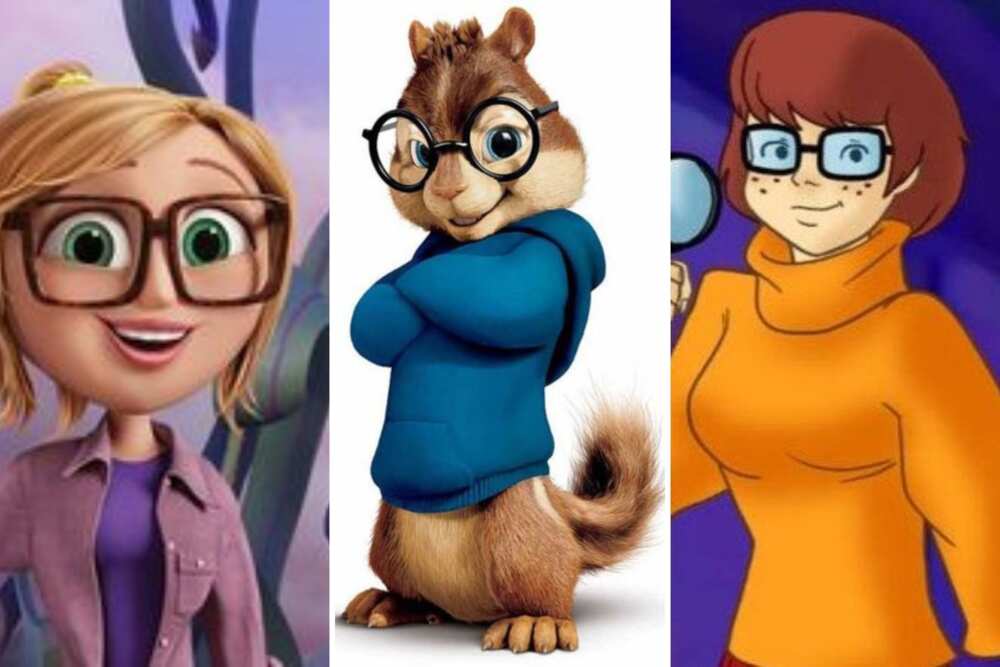 There have been numerous cartoon characters that wear glasses in almost all cartoon shows and movies. They can be leads, supporting cast or even villains. Most of them are often remembered for their signature specs.
33 cartoon characters with glasses
The outward look of a cartoon character reveals a lot about the character in terms of their personality. Glasses in cartoons can sometimes bring out the humour, a sense of absurdity, intelligence and sophistication. Below is a list of cartoon characters with glasses.
1. Velma Dinkley (Scooby Doo)
Velma is a fictional character that is socially awkward in Scooby Doo show. Her brilliant ability to solve mysteries is undeniable, even though she is always left out. Her signature glasses, red skirt, and orange sweater fit her geek character.
2. SpongeBob (SpongeBob Squarepants)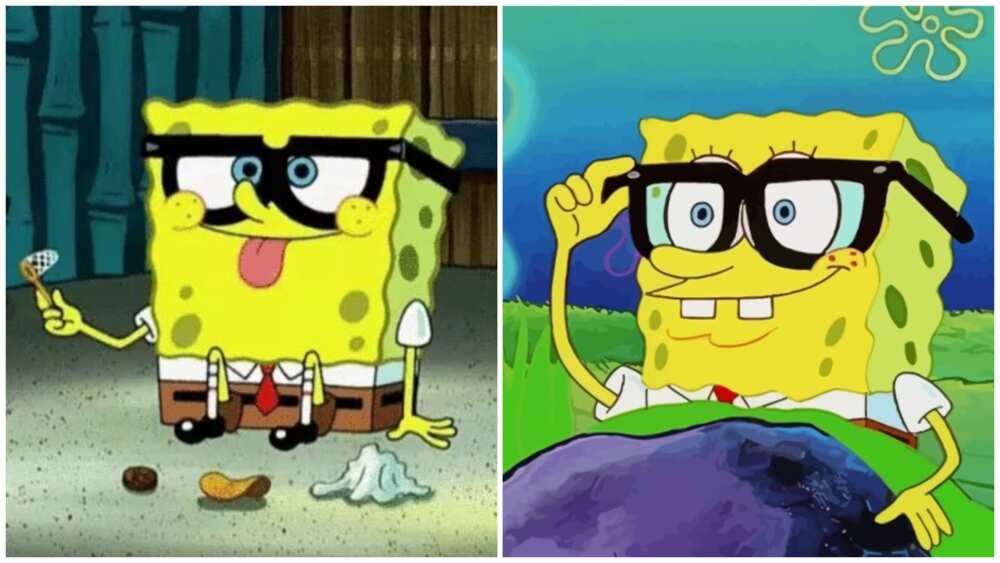 SpongeBob is a famous cartoon character with glasses. The character has a bubbly personality and genuinely loves his friends. Besides his body shape, his square-framed glasses make him unique and adorable. He doesn't wear them all the time but when he needs to focus, like catching jellyfish.
3. Peter Griffin (Family Guy)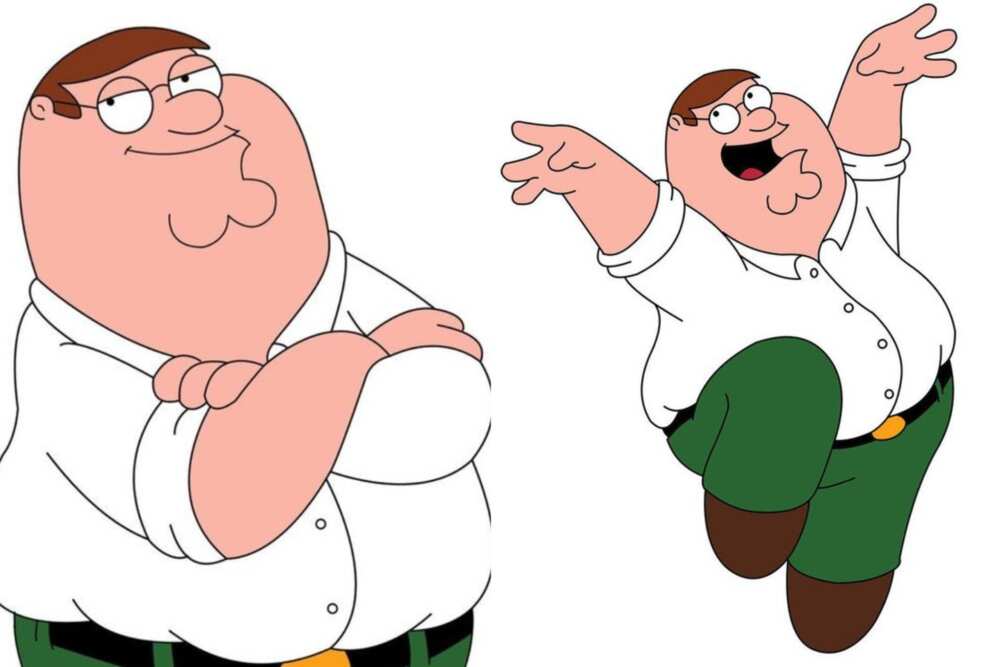 Peter Griffin is a middle-aged man from Family Guy. He lives with his wife Lois and children in Quahog, Rhode Island. Peter has a sense of humour, and his hobby is watching TV and eating breakfast.
4. Johnny (Johnny Bravo)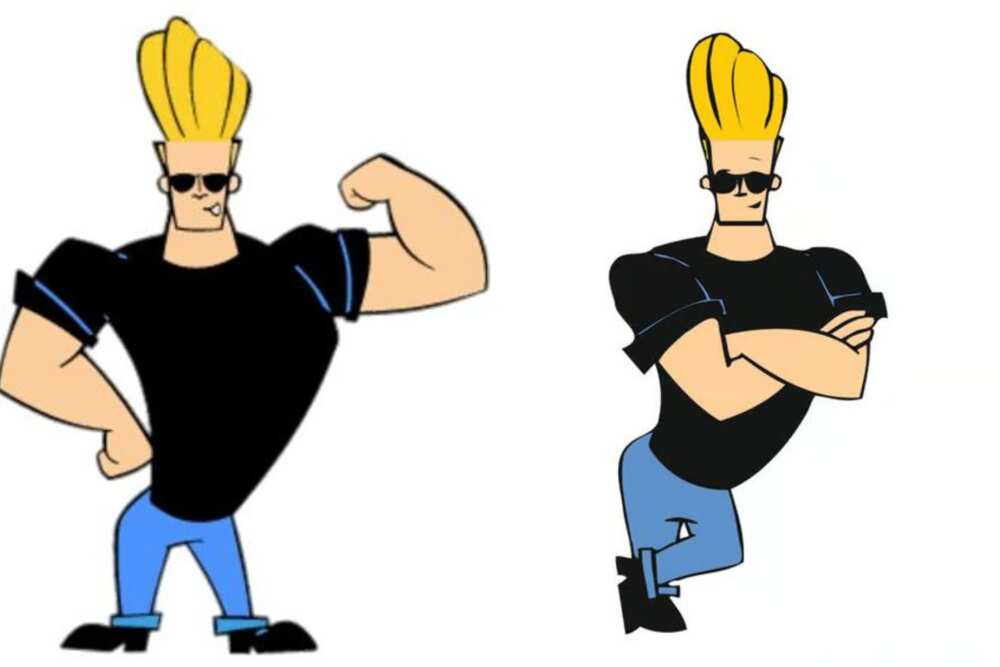 Johnny is one of the famous male cartoon characters with glasses. He is a well-built guy who is always trying to win over the ladies. Johnny's tactics never work, and he makes a fool of himself. His signature look is his tight black shirt, sunglasses, and blond hair.
5. Clark Kent (Superman)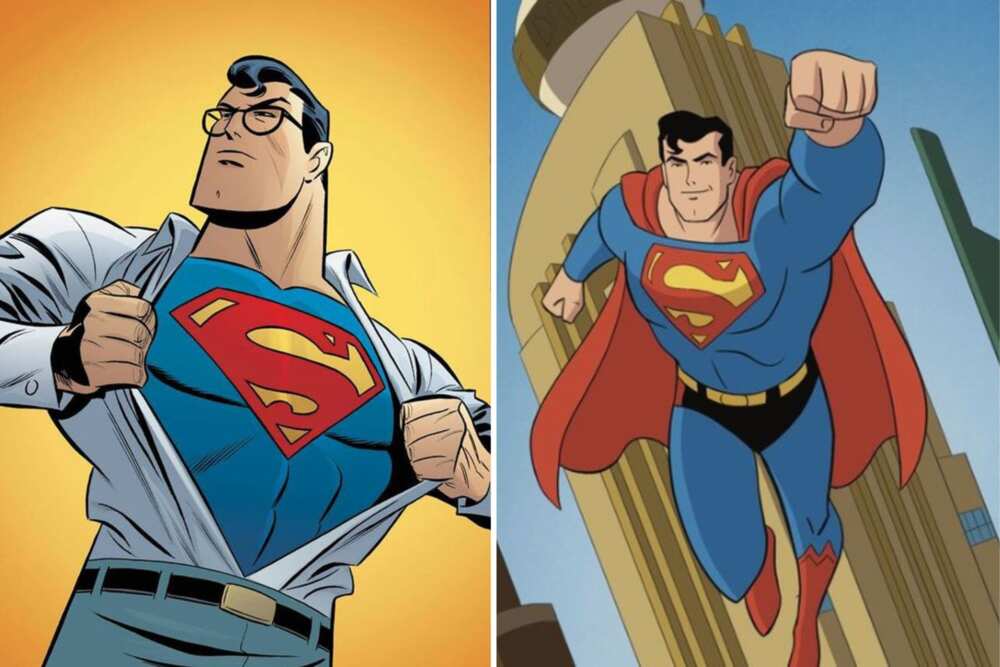 Clark Kent, also known as Superman, is one of the famous cartoon characters with glasses. He is the last survivor of the planet Krypton and was sent to the Kent family as a child. Kent has superpowers which he uses to fight evil and protect humanity. Clark Kent is also the founder of the most powerful group, the Justice League.
6. Mirabel (Encanto)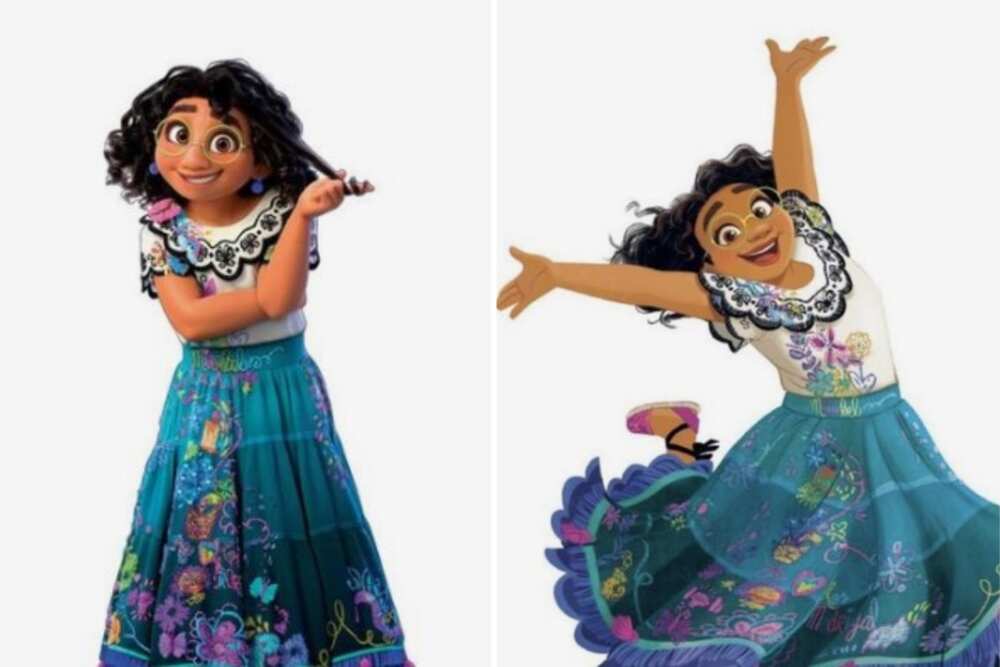 If you love Encanto, you have to love Mirabel. She is not only beautiful but has a beautiful heart. Her character emerges through her music and as the symbol of unity in her family. Her signature glasses make this plucky heroine stand out.
7. Margo Gru (Despicable Me)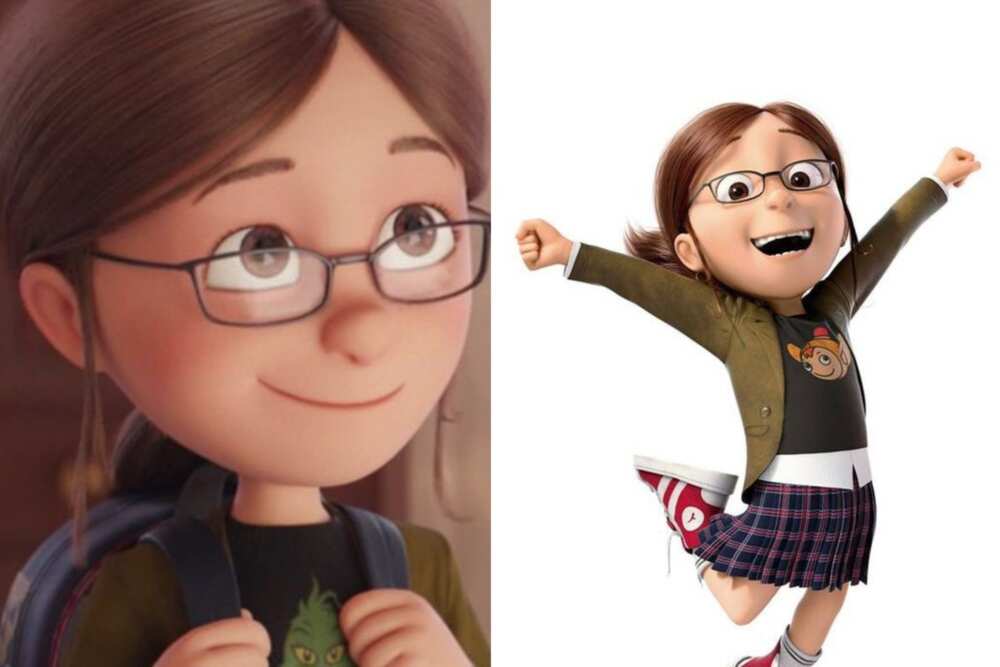 Margo Gru is a character in the Despicable Me movie series. She is the eldest child of Felonius Gru and Lucy Wilde. Margo had a troubled childhood which led her to have trust issues. She is not only cautious but intelligent and sarcastic.
8. Carl Fredricksen (Up)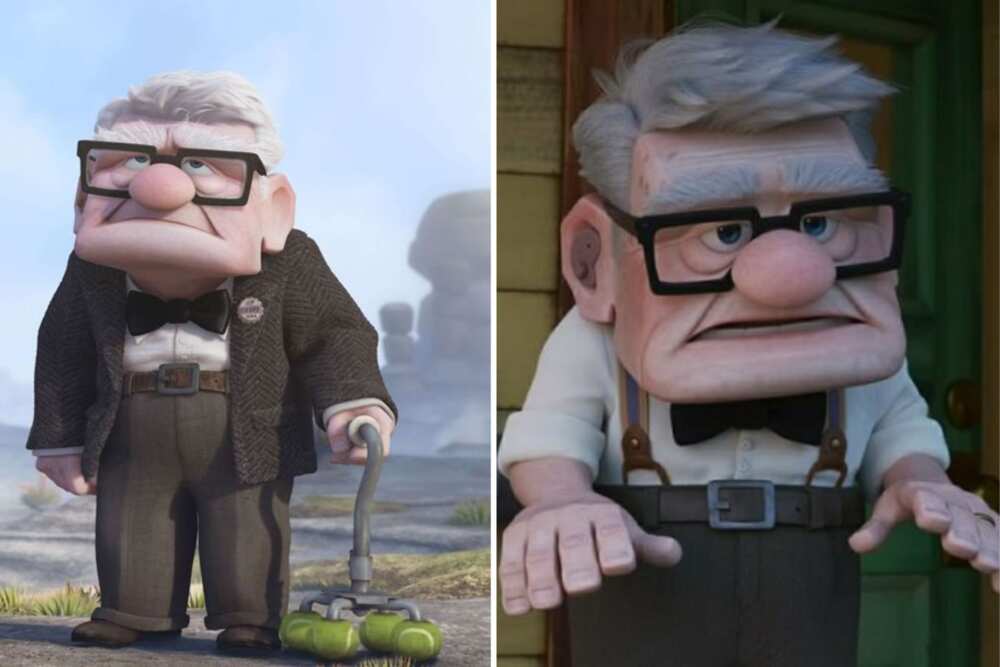 Fredricksen is one of the old cartoon characters with glasses. Although he is a moody character, he has a soft side that reminds people of their grandpas. He has signature glasses that he has worn since childhood.
9. Simon (Alvin and the Chipmunks)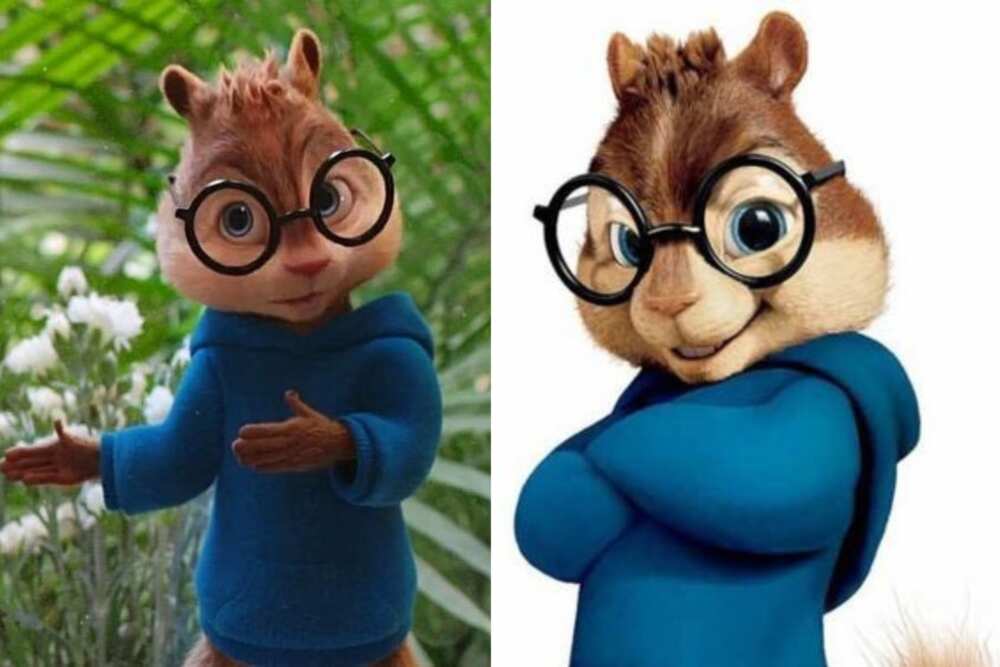 Simon from Alvin and the Chipmunks is a loveable character. The little guy has a big heart and loves his family and friends. Although he can be a troublemaker, his signature glasses symbolise his wits. Simon is the smartest among his three siblings.
10. Doc (Snow White and the Seven Dwarfs)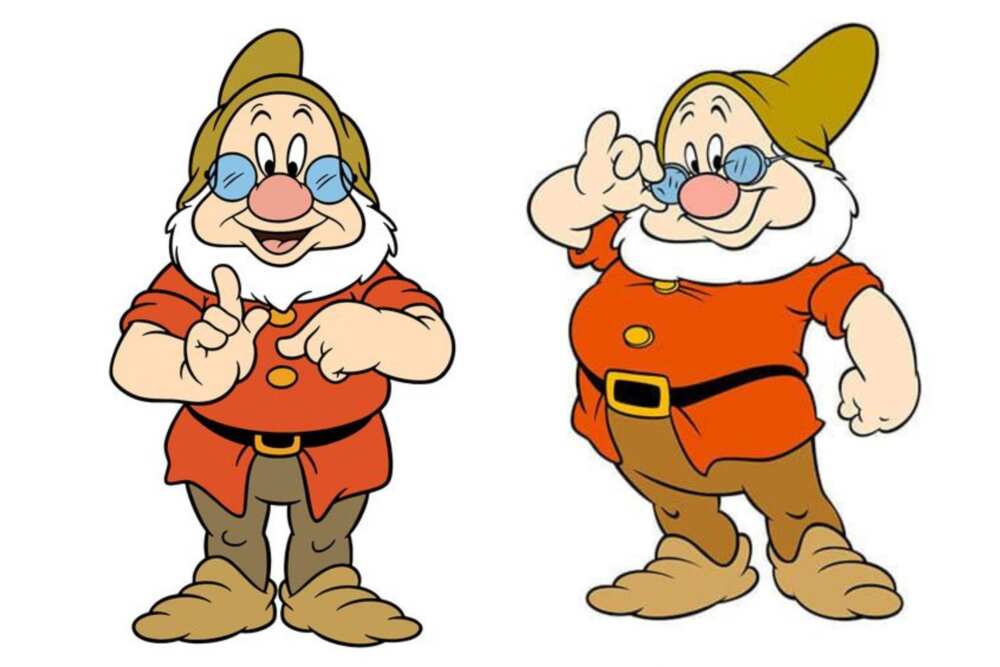 Doc is one charming character from Snow White and the Seven Dwarfs. He is a leader to his other brothers, who look up to him. His round tinted glasses ring out his calm and wise nature.
11. Chuckie Finster (Rugrats)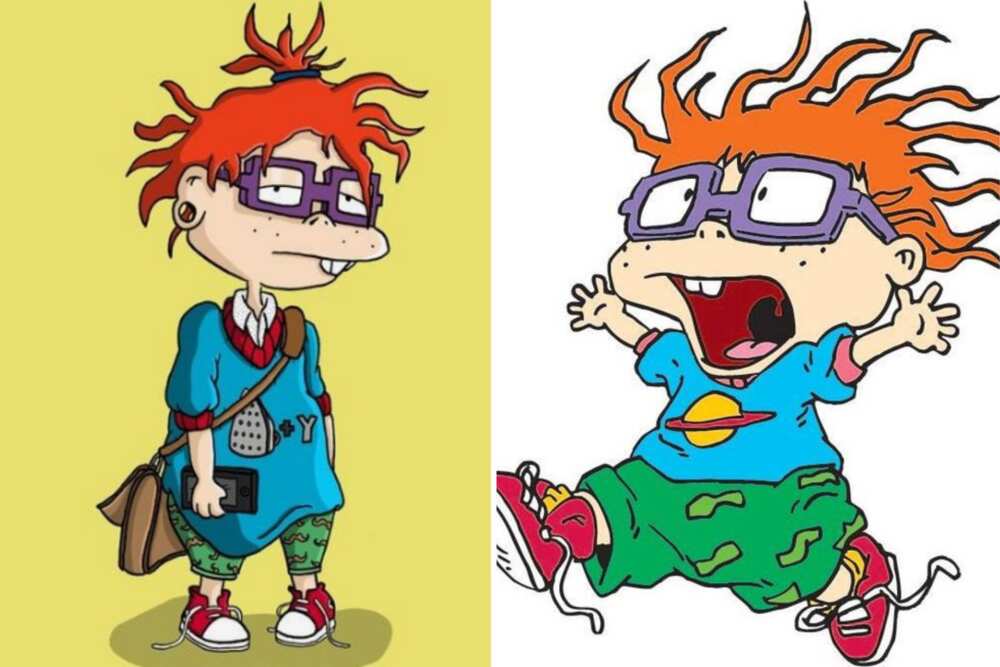 Chuckie Finster is one of the most memorable cartoon characters that wear glasses. He is from the animated series Rugrats and All Grown Up! Chuckie is Tommy's best friend who has a timid character. Although Angelica bullies him, he tries to rescue his close friends despite his fear.
12. Dexter (Dexter's Laboratory)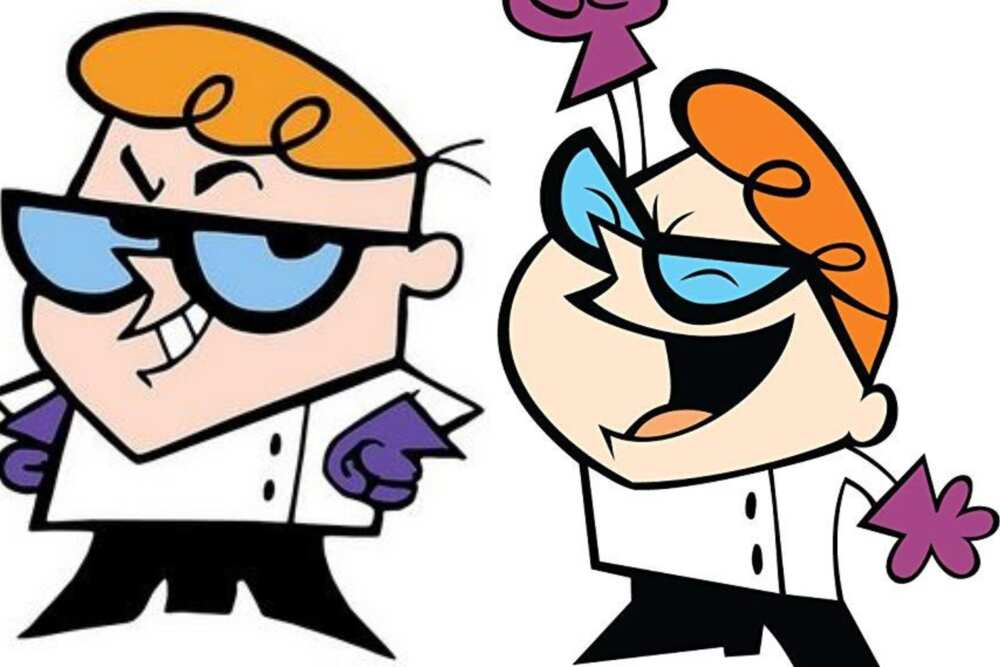 If you are a 90s kid, you must have watched the adventures of Dexter and his sister Deedee. Dexter is one of the famous nerdy cartoon characters with glasses. He is a genius who has a laboratory where he runs his experiments. Dexter has a big personality, and his red hair and, pointy glasses, white lab coat make him memorable.
13. Daria Morgendorffer (Daria)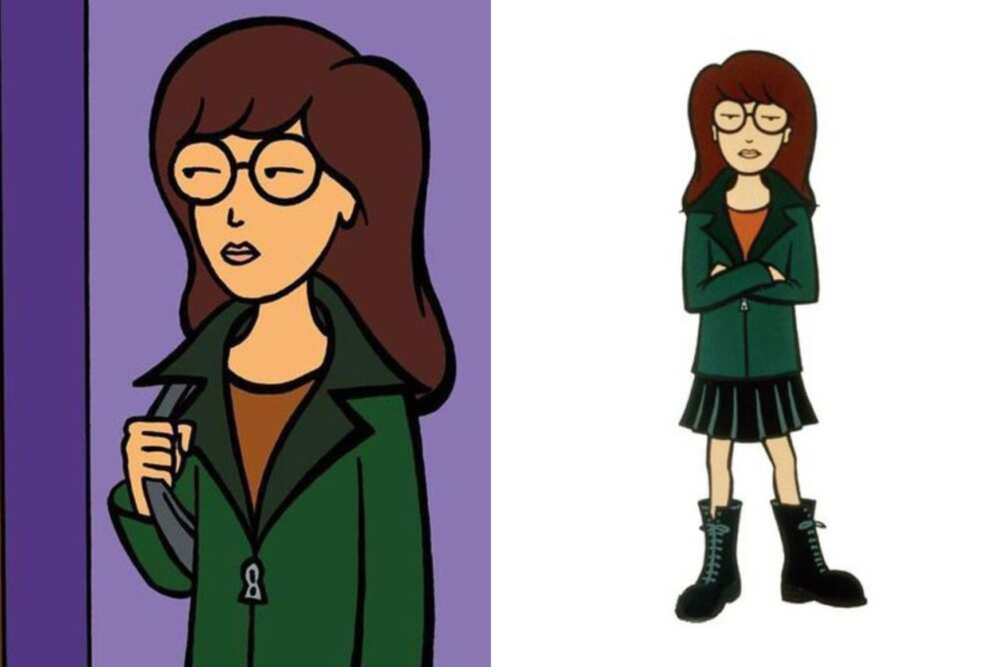 Daria Morgendorffer is one of the popular female cartoon characters with glasses from the eponymous animated series. Her character portrays a cynical student who is socially awkward. She prefers to pursue intellectual activities with her peers. Other than her signature glasses, her sarcasm and staunchness make her unique.
14. Edna Mode (The Incredibles)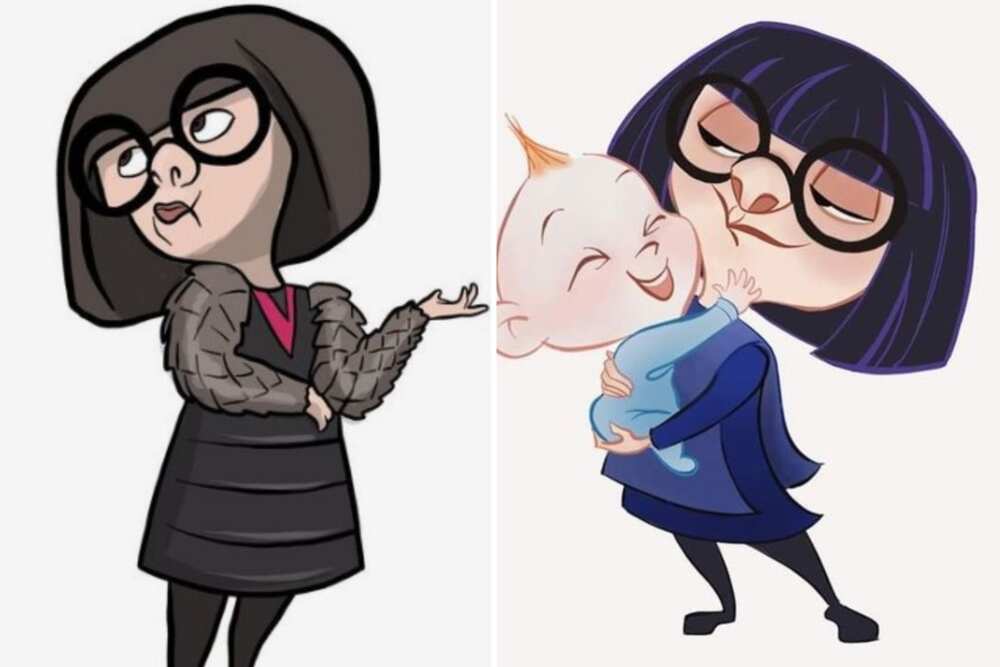 Edna Mode is one of the female cartoon characters with glasses and the brain behind The Incredibles. She is a fashion designer who prefers a minimalist look. This strong heroine puts even the most powerful heroes in their place.
15. Nobita (Doraemon)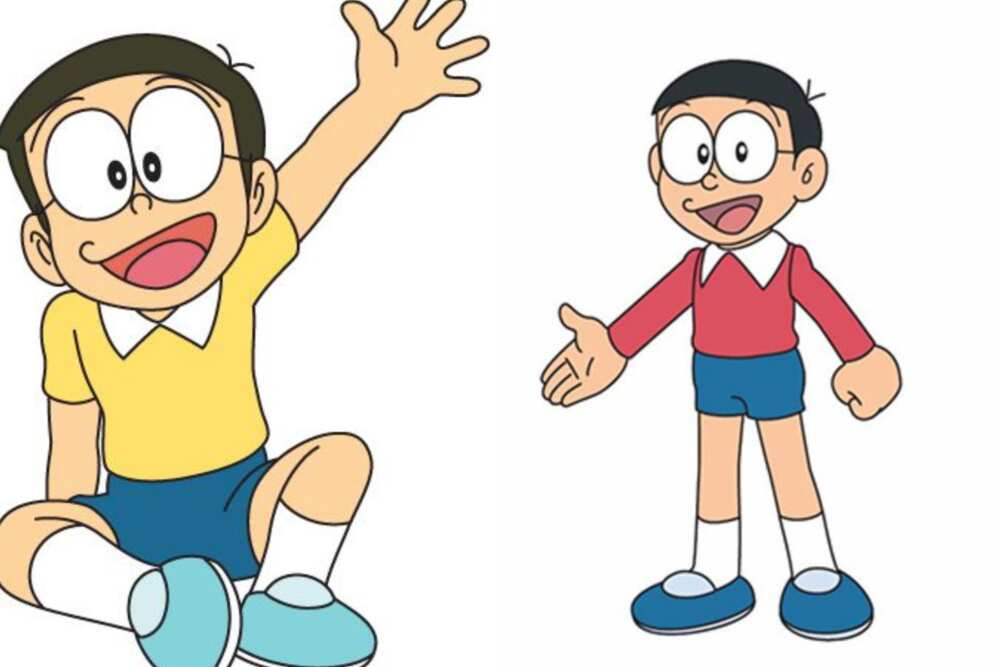 Nobita is one of the most loved cartoon characters that wear glasses. He is the main protagonist in Doraemon, and despite his flaws, he has a golden heart. Nobita is recognised for his black hair and round glasses.
16. Megan Griffin (Family Guy)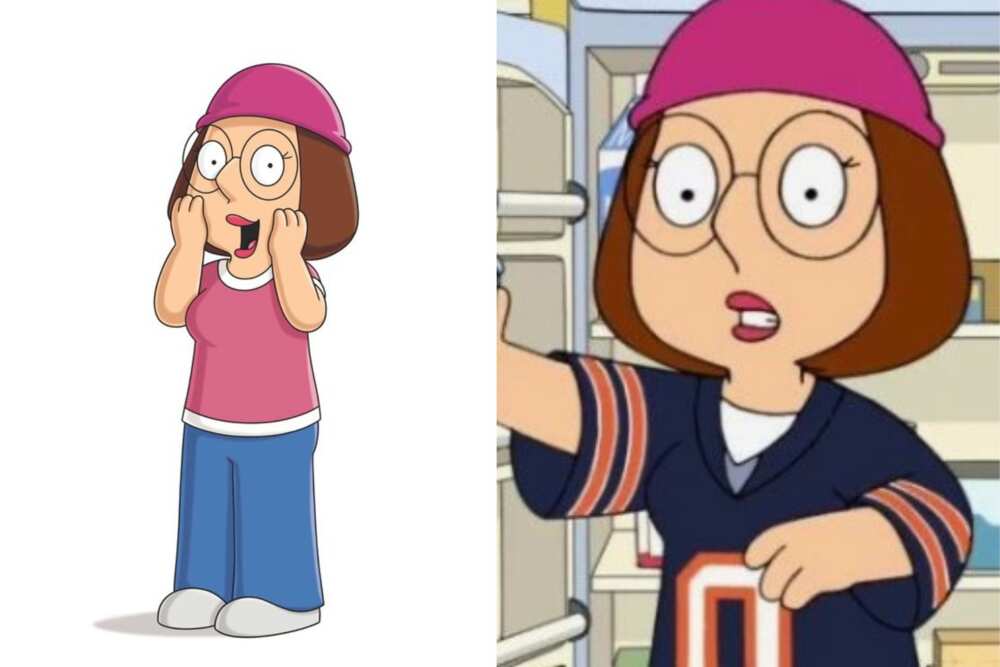 Megan Griffin, popularly known as Meg, is a fictional character in Family Guy. She is the firstborn child of Lois and Peter Griffin and has two siblings, Chris and Stewie. Megatron, as her father calls her, epitomises terrible luck and family jokes. She is bullied, and people have been cruel to her.
17. Sam Sparks (Cloudy With a Chance Of Meatballs)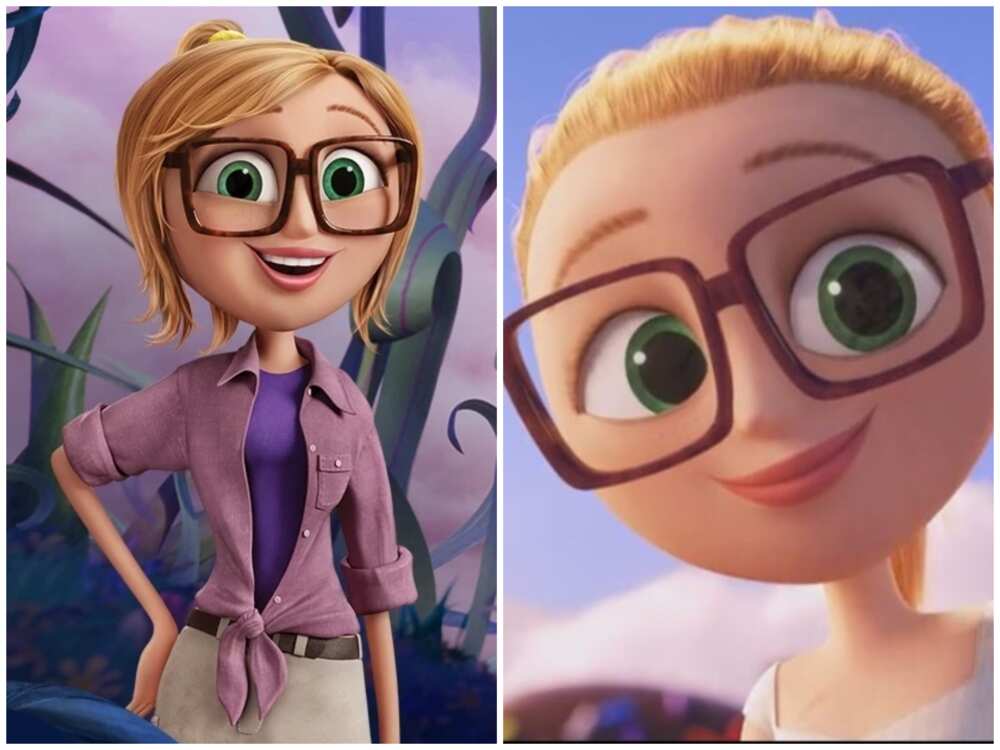 Samantha Sparks, known as Sam, is from Cloudy with a Chance of Meatballs. She also appears in Cloudy: The Series. Sam dreams of becoming a meteorologist, as she loves everything about the weather.
18. Sherman (Mr Peabody & Sherman)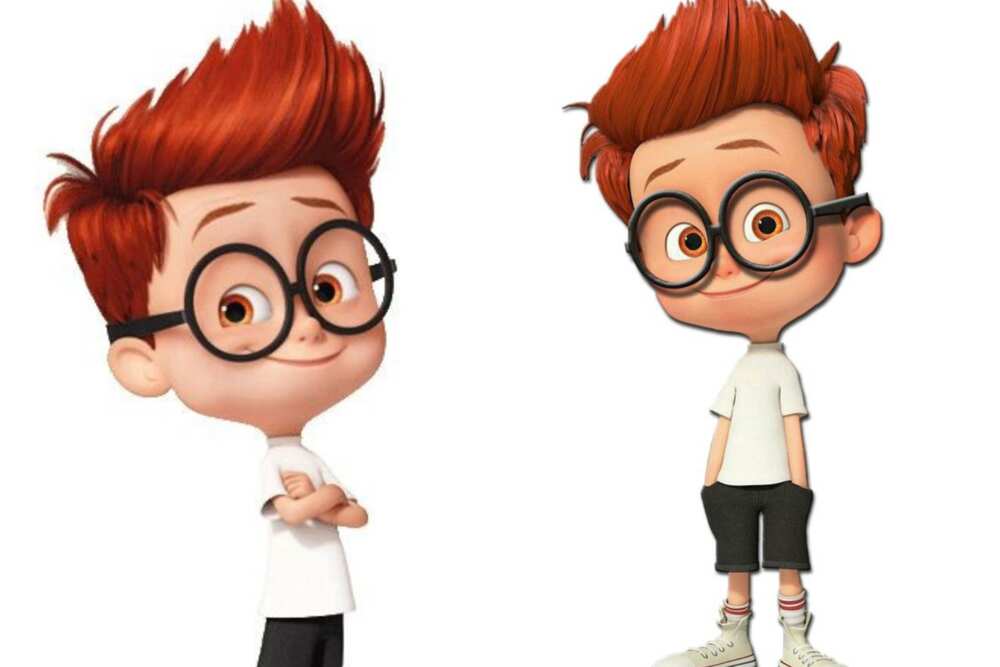 Sherman is the adopted son of Mr Peabody. The 7-year-old boy is a genius, loyal and kind-hearted. Sherman falls in love with his friend Penny and will do anything to win her over.
19. Arthur Read (Arthur)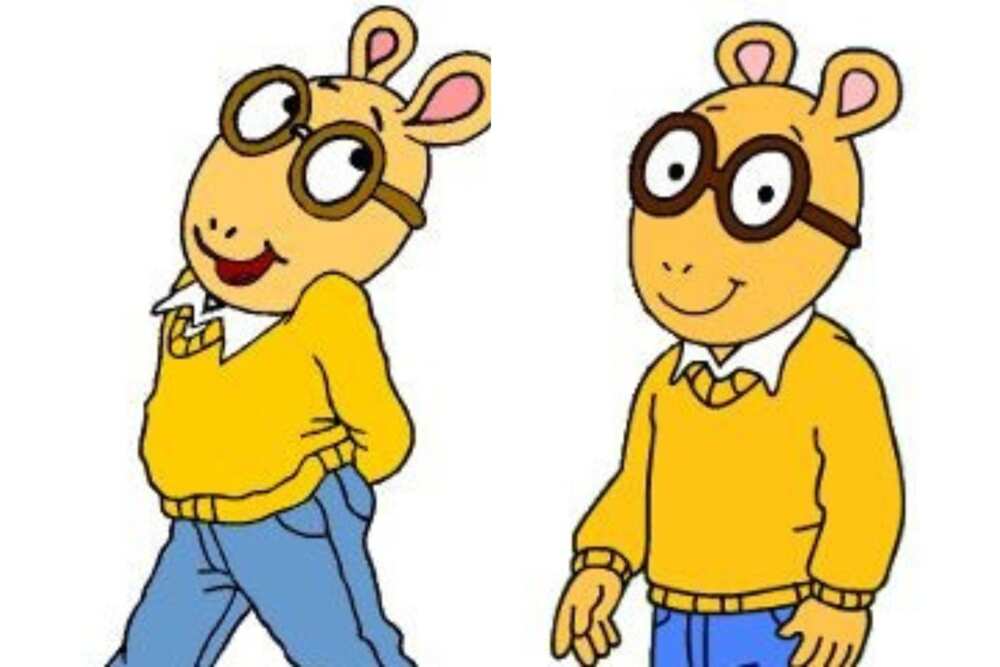 Arthur Read is the lead character in the animated series Arthur. He studies in Mr Ratburn's class at Lakewood Elementary School. Arthur is not only an average student but also a mediocre pianist.
20. Mr Peabody (Mr Peabody & Sherman)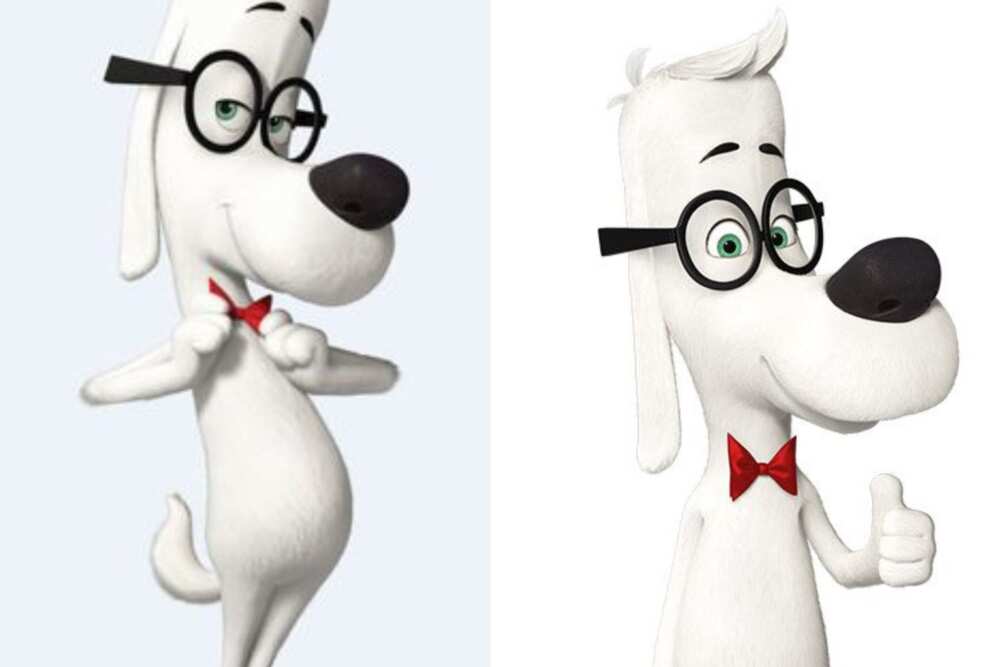 Hector Peabody is a talking beagle in the animated film Mr Peabody & Sherman. The puppy is brilliant and always interested in pursuing intellectual things. This isolates him from the other puppies.
21. Tina Belcher (Bob's Burgers)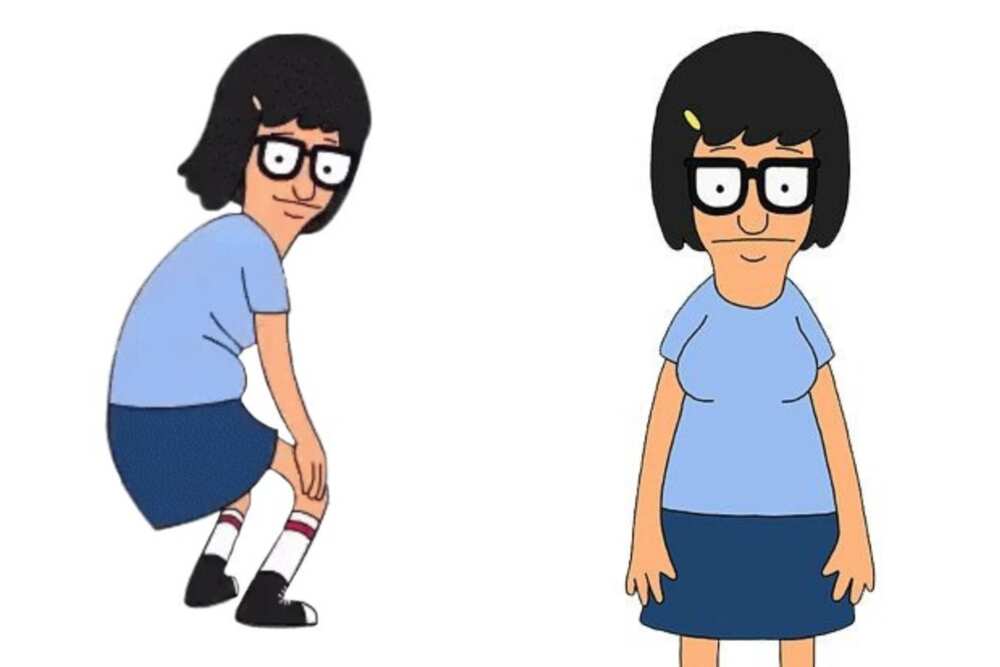 Tina Belcher is the firstborn daughter of Bob Belcher. She has a quirky personality and is crazy about boys. This socially awkward girl is big on doing the right thing, although she gets into trouble regarding relationships.
22. Mandark (Dexter's Laboratory)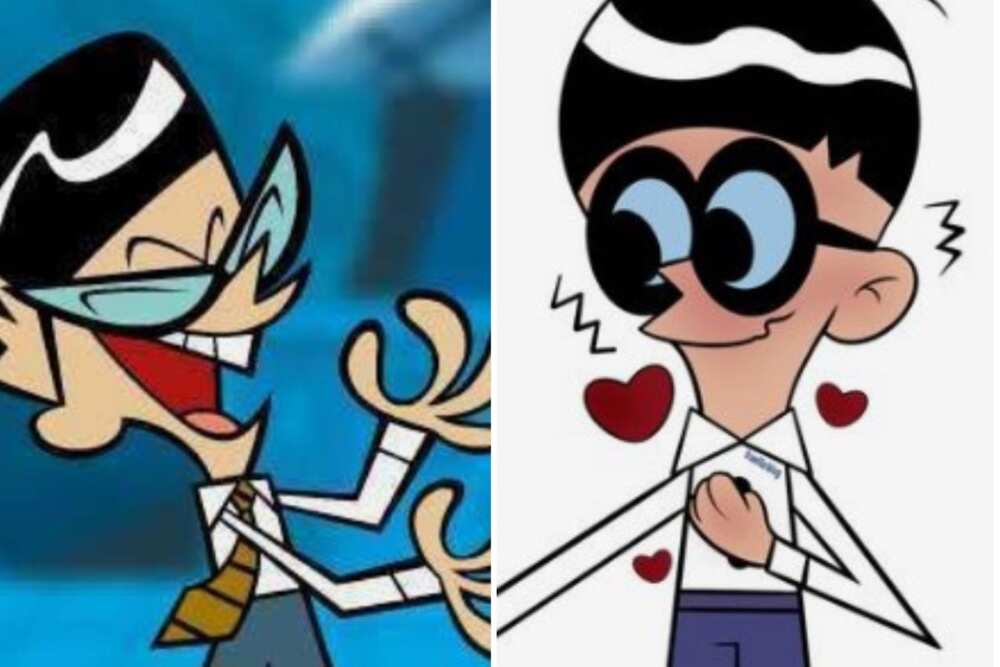 Mandark is another character with glasses in the animated series Dexter's Laboratory. He is the main antagonist and Dexter's rival. Dexter's nemesis is determined to destroy Dexter and his lab so he can remain on top.
23. Chicken Little (Chicken Little)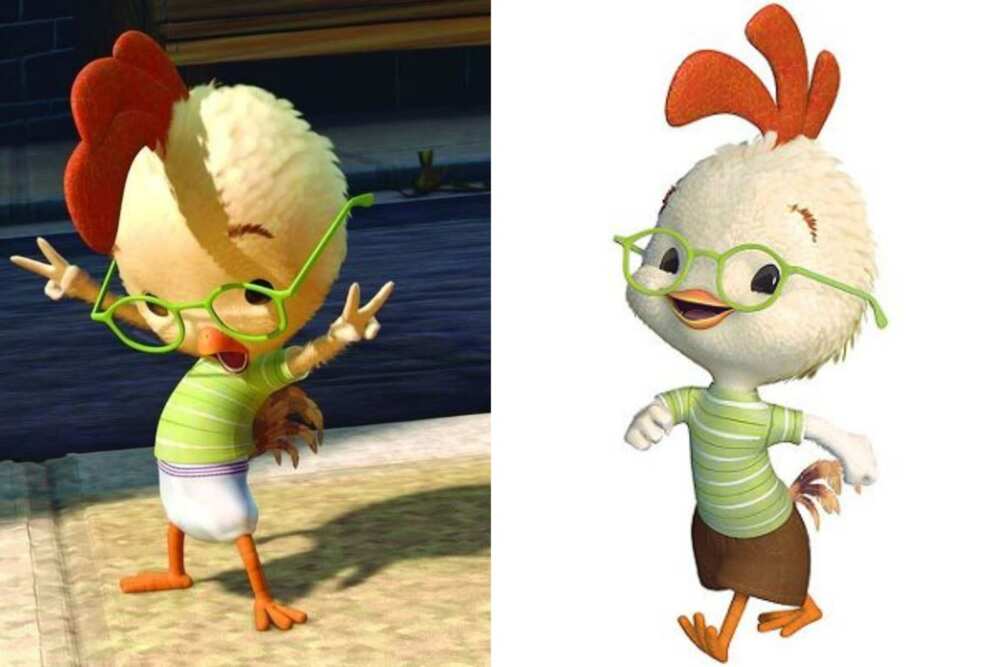 Chicken Little is the lead character of the animated film of the same name. He is thoughtful and kind. Chicken Little can be prone to accidents and is sometimes paranoid.
24. Daddy Pig (Peppa Pig)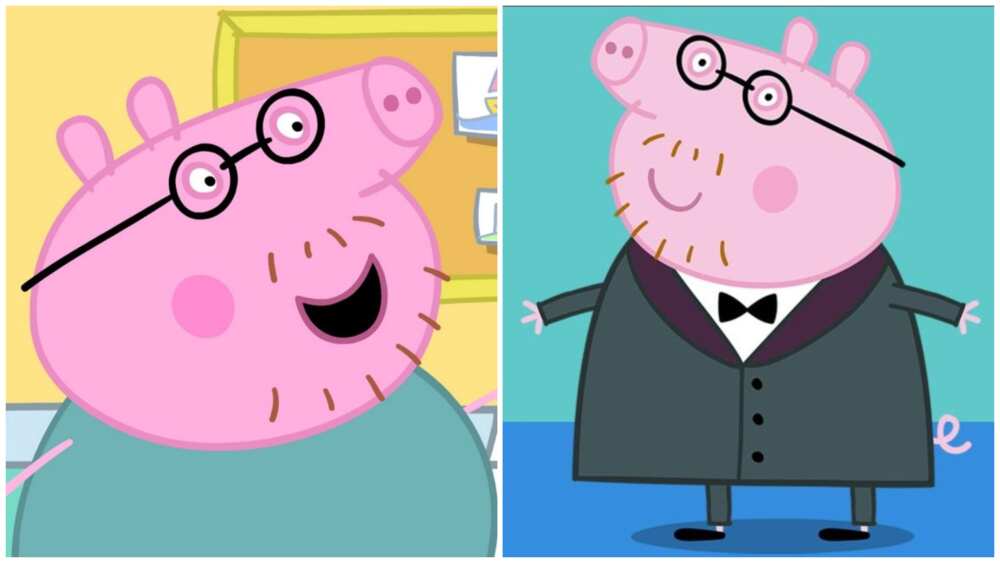 Daddy Pig is one of the funny characters with glasses. He is the father of Peppa and George, and Mummy Pig's husband. Daddy Pig is clumsy, adventurous and has a sense of humour. He is intelligent but lazy and often forgets things.
25. Roz (Monsters, Inc.)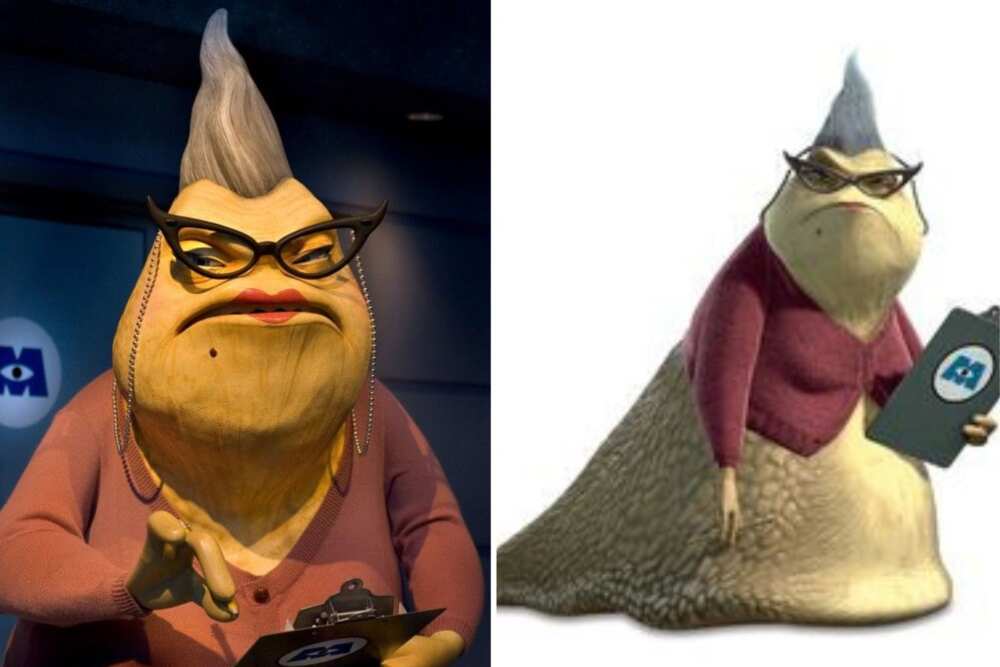 Roz appears in the animated movies Monsters, Inc. and Monsters University. The slug-like monster has brownish-yellow skin and grey eyes with big glasses. Roz is also known as Number 1 in the Child Detection Agency, which she leads.
26. Sadness (Inside Out)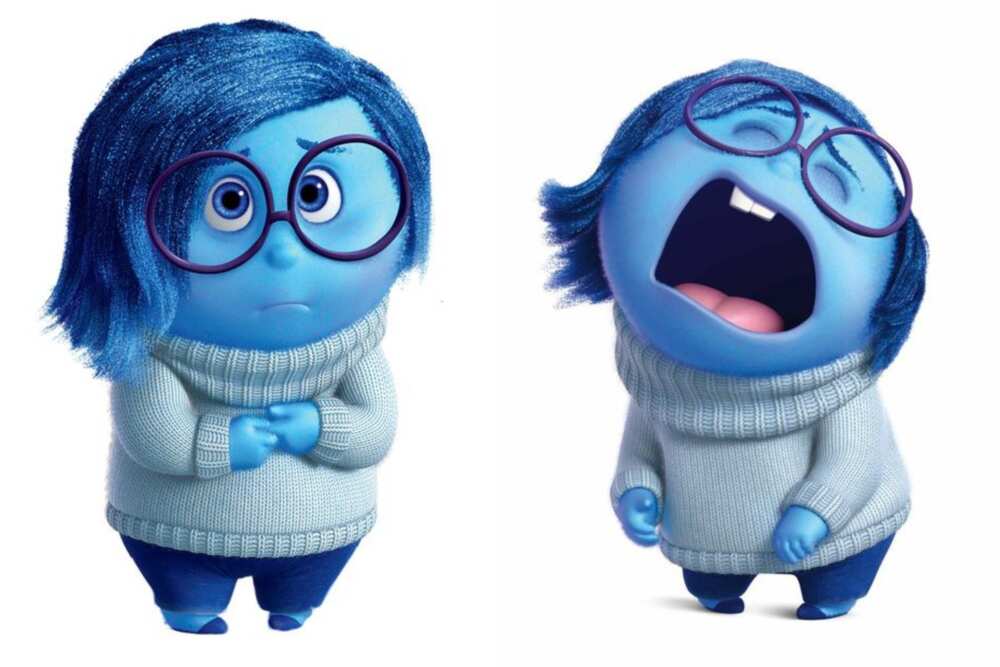 Like her name, sadness is an emotion in Inside Out. She is often overlooked by others even though she is brilliant. She is eventually accepted, giving her confidence and belief in herself.
27. Geppetto (Pinocchio)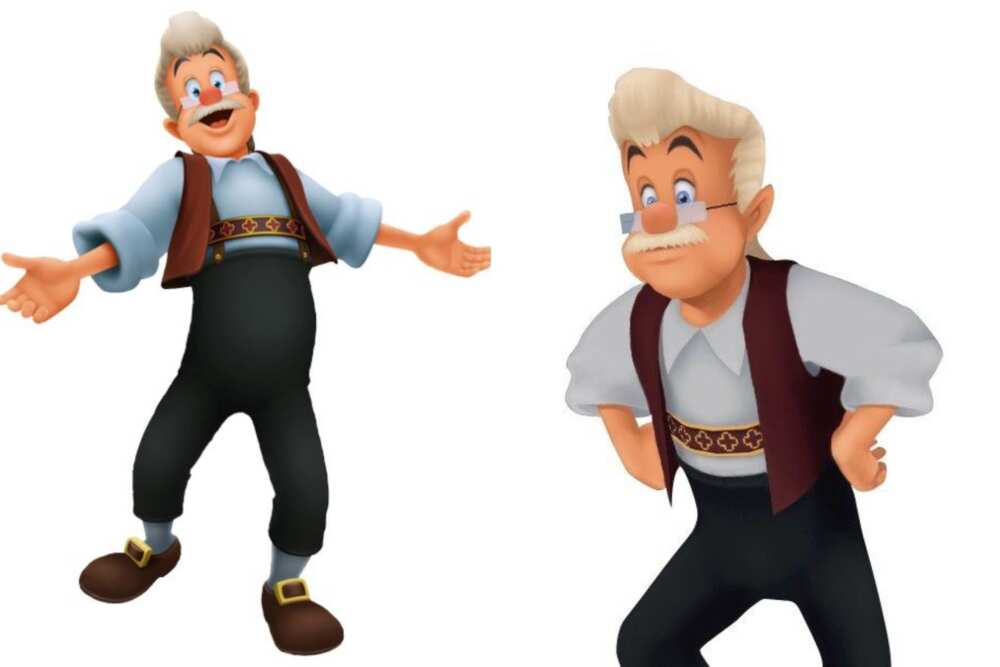 Geppetto is one of the Disney characters with glasses from the 1940 film Pinocchio. He is the creator of Pinocchio, a wooden puppet. The puppet gains life and spends time with Geppetto, who loves to spend time in his workshop.
28. Professor Farnsworth (Futurama)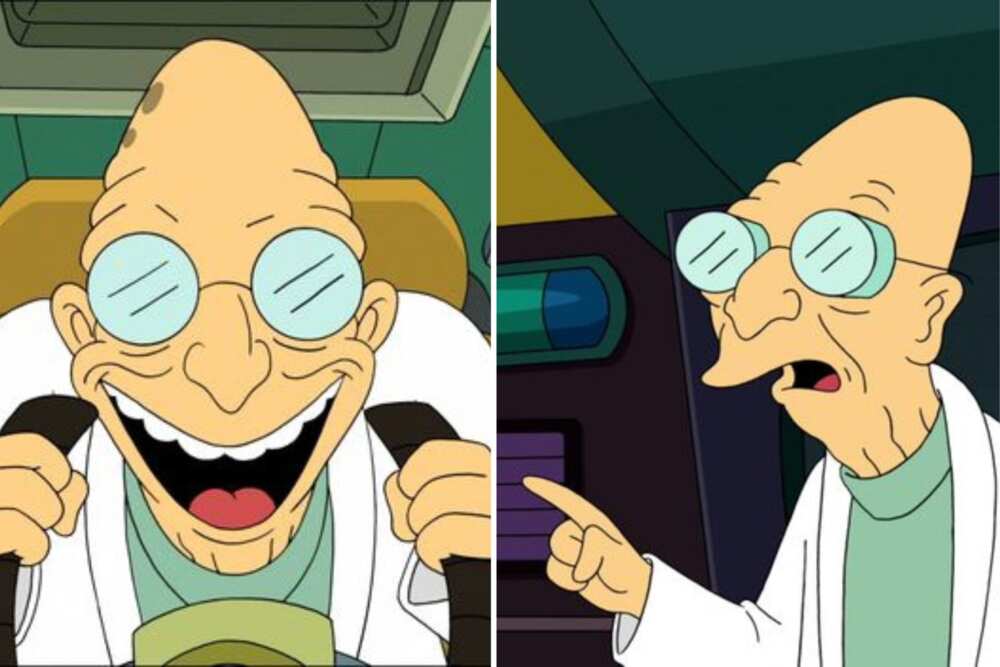 Professor Hubert is the CEO of Planet Express and Fry. Despite his old age, he still utilises his intelligence and knowledge. He can be senile at times which makes his personality appear arrogant and aloof.
29. Scrooge McDuck (DuckTales)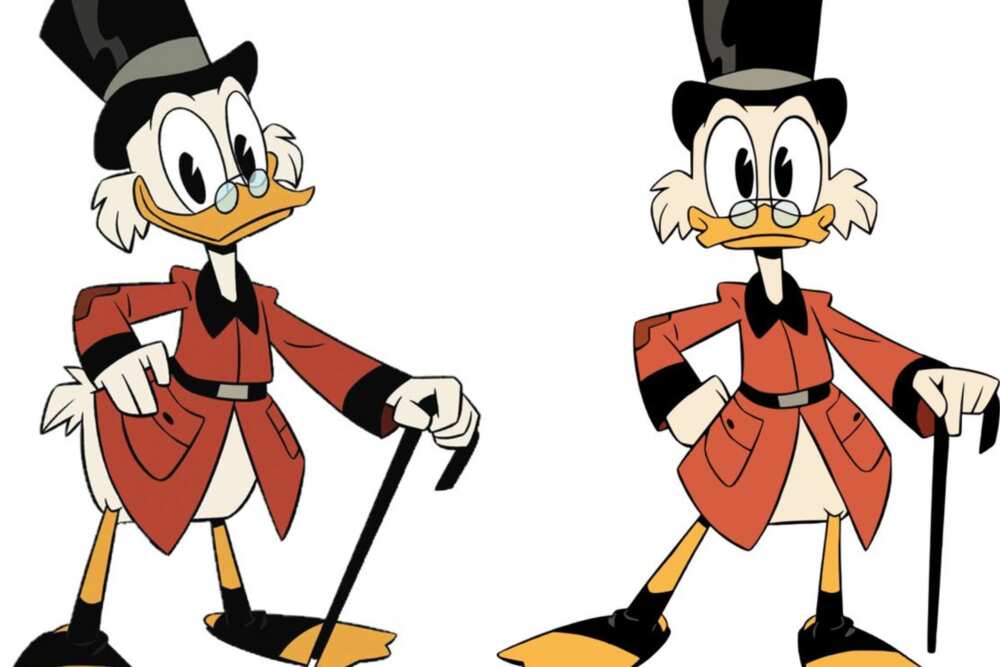 Scrooge McDuck is the main character in the TV series DuckTales. He is the wealthiest duck in the world and Donald Duck's uncle. Other family members of the family include Huey, Dewey, and Louie. His signature look includes a hat, blue frock coat, and glasses.
30. Linda Gunderson (Rio)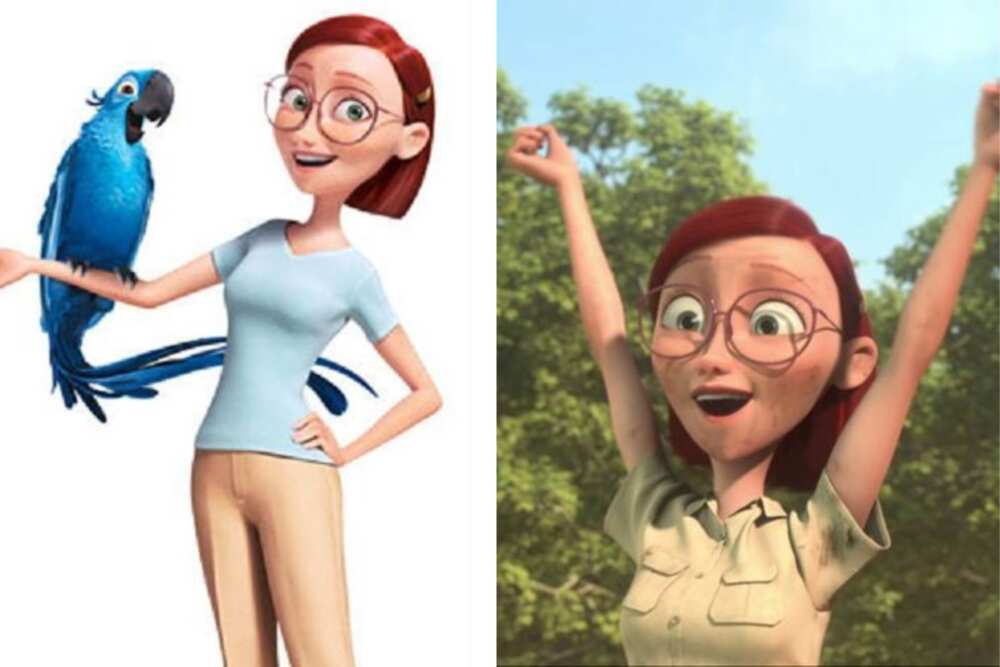 Linda Gunderson from Rio is a quiet and protective owner of a blue macaw named Blu. She is trusting, adventurous and daring. The protagonist will do anything to protect her beloved pet.
31. Marcie (Peanuts)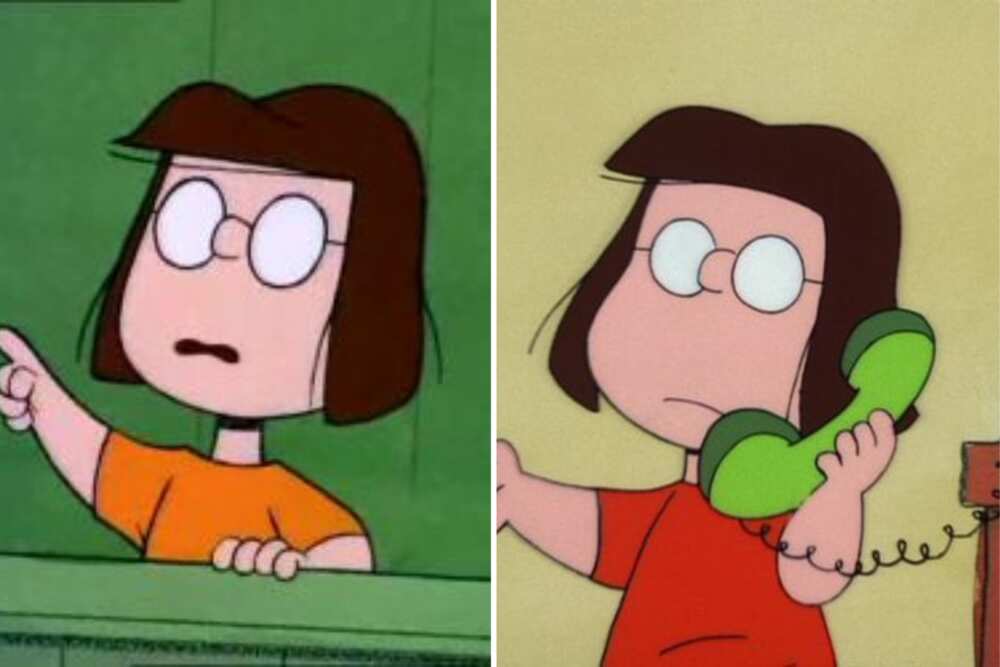 Marcie is an innovative and sweet character. She is Peppermint Patty's best friend who loves books, unlike her friend. Marie is caring and goofy at the same time.
32. Hans Moleman (The Simpsons)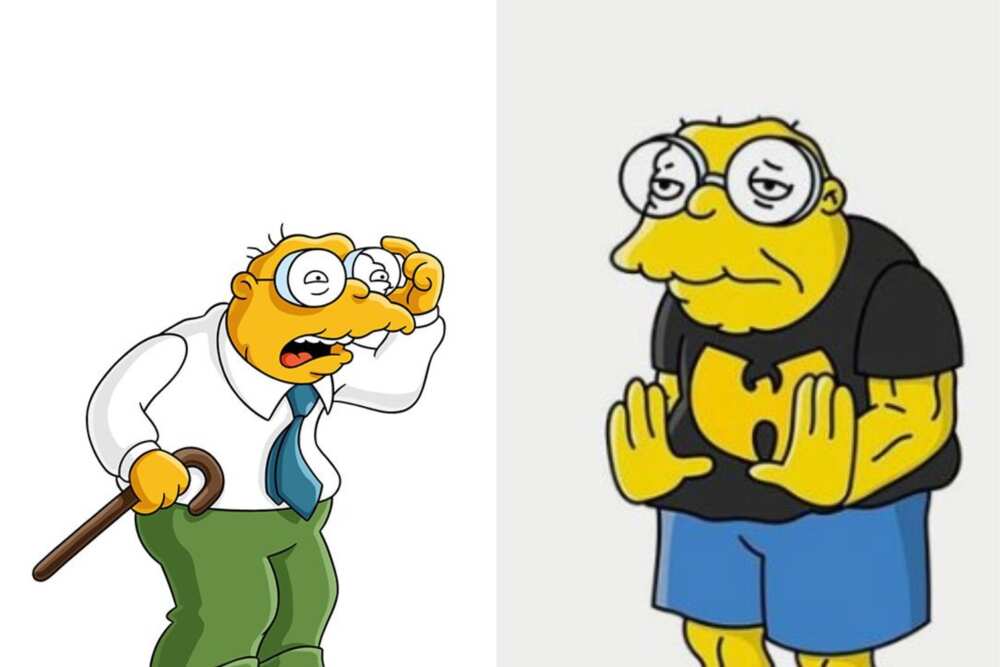 Hans Moleman is a character surrounded by bad luck in the famous American Sitcom The Simpsons. He gets killed repeatedly but somehow comes out unharmed in the next episode he's in.
33. Honey Lemon (Big Hero 6)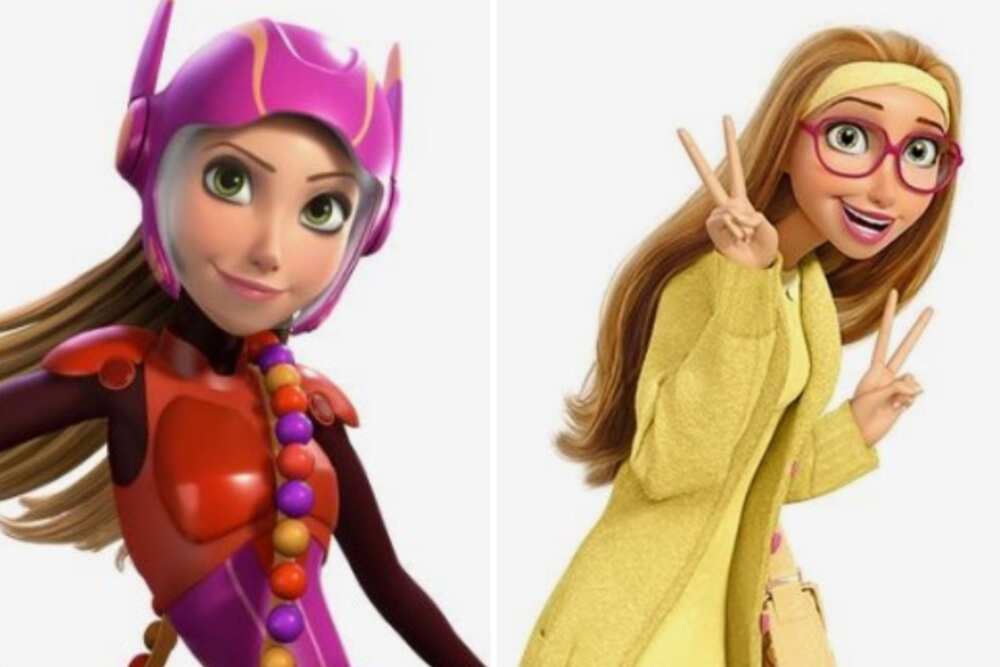 Honey Lemon is an animated cartoon character in Big Hero 6. She is intelligent and bubbly, and optimistic. Her love for nature and chemistry leads her to perform experiments to change her environment.
In the animation world, numerous cartoon characters wear glasses. Some are protagonists and antagonists; other times, they are in the background. In many cases, they with glasses give off a vibe of intelligence. The above is a list of popular cartoon characters with glasses.
Legit published an article about funny cartoon characters. Cartoon characters have provided entertainment, education, action and laughter for many years. Over the years, there have been cartoon heroes that have won the hearts of fans more than others. These are the funny cartoon characters that will lift your spirits.
Cartoons have been around for many years, and many characters have emerged. Some have resonated more than others gaining a considerable fan base worldwide. Funny cartoon characters have made viewers laugh at their general appearance and personality. Here are some of the funniest cartoon characters in the animation world.
Source: Legit.ng