100+ smile quotes to send to your friends or use as captions
A simple smile can cheer you up and turn your day around. Although a smile only lasts for a moment, its impact can last a lifetime. It does not require much to make the people around you happy. Sometimes smile quotes do the magic.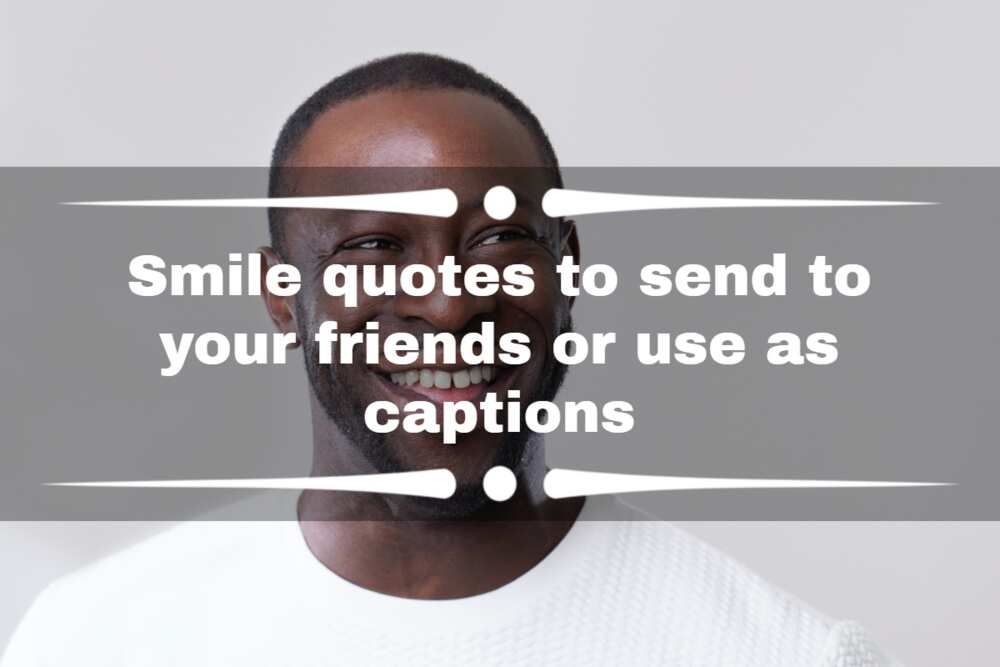 A smile is a powerful gesture of kindness that one should share daily. When you smile, you exude confidence and radiate warmth to the people around you. You can share keep smiling quotes or use them as captions on social media to uplift one's spirit.
Beautiful smile quotes
Smiling makes you more approachable and easy to interact with. The following quotes to make you smile will help brighten your day and put a smile on your face.
Nothing shakes the smiling heart.
A smile remains the most inexpensive gift I can bestow on anyone, and yet its powers can vanquish kingdoms. — Og Mandino
There are a hundred languages worldwide, but a smile speaks them all.
There is fear when frowning. There is love when smiling. — Maxime Lagace
Wear a smile and have friends; wear a scowl and have wrinkles. — George Eliot
A smile can stop a forthcoming frown in its tracks.
A warm smile is the universal language of kindness. — William Arthur Ward
It takes a lot of energy to be negative. You have to work at it. But smiling is painless. I'd rather spend my energy smiling. — Eric Davis
Smiling is the best example of how valuable things aren't always expensive.
A smile doesn't always stand for a perfect life. — Faraaz Kazi
Smiling is definitely one of the best beauty remedies. If you have a good sense of humour and a good approach to life, that's beautiful. — Rashida Jones
It takes 26 muscles to smile and 62 muscles to frown. Smile. You were designed to smile.
Smile at strangers, and you might change a life. — Steve Maraboli
When you see a person without a smile, give them yours. — Zig Ziglar
A smile is the second-best thing you can do with your lips.
Life is like a mirror. Smile at it, and it smiles back at you. — Peace Pilgrim
A smile is the best defence against a cruel world.
All the statistics in the world can't measure the warmth of a smile. — Chris Hart
A smile is the best way to get away with trouble. — Peace Pilgrim
Smile. It intimidates those who wish to destroy you.
Your smile will give you a positive countenance that will make people feel comfortable around you. — Les Brown
Smile is a magnet; it attracts happiness towards it. — Invajy
Deep smile quotes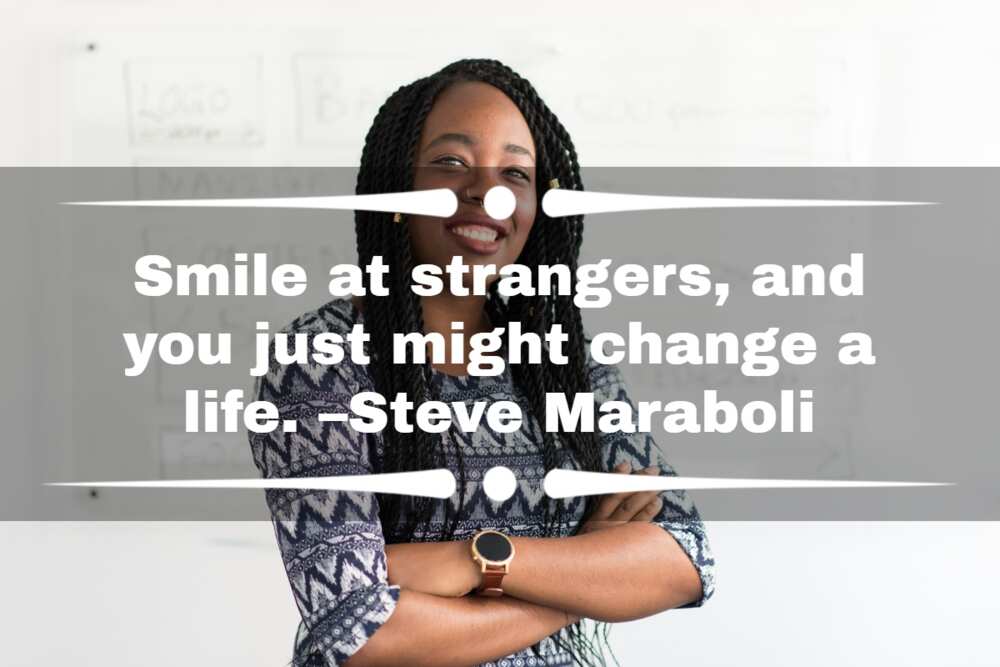 When you smile, you automatically appear more attractive. Therefore, if you are looking to attract the attention of a special 'someone', how about smiling more?
Start every day off with a smile and get it over with. ​— W.C. Fields
Smile at the obstacle, for it is a bridge. — Medusa
I love those who can smile in trouble. — Leonardo da Vinci
A smile puts you on the right track. A smile makes the world a beautiful place. When you lose your smile, you lose your way in the chaos of life. — Roy T. Bennett
Before you put on a frown, make absolutely sure there are no smiles available. — Jim Beggs
Better by far, you should forget and smile than you should remember and be sad. — Christina Rossetti
A smile is a curve that sets everything straight. — Phyllis Diller
When you smile at a stranger, there is already a minute outflow of energy. You become a giver. — Eckhart Tolle
Smile from your heart; nothing is more beautiful than a woman (person) who is happy to be herself. — Kubra Sait
The greatest self is a peaceful smile that always sees the world smiling back. — Bryant H. McGill
Just for today, smile a little more. — James A. Murphy
Use your smile to change the world but don't let the world change your smile.
Silence and smiles are two powerful tools.
Sometimes, your joy is the source of your smile, but sometimes your smile can be the source of your joy. — Thich Nhat Hanh
People seldom notice old clothes if you wear a big smile. ​— Lee Mildon
It only takes a split second to smile and forget, yet to someone that needs it; it can last a lifetime. — Steve Maraboli
A smile is the chosen vehicle of all ambiguities. — Herman Melville
The smile that is worth the praises of earth is the smile that shines through tears. — Ella Wheeler Wilcox
What sunshine is to flowers, smiles are to humanity. These are trifles, to be sure, but scattered along life's pathway, the good they do is inconceivable. — Joseph Addison
If you see someone without a smile, give them one of yours.
Short smile quotes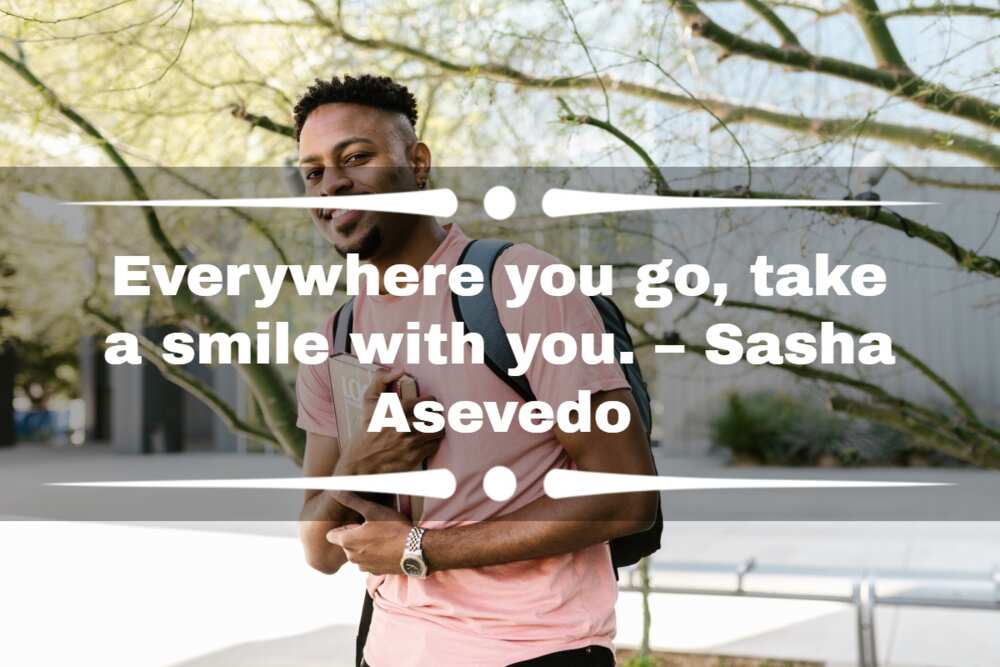 Never be discouraged when you feel you are in your lowest spirit; that can ruin the entire day. These smile mottos can change your attitude and get the ball rolling.
Smile; it's free therapy.
Peace begins with a smile. — Mother Teresa
Smile is the beauty of the soul. — Lailah Gifty Akita
Be the reason someone smiles today.
Everywhere you go, take a smile with you. — Sasha Asevedo
Nothing you wear is more important than your smile.
You don't have to be happy to smile. — Daniel Willey
If you are too busy to smile, you are too busy.
A smile is a universal welcome. — Max Eastman
A smile is a facelift that's in everyone's price range! — Tom Wilson
Of all the medicines in the inner life, a smile is by far the best medicine. — Sri Chinmoy
Don't cry because it's over; smile because it happened. — Dr Seuss
Count your age by friends, not years. Count your life by smiles, not tears.
You can only hold a smile for so long; after that, it's just teeth. — Chuck Palahniuk
If we cannot smile, the world will not have peace. — Thich Nhat Hanh
Smiling is my favourite exercise.
Smiling resets your mood.
Keep walking and keep smiling. — Tiny Tim
A smile is the best makeup any girl can wear.
A smile is an inexpensive way to change your looks. — Charles Gordy
Whatever comes my way, I take it with a smile.
Wrinkles should merely indicate where smiles have been. — Mark Twain
Best smile captions for Instagram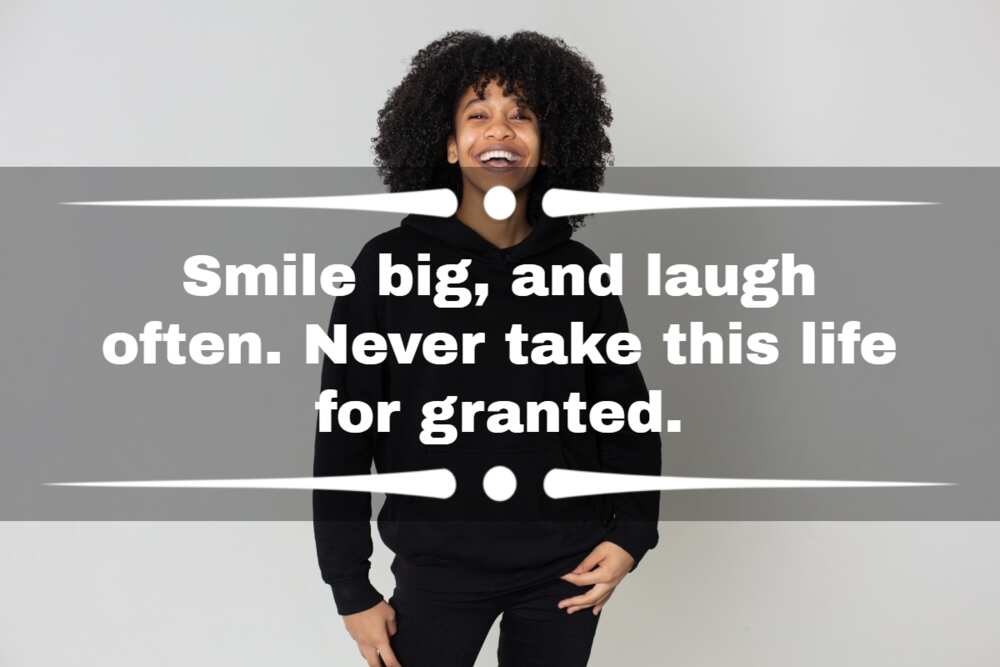 A smile can be a sign of contentment and satisfaction. With each passing day, you should aim to make other people's lives easier by making them smile more.
Thank you for being the reason I smile.
Never underestimate the power of a smile.
Your smile may be the sunshine to someone's day.
I can hack your tears away, but only if you give me the password to your smile.
Who needs words when you can send a wink, give a nudge, and flash a smile?
Over seven billion smiles in the world, and yours is my favourite.
Smile — sunshine is good for your teeth.
It's hard not to feel happy when you've made someone smile.
I can't help but smile when I'm with you.
Smiles are always in fashion!
People with dimples have a divine role in this universe: Smile!
A smile a day keeps the pain away.
Smile big, and laugh often. Never take this life for granted.
Smiles are contagious. Pass them one.
Smiling is the best way to face every problem, crush every fear, and hide every pain.
There is always a reason to smile; you have to find it.
Treat a smile like a child treats their favourite toy. Take it everywhere.
Wake up with a smile and go after life!
All people smile in the same language.
Smiling because life is just too good.
Keep calm and carry on smiling.
Just a bunch of friends smiling and having a good time.
Smile motivational quotes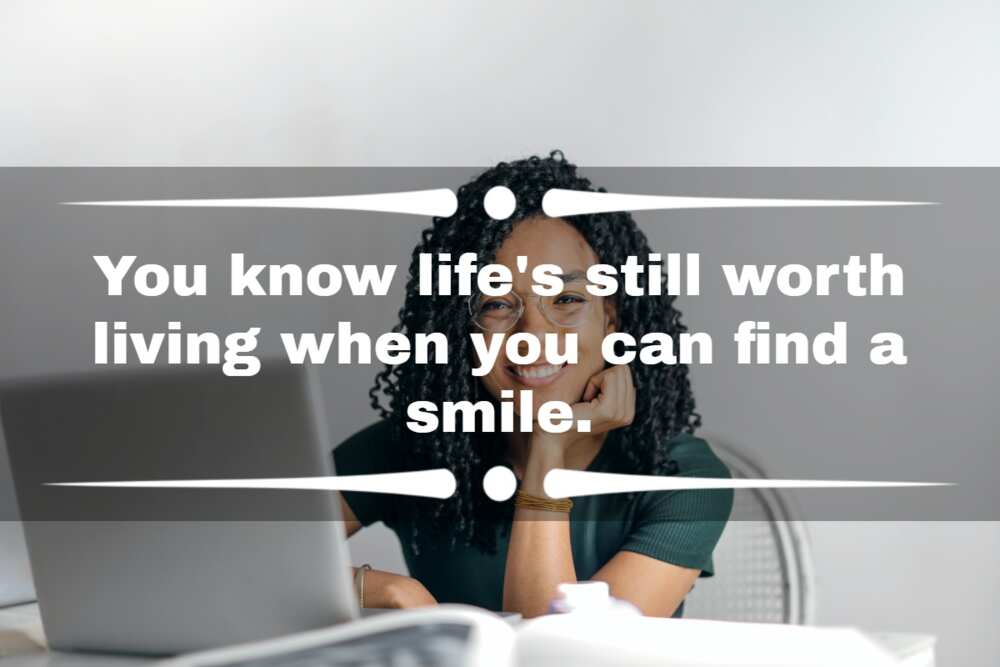 Sometimes people go through difficult moments in life. At such moments, you need inspirational quotes to cheer you up.
Beauty is power; a smile is its sword. — John Ray
You know life's still worth living when you can find a smile.
The world always looks brighter from behind a smile.
No one needs a smile as much as those who have none to give. — Samson Raphael Hirsch
Lighten up. Force a smile. And feel your mood lift with the dimples on your cheeks.
A smile transcends language. No matter where you are in the world, the smile on your lips speaks volumes.
The robbed that smiles steals something from the thief. — William Shakespeare
Nothing is more beautiful than a smile that has struggled through tears.
The people who make you smile from just seeing them are my favourite people. — Koi Fresco
Smile when you're happy. Smile when you're sad. Smile when you want to. Smile when you don't. Just smile; it makes life worth living.
Learn to smile in every situation. See it as an opportunity to prove your strength and ability.
A smile is a happiness you'll find right under your nose. — Tom Wilson
When life gives you a hundred reasons to cry, show life that you have a thousand reasons to smile.
The real man smiles in trouble, gathers strength from distress, and grows brave by reflection. — Thomas Paine
I was smiling yesterday, I am smiling today, and I will smile tomorrow. Simply because life is too short to cry for anything. — Santosh Kalwar
Just one smile immensely increases the beauty of the universe. — Sri Chinmoy
Smile, smile, smile at your mind as often as possible. Your smiling will considerably reduce your mind's tearing tension. — Sri Chinmoy
A smile cures the wounding of a frown. — William Shakespeare
Remember, even though the outside world might be raining, if you keep smiling, the sun will soon show its face and smile back at you.
A smile is an important symbol of happiness. People who often smile and maintain a good sense of humour go through life more effortlessly than those who scowl and frown all the time. You can share the above smile quotes with the people around you to allow them to be part of your joyful life.
Legit.ng recently published an article about old people jokes. Laughter strengthens social bonds and enhances relationships. Sharing laughter with others fosters deeper connections and improves communication.
Getting old is natural and inevitable; you only need to entertain yourself and your loved ones. Jokes are a great way to engage your seniors at home. These jokes will brighten their day and make old age fun.
Source: Legit.ng