DaBaby's kids: meet the rapper's children and their mothers
Jonathan Lyndale Kirk, famously known as DaBaby, is an American rapper and songwriter. He is a hip-pop South Coast music group member, signed to Interscope Records. The star is a great rapper who delivers excellent music to his fans. His personality is etched into his music, with most being funny. However, what do you know about DaBaby's kids and baby mamas?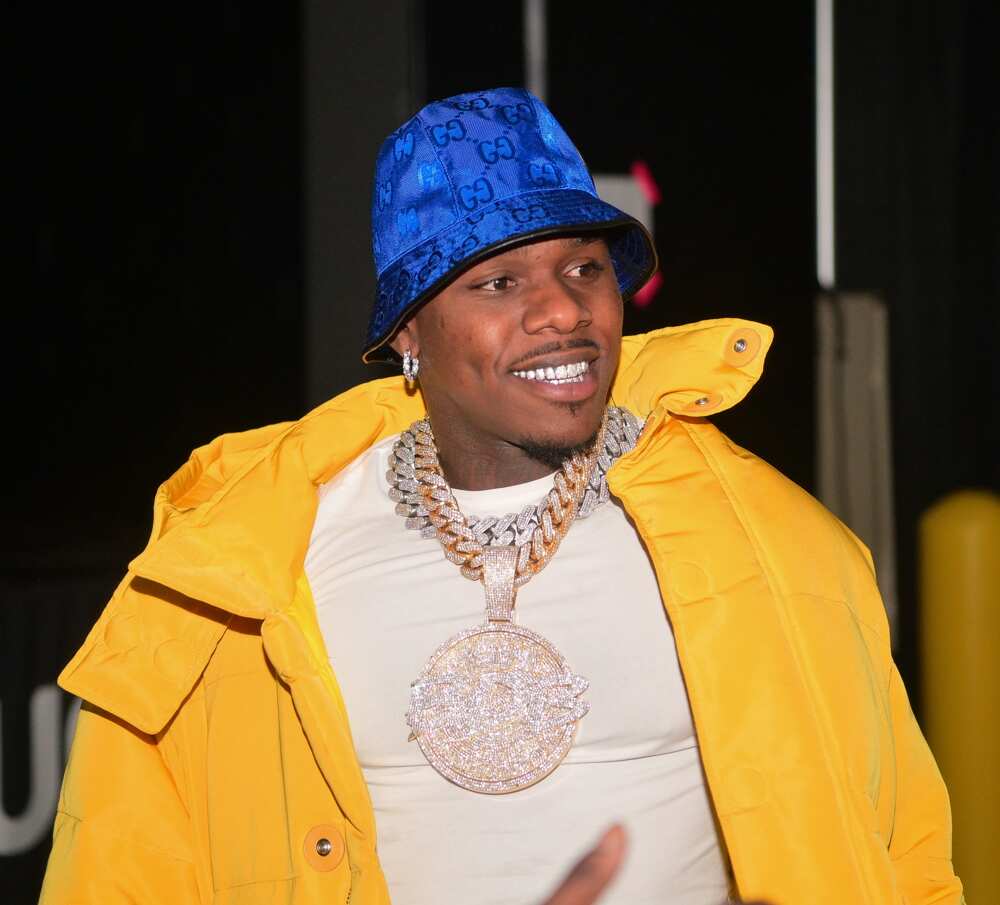 DaBaby is a rapper who means business with his music; therefore, he has made a name for himself in this industry. However, the musician's private life is full of drama between the women he has dated and had children with. Many people have been asking how many kids and baby mamas the young rapper has. Well, here are DaBaby's kids and their mothers.
DaBaby's kids and their mothers
How many kids does DaBaby have? The rap star has four children; Caleb, Serenity, and Nova and the last-born child Velour. Even though the star has kids with different women, none of DaBaby's baby mamas are married to him. Here are his children with their mother:
Serenity (Meme)
MeMe is the mother of DaBaby's oldest child Serenity and his stepson Caleb. Serenity was born in 2017, making him six years old as of 2024. Conversely, Caleb is a child MeMe had in her previous relationship before meeting DaBaby.
MeMe and DaBaby met several years ago through a mutual friend. She is a barber by profession, and they had an on-and-off relationship for some time. However, they later broke up and are now friends. The rapper took in Caleb and supported him and Serenity.
Nova (Latoia Danet)
Latoia is rumoured to have been the rapper's mistress while he was dating MeMe. She is a real estate agent and an interior designer. She has also worked as a bottle service girl in the gentleman's club 34 Kisses in North Carolina.
She is the mother of DaBaby's second child, Nova. How old is DaBaby's daughter? Nova was born in 2020, making her three years old as of 2023. Even though the rapper denied having an affair with Danet, he accepted that Nova was his daughter and he was an excellent father to her.
Velour (Dani Leigh)
Danielle Leigh Curiel, also known as DaniLeigh, is an American singer, songwriter, rapper, dancer, and choreographer. She is known for mixing R&B music with other elements, such as hip-hop and Latin. Her albums include Summer with Friends, The Plan (2018), My Present (2019) and Movie.
Dani and DaBaby's relationship went public when the rapper featured her in his music video, Levi High. Initially, they denied the rumours that they were together until later when they were spotted together again. Their relationship was short-lived, as Dani Leigh shared in 2021 that she was 'officially single' on her Instagram handle.
Besides her career, Dani Leigh is known to be the mother of DaBaby's youngest baby, Velour. Velour was born in October 2021, making her two years old as of 2023. Dani is a private person, and little is known about her daughter.
FAQs
Who are DabBaby's baby mamas? The rapper has three baby mamas, a barber known as MeMe, Latoia Danet and rapper Dani Leigh.
Who is DaBaby's oldest child? The rapper's oldest child is Serenity. She is a child born to the rapper by his ex-girlfriend, MeMe.
How old is DaBaby's daughter? The rap star has a total of three daughters. Serenity, the first-born daughter, is six years old, Nova, the second-born, is three years while the youngest daughter Velour is almost two years old as of 2023.
Who is the mother of DaBaby's daughter Nova? The rapper welcomed Nova in 2020 with his baby mama, Latoia Danet. Latoia was rumoured to have been the rapper's mistress while he was still dating MeMe.
What are DaBaby's kids' names? His four kids are Caleb, Serenity, Velour and Nova. Unlike the remaining three, Dababy's kid Caleb is not his biological child.
What is DaniLeigh's daughter's name? Velour is among DaBaby's daughters.
If you have been wondering who DaBaby's kids are, now you know them and their mothers. The rapper is a responsible father who looks after his children. Even though he has three biological daughters, he has taken in his girlfriend's son Caleb as his son.
READ ALSO: Pete Edochie's family: get to know his wife and children
Legit.ng also posted details about Pete Edochie's family. Edochie is a renowned Nollywood actor from Enugu State in Nigeria. Pete's family has been in the limelight for the better part of 2022 because of Yul Edochie's second marriage.
Some of Pete's most successful children are Leo Edochie (an engineer working in the oil and gas industry) and Yul Edochie (a celebrated Nollywood actor).
Source: Legit.ng