Alexx Ekubo, Yul Edochie and Basketmouth: 7 Biggest Relationship Scandals That Rocked Nollywood in 2022
The Nigerian entertainment went through a baptism of relationship scandals in 2022, with several of fans' faves suffering heartbreaks, from Alexx Ekubo, Julius Agwu to Yul Edochie
The year, started with the scandal of Sammie Okposo and the accusation of impregnating a young woman that served on his choir, not too long Yul Edochie followed suit
The names that made this list of the relationship scandals that rocked the Nigerian entertainment industry would leave your mouth wide open
Read on below, as we highlight the seven most devastating relationship scandals that took place in Nollywood and that hit the relationships of other Nigerian celebrities
PAY ATTENTION: Сheck out news that is picked exactly for YOU ➡️ click on "Recommended for you" and enjoy!
The Nigerian entertainment industry had its fair share of controversial marital mishaps in 2022, and it was rather astounding for fans of various celebrities to see their favourites go through such tormenting ordeals as their fates were dangled around like pendulum bobs.
Legit.ng in this article, has highlighted the seven top marriage and relationship scandals that rocked the Nigerian entertainment industry in 2022 that caught many people by surprise.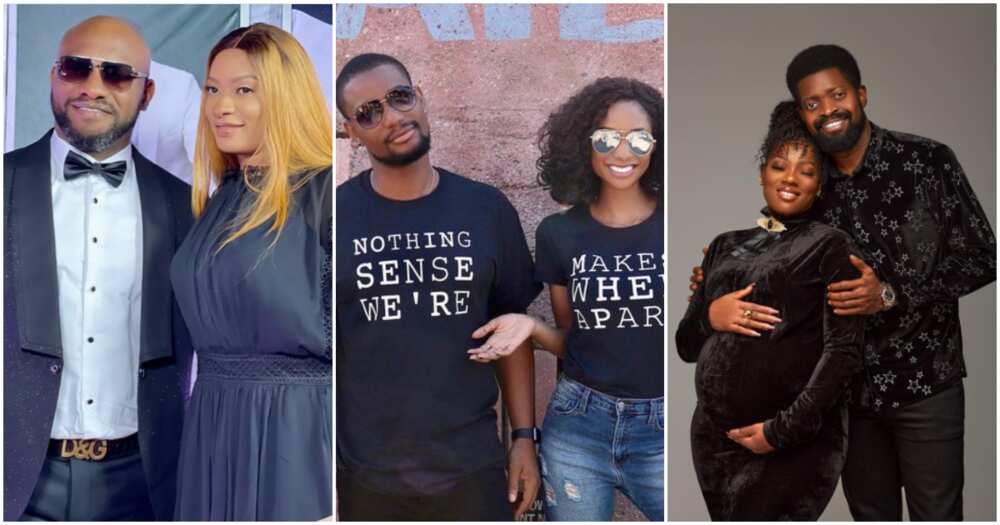 1. Alexx Ekubo and Fancy Acholonu
The pair were scheduled to marry in August 2021 after Alexx had proposed to Fancy in May of that year.
PAY ATTENTION: Сheck out news that is picked exactly for YOU ➡️ find the "Recommended for you" block on the home page and enjoy!
However, only three weeks before the wedding, Fancy Acholonu called things off with a shocking post shared on social media, stating that she and Alexx were done, and their proposed wedding will no longer not hold.
Nearly 14 months after the first shocking break-up announcement by Fancy, she made another post to publicly apologise to Alexx and his family for her abrupt calling off of their wedding the previous year, stating she knew she hurt him(Alexx) as well as his family and friends.
Alexx commented under her apology post, saying he had forgiven her. Internal sources close to both parties rumoured that Fancy called off the wedding due to suspicions that Alexx was befriending a man, and this led to loads of questions about the actor's sexuality.
However, this was only the beginning of an even scandal that would later rock the internet as Fancy went on a tell-it-all rampage during an interview with blogger Stella Dimokorkus.
Alexx's sexual prowess was called into question and was alleged to be a cheater, a manipulator and a narcissist.
2. Oritse Femi and Nabila
Nigerian musician Oritse Femi also saw his marriage of five years hit the rocks after his wife Nabila claimed that she saw him engaging in sexual activities with an unnamed lady in their home.
The wife of the star said she was no longer compatible with him and filed for divorce, leading to the shattering of their five-year union.
Femi received a lot of backlash from his fans and sympathizers alike, and he later apologized to his ex-wife, but the union has now been dissolved.
3. Julius Agwu and Ibiere
Popular Nigerian comedian Julius Agwu announced his divorce from his wife Ibiere (née Maclayton) in December 2022.
The veteran entertainer tied the knot with Ibiere in May 2008 in Port Harcourt. They have two children from their marriage, Zahra and Zadok.
Agwu suffered a brain tumour problem in 2015 which was surgically mended, but he lapsed into it again just a year after the surgery during a show in London.
The reasons remain unclear as to why the pair split, but it is certain it was Ibiere who sought the divorce initially.
4. Yul, May and Judy Edochie
This Nigerian superstar certainly hit the bull's eye when it came down to stopping every Nollywood fan in their tracks.
Yul Edochie received a lot of stick for marrying a second wife whilst being wedded to his first wife, May.
The Anambra state-born actor and May married in 2004, and they have four children from their marriage of eighteen years.
In 2022, he announced Judy Austin as his second wife and stated firmly that he was still married to May, albeit Christianity not supporting such polygamous unions.
This caused more than a stir on social media and also amongst his colleagues in the industry.
5. Sina Rambo and Heidi Korth
In late 2022, Heidi Korth the wife of Sina Rambo cousin of famous singer, Davido accused her husband of domestic violence, maltreatment, assault and emotional abuse.
To top it off, she also posted a video of him begging her to lend him ten thousand Naira for a certain purpose.
Heidi lambasted Sina on social media, claiming that he was not as rich as his family had portrayed him to be.
Sina also later stated that his relationship with his wife was under heavy strain, and he was not sure what the future held.
Many sources close to the family have declared that the couple were working on getting a divorce and Heidi was rather unhappy being married to the first son of Osun state governor.
6. Sammy Okposo and Isioma
Late Nigerian singer Sammy Okposo was also caught in the scandal web. In late 2021, the singer was rumoured to be cheating on his wife, Isioma, with a lady in the US.
The issue escalated and soon became true, and Sammy himself attested to cheating.
A few months later, however, in February 2022, the singer was spotted in Cancun, Mexico with his wife as they kissed at the beach.
The singer afterwards said he loved his wife and nothing in the world would stop him from loving her.
Sadly, in November 2022, Okposo lost his life after he slumped and was dead due to a heart attack. Okposo was married to Isioma for 12 years before his passing.
7. Basketmouth and Elsie Okpocha:
Superstar comedian and actor Bright Okpocha better known by his stage name Basketmouth sparked a major frenzy online when announced his separation from his wife Elsie.
The development shocked many, and an unnamed family member said it was "an unreal nightmare".
The Okpochas were married for twelve years, starting their marital journey in 2010. Both Bright and Elsie have not disclosed any reasons sufficing for the divorce to date. Basketmouth took down the cryptic post announcing his divorce eight days after posting it.
Many fans and sympathizers are hoping it will be for good to see them reunited as husband and wife. The couple has two children. Prior to the announcement, there had been no rustling in the bushes to suggest that a divorce was in the offing.
An Audio Between Alexx Ekubo and Fancy Leaks
Meanwhile, Legit.ng recalls reporting that an audio recording of a conversation between Alexx Ekubo and his ex-fiancee Fancy Acholonu has leaked online, sparking reactions as more dirty bits between the ex-couple surface.
The Nollywood actor in the leaked audio could be heard, revealing that it was Fancy Acholonu who came back to him and wanted to make things right.
Alexx also noted in the leaked audio that he wasn't willing to make an acknowledgement post to Fancy's apology on his page, instead, he would just react to it on his ex's page.
Source: Legit.ng