Frodd, Chike, Phyna, 5 Other Nigerian Celebs Who Started 2023 With New Houses and Cars
The new year of 2023 started off on a high note for some Nigerian celebrities to the joy of fans
Some of these celebs used the new year to unveil their big wins on social media as they kicked things off with purchasing luxury items like cars and houses
Today, Legit.ng has compiled a list of some Nigerian stars who fall into this category including BBNaija celebrities
Every new year, people have been known to make big moves that they hope will affect how the rest of the year will go.
Most times, New Years are regarded as new beginnings with people being hopeful and charged up to face the other months to come.
For Nigerian celebrities, many of them have been known to unveil their big money moves at the start of the year.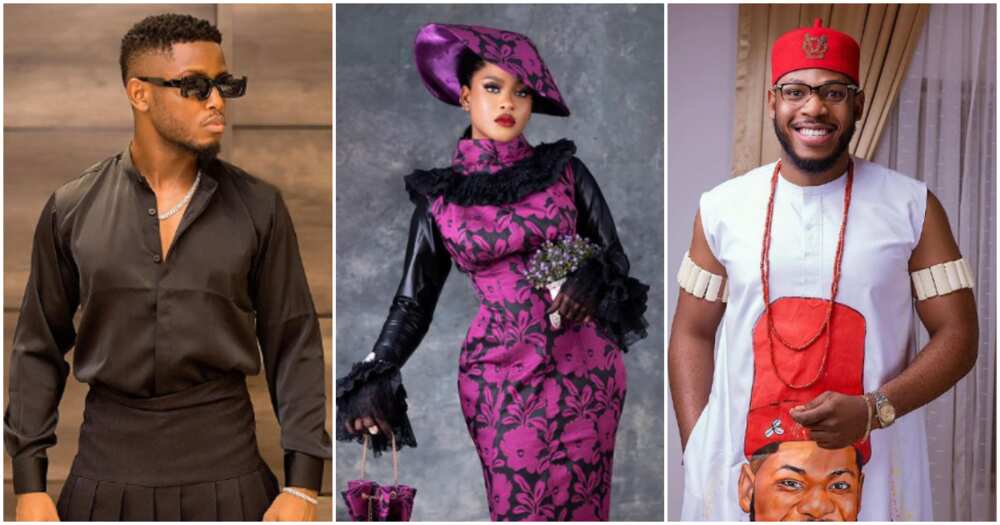 Some of them do this by buying new houses, cars and more.
Today, Legit.ng will be a taking a look at some celebrities who fall in this category either by buying new houses and cars for themselves or for their loved ones.
See some of them below:
1. Frodd:
BBNaija Pepper Dem star, Frodd, had fans seeing him in a whole new light after he unveiled his back to back wins in the new year. Recall that in December 2022, the reality star had gotten engaged to the love of his life, Chioma. Well, in January 2023, Frodd also unveiled his new house and held a housewarming party to celebrate. Not just that, he also bought himself a new Maybach that got netizens questioning the source of his wealth.
2. Ruby Ojiakor:
This Nollywood actress made sure to fulfill her childhood dream of making her mother a landlady. Taking to social media in the new year, Ruby presented her mum with a lovely bungalow and explained that she has always wanted to build her mother a mansion since her father died but she is only able to afford to build a bungalow for now. The sweet video melted many hearts on social media.
3. Yhemo Lee:
Popular Nollywood actor, Yhemo Lee, decided to go all out for his mother as she clocked a year older. The movie star built her a house and presented it to her on her birthday in January. A video of the lovely property was posted online and his mum's reaction impressed many netizens.
4. Chike:
Talented Nigerian singer, Chike, had many people hailing his success after he unveiled his new house in January 2023. The Boo of the Booless crooner's housewarming party was attended by a number of celebrities as they gushed over how far he had come. Recall that Chike once sold off his car to raise money to promote his music.
5.Nelly Edet:
In January 2023, this movie star completed the construction of her house in her hometown and named it after her late mother. According to the actress, she misses her late mum so much and nowhere feels as safe as her arms. Nelly also wished she could bring her mother back to life.
5. Kess BBNaija:
BBNaija Level Up star, Kess, presented a new house and car to his parents in the new year. The reality show star and his brother jointly bought a house and car for their folks and many celebrities and fans praised the development.
6. Phyna BBNaija:
BBNaija Level Up winner, Phyna, splashed millions on a new Benz in 2023. Recall that the reality star had bought a car for her dad in 2022. Not stopping there, she also made sure to pamper herself with the purchase of a new Benz. The purchase of the luxury vehicle trended on social media and raise a series of mixed reactions.
7. Qdot:
Popular Nigerian singer, Qdot Alagbe, kicked off the new year of 2023 in a big way after buying himself a Mercedes Benz. The talented musician shared snaps of his new ride and fans used it as a prayer point for 2023.
8. Chichi BBNaija:
To celebrate her birthday, BBNaija Level Up star, Chichi, bought herself a brand new BMW. The reality show star bragged about how it was her doing and not from fans in a viral video as netizens reacted to the news. A number of them were pleased that a BBNaija celeb did not credit fans for a car gift of their birthday.
These are some of the Nigerian celebrities who started 2023 with luxury purchases that trended on social media.
Source: Legit.ng