Top 15 best romance anime movies of all time (with pictures)
Romance is irrefutably one of the most popular sub-genres in anime. The best romance anime movies explore issues such as love at first sight, heartbreaks, teenage love, conflicts, and long-lasting love between adults. Whether you are dreaming of a love story to sweep you off your feet or you are already living one, a good romantic anime film is worth giving a try.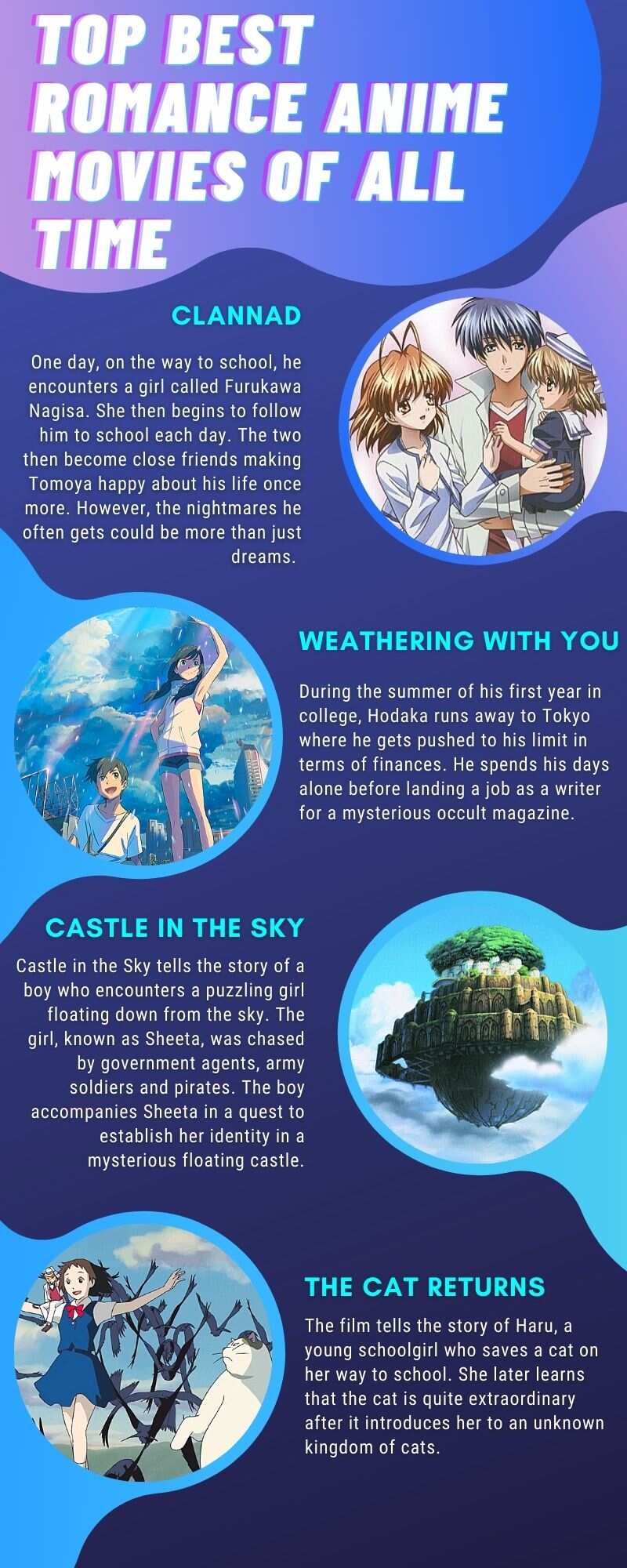 Romance can be easily fused with other sub-genres such as musical, action, psychological thrillers, and science fiction. This partly explains the numerous romance-themed anime movies available in the modern-day.
What is the best romance anime ever?
Here is a look at the 15 best anime movies of all time to help you choose.
15. Whisper of the Heart (1995)
Renowned animation master, Hayao Miyazaki wrote the script for Whisper of the Heart. The film follows the story of a young girl falling in love and learning how to believe in herself.
The lead character, Shizuku Tsukishima, is nearing the end of her junior high school studies. She harbours dreams of becoming a writer which is quite in line with her immense love of books.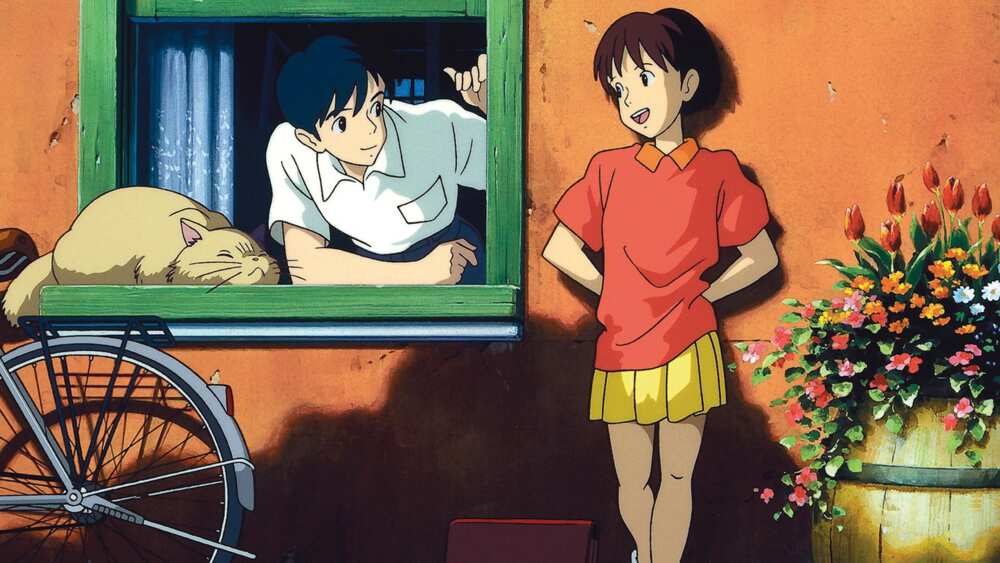 One day, Shizuku meets Senji, a young, ambitious guy who manages to charm and still irritate her at the same time. Around the same time, she encounters Senji's grandfather, an antique shop owner.
Shizuku draws inspiration from a statue in the antique store to write a story about a cat-shaped sculpture coming to life.
Director: Yoshifumi Kondo
Rating: PG
Release date: 7th March 2006
Runtime: 111 minutes
Studio: Optimum Releasing
14. Your Name (2017)
The film is directed by Makoto Shinkai, the creative mind behind successful films such as 5 Centimeters per Second and Voices of a Distant Star. The movie tells the story of two young souls while exploring the themes of fate and time.
High school students Taki and Mitsuha are total strangers living completely different lives. One day, they switch places. Taki wakes up in Mitsuha's body and her in his. The peculiar occurrence takes place occasionally, and the two must learn how to live with it.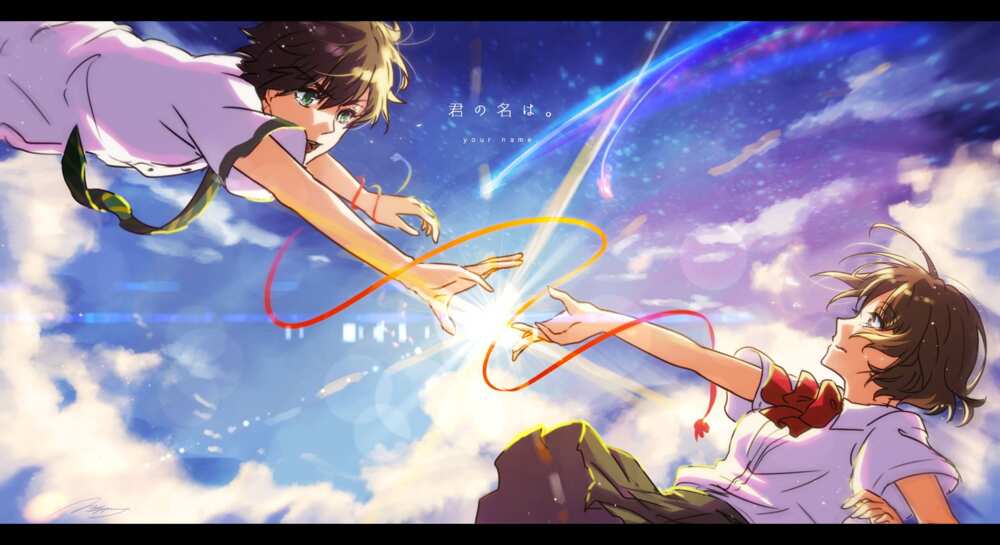 With time, they begin building a bond through messages, notes, and imprints. They seek each other but always seem to be kept apart by something besides the distance separating them. Will their fate bring them together or will the unknown forces keep them apart forever?
Rating: PG
Director: Makoto Shinkai
Writer: Makoto Shinkai
Release date: 7th April 2017
Runtime: 106 minutes
Studio: Funimation Films
13. The Garden of Words (2013)
The Garden of Words tells the story of a teenager named Takao Azuki, who dreams of becoming a shoemaker. Nobody seems to understand his ambition until he meets a seemingly distant girl who appears to be the only person to believe in him.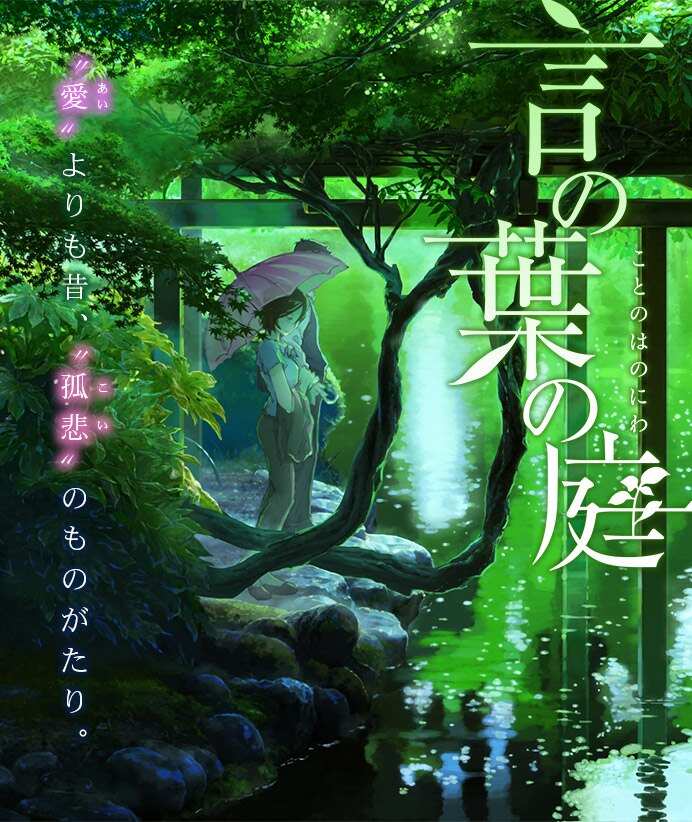 However, the girl must find a way to overcome the internal predicaments that keep her from getting close to anyone.
Rating: NR
Director: Makoto Shinkai
Writer: Makoto Shinkai
Release date: 6th August 2013
Runtime: 45 minutes
12. 5 Centimeters per Second (2007)
This is one of the most incredible drama romance anime movies of all time. 5 Centimeters per Second tells the story of two friends who got separated by chance and got reunited through sheer determination.
As young schoolmates, Akari and Takaki were seemingly inseparable. However, after completing their elementary studies, their families moved apart, and the distance between the two best friends grew.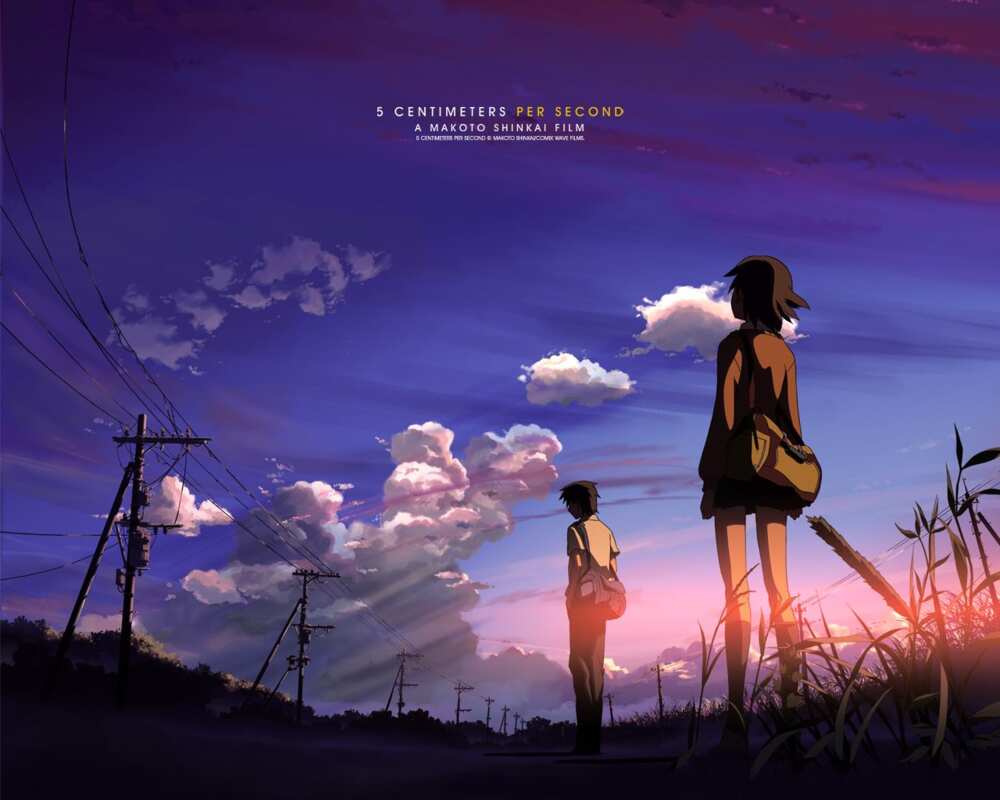 Takaki and Akari never thought they would ever see each other again. One day, Takaki embarks on a journey to visit his old friend. The film tells the story from the two friends' perspectives as well as from the viewpoints of those they meet along the way.
Rating: NR
Director: Makoto Shinkai
Writer: Makoto Shinkai
Release date: 3rd March 2007
Runtime: 63 minutes
Studio: CoMix Wave
11. A Silent Voice (2017)
The film tells the emotional story of Shoya Ishida and Shoko Nishimiya. The former was a school bully while the latter was a beautiful young girl with a hearing disability.
Shoko transfers to Ishida's school and soon finds herself bullied because of her hearing problem. Years later, tables turn, and Ishida becomes the victim.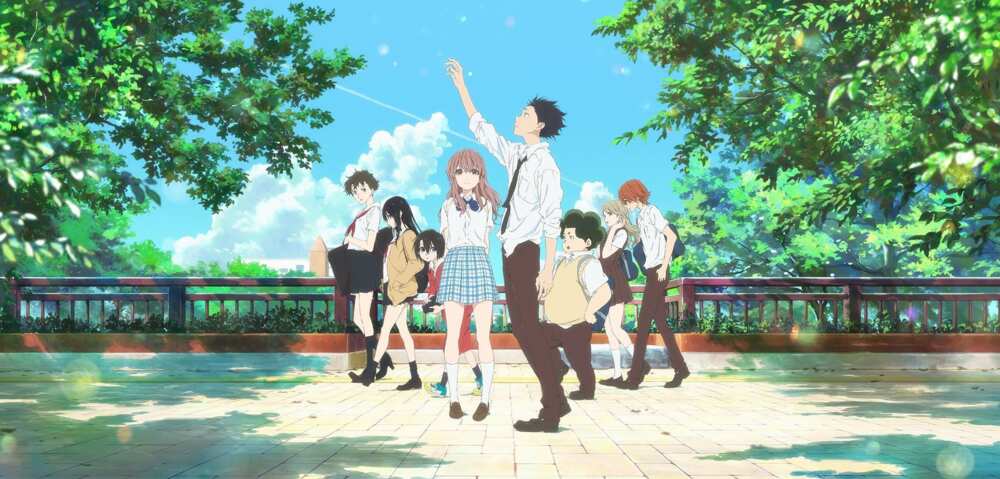 The film depicts the challenges of adolescence in a different style as compared to conventional coming-of-age films. A Silent Voice is one of the most poignant shoujo anime movies of all time.
Rating: NR
Director: Naoko Yamada
Writer: Naoko Yamada
Release date: 20th October 2017
Runtime: 129 minutes
Studio: Eleven Arts
10. The Girl Who Leapt Through Time (2007)
A young school girl finds out that she possesses the exceptional ability to traverse time and space. She uses her power to preserve the friendships she shares with those closest to her.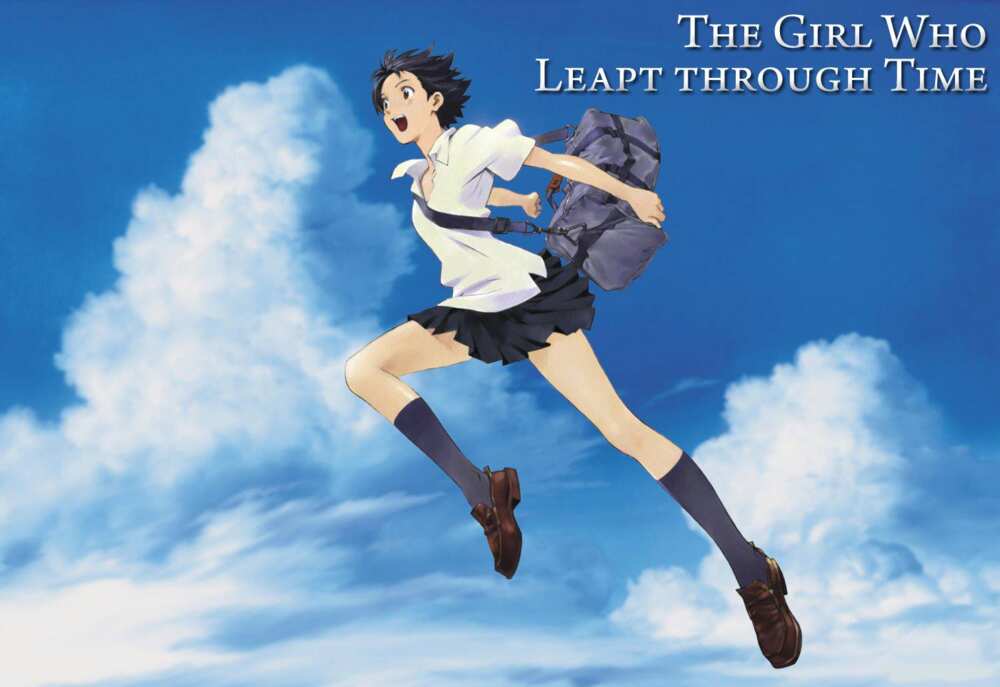 The film explores the continually changing nature of personal relationships in a completely new style and perspective. The Girl Who Leapt Through Time is a particularly good romance anime movie for those starting out on the genre.
Rating: NR
Director: Mamoru Hosoda
Writer: Satoko Okudera
Release date: 3rd March 2007
Runtime: 98 minutes
Studio: Tokikake Film Partners
9. From Up on Poppy Hill (2013)
The film is set in Yokohama in 1963 and tells the story of a budding romance between Shun and Umi. The two are high school students caught up in the changing times after the events of World War II.
Japan prepares to host the Olympics at a time when the country's young generation struggles to find optimism and shake off the country's troubled history.

As Umi and Shun work to save a decrepit clubhouse from getting demolished, their romance begins to blossom. However, in an unexpected twist, a secret from their past threatens to pull them apart forever.
Rating: PG
Director: Goro Miyazaki
Writers: Keiko Niwa and Hayao Miyazaki,
Release date: 15th March 2013
Runtime: 91 minutes
Studio: Independent Pictures
8. The Anthem of the Heart (2015)
The film was initially titled The Heart Wants to Shout before being changed to its current title. The Anthem of the Heart is set in Chichibu with the main story revolving around Jun Naruse, a young, conflicted girl.
The main character always wishes to express her true feeling but ends up hurting others with the words she speaks. One day she encounters a fairy who offers to make her problems go. She seals away Jun's words so that they can never be spoken.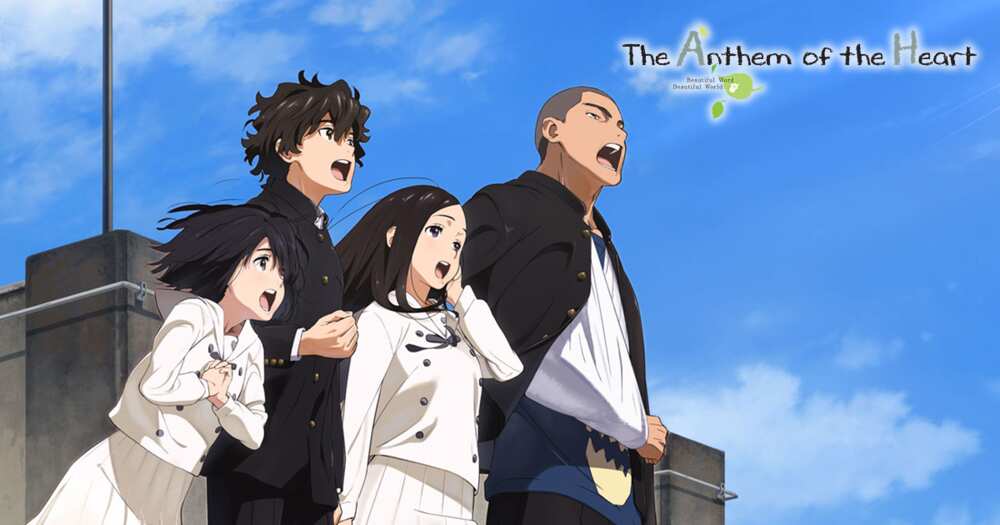 The story then jumps several years later at a time when Jun's life changes after her encounter with real friendship and music.
Rating: NR
Director: Tatsuyuki Nagai
Writer: Mari Okada
Release date: 2015
Runtime: 119 minutes
7. The Wind Rises (2014)
The movie tells the story of Jiro, a young boy with dreams of designing and flying breathtaking aeroplanes. However, Jiro's nearsightedness does not allow him to fly a plane. Not one to be discouraged, he joins an engineering firm and later becomes one of the world's most accomplished aeroplane designers.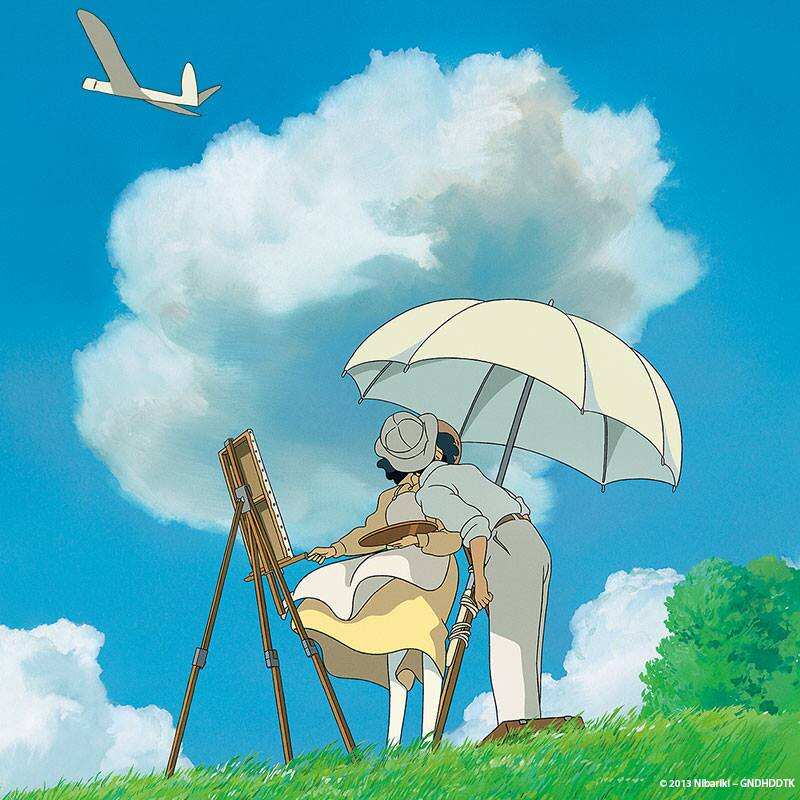 The Wind Rises chronicles Jiro's life and the historical events that helped shape it, such as the tuberculosis epidemic, the Great Depression, and the Great Kanto Earthquake. With time, Jiro falls in love with a girl named Nahoko.
Rating: PG-13
Director: Hayao Miyazaki
Writer: Hayao Miyazaki
Release date: 21st February 2014
Runtime: 126 minutes
Studio: Walt Disney Pictures
6. Summer Wars (2010)
Summer Wars tells the story of Kenji, a young maths prodigy who is recruited by his crush, Natsuki, to act as her boyfriend. He later receives a riddle on his phone that sets off a chain of events that threaten Oz, a massive virtual world.
Rating: PG
Director: Mamoru Hosoda
Writers: Satoko Okudera and Satoko Ohudera
Release date: 24th December 2010
Runtime: 114 minutes
Studio: GKIDS
5. Only Yesterday (2016)
While the English version of this romantic anime was released in 2016, the original Japanese version was released way back in 1991. The film follows Takeo, a single lady who has lived in Tokyo throughout her life.
She decides to visit her relatives in the countryside and relives the memories of her younger years. She remembers the frustrations of mathematics and boys, the onset of puberty, and her first stirrings of romance.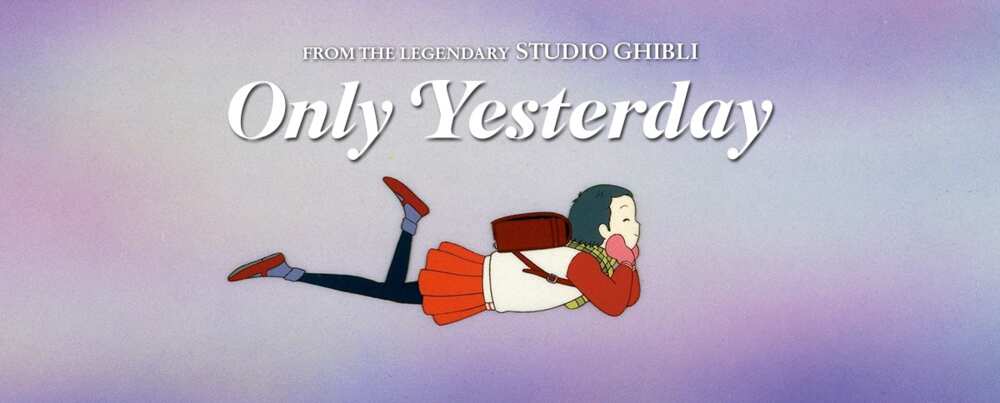 When she alights, she is met by Toshio, a young, handsome farmer. Her encounter with him makes her question whether she has accomplished her childhood dreams. It also brings back some of her forgotten longings.
Only Yesterday is one of the best romance animes of all time, especially partly due to its beautiful animation, stirring emotions, and rich humour.
Rating: PG
Director: Isao Takahata
Writer: Isao Takahata
Release date: 26th February 2016
Runtime: 118 minutes
Studio: GKIDS
4. The Cat Returns (2002)
The film tells the story of Haru, a young schoolgirl who saves a cat on her way to school. She later learns that the cat is quite extraordinary after it introduces her to an unknown kingdom of cats.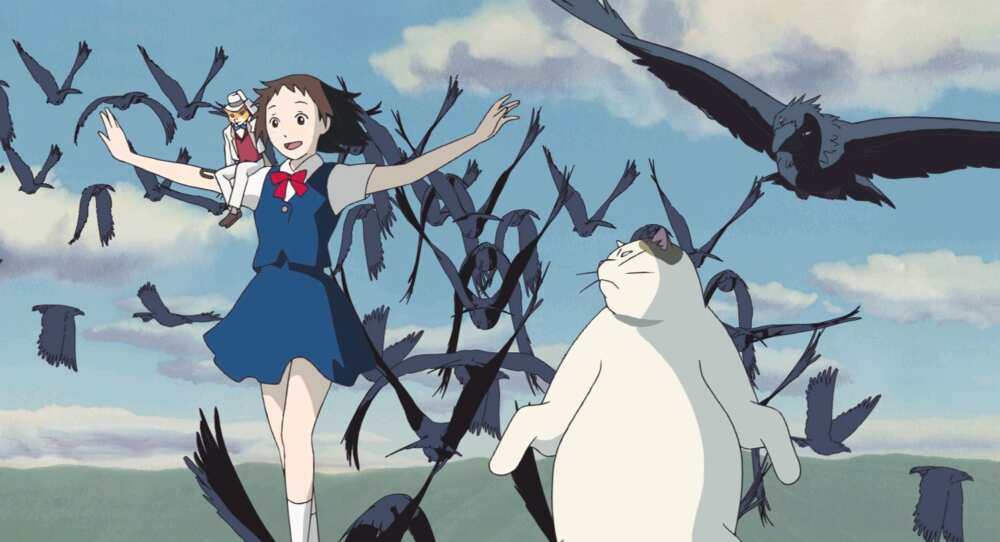 Haru learns more about the fascinating world of cats as she explores a world that she never knew existed. The English version of this top romance anime included voices from Andy Richter, Anne Hathaway, and Elliott Gould.
Rating: G
Director: Hiroyuki Morita
Writers: Reiko Yoshida, Donald H. Hewitt, and Cindy Davis
Release date: 19th July 2002
Runtime: 75 minutes
Studio: Toho Company Ltd
3. Castle in the Sky (1989)
Castle in the Sky tells the story of a boy who encounters a puzzling girl floating down from the sky. The girl, known as Sheeta, was chased by government agents, army soldiers and pirates. The boy accompanies Sheeta in a quest to establish her identity in a mysterious floating castle.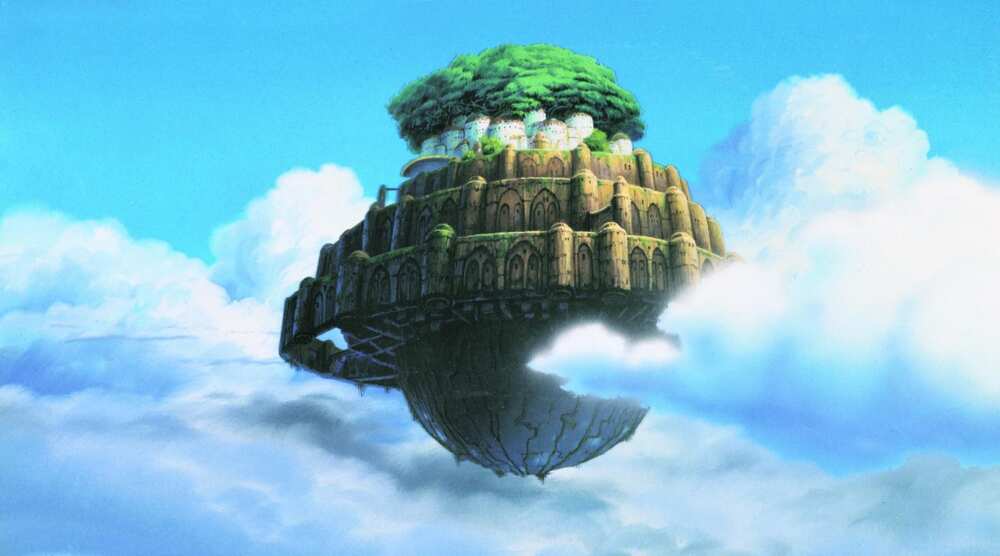 The anime romance in this film is not as pronounced as in some of the best romance anime movies but still provides a fantastic viewing experience.
Rating: PG
Director: Hayao Miyazaki
Writers: Hayao Miyazaki
Release date: 1st April 1989
Runtime: 124 minutes
Studio: Tokuma Shoten
2. Weathering with You (2020)
During the summer of his first year in college, Hodaka runs away to Tokyo where he gets pushed to his limit in terms of finances. He spends his days alone before landing a job as a writer for a mysterious occult magazine.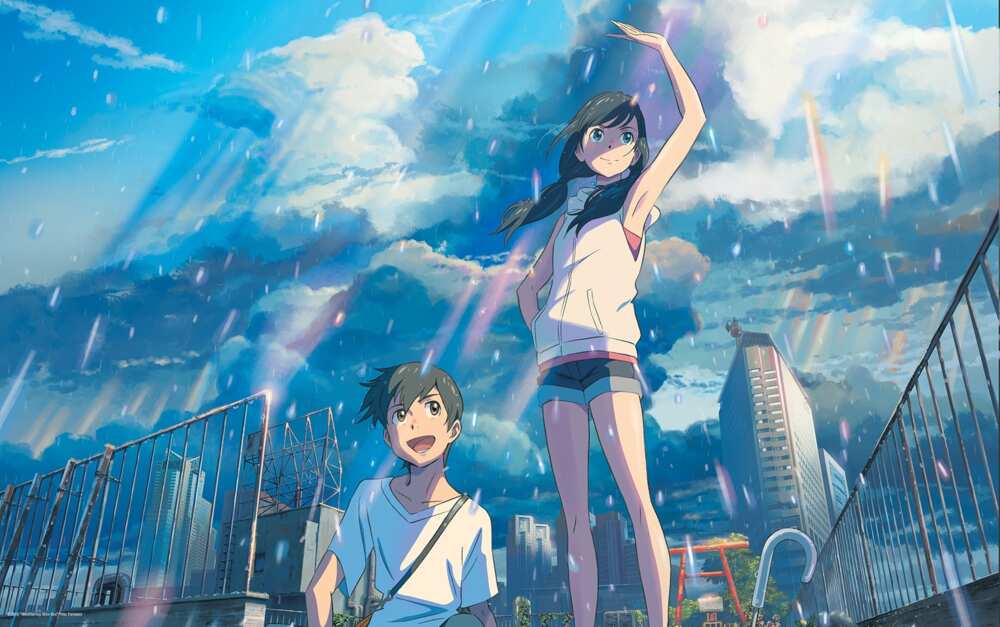 He then encounters Hina, a girl with the unique ability to stop rain and clear gloomy skies.
Rating: NR
Director: Makoto Shinkai
Writers: Makoto Shinkai
Release date: 15th January 2020
Runtime: 111 minutes
1. Clannad (2007)
Clannad tells the story of Okazaki Tomoya, a young boy who only attends school as a habit. He is continually haunted by nightmares of an empty world, one where he only exists as a mere consciousness.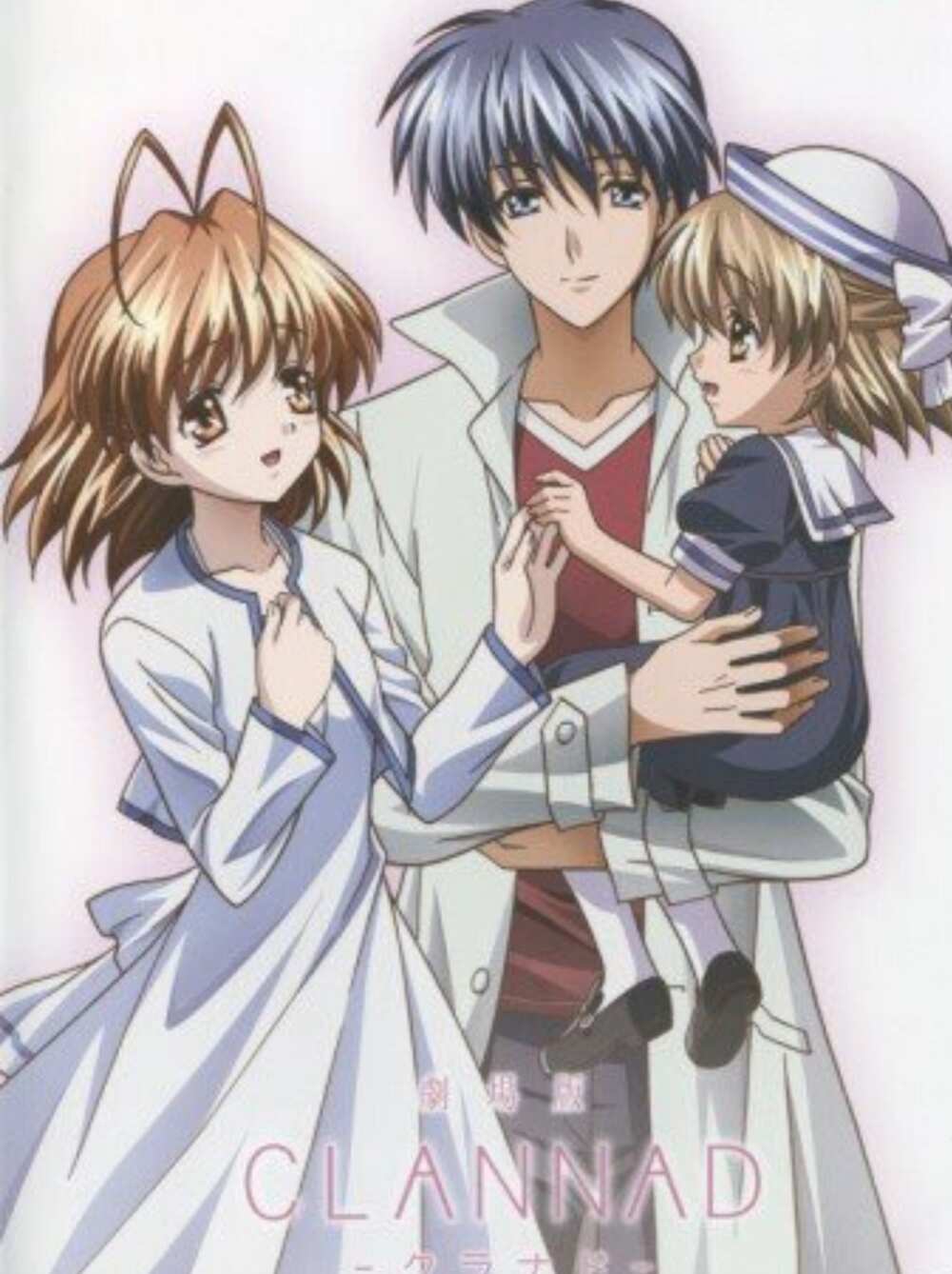 One day, on the way to school, he encounters a girl called Furukawa Nagisa. She then begins to follow him to school each day. The two then become close friends making Tomoya happy about his life once more. However, the nightmares he often gets could be more than just dreams.
Rating: NR
Director: Osamu Dezaki
Release date: 15th September 2007
With the above collection of the best romance anime movies, it is easy to choose one or several titles for binge-watching over the weekend. Which film's storyline did you find most captivating?
Source: Legit.ng