50 cool arm tattoos design ideas for men and women
In the past few years, arm tattoos have interestingly become common all over the world. This is because they have become a means for people to express themselves. Some people opt to have tattoos for remembrance of a loved one or important date, others to show their love for something, while others go for tattoos to express themselves and what they believe in, among many other reasons.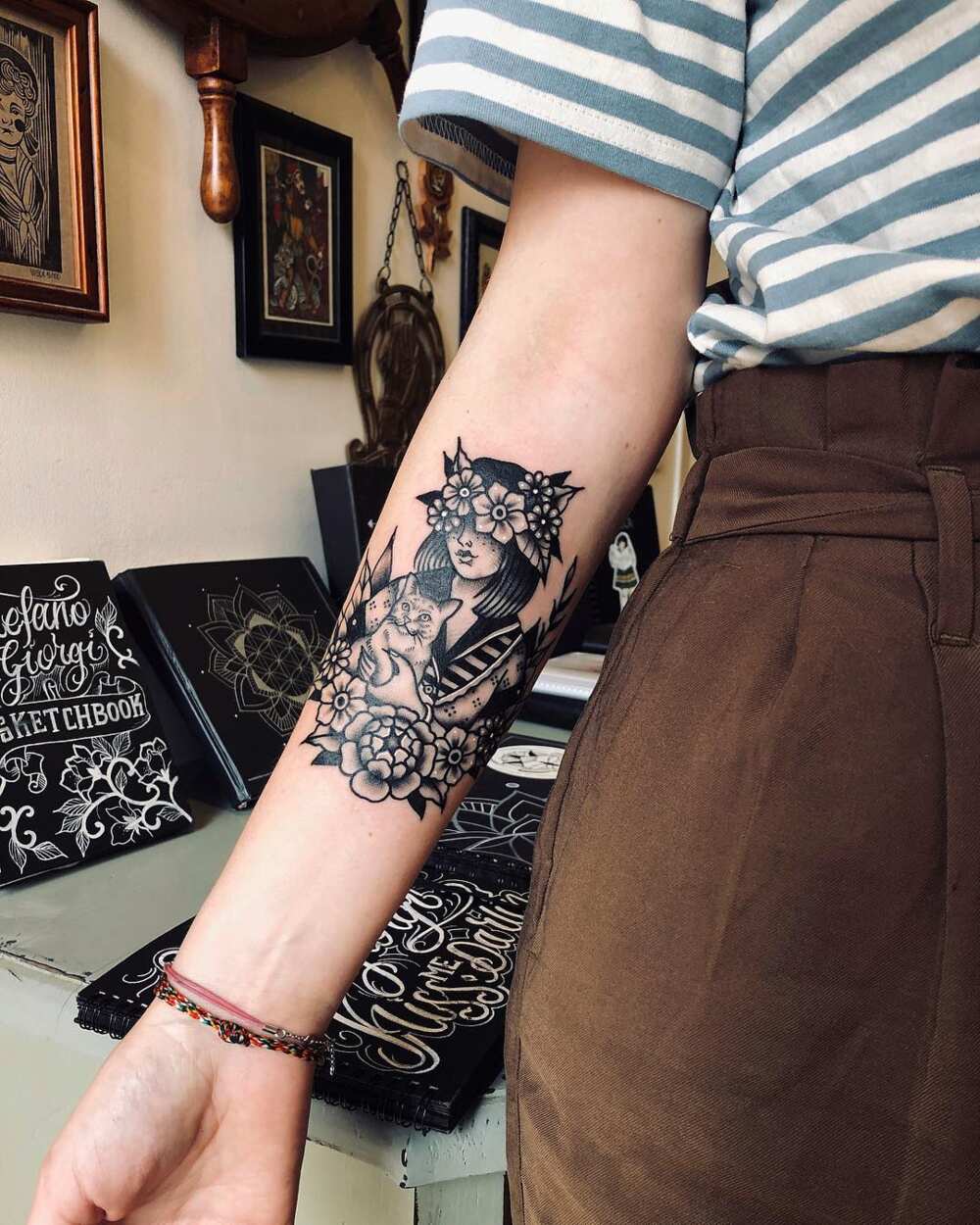 Arm tattoos are not restricted for a specific age group or gender as they are all-rounded. The arm can be divided into two parts. The upper arm, which runs from the shoulder to the elbow, and the forearm, which extends from the elbow to the hand. You could choose to go for a full arm, upper arm, forearm or even an inner arm tattoo depending on your preference. Below are some cool arm tattoo ideas that will help you determine the best for you.
Lion king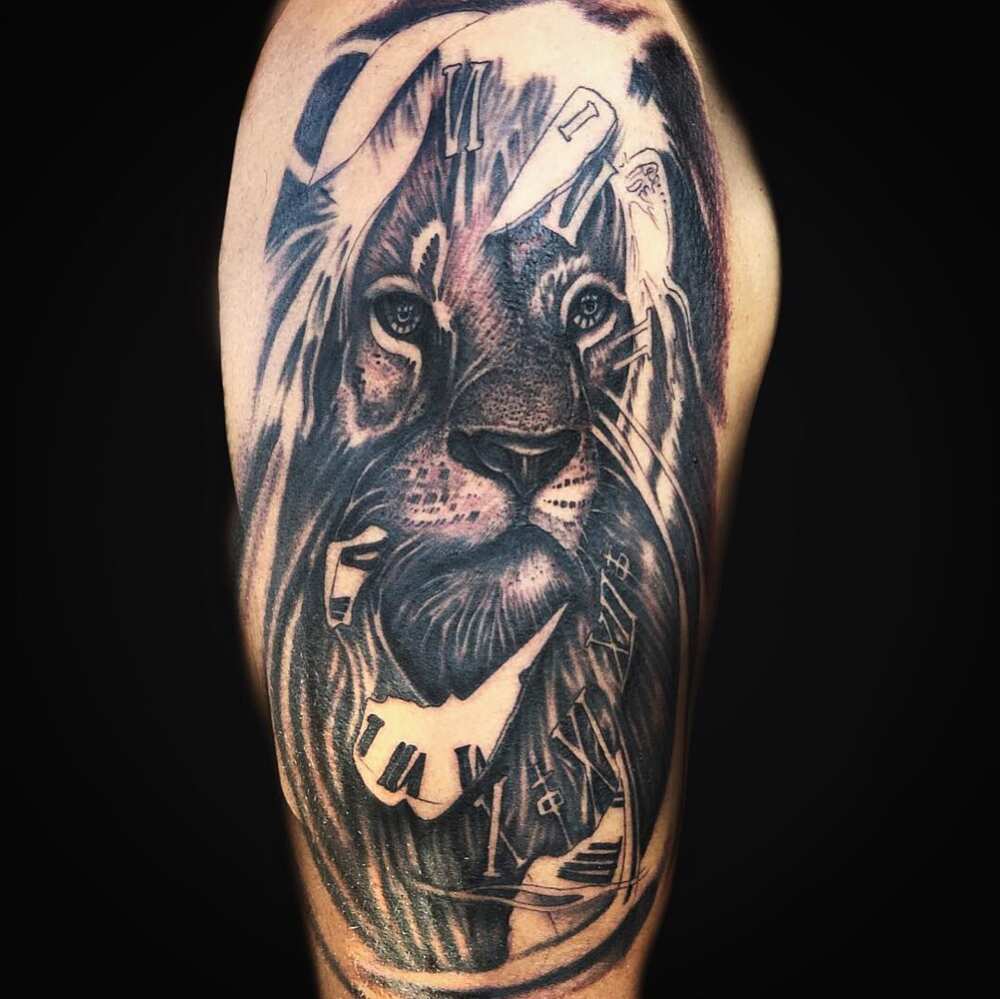 This tattoo is bold and fierce and portrays power as the lion is the king of the jungle. If your personality and character match that of the lion, there is no doubt that this is the perfect one for you.
Flower tattoo with a special date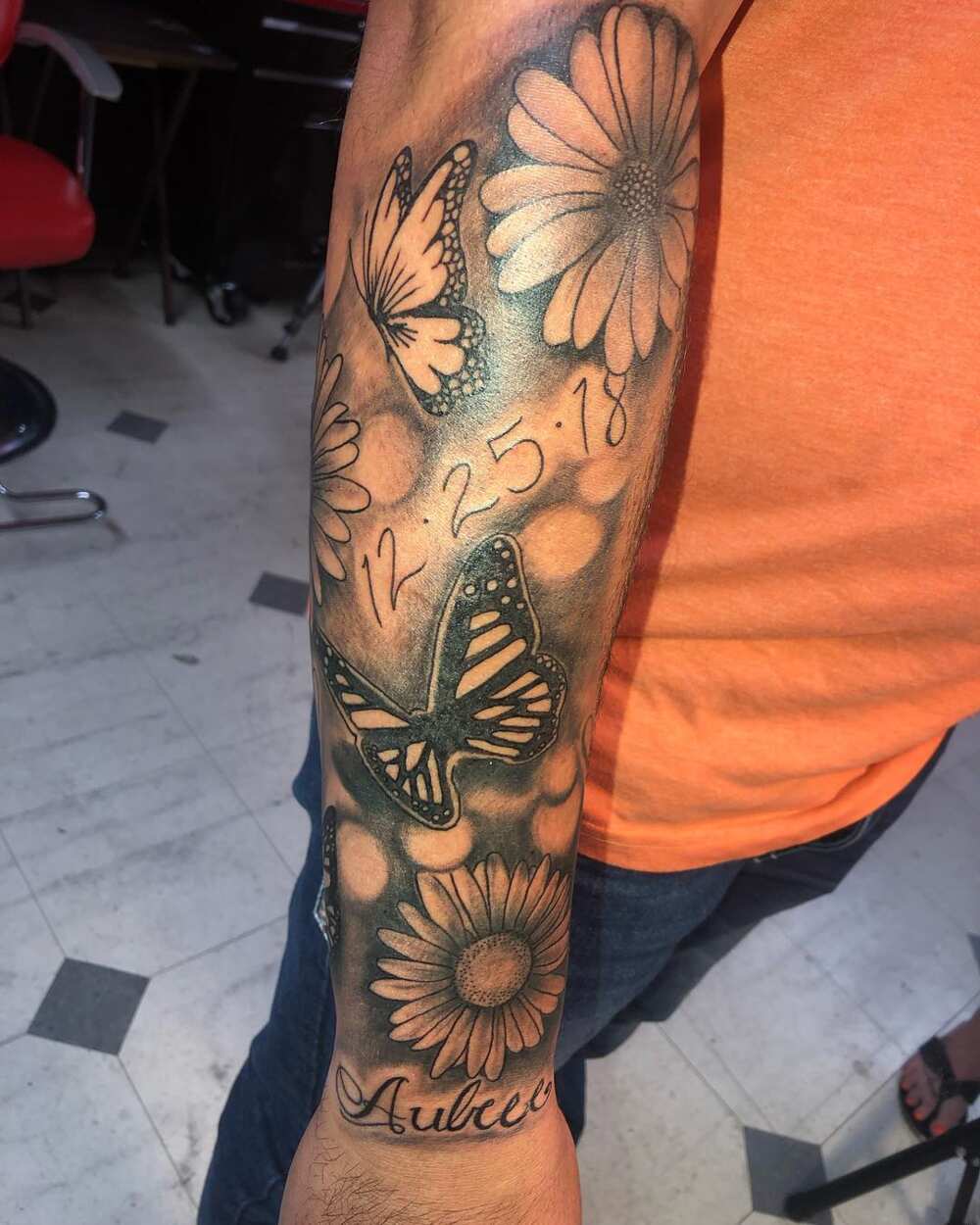 Do you have a day that something exceptional happened to you? It could be your birthday or that of a loved one like your child, parent, sibling, or best friend. It could even be your engagement or wedding day. Marking that special date on your body will always give you the memories whenever you see it.
Pink rose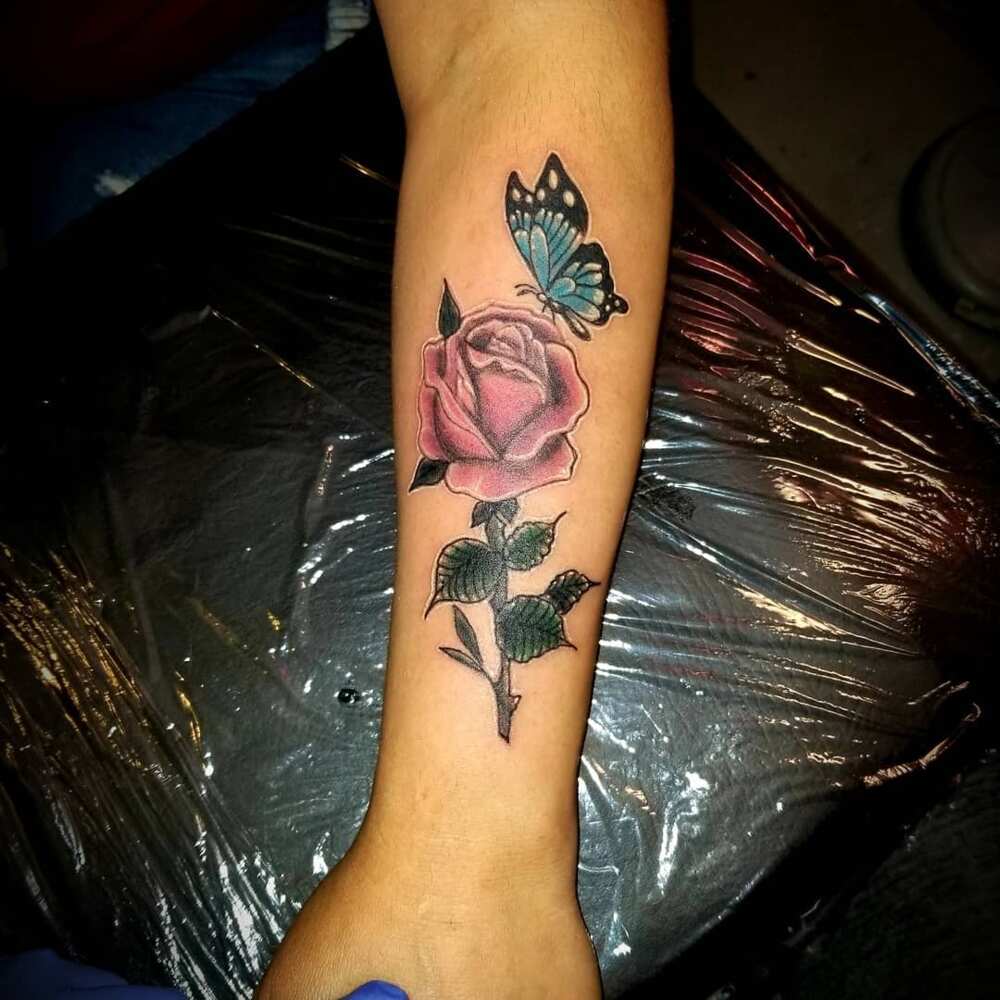 A pink rose is one of the prettiest roses to exist. So, why not have such exquisite beauty for a tattoo. Spice it up by adding a butterfly like the one above to complete the image. Ensure that your preferred artist is skilled enough so that the rose petals are clearly outlined for the beauty of the flower can be brought out effortlessly.
Eye clock rose arm tattoo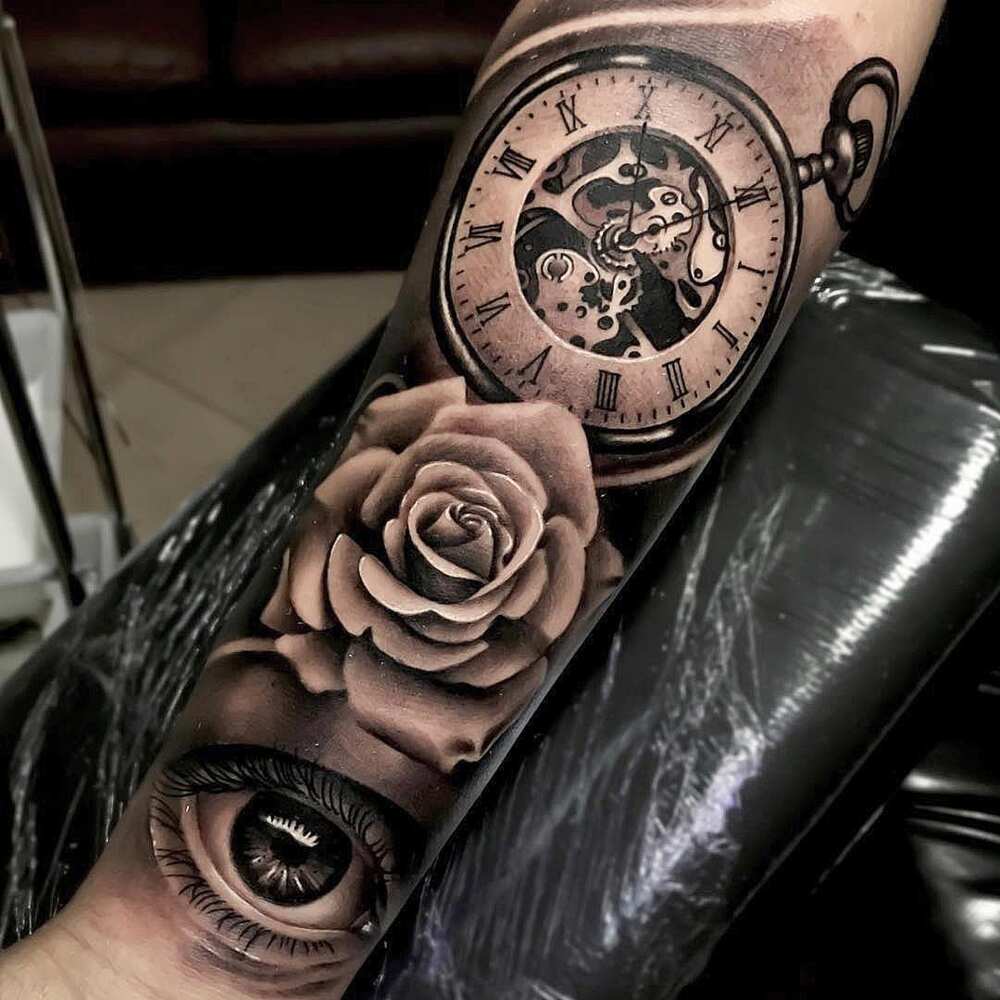 This is a detailed piece of work with images that symbolize different things. It is an excellent alternative for those that prefer having several images all together instead of having just one.
Dot work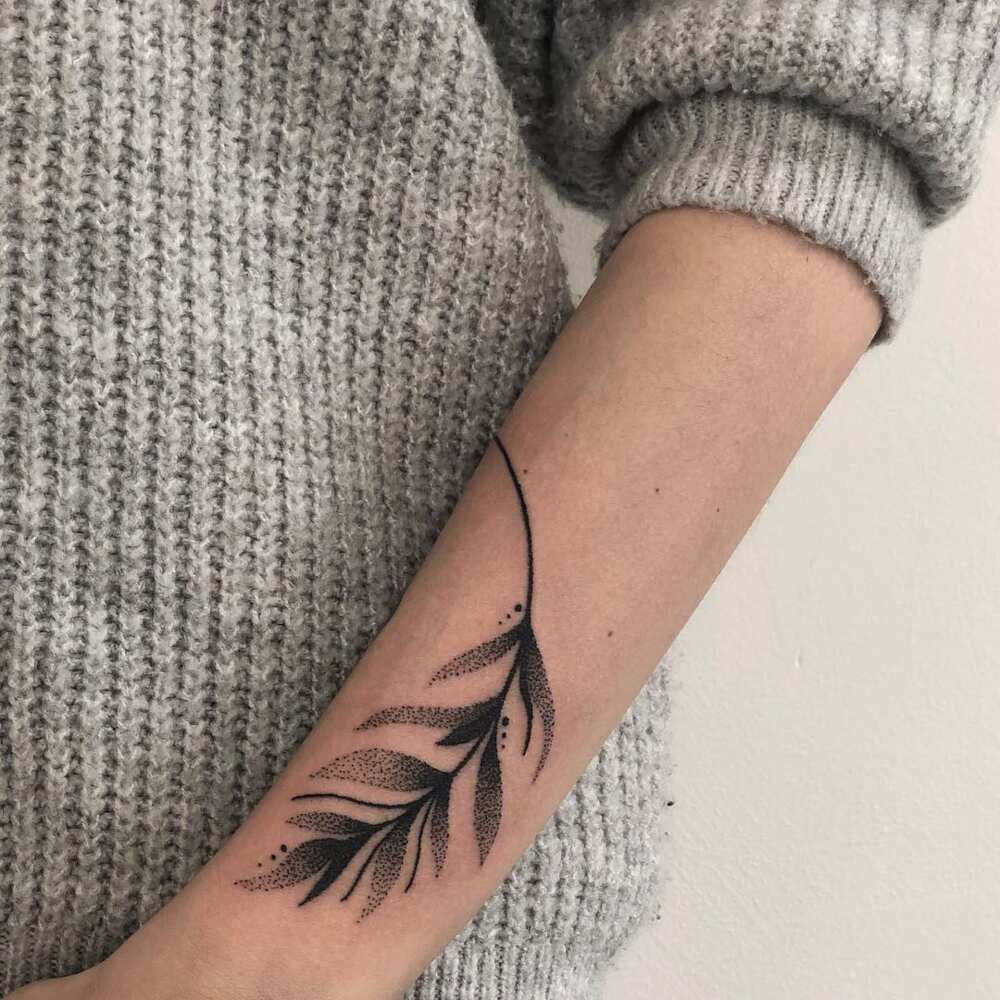 This is simplicity in its purest form. You can have a similar tattoo which is created by a series and combination of dotted ink. If you are looking for something minimal and simple, isn't this worth trying out?
Skull tattoo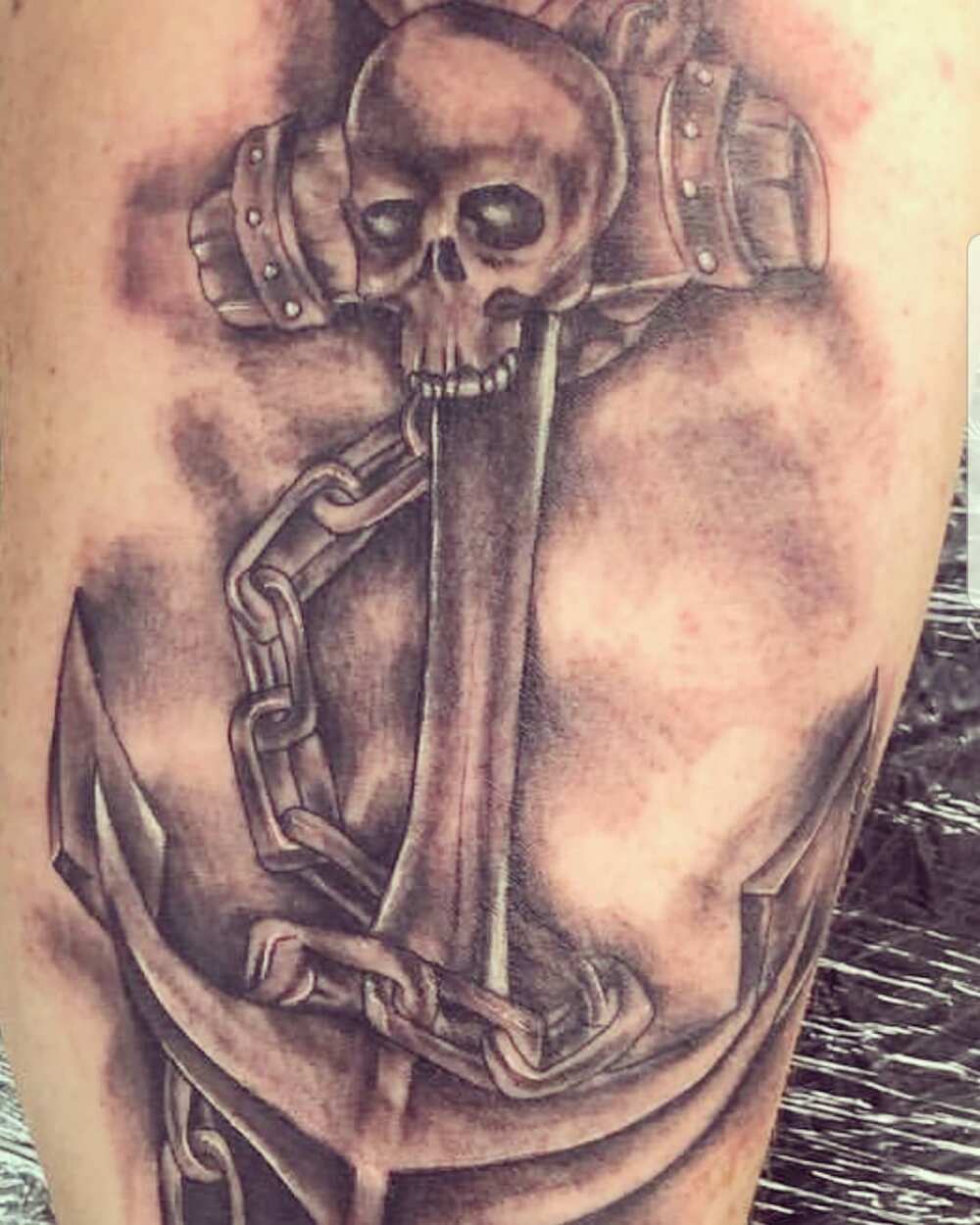 There are those people who have a fetish for skulls and chains, and that is totally cool. If you are into such stuff, there are so many ideas available for you. You can pair the skull with chains, a snake, sharp objects like a sword, a raven and so much more. When it comes to the world of ink, creativity, and innovation is crucial.
Floral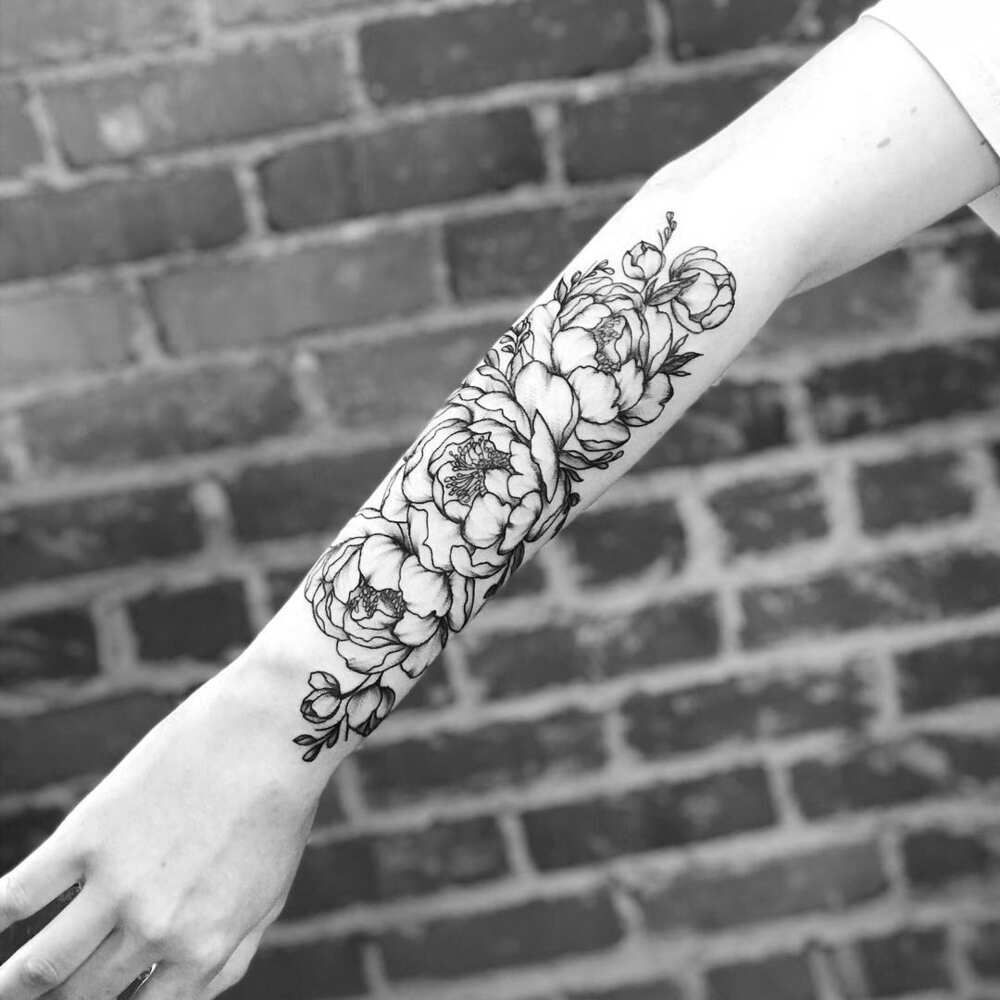 In real life, a bunch of flowers always look very pleasant and appealing to the eye. Why won't the same look equally as good in ink form? Therefore, if you are a lover of flowers, give this a shot and the outcome will definitely please you.
Triple band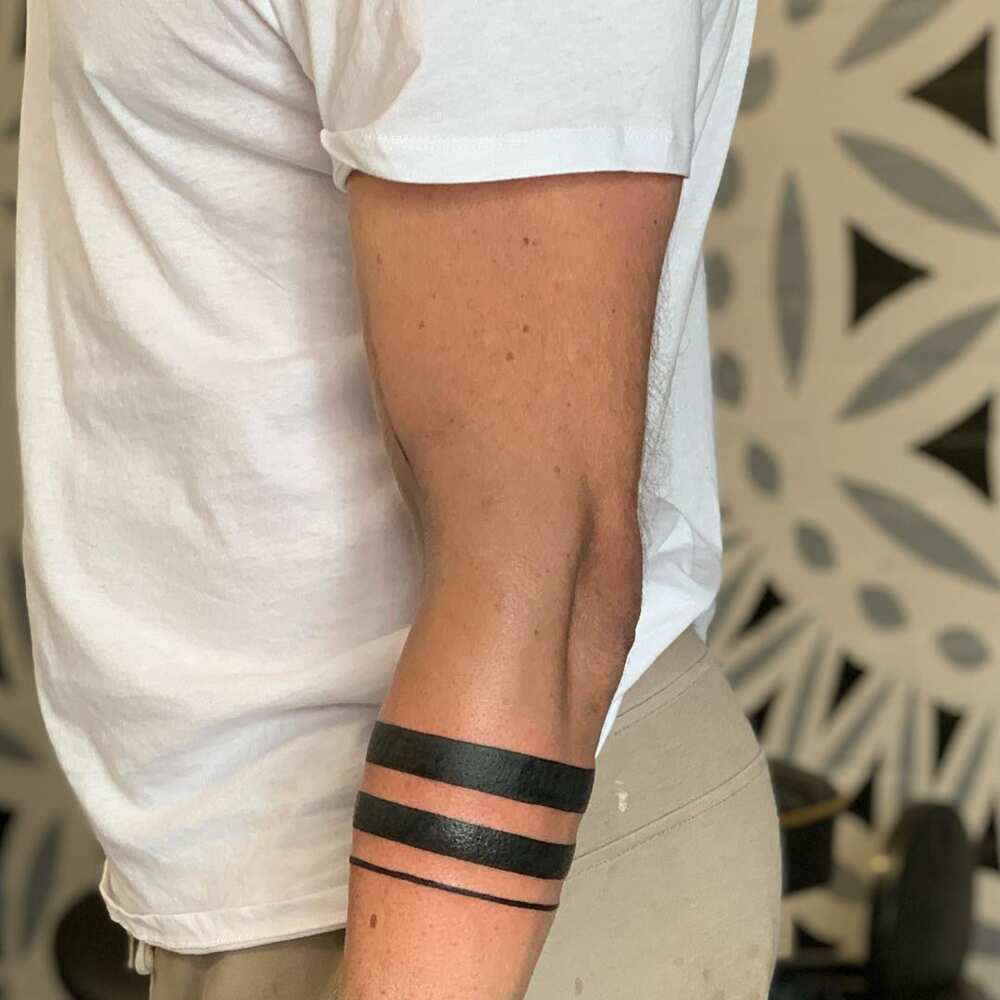 An excellent tattoo for people that love symbolic work is the band inking. You can have it done on the upper arm or foreman, or even at the elbow. The thickness of the lines also varied depending on one's preference.
Full-arm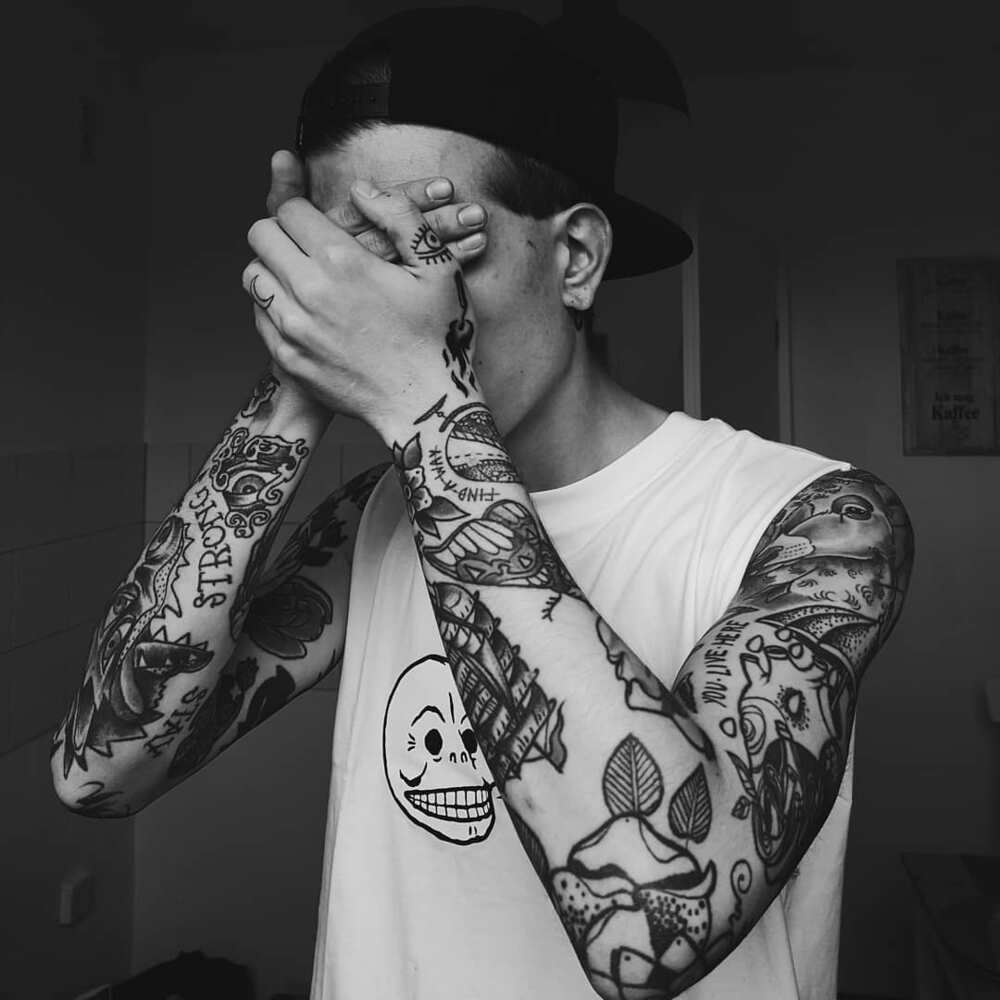 Go big or home! This is one of the messages you get from full-arm inking. If you are daring and carefree, this type best describes your personality. For this one, you are also not limited as you get the chance to choose a number of all your favorite images and designs.
Angelic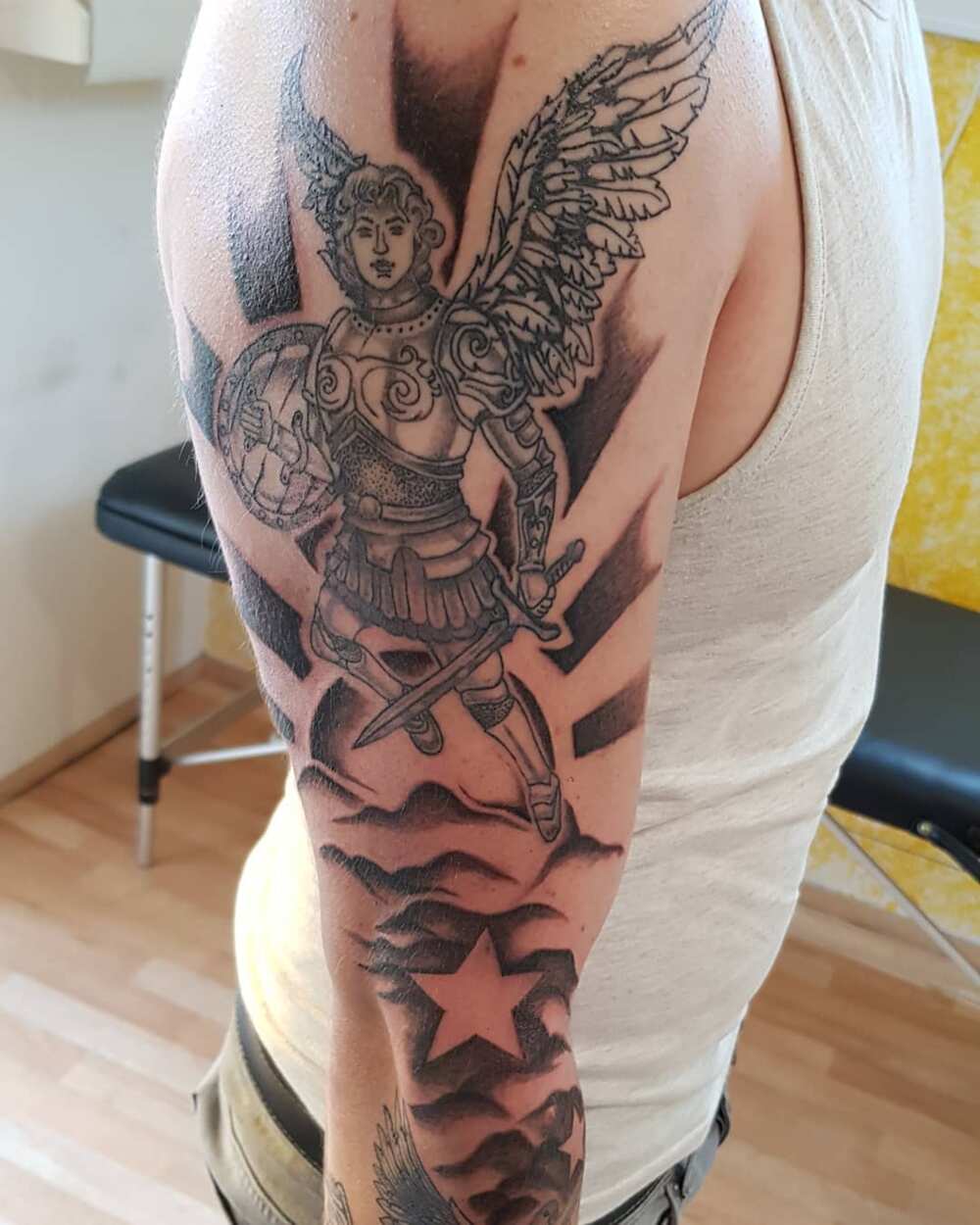 Are you a believer of superpowers and the existence of the spiritual world? Yes? Angel inking will remind you that you are not alone even when you are experiencing the most difficult of situations. You will always have your guide and protector where you can see them. Isn't that so cool?
READ ALSO: 50 scorpion tattoo design ideas for men
Script tattoo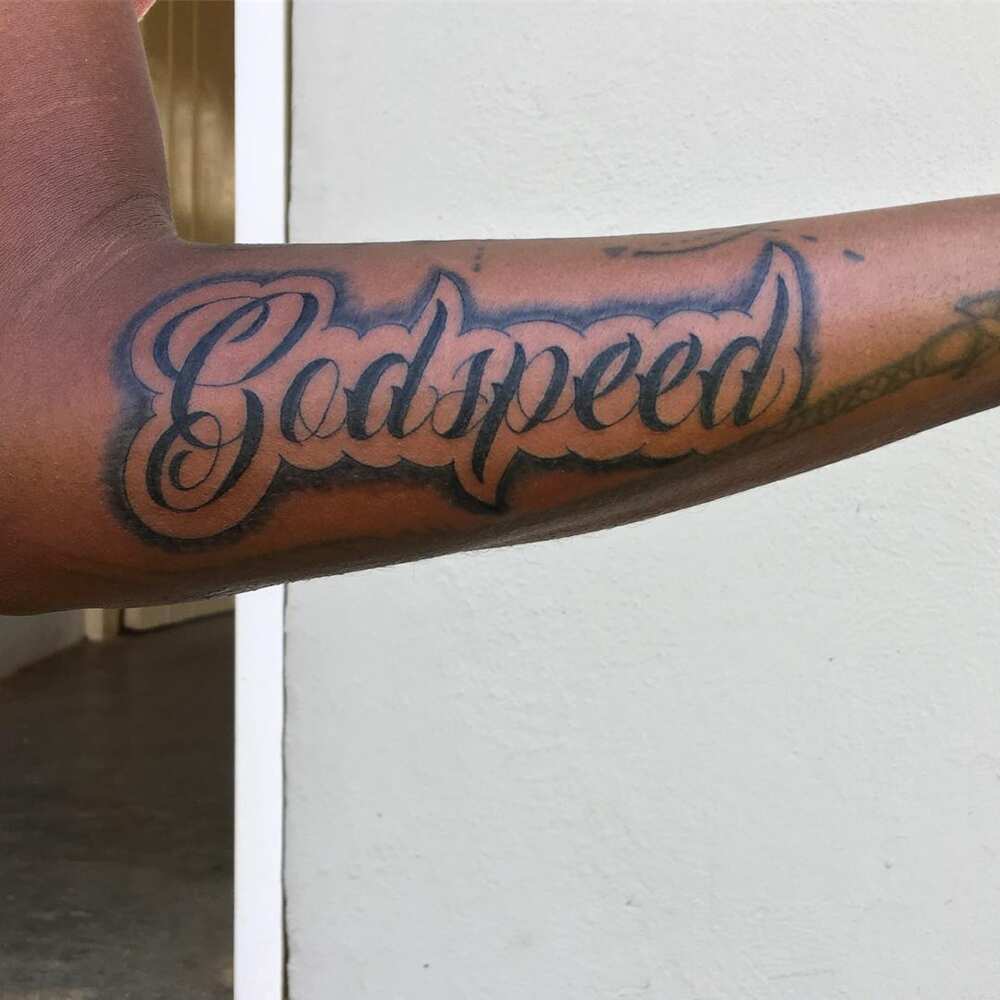 For many years now, this phrase has continuously been used to wish someone a good fortune, success, or luck in their endeavors. If this is what you wish upon your life, have it inked on your arm and always be reminded that higher powers are guiding you through the journey of life.
Awesome lion with cubs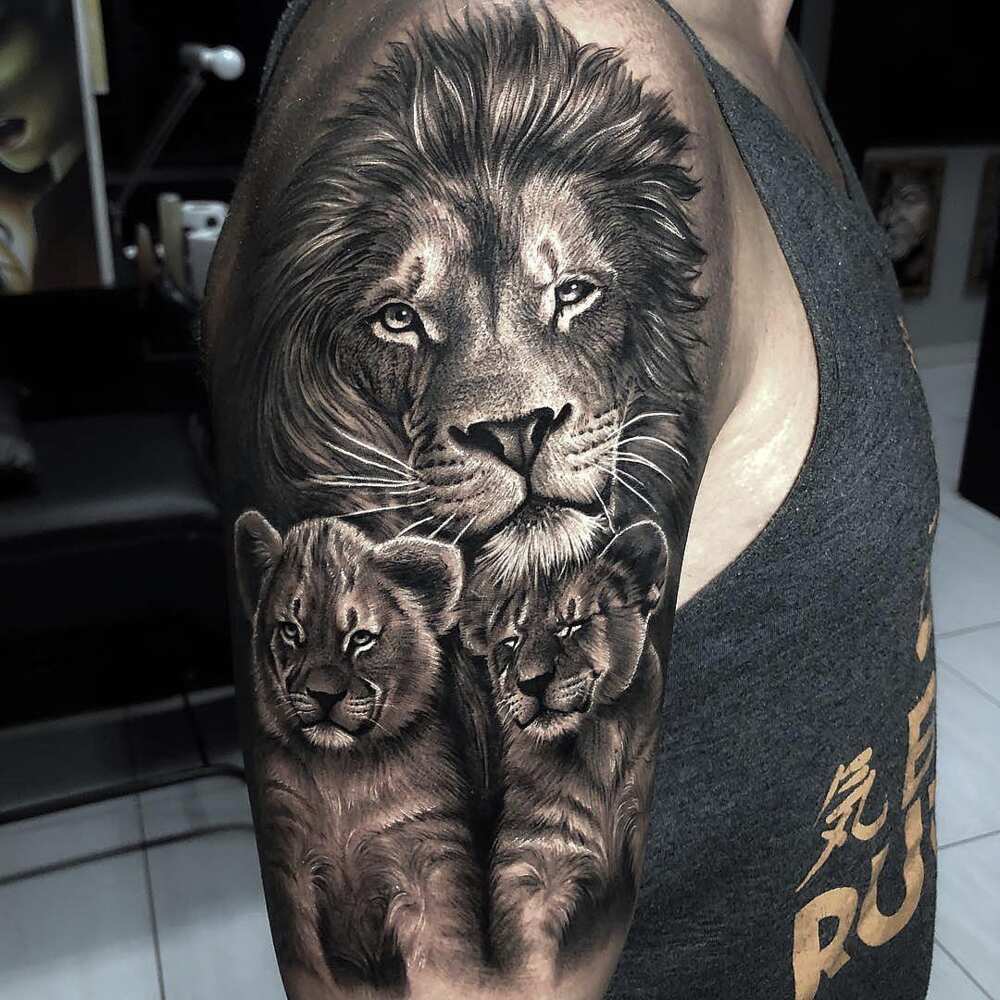 The amount of detail on this inked image is incredible! This one is mainly for the lovers of this beast. It exudes power and control which is much sought by human beings as well. The cubs are under the protection of their parent thus cannot be harmed by anyone or anything.
Python on skull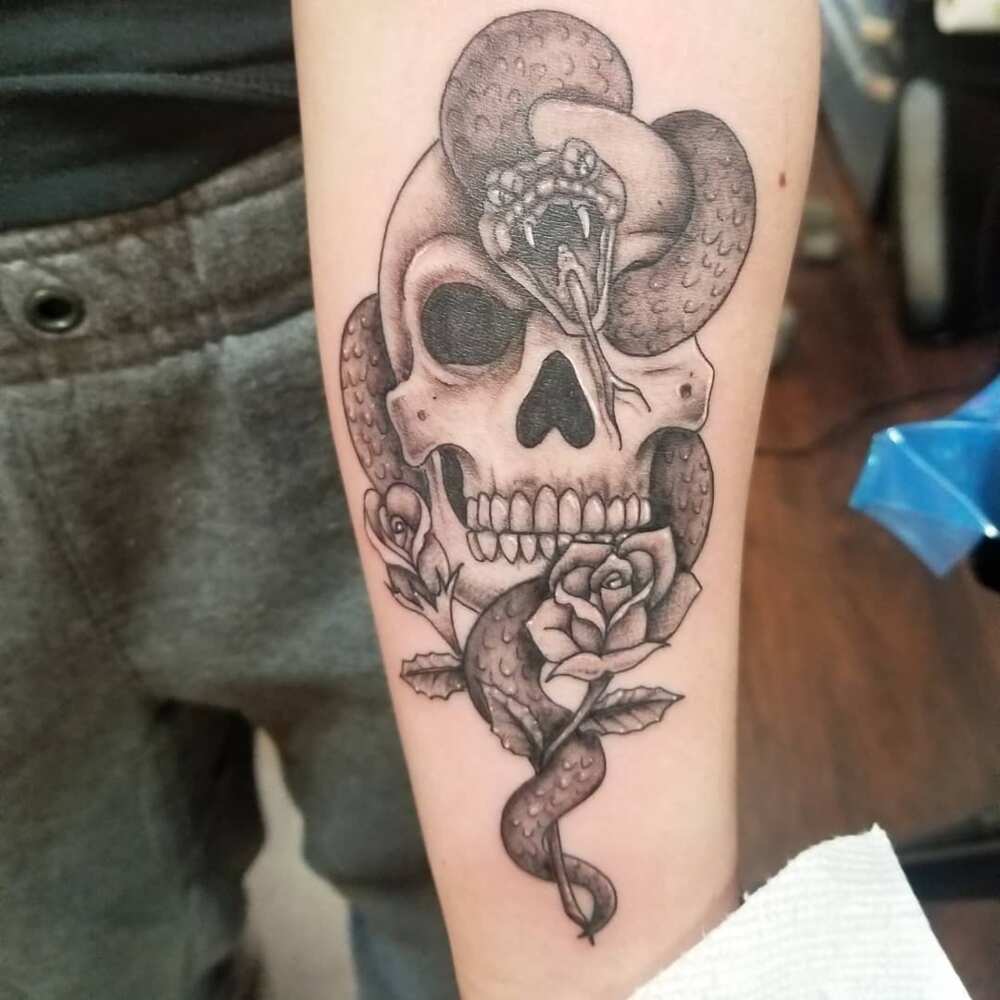 This design is best suited for people into gothic, dark, and punk stuff. When done correctly, these tattoos turn out to be freakishly awesome. When combined with a toned down image of something like a rose, like the one in the tattoo above, the final result is impeccable.
Eagle tattoo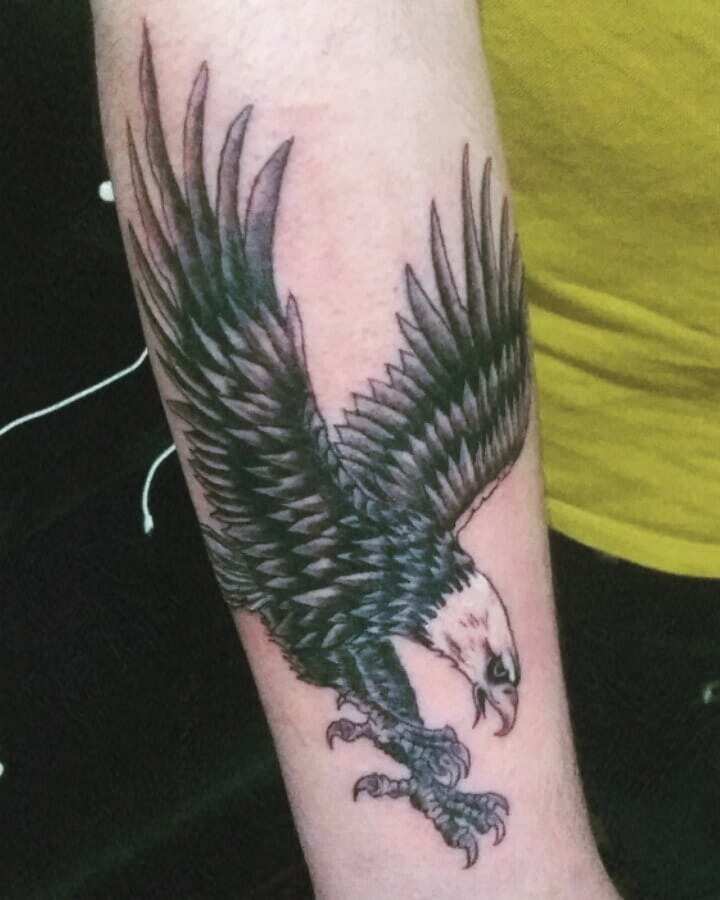 Most of the people who choose to have the eagle tattoo do it because of what it symbolizes rather than its appearance. The eagle is known and identified with strength and determination as it is known to sour greater heights. If you wish to be relentless and have the spirit to carry on even when experiencing hardships, the eagle ink will always remind to keep pushing forward as there are better days ahead.
Tribal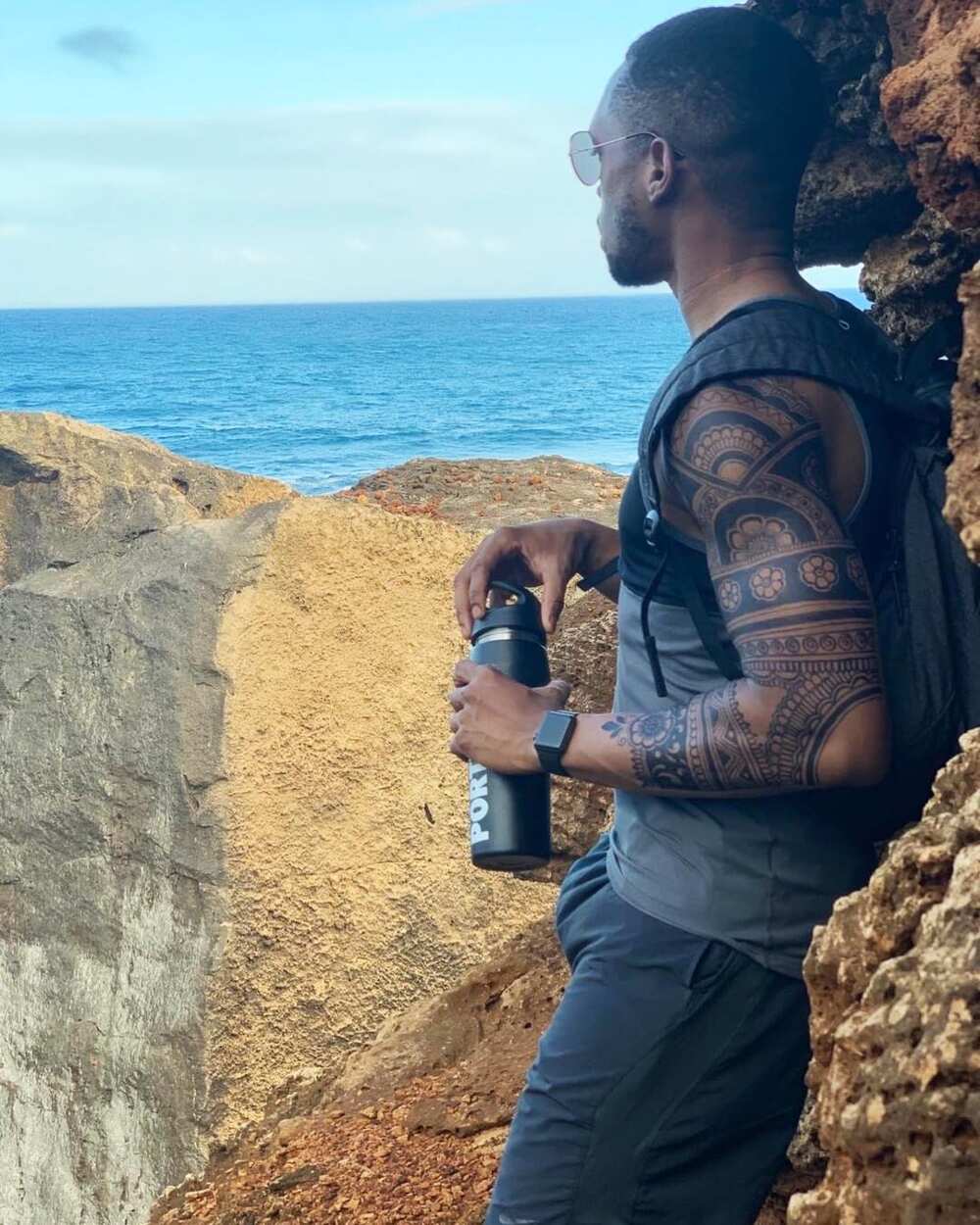 The tribal inking often covers goes all around, covering the circumference of the arm. It carries a lot of beauty as a result of the different patterns that are used to achieve the final look. It looks perfect especially on the upper arm for men as the biceps and muscles magnify the appearance of the patterns.
Cat lover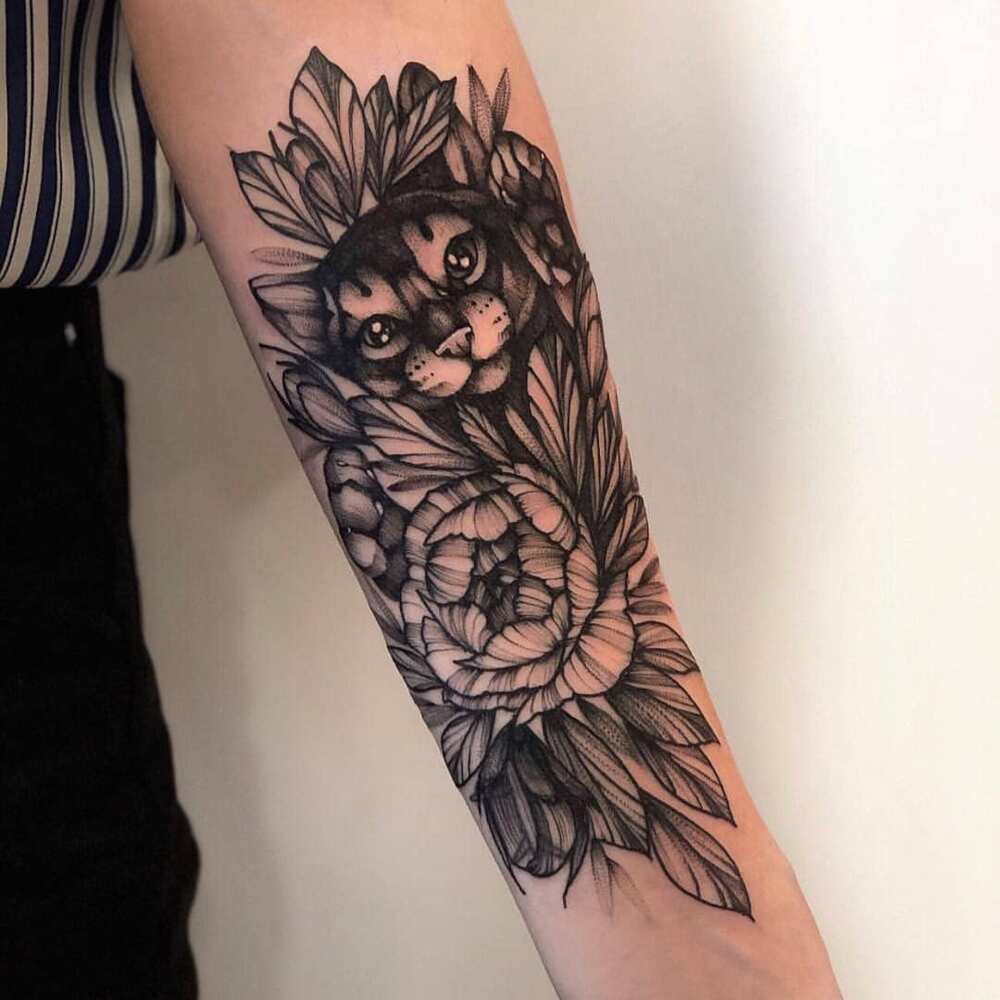 A cat is one of the most adorable animals on earth. They are soft, sweet and tender and most people always want to have them around. If you have a cat for a pet, you could carry it or its photo when you go for your appointment and have it put inked on you. Whenever you travel without your little buddy, you will still be able to feel their presence.
Lord Shiva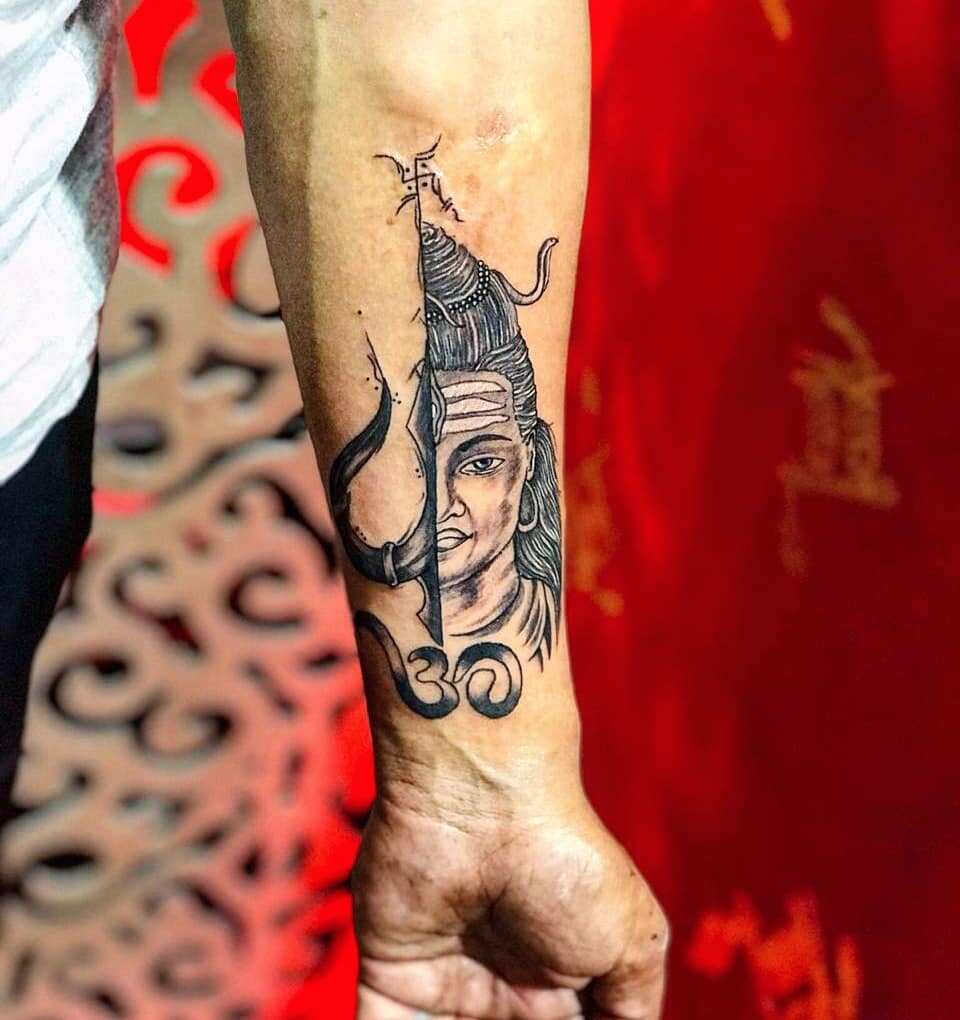 If you are a believer of Lord Shiva, you could have his image inked on your forearm. This way, wherever you go, you will always have your god with you.
Anubis tattoo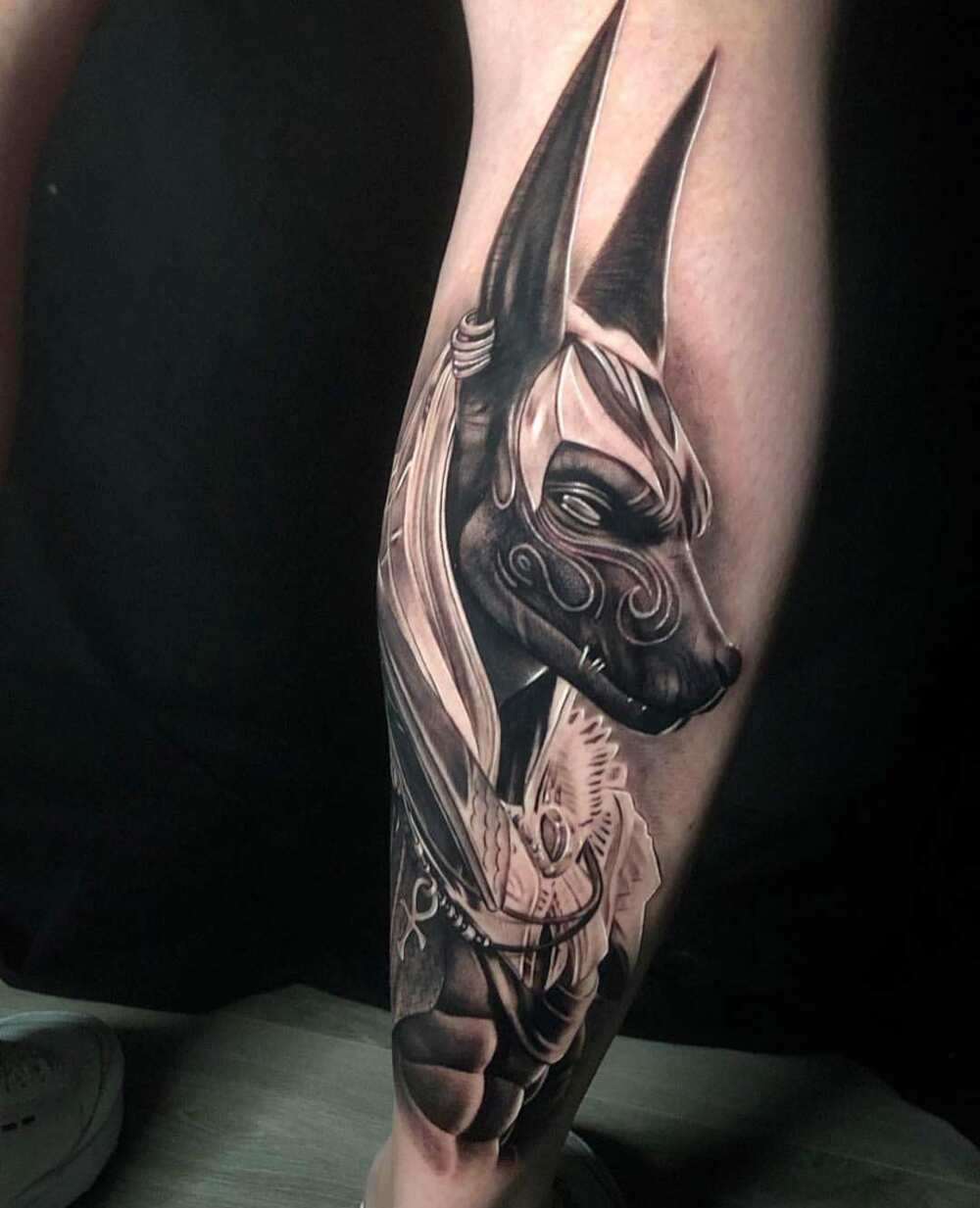 Anubis is believed to be the god of the afterlife. If you are a firm believer and wish to be united with him after this life, why not have this tattoo always to remind you where you are headed and who you will be meeting there?
Tiger eye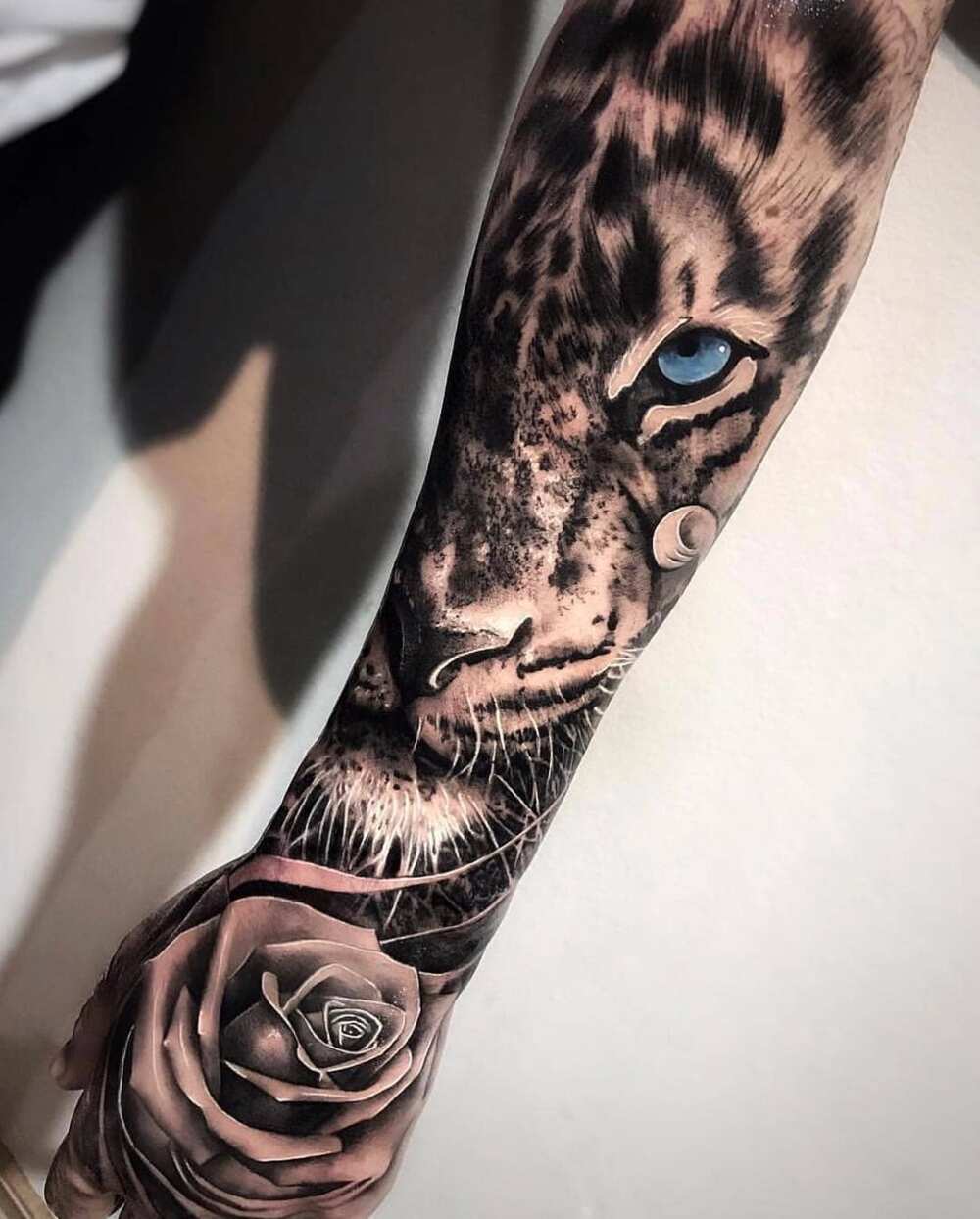 A tiger is associated with fierceness and fearlessness. If you are such a person or wish to have such a character, this tattoo will make you push yourself to be whoever you want to be, just like the tiger.
Bird tattoo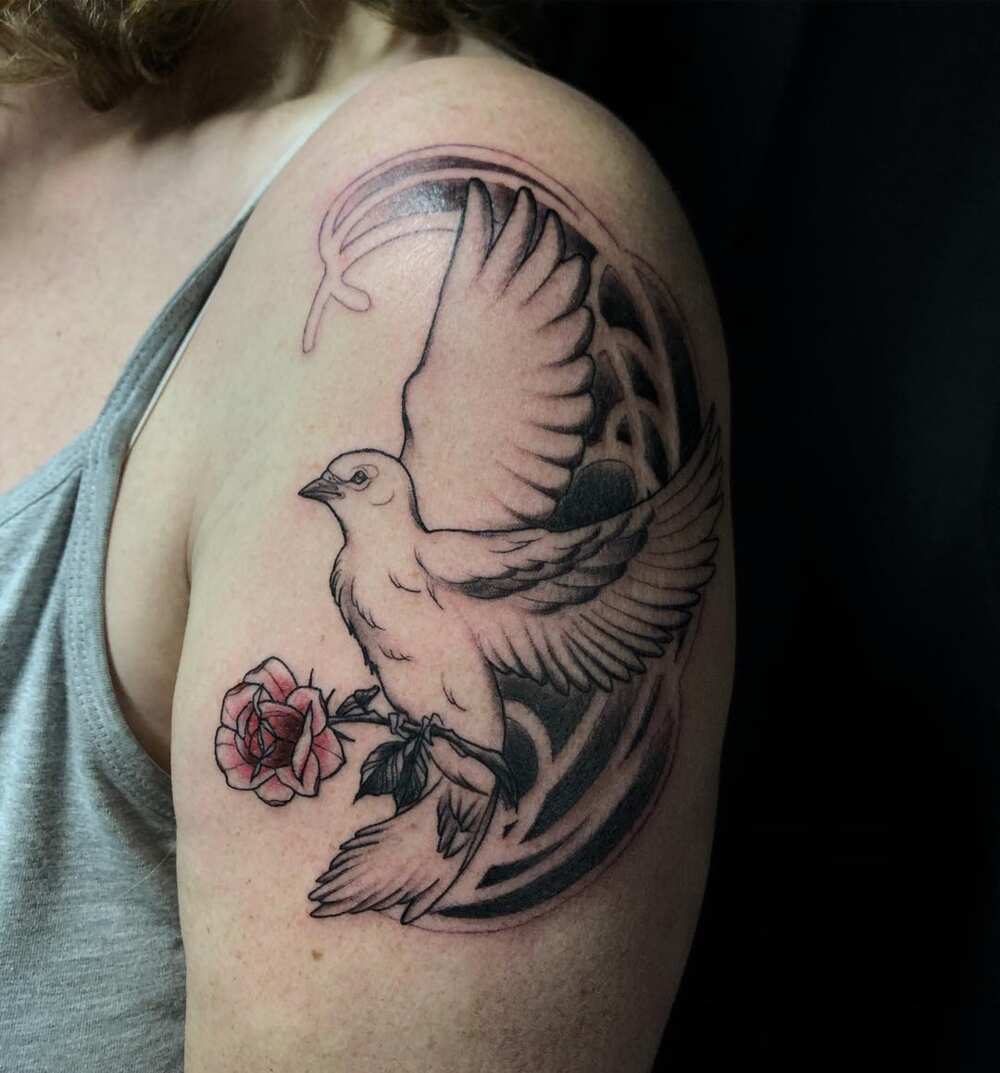 Birds are graceful and peaceful animals. These are traits that every person in the human race should emulate as peace and grace bring forth love, unity and progress.
Roman numerals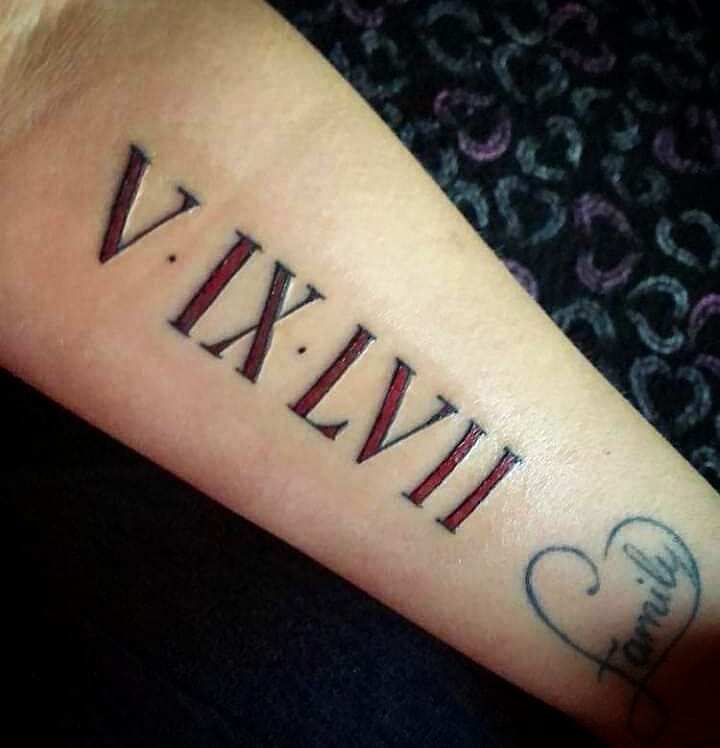 Roman numerals always look cool. You can have them written vertically or horizontally, and they will look great either way. With a touch of color like the one displayed above, the result is beautiful.
Geometric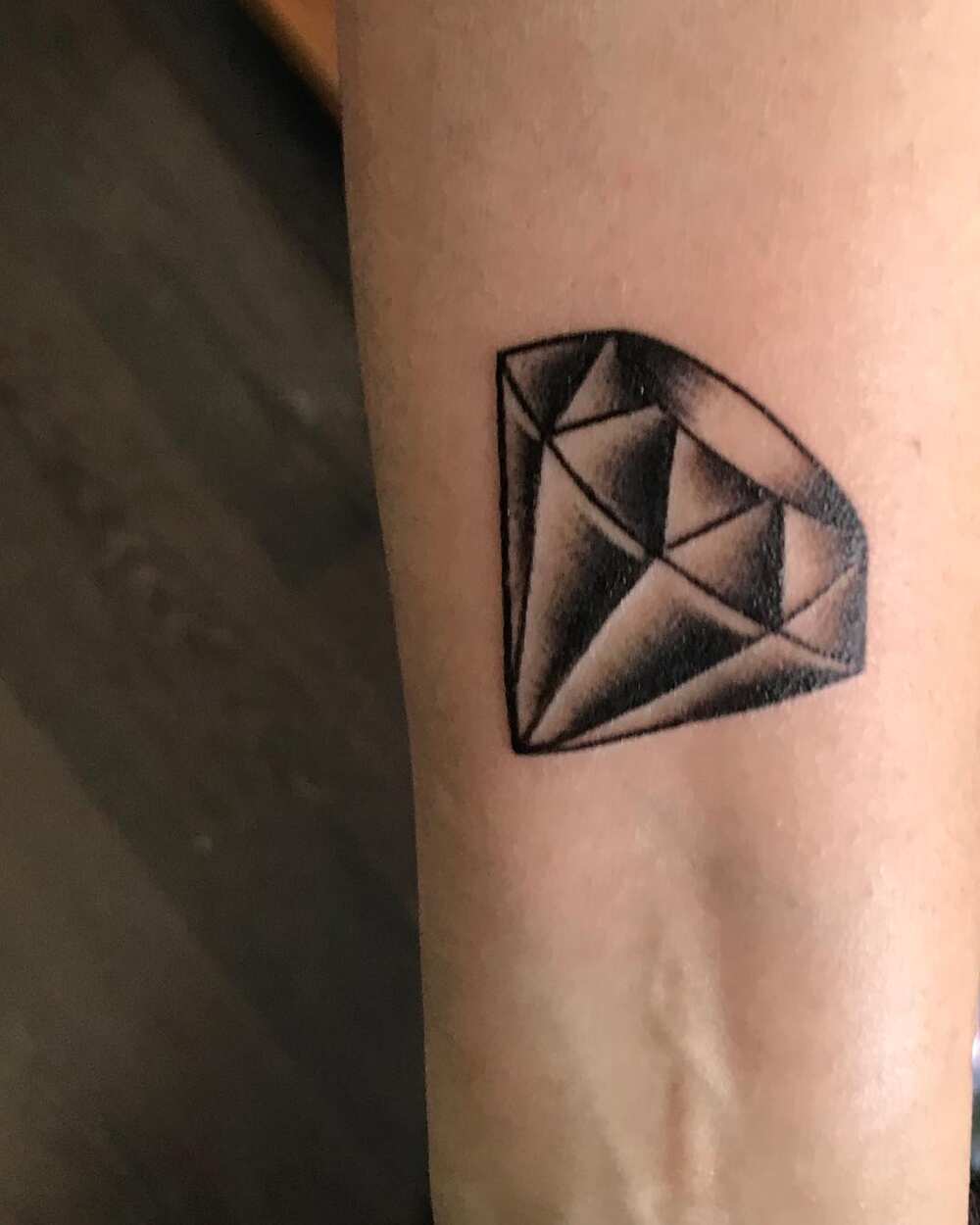 Geometric designs have increasingly become common as they bring with them a hint of modern with a touch of simplicity which altogether make a great combination.
Animated character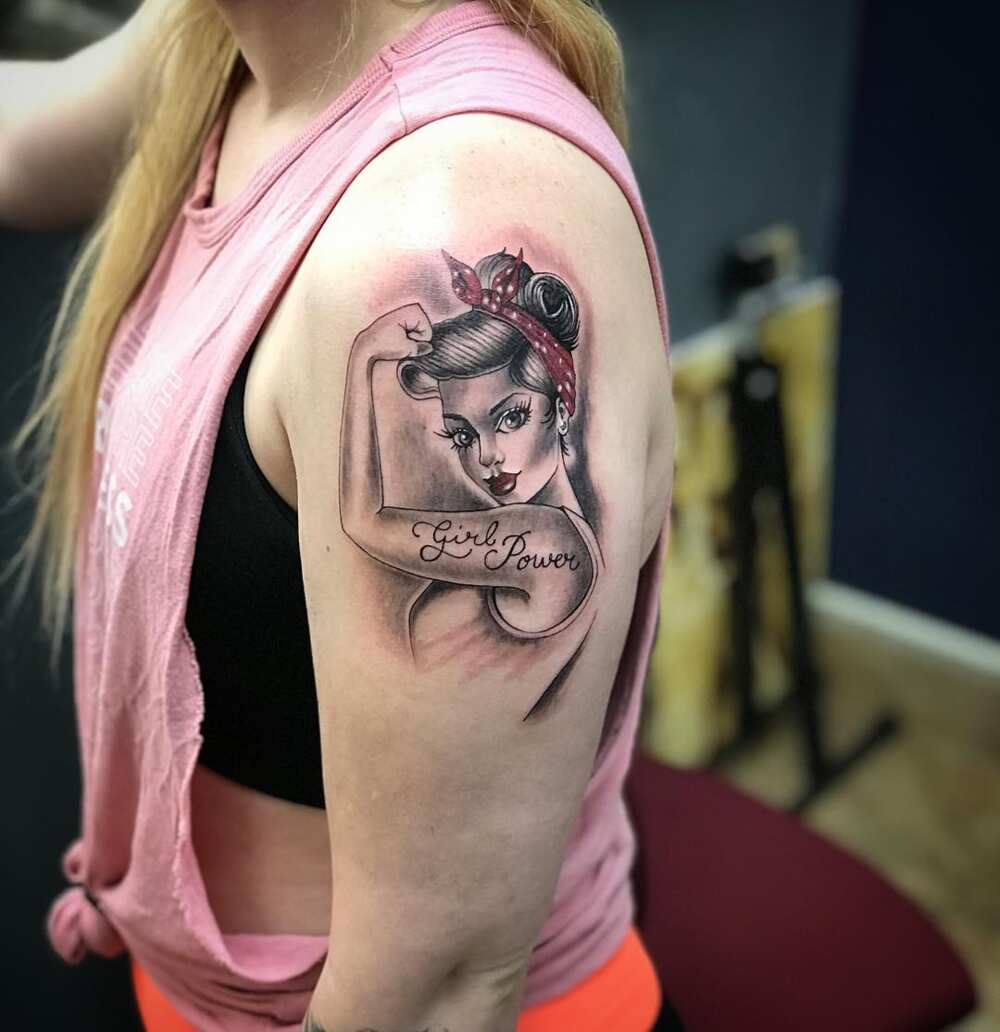 Do you believe that girls have the power to rule the world? If you do, why not have the 'girl power' tattoo and let everyone know that you have power over your life? It is preferable to add on some bright color or colors to it as females are associated with brightness, light, and fun.
Textural tattoo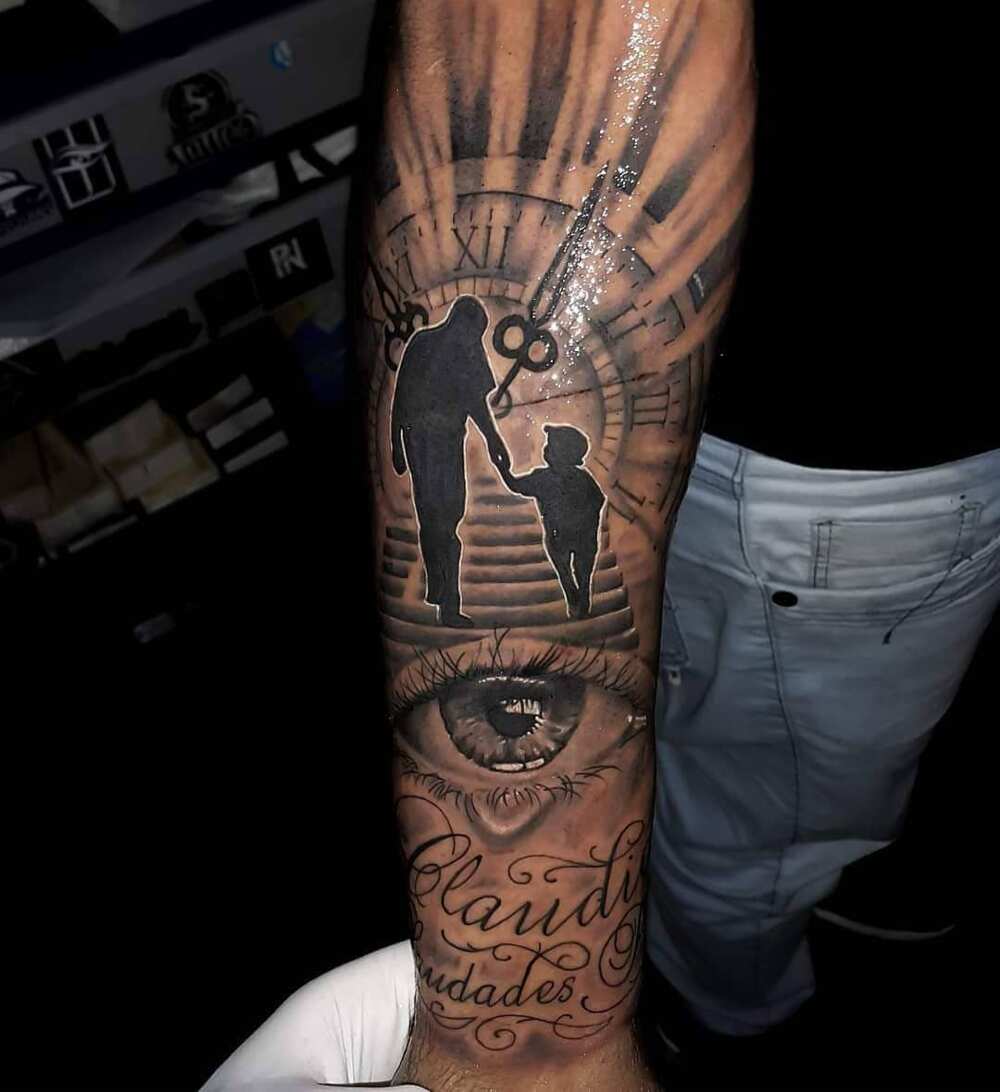 This type of tattoo takes quite some extra time for completion as a lot of artwork is required. As a client, you need to have patience and tolerance as the process may cause you more pain than the usual tattoo.
Geographical upper arm tattoo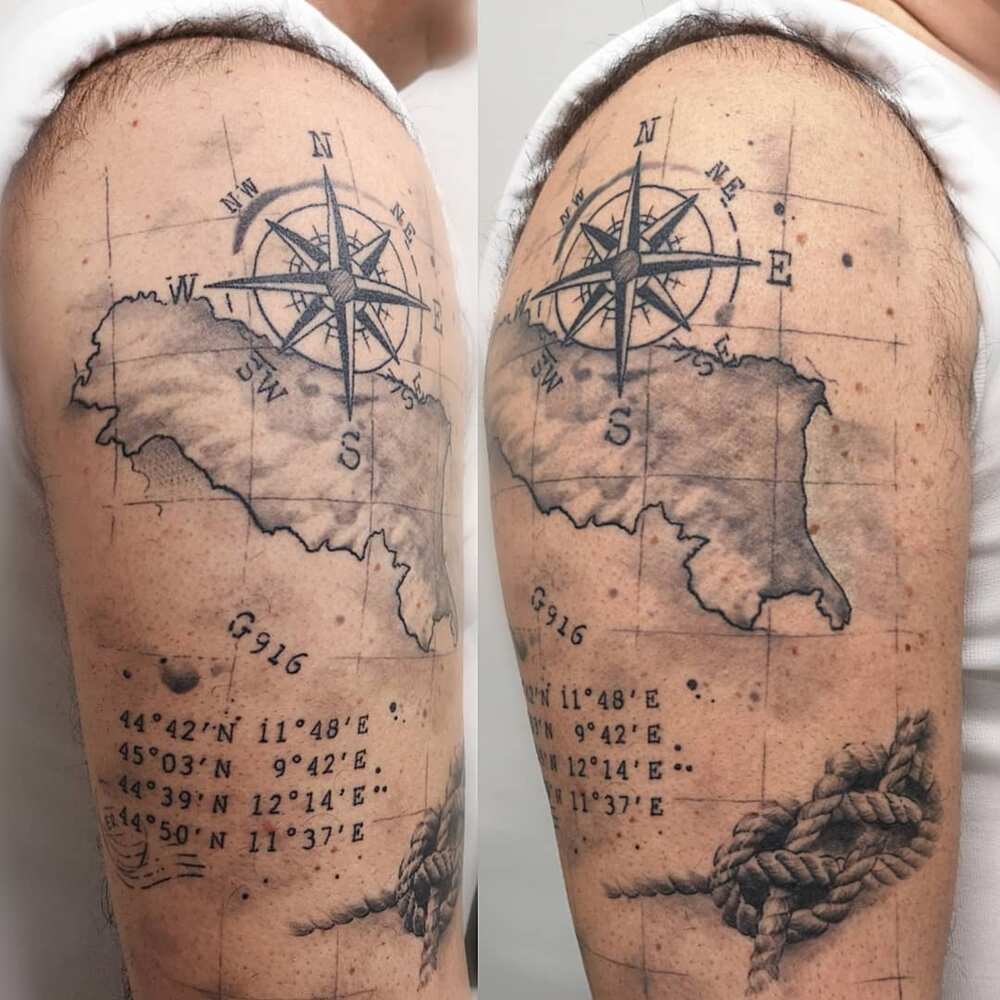 This one is for explorers and travelers. If you love touring across the globe, or even around your country or region, you can have yourself inked the fascinating places you have visited and get some additional tattoos whenever you go to a new great place.
Nordic Valkyrie wings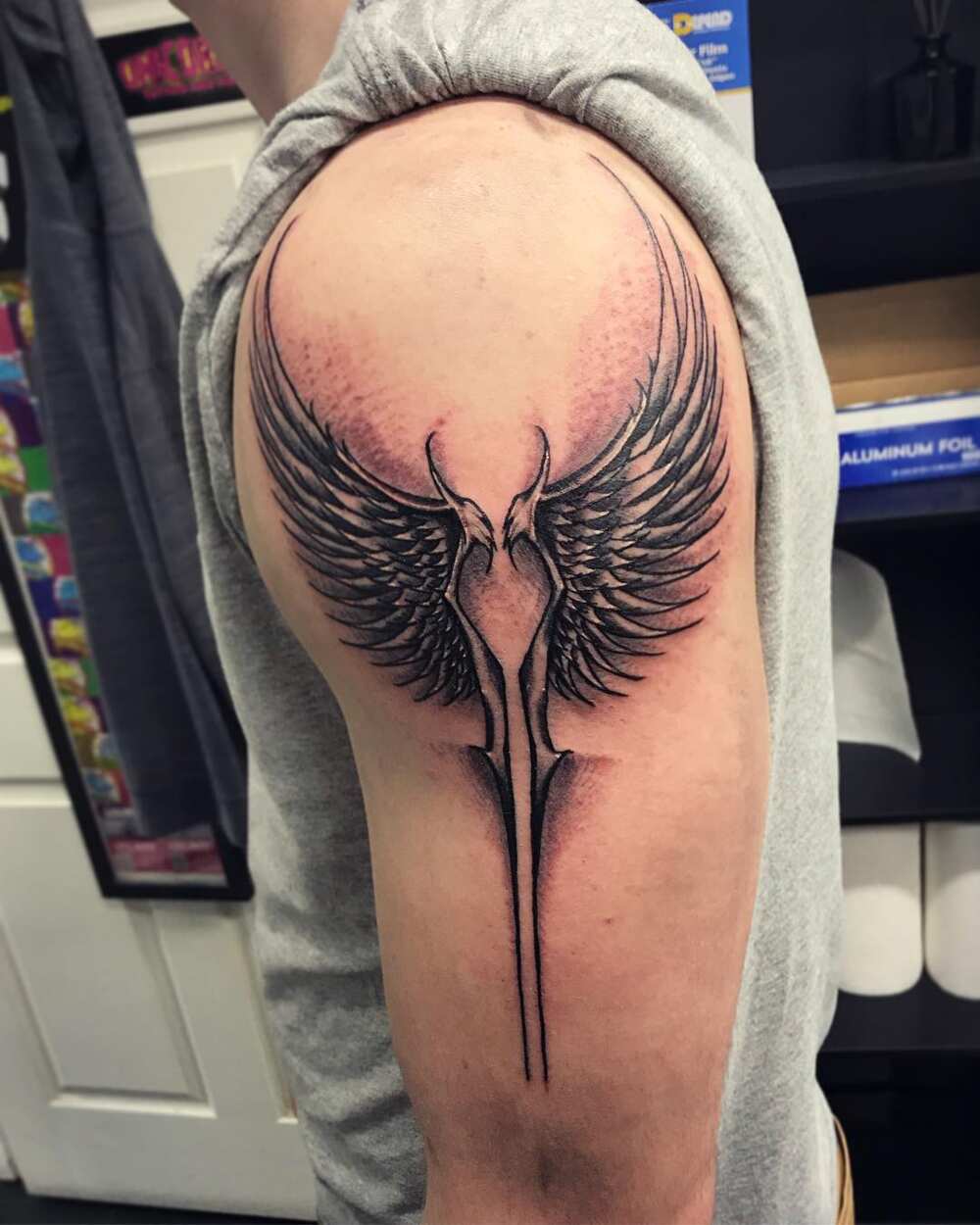 There is something that makes wings look so great on the upper arm. If this is your kind of thing, do not hesitate to get it done because it will definitely look spectacular.
Black and grey arm tattoo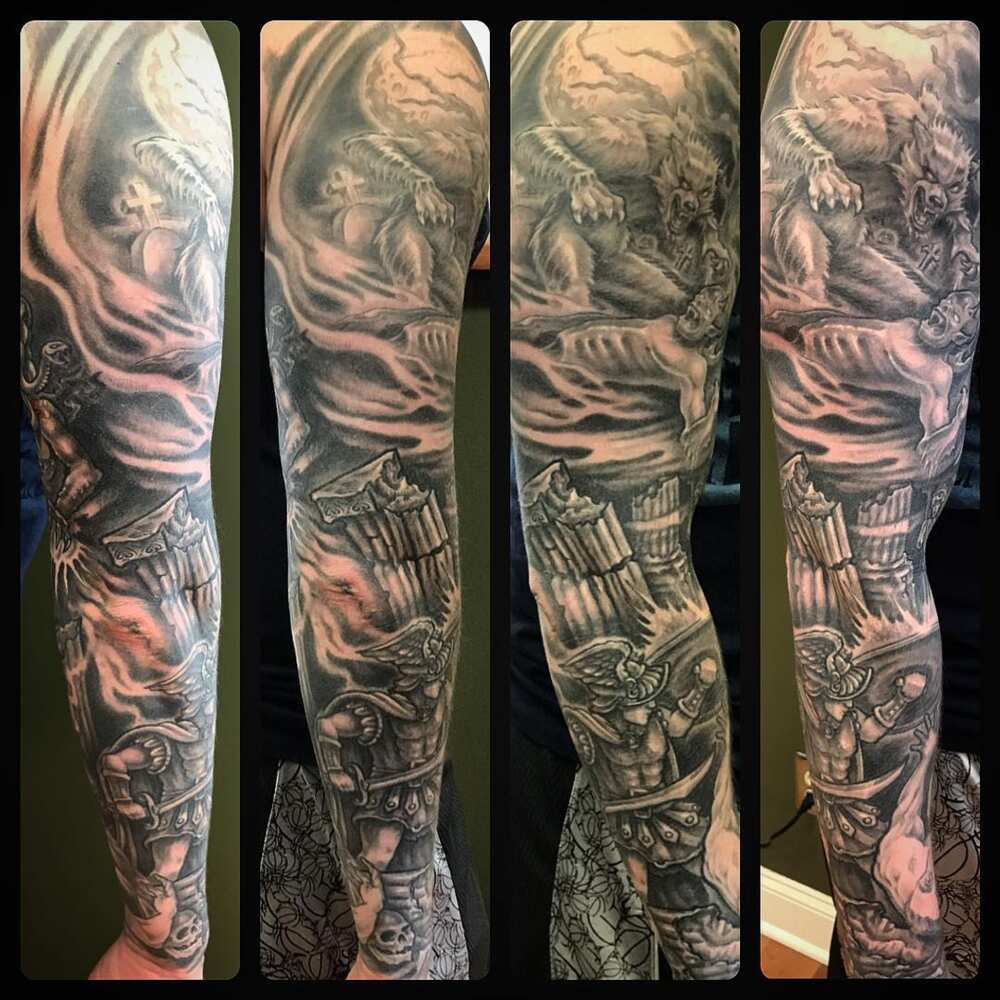 Black and grey complement each other so well, especially on ink. These two colors on a full arm tattoo are definitely eye-catching.
Tim Burton's corpse bride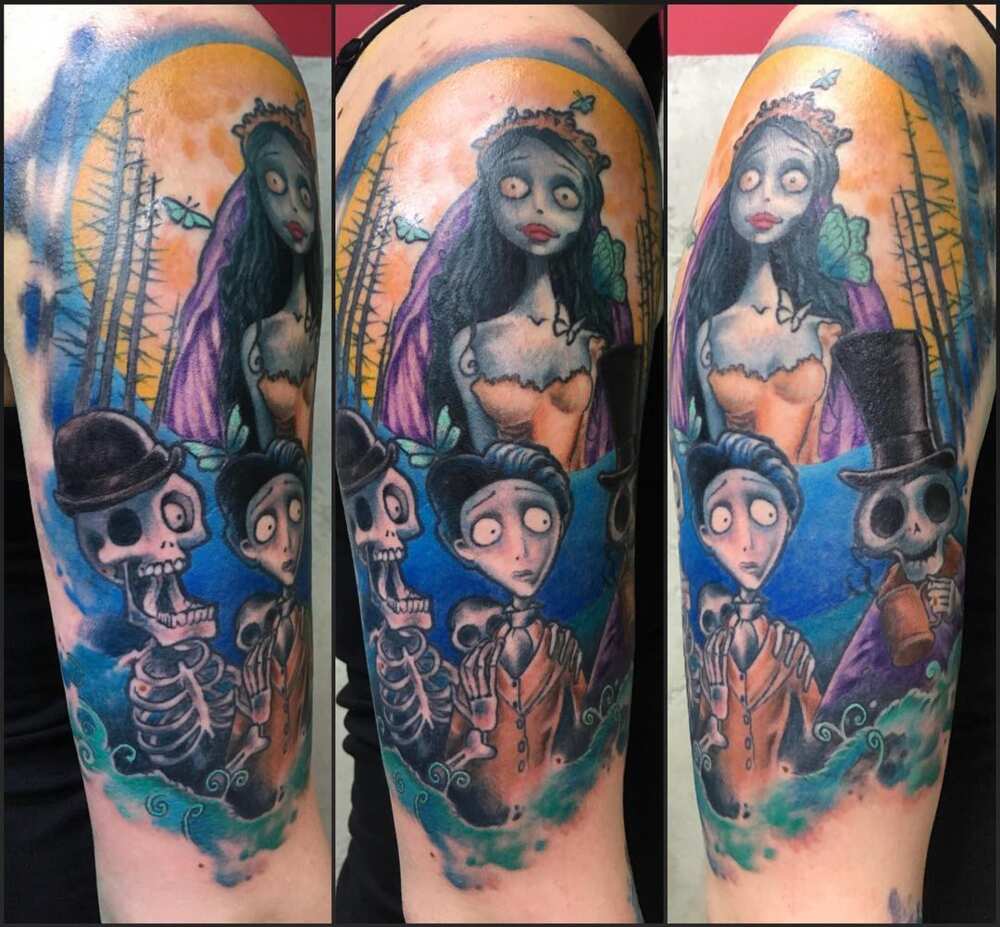 When you walk in a room with such kind of ink, do not expect anything less than all eyes on you. By now, you can tell that a touch of color on tattoos makes them even more appealing, right?
Half-face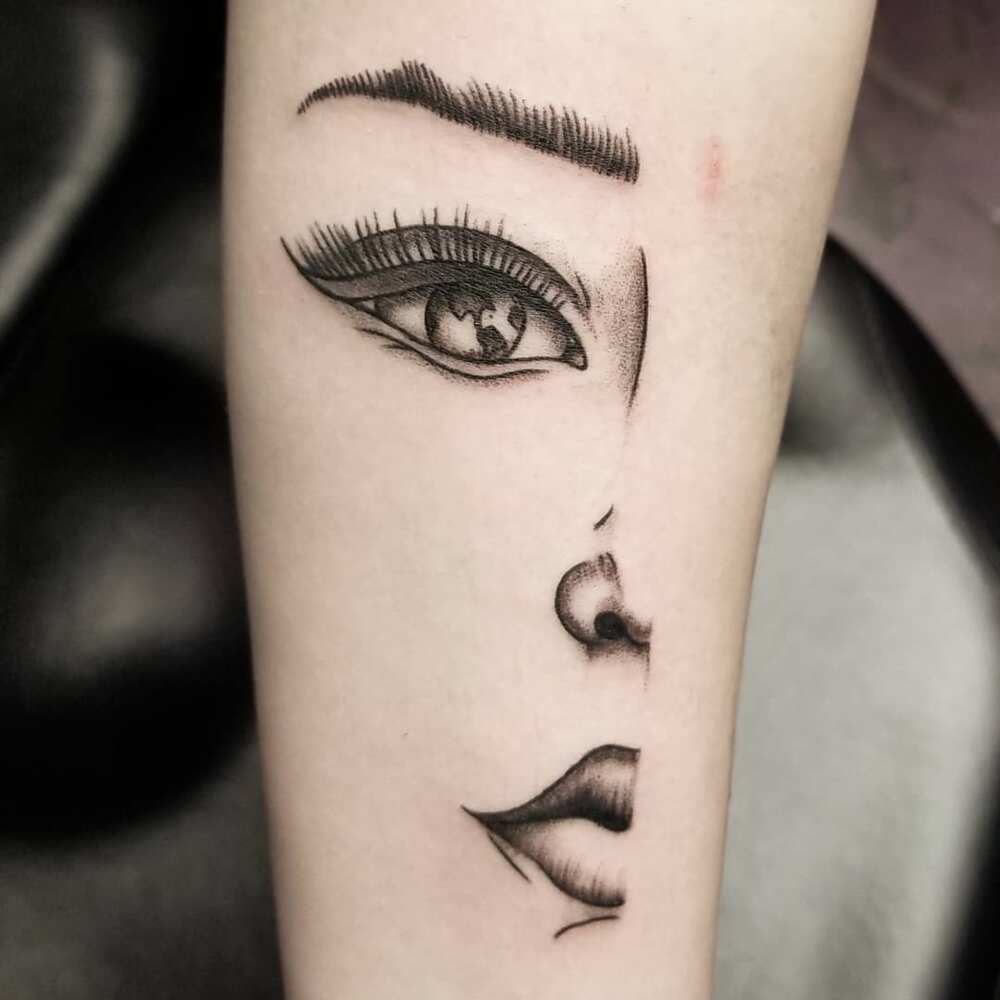 Instead of having a full-face as most people do, try something unique like having a half-face done. Not only is it unique but also creates curiosity of what the full image would look like as people try to complete the missing bit. In most instances, a teaser is always a great idea.
READ ALSO: 50 wrist tattoos ideas for men and women
On the mic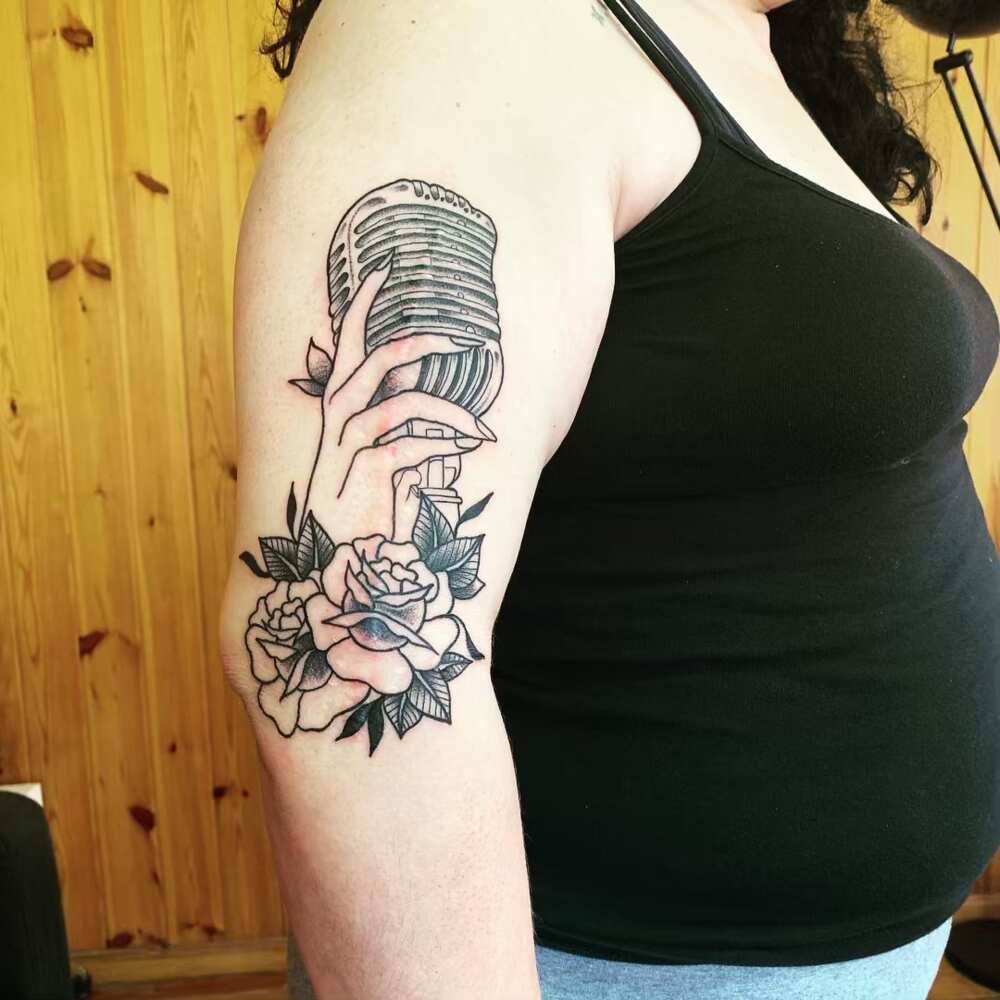 Any music lovers here? Anyone? How exquisite this artwork is! You could be having a dream of being on the microphone one day performing in front of masses of people. Having this tattoo is a great place to start. When you go for music auditions, not only will the judges and crowds notice your talent and great voice but also your enthusiasm for music.
The mighty ruler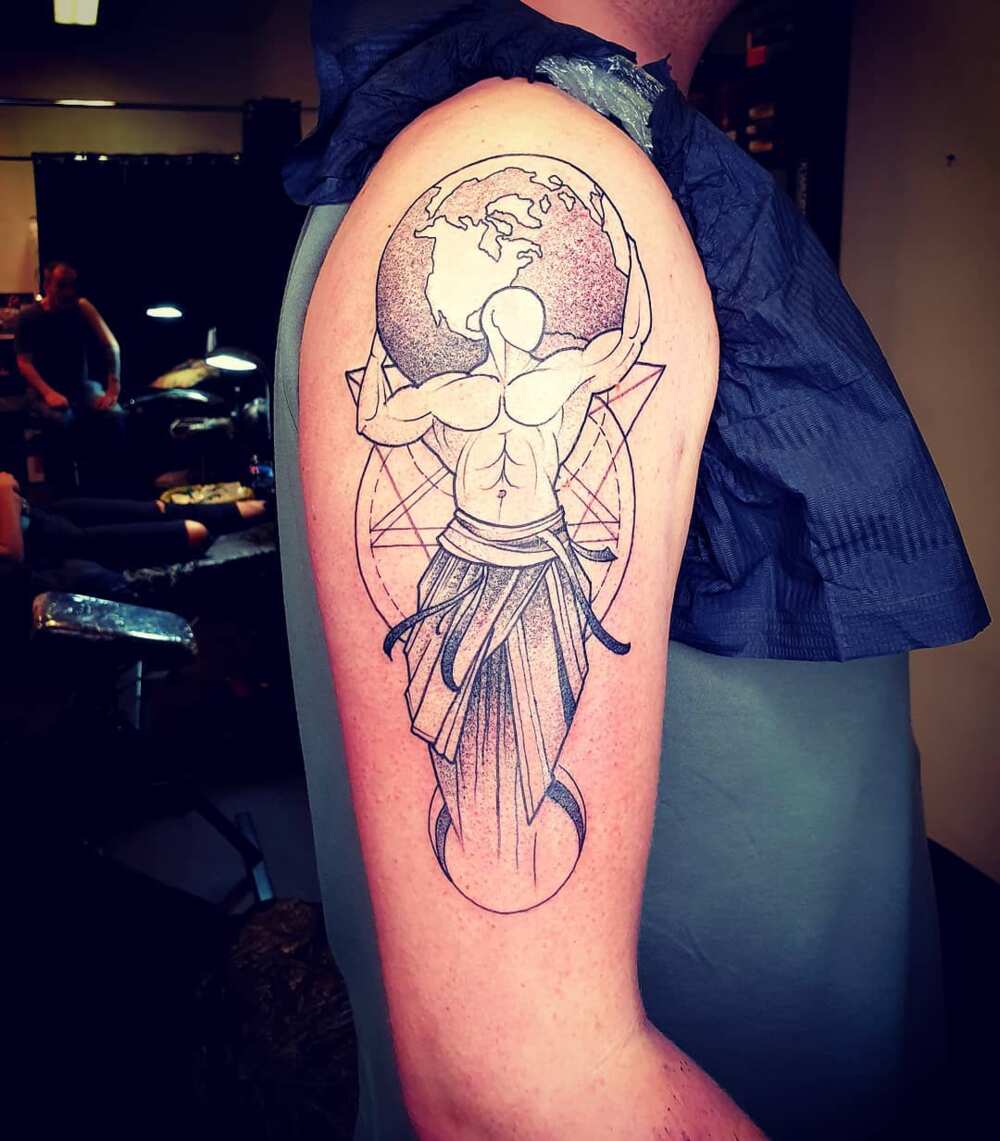 This symbolizes the existence of a mighty being carrying the world on his shoulders. You do not have to be religious to have this tattoo, as long as you believe in higher powers.
Name tag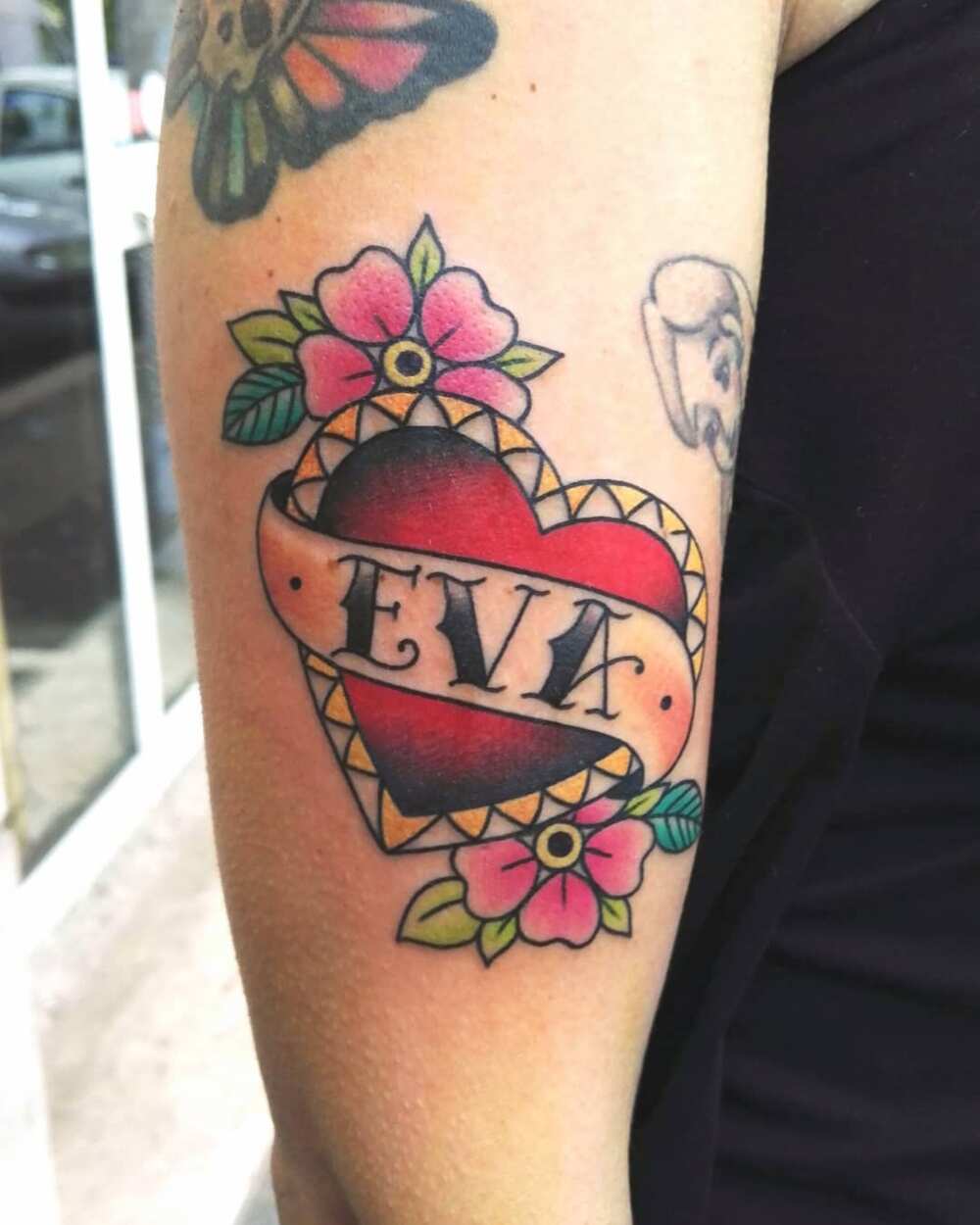 Today, everyone everywhere is advocating for self-love. You can go the extra mile and love your self a little bit more by having your beautiful name inked on your arm. Some people may say that you are extra, but there is nothing wrong with being a tad more for yourself.
Colored tattoo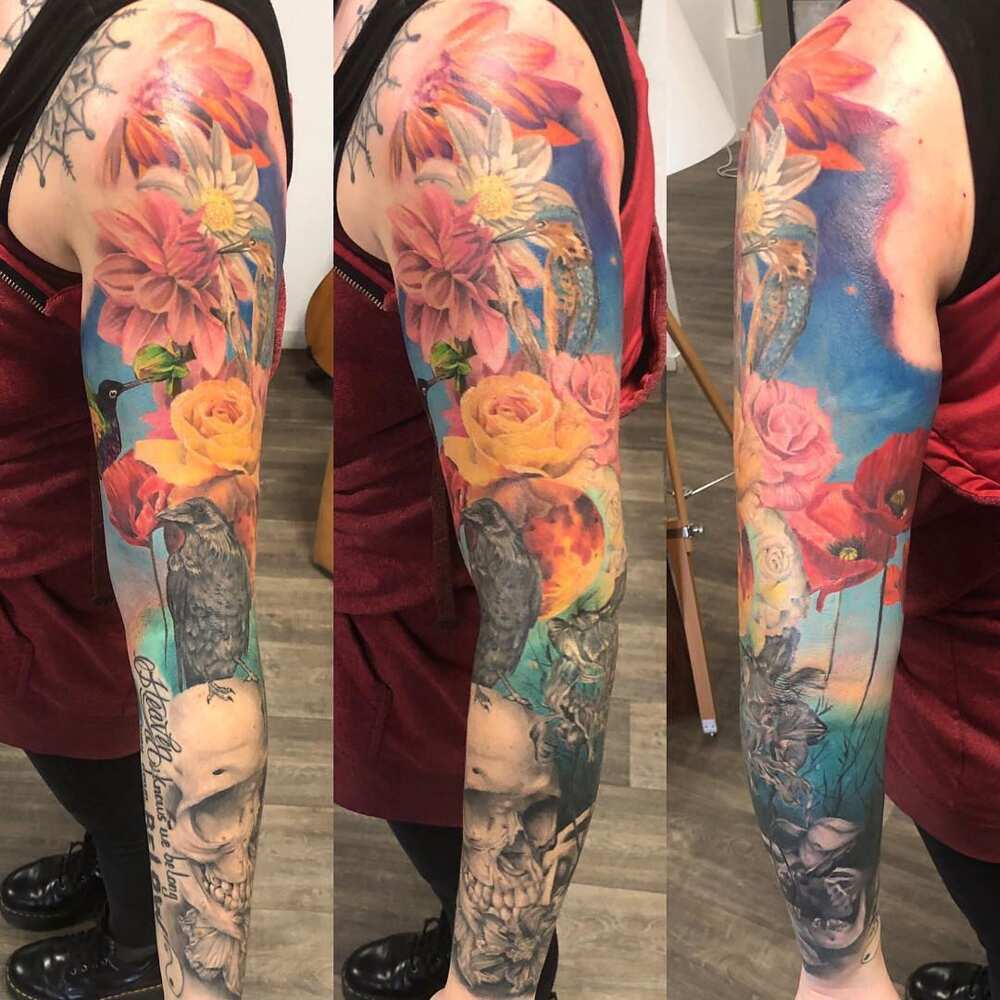 In the game of art, colors always take the prize home. A combination of colors on different things has never gone wrong. Identify the colors that are compatible with one another and those that are not.
Turtle inner arm tattoo
Turtles are fascinating creatures for so many reasons. Having it inked on the inner arm will come out beautifully.
Bow and arrow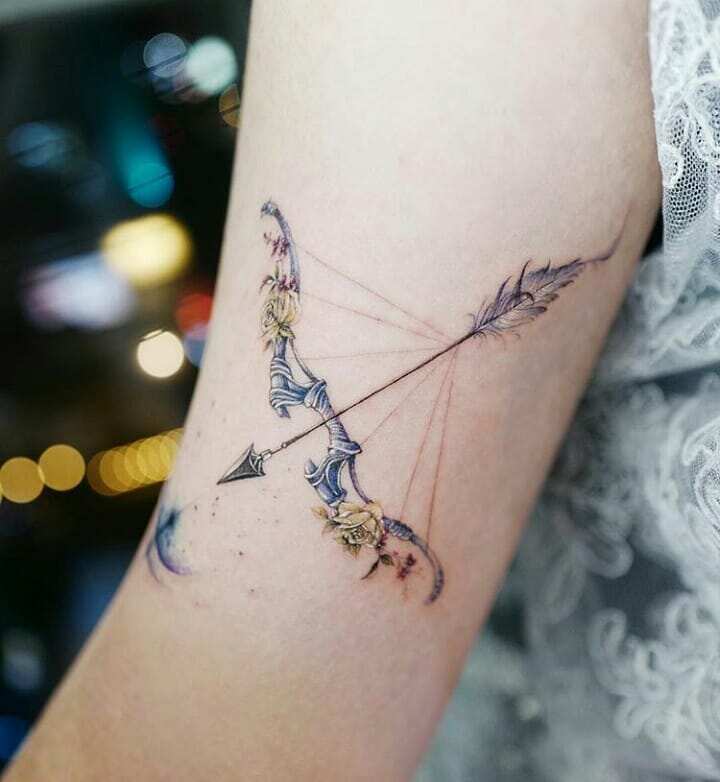 This is such simple yet exquisite art. This tattoo is the perfect proof that a little goes a long way. You can go for simple and toned down inking, and it will still look as good as something big and bold.
Animated pot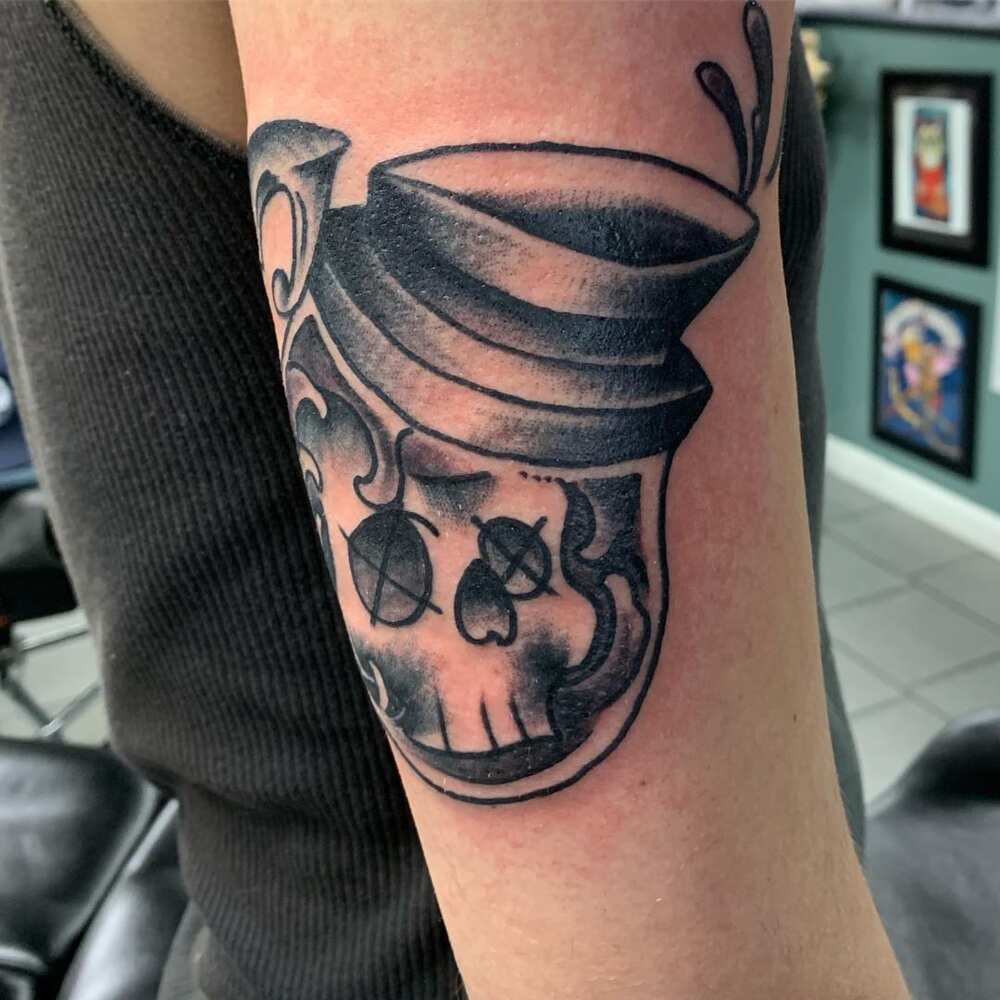 Animated tattoos have become a huge trend today, and many people are trying them out. Leave your comfort zone and dive into the animated world to discover new things.
Blue eye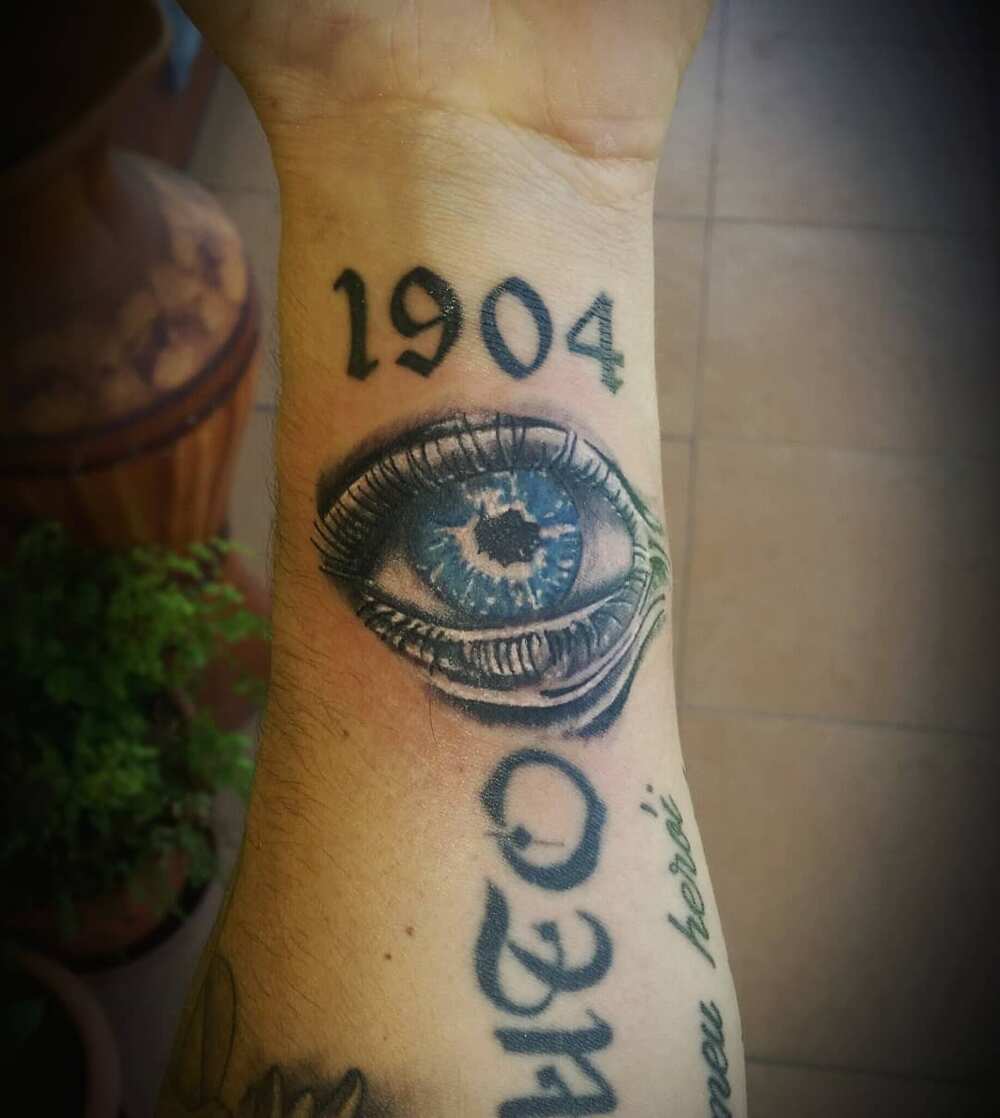 One of the most beautiful eye colors is blue. They always stand out, especially on fair skinned people. Similarly, if you have fair skin, you can have the blue eye inking, and it will certainly stun you.
Flying butterfly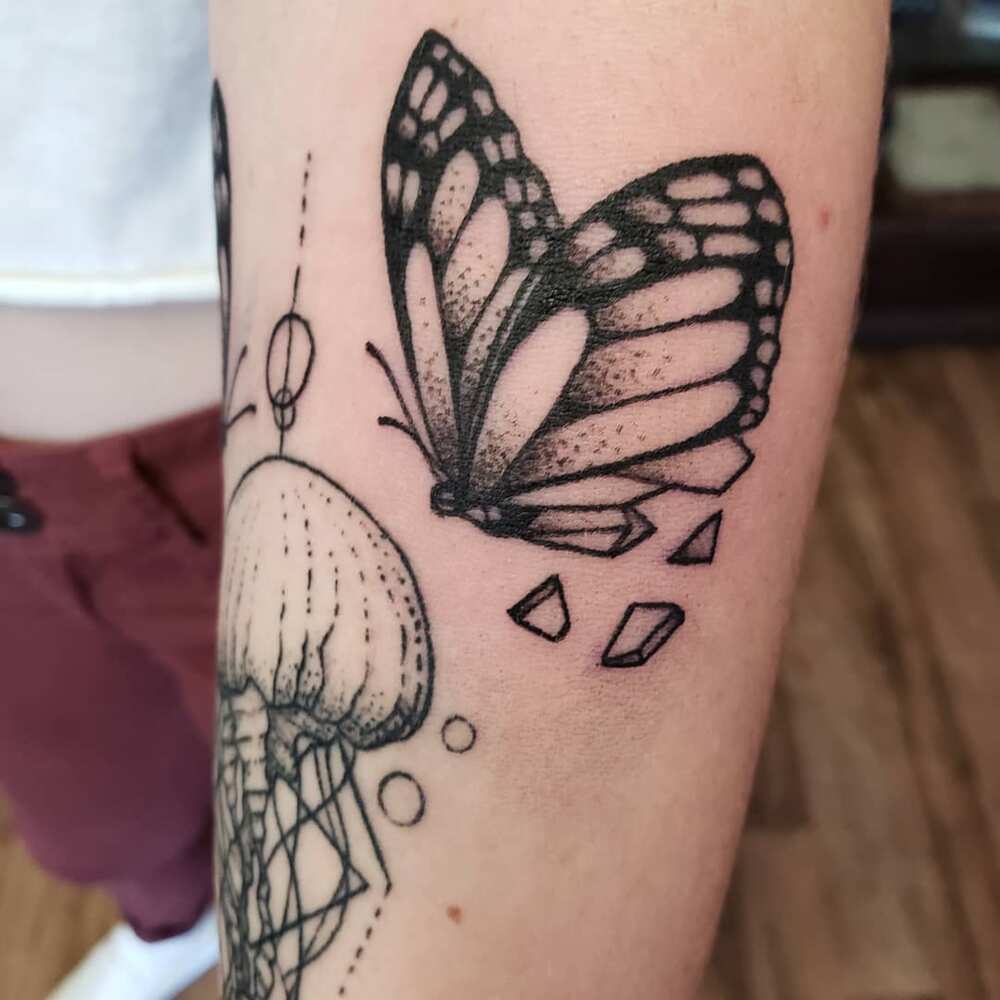 A butterfly is a fascinating creature, and it symbolizes evolution and growth. If you have gone through severe hardships and still came out strong, you are a butterfly in your special way. Go get that tattoo and let it tell your story.
Symmetrical design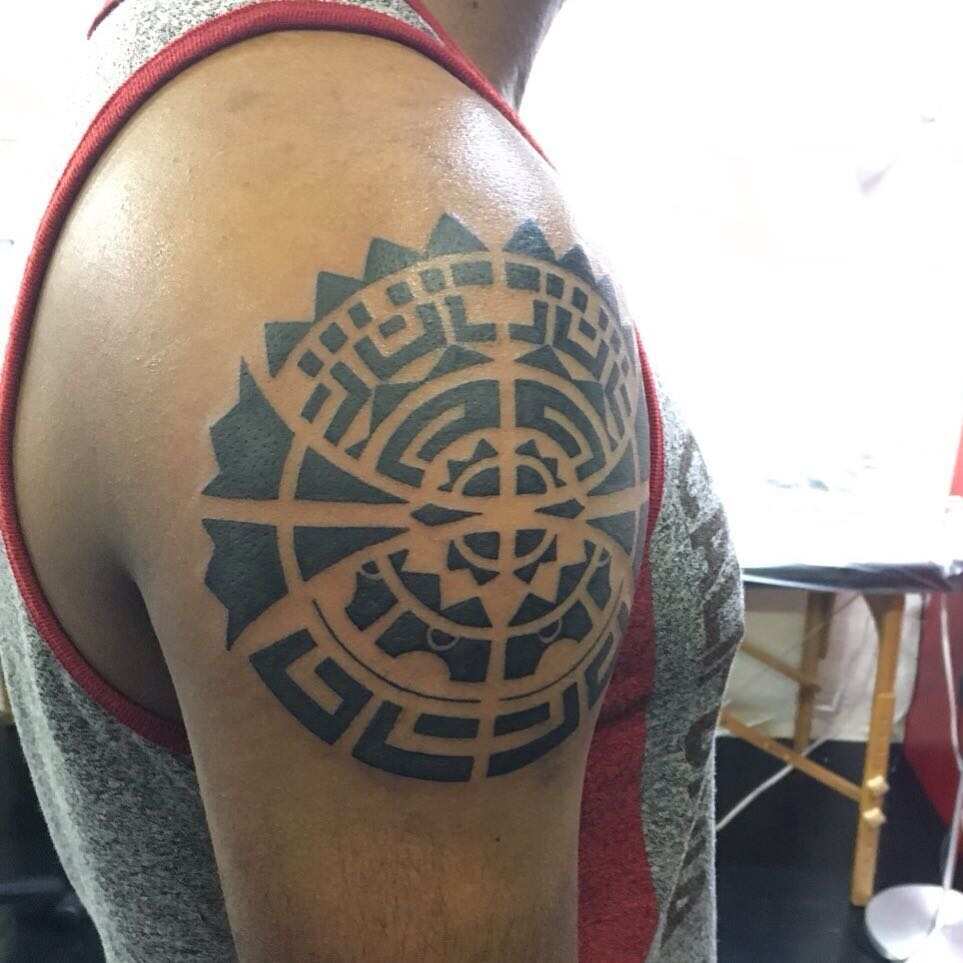 For those that love uniqueness, you can try this design as you will not find lots of people having it too.
Smile now cry later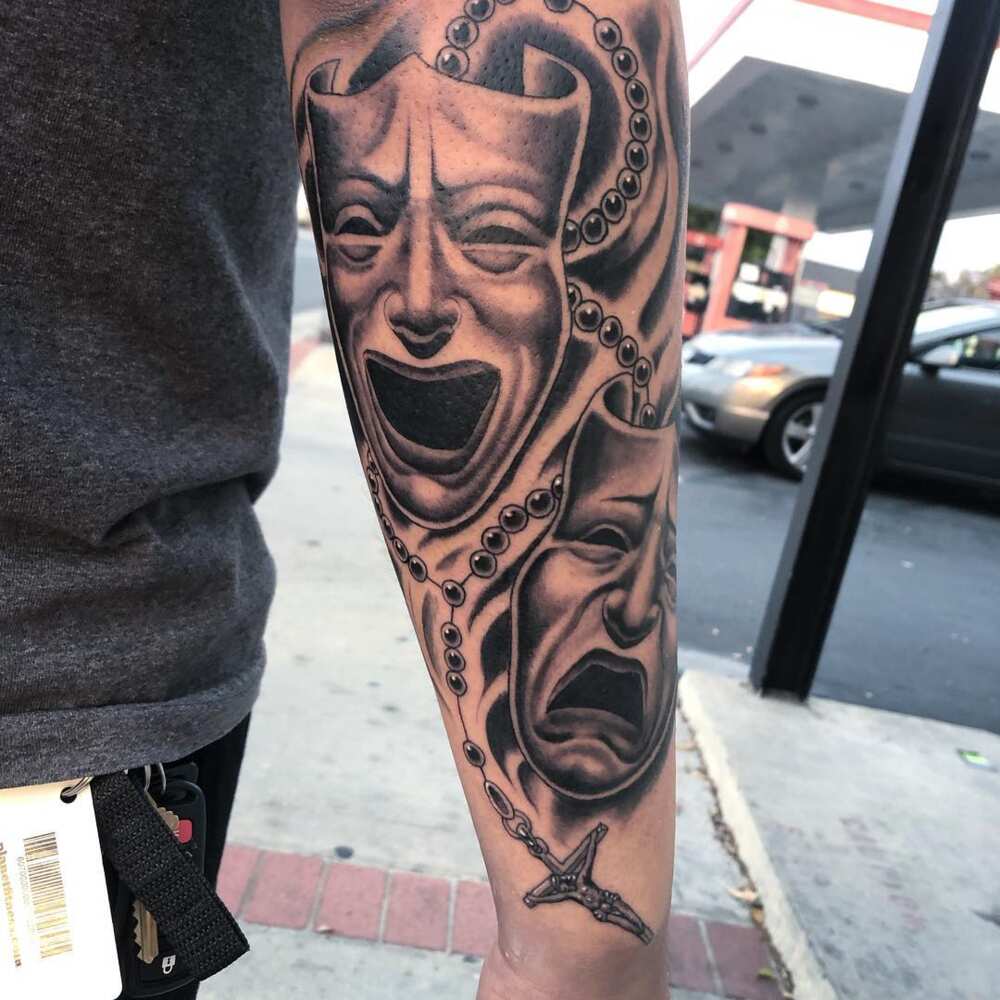 This back arm tattoo has a lot of symbolism as there is what seems to be a happy mask, a sad mask, and a rosary with Christ hanging on the cross.
The uplands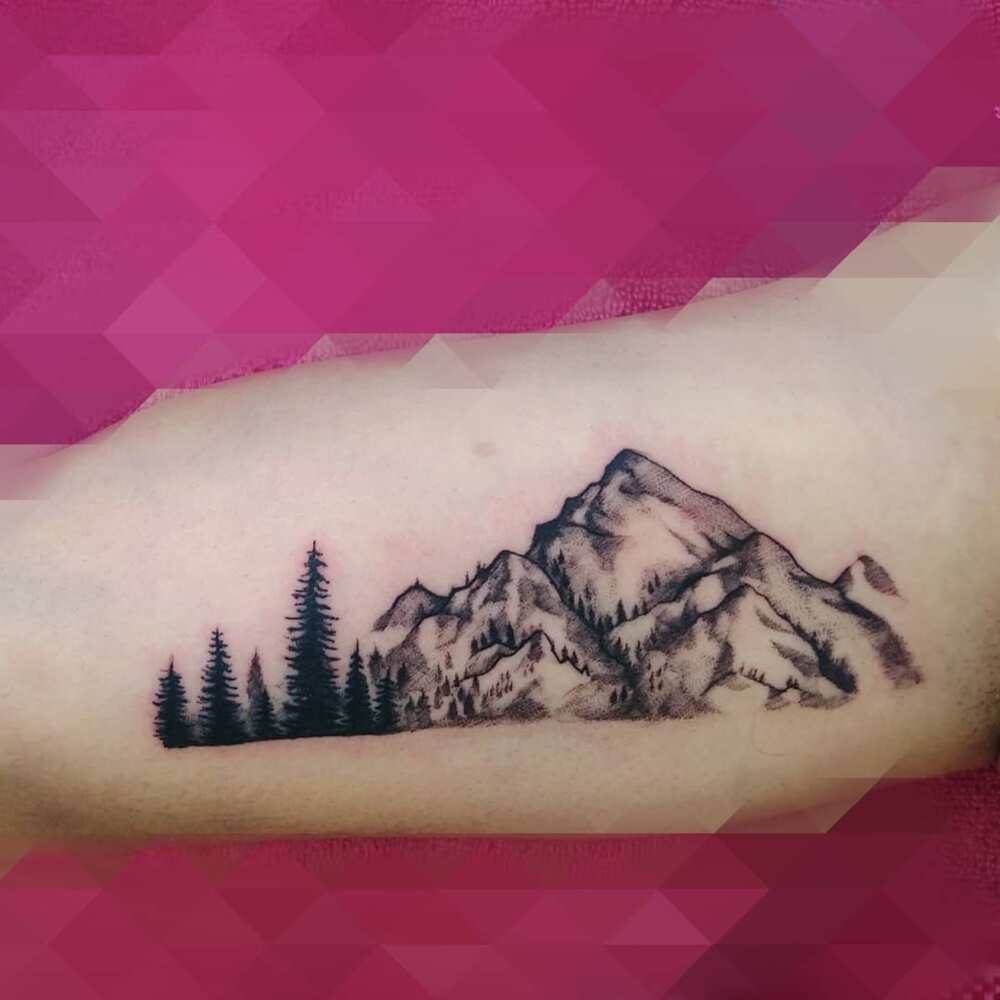 The uplands are a peaceful, safe, and quiet place to be. There is usually fresh air, fresh water, and so much calmness in the atmosphere. If only the whole world were this way!
Single leaf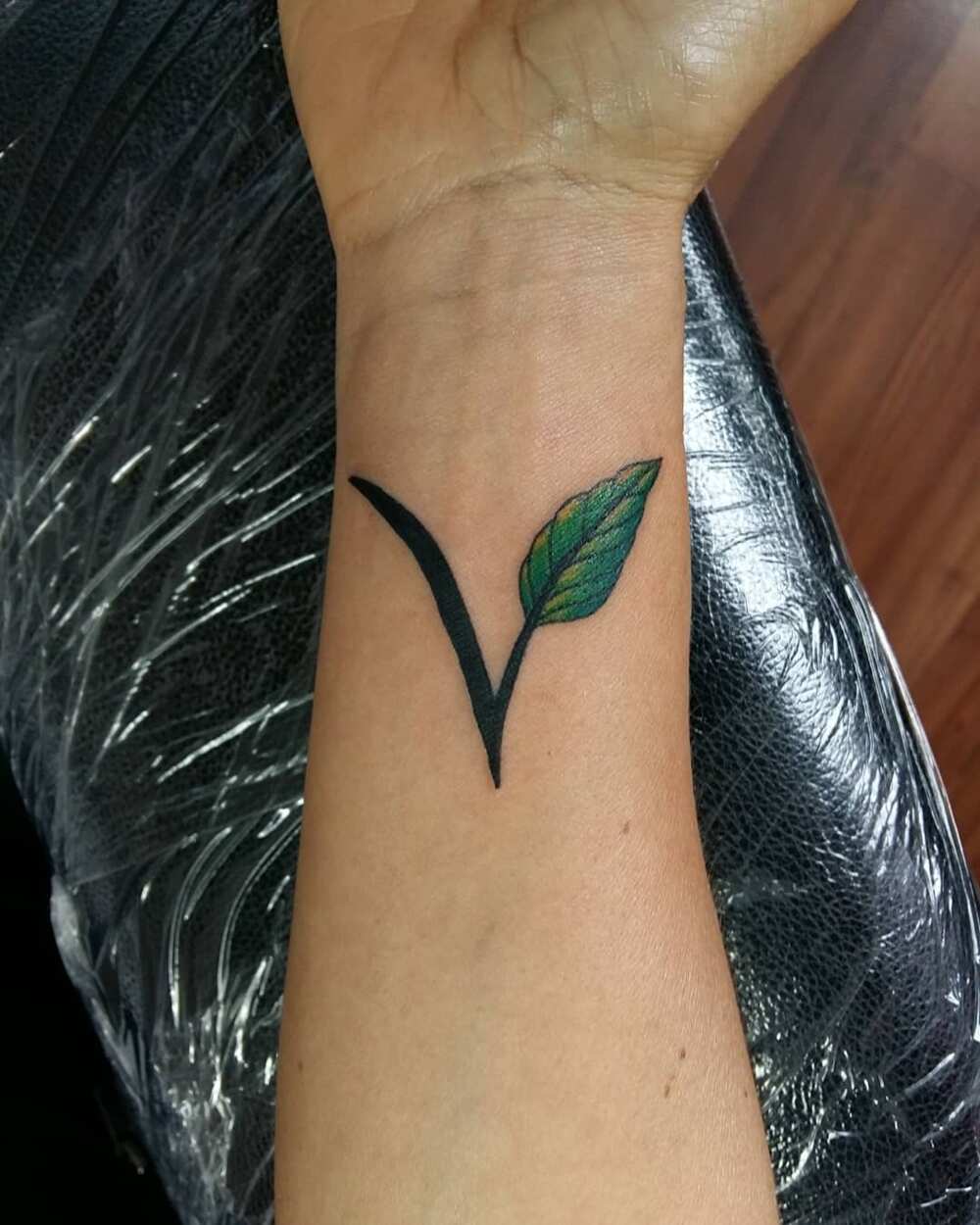 This is simple yet beautiful. The kind of inking that a minimalist will go for.
Inner arm arrow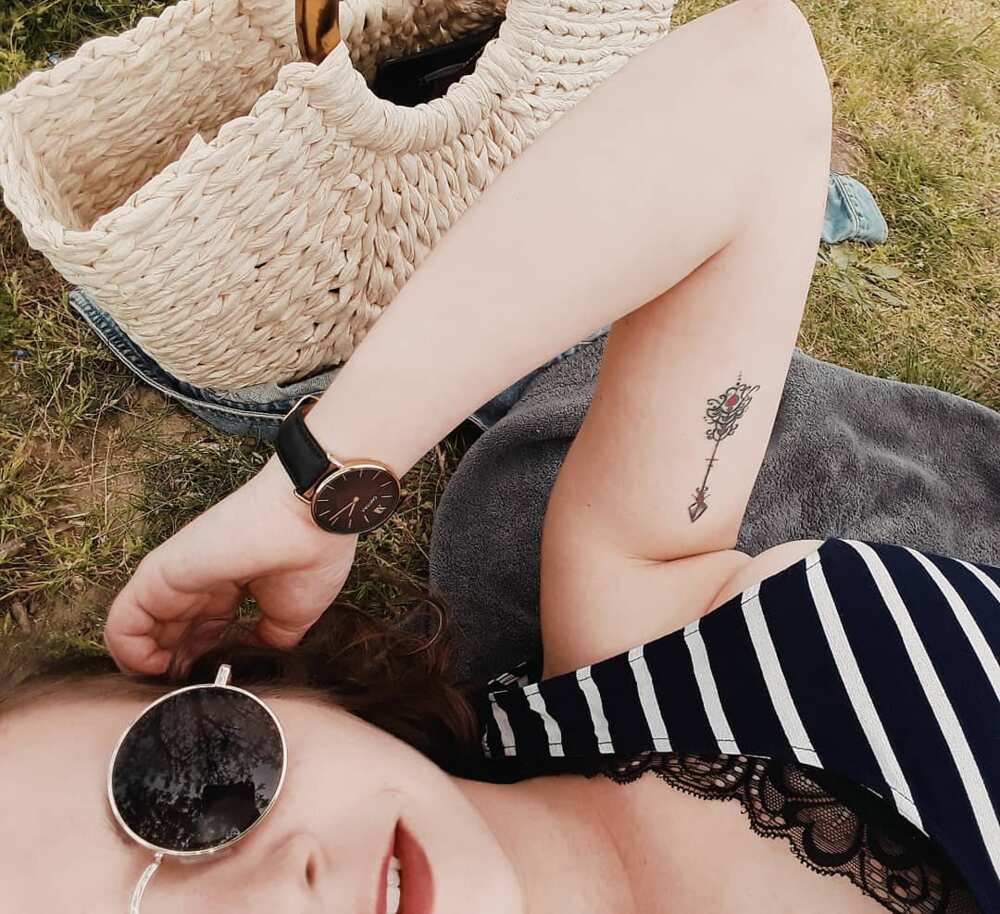 If you want an arm tattoo but wish to have something quite hidden when wearing sleeveless clothes, a small inner, upper arm tattoo like the one above will give you the results you seek.
Poked eye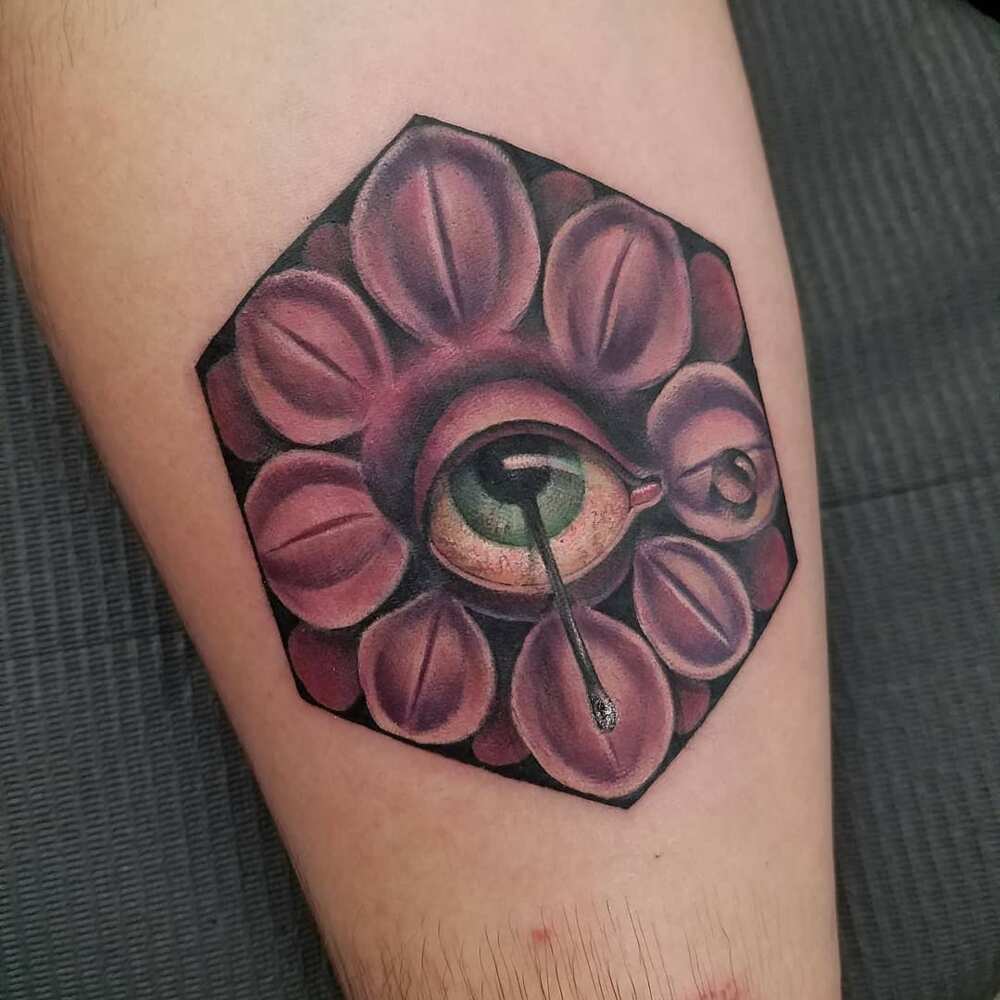 Be creative and go for art that you will not find anywhere else. This hexagon inking with a green eye at the middle is unique and rare, thus worth giving a try.
Religious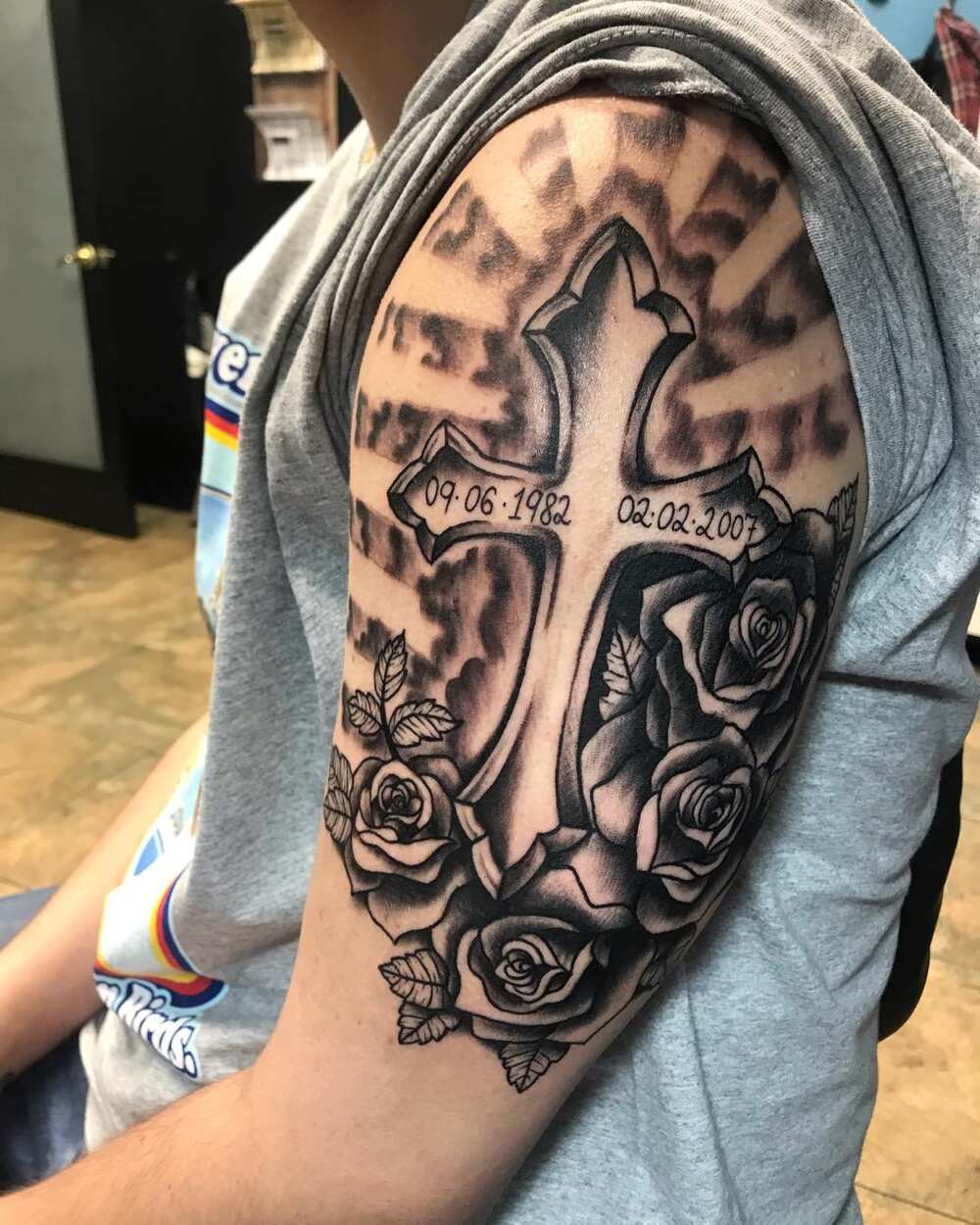 If the cross means something to you, the best place you can have it tattooed is on the upper arm. This is because it will appear to be larger than it really is since it starts at the shoulder, vertically extending to the elbow.
Elephant tattoo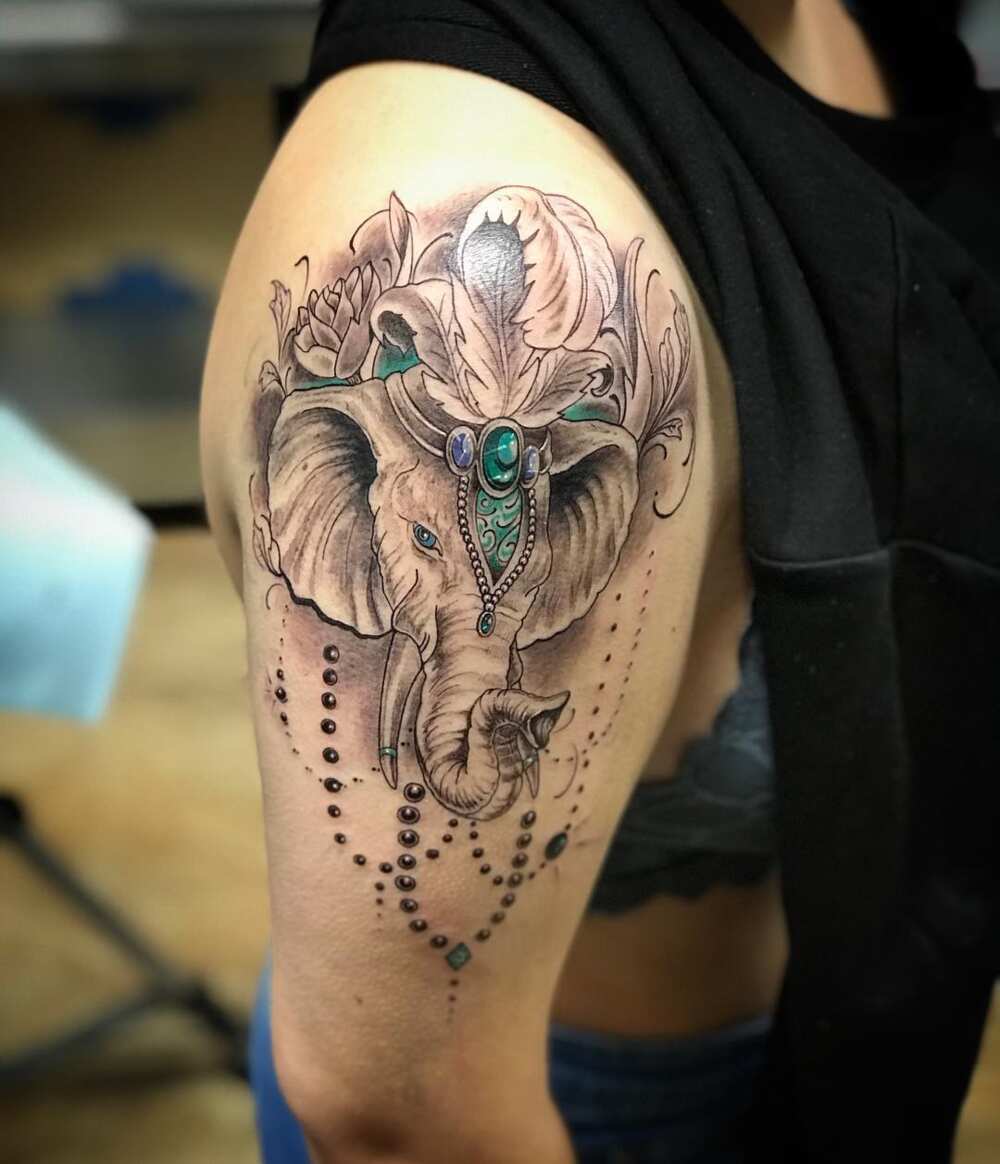 Elephants are beautiful and adorable creatures, and they deserve more love and care than they are shown. To appreciate this beautiful creation, you can have a tattoo of the elephant on your arm. To spice it up, ensure that you add some decorations to it.
Raven tattoo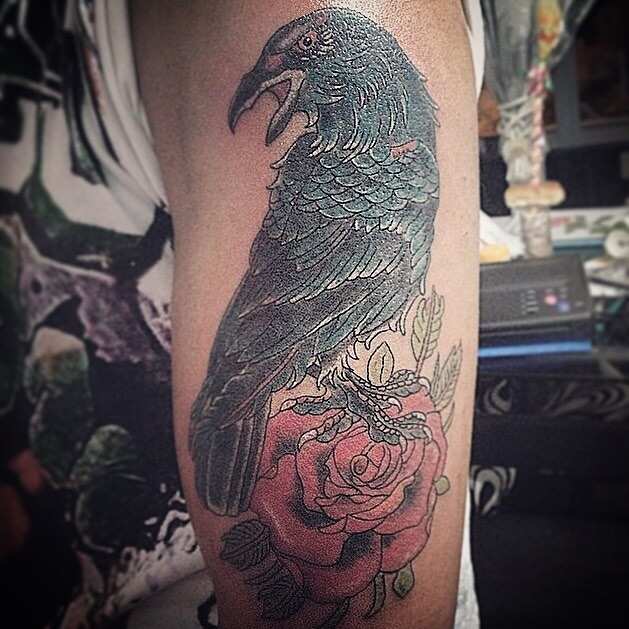 The raven inking always stands out best on the arm. Adding a red rose to this image, just like to any other, will make it more appealing to the eye.
Animated female characters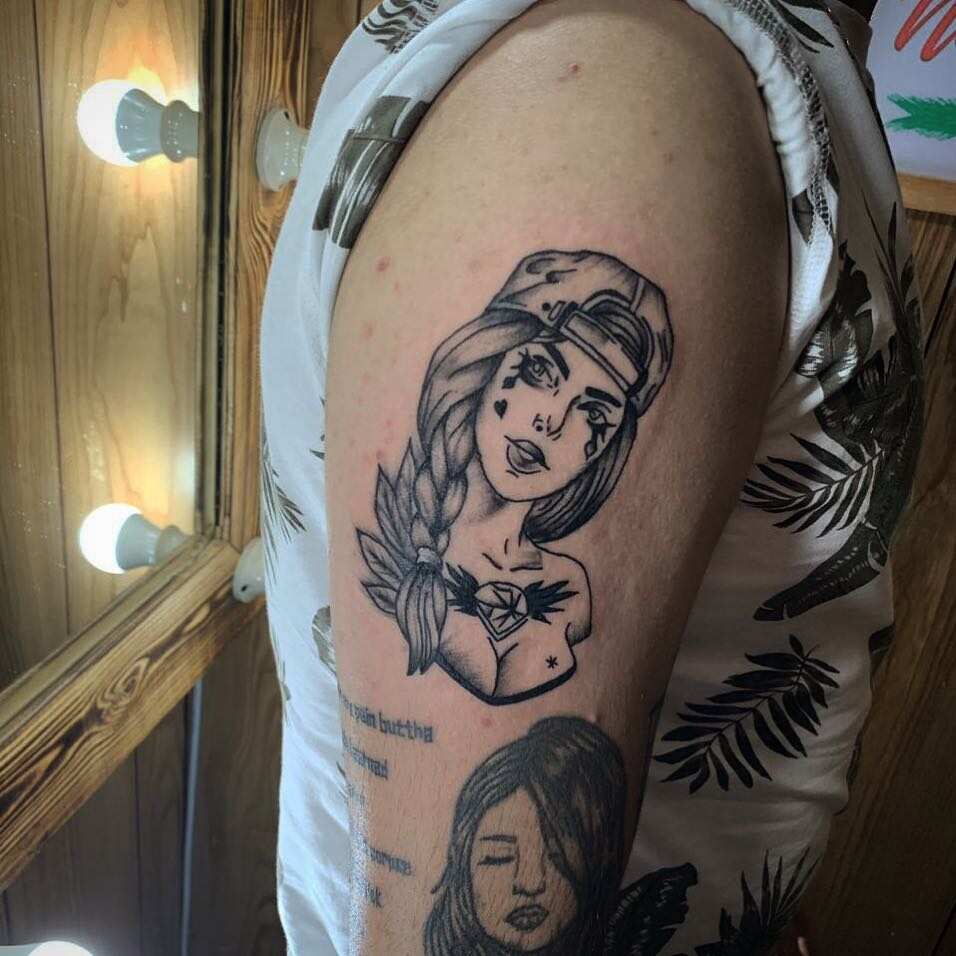 If you love playing games with animated characters or watching animations, there probably is a character that you are obsessed with. Why not have them inked on you and allow their superpowers to manifest in your life?
Wolf upper arm tattoo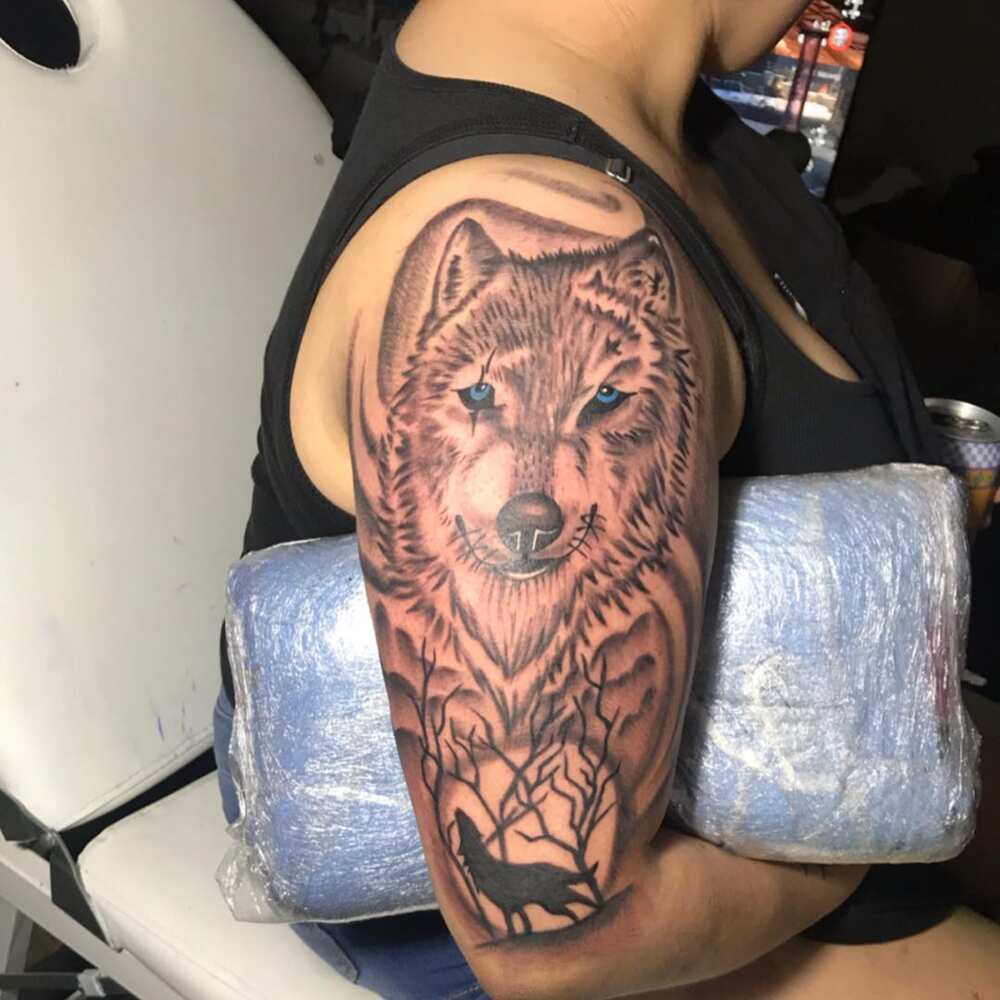 A wolf is a powerful animal and has so many traits that human beings can emulate.
Rose flower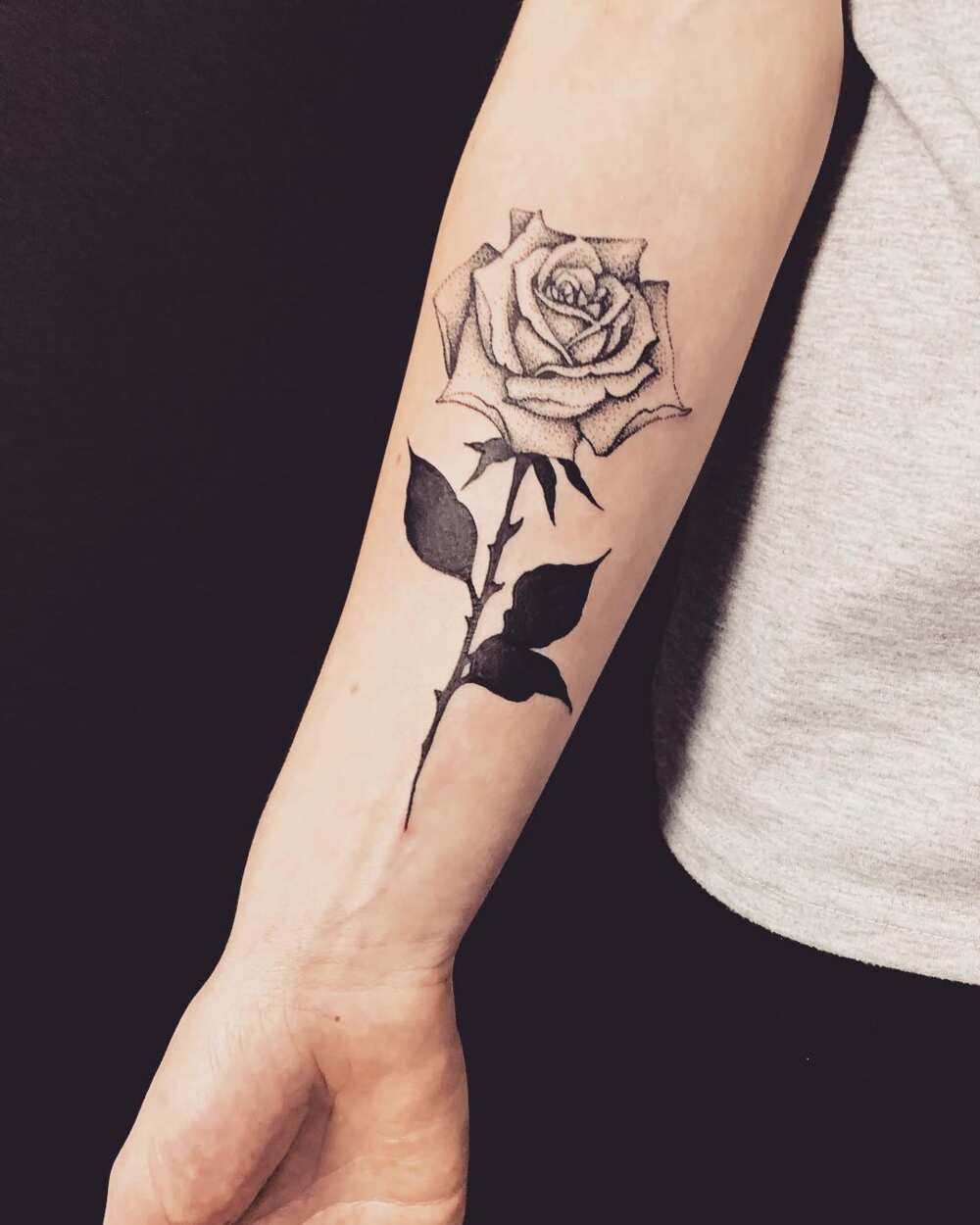 No one goes wrong with a rose flower. Not now, not ever!
With the different arm tattoos outlined above, take your time and identify which one will suit you best. It is time to rock that ink!
READ ALSO: Raven tattoo: meaning and 50 design ideas
Source: Legit.ng