Friendship tattoos: best tattoo ideas for you and your bff
If you are looking for a great way to honour your friendship with your bff, then friendship tattoos might be the best option for you. Best friend tattoos are a permanent way to show your love for each other. They are an even better choice than getting something materialistic that might be forgotten in a couple of months.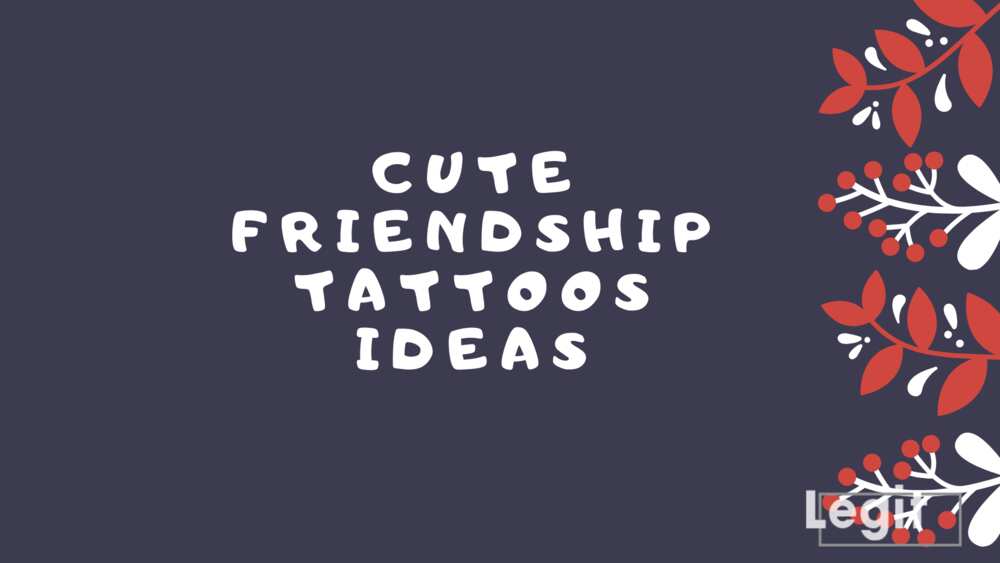 Getting best friend matching tattoos is a fantastic way to celebrate a friendship-anniversary. They can also be drawn-on as a way to show that your friend group will always be there for each other. They are a reminder that no matter what happens, or the distance between you, you can always turn to each other for comfort.
Best friend tattoo ideas
Maybe you already have a design for what you would like inked on you, or perhaps you are looking for inspiration. If you are the latter, here are some fresh friend tattoos ideas that you might like.
Nothing pays an ode to the connection between you than a literal Friends tattoo.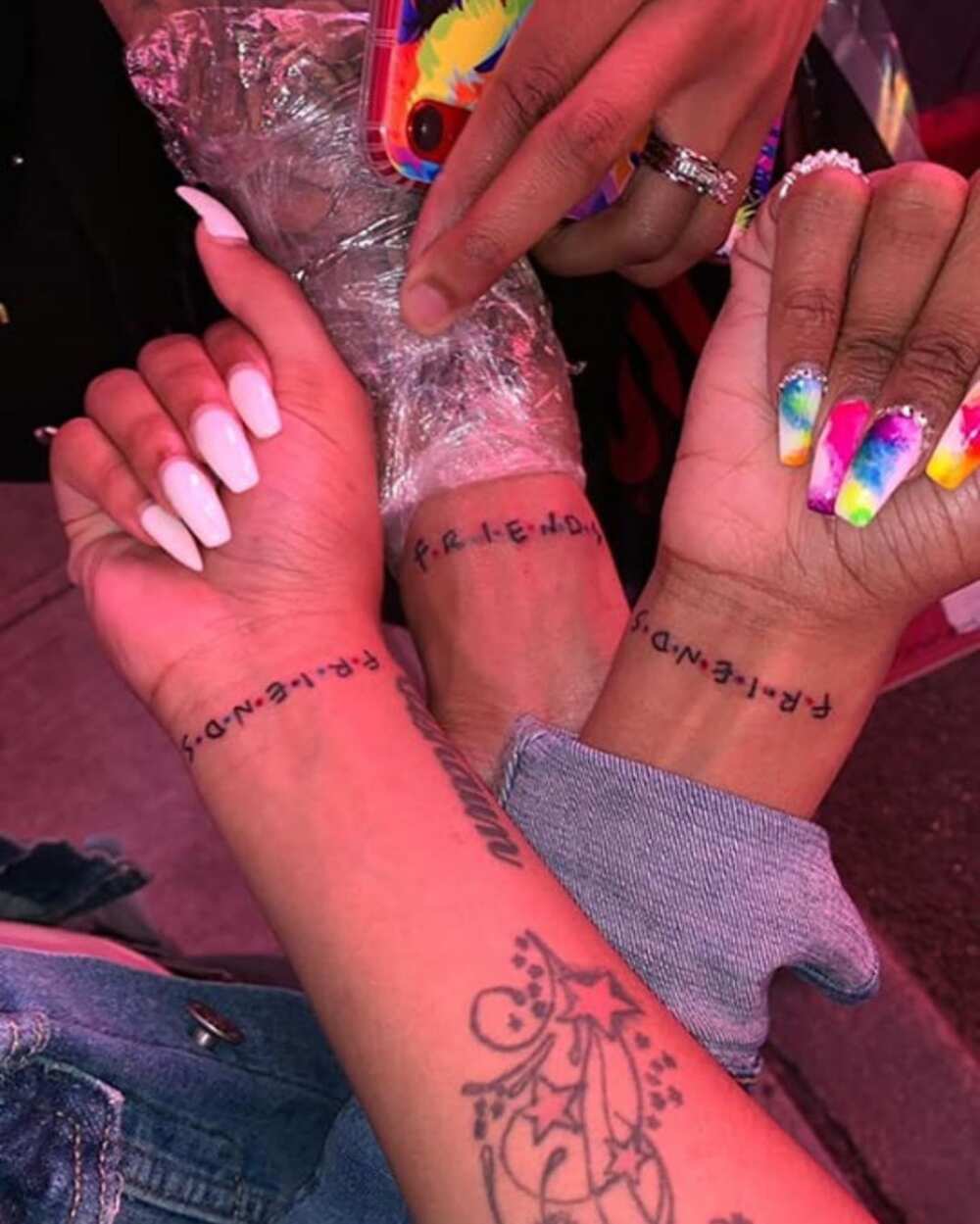 Sun and moon tattoos represent opposites. Sometimes people who are complete opposites can find a connection within themselves that others cannot seem to understand. This design is perfect because it represents the balance of yin and yang that you and your bff bring to each other despite your significant personality differences.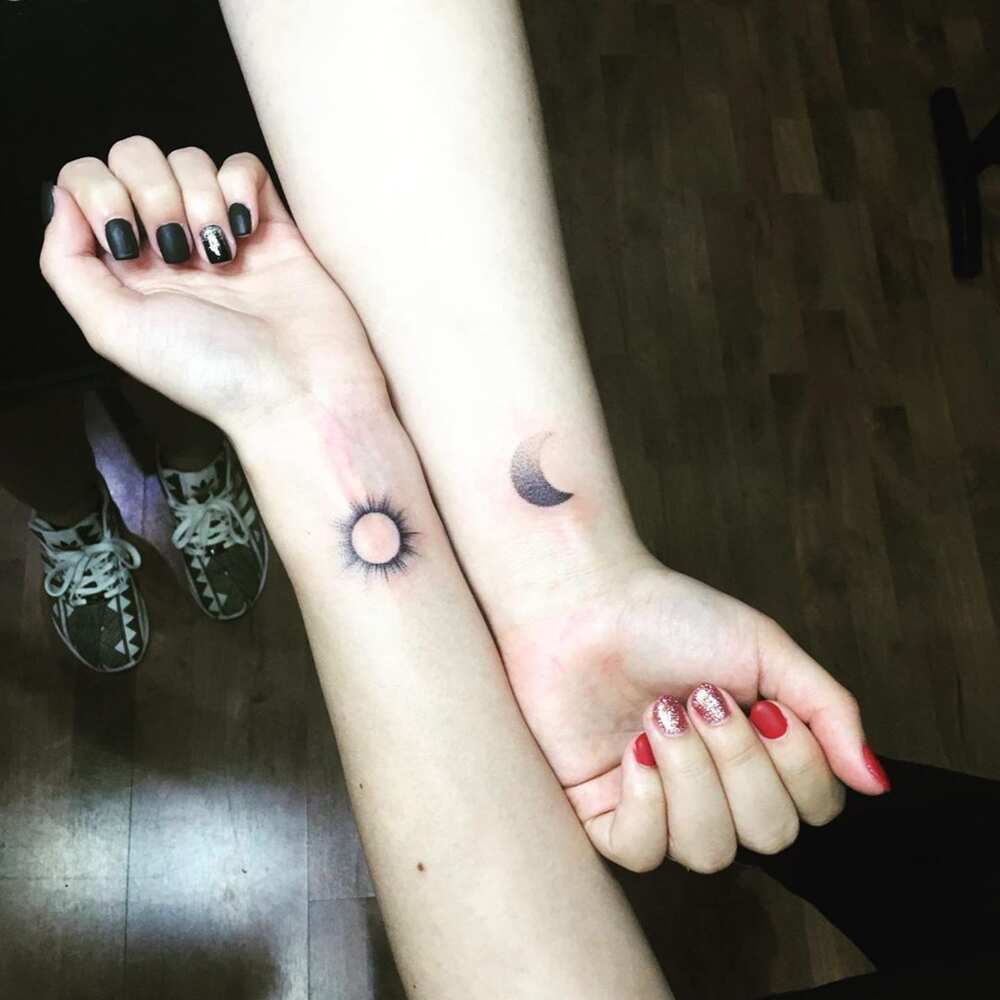 Line paintings have gained popularity in recent years, and so have line tattoos. Their designs are incredibly simple yet stylish.
Pinky promises are mostly used by children when playing. However, some people carry this gesture into adulthood. This design is a great way to show your loyalty to each other.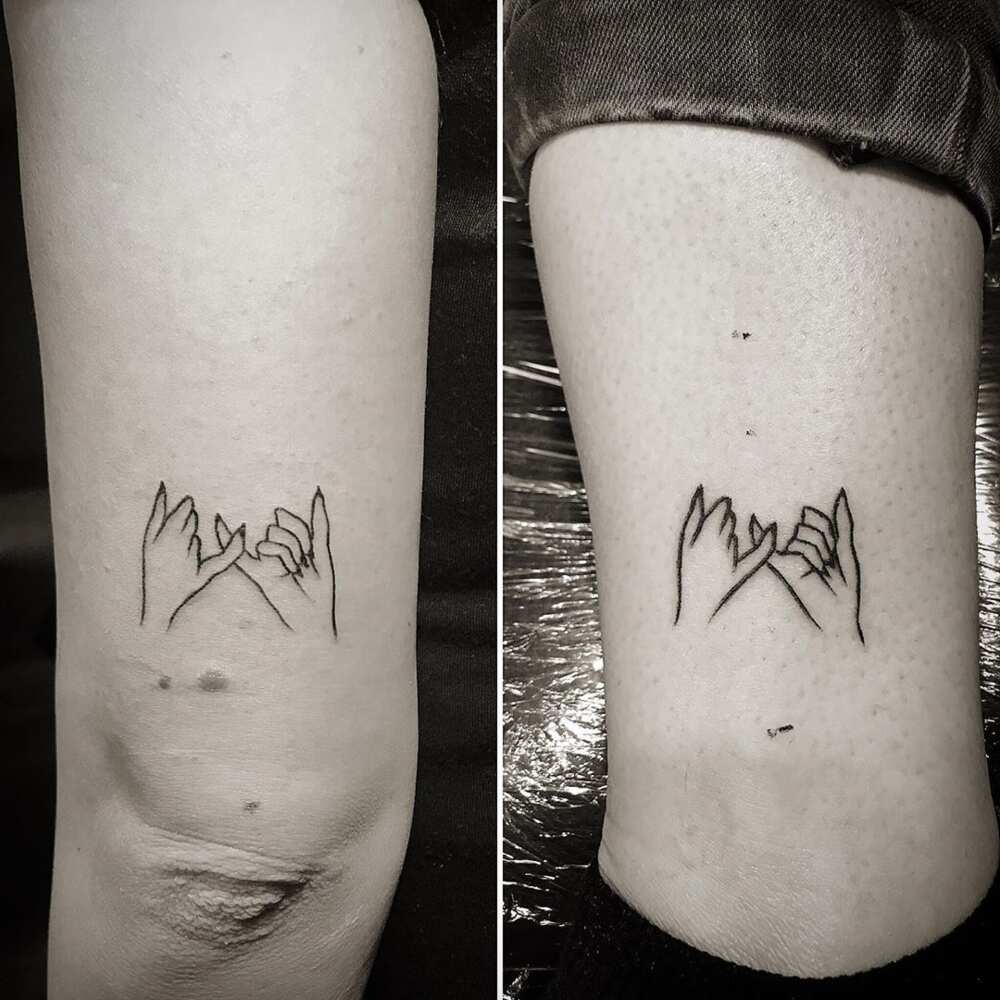 Like all relationships, friendships, too, go through ups and downs. But this does not mean that you shall never talk to each other again. If you happen to have had a bad fright with your bff and eventually found your way back to each other, then a puzzle piece design is a good idea. It shows that sometimes, the puzzles do not always fit together, but with a little bit of effort, they can.
Some great friendships are formed over a glass of wine or with a beer. Miniature designs of a wine glass or beer mug are a cute and fun way for two people to show love of what they enjoy.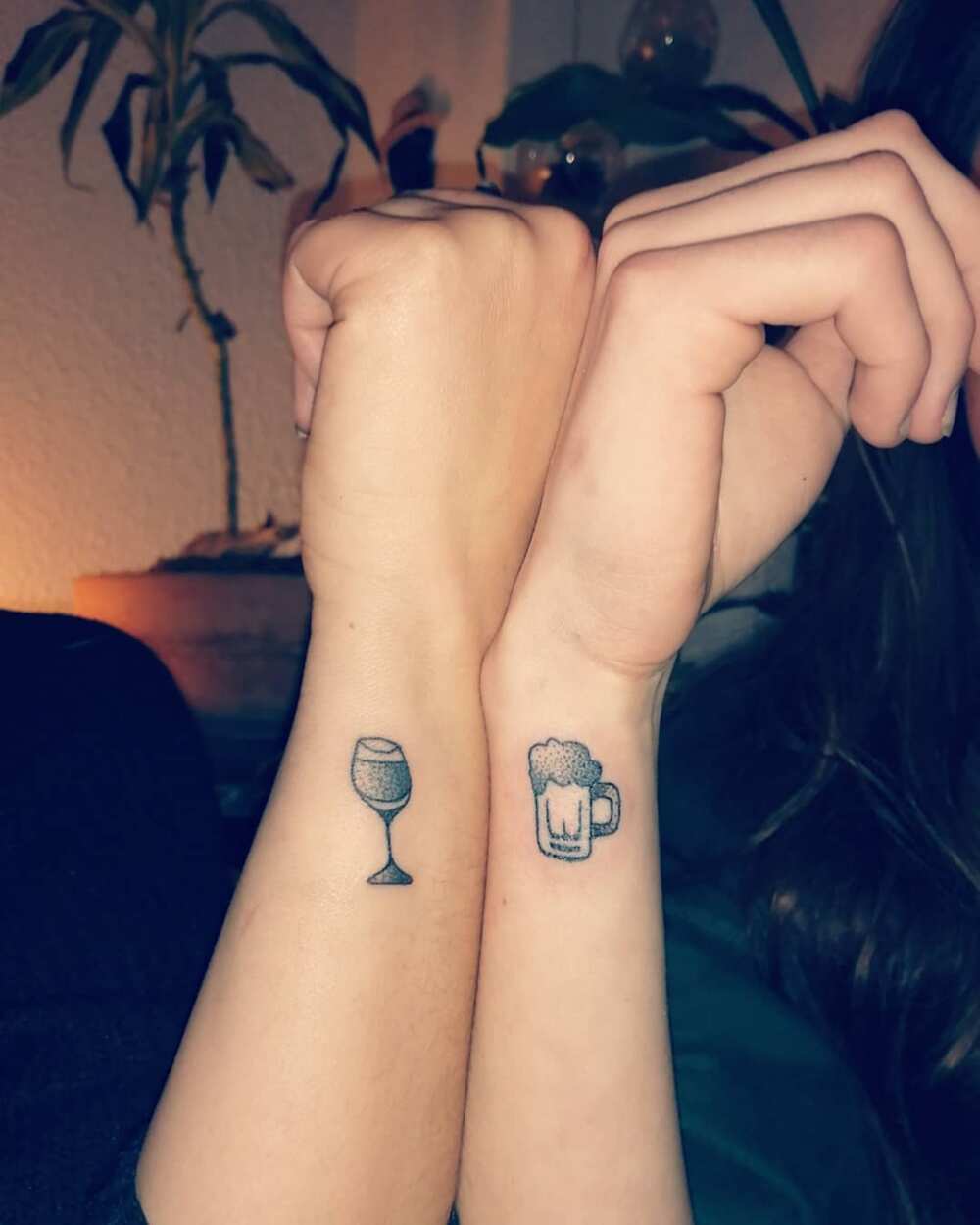 Listening cups are a playful way used by children to communicate with each other. Having a picture of them on you is a cute throwback to your childhood friend. It is also a cool idea for long-distance friendships as they signify talking on the phone.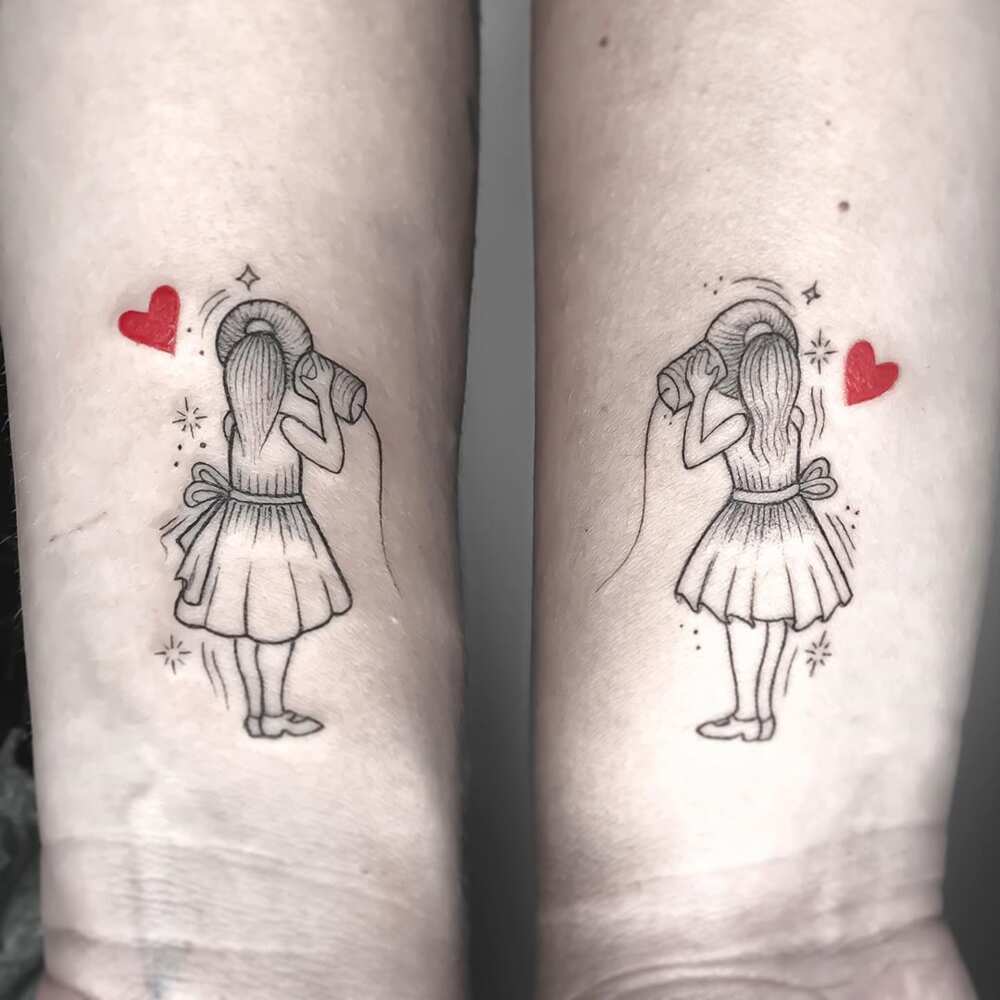 Not every friendship tattoo has to have some deeper meaning to it. Sometimes the only requirement is that they are pretty to you.
A Powerpuff Girls' design could work very well among a trio of sisters or among friends who are as close as sisters. Every Powerpuff Girl has a different personality, and you can choose a design of the one that resonates with you the most.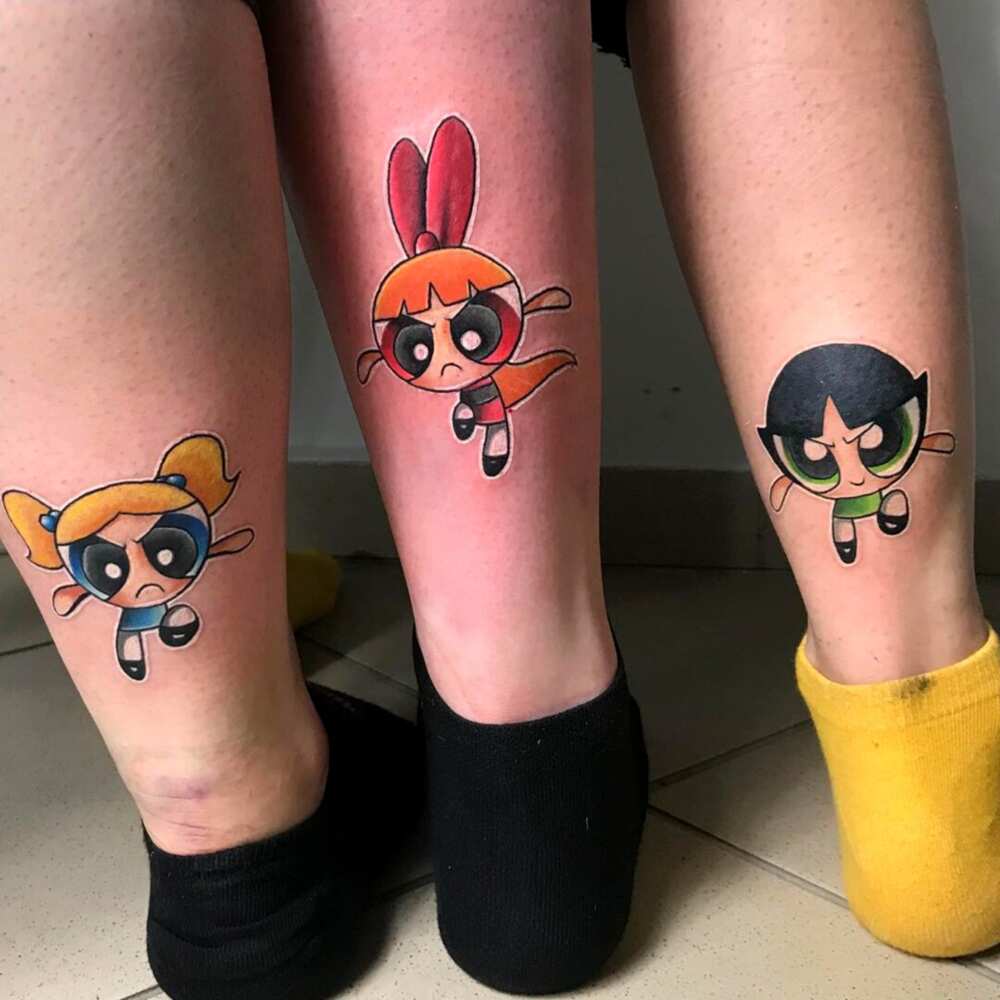 Cute and funny designs can also work for those who want to honour each other and have a laugh while at it. This avocado image is a perfect example.
In previous years, only sailors generally wore anchor tattoos. However, these days anyone can get them. Having them as matching bff tattoos is a cool way to signify the stability and strong foundation that your relationship is based upon.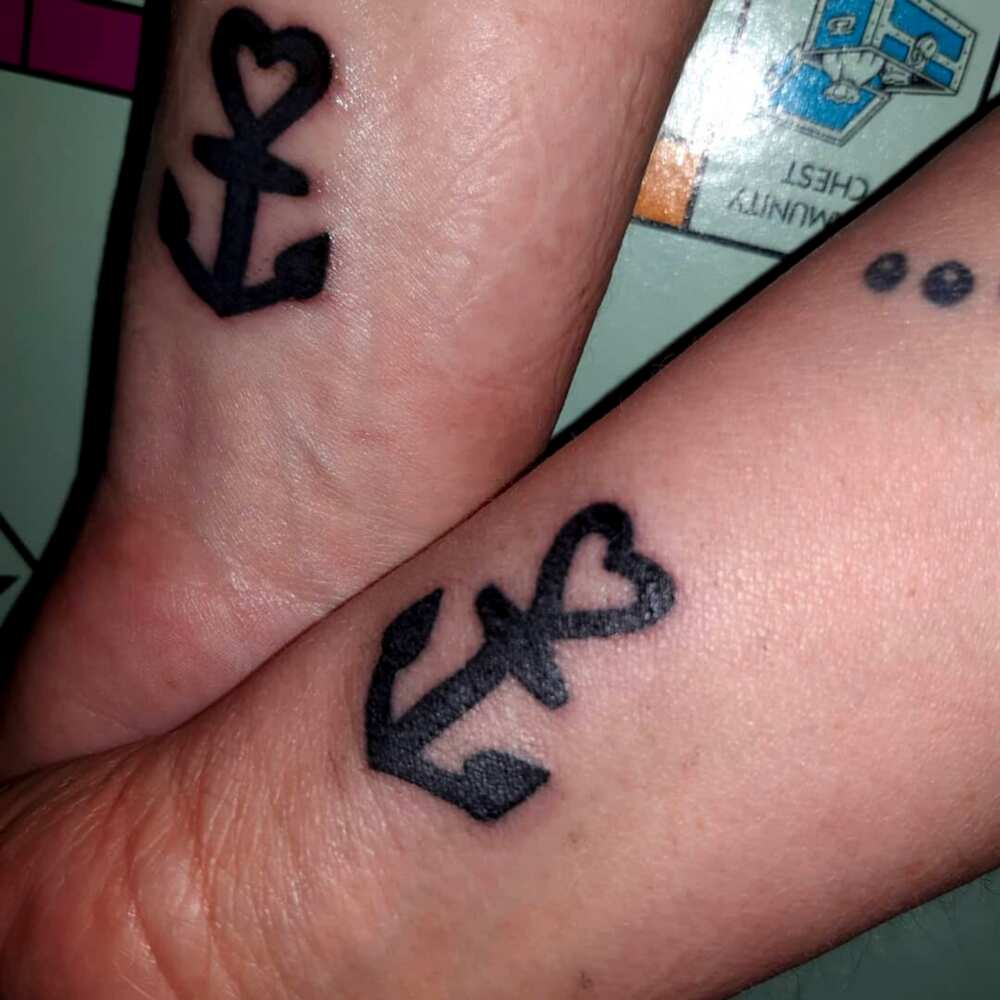 Quotes are also a fantastic way to summarize your friendship.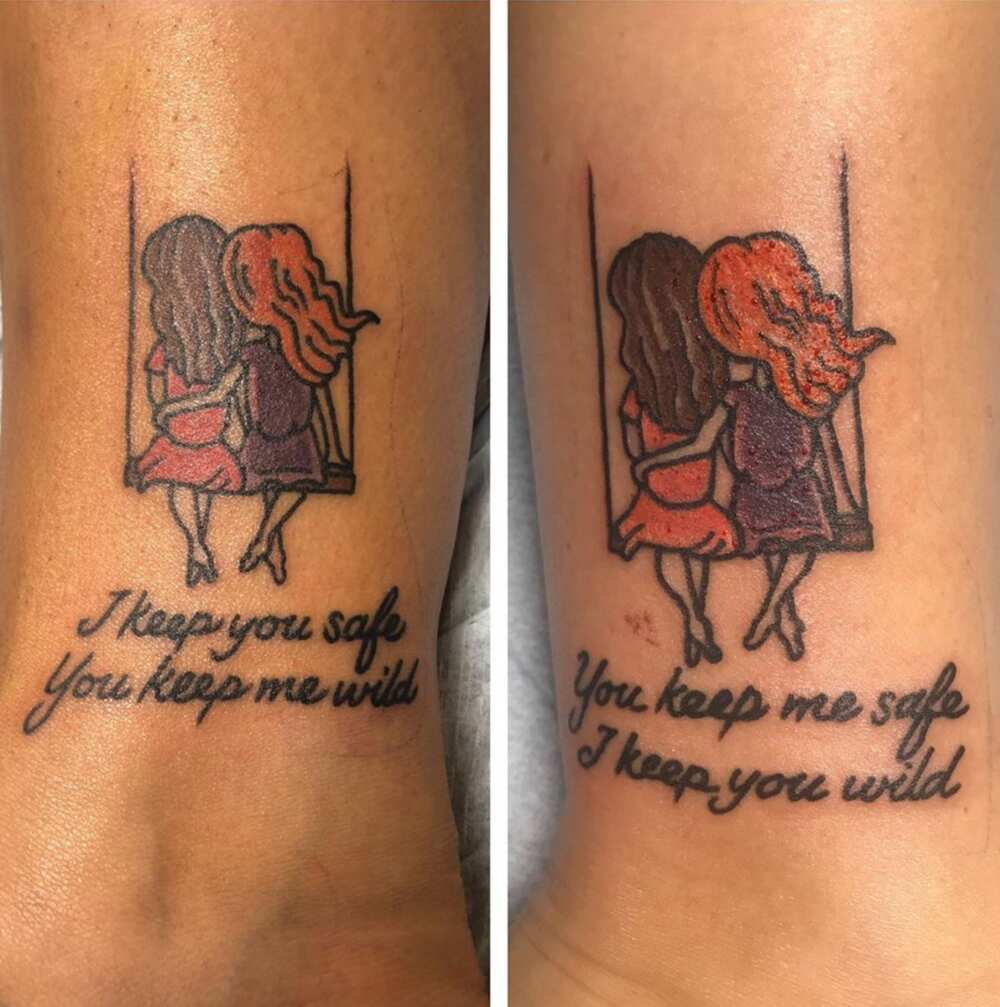 Butterflies are pretty and colourful. They also accentuate femininity and represent freedom. You can choose to have them in the same colours or in different ones to show your taste and personalities.
Another beautiful best friend tattoo option is this quote that reaffirms that the two of you will always share your connection no matter where you are. The distance shall not come between the two of you.
XO designs are adorable and minimalistic. They are perfect for any two friends who work in a formal environment and would like to show off their ink without being distracting.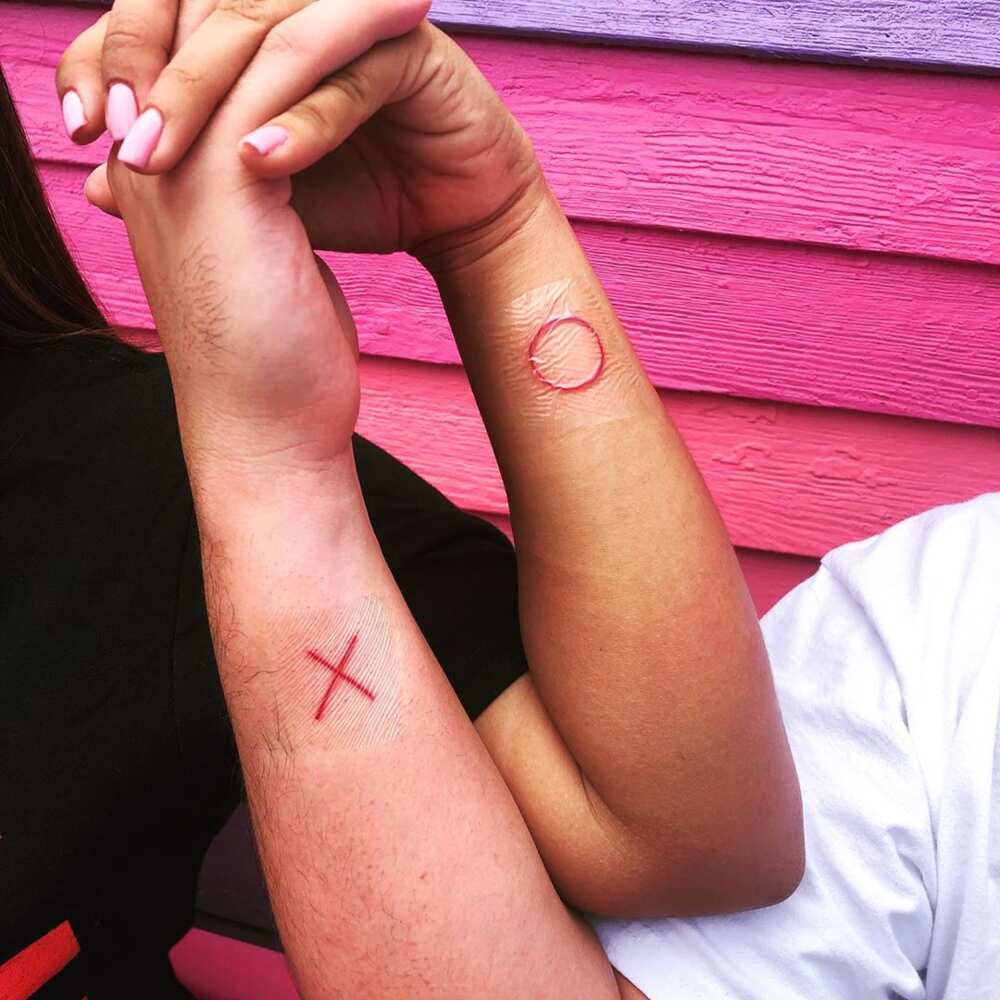 What could be more unique than getting bugs inked on you and your bff? These beetles are a fantastic example of what one could do. They are even better for male and female best friends.
Harry Potter fans can get Harry's famous lightning scar inked on them. They show your love for the fandom that you both love.
'No matter what... No matter where...' a short quote that tells of your dedication and loyalty to your friendship.
Flowers are a very common style of best friends tattoos. While most people like roses, you can choose to go a different route by getting other flowers like violets or lavenders.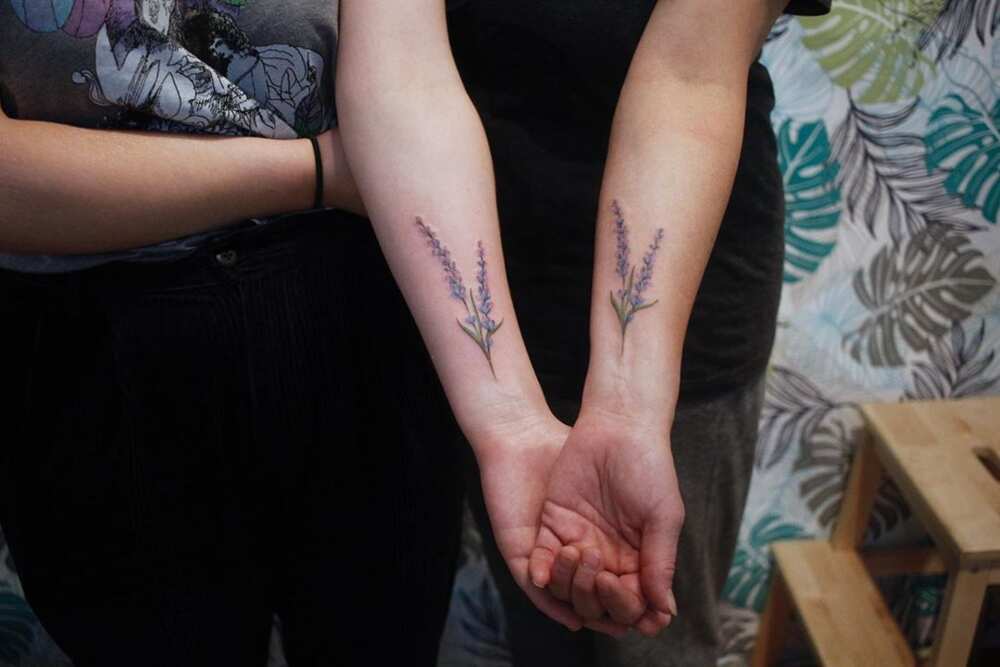 If you are on vacation and would love to have something to commemorate your time, instead of buying trinkets, get delicate palm trees inked on you. The design will last you forever, unlike a frivolous purchase that might get lost.
Cute animals such as elephants, puppies, and kittens are quite common as friend tattoos. For a different look, you can get the design of a cute frog. This will set you apart from the rest.
Do you love make-up? Or maybe you and your best friend work in the make-up industry. If so, this artwork would be fantastic for you.
The deathly hallows symbol is another excellent option for all Potterheads.
We would all like to believe that there is a little bit of magic in our lives. Or maybe you secretly love watching My Little Pony. Whichever the case, a pretty unicorn is too good an option to pass up.
Fans of the comic book Archie know what great friends Betty and Veronica were. For those who never saw the comic, they can also recognize these two friends from the Netflix show Riverdale. You and your best friend can get images of these two.
The very best of friends end up feeling like family. Just like humans, elephants form deep familial bonds, and this design with cute little elephants would be amazing.
Infinity symbols are another popular pattern option. Not only are they super minimalistic, but they also say that you shall forever be friends. You could also add the quote 'To infinity and beyond' if you would like.
Sunflowers represent sunshine and happiness and are the ideal option for best friends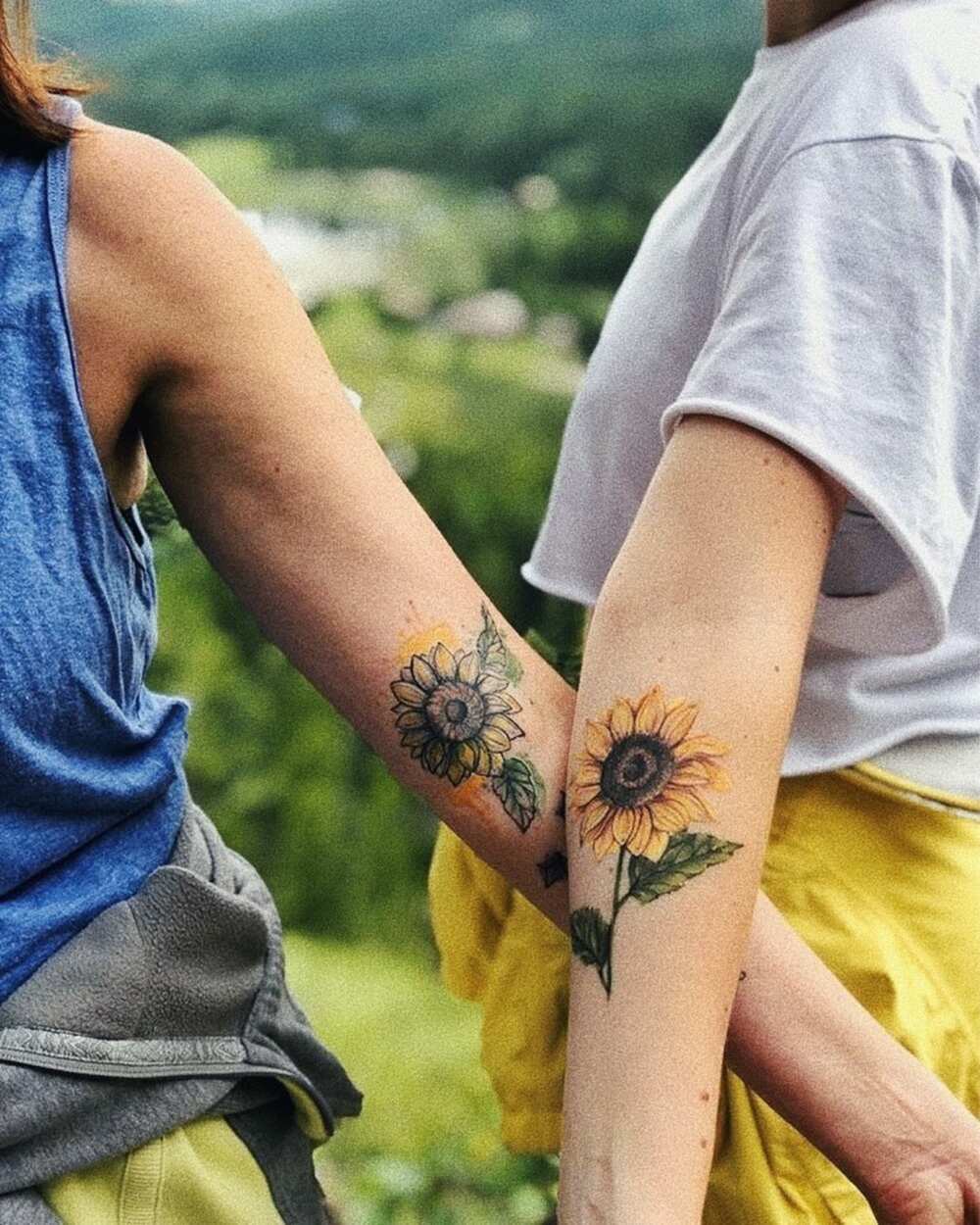 Friendship tattoos are perfect for both new and old friends. Your relationship shall forever be printed on your skin, no matter the distance or difficulties you face. We hope that you and your bff have found some inspiration for your new tattoos.
Source: Legit.ng