Nigerian couple outfits to rock in 2019
A lot of couples want to show the entire world that they are in love. This goes as far as wearing matching couple outfits, which is an adorable and sweet declaration of affection, and can be worn for special occasions like weddings. In this article, we bring to your attention the cutest Nigerian couple outfits and hope you will be inspired by them.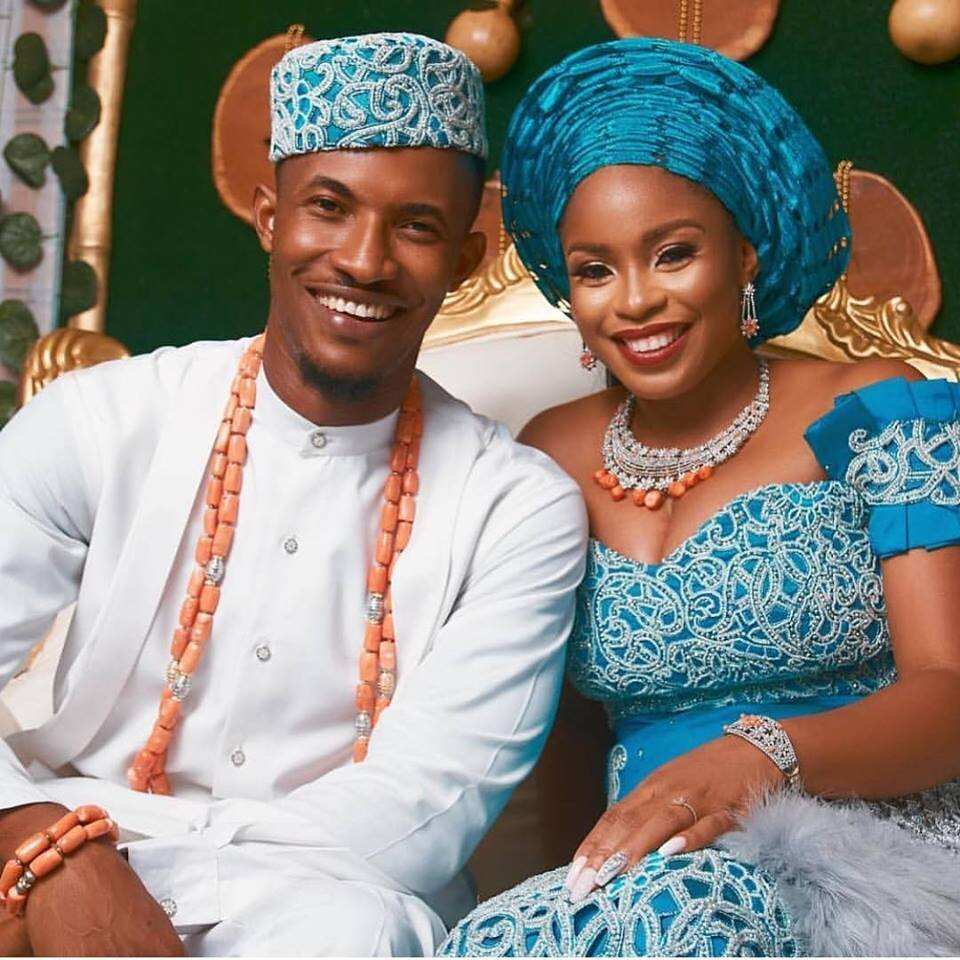 Nigerian outfits for couples are incredibly popular today because they indicate how much love this couple holds in their hearts. Are you ready to embark on our journey?
Couples matching outfits for weddings
More and more Nigerian couples prepare matching outfits and accessories for their wedding day. The Nigerian couples attire carries a lot of meaning and history in it, both the history of Nigerian formal attire and the personal memories of the couple. People that are about to get married take the search for the perfect outfit seriously. Things that they have to keep in mind are the right coloring and proper additions to the attire in the form of jewelry.
There are a lot of examples for the stylish Nigerian outfits for couples. They can come in useful for you if you and your fiance are struggling to find something fitting. Maybe this article will rekindle your inspiration!
1. Bright blue attire with coral accessories
Traditional weddings are room for creativity and inventiveness. Cyan blue, or bright turquoise blue, is a perfect colour for the wedding day because it has a lot of hidden meaning. It is calming and relaxing for the eye, and your guests will be delighted while looking at you. This tone holds strong associations with feeling good and protected, which will be significant during the wedding, as you demonstrate the strength of your bond with the significant other. There are some pops of white and golden in the bride's gown, which make a nice combination with the blue. Also, the traditional coral accessories will fit with the overall vibe perfectly, making sure there is not too much blue, and it is balanced well with the other colours.
2. Gorgeous red and pink mixture
These outfits are for the couples who are always bold and protective of each other. If you want to make a guaranteed statement on your wedding, then perhaps it would be an excellent idea for the bride to dress into bright red, and the groom to reflect these colours with magenta pink. Of course, both outfits have the elements of each other in them. For example, look at the groom's bright red hat, or the bride's hot dress with the pink patterns. The bride's shawl has a starlight effect and symbolizes the eternity of the couple's life together. Finally, you will need something neutral, which is why the white pearl accessories would be just the right choice.
3. Yellow and orange luminescence
Are you hoping for happiness, loyalty and good energy in your marriage? These are only a few of all the things that the colour yellow symbolizes. So, wearing all the shades of yellow for your wedding is a brilliant idea. To balance one another, the groom can choose more neutral tones, while the bride can pick the shade of yellow which is closer to bright orange. However, having elements of each other's attire in your outfits would still be an excellent move – as we see, the bride and the groom are wearing necklaces close to one another's colors, and this looks particularly sweet.
You have to make sure to choose appropriate headwear as well, to make the ending result worth it. The knotting on the bride's gown indeed looks like she is about to steal everyone's attention for the night. And the groom's outfit indicates that he is an honest, faithful and responsible man who will love his woman forever.
4. Vibrant bright blue outfits
The wedding is a celebration of the bride and groom's love. However, sometimes people forget about being the spotlight of their special day. In these matching outfits, you will always drive all the attention to yourselves at your wedding, and will not let it go to someone else. Be the rightful king and queen of the night in these bright navy blue outfits.
It is a gorgeous attire for traditional Nigerian wedding, with captivating colours and constellation patterns. The colour blue represents a lot of eternal things, like sea and sky. It also shows trust, wisdom, sincerity, and loyalty, which are undoubtedly the qualities you would want in a stable marriage. The bride can make herself look even more appealing with a matching fan made of feathers. Finally, it would be appropriate to use white jewelry as a pleasant addition to the look.
5. A pop of bright orange
Orange is not only a colour of carrot or pumpkin. You might not have known, but some of the primary things that orange represents are fascination and enthusiasm, as well as creativity, determination, and happiness. It combines the fiery energy of red, as well as the joyous sunshine of yellow. If you are not too fond of red or find it too aggressive, then the warmer orange will be the right colour for your outfits. Also, the patterns on the bride's dress are very creative and original. You can add some innovation with red and white accessories. Start your married life with warmth in your heart, and choose the orange attire!
6. The ethereal fairy tale attire
Perhaps you and your significant other would like to feel like a true prince and princess at your wedding? Your wishes are completely valid because this is a truly incredible day for you two and there is no surprise that you want to look on top. The groom's attire is beige, which shows that he is an elegant man who is loyal and reliable, cares about the world and his wife's well-being. As for the bride, she is wearing a superb blue gown, which also has some white and beige elements to match with her husband-to-be. It is a truly magnificent dress, made out of a few different fabrics.
With such a wardrobe choice among bride and groom-to-be, they genuinely look like royalty. These looks are an inspiration to all the guests and people who are searching for perfect attire for their wedding day.
READ ALSO: Wedding outfits for mother of the bride
7. A splash of pink
If you would like to opt for something entirely original and hard to forget, then a perfect solution would be choosing the matching pink attire for the Nigerian wedding. First of all, it is probably the most romantic colour. The diverse shades of pink all share the same meaning, which is love, compassion, and care – and these things are precisely what you were aiming for when you got in a relationship with this special person. For originality and uniqueness, the groom can wear a darker pink outfit, while the bride can go for flamingo pink. The breathtaking patterns on the dress will undoubtedly be impressive for your guests and earn you a lot of respect.
8. Matching attire of white and coral colours
As you might know, traditional Nigerian weddings are usually incomplete without coral accessories. So, what if you decide to honour your roots by including this gemstone in both of your outfits? The bride will shine in her dazzling coral dress completed with sophisticated accessories, while the groom will look handsome in the white attire, wearing the coral headwear and necklace. It is an elegant idea for those who appreciate the Nigerian traditions and love the coral tones. Besides, if you never knew this fact, coral is a symbol of happiness and wisdom, and it promotes good imagination and intuition. What a great start of a fruitful and healthy marriage, right?
9. Burgundy wine matching attire
In case your choice falls on something aristocratic and refined, then burgundy attire would be a good recommendation for your traditional wedding in Nigeria. It is a very classic pick, which is eye-pleasing and makes you look like important guests from higher branches of society. The elegant dress of the bride and the beautiful costume of the groom will not go past everyone's attention.
To say more, the beige clutch for the bride and shirt for the groom will balance the bright burgundy colour in a very complimentary way. Moreover, the coral accessories, which are a timeless addition to every Nigerian soon-to-be-married person's outfit, are going to move your outfit to the new level, as the coral orange looks surprisingly tasteful with burgundy attire.
10. Incredible saturated purple outfits
Once again, this Nigerian couple wear is for the union that just loves to make a dramatic and impressive entrance. In case you are searching for your perfect colours, and both of you have energetic and curious personalities, then why not to try saturated purple? It can be guaranteed that all the eyes in the room will not drift away from the two of you even for a single second. Purple is a rich and magical colour, which has usually been associated with nobility and royalty, so this is your chance to show your ambition and power. This tone holds the representation of such qualities as extravagance, wealth and creativity – and there is not a single person who would not want this in their marriage.
11. Sparkling lilac outfits for the traditional wedding
Have you searched for every possible combination, but nothing seems to fit so far? Maybe you are dreaming about something amazing, something which would be out of this world and blow away everyone's minds? Well, what about these matching lilac attires with plenty of other colours, such as beige, magenta, white and coral, mixed in? The bride and groom will transport the guests to the beautiful land where dreams come true and show that they are the rightful reigning couple in this magical world. So, if you have always been a dreamer, and have been looking for more than would preserve Nigerian couple fashion and the spirit of fairy tales, then good news: you have found exactly what you were looking for!
12. Imperial red outfits with mind-blowing embroidery
This beauty will not leave anyone indifferent. For starters, red has always been a symbol of luck, while white, which is also present in this attire, represents purity, goodness, and light. These are two of the popular colours for Nigerian weddings, and the couples who have worn them for the ceremony that solidifies their union never complained. The silver accessories would complement the image most amazingly. And look at all the embroidery – it feels like it is telling a thrilling story!
We sincerely believe that these matching wedding outfits inspired you to create unforgettable outfits for your special day.
READ ALSO: Nigerian fashion dresses for weddings
Source: Legit.ng