50 wrist tattoos ideas for men and women
There is nothing that passes across a message and makes one happy as a wrist tattoo does. The wrist is a very visible part of the body. This makes wrist tattoos the best way to show character, boldness and style. An uncountable number of celebrities have them as do many ordinary humans. If you are contemplating getting one, now is the time to do so! Use this idea guide to get the best one that matches your style and personality.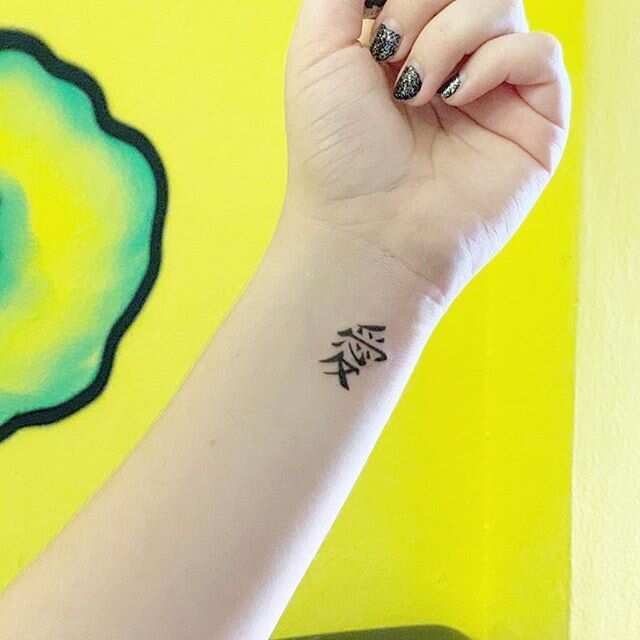 Traditionally, many cultures used wrist tattoos to ward off bad omen and diseases. As a result, most of the people who lived centuries ago had inscriptions on their wrists. These included images of stars and certain words. Today, wrist tattoos are widely accepted because they add aesthetic value to the present-age man. More often than not, these tattoos are inspired by specific meanings or phenomena that have occurred in the life of a person. Wrist tattoos are indisputably beautiful, so get inspired to get your cute wrist tattoos now!
READ ALSO: Sunflower tattoo: meaning and top 50 designs
1. Musical notes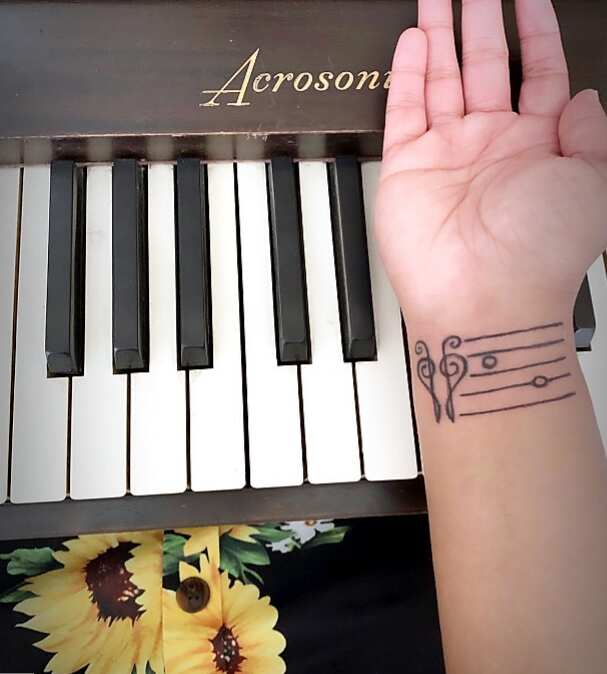 Music aficionados need a tattoo on the wrist to show their love for this art. This art involves the drawing of the selected musical notes, such as the F clef. Usually, this art is stunning after the healing process.
2. Morning glory flowers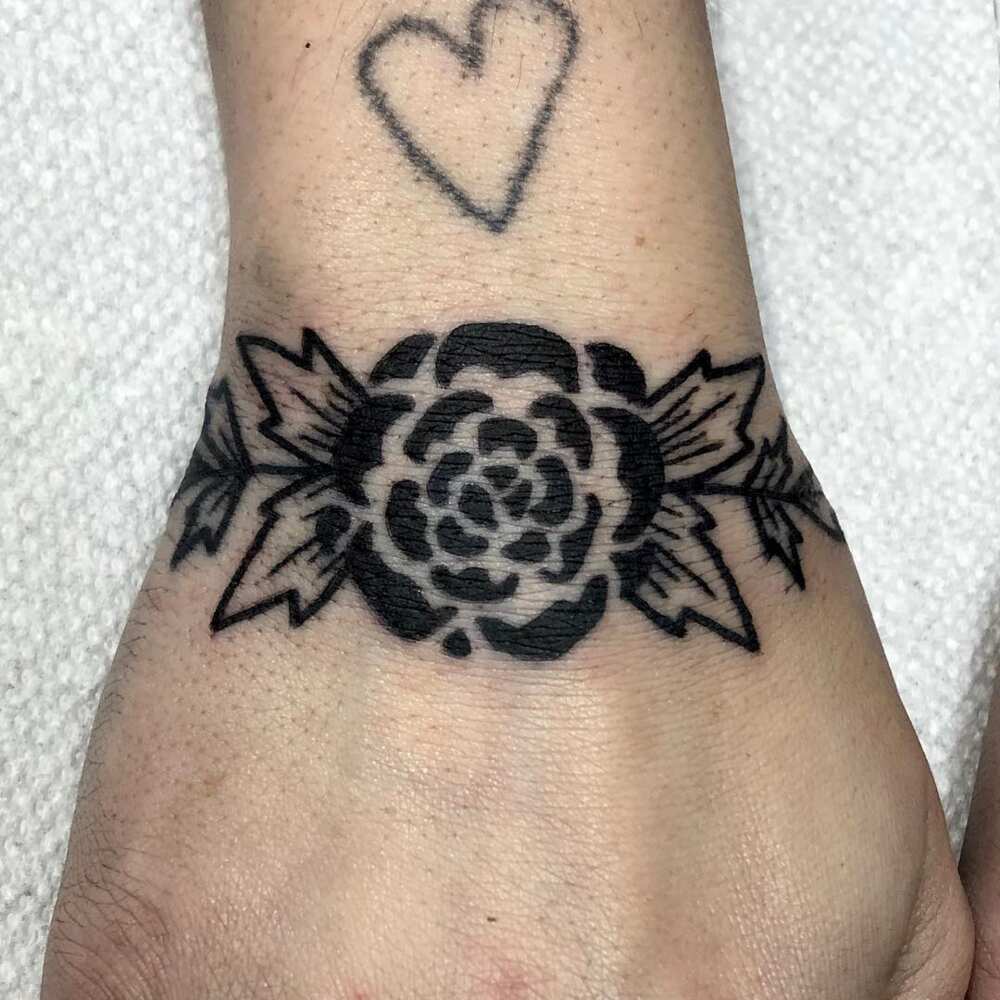 This is one of the most common tattoos that creates a gorgeous impression. It does not draw too much attention, and the flower is one that most people love. In most cases, it depicts the blossoming or growing of an individual.
3. Bracelet tattoo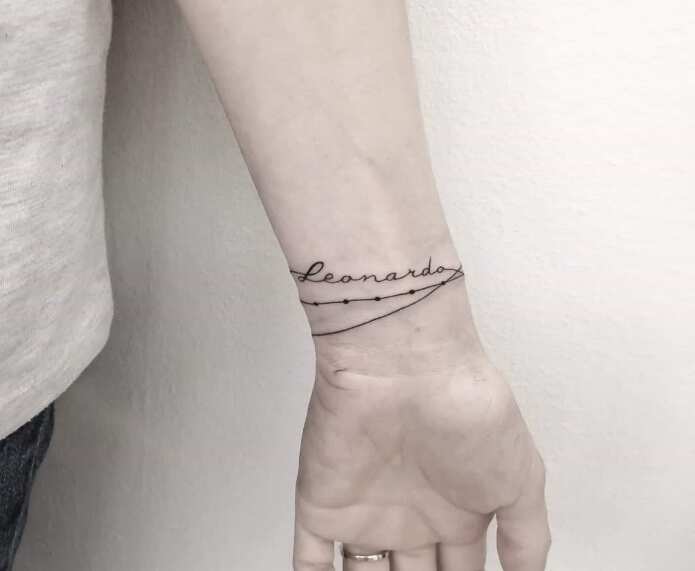 This intricate design makes one appear as though they are wearing a bracelet. In most cases, it is drawn downwards to give the impression of a bracelet that hangs from the wrist. Bracelet tattoos are more suitable for ladies. Alternatively, you can get a wrist band tattoo that also runs across the wrist.
4. Maps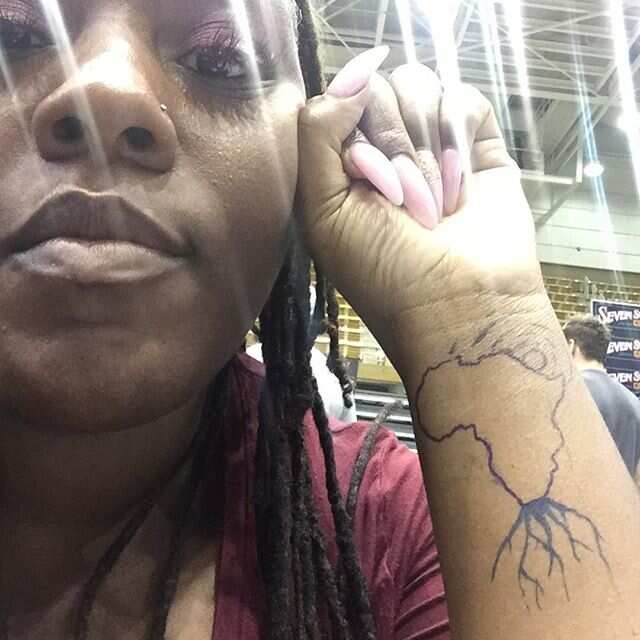 Maps are best for people who love geography or travelling. Depending on personal preferences, the map of a certain region or country may be engraved on the wrist. Some ask for the entire world to be inscribed. The choice belongs to you!
5. Barbed wire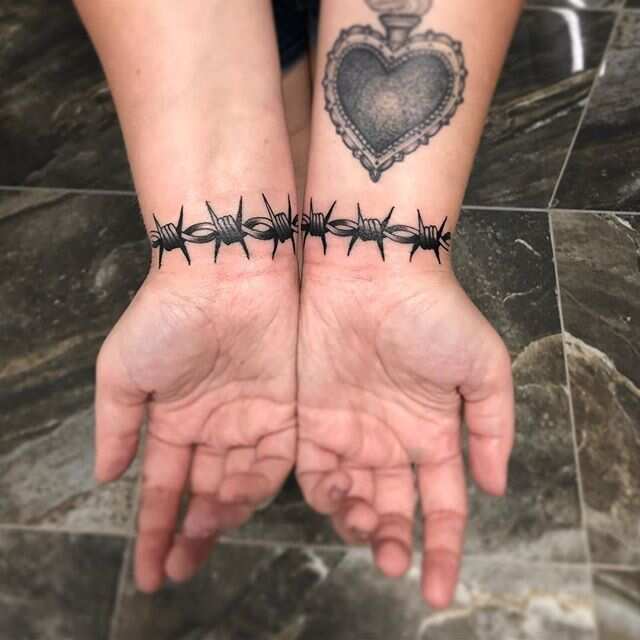 This is an inscription that shows resilience and strong will. It may be a reminder of the shackles that one broke to get to where they are in life. It is a gorgeous piece!
6. Sunflower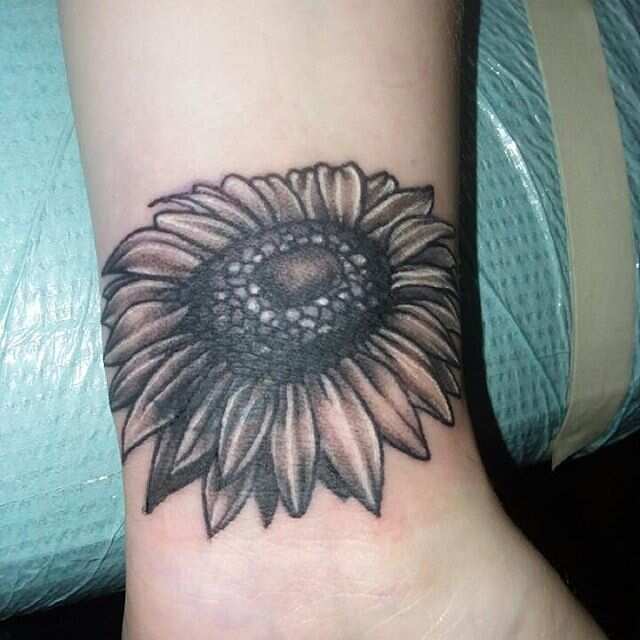 Bring sunshine to yourself each morning with this beautiful sunflower tattoo. It is not only beautiful, but it symbolises beautiful beginnings for most people. People love sunflowers anyway!
7. Paw prints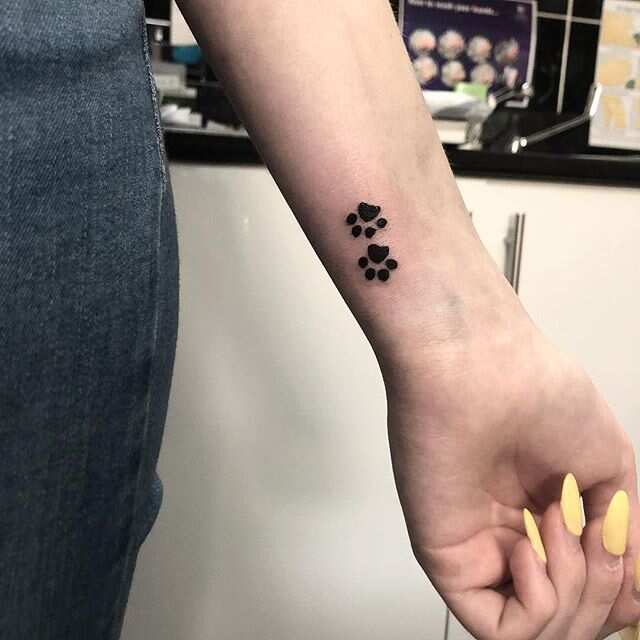 Is there anything cuter than little paw prints? These small wrist tattoos are a must-have for everyone. In many cases, the prints signify moving forward. Most people have them for their beauty. Other tiny but cute tattoos include small love hearts and semicolon tattoo on wrist.
8. Time imprints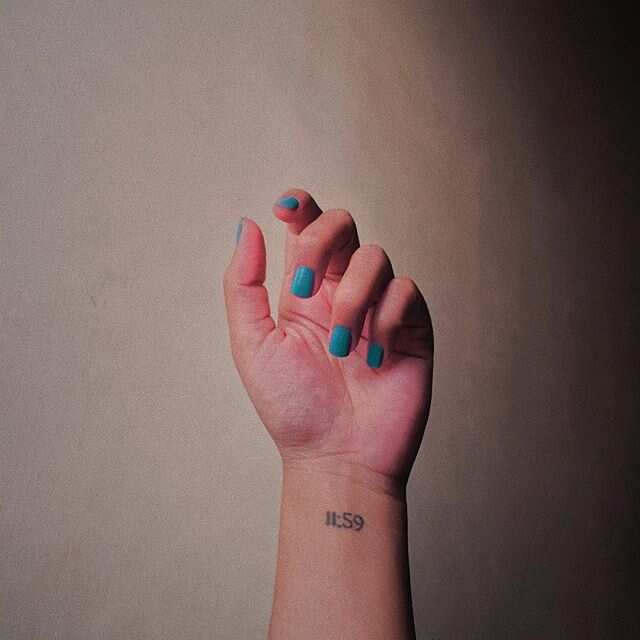 Did something memorable happen at a specific time? You can remember this moment by imprinting the exact time that something happened on the wrist. Usually, this is a small print that is not conspicuous. For most people, the time symbolises very intimate moments in their lives.
9. Love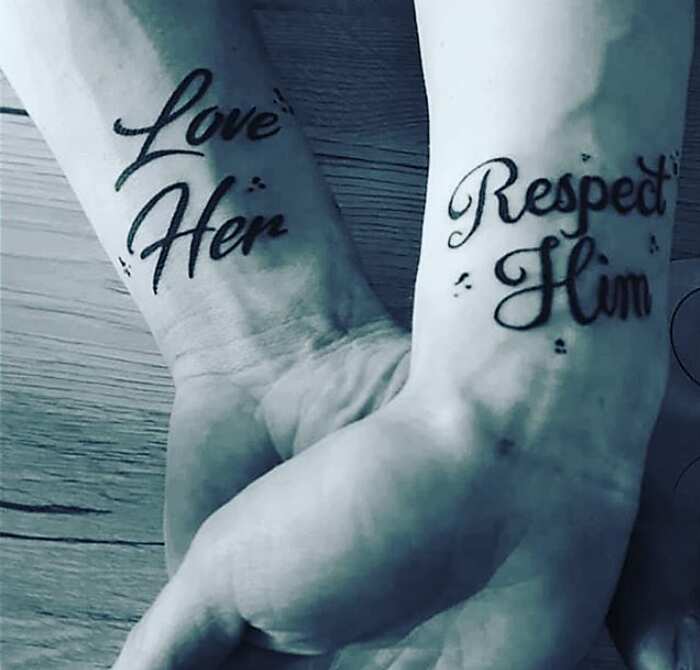 People in love can have reminders of their love and adoration for each other by imprinting important love words on their wrists. These are a reminder of one's commitment to their relationship and the hope of remaining in love for eternity. Love may also be depicted using heart tattoo on wrist.
10. Birds in love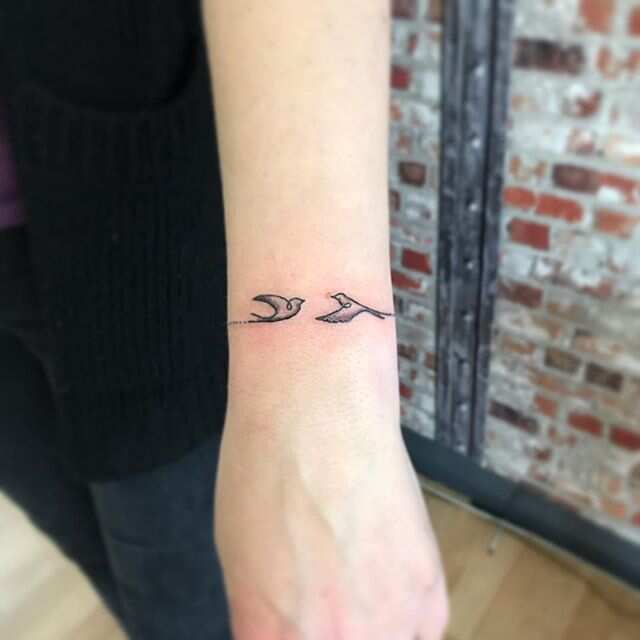 Birds symbolise life, hope, purity, prosperity and the ability to soar high. Doves, for instance, signify peace. You have the right to select your favourite bird. Two birds facing each other are the ultimate sign of love.
11. Thumbprint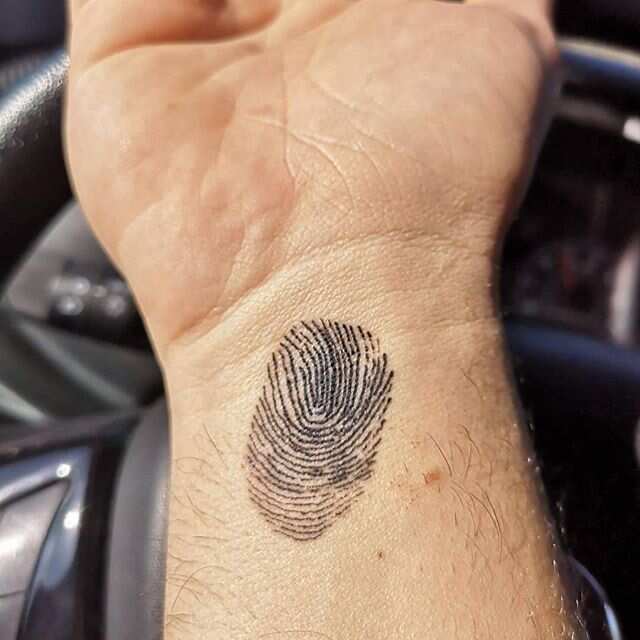 It is one of the most intimate inscriptions that you can have on your wrist. You can do so in commemoration of a special person in your life. Parents may inscribe their child's thumbprints to show their ever-present love. A deceased loved one may also be remembered through this thoughtful inscription.
12. Fern/leaves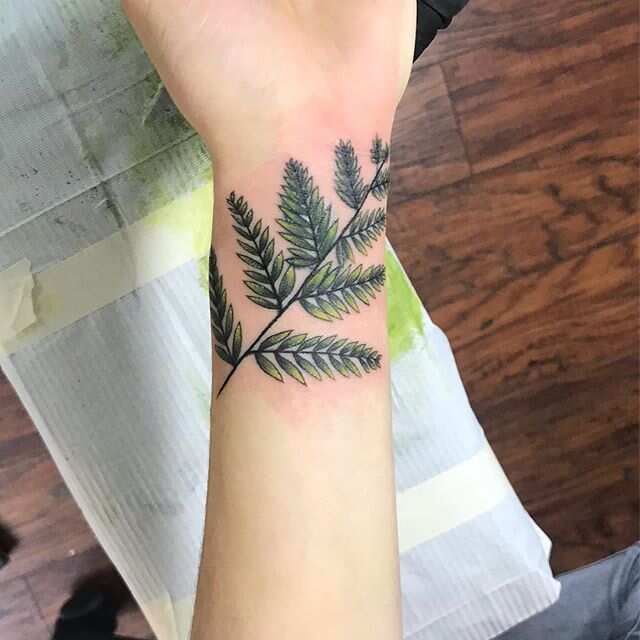 Many things could inspire this bold skin-inking. Leaves often depict relaxation, growth and harmony. The use of the green colour makes them more real and exciting to view.
13. Travel/plane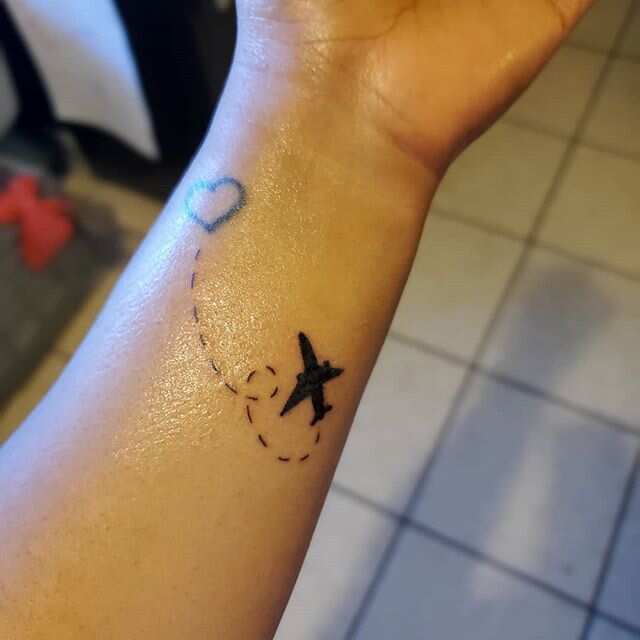 Persons who love travelling can tell the world about their love for travel through a small plane tattoo on wrist. This image is exciting to look at, and it speaks volumes about their character.
14. Owl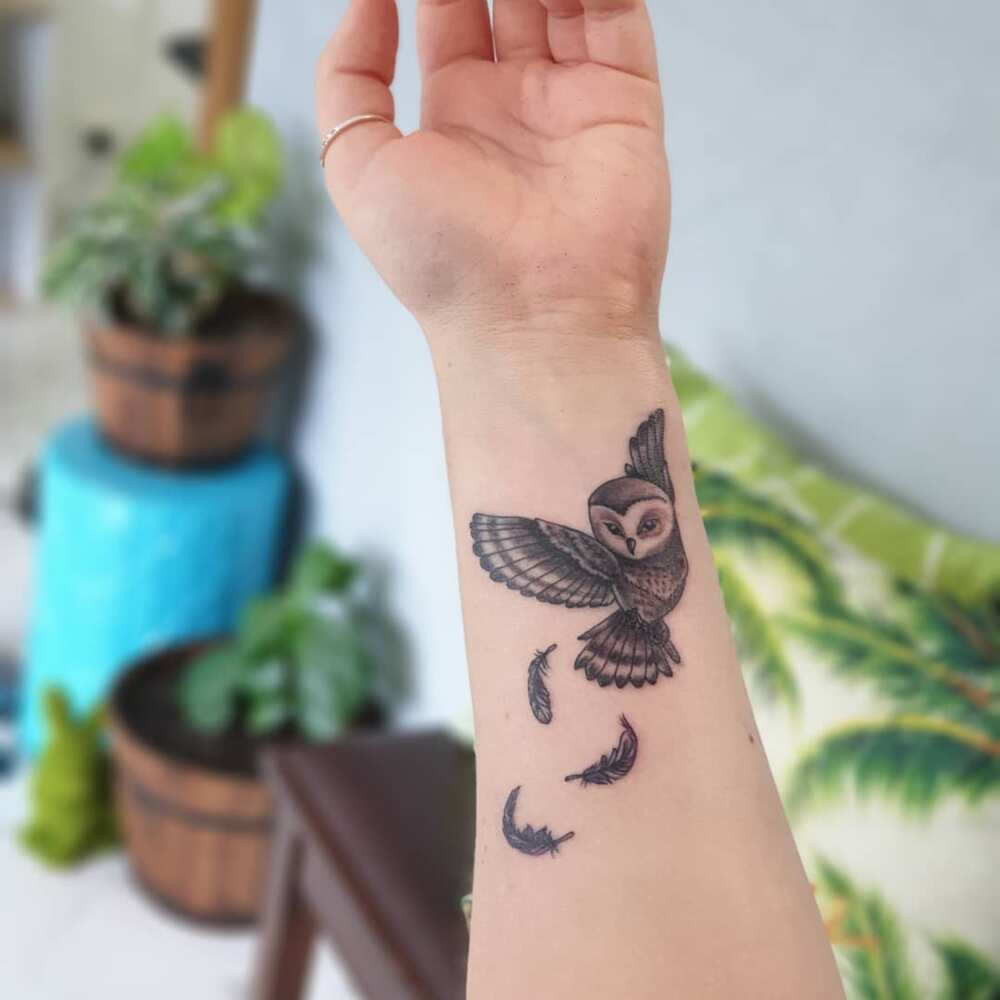 The owl is a bird that is both beautiful and unique creature that often symbolises wisdom and knowledge. Try it out today!
15. Angel wings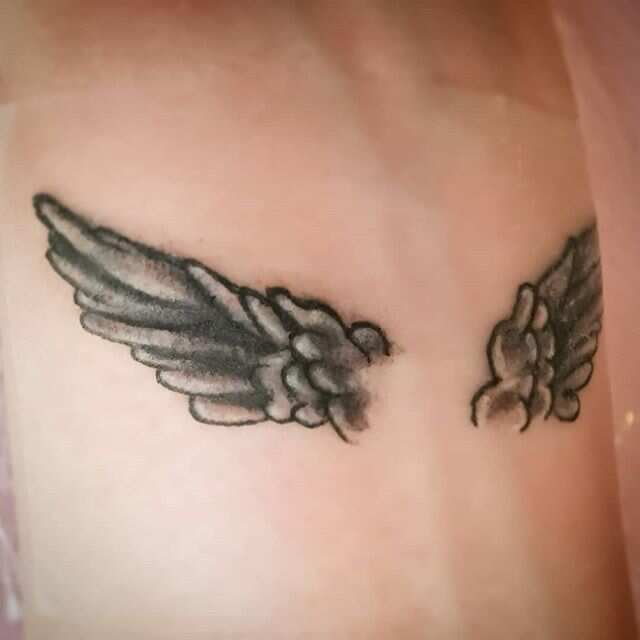 These wings are a fantastic way of portraying spirituality. Other people use them to portray their freedom and protection by a higher being. Sometimes, the wings may represent a loved one who died too soon.
16. Beetle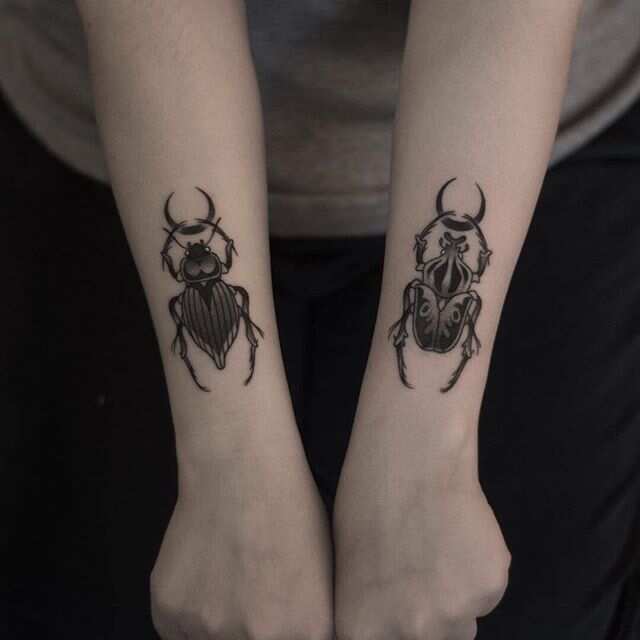 Beetles are regarded as a sign of rebirth or creation. Some people have beetle inscriptions because they are fascinating creatures.
17. Butterfly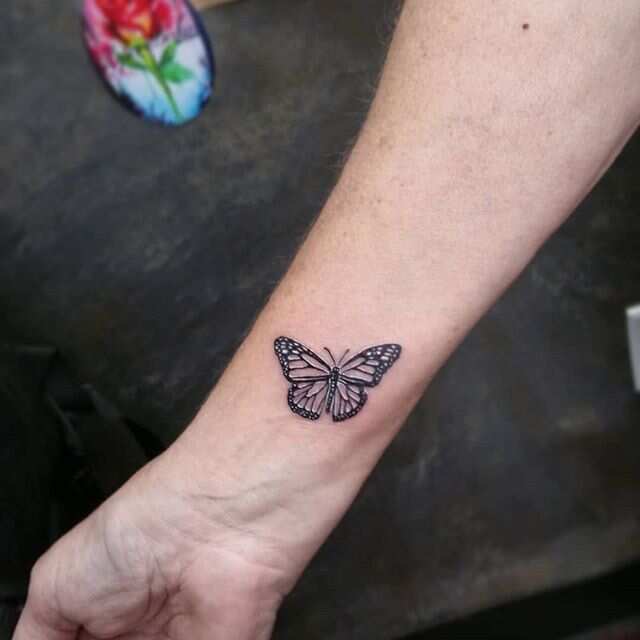 Butterflies are naturally beautiful. They are used to represent faith, freedom, romantic love, transformation and femininity. Butterflies are common wrist tattoos for women globally.
18. Bow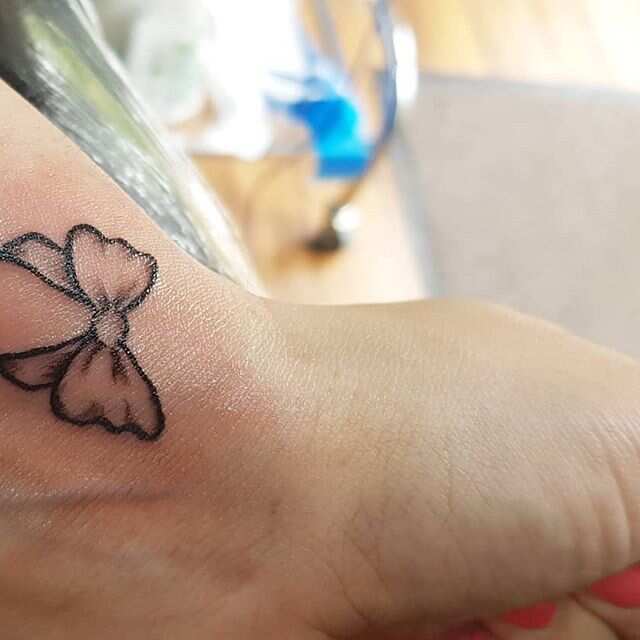 Bows have remained trendy over the years. Women are more likely to ink bows because they show femininity and are generally cute. In some cultures, bows show the spirit of helping and receiving help.
19. Galaxy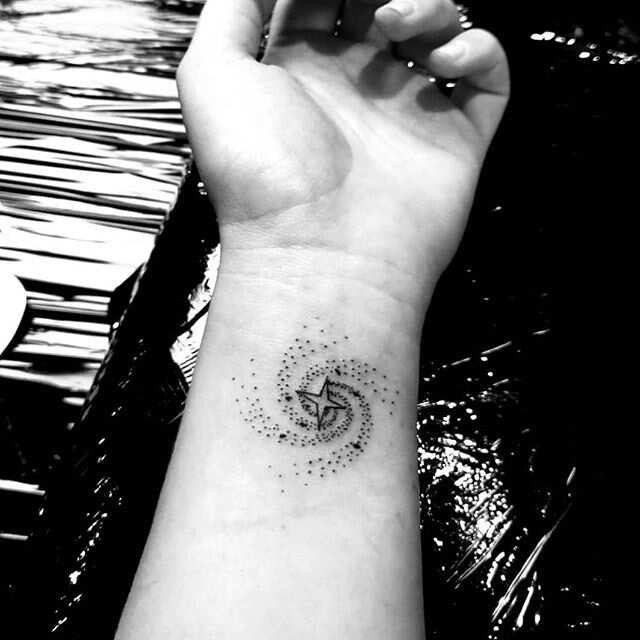 The galaxy tattoo is one of the most beautiful representations. This unisex inscription may either be in black and white or coloured. Usually, the galaxy represents humanity as well as the dreams that humans have.
20. Yin and yang symbol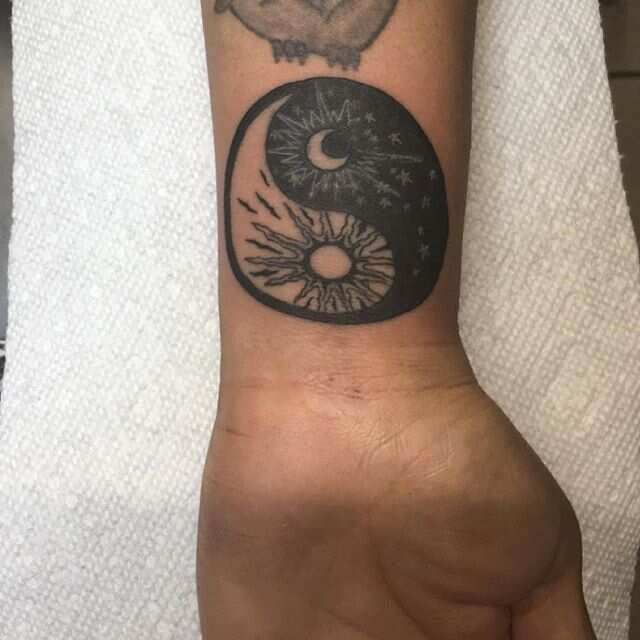 This Chinese symbol is often tattooed on the wrists of many people. It shows that both sexes are united and that they balance each other. The Yang symbolises masculinity while Yin shows the female force in the world.
21. Mom and child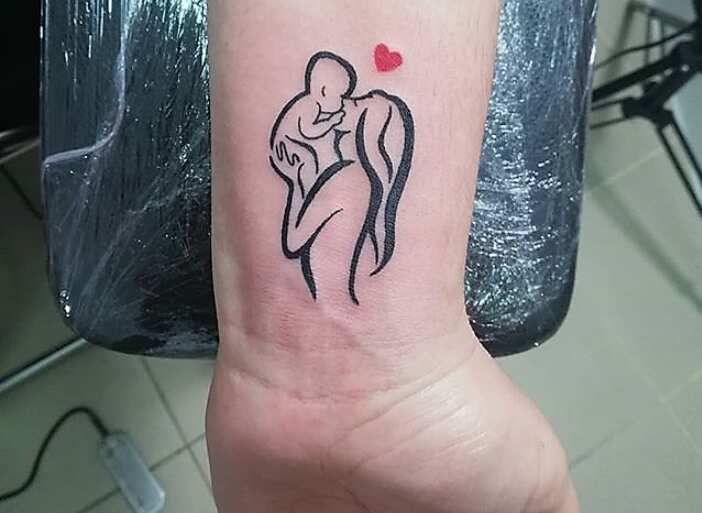 The indissoluble love that a mother and her child share is best represented using a mom and child tattoo. Parents will always have undying love and affection for their children.
22. Spider web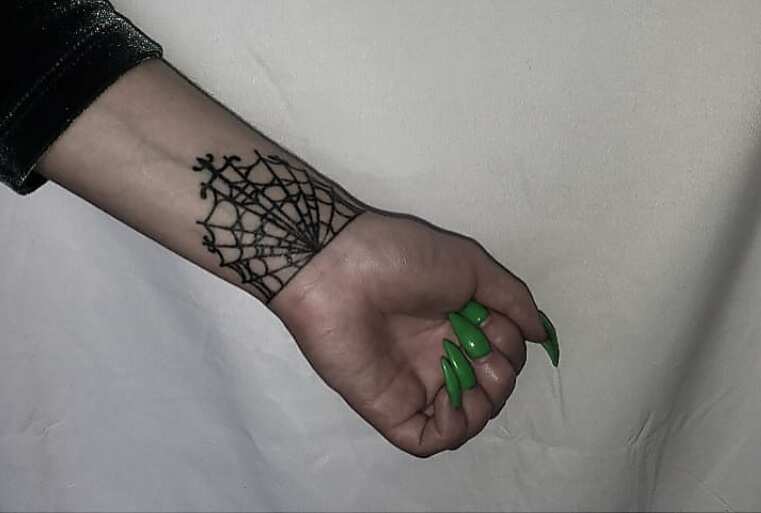 This widely used wrist inscription may either be for the aesthetic value or may have a deeper meaning. It may represent a period of physical, spiritual, economic or emotional entrapment in a stage of life. Once one is free from this incarceration, the image reminds a person of their past and motivates them to move forward.
23. Ornamental whale tail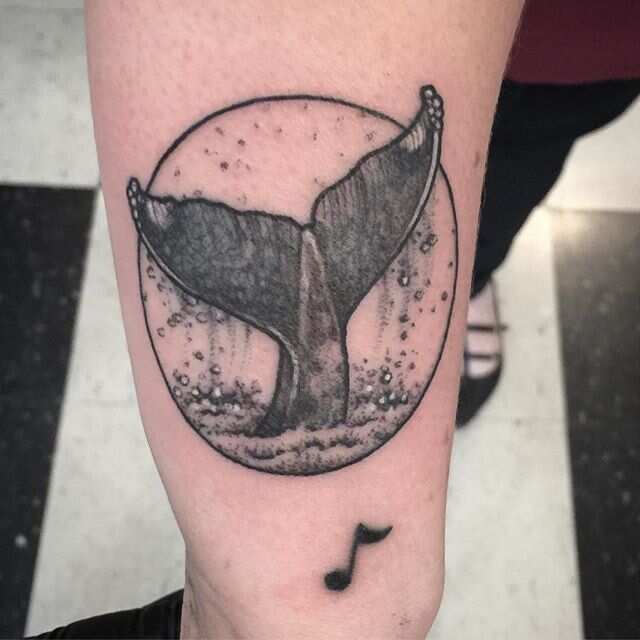 The whale is the biggest mammal in the sea. Usually, they symbolise gentleness, protection, guidance, understanding and patience. The whale tail is not only alluring, but it shows care and concern.
24. Peacock feather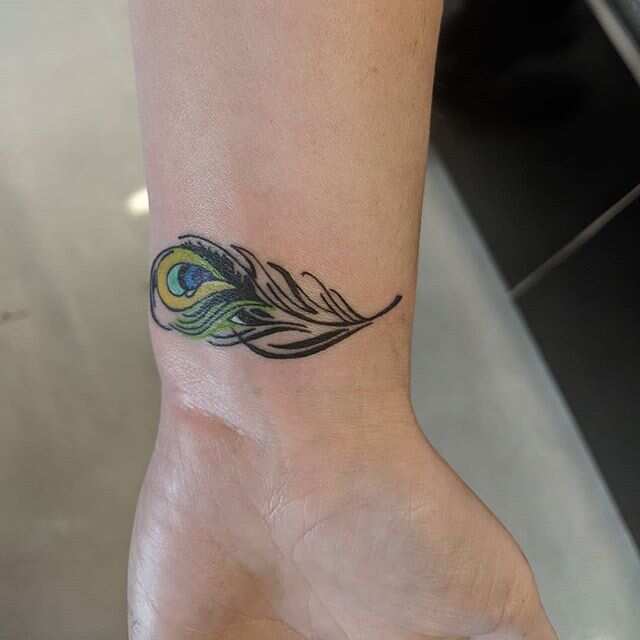 A peacock feather is attractive and versatile. It often shows the purity of a soul as well as immortality.
25. Trishula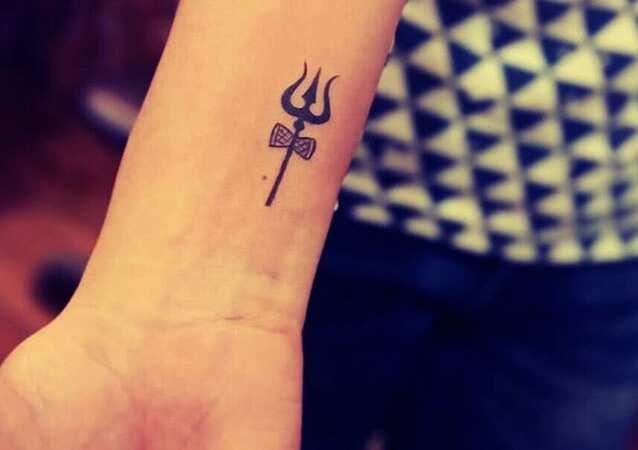 The Trishula is a weapon with three prongs. It is the emblem of Shiva, the god of destruction in the Hindu religion. This tattoo represents major triads.
26. Live by the sun; Love by the moon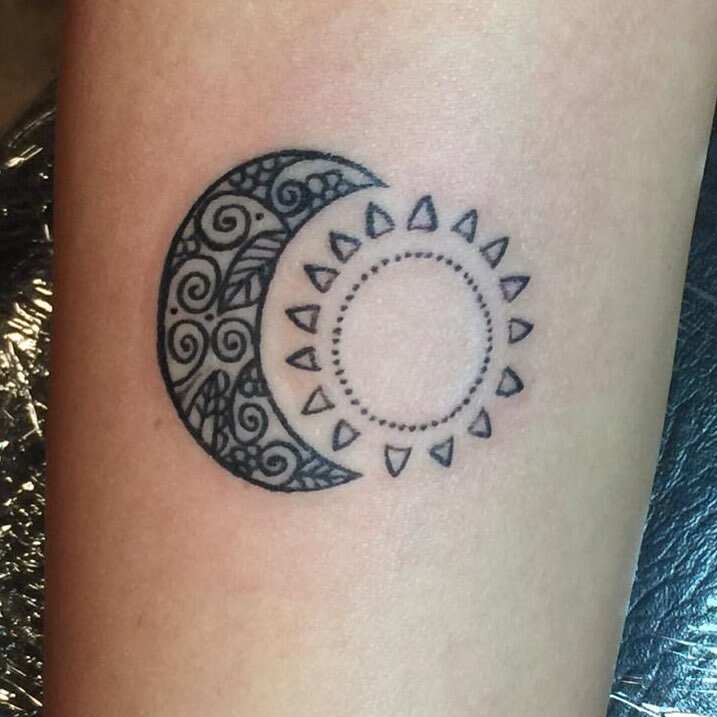 To live by the sun means that each human being has to labour under the scorching sun that makes them sweat. Love by the moon means that there will be some cool and relaxing moments that are filled with love after the long day of labour.
27. Candle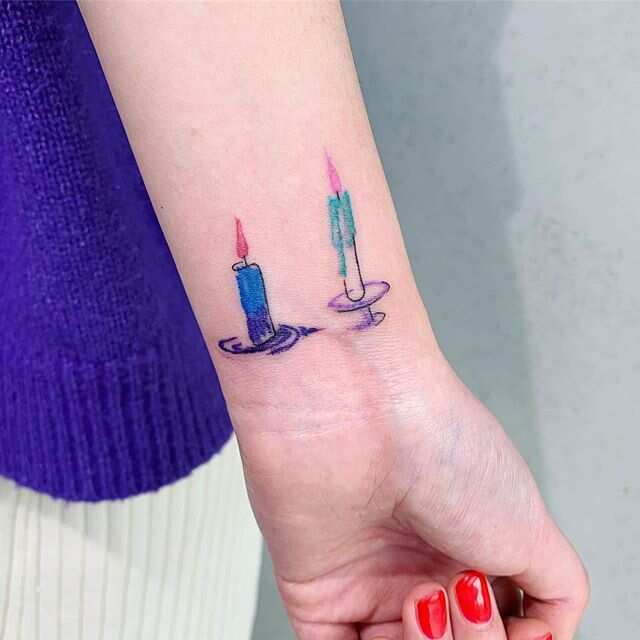 This simple wrist tattoo shows that one chooses light over darkness and that one stands for good over evil. It may also be a signal of hope during dark moments.
28. Maple leaves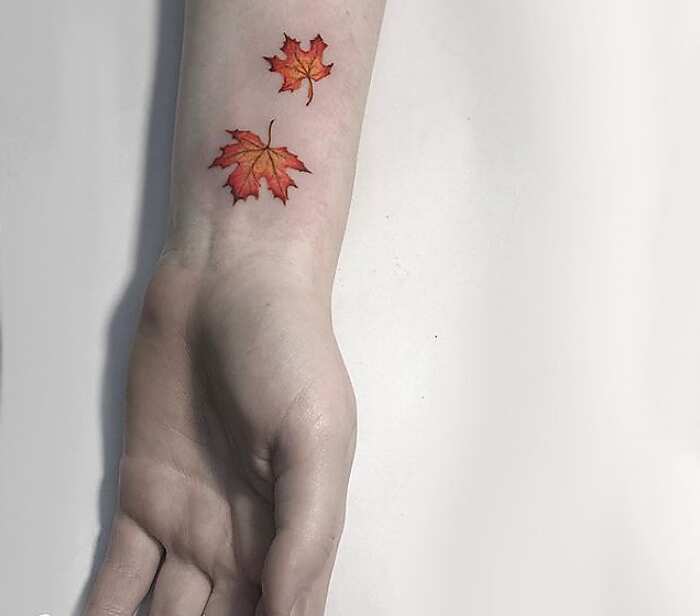 Maple leaves often represent joy and happiness.
29. Wine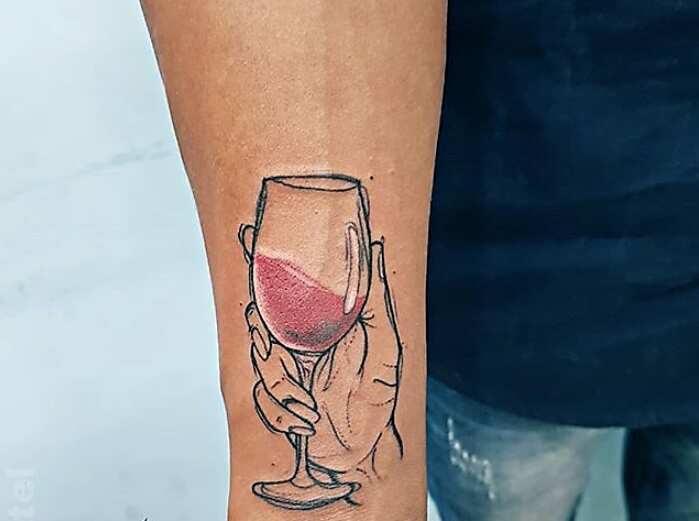 Lovers of wine can always display their love for this drink using a wine tattoo!
30. Planet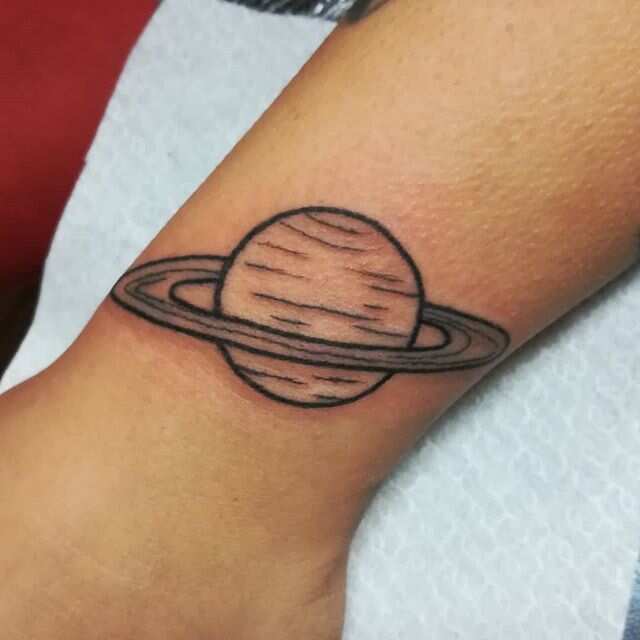 A planet tattoo often represents life and abundance. It is an inscription for the lovers of the solar system.
31. Cross tattoo on wrist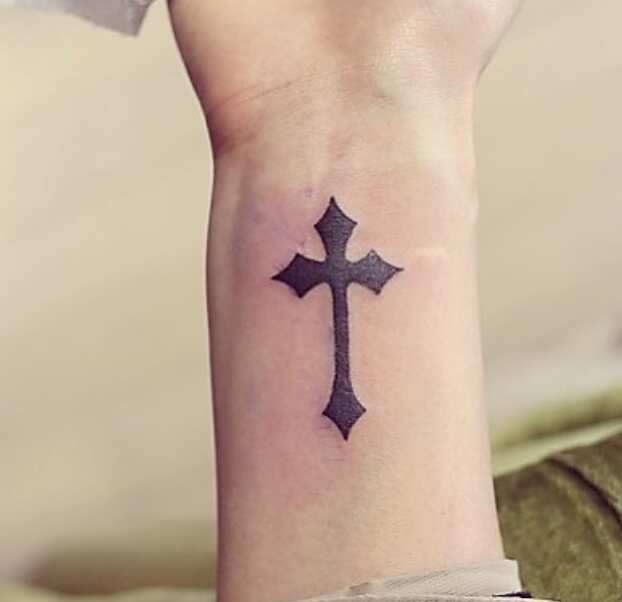 This is the ultimate representation of both religion and spirituality! This widely used tattoo may also be for aesthetic value only.
32. Tinkerbell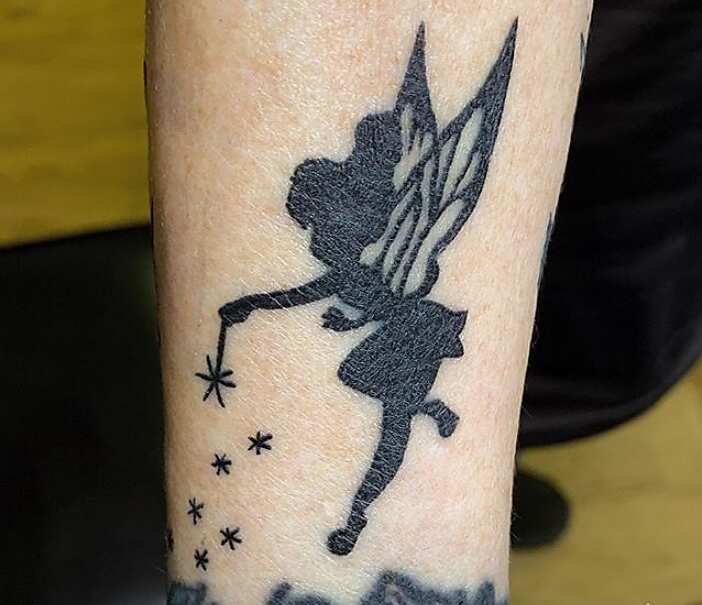 Tinkerbell has a playful persona. A Tinkerbell tattoo, therefore, shows that one if full of life and fun-loving.
33. Piou Piou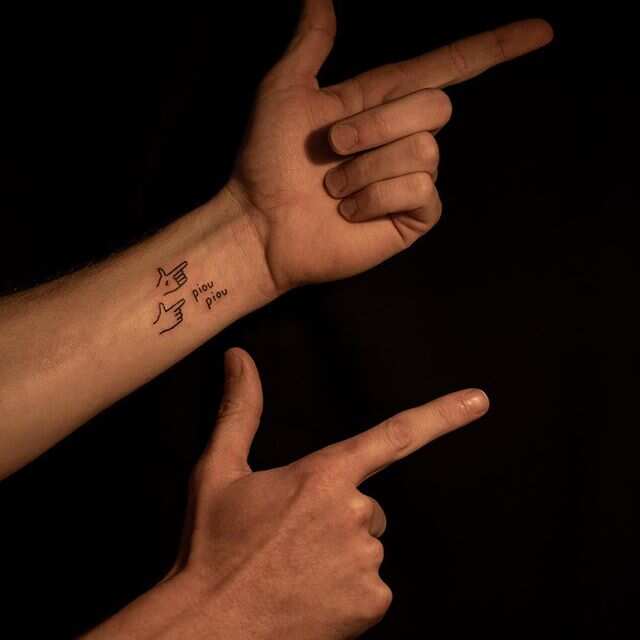 Piou Piou may refer to a petite person. It also expresses love!
34. Superman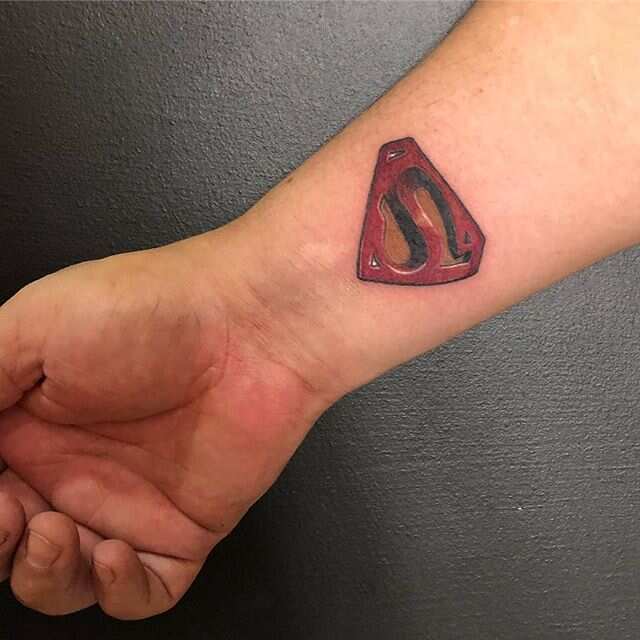 Usually, this inscription reminds people that they have all it takes to achieve their ambitions and dreams. They may have super powers! Usually, a superman inking is among the common wrist tattoos for men.
35. Koala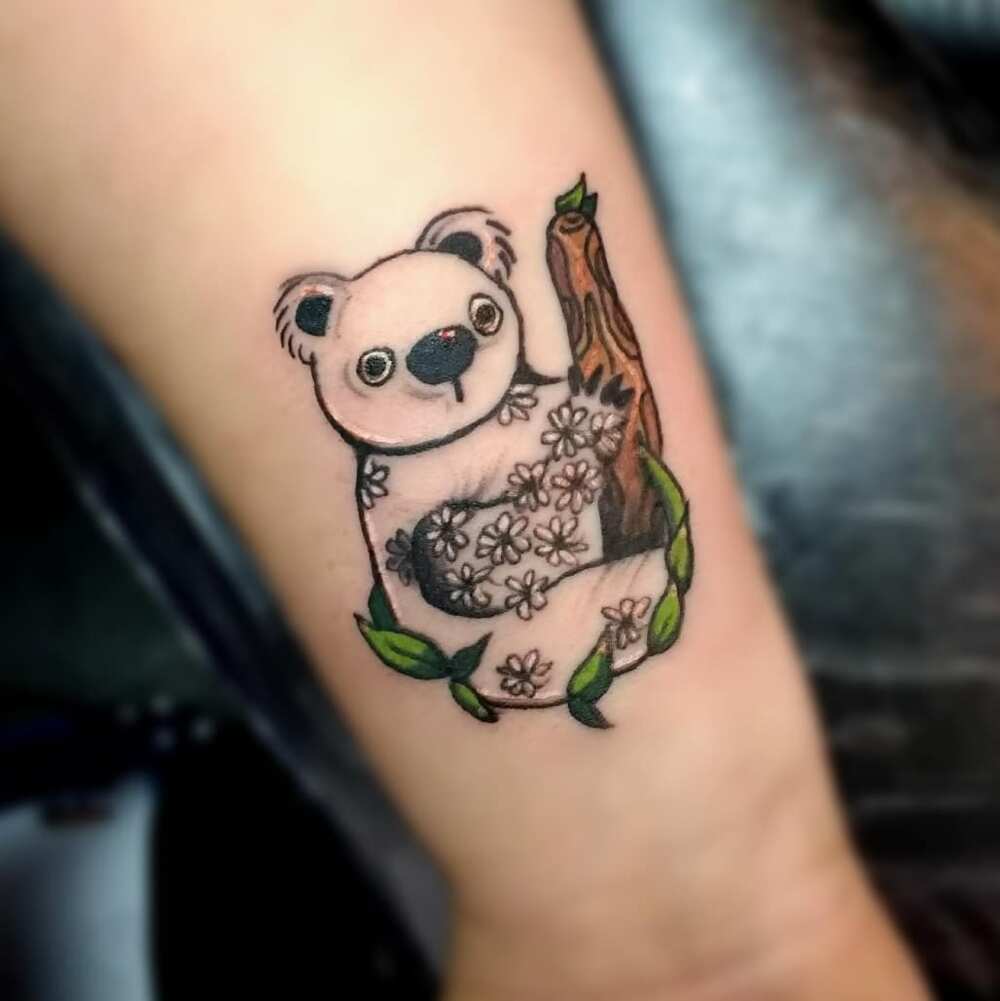 Who can dispute the fact that koalas are warm and cuddly animals? These beautiful creatures represent beauty and love.
36. Snail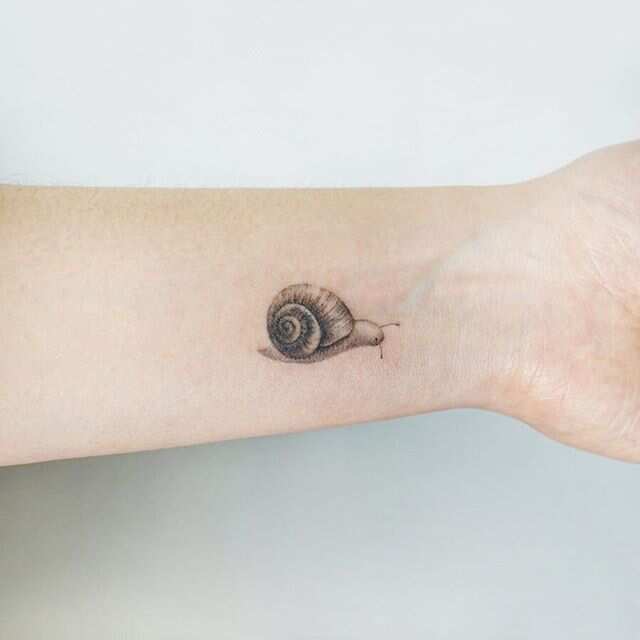 Slow, but steady! This tattoo reminds one to be sure of their steps and to avoid rushed decisions.
37. The Corvette logo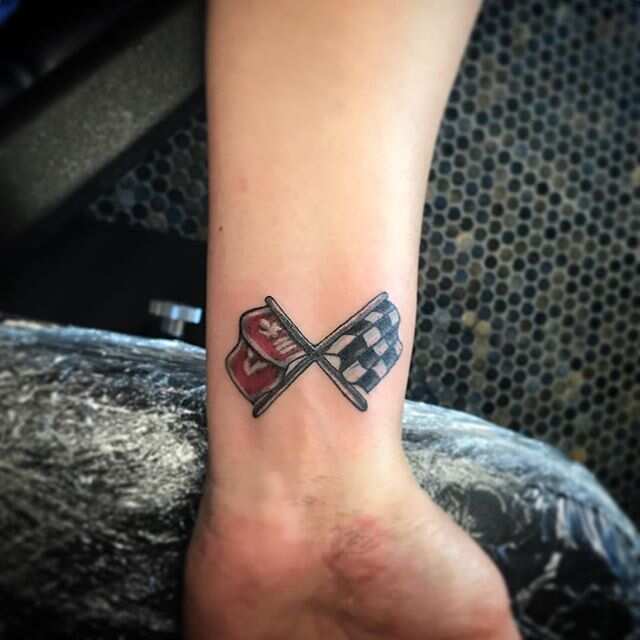 Sports cars are a luxury that many people hope to have. Is there any other better way to show your love for the Corvette than the Corvette logo?
38. Horseshoe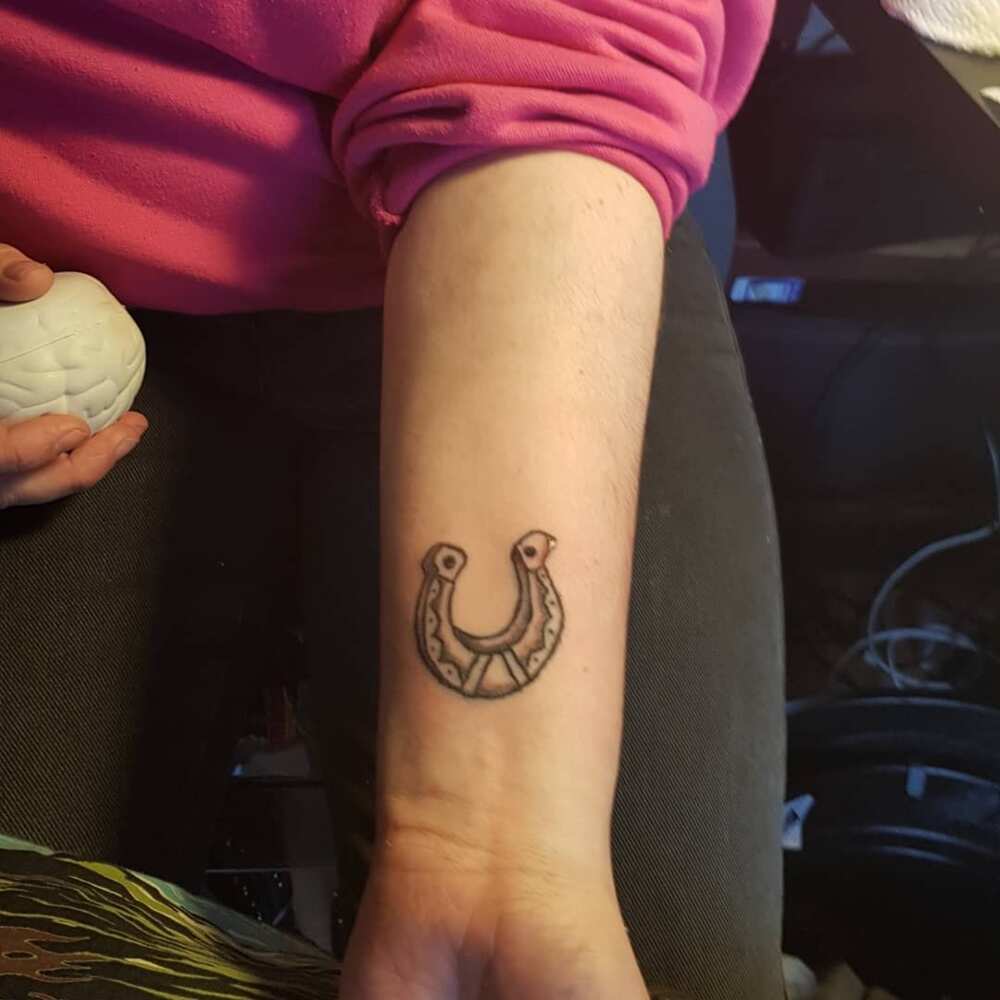 The shape of the horseshoe is always fascinating. For many people, the horseshow symbolises luck and good tidings.
39. The hexagon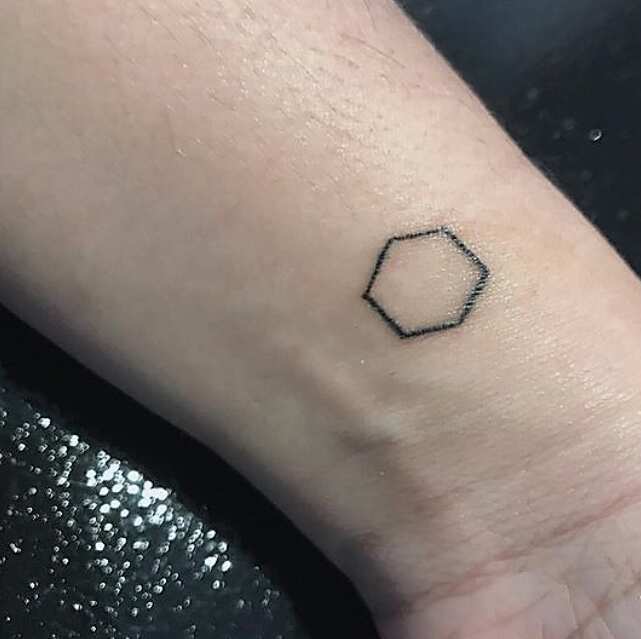 The hexagon is a fun little tattoo to have. It may mean different things to different people. For some, it is a sign of moving on from the past. Among others, it shows balance and harmony.
40. Penguin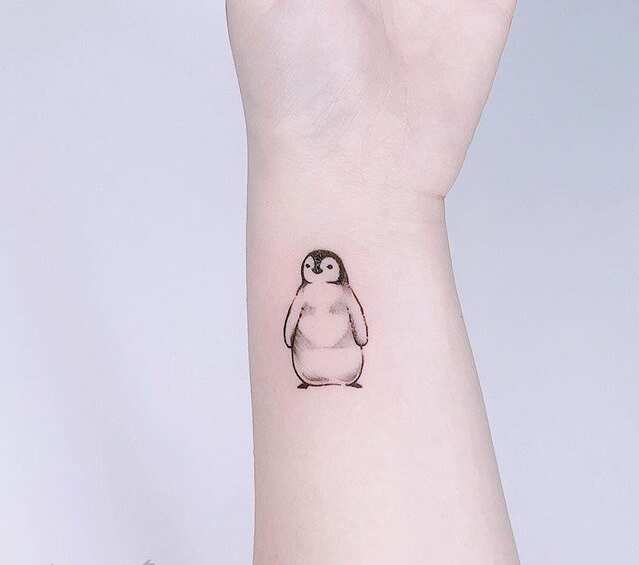 This is a tattoo for both men and women. The penguin often shows evolution and renewal of the mind, spirit and body. Penguins are also pretty!
41. Armenian eternity symbol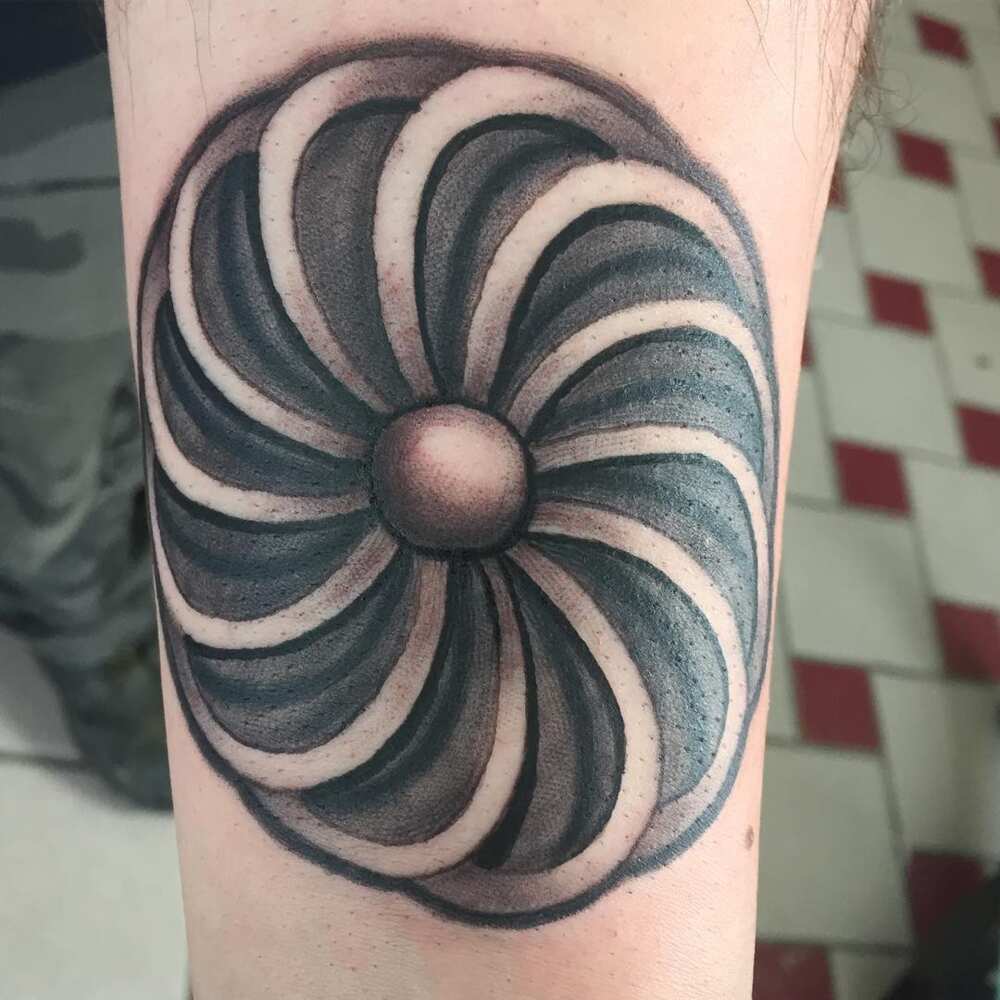 People with Armenian history often have the eternity symbol tattooed on them to show their heritage. This inscription is not limited to the Armenian people. Others use it to signify everlasting life. It encourages them that life must go on regardless of the challenges that one experiences.
42. Nautical knot rope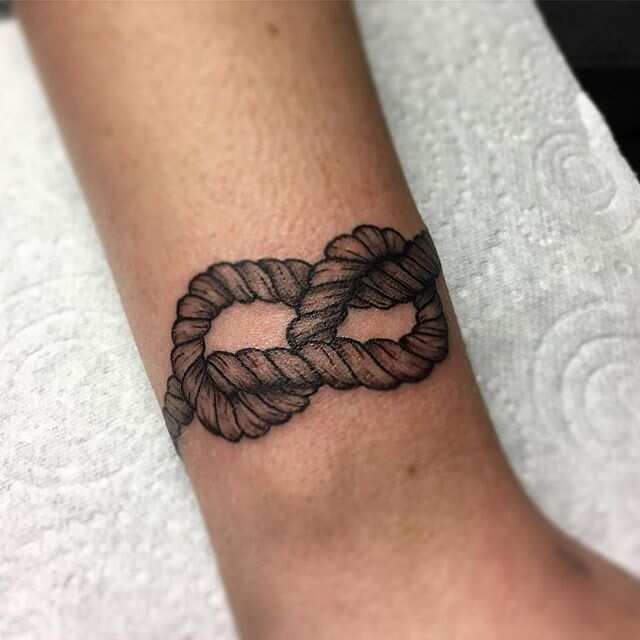 The nautical knot clearly shows an intertwined rope. This often signals a deep relationship with someone. Just like the knot, they hope to continue having a close and continuous relationship with the other party.
43. Diamonds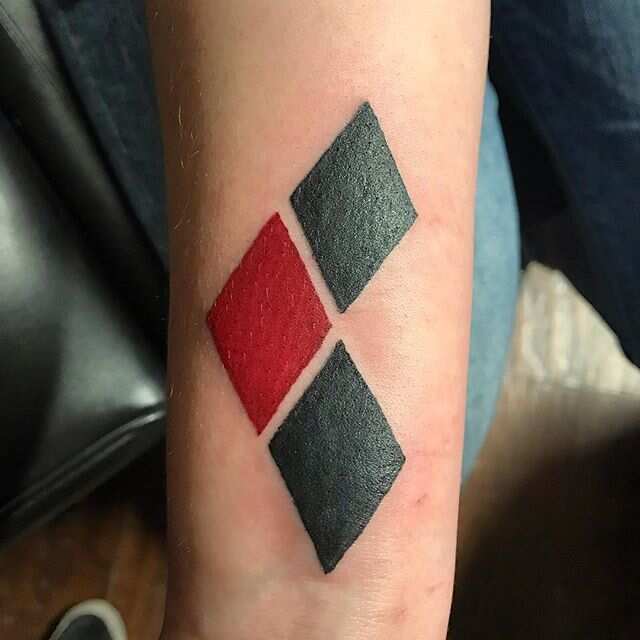 A diamond inking motivates a person to chase after their dreams so that they can be affluent.
44. Tree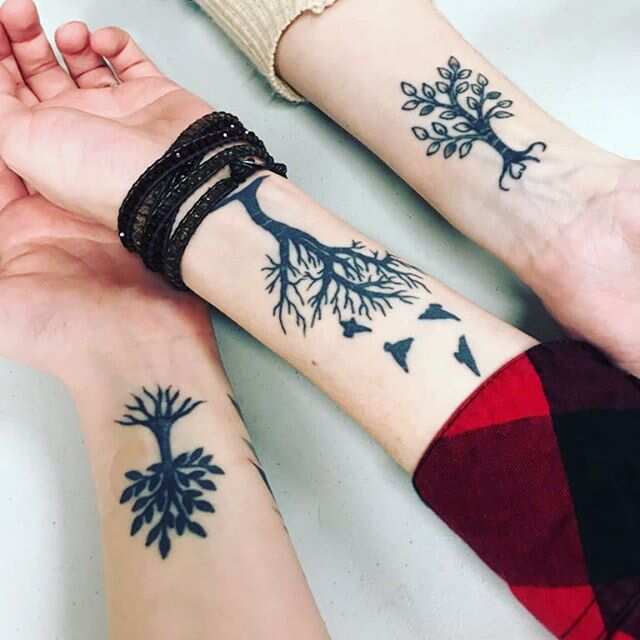 The roots of a tree run deep, and the branches often spread high and wide. Trees may mean various things to different people. They are often used to signify abundance, wisdom, knowledge, salvation and strength.
45. Sun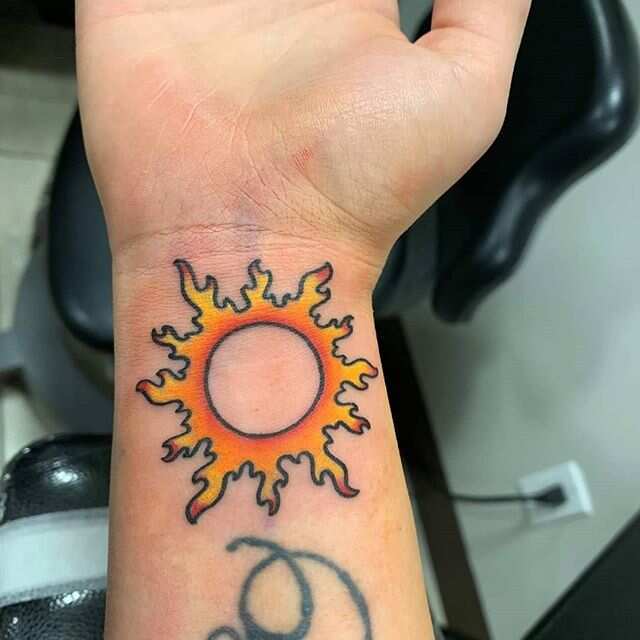 Among some religious people, the sun shows power, strength, rebirth and energy. Others perceive the sun to be the ultimate sign of a new dawn in life. This gorgeous inking that is for both men and women is a pretty sight in the eyes of many people.
46. The Rosary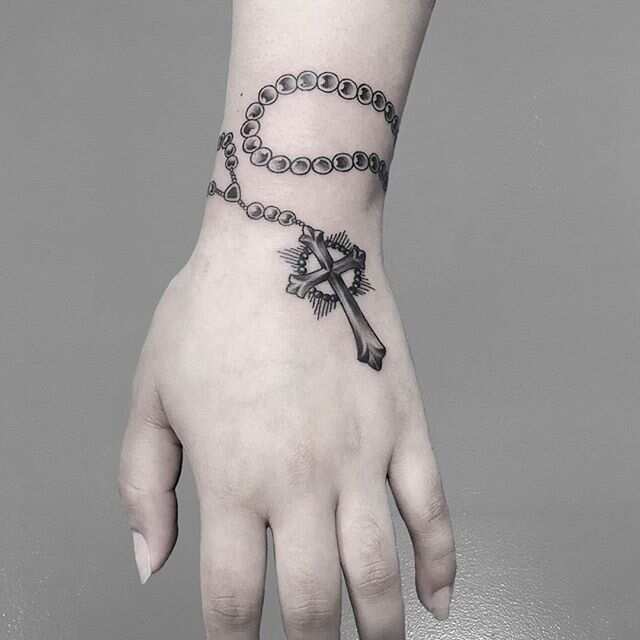 Catholics may have a rosary engraved in their wrist. The rosary is one of the sacred elements that display both spirituality and religion. Some people have it purely for aesthetic reasons.
47. Elephant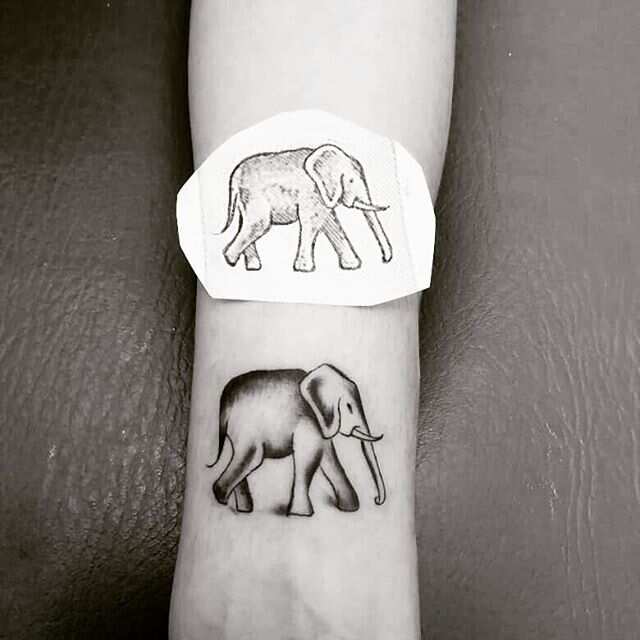 Being the largest land mammal, most people admire the strength of the elephant. Its physique is also fascinating and unique. Many people have this inking for its artistic value. For others, it may have a deeper meaning that only they can explain.
48. The bumblebee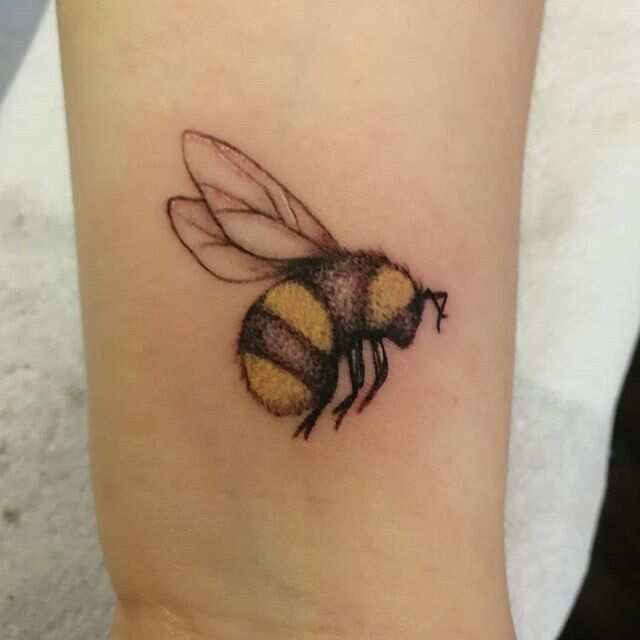 This yellow and black creature is beautiful to view. Bees show hard work and harmony. A bee will risk its life to protect its home. The bumblebee signifies courage and loyalty.
49. Rose flower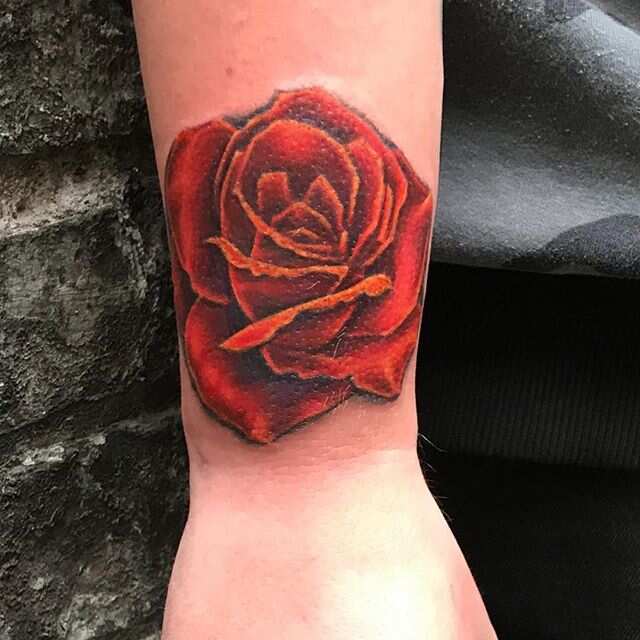 More often than not, a rose flower inking is mainly for women, but who said that men cannot be sentimental? The rose flower symbolises love. It also shows hope, promise and new starts in life. The thorns on the stem show defence and may also represent the harsh times that one goes through before they attain the beautiful things in life.
50. Stars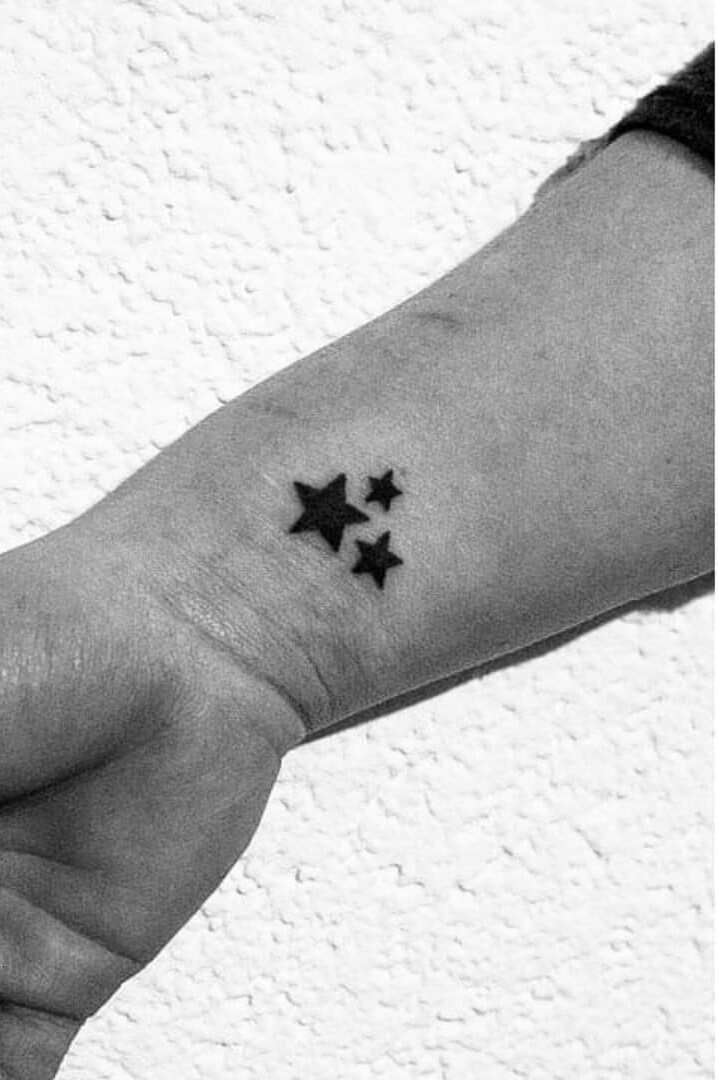 Stars are among the most common mens wrist tattoos. Numerous women have them too. They are beautiful and simple. To some, they represent hope and luck.
Wrist tattoos are often small and pleasant to the eye. They are strategically located to attract the right amount of attention and to remind a wearer of the reason they got something engraved. Inking on the wrist is versatile, and one has the liberty to select their preferred images or words. Choose one or more from the wrist tattoo ideas above and get your beautiful tattoo now!
READ ALSO:
50 mother daughter tattoos ideas to inspire you
Cartilage piercing: a guide to pain, cost, healing, and aftercare
Source: Legit.ng