50 cool bear tattoo design ideas and meanings
Bears are among the most majestic animals, and their symbolism is usually attributed with commanding authority and confidence. When provoked, this animal can be a mauling machine. It may be as free-spirited as the great wind, but it is always ready to defend its space with some fierce wrath. There are different species roaming in the wild such as the black, polar, brown, and the grizzly species. Many people acknowledge the incredible nature of the gigantic mammal and use the symbolism to express themselves through different bear tattoo designs inked on their skin.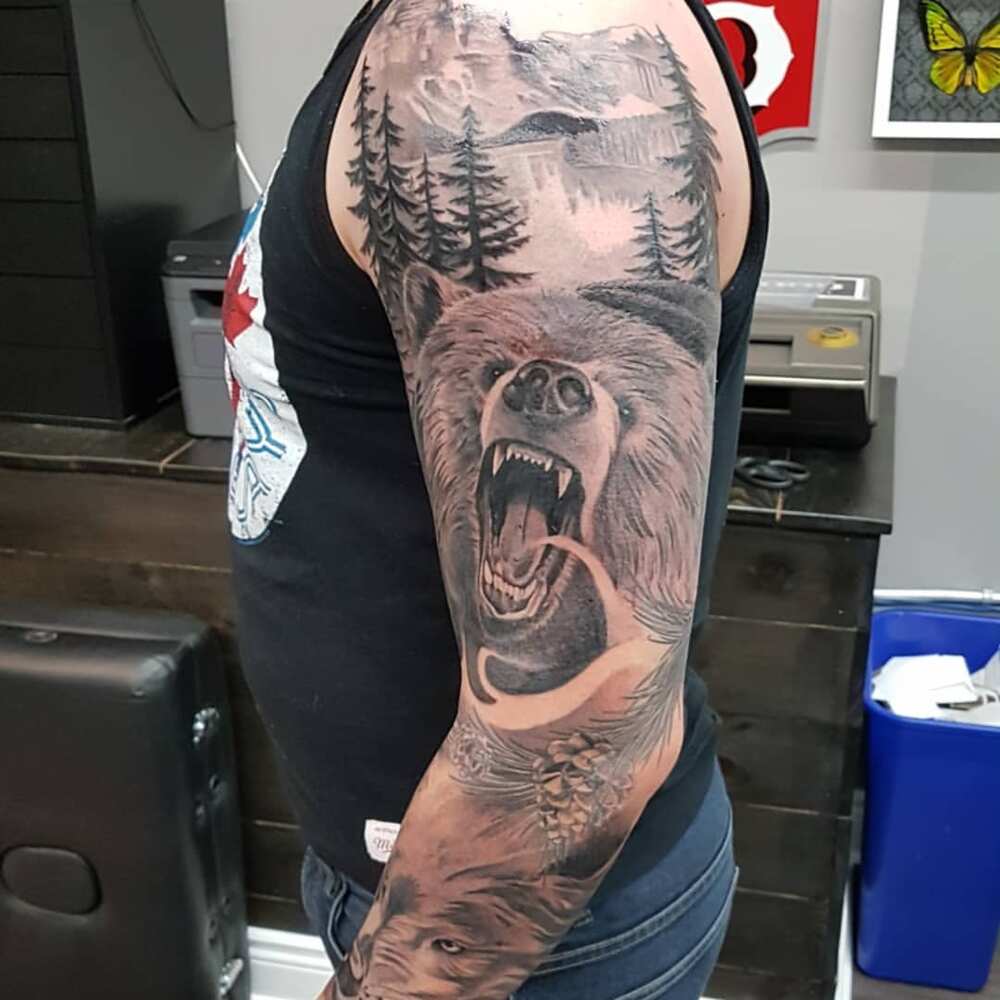 Indeed, it may be a great experience to meet one today, but it may be even more surprising to understand the true meanings and unique symbolism even in the pre-historic period. For instance, Korean mythology is said to perceive them as ancestors, while Siberians believed that Karhu (as it is referred to in their dialect) is one of the spirits of their forefathers. Other cultures such as the Chinese and Ainu are known to have worshipped the spiritual animal in the early ages.
No matter what this animal may mean to you, this collection of the top 50 cool bear tattoo ideas will leave you inspired by this beauty of nature.
Top bear tattoo designs to ink yourself with
Take a look at some of the inks that you can try out.
1. Bear paw tattoo on the arm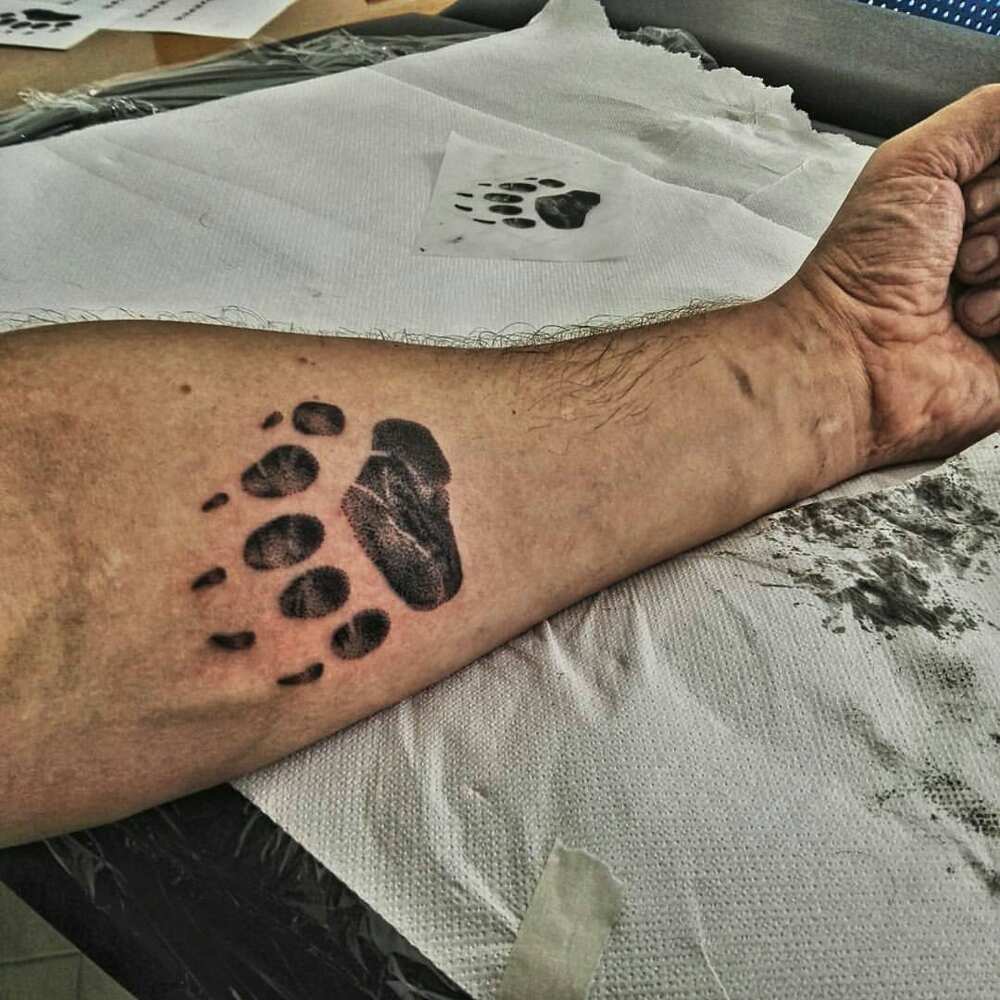 To illustrate the true nature of a grizzly, this kind of ink can be a good choice. It can fit on your biceps, chest or lower foot to give that look that exudes confidence and daring ability.
2. Bear claw tattoo at the side of your chest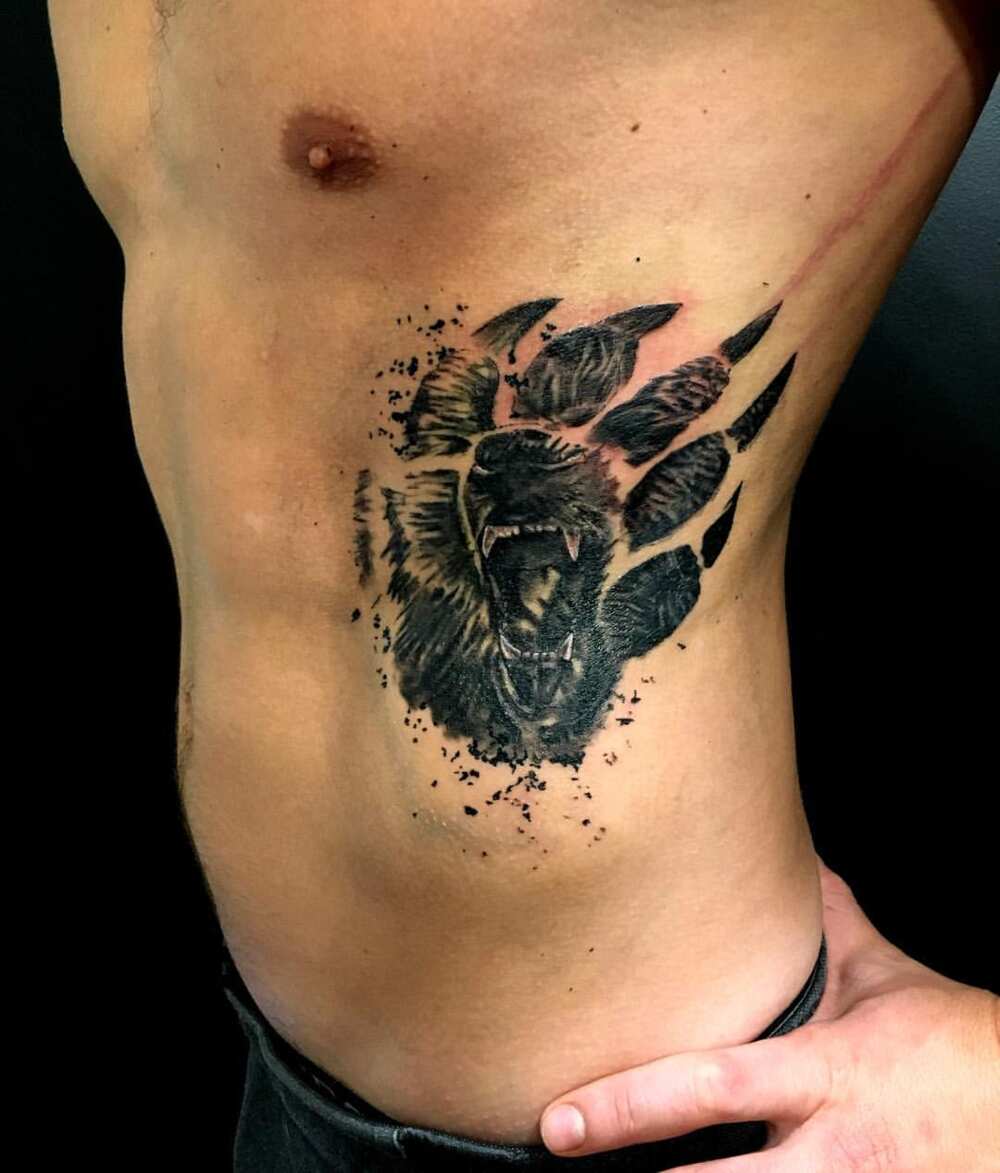 This design is quite popular for both males and females probably because many people believe that the claws highlight strength and agility. Over the years, there have been diverse ideas with different designs adding art to the meanings.
3. Tribal bear tattoo design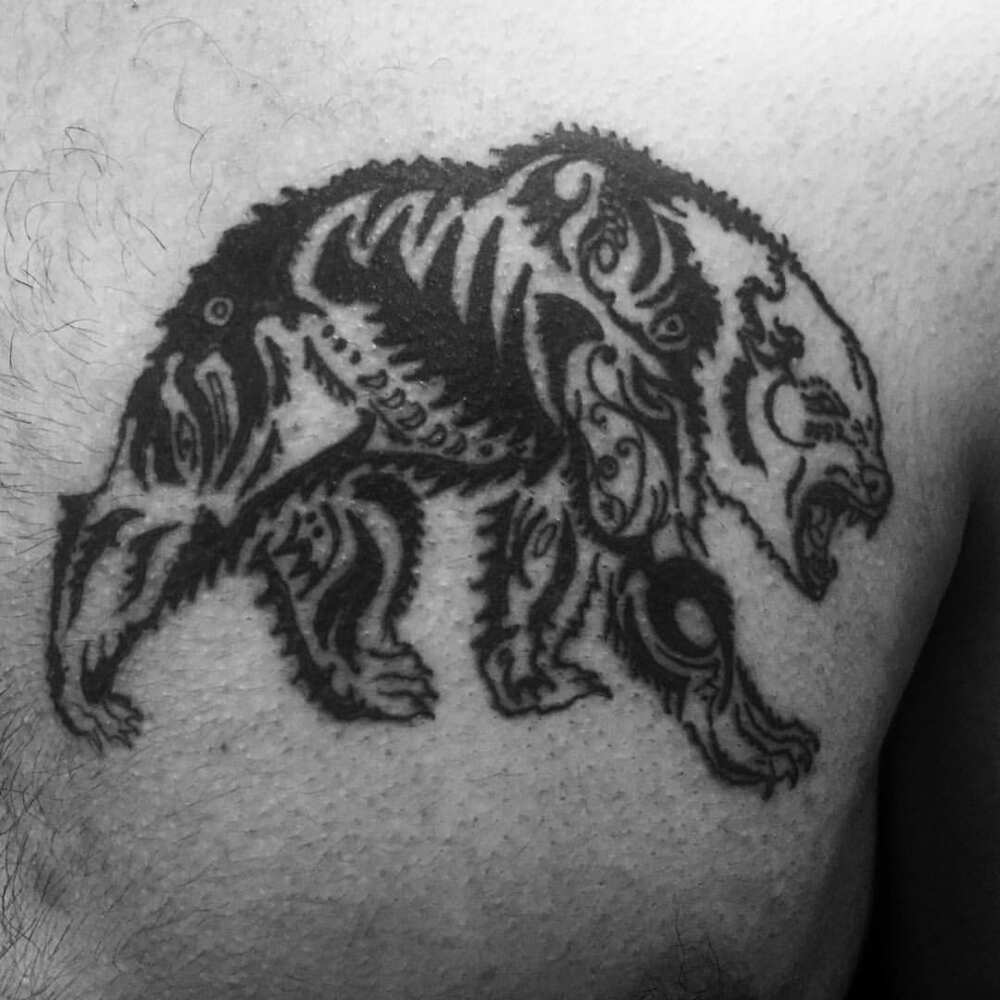 Tribal artistic expressions have been used for thousands of years and are more popular among North American aboriginals. Not only is the artistic work amazing to look at, but it also symbolises the appreciation of art and agility at the same time.
4. Grizzly bear tattoo on the arm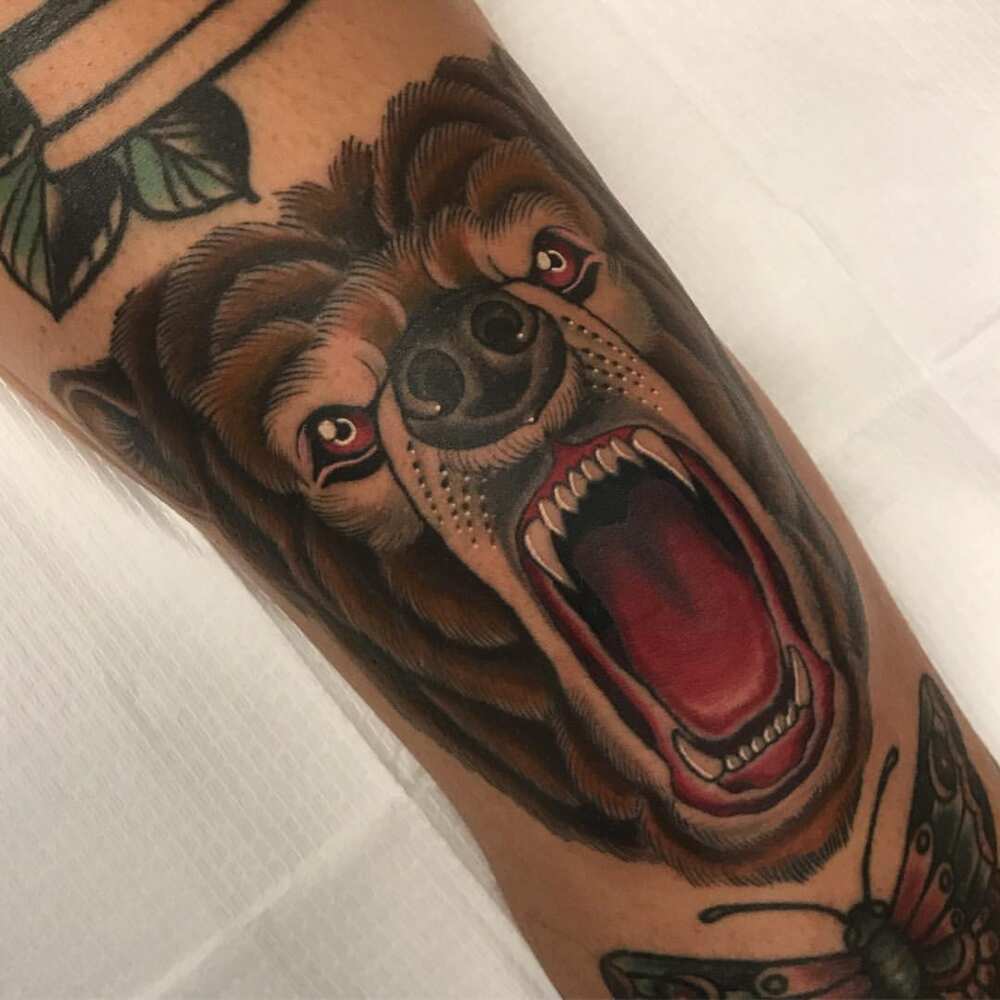 This is among the most popular and most parlours will definitely have it on display in different designs. Popular among men, it may be rocked to symbolise the honour associated with a successful hunt as well as healing. The meanings may change with different works, but the truer sense of strength and confidence still stands.
5. Black bear tattoo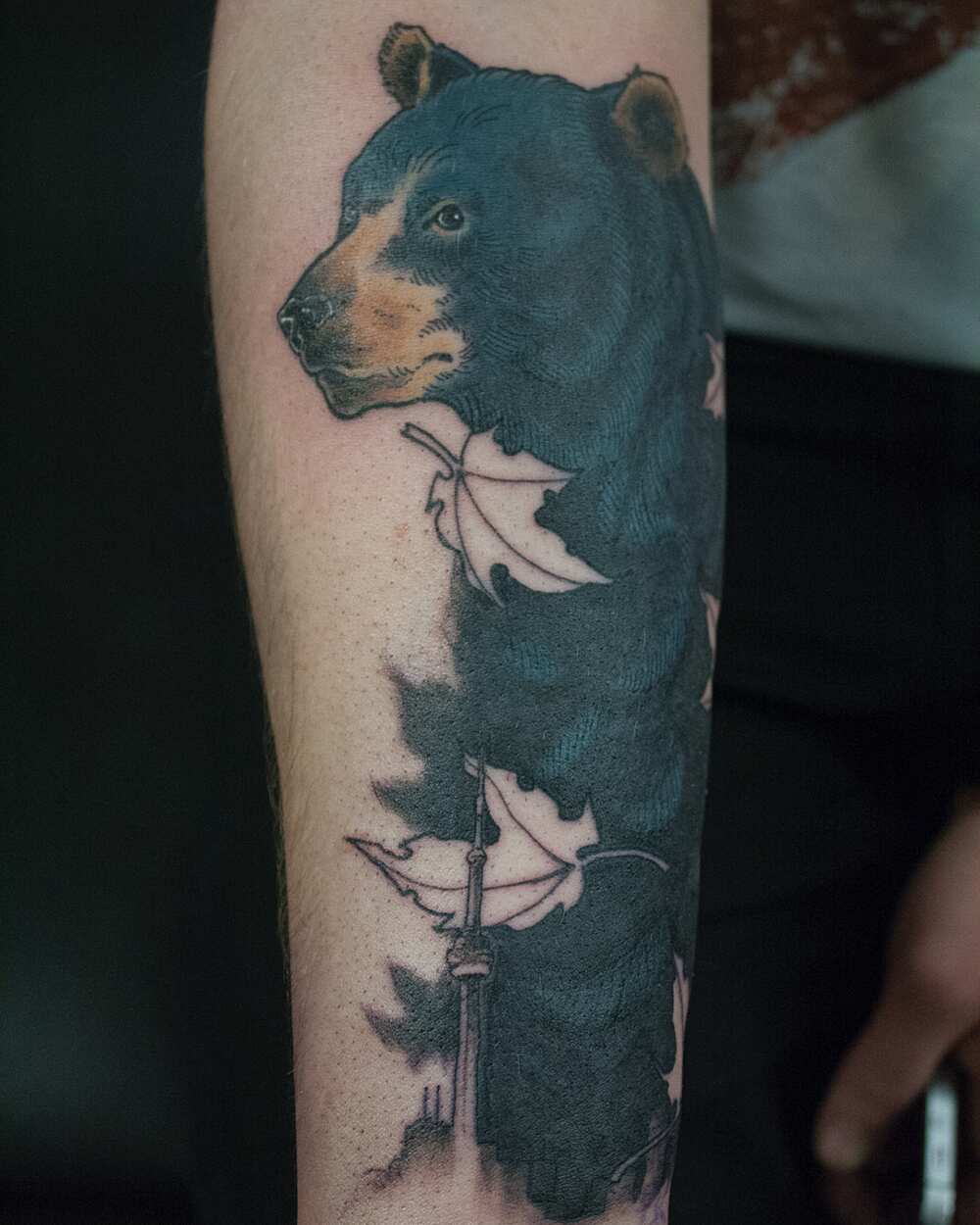 Currently, the mammal is symbolically used as the national animal of Finland while the United States considers the black variety to be state animals. Most ladies rock this art in different forms to symbolise power and strength.
6. Artistic bear head tattoo and surrounding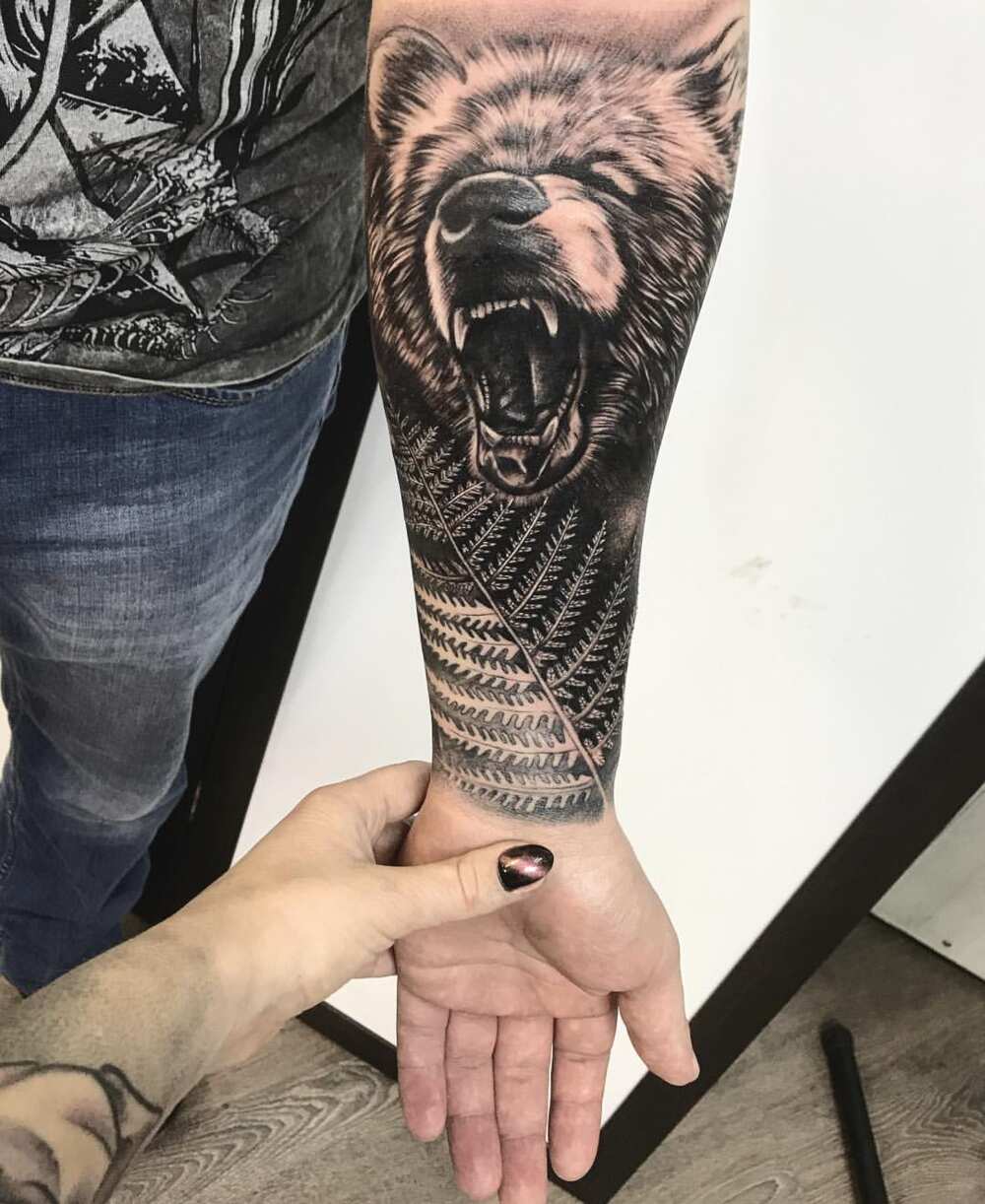 This design comes in many shapes, and you can choose from a wide variety of art forms. Also, you can sample a design and with the help of your artist, come up with a customised piece carrying the same meaning and bear symbolism.
7. Customized traditional grizzly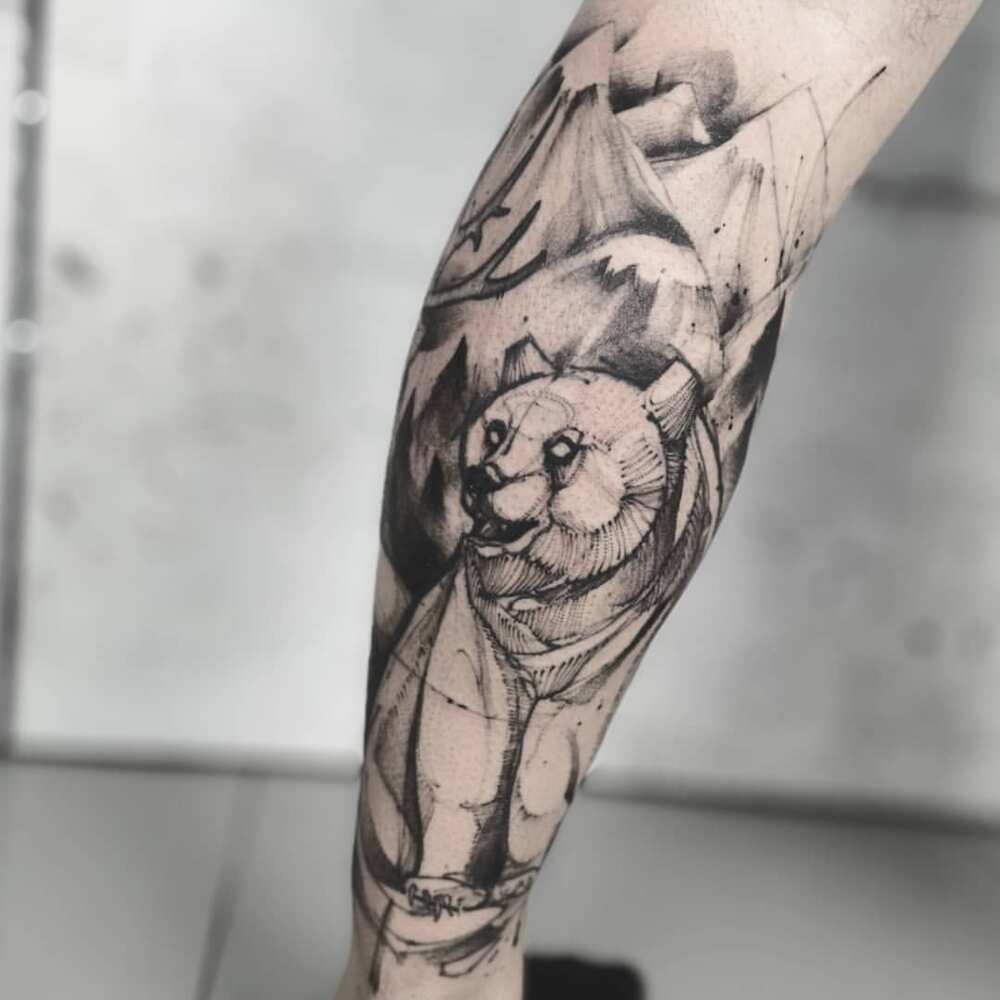 Along with choosing to personalise the normal design with different customization options such as eye colour, paw pad embroidery, and fur colour, your artist can as well work with you to come up with a unique design.
8. California bear tattoo artistic work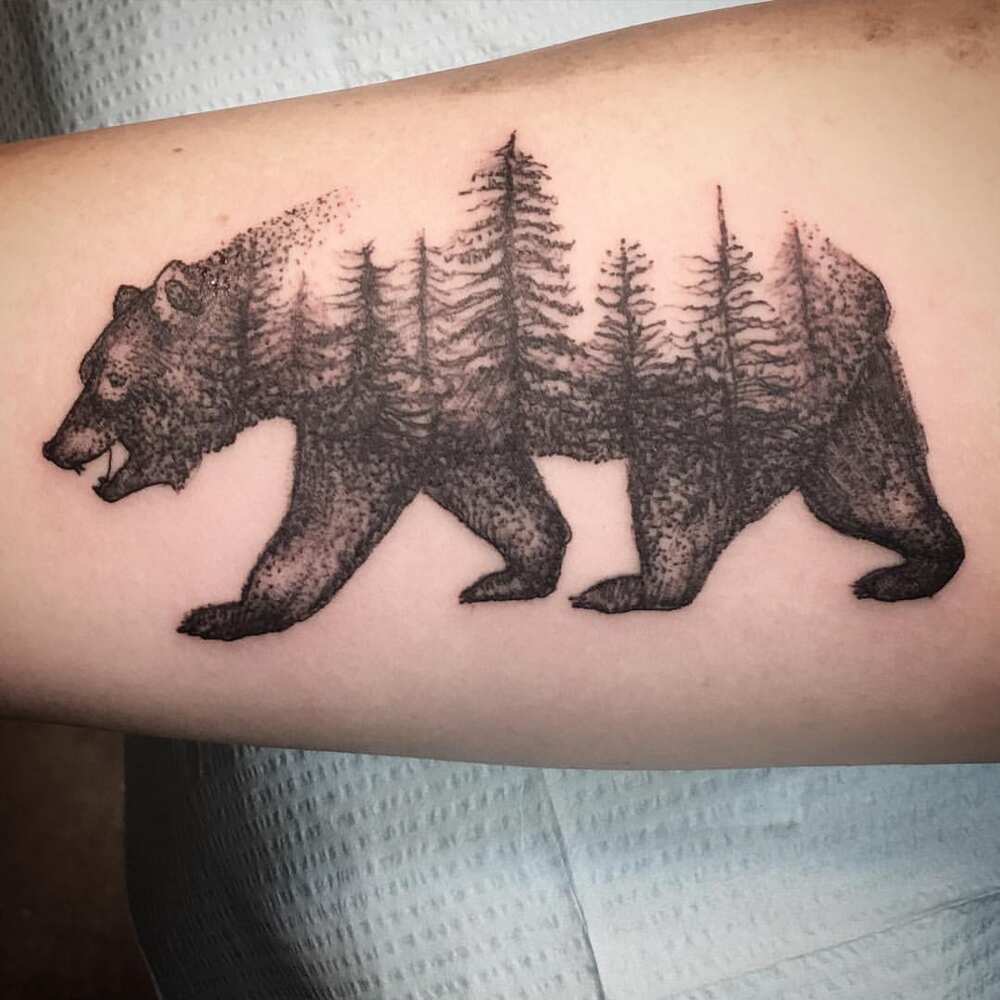 This incredible design is a combination of geographical patriotism and an incredibly bold bond with one of the most ferocious creatures of the planet. For ink that comes with a furious punch while also delivering a message of environmental conservation, most enthusiasts are embracing the brilliance in this form of body art.
9. Bear skull tattoo with a scenic surrounding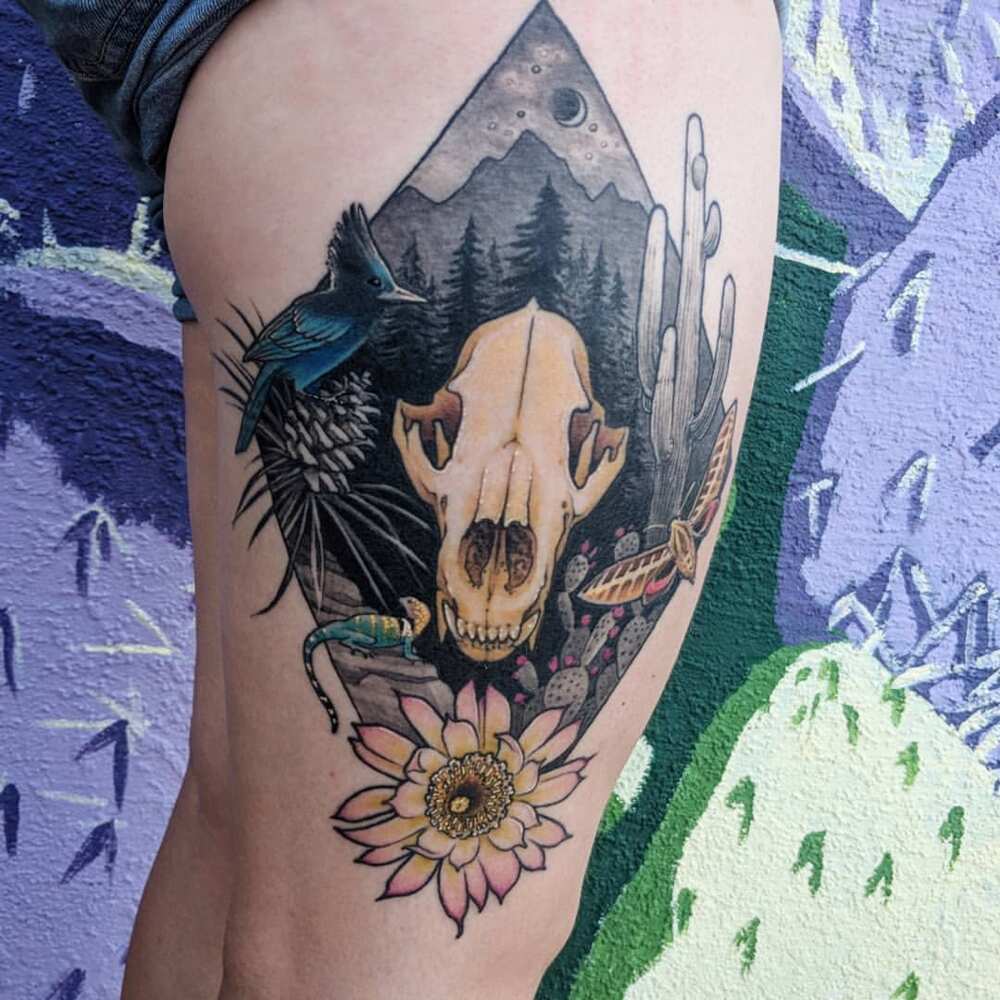 The design is often preferred by solitary souls that have an unwavering sense of ancestral pride and social duty. Alongside your preferred artist, you can use the sketch to create an incredible design that can be as simple or ornate as you would like it to be.
10. Bear outline tattoo on any part of the body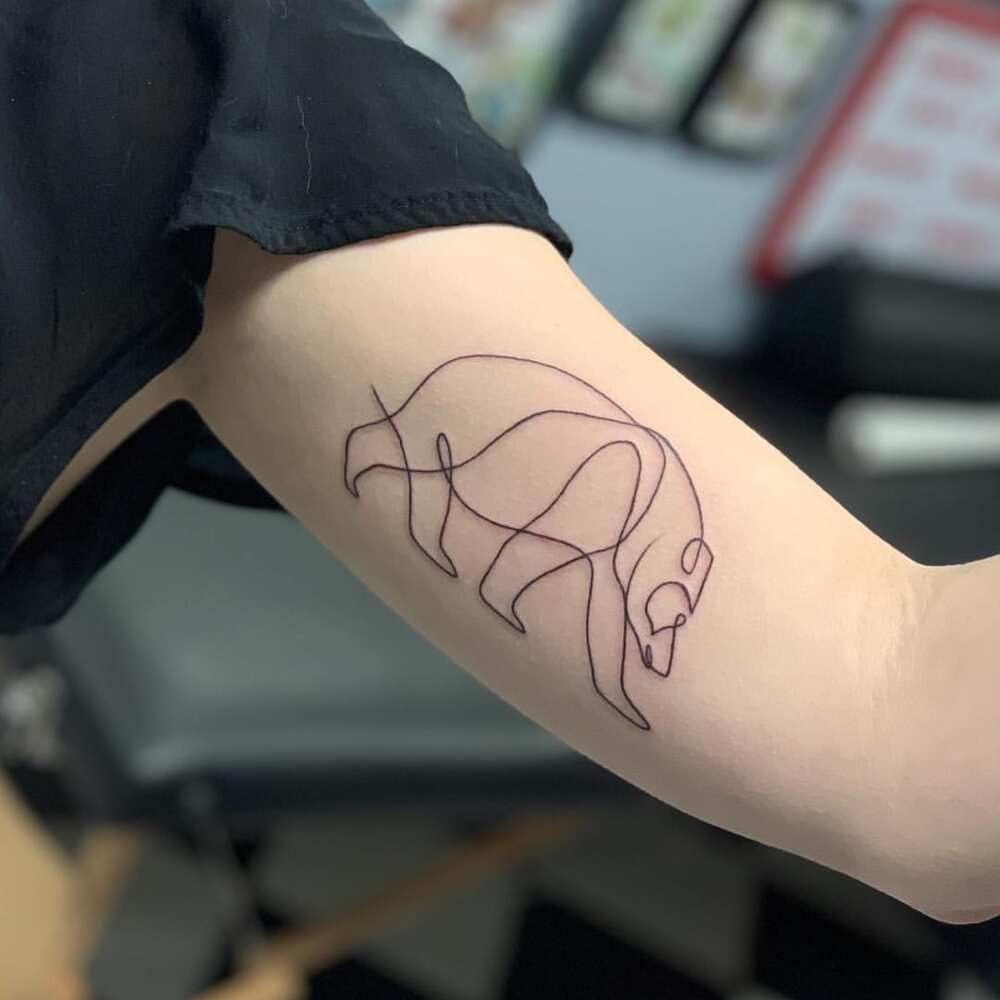 This ink design is another that is worth considering due to their simplistic nature and their ability to be designed further. Depending on your preferred size and design, you can have it on any part of your body from chest, biceps, to your thighs or legs.
11. Bear tribal tattoo with a simple outline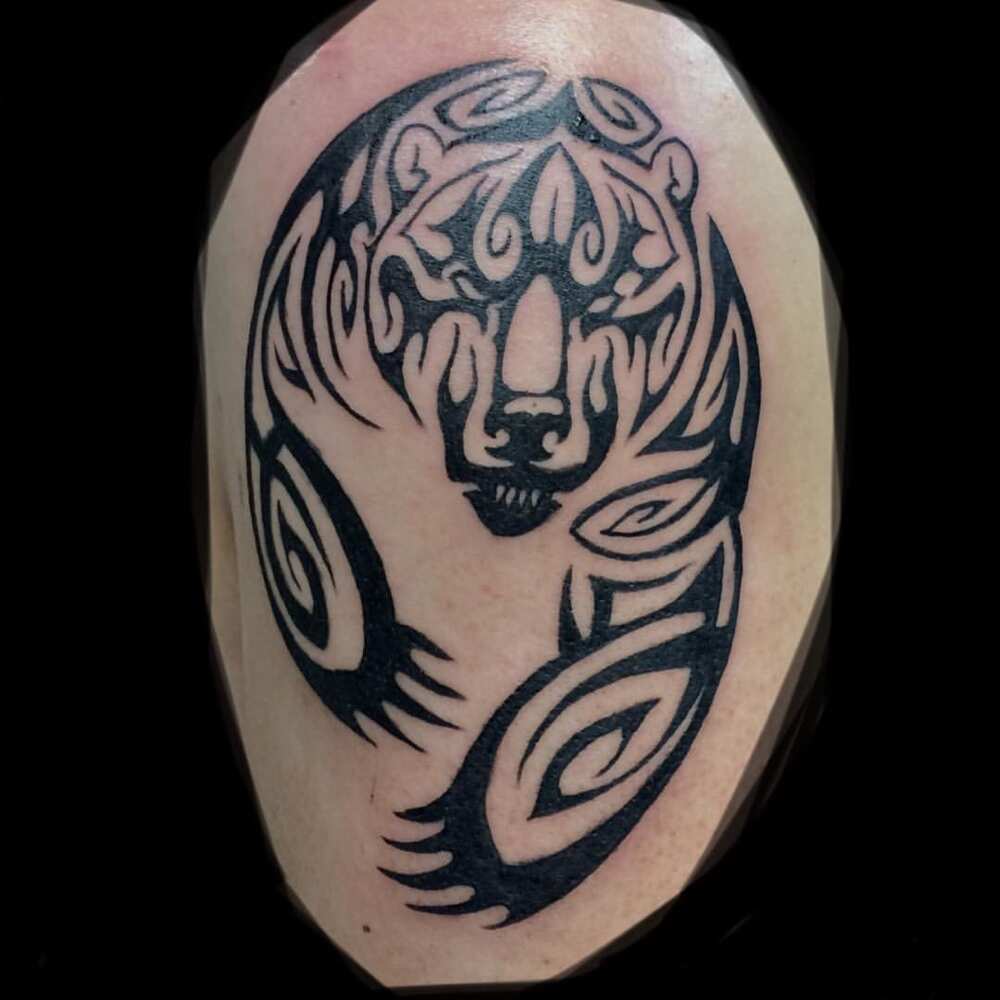 This is one of those designs that you can create out of a clear outline. You can customize the design according to your own preferences for it to hold that personal meaning that you intend to demonstrate artistically.
12. The Indianian hunter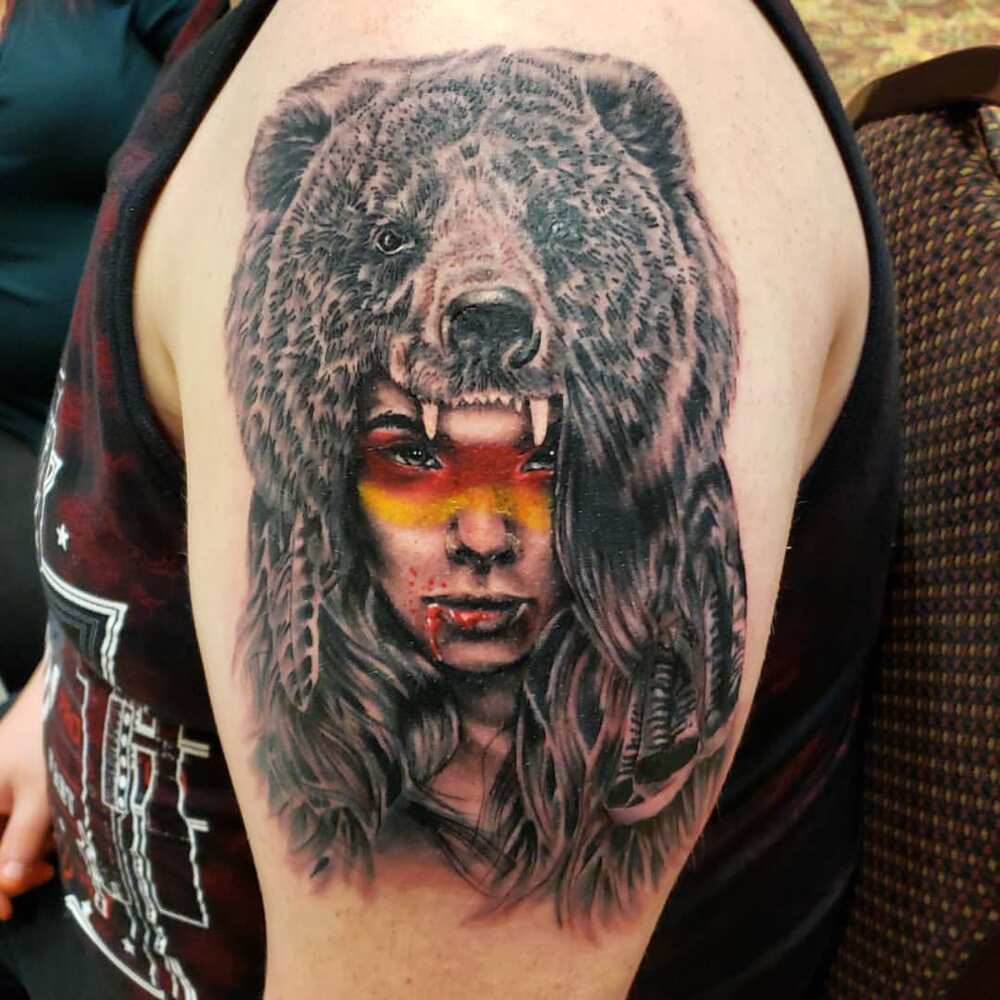 This incredible design is preferred by both men and women and rocking it gives the impression of a gigantic mauling machine. You can choose your preferred background or customize the image itself to bring out the artist in you. Most such ink designs are ideal for the back, biceps or chest.
READ ALSO: Cartilage piercing: a guide to pain, cost, healing, and aftercare
13. Mother and cubs at the pole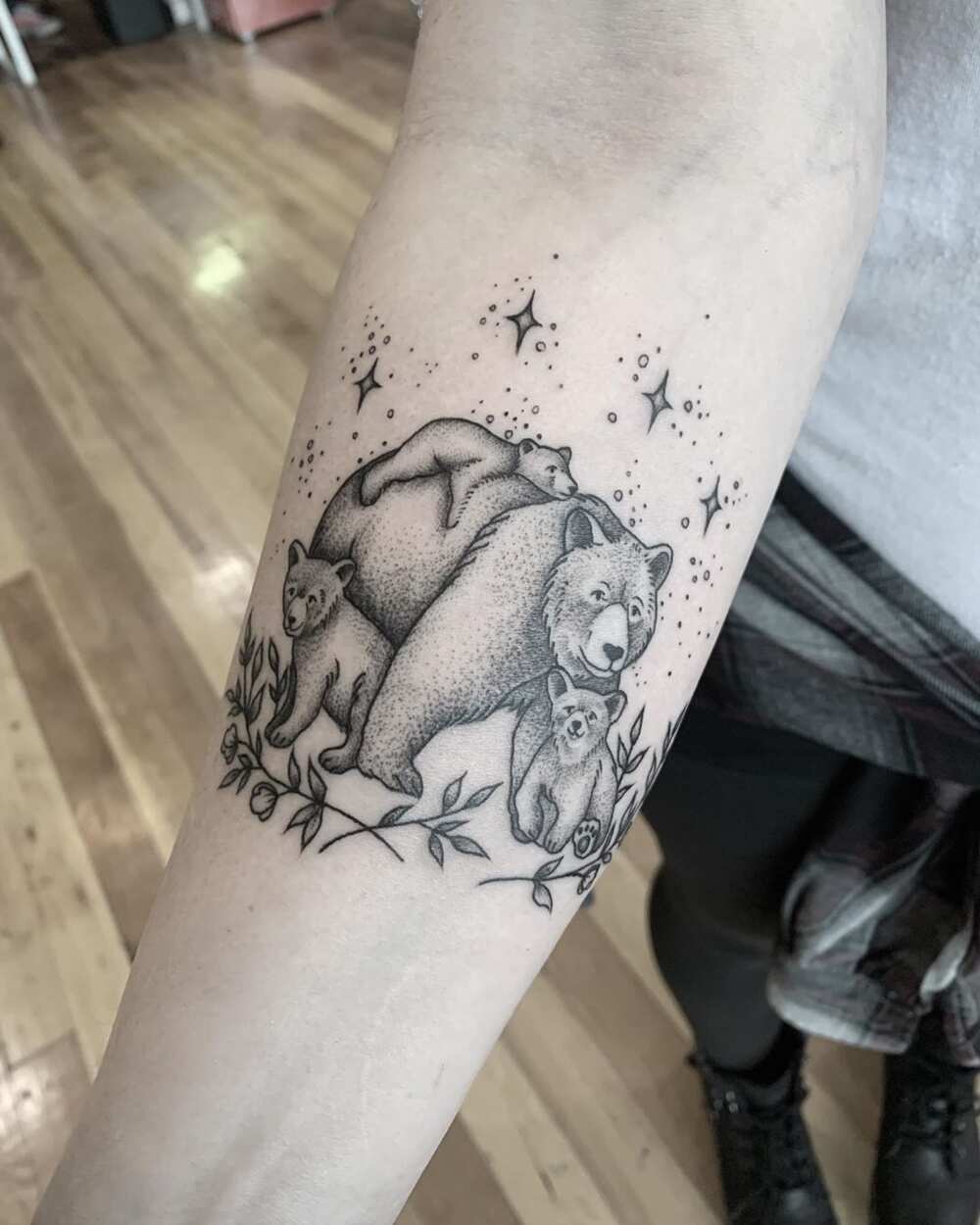 This one can be another worth considering its symbolic meaning of gentleness and aggressiveness. You can rock this design in many ways, from having outlines of the mother and the cubs to fully drawn piece with fur colour.
14. Teddy bear tattoo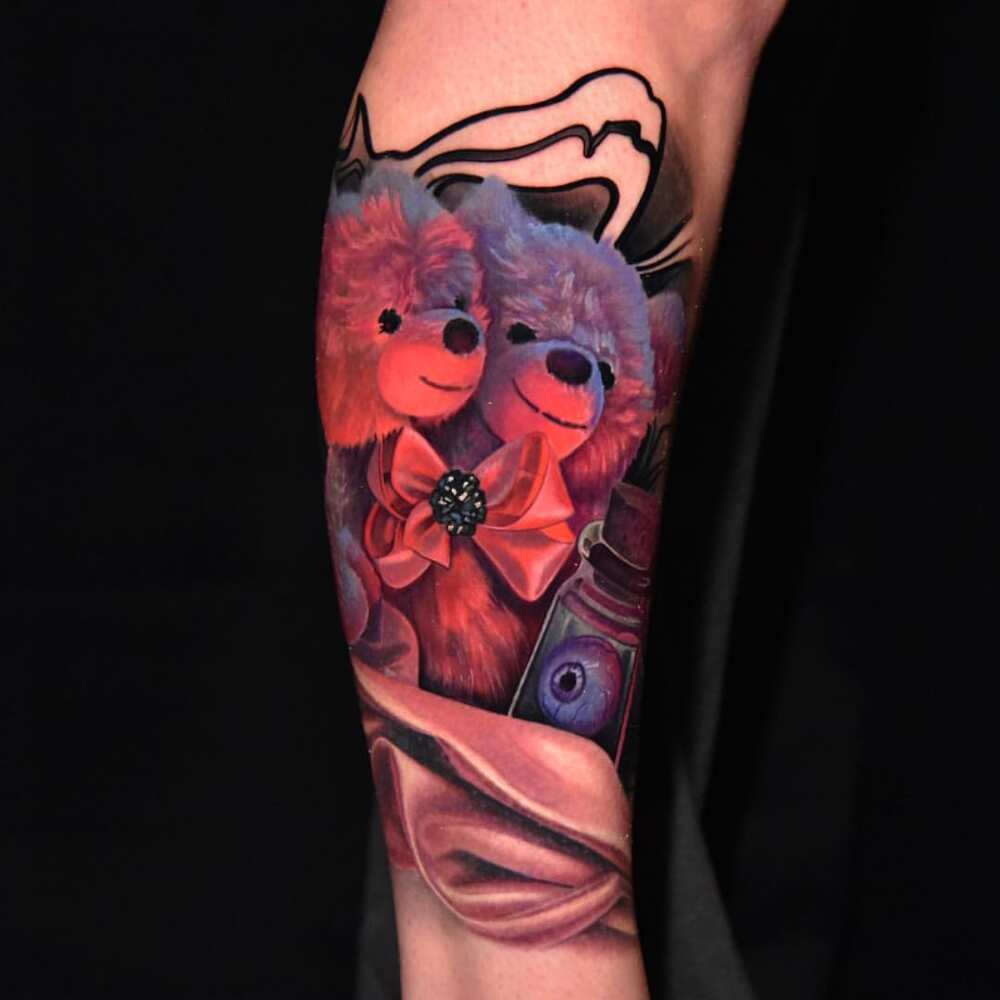 There is something about these characters that brings a fuzzy and warm feeling all over. Imagine getting this feeling whenever you glance at your own artistic ink. This design has been used across genders for quite some time now, and it is a universally acknowledged idea known to invoke feelings of innocence and love.
15. American traditional bear tattoo
In Native American culture, the incredible creatures were deemed to be an almost supernatural creature that was also wise and strong. With this ink design on your skin, you get to discover wisdom, courage and ferocious power.
16. Geometric bear tattoo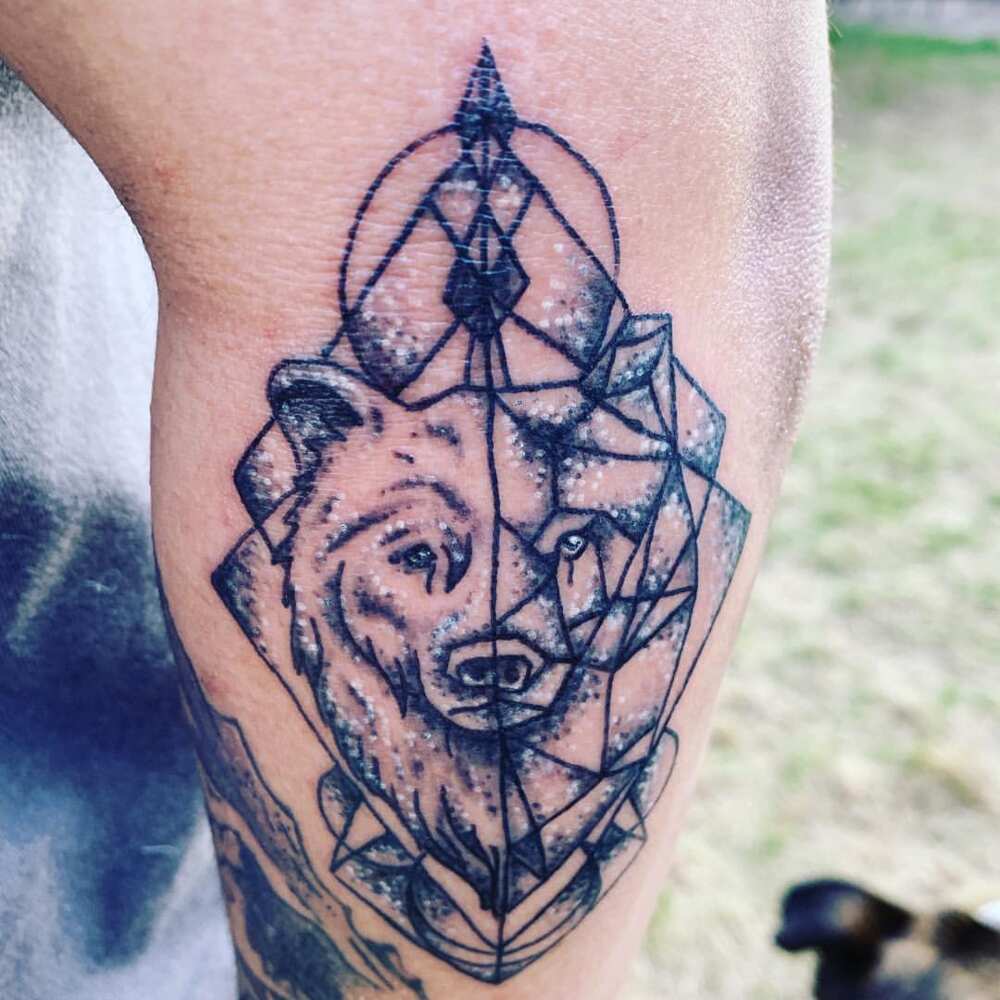 With this ink design on your skin, you get to discover power and courage illustrated in unique shapes to form amazing inscriptions for both ladies and gents. They come in many forms, and you can choose the appropriate one that still keeps the symbolism.
17. Grizzly ink on the chest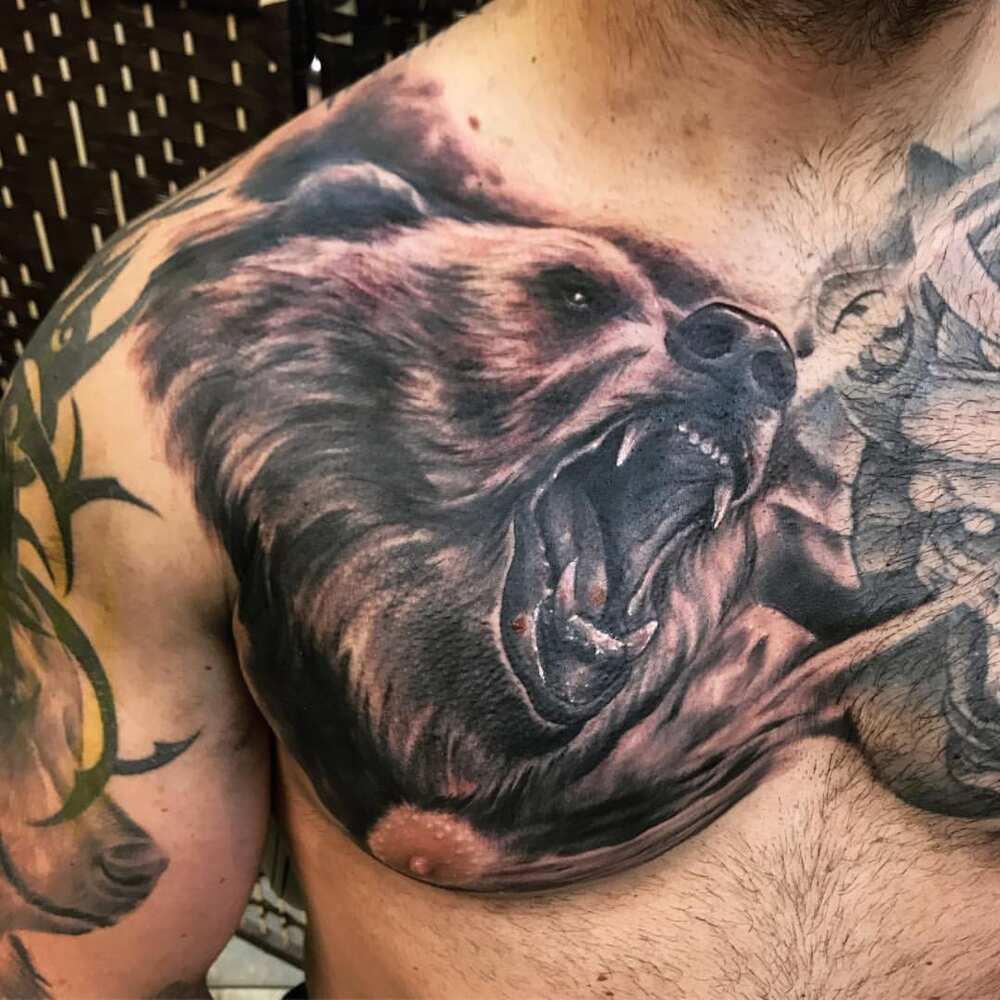 Both the black and grizzlies never back down to anyone, and they can fight to the death for the sake of their family. Consequently, the grizzly is among the most common of all designs that fascinate enthusiasts. Those rocking this big bear tattoo design consider themselves fighters as the designs are the face of the spirit of a warrior.
18. Grateful dead bear on your arm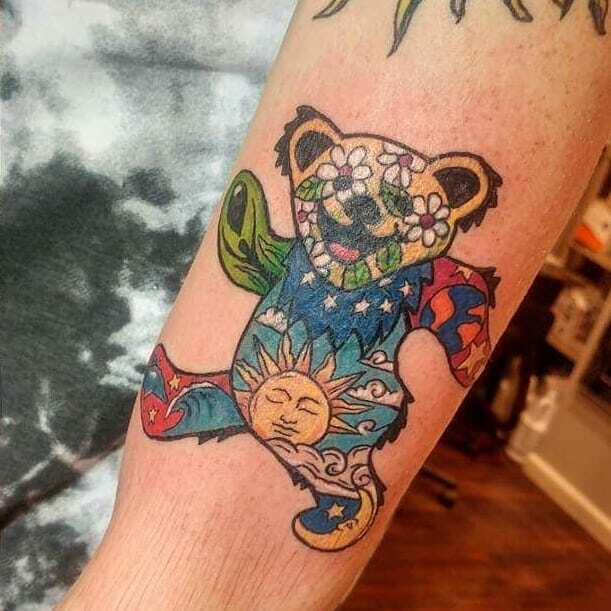 You can rock this design in honour of Bob Thomas, the original creators of the colourful images used in the album 'History of the Grateful Dead'. You can choose to use one or more of the images and customize the colours used to match your preferences.
19. Temporary bear tattoo
If you are not in for that long term ink, then you can still choose from a wide variety of designs that portray your connection with the incredible mammal.
20. Cub and momma art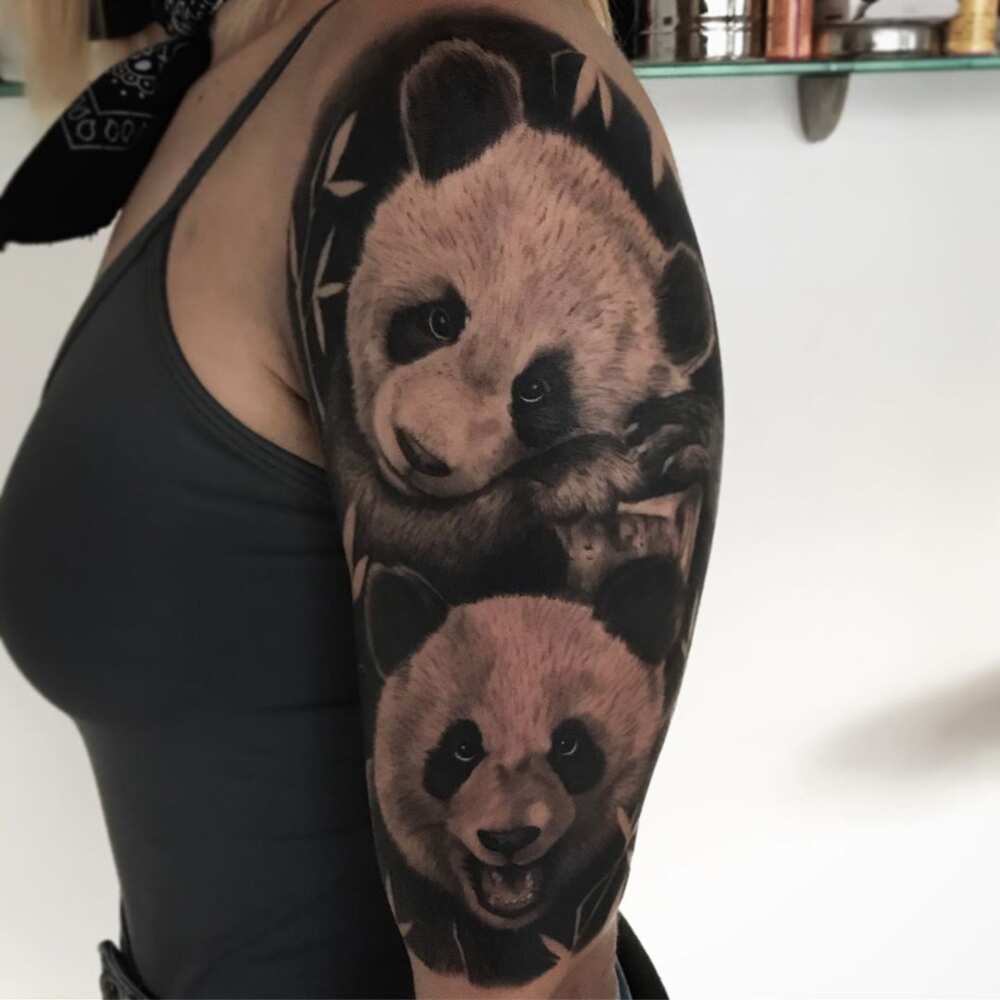 Most girls choose to have this design as it embodies family and love for children. It further is a unique symbol of art since it comes with a new shape of boldness and responsibility to its coat whenever a predator comes near the cubs.
21. Mountain design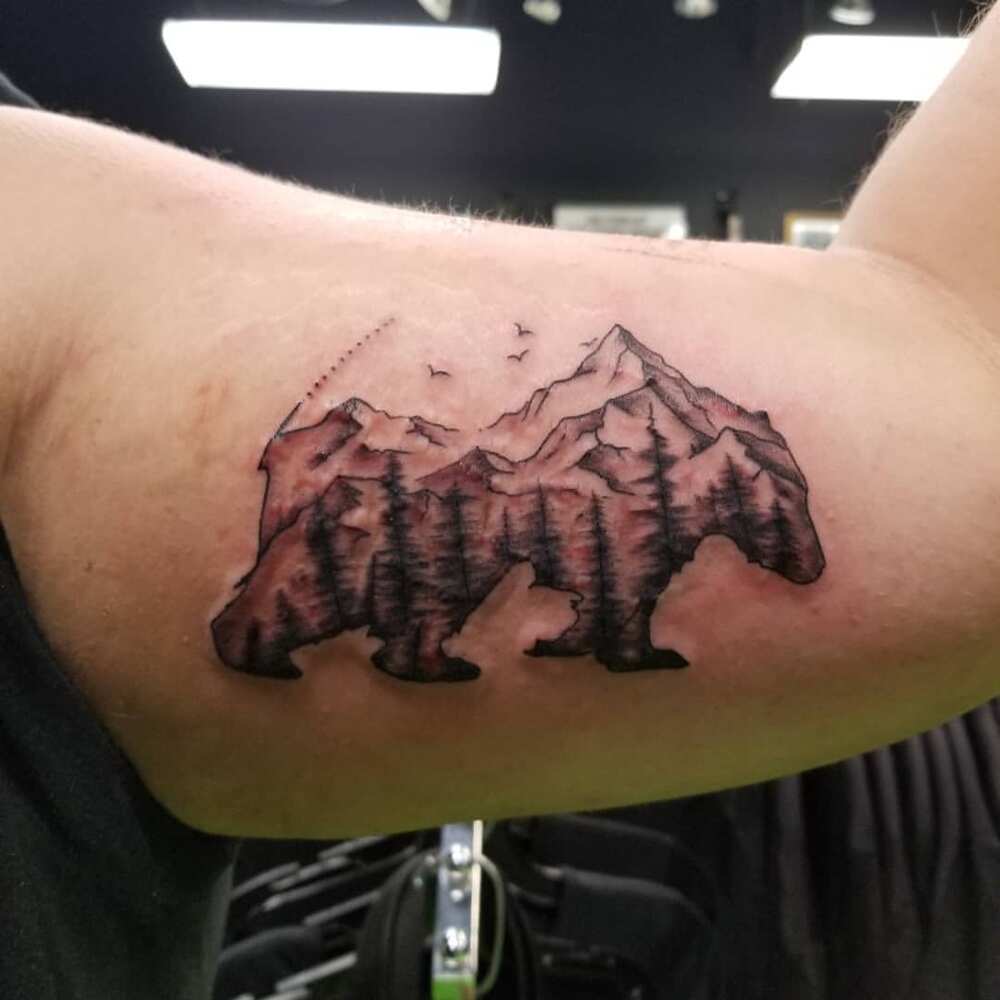 This one can be associated with masculinity, domination, force, power, and authority. According to a Chinese legend, if a lady dreams of the majestic creature while she is pregnant, it is definitely going to be a boy. The female one, on the other hand, depicts maternal wisdom. You can customize any of these ideas to mountain patterns that add art to the symbolism.
22. Baby grizzly ink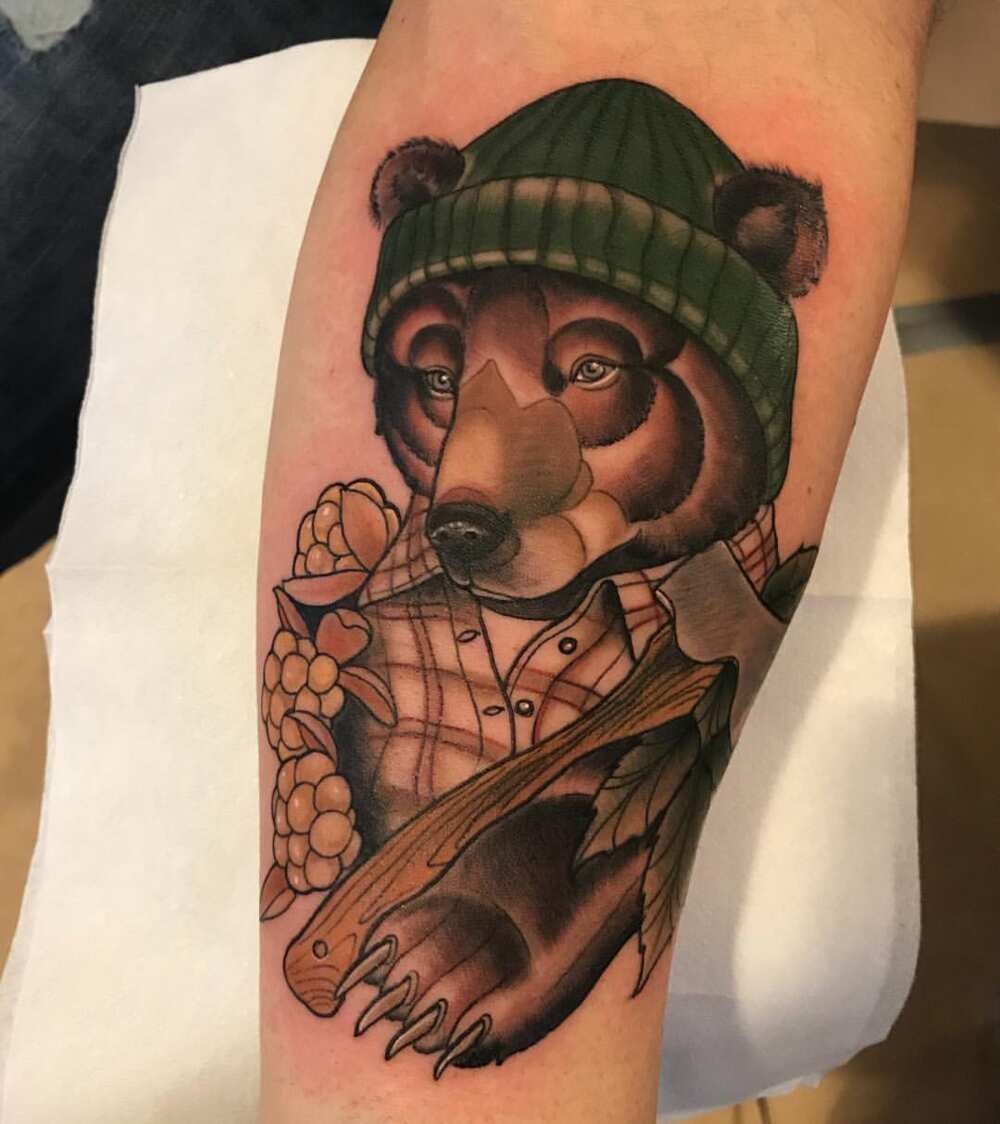 This variety can suit you if you are one of those who cherish their deep inner world. You can have it on to symbolise energy and freedom. Also, if you are not capable of quick reactions and nurture no evil thoughts, then this is the ink variety you should get.
23. Watercolour drawing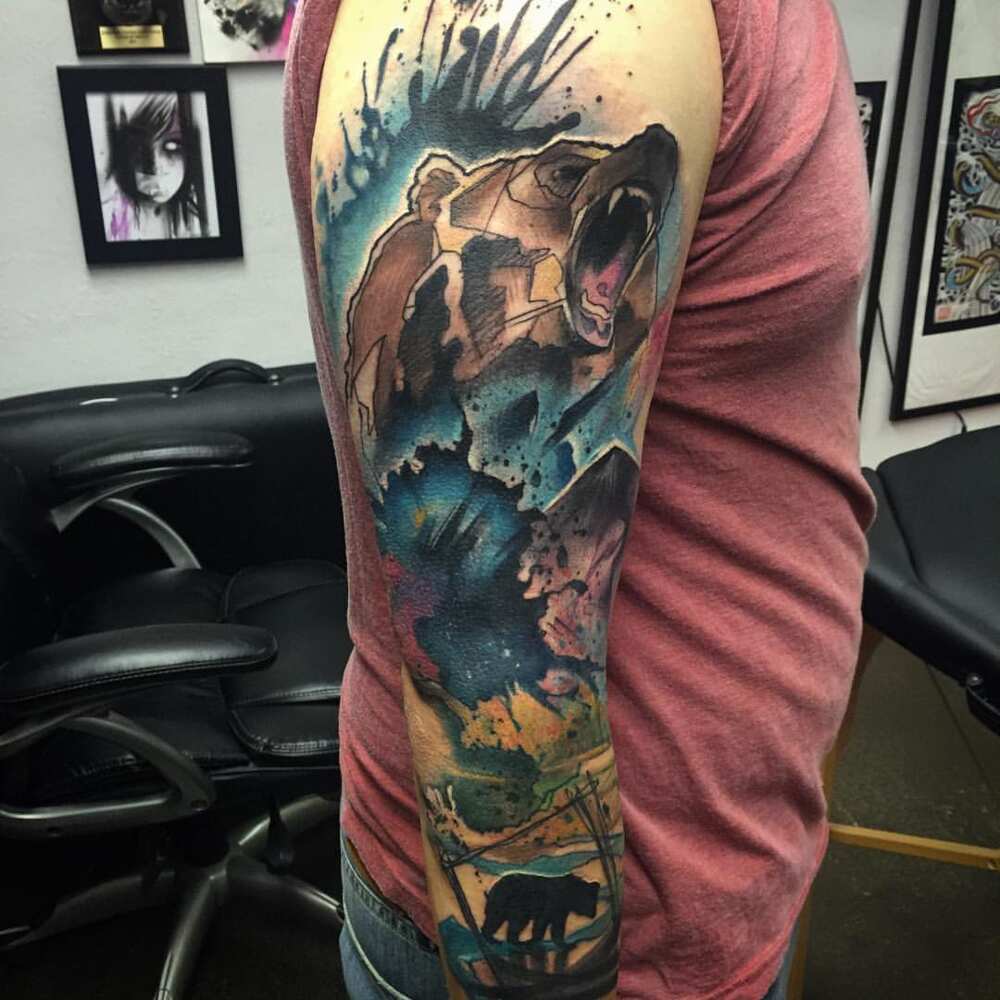 In a realistic style, the image can be inked with a wide variety of colours, shadows, shades, and shading-offs to come up with a creative yet meaningful design. It looks great on the chest, back or thighs.
24. Creepy grizzly ink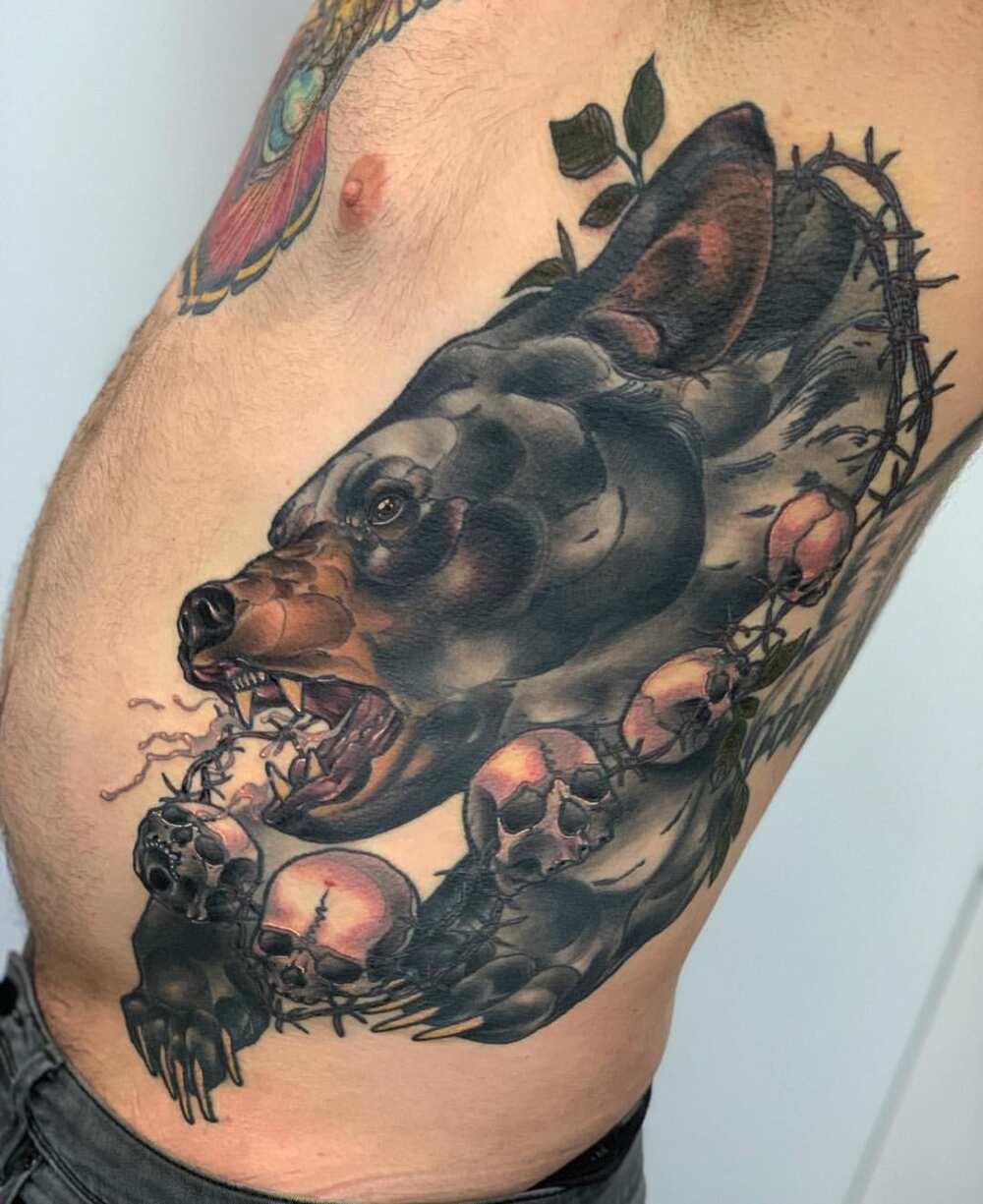 In a fun yet creepy way, you can toss the concept of an innocent cub image by including additional elements such as claws and fangs, bloodied weapons, skeletons, etc. Whether you are a horror fan or simply appreciate the irony of things, then this can be the ideal design for you.
25. Skull and polar bear tattoo
It is men who mostly prefer to ink a combination of the animal and skulls customized according to the preferences of the respective individuals. The polar bear tattoo can mean courage, physical and spiritual strength, as well as the ability to battle an enemy and push through all adversity.
26. Celtic artistic expression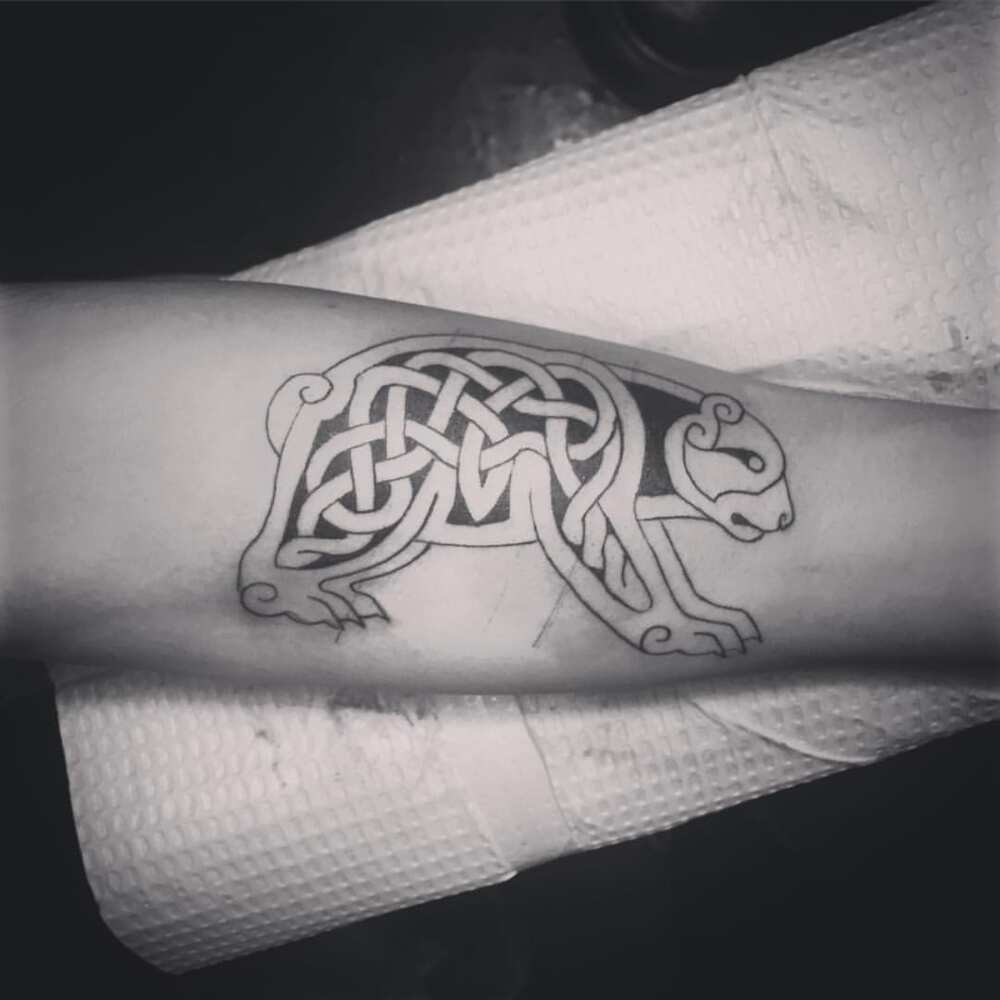 This creature is associated with lunar power in Celtic symbolism. Wearing these ink designs with Celtic origins would symbolise your spiritual side, ties with the tradition of Ireland, and connection with the elements of nature.
27. Bear chest art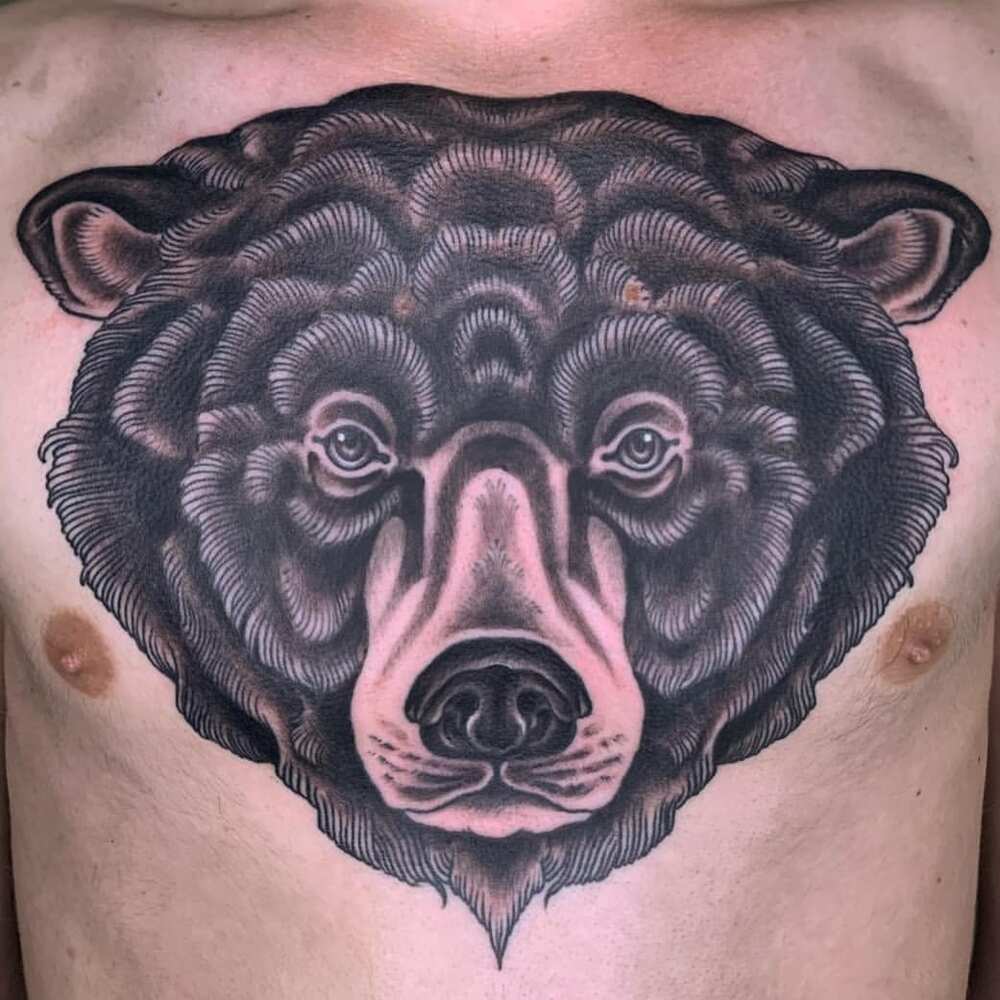 Some enthusiasts, mostly males, choose to ink different designs on their chests for better presentation. You can either fill both sides with your symbolic design or just have it on one side.
28. Simple grizzly ink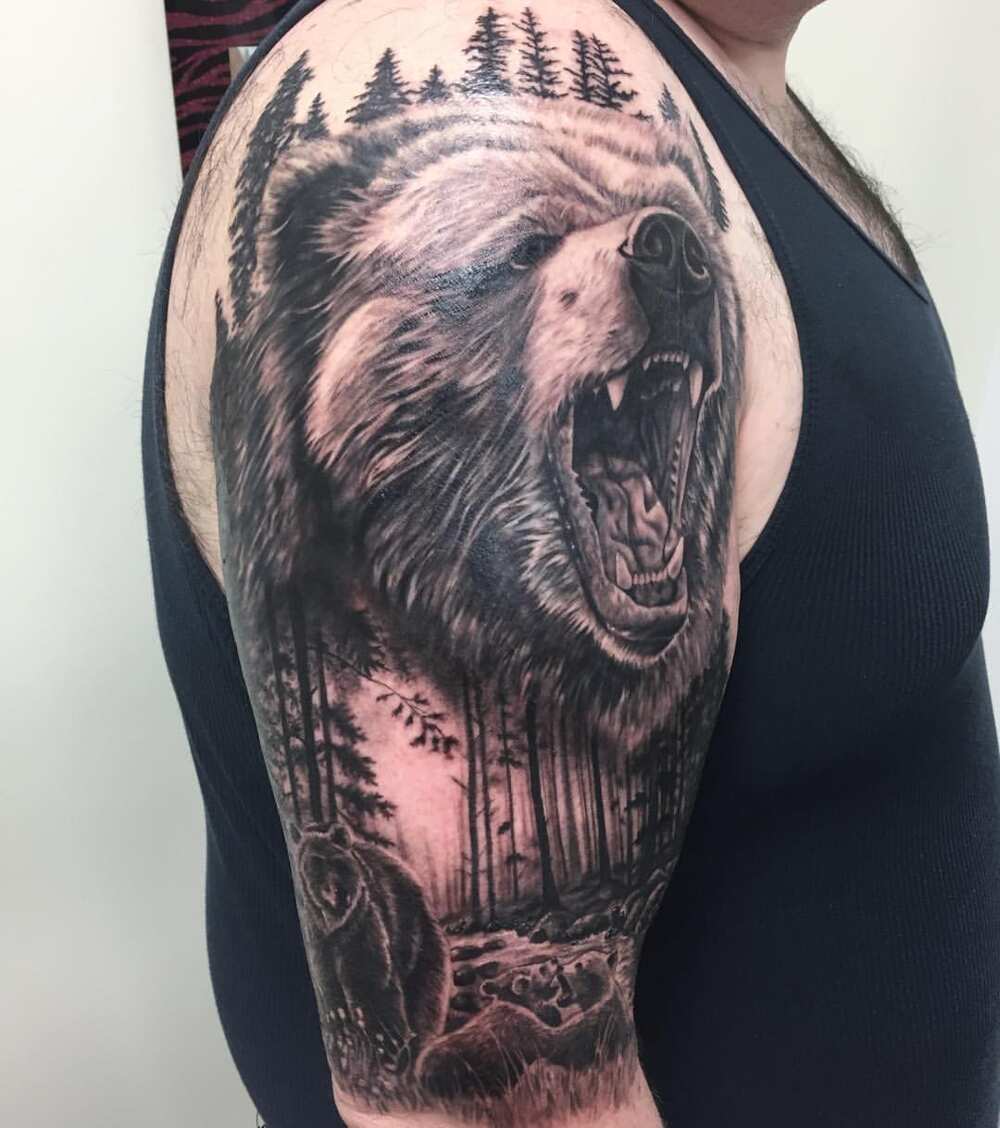 A simple image of the animal inked under your skin offers space for imagination while allowing for diverse meanings in the symbolism. The good thing with the design is that you can make any additions in the future.
READ ALSO: 50 cool arm tattoos design ideas for men and women
29. Cute design for the leg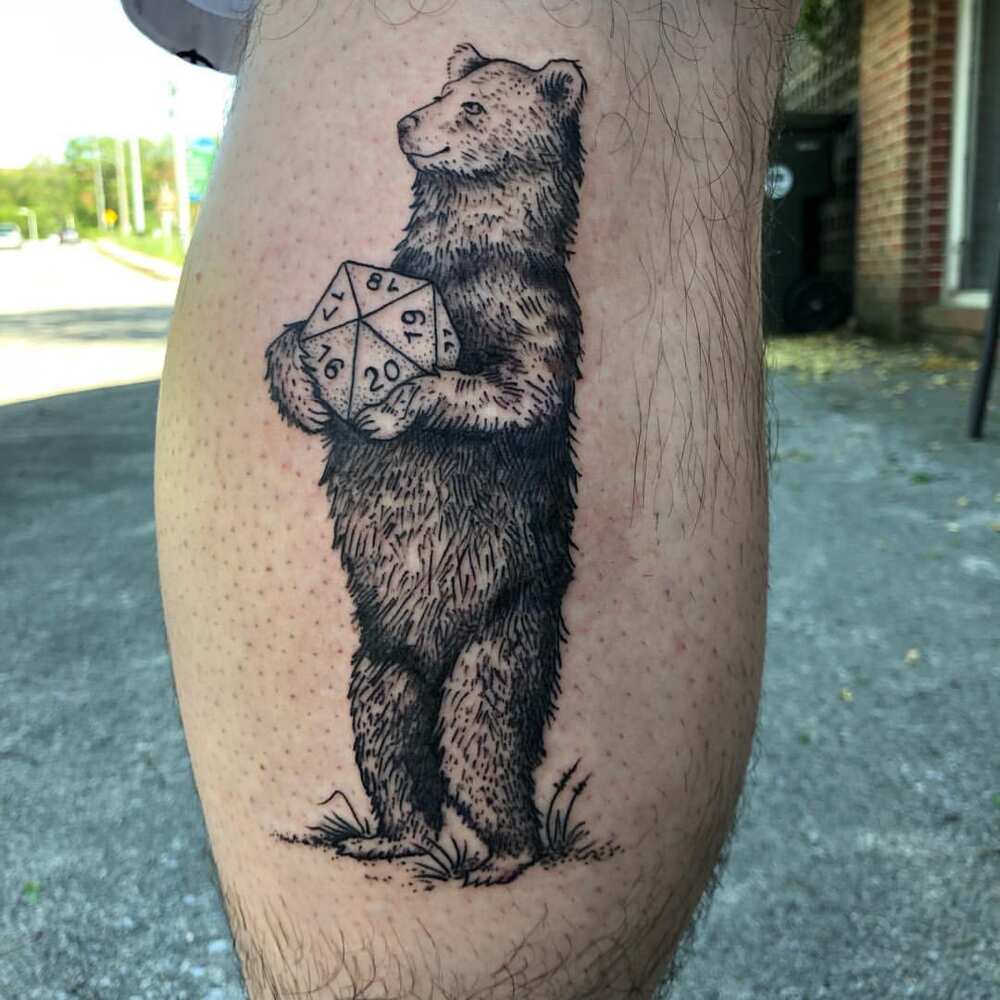 Mostly preferred by men, you can also choose to ink your favourite grizzly image on your foot.
30. The panda ink design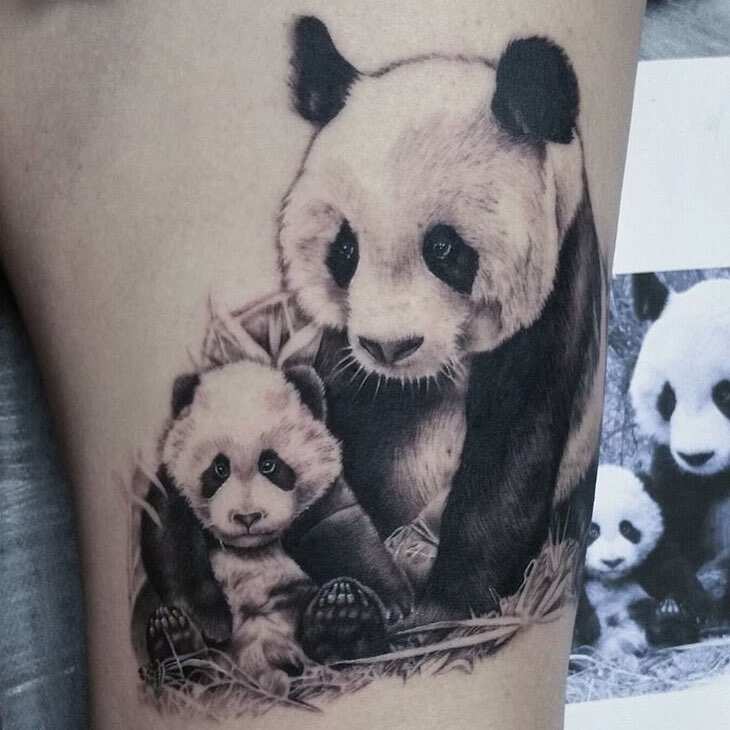 Considered the most popular yet rarest of all the varieties, this particular breed is among the most requested for in most parlours. Most associate the white and black distinction in colour with the Chinese symbol that means harmony. Generally, you can have this design to represent good luck, peace, and hidden fierceness.
31. Koala on your biceps, chest or legs
If you are in need of a unique design, then this idea will certainly fit the bill. Not only is the creature slow-moving, but it also gets extremely friendly. Due to their calm demeanour and adorable looks, it can facilitate a range of incredible ink designs.
32. Cartoon characters
You definitely have one or several adorable animation characters that you associate with your childhood, and this can be an inspiration for many ink ideas. From Winnie the Pooh, the most popular, to Boo Boo, you can bring out the nostalgic fun that makes you feel good by having the ink inscribed to your specifications.
33. Haida origin drawings
The design has its origins from the oldest indigenous North American tribe who reside in British Columbia, Alaska, and Canada. Here, it represents spirituality, motherhood, wisdom, and protection, and the inks can either be black, green or red.
34. Gloomy grizzly tattoo design
Mori Chax was the brainchild behind this popular Japanese character who regularly attacks Pitty, the friend, and anyone who crosses his path. Mostly, he is covered with blood from the many previous encounters. Wearing the design simply depicts the true nature of the animal: territorial, strong, brave, protective, and cruel.
35. The Russian bear
This design depicts luck, greatness, and courage. According to the culture, it protects hunters in their adventures, helps them manoeuvre the forest, and give them courage. Notably, it is the national symbol of Russia, but even non-citizens would find the ink to be bold and fancy as it can accommodate different designs
36. The smiling one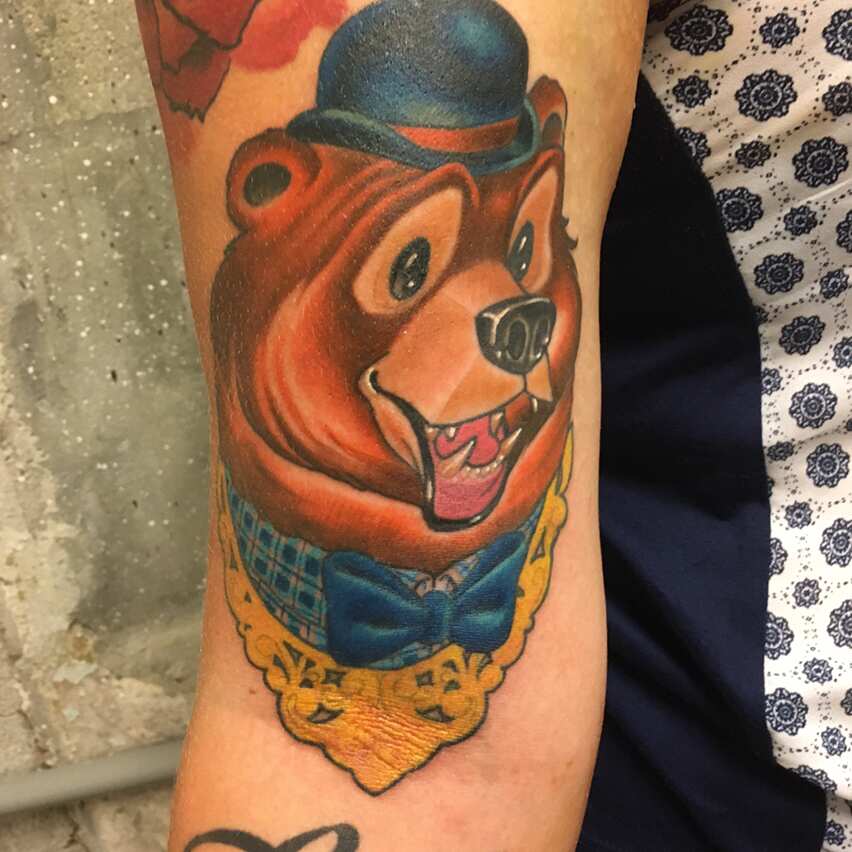 They may be known for their warrior spirits and skills in battle, but a smiling one inscribed under your skin would bring out your calm nature that people should also not take for granted.
37. Fierce expression on your biceps or foot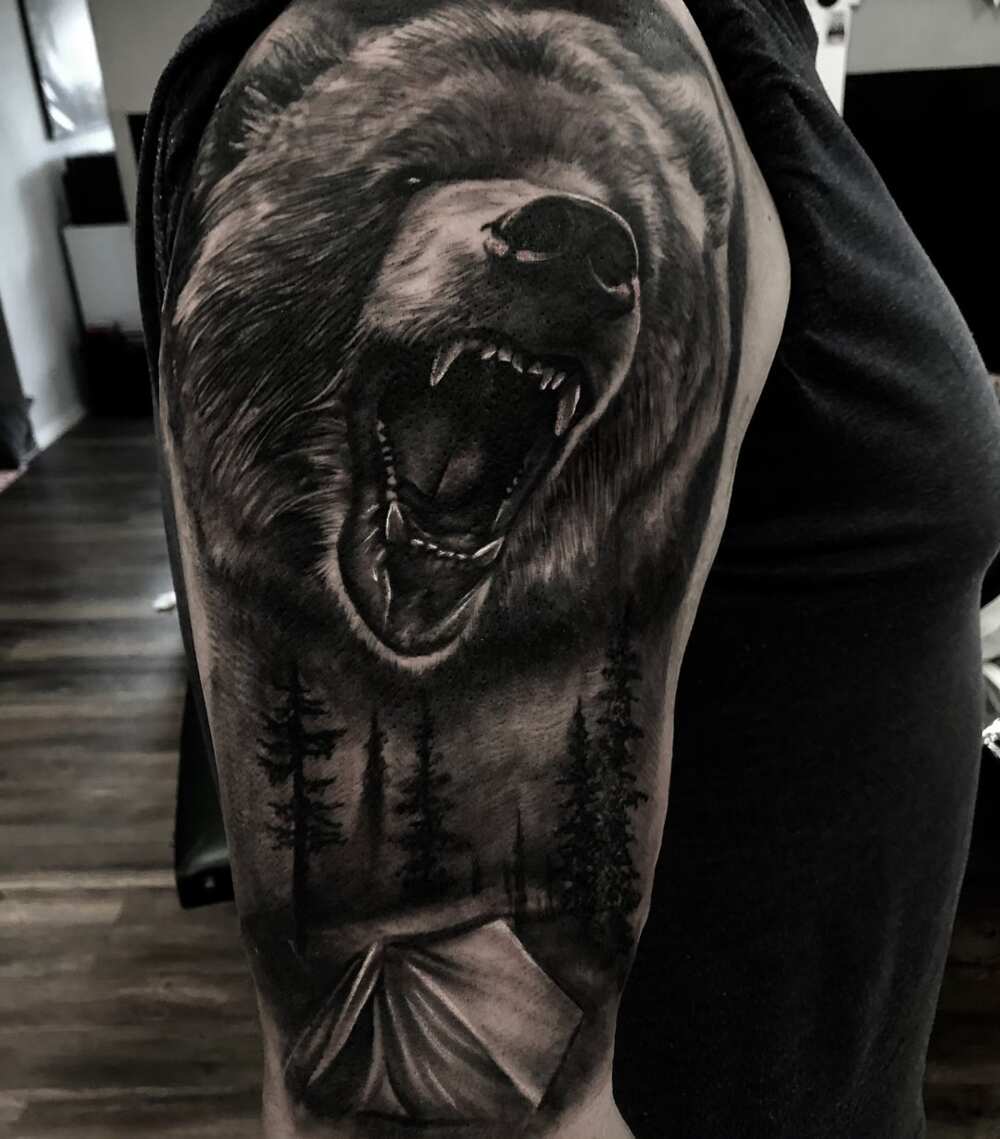 Here is another creative design inspired by the majestic creature. It depicts the fierceness and creativity at the same time.
38. Rage and fury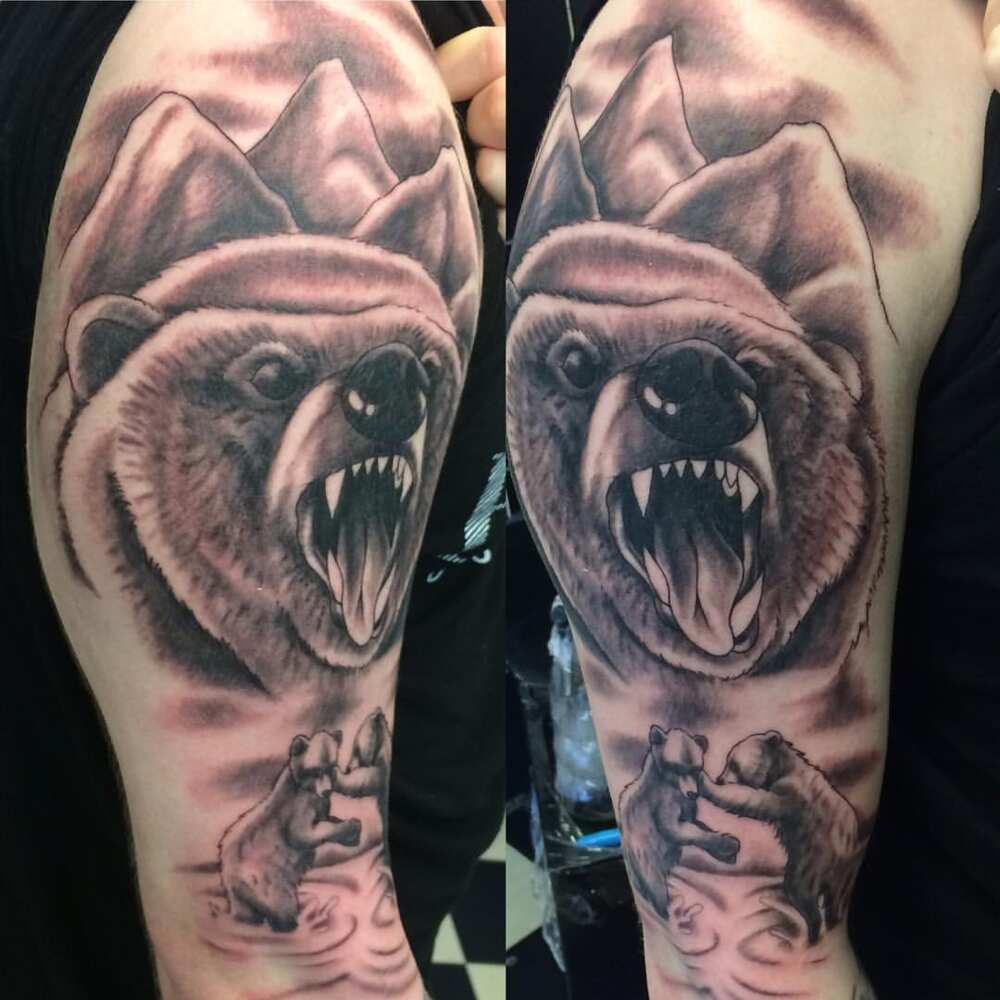 The creature can bring about a great deal of harm and injuries to humans and fellow animals when provoked. You can choose to capture such an instance with ink to symbolise the occasional beast.
39. The caring one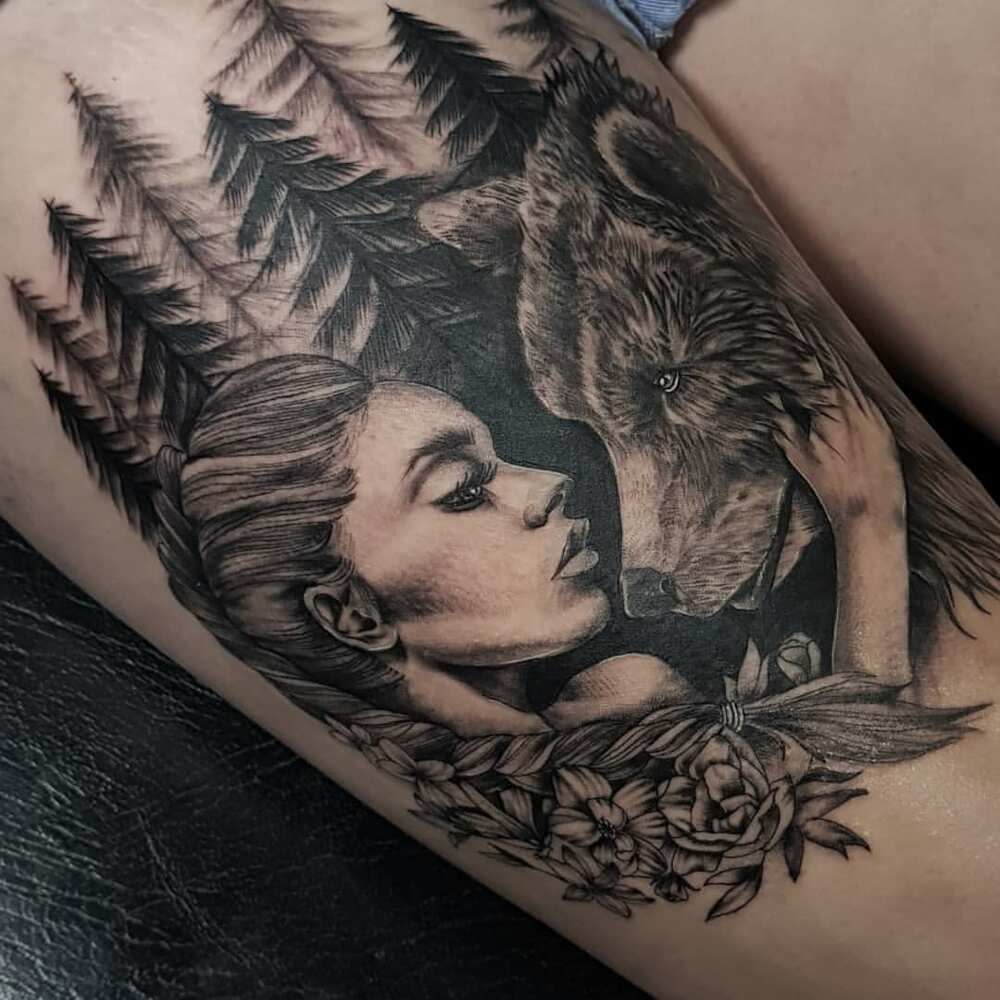 Girls can choose this design to embody care and compassion during difficult times. Not only does it depict concern for other people, but it also serves as a reminder that you are under the protection of a courageous individual.
40. Mother and cub with an abstract approach
Known for her affection towards the cub, mothers can also turn fierce in seconds whenever she feels her young one is in danger. This can be easily captured in a decorated or coloured customized tattoo.
41. Grizzly with scenic landscape
By consulting with your artist, you can capture the inspirational mammal as well as the scenic landscape and incredible mountains in the background.
READ ALSO: 50 Pisces tattoo designs and ideas
42. Artistic 3D paw
Most people choose this design as a symbol of invulnerability and strength, and this is also a direct consequence of drawing the creature's paw. The 3D imagery further lets you view the beastly benevolence in the best way possible.
43. Classic grizzly ink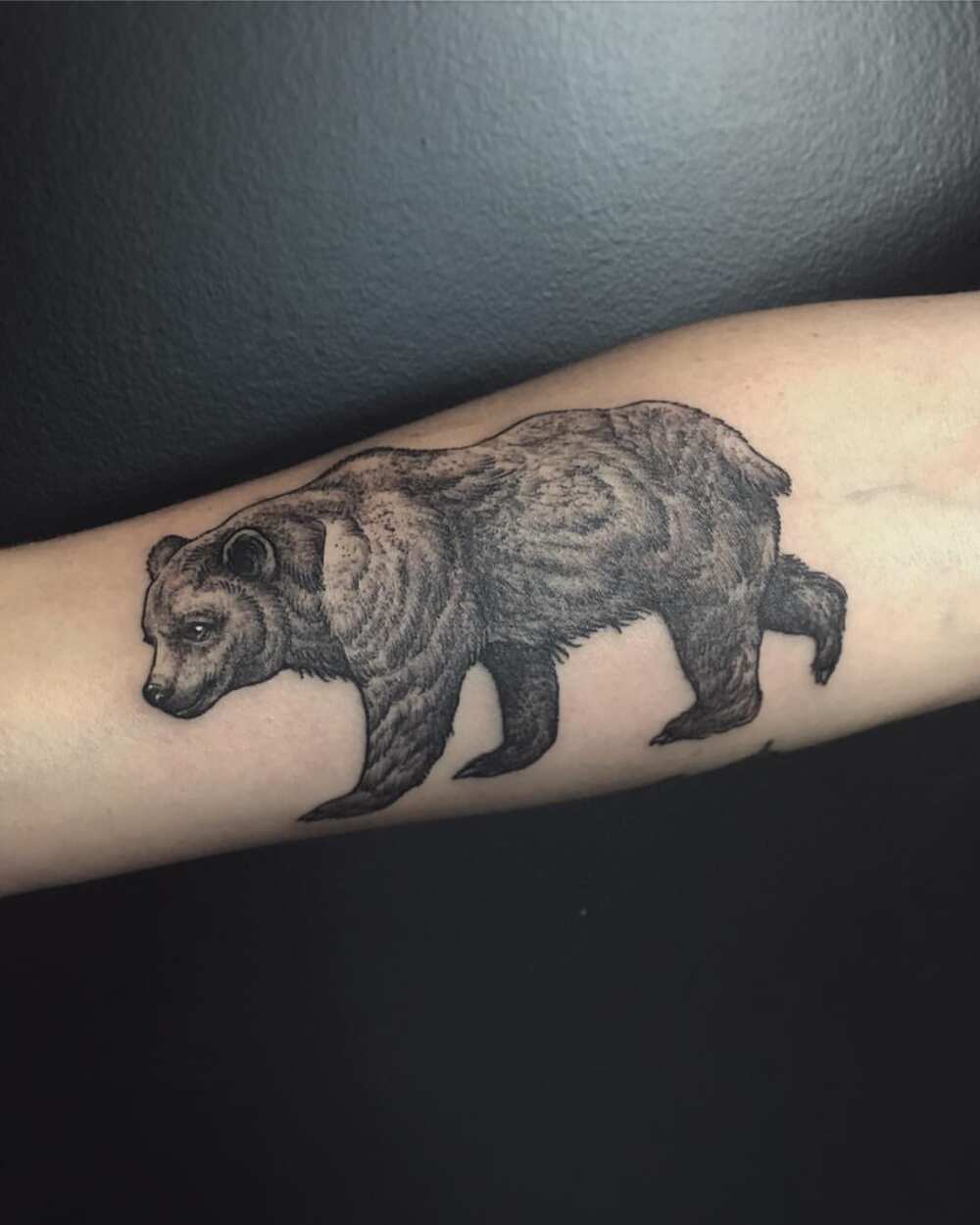 The grizzly can be drawn in different ways for different reasons, but you can still keep the classic bear tattoo with the same symbolic meaning.
44. Belly mauling grizzly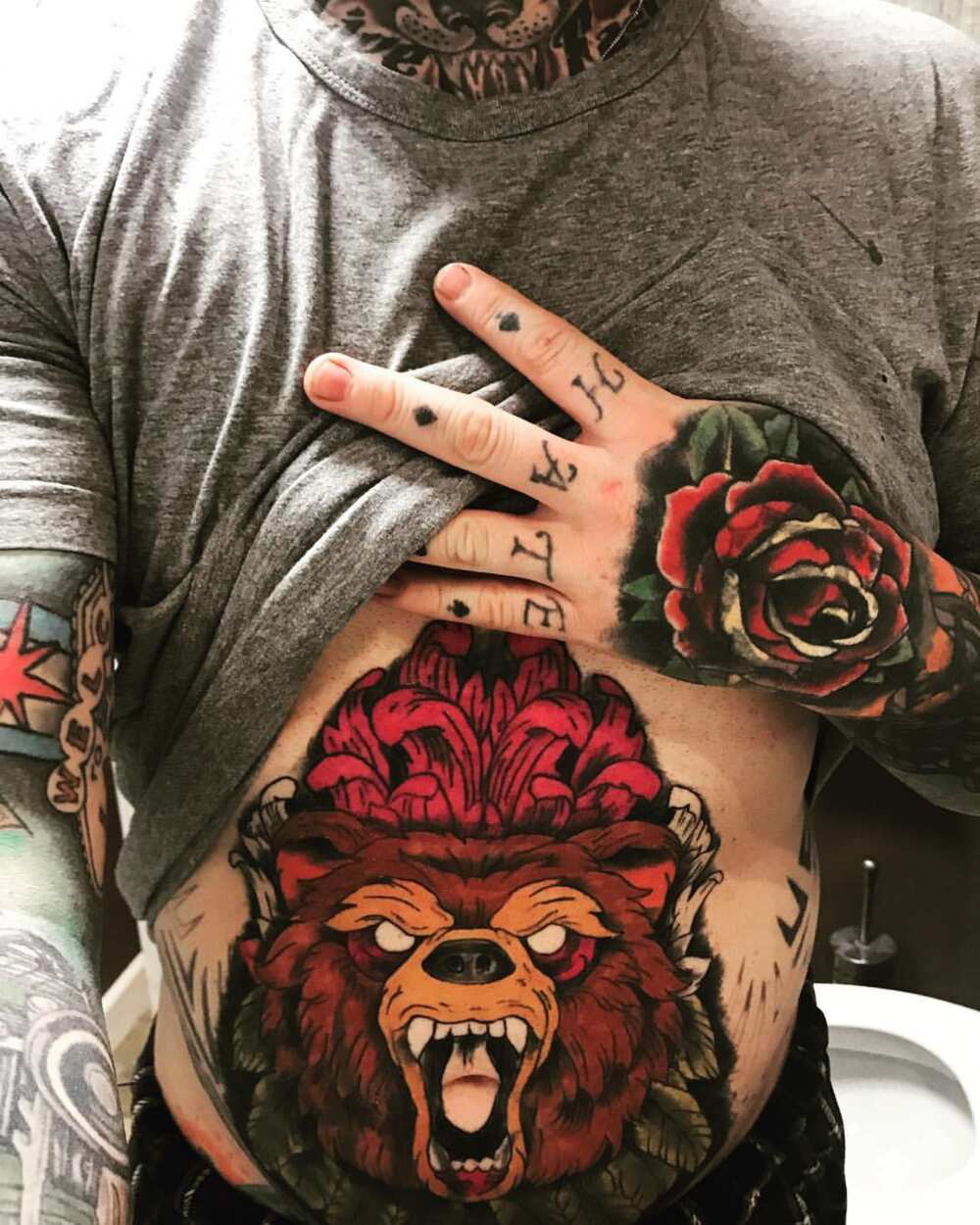 Sometimes you may want the picture to be somewhere hidden and with a larger space. In this case, one of the best places to make the drawing is your abdomen, and you can choose a wide range of ideas as you are not limited to space.
45. Indian grizzly
As far as symbolism is concerned, these majestic creatures are high on the food chain and have fascinated people for generations. Native tribes such as the Pueblo and Sioux Indians made garments from their skin to protect themselves. This can be a great inspiration for your next ink as it displays self-assurance and fierce.
46. The savage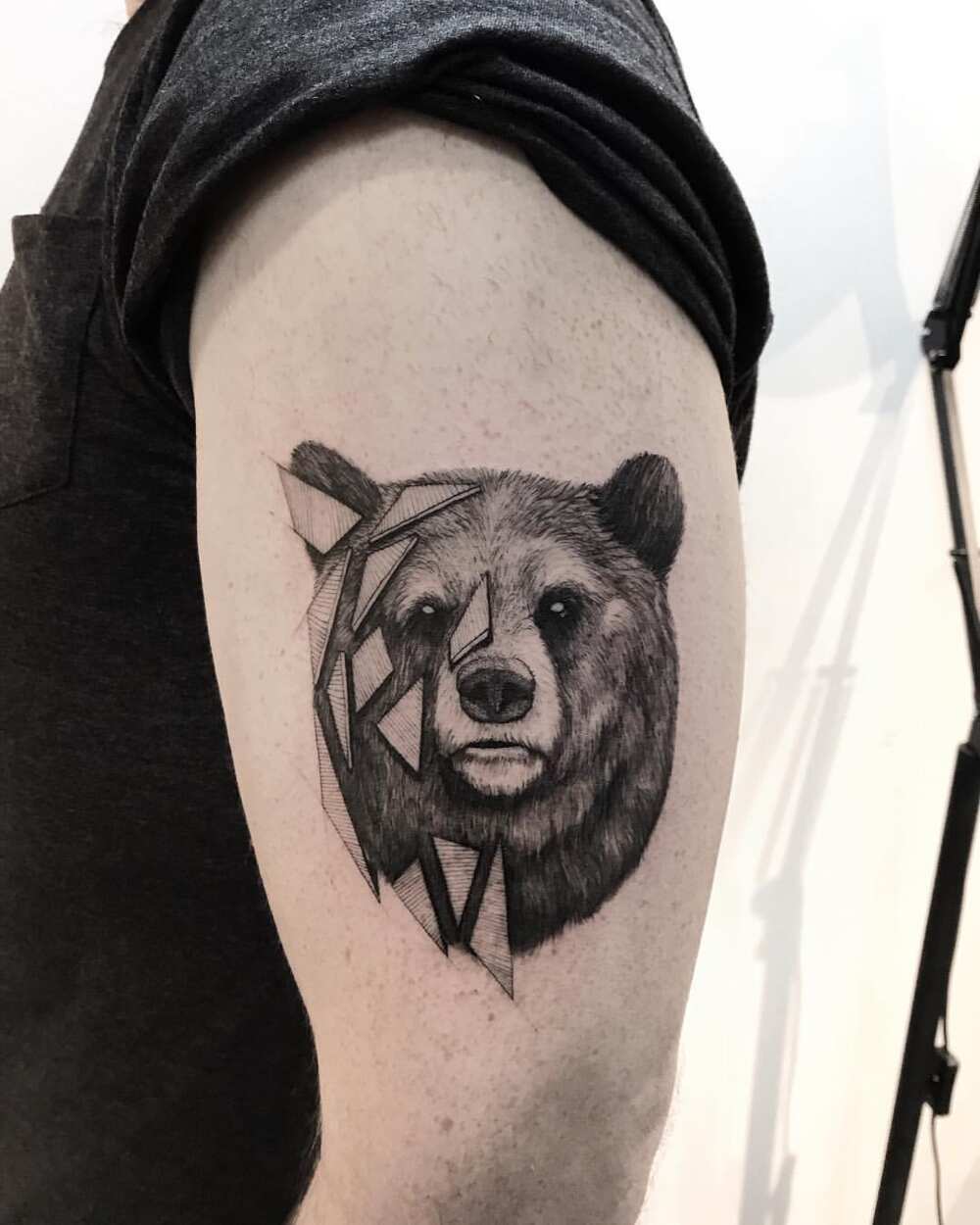 Get your artist to work and stretch his/her creativity to the extremes with such excellent work while still maintaining the same bear tattoo meaning.
47. Grizzly in flames painting
This is just one of the numerous ways in which you can explore different ink colours on your skin to express your confidence.
48. Picture quality design with scenic surroundings
This precise artistic work would leave people to think that the image was printed in the skin. It gives a clear view of the animal and background.
49. Amazing optical illusion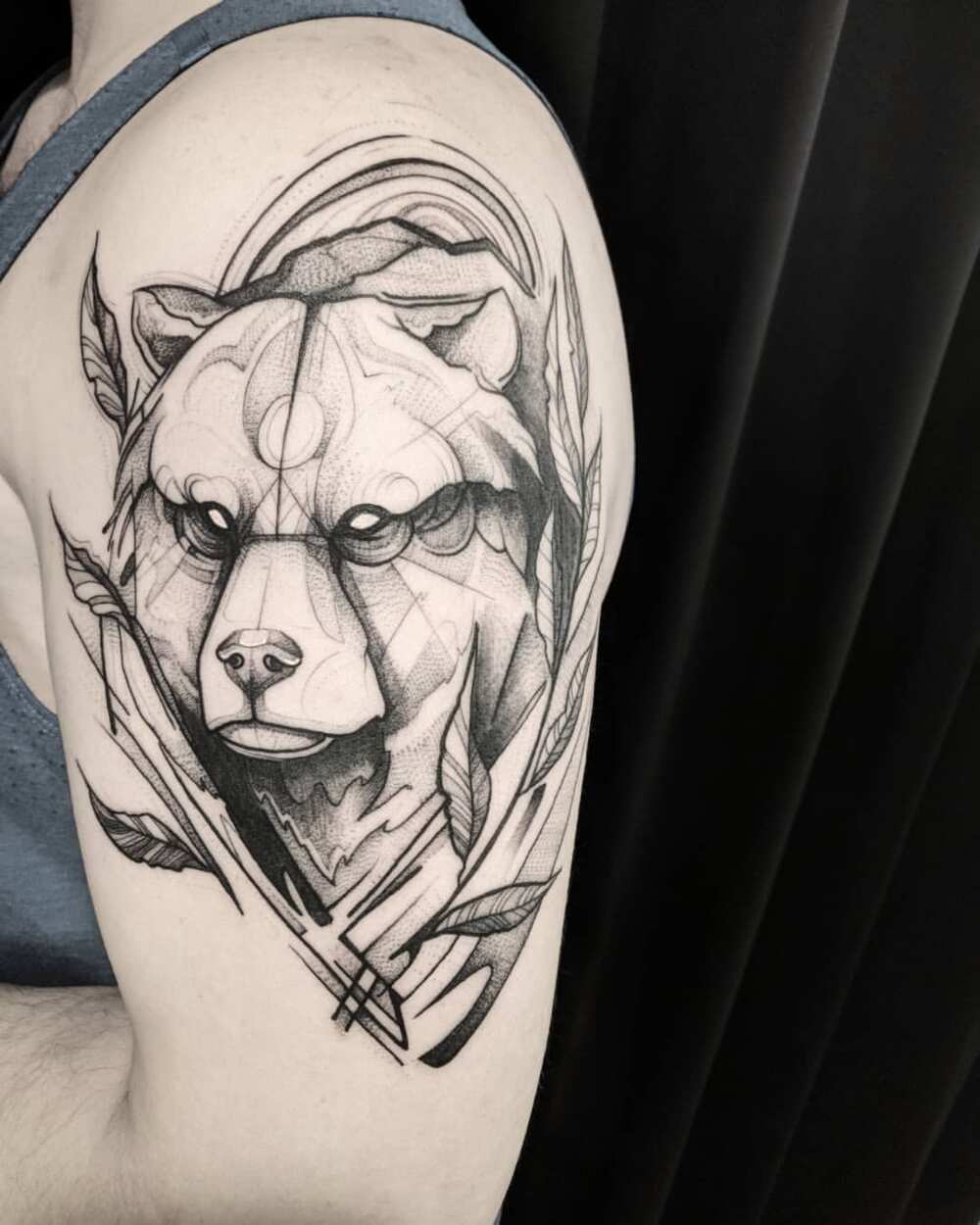 If you are planning to ink yourself, then you can alternatively go for a design that will turn heads and leave people to wonder what they are looking for exactly. This idea can communicate the animal's strength and confidence in an amazing way.
50. Neo-traditional grizzly
Bear tattoos can be really cool, and there is no question to that. You can further enhance the appearance by using styles such as blackwork and portrait realism, but none beats the neo-traditional type.
Settling for the appropriate ink for you simply means getting not only a unique ink but one that also has a special meaning to your life. With a wide variety of bear tattoo designs to choose from, it is advisable that you link your beliefs and values to a grizzly that easily matches your unique personality.
READ ALSO: Conch Piercing: a guide to pain, healing, aftercare, inner vs outer piercing
Source: Legit.ng