80 finger tattoos ideas for men and women to try in 2023
Finger tattoos are getting more and more popular. There are many styles, ideas and techniques for such tattoos. More and more men and women worldwide like to add more beauty to their hands in such a way.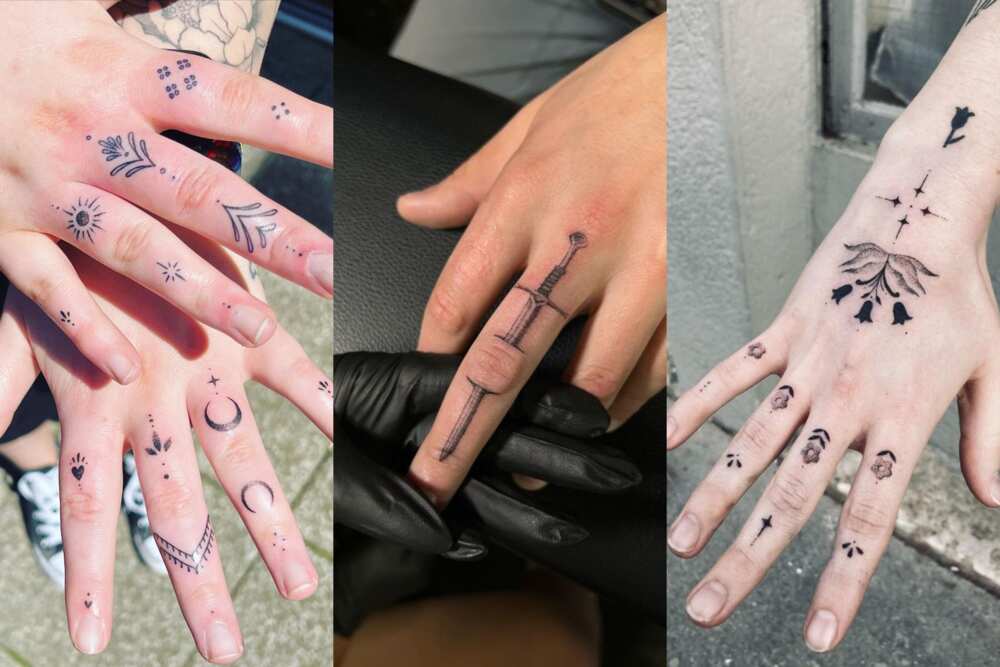 Finger tattoos can become an excellent option for those who want some pictures of their body but want to avoid attracting much attention. Such decorations are also much cheaper than big tattoos because, in most cases, they require less ink and working time.
Finger tattoos for men
Express all your creativity at your fingers, and show who you are. The number of ideas is huge, and here are just several example tattoos ideas for men.
1. Wings
This image may express anything essential for you; you only need creativity. A tattoo of wings on a finger can symbolize a desire for independence, breaking free from constraints, and embracing personal liberation.
2. Inspirational movie characters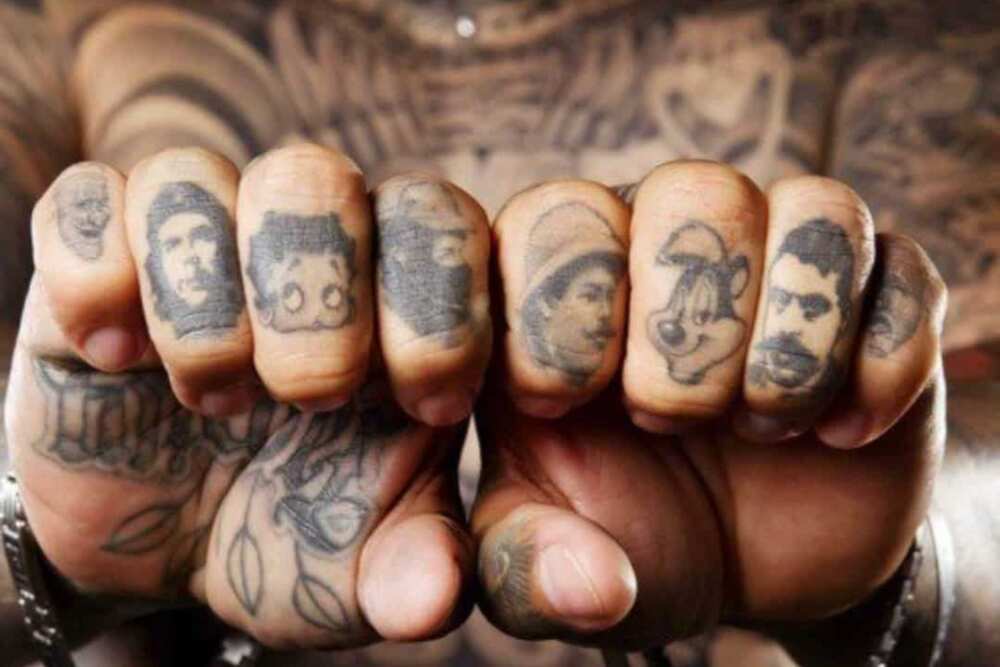 Your ten fingers are a great canvas to depict the faces of your favourite characters or persons. As you see in this example, you can decide to get tattoos of your favourite movie character.
3. Four-letter words
Four-letter words are perfect for this kind of tattoo. Fortunately, there are many such words, so anyone can find an appropriate option.
4. Symbol ideas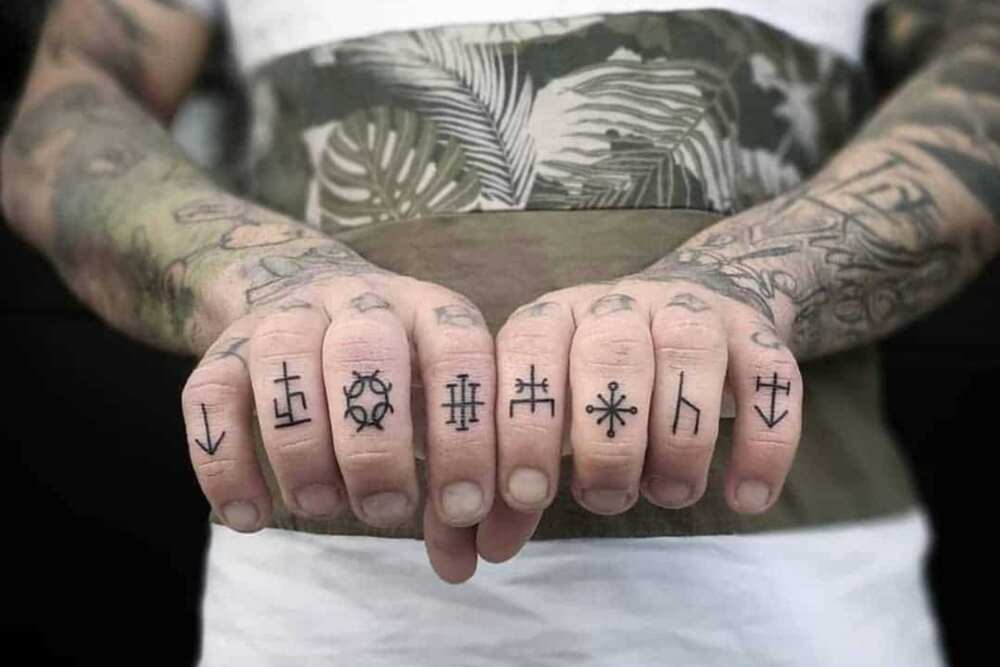 There are many different symbols, signs and patterns, and any of them has its sense. You can combine these images and create your own story of them.
5. Dates
You can depict the years of life or any other important dates. It is a powerful way to express your love, devotion, and memories of the person.
6. Japan style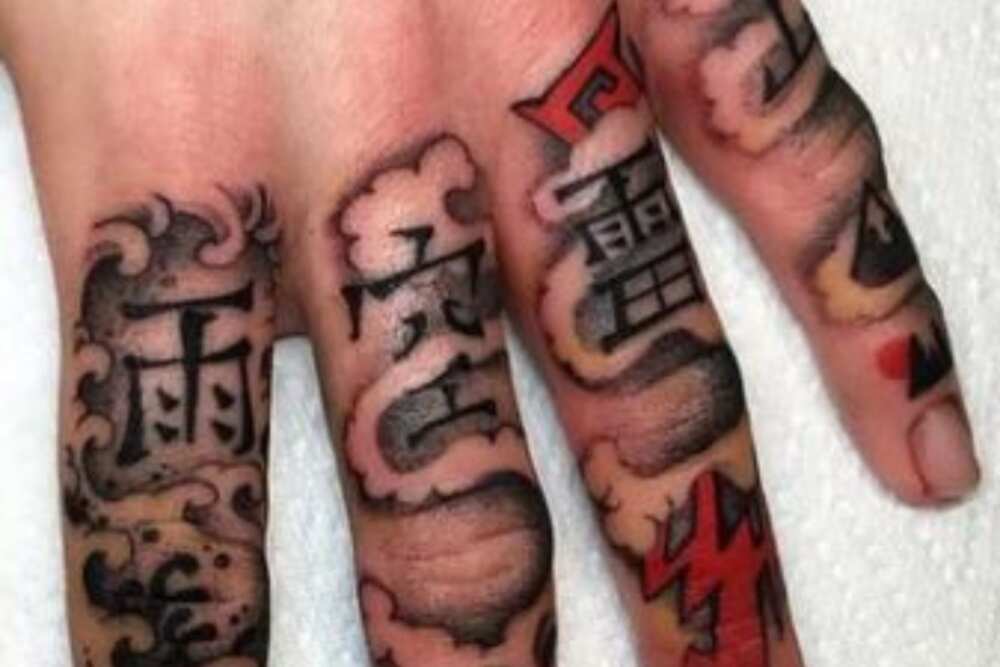 Different cultures have their own styles of art, and you may use some of them. In this case, it is advisable to understand the symbolism and the sense of the chosen picture.
7. A lighter
Sometimes you can create your own symbols, letters or signs. From the above image, this is a lighter and a broken flame which may have a different meaning in your life.
8. Elements and symbols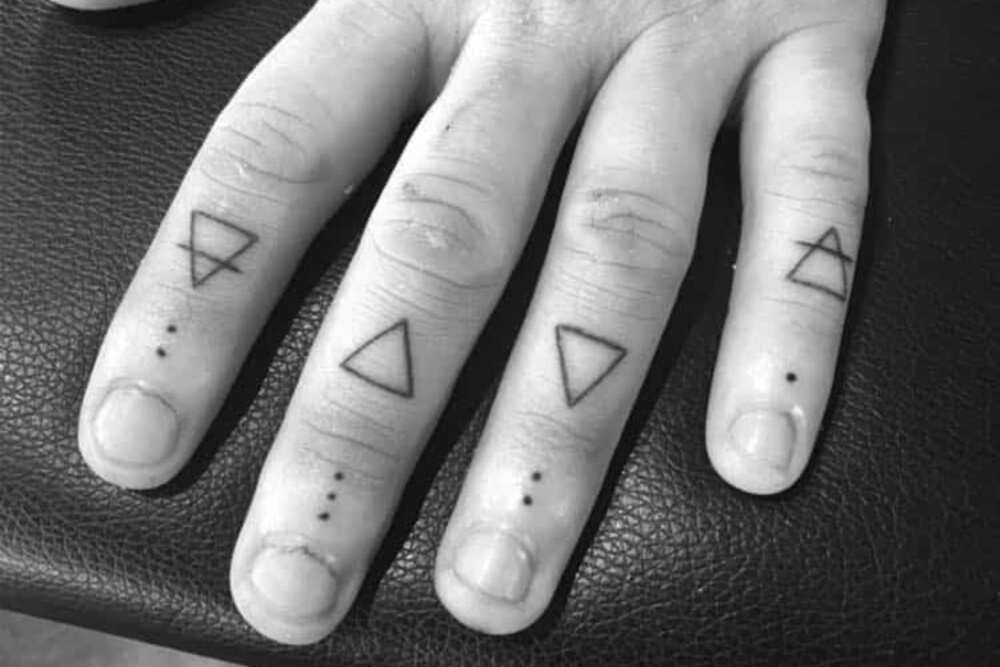 Did you know that various elements such as fire, water and air have their own graphics symbols? Actually, this is an excellent source of images which can help you to express your ideas.
9. Names and nicknames
Fingers also are a nice canvas for your name or a nickname. This is a way to introduce yourself in an original way.
10. Experiment with font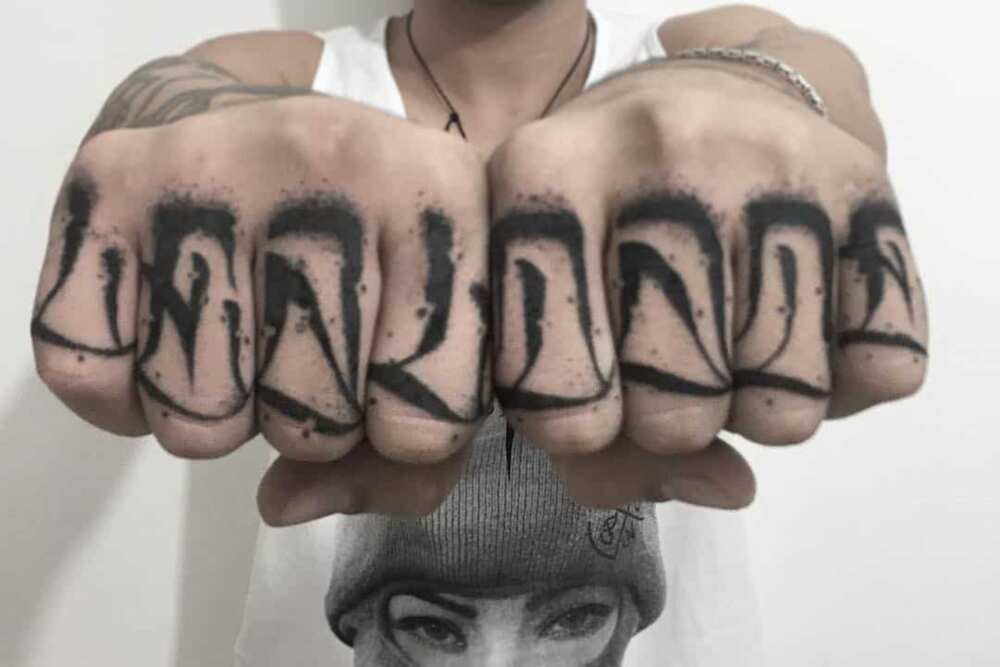 You have numerous options, not only with different words but also with different fonts. The font is a way to show your unique style.
11. Funny symbol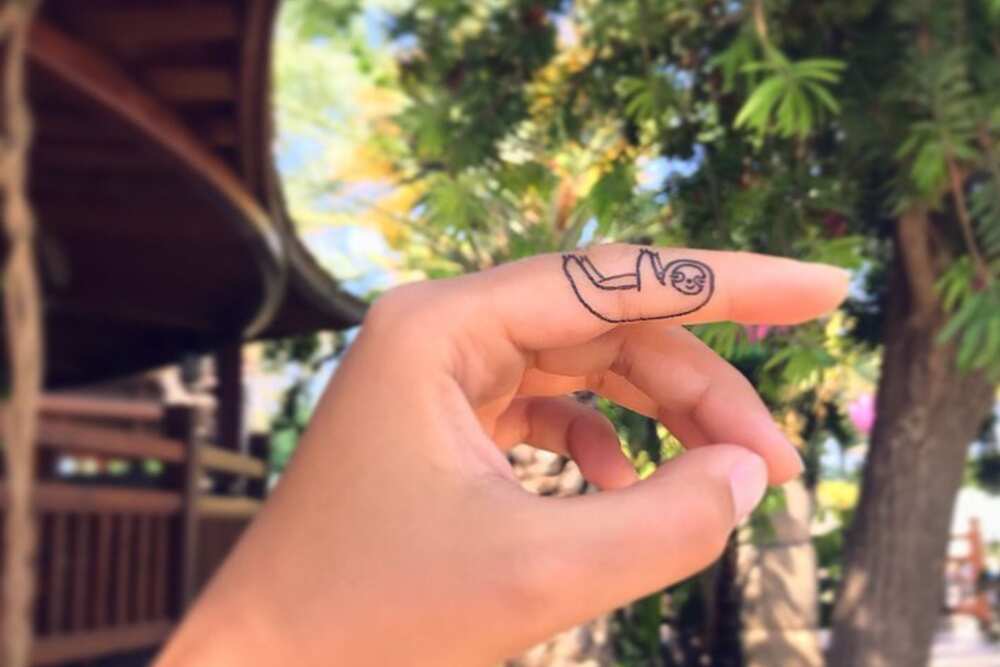 It is not necessary to be serious, even if it goes about tattoos. Use some funny finger tattoos, and be like no one else.
12. Barbershop workers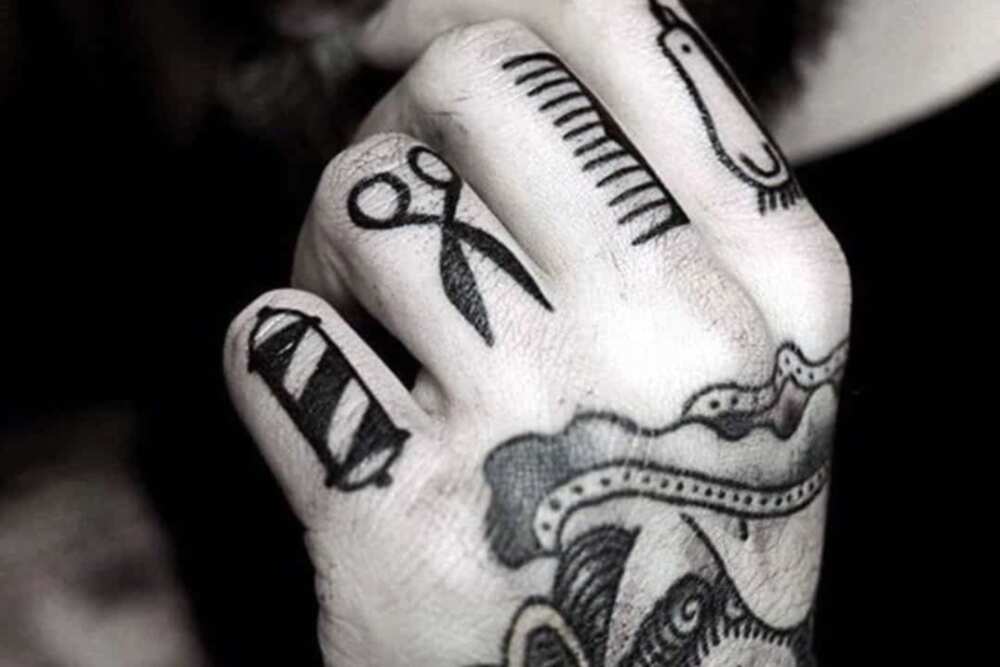 Do what you love, and love what you do. Depict the symbols of your favourite profession.
13. Ring tattoo for men
These ring finger tattoos are a fashionable trend in the world of tattoos. Combine them with other symbols and a real ring to show how cool you are.
14. Gone4Good motto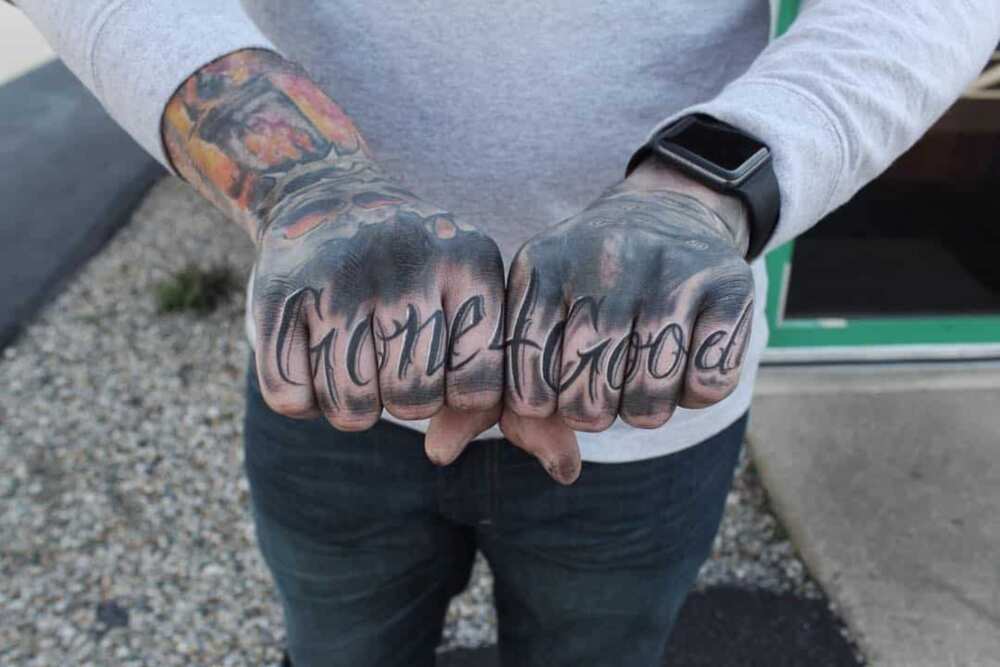 Your motto can always be in front of you. An interesting moment is that you can use numbers to shorten some words.
15. Stylish dots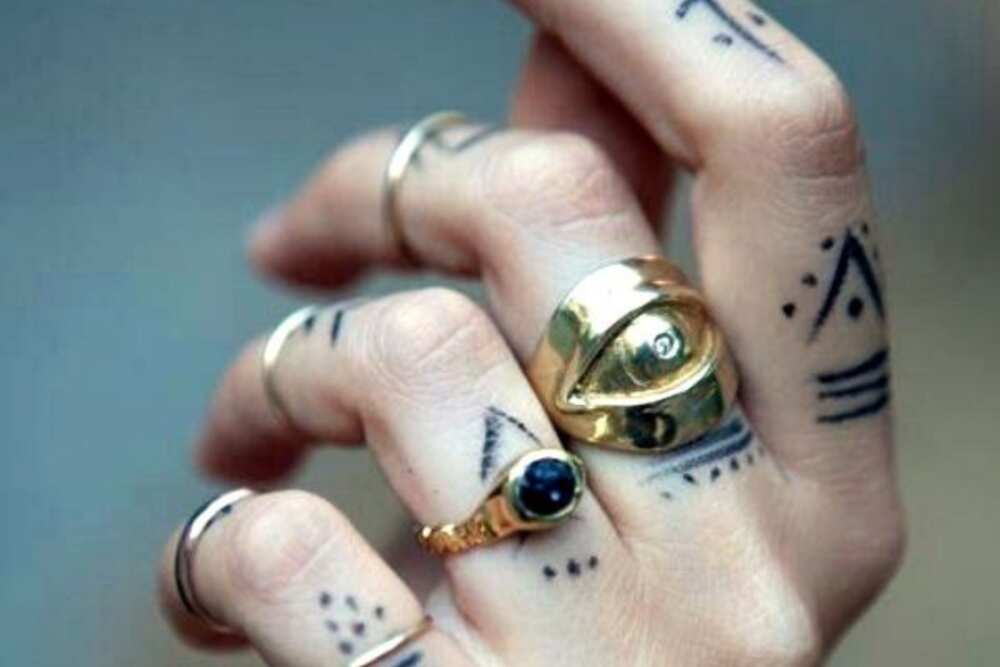 Simple dots will highlight your modern look. If you like minimalism, this option is exactly for you.
16. Stylish lines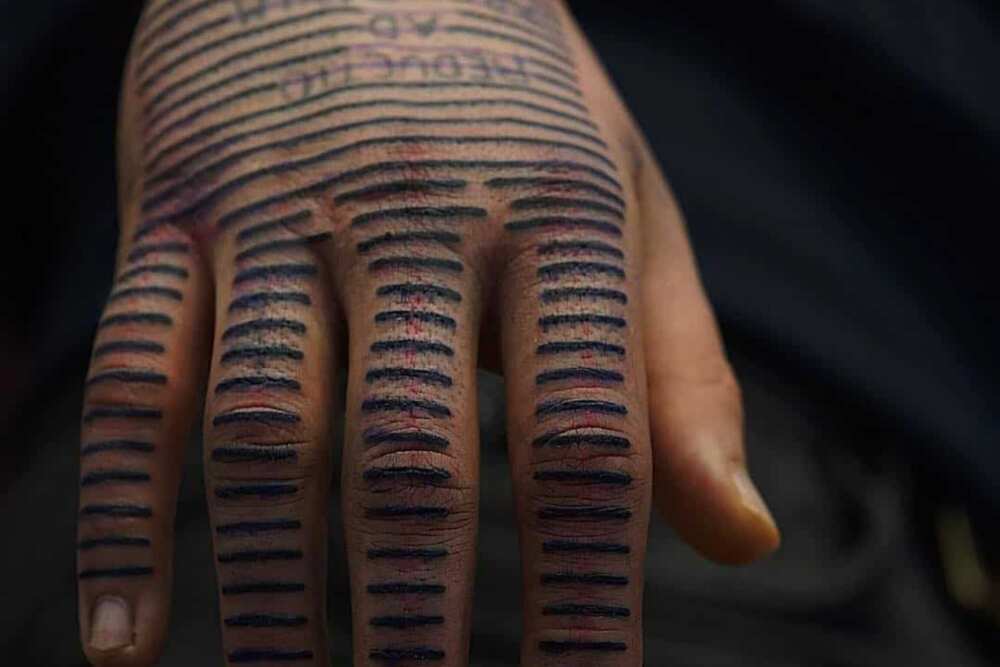 Drawing a line is another idea for those who like the minimalistic style but want something more. Just cover some area of your hand and get a unique visual effect.
17. Script finger
The text chosen for a script finger tattoo can hold personal significance to the individual, such as a meaningful word, quote, or name.
18. Coloured unique wave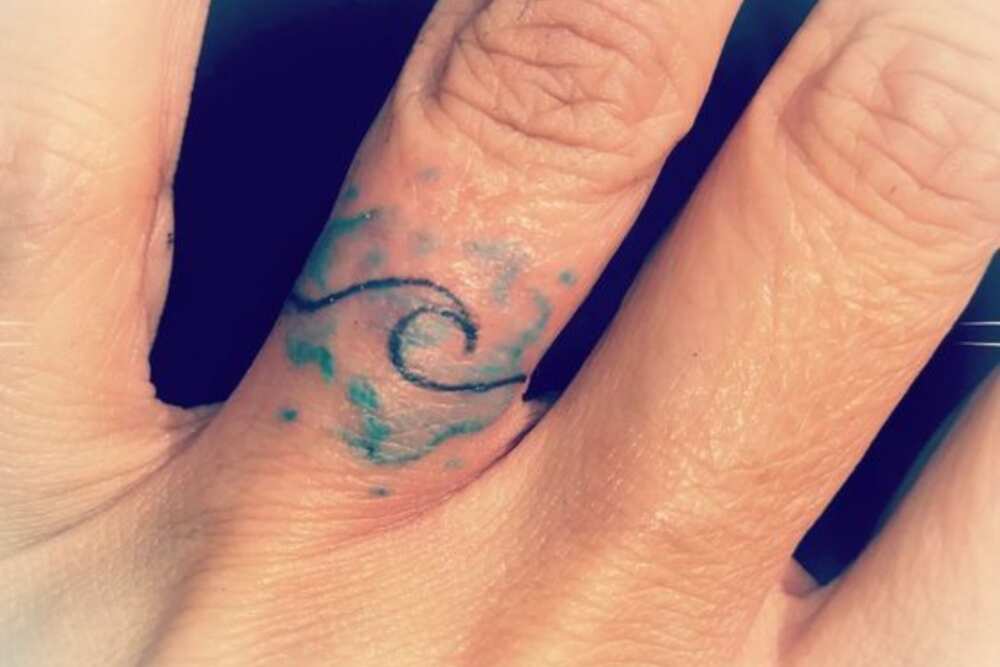 Waves may be both powerful and awe-inspiring, expressing strength and natural forces. This tattoo can represent inner strength, fortitude, and the ability to conquer challenges.
19. Skull and crossbones
A skull and crossbones tattoo can act as a reminder of life's change and the unavoidability of death. It can be a means of confronting and accepting the passing away of human existence.
20. Airplane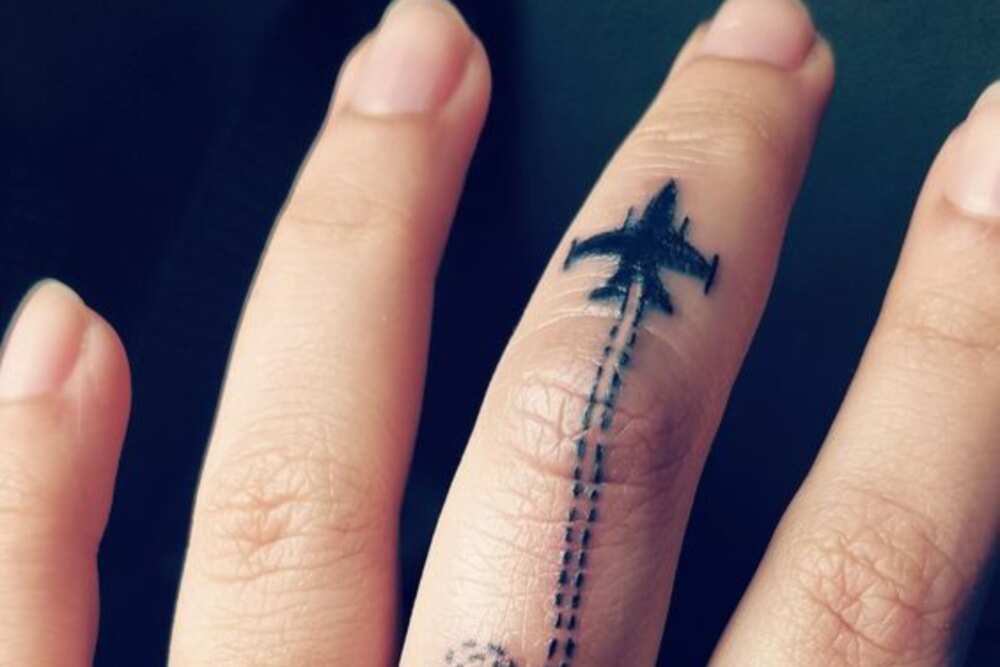 This tattoo might symbolise your erratic mood as well as the various people and feelings with whom you engage.
21. Middle finger tattoo
You can use your middle finger to demonstrate that you have a personality and are not scared to display it.
22. Inner finger tattoo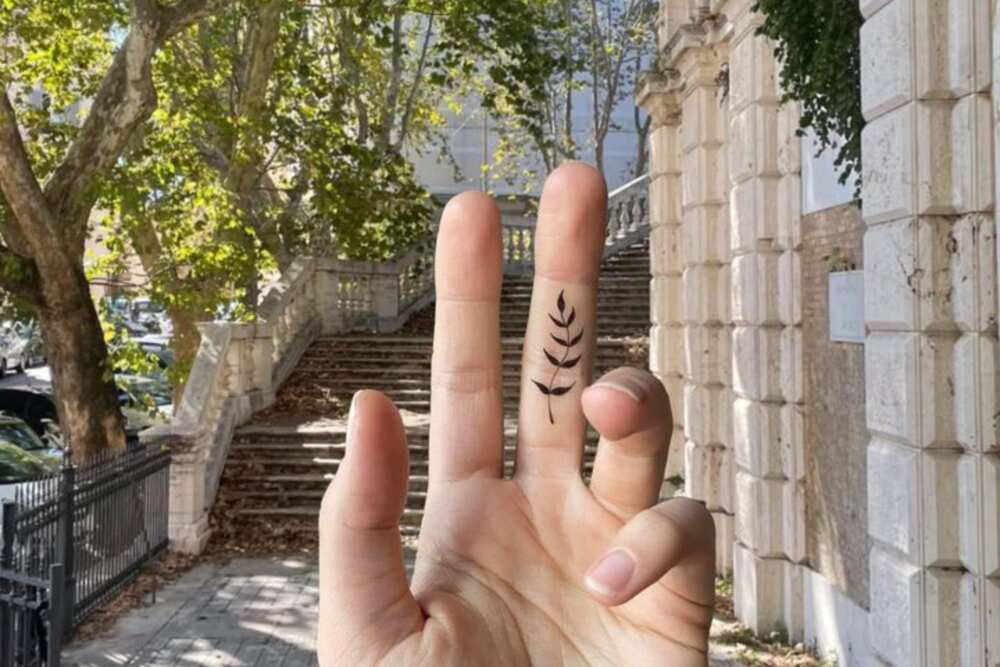 This is an excellent choice for individuals who prefer a subtle and understated tattoo. It can be advantageous for those who want a tattoo that is easily concealable or visible only when desired.
23. Cross tattoo
As a Christian, you may choose the sacred emblem of the cross as your tattoo design because it represents an important component of your faith.
24. Geometric
Geometric tattoos can be loaded with symbolism and meaning. These tattoos are generally personal to the wearer, symbolising their ideas, values, or life experiences.
25. A lion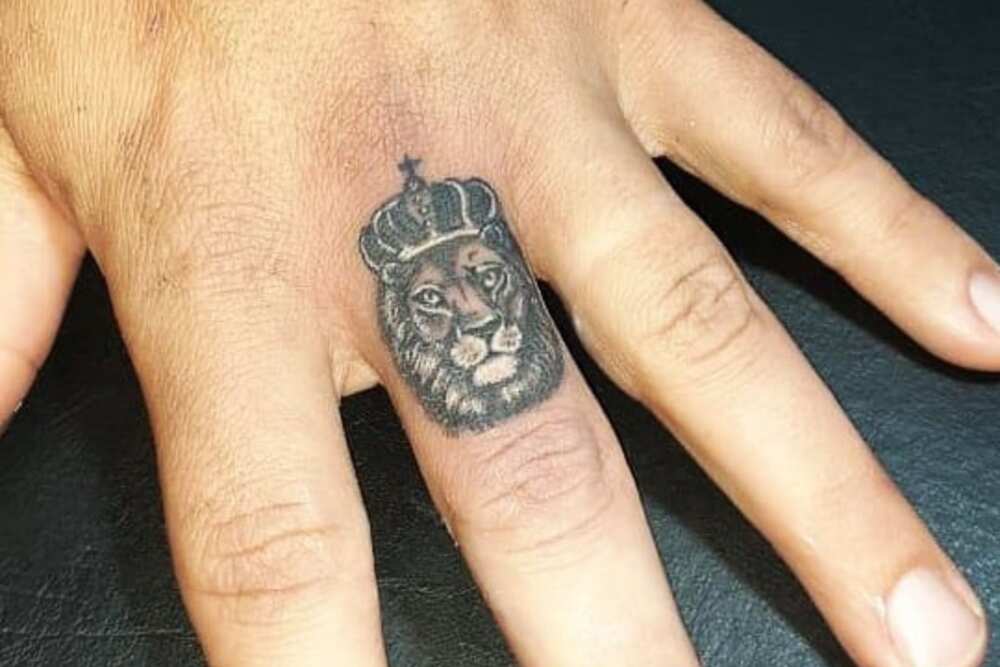 Lions are often regarded as symbols of strength, power, and bravery. Lion tattoos can represent personal strength, resilience, and the ability to overcome challenges.
26. Unique initials
Having your own unique initials as a finger tattoo can be a personal and meaningful choice.
27. Roman numerals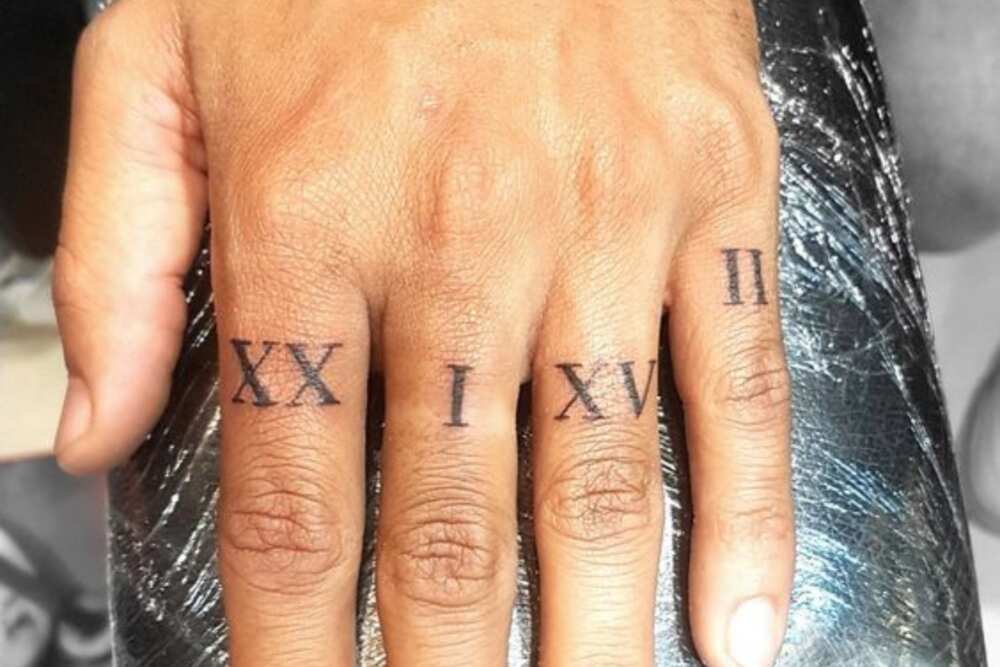 Roman numerals add a timeless and classic touch to a finger tattoo. They can commemorate important milestones such as birthdays, anniversaries, or the birth of a child.
28. Words or phrases
Finger tattoos with words or phrases allow for personal expression and can hold deep significance.
29. Animal silhouettes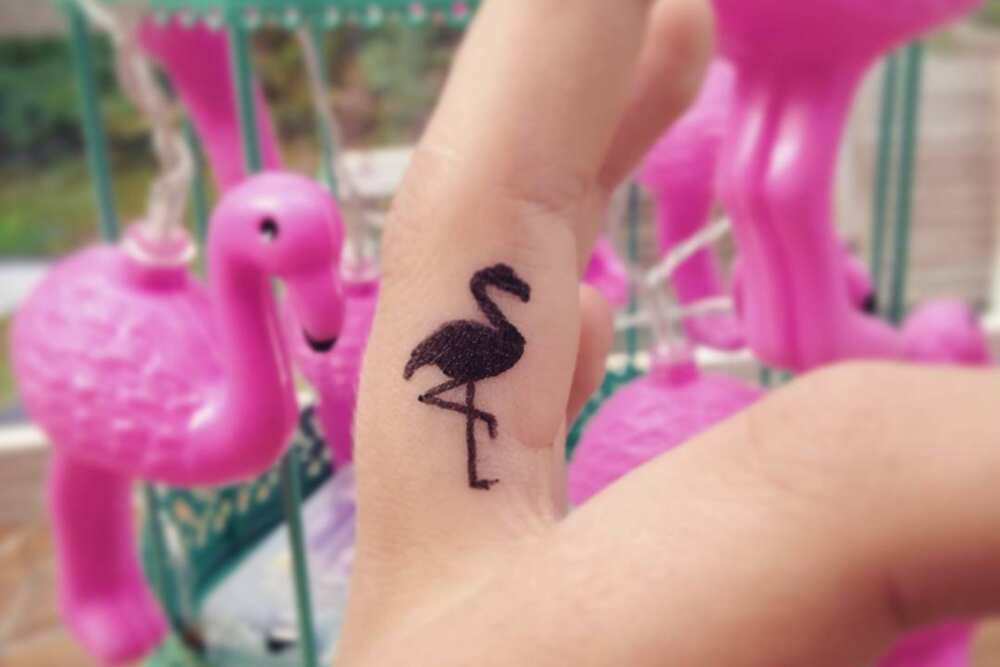 You can use these tattoos to represent a deep connection to nature or a specific animal that holds personal significance in your life.
30. Adorable nature elements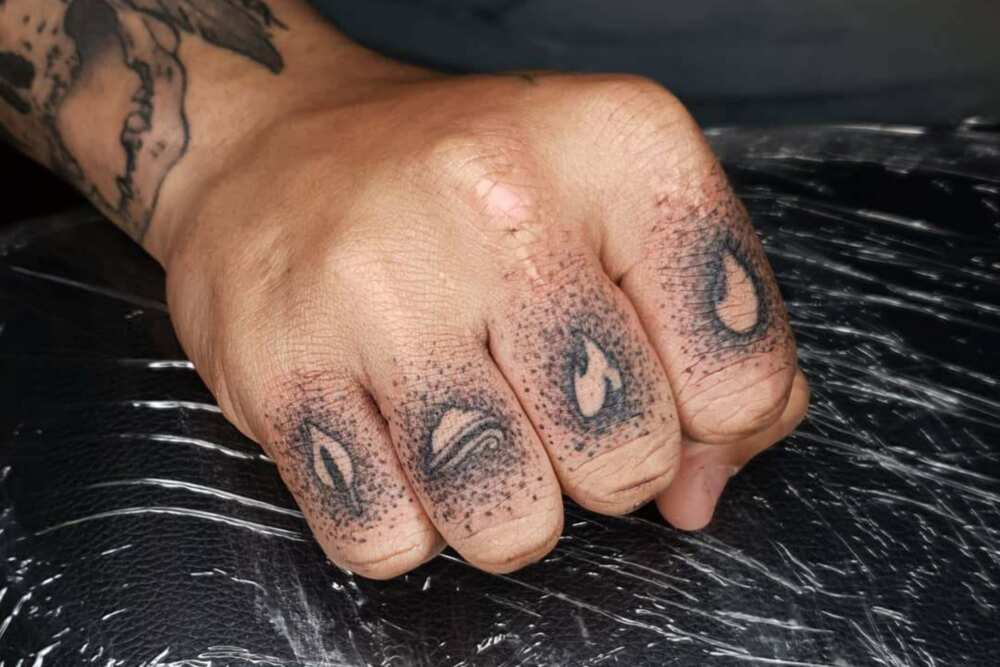 These tattoos can represent a love of nature, a respect for its beauty, and a desire to remain connected to the natural world.
31. Music notes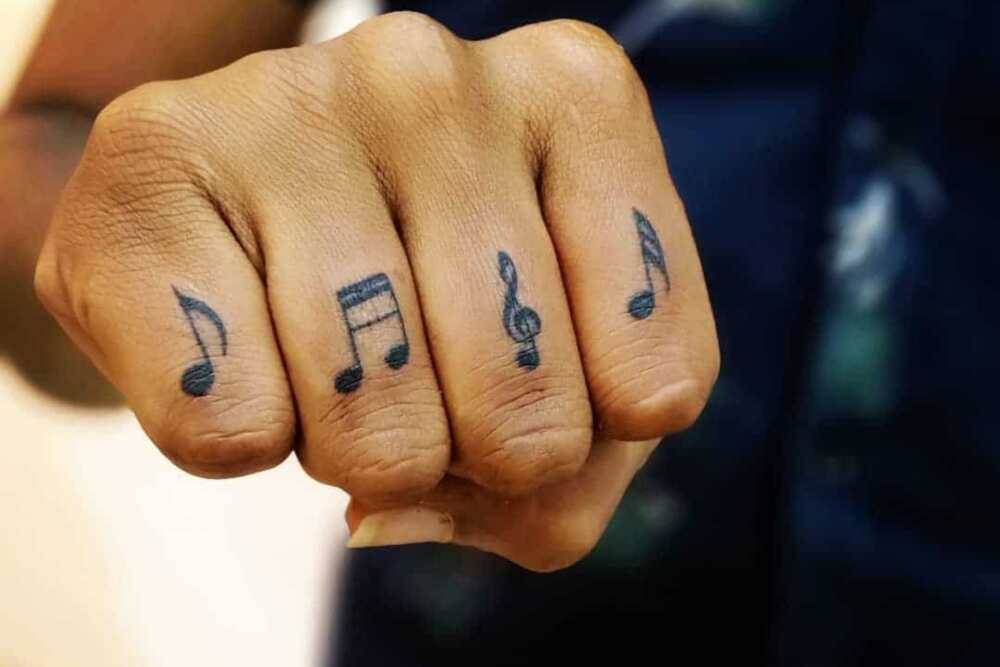 Tattoos of music notes indicate a love of music, artistic expression, and the power of sound.
32. Zodiac sign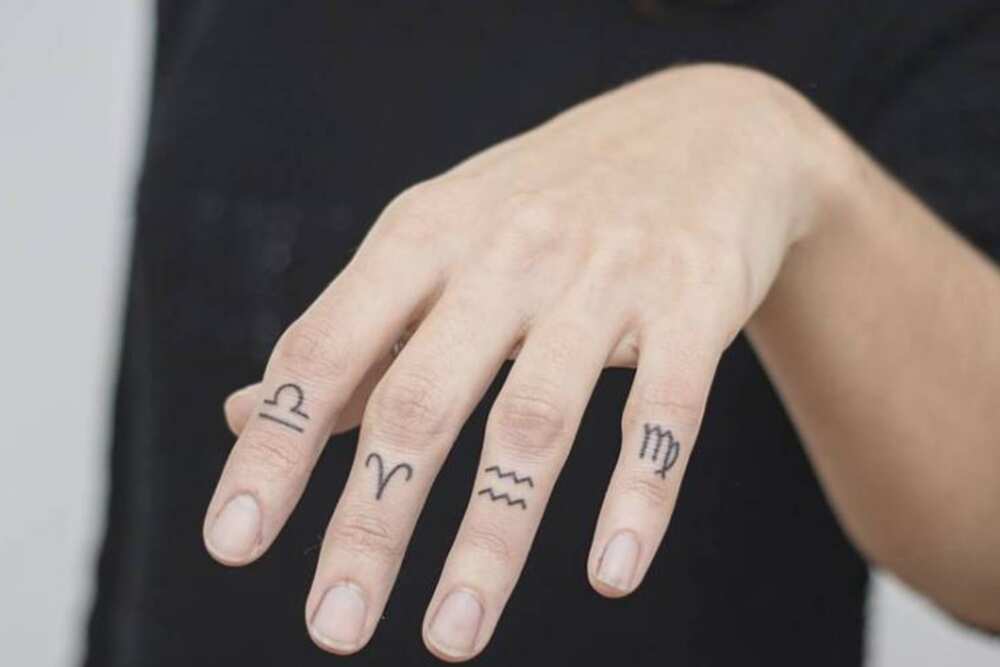 Having your zodiac sign as a finger tattoo can represent the characteristics associated with that sign.
33. Floral dotwork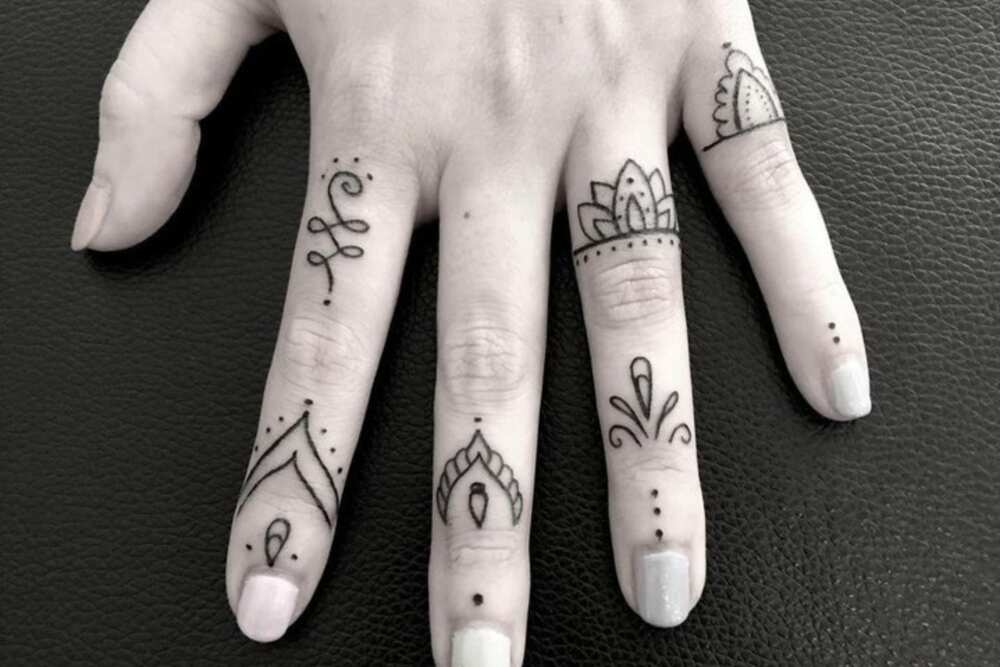 Dotwork is created using a technique that involves intricate dot patterns. This is one of the cute finger tattoos you can draw.
34. Small butterfly tattoo
This can represent joy, vitality, new beginnings, and good luck. You can draw it on any finger of your choice.
35. Arrow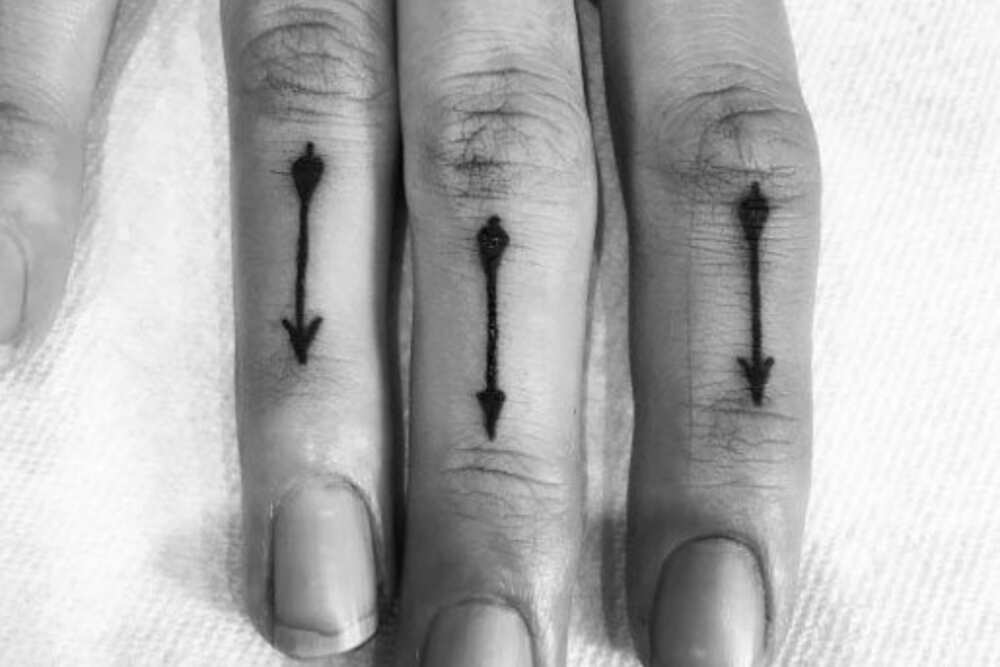 An arrow tattoo can serve as a reminder to keep moving forward, to be determined, and to overcome hurdles along the road.
36. Chess piece
A chess piece tattoo represents strategic thinking, intellect, and planning. It can signify your affinity for strategic decision-making.
37. Anchor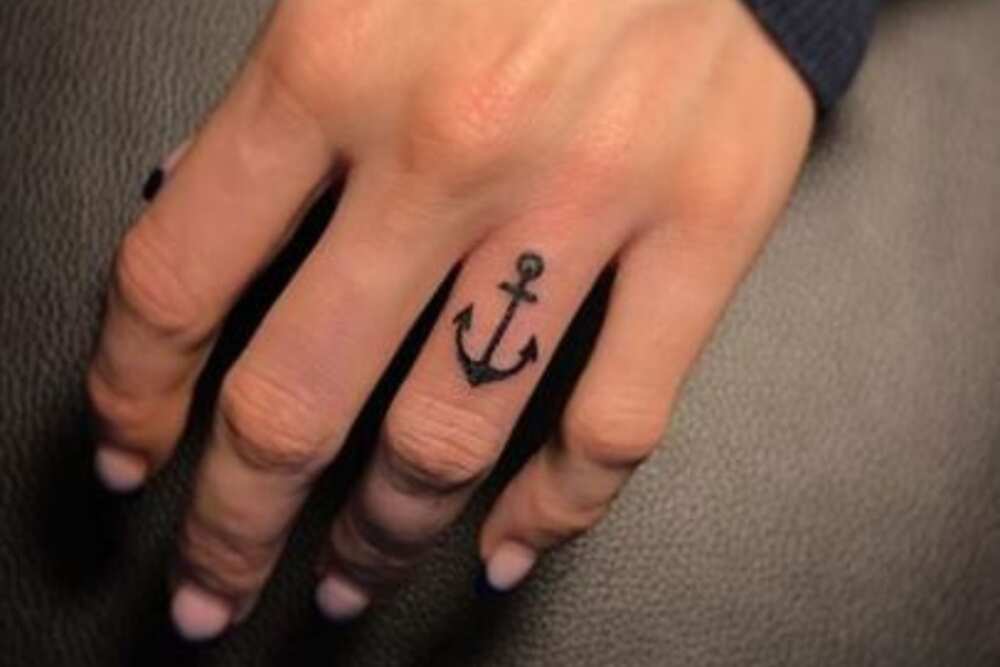 This is one of the simple finger tattoos that can serve as a reminder to stay grounded, maintain stability, and not be swayed by external forces.
38. Skull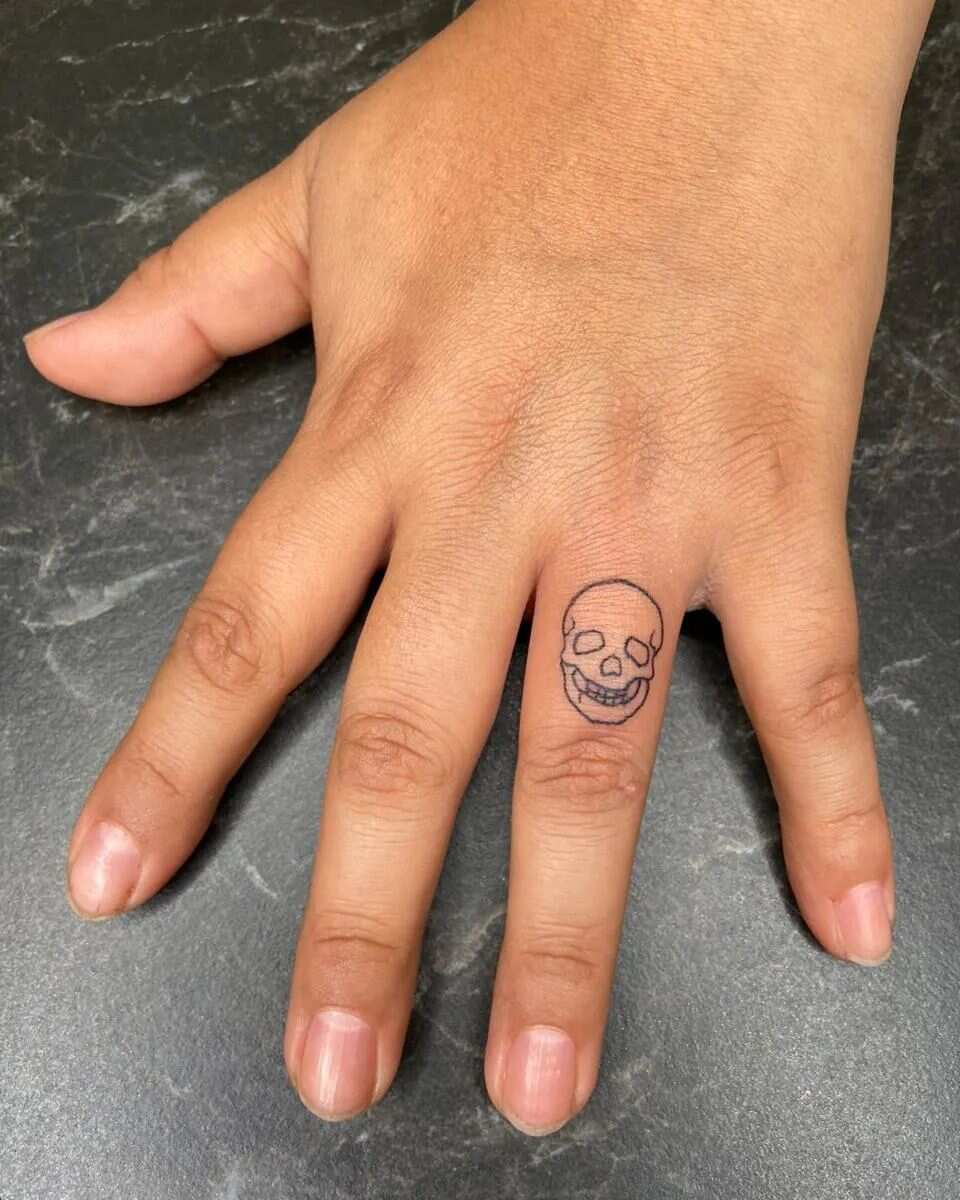 Depending on personal interpretation, a skull tattoo can have a variety of meanings. It can represent defiance, bravery, and fearlessness in the face of hardship.
39. Lightning bolt
If you love power, energy, and a desire, then this can be an ideal tattoo to draw.
40. Tribal design
Tribal designs are frequently steeped in cultural heritage and can have different meanings depending on the design and cultural setting.
Adorable finger tattoos for women
Women also like to add some ink to their skin, and the list of ideas for women has even more examples.
41. Rose flower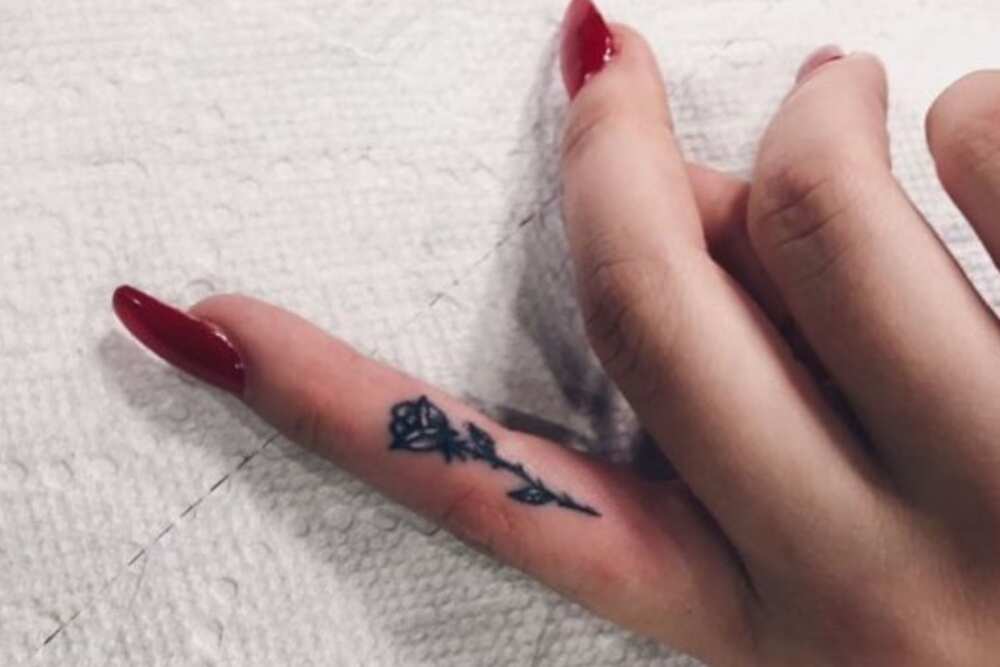 When it goes to the tattoo for a woman, it is good to use fine lines and simple symbols. All you need is to highlight the beauty of your fingers.
42. Patterns and figures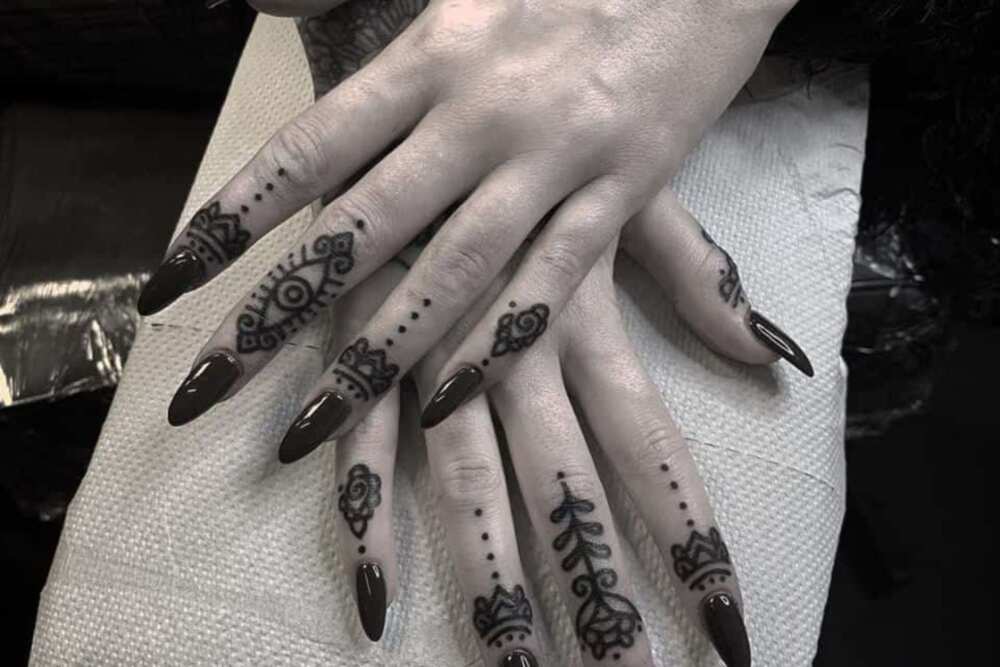 Connect different symbols with one style. As you see, it creates a kind of pattern that will definitely fit your modern look.
43. Three wise monkeys
If you know the story of Japan's three wise monkeys, Mizaru, Kikazaru, and Iwazaru, you can get their names tattooed on your fingers to simply represent your connection with them.
44. Symbols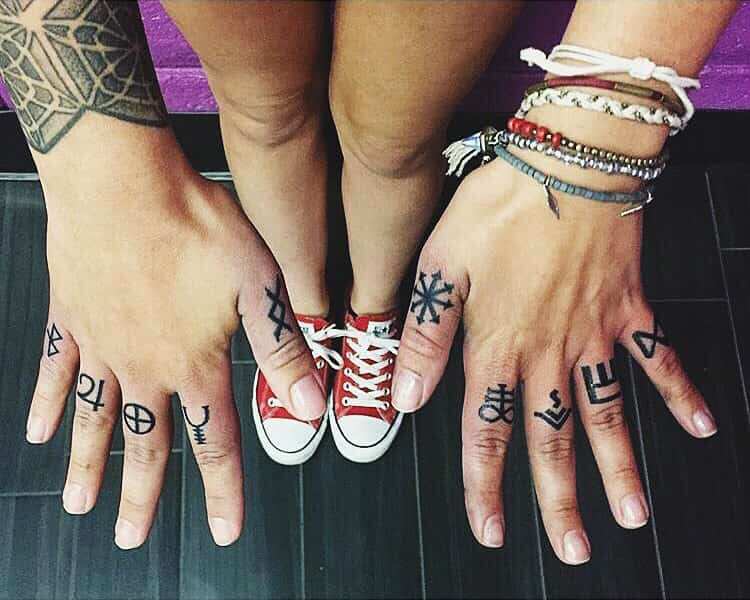 You can combine different symbols and patterns to create various designs. These symbols can be from different cultures and ages; all you need is one style.
45. Skull and crescent
Show all your character with this skull and crescent image. Choose the images that correspond to trends.
46. Fashionable style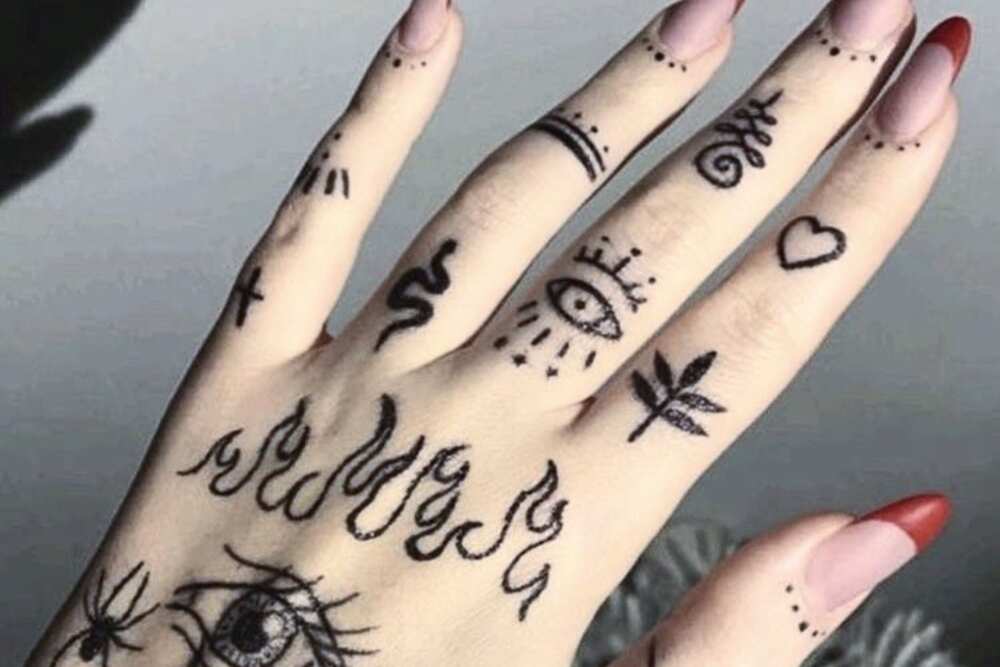 A tattoo is good, and a fashionable tattoo is better. Lines and dots are the best instruments to express your individuality.
47. Various symbols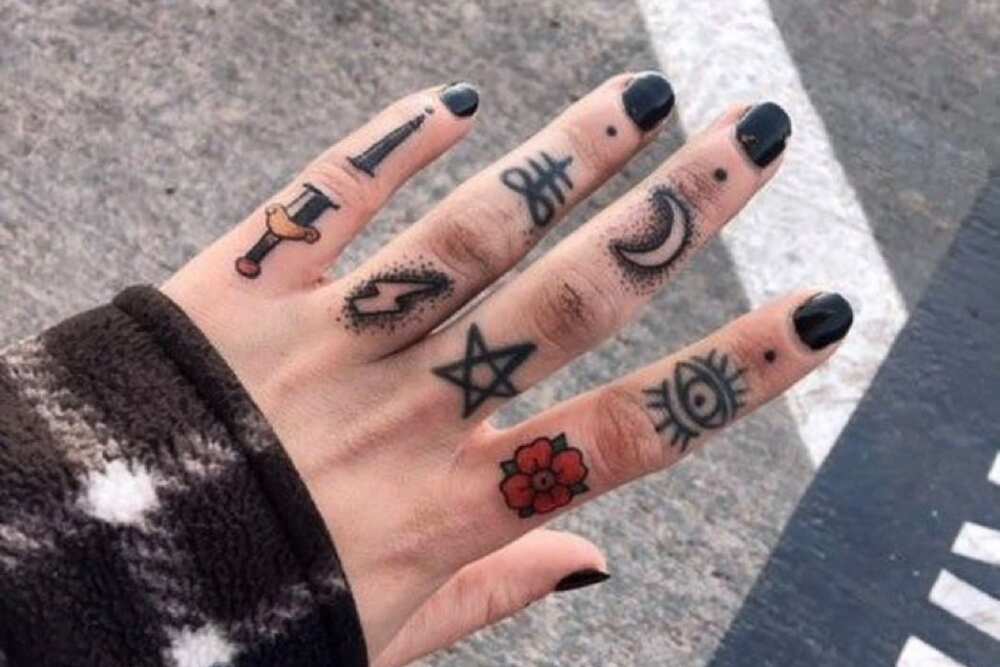 If some phrase inspires you and expresses who you are, then it is a nice idea for your tattoo. The font should correspond to the sense of the chosen phrase.
48. Dots and lines
The tattoo on the fingers can correspond to other tattoos on your body. Let it be one picture of your style that you love.
49. Tiny, cute and sentimental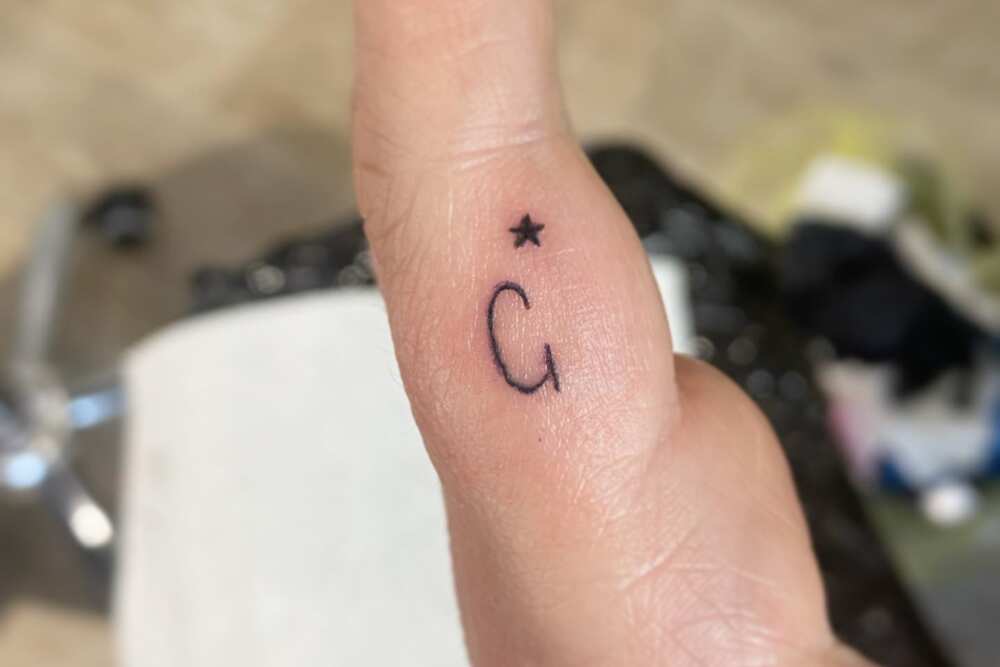 How about going for a simple tattoo, such as the letter of your name or anything related to you? This is a simple design that can carry deep meaning in your life.
50. Almost invisible
Sometimes you do not want to attract much attention, but still, you want to depict some image. In this case, it can be the picture or symbol with the sense that is known only to you.
51. Bonding words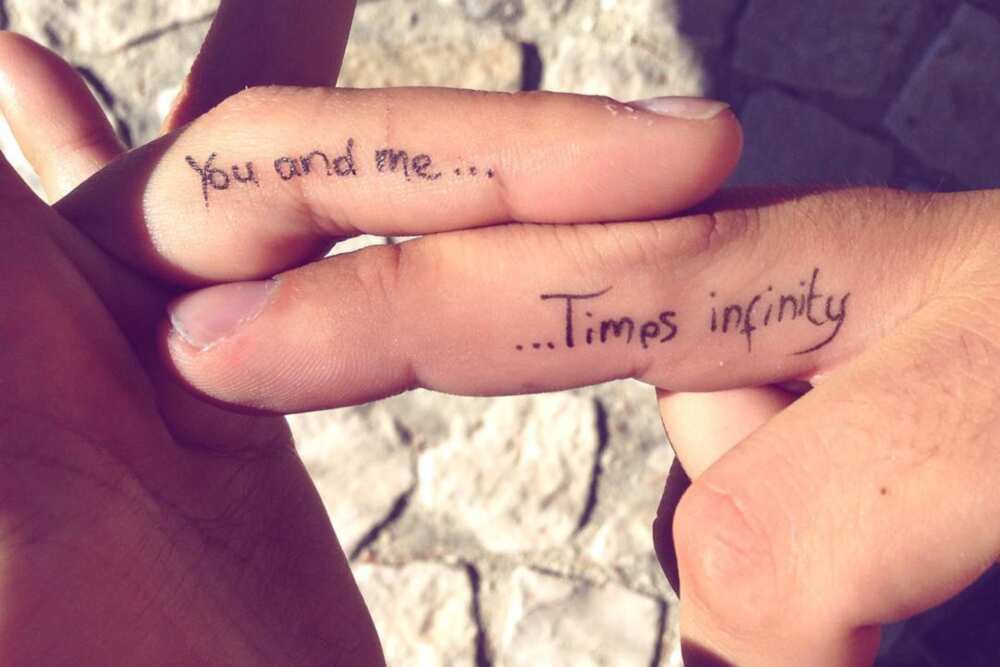 Fate is something that may be crucially important for a person, and the word on your fingers can remind you about the most crucial moments of your life. Make this important word beautiful.
52. Flower elements
Some light flower-type patterns and dots create a delicate image. It is a good idea for the girl who wants to express her tenderness.
53. Detailed finger tattoo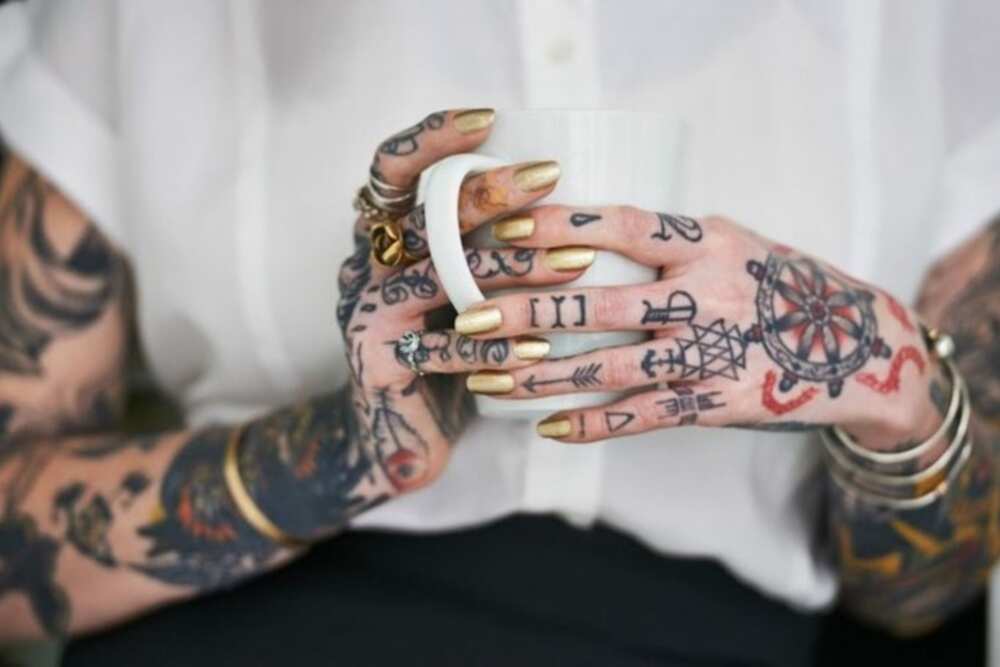 Your look is an expression of your personality, you can decorate your fingers like the image above. These small images on your fingers must complement the whole image.
54. Leaf and dots as a ring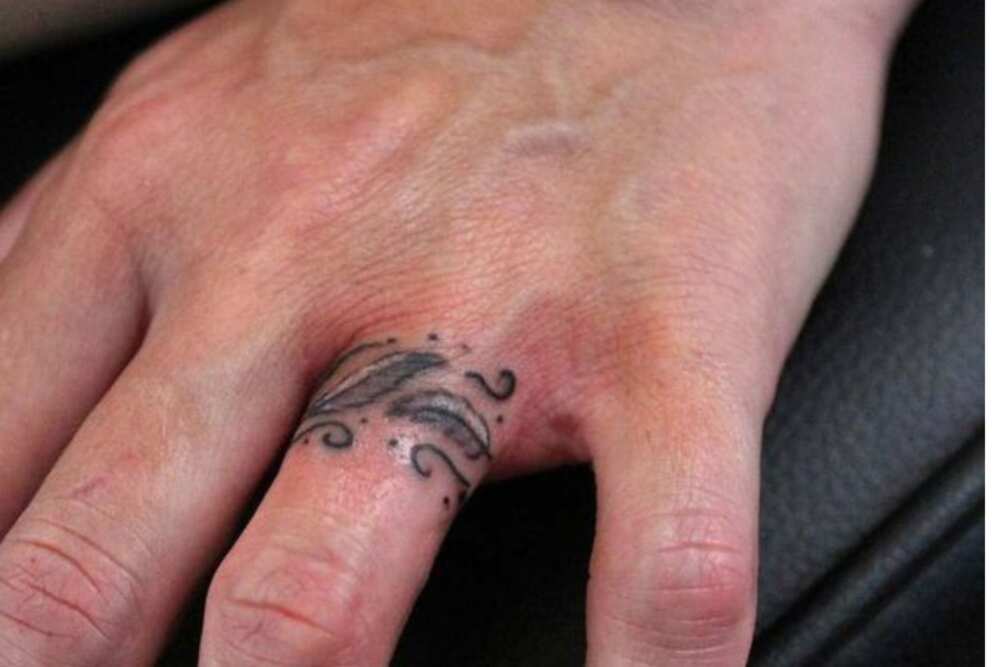 Simple leaves and dots as a ring can highlight your beauty. As you see, this simple design opens a wide range of variations.
55. Flower with extending stem
A flower is always a good idea for any woman. Combine the image with other symbols and get an attractive look.
56. Fire symbol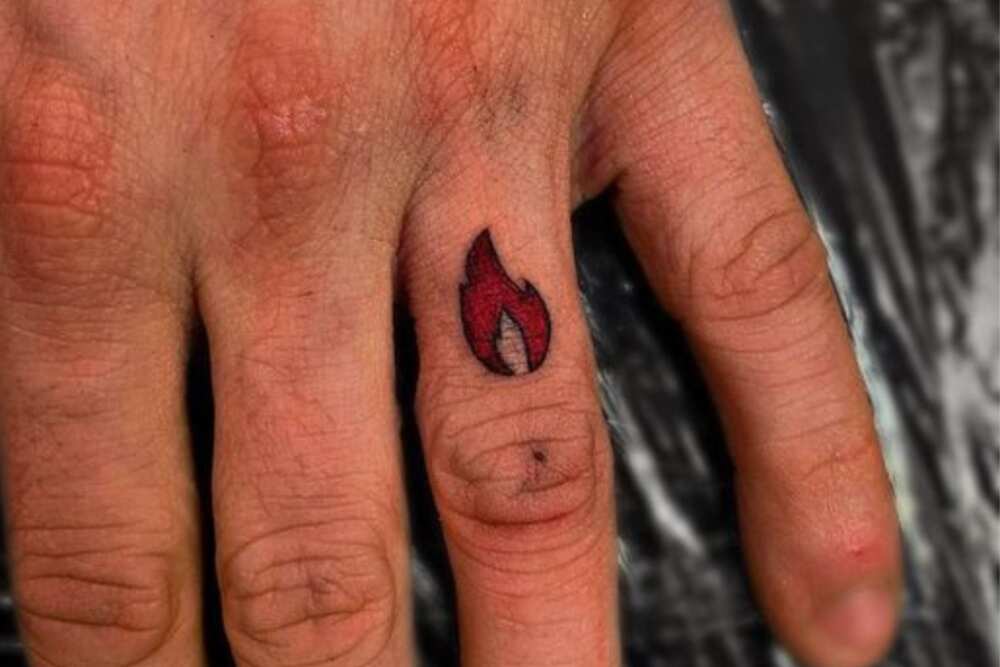 Fire and heart are symbols with a powerful sense, and it makes them a good idea for your tattoo. Combine them with some other images to get new senses.
57. Font words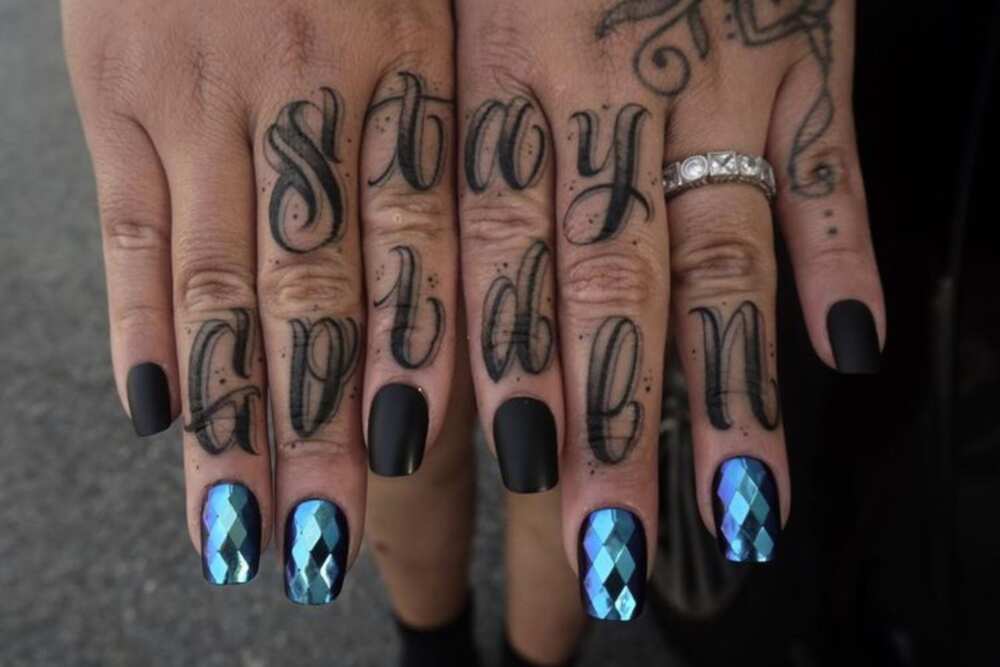 You can use these tattoo ideas for the font for your motto. It looks luxurious and corresponds to the meaning of the words.
58. Inner four-word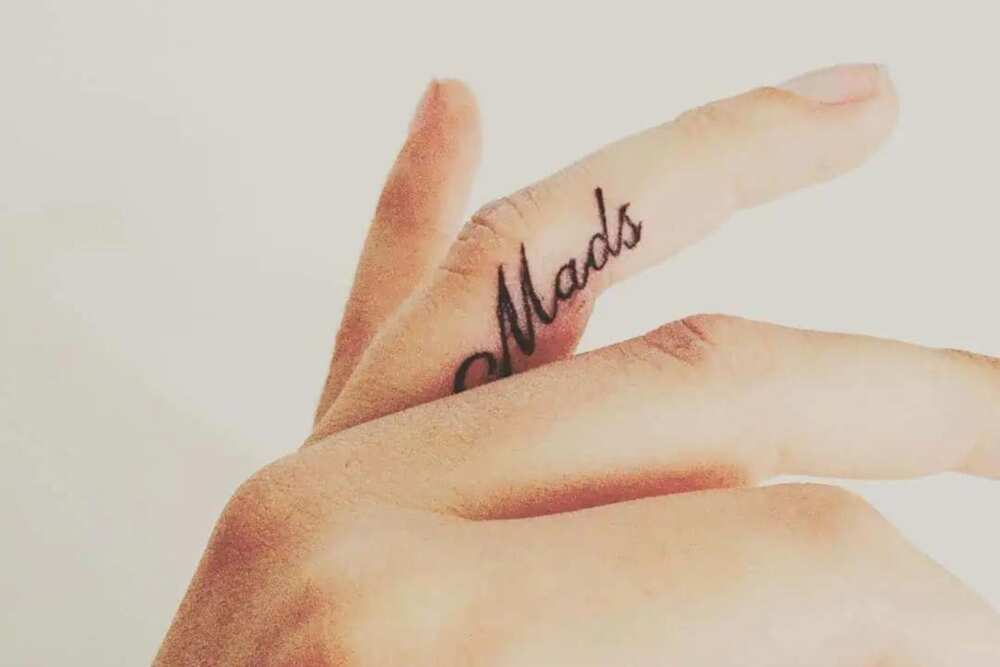 You can hide your secret tattoo on the side of your finger. It will create some intrigue.
59. Floral design
How about adding some white colour to your black tattoo? You immediately see the contrast and some new level of beauty.
60. Simple decor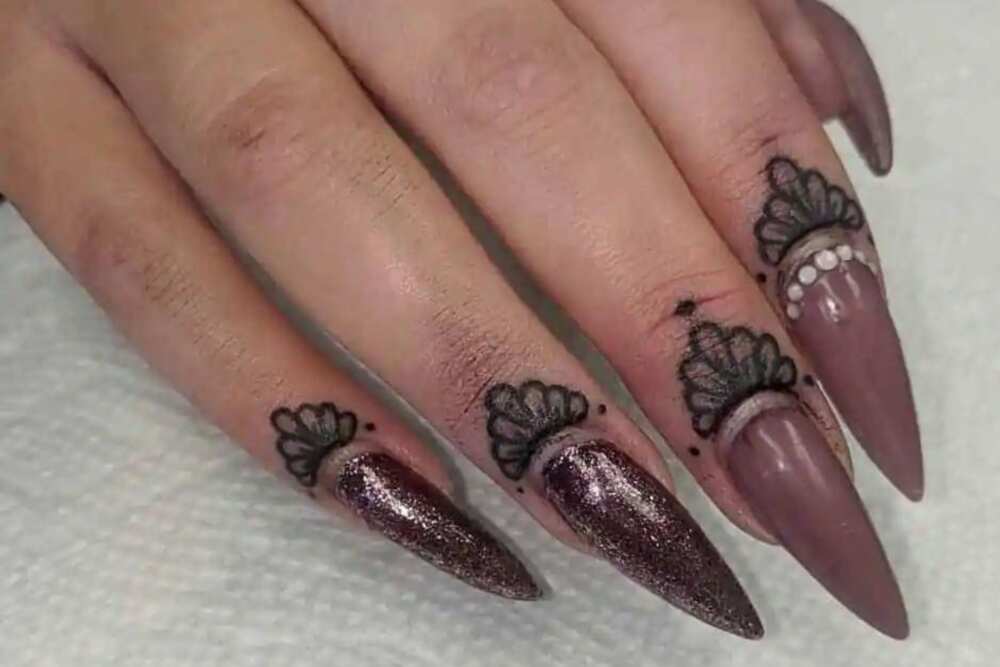 A tattoo is an excellent way to highlight any part of your body, even nails. Decorate your fingers with such flower leaves, and stress the attention to your perfect nails.
61. Pawprints
Modern technologies and ink allow the depiction of any character to use any colour and style. If you have a deep conception with your cat, you can have paw prints with a sign of love, as seen above.
62. Similar pattern decoration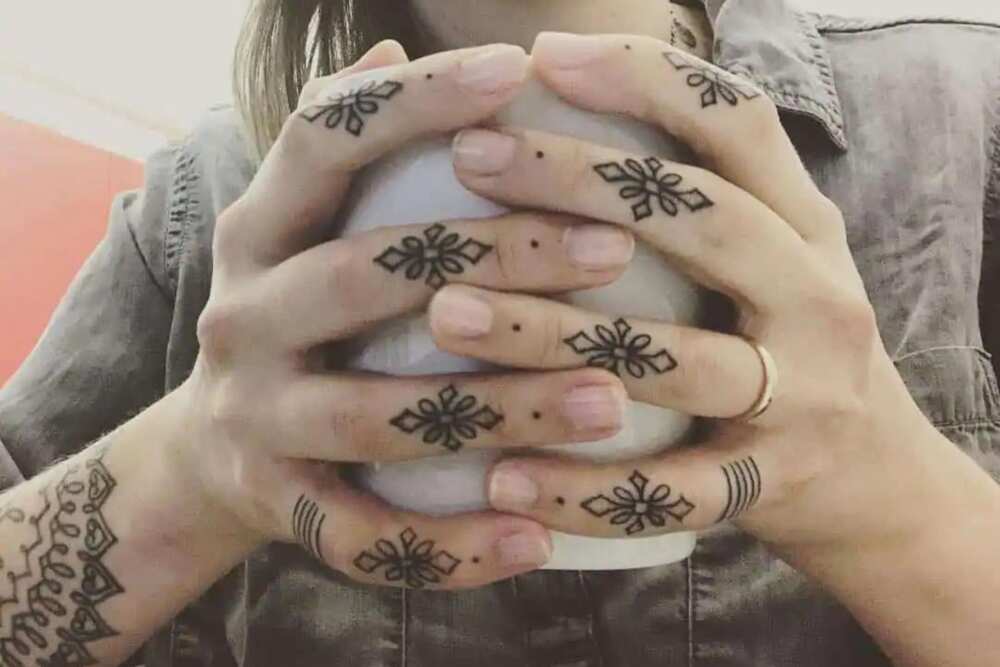 This is a creative variation of the patterns. Use light patterns that consist mostly of lines and flowers and get a light composition.
63. Wedding ring tattoos
These designs are an excellent way to express your love. They serve as a lifelong reminder of the love and devotion shared in the marital relationship
64. Trees in ring design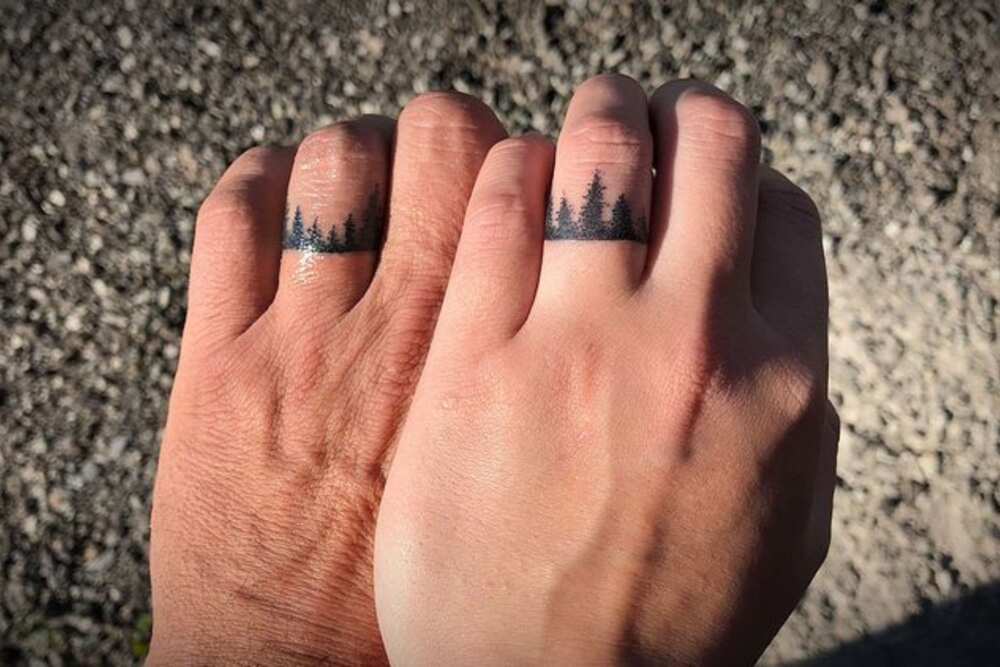 Do not hold your creativity. What about wedding rings in the form of trees? No metal ring can give you such an effect.
65. Decorative gestures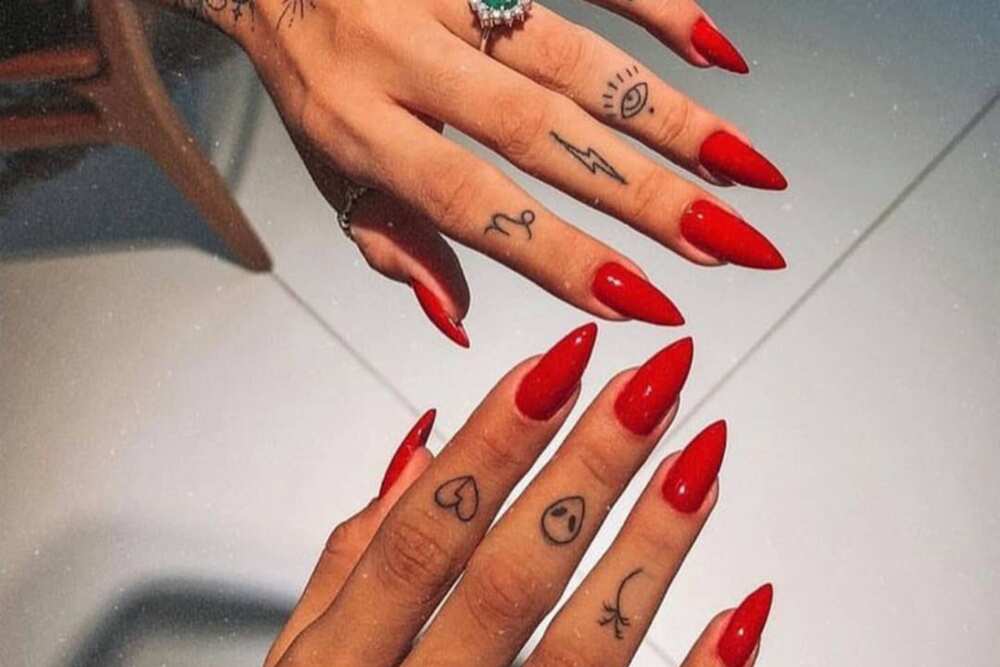 You can create these unique decorative designs of various symbols. They are simple, small and can carry variant meanings.
66. Simple love ideas
While there are lots of love ideas to go for, you can choose to showcase your love by tattooing love words on your fingers.
67. Matching rings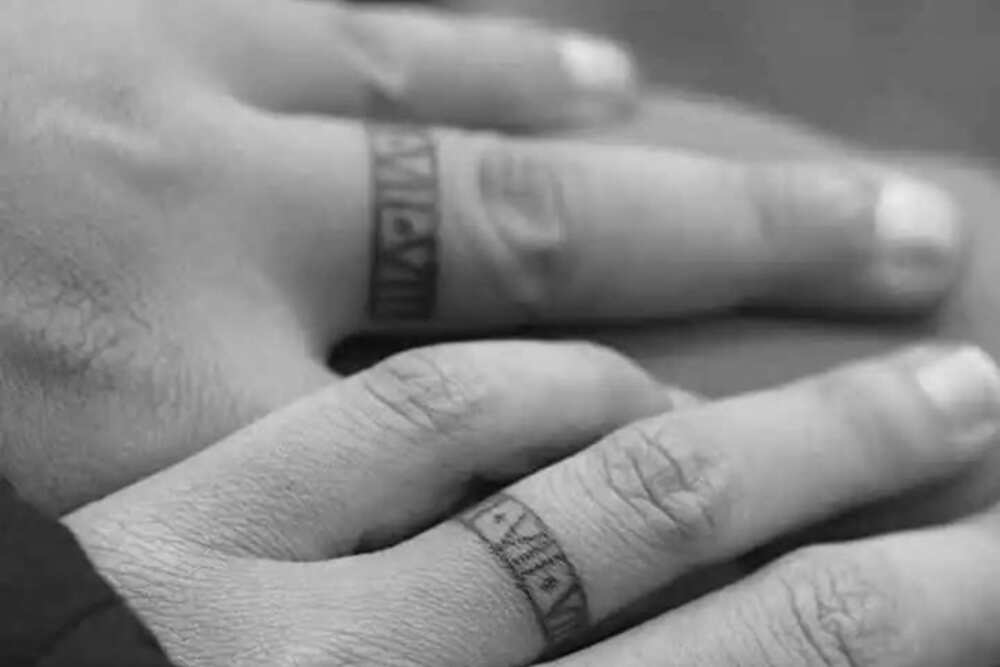 Just like a traditional wedding ring, a ring tattoo can represent a commitment to a romantic partner. It symbolizes the everlasting bond and dedication between two people.
68. Angle-shaped design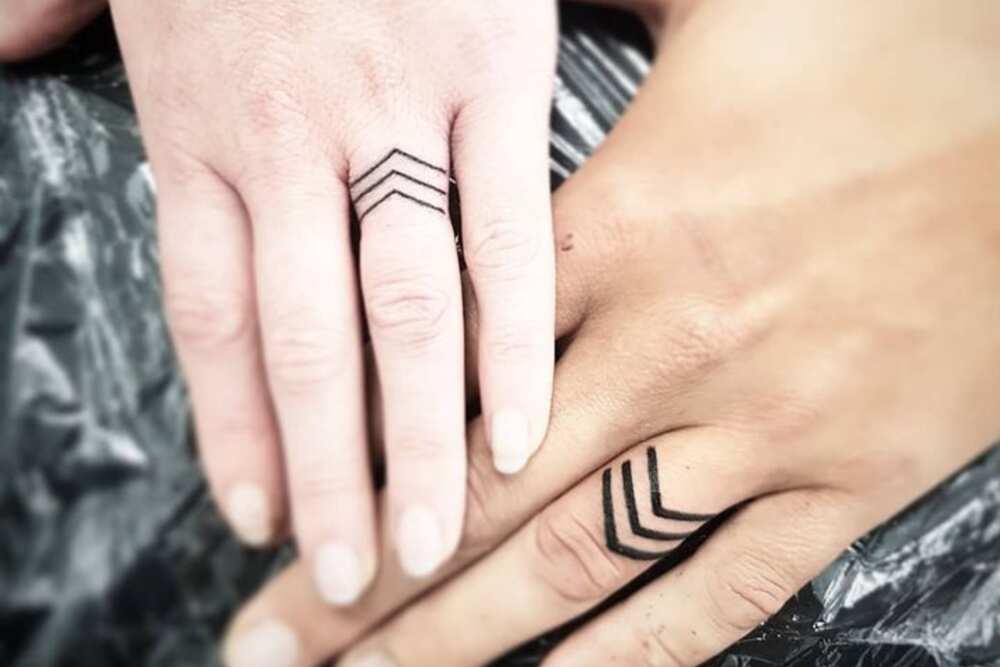 When it goes to tattoo rings, there are various designs you can go for apart from the traditional lines. You can draw angle-shaped designs, as shown in the photo above.
69. Simple ring design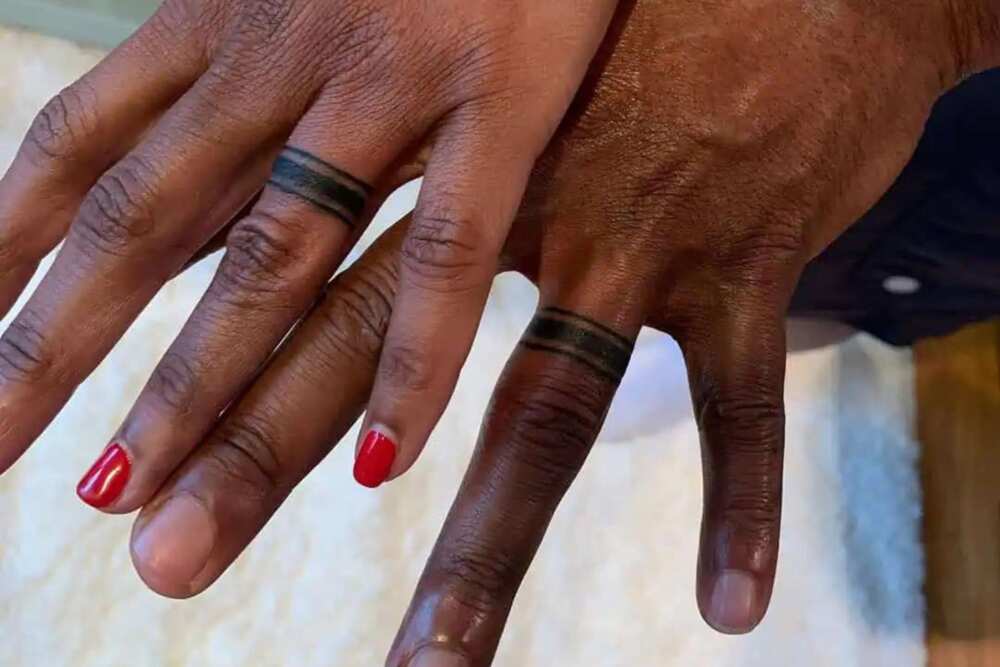 This is another minimalistic style for couples. There are no extra parts, just simple lines to show your love.
70. Rings and letters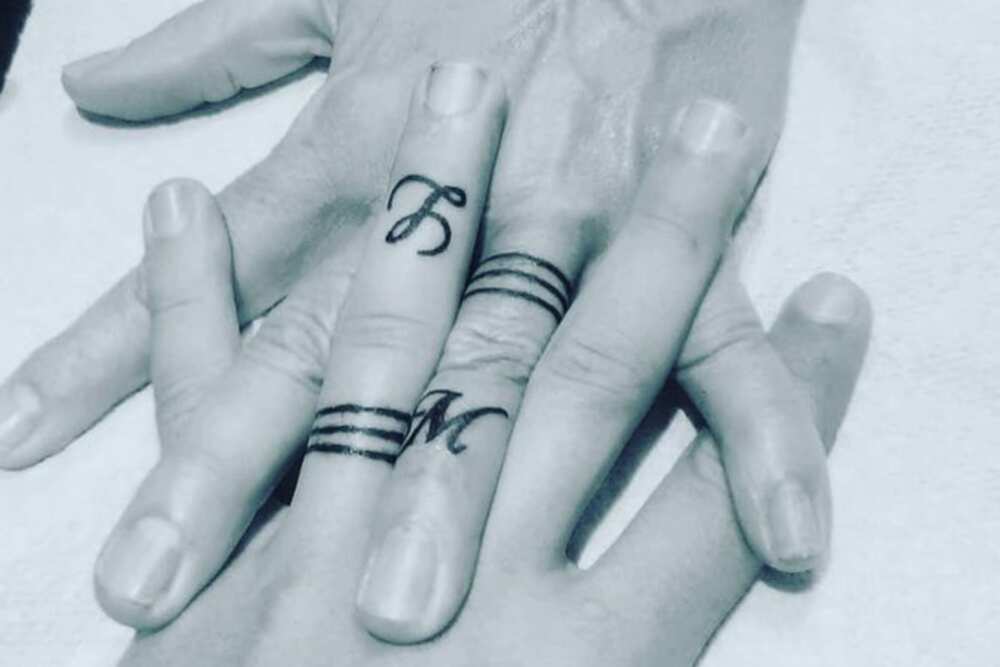 Rings and letters are very suitable for wedding tattoos, so you can just combine these images. The idea is simple but looks gorgeous.
71. Unique design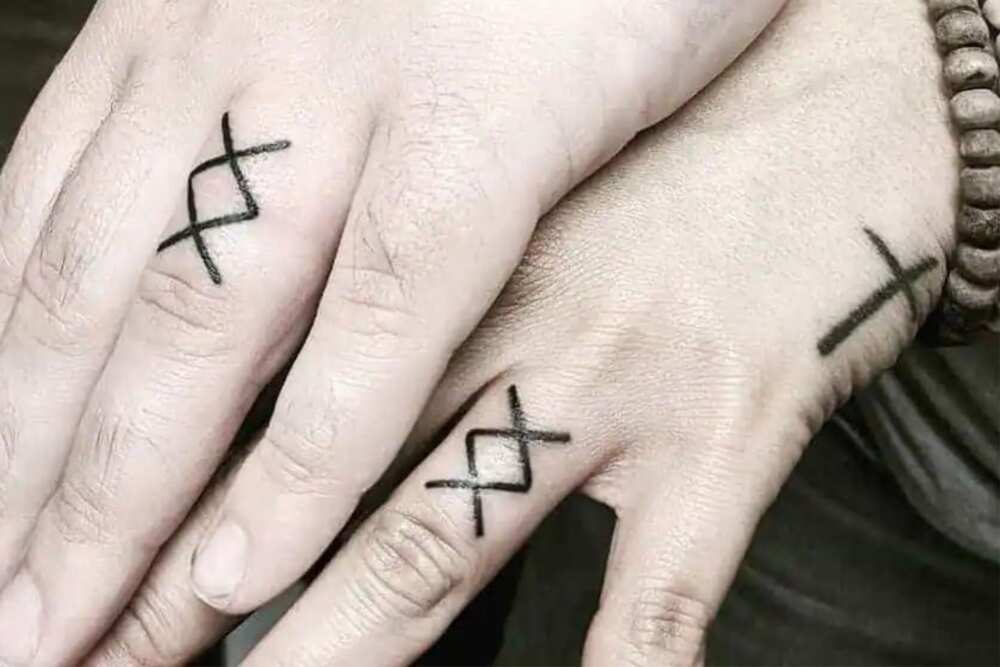 It is not necessary to use any ring form; create your own concept! What about such variation? It can signify the enduring nature of the commitment made during the wedding ceremony.
72. Small finger tattoos
Your love is the thread between you, so depict it. It is a little, sweet tattoo that expresses your feelings.
73. Bold ring tattoo designs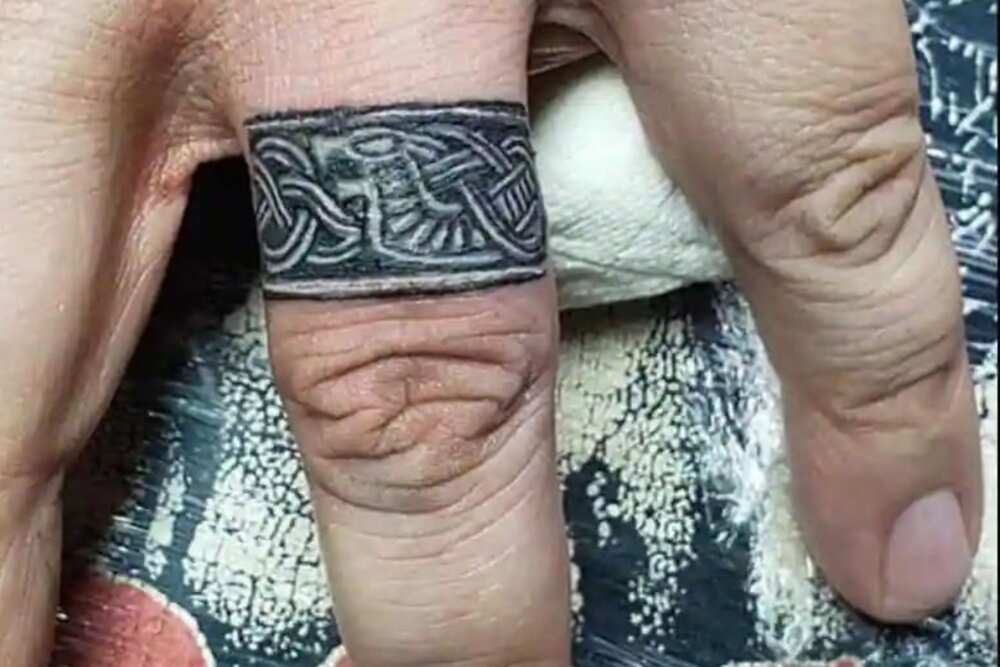 You can make a tattoo not only of a wedding ring but any ring that you like. There are no limits to design.
74. Minimalist fashionable
One black line adds some zest to your look. You can opt to go for a single line or create double lines. This is one of the most beautiful girly classy finger tattoos any girl can opt for.
75. Wave style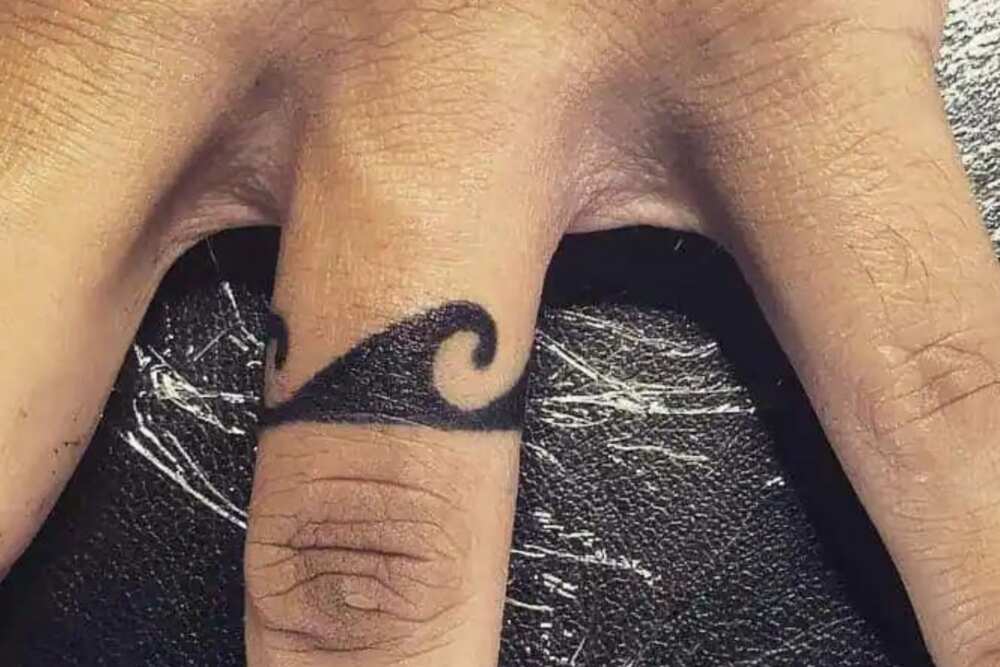 Wave finger tattoos can be customized in various ways to reflect your unique style and personality. This is a good opportunity to showcase your creativity and make a statement in a small, romantic way.
76. Floral finger tattoo
Floral patterns are frequently associated with femininity and delicateness. A floral finger tattoo can enhance the inherent attractiveness of the hand while also adding a touch of elegance.
77. Minimal decorations
What are you so passionate about? You can decorate your fingers using some of the things that inspire or motivate you.
78. Heart outline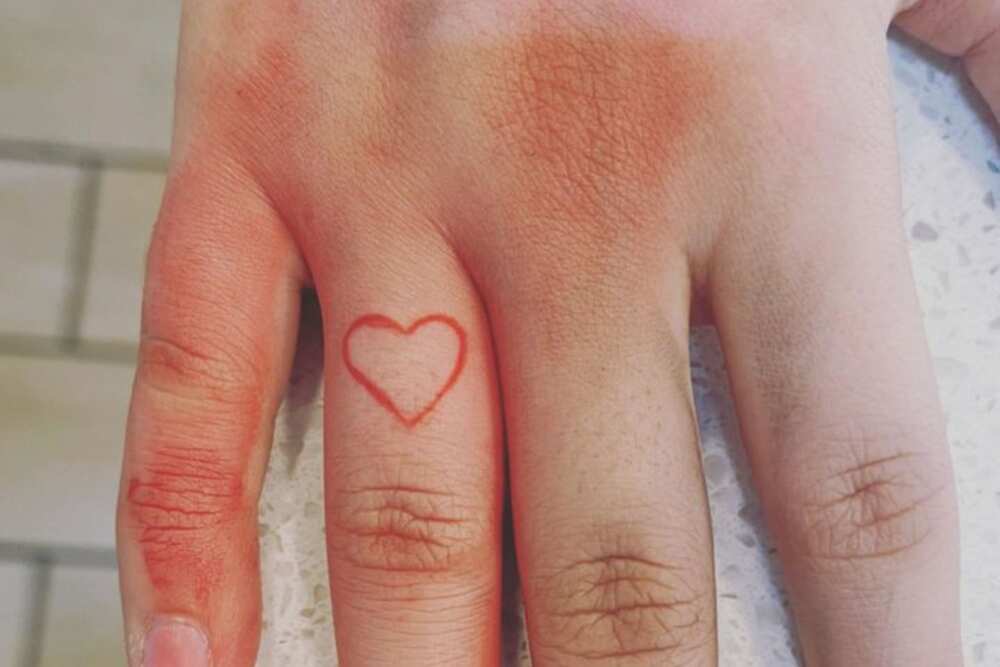 The heart is well-known as a symbol of love, affection, and emotion. The tattoo can serve as a constant reminder of love, whether it's self-love, love for a partner, family, or friends, or even a passion or cause that means a lot to you.
79. Black snake
While snakes are frightening, this tattoo can be a terrific way to show off your love for animals. It can also represent a personality feature that you admire.
80. Lotus flower
This tattoo can serve as a reminder of the beauty found in nature and the importance of staying connected to it.
How long will finger tattoos last?
This can carry depending on the type of ink used. In most cases, they tend to fade away faster compared to those in other parts of the body.
Do tattoos on the finger hurt?
The skin on the fingers is thinner, and there is less fat and muscle to cushion the sensation of the tattoo needle hence can tend to be painful.
Are tattoos on fingers a good idea?
Yes. Finger tattoos can hold personal significance and serve as a constant reminder of something meaningful to you.
What is the downside of finger tattoos?
Finger tattoos tend to fade faster than tattoos on other parts of the body due to constant exposure to sunlight, frequent hand washing, and the thin skin on the fingers.
There are various finger tattoos to try out. You can use letters, short words or symbols, little pictures, geometric forms or your own logo – all these are great options when it goes to the decoration of your body.
Legit.ng also published a post about African tribal tattoos. The African culture has embraced tattoos as a form of expression, identification and spiritual reasons.
Various African tribal tattoos carry significant cultural messages from different generations. They honour the African culture and are a form of art. Check out these meaningful African tribal tattoos to help you express your African roots.
Source: Legit.ng