50 mother daughter tattoos ideas to inspire you
Not so long ago the older generation was categorically against inking, especially when it came to their children. Modern parents are more loyal to such kind of art. Some even do them with their offspring. With the help of matching mother daughter tattoos, they express their connection and love, which will remain in their hearts forever, just like ink on the skin.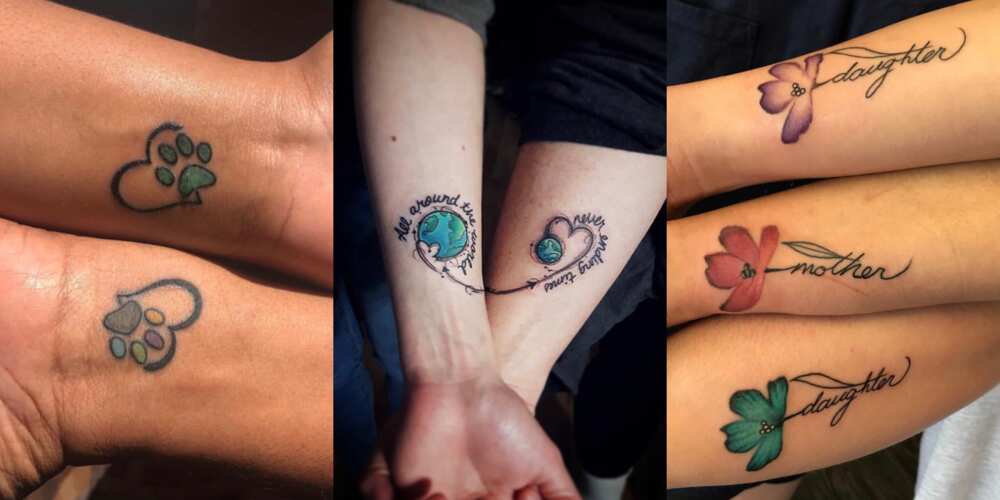 The art of tattooing is becoming increasingly popular. Adults also tend to decorate their body with a permanent picture nowadays. For example, instead of scolding her daughter for an ink image, some mothers prefer to share this passion. Moms and their girls make cute and symbolic tattoos that highlight the special bond and strong love that bind them.
Best mother daughter tattoo ideas
What are the best mother daughter ideas out there? Let us take a look:
1. Where it all begun
One of the best ideas for a mother daughter tattoo will be one which will honour the sacred event of childbirth, and the moment a woman becomes a mother. The image with two fingerprints merged into a heart is a symbol that will show that their hearts are beating as one since the baby came to the world.
2. Birth and life
Here is another beautiful variation of the previous picture. Such a creative idea is also displaying the concept of a mom and her child's bond.
3. Love message in the form of a rose
This is another idea that expresses the love bond between a mommy and her girl. It is not possible to evaluate such a thing as parental love as well as the child's.
4. A picture of you
If a tattoo is a permanent thing, why not make it one of the most sensible memories? It will remind you of each other and of the day and moment you shared while taking this picture.
5. Like mother like daughter
As they say, like father like son. The same rule is applied for mom and daughter. Mothers are examples to follow for their children, but we are sure such an idea is an exception for the rule. Making it in each other's handwriting will make it even more intimate and personal for you.
6. No matter what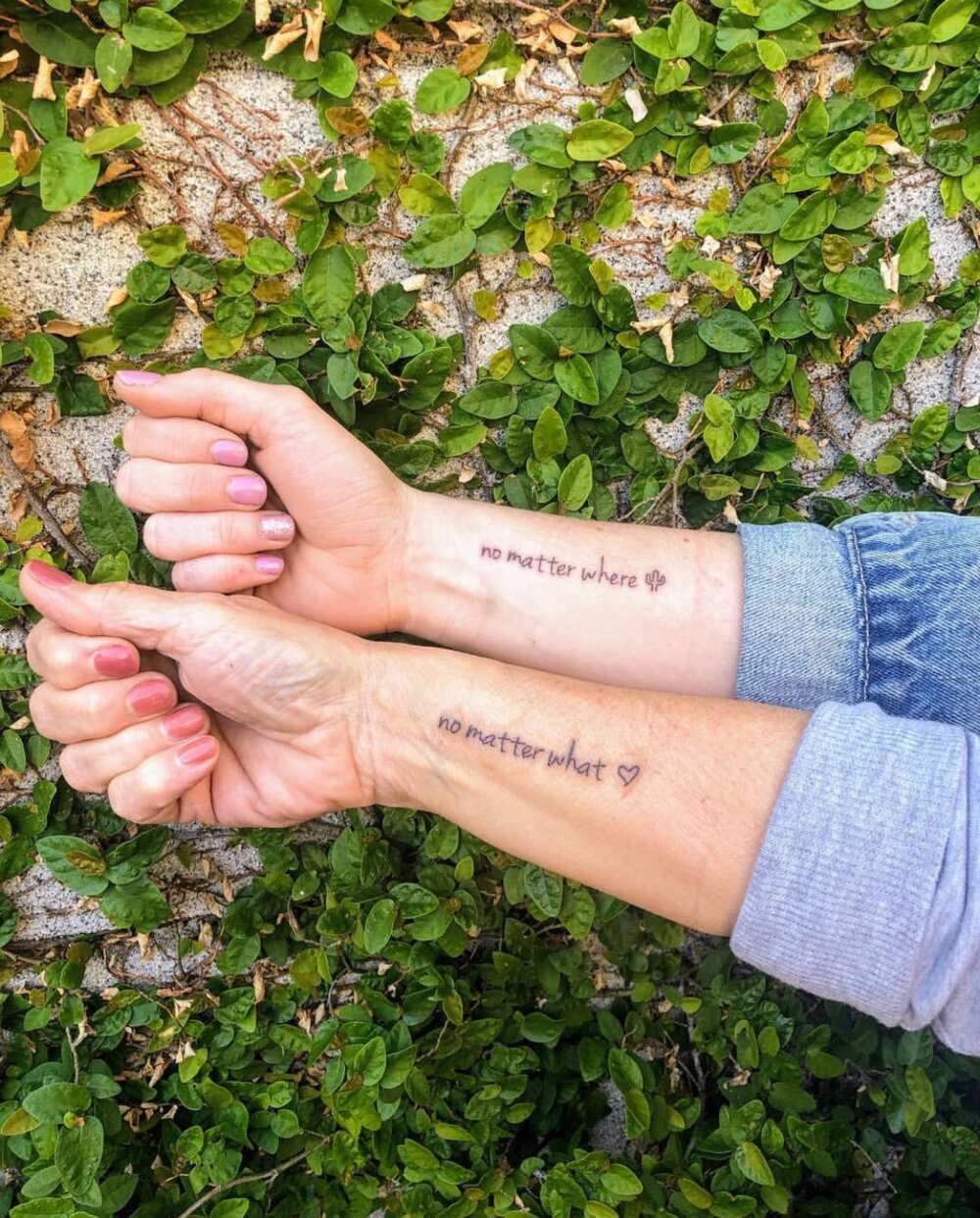 This variation will express that mothers always stand by their children as well as daughters for their moms. Making a tattoo with such phrases will be a sheer appreciation of such loyalty and love.
7. Cute elephant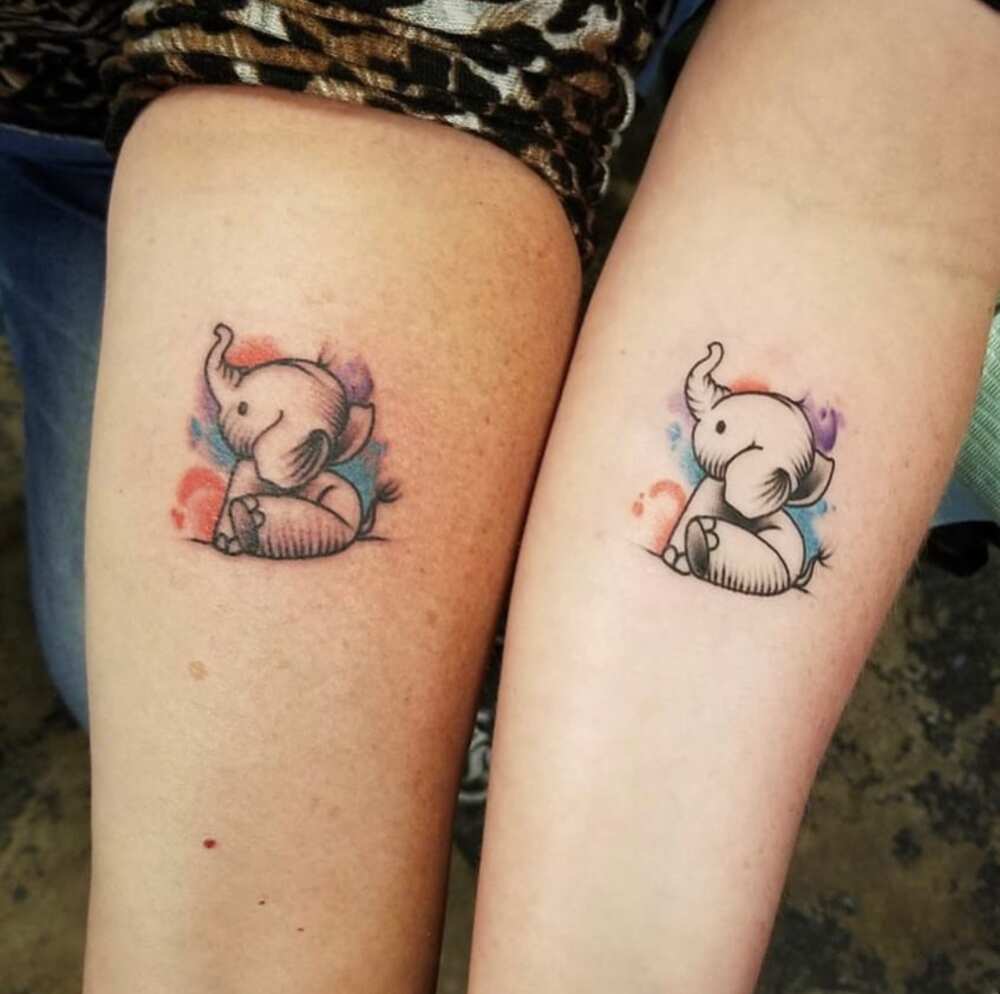 This is just cute and colourful. When you do not have the desire to put too much sense into ink, then just put something random on your skin. This lovely little elephant can be your perfect match.
8. Mandala flower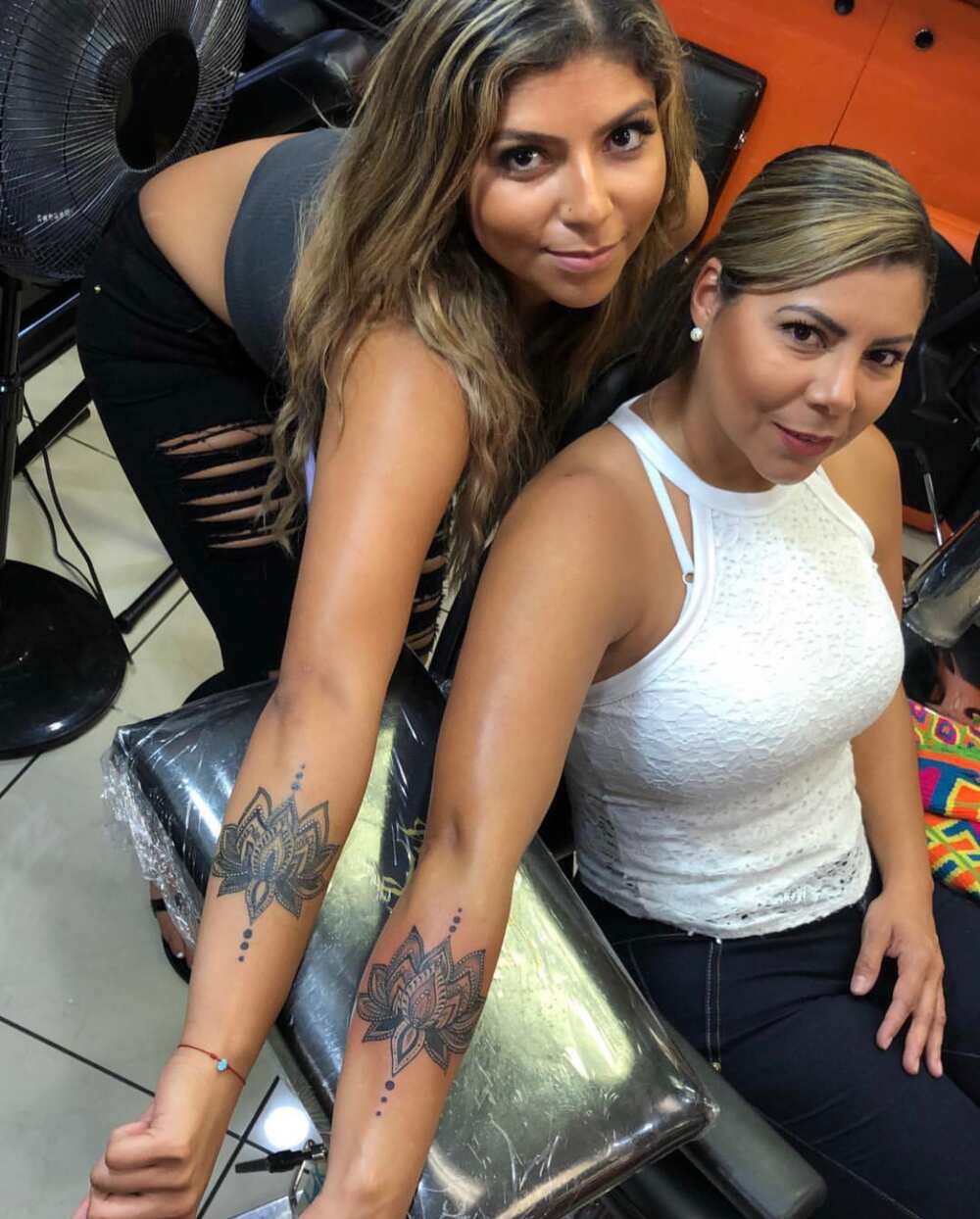 This beautiful flower will perfectly match beautiful ladies. Just dare to try it, and you will not regret the choice.
9. Greatness tattoo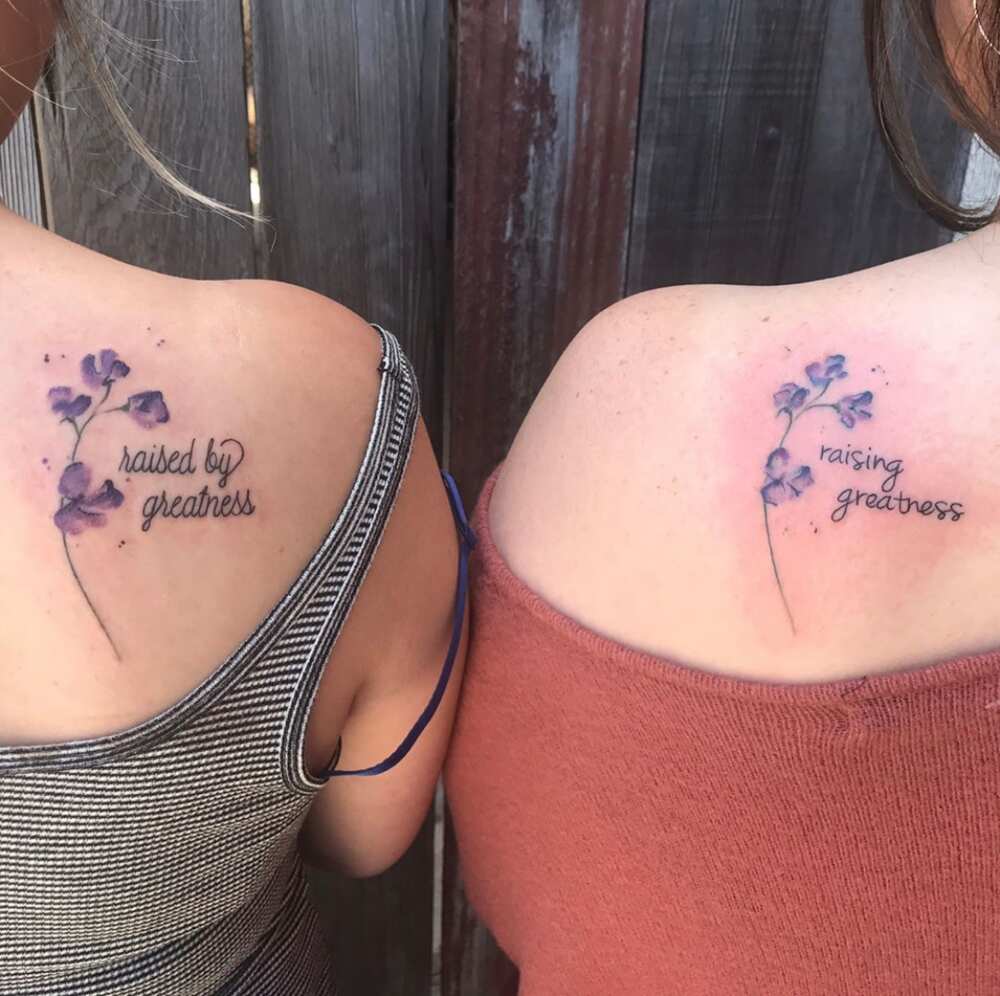 This mom and daughter tattoo looks nice and feminine. It also shows the gratitude and pride of both ladies in playing the significant roles in each other's lives.
10. Double heart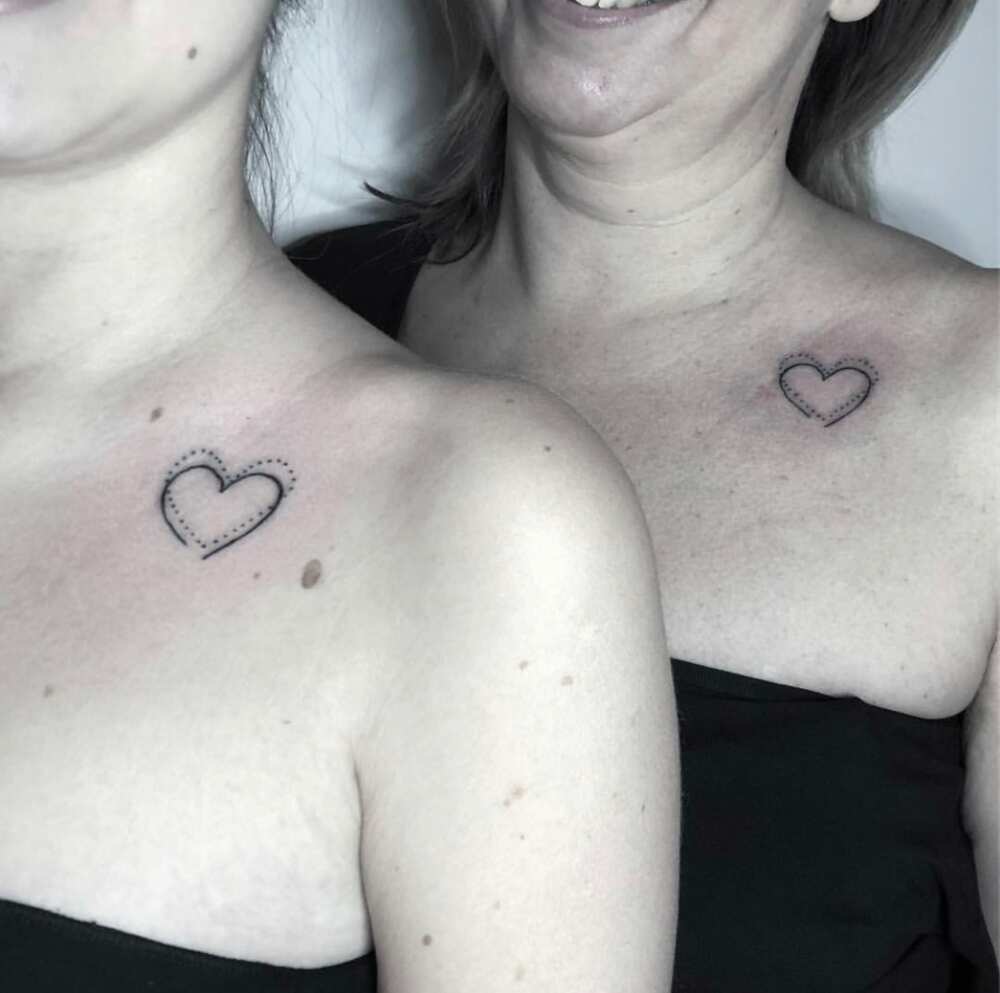 The simplest way to express mother and daughter love with ink is making a little heart. This minimalistic picture can say even more than any lavish designs.
11. Mother and daughter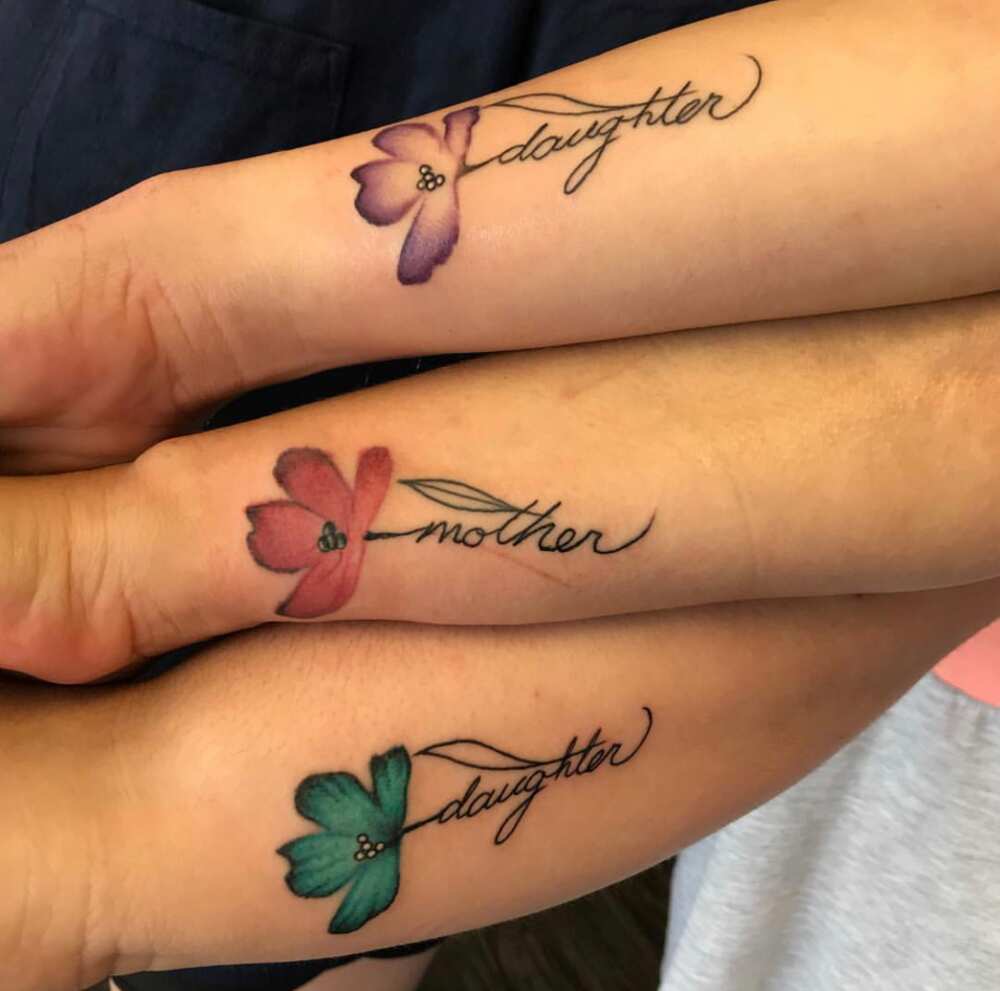 This design will be perfect if you are a proud mother of several daughters. No one will be left out.
12. My only sunshine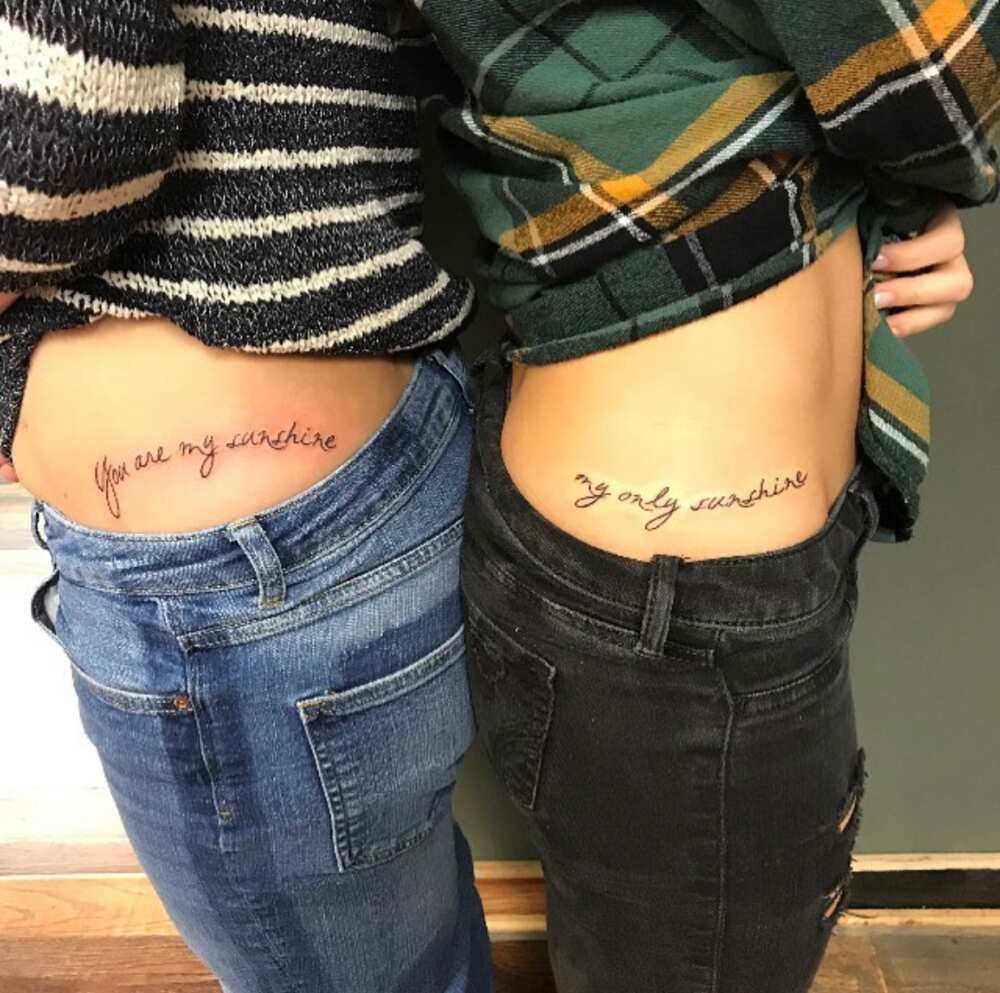 Handwritten inking is a big trend. Do not miss it and try something beautiful and simple for you and your mom.
13. Pinky
Such ink is a creative way to show a mother daughter's symbol of love and their eternal bond. It looks neat and cute, and your mother will definitely not reject the idea.
14. Faith, hope, love
There are three main elements that describe the connection between mother and daughter the best. They are faith, hope, and of course, love. Making such wrist ink will be ideal for those who believe in this statement with all their hearts.
15. Dandelion
Matching mom daughter tattoos look the best when they create a one-piece image by matching body parts.
16. Mother loves daughter
A beautiful flower with a wonderful handwritten font and a cute little heart as a centre detail are the secret for a fantastic design.
17. Eternal bond
A spectacular lily flower with an eternity symbol in it is an ideal mom and daughter tattoo design to display all the love and connection between you.
18. All around the world never ending times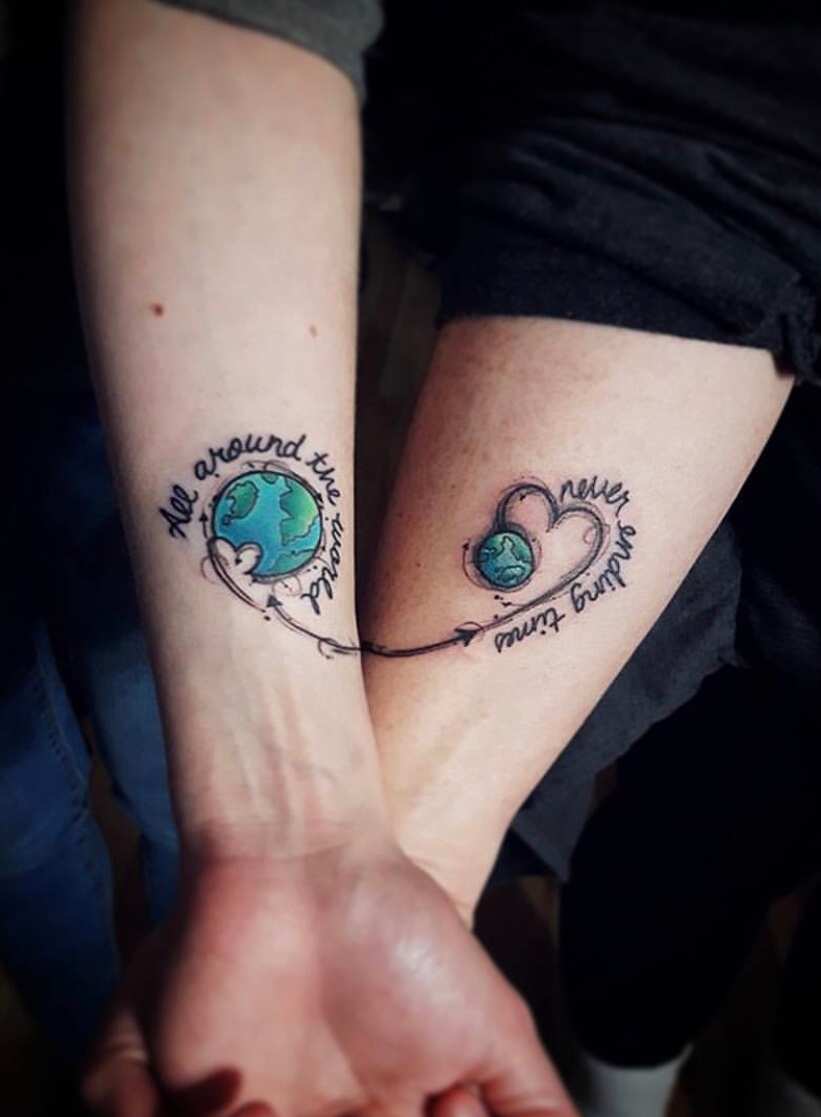 This design contains a lot of symbols and signs – Mother Earth, hearts, and a strong connection despite the distance.
19. Heart and kitten paw print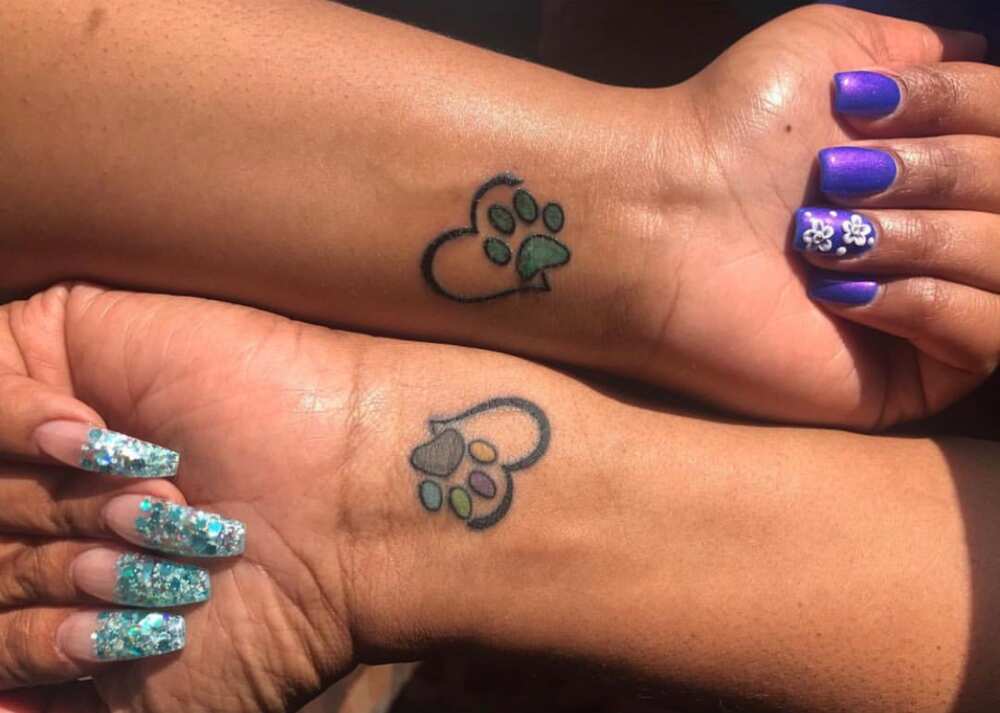 This one look just amazing although very simple. Sometimes you do not need a sophisticated design to express something. An ordinary heart with a bright element will be just enough to look fantastic.
20. Minimalistic elephants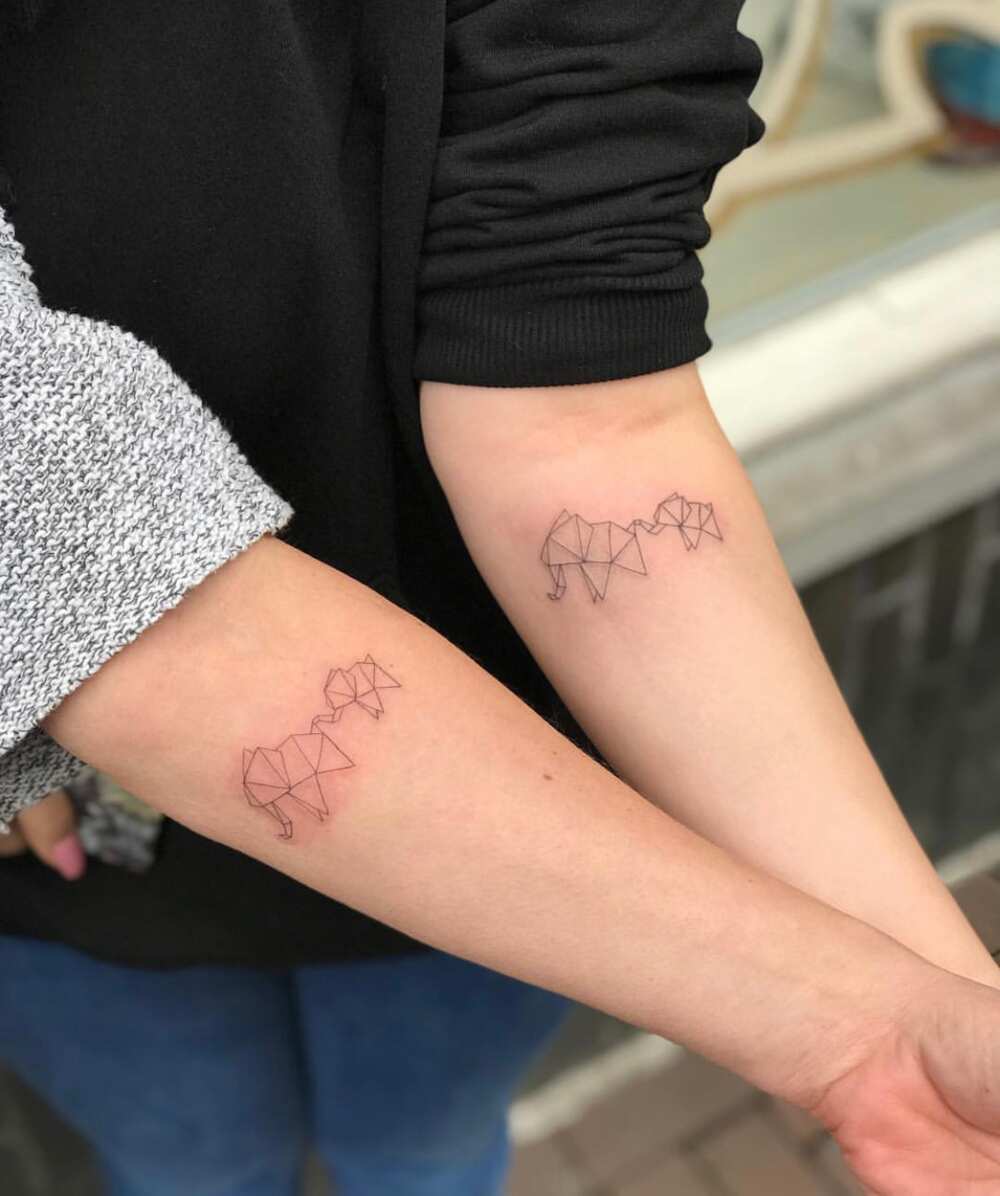 Elephants are really popular for mom and daughter tattoos. These minimalistic animals depicting a mother and a baby look so cute and symbolic.
21. Colourful birds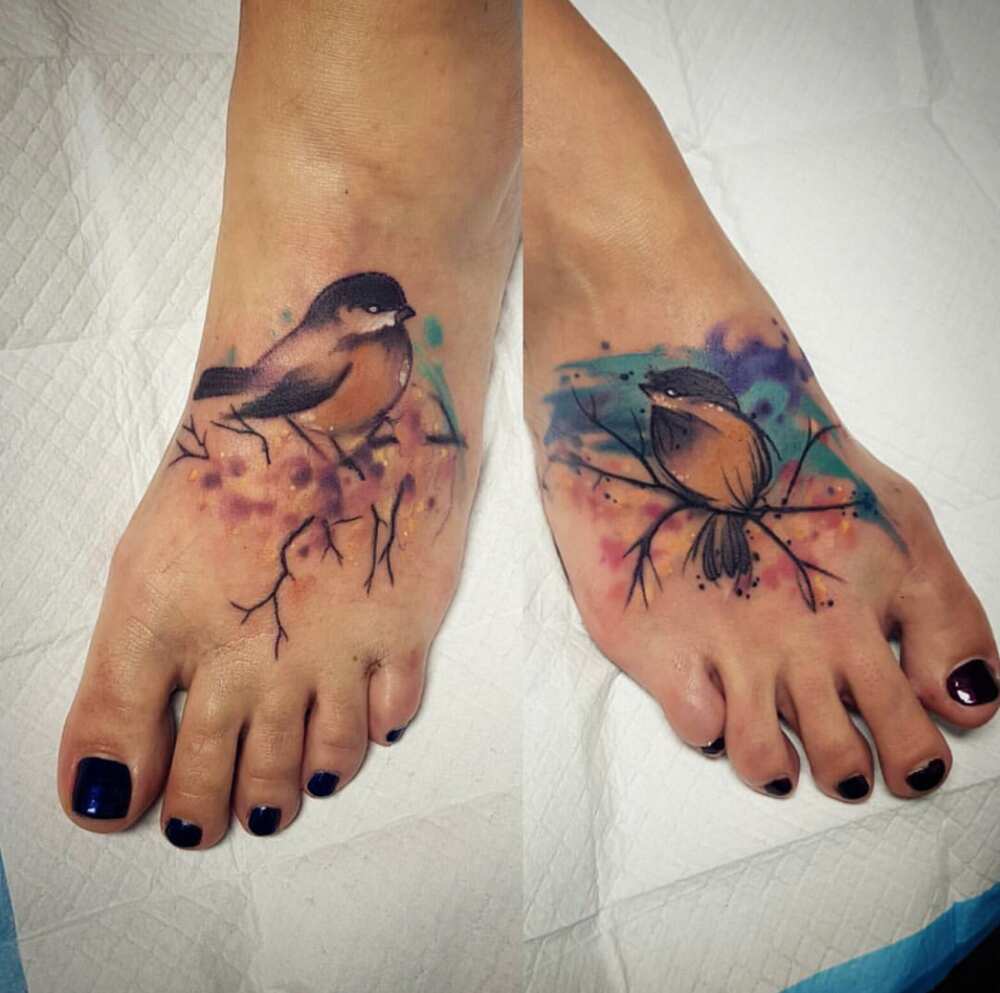 If you are not afraid of going a bit extra, you can try these gorgeous birds sitting on a branch and looking at and after each other.
22. Family connection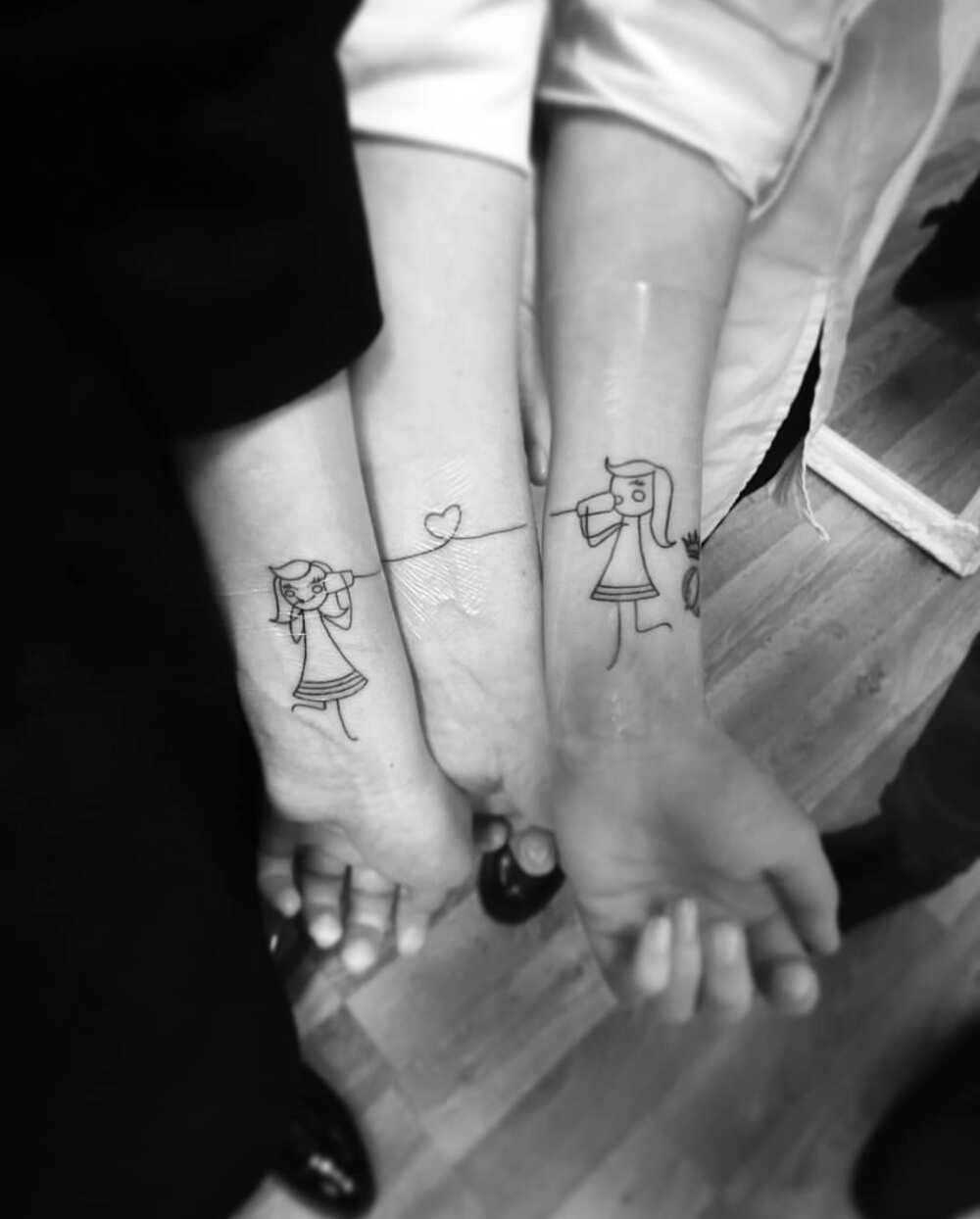 This one is a perfect choice if there are two sisters in a family. The heart on the mother's hand shows that her love is enough for both of her girls.
READ ALSO: Water therapy benefits and side effects
23. Flower hand tattoo
Any flower will look wonderful on you and your mother. Such a picture will make both of you look even more beautiful and girlish.
24. Stars
Gazing stars are the second best thing in the world after mother and daughter seeing each other.
25. Splashy heart
A cute and symbolic depiction of how the mother's love fills her daughter's heart. What can be a better idea for an ink?
26. Dove bird
The love of mother and daughter is not a silly pigeon. It is a noble dove bringing peace to their hearts.
27. Colibri birds
Matching inks are not to be the same. It will be enough to combine them with a common element like this beautiful colibri bird.
28. Tulip on the wrist
Flowers are a classic theme for mother and daughter tattoos. These tiny and minimalistic tulip flowers will become a good start.
29. Eternal love
The love of a mom and daughter is eternal and reaches their hearts through time and distance. Such a design is an exact symbol of this fact.
30. Always
The word "always" is so overused in our world. Nevertheless, it carries some really eternal values sometimes. One of those values is love, the love between a mom and her baby girl.
31. Rose and eternity
Roses are flowers of strong women and their daughters. Then here, the sign of eternity and the rose stalk making it are the symbols of the strong bond between a mom and her child.
32. White ink tattoo
An ink made with white ink will be very creative and vivid. Just give it a try.
33. Blessed tattoo
This design just speaks for itself. It shows how blessed a mother and daughter feel to be in this world with each other every day they have.
34. Date of birth
Putting down the date of birth of each other is a great idea for daughter and mom tattoos. At least, none of you will forget about the day.
35. You are my sunshine
A cute ink with a phrase that is never outdated. It expresses the simple truth of how a mother and daughter love and appreciate each other.
36. Symbol of eternal connection
This one depicts a mother holding her precious girl. They form an eternity symbol to express that the bond of mom and daughter cannot be disconnected no matter what.
37. Zodiac sign
Making zodiac signs as a tattoo design will be so cool. Just imagine what an amazing match you can get if your mother and siblings were born under the same star.
38. Heartbeat
Try this mom and daughter design to express that your hearts are beating for each other. Nothing can be more symbolic in this case.
39. Henna tattoo
Some henna tattoos can be a good decision even for young girls as they are not harmful. In addition, the child's excitement will be unbelievable when she receives a beautiful tattoo like her mom.
40. Life and love
A simple tattoo with a simple word about a simple truth. A mother and daughter have an incredibly firm bond of love between them, and it lasts throughout a lifetime.
41. Infinite love
Another variant of a matching tattoo with separate phrase fragments. Written in a Disney style font, it looks even cuter than it could be in any other one.
42. Mother and daughter
A quite minimalistic and still gorgeous design of a mother holding her child with a heart on the background.
43. Together forever never apart...
Phrase fragments expressing the inseparable love of mother and daughter will be an inspiring reminder when you have a huge distance between you and your beloved mommy.
READ ALSO: Top 20 bravery and courage quotes to inspire you
44. Wrist cross tattoo
You can also try this simple and little element that will show the faith in the connection between a mother and daughter.
45. Feet tattoo
Give a try to this tattoo if you want to show everyone your mother is your protector.
46. Framed heart
A little pink heart framed with a black line will express that the love of mother and daughter to each other that will never disappear like this tattoo.
47. Sunny designs
"My only sunshine" designs are eternal and classic like the love of mother and daughter. Their variations are very diverse.
48. True love
The love of a mother to her daughter and vice verse is true love. It cannot be broken by any circumstances. A small heart behind the ear will be like a little spark of love that never fades.
49. Family
Just take a simple word and pair it with any significant and symbolic elements to make it more intimate and unique.
50. Three hearts
It is a beautiful tattoo design which shows that a mother's heart always beats for each of her children and gives strength to their hearts through bond channels.
Mother daughter tattoos designs are really diverse. You can use someone else's and complement it with your own details, or you can create your personal sketch from scratch. The possibilities are limitless. The only question is about inspiration.
READ ALSO: Best words of inspiration: quotes and messages to motivate you
Source: Legit.ng