35 simple henna designs to try in 2019
Today, people are searching for new ways to express their individuality and make their look more memorable. One of such methods is painting their hands with henna. Over time, thousands of captivating designs have appeared on the internet, and anyone nowadays can easily copy them. Check out these 35 exquisite henna designs that you can repeat! They will blow everyone's minds away!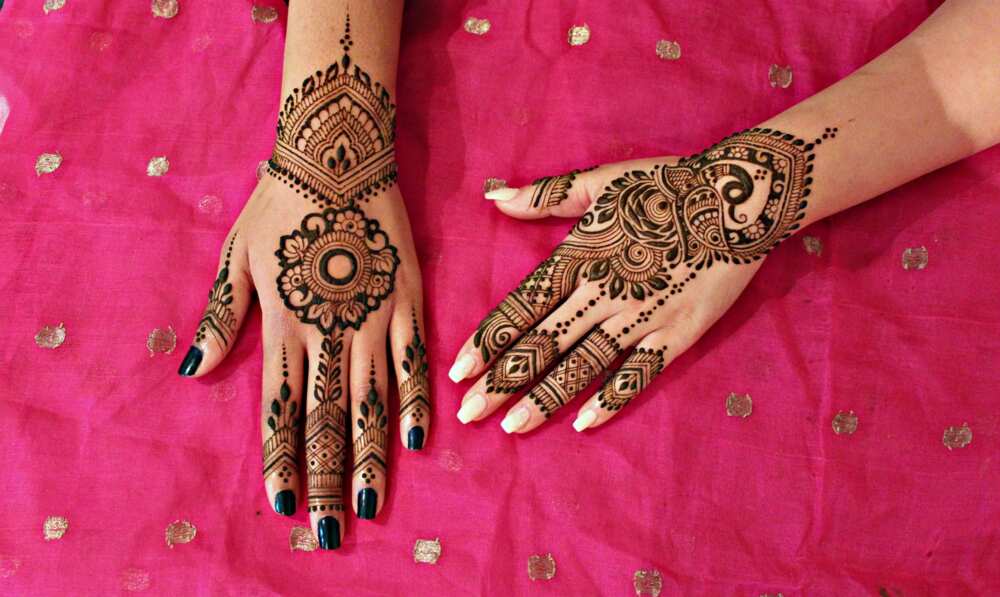 Are you completely in love with the Henna tattoos when you see them on other people? Perhaps you secretly wish to have one as well, but feel like it is a complicated procedure? We will let you in on a secret: Henna patterns, or as they are also called, Mehndi designs, are not as challenging as you think. If you are a beginner, you can choose some easy henna designs and start with them, and gradually move to something more complex.
Simple Henna designs - Top 35
Henna hand designs originated from Ancient India when the tangled patterns were drawn on a human's body to decorate it. For this purpose, the powdered dried henna leaves were used to create a special paste that served for drawing. With time, it became a tradition at various celebrations and weddings. Nowadays, Mehendi design is very popular among women not only in India but also in the entire world. Due to evolution, henna tattoo designs are now considered fine art and have so many different forms. The newest trends in Mehndi design are always changing and never stay in the same place.
Many people trust professionals if they want to get their own unique henna tattoo, while some master the art at home and with time learn to do it on their own. Either way, sometimes drawing these designs on your hands and body can result in something unforgettable. If you perfect the skill of painting Mehndi tattoos, you can create amazing ones for yourself, as well as for your friends and family. Perhaps, you can even start your own business in the future related to henna design. For now, check out these 35 amazing pattern ideas!
1. Round, symmetrical pattern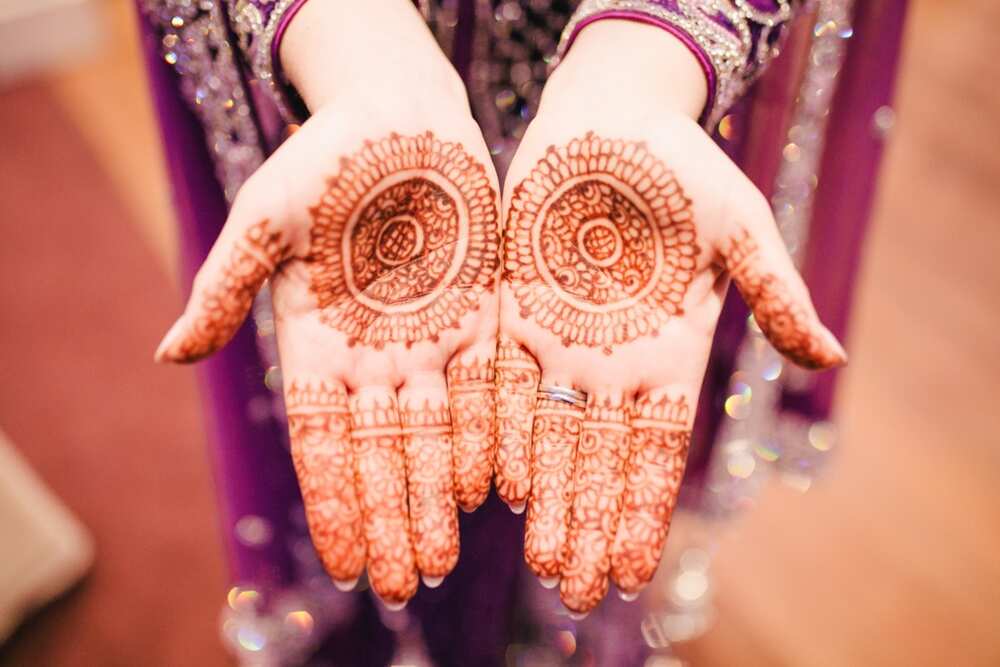 This regular design is perfect for every occasion, and it is one of the best ways to add some spice to your look. The circle is an eternal and universal symbol: usually, it represents perfection, wholeness, infinity and timelessness. Some say that the circle is a sign of God himself, as a centre of everything alive. Drawing on your palms and fingers can be tricky, but it will pay off when everyone is paying attention to your art and asking questions about it.
2. Lacy finger art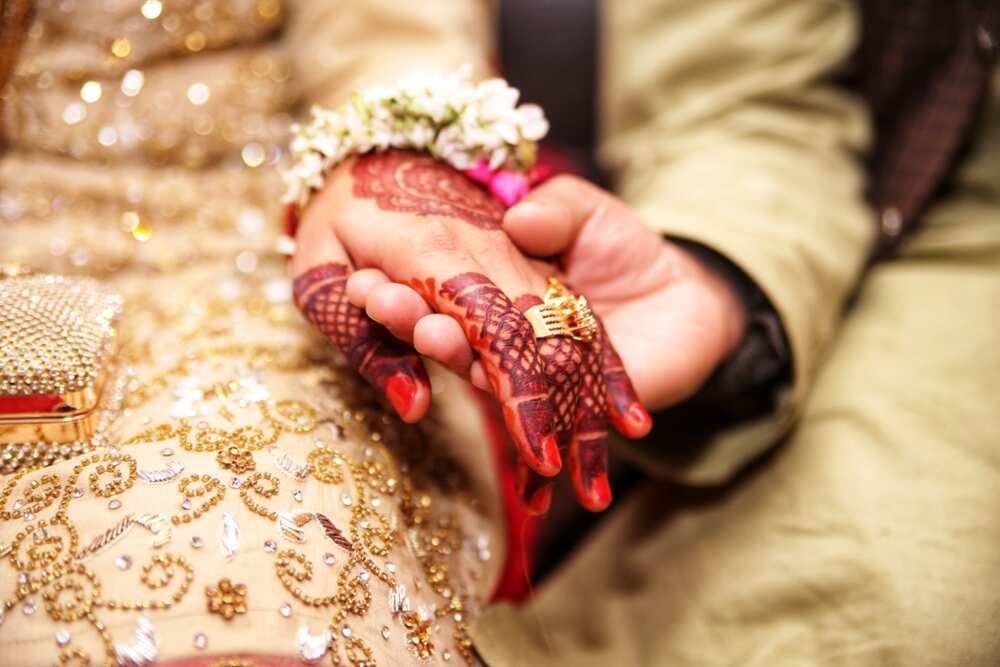 Do you know that it is possible to create a lace texture illusion on your fingers and that you will still be able to showcase your manicure? This design would be perfect for beginners who wish for something simple. Very often, brides wear such mehndi art on their hands for their wedding day.
3. Black overlapping circles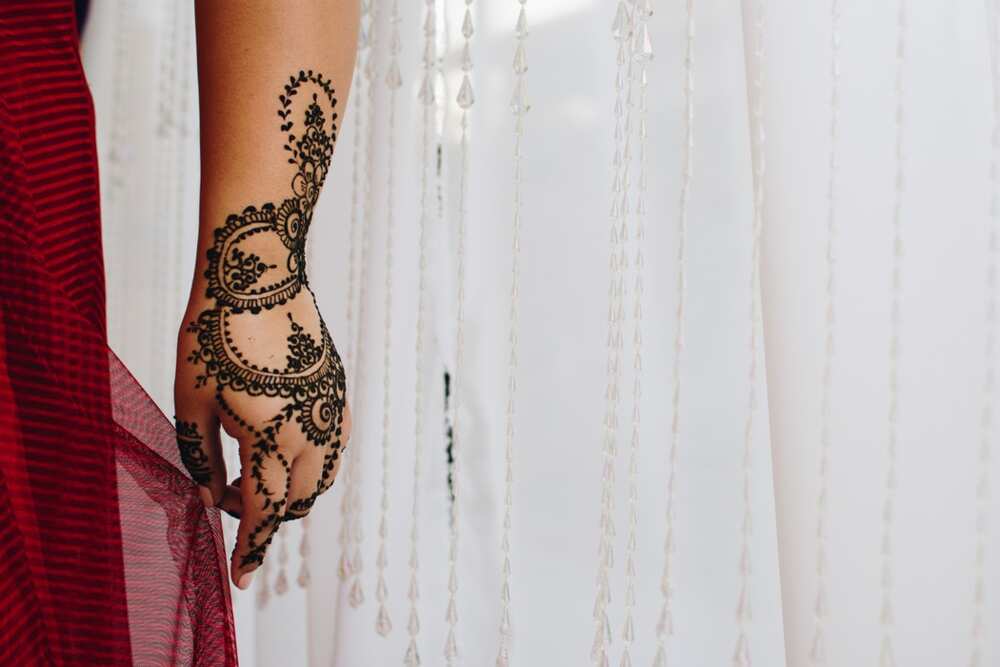 Just look closer: there are so many details in this henna art. All the round patterns preserve perfect symmetry, but at the same time, they overlap with each other. This can tell us that life can throw a lot of surprises at us and that it consists of many parallel events that can coincide with each other. This art would be perfect for a wedding, birthday, graduation or any life-changing event.
4. Floral patterns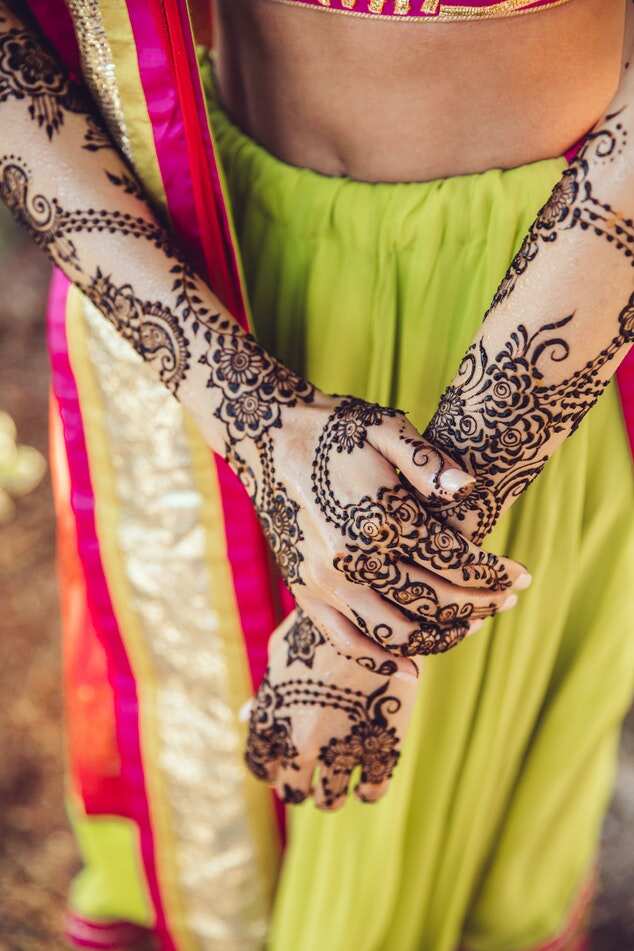 The uniqueness of this design is in how it consists of flowers and lines that represent plants. Flowers show us the beauty and magnificence of nature, and they have always been a symbol of innocence, purity and happiness. Therefore, a flower-themed henna tattoo is a great choice for a special event in your life, and the black ink would go well with a dress of any colour.
5. Unique scribbles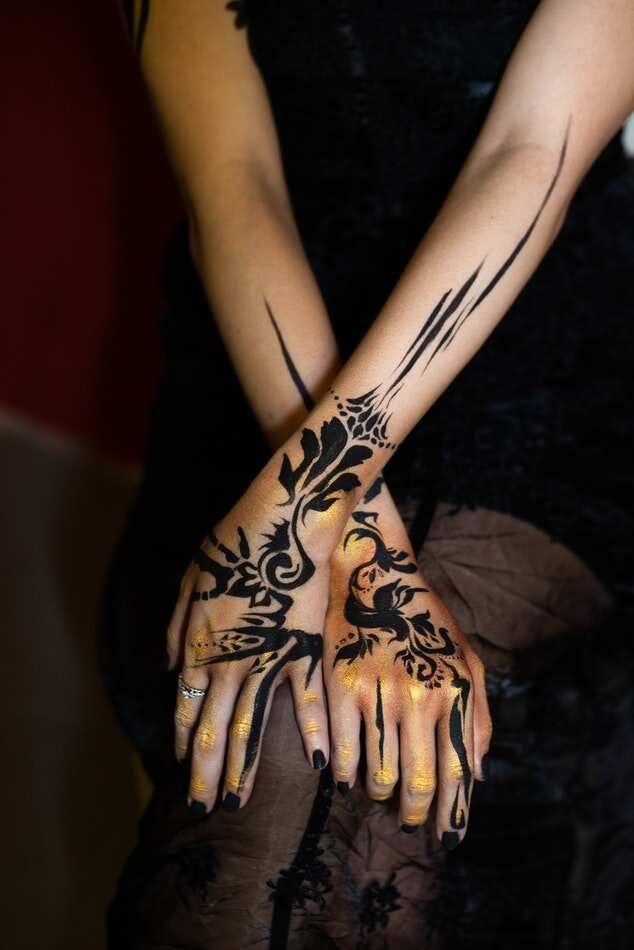 If you are not too fond of the small, intricate patterns, you might want to try something bigger. These designs have a special atmosphere related to them, and every single line means something. Mostly this pattern is created in black, but notice those little golden highlights. They will make this Mehendi art even more appealing.
6. Small red plant designs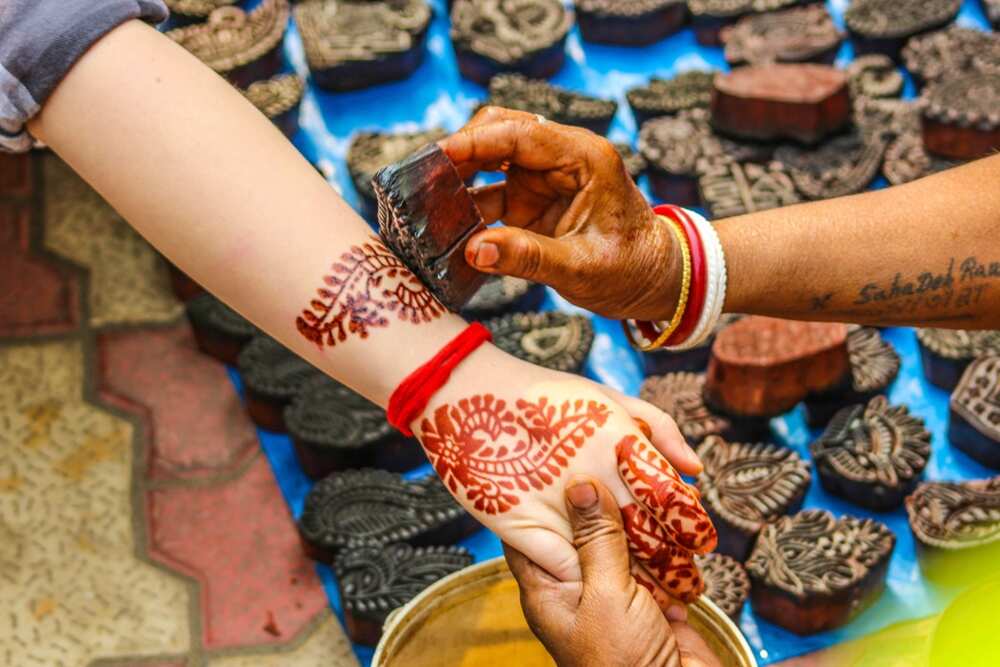 For the fans of the colour red, there are some floral designs in this shade which are quite realistic. Red always symbolises extremes: love, passion and adventures. In ancient times, red used to be a colour of blood and fire, which are the primary forces of life. Therefore, today this shade is considered to be very powerful and strong. Some red henna tattoos together with a cute bracelet would be an excellent addition to your traditional wedding or special event's look.
7. Full-hand designs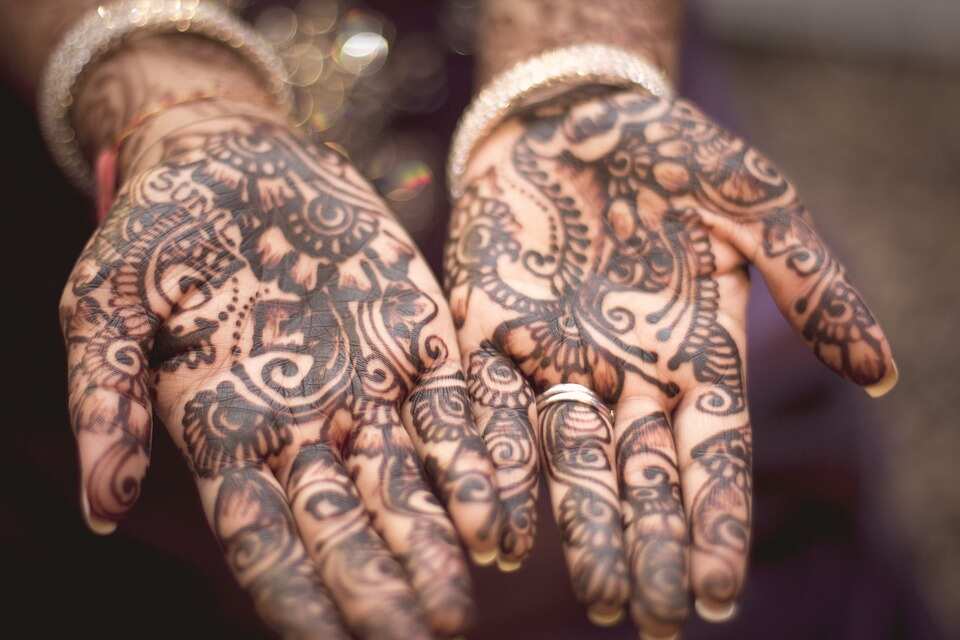 People have different preferences. While some opt for the small and gentle designs, some enjoy painting mehendi all over their arms. If you are one of those people, here is a great option for you: plenty of circled designs drawn on the hands and palms. Upon a closer look, there are even some letters written there, which could be a hidden message of luck. Either way, with such hand art you will not stay unnoticed anywhere, no matter where you go.
8. Gentle variety of tattoos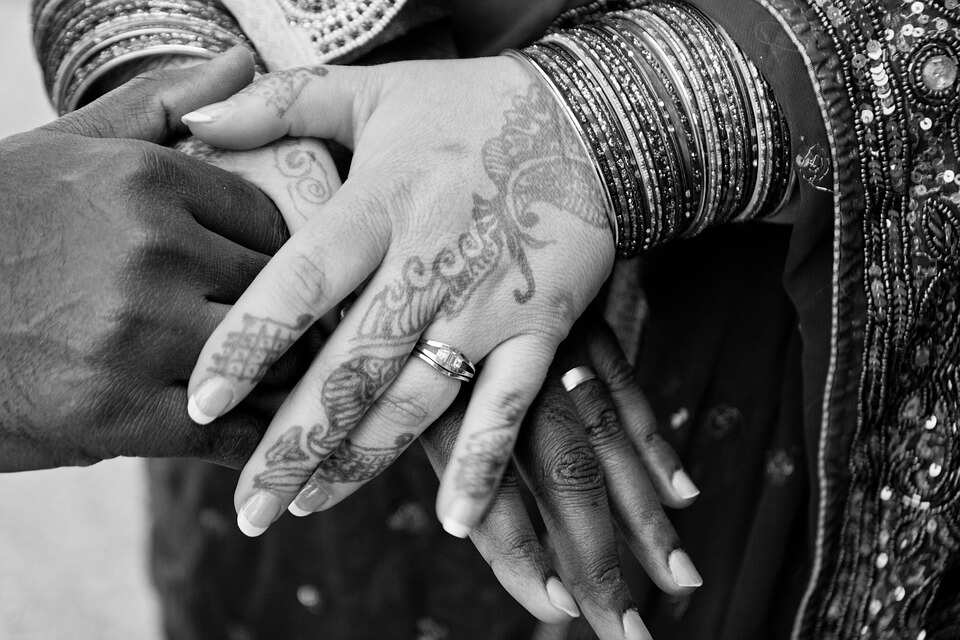 The body is a sacred temple for most people. If the person is bold enough to get a tattoo, even a temporary one, they make sure that everything is done perfectly, and the drawings that they carve on their body actually have a special meaning for them. For example, it is visible that this henna art sample includes a lot of absolutely different tattoos, each of which might mean something personal to the owner. If you take the matter in your hands and come up with the designs on your own, you can get the whole history of your life tattooed on your palms.
9. Gorgeous vintage designs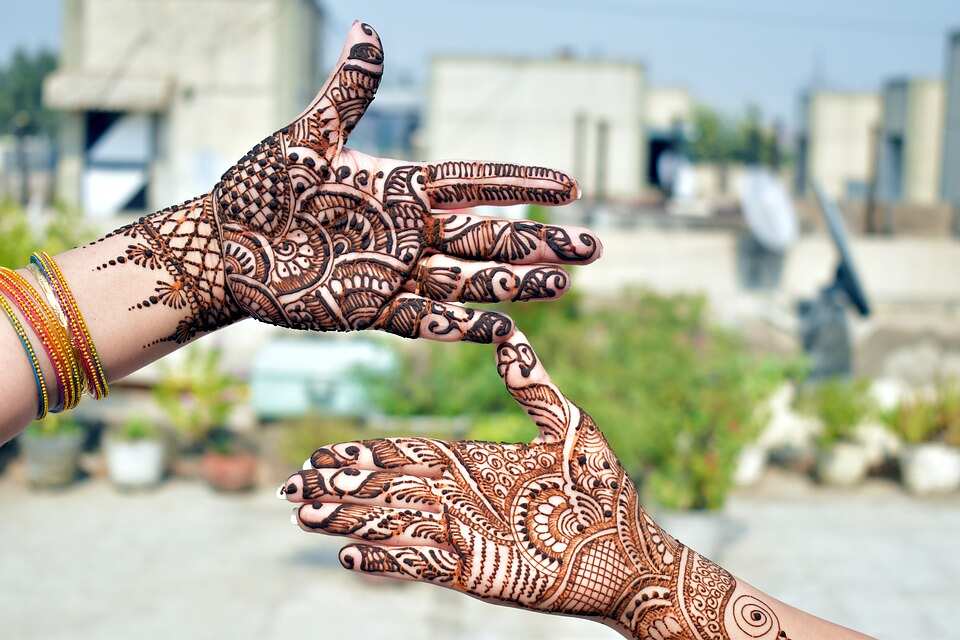 You can see a lot of various patterns on these hands, and it would take ages to look through all of them, but this is the whole beauty of art. This design would take some time to create, and it is very detailed, but it is definitely worth it The reward for the time spent on it would be the awe of your friends and family, and, most importantly, your own pride and satisfaction.
10. Red symmetry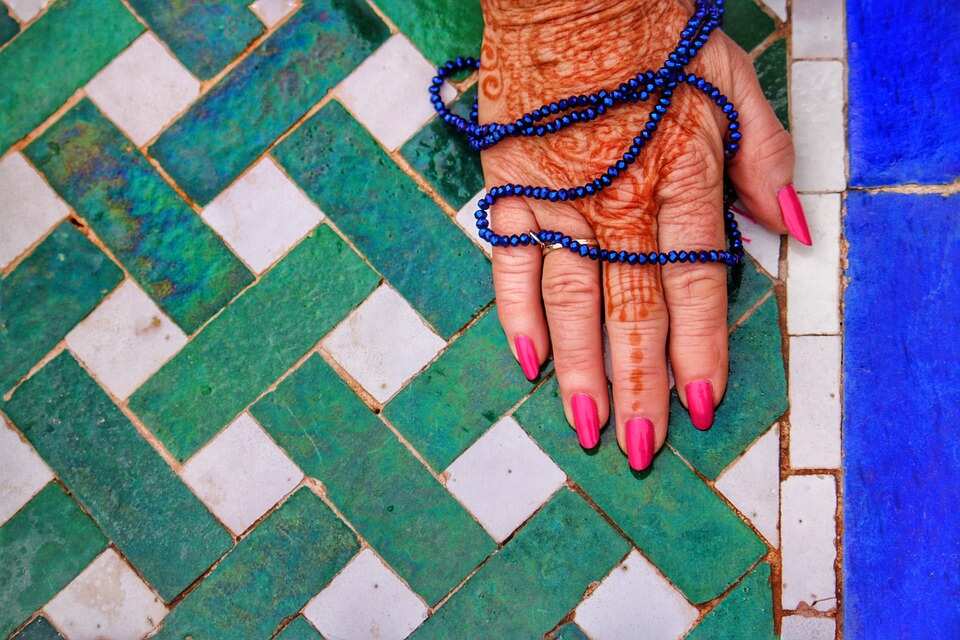 A good idea would be painting your hand red with some imaginative designs but leaving the other fingers except for the middle one intact. It would look like a sleeve and add you some extra charm. Bonus points if you have your nails done nicely and are wearing some cute accessories. This would be a good choice if you are new to the world of henna, but it would also suit those who have been enjoying its creativity and diversity for a long time. It is impossible to be mistaken if it is colour red that we are talking about!
11. Crown-like art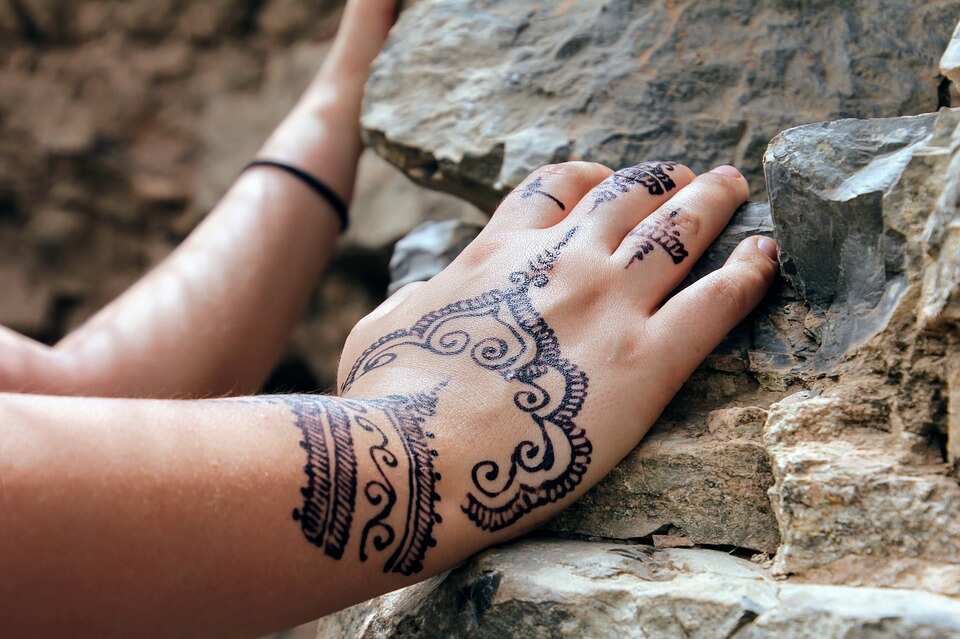 Perhaps you would like to make a special emphasis on your grace and smoothness? Then you would enjoy this design, which looks like a royal crown but also combines a lot of elements like twirls, dots, intricate patterns, the wrist drawings which look like bracelets, and the ones on the fingers which are reminiscent of rings. By the way, this design is very easy to do even for the beginners who have never operated henna paints. This means that you can do it at home, and do not worry if something is imperfect, because there is room for creativity when it comes to this design, and it is not necessary to replicate it ideally. Just do it how your heart desires!
12. Complex flower tattoo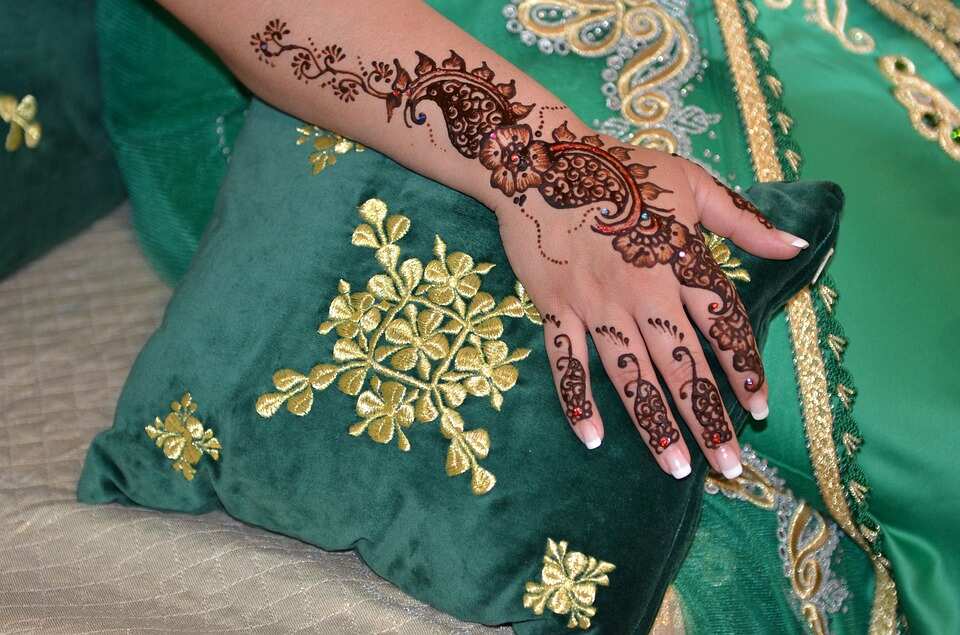 When you look at this beautiful tattoo in the shape of flowers, sunshine and plants, with additional colouring and even little diamond decorations on the fingers, you are reminded of the whole grand beauty of henna designs. This is exactly why so many people are craving to have their hands painted with henna and go extra lengths to receive their own mehendi signature. Speaking of this one, it would be just right for the once-in-a-lifetime events. Usually, brides at traditional weddings get similar outlines on their gentle arms. See for yourself how magnificent this particular tattoo is.
13. Effortless henna lining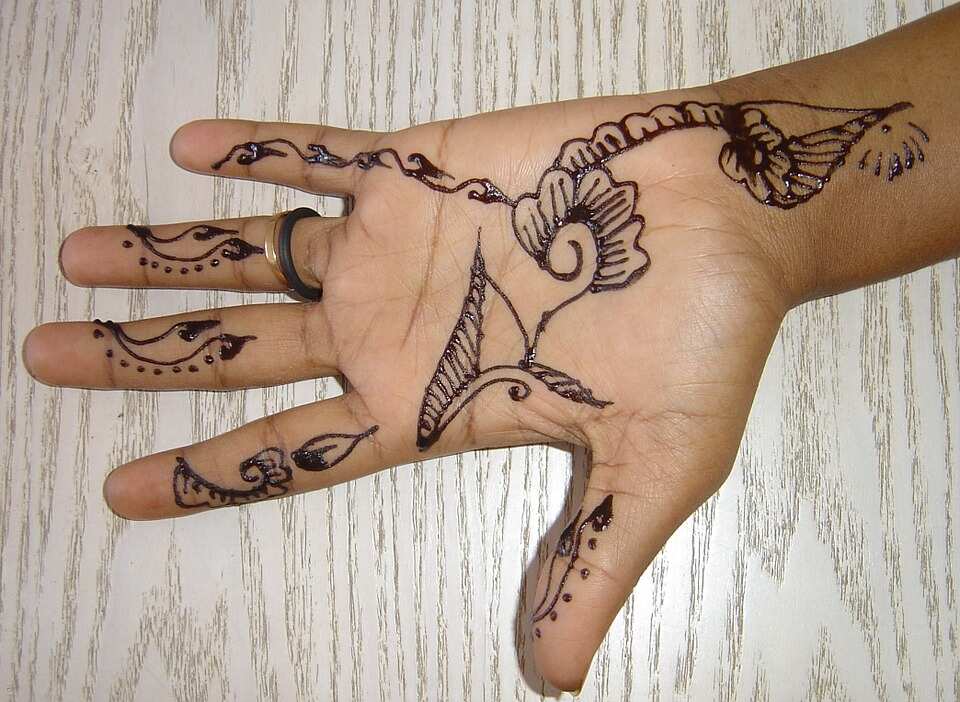 Are you confused about the whole mehendi thing? Maybe you find it good-looking, but when you want to start practising it, you get a creative block? With designs like this one, you will never struggle with the lack of creativity again, mainly because it is so simple that everyone, regardless of artistic skills, can paint it and make it their own. These motifs are full of life and imagination, and first-time henna users would find them ideal. You can start your incredible mehendi journey by attempting this kind of drawing!
14. Green full hand art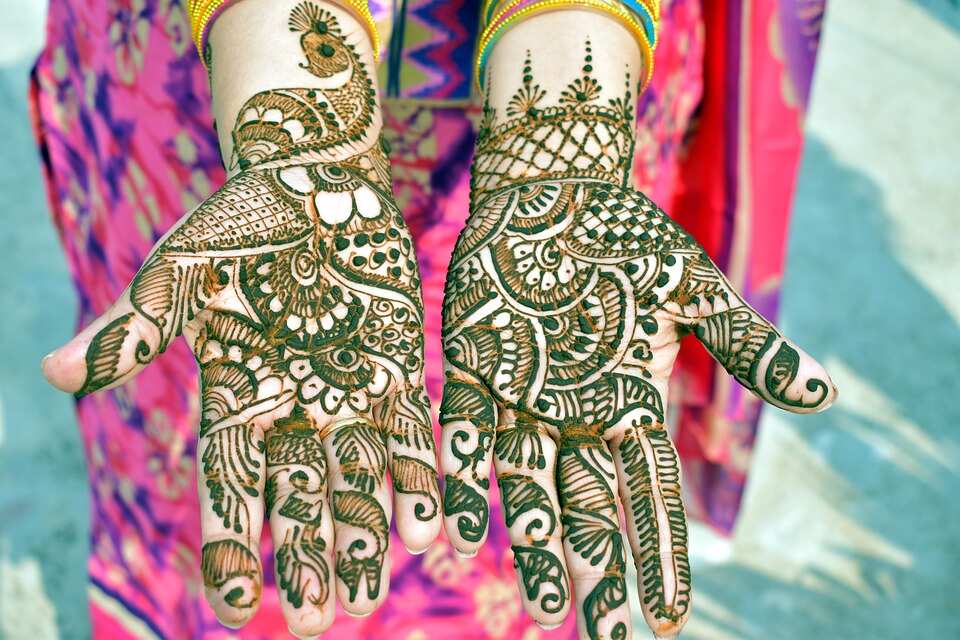 This incredible art is full of various geometric shapes and detailed patterns. Every time you look at it, you can see something new, and your eyes will notice more and more designs that are hiding in the full picture. All this beauty can be drawn with the green henna paint. Green is a colour of nature, life and vital energy – it is believed to bring safety, fertility and a fresh outlook on the surroundings. So, this kind of art would be perfect for a life-changing event like a traditional wedding, especially for the bride who chose to wear green, the colours that mix well together with green, or a vibrant multi-coloured dress. All the dots, circles and lines make a stunning combination together.
15. Representation of sunshine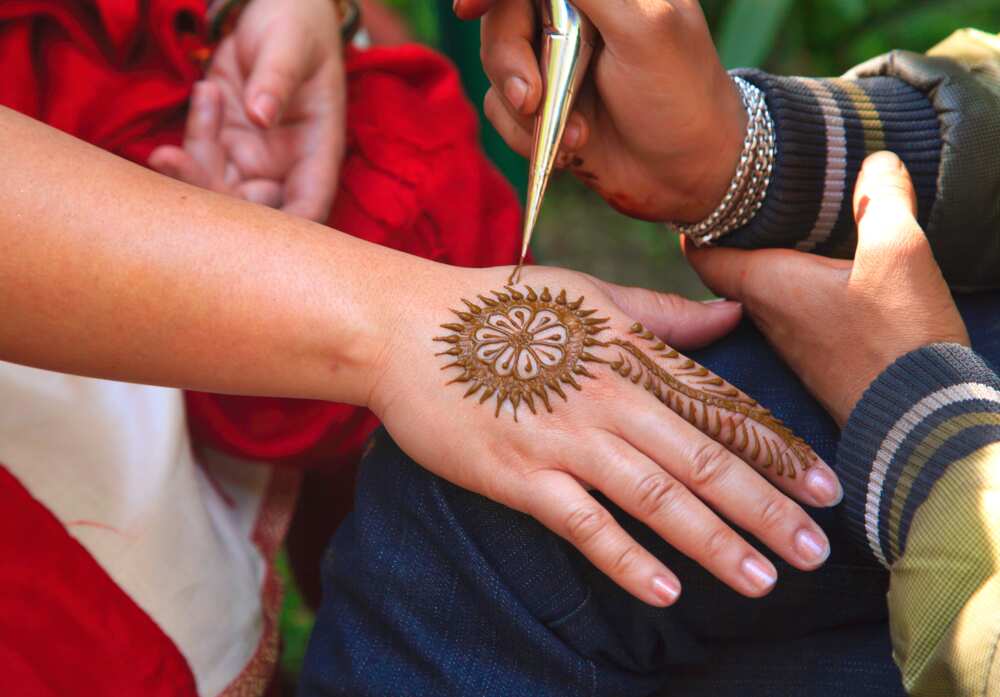 Sun is everything: it shines bright above us and gives us life every day. So, at any festive celebration, it would be appropriate to celebrate the sun and include the elements of it in your outfit. What is the better way to showcase it than through a henna tattoo? Beautiful golden paint would add even more charm to your image, and the prolongation of the drawing on your finger creates some mystery around your style.
16. Red rings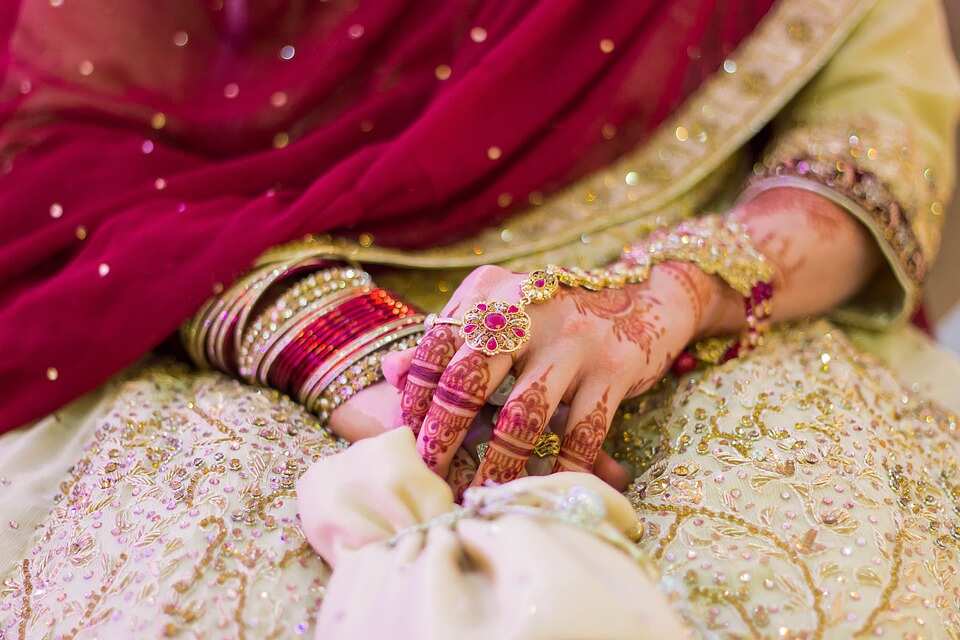 Maybe you decided to wear a lot of bracelets and jewellery for your special day. A painting in the shape of rings would create the illusion of even more fabulous jewels on your hands. We already spoke about the distinction and symbolism of the colour red, but when it is combined with golden, the colour of riches, courage and magic, the effect becomes even more thrilling. If you have gold in your outfit or accessories, it would be a fantastic idea to paint your hands with red henna in the form of rings.
17. 3D golden henna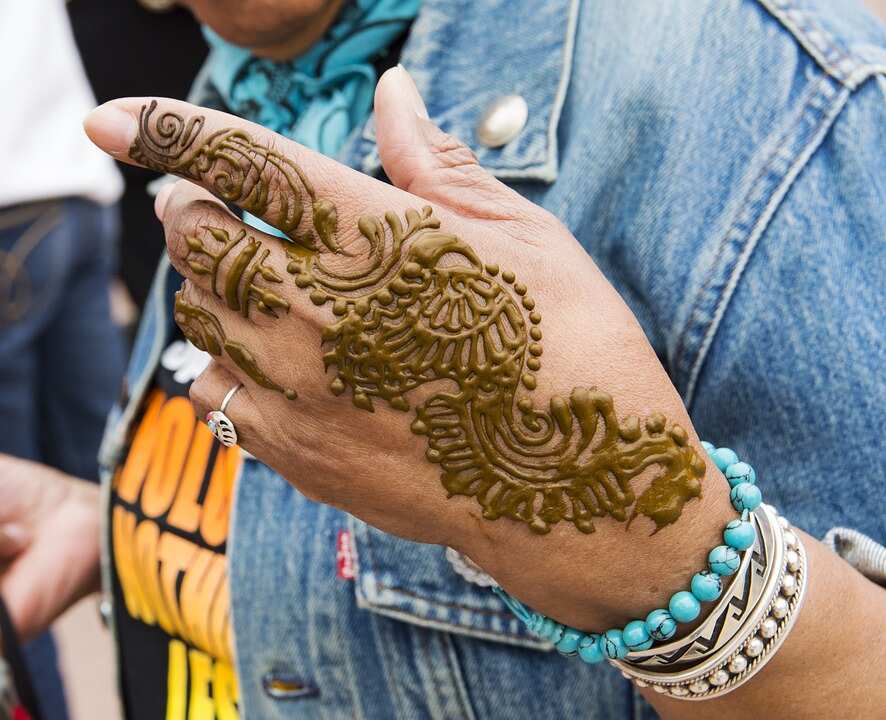 Not everyone knows about this, but today henna art is very developed – to the point that the drawings exceeded the 2D format long ago and moved on to more volume and intricacy. There are special mehendi art techniques which would guarantee you such a cool design on your hand. It is not too difficult to create; you only need to know how to operate the paint in general. In the end, wearing such a pattern will pay off, as everyone's eyes will be on your design. It can be worn not only with the festive dresses, but also with casual everyday clothes: it would just look great with any style, and the ultimate choice is yours.
18. Black and orange henna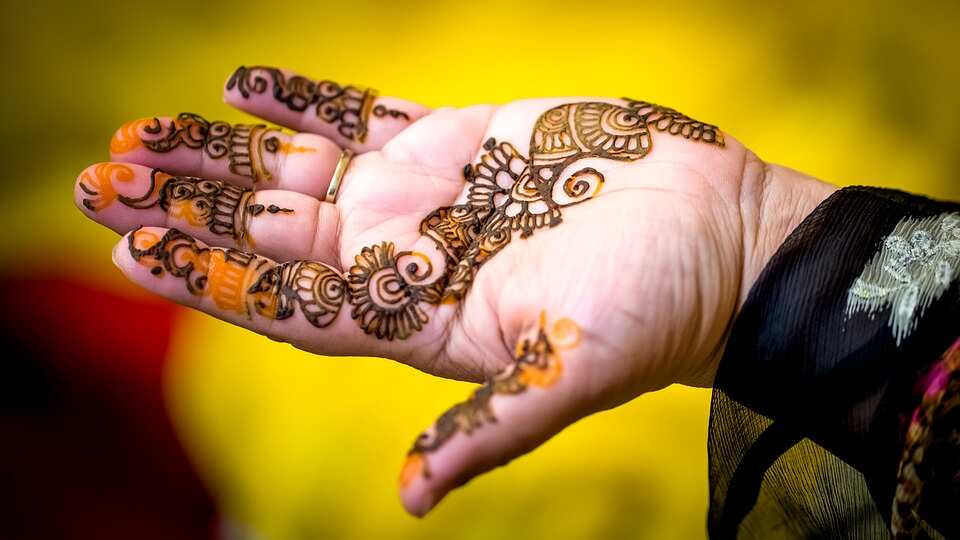 Today, it is not even necessary to go to a professional artist if you want an unforgettable henna drawing. Even if you have never had experience with this paint before and consider yourself not creative, you can still do wonders by unleashing your artistic side and surprise even yourself. Creating such an elaborate design would take time, but the final result will astonish you. We all know about the benefits of black and brown henna, but adding some bits of orange would make it even more memorable.
19. Another red design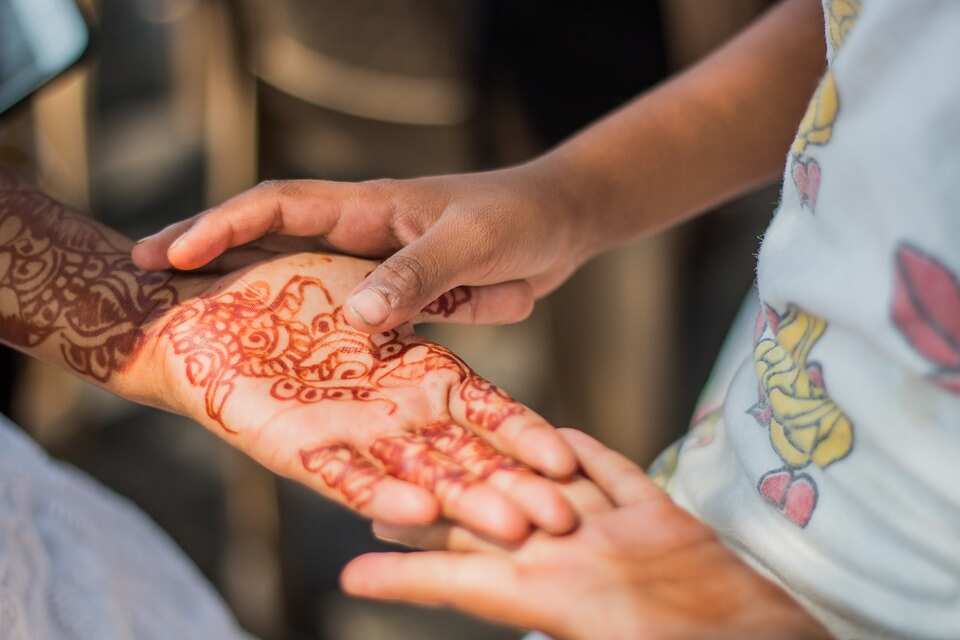 Check out this amazing brownish pattern full of dots and geometric curiosities! This is one of the most suitable options for people of the beginner level, who only took an interest in mehendi not so long ago. It is highly recommended for everyone who wants to gain experience to start with such designs. For starters, the circles and dots are easier to draw than anything, and perfecting it with some lines would create a catchy hand painting that would be just yours and no one else's. The red and brown colouring is warm and nice to look at, so you could try it if you are unsure about the black just yet!
20. Large flower pot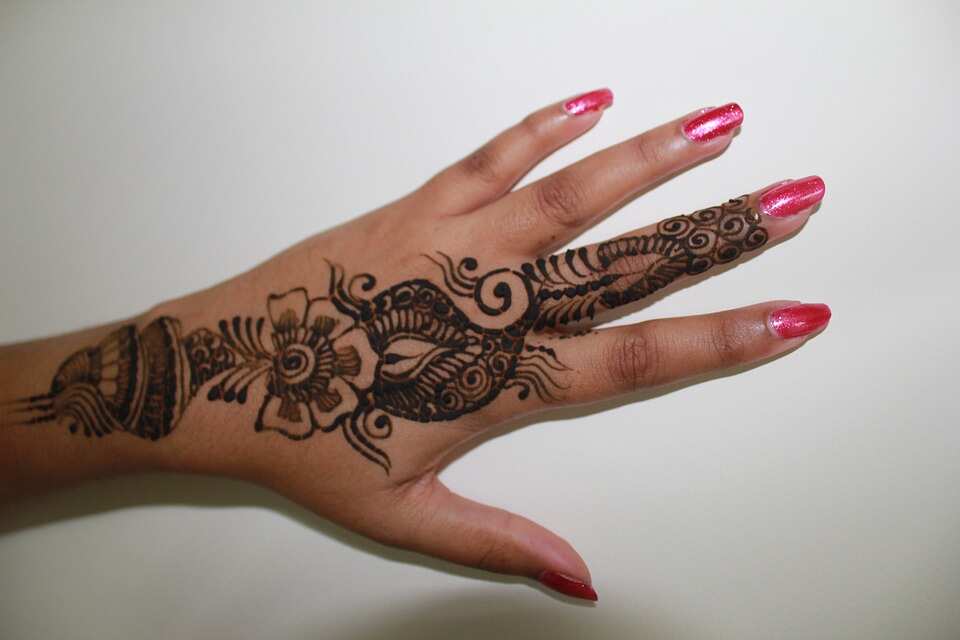 The tattoo you are seeing is another great example of a design that only covers one finger because it is very minimalist and would not give you a feeling as if you have overdone it. The flower that is growing from the pot on the wrist is a symbol of everything new and up-to-date. All of us have positive connotations with flowers, so there is a high chance that some of your friends will want to get a similar one. Even though the drawing looks detailed and professional, you can do it at home – all you need is a reference and some patience, and as a reward, you will have a beautiful flower tattoo on your hand.
READ ALSO: Simple henna designs for hands and their meanings
21. Yellow radiance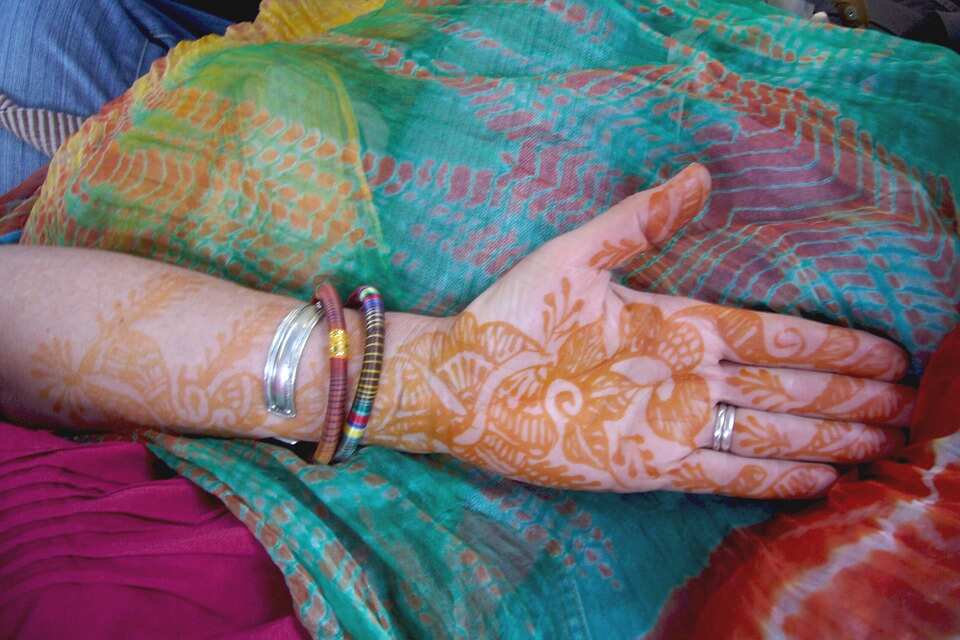 Here is a very original and unforgettable idea of a yellow henna tattoo for you. These patterns are attention-grabbing and have a warm look to them. Probably everyone's first association with the colour yellow is sunshine, as well as happiness, optimism and energy. The golden tone represents quality and elegance. In addition to the gorgeous designs, it would be a nice idea to decorate your wrists with some bracelets. Look how effective such a henna art is on your hand.
22. Assorted patterns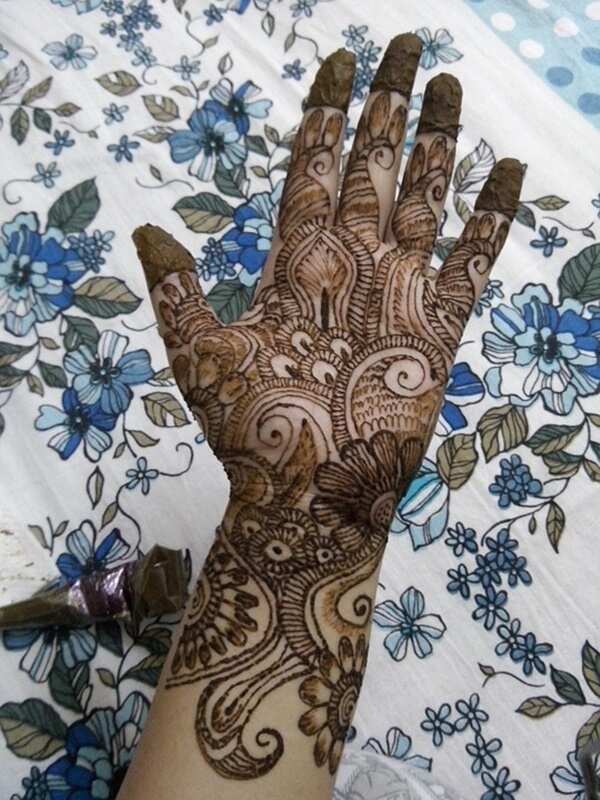 In case you are one of those brave people who like various designs and would want to cover your entire hand with henna, maybe this one would be suitable for you. The whole beauty of it is in the big picture with many areas where you can see something meaningful for yourself. Most of the small drawings are circle, stripe and spiral-shaped, but there are some of the vivid shapes that you have probably never seen before. This would be a perfect pick for whatever event you are attending, so instead of being hesitant, go for it and rock your unbelievable henna style!
23. Vibrant red tattoos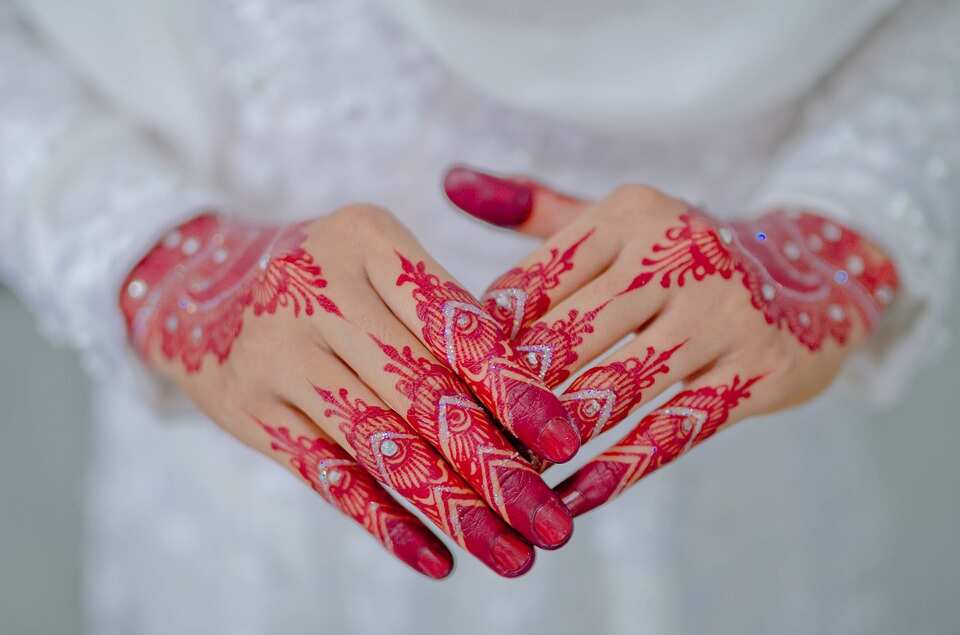 Every time you look at these red and silver pieces of art, there is some festive feeling in your heart. Usually, this vibrant colour is supposed to impress people and make a person stand out from the crowd. This is a tricky design, but it is also possible to create once you grasp the basics of henna drawing. Probably what makes it even more special is the silver highlights and little diamonds. Try red henna and have no regrets over your bold experiments!
24. Varied flower art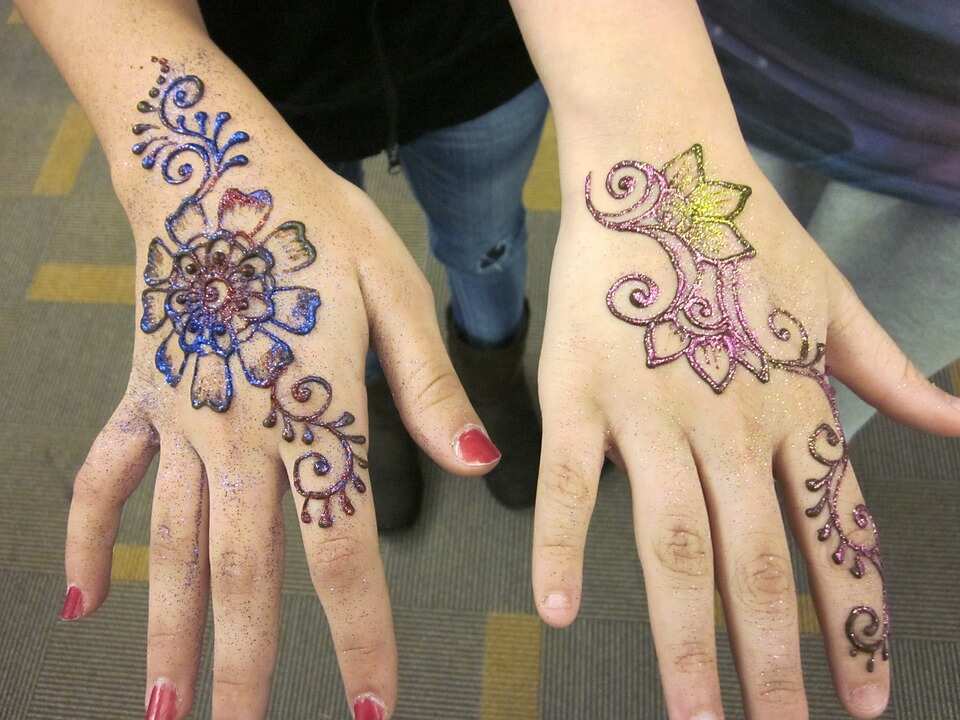 Are you a fan of mixing different colours and creating bewildering combinations? Then, you will appreciate the decorative arts in the picture. The first one includes colder tones, for example, navy blue, deep pomegranate and olive green. As for the other one, the tones here are warmer, such as bright green and pink. Either of them would be a good choice, it only depends on your preference. It would be a nice idea to get the matching art together with someone close to you when you are going out: it would represent your honest relationship.
25. Dark lacy henna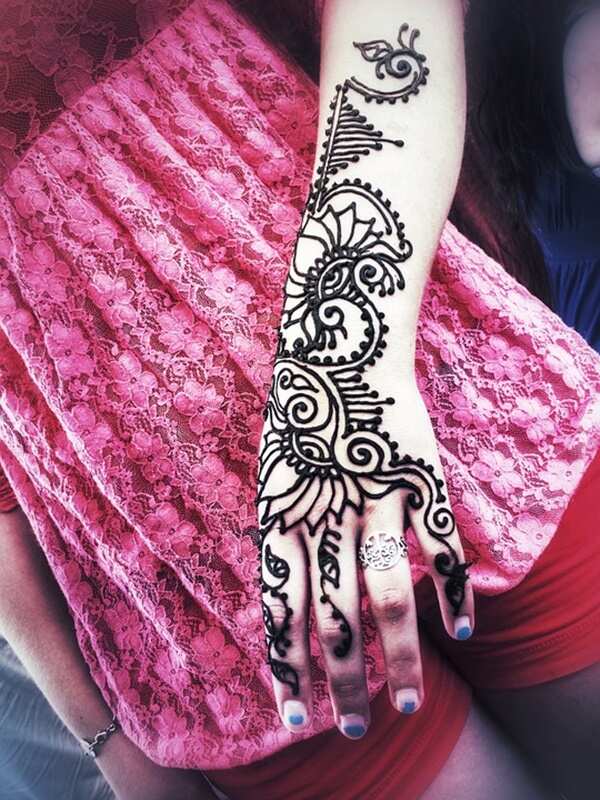 Some mehndi tattoos look like an attachment made of lace, and this one could create a perfect vision of it. The tattoo above is full of quirky futuristic patterns, such as geometry, swirls and dots. Another creative thing about it is the way it covers all the fingers, but not the ring finger, because there is a ring accessory on it. Finally, minimalist nail polish would be suitable for this kind of art.
26. Henna glove with a bracelet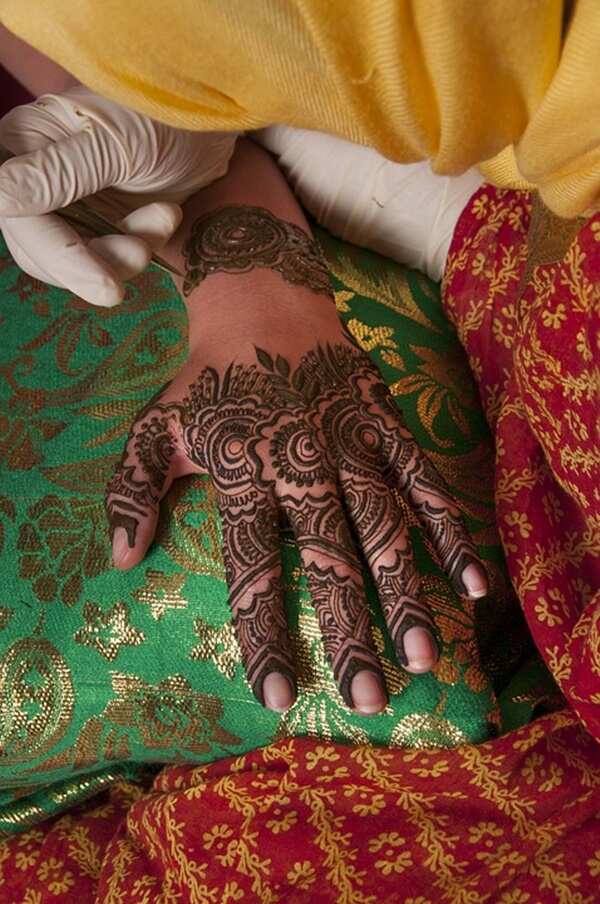 Of course, these are not the real glove and bracelet, but if you have a quick look at this tattoo style, you will mistake it for them. This makes sense because this mehendi design covers almost the entire hand. These designs are not very complicated to draw once you achieve and develop the skill of mehendi. Intricacy matters here as the styles are all closely connected.
27. Red art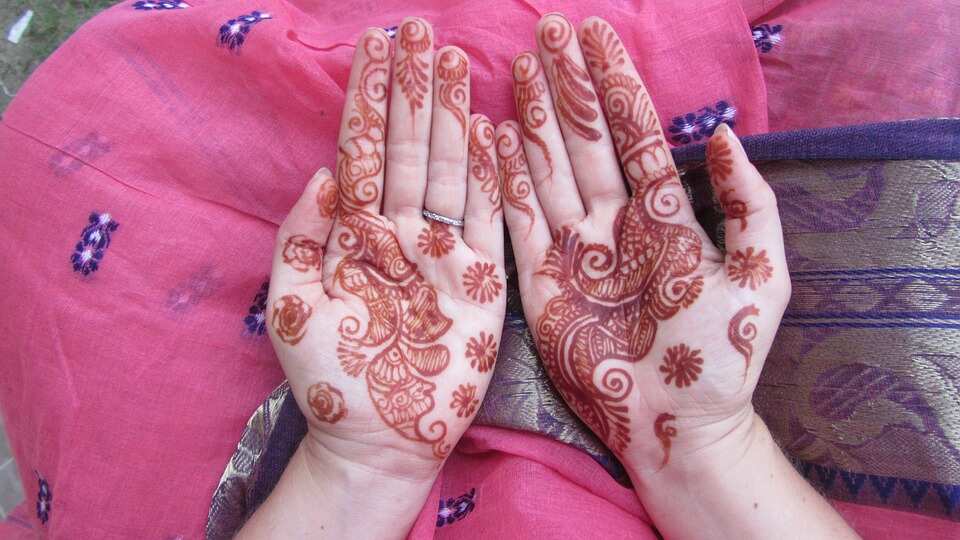 We have already gone through the designs that cover your entire hands and create a perfect illusion of a handwear, but the designs which are situated less close to each other can also be very imaginative. For example, this one truly looks like space full of various objects, like stars, flowers and patterns. The colour red is always the colour of victory and greatness so it would be an awesome choice for your beautiful tattoo.
28. White Elegance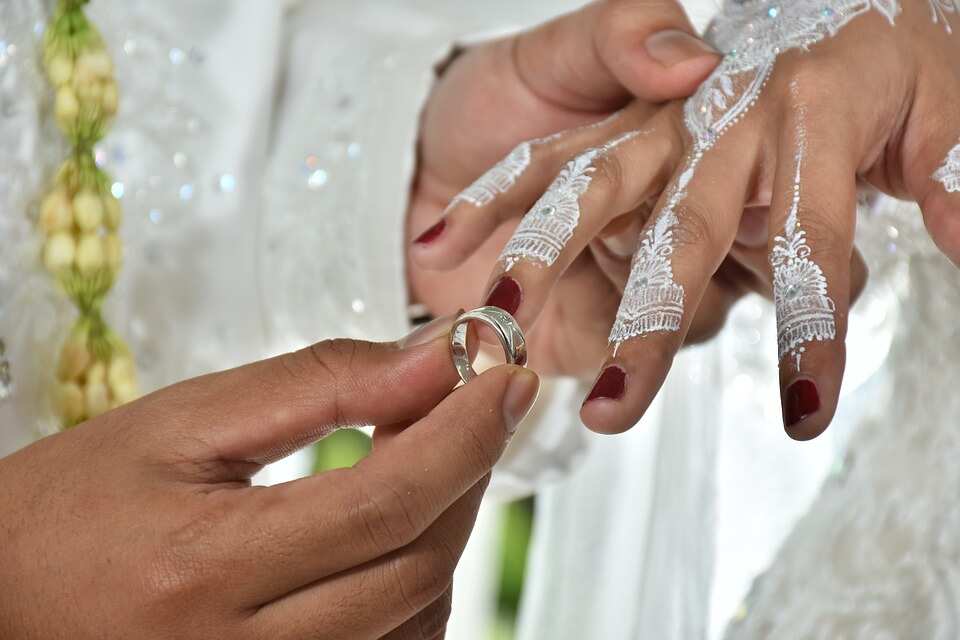 White henna tattoos are something fresh and original, so you could totally try them out if it is your special day. You will have no regrets about doing such a courageous thing because such a tattoo looks absolutely brilliant together with a magnificent white wedding dress. Besides, you will get some miraculous photos of your spouse sliding the ring on your finger. Is it not worth the effort?
29. Easy wrist designs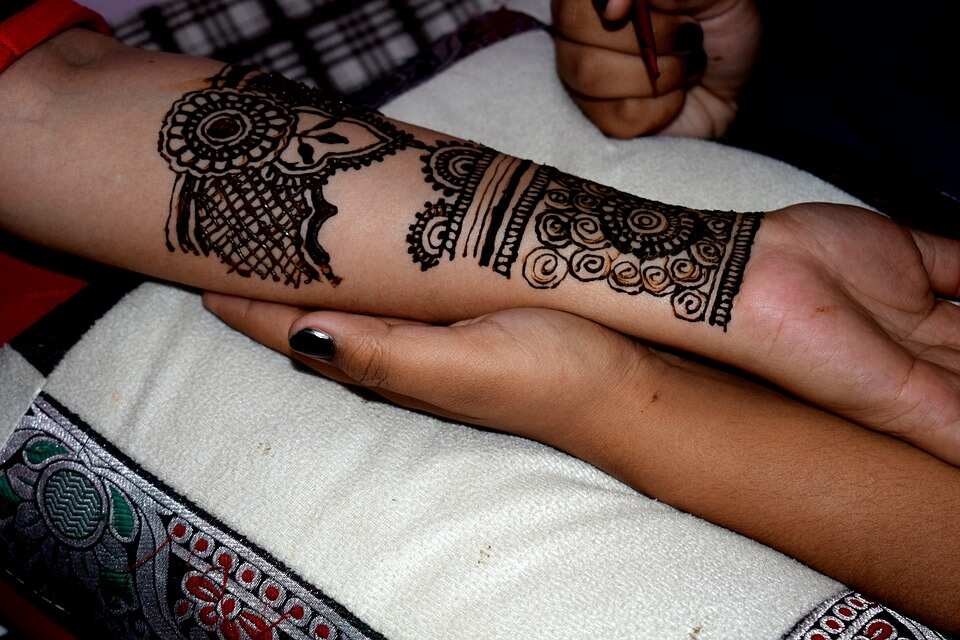 In case you are not ready for the hand styles yet, you could start with a henna painting on your wrist. At least, if something goes wrong, you could cover it with clothes. A wrist design is a good way to practice before you move on to the more complicated mehendi, so it is recommended to people who are new to this fantastic world of art. Some of the easiest drawings you could create are the spirals, circles, nets and flowers. You will not even need high artistic skill for this: just follow your heart and do what it tells you to do. The result might surprise even yourself!
30. Elegant twin tattoos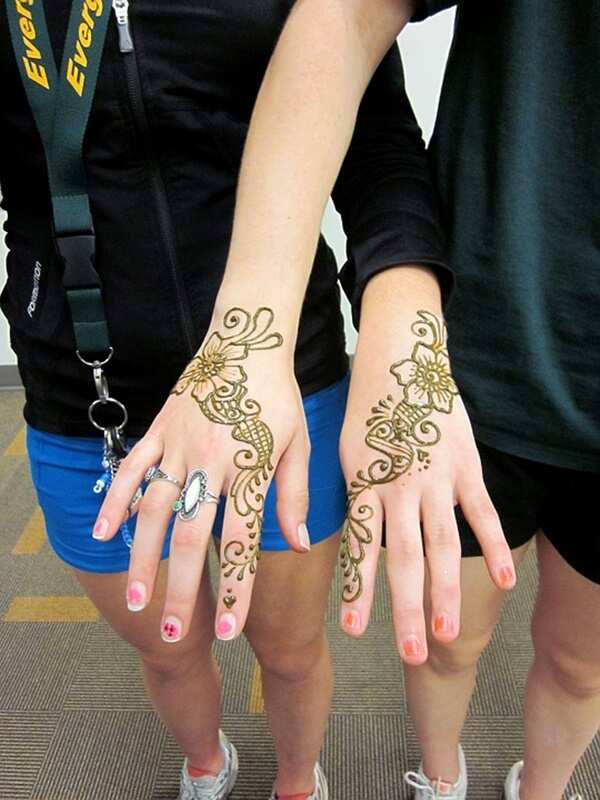 Green represents renewal, safety and growth. Also, it can be a symbol of your lifelong friendship with someone who means a lot to you. If this is the case, but you are not ready to get real matching tattoos, you can get the symmetric henna ones! Look at this gorgeous flower design: it is absolutely worth working at for some time. What makes it easy is that you and your friend can help each other draw this style on your hands.
31. Very simple brown flower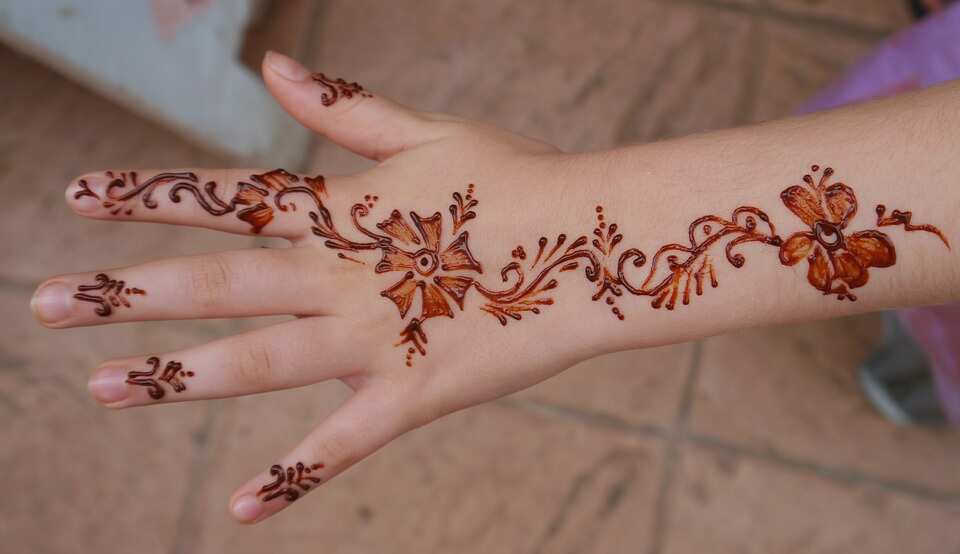 Maybe you have always considered yourself devoid of any artistic talent and thought you would never pull off these breathtaking henna designs, but only ruin your hands and waste the paint instead. It is completely fine: some designs really do not require any skill, just enjoyment and passion. This is one of them: all you need is to draw some easy lines and flowers on your hands. In the end, it would still turn out to be very cute and original.
32. Vintage style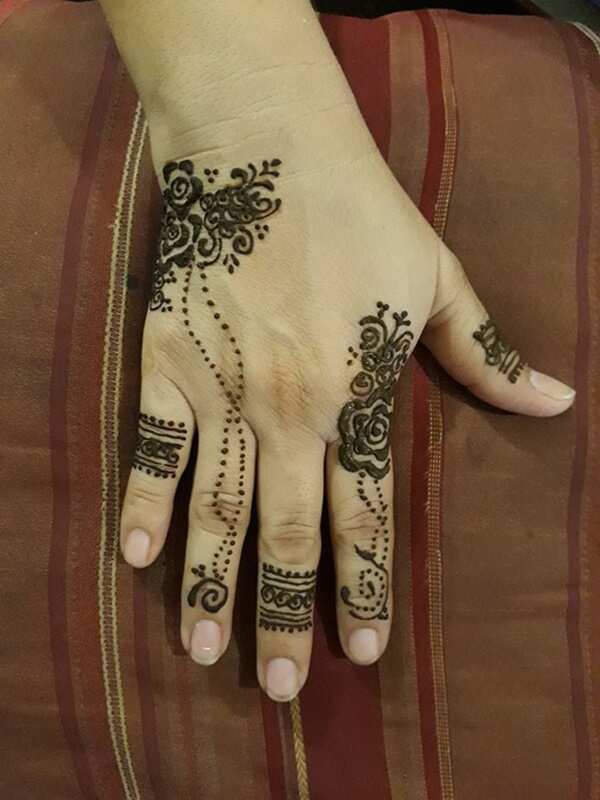 What if you are a fan of old movies, songs and everything that is at least fifty years old? If this is a description of you, then you would enjoy these fabulous designs. The best thing about them is that they actually have some modernity in them, such as all the asymmetry. Drawing them would not be too hard either – paint some flowers, dots and rings on your fingers, and you are ready to go into the world with them on your hand.
33. Full hand paint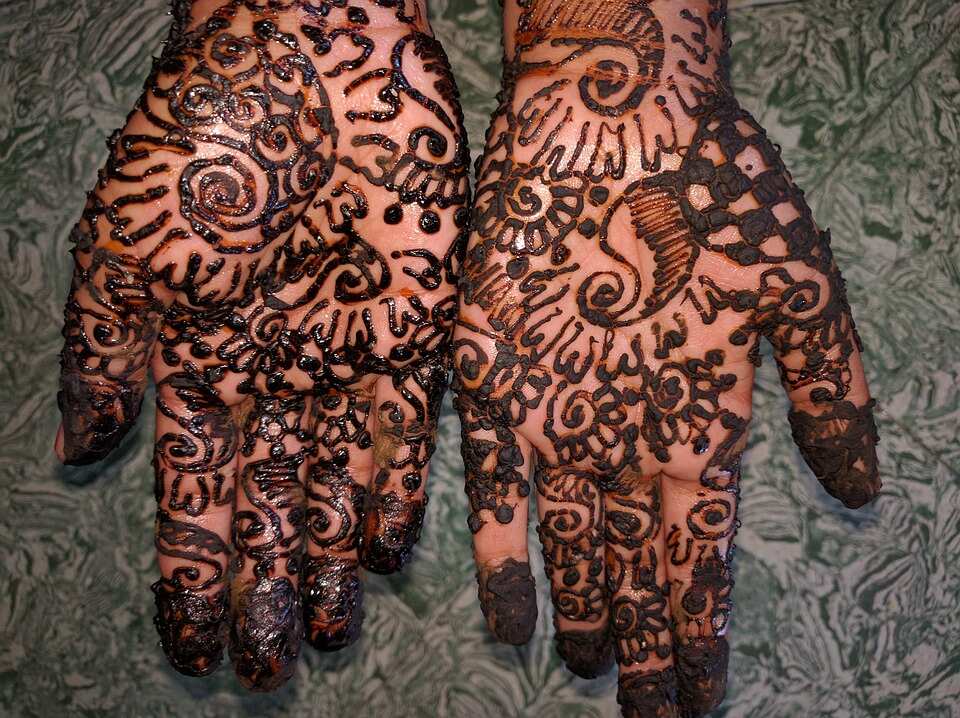 Sometimes you want to go a little crazy, and what is better than covering your hands entirely with a henna tattoo? Believe it or not, there is a lot of hidden symbolism in these drawings: you can find some letters and signs there if you look closely. This kind of style is for people who are not afraid of life and challenges, and always go through all the difficulties with their head held high.
34. Minimalist orange design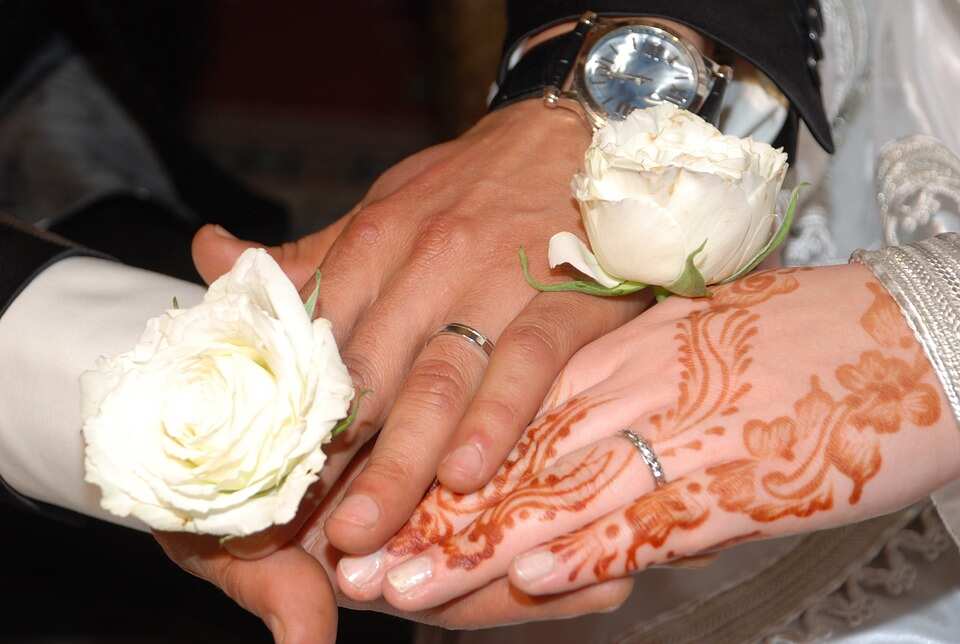 On the contrary, if going to extremes is not what you enjoy doing, then you can give your preference to this hand art, which is suitable for romantic occasions like weddings. It is full of sophistication, elegance and charm. The colour orange is usually associated with joy and enthusiasm, which everyone needs so much in their life. If you feel like such a tattoo would suit you better than lush black scribbles, then you should go for it.
35. Simplistic leaves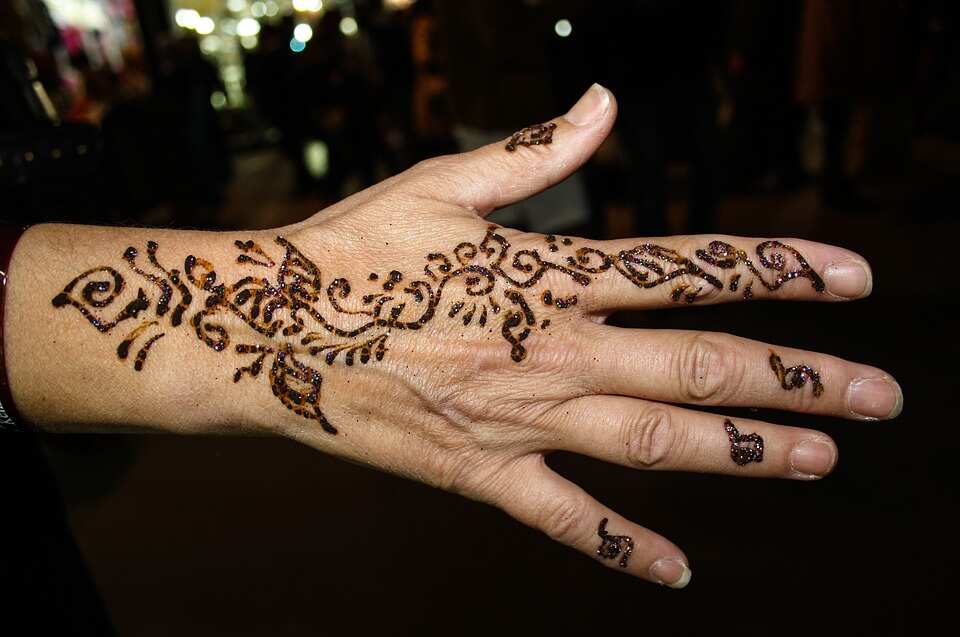 Finally, we saved probably the easiest one for the last. This is a tattoo that every beginner could pull off, and you are not an exception. The interesting thing about it is that you can only draw leaves and spirals, and it is not necessary to paint them flawlessly. You can let your fantasy shine and make the result a little different from the reference – whatever suits you most.
These simple henna designs are super trendy and impressive this season. Do not miss the opportunity to make a statement with your own!
READ ALSO: Types of trendy eyebrows in 2018
Source: Legit.ng