Top 50 flower tattoo designs to inspire you
The art of tattooing has not lost its value. Whereas previously it was the prerogative of men, now women also decorate their body this way. Women often choose flower tattoos, and this is not surprising as flowers are almost as beautiful as women; a lot of these incredible plants symbolise beauty and grace.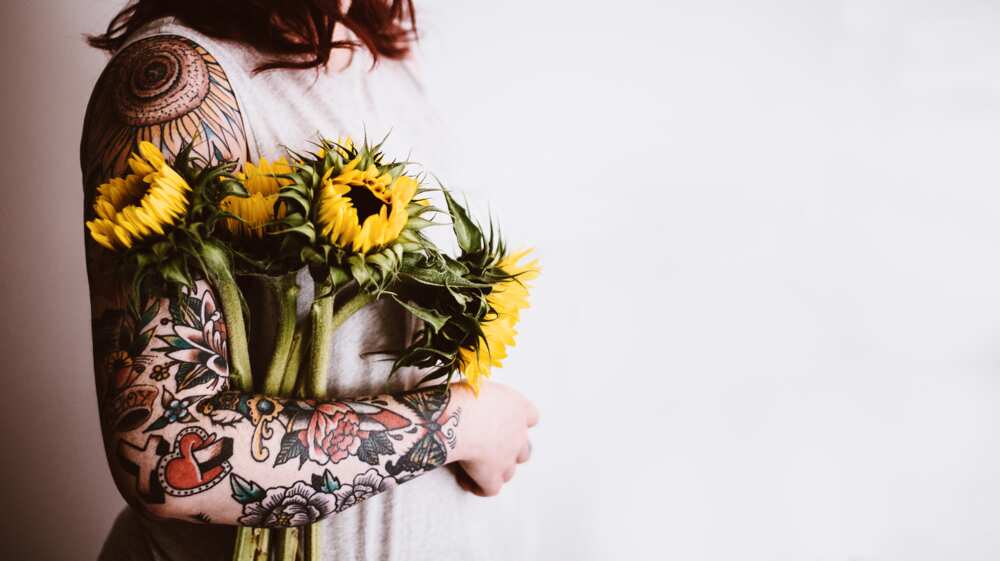 The main advantage of flower tattoo designs is their versatility. You can easily combine flowers with other tattoos to create unique art or use only flowers as well. Those people, who want to get an ink, have a chance to give their fantasy a full scope.
Best flower tattoo ideas
A tattoo is a big step, so consider all aspects carefully, look at the pros and cons. It is not worth to get inked at random only to be fashionable and popular. You should give the meaning to your future body art, and floral designs are ideal for it. Our list will help you get inspired and create a masterpiece.
1. Traditional rose tattoo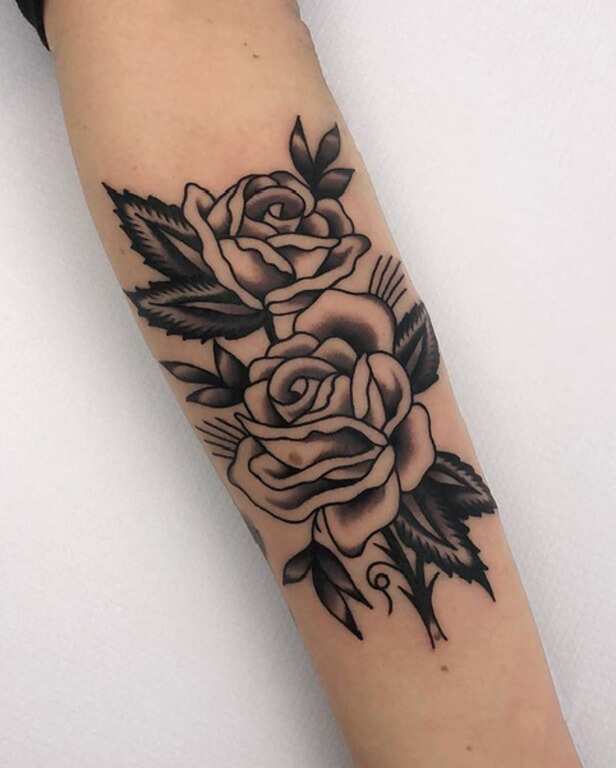 Such skin-inking is one of the many floral designs of this type. Rose designs are universal: they look gorgeous on both man's and woman's body, regardless of the body parts.
2. The meaningful duet
Are you a fatalist or like to attach importance to everything in your life? If so, the combination of flower and constellation is for you. This ink is tiny so that you can place it anywhere you want.
3. Elegant lotus flower tattoo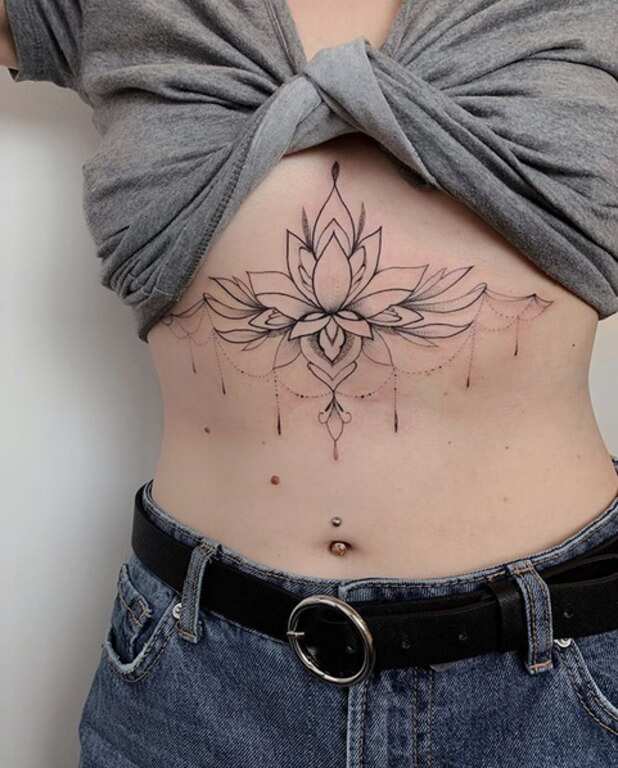 The lotus can be a symbol of the purity and harmony of a person. The lower part of the breast is an ideal place for it because the shape of this flower emphasises the beauty of a woman's body.
4. The colourful piece of art
Small and ordinary body designs are in the past. If you can not choose one style or one flower - get this ink and include everything you want. Different geometrical designs are at the top now.
5. The floral chaos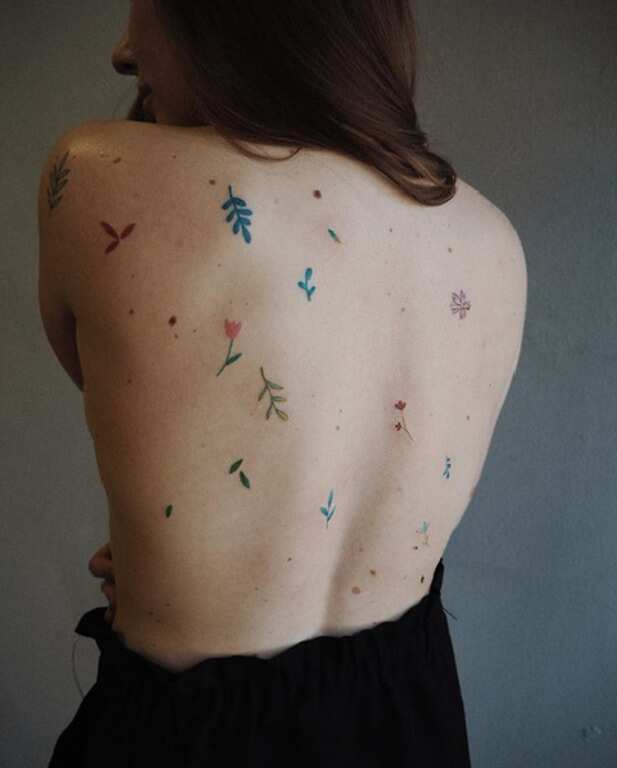 Look at this cute and tiny plants. It is a tattoo, revealing the feminine side of a woman.
6. The pair of poppies
It is about thin lines, bright colours, and specks of light. This great design is the find for a loving couple, wishing to immortalise their love.
7. Twinflower inks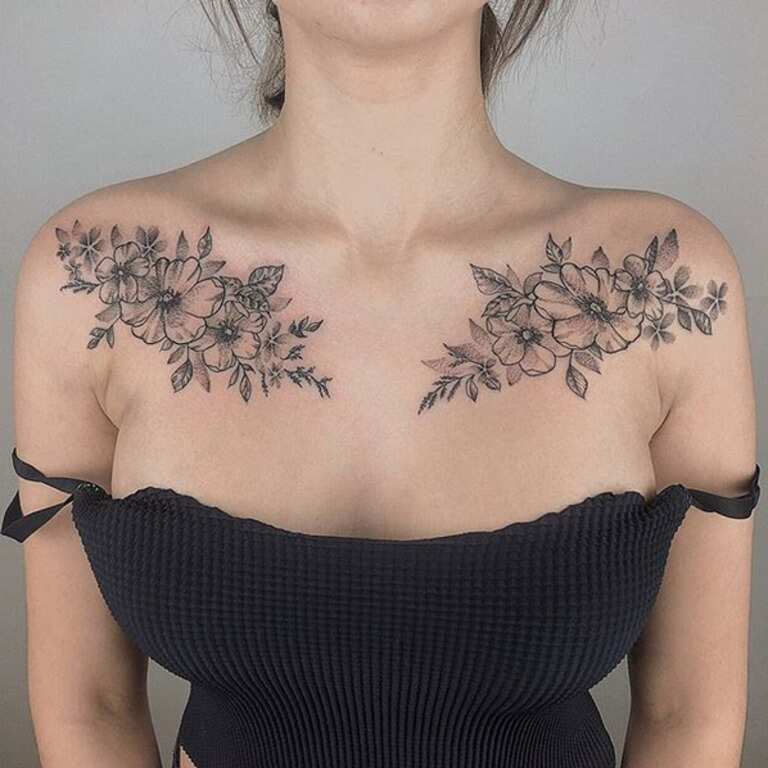 This elegant pair of flowers will give the grace of femininity to any woman. Smooth lines and soft shades are explicitly created for tender ladies.
8. Heart-shaped flowers
It is another variant of a rose tattoo design. It will be appreciated by the fans of alternative forms and designs. Black outlines contrast sharply with bright colours and look beautiful.
9. The blooming rose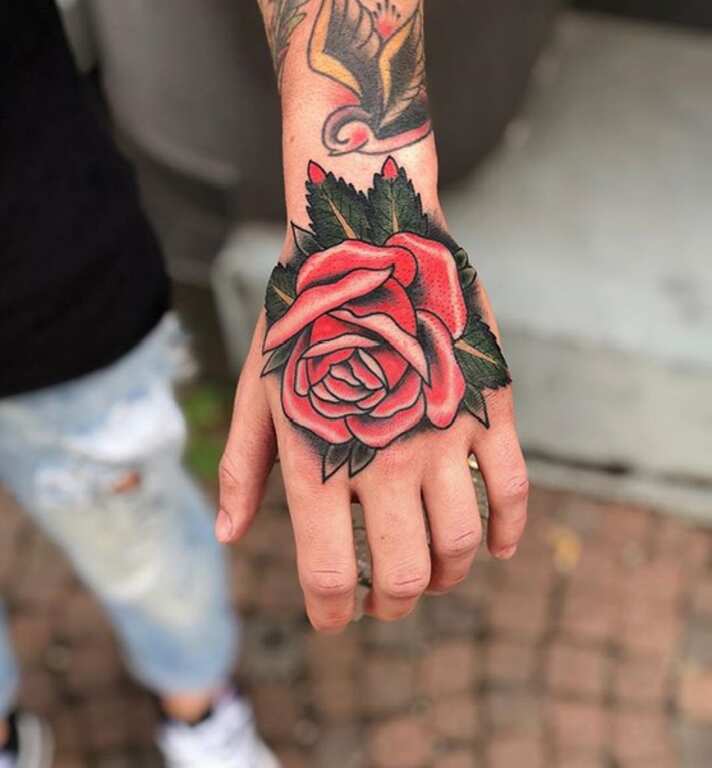 A big rosebud on the hand is the most common type of rose tattoo designs. Men adore such types of body designs, although rose is considered to be a gentle and feminine flower.
10. The flower simplicity
Young ladies often prefer complicated and big designs to small flower tattoos. If you hesitate about the design of your first body modification, try this one.
11. Perfect line
The ankle is quite a painful place to be tattooed because the skin there is thin and is close to the bone. Remember about it.
12. Amazing watercolour ink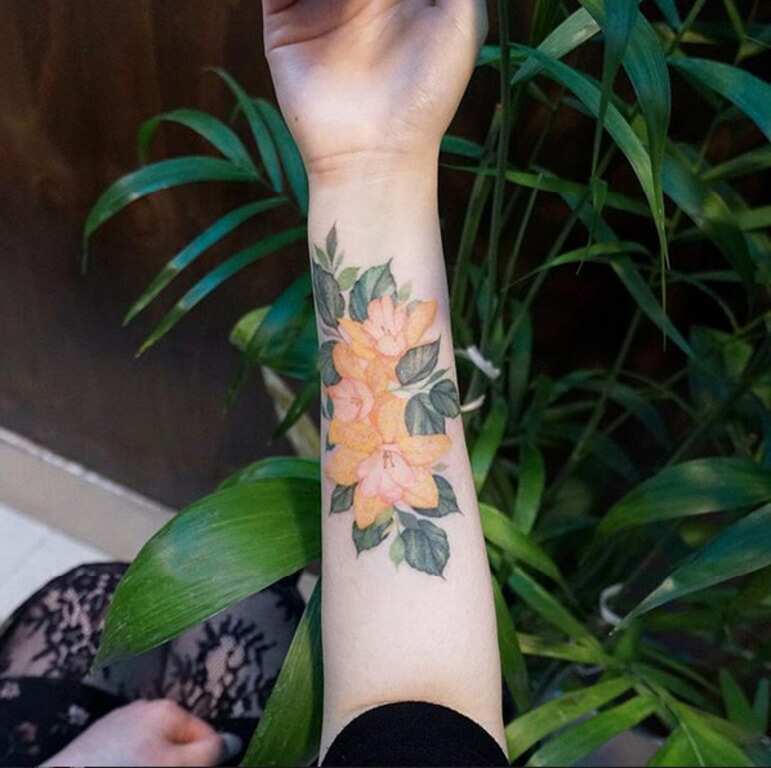 Watercolour designs is a relatively new trend in body modification. The whole tattoo should look like a real painting. Creating an ideal watercolour ink requires a high-skilled artist.
13. Carnation tattoo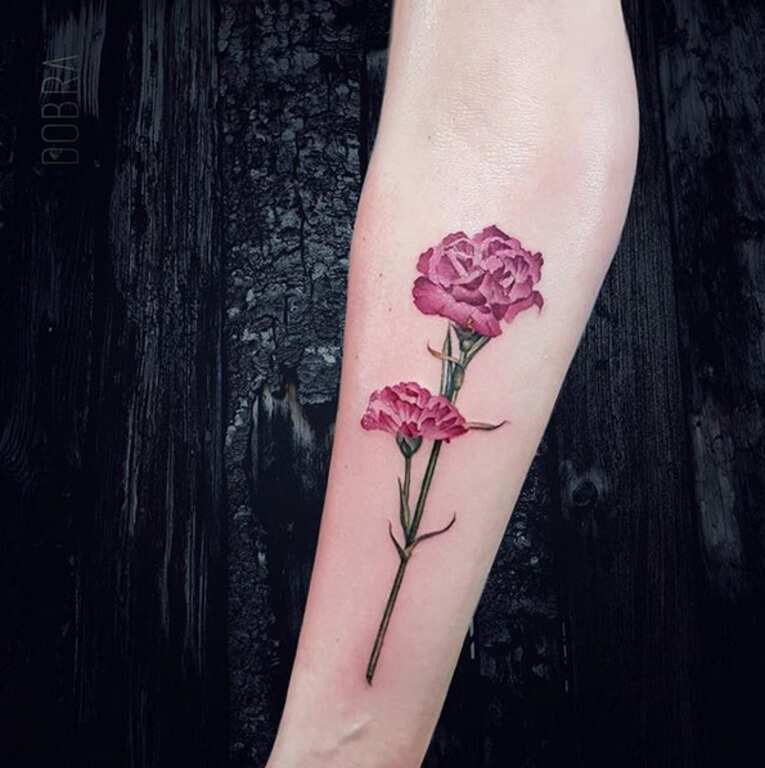 The name of this flower is translated from Greek as the 'divine flower.' This stunning watercolour carnation looks amazing on graceful woman's hands.
14. Graphic lines
Using sharp edges and jagged lines help an artist to achieve the reckless image of a tattoo owner. Such a design provides a good foundation for future changing.
15. Finger rose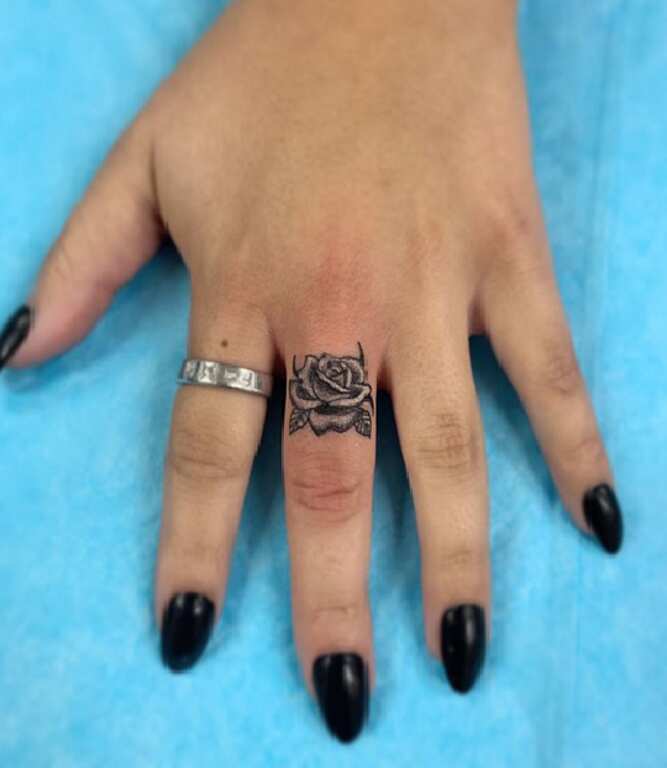 Be unordinary, make your body art to become a perfect accessory. This design destroys the myth that finger tattoos are suitable only for men.
16. The floral masterpiece
It is an example of difficult work. Elements of mandala confer magical power to this skin-inking.
17. Nice lily tattoo
Many lily tattoos are the most popular flower tattoos after the roses. If you put your heart and thoughts into this body art, peace will follow you all your life.
18. Shoulder ink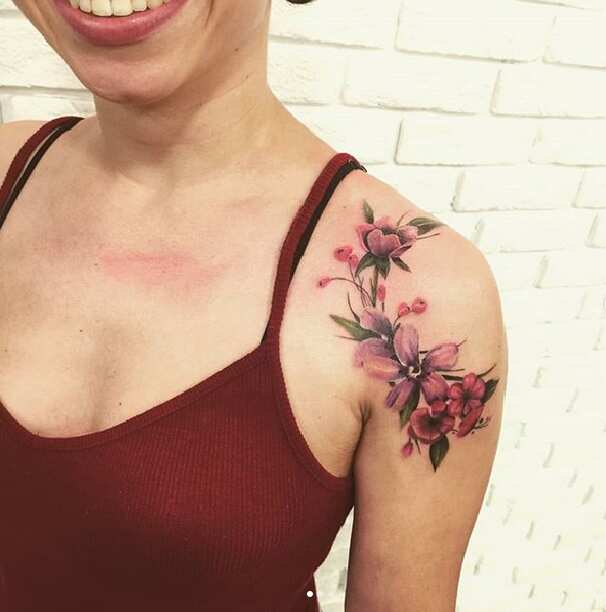 Depict beautiful blossom of colourful flowers on your shoulder. The round-shaped structure creates a more feminine look of the joint. Try this one if you want to reveal your grace.
19. Colourful peony ink
The purple peony is a unique species of the plant, so why not get such tattoo design? You will stand out from the crowd with such body modification whenever you are.
20. Hidden cherry blossom
The place behind the ear is ideal for you if you want to get a body design in an invisible place. Such tiny inks appeared not long ago but became very popular with women.
21. Simple outline
The absence of extra details here is alluring. All the beauty is concluded in simple lines.
READ ALSO: Elephant tattoo: meaning and top 50 ideas
22. Extravagant peony
Sharp contrast and bright colours are the main features of this tattoo design. A watercolour peony looks like a real painting on a woman's body.
23. Blue flowers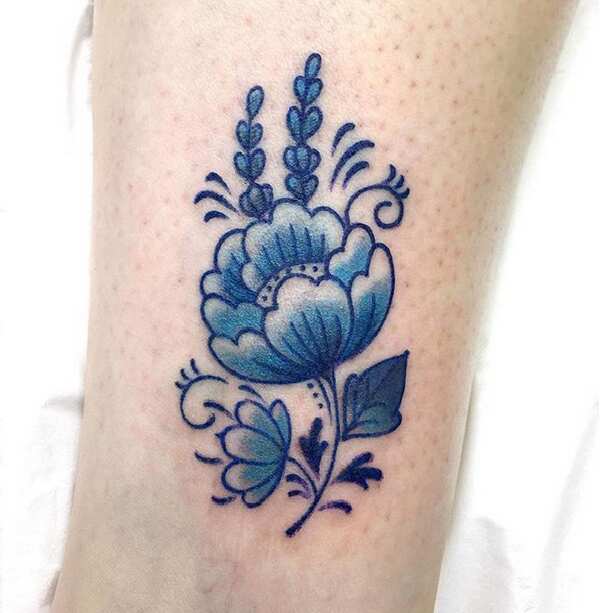 Floral motives remind paintings on Delft pottery and are unusual ink designs. This singularity does not make it less beautiful than the examples above.
24. Gentle lavender tattoo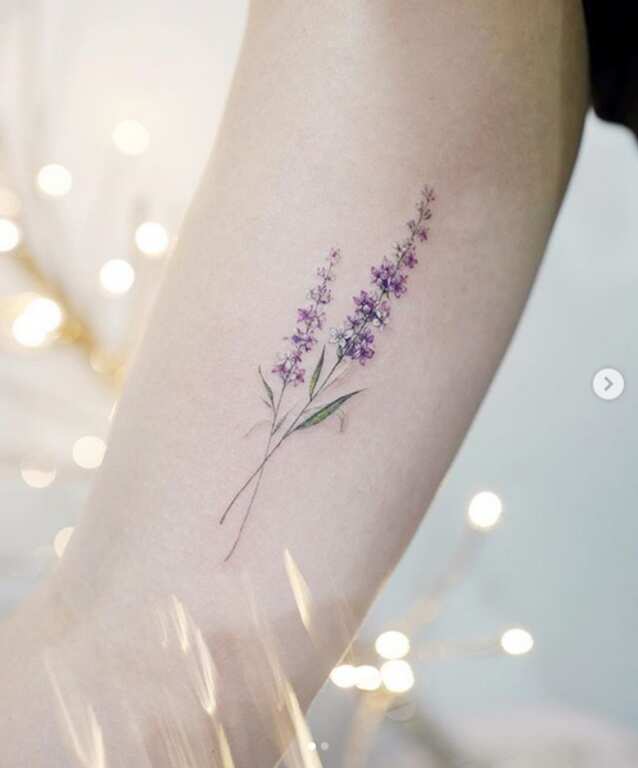 Lavender flowers are the symbols of harmony and serenity in all cultures.
25. Mandala-flower
It is an incredible combination of a floral tattoo with mandala and geometric motives. Elbow inks look unusual and stylish but remember that this place is one of the most painful to get inked.
26. Red-and-blue petals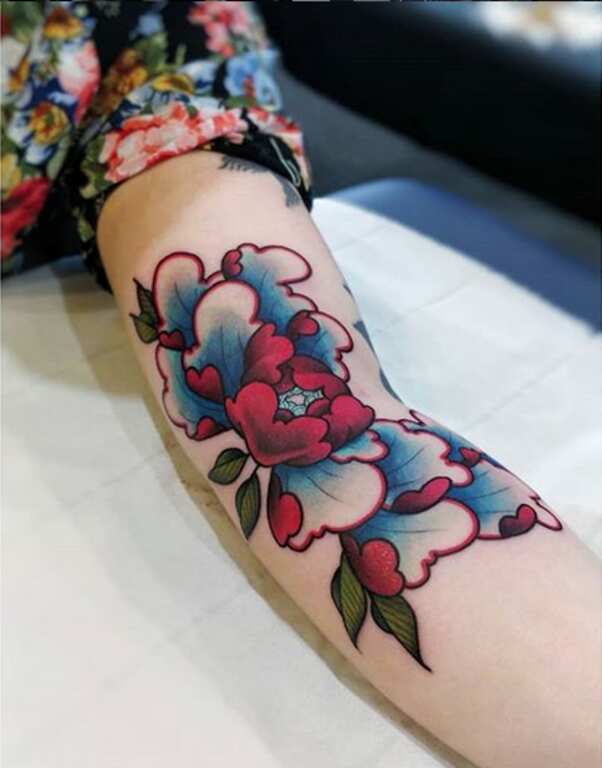 The combination of different colours always looks great as in this design. No matter that such peony does not exist in real life. It does not stop us from creating an amazing floral tattoo.
27. Half sleeve ink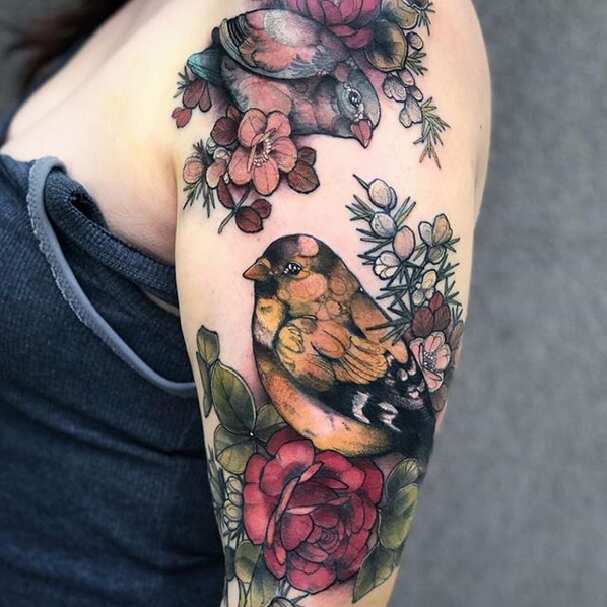 Do you want to dilute the whole image of your flower tattoo and do not know how to do it? Adding several birds to it will be the right solution. They symbolise freedom every one of us strives to reach.
28. Tiny lavender
It is another variant for an amazing lavender tattoo. This lovely flower looks especially good in a small size as in this photo.
29. The monochrome tulip tattoo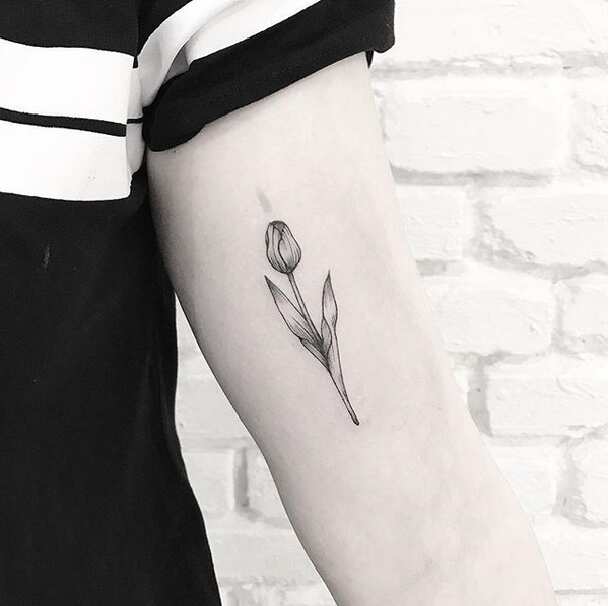 People in different countries associate tulips with the beginning of spring and the blossom of beauty. This design looks perfectly everywhere, no matter either it is a coloured or blackwork style.
30. Floral sleeve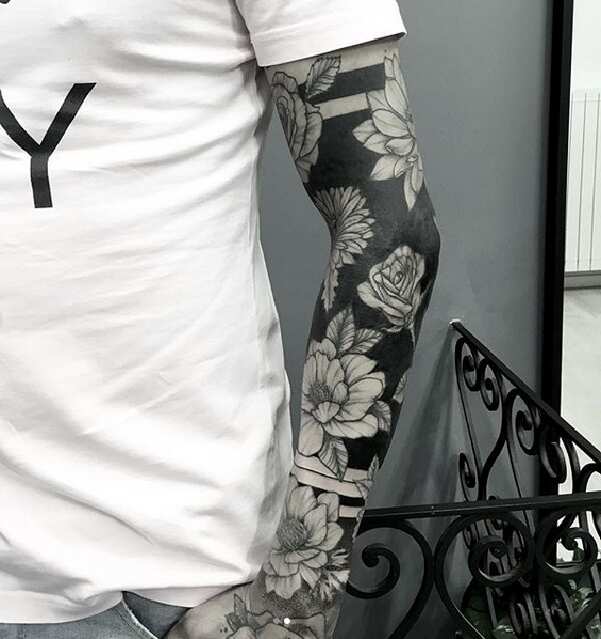 A sleeve ink is a way of creating the whole garden of flowers on your hands. Even if you are a guy, it will look great.
31. Minimalistic flower
This design looks like a child's drawing, and that is his peculiar beauty.
32. Colourful linnea flower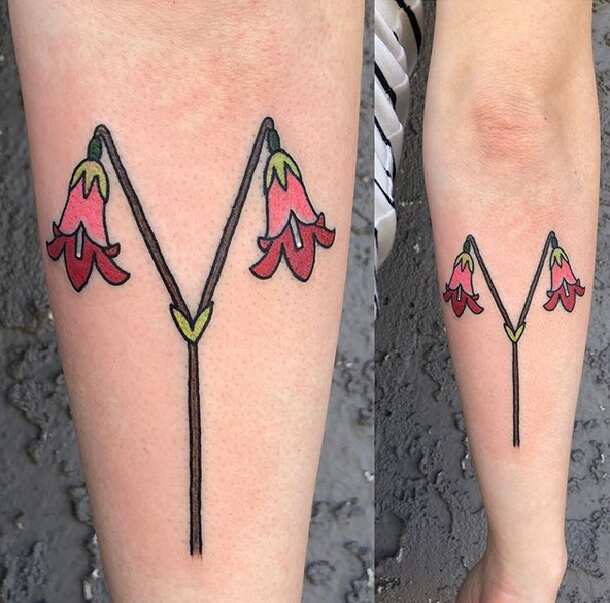 The Linnea tattoo is always an excellent idea for emphasising graceful woman's essence.
33. Captivating chrysanthemum
No one would stop staring at this chrysanthemum tattoo. This flower emits power. Thus men also can get such a body design.
READ ALSO: Simple henna designs for hands and their meanings
34. Back tattoo
An enthralling orchid flower is the best for back because its length and grace make your body look more elegant and sеxy.
35. Floral garden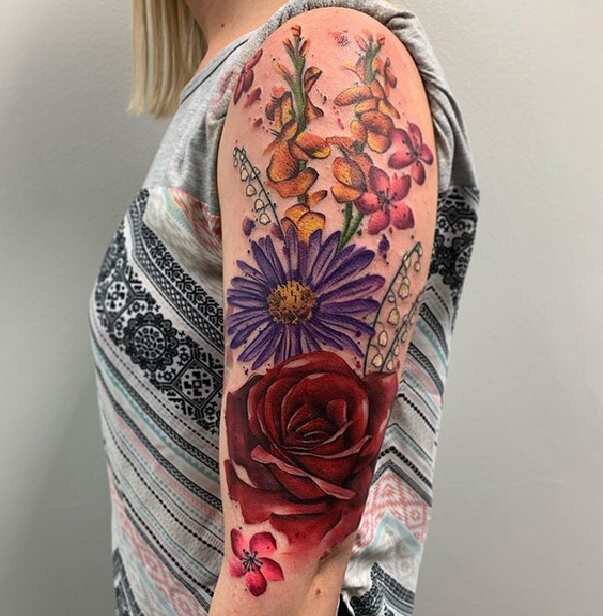 It is hard to call this masterpiece a 'tattoo' because the realism of this design is so high that it seems to be a watercolour painting, not an ink.
36. Triangled hibiscus tattoo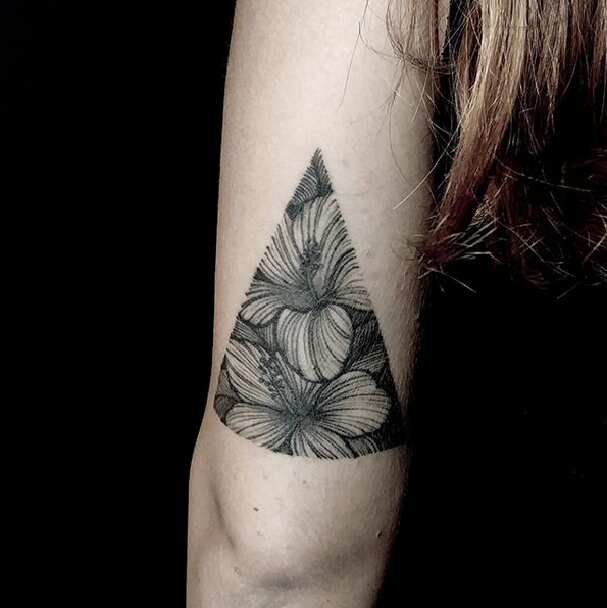 If you want to get your first flower ink and still doubt about the design, choose a hibiscus tattoo. People in many cultures considered it the symbol of naturalness and innocence.
37. Tiny moonflower
Instead of putting a single flower bud on the ankle, try to add some monochromatic elements. This tip diversifies even the dullest and the oldest ink.
38. Rib tattoo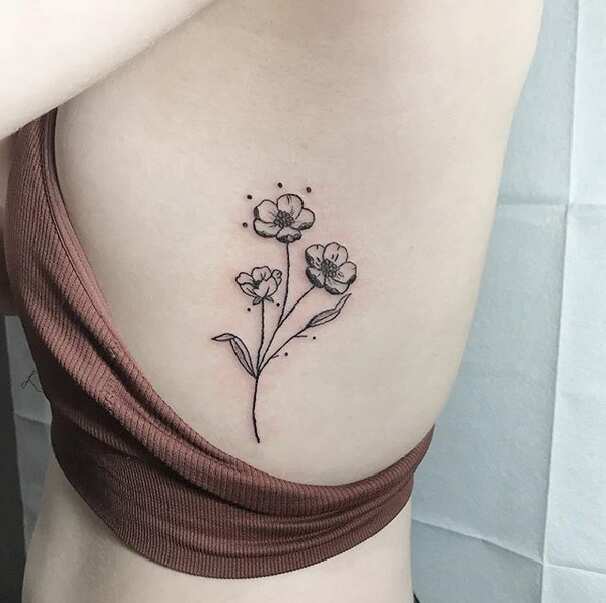 The process of tattooing on ribs is painful, especially if you are a skinny girl, but the result worths all efforts. The rib ink designs vary from tiny flowers like this to large pieces of art.
39. Flowering masterpiece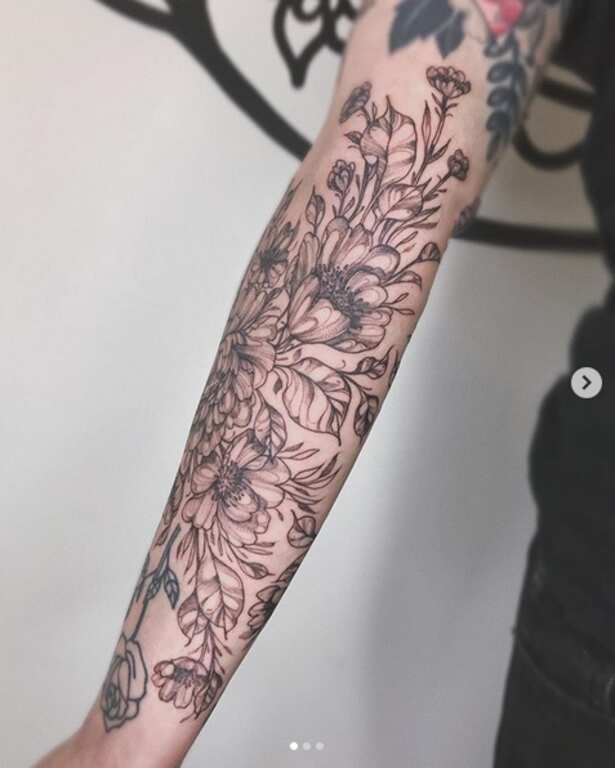 This alluring flower tattoo needs no colour to be magnificent.
40. Moon-shaped flowers
The ankle, elbow, and shoulder are the best places for this kind of designs. A crescent moon can emphasise the bends of your body and looks spotless!
41. Breast ink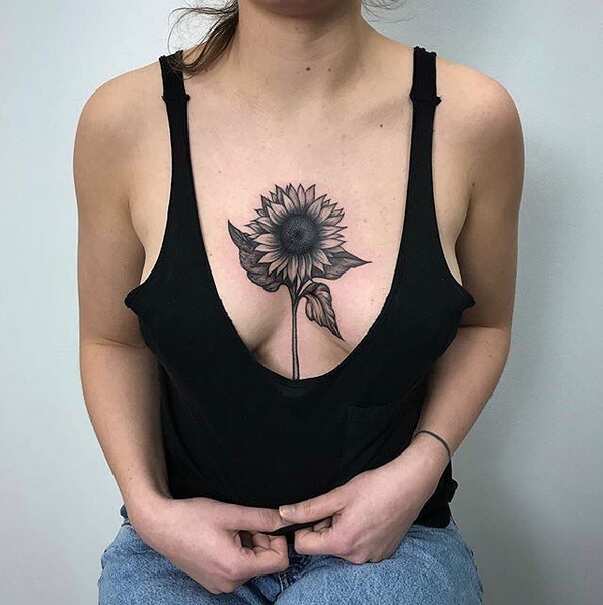 Try this design if you have a desire to have an amazing body design. Sunflower tattoos are universal, they look equally good with and without colour.
42. Bright sunflower
If you want to depict all the beauty of this flower, you cannot do this without a colourful ink. The colours are very bright, so you will genuinely love it.
43. Dropping petals
The excellent combination of colours with stunning design help to depict your soul and spirit.
44. The floral abstraction
The peony design with black lines on the arm is the right way of immortalising essential events. Any names, phrases or dates can be integrated into these lines.
45. The lonely bud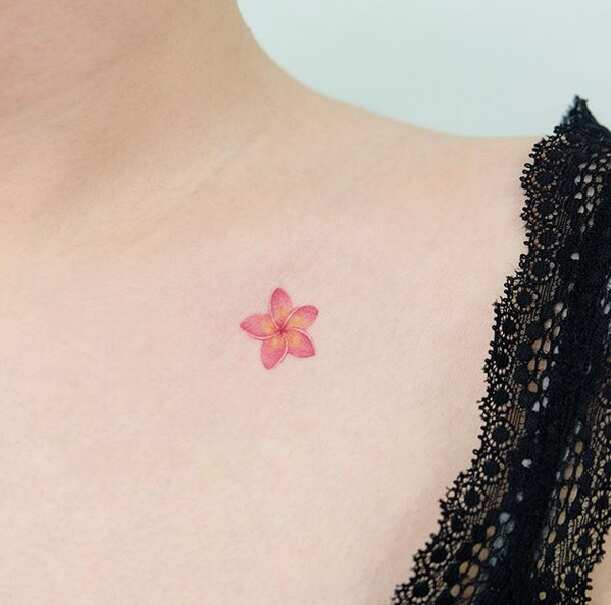 What about this adorable tiny plumeria flower? This pretty flower is very elegant.
46. The harmony of colour
This abstraction flower tattoo design is remarkable. Despite that blue, rose and purple ink are considered to be feminine, the unusual design makes this ink appropriate even for men.
47. Elbow mandalas
It is a lovely flower design both for women and men. You can choose blackwork or colourful drawing. No matter which one you like, because they are equally magnificent.
48. Lonely carnations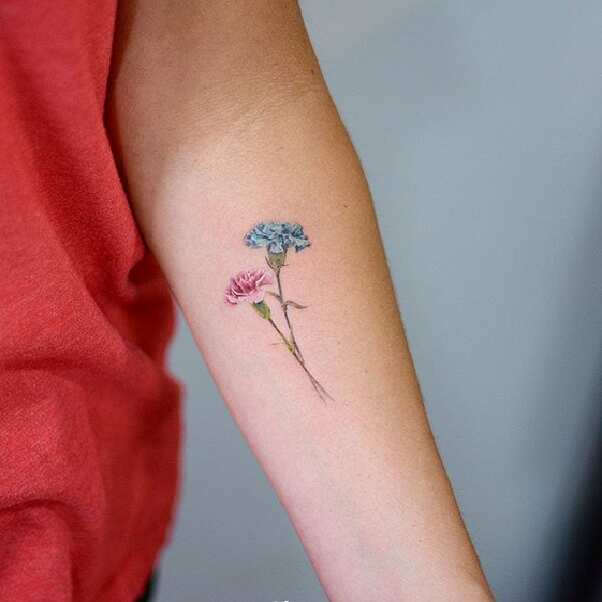 Look at these two lovely and humble watercolour carnations. This ink can bear the meaning of two united souls, such as a loving couple.
49. Flowers with names
Use a flower tattoo to show your love for your second half, parents or relatives.
50. The mysterious face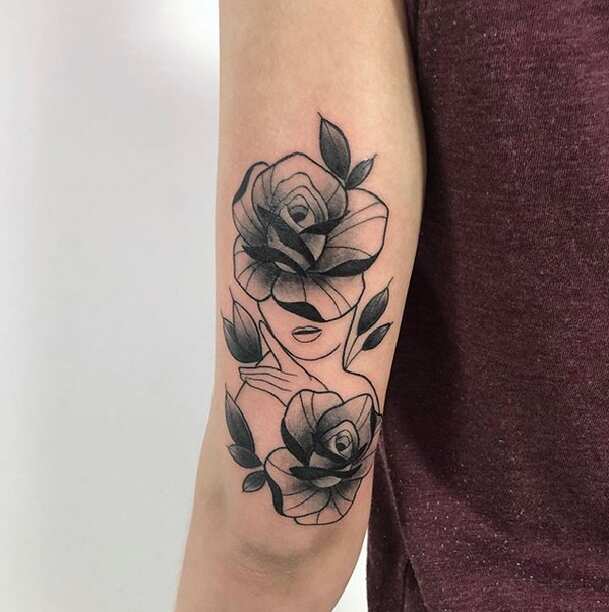 The woman's portrait is a perfect addition to your flower tattoo. You can depict a self-portrait as well as the portrait of a beloved woman.
We hope that these flower tattoos will inspire you, and you will find the right design for you.
READ ALSO: 50 mother daughter tattoos ideas to inspire you
Source: Legit.ng