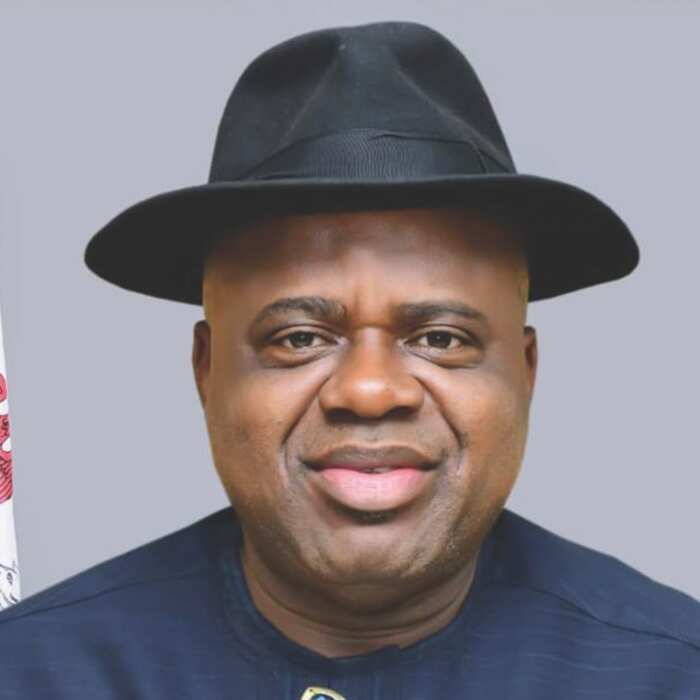 Bayelsa State
Current Governor: Douye Diri
Founded: October 1, 1996
Area: 10,773 km2
Capital: Yenagoa
Geopolitical Zone: South South
HD1 (2021): 0.651; medium, 4 of 37
ISO 3166 code: NG-BY
Population: 2.7 million
Postal Code: 561001
Slogan: Glory of All Lands
Bayelsa State, Nigeria
Bayelsa State is located in the South-South region of Nigeria and is bounded by Delta State to the west, Rivers State to the east, and the Atlantic Ocean to the south. The state was created on October 1, 1996, from part of the old Rivers State by the Sani Abacha military government.
Population
Bayelsa State has an estimated population of 2,704,515 people, making it the thirty-fifth most populous state in Nigeria.
Governors
Bayelsa State has had several governors since its creation in 1996. Here is a list of administrators and governors of Bayelsa State:
Phillip Ayeni, Administrator, October 1996 - February 1997
Habu Daura, Administrator, February 1997 - June 1997
Omoniyi Caleb Olubolade, Administrator, June 1997 - July 1998
Paul Obi, Administrator, July 1998 - May 1999
Diepreye Alamieyeseigha, Governor, May 1999 - December 2005
Goodluck Jonathan, Governor, December 2005 - May 2007
Timipre Sylva, Governor, May 2007 - April 2008
Werinipre Seibarugo, Acting Governor, April 2008 - May 2008
Timipre Sylva, Governor, May 2008 - January 2012
Nestor Binabo, Acting Governor, January 2012 - February 2012
Henry Seriake Dickson, Governor, February 2012 - February 2020
Douye Diri, Governor, February 2020 - present
Postal Code
The postal code for Yenagoa town, the capital city of Bayelsa State, is 560001. However, each town within the state has its unique postal code.
Universities
Bayelsa State is home to several universities, including:
Niger Delta University (NDU), Wilberforce Island
Hensard University, Toru-Orua, Sagbama, Bayelsa State
Bayelsa Medical University
Federal University, Otuoke, Bayelsa