25 best dog movies on Netflix you should add to your watchlist
Want to watch some great dog movies on Netflix? From the many dog stories you will hear, you will realise that they are compassionate and selfless animals. Some of the best dog tales are told in movies.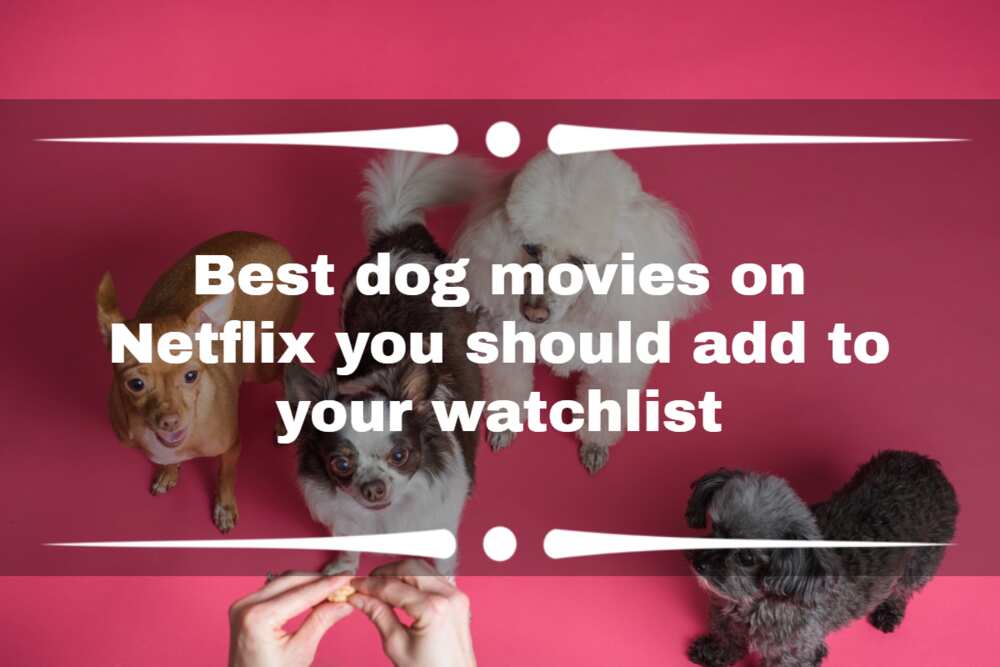 If you are a lover of all things canine who is interested in watching dog movies, Netflix is one of the best streaming platforms you can opt for. Numerous dog movies on Netflix will entertain you and help you understand the animal's different behaviours.
Best dog movies on Netflix
If you are looking forward to a family movie night or binge-watching films with friends, you will find the best animal movies on Netflix, including dog films. Here are some movie suggestions that will keep you glued to your screen.
1. 777 Charlie (2022)
The movie 777 Charlie narrates the story of a man named Dharma living a lonely and hopeless life until he meets Charlie, an energetic and lively Labrador dog, who upends his life. Charlie brings excitement into Dharma's life after he is forced to live with the dog following a doctor's advice that the dog needs his care.
2. Life in the Doghouse (2018)
In the movie, life partners, Danny and Ron, set up a dog rescue centre at their home. They aim to rescue and take care of stranded and abandoned dogs. After operating the makeshift sanctuary for over ten years, they rescued and adopted over 10,000 dogs.
3. Togo (2019)
Togo is also among Netflix dog movies with a great storyline. In the film, Leonhard Seppala, a sled dog trainer, welcomes a puppy into his sled dog training group. He names it Togo and, since it is young, opts to keep it away from the rest of the pack.
However, each time, Togo escapes from his kennel and joins the team. He accepts Togo for training, and surprisingly, the dog displays remarkable abilities in the group.
4. A Dog's Journey (2019)
The movie A Dog's Journey tells the story of a dog named Bailey living on the farm of Ethan and his wife. Bailey finds a new friend, CJ, Ethan's grandchild, and they form a close friendship. When Bailey is about to be euthanised, the dog promises to find CJ and protect her. The dog reincarnates in CJ's life, each time having a different name.
5. Red Dog (2011)
This Australian dog movie is based on a true story. It revolves around a red dog roaming the streets of Australia, searching for its true owner. While searching for its master, the pup unites a disintegrated community and ultimately finds its owner John.
6. Seventeen (2019)
In this 2019 movie, Hector, a 17-year-old boy, escapes a youth detention centre where he has been for about two years. Hector begins searching for Oveja, a lost dog he found at an animal rescue centre. The young boy is accompanied by his brother Ismael and grandmother so that he doesn't run into trouble.
7. A Dog's Purpose (2017)
A dog experiences different lives with multiple owners, and ultimately understands his real purpose. The pup becomes friends with the son of his first owner, Ethan, who names him Bailey. Different circumstances lead to the dog changing ownership, and lastly, he finds himself in a familiar area, traces his first owner and reunites with Ethan.
8. Megan Leavey (2017)
In this 2017 film, a young marine corporal, Megan Leavey, is deployed to Iraq to reform the K-9 unit following disciplinary action. The marine corporal makes friends with Rex, a military combat dog considered aggressive. Their partnership proves fruitful as they accomplish over 100 rescue missions, but tragedy strikes after they are injured in an explosion.
9. Rescued by Ruby (2022)
Dan, a state trooper, desires to join the elite K-9 search and resume team, but his attempts to join the team have failed. He crafts a new strategy and befriends Ruby, a shelter dog, who makes his plans for joining the K-9 search and rescue team successful.
10. Marley & Me (2008)
In the movie Marley & Me, a newlywed couple adopts a yellow Labrador puppy named Marley, who turns out to be a naughty pet as it grows up. Marley is full of puppy energy and proves uncontrollable even to his masters. The pup not only disturbs the family but is also known by other people for wreaking havoc wherever he goes.
11. Homeward Bound: The Incredible Journey (1993)
In the adventure comedy film, two dogs, Chance and Shadow, and a cat, Sassy, are left temporarily under the care of their owner's friend, while the family goes on holiday. Thinking they might never see their owners again, the pets embark on a journey across the wilderness of the Sierra Nevada mountains to trace and find their loved ones. It turns out to be a risky journey full of dangerous encounters.
12. A Dog's Way Home (2019)
This movie tells the story of a puppy, Bella, who enjoys the company of its owner, Lucas. However, their companionship is short-lived when the pup is separated from its owner. To find its owner, Bella has to traverse an expanse of 400 miles, interacting with strangers, a lonely mountain lion, and a veteran.
13. Max (2015)
The movie tells the story of Max. After the demise of Kyle Wincott, a U.S. Marine in Afghanistan, his dog Max is left traumatised and can no longer be in the service. Kyle's family adopts Max in the US, and becomes friends with Justin, Kyle's teenage brother. Max, Justin, and another canine-loving friend begin the journey to unearth the mystery behind Kyle's death.
14. Oh My Dog (2022)
This drama family movie is the story of a young boy Arjun, who finds an abandoned blind puppy and decides to keep it. Arjun names him Simba. As Simba grows, his intelligence increases, making him do marvellous things, including winning a coveted dog competition.
15. Dog (2022)
Jackson Briggs, a former US military officer, is asked to travel with Lulu, a military dog, to attend the funeral of the pup's handler. He is reluctant but changes his mind after being promised a recommendation for a position. Their journey to the memorial service becomes a hectic experience as Jackson and Lulu annoy each other all the way.
16. Oddball (2015)
In the movie Oddball, regular fox attacks threaten the Little Penguin colony on Middle Island, and their number has started to decline. Warrnambool Coastcare Landcare Group is alarmed by the situation and initiates The Middle Island Maremma Project to protect the penguins. Maremma Guardian dogs are trained to protect the penguins, and a pup named Oddball proves exceptional.
17. Benji (2018)
A stray named Benji roams freely in Texas and not wanting to be housed. Benji becomes friends with two school children who are later kidnapped and held for ransom. The pup tracks the criminals to an abandoned house and returns to the city to persuade the cops, the kids' mother and other street dogs to mount a rescue.
18. June & Kopi (2021)
June & Kopi is one of the feel-good dog movies on Netflix. It is an Indonesian comedy about a stray taken home by a graphic designer named Aya after a group of kids chased the dog. Aya named the dog June, who amazingly got along with the family's pet Kopi. Kopi and June's partnership proves helpful to the family in many ways.
19. Vicky and Her Mystery (2021)
In the 2021 adventure dog movie, Victoria, a girl whose mother passed away, lives with her father. The duo decides to relocate to a mountain village. One day, while walking in the forest, she finds a puppy and decides to keep it secret. The young girl names the puppy Mystery. Later, it turns out that Mystery is not a dog but a wolf.
20. Dog Gone (2023)
This is a drama movie about Fielding, a college kid, and his dog, Gonker. Fielding adopts the puppy after a college girl rejects him. He and his family develop a tight bond with Gonker, who is later diagnosed with Addison's disease. When Gonker gets lost, Fielding and his father have to hike the Appalachian Trail to find the pup to administer a monthly dose against the disease.
21. Patrick (2018)
Sarah, a young English teacher, inherits a pug named Patrick when her grandmother dies. She struggles to cope with her new job and managing Patrick, who turns out to be a nuisance. After a while, things improve at school, and she also realizes she connects well with Patrick, who helps her meet potential suitors.
Interesting animated movies about dogs on Netflix
Animated dog movies offer great entertainment, especially for kids who love furry canines. Here are some animated family dog movies on Netflix you can enjoy.
1. Balto (1995)
In the 1995 movie, when a diphtheria epidemic strikes a town in Alaska, medicine is needed to save lives, but it is many miles away. A sled dog team is sent to bring it; among them is Balto, an ignored wolf-dog. He proves his worth in the life-saving mission.
2. White Fang (2018)
The movie is an exciting story of a wolf-dog rescued from an abusive owner. White Fang is adopted by Weedon Scott, who shows great mercy and kindness. Later, the pup becomes the saviour when an escaped convict attacks Weedon Scott's dad.
3. All Dogs Go to Heaven (1989)
In the 84-minute animation movie, Charlie is killed by his fellow gambler Carface, and he goes to heaven despite not doing any good on earth because all dogs go to heaven.
Charlie uses a magical rewindable watch to get his life back and return to earth, planning revenge on Carface through a girl called Anne-Marie. He soon discovers that Anne-Marie is being exploited by Carface and his plan changes from revenge to a rescue mission.
4. The Secret Life of Pets (2016)
Max, a Jack Russell Terrier, lives happily with his master in a Manhattan apartment. His happy life is disrupted when his owner brings in another dog, Duke, whom he dislikes at first sight. However, Max and Duke must put their differences aside and team up to protect the owner from other canines wanting to wreak havoc.
Dogs are interesting and loyal creatures with many other likeable attributes; perhaps that is why they are considered man's best friends. You can watch numerous dog movies on Netflix if you want to learn more about the canines. The above suggestions are perfect for a viewing with family or friends.
Legit.ng recently published end-of-world movies. What will happen when one day the world ends? People can only imagine the world's end, and many films have been produced with different explanations.
Possible happenings of how the world will end elicit many exciting discussions. If you love apocalyptic movies, you will be impressed with the compilation in the article.
Source: Legit.ng