Michaela Conlin bio: Age, height, ethnicity, net worth, partner
Michaela Conlin is an American actress who is famous for her portrayal of Angela Montenegro in Bones, the popular American crime procedural comedy-drama television series. The actress has also starred in other popular productions such as Baby, Baby, Baby (2015) and The Lincoln Lawyer (2011). Judging from her long stint in Bones, the girl is good at her job.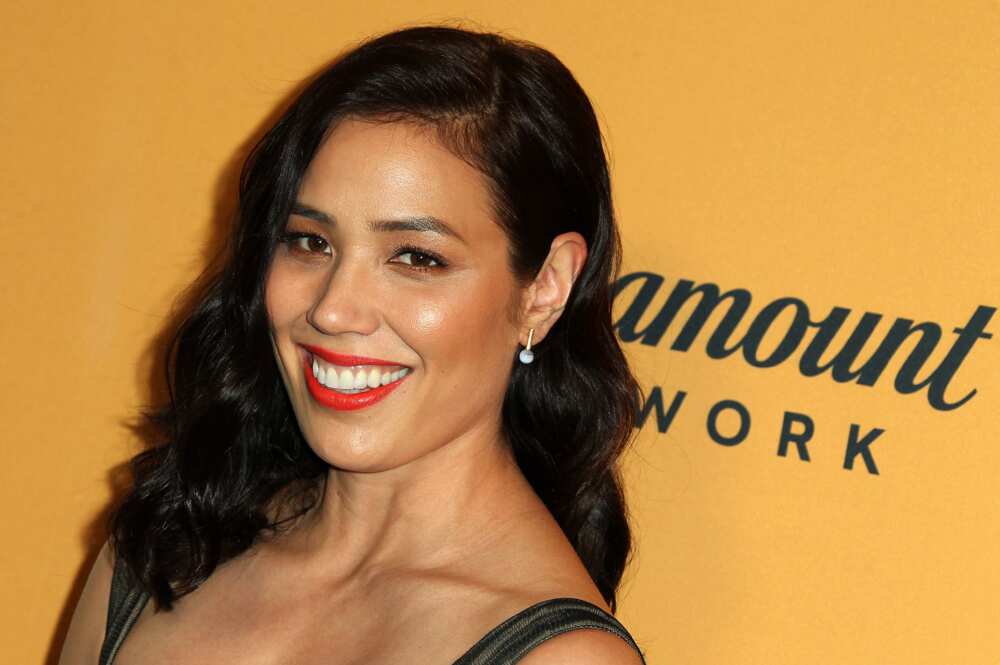 Not so many people can brag about the fame and popularity that Michaela currently enjoys. The 42-year old actress has just but a few acting credits, but truth be told, they are more impressive than you may think.
Profile summary
Date of birth: June 9th, 1978
Michaela Conlin age: 42 years old
Place of birth: Allentown, Pennsylvania, USA
Height: 5' 8" (1.73 m)
Weight: 59 kg (130 lbs)
Body measurements: 34-24-34 inches
Bra size: 34A
Dress size: 6 (US)
Hair colour: Blonde
Eye colour: Brown
Occupation: Actress
Net worth: $4 million
Michaela Conlin family background
She was born on June 9, 1978, in Allentown, Pennsylvania to a contractor father and an accountant mother. At the moment, she is 42 years old.
She is of mixed ethnicity, as her father, Fran Conlin, is Irish-American while her mother, Denise Conlin, is Chinese-American. The actress has an older sister.
Education
For her schooling, she attended Parkland High School in South Whitehall Township, Pennsylvania, and after her graduation from high school, she moved to New York City.
She then enrolled at the Tisch School of the Arts of New York University, where she majored in Theater. She graduated from the institution with a bachelor's degree in Fine Arts.
Michaela has always had a passion for acting ever since she was a kid. She was just seven years old when she got her first prole in a play.
Growing up, she acted in various Pennsylvania community and regional productions and while she was in high school, she was active in the theater circuit and starred in productions of the Arthur Miller play The Crucible and the stage musical Bye Bye Birdie.
At NYU she appeared in productions at the Playwrights Horizons Theater School, the Stonestreet Studios Conservatory, and the prestigious off-Broadway non-profit theater Atlantic Theater Company.
Career
Michaela began acting soon after graduating from NYU. She first appeared in the reality series The IT Factor right after her graduation. However, her big break came when she moved to Los Angeles.
According to her IMDb page, her debut role was in Law & Order in 2001, where she played the character Rocky in the episode titled Swept Away - A Very Special Episode.
Other Michaela Conlin movies and TV shows (plus the roles she played in each) include:
Bad Trip (2020) - as Maria
Yellowstone (2018-2019) - as Sarah Nguyen
Bones (2005-2017) - as Angela Montenegro.
The Disappointments Room (2016) - as Jules
Casual (2016) - as Claire
The Division (2002) - as House Director
Here and Now (2018) - as Sharon Chen
Baby, Baby, Baby (2015) - as Courtney Lee
The Lincoln Lawyer (2011) - as Detective Sobel
Love the Hard Way (2001) - as Cara
Enchanted (2007) - as May
Pipe Dream (2002) - as TV Reporter
Open Window (2006) - as Miranda
The D.A. (2004) - as Jinette McMahon
JAG (2003) - as Lt. Mary Nash
MDs (2002) - as Dr. Maggie Yang
Garmento (2002) - as Marcy
Michaela Conlin net worth
According to Celebrity Net Worth, Michaela has a net worth of $4 million.
Michaela Conlin dating history
In 2007, Conlin was engaged to her Bones co-star TJ Thyne. They later broke up in 2011. TJ Thyne plays Jonathan "Jack" Stanley Hodgins IV, Ph.D. in Bones. Dr. Jonathan "Jack" Stanley Hodgins is an entomologist, botanist, and mineralogist who works at the Jeffersonian Institute. He is not only an expert on spores and minerals, but conspiracy theories are his hobby.
After her break up from T.J Thyne, Michaela was rumoured to be dating soccer player Arnar Gunnlaugsson. Conlin even spent the 2012 New Year's with the soccer legend in Iceland, and the two were spotted having fun in a number of places.
The two were introduced to each other by Arnar's sister-in-law, entrepreneur and Playboy model Ásdís Rán Gunnarsdóttir. It was later revealed that they decided not to get into a serious relationship.
The actress has a child, a son. Her son, Charlie, was born on February 3rd, 2019. The actress has not revealed who the father of her baby is.
Michaela Conlin measurements
Michaela Conlin hot body measures 34-24-34 inches in the bust-waist-hip ratio. The actress weighs 59 kilograms and Michaela Conlin height is 5 feet & 8 inches.
Her hair colour is blonde while her eyes are brown.
FAQs
Here are other interesting facts about the actress:
Is Michaela Conlin married to TJ Thyne?
No, TJ Thyne is not Michaela Conlin husband. However, the co-stars dated for five years before breaking up.
What race is Michaela Conlin?
Michaela Conlin ethnicity is mixed. Her dad has Iranian roots while her mom has Chinese roots.
Is Michaela Conlin in a relationship?
The actress is secretive about her personal life, and it is unknown if she's in a relationship or not. Even the identity of her baby daddy is unknown.
Interesting facts about Michaela
She loves traveling, reading, and writing short stories.
She loves experimenting with cuisines from around the world.
Michaela Conlin quotes
Hart Hanson is one of the coolest, smartest producers I've ever worked for. He's very open to ideas, he says no when he should, he says yes when it would work for the show.
I never used to get homesick when I first moved to L.A.
Pilot season in L.A. is just this blood bath. They make so many pilots, and such a small percentage are picked up. And then if you are picked up, there are so many variables.
Michaela Conlin is quite an accomplished actress. The star is very secretive about her personal life, but one thing that everyone knows is that she is a talented individual going places.
READ ALSO: Danielle Cohn bio: Age, height, boyfriend, is she pregnant?
Legit.ng reported that Danielle Cohn, the popular teen sensation and social media star, recently admitted to getting an abortion early this year.
The singer is one of the biggest social media influencers in the world and one of the biggest controversies surrounding her life is about her age.
While her dad, Dustin (who has Danielle's birth certificate), claims that Danielle was born on March 7, 2006, Danielle and her mom (Jeniffer Archambault) have a different narrative, insisting that she was born in 2004.
Source: Legit.ng