30 best Family Guy episodes that are a must-watch, according to IMDb
Family Guy is an American animated sitcom which premiered on 31 January 1999. The series centres around the Griffins, a dysfunctional family in a wacky Rhode Island town who strives to cope with everyday life as they are thrown from one crazy scenario to another. Discover the 30 best Family Guy episodes in this article that are a must-watch.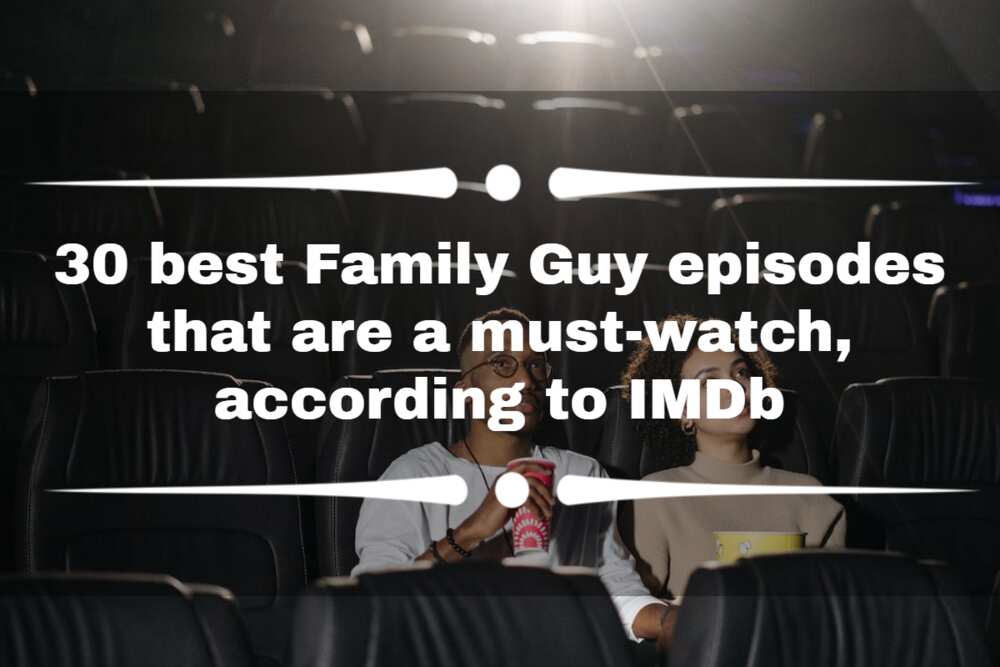 Family Guy has been around for more than two decades since its release in 1999. The TV show boasts great ratings and viewership. The show is known for its controversial jokes, outrageous moments, clever storylines and a constant stream of pop culture references. Which are some of the favourite Family Guy episodes you can watch repeatedly?
Best Family Guy episodes
Family Guy has been running for 20 seasons as of 2023. At the time of writing, the show has a total of 411 episodes. Here are the top 30 best episodes of Family Guy you should probably watch. Note that the episodes are ranked based on IMDb ratings.
1. Road to the Multiverse (Season 8, Episode 1)
Road to the Multiverse is one of the funniest Family Guy episodes. In this episode, two of the show's lead characters, Brian and Stewie, explore a series of alternative universe. They use an "out-of-this-world" remote control to travel through various parallel universes and finally end up in a world where dogs rule, and humans obey.
2. Back to the Pilot (Season 10, Episode 5)
Written by Mark Hentemann and directed by Dominic Bianchi, Back to the Pilot aired on 13 November 2011. In this episode, Brian and Stewie travel back in time to the first episode of the series, Death Has a Shadow, to change history, only to change the past with severe consequences.
3. And Then There Were Fewer (Season 9, Episode 1)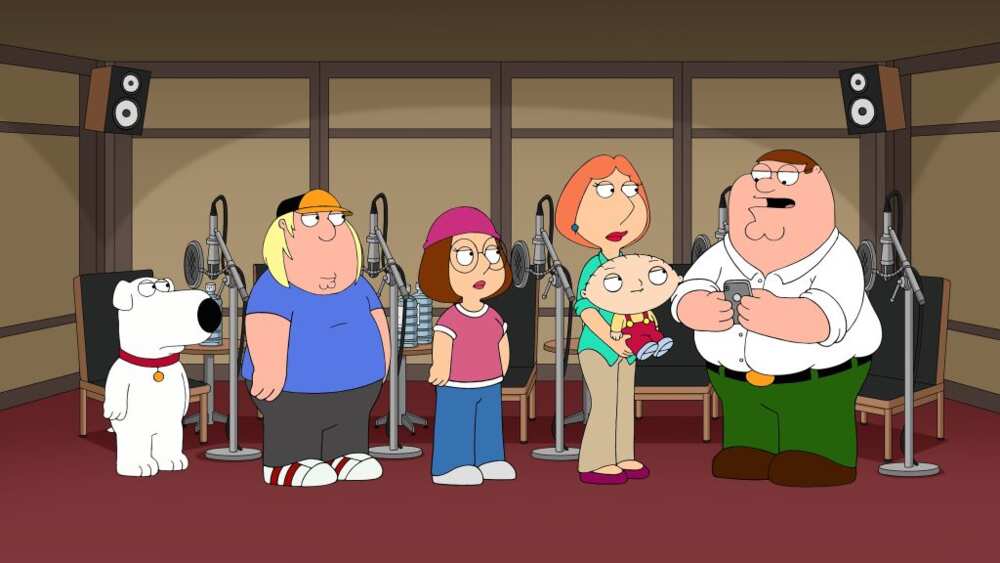 This episode follows the citizens of Quahog after they are invited to James Woods' house, where a murder mystery occurs. While there, the group struggles to discover who committed the mysterious acts before attempting to escape from the island and avoid being murdered.
4. PTV (Season 4, Episode 14)
PTV aired on 6 November 2005 and depicts the story of the (FCC)'s measures after a wardrobe malfunction occurred during a live broadcast. The FCC began to censor Peter's TV networks. As a result, Peter creates his own TV station PTV which broadcasts from the Griffin home until the FCC shuts him down and starts censoring his life.
5. Meet the Quagmires (Season 5, Episode 18)
In this episode, death is summoned to the Drunken Clam on a false alarm, and he grants Peter's wish by sending him, along with Brian, back to 1984 to be 18 again. However, when he bails on Lois, he soon learns he's altered the present, where Lois is married to Quagmire.
6. The Simpsons Guy (Season 13, Episode 1)
In this episode, the Griffins meet The Simpsons for the first time and decide to stay with them after the Griffin family's car is stolen and gets stuck in Springfield.
7. Yug Ylimaf (Season 11, Episode 4)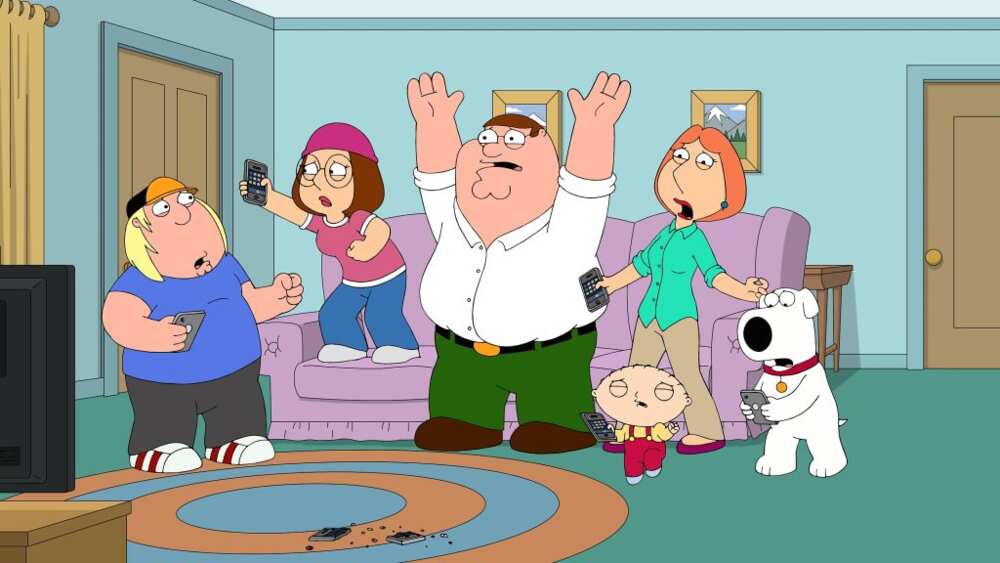 Yug Ylimaf is the 200th episode of the Family Guy show. In the episode, Brian uses Stewie's time machine to hook up with potential girlfriends, but it goes awry when he interferes with Stewie's time machine, which may result in Stewie being unborn.
8. Lois Kills Stewie (Season 6, Episode 5)
In Lois Kills Stewie, Lois returns to Quahog as Stewie escapes with Brian to Washington, D.C. and decides to start his latest plan for world domination.
9. Stewie Kills Lois (Season 6, Episode 4)
Stewie Kills Lois aired on 4 November 2007 and was written by David A. Goodman and directed by John Holmqui. Stewie finally kills Lois after being mad that she and Peter didn't take him with them on a cruise. After one year of her disappearance, Peter is charged with her death.
10. Road to the North Pole (Season 9, Episode 7)
In Road to the North Pole, Stewie and Brian go on an adventure to the North Pole so that Stewie can kill Santa Claus for not allowing him to see him at the mall, only to face a shocking revelation.
11. Emmy-Winning Episode (Season 16, Episode 1)
This episode was about Peter acknowledging their show's ignorant nature and striving to deliver something worthy of an Emmy award for a change.
12. Three Kings (Season 7, Episode 15)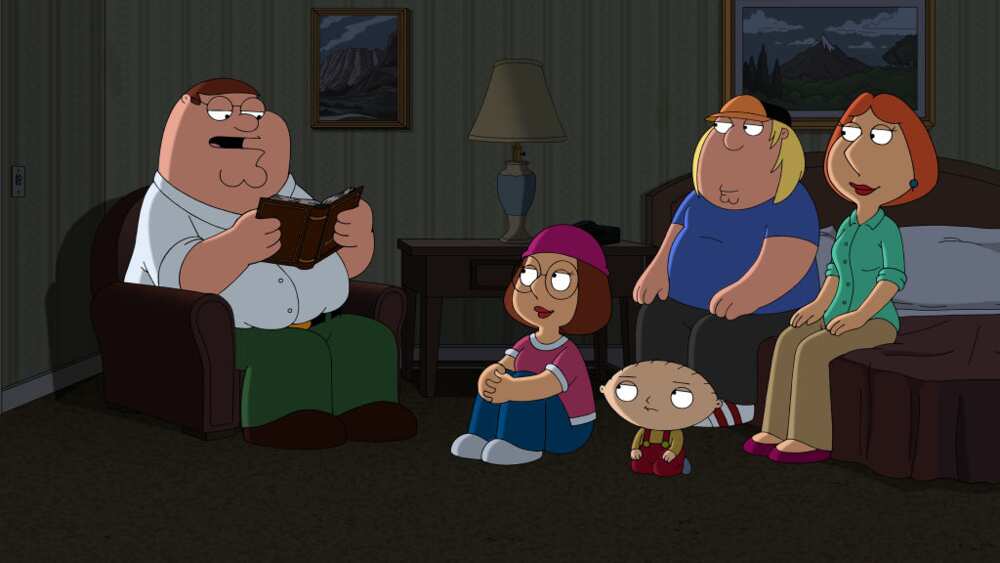 Three Kings initially aired on Fox in the United States on 10 May 2009. This episode is a series of parodies based on three Stephen King movies, Stand by Me, Misery and The Shawshank Redemption.
13. Blue Harvest (Season 6, Episode 1)
Blue Harvest aired on 23 September 2007. In this episode, the Griffins get stuck at home during a blackout. Peter begins to tell a story of Star Wars Episode IV: A New Hope, where the characters from Family Guy are re-imagined as Star Wars characters.
14. Stewie Loves Lois (Season 5, Episode 1)
The episode features Stewie becoming overly affectionate with his mother, Lois, after she saves Rupert. Meanwhile, Peter gets a prostate exam from Dr Hartman but believes that he has been abused instead and decides to prosecute his doctor in court.
15. Petarded (Season 4, Episode 6)
With Season 4 being undoubtedly among the best seasons of the TV series, Petarded is another of Peter Griffin's typical crazy episodes. In this episode, Peter tries to exploit his diagnosis and reaches the extent of losing his children's custody to Cleveland. After winning a game of Trivial Pursuit, he suddenly claims himself a genius until testing confirms his intellectual disability.
16. The D in Apartment 23 (Season 16, Episode 6)
The plot of this episode is based on a real-life incident in 2013 when a public relations executive tweeted, 'Going to Africa'. In The D in Apartment 23, Brian gets kicked out of the house for posting an offensive tweet that goes viral and moves into an apartment temporarily.
17. The Big Bang Theory (Season 9, Episode 16)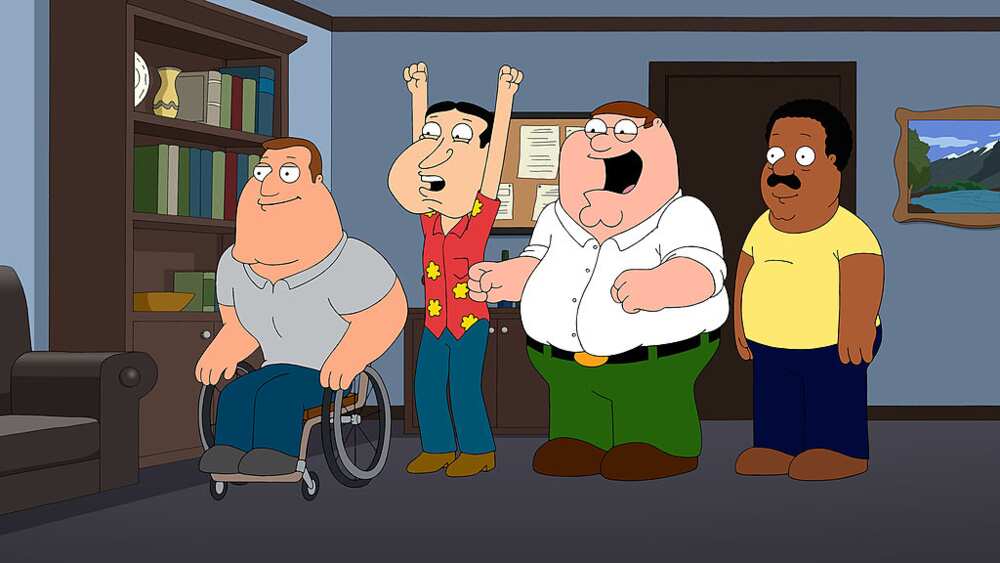 In The Big Bang Theory, Stewie and Brian embark on an epic adventure to stop Bertram from killing Leonardo da Vinci after Bertram reveals his plan to kill Leonardo da Vinci, Stewie's ancestor.
18. Road to Germany (Season 7, Episode 3)
The Griffin's Jewish neighbour, Mort, mistakes Stewie's time machine for a Porta Potty and gets sent back in time without a way to bring him back to the present. Stewie and Brian use a time machine to return to Poland and rescue Mort.
19. To Love and Die in Dixie (Season 3, Episode 12)
To Love and Die in Dixie focuses on Chris and his experience witnessing a store robbery during his new job as a paperboy, whom he later identifies at the line-up at the police station. When the robber threatens Chris' safety, the Griffins are put in the witness protection program and relocated to the Deep South.
20. Road to Rhode Island (Season 2, Episode 13)
In Road to Rhode Island, when Brian offers to pick up Stewie from his Grandma and Grandpa's house, they miss their plane and go on a cross-country journey home. Meanwhile, Peter and Lois attempt to rekindle their relationship with some marriage videos, and Peter becomes addicted to the videos, much to Lois's chagrin.
21. Emission Impossible (Season 3, Episode 11)
Emission Impossible first aired on 8 November 2001. The episode follows the story of Lois and Peter, who decides to have another baby after Peter helps deliver Lois's sister's baby. However, Stewie will attempt to foil their new plan.
22. E. Peterbus Unum (Season 2, Episode 18)
In this episode, Peter discovers that his property is not officially part of the United States. During a fight with the city hall, he declares his own independent nation and makes himself president.
23. Da Boom (Season 2, Episode 3)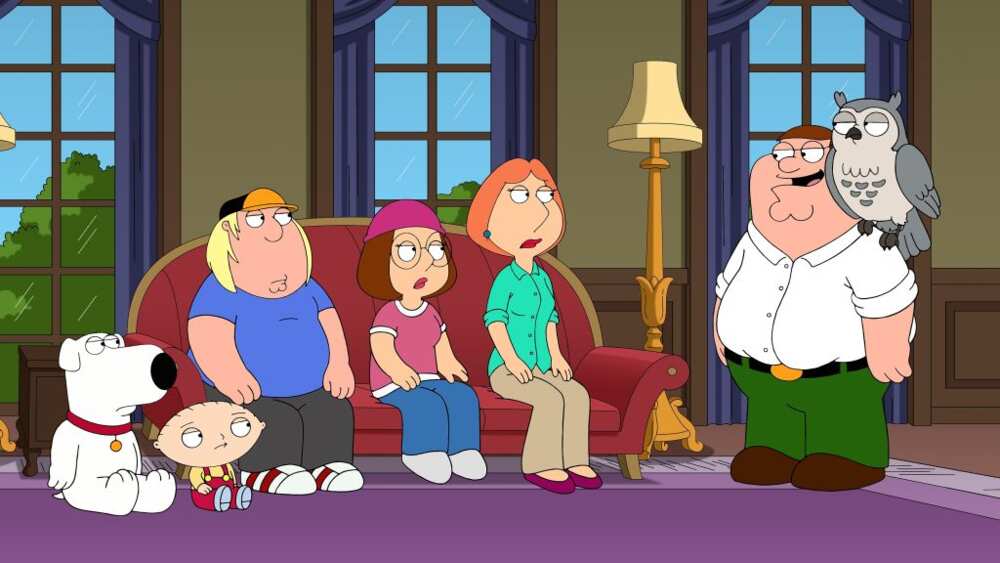 Da Boom is a popular episode of the Family Guy series aired on 26 December 1999. This episode follows Peter's paranoia about the end of the world makes the family cancel their New Year's Eve '99 plans.
24. Forget-Me-Not (Season 10, Episode 17)
Forget-Me-Not was written by David A. Goodman, directed by Brian Iles, and aired on 18 March. In this episode, Peter, Joe, Quagmire and Brian wake up in the hospital with no memory and discover that they're the last people left on Earth, and the city of Quahog has been deserted.
25. I Dream of Jesus (Season 7, Episode 2)
I Dream of Jesus first aired on 5 October 2008. This episode features Peter when he rediscovers his favourite song, Surfin' Bird by the Trashmen, and finds Jesus Christ working at a record shop and convincing him to make his second coming.
26. Wasted Talent (Season 2, Episode 20)
Peter goes on a drinking binge to win one of Pawtucket Pat's magical breweries, while Lois desperately seeks a talented piano player to beat her rival in an upcoming talent competition.
27. Death Lives (Season 3, Episode 6)
Peter slips away to play golf at an exclusive country club, only to get struck by lightning and endure a near-death experience. Death promises Peter a discovery that will help his marriage.
28. I Am Peter, Hear Me Roar (Season 2, Episode 8)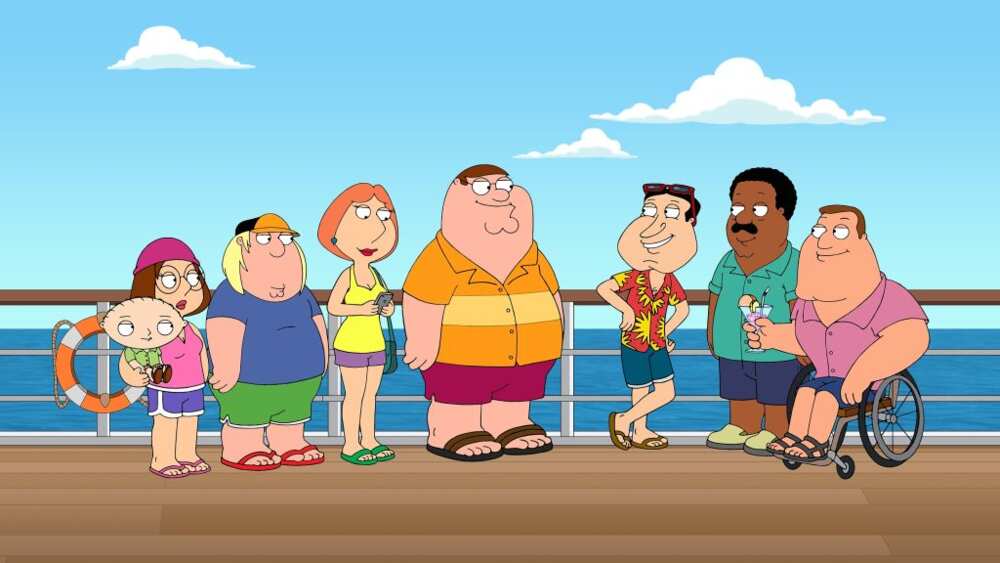 Peter receives feminine training at a woman's retreat after his offensive joke about women offends a female co-worker. When Peter is sued for sexual harassment, he is forced to attend a woman's retreat for sensitivity training and soon embraces his newfound feminine side.
29. The Thin White Line (Season 3, Episode 1)
Unable to get rid of his neuroses, Brian considers returning something to the community using his expert nose to assist police canines in detecting illegal substances. He has effectively assisted in the arrest of countless illegal medicine dealers.
30. PeTerminator (season 19, Episode 13)
PeTerminator is the 26th episode and season finale of the nineteenth season of Family Guy. It is the 478th episode, overall. In PeTerminator, Stewie designs a Terminator resembling Peter to destroy Lois for for trying to feed him broccoli. However, his life becomes endangered when things don't go as planned.
The above are some of the best Family Guy episodes based on IMDb ratings. Since its premiere in 1999, it has received incredibly positive reviews. It has been nominated 30 times for various Primetime Emmy awards, winning 9 Emmys.
Legit.ng recently published an article about the latest African-American romantic series you should watch. Some of the most iconic and memorable African-American films are, no doubt, romance flicks. They tell unique stories of Black love incorporating aspects of the African American experience.
There are numerous romantic TV series starring some of the best African-American actors you can enjoy watching with family and friends. If you love watching love-themed TV shows starring black actors, this post highlights some of the latest African-American series you should probably add to your watchlist.
Source: Legit.ng