30 best vampire anime shows and movies to add to your watchlist
Vampires are terrifying creatures yet beautiful and uncannily human. They have been a common part of most folklore stories and carry an aura of undefeatable horror. If you want to spend an evening with your loved ones, these best vampire anime shows and movies are a must-watch.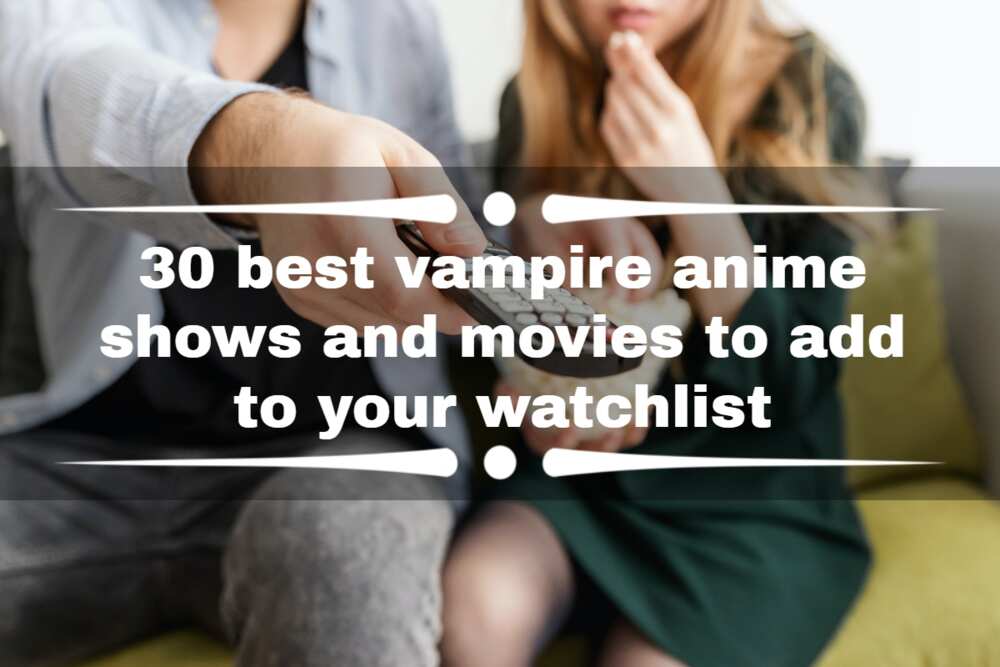 Several vampire anime shows and movies have been released over the years. Even though some might be old, they have been outstanding due to their unique storylines that captivate TV shows and movie enthusiasts.
30 best vampire anime shows and movies
Are you looking for a family-friendly film or TV show? Here are some of the top vampire anime shows and movies that will keep you entertained.
1. Castlevania (2017–2021)
Castlevania is an American adult animated dark fantasy action horror TV series that premiered in 2017 and was produced by Frederator Studios. It revolves around the story of the popular monster hunter Trevor Belmont, who takes up arms against Dracula's forces throughout the land of Wallachia.
2. Sirius the Jaeger (2018)
The Masahiro Andō-directed TV series was released in 2018. Sirius the Jaeger follows the story of a group of vampires that leave China and flee to Japan carrying musical instruments. Yuliy and the Jaegers engage in a fierce battle with the vampires for possession of a mysterious holy arc.
3. Blood: The Last Vampire (2000)
Blood: The Last Vampire is one of the best anime vampire movies released in 2000. The plot revolves around a girl named Saya. She poses as a student at the Yokota High School and hunts bat-like vampiric creatures called Chiropterans using a katana sword. She meets and saves the school nurse Makiho Amano from two vampires at the institution.
4. Blood Lad (2013)
Blood Lad is centred around a powerful vampire boss of a territory in the Demon World named Staz. Unlike his vampire ancestors, he prefers not to prey on humans. Instead, he indulges in the Japanese otaku lifestyle of reading manga, playing video games, and watching anime.
5. Seraph of the End (2015)
The Japanese manga series chronicles the events undergone by the Japanese Imperial Demon Army. The world reportedly came to an end in 2012 at the hands of a human-made virus. The deadly virus destroys the human population and leaves only children untouched.
6. Vampire Hunter D: Bloodlust (2000)
The film is possibly among the best vampire animes movies in terms of character creation. Vampire Hunter D: Bloodlust follows the story of D, a reserved vampire hunter who is half-vampire, half-human.
7. Hellsing Ultimate' (2006 – 2012)
Hellsing Ultimate is a Japanese manga series written by Kouta Hirano. The series revolves around the titular organisation Hellsing as they follow their mission to wipe out supernatural forces that threaten the citizens of England.
8. Black Blood Brothers (2006)
Black Blood Brothers premiered in 2006 and follows the story of an old blood vampire called Jiro Mochizuki, also known as the Silver Blade and his younger brother. Jiro and his brother go to Hong Kong after defeating the Kowloon Children in hopes of reaching The Special Zone. This is a thriving secret city where Vampires reside.
9. Dance In The Vampire Bund (2010)
Dance In The Vampire Bund is centred on a royal member of the demon world, Mina Țepeș and her werewolf protector Akira Kaburagi Regendorf. Mina Tepes comes out from her hiding place to offer peace between vampires and humans.
She pays off the Japanese national debt with her family's vast wealth to aspire for life among humankind. In exchange, Japan gives her a bund, where she goes to live with her people.
10. Kekkai Sensen (2015 – 2017)
This is a vampire anime to watch if you are looking for an exciting and suspenseful movie. It follows the story of a crime-fighting organisation, Libra and their battles in Hellsalem's Lot to ensure peace and order. The Earth and the other world beyond opened in New York City, leading to the trapping of some supernatural creatures, beings and humans alike.
11. Strike The Blood (2013)
Strike The Blood revolves around a boy named Koujo Akatsuki. He is suspected of being the Fourth Progenitor, a powerful vampire known for disrupting the balance of power among the world's three ruling progenitors. Previously, Koujo was a high school student before becoming a vampire. Koujo is reluctant to use the powers which he hardly controls.
12. Jojo's Bizarre Adventure (2012)
Jojo's Bizarre Adventure is a Japanese manga series that is centred on the bloodline of Jonathan Joestar (Jojo). Joestar family members battle against supernatural forces and beings for many years using their using unique psychic power called a Stand.
13. Trinity Blood (2005)
Trinity Blood is a series that revolves around a post-apocalyptic world. The war between the vampires and the humans continues to persist. The unending confrontations between the races have split the world into various groups. In order to protect the humans from the vampires, a superhuman priest battles to secure a peaceful co-existence.
14. Vampire Knight (2008)
Vampire Knight follows the story of Yuki Cross. She is attacked by a rogue vampire and saved by Kaname Kuran, a Pureblood vampire. Ten years later, Yuki becomes the adopted daughter of Kaien Cross, the headmaster of Cross Academy. Later she gets into a romantic relationship with one pure-blooded vampire and protects him from discovery as he leads a group of vampires at the elite boarding school.
15. Servamp (2016)
Servamp follows the story of Mahiru Shirota, a high school student who likes simple things and dislikes difficult things. One day, on his way back home, he picks up a stray black cat left on the road and decides to take care of it.
He names it Kuro. He later discovers that Kuro is missing at home, only for him to see something quite strange in place of Kuro. The cat turns out to be the mysterious man whom he has never seen before.
16. Rosario + Vampire (2008)
The story revolves around Tsukune Aono, an average teenager who is unable to get into any local high school due to his poor grades. His parents enrolled him in a private boarding school called Yokai Academy. He realises that the school train monsters on how to live with humans by teaching them the science of human existence.
17. Vassalord (2013)
Vassalord follows the story of a cyborg vampire named Vampires Charles J. Chrishunds and Johnny Rayflo. The two fight each other. Charley finds it hard to control his lust for blood and Johnny. On the other hand, Johnny seduces his servant as he tries to deal with issues from his own past.
18. Noblesse (2020)
Noblesse is a South Korean manhwa written by Son Je-ho. It tells the story of a powerful noble named Cadis Etrama Di Raize. He wakes up from his 820-year slumber without knowledge of mankind's advancement. His servant Frankenstein enrols him at Ye-Ran High School, where his classmates teach Raizel the human world's simple routines.
19. Devils Line (2018)
Devils Line is a Japanese manga series that focuses on the lives of Anzai and Taira. They are living among humans and vampires. These vampires move around in society and exist as outcasts. Even though they may not need blood to thrive, extreme emotions can increase their bloodlust and turn them into bloodthirsty beasts.
20. Bakemonogatari (2009 – 2010)
This is among the vampire anime shows that are quite interesting to watch. Bakemonogatari series tells the story of a third-year high school student named Koyomi Araragi, who became a vampire due to unforeseen circumstances. He seeks to help other supernatural beings with their problems using his vampire powers.
21. Fortune Arterial: Akai Yakusoku (2010)
The series follows the story of a male protagonist, Kohei Hasekura, who transfers into a prestigious public school, Shuchikan Academy, with juniors and high school students. Shortly after, he finds out that one of his schoolmates, Sendo Erika is a vampire.
22. Phantom In The Twilight (2018)
Phantom In The Twilight is about a world where shadows are born from human fear and anxiety. A young girl arrives in London for further studies, only to be caught in a bizarre incident as she enters university. She enters Café Forbidden, a mysterious café that opens only at midnight.
23. Dance with Devils Fortuna (2017)
The 2017 movie follows the story of Ritsuka, who got admitted to a new school Shiko Academy. Ritsuka is called to the student council by the school's student council president. Later, she returns home from school only to find her mother lying dead on the floor. Standing next to her body are a few men who are not human. It turns out that these men are vampires.
24. Blade (2011)
Blade tells the story of a guy named Blade, who is a vampire hunter. He is on a mission to hunt down Deacon Frost, a powerful vampire believed to have killed his mother. Deacon Frost is also the manager of Existence, a secretive vampire company that operates in Southeast Asia.
25. Wild Arms: Twilight Venom (1999 – 2000)
The Vampire anime shows list cannot be complete without mentioning Wild Arms: Twilight Venom. The series tells the story of a gunslinger named Sheyenne Rainstorm trapped in the body of a ten-year-old boy.
26. Itsuka Tenma No Kuro Usagi (2011 – 2012)
Itsuka Tenma No Kuro Usagi revolves around a boy named Kurogane Taito who used to have vivid dreams of being connected to a vampire. Nevertheless, one day, he was faced with an accident that caused an injury to his leg, preventing him from practising karate. He then realises that all the dreams about that vampire are not all fake.
27. Blood-C (2011)
Blood-C tells the story of Saya Kisaragi, who has a special sword and lives with her father in a shrine. During the day, she spends time with her friends at a local cafe, while at night, she is called upon to protect her village from vampires tormenting the village.
28. Master Mosquiton '99 (1996)
The 1996 movie revolves around a young woman named Hitomebore Inaho, whose grandmother was in love with a vampire. She comes across a vampire called Mosquiton at an all-girls Catholic high school. She beats Mosquiton and then makes him her slave.
29. Yichang Shengwu Jianwenlu (2019)
The series follows the story of Yoshihito, a 23-year-old man who doesn't seem mature enough to be in any relationship or have a job. To survive, he rents out one of the rooms in his house.
30. Tenshi Ni Narumon (1999)
Tenshi Ni Narumon is about a guy named Yuusuke Kamoshita living alone. He comes across a naked girl in a forest named Noelle. She and her entire family move into Yuusuke's home. Yuusuke writes a letter to his girlfriend, Natsumi Suzuhara apologising for what has happened.
While there are many great vampire anime shows and movies, the list above is a must-watch for any fan of the genre. Whether looking for an intense action movie or a heartwarming family film, these selections have something to offer everyone who loves vampires.
Legit.ng published an article about Disney princes. A Disney prince is a character that marries a princess in Disney shows. An official prince is a princess franchise's primary male love interest who is adored for his personality.
They have noble characters and fight for their love against all odds. Disney shows, and films are fun to watch. They fulfil the audience's fantasy that everyone can relate to. Disney princes are admired by many for their bravery and charismatic characters.
Source: Legit.ng