CNN Pamela Brown bio: salary, net worth, husband, family
This blonde woman is a famous TV personality in the USA. Pamela Brown has been working in the broadcasting sphere for many years. She used to work at the ABC channel, and she is now one of the most beautiful faces in the CNN network. Read on to learn more about this incredible lady.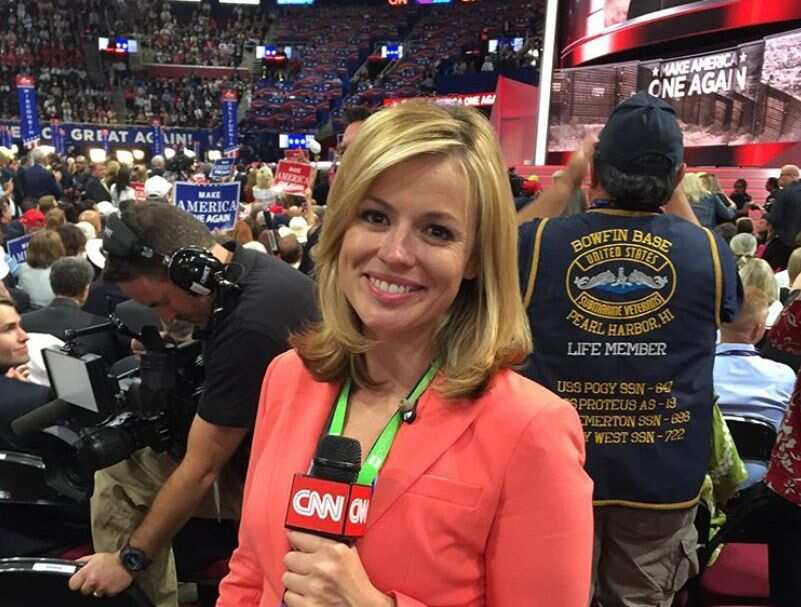 Being a daughter of Miss America 1971, this lady managed to build her fantastic career, earn enough money to live a stunning life and create a happy family with the man she loves.
Pamela Brown CNN
Viewers of NewsChannel 8 (now it is known as WJLA-TV) might remember a new reporter that started her work in the summer of 2006. It was Pamela. Back then, she was a presenter and reported news after completing her studies at the University of North Carolina and getting a bachelor's degree in broadcast journalism. However, she did not become famous at once.
She was a part of NewsChannel 8 for approximately six years. Then she joined the great CNN network and started to work as a national reporter. Many Americans love this senior White House Correspondent and watch her every appearance on TV with huge interest.
READ ALSO: Laura Rutledge: age, height, husband and hot photos
This famous female reporter loves to cover both national and international investigations and events. She travels to different countries carrying significant news to everyone in the USA. For example, she went to Haiti when the country was suffering from an Earthquake. She also reported about Hurricane Sandy and other blizzards.
Reporting is Pamela's job and primary interest in life. However, in her free time, she enjoys playing basketball and cards. She is also a fan of horse racing.
Pamela Brown, Phyllis George's daughter
Fans of beauty contests in the 1970s should remember Phyllis George. She was Miss Texas 1970 and Miss America 1971. Phyllis George managed to turn her beauty and victory into financial success.
Phyllis is the mother of Pamela Brown. This fantastic woman became not only a real celebrity after winning a prestigious pageant in the USA but also built an impressive career as a TV personality, and her daughter Pamela followed her steps.
How old is Pamela Brown?
People who like to follow the life of celebrities are often interested in knowing the age of a famous person.
Pamela Ashley Brown was born on November 29, 1983. She originates from Kentucky, from a family of Phyllis George who was Miss America, as you already know, and John Y. Brown, Jr. who was a Governor of Kentucky in 1979-1983.
The pretty and tall reporter (her height is 5 feet and 8 inches or over 1.7 meters) is turning 36 years old in 2019. Right now, she is 35 years old.
Adam Wright - Pamela Brown
No only Phyllis George is an important person in Pamela's life. Adam Wright is another great person she loves a lot.
Pamela Brown husband Adam has been her secret date for a while. The famous woman did not unveil him to the public and did everything to keep her relationship private. Americans and the whole world learned about this beautiful couple only when Adam Wright and Pamela Brown got married in 2017.
Pamela Brown wedding
The wedding of a famous CNN reporter took place on June 5, 2017. The sweethearts tied the knot at the childhood home of the former Miss America's daughter in Kentucky. There were approximately 250 guests at the wedding ceremony. It is believed that the couple flew to Japan for their unforgettable honeymoon.
By the way, the next spring after their wedding, this new family welcomed their first child. Pamela's son Ben was born in April 2018.
Pamela Brown net worth
Being a journalist can earn you a good fortune. For example, Pamela Brown net worth is approximately 2.5 million U.S. dollars. It is believed that her annual salary is more than 80 thousand dollars.
The famous journalist CNN Pamela Brown is a happy wife. She lives a remarkable life thanks to her hardworking character, impressive appearance, and talents. This woman is rich, and she likes to take part in charitable organisations helping others through donations and charity.
READ ALSO: Betsy Woodruff bio: parents, age, height, husband
Source: Legit.ng