75+ gone too soon rest in peace quotes about unexpected death
Losing a loved one is one of the last things anyone would want because it is heartbreaking and saddening. The pain and grief are immense and unexplainable, but consolation from people around you will go a long way to calm you down. Sharing "gone too soon rest in peace" quotes with a person mourning the loss of a loved one can comfort them in such trying times.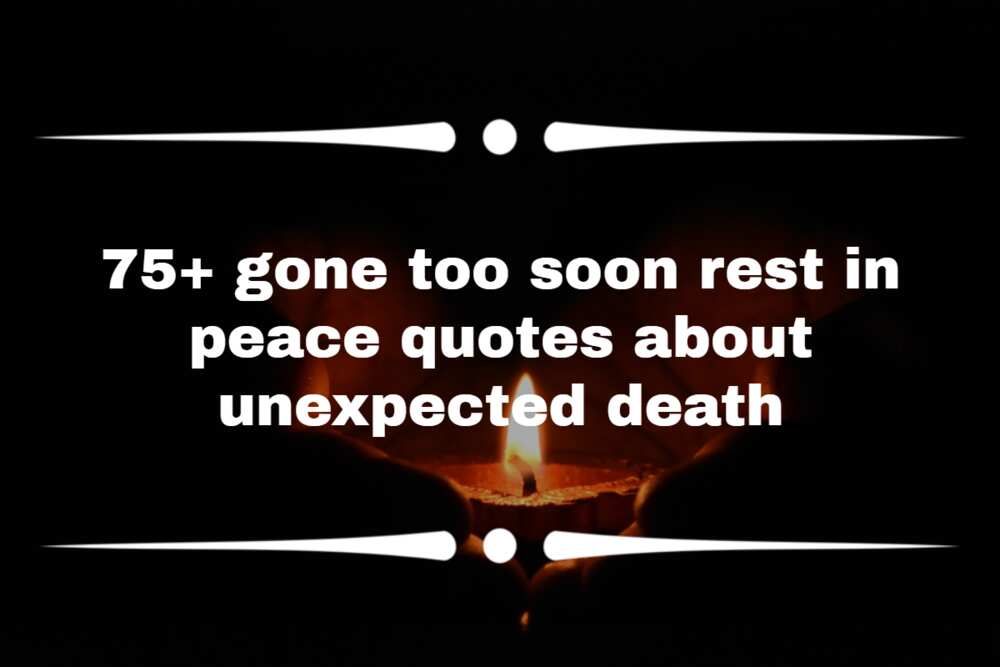 Even though life has its fair share of challenges, you live to enjoy it with your loved ones, not knowing they will be no more, leaving you alone one day. Thinking of good times can cause great pain when somebody close to you passes on. However, you can condole a person mourning the loss of a loved one by sending them "gone too soon rest in peace" quotes.
Sudden death loss quotes for losing a loved one
The sudden loss of a loved one is always tragic and unbearable. At that moment, a person grieving requires comforting quotes to help them manoeuvre the sad moments. Here are "gone too soon rest in peace" quotes to comfort them.
Gone too soon rest in peace quotes for losing a father
One of the dearest people you have in your life is your father. Losing him, no matter how old he may seem, would be sorrowful. Here are quotes that can comfort one for their father's demise.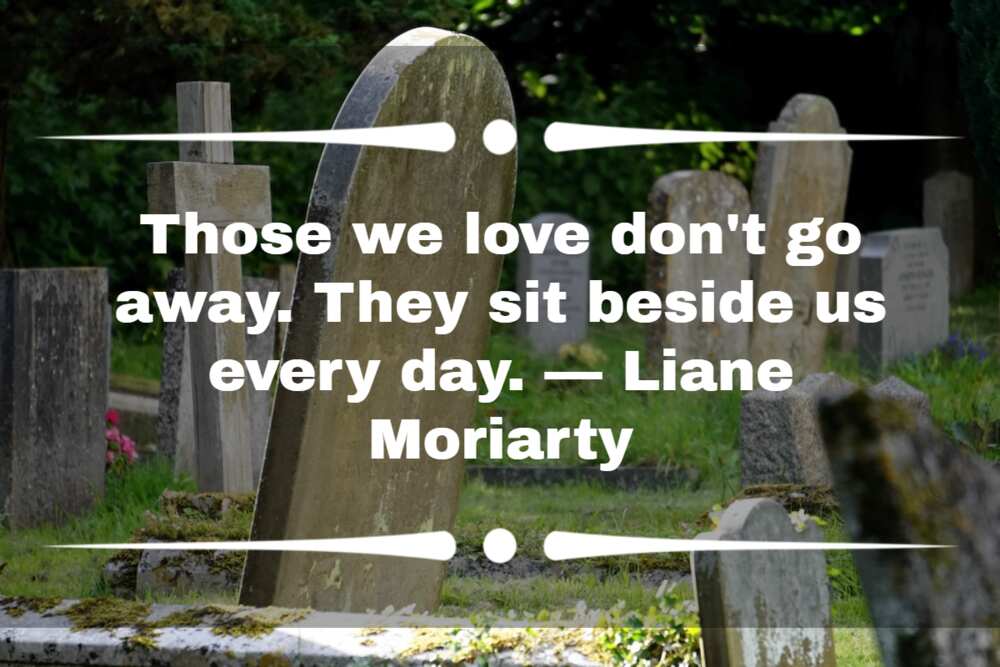 This is the price you pay for having a great father. You get the wonder, the joy, the tender moments, and you get the tears at the end, too.
To lose your father is to lose the one whose guidance and help you seek, who supports you like a tree trunk supports its branches.
What we become depends on what our fathers teach us at odd moments when they aren't trying to teach us. We are formed by little scraps of wisdom.
I often feel that when someone passes on, you now have an angel you can call by name.
My father gave me my dreams. Thanks to him, I could see a future.
To know you'll never see your father again is to realize one of life's greatest pains.
And when great souls die, after a period, peace blooms, slowly and always irregularly. — Maya Angelou
Going through a dead parent's memorabilia is a hazardous undertaking; there is a fine line between pleasure and pain.
Although our lives' journeys have bid us to be apart, I am with you, you are with me and always in our hearts.
That's the thing when your parents die; you feel like instead of going into every fight with backup, you are going into every fight alone.
Let me tell you; he is the hole in my heart. His loss is my scar. But let me tell you something; his memory drives me forward every single day of my life.
The death of any loved parent is an incalculable lasting blow. Because no one ever loves you again like that.
There is no expiration date on the love between a father and his child.
When a great man dies for years, the light he leaves behind him lies on the paths of men.
Death leaves a heartache no one can heal. Love leaves a memory no one can steal.
The pain passes, but the beauty remains.
Those we love don't go away. They sit beside us every day.
The loss of my father will always sting. But now, everything I do is in honour of him and celebrates his life.
In losing him, I lost my greatest blessing and comfort, for he was always that to me.
When my father didn't have my hand, he had my back.
Beautiful soul gone too soon quotes for losing a mother
The tender love and care one experiences from their mother from birth creates an unbreakable bond between them. These quotes can help console the bereaved person.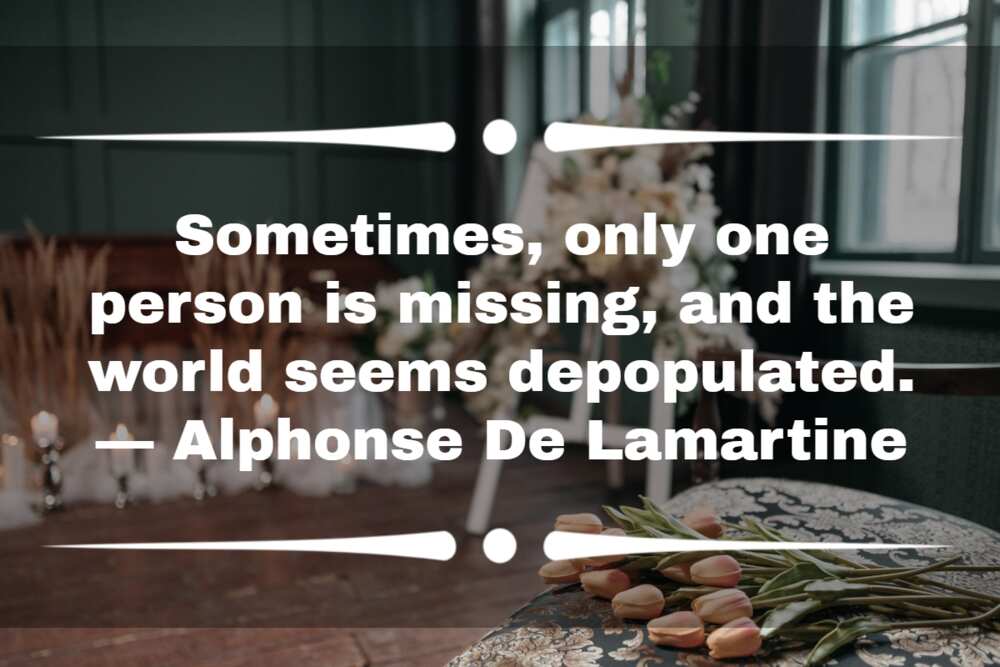 The death of a mother is the first sorrow wept without her.
Mom, I am missing you today, but I know that you will always be with me in my heart
One day we will remember how lucky we were to have known their love with wonder, not grief.
I remember my mother's prayers, and they have always followed me. They have clung to me all my life.
Had I known that destiny always takes away the people you love the most, I would have pretended to hate you endlessly. Rest in peace.
Sometimes, only one person is missing, and the world seems depopulated. — Alphonse De Lamartine
Grief and love are conjoined; you don't get one without the other. All I can do is love her, and love the world, emulate her by living with daring, spirit and joy.
There is something about losing a mother that is permanent and inexpressible - a wound that will never quite heal.
The world changes from year to year, and our lives from day to day, but the love and memory of you, shall never pass away.
A mother's love is always with her children. Losing a mother is one of the deepest sorrows a heart can know. May you find comfort in the memories that are yours to cherish always, and strength in the companionship of those who share your loss
Although it's difficult today to see beyond the sorrow, may looking back in memory help comfort you tomorrow.
It's so much darker when a light goes out than it would have been if it had never shone.
Those we love and lose are always connected by heartstrings into infinity.
My mother is a never-ending song in my heart of comfort, happiness and being. I may sometimes forget the words, but I always remember the tune.
Mom, you are the most beautiful memory I kept locked inside my heart.
A mom's hug lasts long after she lets go.
Taken from us too soon quotes for losing a child
The birth of a child brings so much joy to parents, and they hope to see the child grow into an adult and achieve all they want. However, the cruel hand of death can unexpectedly grab the child's life. Use these quotes to grieve with one who has lost a child.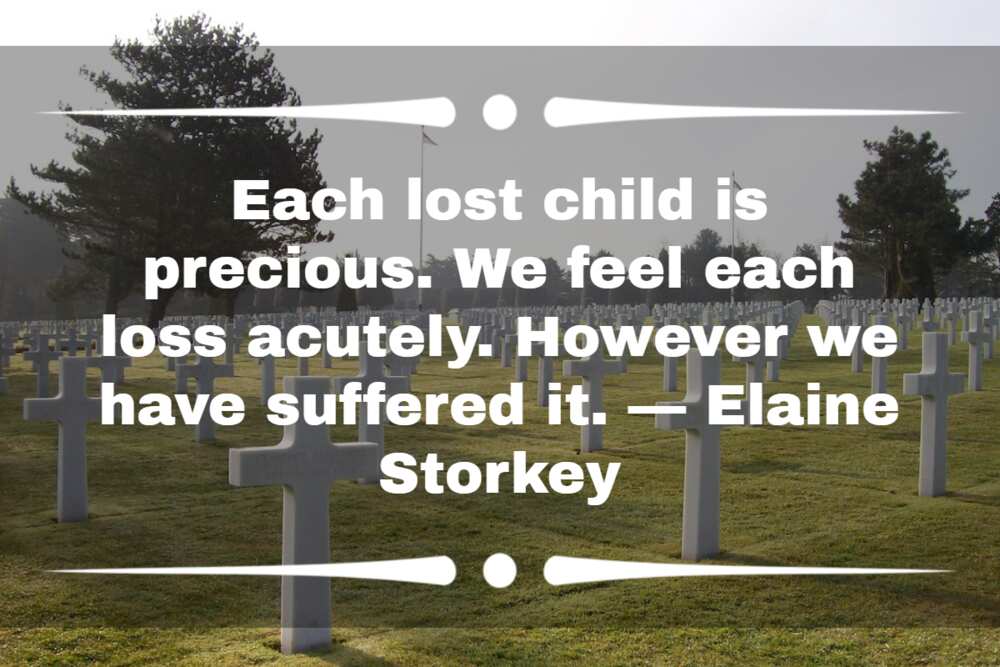 There is no greater pain than seeing your baby leave this world before you. I am sending my sincere condolence to you and your husband.
A life may last just for a moment, but memory can make that moment last forever.
A person's a person, no matter how small.
The one who left gentle footprints on our hearts left a story worth telling.
Losing a child is heartbreaking, and I hope you find the strength to endure this horrifying period.
Sadly enough, the most painful goodbyes are the ones that are left unsaid and never explained.
When you carry a life, and it's there and then gone, a part of your soul dies. Forever.
How frighteningly few are the persons whose death would spoil our appetite and make the world seem empty.
I don't think you could get anything worse than losing a child. I think if my child died, I would prefer it if I were dead.
I don't know what to say when such a tragedy befalls someone so close to me. I know this is very painful to you, but know that I'm with you, and so is God.
Nothing symbolizes loss or grief more than a mother losing a child.
To be perfectly frank, there is an odd place after losing a child where you think somehow your life is worth less.
We weep over the graves of infants and the little ones taken from us by death, but an early grave may be the shortest way to heaven.
Grieving is intense, and it is non-stop intense. Even if things are quiet, and you're sitting in your chair, staring off into space, inside, the intensity is raging.
As you danced in the light with joy, love lifted you. As you brushed against this world so gently, you lifted us.
Keeping your faith after losing a child can be excruciating and unthinkable. We hope you'll find the strength to overcome these traumatic times.
You will not accept your child's death until you have completed the healing. Hurt, anguish, tears, yearning, and pining are part of the healing.
Each lost child is precious. We feel each loss acutely. However we have suffered it.
The capacity to feel consuming grief, pain, and despair also allows me to embrace love, joy, and beauty with my whole heart. I must let it all in.
When our children die, we drop them into the unknown, shuddering with fear. We know they go out from us, and we stand, pity, and wonder.
Gone too soon sudden death quotes for losing a friend
Friends are like siblings you never had. You will go through the bad and good times with them, strengthening your friendship bonds. These quotes can help mourn the loss of a friend.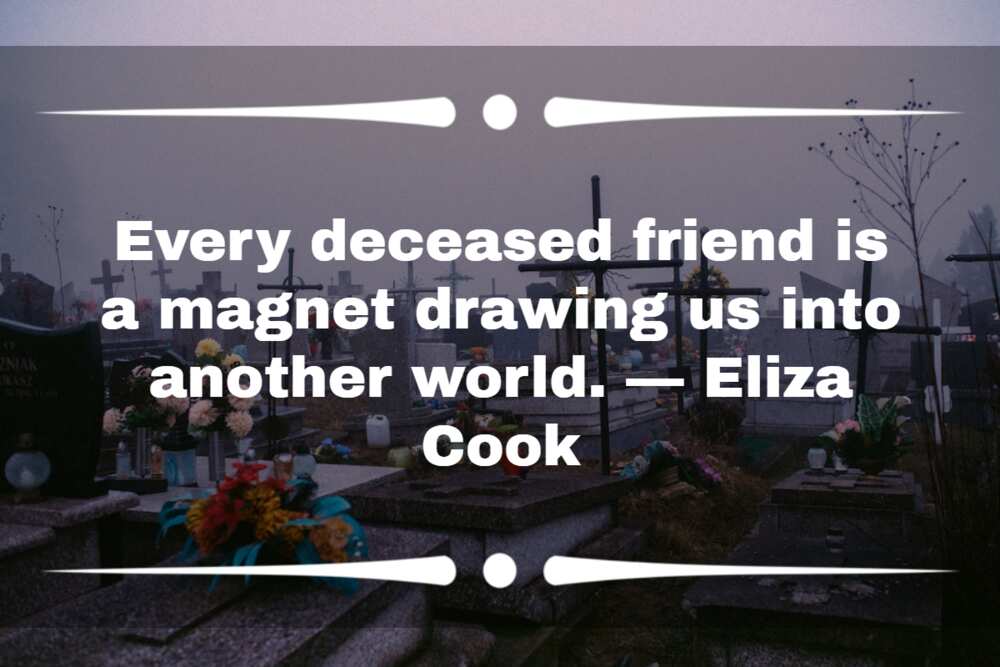 True regret is knowing you missed your only opportunity to be simply a good friend to someone that was exactly like you.
Friendship survives death. Memories made will never be forgotten, and they left an indelible imprint on those left behind. Everyone improved as a result of having such a fantastic friend.
He who has gone, so we but cherish his memory, abides with us, more potent, nay, more present than the living man.
If there ever comes a day when we can't be together, keep me in your heart, and I'll stay there forever.
Grief, a type of sadness that most often occurs when you have lost someone you love, is sneaky because it can disappear for a long time and then pop back up when you least expect it.
I loved you every day. And now I will miss you every day.
The comfort of having a friend may be taken away, but not that of having had one.
If you live to be a hundred, I want to live to be a hundred minus one day, so I never have to live without you.
Every deceased friend is a magnet drawing us into another world.
On the death of a friend, we should consider that the fates through confidence have devolved on us the task of a double living, that we have henceforth to fulfil the promise of our friend's life also, in our own, to the world.
You cannot stop loving your friend because he's dead, especially if he was better than anyone alive, you know?
The two hardest things to say in life are hello for the first time and goodbye for the last.
If you are the person that was with me during my worst time. Then no matter where you are, there will always be a string attached to you.
Ever has it been that love knows not its depth until the hour of separation?
While we are mourning the loss of our friend, others are rejoicing to meet him behind the veil.
My scars are a testament to my love and relationship for and with that person. And if the scar is deep, so is the love.
Don't be dismayed at goodbyes. A farewell is necessary before you can meet again. And meeting again, after moments or a lifetime, is certain for those who are friends.
There's a thing that keeps surprising you about stormy old friends after they die; their silence.
Man who has known the immense unhappiness of losing a friend, by what name do we call him? Here every language is silent and holds its peace in impotence.
The most beautiful discovery true friends make is that they can grow separately without growing apart.
Everyone dreads the experience of losing a loved one because it subjects you to so much pain and grief. However, death is inevitable and comes unexpectedly, and if one loses a loved one, comfort them by sharing the above "gone too soon rest in peace" quotes.
Legit.ng recently published quotes of losing a friend. Nothing can prepare you for the death of a friend. It is painful, especially if you were close friends and shared a lot with them. It feels sad and lonely.
The friendship memories may make it difficult to let go. In such times, losing a friend quotes may help you get over the situation and make you acknowledge that your friend is in a better place.
Source: Legit.ng