Monster High movies: list of all the films in chronological order
If you love animated films, you probably have come across Monster High movies. It is an animation movie franchise that first aired in October 2010 and has gained popularity across different generations. They feature multiple monster characters, such as ghouls, werewolves, and vampires, making the movies thrilling. Mattel designed the movie franchise to promote toys and dolls.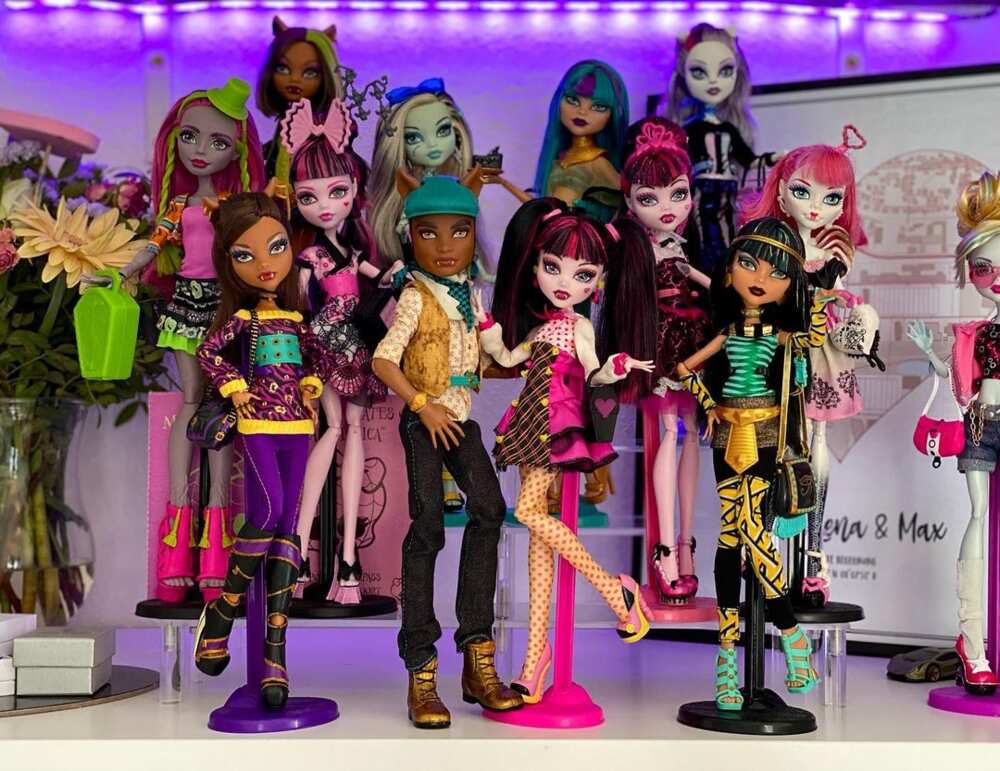 Monster High is a fictional school where different species of monsters enrol and interact. The movie franchise was launched by Mattel in 2010 and has released 16 films. It has two spin-offs, Ever After High and Enchantimals.
Monster High movies in chronological order
Each Monster High movie seems to be unique, depending on the storyline. However, to follow and enjoy how everything unfolds, it is recommended to watch Monster High in order chronologically.
1. Monster High: Welcome to Monster High (2016)
The movie, released on 29 September 2016, was directed by Shane Amsterdam, Olly Reid, and Jun Falkenstein and written by Stephen Donnelly and Dana Starfield.
A plan to create a new school is in the offing when Dracula and Frankie meet. At first, the duo thought it would be a walk in the park but soon realised that it comes with its fair share of challenges as soon as the recruitment process begins.
2. Monster High: The movie (2022)
The movie, released in October 2022, was directed by Todd Holland and written by Jenny Jaffe, Matt Eddy, and Billy Eddy. The film tells the story of Clawdeen, half-human and half-werewolf, who joins Monster High and makes friends in her new school. While everything seems okay in the school, she discovers a plan that risks destroying the school and revealing her true identity. She must join hands with her friends to thwart the plans and save the day.
3. Monster High: New Ghoul at School (2010)
The first Monster High film was released in October 2010 and was directed by Audu Paden and Eric Radomski. Frankie Stein, one of the main characters in the movie, has just joined high school, Monster High. She is upbeat about her first experience at school and takes viewers through her first days at school.
She interacts with other monsters, such as Clawdeen Wolf, Lagoona Blue and Draculaura, and you will discover that she has a split personality as she is not only friendly but gets fierce in some circumstances.
4. Monster High: Fright On (2011)
This second Monster High movie, released on 30 October 2011, was directed by Victor Dal Chele, Alfred Gimeno, and Audu Paden, and Mike Montesano and Lauren Rose wrote it.
The school Monster High seems to be a fun place for friends Frankie Stein, Clawdeen Wolf, Lagoona Blue and Draculaura, but the friendship bonds are about to be tested when a new crop of monsters join the school. Vampires and Werewolves who are new entrants in the school threaten their peace and create enmity among the friends who are having the best moments at school.
5. Monster High: Why Do Ghouls Fall in Love? (2012)
Dustin Mackenzie, Steve Sacks, and Andrew Duncan are the directors of the third movie, written by Ted Zizik, Audu Paden, and Mike Montesano. The film was released on 12 February 2012.
Draculaura will soon turn 1600, and Valentine's day is also coming. Her friends are busy planning her birthday celebrations, and her current boyfriend, Clawd, is also looking for the best gift for his partner. However, things take a different twist when Draculaura's ex-boyfriend Valentine suddenly shows up, and she is torn between the boyfriends.
6. Monster High: Escape from Skull Shores (2012)
It is spring break at Monster High, and Lagoona decides to take her girlfriends on a sailing trip to the Great Barrier Reef. Everything goes as planned until their ship is attacked by a Kraken and is damaged. Stranded on a small raft, a mysterious person comes to their rescue and takes them to a skull-shaped island where more mysteries are about to unfold.
7. Monster High: Friday Night Frights (2012)
Monster High has a tradition of having roller-skating competitions dubbed Skulltimate Roller Maze Championships, but this time the competition is in doubt as the boys who participate in it are nursing injuries. Frankie Stein believes that girls can do it instead, and the boys commence training the girls in preparation for the competition.
8. Monster High: Ghouls Rule! (2012)
A group of normies mistakenly accuse Monster High guys and ghouls of a Halloween high jinx, and things are about to get messy. The guys and ghouls have no option but to prove themselves innocent, but they must do it as soon as possible before the annual spooktacular celebration.
9. Monster High: Scaris, City of Frights (2013)
Monster High: Scaris, City of Frights is the seventh on the Monster High movie list and was released on 3 March 2013. The 61 minutes movie was directed by Dustin Mackenzie, Andrew Duncan, and Audu Paden, and it was written by Mike Montesano, Ted Zizik, and Lauren Rose.
A legendary fashion designer offers Clawdeen wolf and her friends a chance to train in Scaris, France. They are enthusiastic about the opportunity and get to Scaris to begin a new life, but later they discover some terrifying secrets.
10. Monster High: 13 Wishes (2013)
This eighth Monster High animation movie was released on 8 October 2013. The film was directed by Steve Sacks, Andrew Duncan, and Audu Paden, and it was written by Ira Singerman alongside Duncan and Paden. It runs for 73 minutes.
It is a new school year, and Clawdeen's little sister, Howleen, struggles to become popular among her schoolmates. Her dream of being famous is about to become real when she finds a genie who grants her 13 wishes. However, she discovers that she does not get everything she asks for.
11. Monster High: Frights, Camera, Action! (2014)
Directed by William Lau and Sylvain Blais and written by Audu Paden and Dan Serafin, Monster High: Frights, Camera, Action! was released on 25 March 2014. The animated movie runs for about 73 minutes.
Draculaura and her best ghoul friends are taken to Transylvania for the coronation of the vampire throne. However, they realise that the search for the queen is incomplete, and they have to find an ancient artefact, Vampire's Heart, to know who the true vampire queen is.
12. Monster High: Freaky Fusion (2014)
A time machine sends ten ghoul girls 200 years back in time when the school started. Then, when it returns to the present, it merges eight of the ghouls into four hybrid monsters. The remaining two are left looking for a solution to return their friends to a normal state.
13. Monster High: Haunted (2015)
Monster High: Haunted was released on 24 March 2015. The eleventh Monster High movie was directed by Dan Fraga, William Lau, and Sylvain Blais and was written by Keith Wagner.
Monster High is being haunted, and nobody knows why; therefore, everyone sets out to find answers. Spectra Vondergeist goes to her old ghost school while the other ghouls transform into ghosts using Boogey Sand to follow Spectra.
14. Monster High: Boo York, Boo York (2015)
The ghouls are having immense fun in Boo York, while the De Niles family are looking forward to starting a new empire. On the other hand, Catty Noir is trying to popularise her music. While everything seems all well, Nefera, Cleo's sister, is up to no good as she uses a comet's power for cunning plans.
15. Monster High: Great Scarrier Reef (2016)
The film was directed by William Lau and Jun Falkenstein and written by Nina G. Bargiel, Shane Armstadam, and M.J. Offen. It was released on 10 March 2016 and runs for 71 minutes.
Lagoona is sent to the Great Scarrier Reef for a mission. She opts to go alongside her ghoulfriends, who later transform into sea creatures to help her execute the plan.
16. Monster High: Electrified (2017)
Monster High: Electrified was released on 27 March 2017. Jun Falkenstein and Avgousta Zourelidi directed the movie, while Keith Wagner wrote it.
Clawdeen has a plan for starting a salon for monsters and normies, and the idea is supported by Frankie, who goes ahead to suggest a perfect location for it, an abandoned power station outside town. When word goes around, other monsters do not welcome the idea, and Moanica crafts a plan to sabotage the salon idea.
FAQs
How many Monster High movies are there? The animated movie franchise has 16 movies.
What is the first Monster High movie? The first film of the franchise Monster High: New Ghoul at School was released in October 2010.
When did Monster High end? After Monster High: Electrified in 2017, there was a temporary break, but in 2022, Monster High: The movie, was released.
Is Monster High owned by Disney? It is not owned by Disney but by Mattel.
Where can I watch the original Monster High? You can watch the movies on Prime Video, Apple TV, Vudu or Redbox.
Is Monster High on Amazon Prime? Yes, you can watch it on Prime Video.
Why did they change the style of Monster High? Two spin-off toy lines were launched as companions to the movies. One was based on fairy tales and fables, while the other was Enchantimals.
Monster High movies have some of the best characters drawn from monster movies, sci-fi horror, thriller fiction, folklore, myths and popular culture. They are not only entertaining for children but also for adults who love animated films. Watching the movies chronologically helps you understand different plots, making you enjoy every movie.
READ ALSO: BL dramas: 10 best Korean and Thai series to add to your watchlist
Legit.ng published the best Korean and Thai series. If you love Korean and Thai series, you will find the best ones you should show in this compilation of the best ten.
BL drama series focus on romantic relationships between men, and such series are rapidly gaining popularity in East and Southeast Asia. If you want to watch some of the best BL dramas, this list will give you clues on where to start.
Source: Legit.ng