20 different types of dresses for every occasion
Searching for the perfect dress to suit your style and personality can be quite a daunting task. A dress can be the difference between a memorable event and one you want to forget as soon as possible. While everyone wants to look trendy and fashionable, it is easy to get carried away by the numerous types of dresses out there. What should you look out for when choosing the perfect dress?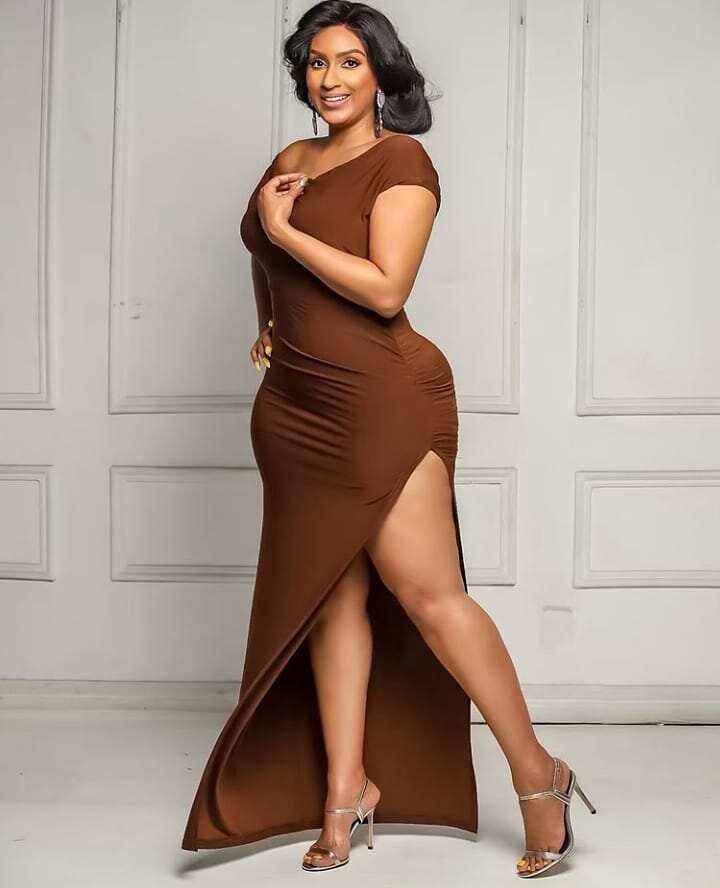 Many types of dresses vary with length, shape and material, among others. Keep in mind that while a particular outfit will suit an office event perfectly, it could be the worst choice for an informal dinner. Certain dress types fit specific events or time. Let us explore the top types of dresses names and when to wear each.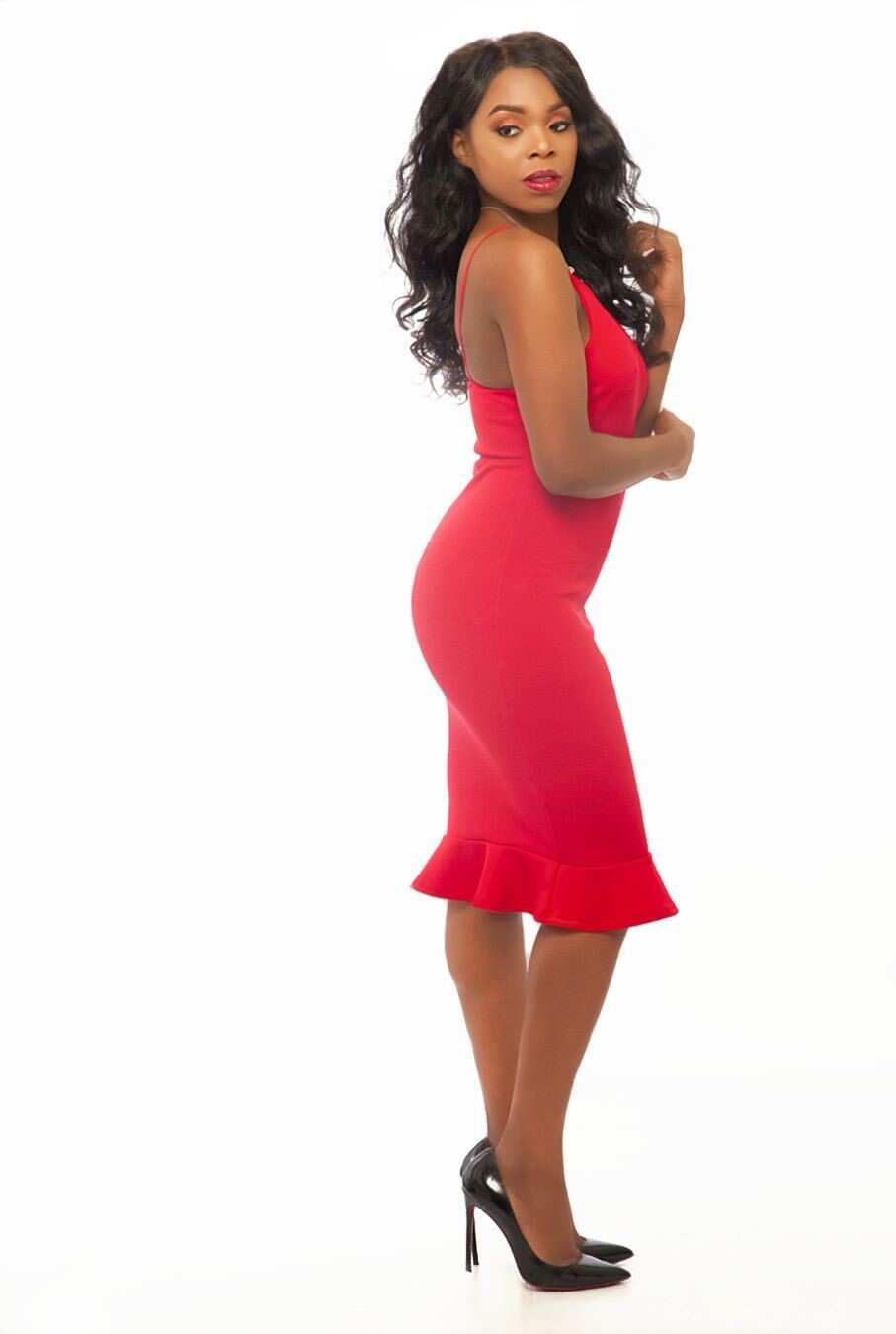 Main types of dresses for every occasion
Do you always want to look dashing and stylish wherever you go? Do you want to stand out at a party, wedding, office event or casual date? Well, you first need to have a grasp of the different types of dresses as well the body type that each kind of dress supports. The most common dress style names are:
Sheath dress
This is the staple of the office and business lady. The sheath outfit is straight-cut, fitted and often nipped at the waist. The lower portion of the clothing is often cut to fit, thus emphasizing the waist. The hemline is often slightly below the knees. Dull colours are usually the best options for this design.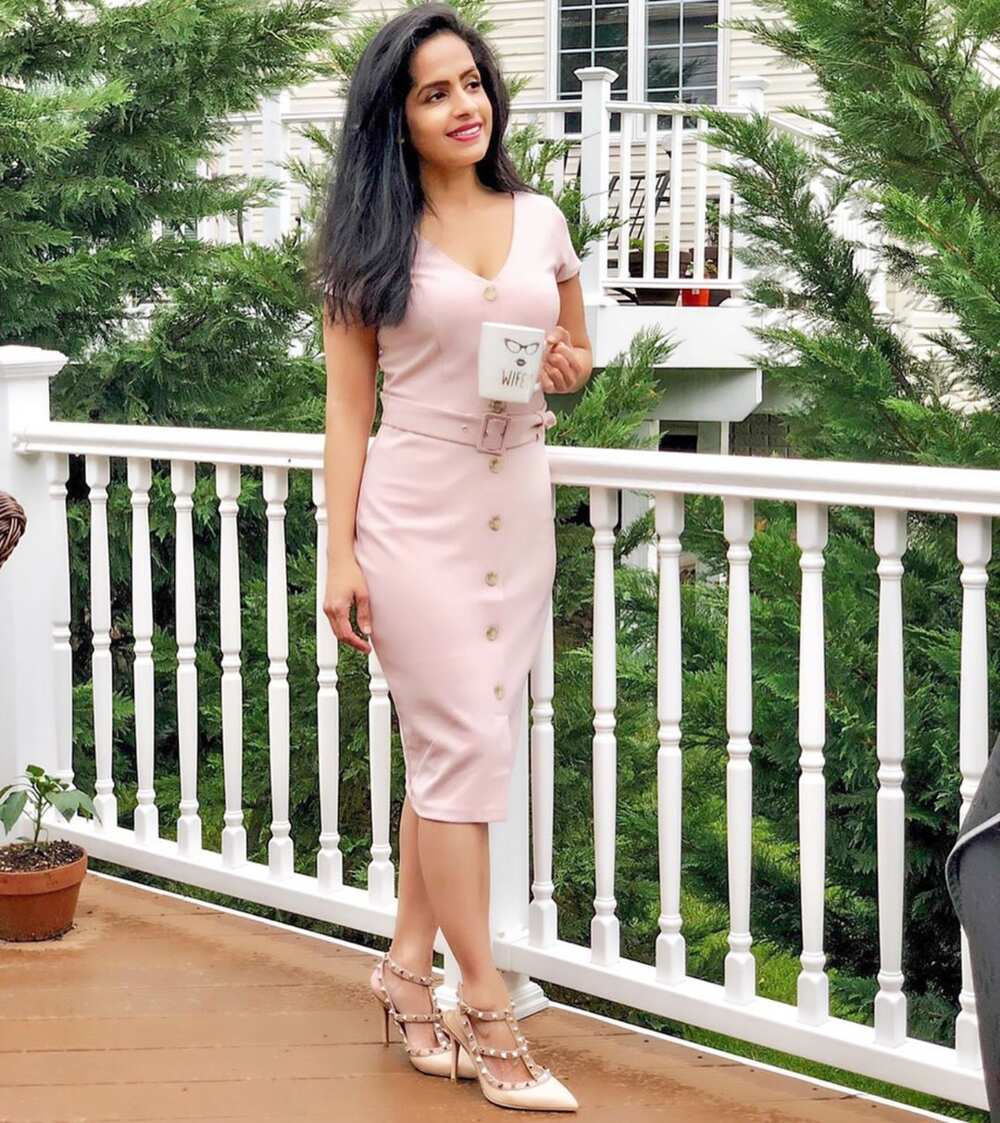 Fashion tip
This one is strictly for formal events related to work and business. The fitting shape works best for curvy hourglass-shaped women. Apple-shaped women should avoid this type of clothing.
Pinafore dress
Also known as the dungaree, this was the preserve of physical workers and had some fabric attached to a trouser part. In the modern day, the trouser part has been replaced by a skirt giving rise to the dungaree dress.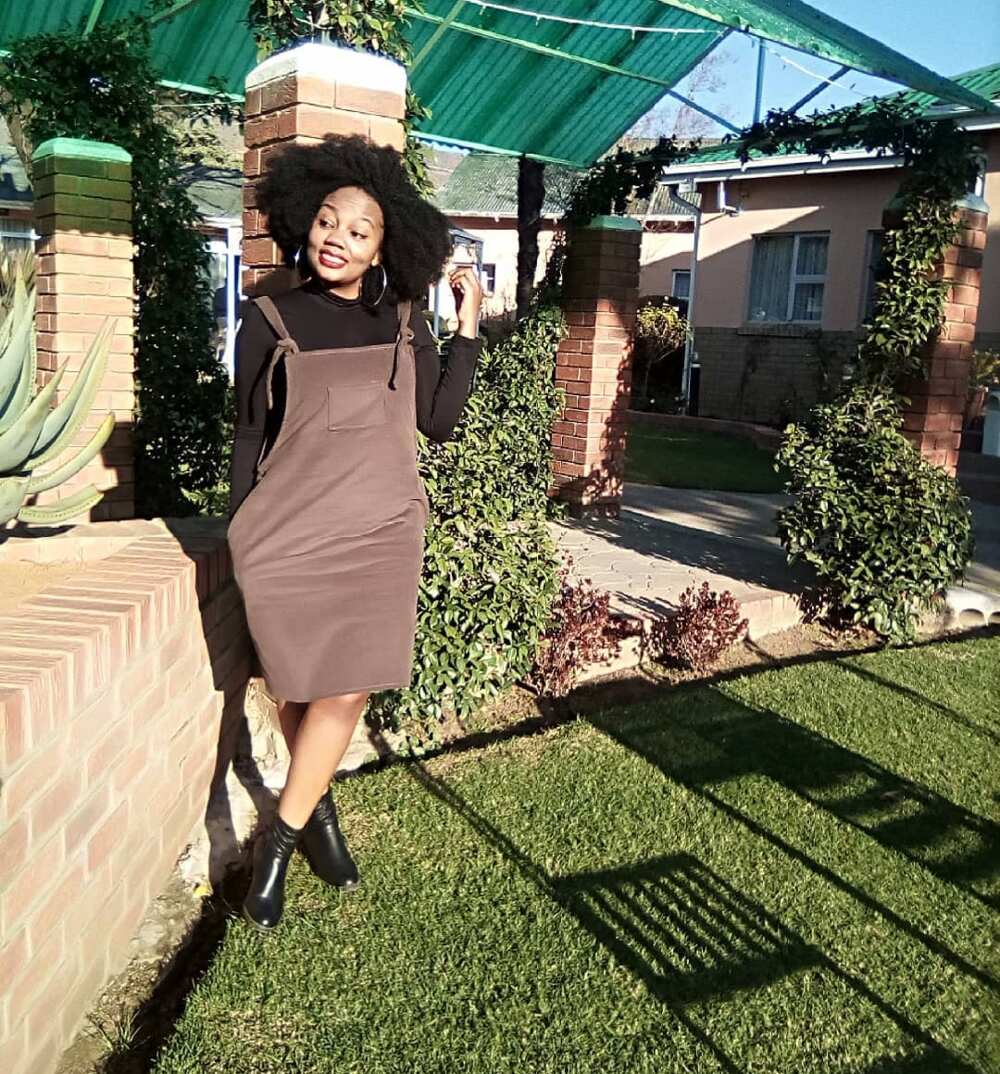 Fashion tip
The dungaree is perfect for women with large hips and bust areas and should be avoided by apple-shaped women. It is exceptionally casual and should never be worn to a formal occasion. It is perfect for beach events, parties and travelling.
Blouson dress
This one derives its name from the fitted waistband that causes the upper part to blouse out. The outfit works perfectly for those seeking to add some volume to their upper body. The lower part of this outfit is often fitting and thus shows the body's outline more. The waistband could be in the form of a string, belt or an elastic textile band.
Fashion tip
This look is great for the workplace, formal events and parties. The blouson outfit works perfectly for triangle-shaped women since it helps balance out the figure. Slim women should keep off this type of design.
Off-shoulder dress
An off-the-shoulder outfit bares your collar-bone and shoulder area and could have sleeves across the arms or none at all. This is suited to those who want to show off some skin and feel confident doing so. If you are lucky enough to have a beauty bone, this design is for you.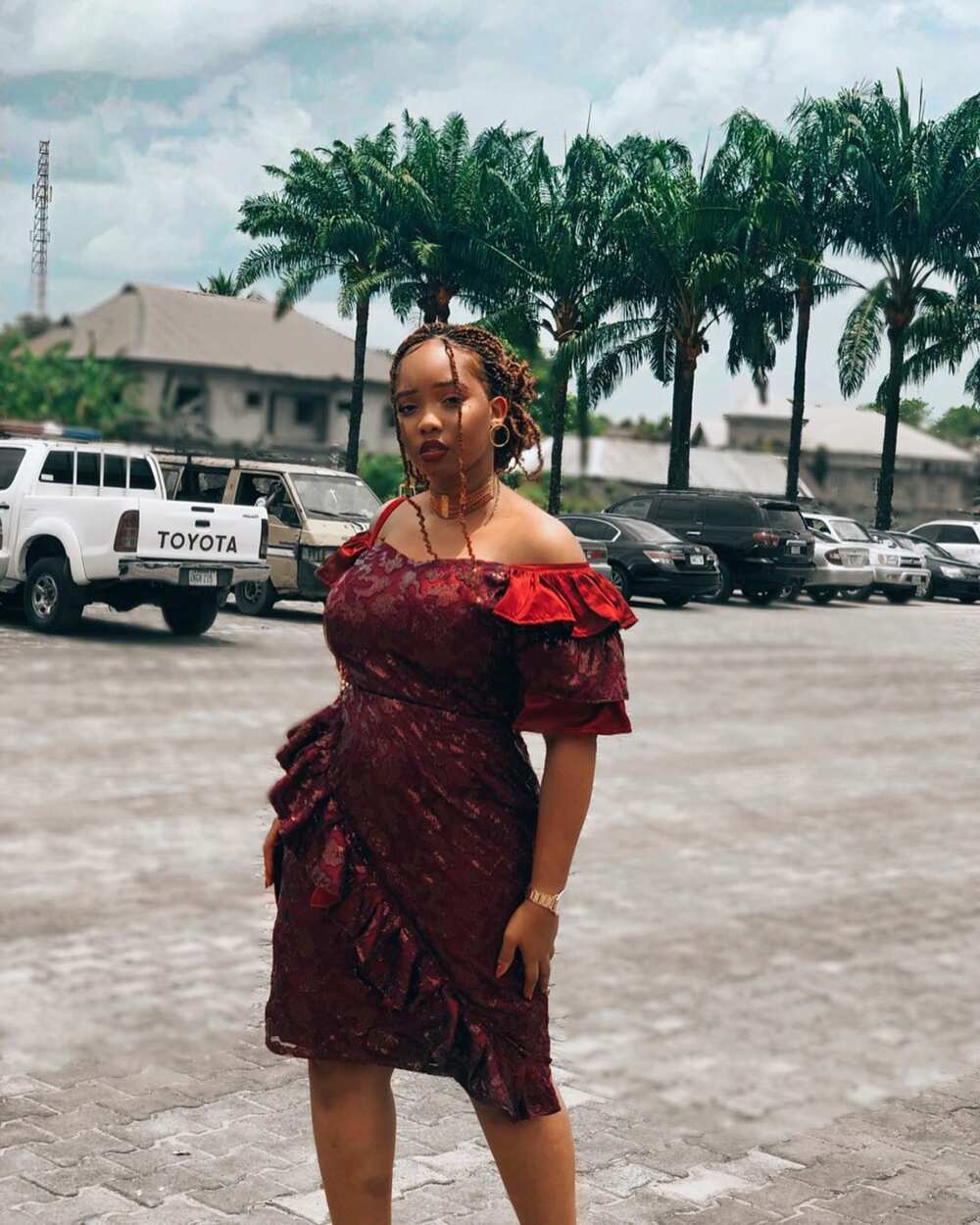 Fashion tip
You can get a bold neckpiece to go with this outfit. The bare skin around the neck and collar bone gives you an ideal chance to flaunt your jewellery. The off-shoulder design is excellent for weddings and other informal parties. Women with tiny busts should avoid this outfit.
Asymmetric dress
An asymmetric design is only defined by the shape of the hemline or neckline. Different outfits without a balanced hemline fall under this category. This design has a somewhat informal touch to it and should thus be worn at events requiring little to no formality.
Fashion tip
This one is perfect for extremely casual events such as prom nights and casual dates. You should get one that matches your body shape. Plus-size women should avoid this type of outfit.
Trench dress
Following the basic concept of the trench coat, this one has cotton fabrics and comes complete with buttons and a belt. This outfit is quite versatile, although cotton's affinity to wrinkling makes the design more casual than formal.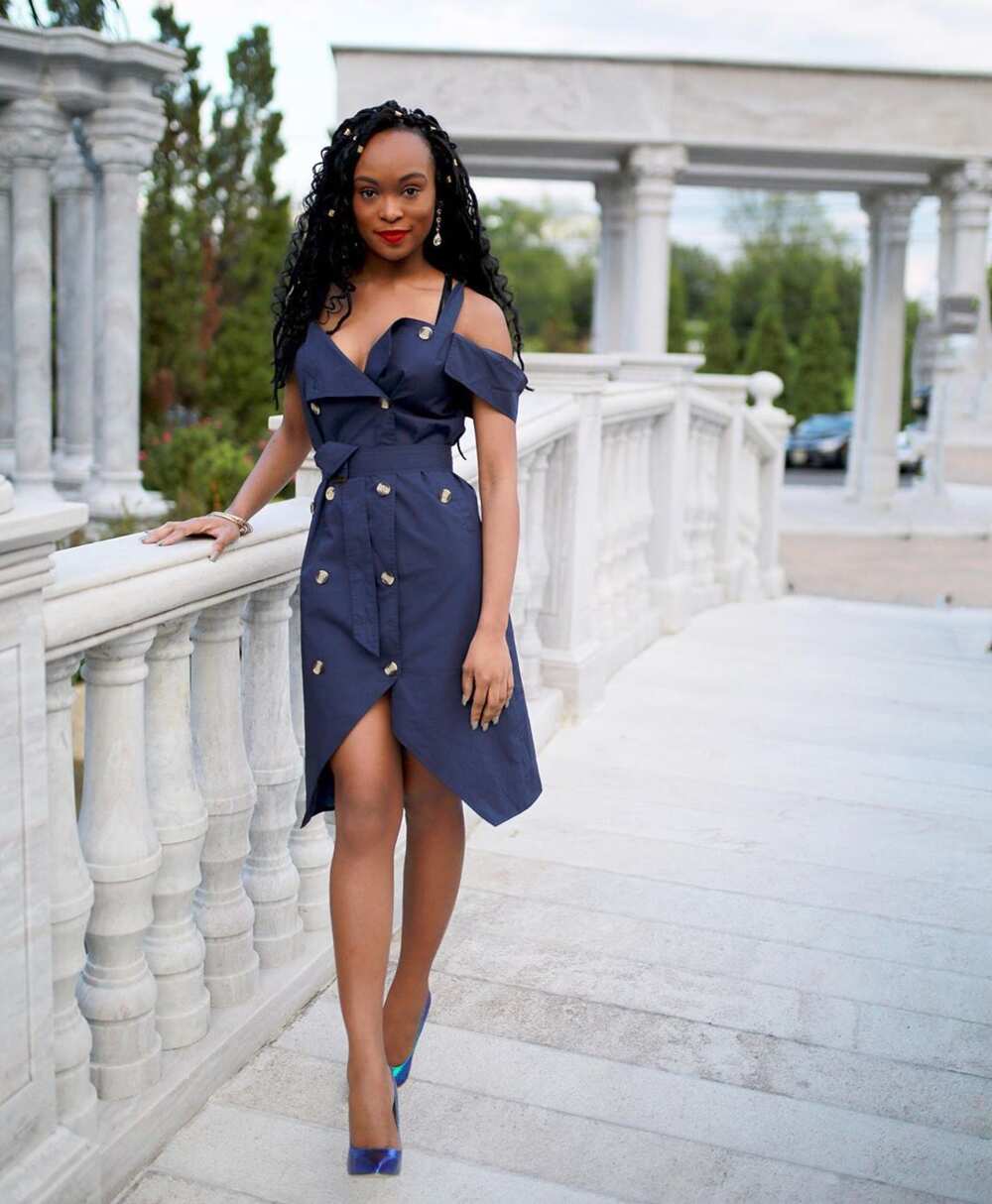 Fashion tip
The trench dress is perfect for rectangle-shaped women as well as less curvy women. Feel free to step out in this dress to an informal dinner or casual date. Curvy women should avoid this one.
High-low dress
The high-low outfit is probably the most versatile design out there. The name is derived from the hemline which is high at the front and drops gradually towards the back. The outfit is also known as a mullet or waterfall dress. Women of varying body types can wear this one for a wide range of formal and casual occasions.
Empire waist dress
Also known as the empire silhouette, this outfit has a fitting bodice which ends slightly below the bust giving the attire a high-waist look. Below it, the skirt part has a gathered loosely-fitting fabric that flows straight to the bottom. Silk and satin are the most common materials for this outfit due to their flow.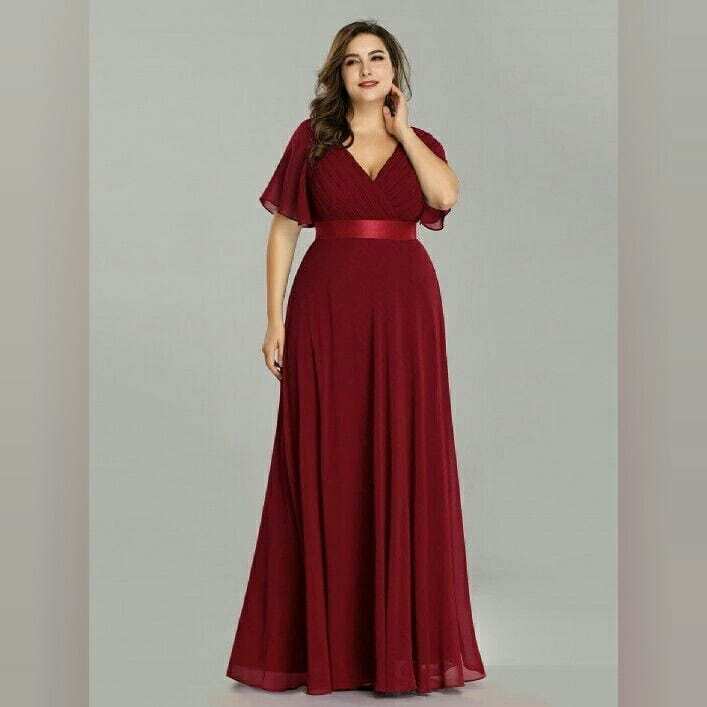 Fashion tip
The design of each outfit will dictate the events in which the outfit can be worn. You can have this for formal occasions as well as casual ones. The design works best for apple and pear-shaped women. Straight-figured women should avoid this outfit since it is a complete mismatch for their body shape.
Bodycon dress
The bodycon attire is perhaps one of the most popular dress types all over the world. This outfit is made out of tight-fitting stretchable material that brings out one's body shape in a very noticeable fashion. The attire fits very tightly at the hips and bust area. Hemlines for this outfit vary depending on design but are often at the mid-thigh or slightly above the knee.
Fashion tip
Depending on the colour and design, you can adorn this outfit to a casual or formal event. The bodycon is strictly for hourglass-shaped women. Make sure you wear good quality bodysuit to go with a bodycon attire.
Bandeau dress
A bandeau design is among the most stylish yet delicate looks to pull off. The attire has no upper body straps and is supported by an inner corset. The tightness of the upper part of the dress prevents it from slipping out of place. Ensure that you get one that fits your bust tightly. To get comfortable in this attire, invest in a good quality adhesive bra.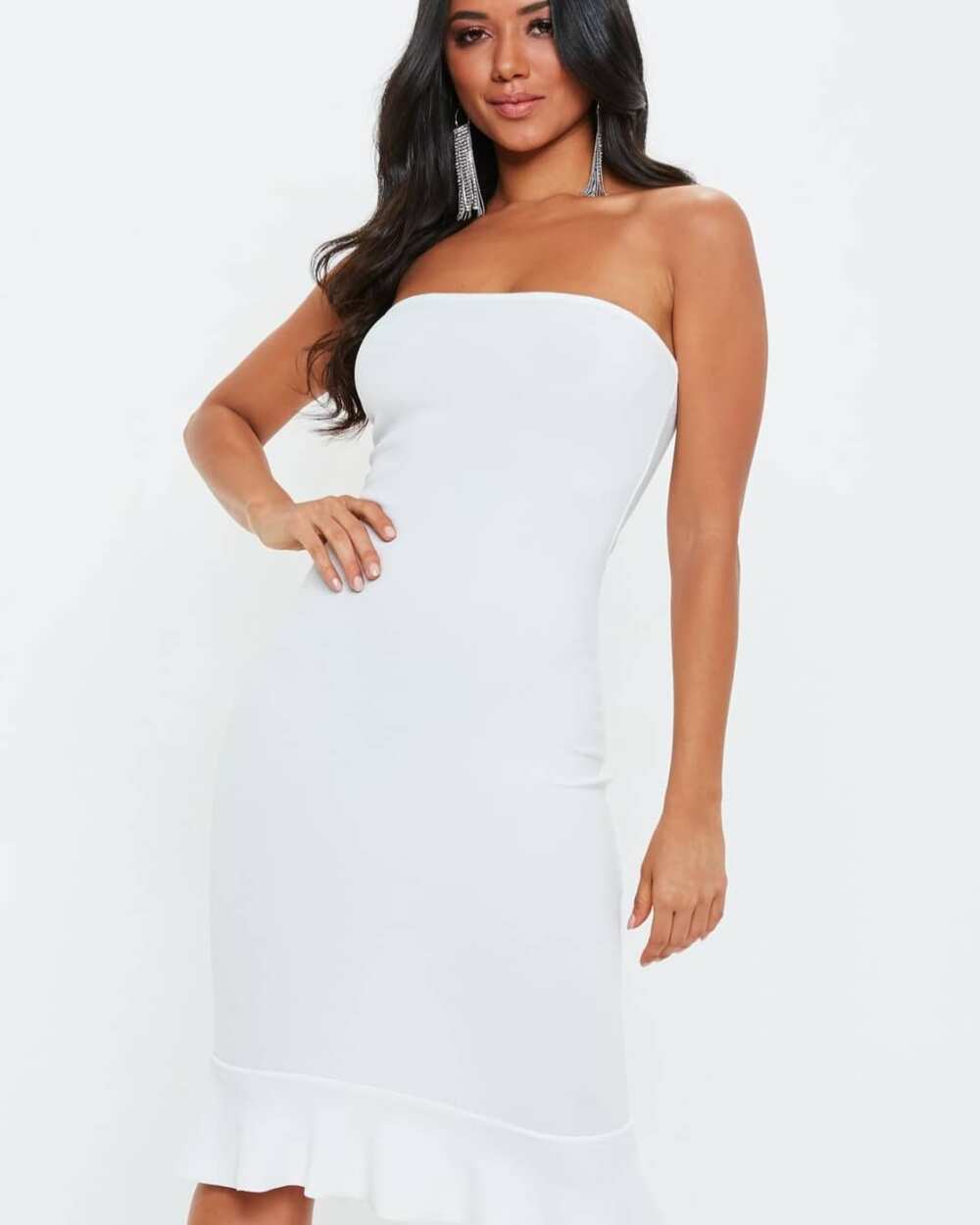 Fashion tip
The bandeau is best worn at formal events, weddings and dinners. It works best for pear and hourglass-shaped women. Straight-figured and very slim women will do well to avoid this one.
Skater dress
The design of a skater attire is drawn from skirts worn by girls who skate. The outfit features a tight-fitting waist followed by a skirt portion that is frilly and forms an A-shape. This design accentuates one's waistline and is often short with a hemline above the knees.
Fashion tip
This outfit is perfect for apple-shaped women as well as those with a slim outline. It is entirely casual and is ideal for evening parties, informal parties and romantic getaways. Pear-shaped women should avoid this attire type.
READ ALSO: Different types of dresses for different occasions
Pencil dress
This one draws inspiration from the trendy pencil skirt. The outfit is narrow and ends with a tight-cut hemline at the knees. This design mirrors one's body type and should, therefore, be worn by those feeling confident about their body shape. The materials used for this one will vary from one manufacturer to the other.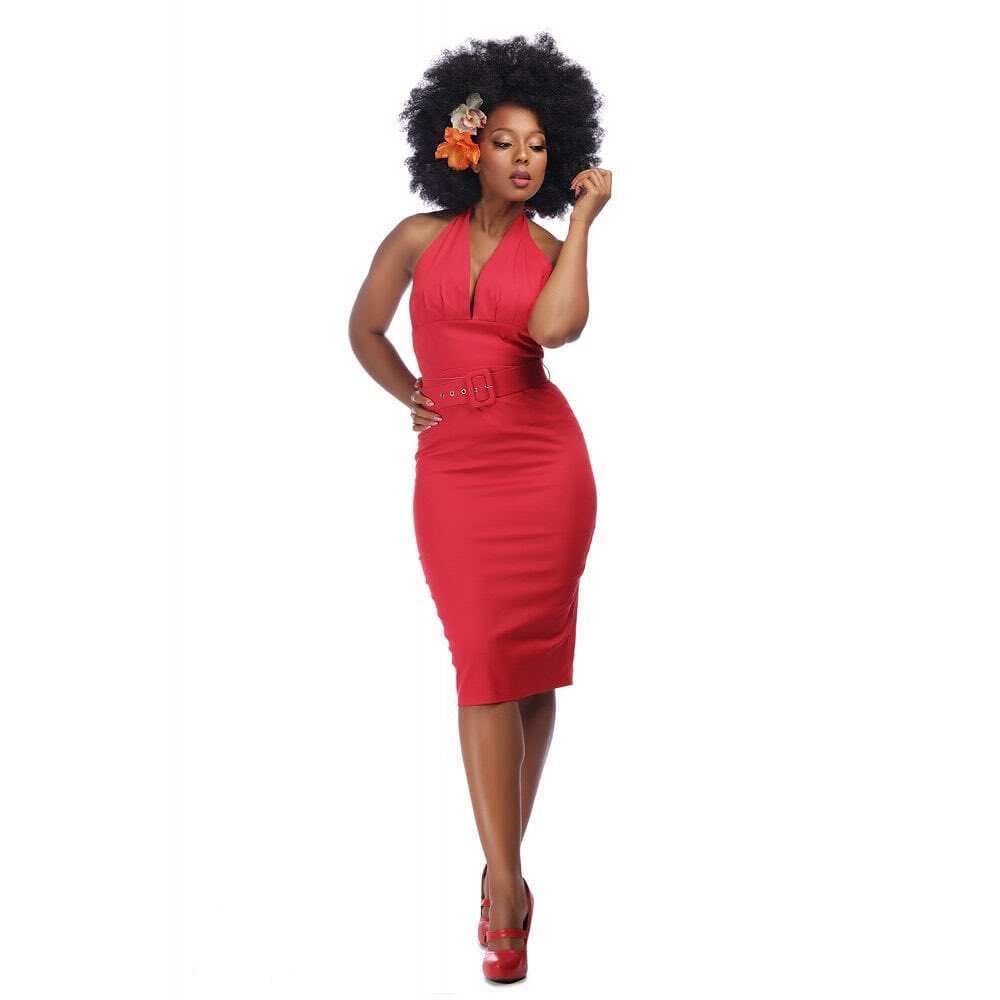 Fashion tip
This is the perfect outfit for slim and toned women. Feel free to wear it at the office, formal dinners and parties and job interviews. Apple-shaped women should generally avoid this type of outfit.
Maxi dress
A maxi dress is an extended ankle or floor-length outfit that looks stunning on tall women. The basic design includes a fitting top with fabric that flows loosely to the hemline. Polyester, cotton and silk are the most common materials for the maxi.
Fashion tip
The maxi is ideal for casual dinner parties, evening parties, occasional getaways and informal dates. Short women should generally avoid maxi since it makes them look shorter than they are. It is perfect for apple-shaped women as well as slender ones.
Mini dress
Mini dresses are just adorable, and it is hard to not fall in love with a well-tailored one. The basic design of this outfit involves a hem way above the knee line. The shape of the skirt part can be straight to body-hugging or flared. While the maxi is perfect for tall women, the mini outfit is ideal for short women.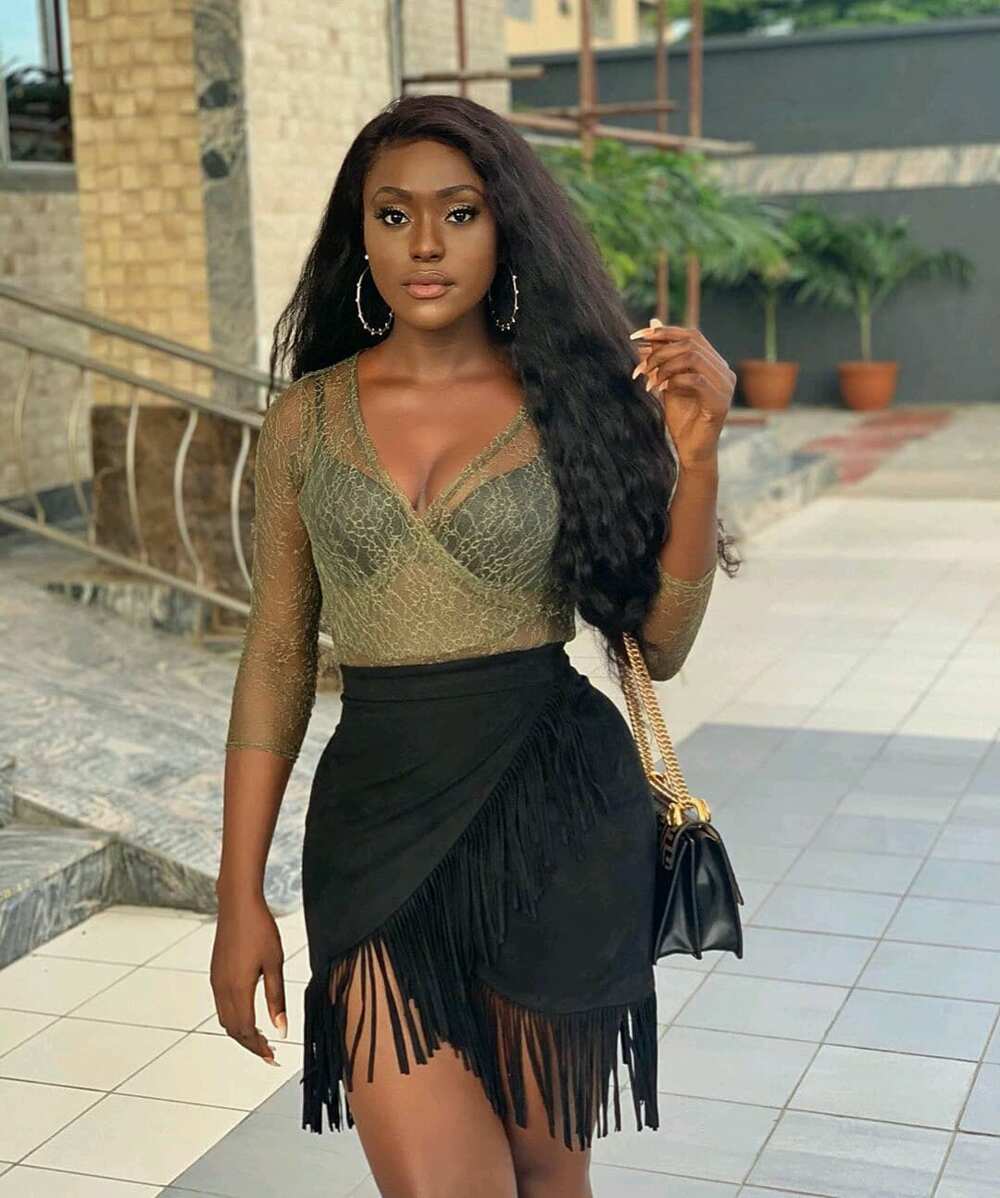 Fashion tip
Feel free to wear this to the beach, party and evening dates. The design is perfect for short women with hourglass shapes. Women with long legs should avoid this outfit.
Shirtdress
As the name suggests, shirt dresses are, in essence, just long shirts. The outfit is perfect for ladies with a heart for adventure and a touch of sportiness. Cotton is usually the most common material for this type of attire. This outfit often has no definitive waistline.
Fashion tip
This design has no element of curvy about it and in fact, exudes some boyish vibe. It is best to go slow on accessories if you want to pull off this look. Slim, petite and hourglass women will be quite comfortable in this casual look. The shirtdress is ideal for beach walks, pool parties as well as travel.
Sweater dress
Sweater dresses are made of knitted fabric such as wool and can be body-hugging or free-flowing. This outfit is exceptionally casual and can be worn with a bold belt accessory to make a fashion statement. Hourglass and pear-shaped women are best suited to adorn this outfit. Wear this to occasions such as shopping and travel activities.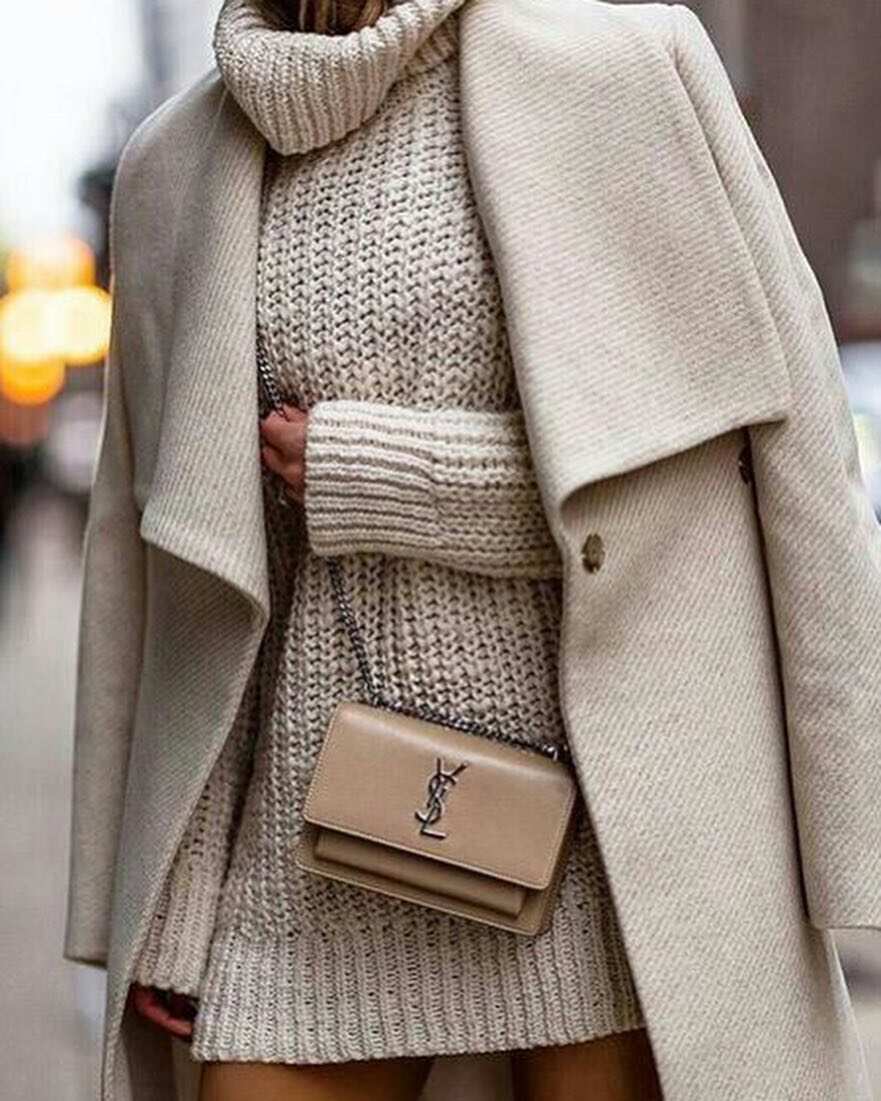 Peplum dress
Peplum outfits have a ruffle attached to the waist part of the outfit. The design is perfect for women with some extra inches around the waist area. Beyond the frilled material, the attire extends downwards into a tight skirt ending at or below the knees.
Fashion tip
The peplum outfit has an air of formal elegance about it. Feel free to wear it to a business meeting, office and formal interviews. You will also look stunning while meeting a potential client. Pear, hourglass and rectangle-shaped women are best suited for this design. Less curvy women should avoid this design.
READ ALSO: Dresses with fringe trendy in 2019
Backless dress
This one is among the styles of dresses for the ones that dare. A backless outfit can be any attire that lacks a back. The exposed skin gives this outfit a stunning hot look and gives the wearer quite some attention. If you are endowed with a flawless back, feel free to wear this to a wedding, date night or a casual date. If you do not feel confident about your skin, avoid this one at all costs.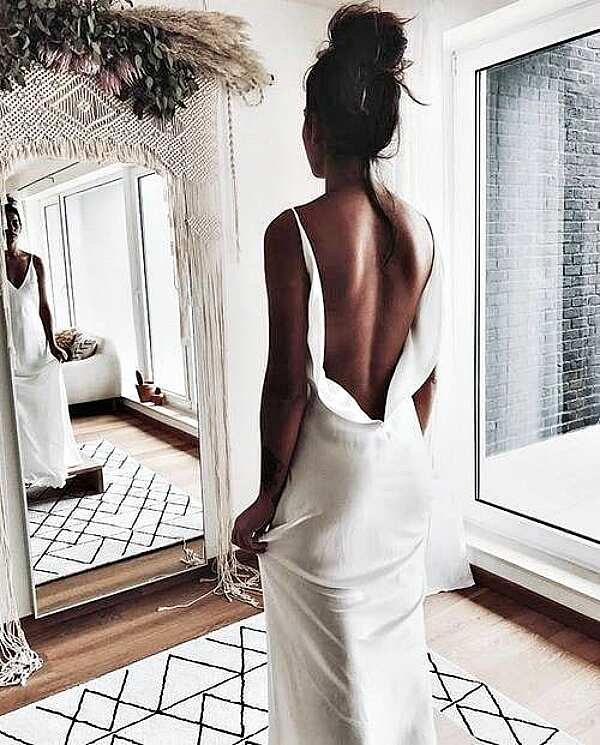 Baby doll dress
This outfit was initially designed for nighttime. It has material that flows from just below the bust and is often sleeveless or short-sleeved. The resulting look is a youthful, steamy and hot one. The baby doll attire is exceptionally casual and should never be worn to a formal event. Women with toned busts will find this outfit quite appealing. Heavy-shouldered women should avoid this outfit since it does not complement their body outlines.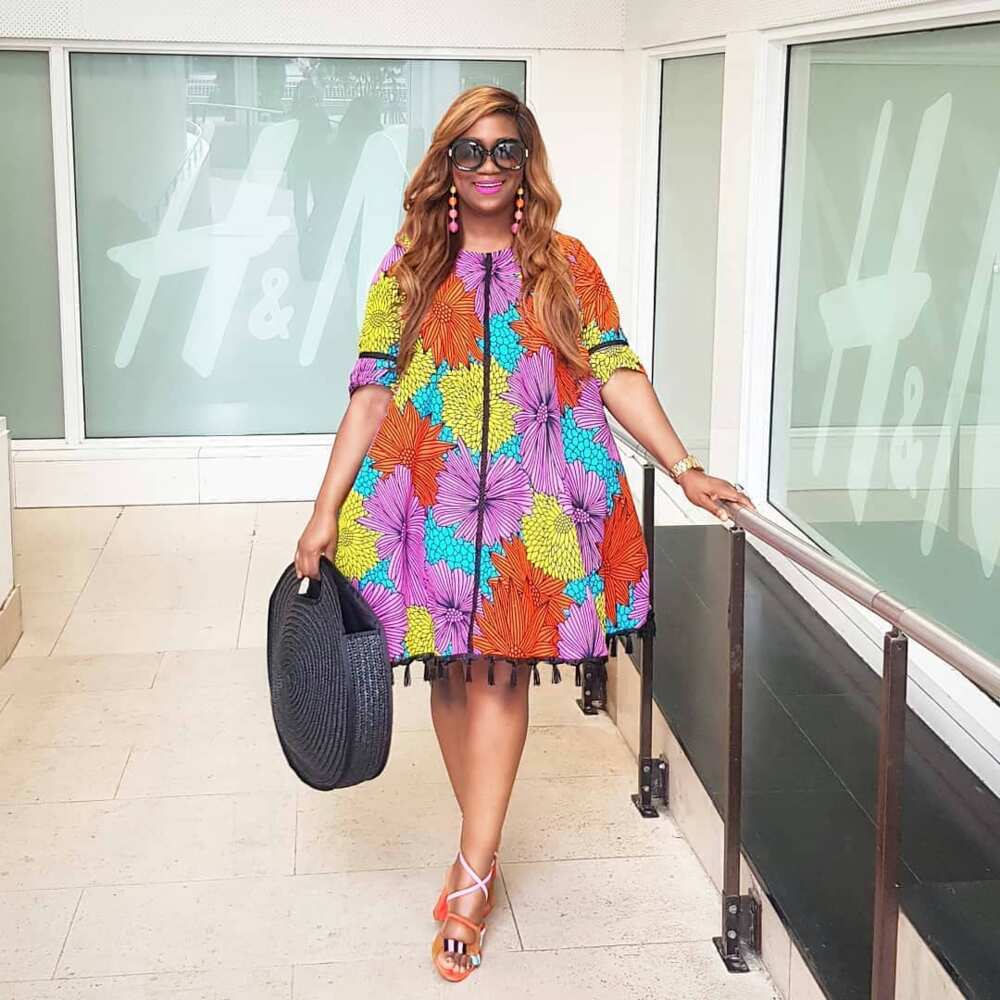 Denim dresses
This outfit dates back to the nineties and is made out of denim. You will achieve the best look when you wear this in a simple and unadorned style. Pair the attire with some casual canvas shoes for a simple yet elegant look. The versatility of this outfit makes it suitable for all body types. Keep in mind that denim is quite casual and do not wear this one to a formal event.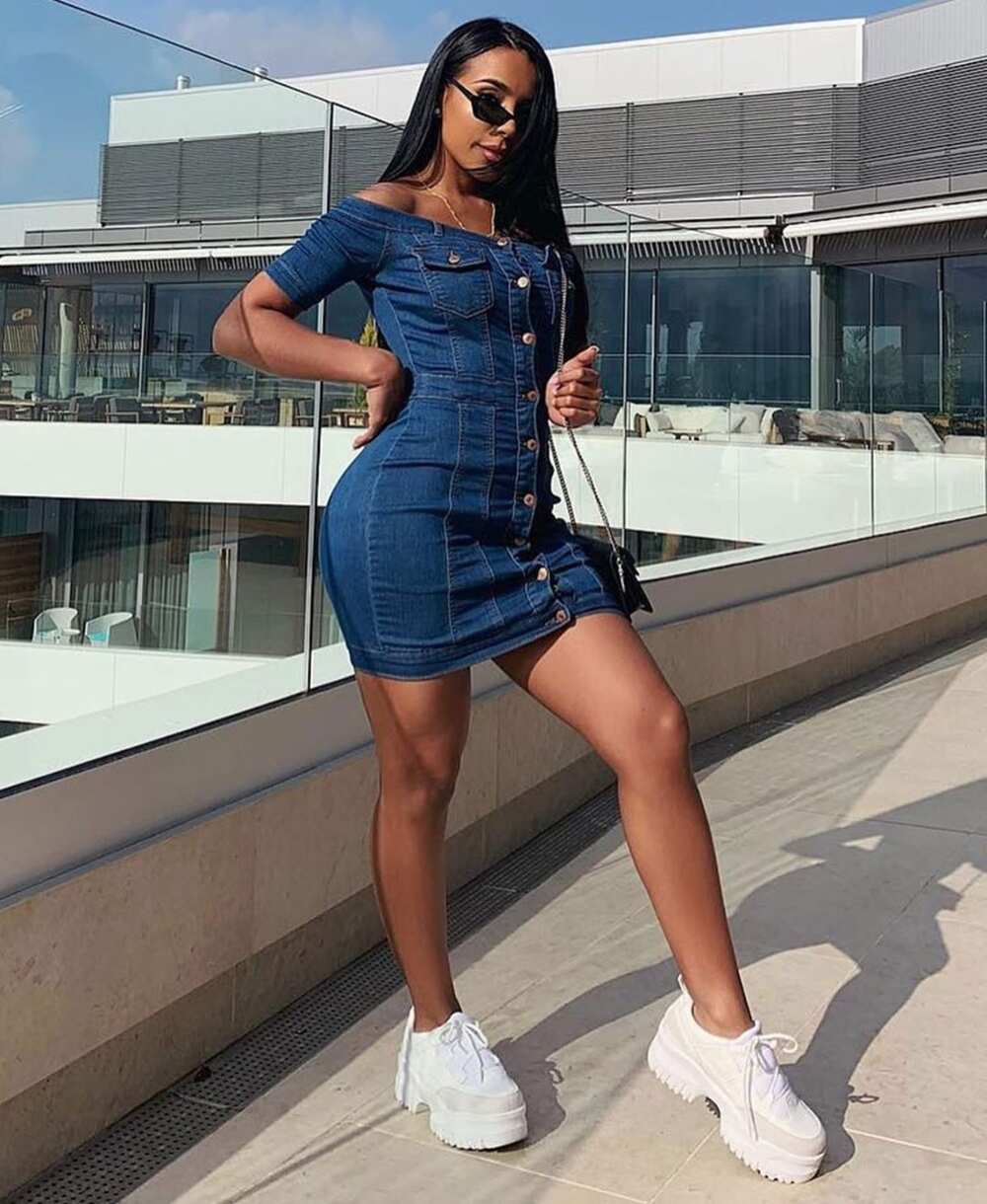 You will look great at pool parties, beach walks and informal parties while wearing denim.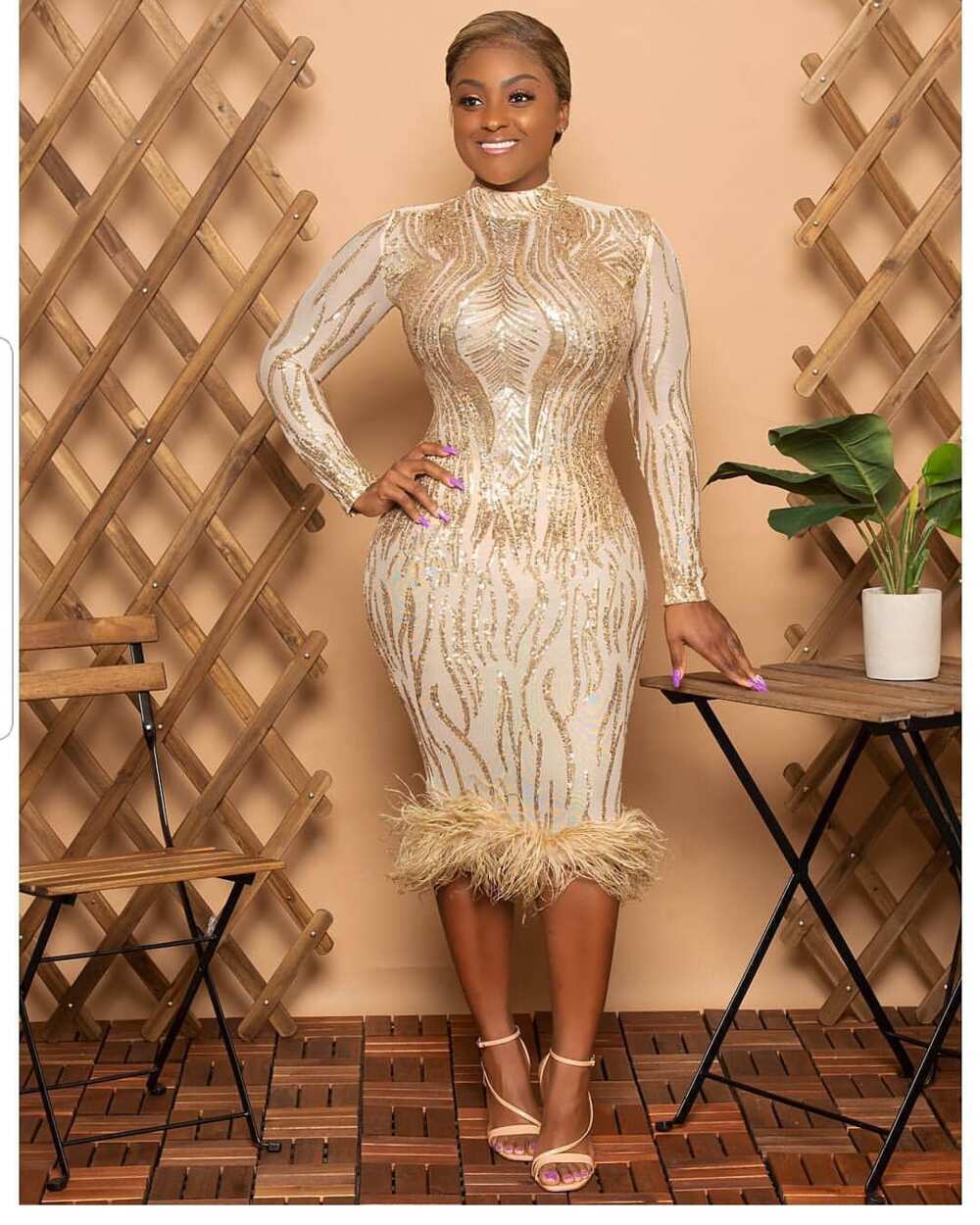 The many types of dresses available today make it possible to find one that suits each occasion. It is essential to understand one's body shape and preferences before choosing an outfit. Keep in mind that you can always browse for dresses in online stores if you do not find the perfect one at your local store. The modern fashion industry has indeed grown into a blessing for women all over the world.
READ ALSO: English gown styles in 2018
Source: Legit.ng