English gown styles in 2018
Do you think you know a lot about English gown styles in Nigeria? In fact, there are several most popular ones. Some of them are formal while others are quite casual and suitable for everyday wear. Let's take a look at the most popular ones and at the ones that depict the current styles in Nigeria.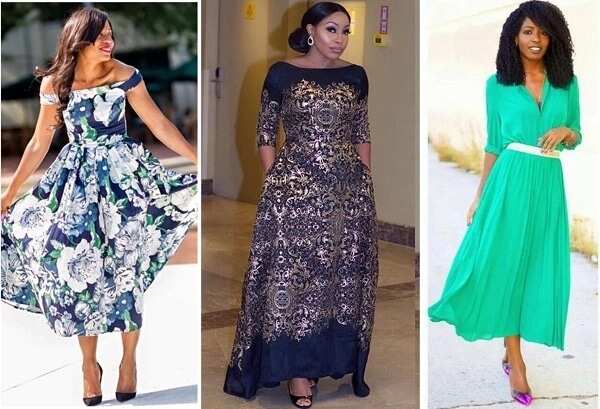 The most popular and accepted styles of English gowns in Nigeria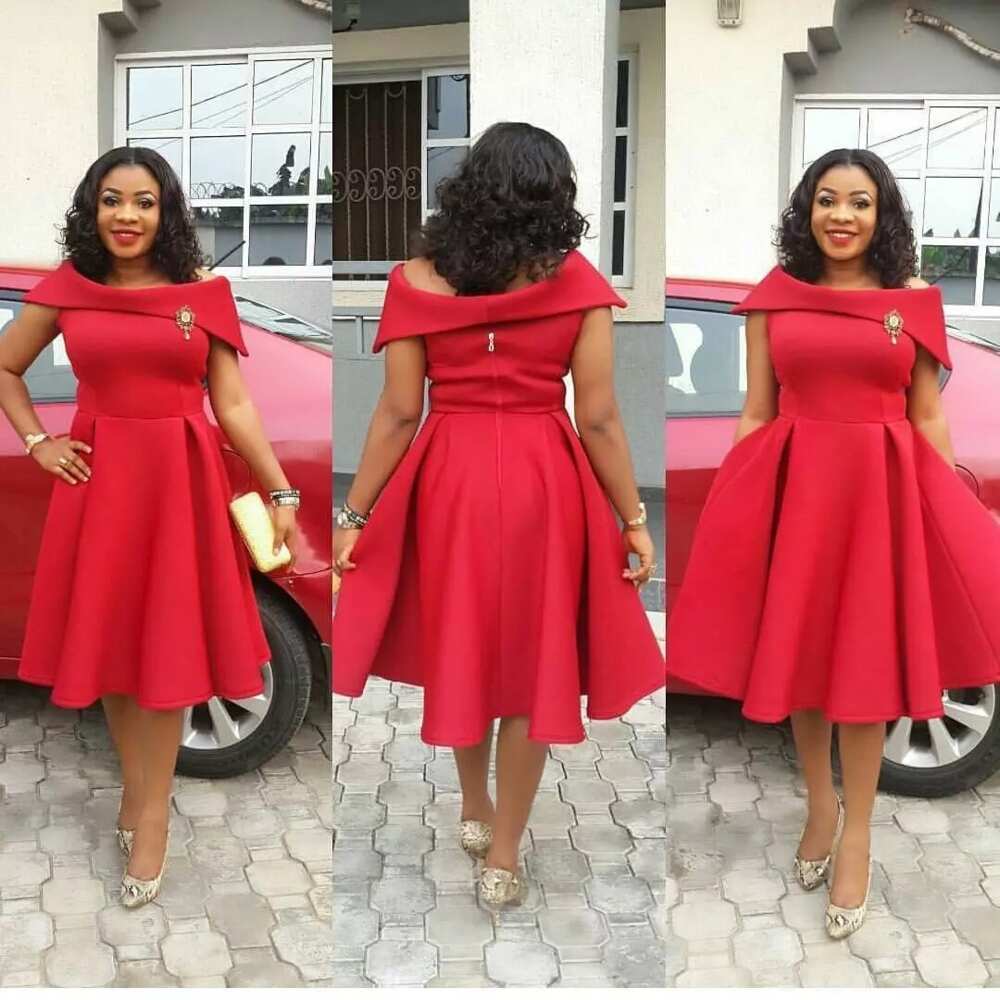 READ ALSO: Latest turban styles in Nigeria
European styles in Nigeria are often chosen for special occasions. Sometimes, in big companies and offices, employees are expected to observe a certain dress code. Dress codes can be both quite tough and rather relaxed. Everything depends on the decision and demands of the top management of every separate company.
English gowns suit the demands of most dress codes perfectly because they are reserved, have no excess decorations and are usually done in calm pleasant colors. It's very important that it's possible to find a good gown in one of the available English styles and match it to practically any body type.
Apart from the formal styles, English gowns can be seen in evening or cocktail variations, casual and so-called smart casual designs, and so on. It's time to give separate style some attention and see which options are available within each style.
Corporate English gown styles in Nigeria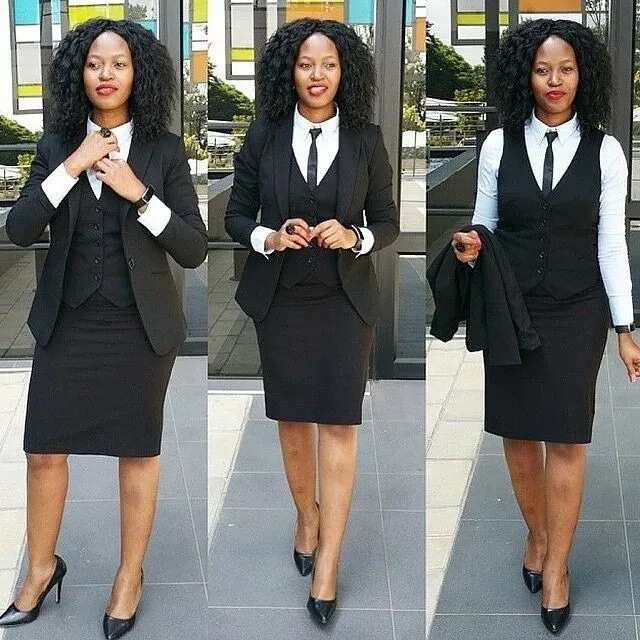 Let's start with the most luxurious ones – evening dresses.
This bright purple evening dress shows evident traces of English style in the top part. The way it wraps the shoulders is completely European.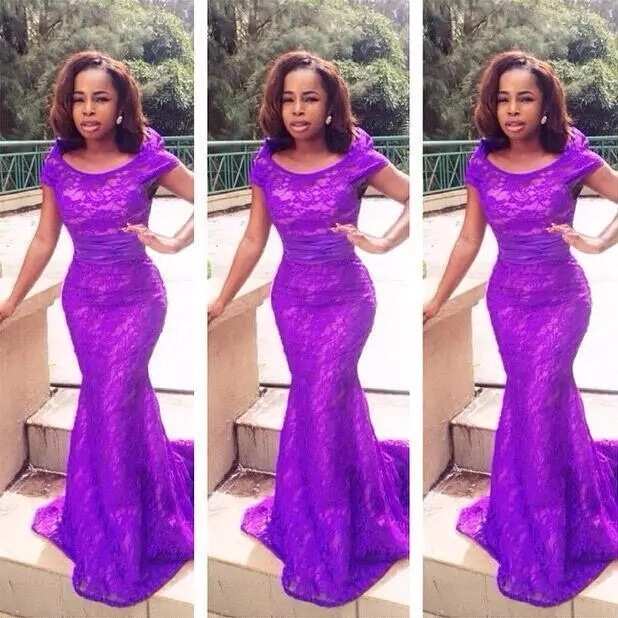 This green dress in the same mermaid style and with long sleeves. However, it's richly decorated and vibrantly colorful to match the lively African tastes and likes exactly.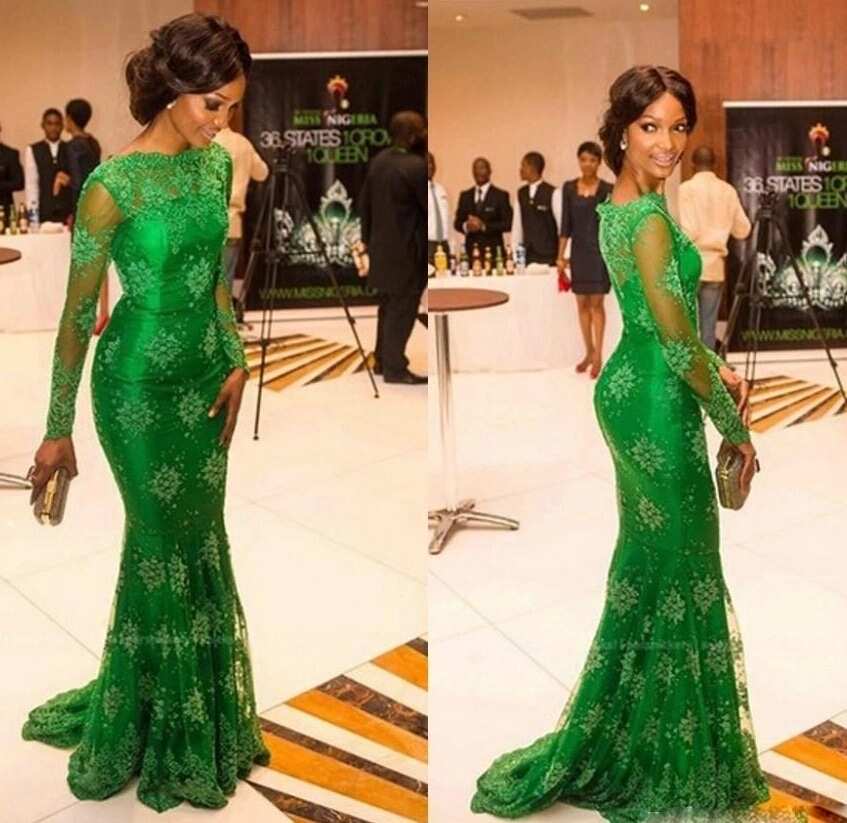 One more European gown will match the likes of Nigerian women perfectly. Made out of luxurious lace and fitted closely to the body, this black and white gown is easily able to turn all heads at a party with business colleagues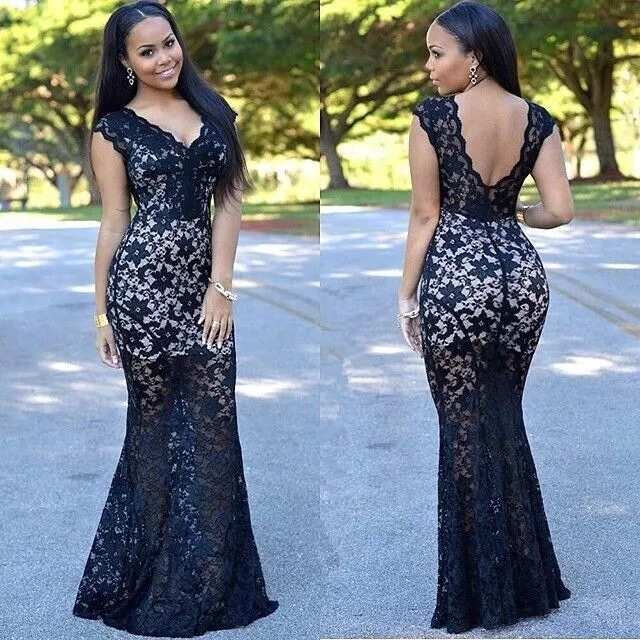 This emerald-green evening dress made out of perfectly matt material is something that reminds of European styles very much. Modest but attractive.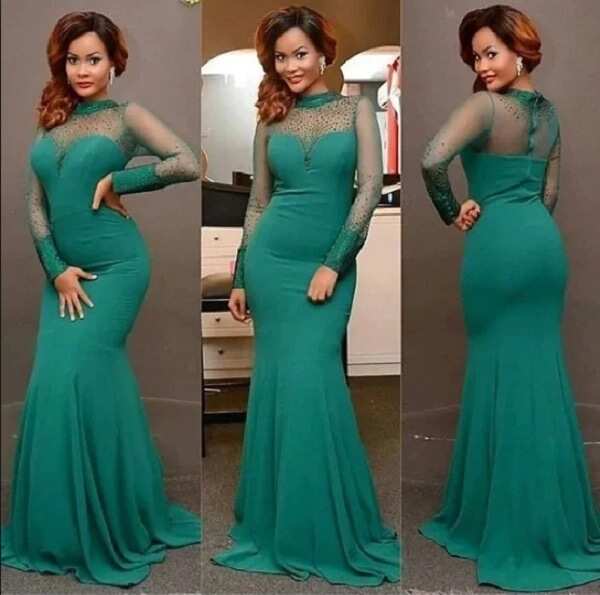 Like many business dresses, this one is combined with a jacket. In spite of the bright vibrant colors, this dress looks quite business-like. With a buttoned jacket that will cover the decorative buckle on the waist, it will look perfectly modest. However, taking the jacket off will turn the dress into a perfect option for an informal party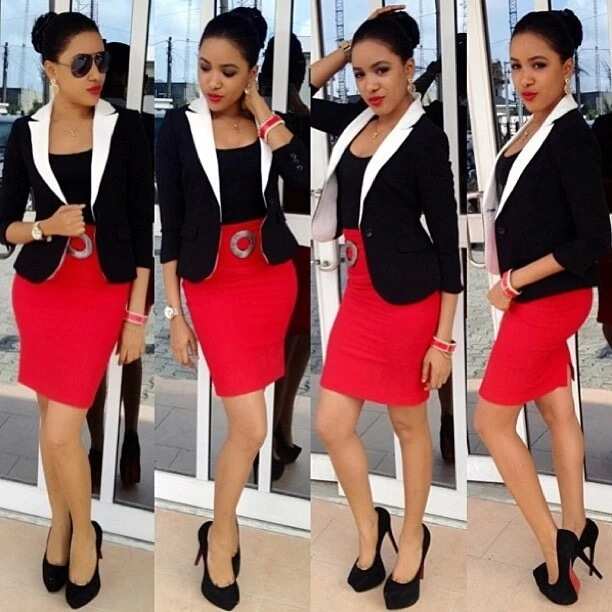 This dress is also made to resemble a combination of a blouse with a skirt but together with a matching jacket, it looks official enough for a working environment. It's very lovely how such European styles are matched with authentic African hairstyles and accessories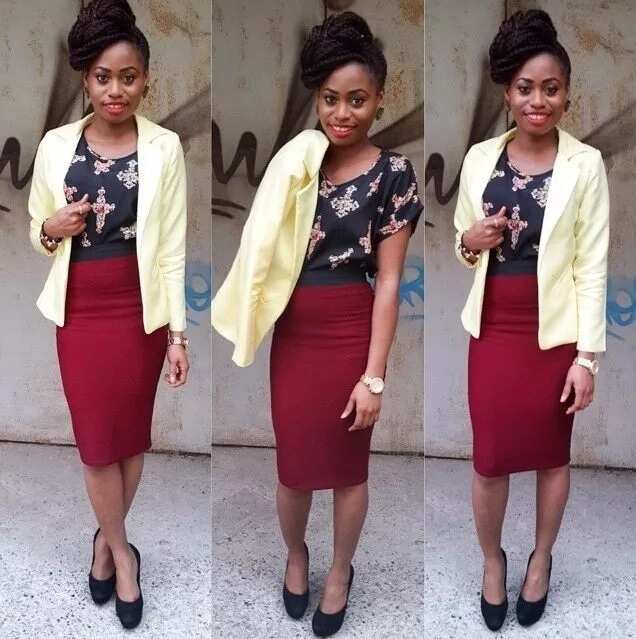 This dark blue dress with a matching striped blazer is balancing on the verge between relaxed and official. It's a great choice for an office with a mild dress code without big restrictions.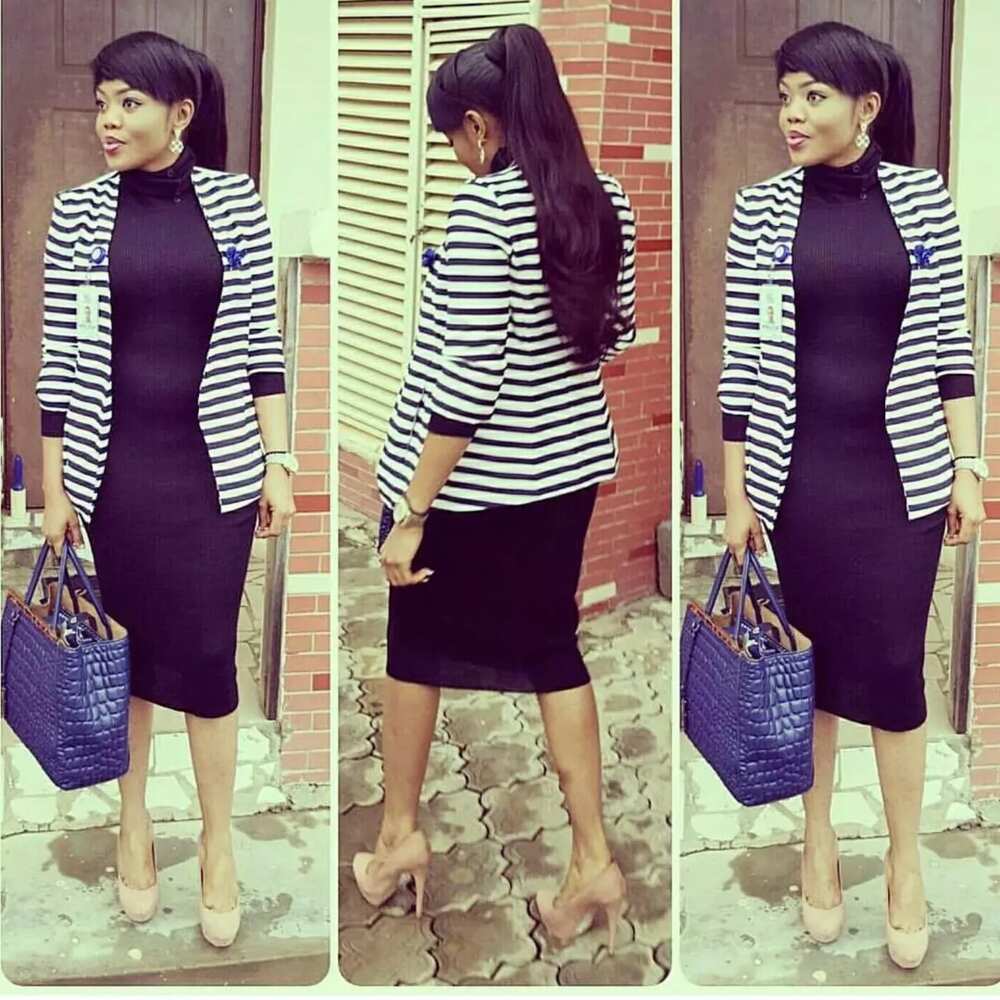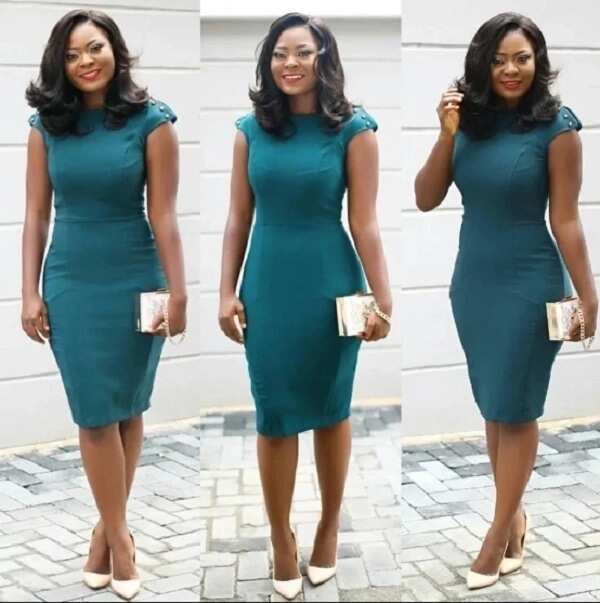 Such a dress is rather a member of the "smart casual" but paired with a matching jacket it's able to transform into a perfect office item.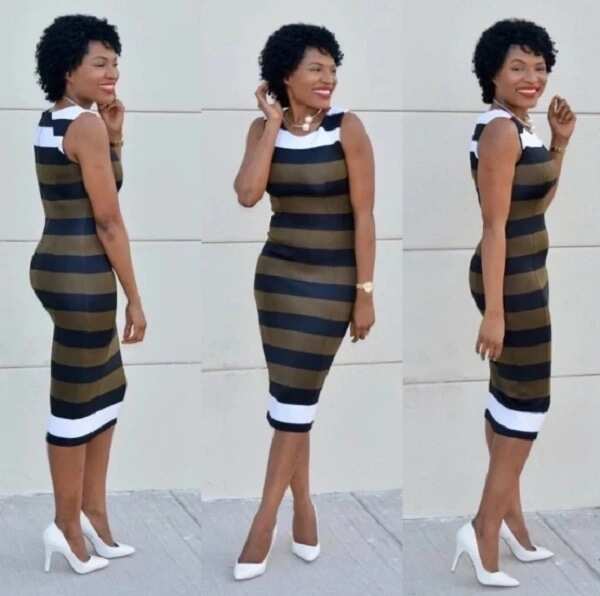 READ ALSO: How to tie head gear with Ankara
Smart casual English gown styles in Nigeria embrace the gowns that are the least formal among other office and business clothes but are more elegant, restricted and stylish than relaxed casual items. These dresses come in a huge variety of styles and with the help of your own dress code, you can always pick out something nice for you.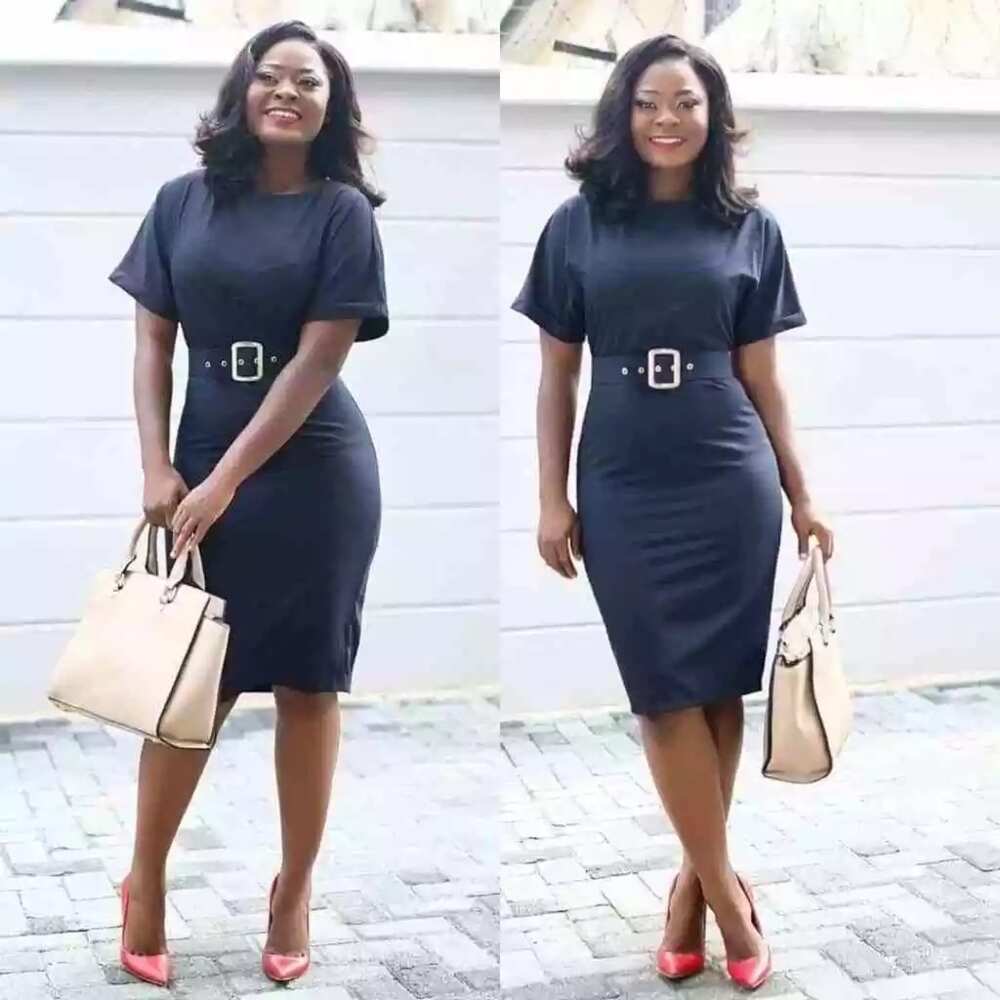 This is an example of how lovely European fashions have blended into African colorfulness and ethnic patterns. This dress with a solid black back and a patterned frontal part looks vibrantly African and quite official in a European manner. It's a lovely item for those women who need something for everyday wearing and official occasions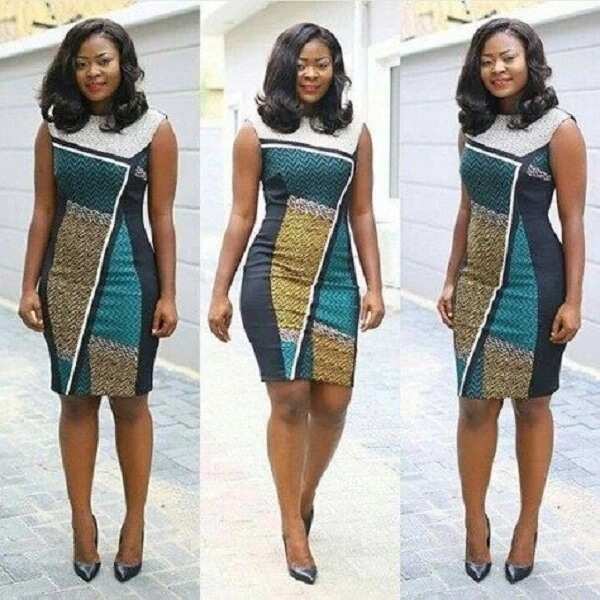 This dress looks like a combination of a white blouse and a black skirt. The stretchy French lace that is used for the bottom part of the dress is, maybe, too flirty and informal for serious business meetings or other formal events.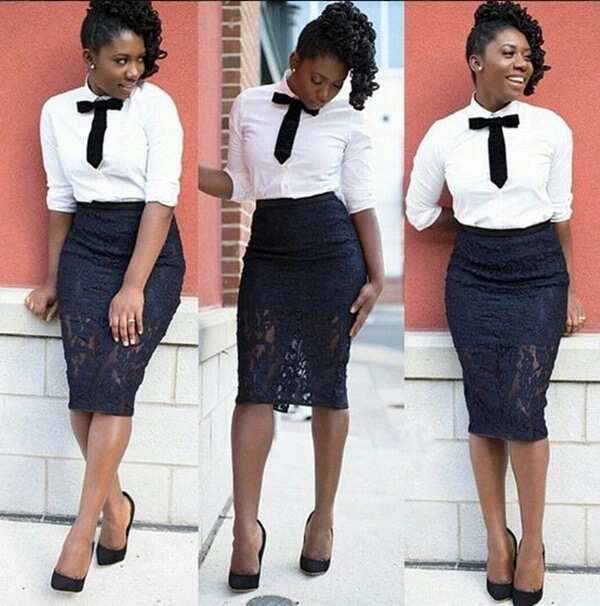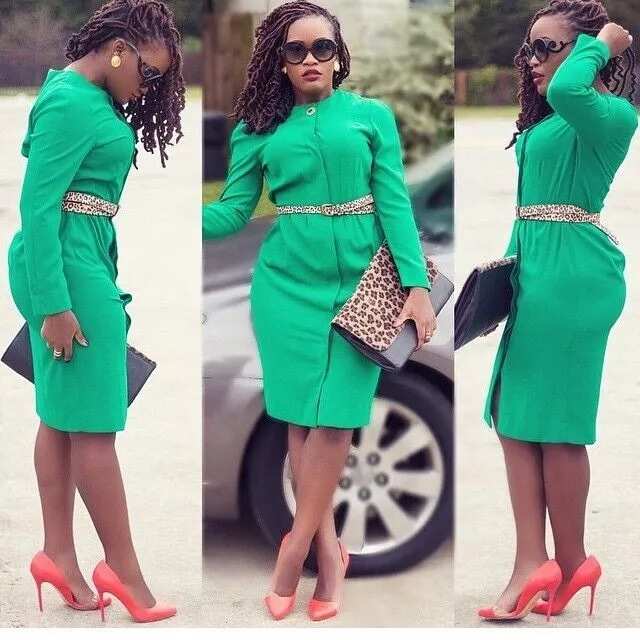 Just check out this relaxed look that's transformed into something completely formal in a moment! A juicy bright bottom paired with a striped blouse-like top part looks absolutely casual. Yet, it's until she wears a black blazer with long sleeves. Now she's a business lady.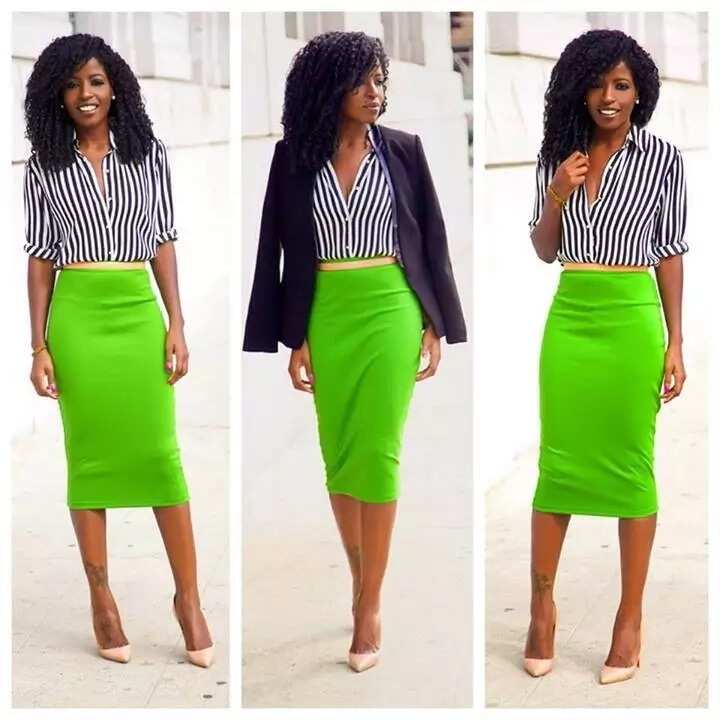 Smart casual dresses that are suitable for work can also have voluminous skirts. For instance, this lovely dress combines European style with African Ankara patterns perfectly well. The half-sleeves and a modest collar opening make this dress suitable for a work place with a mild dress code. As well, it's a great dress for everyday wear.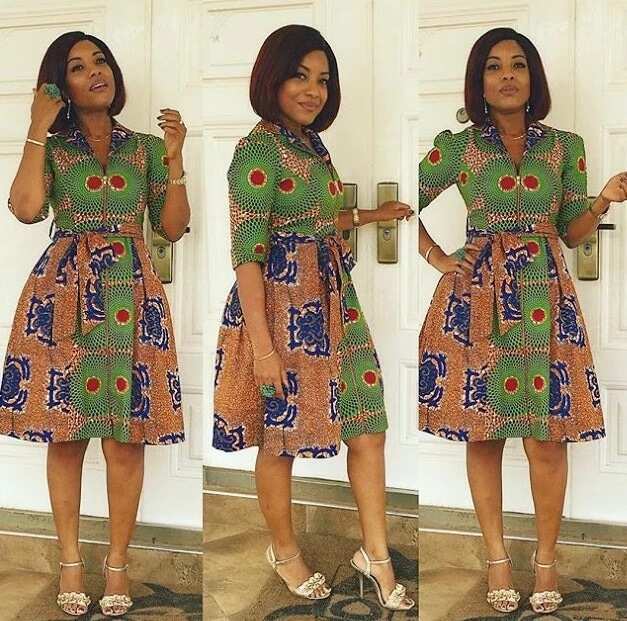 One more dress of a semi-casual, semi-official style is here!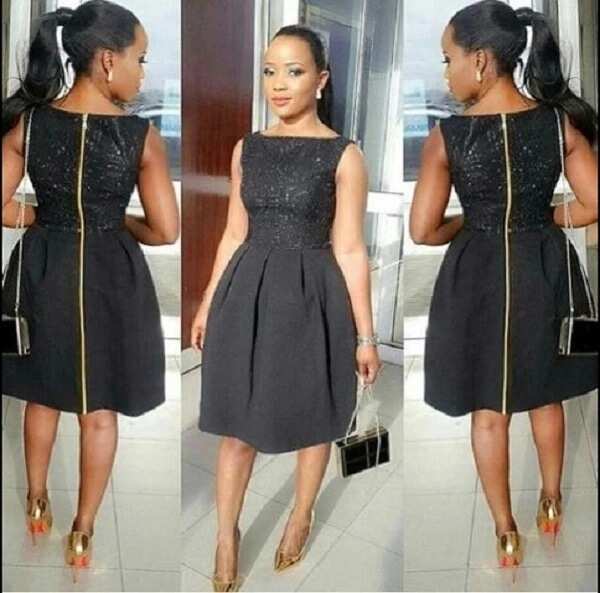 These are several examples of the trendiest English gown styles in Nigeria and now it's up to you to decide what suits you best and what meets the requirements of the dress code in your office.
READ ALSO: How to cut a pencil skirt for sewing
Source: Legit.ng