Latest office skirt designs you will adore
As a rule, most of office skirt designs are determined by the restrictions of dress codes accepted by certain companies and structures. Depending on those restrictions, you can or cannot wear something short, too tight, frilled or, instead, of a floor-length. Let's take a look at the most comfortable and universal designs that are acceptable in most offices.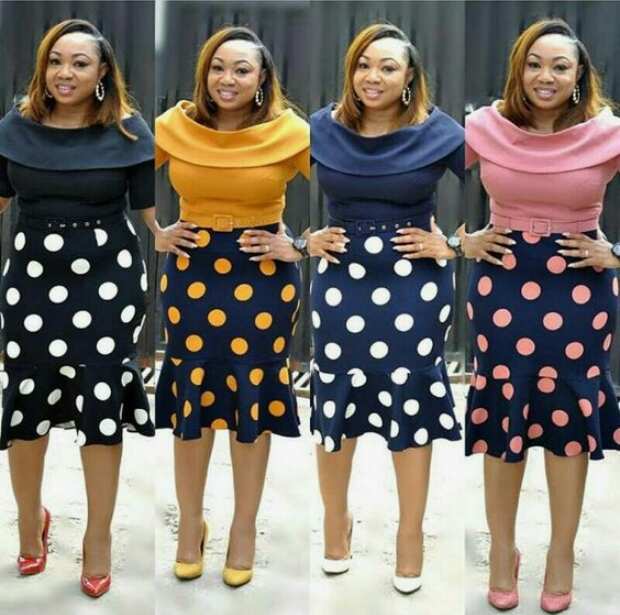 Image source: pinterest.com
What are the best office skirt styles according to dress codes?
Dress codes can be different but in most of them, an office skirt is an item of a modest color and length that doesn't exaggerate the lines of a wearer's body too much. The modest length is usually somewhere around the knee – two fingers above or two fingers below the knee. The modest colors are normally dark ones or neutral gray tones. Finally, the cut is as simple as possible, without flowing details and not clinging to the body.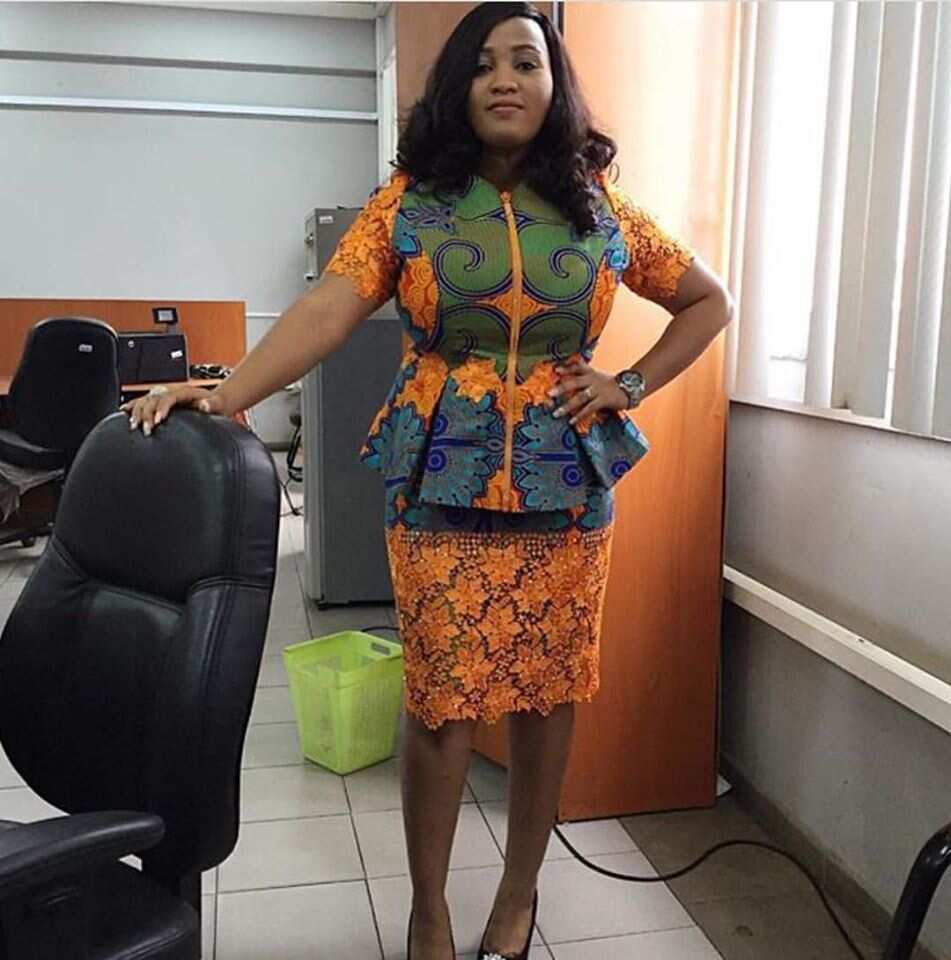 Image source: pinterest.com
READ ALSO: Ankara corporate styles for Nigerian meaning
This is how most of office skirts look. Yet, women often forget that they can cheat the dress codes by inventing new items of clothing and creating something really pleasant and catchy for eyes. What's more, not all companies have very strict dress codes and not all companies forbid wearing wider skirts.
Let's check some interesting items out together.
Interesting and elegant office pencil skirts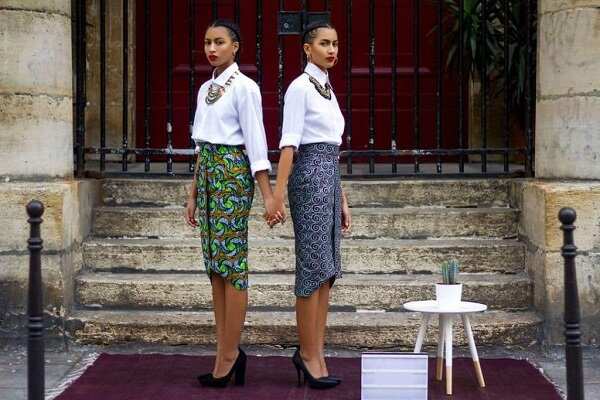 Image source: pinterest.com
A pencil skirt is a never dying classical item that suits any body type. Any office will appreciate such an item, which fits dress code rules ideally. Still, there are ways to wear this skirt so that it becomes hot instead of dull.
A classical pencil skirt in a deep black color is exactly what a woman may need for a working day in an office. Elegant and classical, it still can be very attractive. The key is in the smallest details. A wide belt can set an accent on the waist. Side pockets can add some volume to hips if they lack it. paired with a lovely top, such a skirt can even be a great option for a party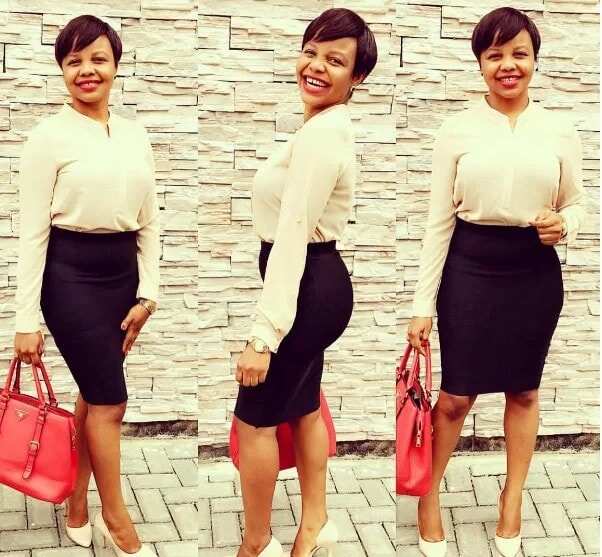 Image source: pinterest.com
A white pencil skirt is for the neatest and the most fashionable girls and women. With the single decorative detail – a satin belt – such a skirt can look like a real masterpiece. A nice top and lovely shoes will create a wonderful elegant look that will match any of the severest dress codes!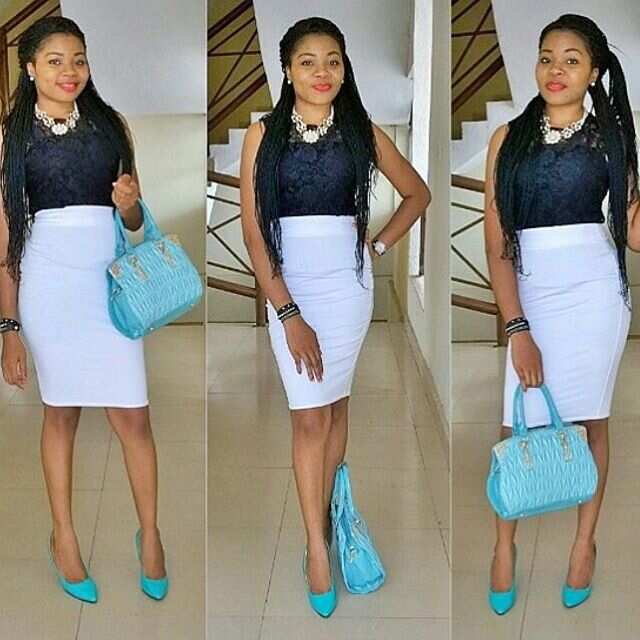 Image source: pinterest.com
A pink item made of a slightly glossy fabric is a wonderful item for an office with a very mild dress code. The only office-like detail in this skirt is its cut and shape. In all the rest it's a wonderful fancy item that can be worn for a date without doubts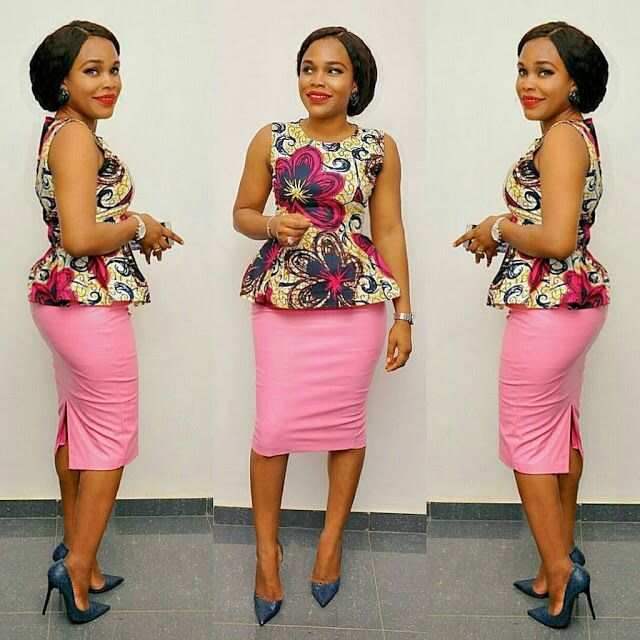 Image source: pinterest.com
Here goes a simple black item of an interesting cut already. This is a skirt with a hidden zipper that brings a real diversity to this style. If you want, you can undo the zipper and create an opening of any length. It will turn a regular office skirt into a stunning item for parties and elegant formal occasions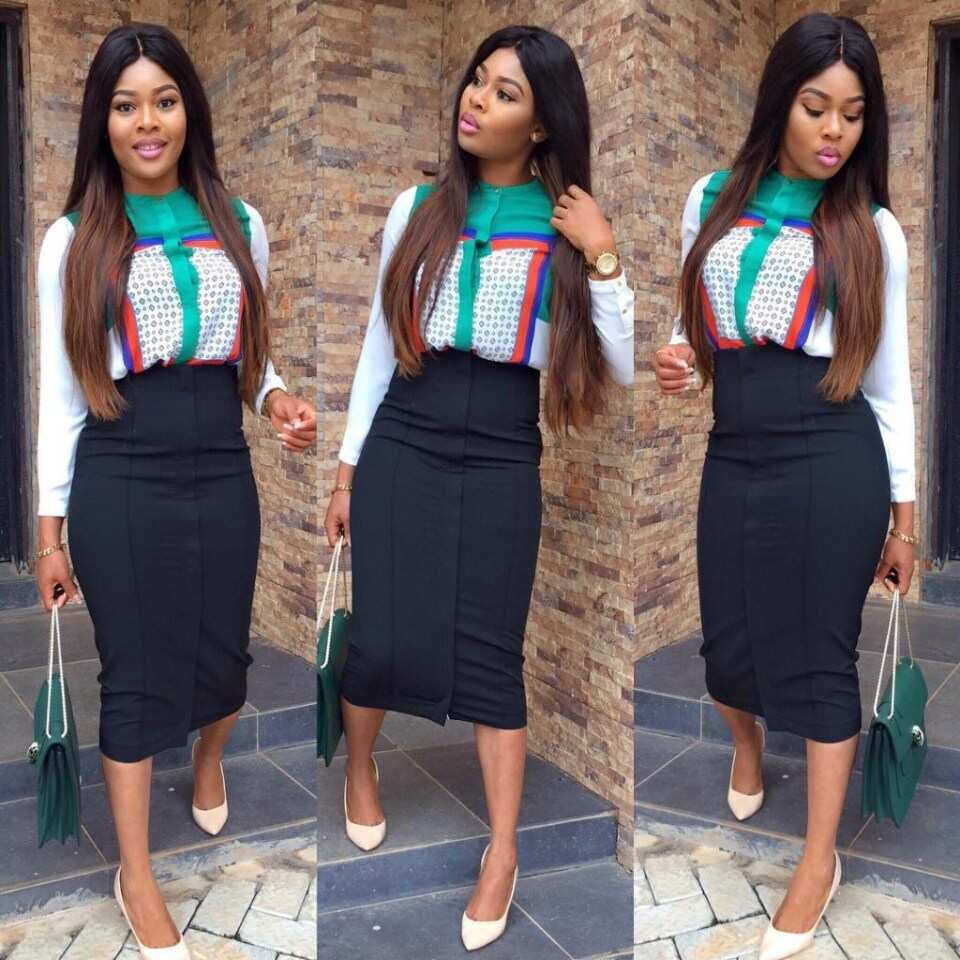 Image source: pinterest.com
This beige skirt made out of faux leather is a thing that can be worn to an office without a dress code at all or with a very mild one. The material and color make this office-style skirt a really outstanding example of how the fabric and color can change the appearance of the simplest cuts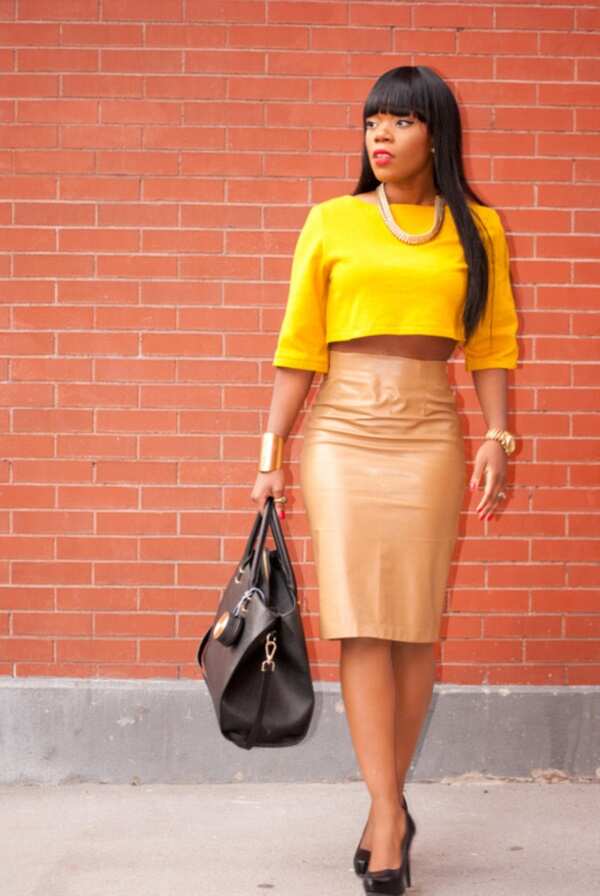 Image source: pinterest.com
This gray pencil skirt with black decorative elements and shiny buttons is a real masterpiece. Modest and elegant for an office working day, it's great for a formal occasion, too. When worn with a less formal top, it can be used as a casual item for any situation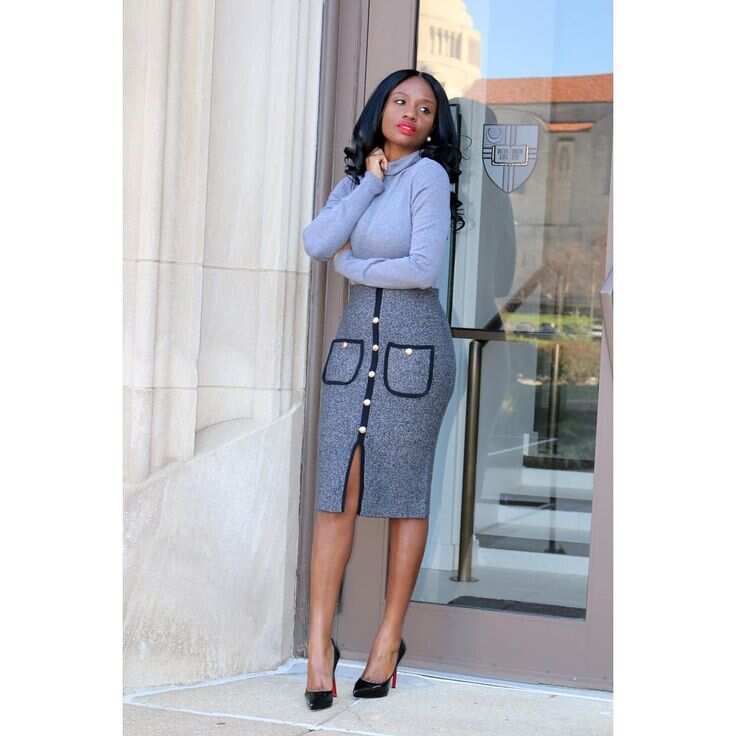 Image source: pinterest.com
Here we can see a pencil skirt made out of a dark fabric with a white floral pattern. Indeed, the color often rules everything! Due to the style, this skirt can be worn with an elegant formal top and create a great ensemble for an office that allows some casual details in clothes. Yet, when worn with a denim shirt like this, such a skirt can help you create a lovely combination for a day-off, too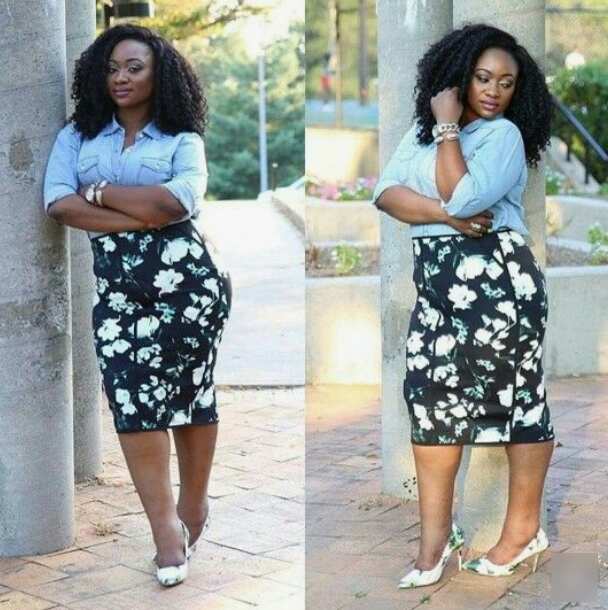 Image source: pinterest.com
READ ALSO: Corporate gowns for ladies in Nigeria
A tartan pencil skirt can look very cozy and very stylish. It's especially fair when a skirt of this type is combined with a custom-made blouse with matching details. Such a combination of a tartan skirt and a solid color peplum blouse will match the majority of average dress codes and give you a perfect mood for the whole day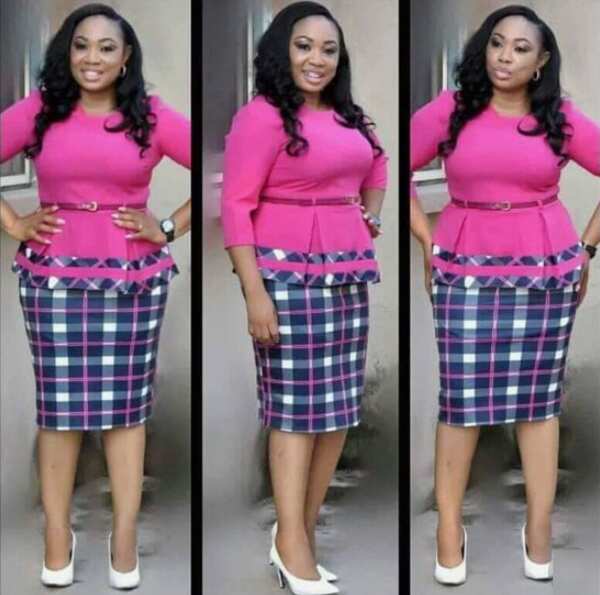 Image source: pinterest.com
A maxi pencil skirt is for those females who appreciate modesty and traditions above everything else. A long but comfortable item with a high waist and an elegant belt is made out of a surprisingly stylish fabric with a black pattern on white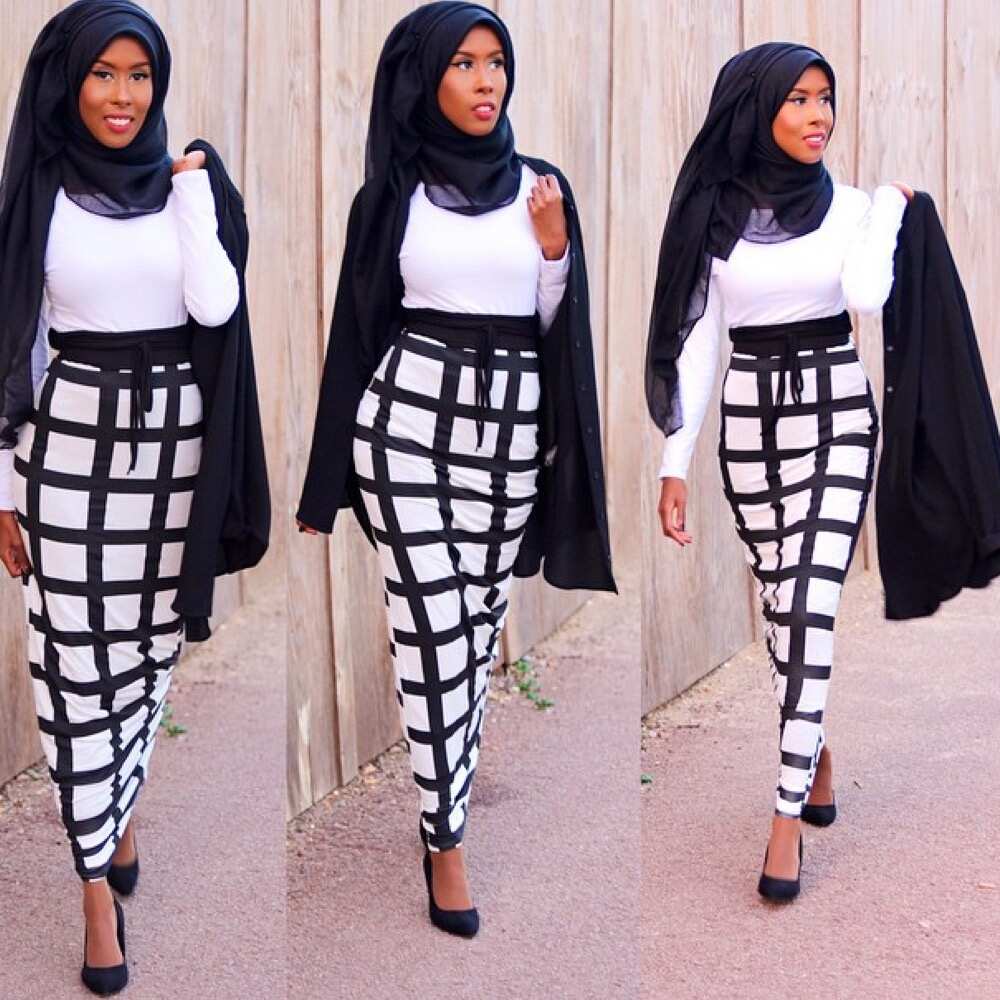 Image source: pinterest.com
Another black and white pencil skirt demonstrates how great minimalistic and simple lines can look. The horizontal stripes emphasize every curve and the bright colors will turn all heads wherever you go in this amazing style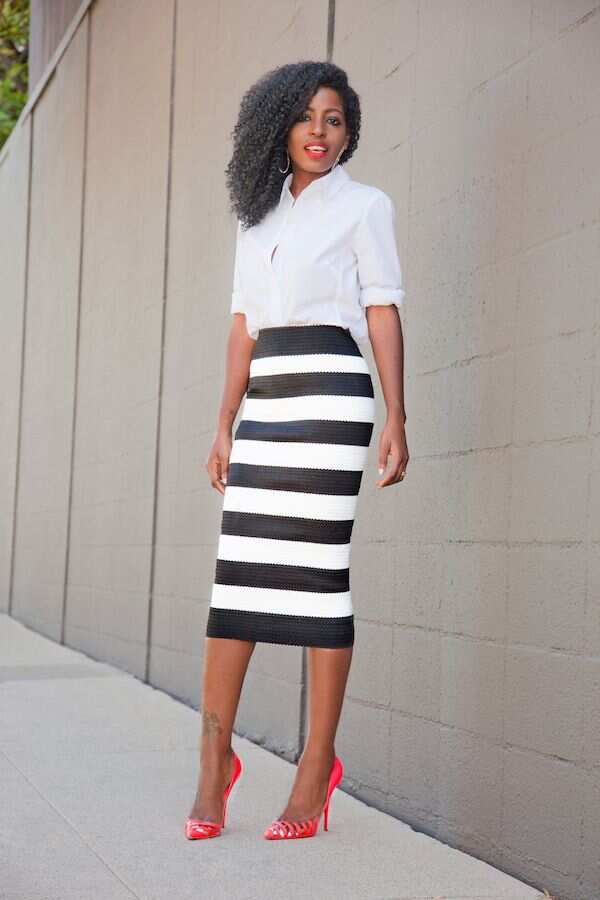 Image source: pinterest.com
The loveliest Ankara skirts for office
Sometimes it's hard to believe but many offices allow wearing Ankara fabrics to work. After all, they are native African and people are used to wearing these bright and vibrant patterns, and what's more, they can look absolutely stunning when used for office clothes.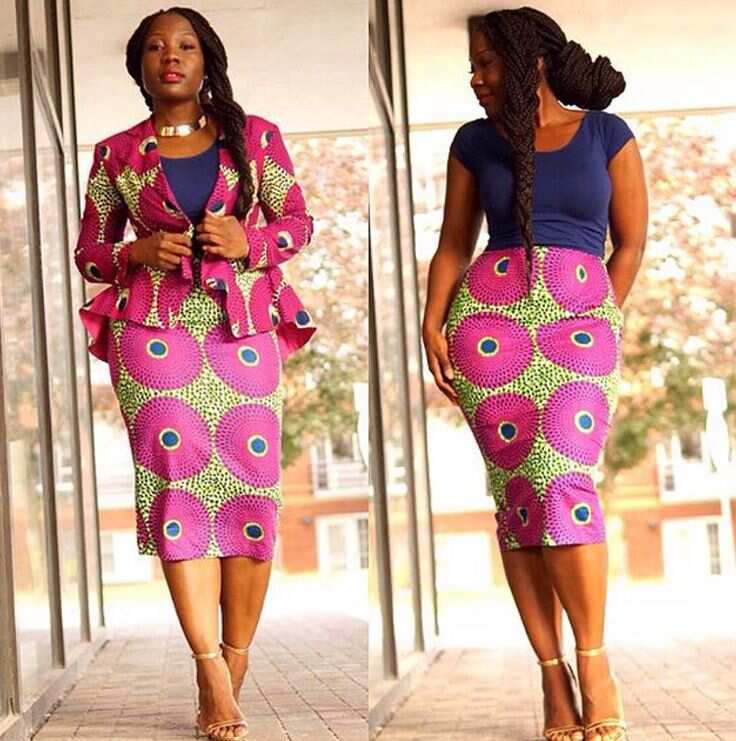 Image source: pinterest.com
A regular pencil cut done in Ankara. Isn't it a great idea? Such a skirt can be worn with either a matching jacket made out of the same Ankara or a solid-color one tailored out of another suitable fabric. In any case, such a choice looks stunning due to the bright and lovely patterns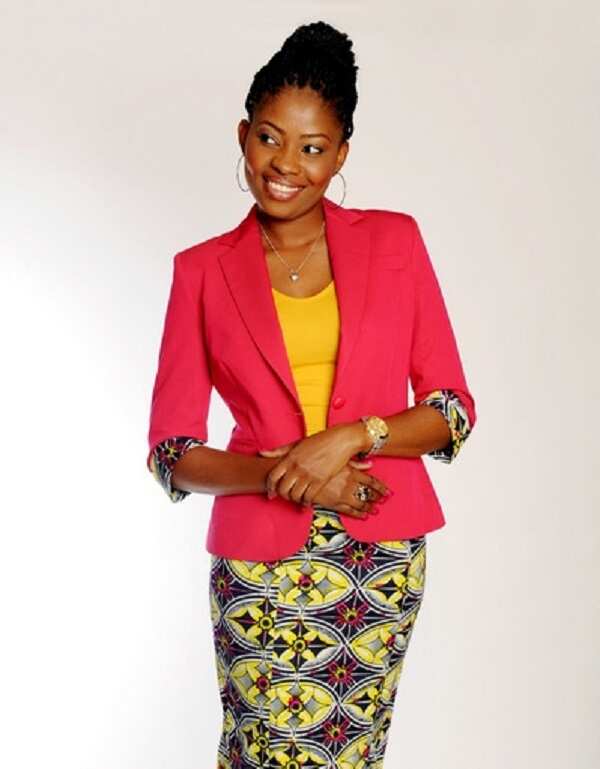 Image source: pinterest.com
In this elegant ensemble, Ankara is used not only for the skirt but also for the jacket decorations. The sleeve cuffs break the monotonous coral-pink color of the jacket and remind that these two (the jacket and the skirt) are a loving and lovely couple! Of course, such a skirt can be a great casual choice due to the lively pattern and a simple universal cut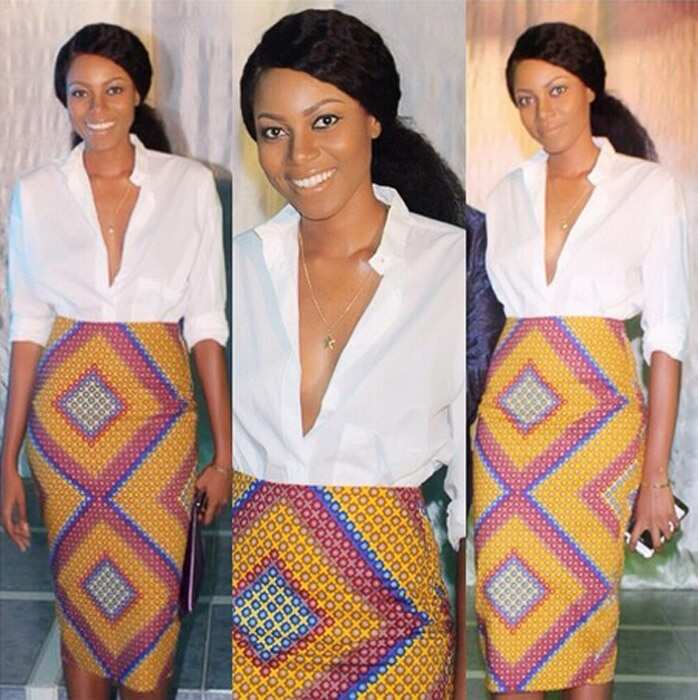 Image source: pinterest.com
This lovely skirt looks like it's made out of tightly stringed beads of different colors. The incredible effect of the pattern gives it a really fabulous look and even in spite of its size, the skirt looks official enough with that white shirt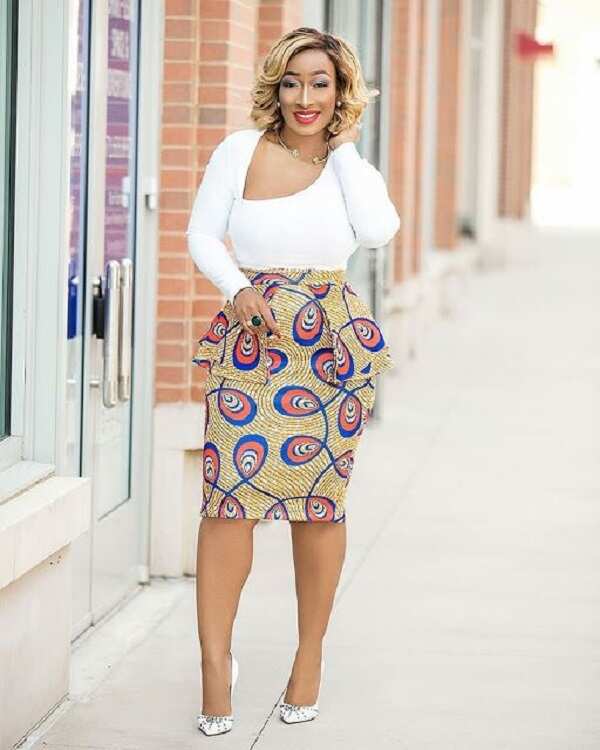 Image source: pinterest.com
A peplum-style Ankara skirt is a choice for offices where they appreciate casual elegance. If not for the pattern and the peplum-style frill, the skirt would be an ordinary pencil item. Yet, now it shows new sides of diversity and style with the help of its brave and lovely cut. Just in case: the frills can be detachable (take off when arrive at work, put on when going back)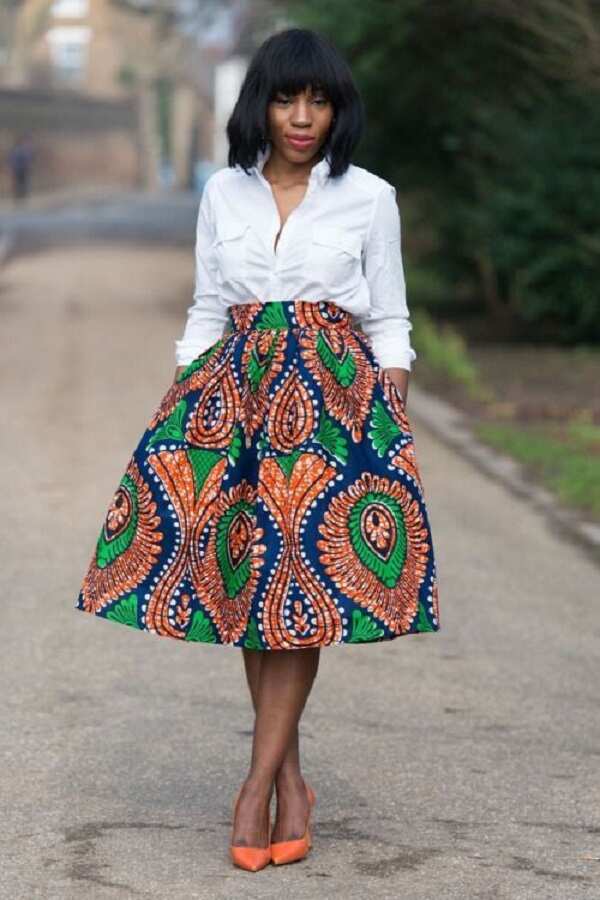 Image source: pinterest.com
This is a pleasant rest from tight pencil skirts, a lovely flowing one made out of a bright Ankara fabric. This item has all features of an office skirt: it's modestly long, has a high waist and no excessive decorations. The pattern is the only thing that makes it different from other office skirts. And it is lovely!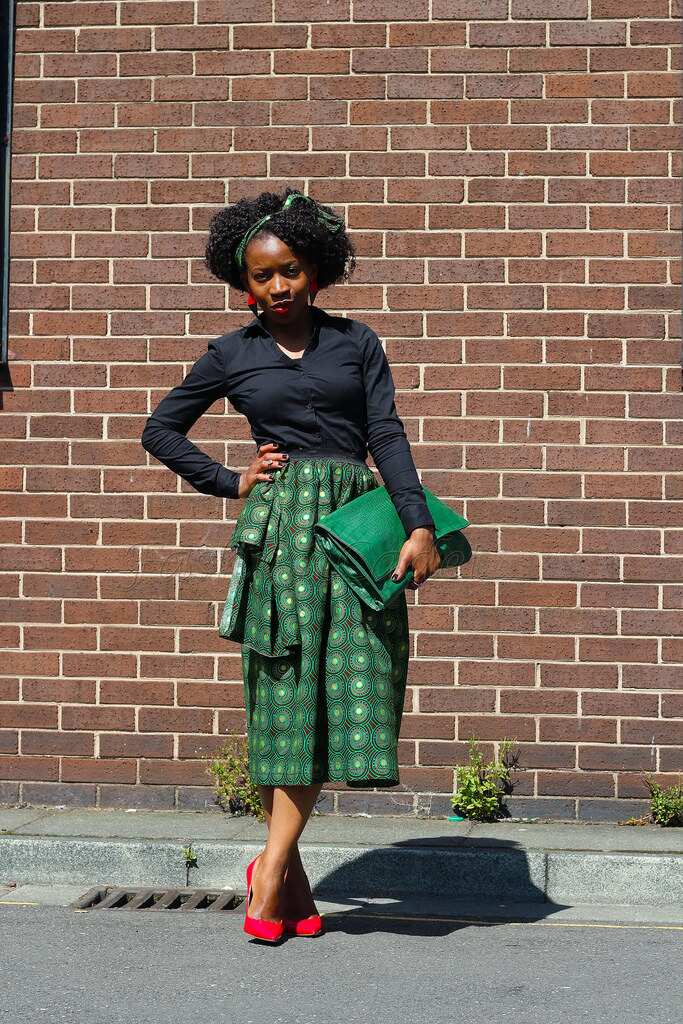 Image source: pinterest.com
One more long and flowing Ankara skirt for office is here. The calming and charming deep green color makes this skirt stunningly attractive and eye-catching. If you want something that would give you the sense of your own beauty and charm, get yourself such a skirt and wear it everywhere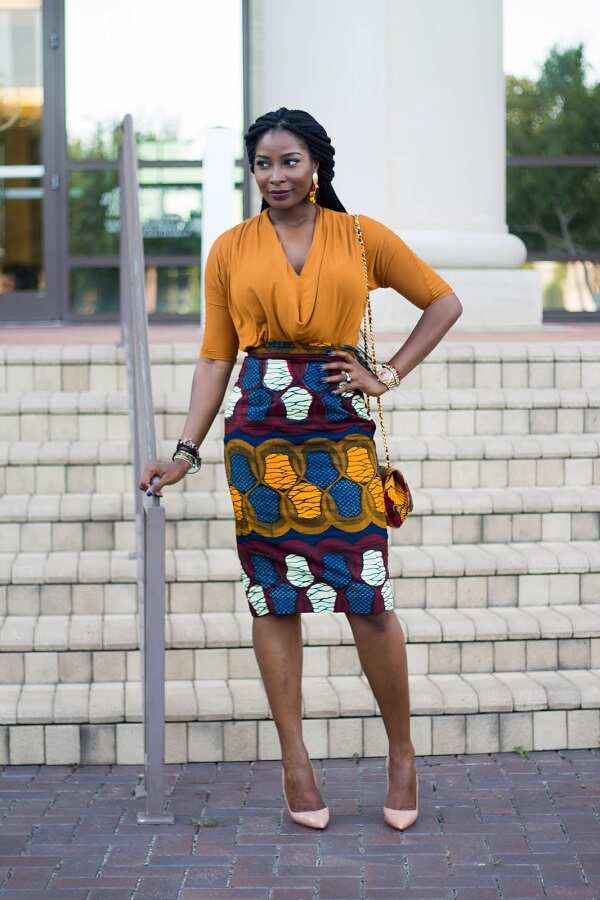 Image source: pinterest.com
This Ankara pencil skirt is something every woman needs. It's bright and colorful and can create a whole wardrobe when combined with different matching tops. In addition, it has such a pattern, which looks incredibly lovely and somewhat formal – enough for an office skirt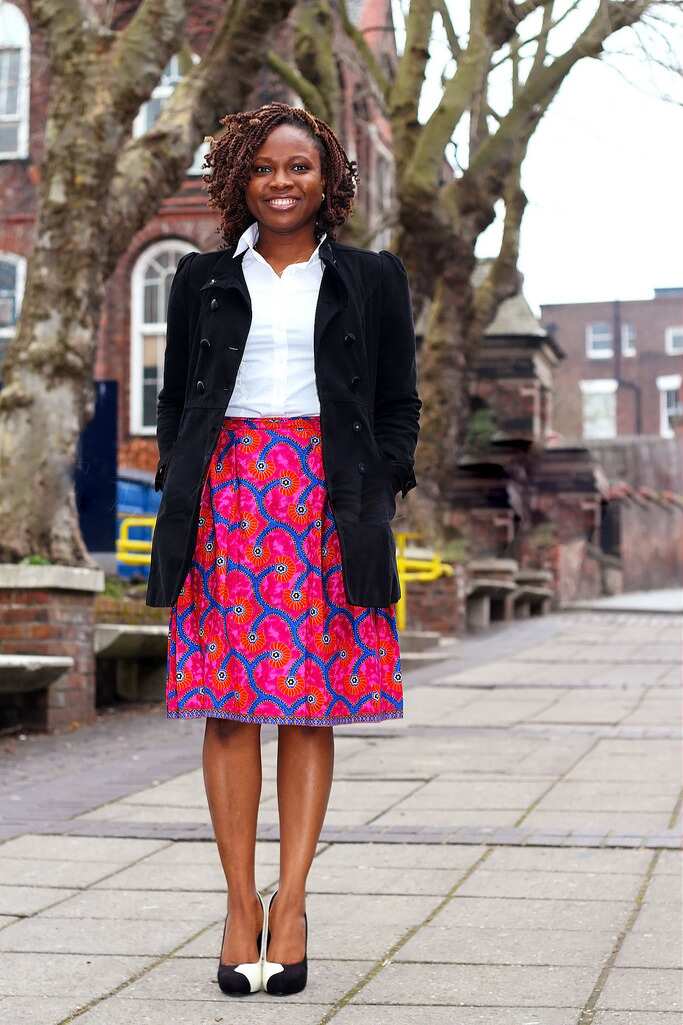 Image source: pinterest.com
This wide and comfortable Ankara skirt is a real finding for a cloudy day. The skirt alone can bring plenty of sunshine into the office. Though its appearance is not very formal, it looks great when accompanied by a formal white shirt and a lovely single-colored jacket
This was a short overview of some of the latest office styles for women who want to look good and feel good, too. Choose any of the styles and wear it well with a charming smile on your face, and you will catch all eyes on you!
READ ALSO: Latest ankara designs for skirt and blouse
Source: Legit.ng