Wedding bridal gowns and accessories in Nigeria that are trendy this season
The choice of a wedding dress is a whole exciting adventure for every girl who is going to get married. We want to tell you what wedding bridal gowns and accessories in Nigeria should be paid attention to in 2018-2019 to be not only the most beautiful bride but also the most stylish.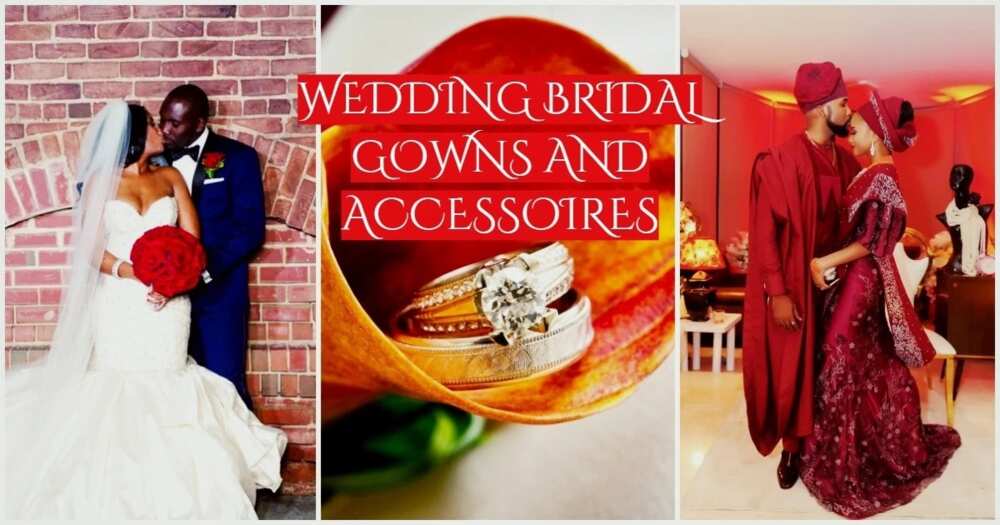 Traditional wedding gowns in Nigeria
Instead of thousands of shimmering stones, designers recommend paying attention to black accents. This is a significant fashion trend of 2018 - 2019. Decorate the wedding dress with a black belt, black flowers or lace, and guests will remember such a bold decision for a long time. Or completely put on a black dress with embroidery, pearls or feathers. Decorate your look with a gele of colors that perfectly match black color, and you will be utterly irresistible.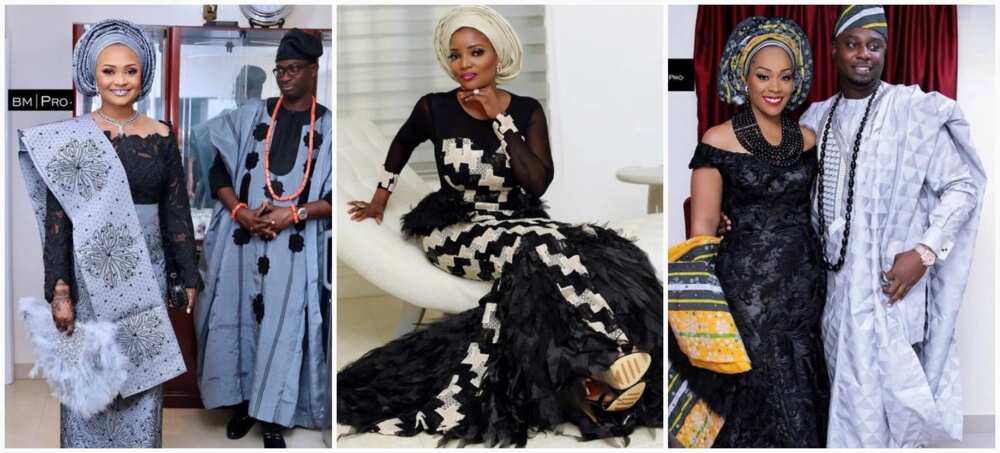 READ ALSO: Nigerian lace styles for wedding in 2018
Skin-colored sheer fabric
In this wedding season, we advise you to emphasize the cutouts. But the neckline doesn't always have to be really opened. The skin-colored sheer fabric successfully creates the illusion of an open back or decollete. It, by the way, not only implements the cutout props but also gives the desired shape to the dress, helping it to fit the figure beautifully. The image is, of course, bold and extravagant.
If you decide to use this option, be careful not to turn the attractive outfit into too frank one. It is advisable to choose the simple cut for such traditional wedding dress because the main trend of this season is jewelry and beautiful fabrics. So we advise you to make stress on these elements.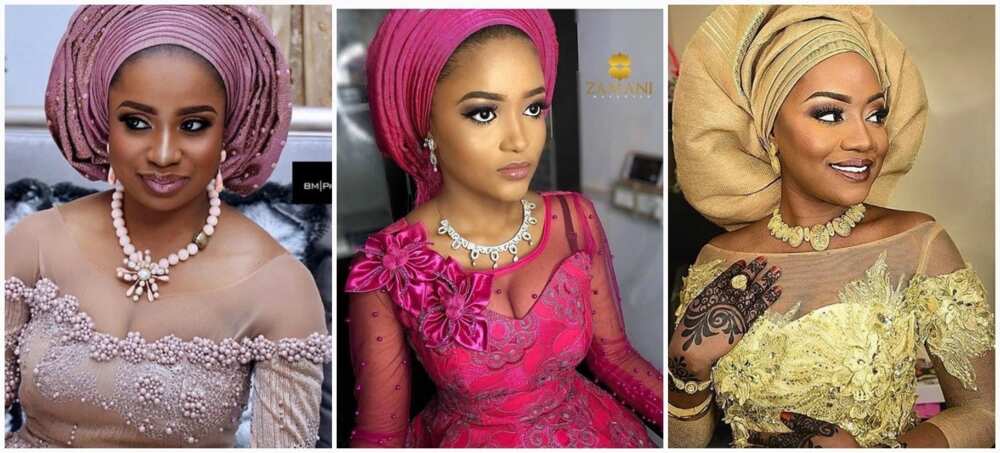 Open shoulders
Wedding dresses with open shoulders add femininity and sophistication to any woman. Ladies in such dresses seem even more fragile, graceful and neat, so be sure to take a closer look at the dresses, opening the shoulders and beautiful neck.
Models with open shoulders can be straight and lush, with a minimum of decor or with an abundance of stones and lace - it all depends on your preferences and personal taste. The best solution would be to use large beads.
Beautiful open shoulders with slightly deflated sleeves - this detail will make the image elegant and refined. A wedding dress with open shoulders is suitable for women who prefer classic and romantic images.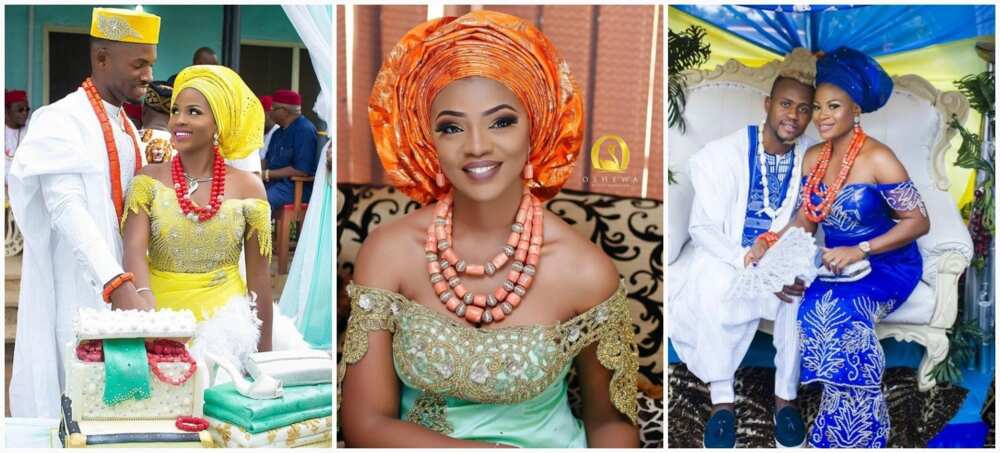 Long sleeves
2018 - 2019 is the right time to implement the idea of a wedding dress with long sleeves. Use a light and delicate fabric for the sleeves, if you celebrate the wedding in summer in hot weather.
Wearing a dress with a long sleeve, you will emphasize the upper body and divert attention from wide hips.
Flower embroidery is especially fashionable this year, and if it smoothly changes to the lightweight fabric of the sleeves, this can become a stylish bomb!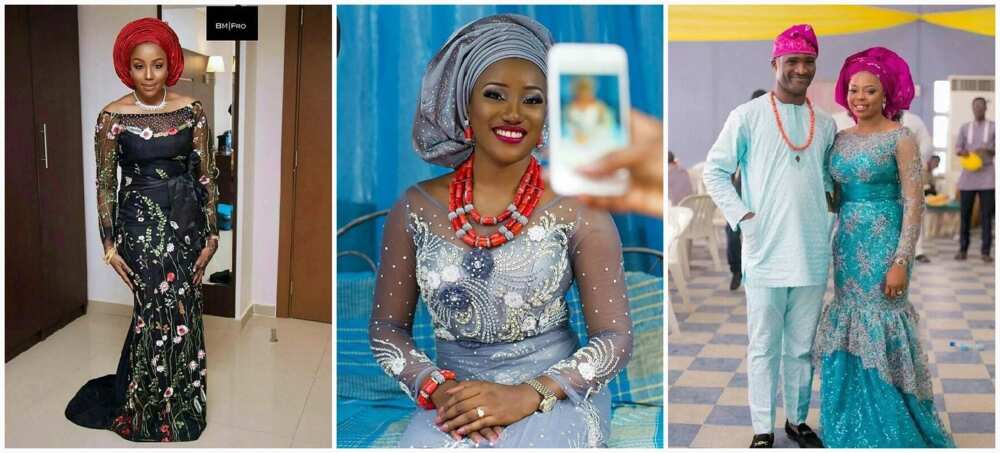 Capes
Instead of traditional veils, we offer you capes, long transparent capes, vintage coats, decorated with embroidery, feathers, and lace, which will add elegance and luxury to the image of a bride.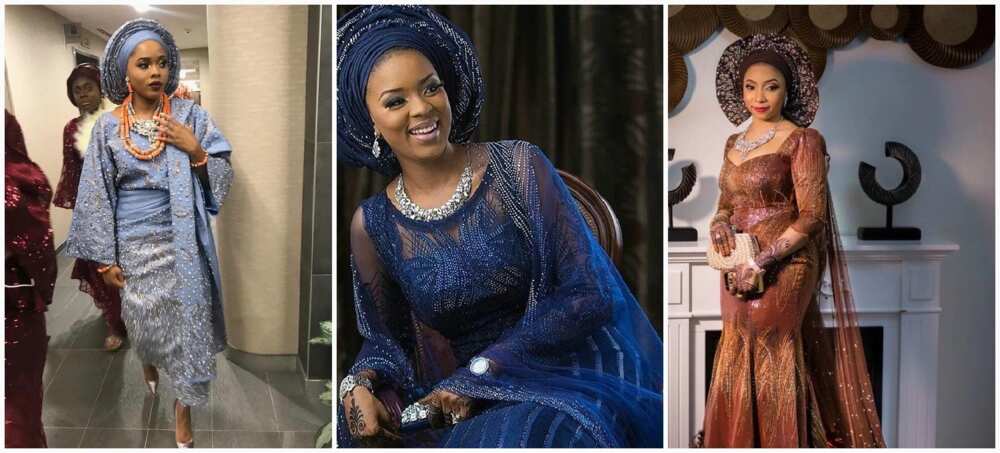 READ ALSO: Lace wedding gowns with sleeves in Nigeria
Trendy colors
This season, we advise you to look at the outfits of delicate pink shades that resemble a marshmallow air. Powder, pastel pink, ivory and champagne with a cold pink undertone - you have plenty variants to choose from!
If you like to break the rules, do not be afraid to change the traditional white and without any doubts choose a dress in the most delicate pink color.
Please pay attention to the first dress in our collage, where you can notice all three fashion trends of this season: pink color, long sleeves, and open shoulders.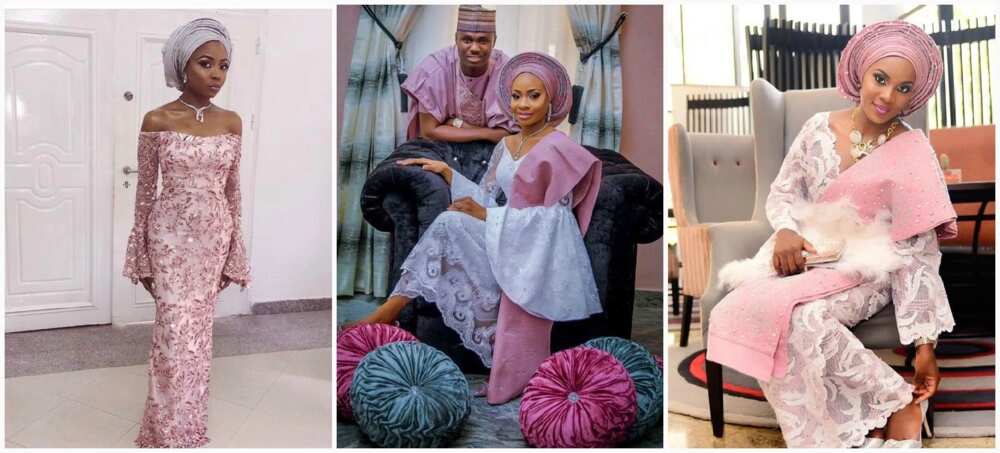 We also recommend to pay attention to the sky-blue wedding dresses, which can give the impression of lightness and innocence inherent in the white classics, and at the same time add brightness and romance to the image.
The blue palette includes a large number of shades, and each has its own special character. Translucent blue color gives the bride tenderness, femininity, and chastity. Light turquoise looks fresh and unusual. The color of the sea wave combines green and blue shades and is distinguished by extraordinary refinement. All shades of blue color are universal - they look good with different textures and are in harmony with other colors: pink, coral, beige, silver, golden, white, etc.
You can also add flower applications, prints, and embroidery, they will look rich, luxurious, feminine on the dress of blue color.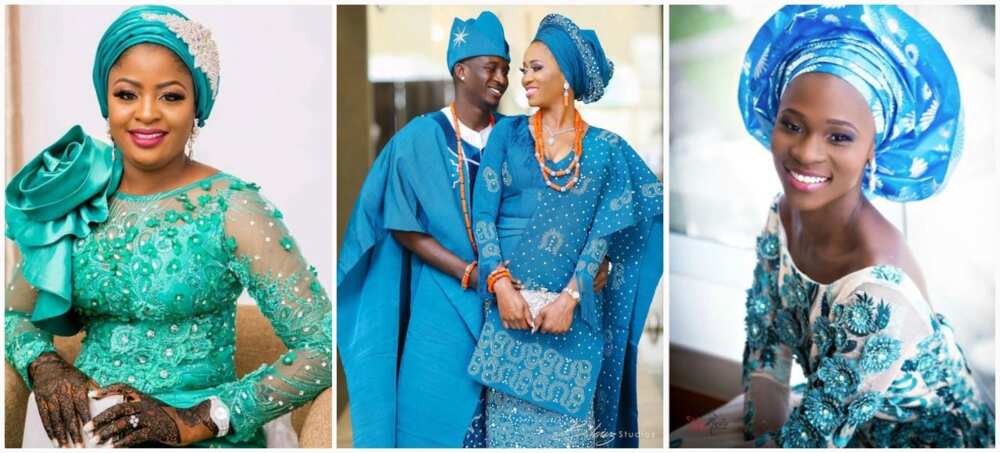 Flounces and frills
Beautiful wedding dresses with several layers of flounces, frills, and ruff are the dream of every girl. If you adore romantic images with an abundance of girlish elements - such an outfit is created just for you.
Tiered wedding dresses look like exquisite cakes, and the beautiful brides in them look very tender and feminine. These dresses burst into the fashion world suddenly and are now very popular among Nigerian brides.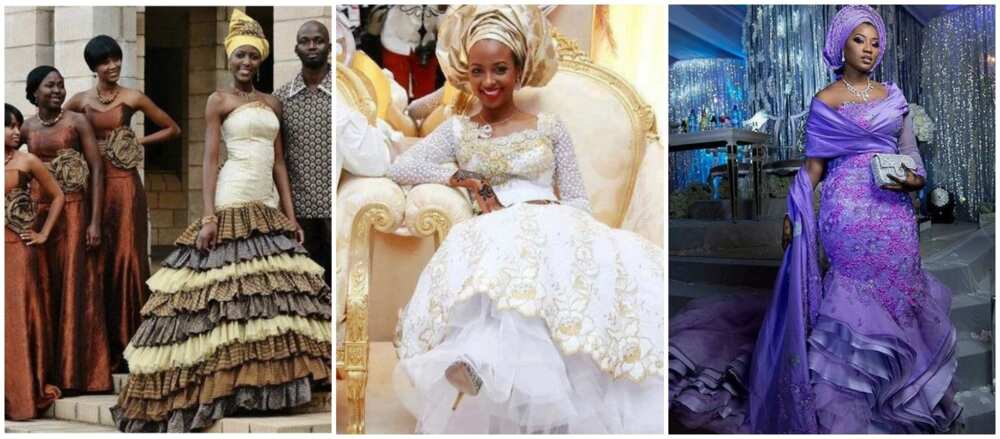 Traditional accessories
Do not forget about accessories - large beads and vintage jewelry are back in fashion this season.
Embroidery pearls and gems on gele are the squeak of this season. Also, pay special attention to the color of your gele, it should either of the same color with a dress or should be combined perfectly.
Choose additional decor (beads, eyerings, bracelets, rings) to match the dress or use contrasting companion colors.
In the current season, Nigerian brides are offered to acquire small handbags with shiny stones and sparkles.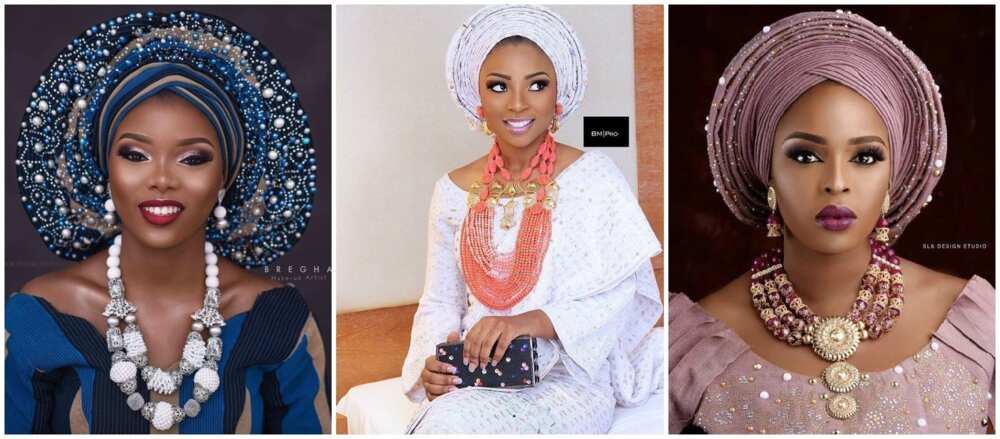 READ ALSO: Simple wedding hall decoration ideas in Nigeria
White bridal gowns in Nigeria
The main trend of the wedding fashion 2018-2019 in Nigeria is to create an easy and relaxed look of the bride thanks to dresses from almost weightless fabrics: chiffon, organza, etc. Flowing outfits emphasize all the beauty and tenderness of the female figure, that is why these dresses are loved by both fashion designers and brides all over the world. Besides, they fit into any style of the girl, whether it is the image of the bride in the boho or vintage style.
Translucent details and fabrics
Dresses with translucent details: neckline, back, sleeves or hem do not leave the fashionable Olympus. Bold brides can prefer outfits entirely made of translucent fabric, emphasizing every curve of the female body and adding an alluring look to the wedding image. The most popular material for the creation of such dresses is lace and chiffon with volumetric details: floral embroidery or volumetric appliques.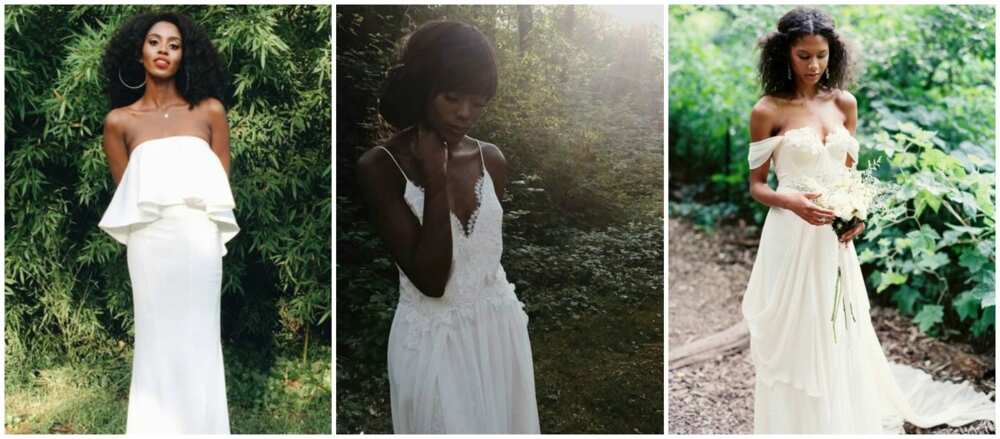 Dresses with voluminous skirts
Do you love dresses with a lush bottom? Then you should pay attention to the dresses with multi-layered skirts, which are the main trend of the 2018-2019. Moreover, couturiers offer brides innovation in the field of wedding fashion: gowns, petticoat which is made of lightweight material and complemented by a more dense top in the form of beautiful folds and cascades.
Fashionable and lush wedding dresses of 2018-2019 are particularly well suited for fragile brides of low stature.
The flared skirt should start from the waistline or slightly lower. Dress with a low waist does not fit girls of a small stature. If your height is not big, do not give preference to such dresses because you will look even shorter.
It is easy to choose a suitable version of a magnificent wedding white dress, the styles are quite versatile for brides of various figures. When choosing, consider the features of the figure, the ratio between the waist, shoulders, and hips.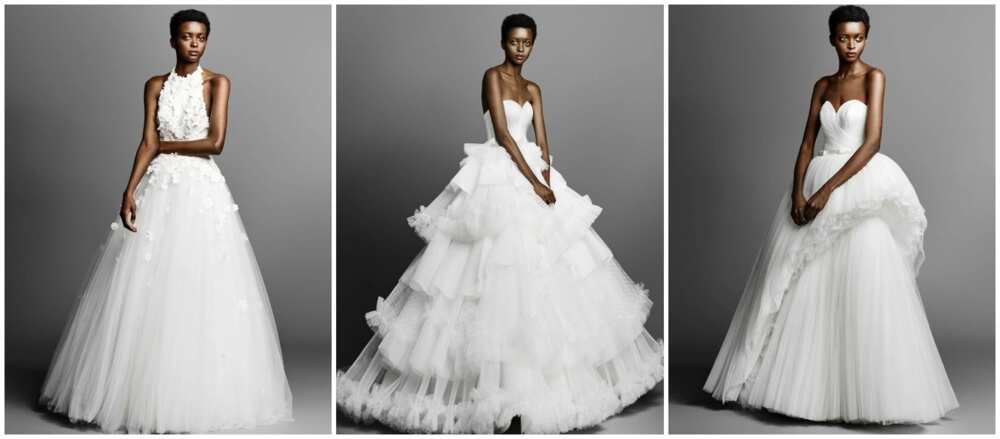 A-silhouette long dresses
The most common and fashionable wedding dresses in 2018 - 2019 have "A-silhouette". This style fits almost any figure, so if you consider yourself as a real fashionista, you definitely should give it a try.
Long wedding dresses are the most popular this wedding season. In a long dress, any girl will feel like a real princess at the ceremony. Also, a skirt to the floor hides the flaws in the legs, makes the silhouette slimmer and visually lengthens it.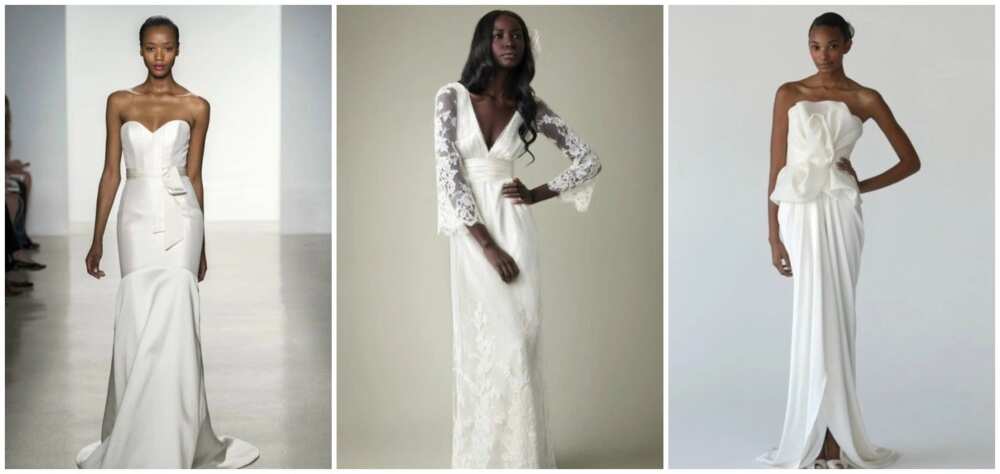 READ ALSO: Beautiful mermaid wedding dresses in Nigeria
White mermaid wedding dresses
A mermaid wedding dress fits the silhouette tightly, and in the lower part it expands and ends with a lush frill or a train. Such dresses look beautiful on ladies with proportional shapes. Even if you are not slim, you can wear a mermaid dress if you have an hour-glass type of figure.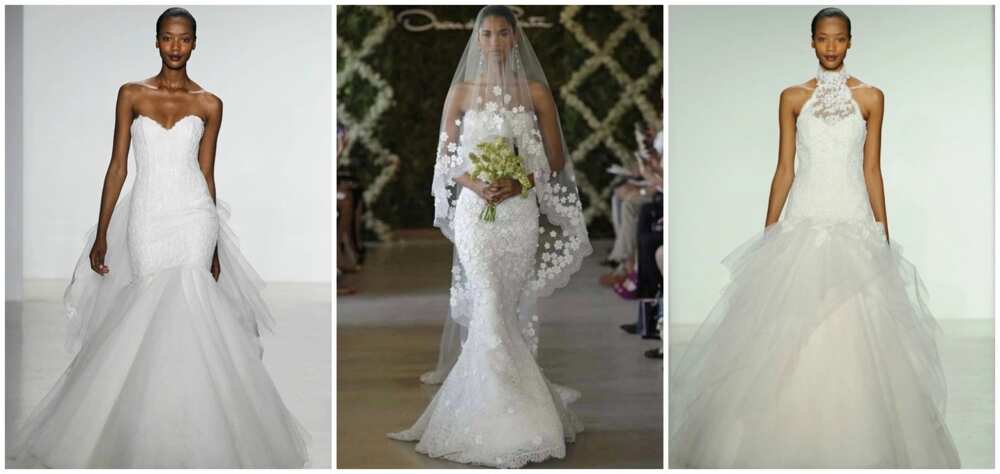 Deep cut-outs and necklines
Want to open the legs, but a short outfit does not fit into the format of your celebration? Then a dress with a flirty cut is the most suitable option for you! But please remember that a deep V-neck decollete is suitable for ladies whose cup size are not big.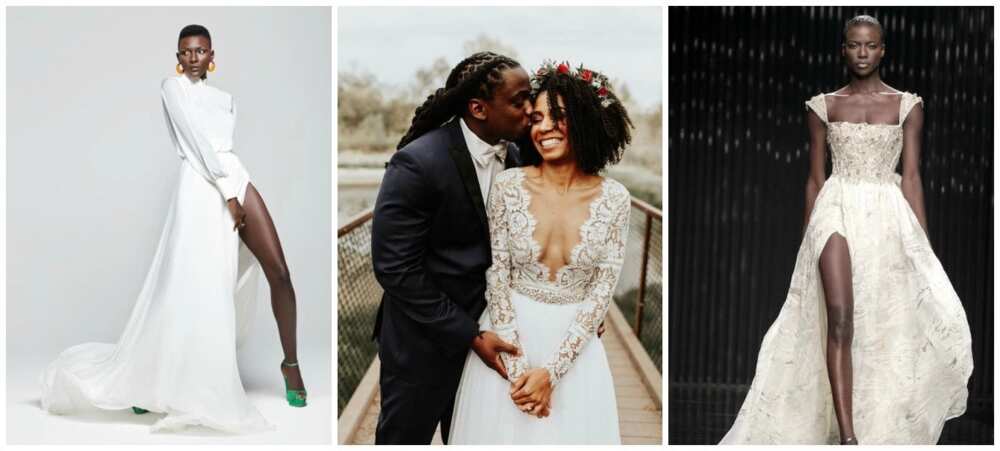 Stand-up collars
A strict and stylish element of wedding dresses in 2018-2019 is a stand-up collar. It gives the image of the bride elegance and sophistication. It can smoothly move into a fully closed bodice or frame a beautiful neckline. The stylish "American" neckline also emphasize the beauty of the bride's tender shoulders.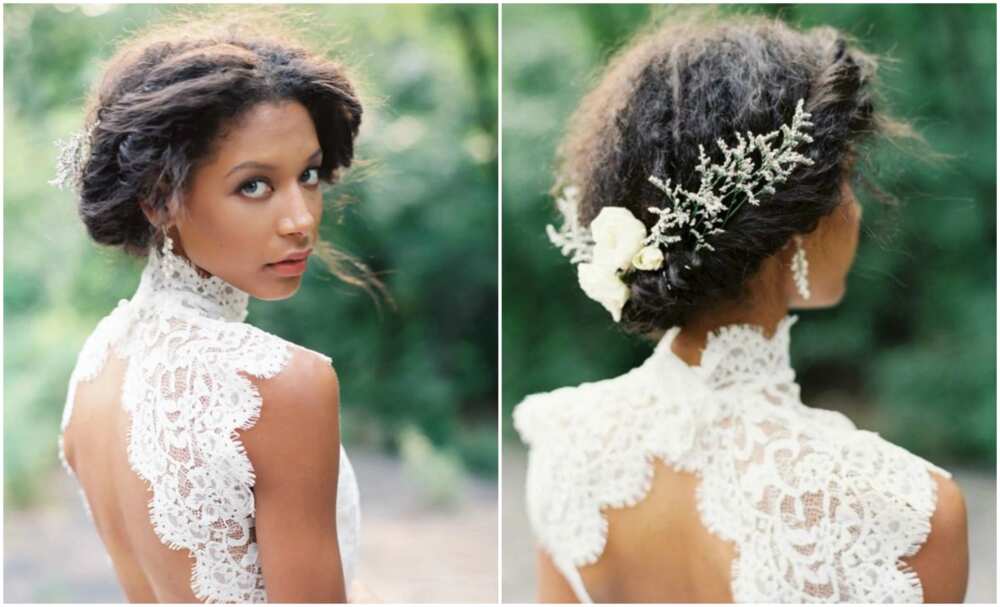 Exquisite wedding capes
Leading designers offer brides to abandon the veils and give preference to exquisite capes: short capes, slightly covering the shoulders, or long, majestic capes, add royal and chic to the bride's z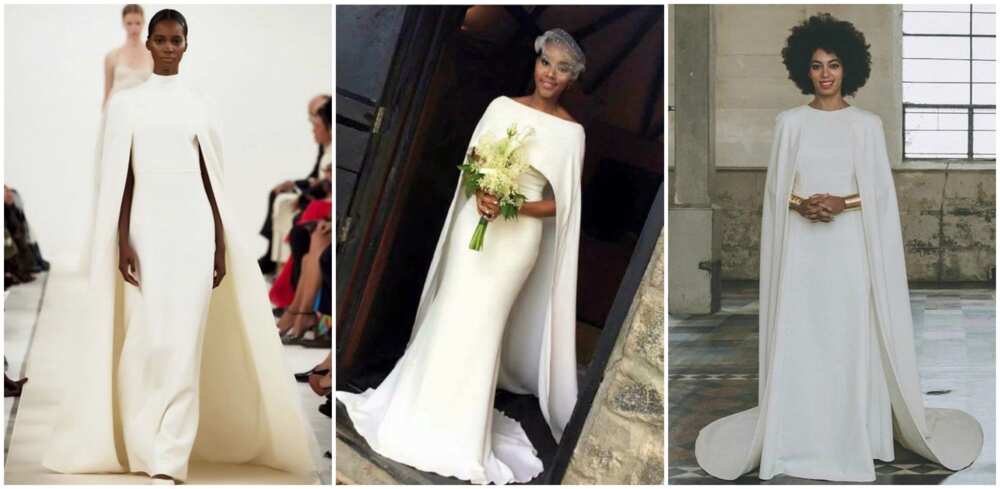 Short wedding dresses
Girls rarely stop their choice on the short wedding dresses. But this season we recommend getting away from the canons. Short flared, or straight dresses are more often chosen by long-legged beauties who want to feel relaxed at the feast and appear to guests in all their glory.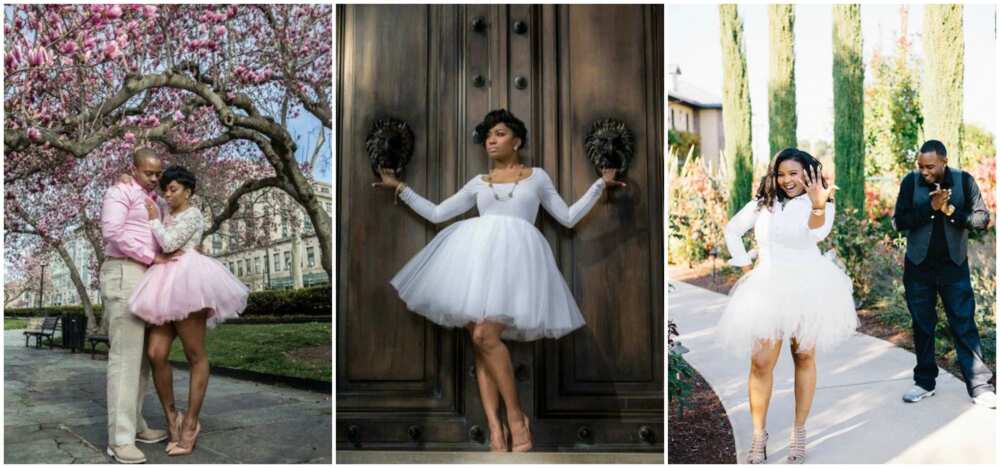 READ ALSO: Best Bellanaija chief bridesmaid dresses
Wedding pants and overalls
Pants for the bride is not news in the world of wedding fashion, for which year designers offer ladies who do not want to wear a dress for the wedding, alternative options: pantsuits and overalls. The 2018-2019 year is no exception! All the outfits in which there are pants: from suits and overalls to sets of pants + blouse or crop top are very trendy.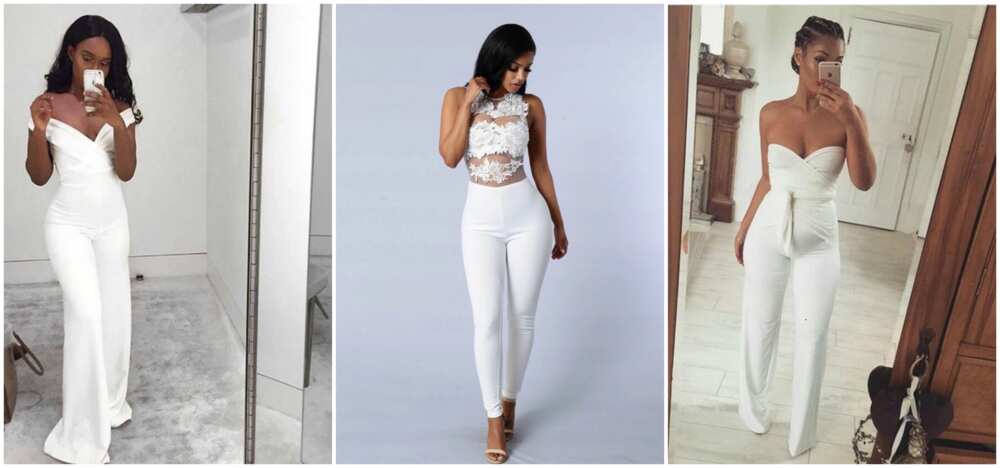 Trendy white wedding accessories
What makes the image of the bride luxurious and spectacular? Elegant dress, beautiful hair, delicate makeup, exquisite bouquet and, of course, properly selected accessories. Pay special attention to the wedding accessories, they should quietly emphasize the natural beauty of the bride and ideally approach the dress.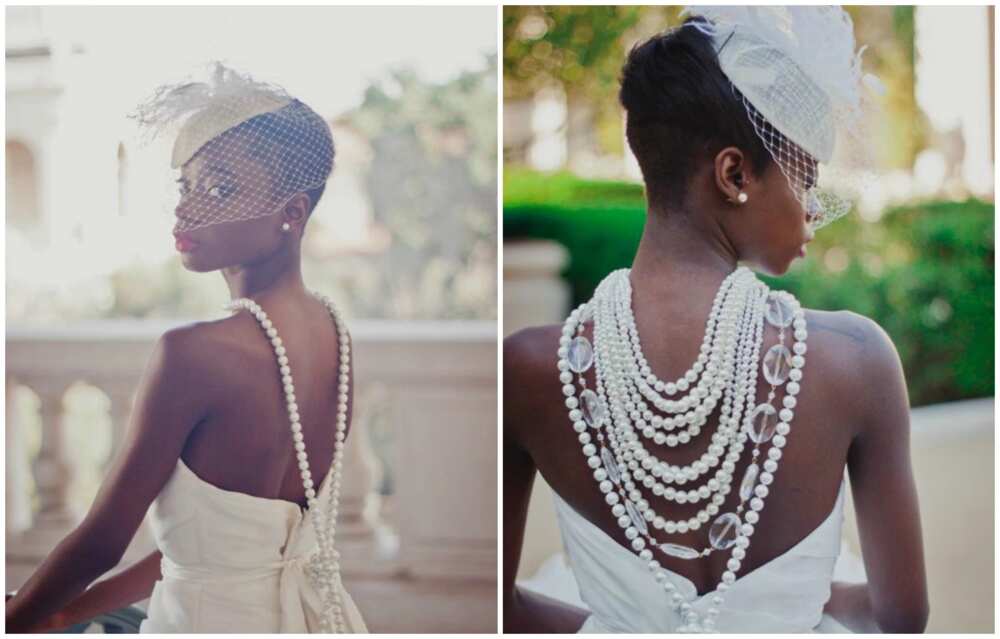 The former member of the popular group Spice Girls, Victoria Adams, was not too obsessed with jewelry, wearing only a small cross around her neck when she married David Beckham. Nicole Kidman adorned her wedding look with sophisticated pearl earrings. But Sofia Vergara, marrying Joe Manganiello, gave preference to luxurious Lorraine Schwartz earrings with diamonds weighing 55 carats!
So you should rely not only on the beauty of jewelry but also on whether they fit into your wedding look. About this, we will talk further.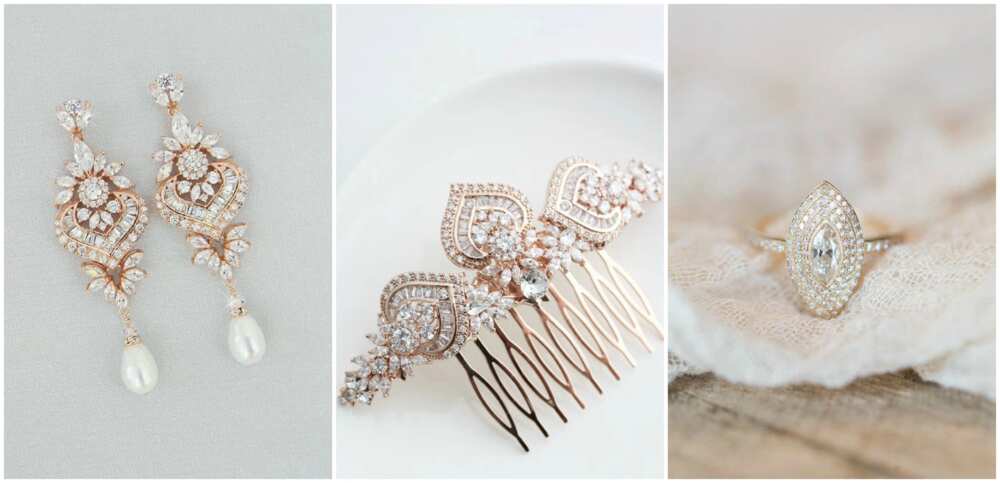 READ ALSO: Best Nigerian white wedding hairstyles in 2018
How to choose the perfect jewelry
Jewelry should ideally emphasize the beauty of the bride not get all the attention.
Wedding accessories should match the style and color of the wedding dress, as well as ideally emphasize the neckline of the wedding dress.
Jewelry (necklace, earrings, bracelet) should be in harmony with each other because buying a set of jewelry that will be made of the same material would be an excellent solution.
You should not put all the jewelry on the wedding at once: necklace, earrings, bracelet, rings, so as not to overload the wedding image. Prefer individual tandems, for example, earrings + necklaces. Besides, know the measure: do not wear a massive necklace at the same time with large earrings, not to overload the wedding image.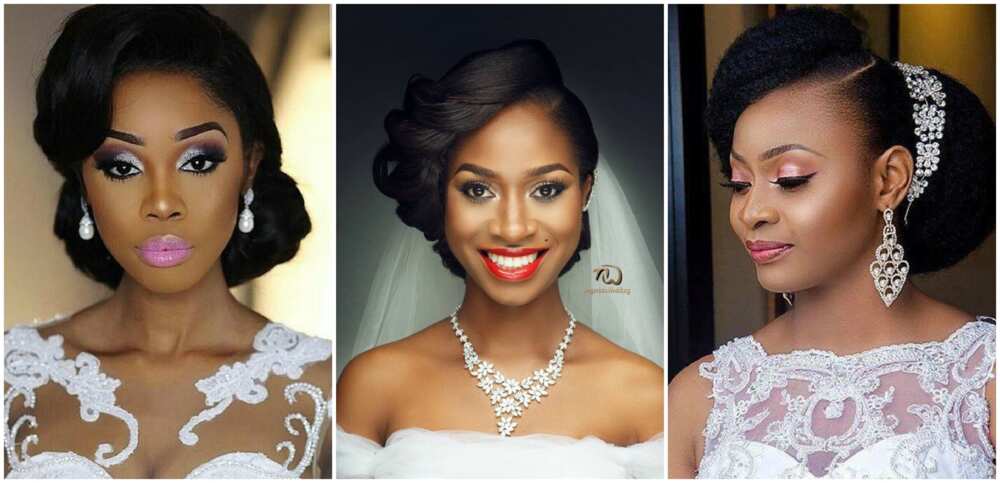 It is better not to wear a wedding ring; the only decoration on your fingers should be a wedding ring. There are, of course, exceptions if it is a ring that comes with a necklace and earrings or an engagement ring.
Watches are not the best accessory for a bride, even if they are very beautiful. As a replacement for the watch, you can choose a bracelet that fits only to the open dresses. But if you chose a dress with a long sleeve for a wedding or decided to wear gloves, then it is better to give up the bracelet.
Jewelry is one of the most important details of the wedding bride`s image, so we advise you to pay special attention to its selection. Do eyes scatter from the variety of choices in a jewelry store? Follow our pieces of advice and recommendations, then you can choose for yourself the ideal jewelry that will emphasize your natural beauty and charm and will not overload your wedding image!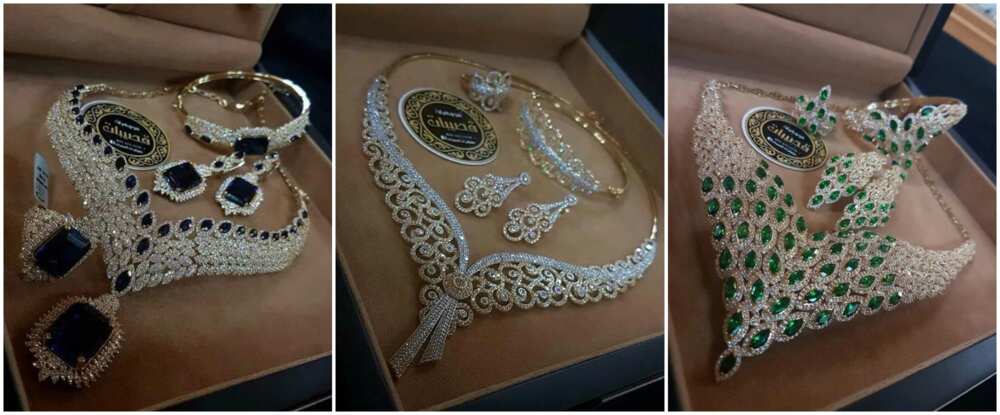 A wedding is one of the most important events in the life of any woman, so you need to prepare carefully and pay special attention to your bridal image. Every bride wants to look stylish and stunning. Use tips and tricks from our post and you will definitely become the queen of the ball.
READ ALSO: Latest Nigerian wedding jotter designs
Source: Legit.ng