Hausa dressing styles for ladies
Hausa girls are known for being very beautiful and stylish. For this reason, we have decided to dedicate this entire post to the fascinating Hausa dressing style for women. Check out our top picks for all sorts of occasions: from an afternoon stroll around town to a fabulous traditional wedding. These Hausa looks will slay you!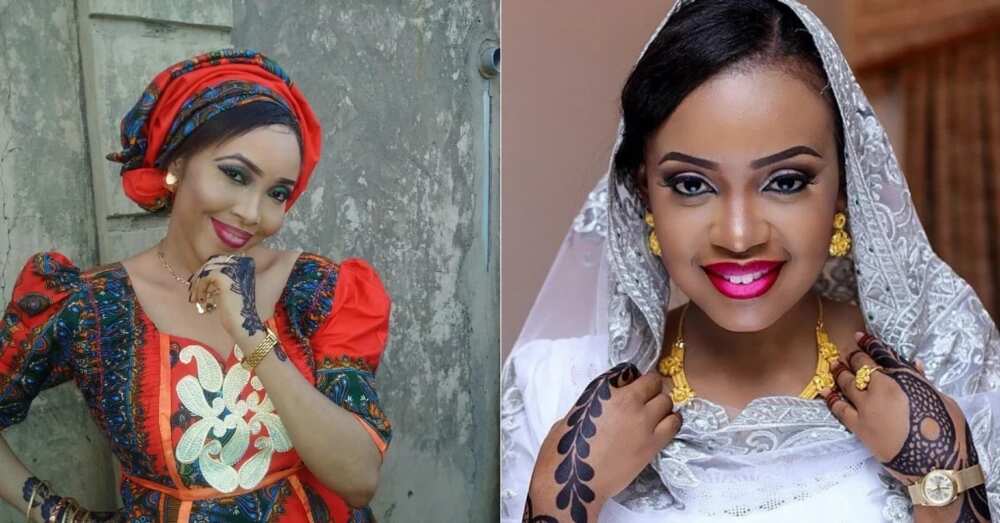 Just as we have mentioned in the introduction, the Hausa looks here are divided into two categories: regular outfits and bridal gowns. That said, every look featured here is absolutely incredible, so you should take a look at all of them.
Hausa styles for everyday occasions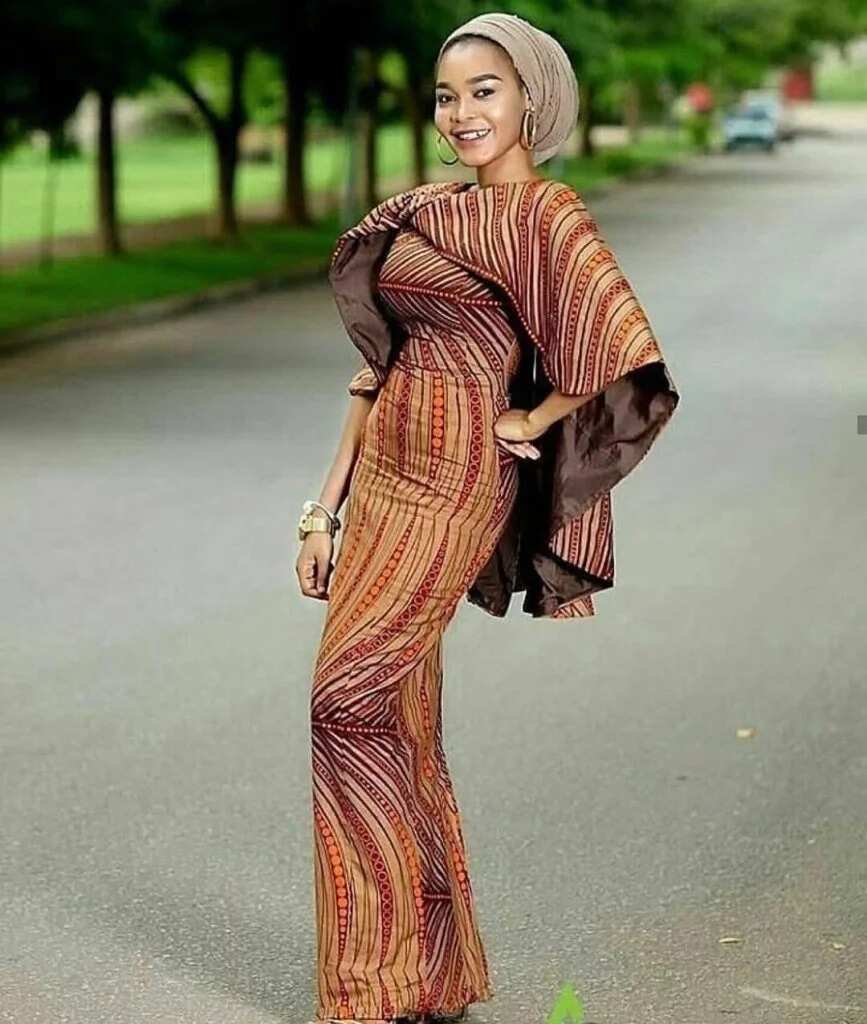 There are lots of beautiful Hausa styles you can wear in your everyday life, and what better way to start this category than with this Hausa Ankara style. The gown has a classic silhouette, and its length is perfect for whatever official occasion you might have in mind.
The peculiar Ankara pattern is not quite as vibrant as most Ankara patterns are, but that does not make it any less wonderful. And, of course, we just have to mention the gorgeous cape, as it is easily the best part of an overall extraordinary outfit.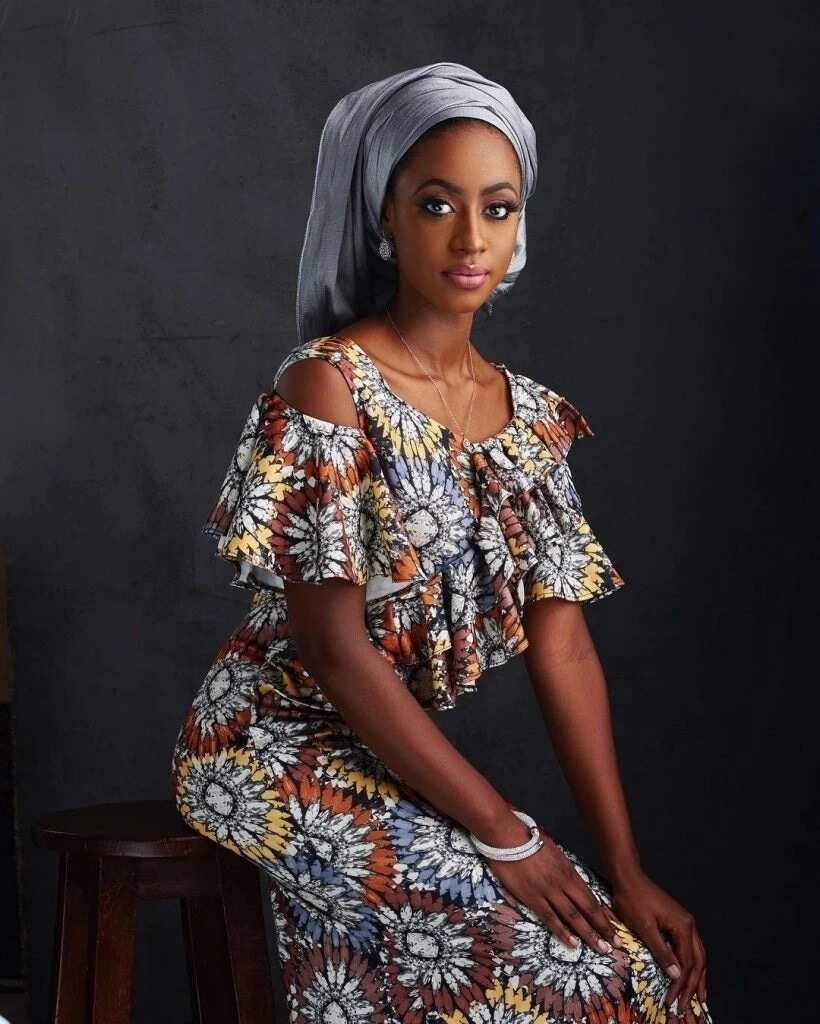 Next, we have this lovely floral-print gown. It looks simple yet stylish, and you can wear it anywhere you want. Our favourite element of this dress is the cold shoulder, which exposes just a little bit of skin. The ruffled sleeves and collar also look really nice and refreshing. The monochromatic silver head tie rounds up the whole outfit very nicely without making it look too busy, and the minimalistic jewellery elevates the look to the next level of elegance.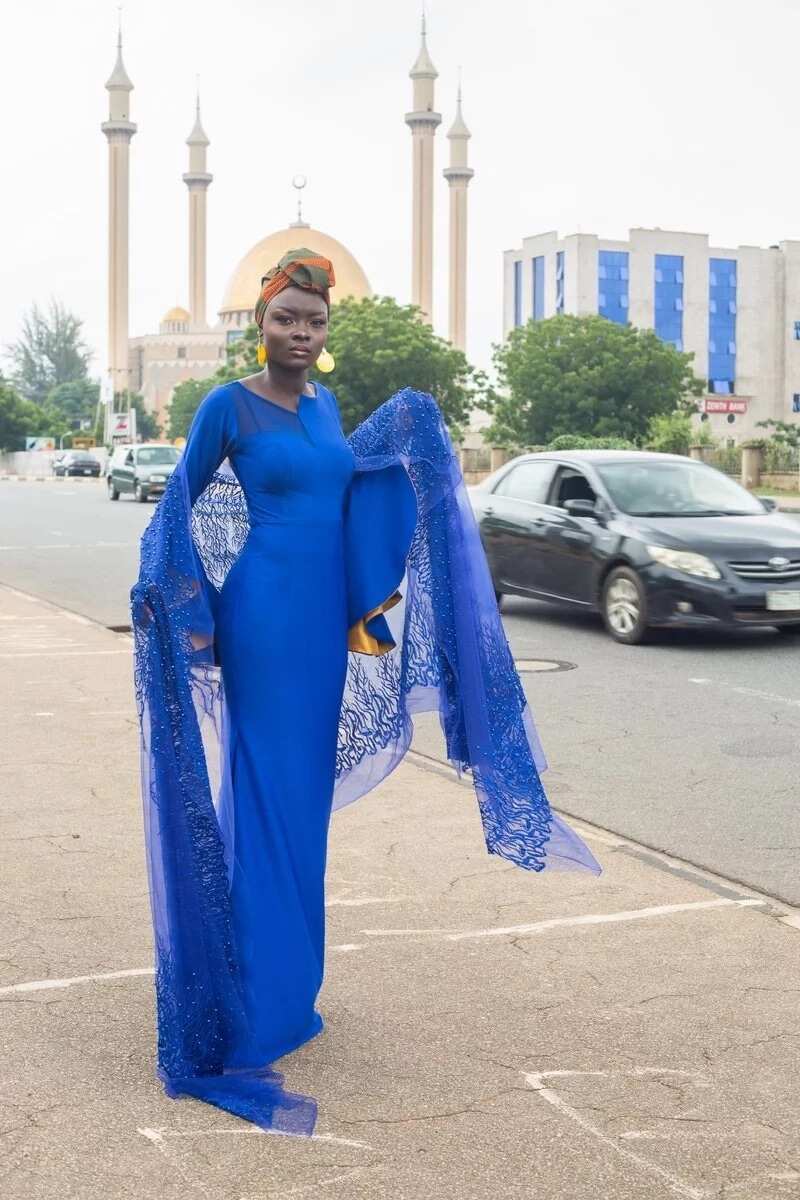 Now, if you want to look like royalty, then this dress is for you. Everything about this look is perfect: from the gold lining of the ruffled sleeves to the asymmetrical neckline all the way to the sheer patterned shawl. Paired with an ornate head tie and minimal jewellery, a breath-taking gown like this one can make you feel very special. Oh, and you can be sure that all eyes are going to be on you, no matter the occasion.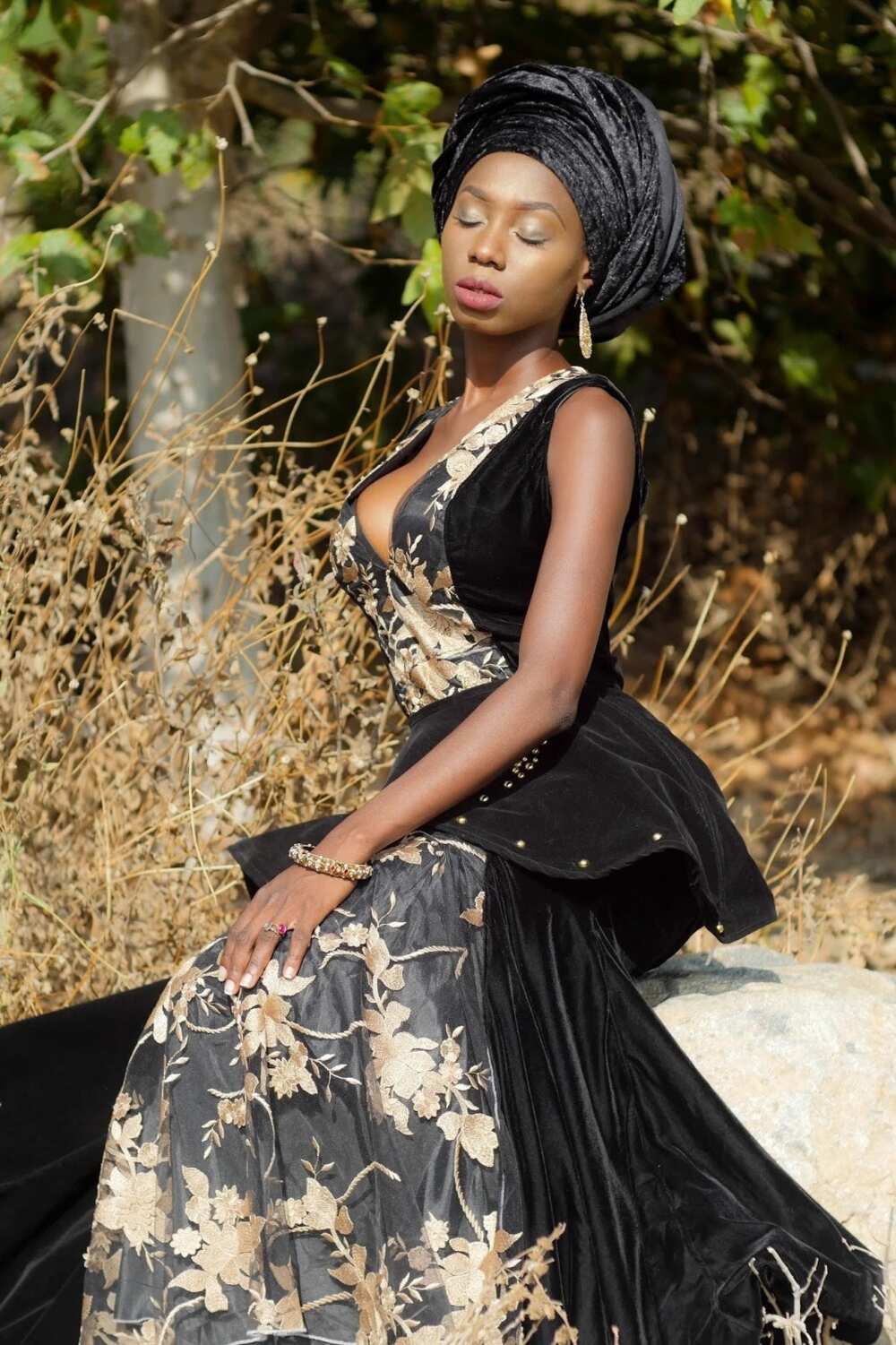 Even if you are not the bride at a wedding, it does not mean you cannot look like a million bucks. With a dress like this, you are guaranteed to catch some interested looks from several (hopefully) single guests. Even though it is black, the golden elements and jewellery make this outfit fit for a queen. And although it does not exactly follow the unspoken rules of Hausa wears (that plunging neckline is anything but demure), it still deserves a spot on our list of spectacular Hausa styles.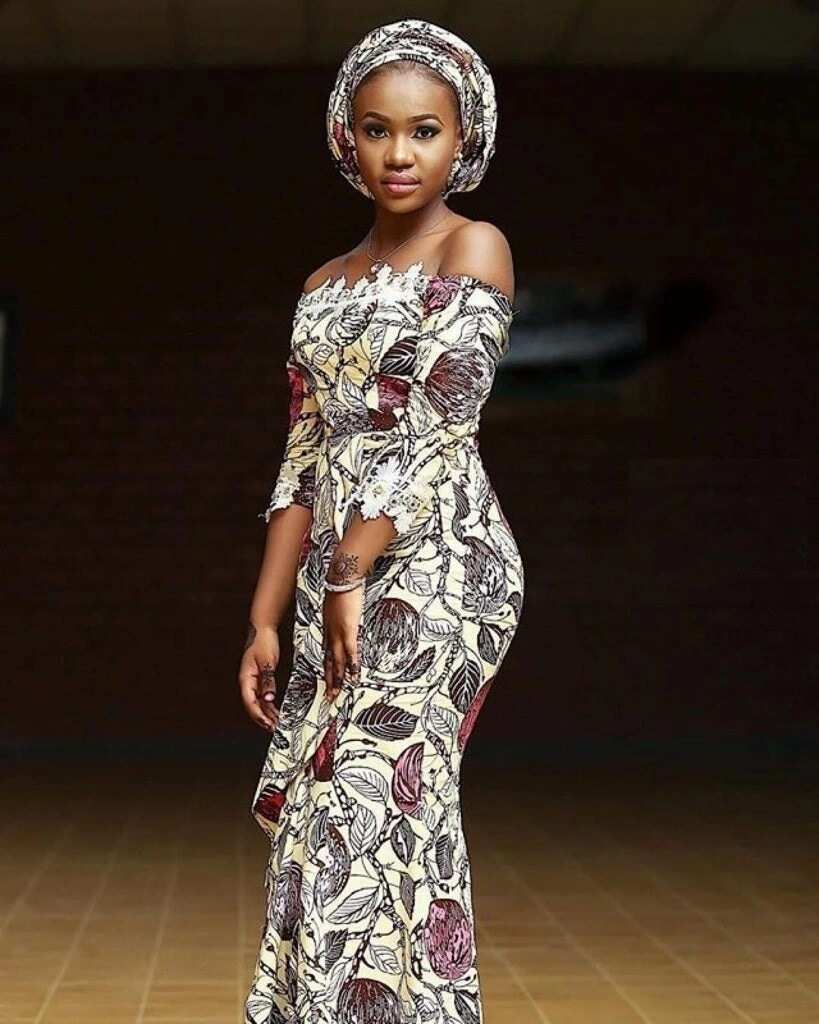 To finish up this category, we have another stunning floral dress. Despite it being literally covered with flowers, it does not look too 'in your face' about it. The muted colour palette will not divert all the attention from the main event — you. In addition, you can be sure everyone will be looking at your face thanks to the off-the-shoulder cut and a matching head tie.
Hausa style for a wedding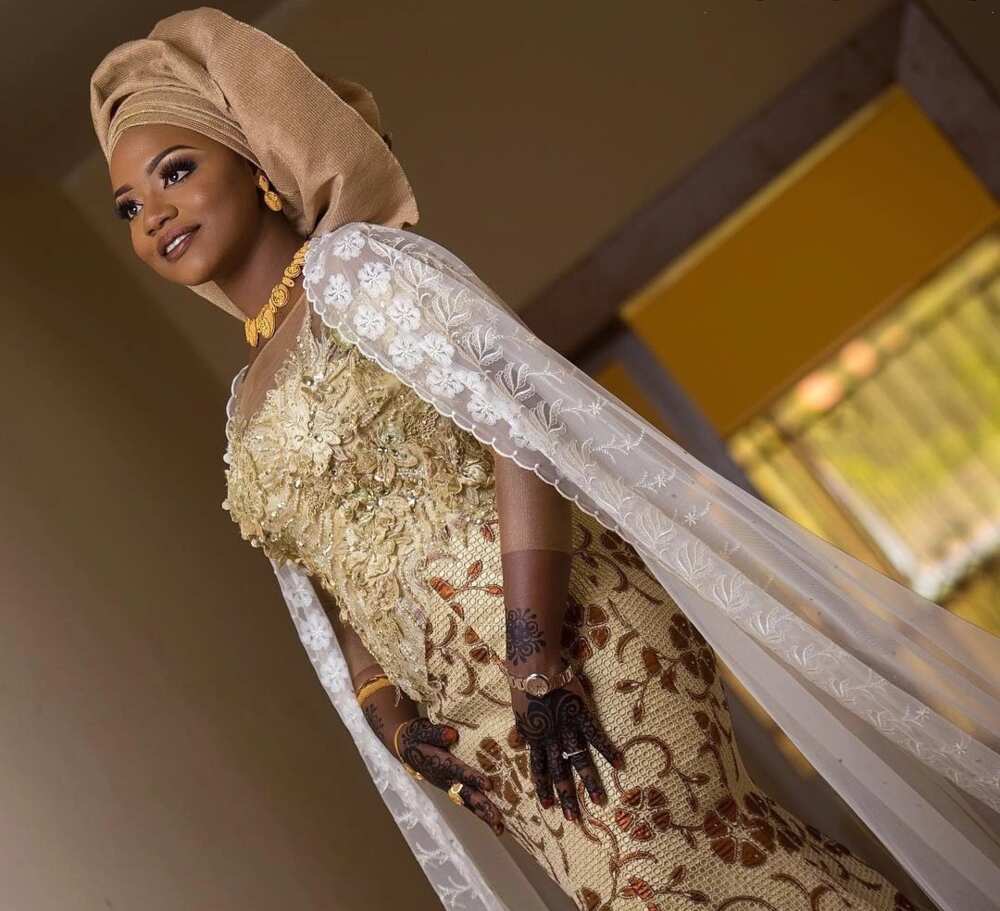 READ ALSO: Female Hausa traditional attire
Now that we have moved on to the bridal gowns, prepare to be amazed. Our first entry alone should be enough to knock your socks off. It seems like two different dresses were melted together to create this outfit. Paired with a sheer white shawl, lalli (henna hand tattoos) and a lovely sparkly head tie, this gown will be a wonderful choice for your big day.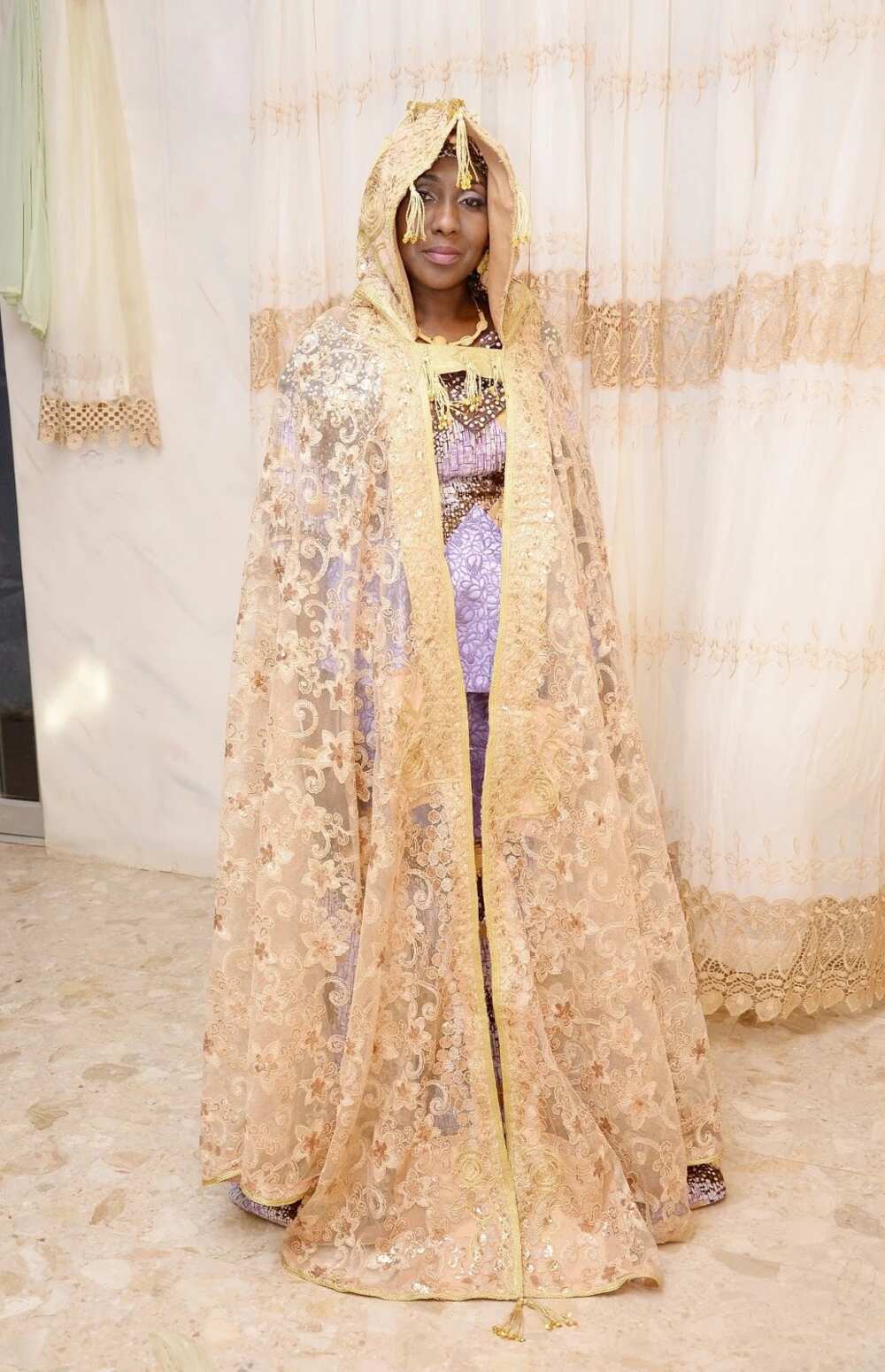 When talking about Hausa bridal wears, we cannot forget about the intricate hooded capes that brides wear (usually in the Northern Nigeria). Each cape is beautiful and unique, and it serves the purpose of concealing the bride from the prying eyes. At the same time, they can be an outfit in and of itself. This particular cape, however, gives us a nice little glimpse of what is underneath thanks to its sheerness.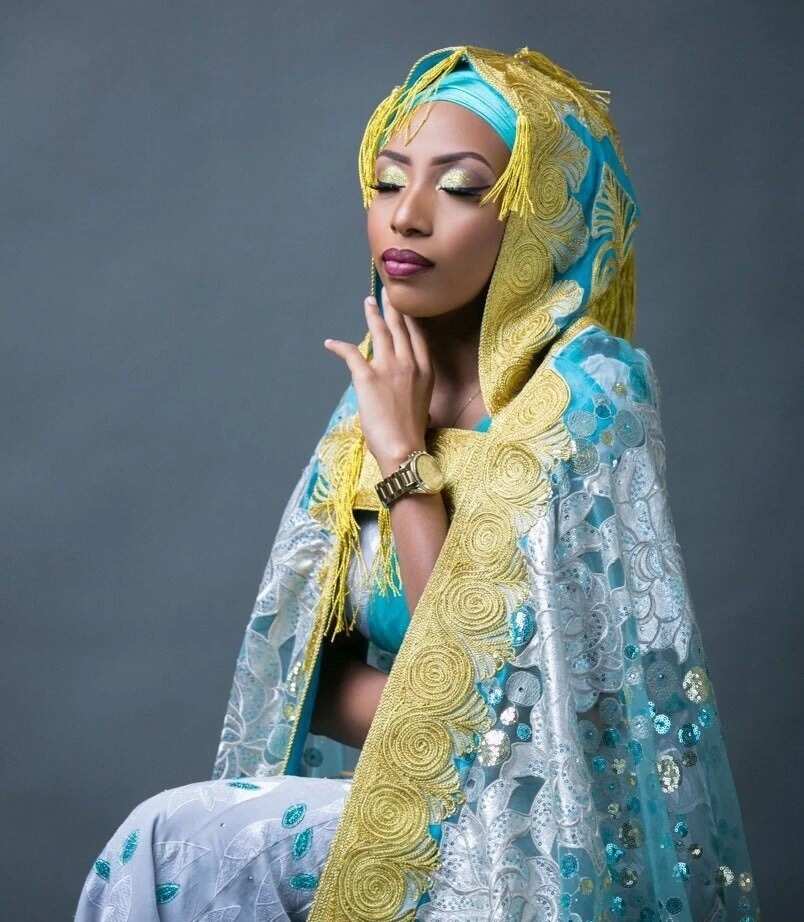 Sometimes, these capes can be done in the same style and colour as the dress, such as in this case. The perfect combination of light blue, white and gold makes the already beautiful bride look even more soft and delicate. The golden swirls paired with the sparkly blue chiffon makes us think of the ocean. Now we are curious how the groom looks like! :)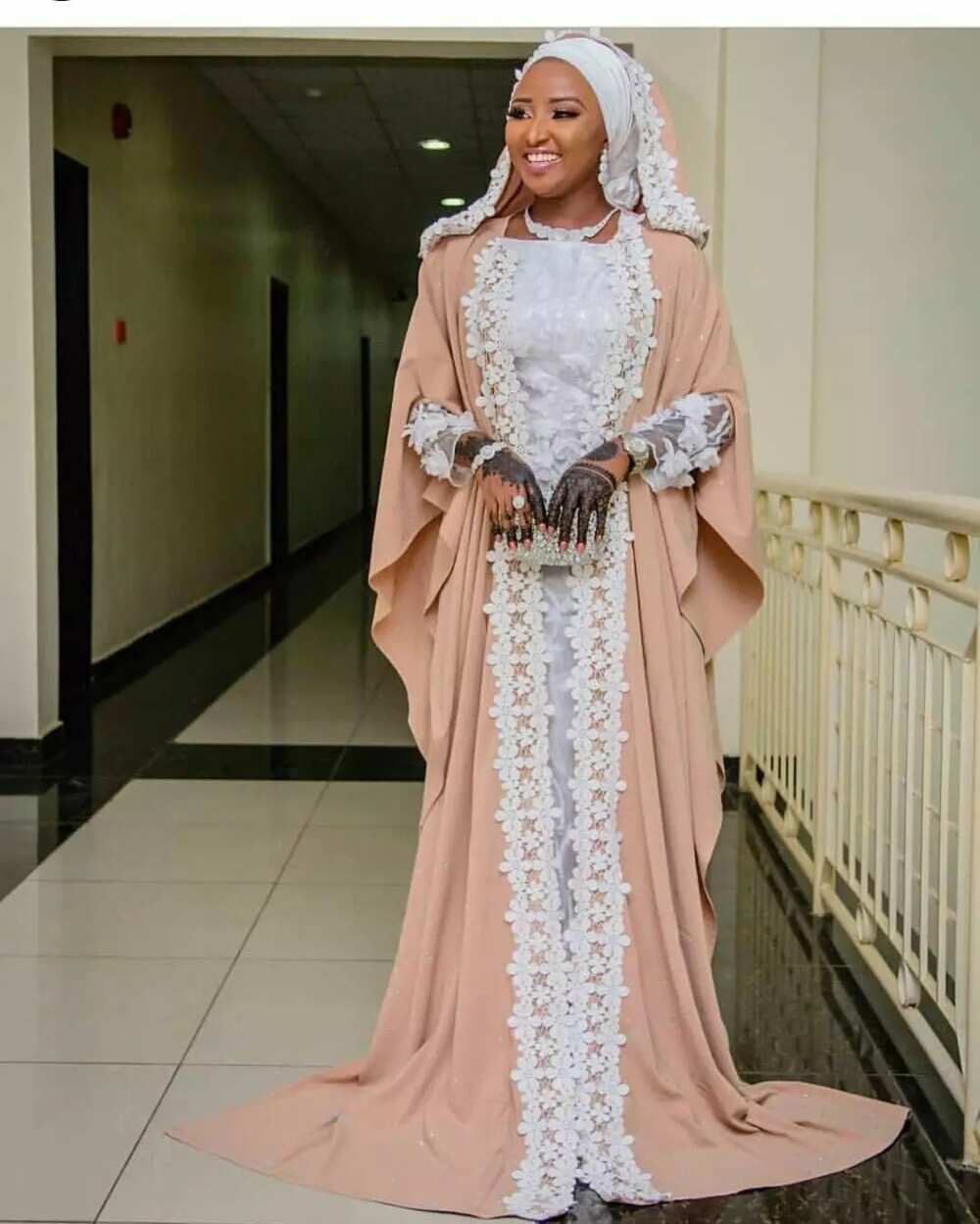 Here is another lovely bridal outfit that makes the bride look very light and ephemeral. The soft pastel of the fabric mixed with the flowery lace creates a wonderful illusion of being lightweight. And can you just imagine how flowy this gown is when the bride is moving around or even just standing in a light breeze? We also want to mention the jewellery, which has been chosen so perfectly for this dress that it looks like a genuine part of it.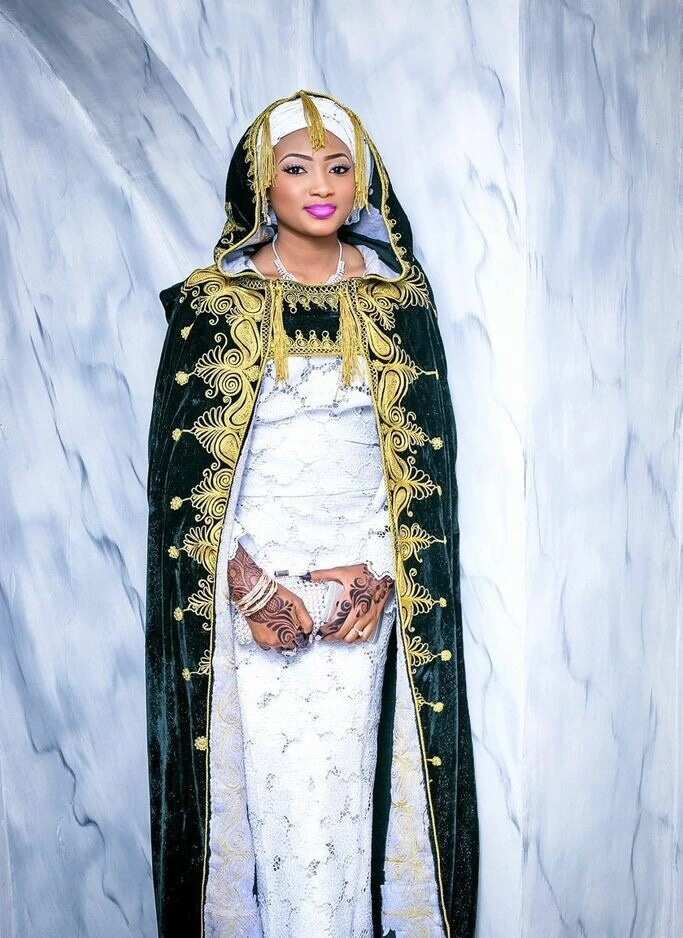 Last, but certainly not least, here is our fifth pick for this category. While the dress looks quite simple and classic, with its white floral lace and accompanying head tie, the main event here is the cape. It looks like it is made out of heavy-looking black velvet, and embroidered with real gold. What is even more fascinating is that it is lined with the same white lace that the dress is made out of. Paired with simple jewellery and lalli, this outfit takes the cake.
The wedding cake! :)
Those were our top 10 picks of the most beautiful Hausa wears for women. As you can see, there are all kinds of designs and styles to choose from, and you can always find something for any occasion. Would you like to own any of these outfits? Which one of these looks was your favourite? Let us know in the comments. You can also share some of your favourite Hausa looks there as well.
READ ALSO: Top 8 Hausa novels blogs
Source: Legit.ng