Long gown styles in Nigeria to rock in 2018
See latest long gown styles in Nigeria to rock in 2018. Choose the options you like and create images for various occasions. After all, long dresses are relevant not only for events but everyday, and looks too.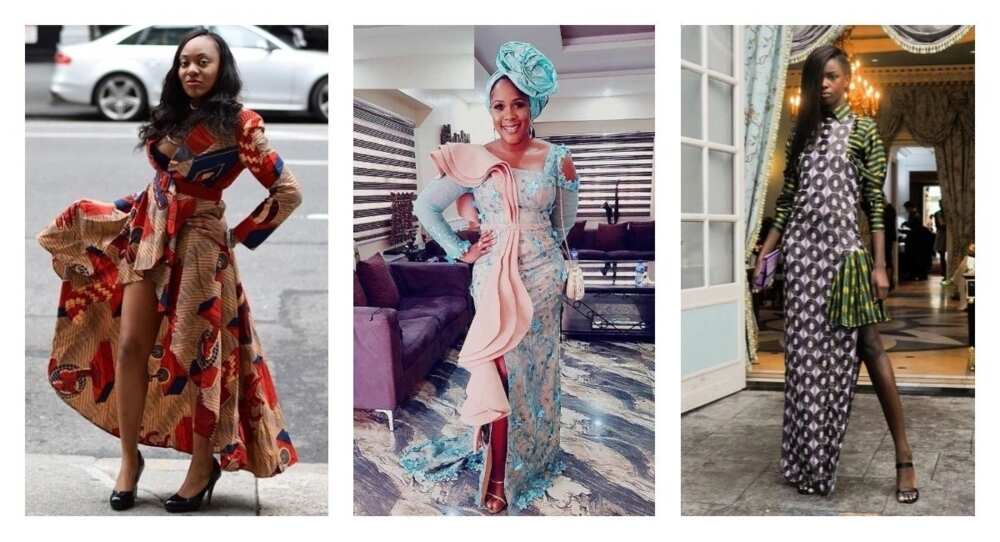 Choosing long dresses, a lot of photos surprise us with a variety of prints and styles. Besides, it's important to take into account the individual figure and height.
The long gown perfectly hides the flaws of the figure. In a hot season, clothes should be cool, free and comfortable. Fashionistas choose maxi dresses to hide the legs' extra pounds or visually increase the height.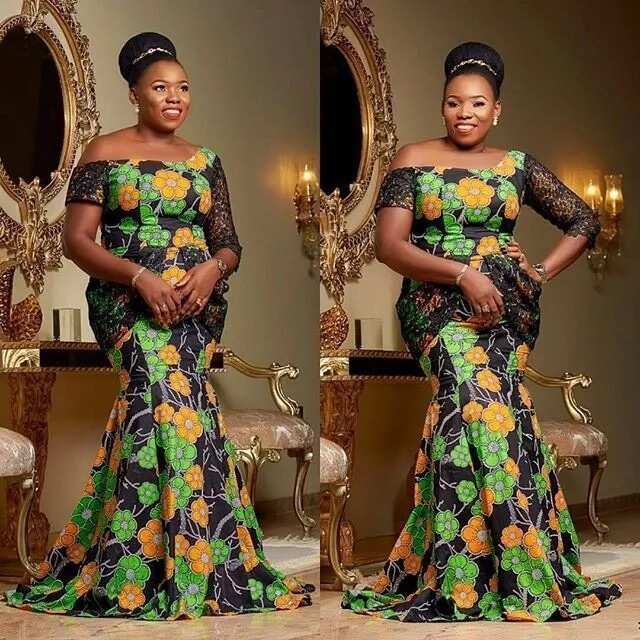 Short dresses don't fit every girl. Long dresses have many advantages over other types:
On a hot day, silk, thin cotton, and chiffon fabrics allow the body to breathe. In the evening, the textile keeps the necessary heat.
If you choose the right style, long models emphasize the figure merits and hide the demerits. The height doesn't matter since the flowing maxi skirts look elegantly both on the short and tall ladies.
READ ALSO: Beautiful Ankara maxi dresses for real fashionistas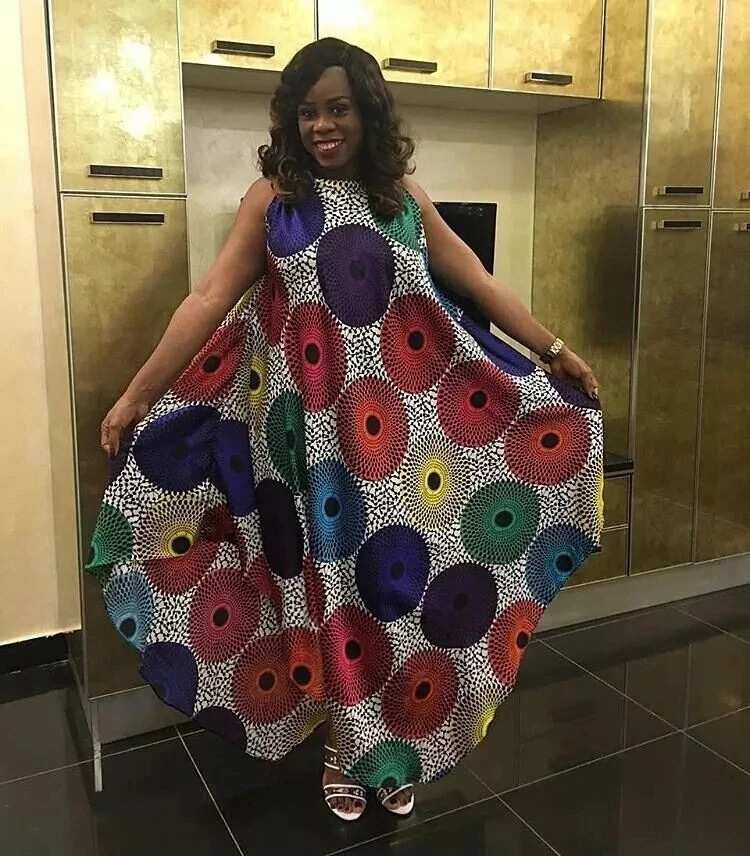 A loose tailoring and potential cutout allow you to move freely. The maxi dress self-sufficiency and versatility conquers fashionistas with its suitability for visiting any event.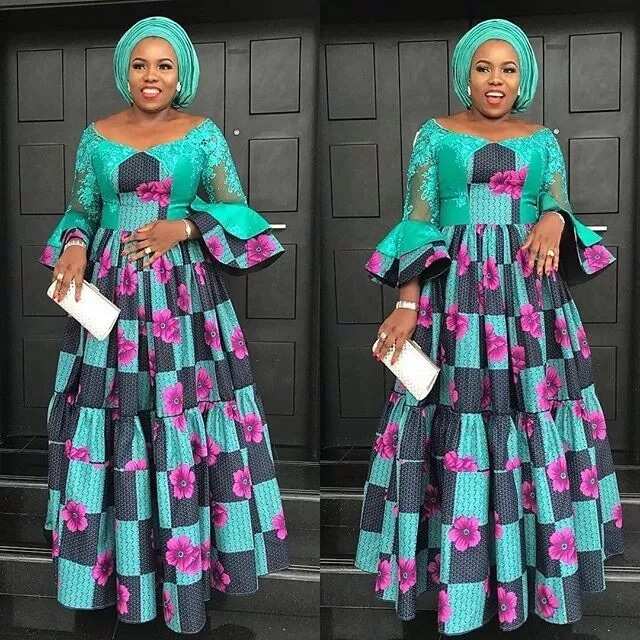 Long gown styles
The dress's length allows making unique and original gowns. These season designers create new styles for every taste. The most common are straight and A-silhouette designs. But apart from them, there are at least 10 excellent variants of long dresses:
Dress-case has a straight line skirt from the hips and a fitted silhouette at the waist.
Balloon gown combines a skirt-tulip and a loose top with a belt for an accent on a waist.
The wrapped dress is used with a belt and an overstated waistline.
A dress shirt is perfect for office style and summer evening walks.
Kimono gown has free tailoring and flared sleeves.
Mermaid style for a dress is suitable for attending festive events. Some models have a straight or fitted tailoring at the hips and a flared hemline from the knee. Other items are made with a flared hem from the thigh line. They are relevant for brides and long native gowns.
The Greek style combines simplicity and chic. An overstated waist is often highlighted by a wide belt. A skirt is decorated with light folds.
A dress with straight tailoring looks effective and expensive emphasizing the chest line.
A classic long fitted gown suits petite girls, as it visually doesn't shorten legs.
READ ALSO: Top Ankara styles for wedding occasion
Clearly indicated long length for dresses does not limit designers in their creativity. You can choose an evening style with an open back or emphasize the décolleté with a beautiful neckline.
Petite ladies look great in long gowns if they are combined with high-heeled shoes.
The comfortable sandals can emphasize the femininity of tall girls. A flat sole helps your legs to rest throughout the day.
Women with a figure like an inverted triangle should pay attention to the style with a cut-off waistline. Choose loose styles of flowing gowns with a belt to make the hips visually wider. Such design forms chic folds on the skirt.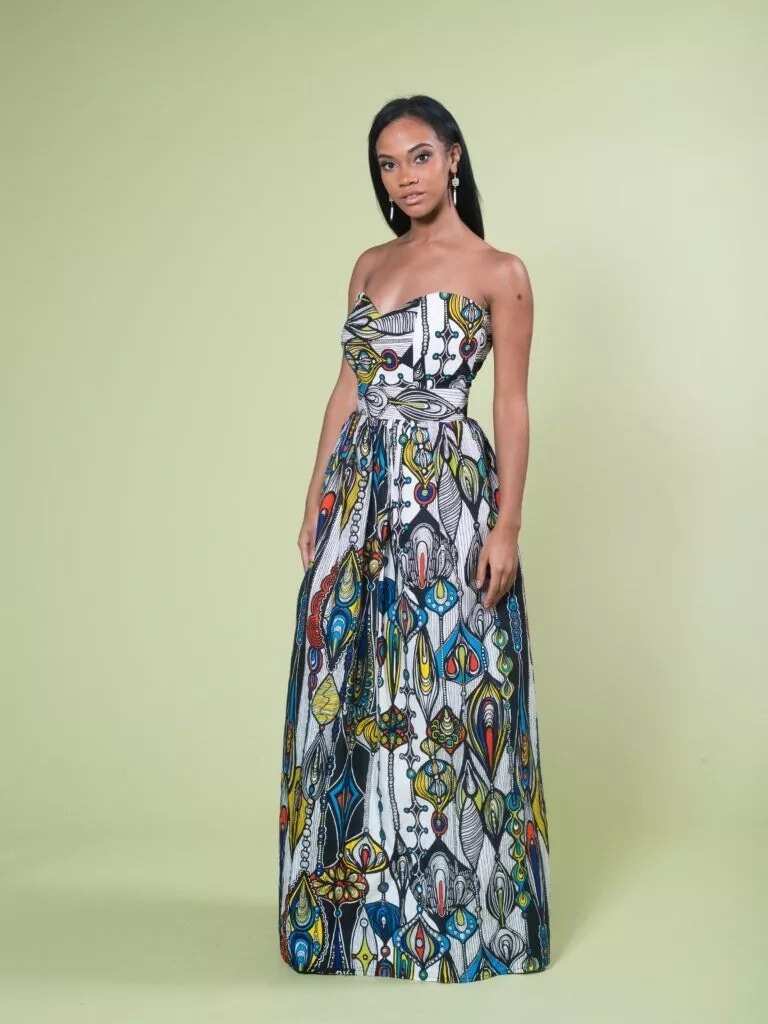 Long strapless sundresses are used if you want to have an elegant and simple upper part. Otherwise, the straps should be thin and placed close to the neck.
Ladies with a pear-shaped figure should make sundresses from flowing material. Such fabrics smoothly envelop the hips and allow you to balance the large bottom and narrow top.
Pay attention to the styles with a shoulder line down if you want to add volume to the shoulders. 'Angelica' or 'boat neckline are also suitable.
A dress with a jabot in the décolleté zone can visually increase the chest. For this purpose flounces and ruches are appropriate too.
READ ALSO: Latest Aso Ebi styles with cord lace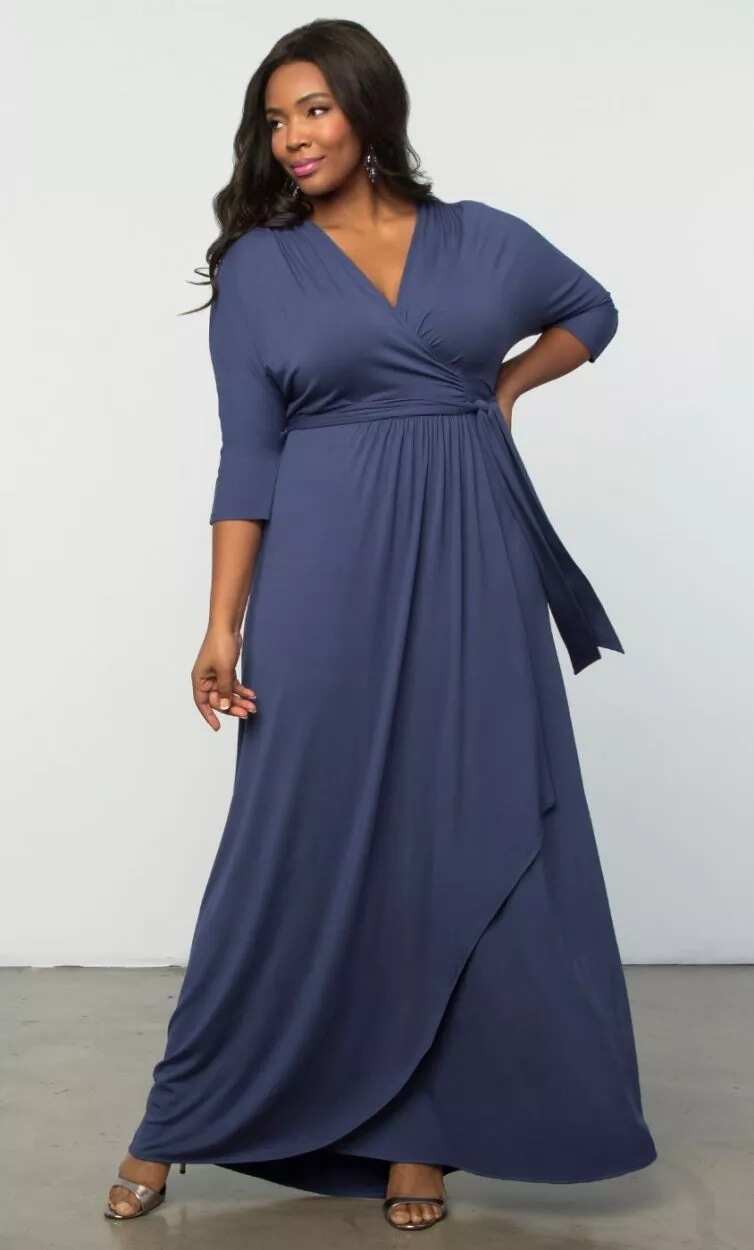 A small round or v-shape neckline can hide too large chest. A wrapped dress or its imitation suits plus size girls. The wrapped style can pull out the silhouette. Besides, long dresses in Boho style are good for ladies with extra pounds.
The apple or pear-shaped figure looks great in dresses with an overstated waist. In this case, protruding abdomen is hidden, and the chest is underlined.
A large buckle or belt at the waist is recommended for ladies with 'hourglass' figure.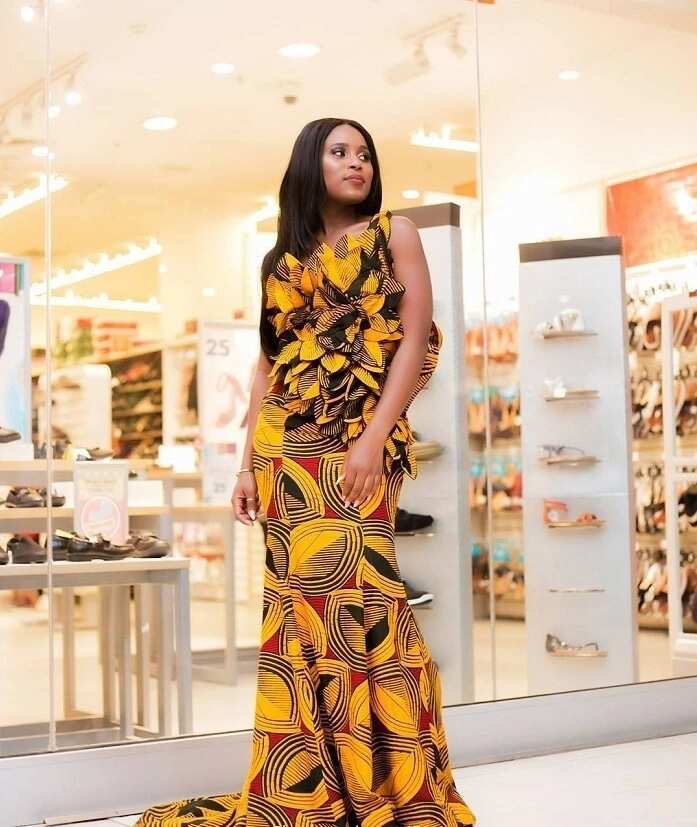 Nigerian gown styles in 2018
Of course, when choosing a dress, it's important to pay attention to the individual features of the figure. Choose trendy dresses if you want to look stylish and keep up to date.
Pleated hemline on the skirt of a long dress is a discovery of the season. This detail gives charm, romance, and femininity to the image. Black and white print is extremely topical. It's suitable for any occasion and does not look boring.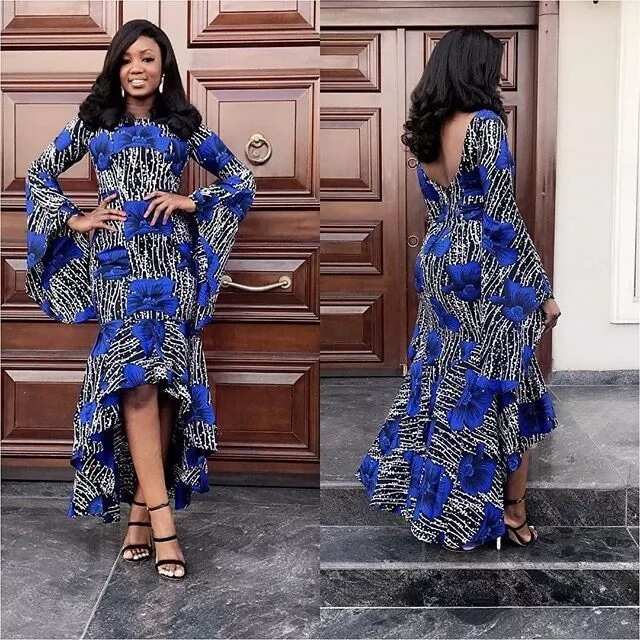 At the same time, bright, juicy tones of Ankara long gowns don't lose their popularity. Trendy colors 2018 are lilac, lavender, red, purple, blue, green, and dark blue.
Floral motifs remain in fashion, so beautiful flowers on the dress are what you need in the summer heat.
Long dresses with small peas' ornament look exquisite. Such print suits any figure and makes it visually slim.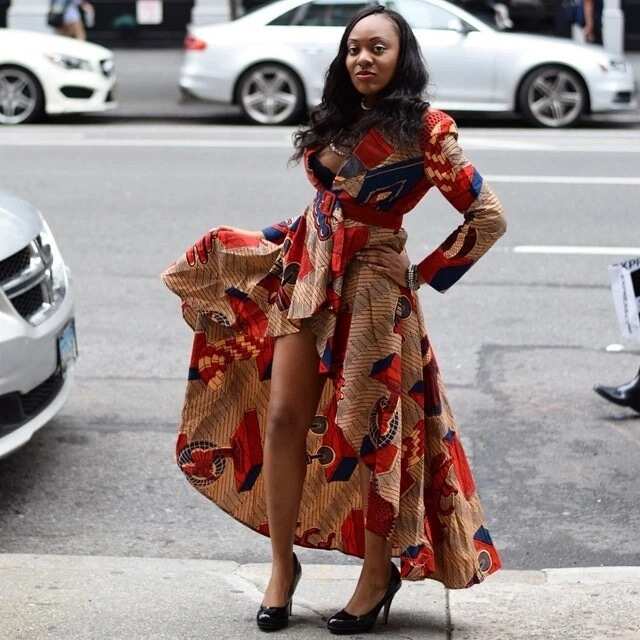 Additional elements for long dresses according to the selected style
The country style is created using sandals on a wedge and a leather woven bag. In cool weather, a cardigan of pastel tones or a denim shortened jacket goes with the maxi dress.
The evening harmonious image is created with a combination of a gown made of cotton, shoes with a textile top. Leather sandals go with chiffon, satin and silk dresses, as well as patent leather shoes.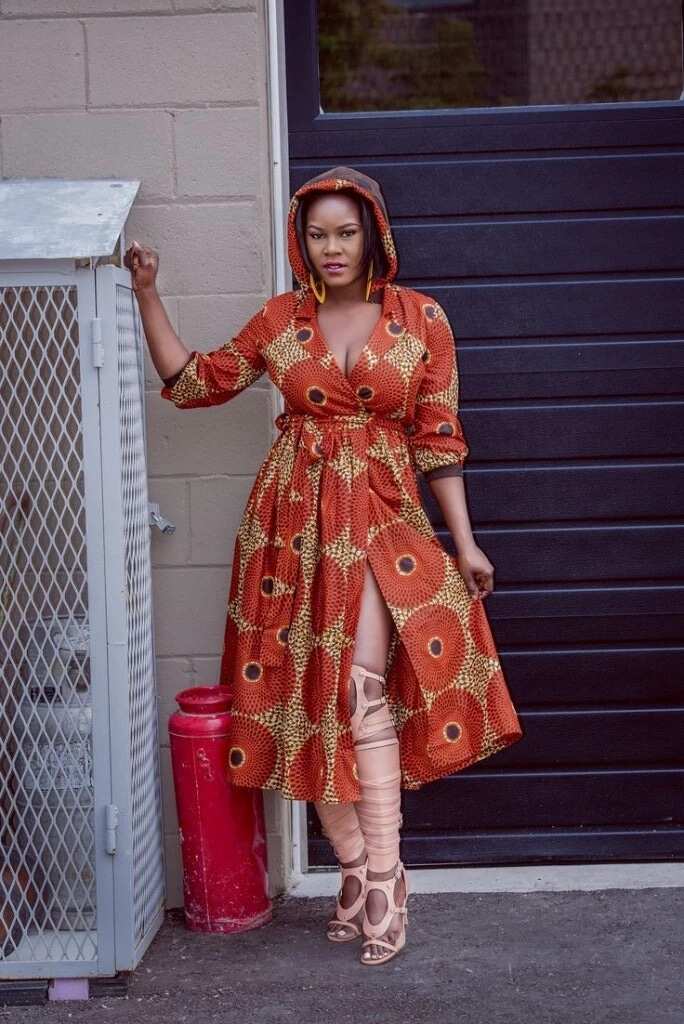 Particular attention should be given to the choice of accessories. Belts perfectly emphasize the waistline.
For the casual style, you can pick up light flying scarves, large bags, and big glasses. Such a combination is suitable for city walks and trips to nature. Large jewelry, hats are also relevant in addition to the dress. A long cardigan and narrow waistcoat save you if the weather is cool.
Your companion will remember a dinner at the restaurant for a long time thanks to your romantic image. It's easy to create it with a long dress and stole made of elegant fabrics.
Advice! Don't be afraid to experiment with the image. Accessories indicate your good taste and impeccable sense of style.
See more photos: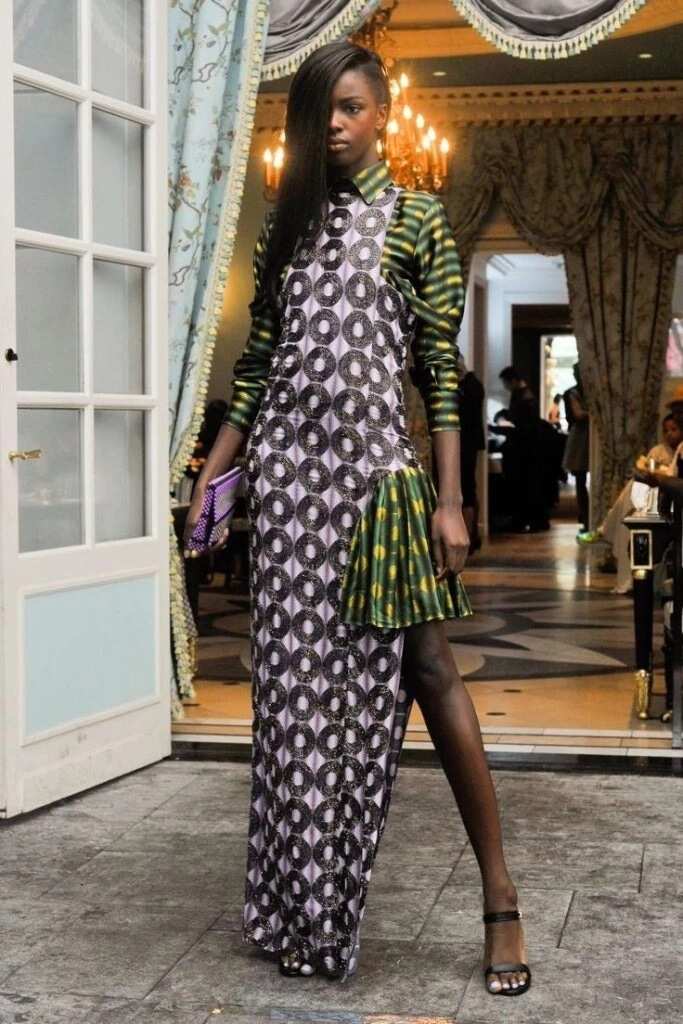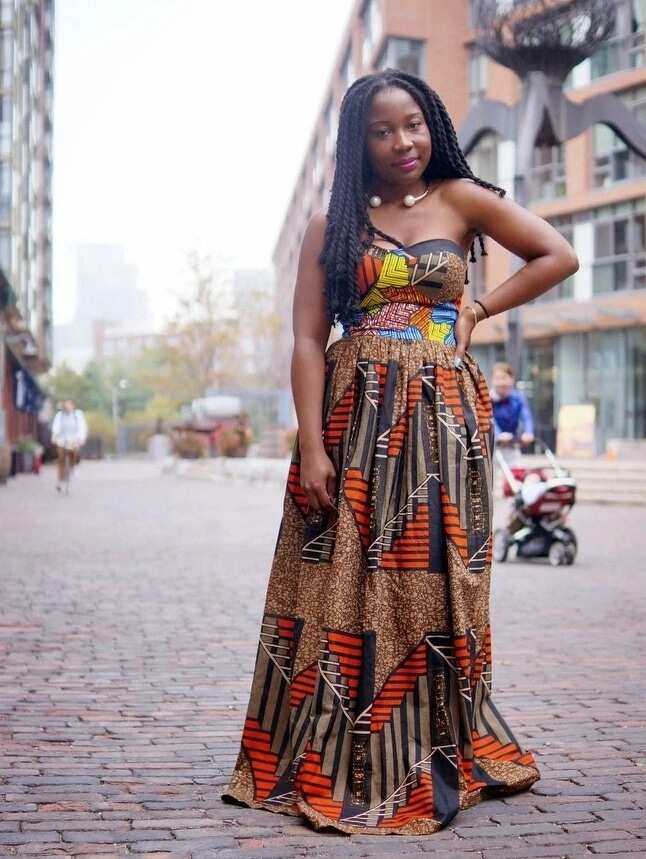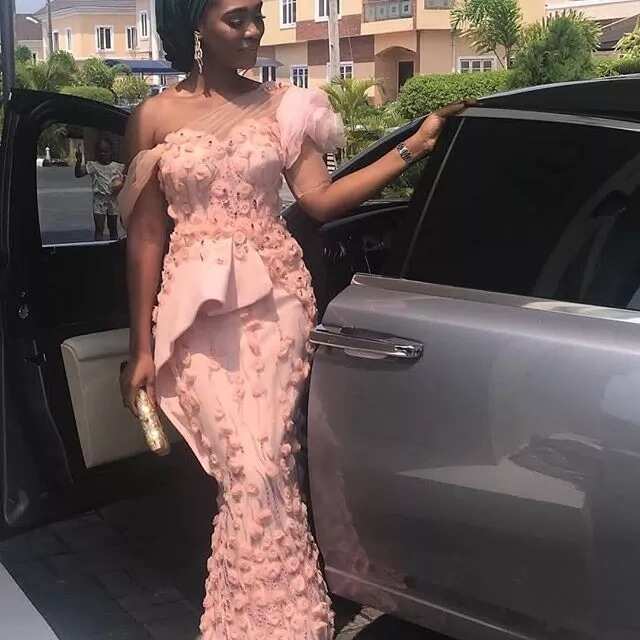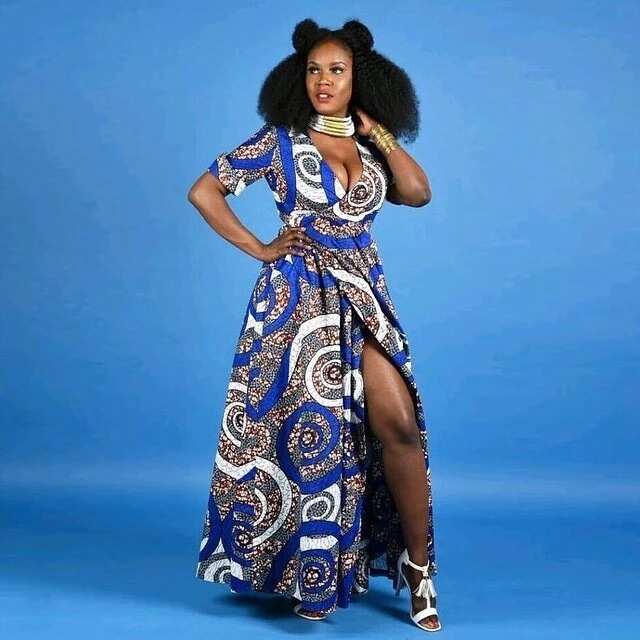 Choose one or several models of trendy long dresses for evening, native or casual images and be charming and elegant lady on every occasion.
READ ALSO: Latest cord lace styles in Nigeria 2018
Source: Legit.ng